Arts District Brewing Co. (Los Angeles, CA)
Arts District Brewing Company
828 Traction Ave, Los Angeles, CA 90013
213.519.5887
www.artsdistrictbrewing.com
Mon 01/04/2016, 07:55p-10:30p

Arts District Brewing's one of the newest breweries to hit Downtown LA, taking its place alongside the likes of Angel City, Mumford, and Boomtown. ADB debuted on December 6th, and comes to us from Cedd Moses (213 Hospitality), Eric Needleman (The Spirited Group), and Brian Lenzo (Blue Palms Brewhouse). Running the 15-barrel brewhouse is Westside native Devon Randall, a former Pacific Gravity homebrew member who started her career five years ago at The Lost Abbey. She later moved to Pizza Port Ocean Beach, training under Yiga Miyashiro (now at Saint Archer), then took on the head brewer's job at Pizza Port's Solana Beach location at the start of 2013. Randall joined the Arts District team in May, and has been brewing since September.


ADB resides in a massive 17,000-square-foot
Wurstküche
-adjacent space that was formerly home to Crazy Gideon's. The former electronics discounter's been transformed into an industrial-y type location, with lots of dark wood, polished concrete, and stainless fermentation equipment abound. A giant wraparound bar takes up the center of the room, surrounded by tables and seating of all sorts, and you'll find a large-ish patio too. There's an area dedicated to skeeball, ping pong, and darts, while boards for cornhole (the bean bag toss thing) were scattered about the place. I think I even spied a giant Jenga floating around.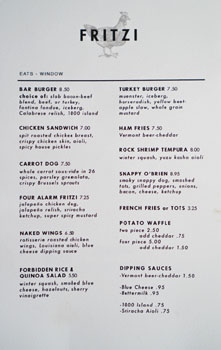 The brewpub features 32 taps, though not all were active this evening. I counted 13 house brews, along with a number of guest beers. There's a full liquor license at play too, but I wasn't able to find any sort of cocktail list. As for the eats: a Fritzi food counter operated by none other than
Neal Fraser
dishing out bar-appropriate bites. Click for larger versions.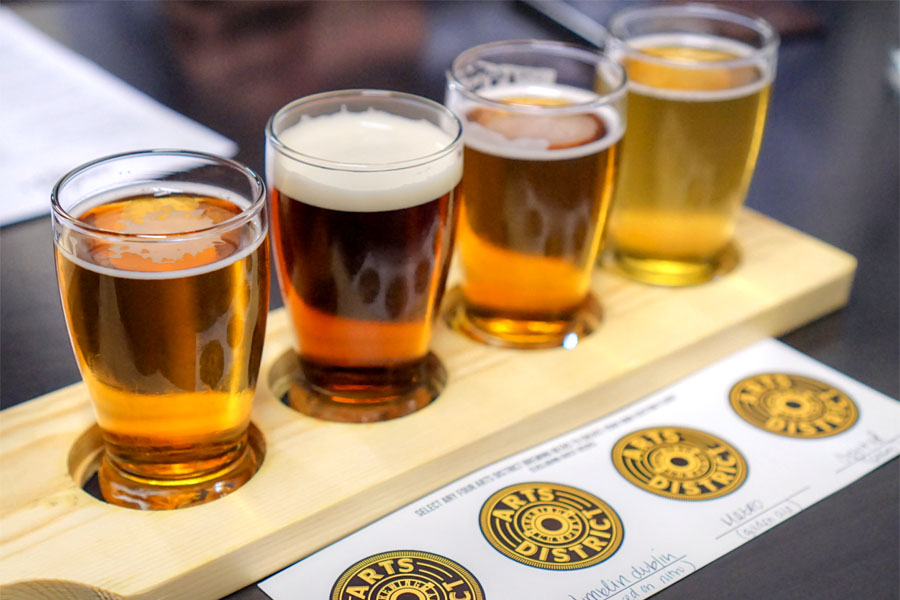 Naturally, we tried to sample all of the beers, so we just went down the list, getting a taster of everything to share:
Tune in Tokyo extra pale ale - S: Juicy and hoppy, with a refreshing citric component. T: Resinous at its core, with a nice, mild hop bite and layers of light citrus.
Stumblin Dublin nitro irish red - S: Pleasantly spicy. T: Thin but super smooth, with an almost chocolate-y malt accented by some herbal, tea-like notes.
Mateo golden ale - S: Fairly mild, with a soft, candied quality. T: Lightweight and lightly-hopped; agreeable nuances of subtle roast and breadiness.
Spirited saison - S: Grainy with a whisper of funk. T: Zesty and yeasty and easy-drinking, though I wanted more barnyard, more fruit, more spice.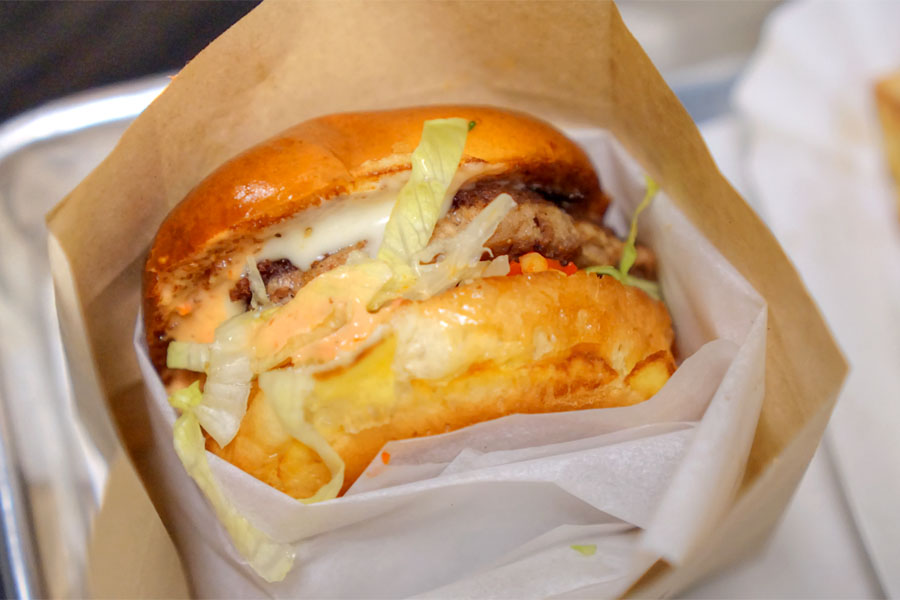 Bar Burger [$8.50]
| choice of: slab bacon-beef blend, beef, or turkey, fontina fondue, iceberg, Calabrese relish, 1000 island
The bar burger was aptly named, a salty, meat-centric (we got the bacon-beef), well-charred example conveying just the right amount of trashiness. Yum.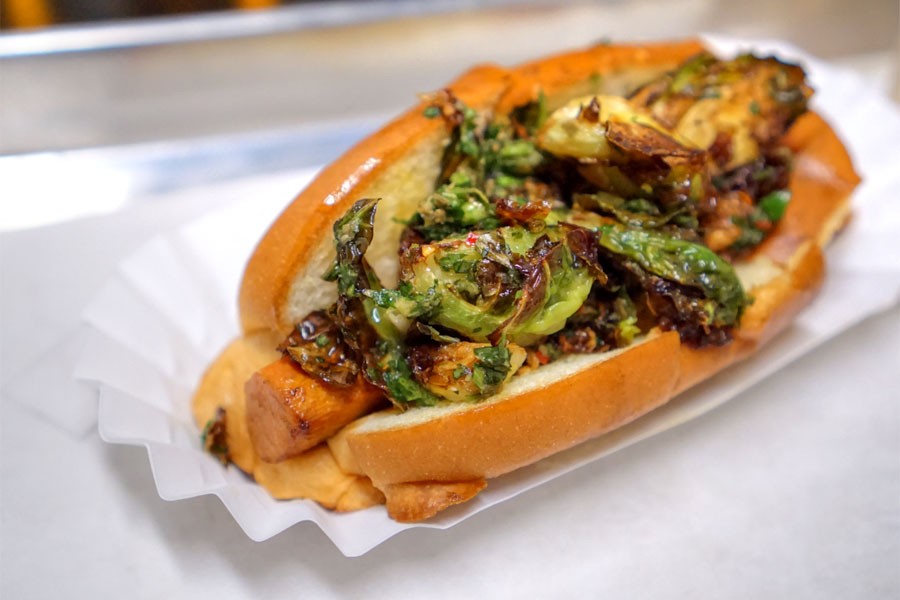 Carrot Dog [$7.50]
| whole carrot sous-vide in 26 spices, parsley gremolata, crispy Brussels sprouts
A sort of faux hot dog worked out surprisingly well, the snappy, charred carrot giving up some spicy, almost South Asian flavors. Nice textural play from the Brussels as well.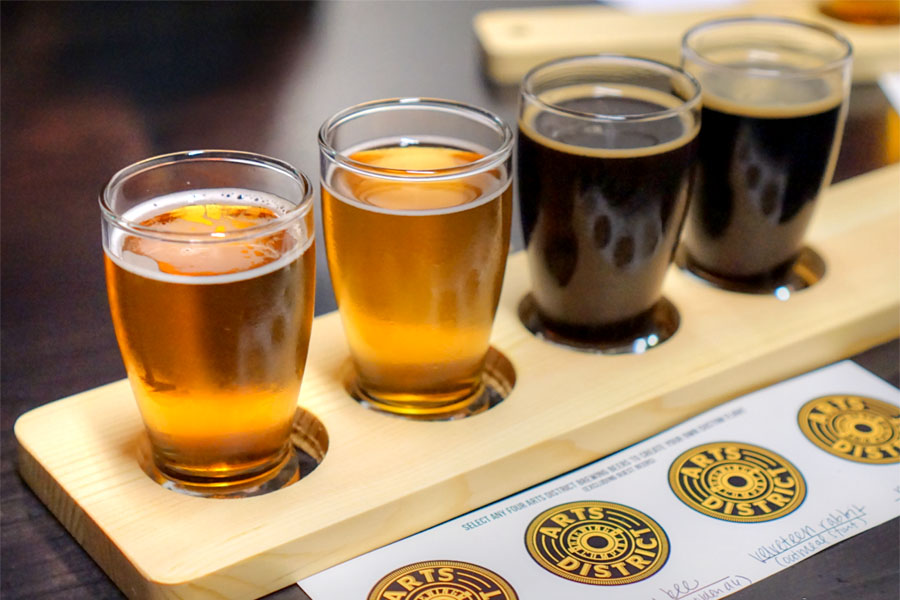 Our second flight of four:
Traction india pale ale - S: Juicy and a touch tropical at first blush, with resinous hops underlying. T: Properly pine-y throughout, with light fruit.
Busy Bee honey golden ale - S: Muted, with a honeyed presence peeking through. T: Grainy and a touch of citrus-spice; just a little bit of honey overarching.
Velveteen Rabbit oatmeal stout - S: Pretty classic, with faint chocolate. T: More chocolate joined by roast; tangy and spicy, but also as velvety as the name would imply.
Porter Rico imperial porter - S: Smooth and slick, with chocolate-y malt at the forefront. T: Silky, with a good amount of bitter roast and smoke.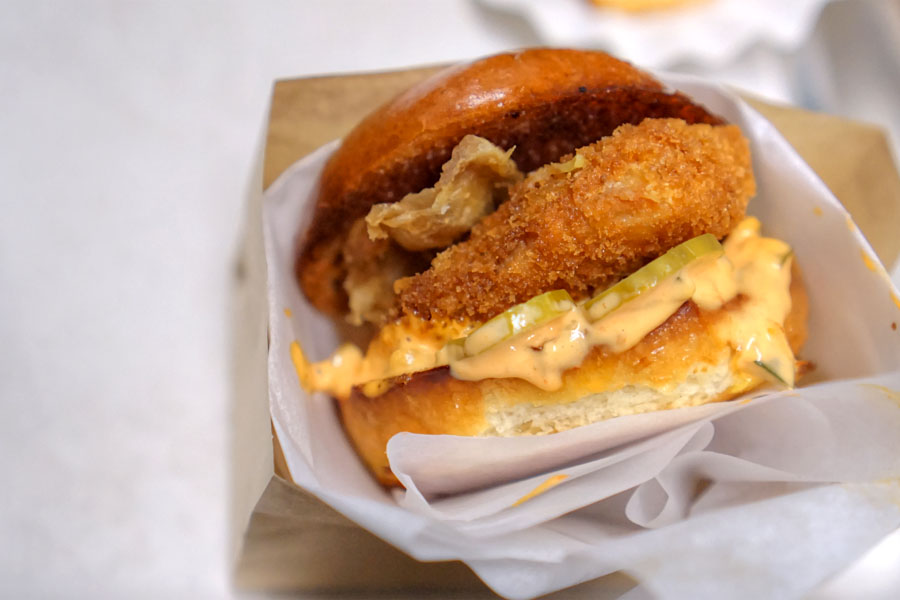 Chicken Sandwich [$7.00]
| spit roasted chicken breast, crispy chicken skin, aioli, spicy house pickles
The chicken sando came out crisp and flavorful, the fried skin adding more salt and crunch to the mix. I appreciated the zing of the pickles as well, not to mention the texture of the toasty bun.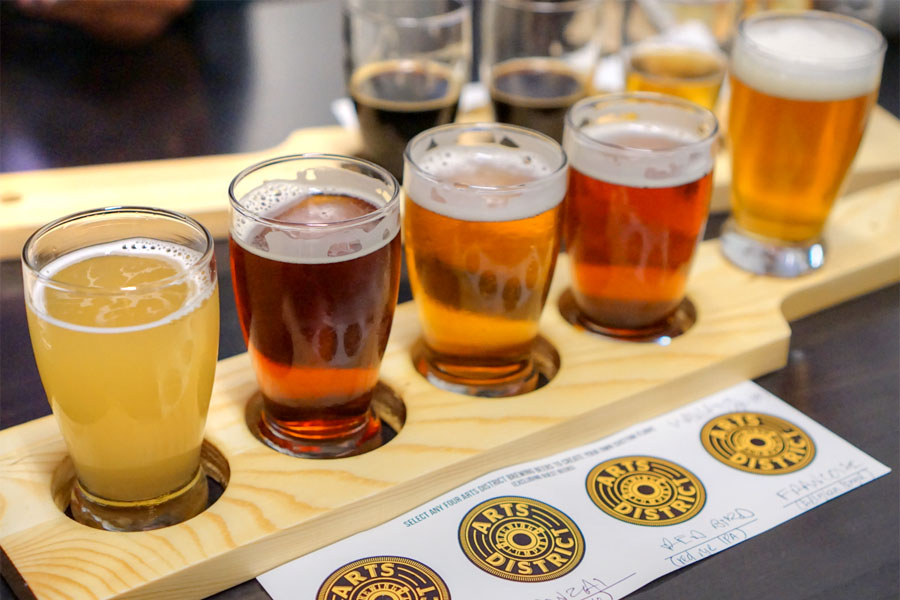 The final set, with an extra taster hanging out by itself:
Francois belgian style single - S: Slightly sweet and a bit off-putting unfortunately. T: Crisp, with a macro-ish quality.
Redbird red rye ipa - S: Hops abound, without too much else going on. T: Very hoppy, bitter, and not much rye.
Bonzai pale ale - S: Weak spice, slight citrus. T: More pronounced spiciness commingled with a pervasive bitterness.
Whammy wheat amber - S: Zesty, almost rye-like spiciness. T: More of the same, with a palpable maltiness.
Kablamo rye ipa - S: Hop-forward and citric. T: Follows the nose, but with a bit more rye character showing up.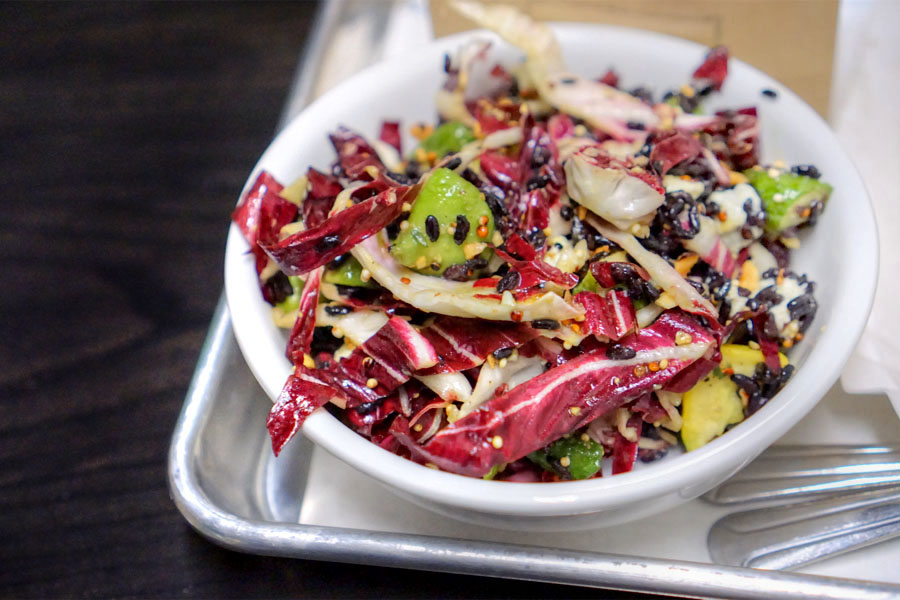 Forbidden Rice & Quinoa Salad [$5.50]
| winter squash, smoked blue cheese, hazelnuts, sherry vinaigrette
A grain salad worked out pretty well, with the bitterness of the veggies matched by the potency of cheese and the tangy sherry vin.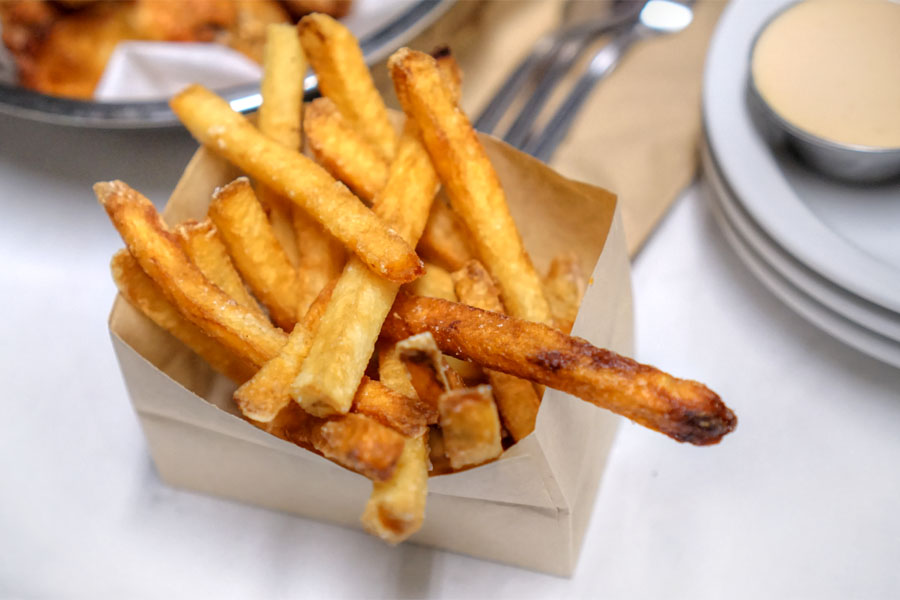 French Fries [$3.25]
Fries were more flavorful than most, though I would've liked 'em a tad crispier.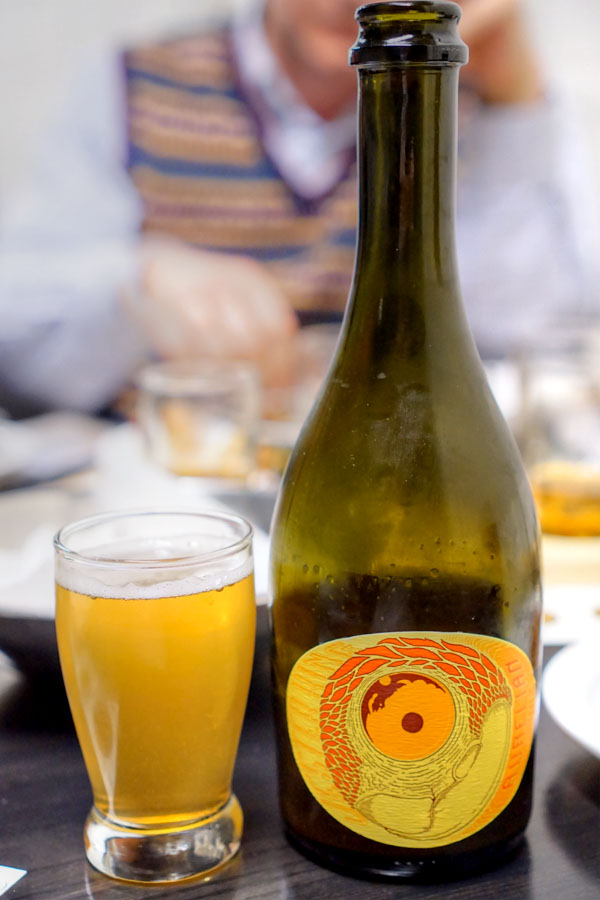 With the stuff on tap all tasted, we got into some bottles. First was the
2015 Jester King Aurelian Lure
, an oak-aged sour with California apricots. This one smelled great as expected, with lots of juicy stone fruit all over the place. Taste followed with tart, crisp, true-to-life apricot backed by a slight mustiness.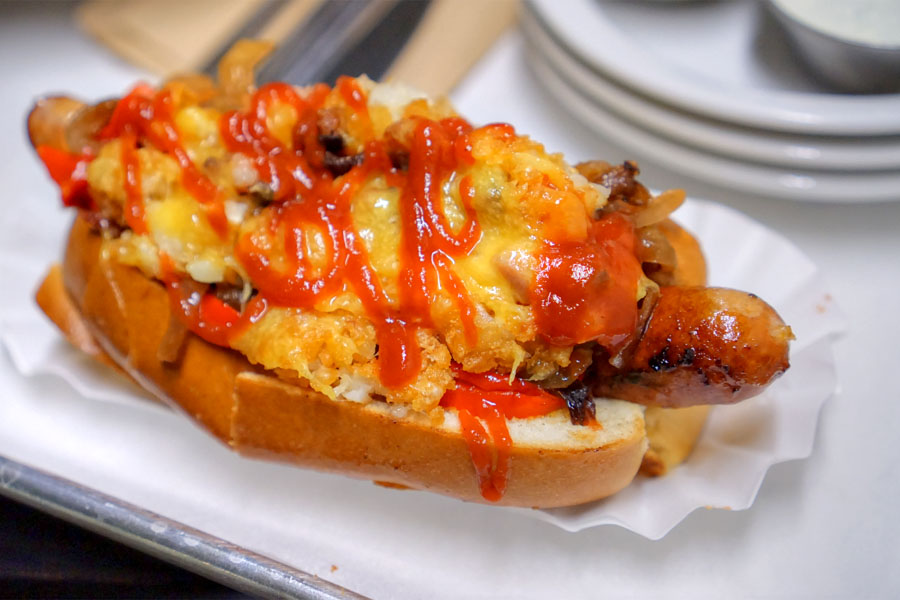 Snappy O'Brien [$8.95]
| smoky snappy dog, smashed tots, grilled peppers, onions, bacon, cheese, ketchup
The dog was as snappy as advertised, giving us a lovely amount of savory spice that made total sense with the grilled peppers and onions, though I didn't need quite so much ketchup. Nice crispness on the bun here to boot.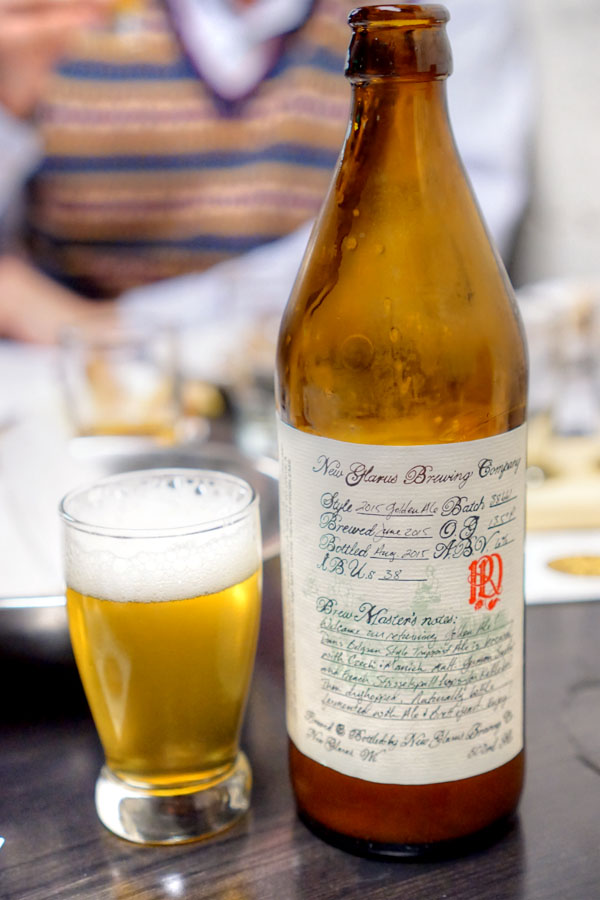 My favorite beer of the night was the
2015 New Glarus R&D Golden Ale
, a Belgian-style Brett ale brewed with Saphir and Strisselspalt, then dry-hopped before bottling. I found the nose on this one super floral, super aromatic--pretty amazing. On the palate, I got a delightful yeastiness intertwined with juicy tropical fruit, hops, citrus, and that wonderful floral quality again. One of the best Belgian goldens I've had.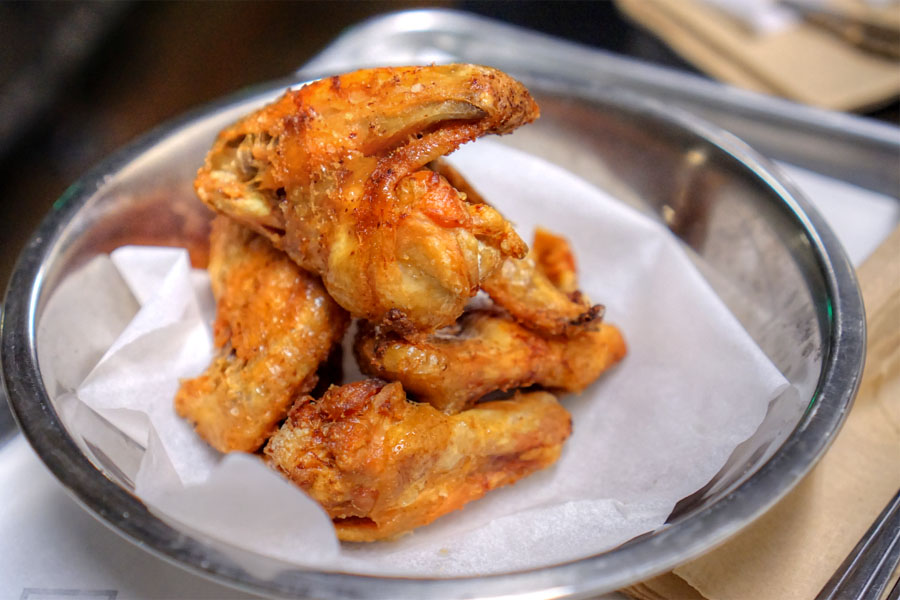 Naked Wings [$6.50]
| rotisserie roasted chicken wings, Louisiana aioli, blue cheese dipping sauce
Wings were surprisingly addictive, and showed off a wonderfully crisp, crackly skin. You didn't even need the included dipping sauces.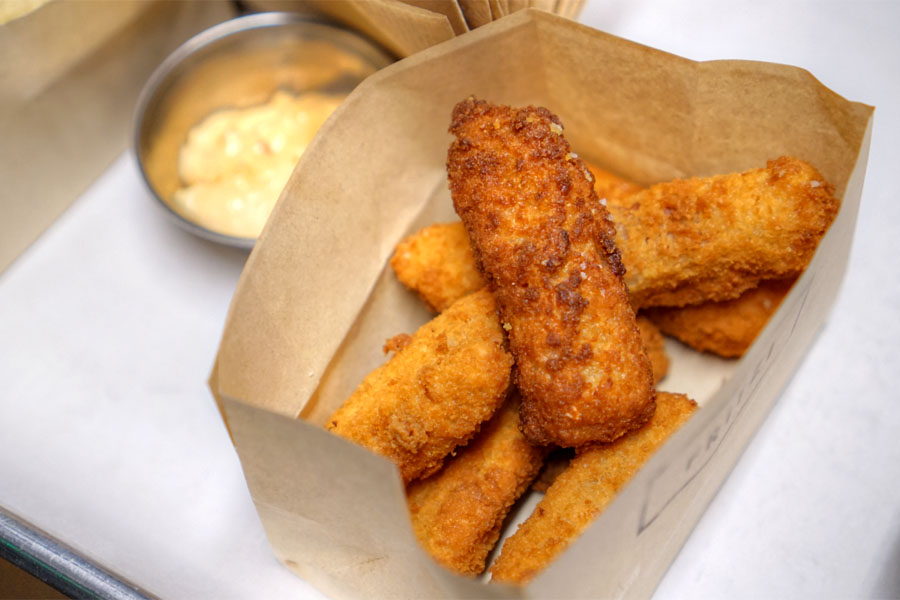 Ham Fries [$7.50]
| Vermont beer-cheddar
When I saw this on the menu, I was expecting fries covered in some sort of meat gravy, like a poutine. What I wasn't expecting were deep-fried batons of actual ham. The dish worked itself out though.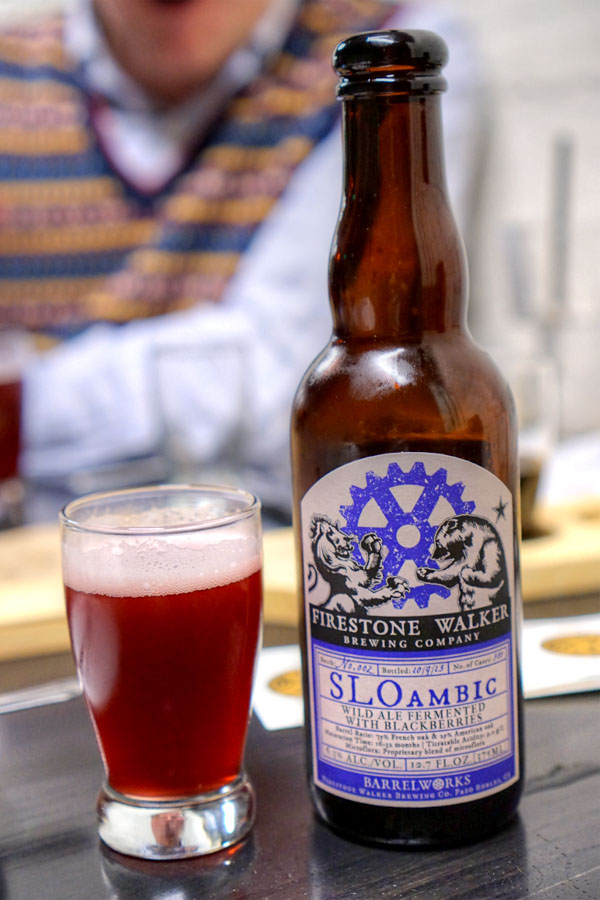 Our second fruited sour came in the form of the
2015 Firestone Walker SLOambic
, a blended sour first aged 16-32 months in French and American oak, then fermented another four months with Marionberries and boysenberries added. Aromas of juicy berry and Brett gave way to a flavor profile brimming with jammy fruit, oak, and light horse blanket. Tasty.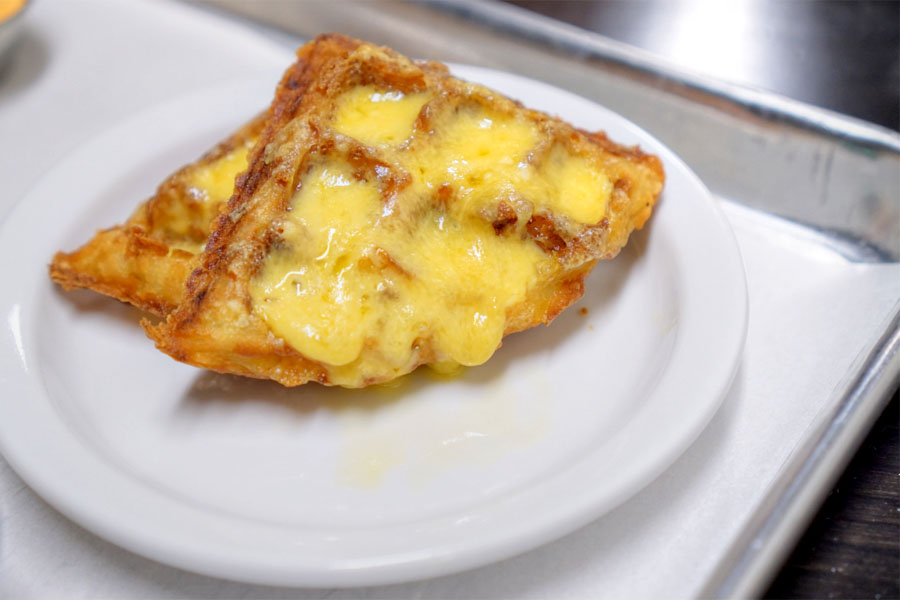 Potato Waffle + Cheddar [$2.50 + $0.75]
I was expecting waffle fries here but was once again pleasantly surprised. It was an almost hashbrown-esque eating experience, with the salty potato really working hand-in-hand with the sheer cheesiness of it all.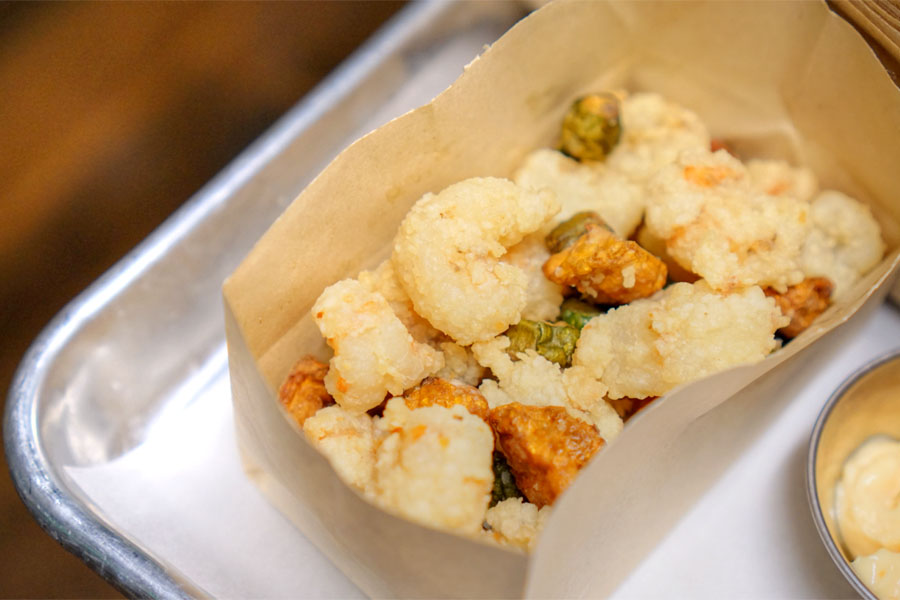 Rock Shrimp Tempura [$8.00]
| winter squash, yuzu kosho aioli
The tempura was better than expected, coming out lightly battered, not overdone, and with a legit brininess to the shrimp that really called for that aioli.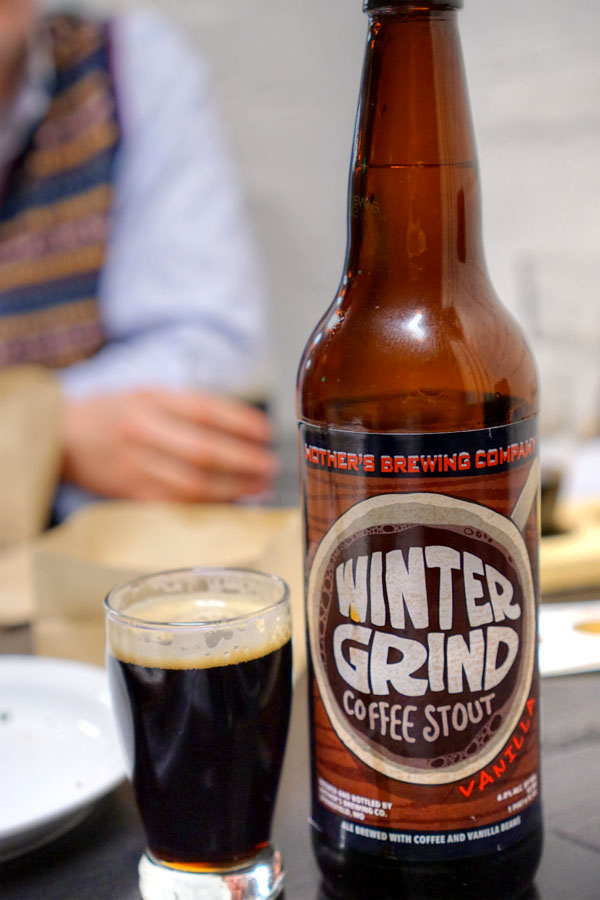 We closed with a beer apropos for the season, the
2015 Mother's Vanilla Winter Grind
, a stout brewed with Mudhouse cold-brewed espresso and a mix of Madagascar, Mexican, Indian, Tahitian, and Tongan vanilla beans. This smelled of roasty, bitter, aromatic coffee, while the taste brought smooth notes of espresso, malt, and roast, with just a smidge of vanilla lushness.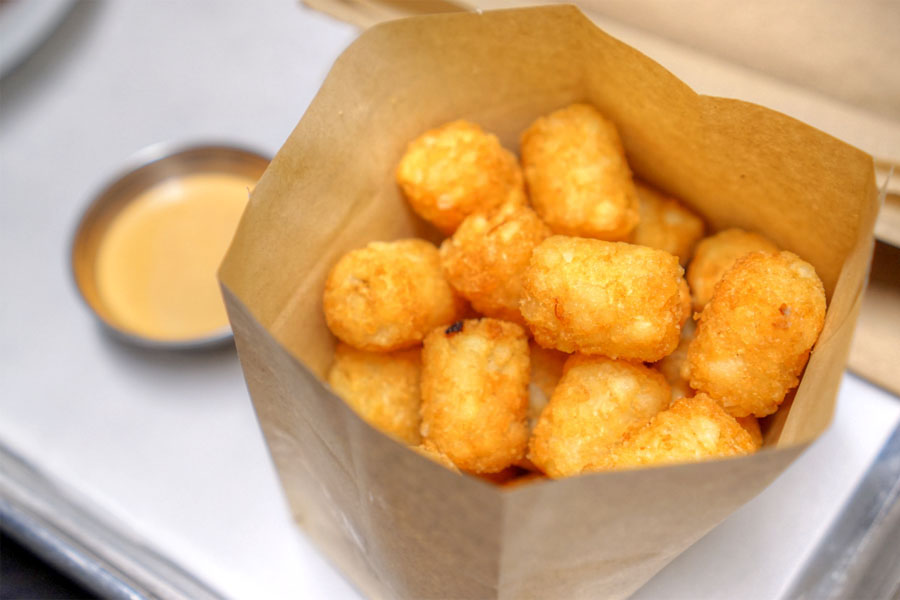 Tots [$3.25]
Tater tots were nostalgic as always--salty and satisfying little bites that nevertheless could've been a tad crunchier.
We had a fun time at Arts District Brewing, and that's without even getting into any of the games. As for the beer, it was a diverse set of brews that showcased straightforward, clean, somewhat austere flavor profiles throughout. I'm hoping that Randall and the team will continue to push, continue to experiment, perhaps with a sour or barrel-aging program. Such things will take time of course, so I'll have to check back.