Kagura (El Segundo, CA)
Kagura Tokyo Cuisine
403 Main St, El Segundo, CA 90245
310.333.0689
www.littletokyorestaurant.com
Thu 01/07/2016, 06:30p-08:10p

A while back I reported on
Kagura
in Torrance, and mentioned that another location would be opening in El Segundo soon. That outpost ended up debuting at the end of November, situated on a quaint little section of the City's Main Street, not far from
Sausal
.

Kagura resides at the address once home to Crush Bistro & Wine Bar, Kip's, Three Good Things, and Su Casa, and has been redone to a properly minimalistic Japanese aesthetic. Think lots of light wood, with a large table out front, a handful of semi-private booths, and a small bar in the back.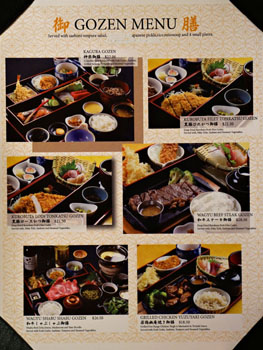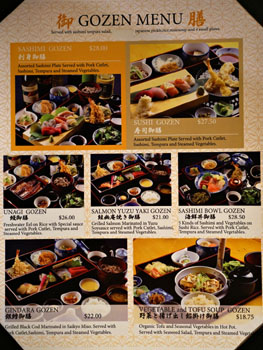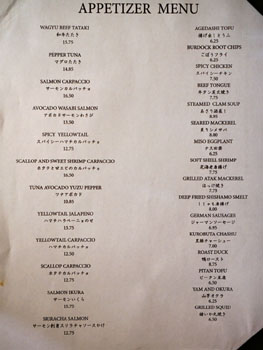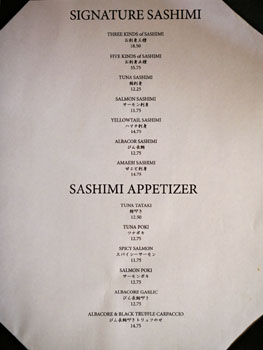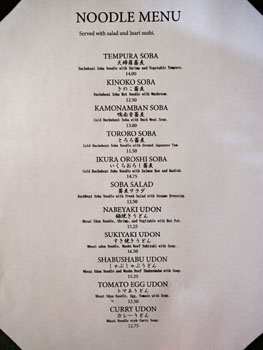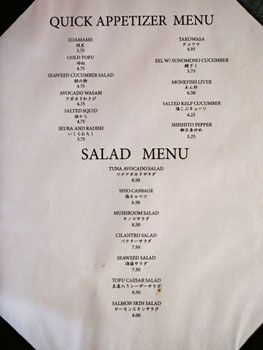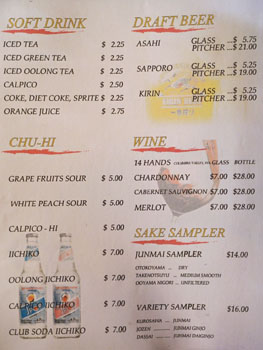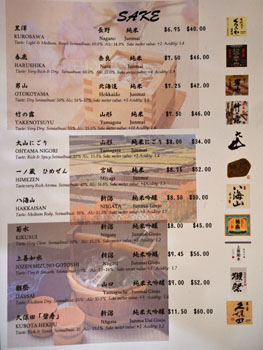 This outpost of Kagura ostensibly specializes in
gozen
, a sort of set menu of various items all served on one big tray, though there are a good number of izakaya-ish à la carte selections as well. Drink-wise, there's sake of course, along with your typical beers and probably-not-so-great wine. Click for larger versions.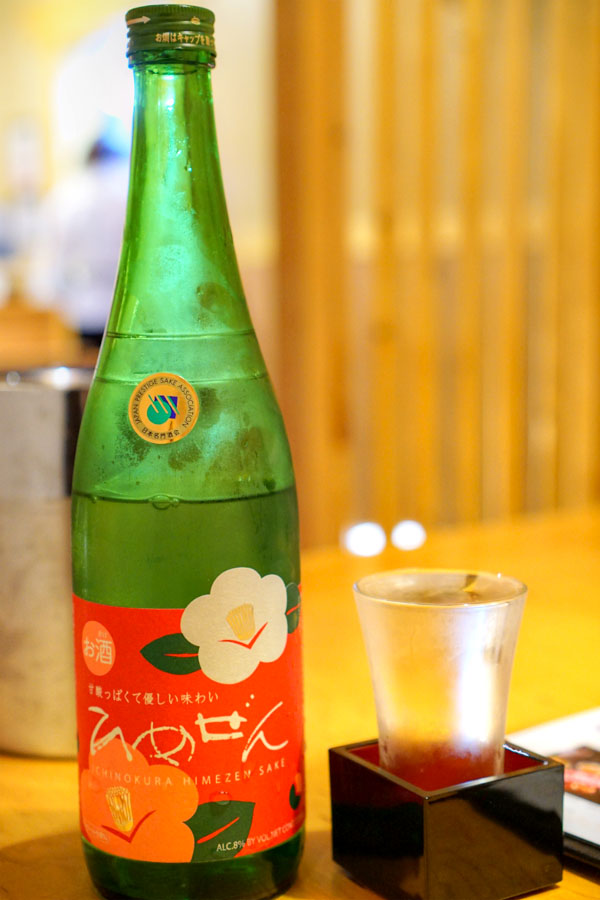 Beverage duties were handled tonight by the
Himezen, Miyagi, Junmai [$52]
. I actually found this quite unlike the sakes I usually have. It was almost what I'll call "brash" in its presentation, with a savory, sweet, citrusy profile and a somewhat sharp, crisp, yet not unpleasant finish.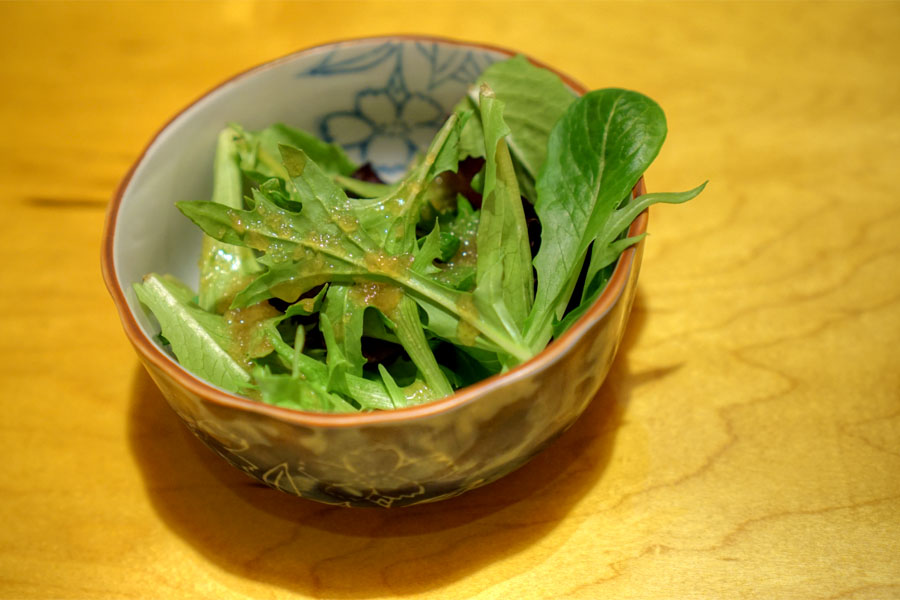 A complementary salad was lightly dressed with something resembling a ponzu jelly.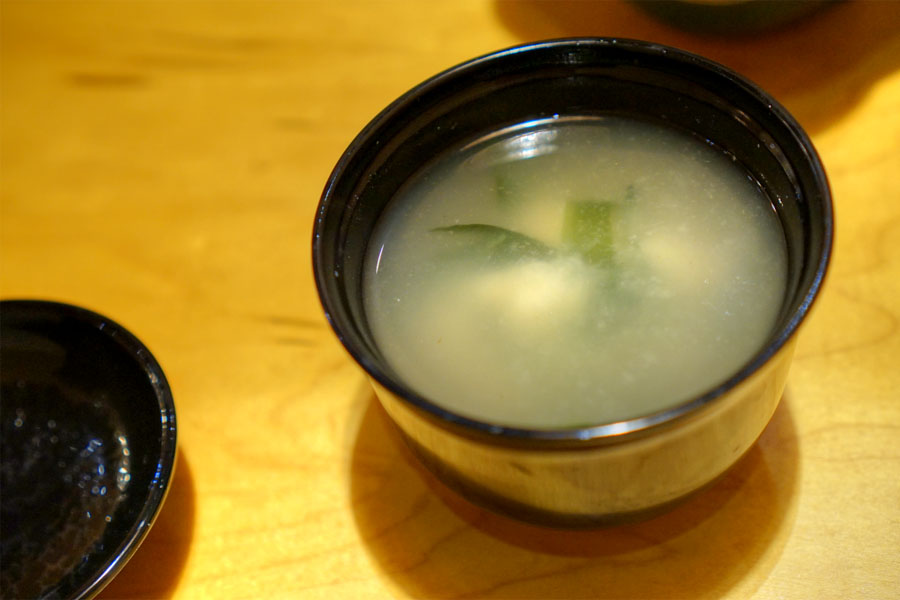 Miso soup was prototypical, yet comforting, heartwarming on this chilly evening.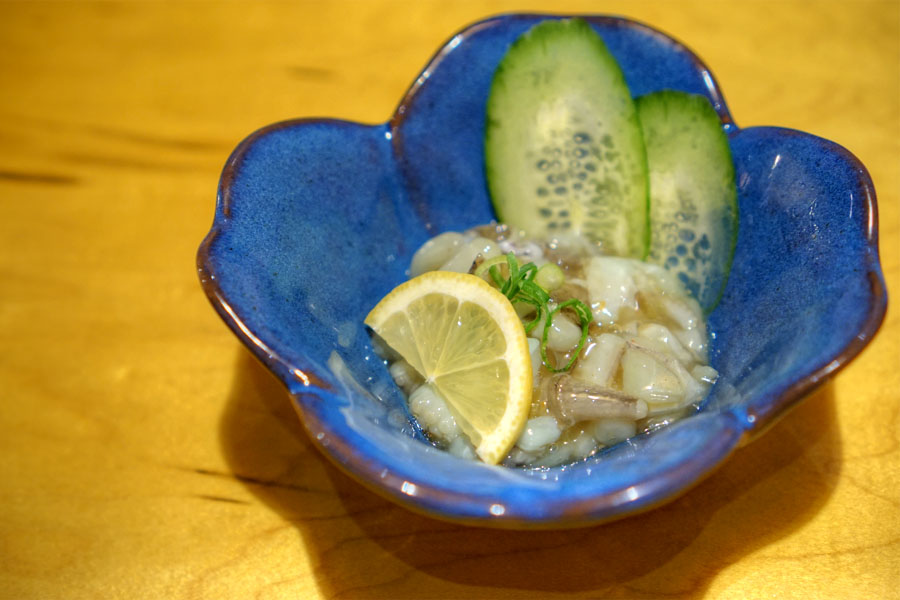 Takowasa [$4.95]
Our first proper dish combined crunchy, snappy shards of octopus with the unmistakable burn of wasabi.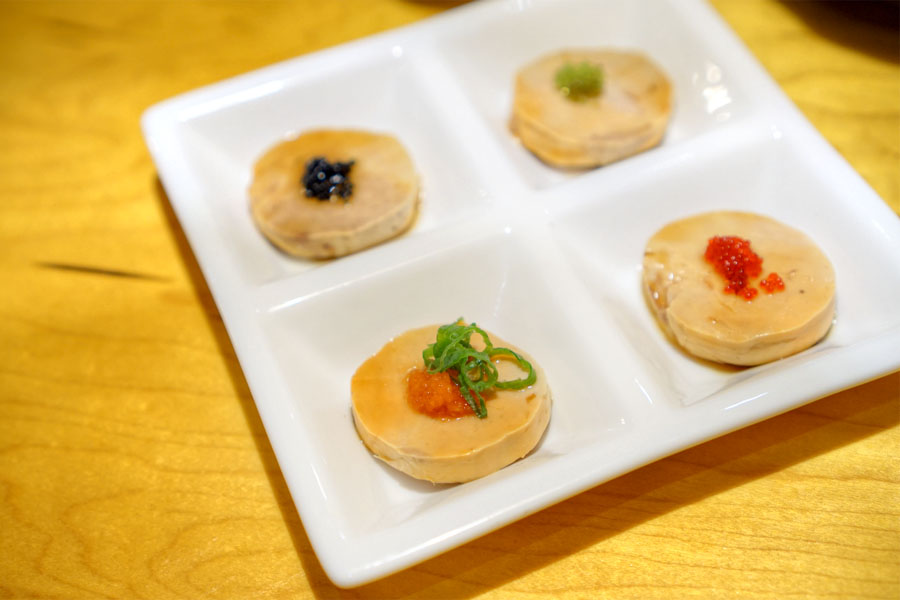 Monkfish Liver [$6.50]
Ankimo was just what you'd expect, creamy and oceany and its core, with the various accompaniments imparting the right amount of zinginess to the liver.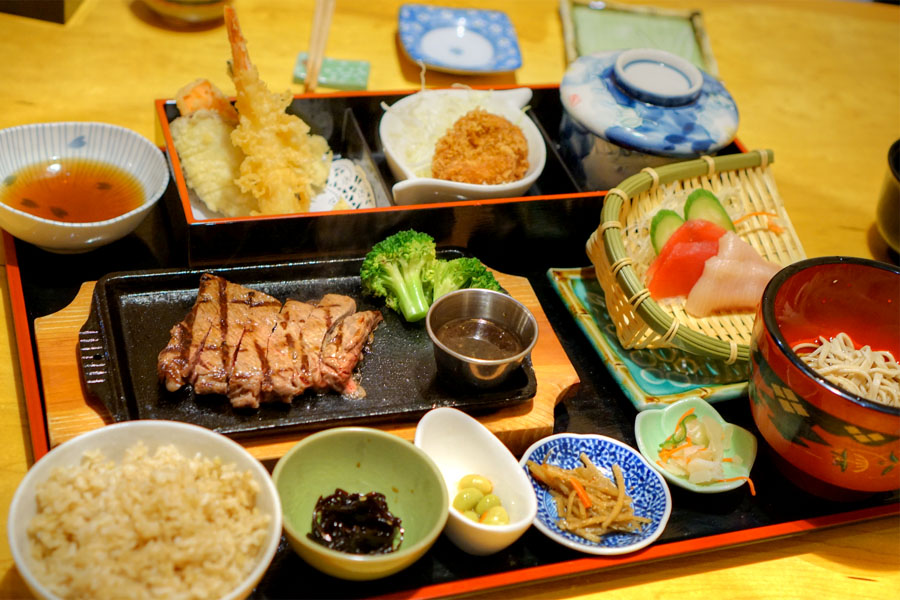 Wagyu Beef Steak Gozen [$28.50]
| Deep Fried Kurobuta Pork Fillet Cutlet. Served with, Niku Tofu, Sashimi and Steamed Vegetables.
We had to try one of the
gozen
of course, and opted for the steak variant. It's an impressive looking spread, and probably bigger than you're expecting. We'll break down all the various items below.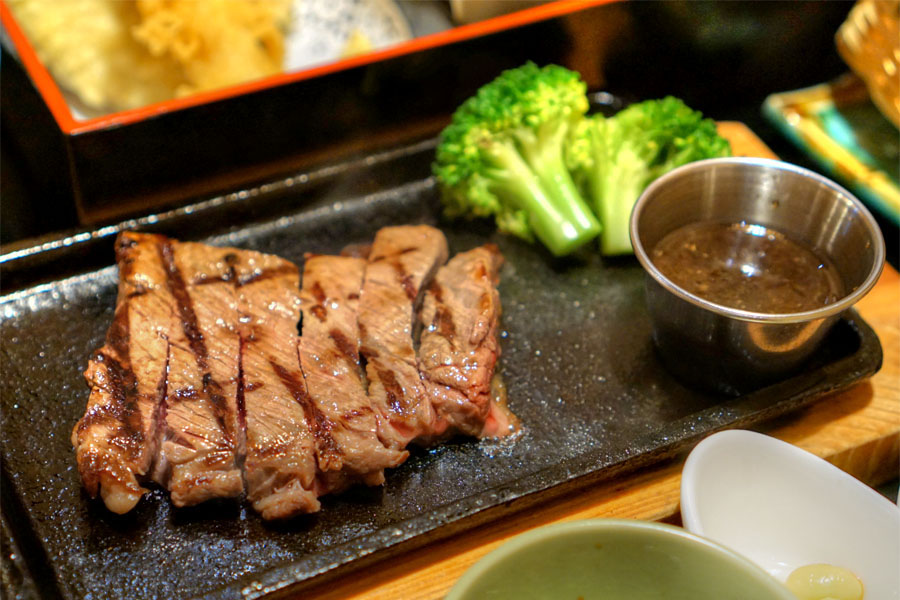 The star of the show, the steak was more cooked than I would've liked, but delivered in the taste department. The sauce on the side wasn't strictly necessarily, though it did augment the broccoli rather nicely.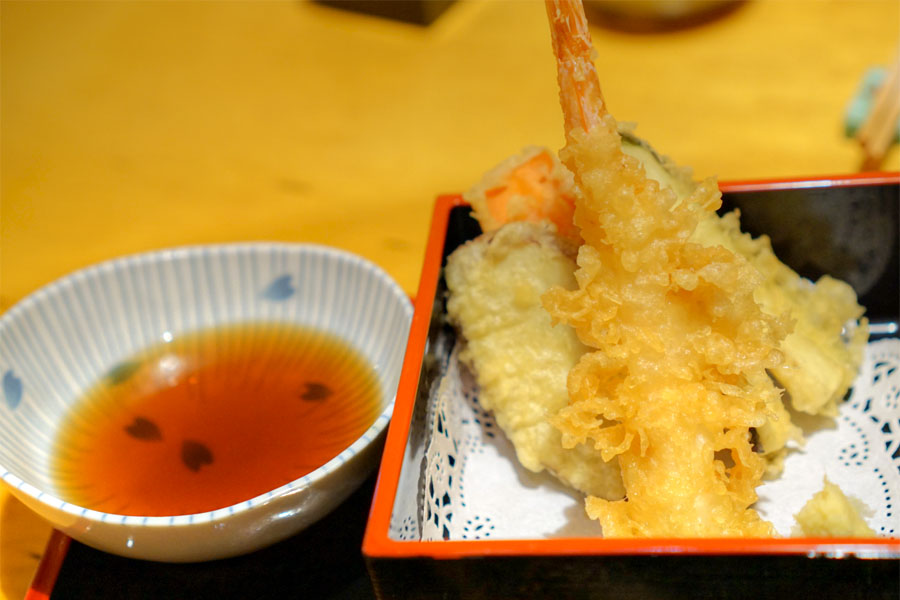 Tempura was light and not overly greasy, and one of my favorite items on the tray. I found a satisfying bite on the veggies, and appreciated how the shrimp wasn't overcooked, with still a nice snap to it.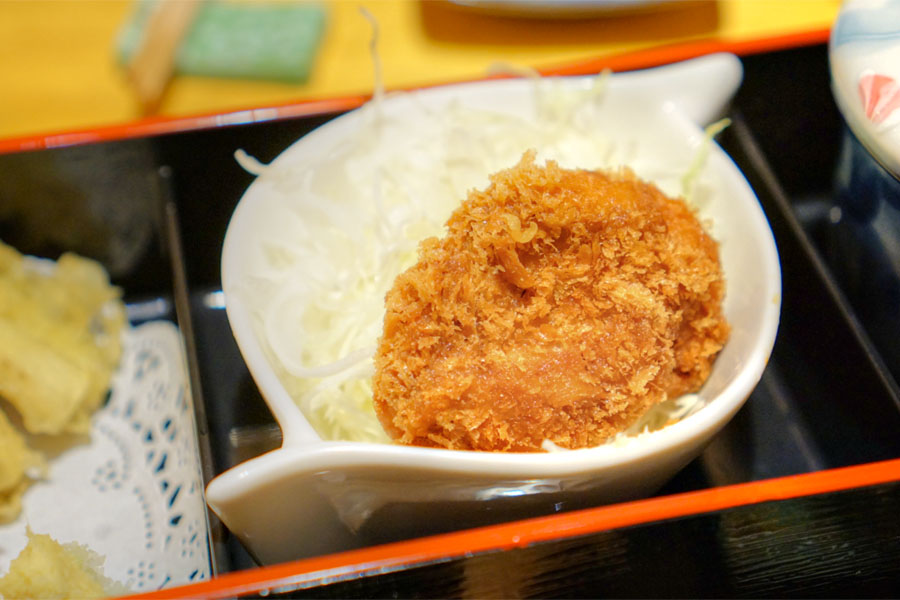 A katsu was of the filet (
hire
) type. It wasn't as nuanced as what we had down in Torrance, but was meaty and tasty. I suspect that you'd get a more finessed cut if you actually ordered one of the
gozen
with the pork as the main protein.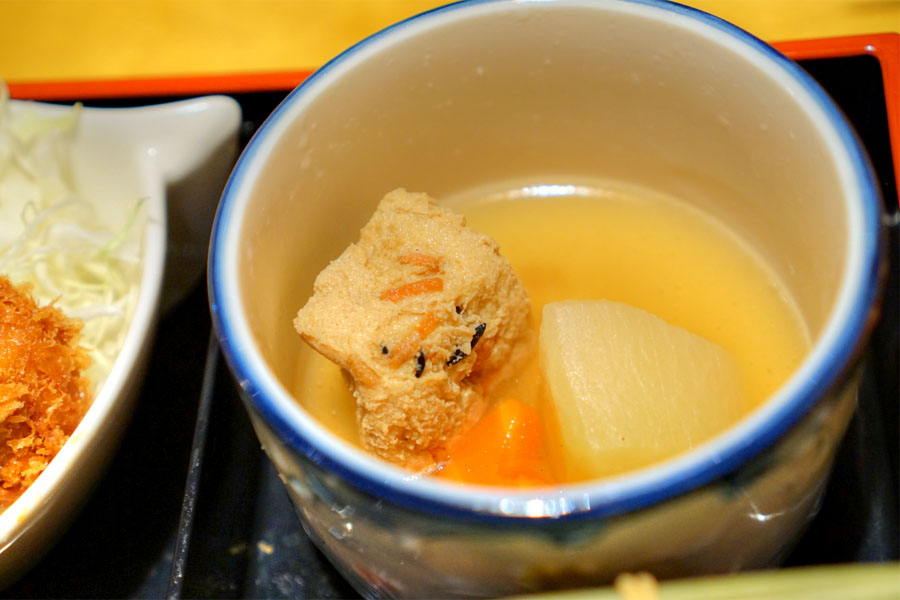 A presentation of simmered vegetables (carrot and daikon) with tofu, the
oden
was a hearty, homey dish.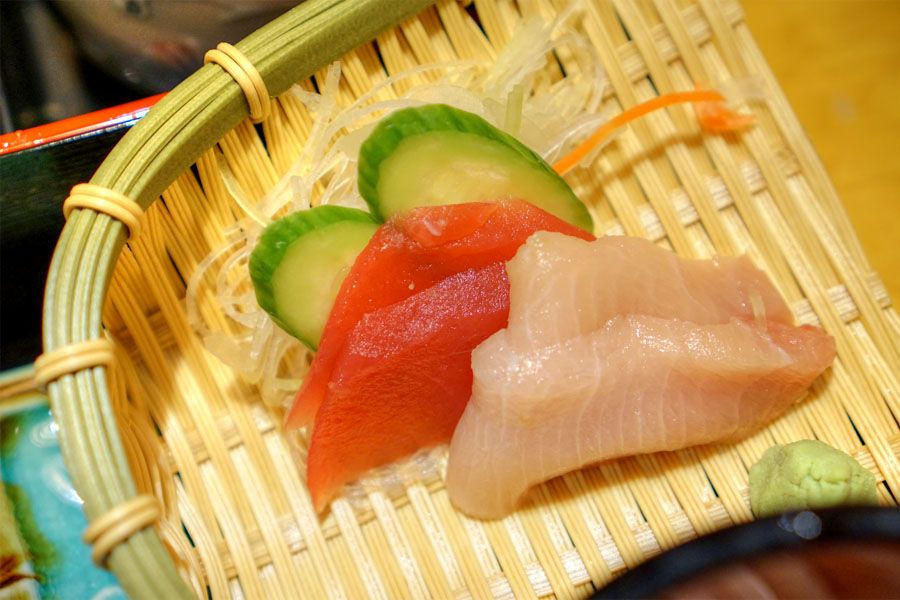 Sashimi comprised slick, clean cuts of tuna and yellowtail.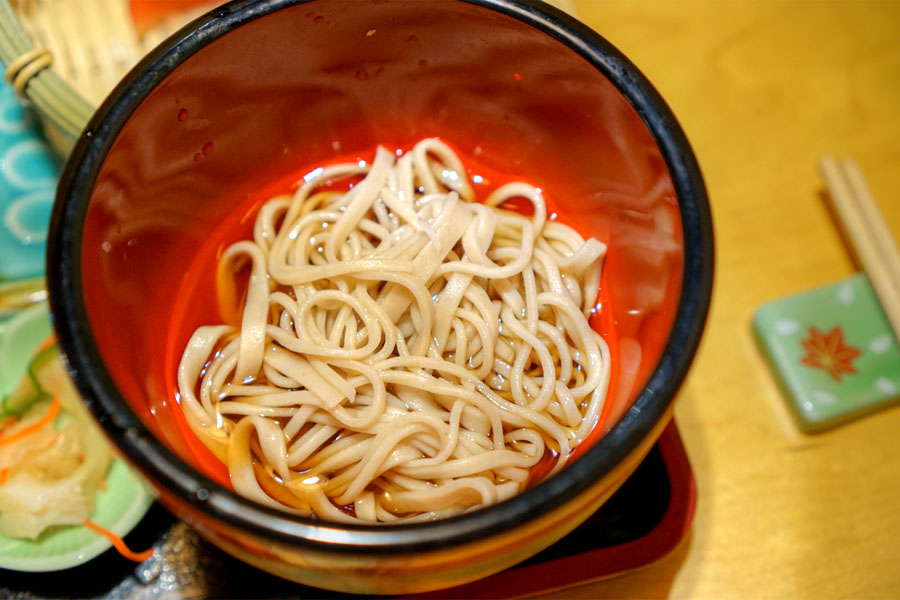 Soba was served chilled, and worked as a counterbalance to the other, stronger flavors present.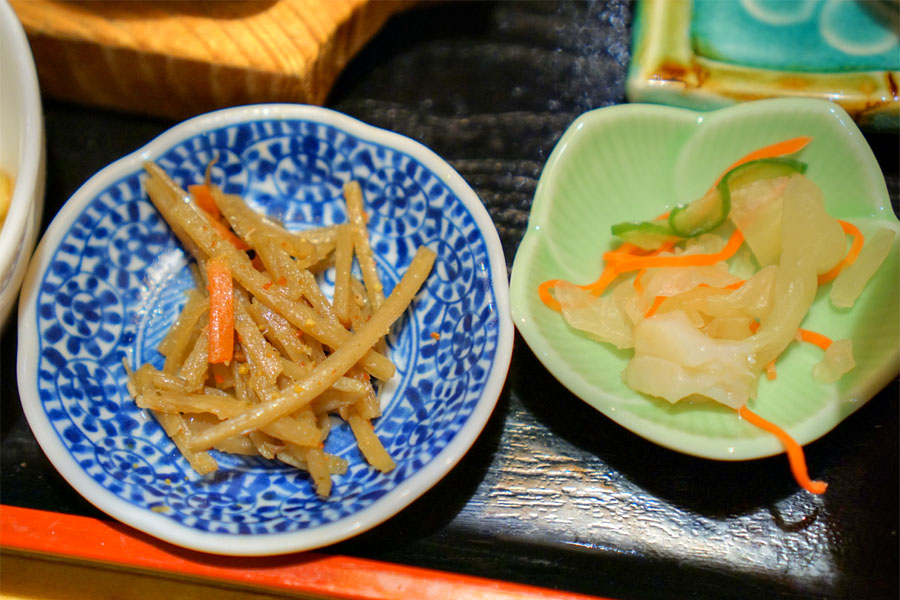 Here we had crunchy burdock root (
gobo
) and some pickled cabbage.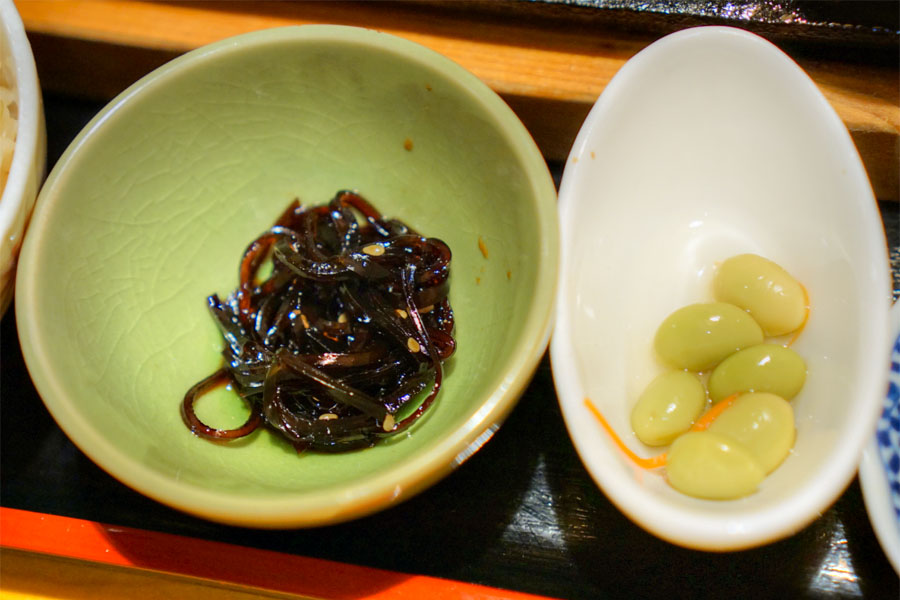 Crunchy seaweed, alongside soft edamame beans.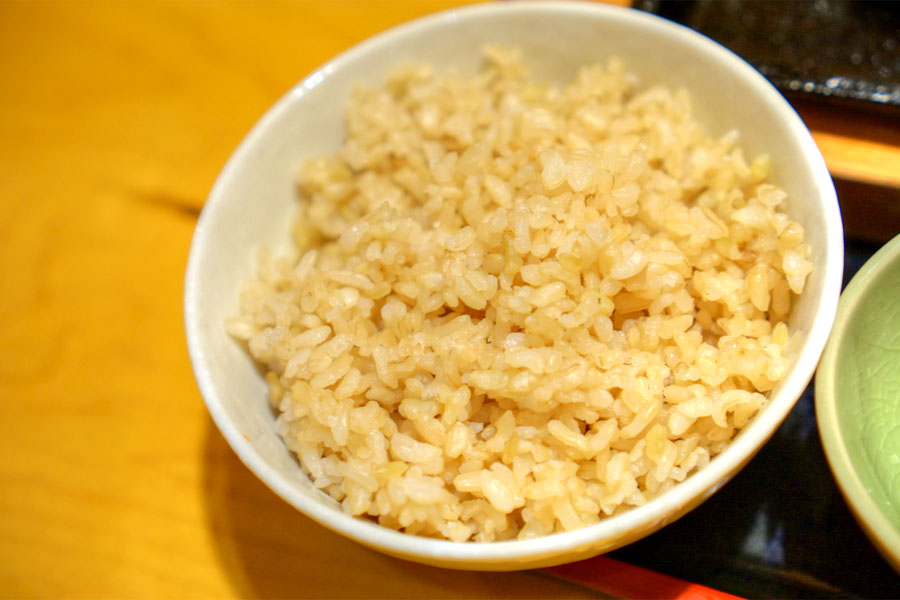 Brown rice, a bit of an unconventional choice. White rice is offered as well, and you'll probably be happier with it.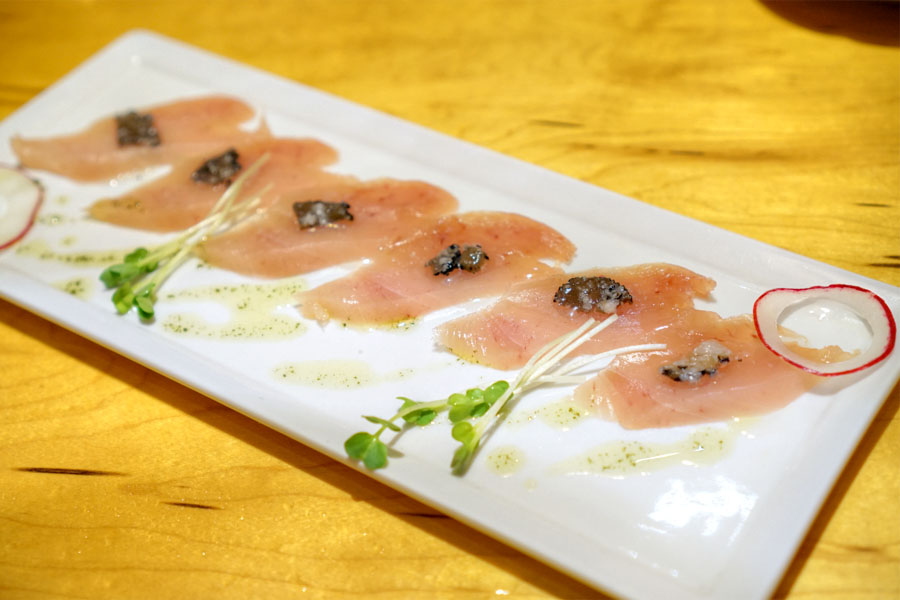 Albacore & Black Truffle Carpaccio [$14.75]
With the
gozen
done with, we ordered up a few more dishes. An albacore carpaccio delivered, giving up rich, musky truffle flavors that managed not to overwhelm the fish.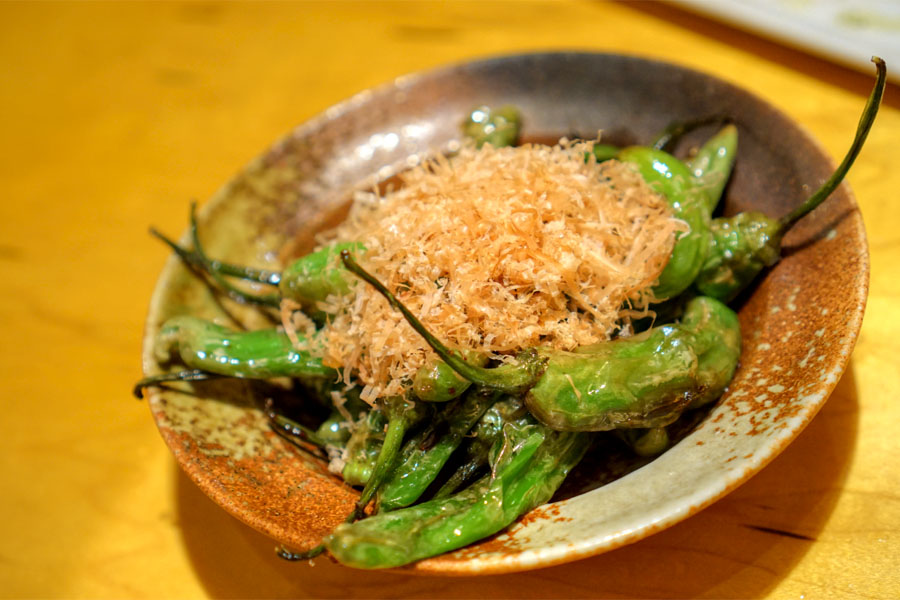 Shishito Pepper [$5.25]
Shishito peppers showed off their unpredictable levels of heat, augmented by rich umami notes from the
katsuobushi
.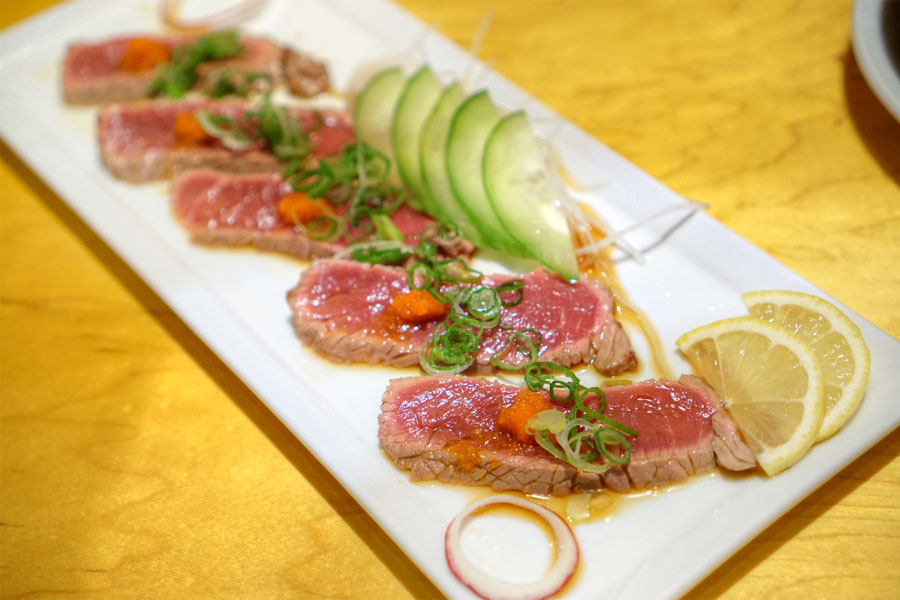 Wagyu Beef Tataki [$15.75]
A wagyu tataki was a bit chewier than I would've liked (thinner slices probably would've worked better), though they were properly beefy, and well matched to the tangy ponzu and scallions.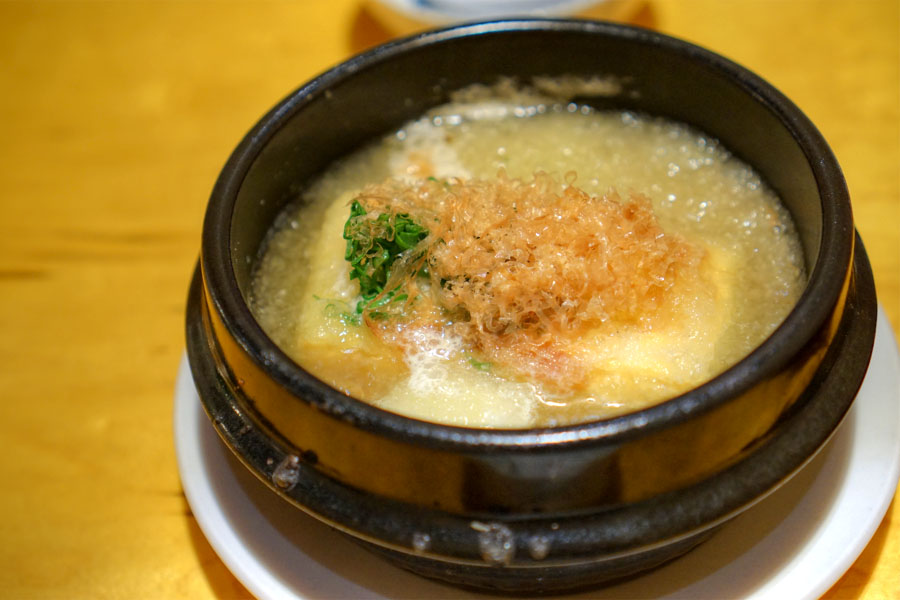 Agedashi Tofu [$6.25]
This was a cozy dish, the tofu meshing well with the richness of the
shoyu
-heavy broth and the shavings of bonito while
negi
offered up a bit of brightness. I just would've liked a crispier consistency on the actual tofu.
El Segundo's not known for its dining scene, but the landscape has certainly been taken up a notch with Kagura's opening. The food here's actually a lot more old school than I'd expect given the area, which is a good thing, and I do appreciate the variety on the menu, which should make this place appealing to a wider range of palates. Let's hope it sticks around.