Puertos del Pacifico (Los Angeles, CA)
Puertos del Pacifico Restaurant
1240 S Soto St, Los Angeles, CA 90023
323.262.0203
www.puertosdelpacifico.net
Tue 12/22/2015, 07:35p-10:30p

My most recent foray into Boyle Heights brought me to Puertos del Pacifico, a new-ish, seafood-focused Mexican eatery that's been getting a bit of attention as of late. The place has actually been open for a couple years now, but has definitely stepped up its game with the addition of Executive Chef Alan Matheus.
About the Chef
: Matheus comes from an Ecuadorian background, but was born in California and grew up in San Gabriel. He joined the Navy following high school, serving in Afghanistan and Iraq. Upon returning to the US, he went to culinary school and, after graduating, found employment at Neil Fraser's BLD in 2013. He also helped out with Fraser's substantial catering business during this time period, and assisted in preparations for the opening of
Redbird
. In May 2014, he worked a stint at
Bouchon
, and then took on a position at Paramount Studios. However, he left in August that year to run the kitchen here at Puertos del Pacifico, a restaurant that a high school friend (Steve Campos?) had purchased back in '13.

PdP resides in a structure up the street from the Sears Mail Order Building that was once home to at least two more
mariscos
joints: Playa Soto and Seafood Bay. The inside's been gussied up a bit and is relatively cheery given the East LA strip mall locale.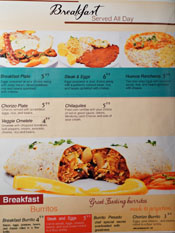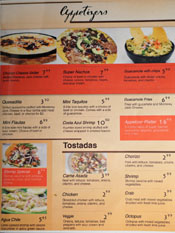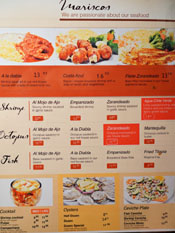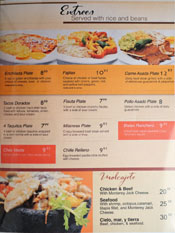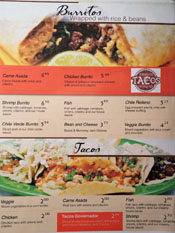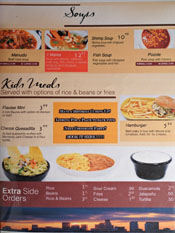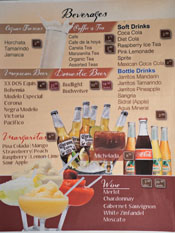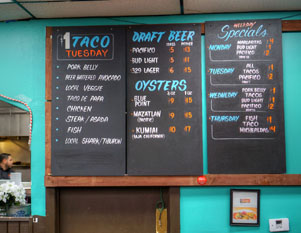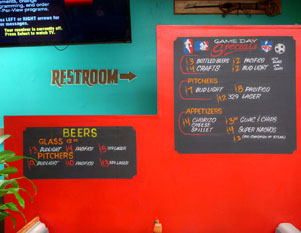 As for the menu, it reads like that of a lot of other Mexican restaurants around town, but the run-of-the-mill descriptions of the food belie the care that goes into the cooking (e.g. Matheus sources much of his produce from the nearby Mott Street Urban Farm). If that's not enough, there's also a "secret" menu of dishes that allows the Chef to get more creative (we didn't delve into it tonight though). In terms of beverages, you get your usual sodas, margaritas, and wine that you probably don't want. Beer is the right answer here, and in addition to the typical Mexican selections, they've also got a number of craftier options available (check the cooler). Click for larger versions.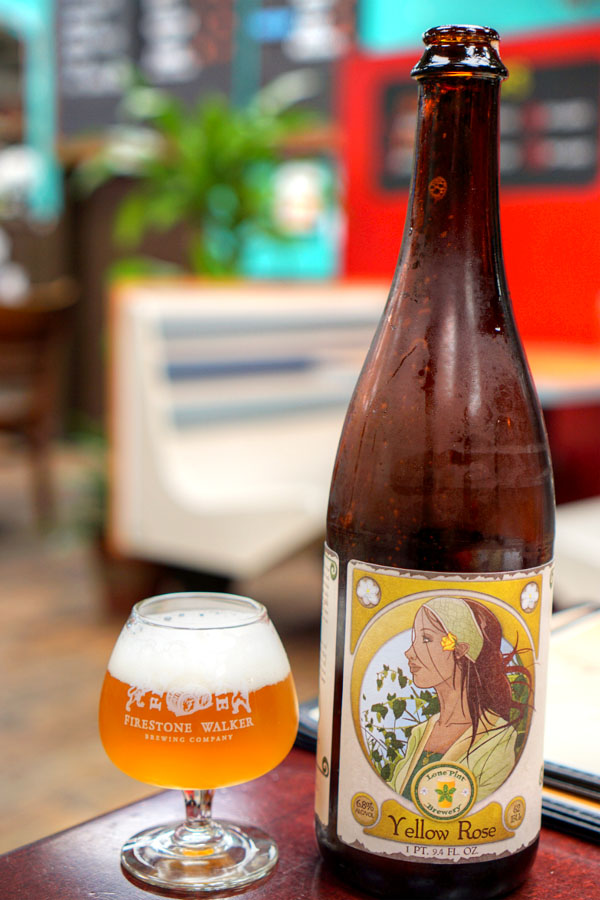 Matheus is quite the beer drinker, so we were able to arrange for BYOB, making sure to share with him of course. Our first bottle was the
2015 The Lone Pint Yellow Rose
, a single-malt (Pilsner), single-hop (Mosaic), dry-hopped IPA. It managed to be one of the tastiest IPAs I've drank in a while: huge amounts of super juicy, tropical fruit on the nose, with a palate that was all about more sweet citrus, tropical fruit, and malt, leading to a pleasant bitterness on the finish.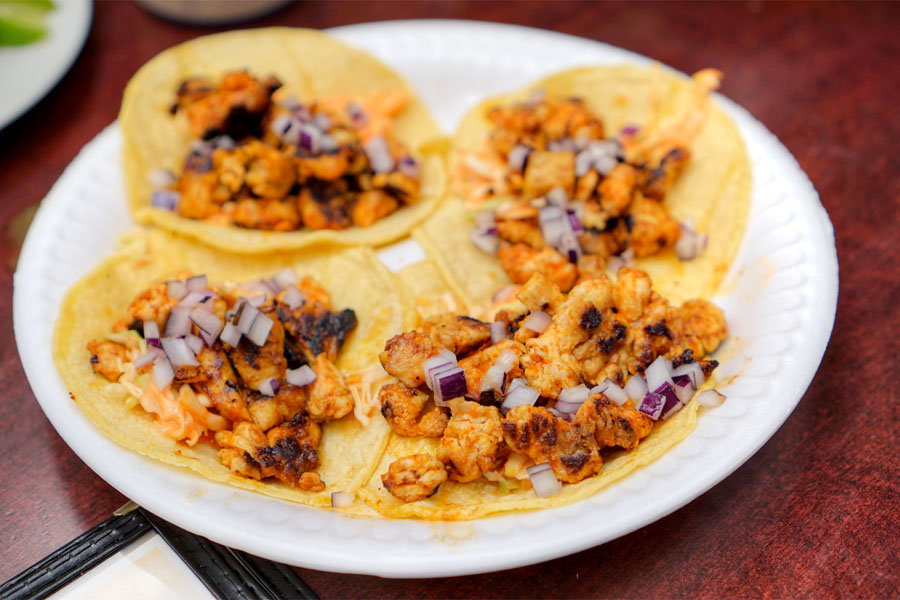 Local Shark/Tiburon Taco [$1.00]
Coincidentally, it happened to be Taco Tuesday this evening, so we made sure to sample a few of Matheus' creations. I don't think I'd had shark tacos before, which is a shame, because these were damn tasty. Marinated with what I believe were Sriracha, Thai chile, and lime, the Santa Barbara-sourced
tiburon
showed off a beautiful balance of savory, sour, and spicy flavors that paired perfectly with the bits of onion and Masienda corn tortillas. I'm pretty sure that these can't be beat at the dollar price point.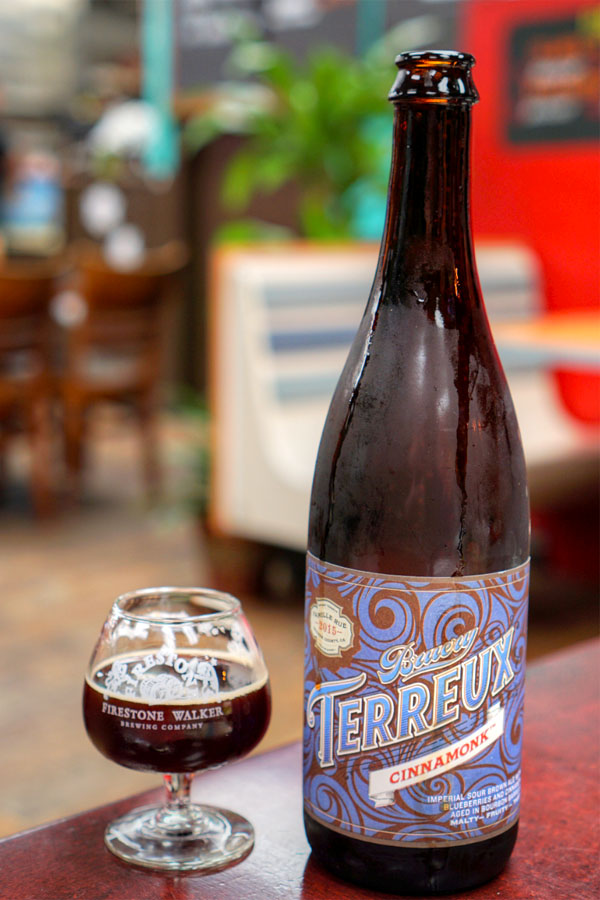 Our first sour of the night came in the form of the
2015 Bruery Terreux Cinnamonk
, an imperial Belgian sour brown ale with blueberries and cinnamon, aged in bourbon barrels. A lot of people hate on this beer, but everyone at the table seemed to really enjoy it. Aromas of cinnamon-laced malt. Taste brought waves of blueberry and sweet spice over a base of dark malt and caramel, with a tartness bringing up the rear.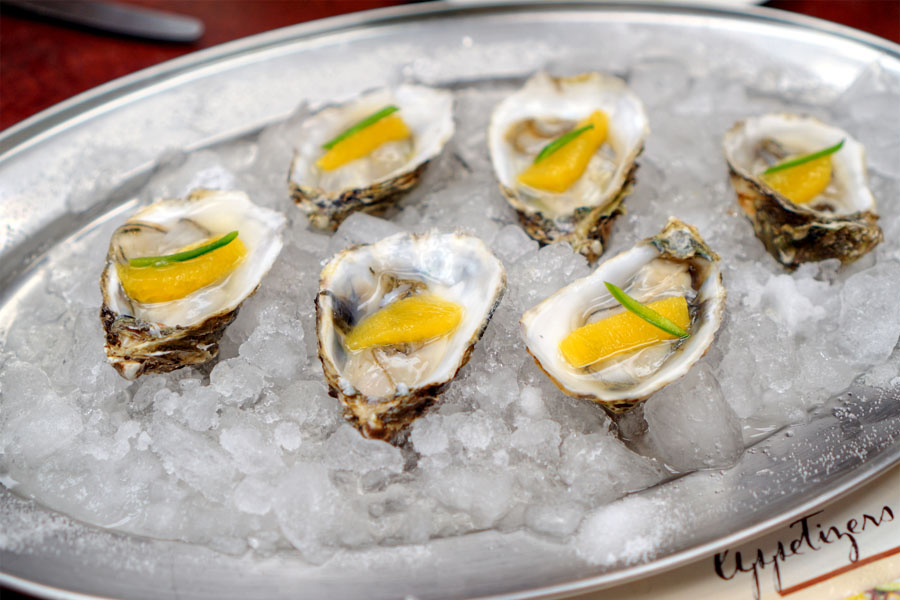 Kumiai Oysters [$17.00/dozen]
Sourced from Baja California, the Kumiais were delightful: super clean, bright, and crisp, with a hit of juicy citrus to close.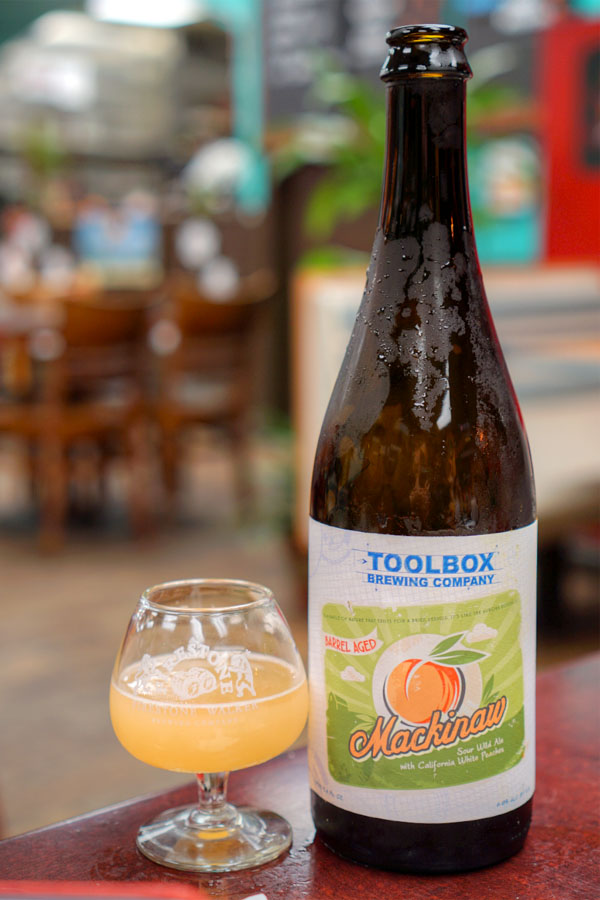 Here we had the
2015 Toolbox Mackinaw
, a white wine barrel-aged sour with California white peaches (the name's a
Seinfeld
reference, in case you were unaware). It was the best beer I've had yet from the brewery, giving up super tart stone fruit peel and funk on the nose, while the palate brought more of the same, with the peach coming through strongly on the finish.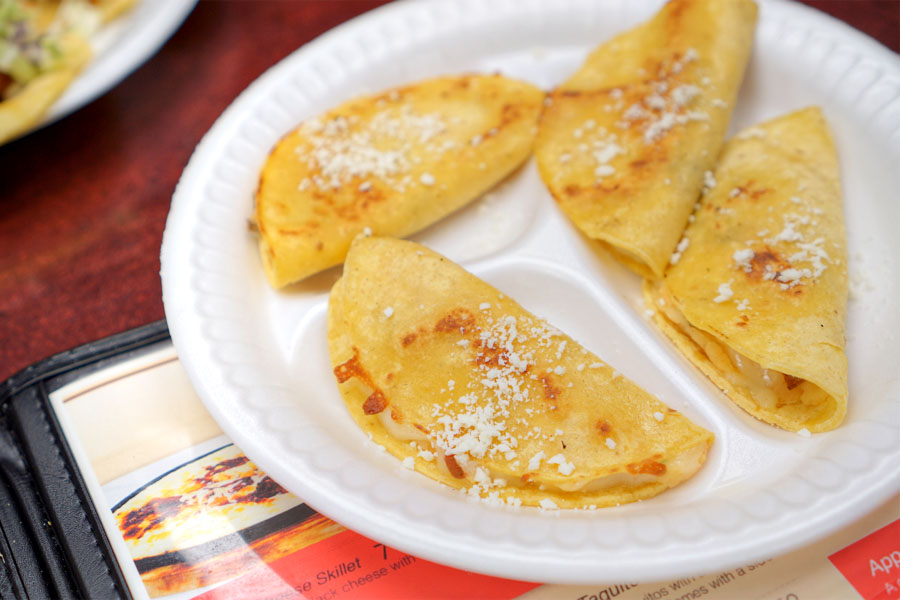 Taco de Papa [$1.00]
Papas
tacos were a welcomed change of pace with their smooth, slightly smoky presentation of potato.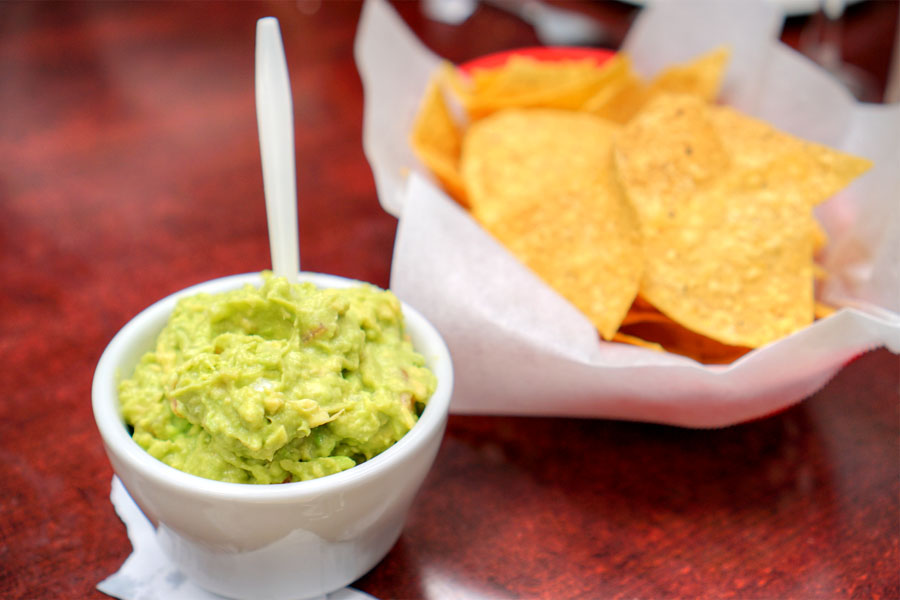 Guacamole with chips [$5.50]
| Guacamole with diced onions, tomatoes, and cilantro
The guac was on point, a classic preparation with some well-placed tangy, herby nuances.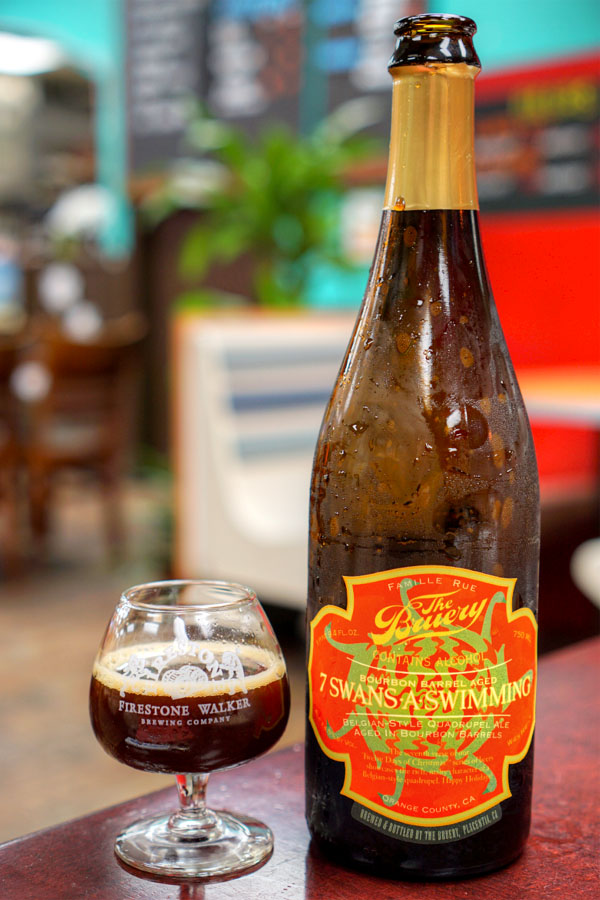 Going for a heftier beer now, here was the
2015 The Bruery Bourbon Barrel Aged 7 Swans-A-Swimming
, a Belgian-style quadrupel. Think a bouquet rife with sweet malt, toffee, and banana bread, and a taste that was all about dark fruit, brown sugar, and caramel, with a boozy, bourbon-y underpinning.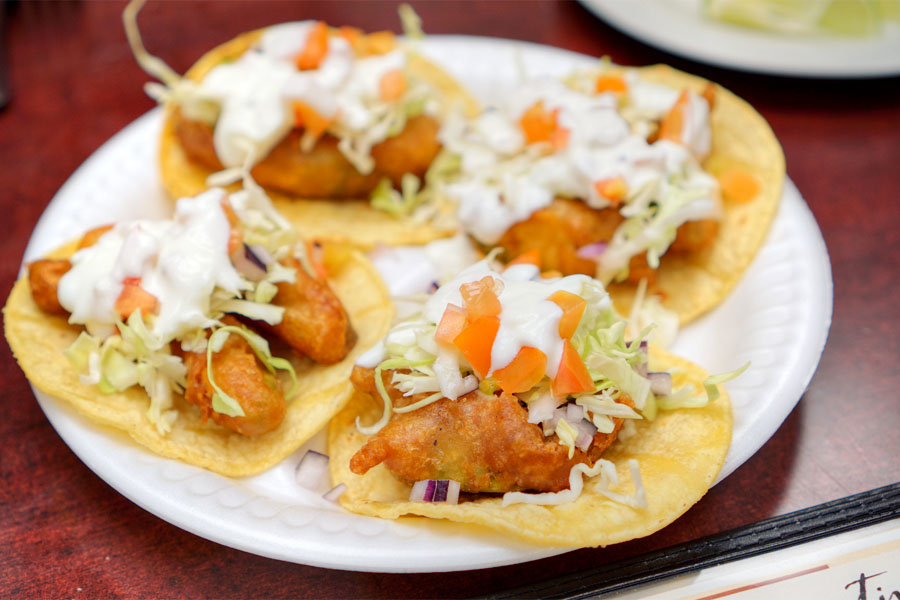 Beer Battered Avocado Taco [$1.00]
In our next taco, avocado was prepared in a manner typically used for fish, and it worked out swimmingly. Great contrast between the lushness of the fruit and its lightly fried outer layer, with the veggies providing a welcomed touch of brightness and crunch.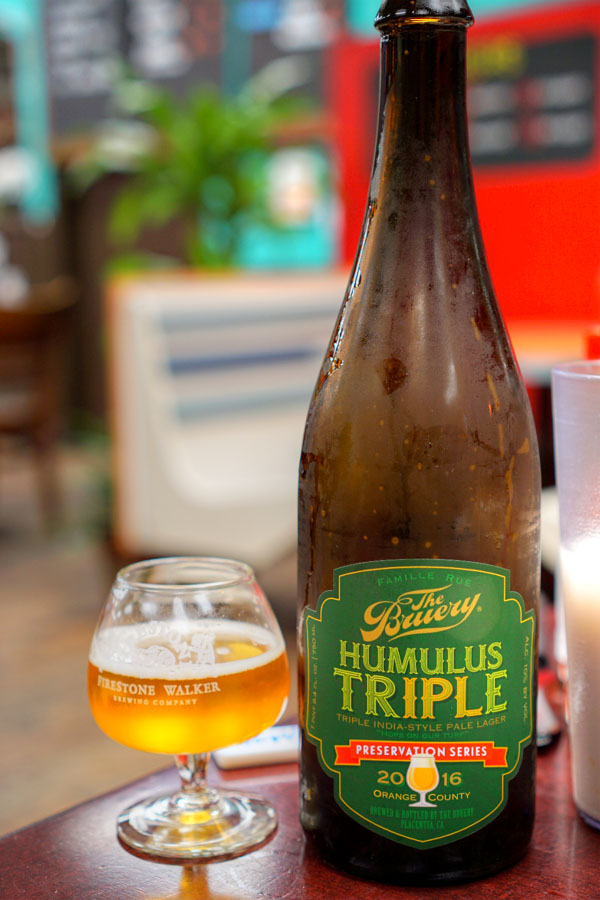 The
2015 The Bruery Humulus Triple
was a triple India pale lager, and apparently the hoppiest beer that the brewery's ever put out. I don't doubt that claim. I got massively juicy, citrusy, hoppy aromas on this one, followed by flavors of intense resinous bitterness and pine. Proof that The Bruery can indeed do a hop-centric beer.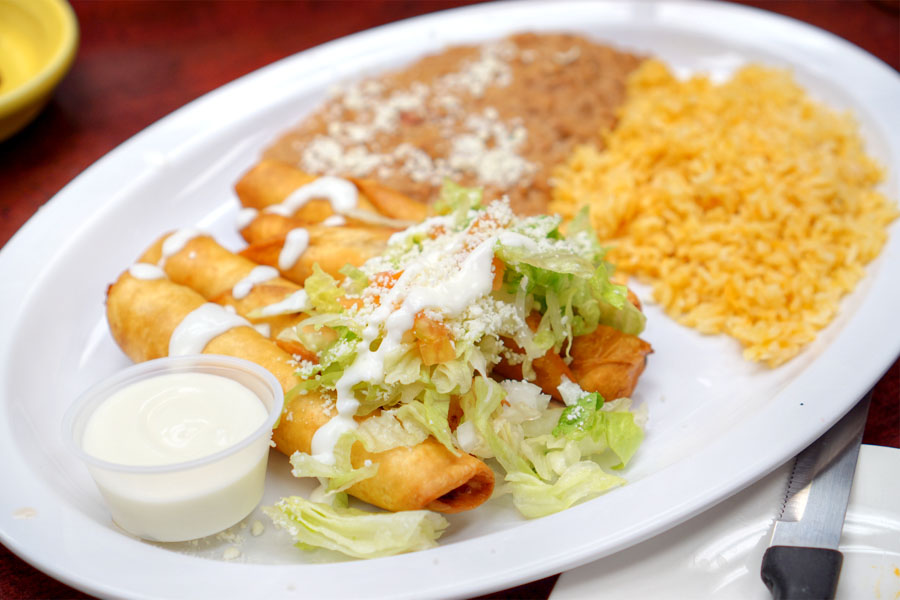 Mini Flautas - Chicken [$6.99]
| 6 bite size mini flautas with a side of sour cream
Flautas were delish. Nice savoriness and tenderness on the chicken, but what surprised me the most were the tortillas, which were crisp yet with a flakiness you don't typically get. The rice and beans were a cut above as well, and not nearly as throwaway as they often are.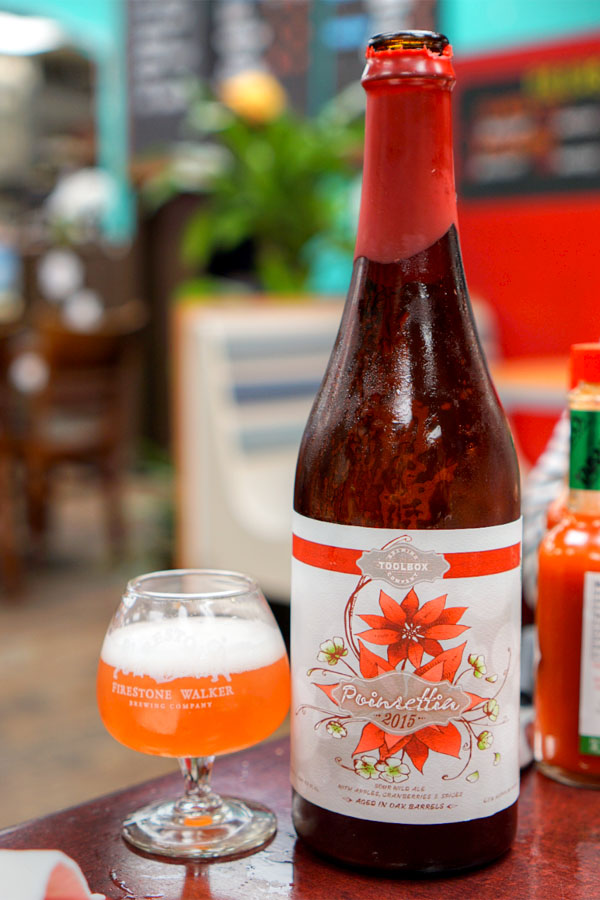 The
2015 Toolbox Poinsettia
was apropos given the holidays, a wild ale with Macintosh apples, cranberries, and spices, aged in wine barrels. On the nose: tart berry fruit intertwined with holiday spices. On the tongue: tart yet dry, with a lingering sweet, cinnamon-y spice. A commendable effort from Toolbox.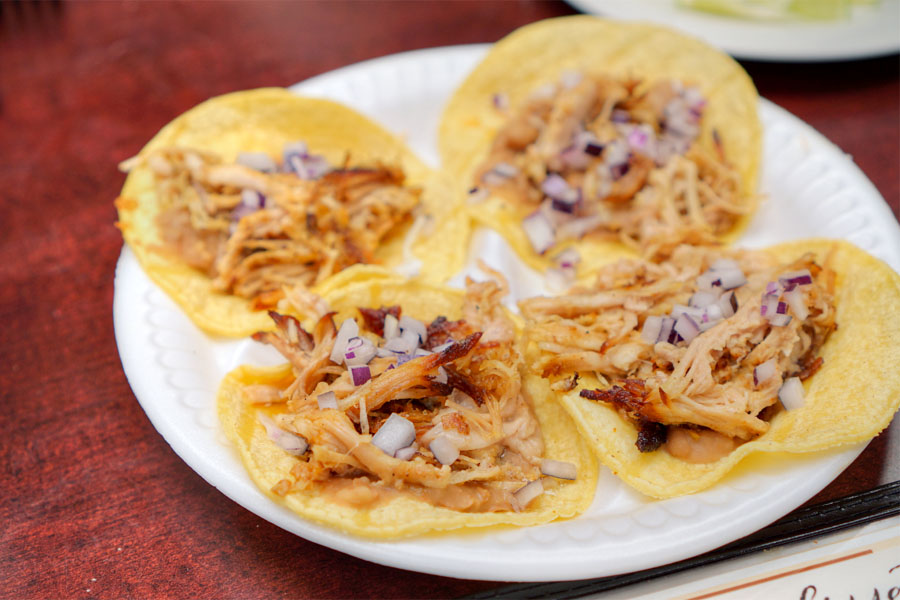 Pork Belly Taco [$1.00]
Our final round of tacos brought out pork. Another set of tasty bites, with the savory, charred goodness of the belly working well alongside a base of
frijoles
.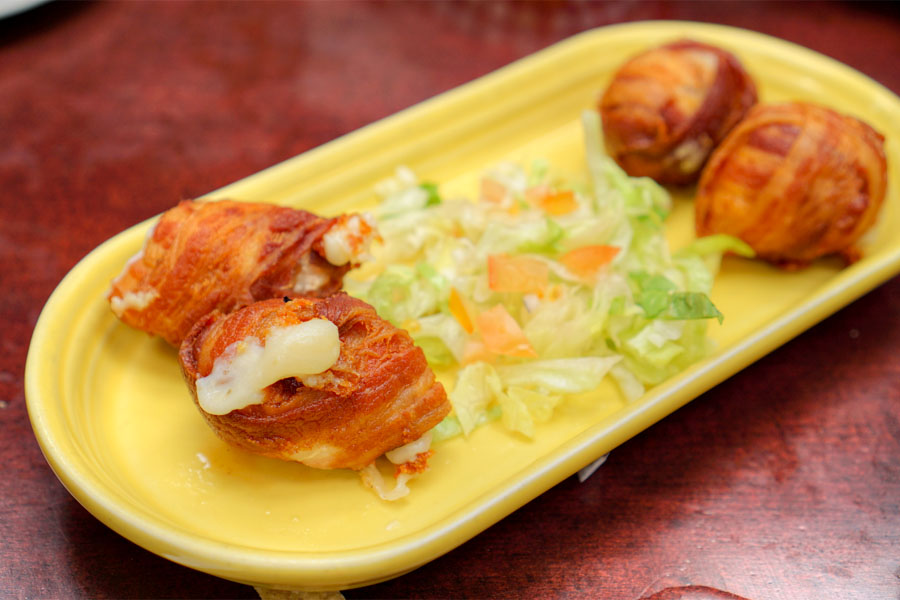 Costa Azul Shrimp [$10.50]
| 4 jumbo sized shrimp stuffed with cheese wrapped in smoked bacon
A dish of bacon-wrapped shrimp was heavy but satisfying, a flavor bomb teeming with blasts of salt, cheese, and smoke, tempered slightly by the shards of lettuce on the plate.
Our first stout of the evening was the
2015 Modern Times Monsters' Park aged in 7-Year Old Smooth Ambler Rye Barrels
, a limited run using whiskey casks sourced from K&L Wine Merchants. The beer had been widely reported as being infected, and unfortunately our bottle had succumbed to the bugs, conveying an uncharacteristic tanginess and lacto bent, though the spiciness of the rye was still apparent.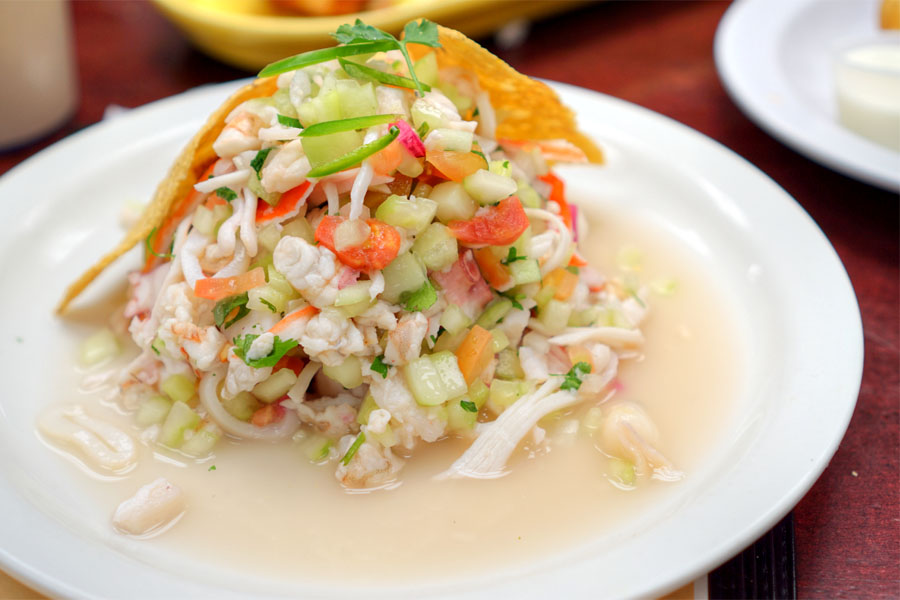 Shrimp Special [$6.99]
| Shrimp ceviche with octopus, calamari, crab, and cooked shrimp
I liked this
ceviche mixto
of sorts, its fresh flavors, multifaceted textures, acidity, and brightness all working together seamlessly.
The
2015 Modern Times Valley of Sound
was a blend of white wine barrel-aged sour blonde and sour saison, with white peaches added. I found it juicy and tart, with funky peach skin notes over a dry, Bretty base. Tasty.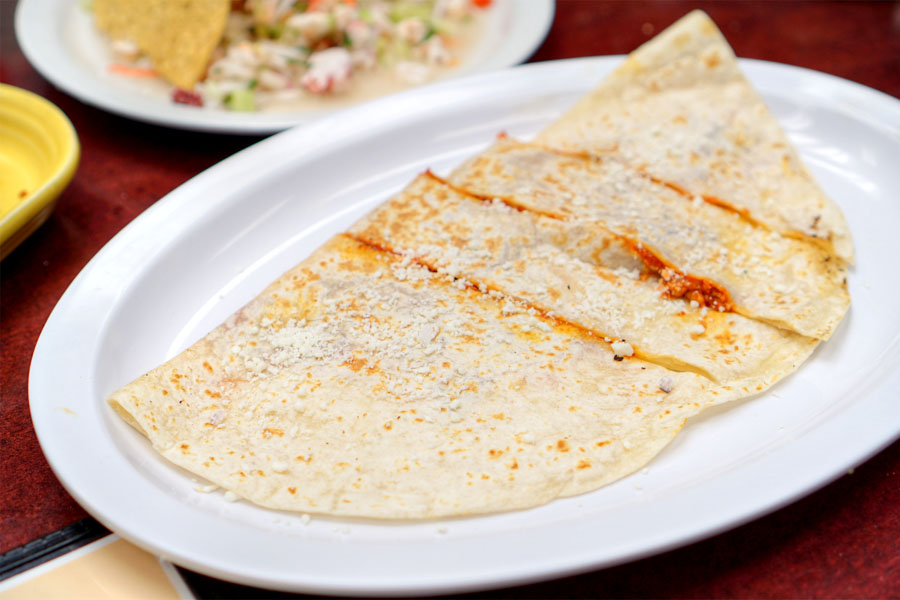 Quesadilla - Chorizo [$3.50 + $2.00]
| Grilled quesadilla stuffed with Monterey Jack Cheese in a flour tortilla
A pairing of cheese and spicy chorizo made for a classic quesadilla experience.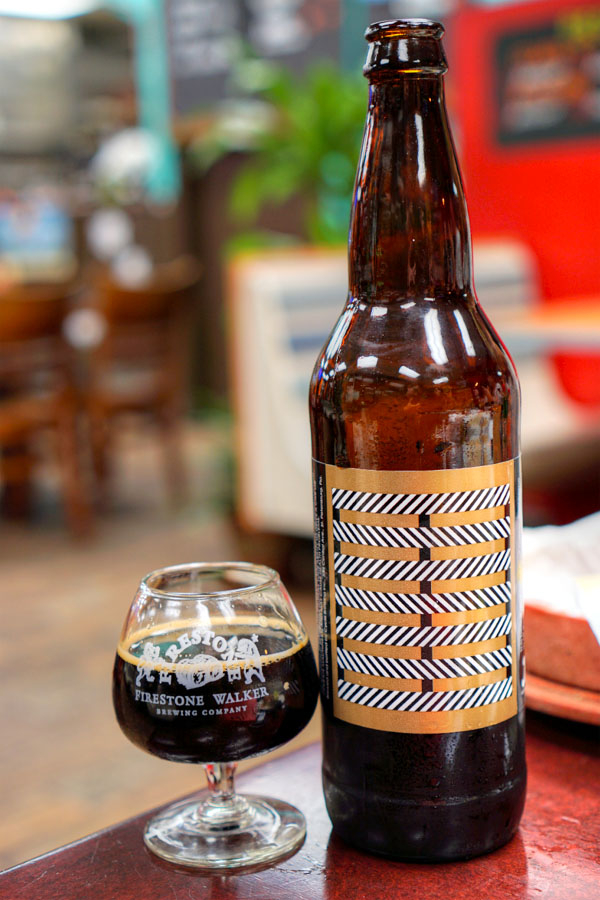 A stout aged in whiskey barrels with Mostra coffee, the
2015 Cycle Pallet 4
was one of the more coffee-forward beers I've had recently. Smelled of bitter roast commingled with sweet malt. Taste offered up more of the same, along with chocolate and some tangy, peppery notes.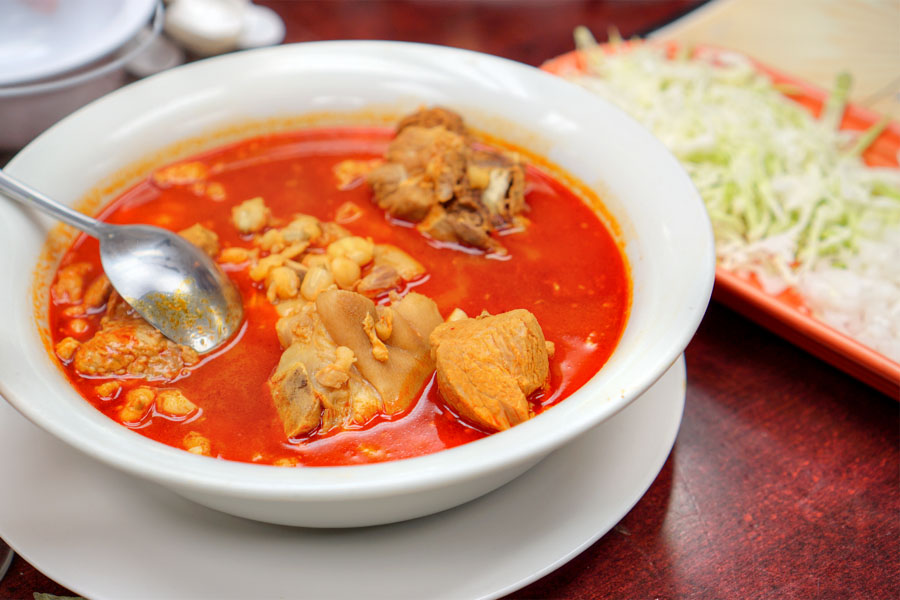 Pozole [$8.99]
| Pork soup with hominy
Pozole displayed plenty of deep, rich, porky flavors countered by the veggies and a squirt of lime. I was especially fond of the hominy and is hearty, satisfying bite.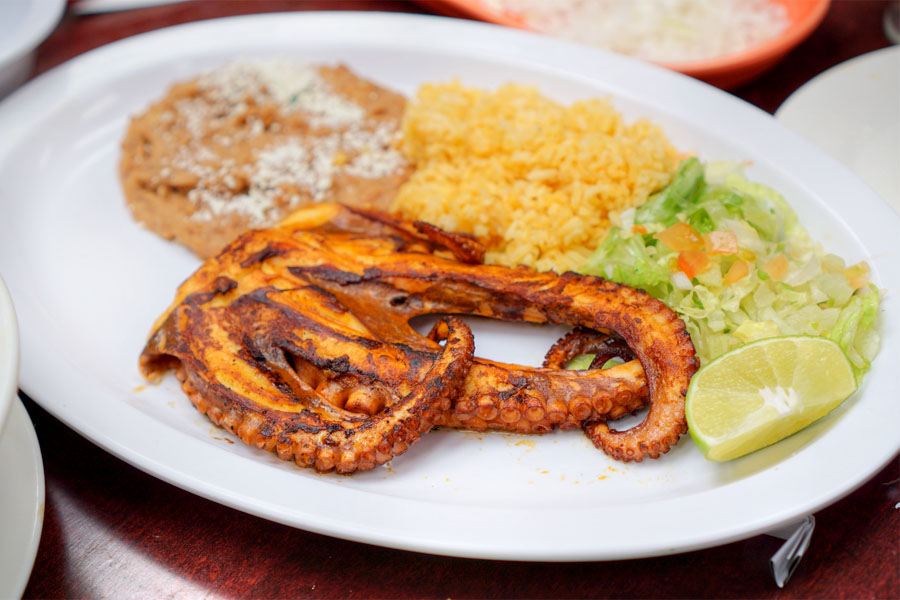 Octopus Zarandeado [$13.50]
| Octopus marinated in our house sauce
Our final savory, the
pulpo
came out tender, but still with a bit of chew. Taste-wise, I got a mild brine, joined by char and plenty of spicy, salty, sour notes from the
zarandeado
prep.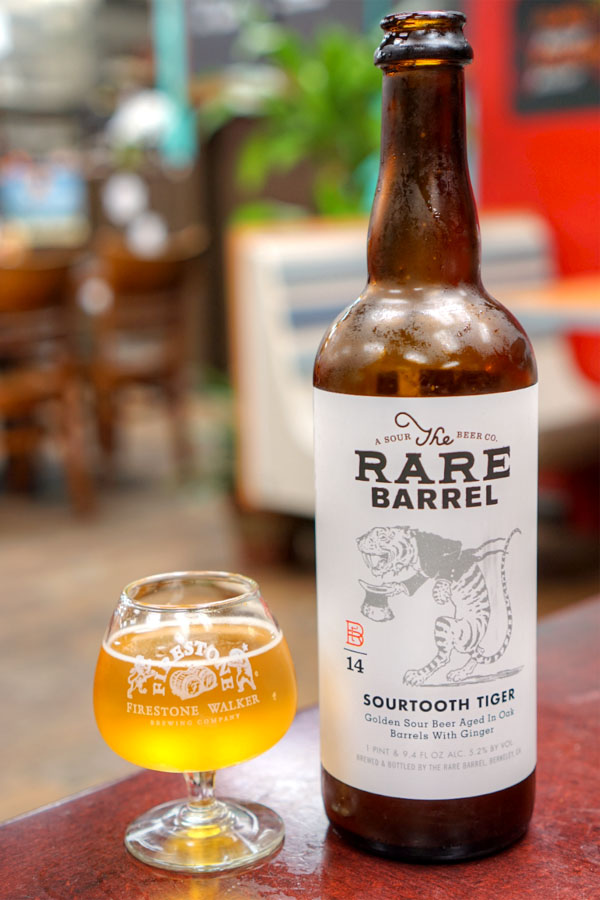 We closed out the beers with the
2014 The Rare Barrel Sourtooth Tiger
, a
Brettanomyces
- and
Lactobacillus
-fermented golden sour aged in oak barrels, with ginger added. The incorporation of ginger was done well, giving the beer a spicy, zesty bite that worked hand-in-hand with the dry, tart nature of the brew.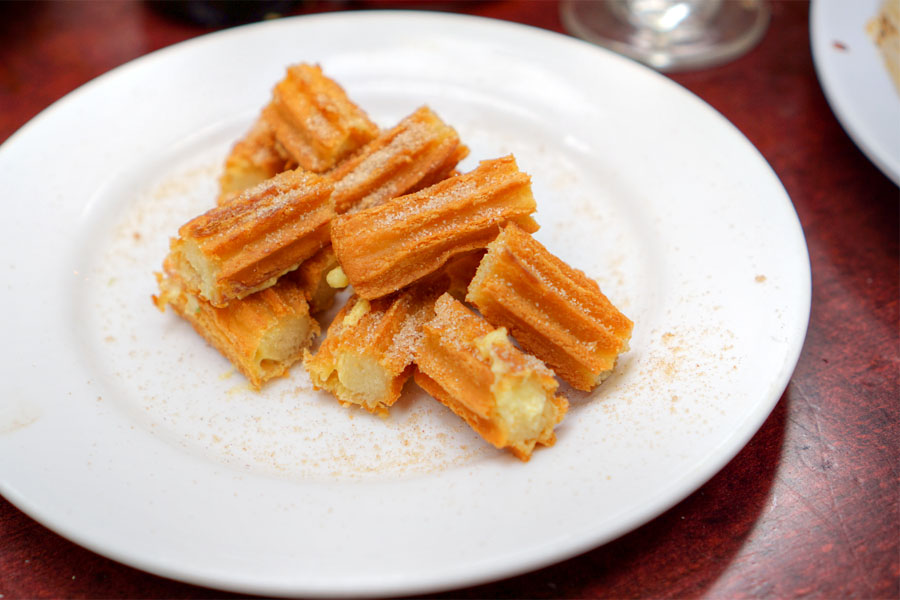 The Chef provided a complementary plate of churros to close, which I don't think were on the menu. They were lovely though, some of the tastiest I've had--perfectly crisp, sweetly-spiced examples with a wonderfully lush filling (
dulce de leche
?).
We all left Puertos very happy with the place. The food we had didn't stray too far from the standard Mexican cuisine playbook, but there was a sense of finesse and precision that you just don't see that often. Next time, I'd like to sample Matheus' off-menu creations, which apparently bring in more of his classical training under Fraser, as well as some Asian influences. Given that the Chef's Ecuadorian, it'll be interesting to see if he eventually incorporates that background into the cooking. And if that's not enough, I've heard that there's karaoke on the weekends...