Scratch Bar & Kitchen (Encino, CA)
Scratch Bar & Kitchen
16101 Ventura Blvd, Los Angeles, CA 91436
818.646.6085
www.scratchbarla.com
Sun 01/17/2016, 07:30p-11:40p

I last reported on Phillip Frankland Lee back in May, when I had a surprisingly lovely vegan meal over at
The Gadarene Swine
. The Chef wasn't actually in that evening because he was "filming" we were told. Rumors swirled that said filming was for
Top Chef
, and indeed, he's currently in the midst of battling it out on Season 13 of the reality show.
Two months after that meal, Lee ended up shuttering the original
Scratch Bar
in Beverly Hills, reportedly due to landlord issues. However, in a curious development, it ended up reopening a week later, with said landlord Daryoush Danesh helming the kitchen himself. The "imposter" Scratch Bar did eventually bring on an actual head chef to run things: Evaldo Garcia, an alum of
Scarpetta
and Culver City's Lunch (now
Hanjip
). Even with Garcia in place though, the restaurant didn't do so well and ended up closing last October. It was then advertised as an event space before being turned into Humble Crust, a pizza concept that bowed at the beginning of this year.
As for Lee, he partnered up with former Crystal Geyser CEO Doug MacLean for this new iteration of Scratch Bar, which ended up debuting on December 1st, a day before the premiere of
Top Chef: California
. Unsurprisingly, wife Margarita Kallas Lee serves as Pastry Chef, while Chef de Cuisine and sous chef duties are handled by Jonathan Portela (Eleven Madison Park, Junoon) and Arnold Smith (
The Tasting Kitchen
,
Stefan's at L.A. Farm
), respectively.

SB&K resides in a second floor spot in the Encino Place strip mall, an unlikely location that was previously home to Karma Bistro, The Elbow Room, Red's Wine & Tapas, and La Sumo. The space has been completely redone, of course, and is now focused on a 16-seater bar that wraps around a massive wood-burning brick hearth. There's also space for an additional 14 at two four-tops and three two-tops, not to mention a couple of tables outside.
As for the menu, there's an à la carte selection divvied up roughly into veg, seafood, and meat sections. Meanwhile, tasting menus come in at $40 (6-8 courses), $80 (10-12 courses), and $120 (20-30 courses) price points. We opted for the $120. Drink-wise, you'll find a compact, sensibly-priced wine list focused on limited production bottles from California.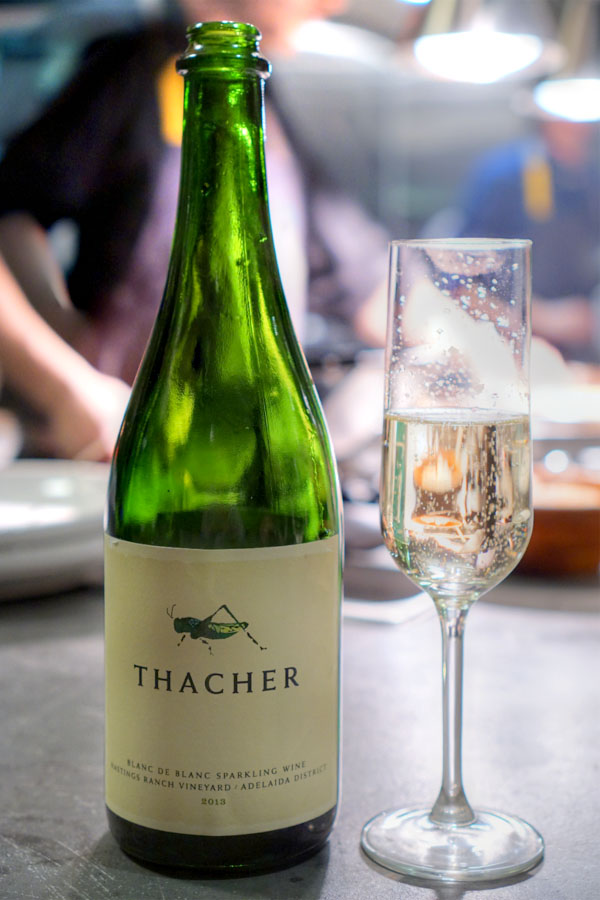 We began with a sparkler from the list, the 100% Viognier
2013 Thacher Blanc de Blanc [$81]
. Nose was of sweet apple and stone fruit, while the taste brought a bit more sweetness, citrus, and breadiness over a crisp minerality, with just a peep of heat creeping in.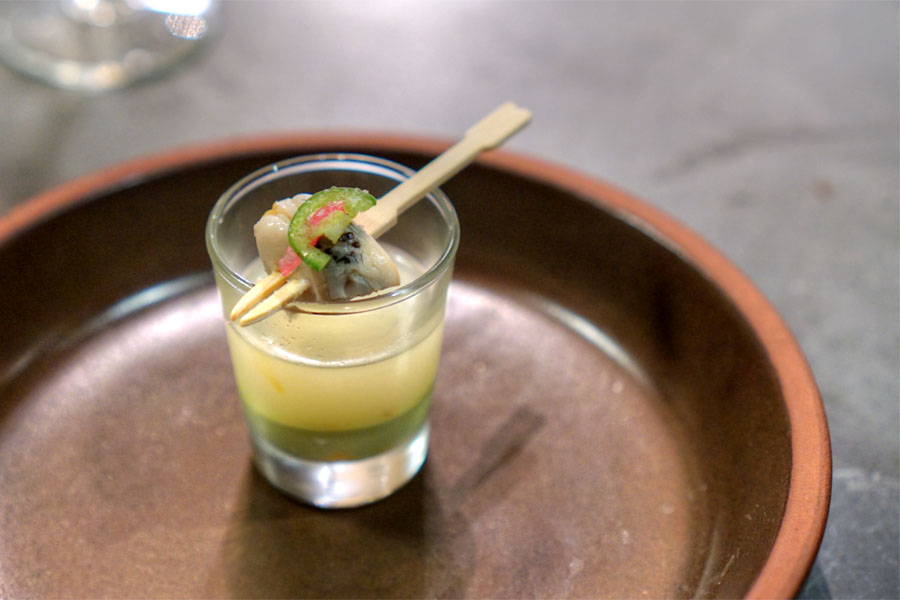 1: Green Mussel Shooter, Lime Juice, Serrano, Nigori, Tomato, Lemon
Lee and the team possess a proclivity for shooters, and began with such. Nice ocean-y taste from the mussel initially, commingled with a pinch of chile spice. The sake brought a viscous sort of sweetness to the mix, while the finish was all about the creaminess of avocado at the bottom (a bit difficult to scoop out).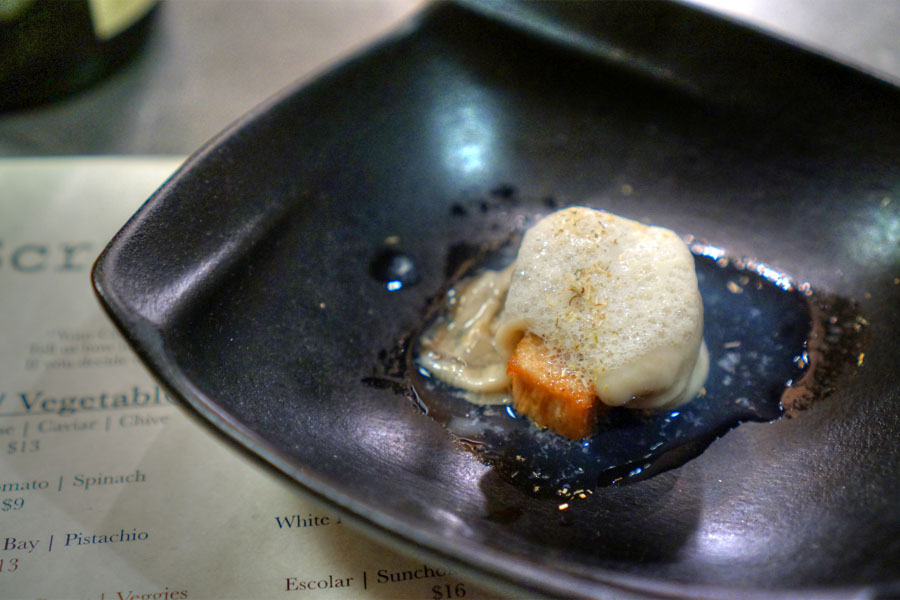 2: Pork Belly, Oyster, Coconut-Chamomile Emulsion, Chamomile Flowers
Next came one of the restaurant's most well-known dishes. As always, there was a surprisingly effective interplay between the brine of the oyster and the sweet-floral nuances present, which was crucial. The pork belly then added a needed heft to things with its copious amounts of salt, char, and chew.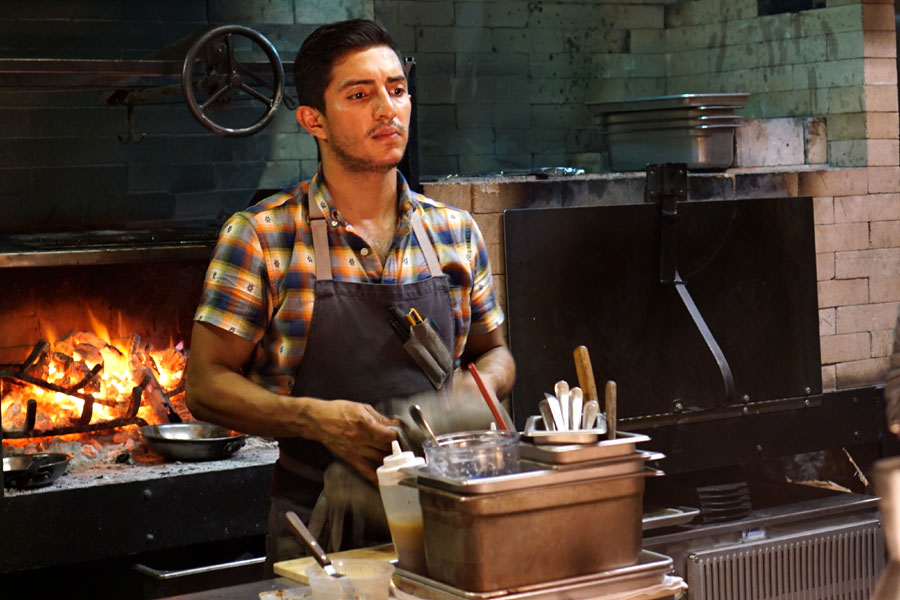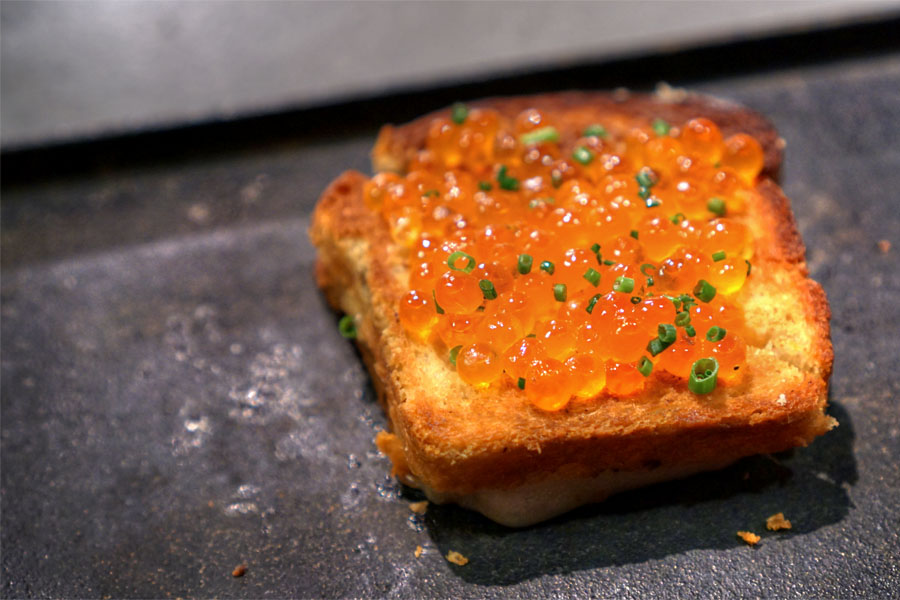 3: Homemade Brioche, Homemade Cheddar, Salmon Roe, Chives
One of my favorites was this miniature grilled cheese that packed an outsized punch. The back-and-forth between the cheddar and the toasty bread was spot on, but the key for me was that
ikura
and how it gave things just the right amount of salinity toward the finish.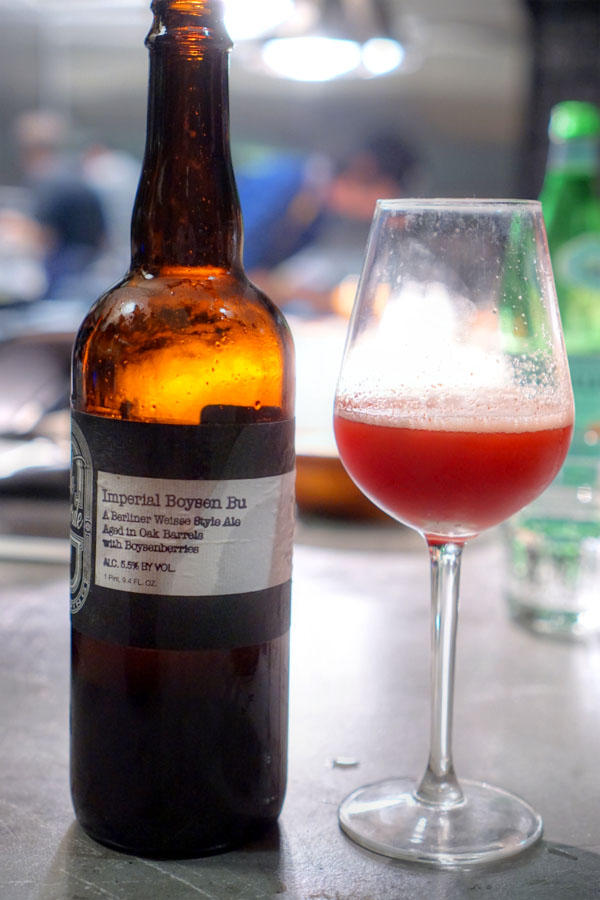 The organizer of the dinner arranged for complementary corkage, and thus I brought along a few bottles to open, making sure to share liberally with the staff of course. The first was the
2015 de Garde Imperial Boysen Bu
, a Berliner weisse with Oregon boysenberries, aged in oak red wine barrels. Given that over two pounds per gallon of fruit was used in the beer, this was super jammy, almost Smucker's-esque, with boatloads of rich berry balanced out by a tempering tartness, acidity, and some lacto notes. Very tasty.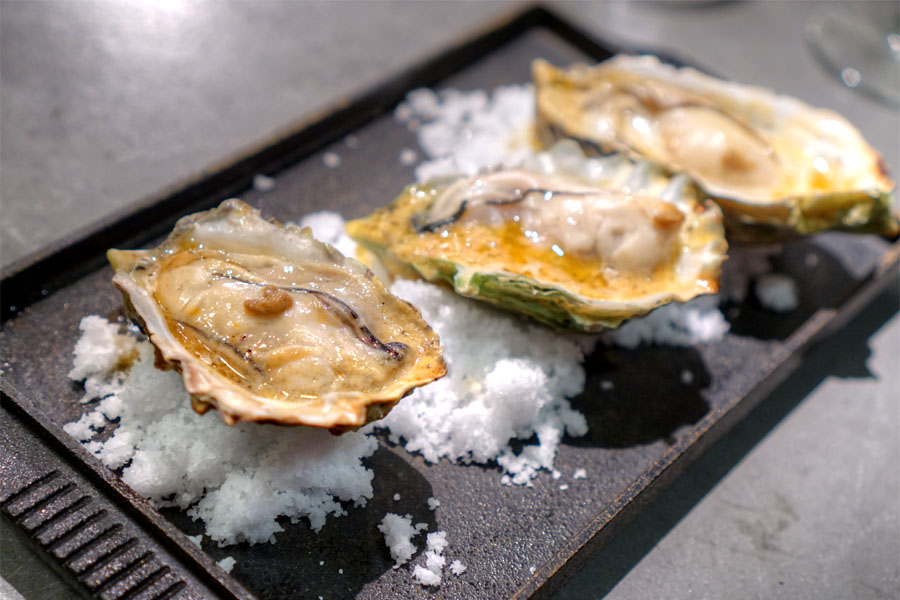 4: Oysters, House Butter, Garlic, Old Bay, Cured Squid Roe
Oysters were superb, coming out plump and meaty, their brine beautifully paired with considerable amounts of buttery, garlicky, herby goodness.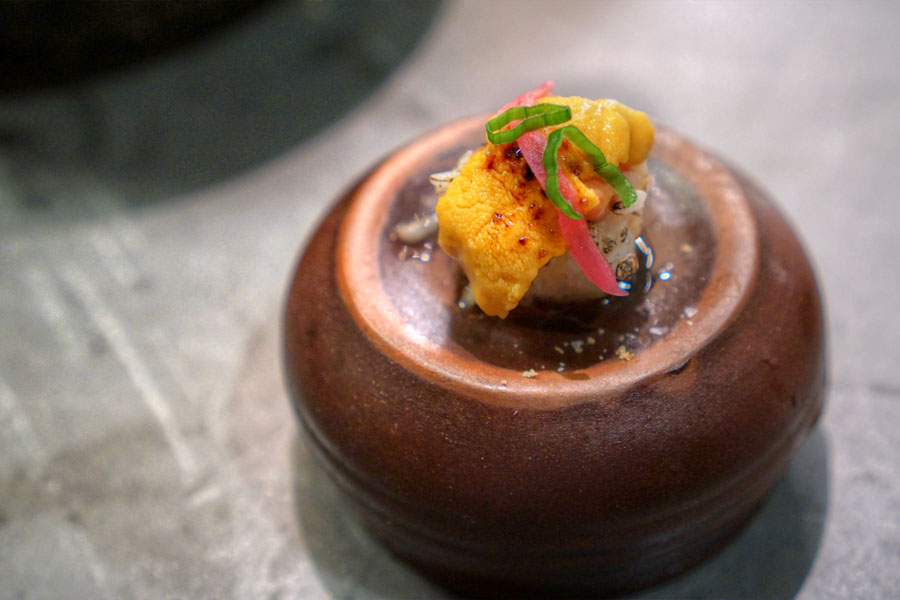 5: "Millionaire", Foie Gras, Brown Sugar Brûléed Uni, Sushi Rice, Pickled Onion, Scallion
Another strong bite was next, a smart pairing of rich foie and bittersweet torched uni, with the rice working perfectly as a base to it all. Excellent zip from the onion, too.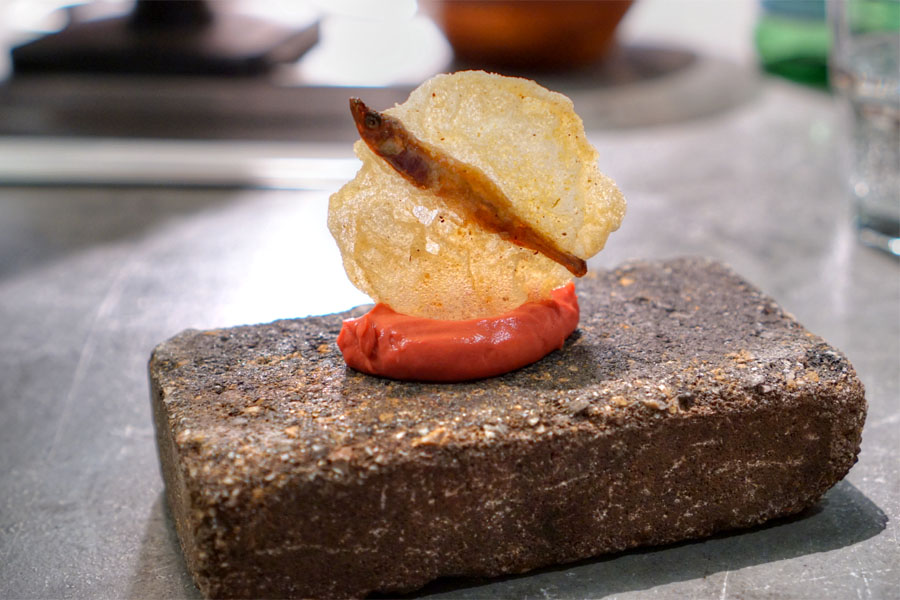 6: Smelt Cracker, Puffed Rice, Bone Marrow-Beet Mustard
The signature smelt cracker delivered with its mix of fishy and subtle rice flavors in a crunchy package, all paired with that tangy, ruddy mustard.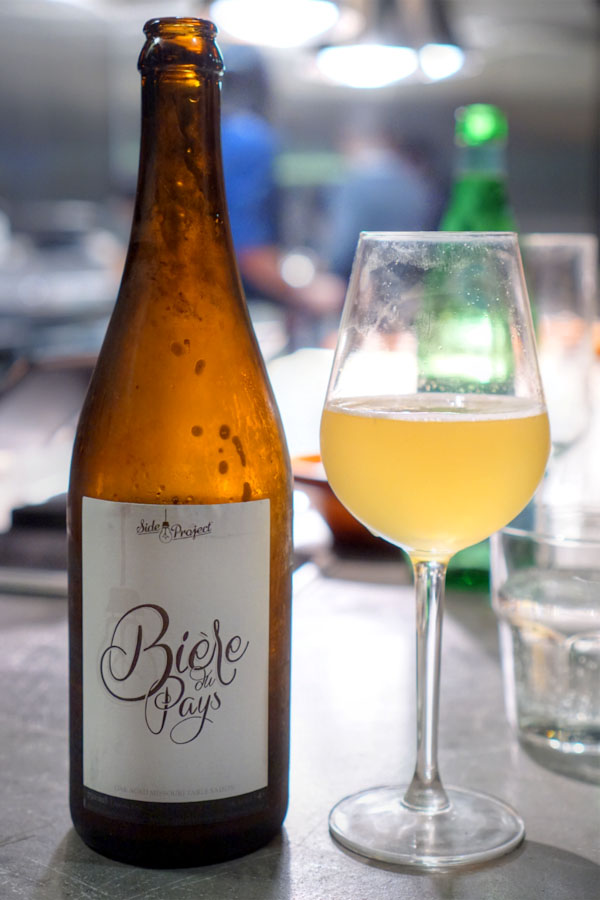 One of the standout beers was the
2015 Side Project Biere Du Pays
, a Chardonnay barrel-aged saison that was one of the best I've had in a while. Smelled of tart lemon and light tropical fruit. Taste was super refreshing, crisp, and utterly well-integrated, with more fruit, citrus, white wine, subtle yeast, and a touch of barnyard.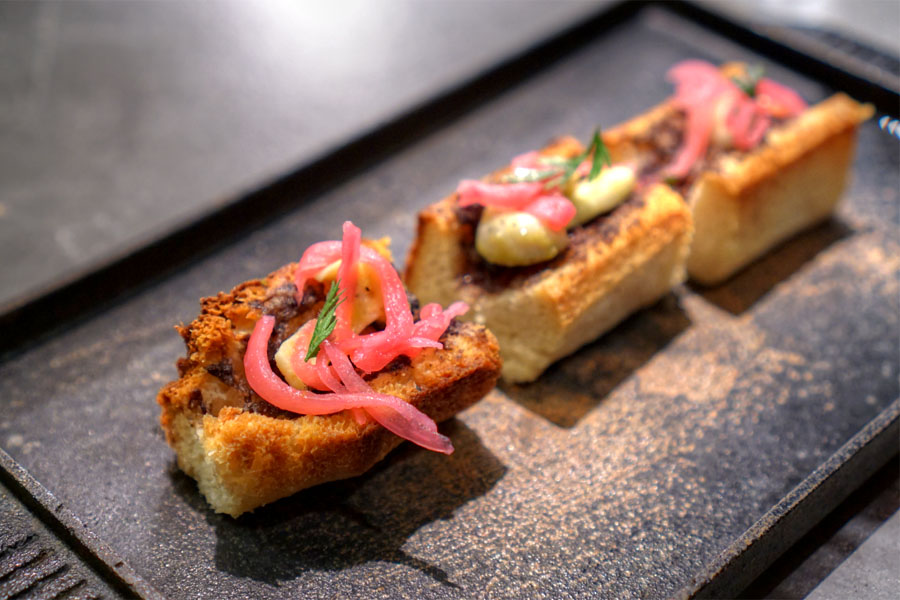 7: Bone Marrow, Homemade Brioche, Shimeji, Pickled Onion, Carrot Tops
Marrow was as rich as expected, well-moderated by the toast while the acid from the onions imparted even more balance.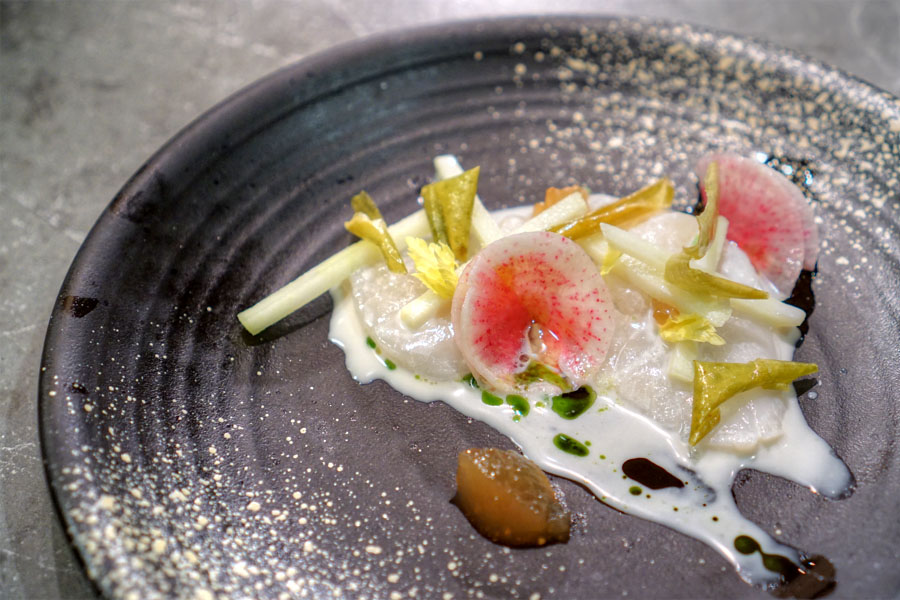 8: Scallop Crudo, Lemon, Apple, Apple Skin, Apple Gelée, Serrano, Cilantro Oil, Radish, Celery Root
Slices of scallop arrived supple and tasting lightly of the ocean. I was a fan of the apple here, which provided a juicy sweetness and crunch that worked surprisingly well as a counterpoint. Nice bitterness from the radish to boot.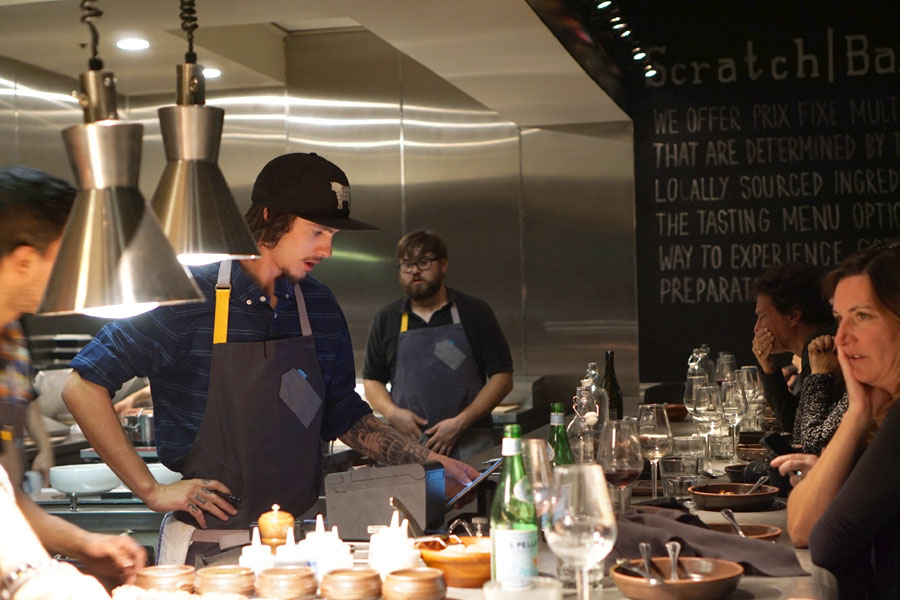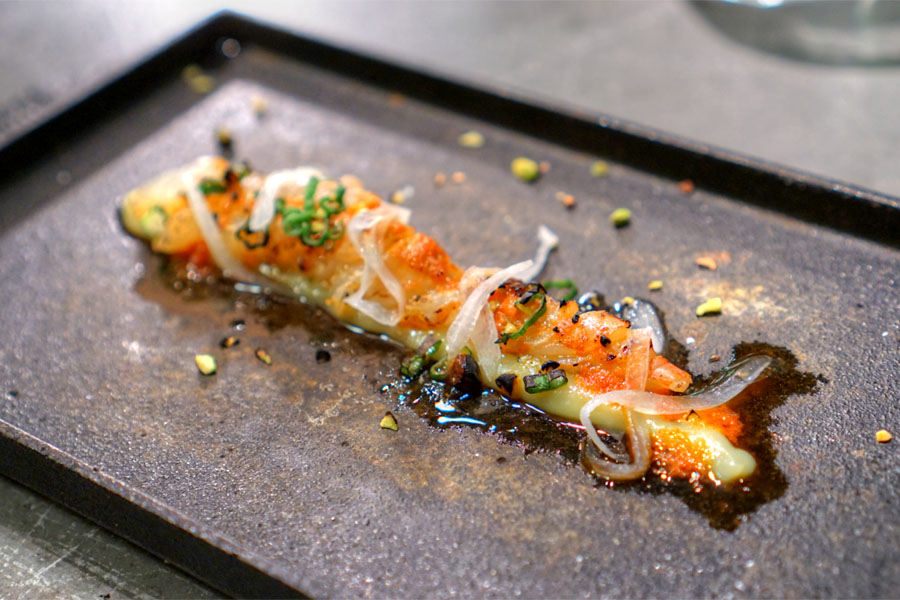 9: Seared Prawn, Chermoula, EVOO, Scallion, Pistachio, Smoked Onion, Cabbage-Fish Sauce Purée
Shrimp showed off a lovely texture, along with a mouthwatering smokiness and spice. I appreciated the potency of the accompanying sauce as well, not to mention the astringency of those onions.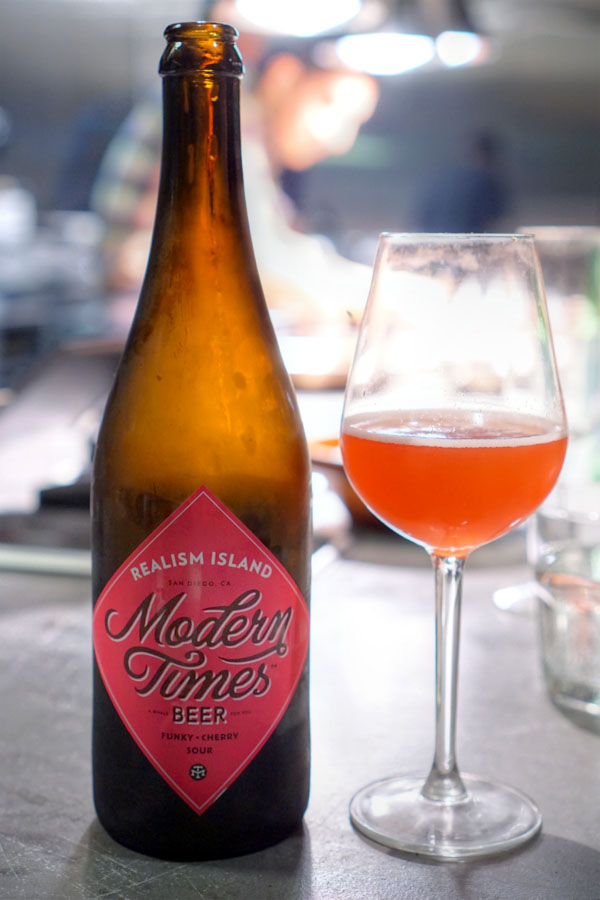 The
2015 Modern Times Realism Island
was a sour cherry juice-enhanced white wine barrel-aged sour blonde, fermented with Lacto, Pedio, and Brett. Loads of tart cherry and funk on the nose on this one, while the palate conveyed even more rich, deep cherry flavors joined by plenty of musty complexity.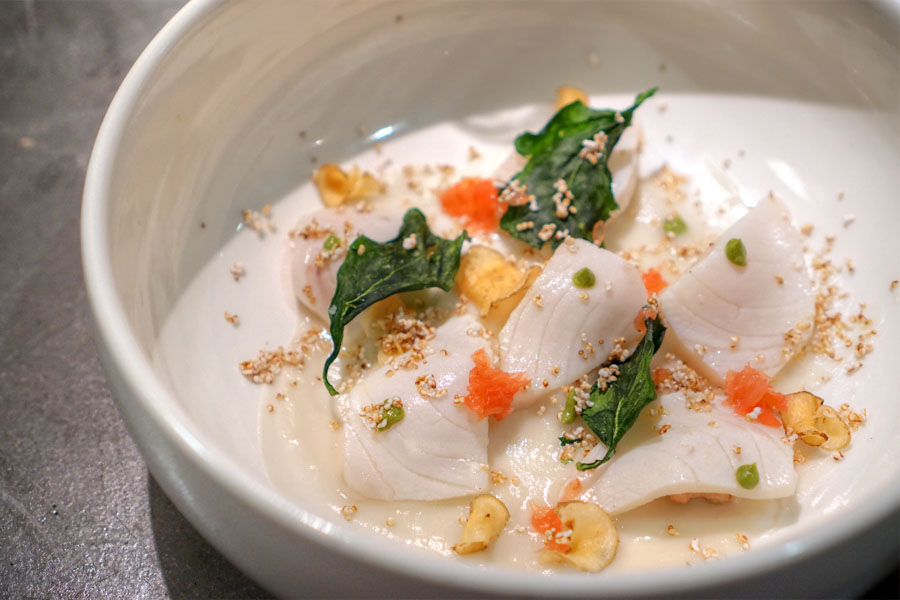 10: Escolar, Sweetbreads, Sunchoke Purée, Sunchoke Chips, Spinach Chips, Spinach Beurre Blanc, Dehydrated Grapefruit, Puffed Amaranth
Escolar arrived buttery and briny, augmented by the savoriness of sweetbreads (though I would've liked more crispness on said sweetbreads). The various items of produce here worked to offset the fish, and I was particularly fond of the salt and crunch from those sunchoke chips.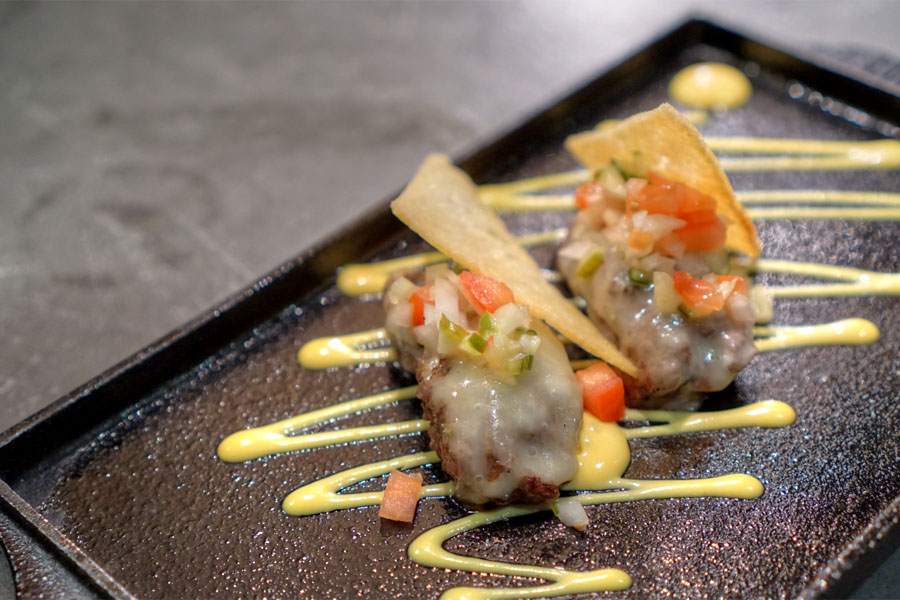 11: Beef Patty, Mustard, Brioche Chips, Yellow Bell Pepper, Relish, Cheddar
Here was a sort of reconstructed burger. Classic mix of cheesy and beefy flavors, offset by the punch of mustard and relish. Tasty, and just the right amount of trashy.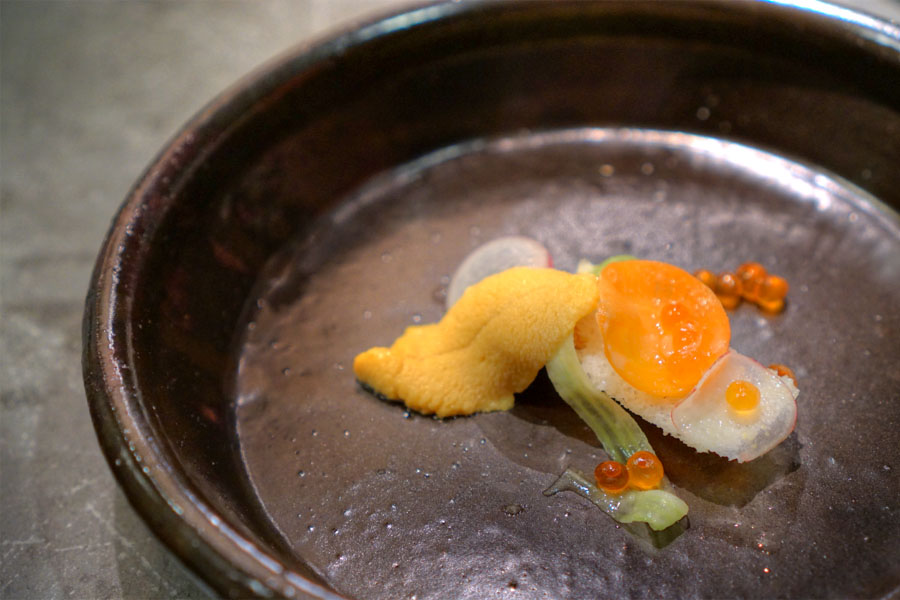 12: Foie Gras, Crudité, Carrot, Lemon, Salmon Roe, Uni
Foie and uni were once again married, but made for a surprisingly light combination thanks to the bright, citrusy flavors at play.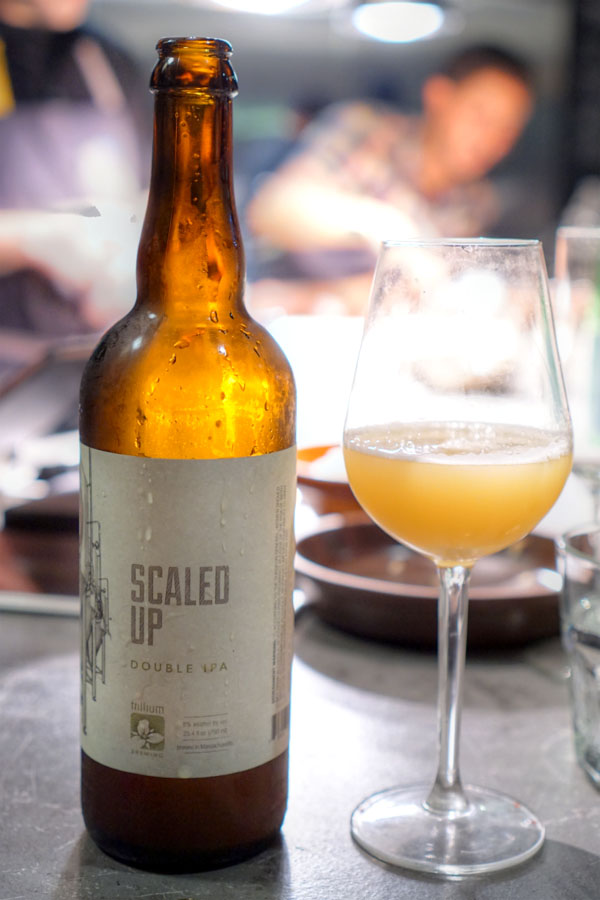 A colleague of ours at another table gave us a taste of the
2016 Trillium Scaled Up
that she'd brought. A double IPA brewed with Galaxy, Mosaic, Nelson Sauvin, and Columbus, this was a strong effort, with delectable aromas of hops and tropical fruit and a palate that conveyed more fruit and more citrus with a smooth, bitter backing.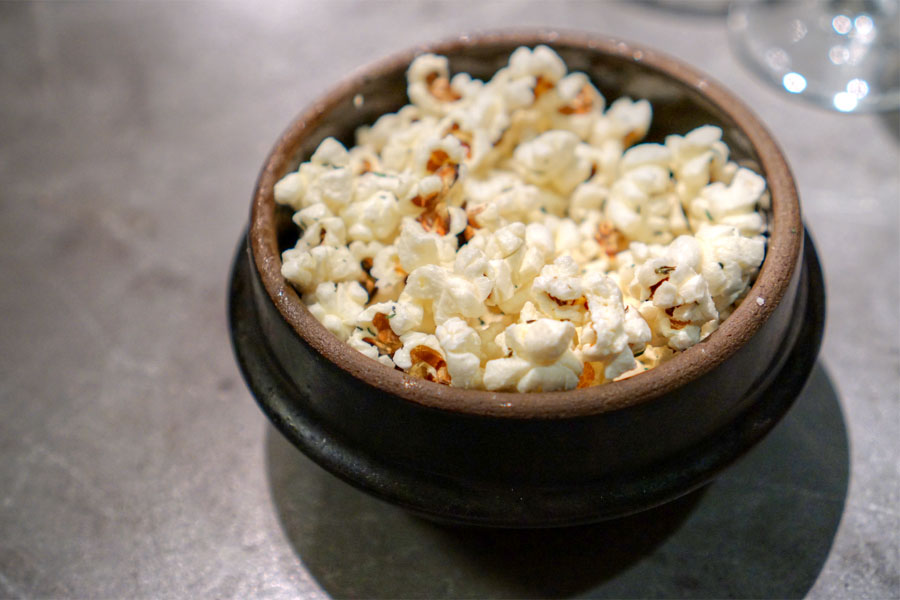 13: Garlic-Thyme Popcorn
Popcorn was addictive, all salty and garlicky with an almost Corn Nuts-esque savoriness to 'em.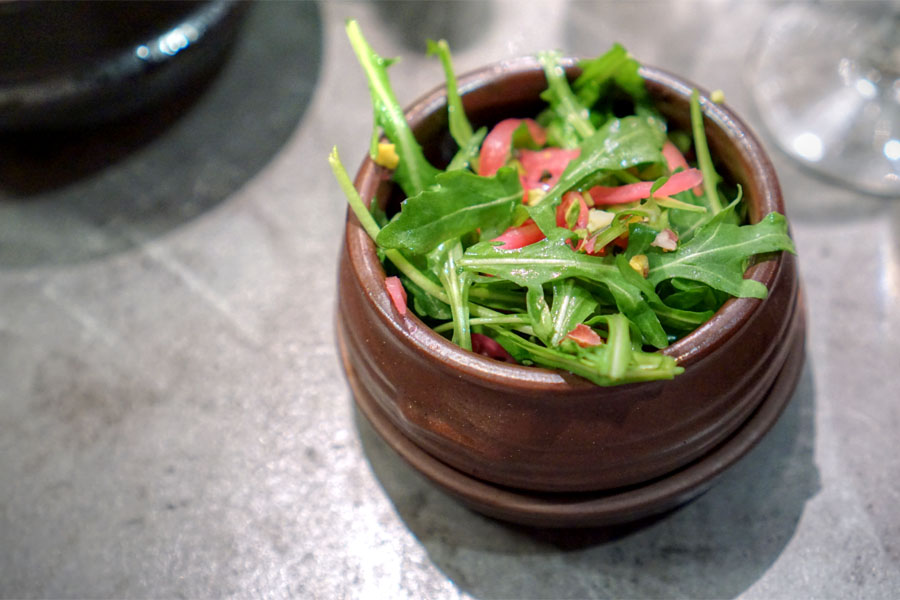 14: Camembert, Cashew Curry, Crème Fraîche, Carrot, Arugula, Pickled Onion, Pistachio, Lemon
The housemade Camembert (hidden) was super rich, super funky, but really worked as a base for all the nutty, bitter, tangy notes in the dish.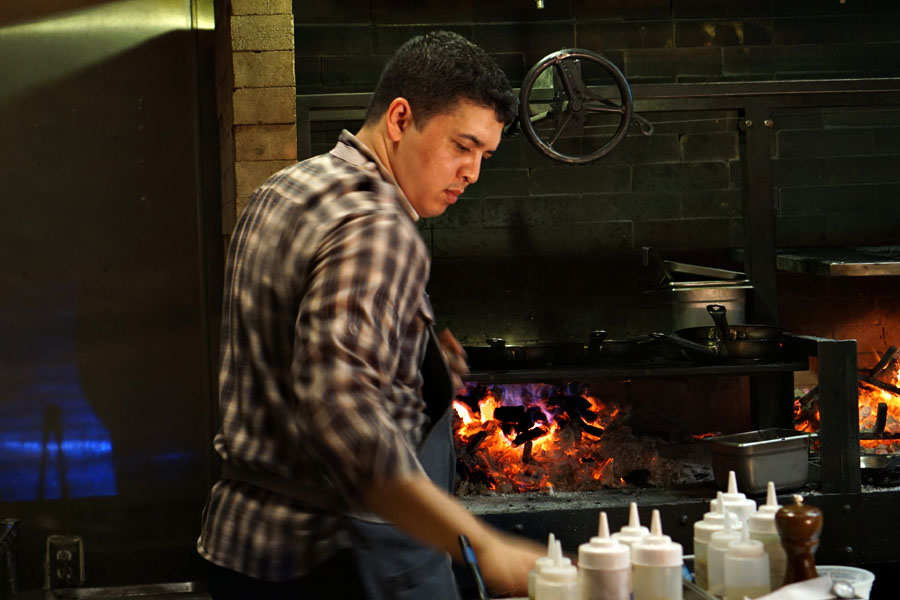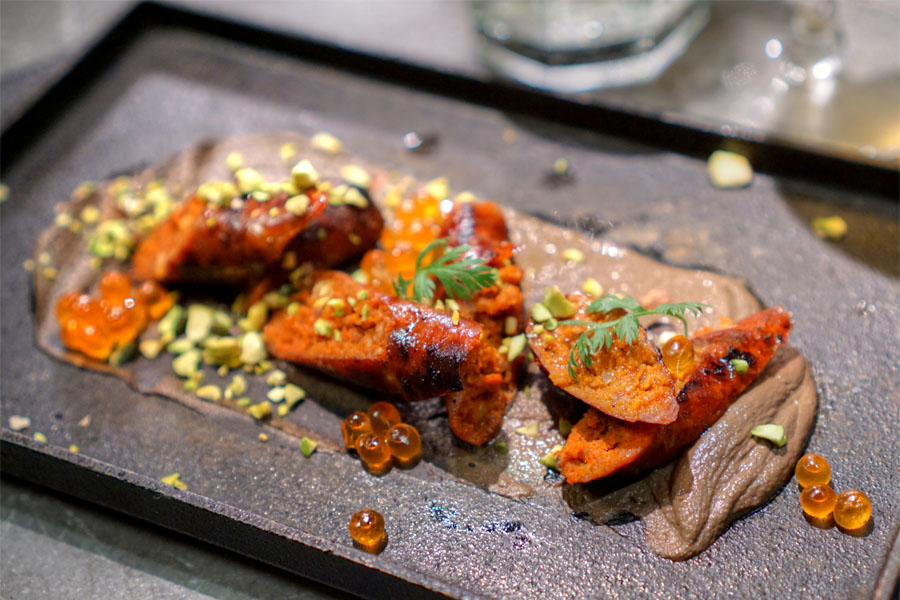 15: Homemade Chorizo, Mushroom Mousse, Pistachio, Carrot Tops, Salmon Roe
Chorizo delivered, its depth and spice working swimmingly alongside the almost truffle-y musk of the mushrooms while pistachio contributed a crunchy counterbalance.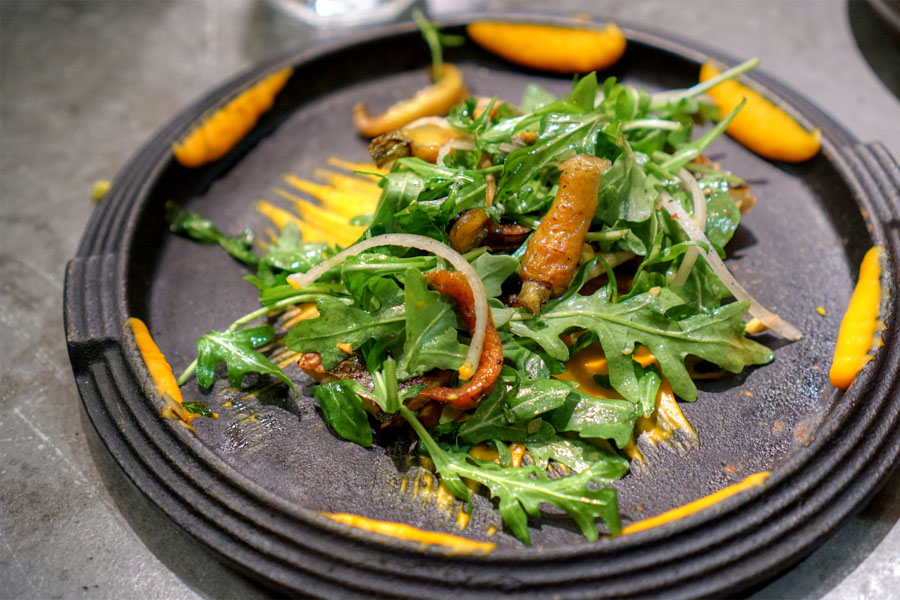 16: Branzino, Carrot Purée, Sugar Roasted Carrot, Arugula, Brown Butter Emulsion
Branzino (hidden) was delish, moist and tender and with a nice crispness on the skin. It was the hero here, but the various accompaniments worked out too, imparting a hit of sweet spice that fortunately didn't overpower the fish.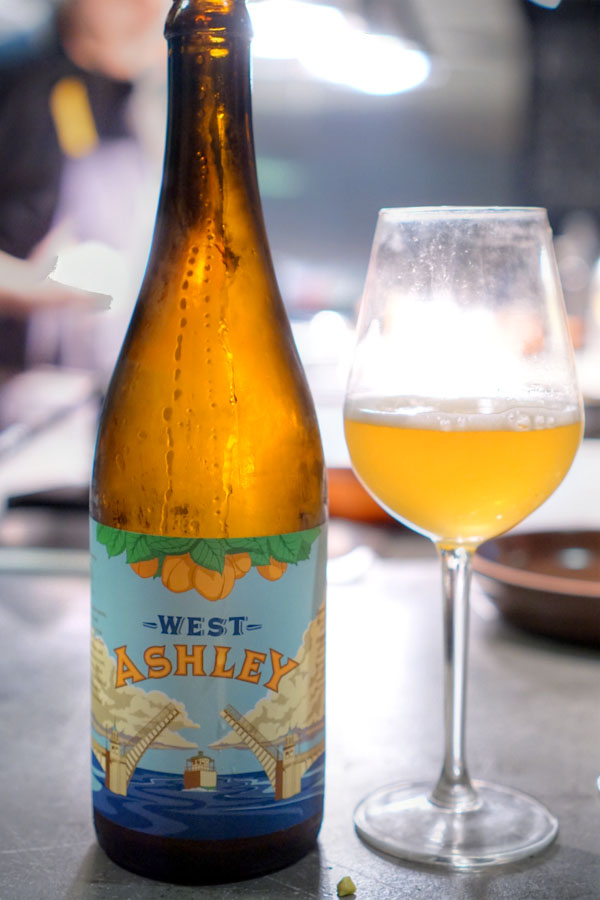 A sour saison with apricots aged in French oak Pinot Noir barrels, the
2015 Sante Adairius West Ashley
was arguably my favorite beer of the night. I got aromas of tart stone fruit skin, while the palate brought deliciously deep, rich, sweet apricot flavors set against a dry, tart, lactic backbone. Superbly well put together--this one lives up to the hype.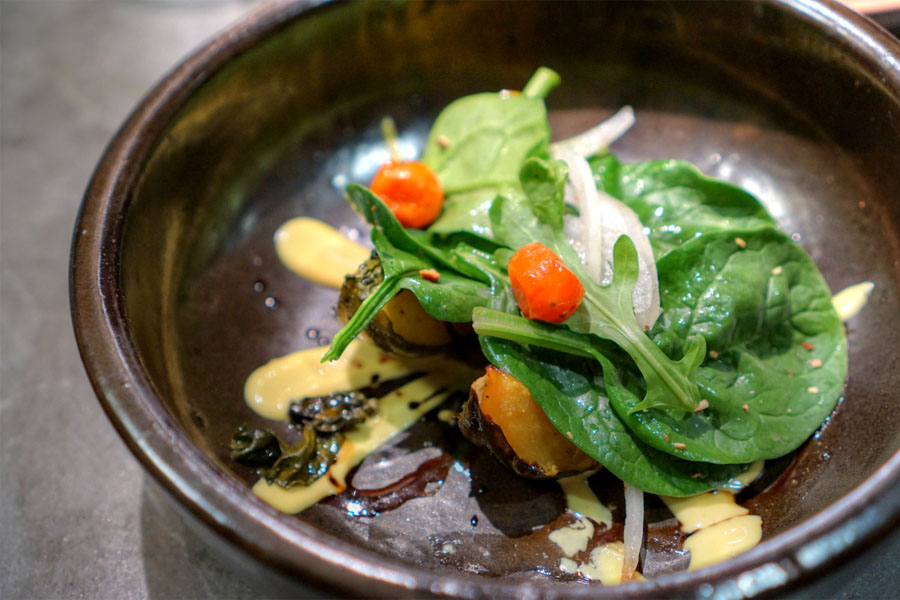 17: Roasted Acorn Squash, Spinach, Brown Sugar, White Balsamic, Yellow Bell Pepper Mustard, Balsamic Reduction, Spinach, Onion, Pecan
Acorn squash tasted of the season, with plenty of roasty, sweetly-spiced flavors that matched the bitter, bright notes in the dish.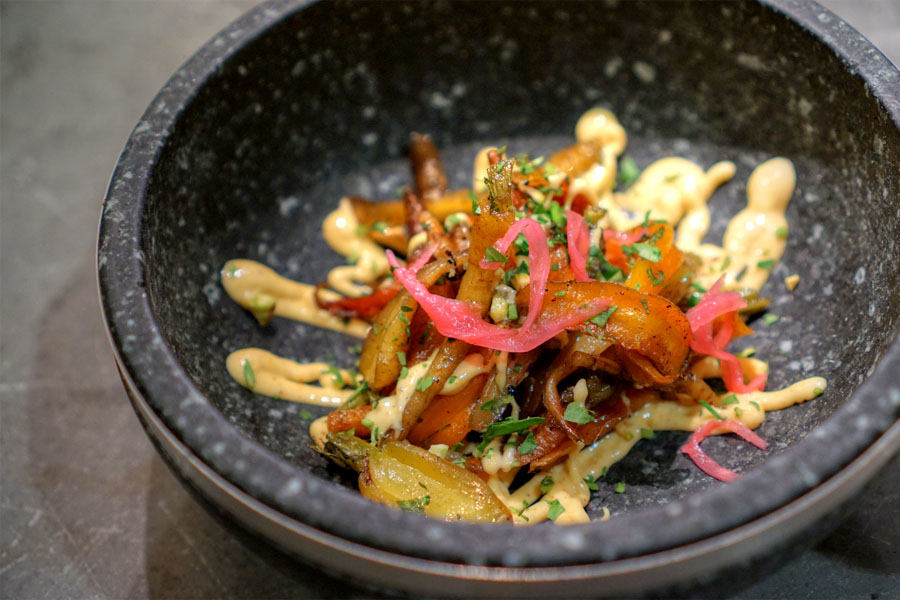 18: Sugar Roasted Carrot, Old Bay, Pickled Onion, Herbs, Pecans
Carrots were the star here, their inherent sweetness vibrantly conveyed against a backdrop of char, spice, and pickle-y acidity.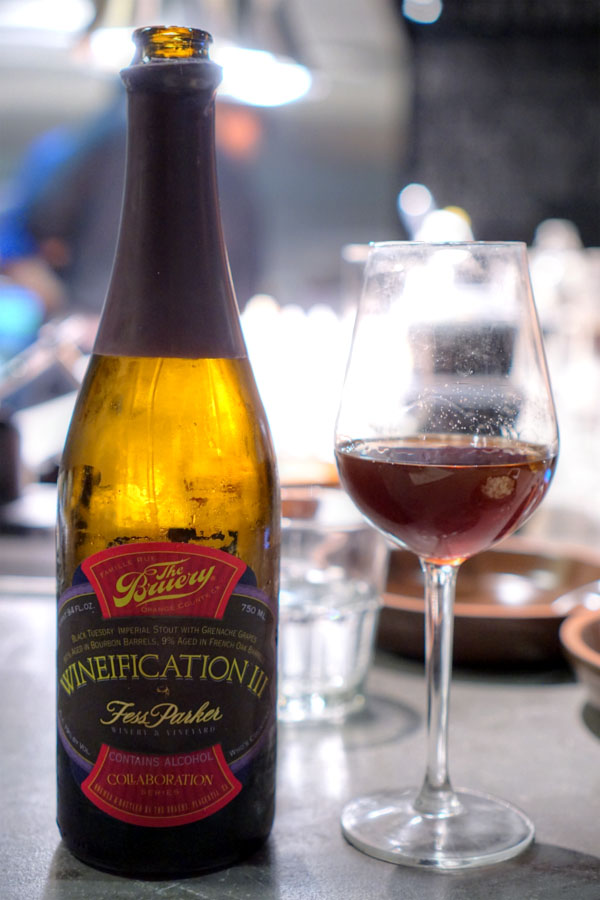 At this point we moved into something heavier, the
2015 The Bruery Wineification III
, an imperial stout with Grenache grapes, aged in a combination of bourbon and French oak barrels. I got a bouquet of juicy, sweet red wine commingled with chocolate, while on the tongue, think vinous and grapey initially, leading to stout-y notes of brown sugar, chocolate, and bourbon, with the Grenache lingering on the finish.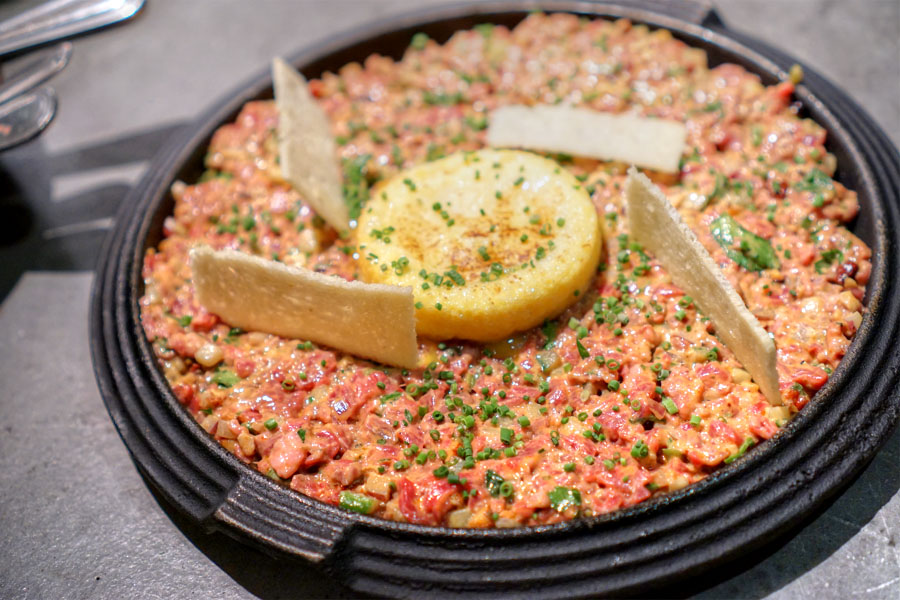 19: Beef Tartar, Chermoula, Old Bay, Brioche
An impressive/intimidating looking tartar was one of the stronger ones I've had in recent times. Excellent bite and springiness on the meat, and I loved how the beef was taken up a notch by all the spice and aromatics present. Nice textural contrast from the brioche, and there was this sort of nuttiness to the dish that I was a fan of as well.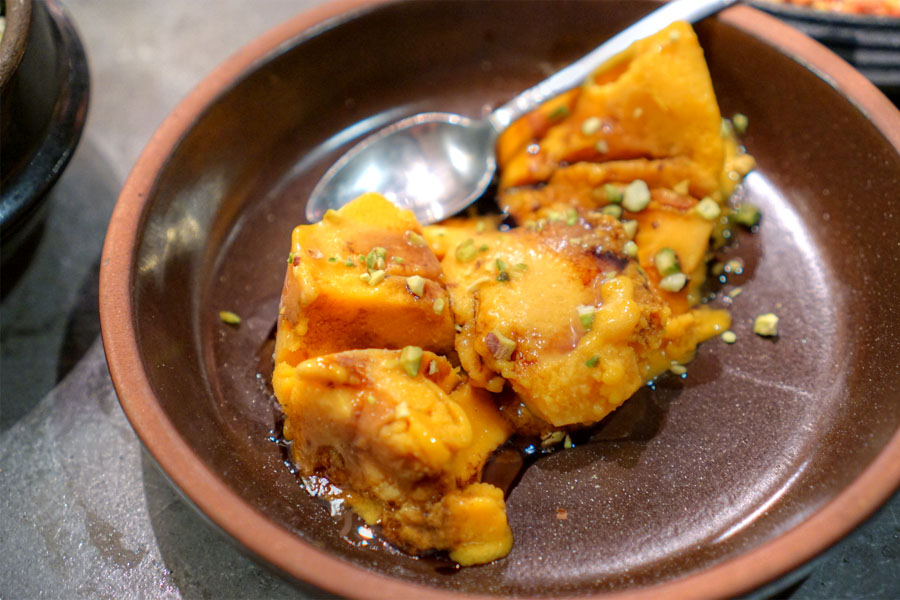 20: Persimmon Sorbet, Balsamic Vinegar, Pistachio
Rich, complex fruit flavors made for an effective intermezzo of sorts.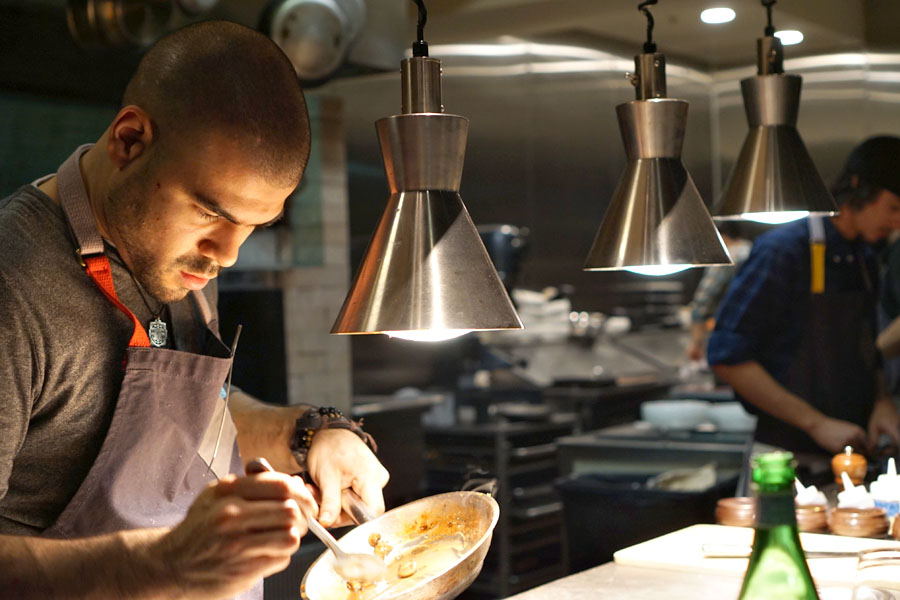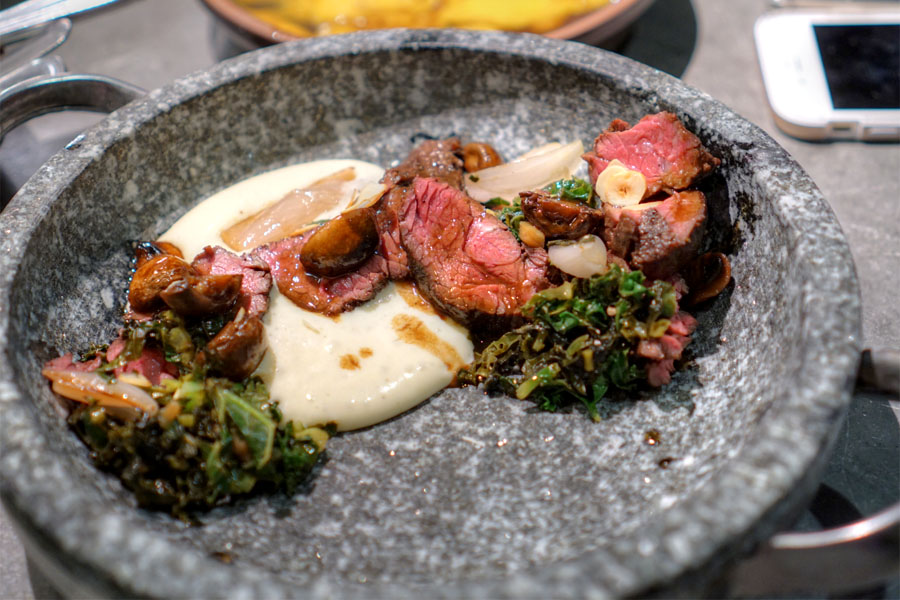 21: Dry Aged Steak, Mushroom, Shallot, Hazelnut, Potato
Our final savory brought out steak. It was a touch chewier than I'd prefer, though it showed off a great bit of charring and huge amounts of deep, beefy flavors. I really appreciated the bitterness of the greens here, and even the infamously "gummy" iSi-fied potato from
Top Chef
.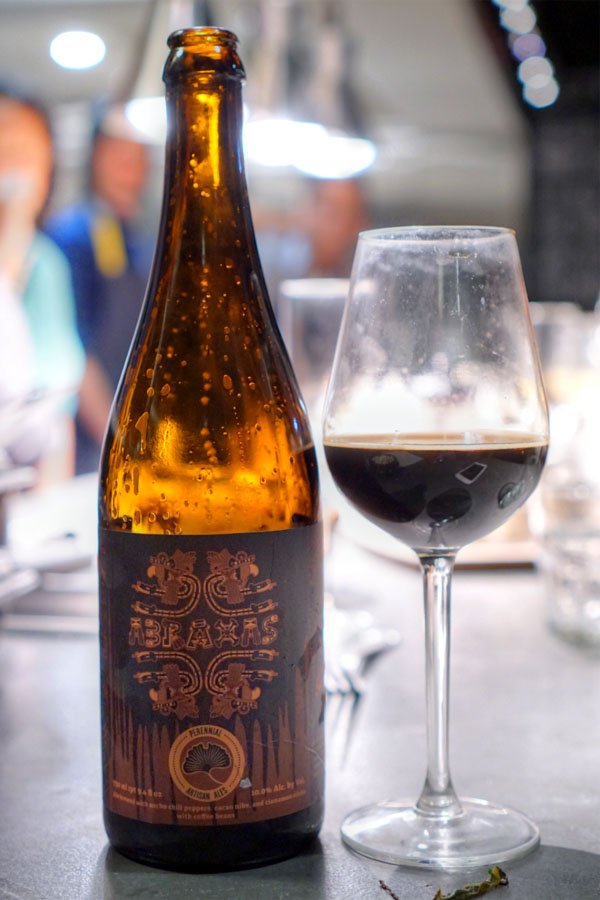 A stout brewed with ancho chili peppers, cacao nibs, cinnamon sticks, and of course coffee beans, the
2015 Perennial Coffee Abraxas
seemed like it'd be appropriate for dessert. And it was, with huge notes of roasty coffee at the forefront, set atop chocolatey malt and a lingering sweet spice toward the rear. Yum.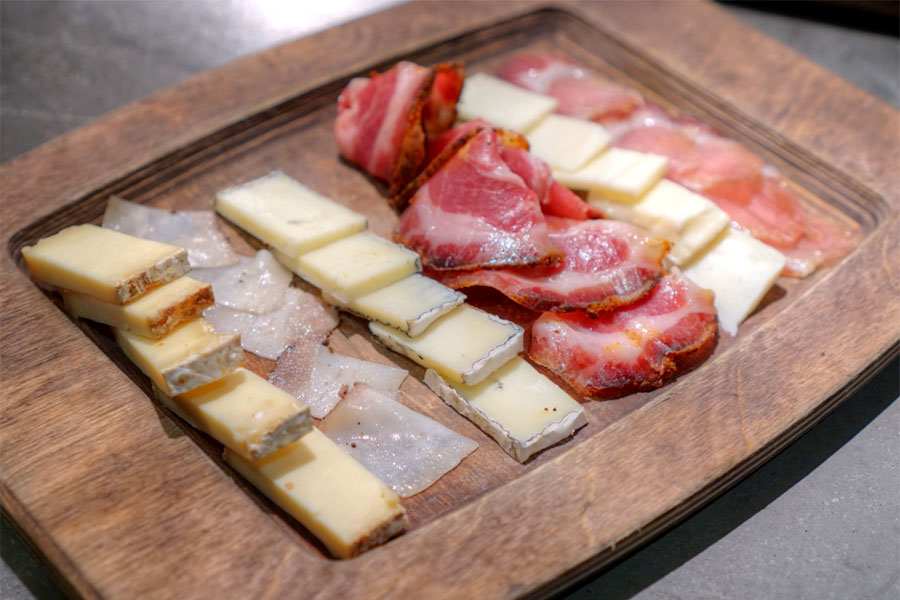 22: Cheese & Charcuterie
The team has instituted an in-house cheese and charcuterie program (with the cheese made at Stepladder Ranch in Cambria), and we were able to sample the tasty fruits of their labor: filetto (cured pork tenderloin), Gouda, coppa, triple-crème, pork belly, and Camembert.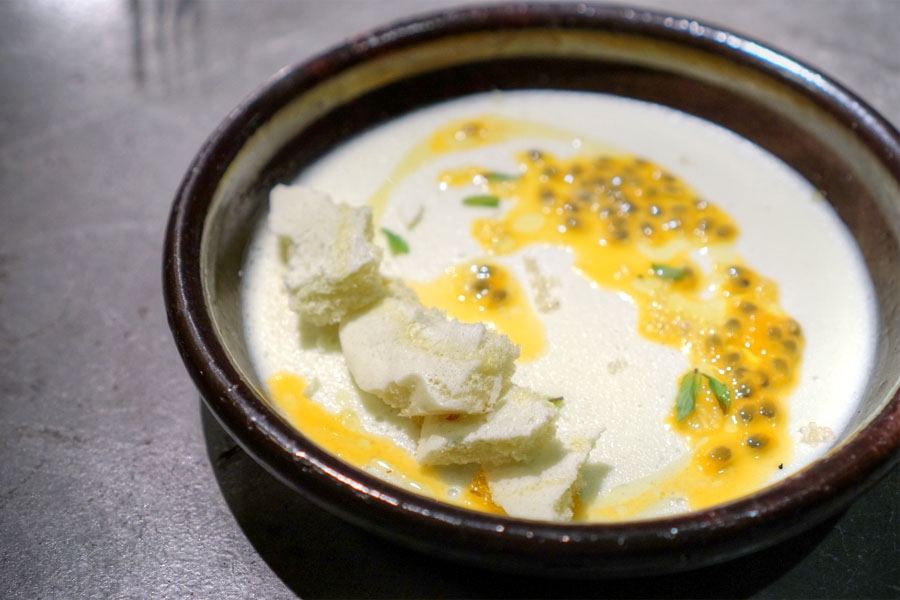 23: Panna Cotta, Thai Basil, Meringue, Passion Fruit, Finger Lime, Olive Oil
Getting into dessert proper now, the panna cotta was probably one of the best I've had, a flawlessly balanced example that showcased the sweet-tart nature of passion fruit alongside the aromatics of Thai basil. Excellent textural play from the meringue, and I liked the pops of citrus from the finger lime too.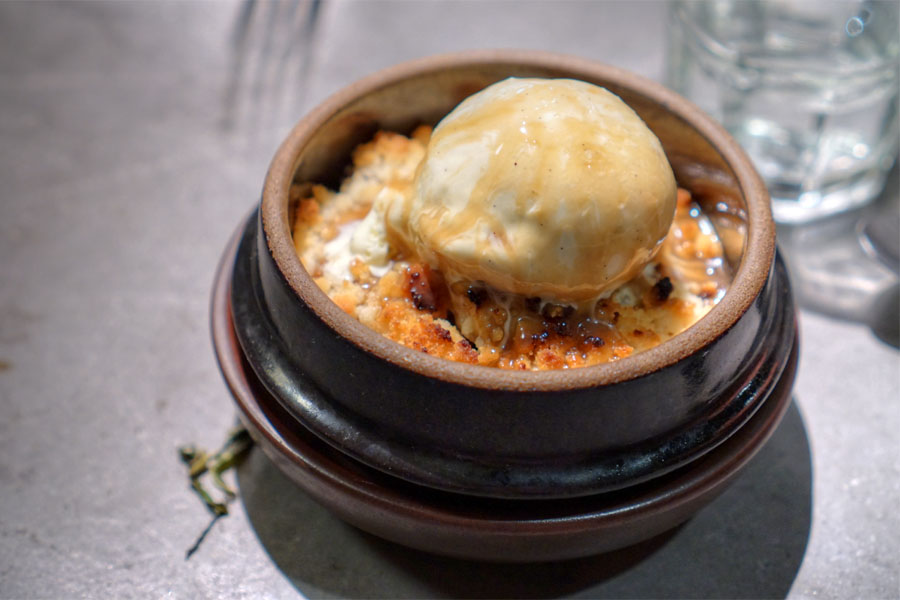 24: Apple Pie Cobbler, Smoked Vanilla Ice Cream, Caramel Sauce
This take on an apple pie hit the mark as well, with wonderfully sweet-n-spicy fruit flavors accented by the right amount of char and smoke, the ice cream working as a cool counterpoint to it all.
We left the meal very, very full, but also quite satisfied, and I believe the entire party thought this place to be an improvement over the old BH location. The food seemed a little more confident, and I also think that the dining counter-centric format really worked here, allowing for more intimacy, more interaction, more interest. A big win for the Valley to be sure.
As for what's next, Scratch Bar & Kitchen is taking the "bar" part of its name to heart, and is currently in the process of building out an actual bar next door, one replete with cocktails and an abbreviated, more casual menu. We'll be looking forward to trying that out once it opens.