Playground (Santa Ana, CA) [4]
Playground Restaurant
220 E 4th St, Santa Ana, CA 92701
714.560.4444
www.playgrounddtsa.com
Sat 01/02/2016, 07:55p-12:30a
My last visit here was nary two months ago, so why the hasty return? Two reasons: (1) we needed a place to drink the 2015 Bourbon County line-up and (2) we had a friend coming in from Switzerland with a few bottles of Cantillon he wanted to share, and Playground's one of the few games in town in terms of BYOB-friendly places with food worthy of an out-of-country guest.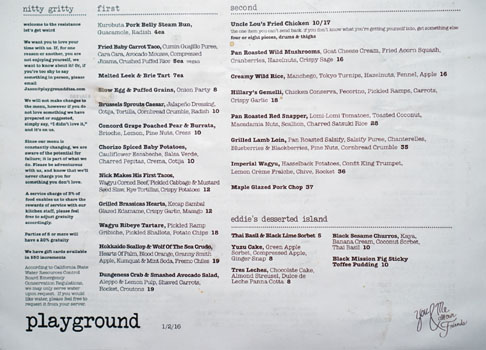 Tonight's menu was perhaps a touch more compact than those I'd previously encountered, though it still retained the familiar smaller plates-larger plates format. Click for larger versions.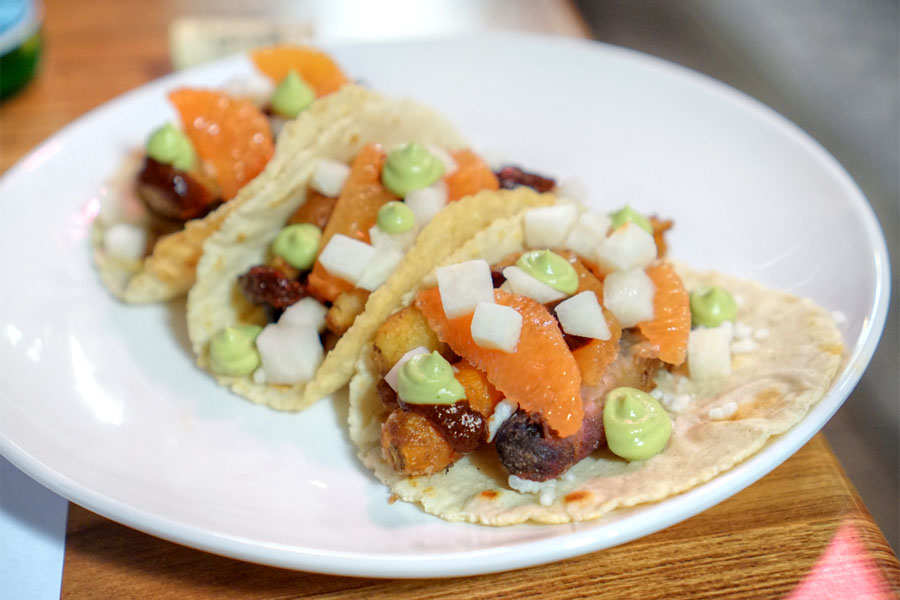 Fried Baby Carrot Taco [$5.00/each]
| Cumin Guajillo Puree, Cara Cara, Avocado Mousse, Compressed Jicama, Crushed Puffed Rice
"Vegan taco" isn't something you typically want to hear at a restaurant, but this managed to be one of my favorite bites of the night. The carrots came out satisfyingly textured, with a sweet-spicy taste evened out by smooth dollops of avocado and the brightness of citrus. Great crunch on the puffed rice too, and I definitely appreciated the heft of the tortilla and how that helped bring everything together.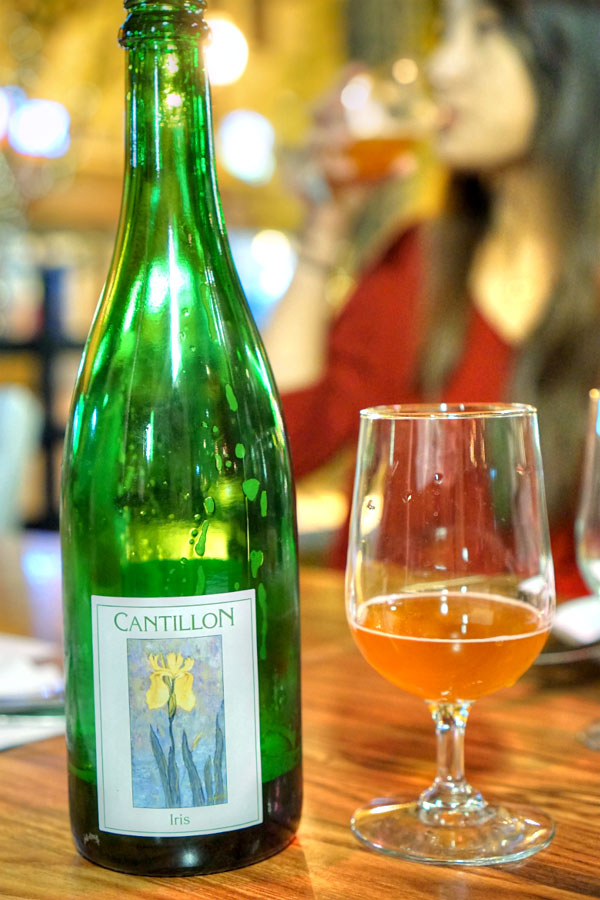 Our first bottle was the
2014 Cantillon Iris
, an untraditionally produced lambic brewed with 100% pale malt (in lieu of the typical one-third wheat), hopped with both fresh and aged Hallertau, aged two years in wine casks, then dry-hopped before bottling. It was delish, with a heady nose redolent of stone fruit, tartness, funk, and slight hops. The taste showed off an almost puckering sourness at first, which then transitioned to barnyard, oak, and soft bitterness, with a great spicy quality on the finish.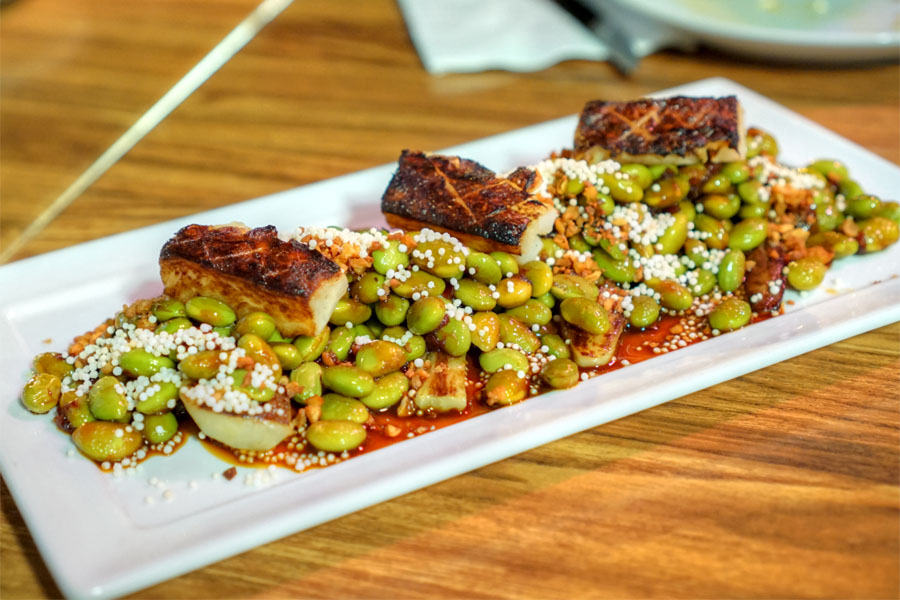 Grilled Brassicas Hearts [$12.00]
| Kecap Sambal Glazed Edamame, Crispy Garlic, Masago
I believe broccoli and cauliflower were used. I would've liked a firmer consistency on the hearts, but the flavors were on point, with boatloads of deeply savory, sweet, Asian-y nuances satisfying in a cozy sort of way. Excellent textural contribution from the edamame, too.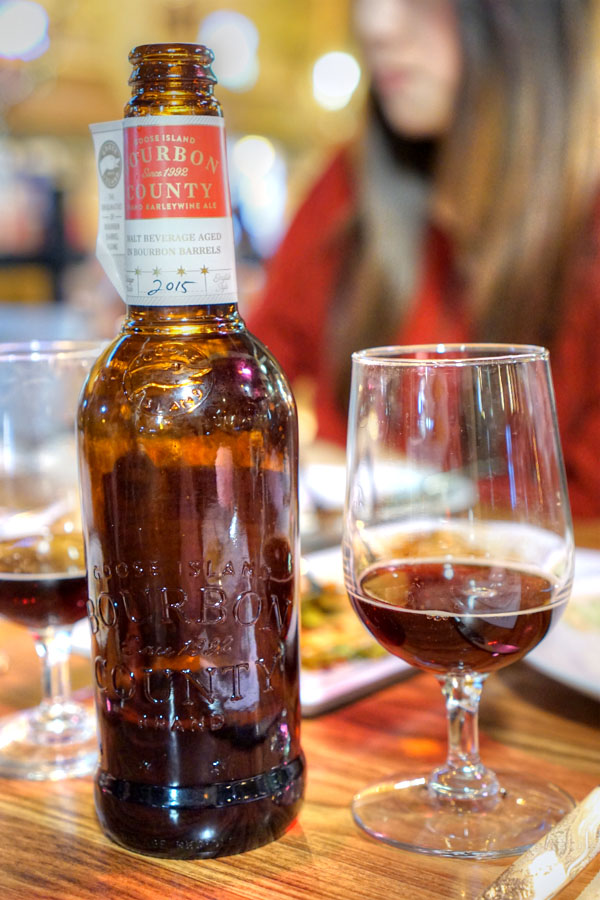 Here was the
2015 Goose Island Bourbon County Brand Barleywine Ale
, the lone barley wine of the bunch, one aged in third-use bourbon barrels previously used to mature regular BC stout. Done in the English style (which I prefer), this one was all about deep, nutty, caramel-y malt on the nose, with a taste that brought more malt, dark fruit, brown sugar, and spice, alongside a boozy, bourbon-y backing. A benchmark for the style.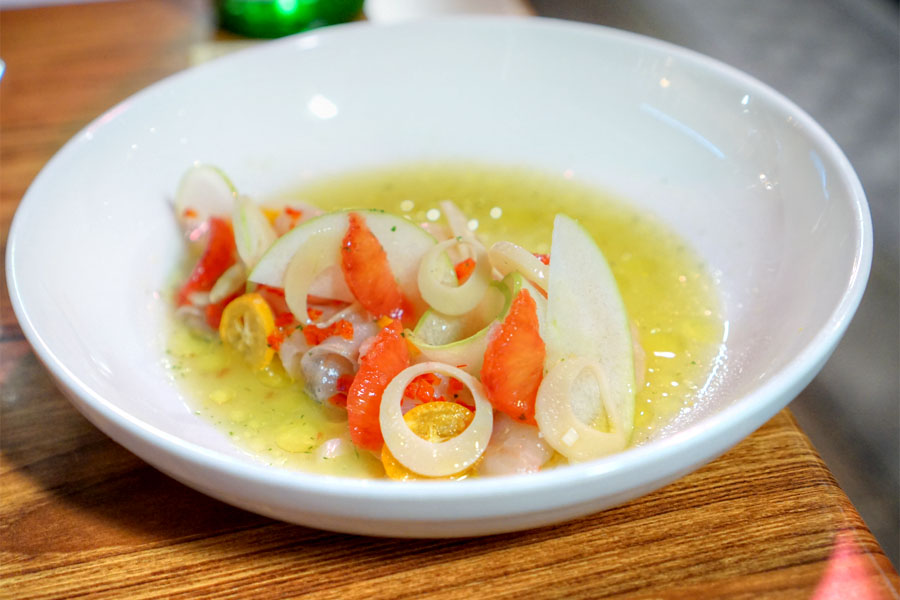 Hokkaido Scallop & Wolf Of The Sea Crudo [$19.00]
| Hearts Of Palm, Blood Orange, Granny Smith Apple, Kumquat & Mint Soda, Fresno Chiles
Scallop and loup de mer arrived in crudo form, conveying a duality of textures and oceany flavors that made sense against the bright, sweet, citrusy notes in the dish.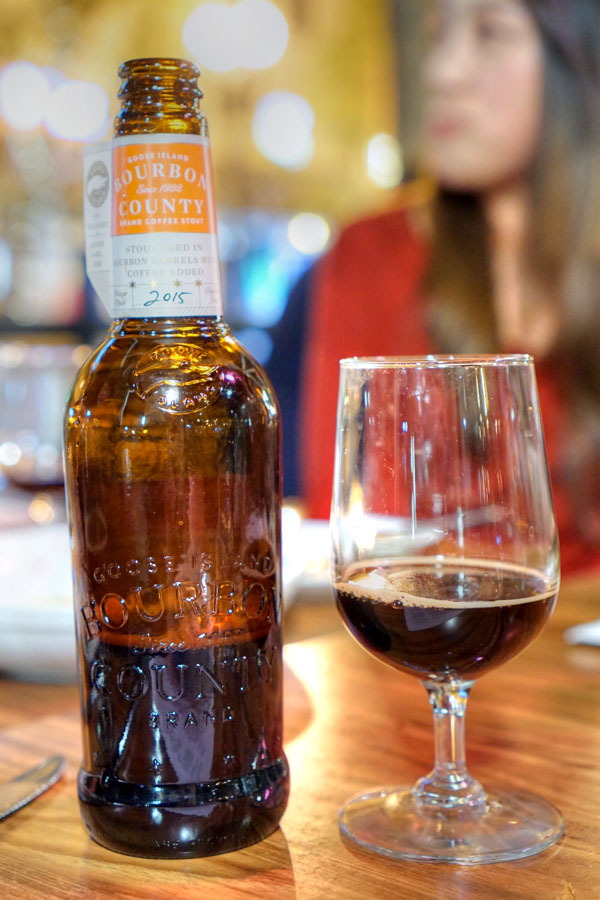 Getting into the stouts now, we had first the
2015 Goose Island Bourbon County Brand Coffee Stout
, brewed with Intelligentsia Los Delirios beans from Nicaragua. The aroma was more austere than that of many coffee stouts, giving up a super roasty, dark, oaky profile. On the palate, loads of chocolate lead to more bitter roast along with a pronounced nutty sweetness and a hint of peanut butter on the finish. Nice.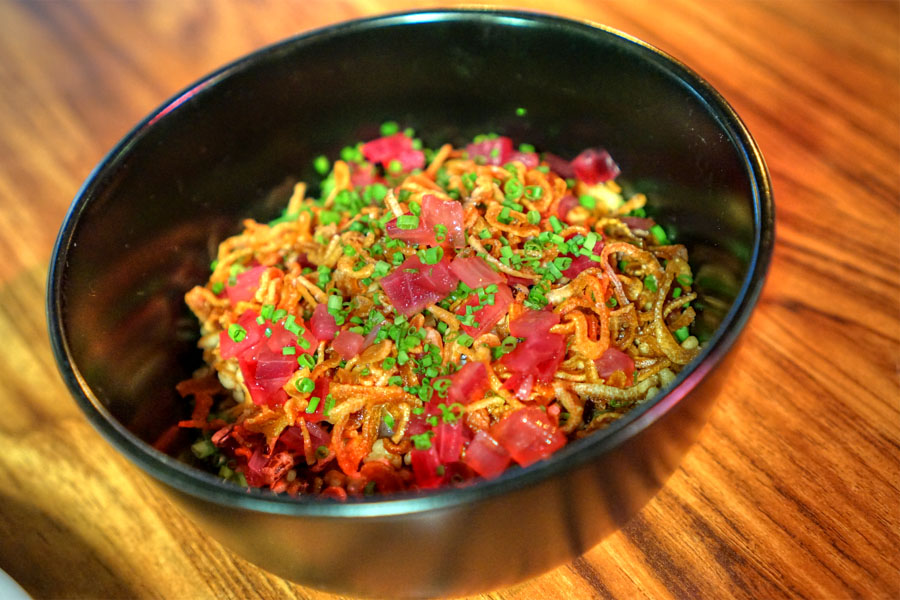 Slow Egg & Puffed Grains [$8.00]
| Onion Party
Puffed grains made for some wonderfully crunchy textures and a nutty base on which the super rich, deep, salty flavors of onion could really shine. A smart, multifaceted presentation of
Allium
.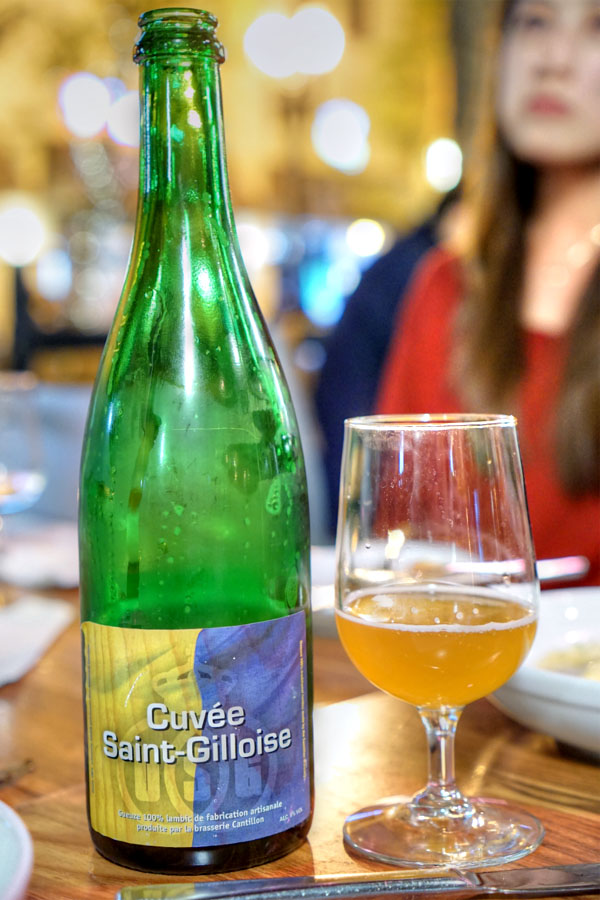 Our second sour was the
2015 Cantillon Cuvée Saint Gilloise
, a two-year-old unblended lambic dry-hopped with Hallertau and bottled with a small amount of candi sugar to kickstart refermentation. It was a winner as well: super juicy, tart, citric aromas and lots of zesty, funky stone fruit on the palate, with a bit of a hoppy bite.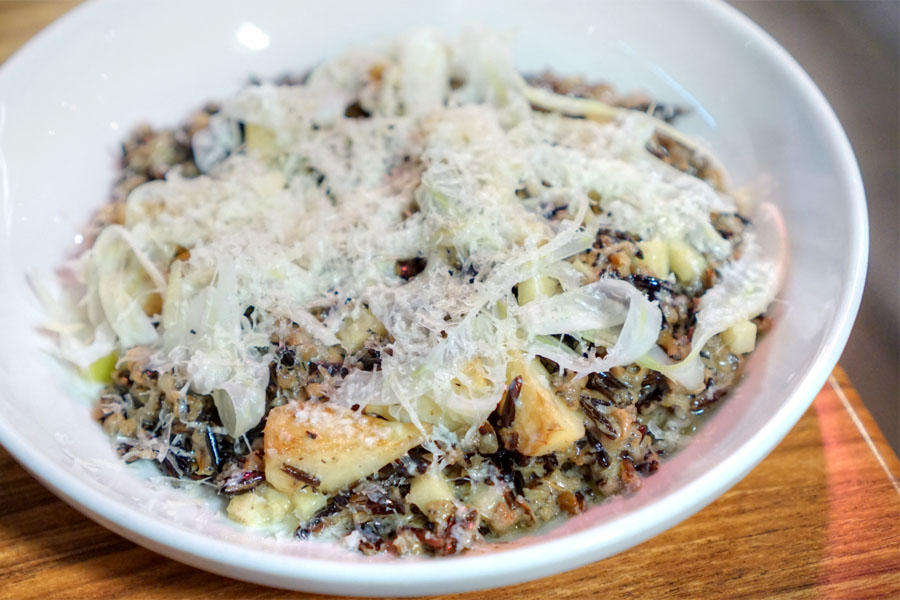 Creamy Wild Rice [$16.00]
| Manchego, Tokyo Turnips, Hazelnuts, Fennel, Apple
Rice was indeed creamy, and multitextured, complemented by a bevy of sweet, tart, nutty flavors while the Manchego offered up a richness to the dish that helped integrate everything.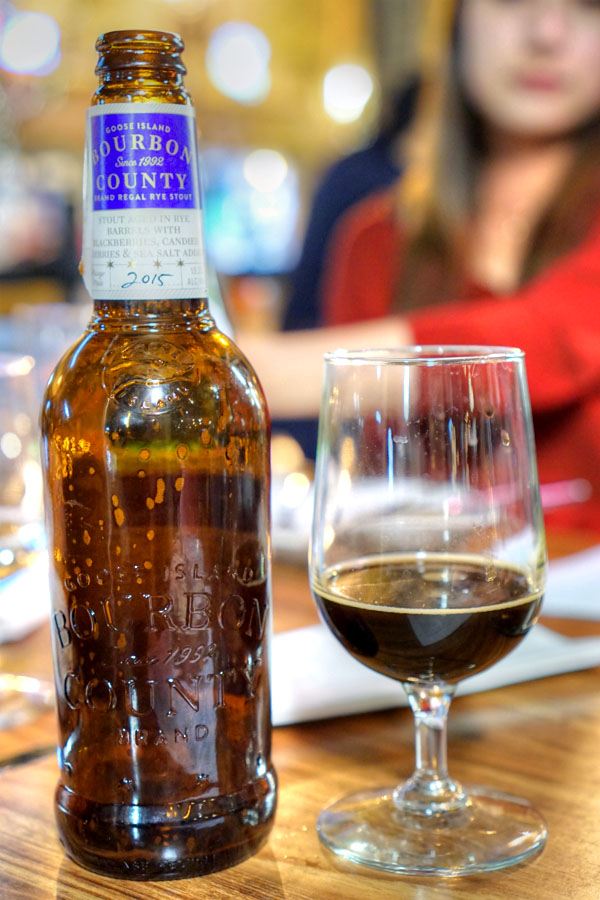 The
2015 Goose Island Bourbon County Brand Regal Rye
was a rye-barrel aged stout with blackberries, Luxardo candied cherries, fresh sour cherries, and sea salt added. This one smelled of dark fruit and malt, while the taste brought your traditional stout-y notes at first, which quickly led to rich, fruity berry with a tinge of tartness, the fleur de sel coming in only briefly toward the end.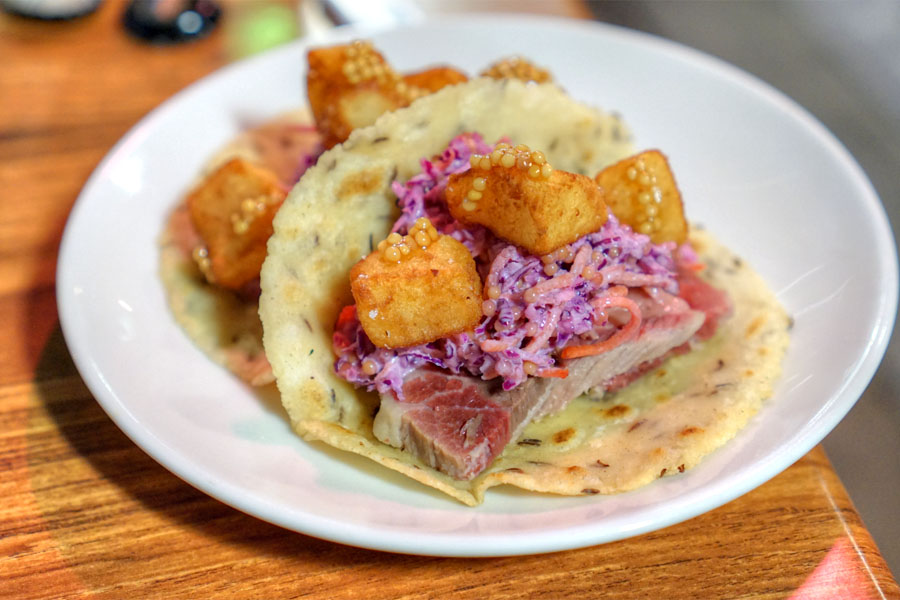 Nick Makes His First Tacos [$12.00]
| Wagyu Corned Beef, Pickled Cabbage & Mustard Seed Slaw, Rye Tortillas, Crispy Potatoes
I don't know who this Nick fellow is, but his first taco attempt was a success to be sure. I loved the substance and salt of the beef, and how that matched the tanginess of the slaw while potato added further heft and savoriness to the dish. Great spice on the tortillas, too. I'd put this up against any new wave taco.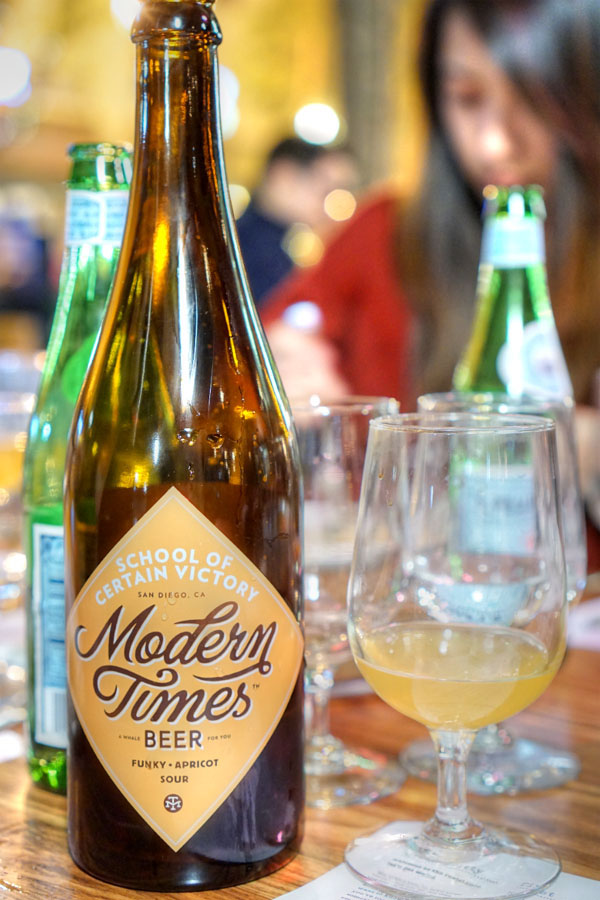 I snuck in the
2015 Modern Times School of Certain Victory
here, a white wine barrel-aged sour saison brewed with Brett, Lacto, and Pedio, with apricots added. It was one of MT's best sours to date, with massive amounts of tart, funky apricot peel on the nose. The palate had more of that sour fruit, more funk, a touch of lacto, and an unexpected, but not unwelcomed lingering finish.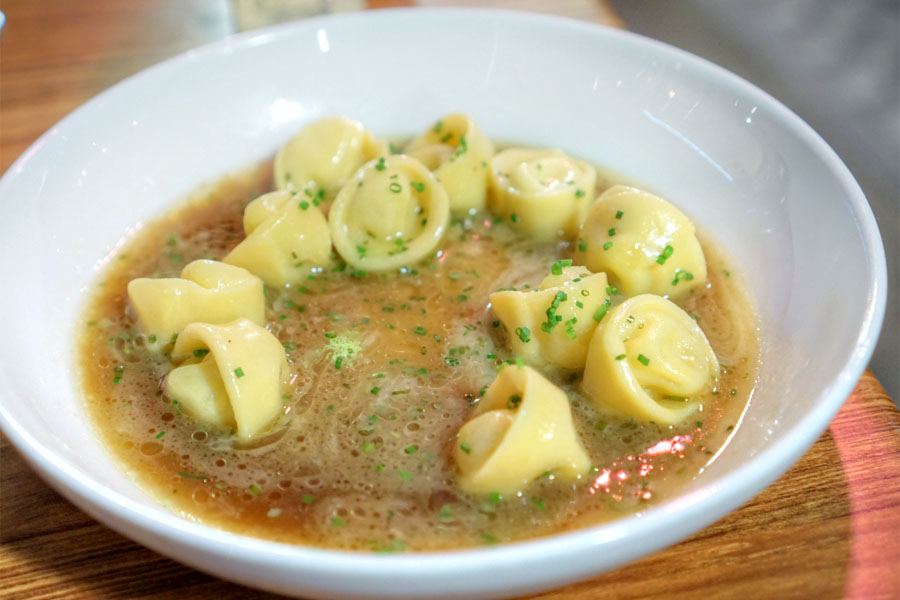 Black Truffle & Mascarpone Tortellini
We were then sent an off-menu special of housemade tortellini, stuffed with a black truffle-mascarpone mousseline and set in a mushroom
brodo
. These were lovely little bites, showing off that signature truffle musk with the cheese as the perfect vehicle. Nice chew to the actual pasta skins, and I appreciated the earthiness and herbiness of that broth too.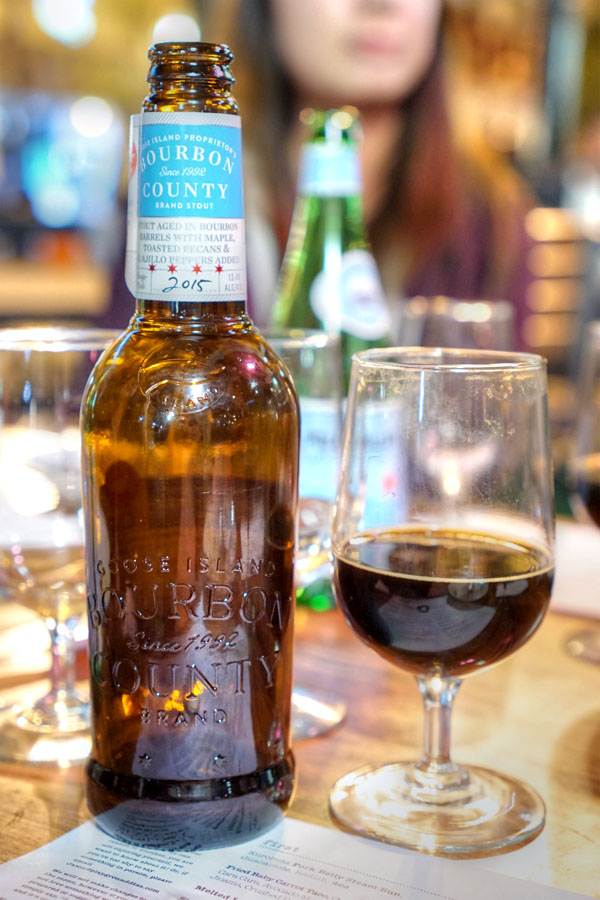 Next came a Chicago area-only release, the
2015 Goose Island Proprietor's Bourbon County Brand Stout
, aged in bourbon barrels with maple, toasted pecans, and guajillo peppers added. This smelled pretty great, with maple-y sweet malt and a whisper of that pecan. On the tongue, I got a base of sugary maple commingled with your typical stout flavors, with the back end bringing the spice of guajillo. Ridiculously smooth.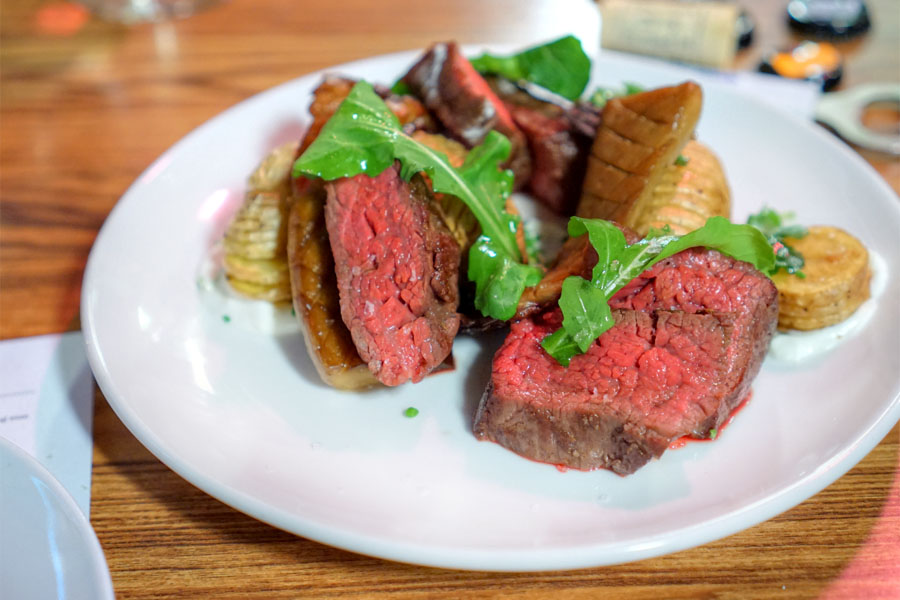 Imperial Wagyu [$36.00]
| Hasselback Potatoes, Confit King Trumpet, Lemon Crème Fraîche, Chive, Rocket
Wagyu was super tender and super tasty, with some properly beefy flavors accented by hits of salt. Great texture on those Hasselbacks as well, and I was a big fan of the king trumpets too. A smart take on steak & potatoes.
Our final sour was the
2012 Cantillon Grand Cru Bruocsella
, a single batch of unblended lambic, aged three years in oak and bottled in 2015. The beer was largely uncarbonated, and meant to be drunk like a white wine. Light nose of lemon-y funk and yeast. The taste, meanwhile, was mature, bringing more citrus along with an earthy, oxidative quality.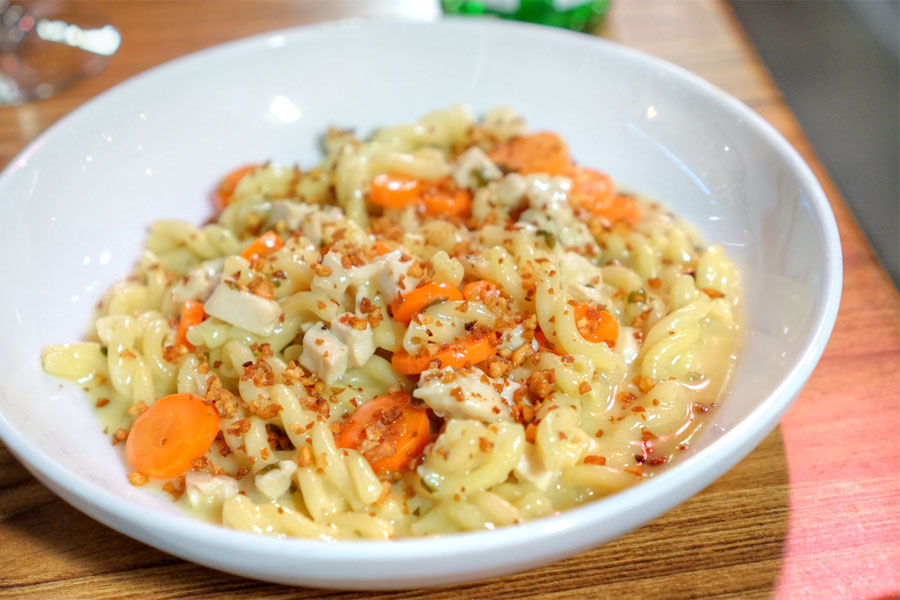 Hillary's Gemelli [$18.00]
| Chicken Conserva, Pecorino, Pickled Ramps, Carrots, Crispy Garlic
Housemade gemelli were beautifully textured, and worked swimmingly as a base for this cozy, homey sort of dish. I was especially fond of the tenderness of the chicken, as well as those crunchy garlic bits.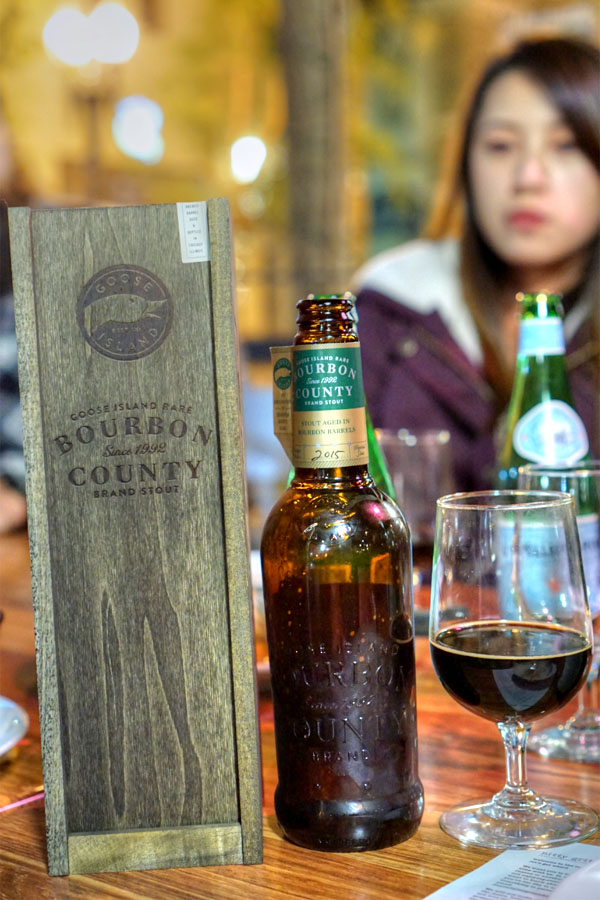 Here we had arguably the most anticipated beer of the night, the
2015 Goose Island Rare Bourbon County Brand Stout
, aged for two years in 35-year-old Heaven Hill whiskey barrels from 1979. The age on those barrels definitely made for one of the more unique BA stouts I've had. In terms of bouquet, it was all about soft, sweet chocolate fudge. The taste was more intriguing, smoky at first with massive, woody barrel character, leading to tangy, alcoholic spice on the mid palate and a rich, malty finish that was silky yet complex. Interestingly, I got
a lot
more vanilla as the beer warmed.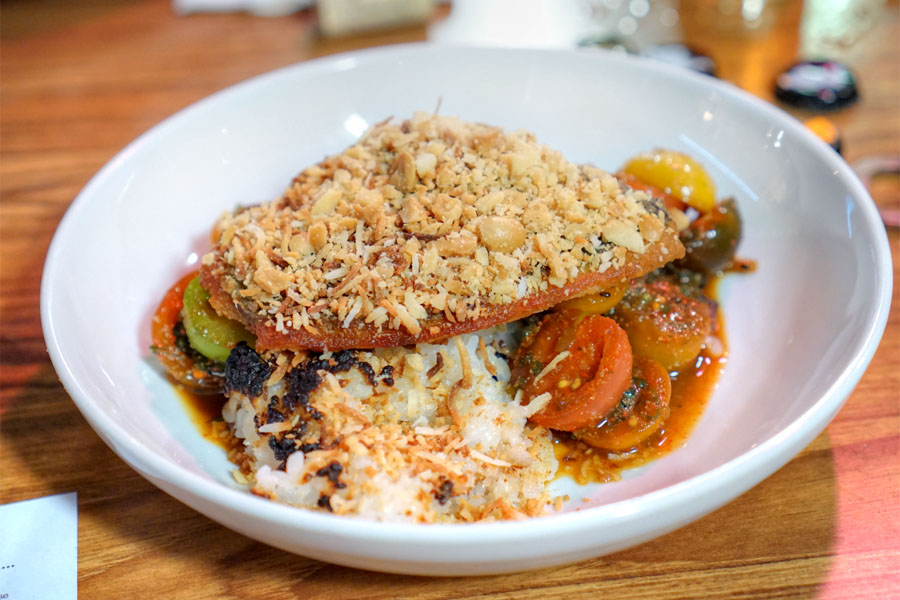 Pan Roasted Red Snapper [$28.00]
| Lomi-Lomi Tomatoes, Toasted Coconut, Macadamia Nuts, Scallion, Charred Satsuki Rice
Snapper was superb, arriving juicy and utterly flavorful, its crisp, savory skin complemented by its nut crust. Great char on the rice, which made for a perfectly placed accompaniment to the fish.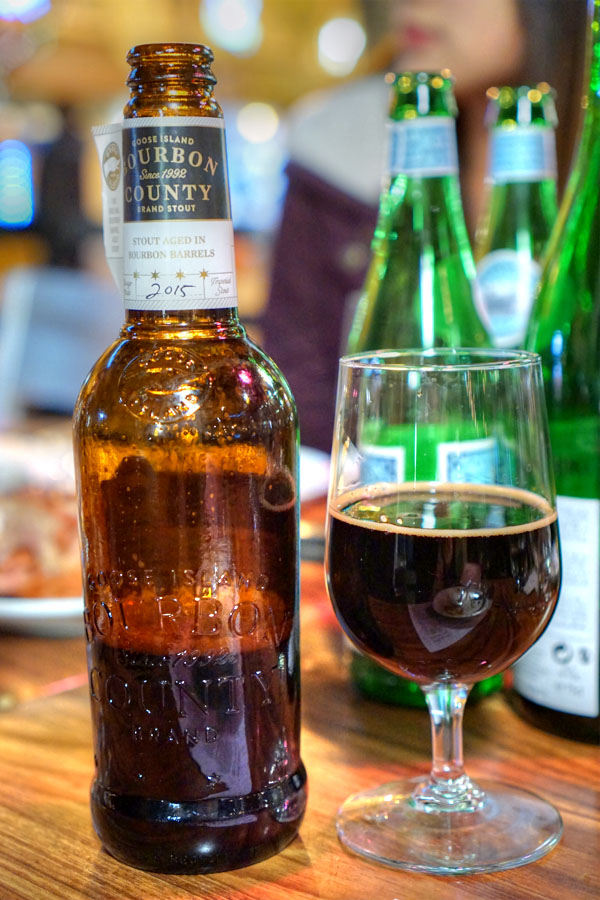 Last up was the base beer, the
2015 Goose Island Bourbon County Brand Stout
. It was certainly less complex, less contemplative than the Rare above, though not necessarily less enjoyable. Nose of light brown sugar and dark fruit. Palate was more dark fruit, layered with smoke, oak, vanilla, and bourbon. A classic for a reason.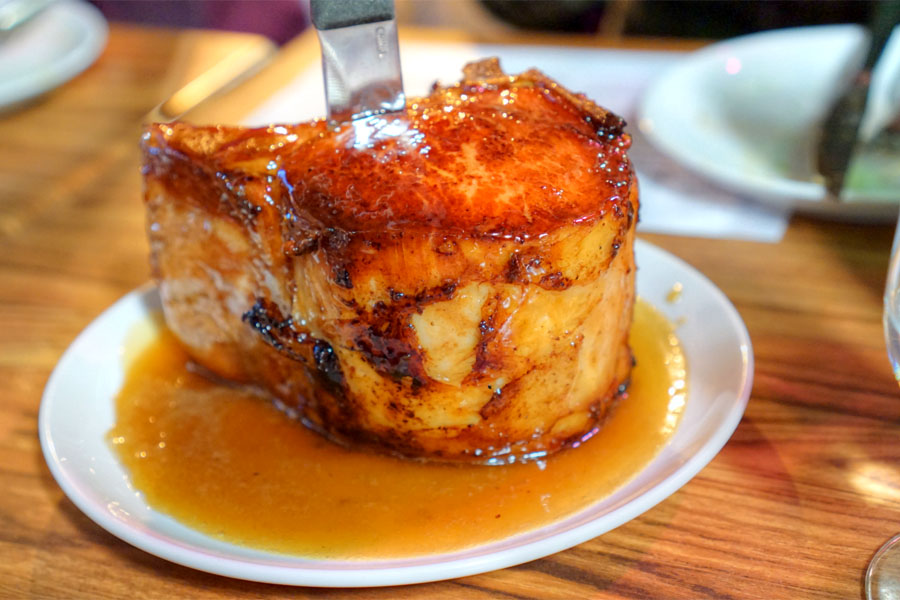 Maple Glazed Pork Chop [$37.00]
For our final savory, we opted for Playground signature, thick-ass chop, as others at my table hadn't tried it. It was as tasty as I remember: super tender, super juicy, with porky flavors combined with the sweetness of maple.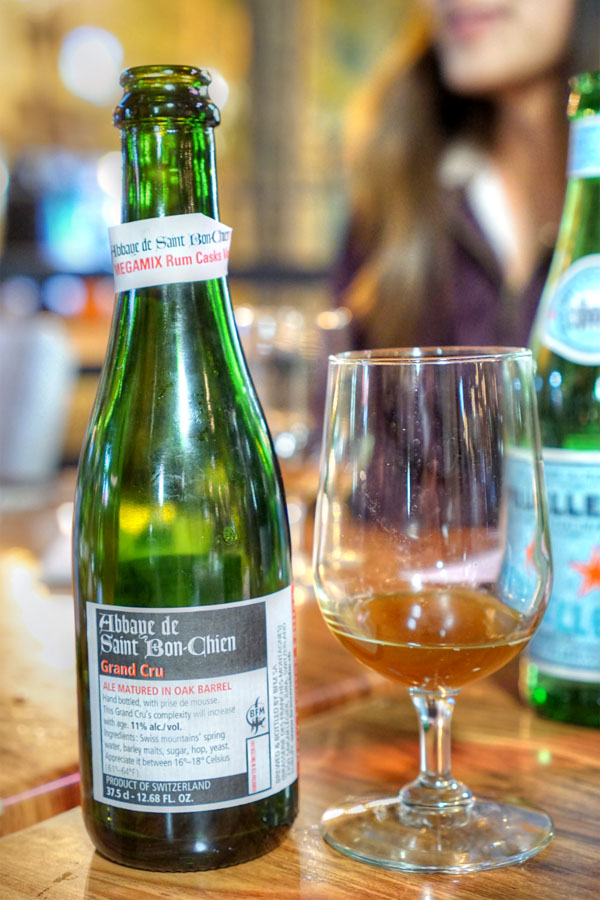 In addition to the Cantillons, one of my dining companions also brought along a beer he'd just picked up back in Switzerland, the
2013 BFM Abbaye de Saint Bon-Chien Grand Cru Megamix Vol. 2
, a sour ale brewed in 2013, aged in oak wine barrels, then aged in rum casks, and bottled in 2015. Super duper funky and acidic and oaky on nose, with a taste that displayed strawberry and cranberry along with more puckering acidity and some rum notes.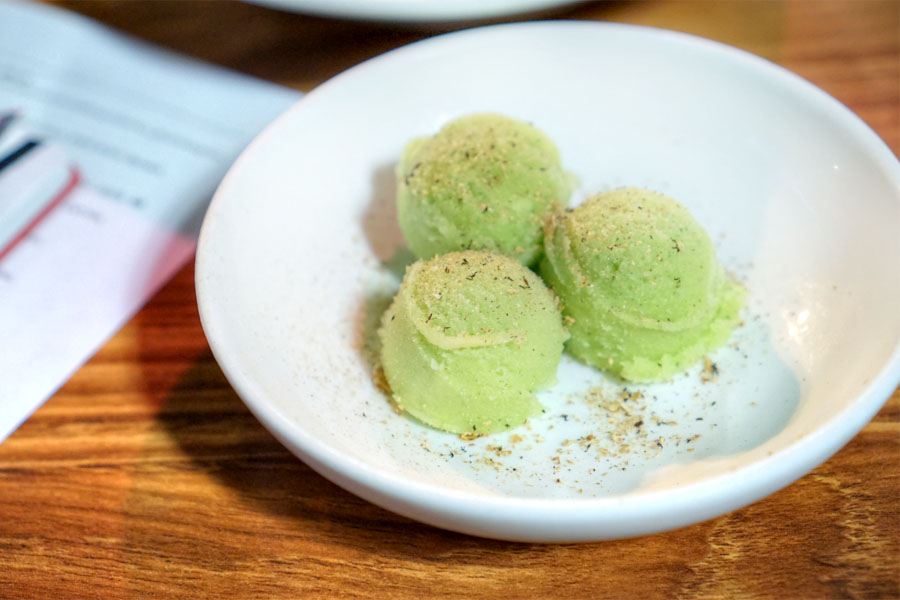 Thai Basil & Black Lime Sorbet [$5.00]
Sorbet was bracing, refreshing, working wonderfully as a sort of palate cleanser.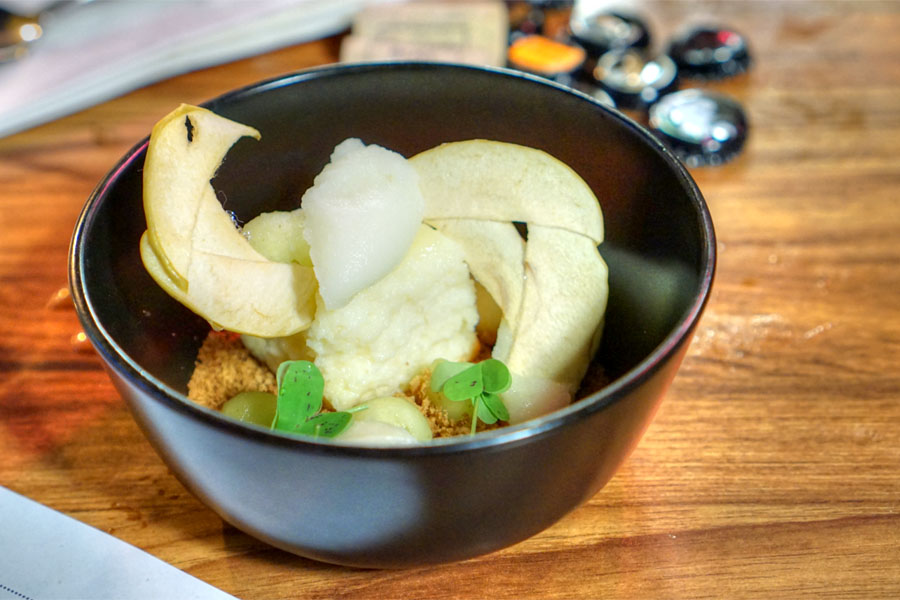 Yuzu Cake [$8.00]
| Green Apple Sorbet, Compressed Apple, Ginger Snap
We had a yuzu cake last time, but it was even stronger this time around, with plenty of zippy flavors and some great textures from the apple chips.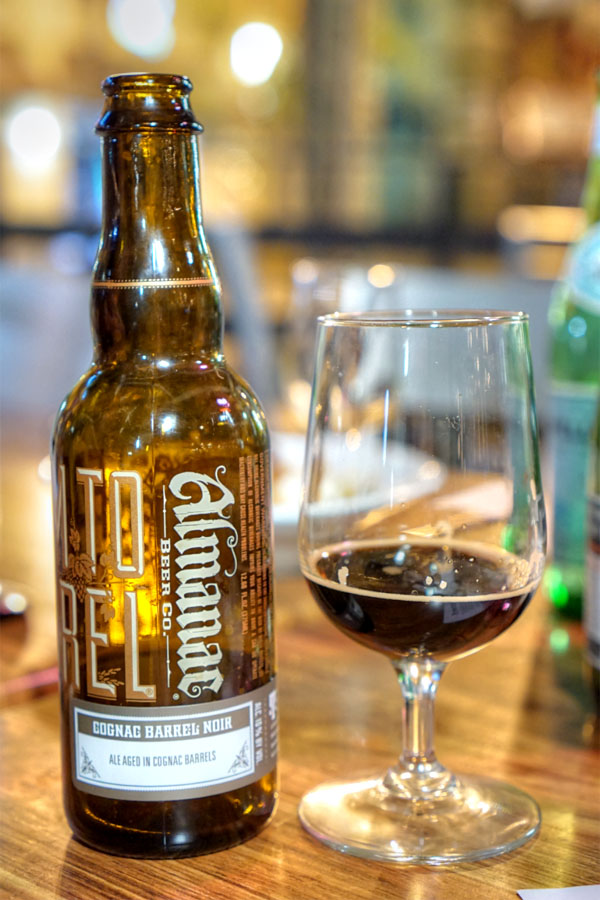 Our last bottle was provided by Jordan from Playground, the
2015 Almanac Cognac Barrel Noir
, an imperial stout aged over a year in oak Rémy Martin Cognac barrels. Lots of vinous, cognac-y, woody barrel character on this one, along with roast and dark malt, though I also got a pervasive tartness that didn't sit well with me.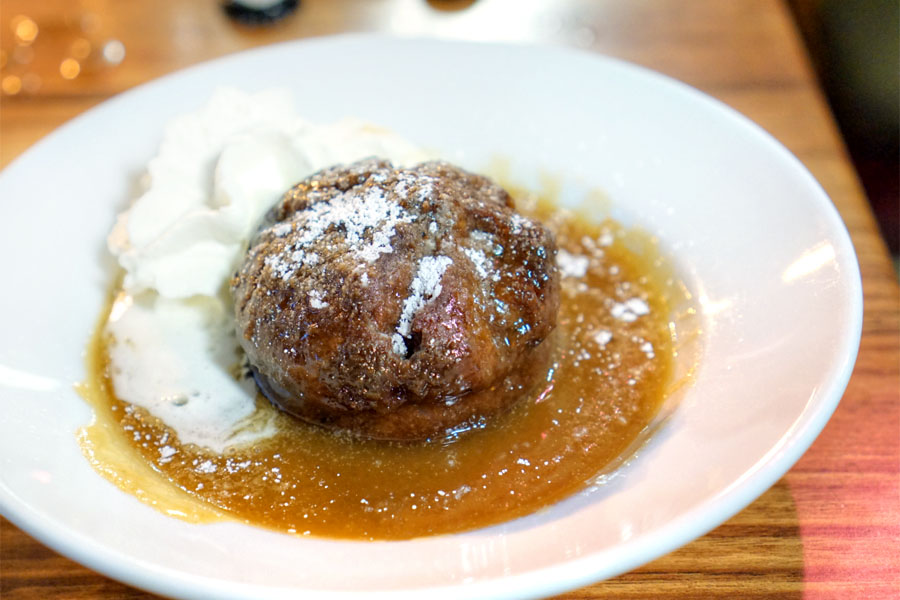 Black Mission Fig Sticky Toffee Pudding [$10.00]
We closed with the restaurant's always-on-the-menu toffee pudding, a classic example teeming with all the deep, dark, and yes, sticky flavors that you'd expect.
I know I keep saying this, but Jason Quinn, CdC Carlo Guardado, and the team once again delivered a bang-up meal, reiterating why the restaurant's considered a game-changer and a ground-breaker in the OC scene. We'll be back.