Otium (Los Angeles, CA)
Otium Restaurant
222 S Hope Street, Los Angeles, CA 90012
213.935.8500
www.otiumla.com
Thu 12/17/2015, 08:00p-12:05a

It terms of big-deal debuts for 2015, I think we all have to agree that Otium's got to be right up there. Named after a Latin term roughly translating to "leisure time," the restaurant opened back at the end of November, with dinner service commencing three weeks later on December 8th. The place, of course, is helmed by Timothy Hollingsworth, whom we most recently saw over at BBQ joint
Barrel & Ashes
in Studio City. For Otium, the Chef is backed by none other than the Sprout Group, with the Broads providing additional funding from what I understand.


I feel pretty safe conjecturing that Otium's the most expensive restaurant to drop in the Southland in a long time. Situated next door to
The Broad
and just up the street from
Patina
, the free-standing building sits on top of a newly-constructed tunnel covering Kosciuszko Way. It was designed by Osvaldo Maiozzi (The Rose,
Playa
,
Rivera
,
Angelini Osteria
),
Studio Unltd
(The Rose,
Catch & Release
,
Bestia
,
BierBeisl
,
MessHall
), and
House of Honey
(
Providence
). It's a handsome space: sculptural, sophisticated, and contemporary of course (being tied to the museum, it sort of has to be), but also naturalistic, with plenty of raw and handcrafted elements abound. With its main dining room cantilevered above Hope Street and a Damien Hirst photographic mural applied to the exterior (
Isolated Elements, 2015
), I could see some design awards for this one.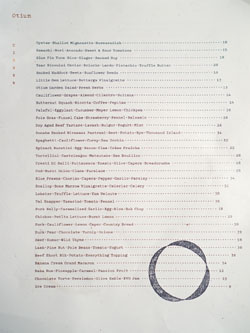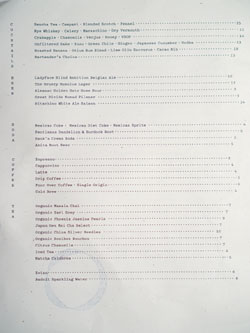 In a way, Otium's fare sort of mirrors its physical presence, meshing some more rustic and wood-fired cooking with the Chef's Californian-eclectic, contemporary sensibilities. The actual menu eschews normal separations, though it does read logically in a progression of starters, salads, pasta, mains, and desserts. There are also considerably more casual lunch and brunch options, not to mention a take-away cart ("Otium on the Go") that operates during the day. Click for larger versions.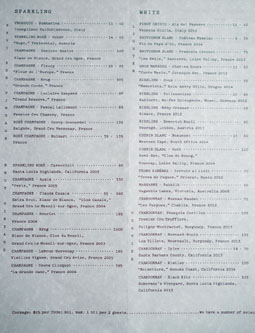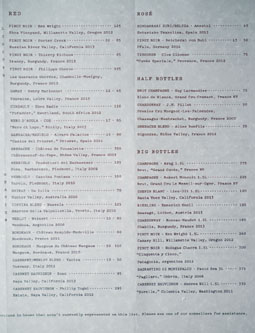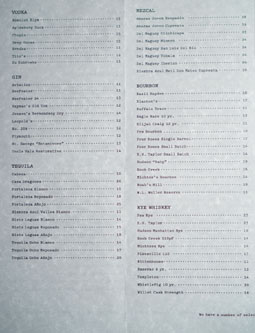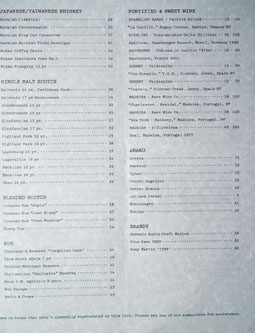 In terms of beverages, given that this is a Sprout production,
Julian Cox
reigns over the cocktail program, though the day-to-day is run by Bar Program Director Pat Tang (
Redbird
), with bartender Anne Marie Ceralvo (
Republique
,
Picca
, MessHall, The Spare Room, Rivera) behind the stick as well this evening. There's a compact list of about a half dozen cocktails, which is joined by a smattering of beer, a small selection of wines by the glass, and a much larger wine list. Click for larger versions.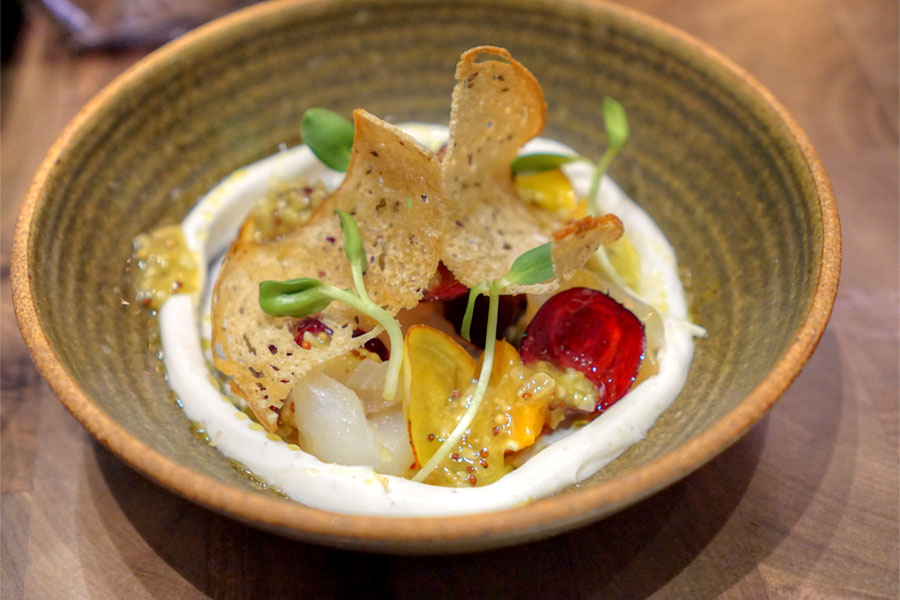 Smoked Haddock·Beets·Sunflower Seeds [$16.00]
Our first course brought out shards of haddock, a smoky, saline fish that found balance from the earthy sweetness of the beets. Nice textural contrast from the crispy bread as well. A good start.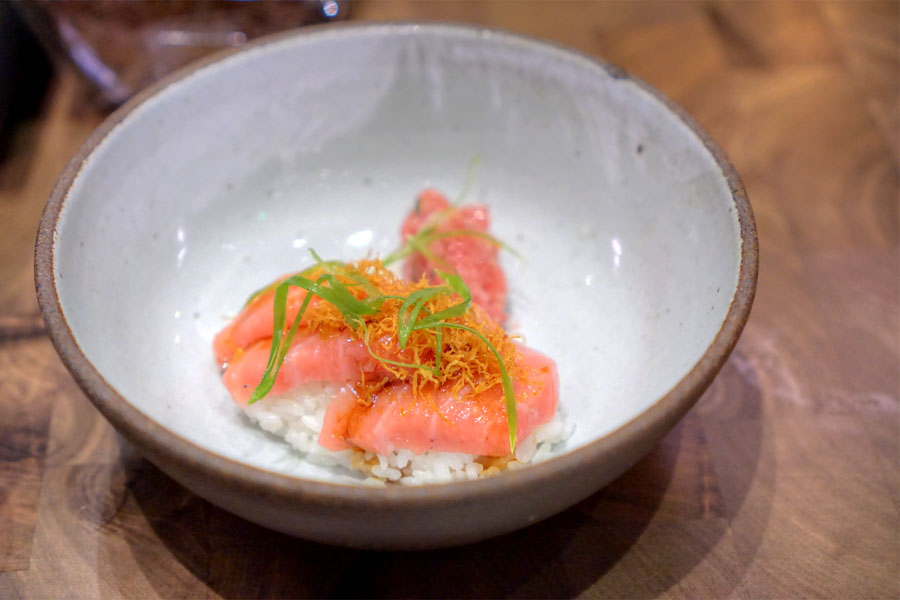 Blue Fin Tuna·Rice·Ginger·Smoked Soy [$18.00]
Tuna was slick and gorgeously fatty, perfectly matched to the umami-laden flavors of the smoked soy. And as with any good piece of sushi, the rice was absolutely crucial as a counterpoint to the fish. Super, super tasty.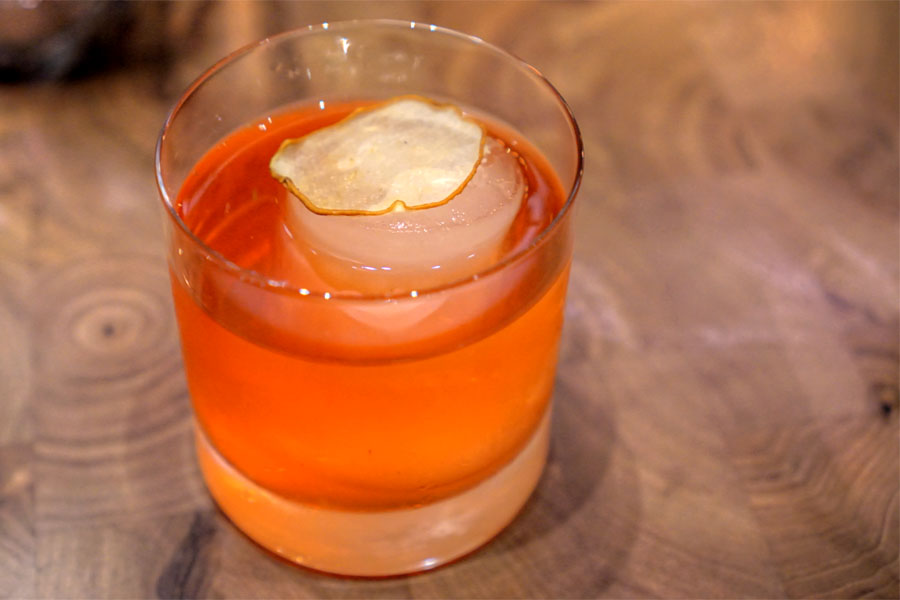 Sencha Tea · Campari · Blended Scotch · Fennel [$15.00]
Our first cocktail conveyed a distinct bittersweetness alongside an aromatic component from the tea, the whole thing underscored by strong anise notes from the fennel.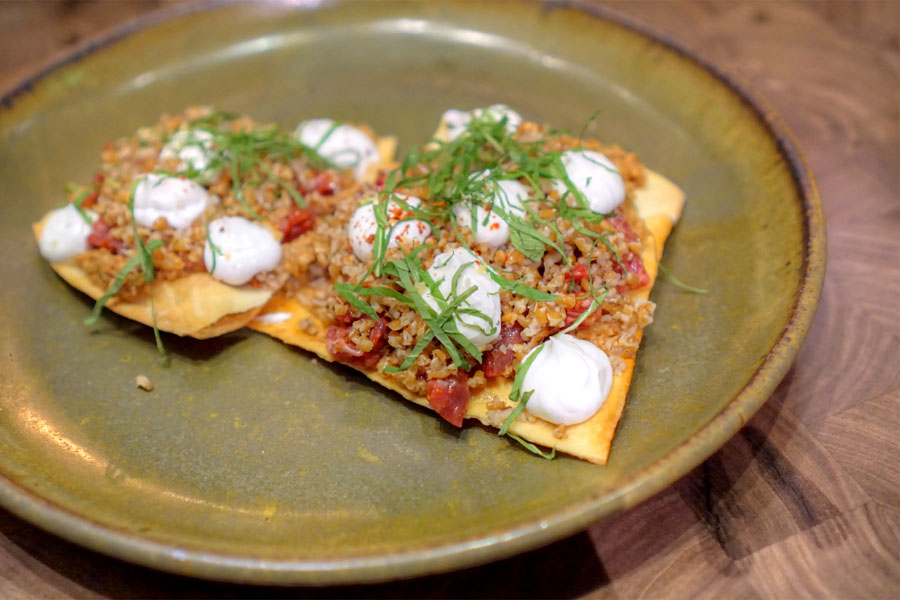 Dry Aged Beef Tartare·Lavash·Bulgur·Yogurt·Mint [$26.00]
Beef was on the more austere side, but paired surprisingly well with the bulgur while yogurt imparted a necessary creaminess to the dish. Superb crunch on the lavash, though I wanted more texture and more
oomph
from the meat.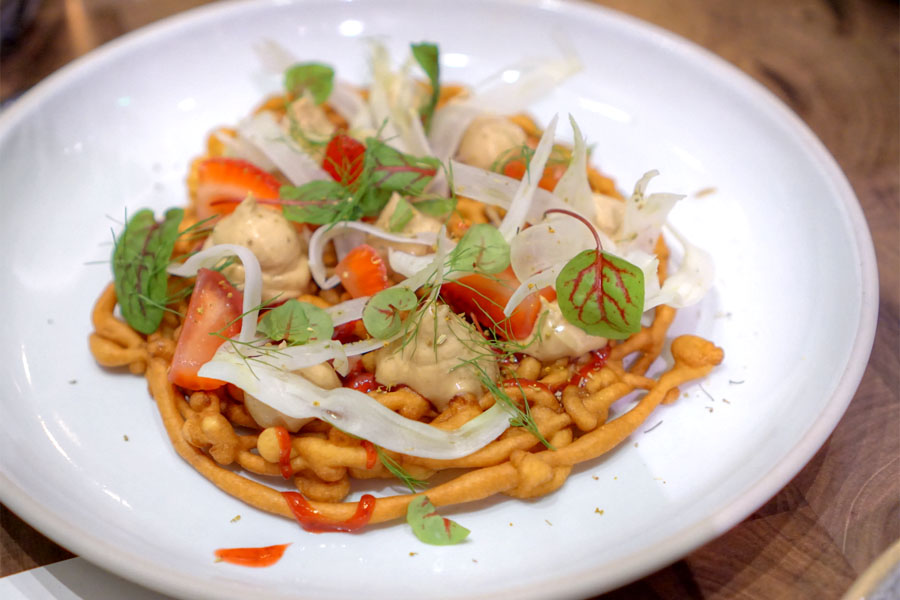 Foie Gras·Funnel Cake·Strawberry·Fennel·Balsamic [$26.00]
This was a must-get for sure, with a beautiful mix of livery and fruity flavors moderated only a smidge by the astringency of fennel, the actual pastry working flawlessly as a base to the dish. There's a reason why Mr. Gold chose this as one of his fav dishes of 2015.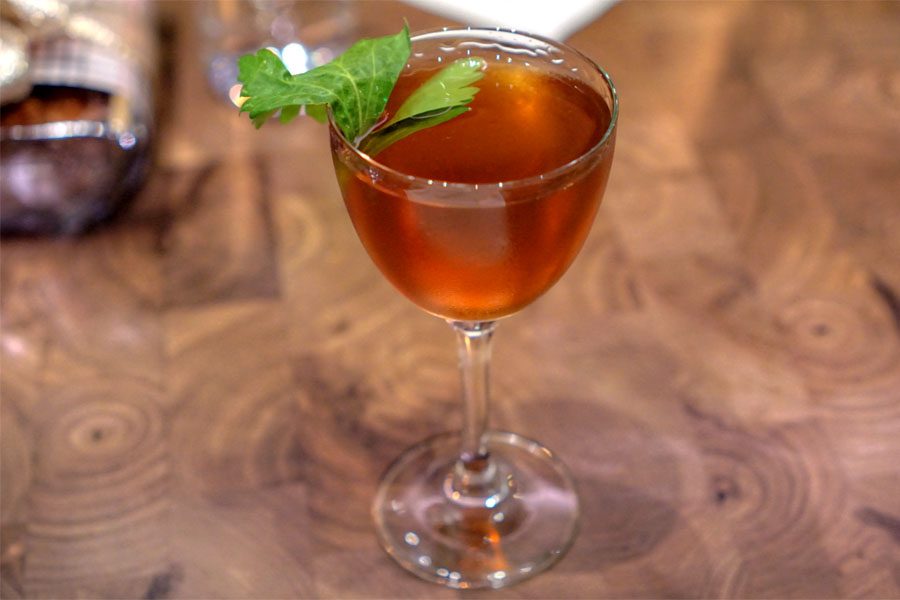 Rye Whiskey · Celery · Maraschino · Dry Vermouth [$15.00]
Our booziest cocktail of the evening, this one really showed off the spicy heat of rye, accented by the sweet complexity of maraschino while celery gave up some vegetal notes.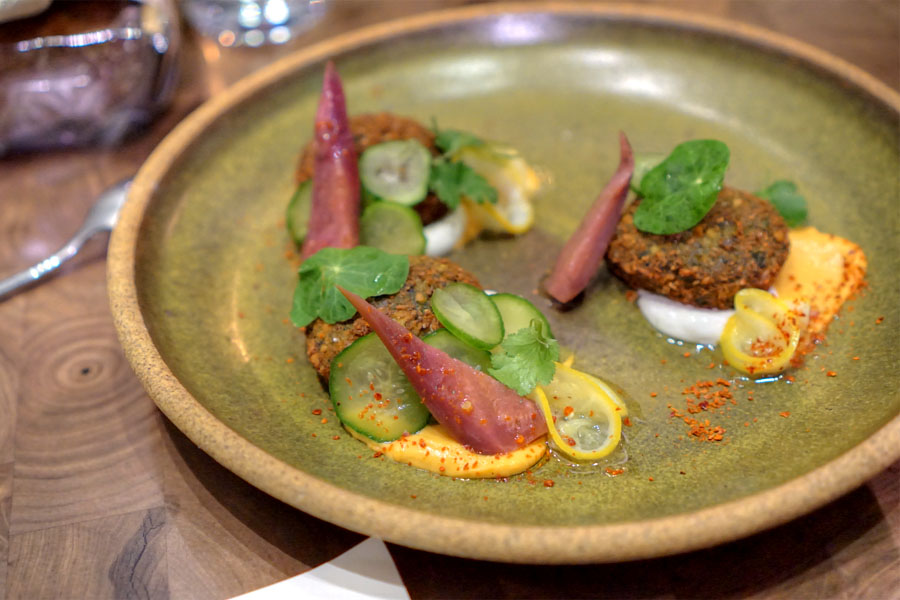 Falafel·Eggplant·Cucumber·Meyer Lemon·Chickpea [$16.00]
Falafels were excellent, among the best I've had, properly moist and teeming with a delicious mix of herby and nutty flavors. They were thoroughly enjoyable alone, but the acidity and crunch provided by the veggies was much appreciated too.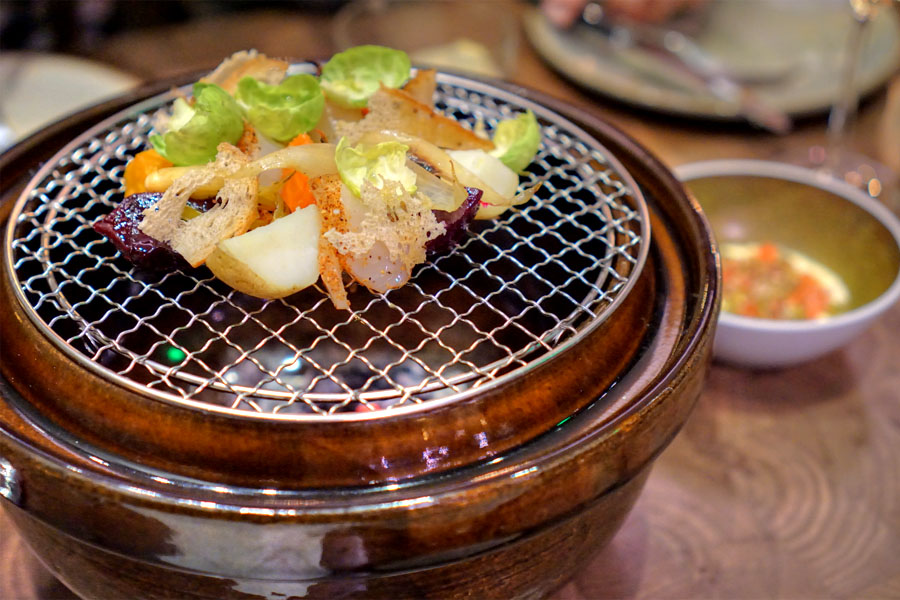 Donabe Smoked Hiramasa Pastrami·Beet·Potato·Rye·Thousand Island [$34.00]
The hiramasa was a winner as well, imbued with both smoky and spicy flavors that complemented, but didn't overwhelm the amberjack . Again, the beets imparted a well-placed sugariness to things, and the crunch of the toast was spot on. Make sure to get a dab of the "Thousand Island" too, a creamy, tangy condiment that helped bring everything together. My only concern was that the portion of the fish could've been larger.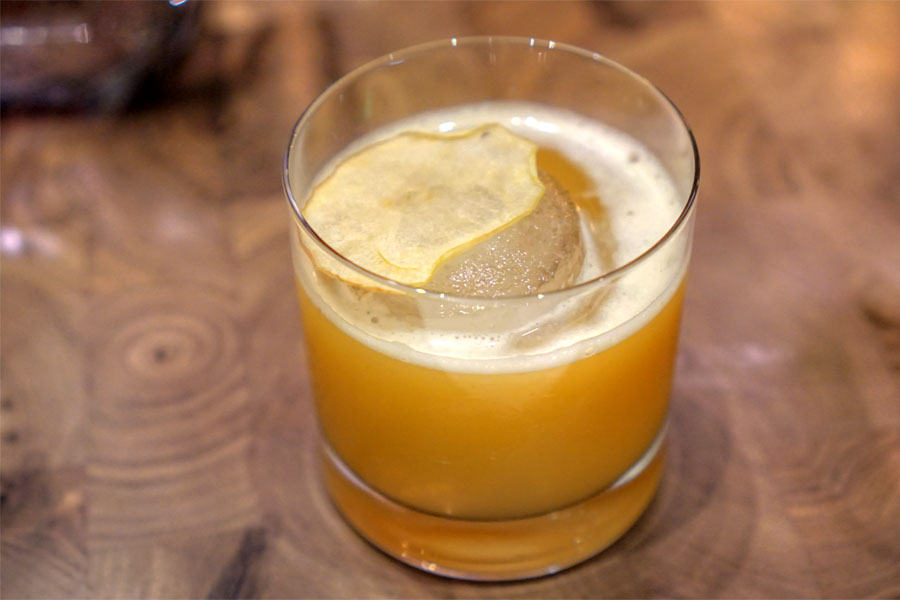 Crabapple · Chamomile · Verjus · Honey · VSOP [$14.00]
Next was my favorite of the cocktails, one that showed off a masterful interplay of sweet-n-sour apple flavors, augmented by aromatics from the chamomile.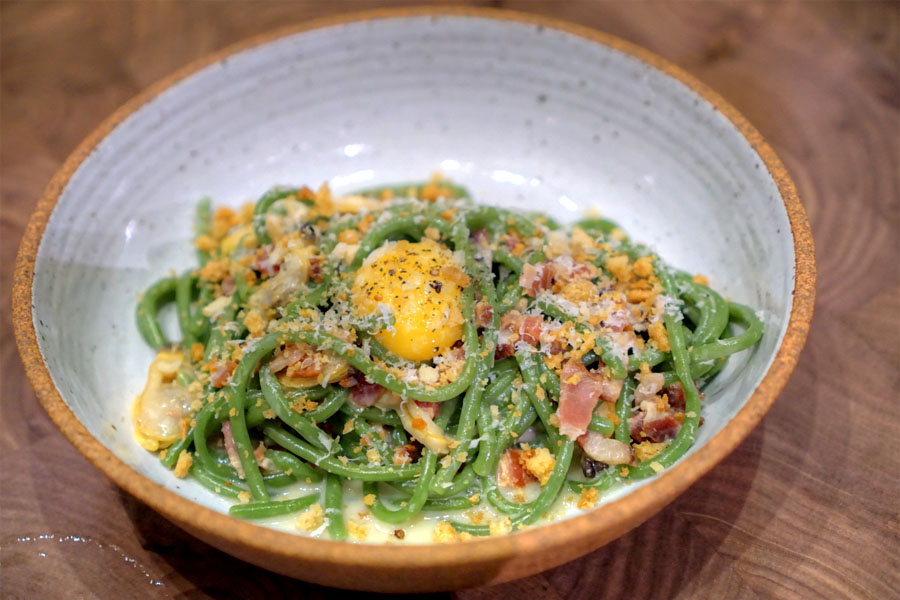 Spinach Bucatini·Egg·Bacon·Clam·Crème Fraîche [$22.00]
Our first pasta course was an easy one to enjoy, with plenty of salty, smoky, satisfying flavors at play. I will say that the pasta was quite a bit softer than I'm typically accustomed to, though I didn't find it to be too much of an issue.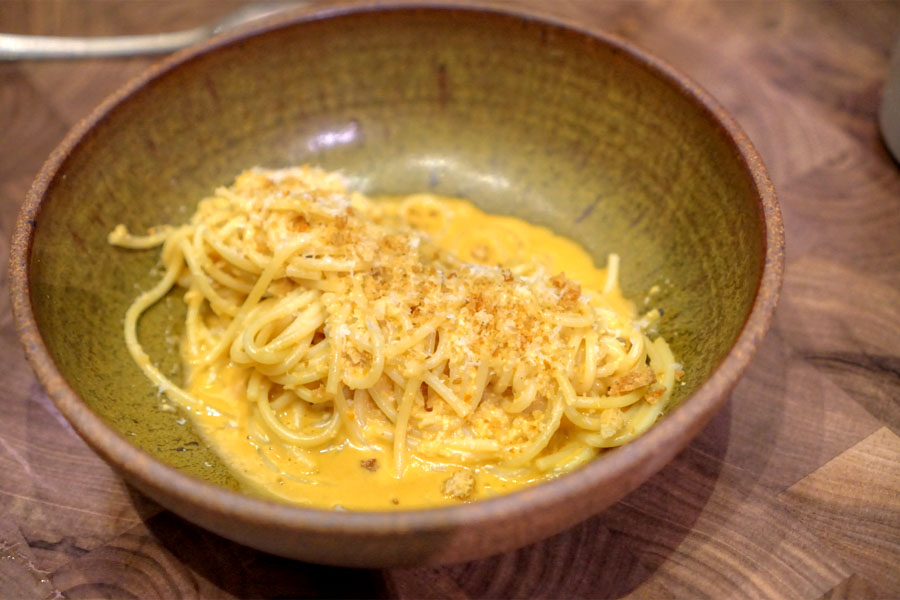 Spaghetti·Cauliflower·Curry·Sea Urchin [$32.00]
Uni pastas seem to be all the rage these days, but Otium's was unique thanks to its hints of curry and the lightness provided by the cauliflower. The urchin was subtle, coming in more toward the rear. Nice little crispy bits on top of this one, too.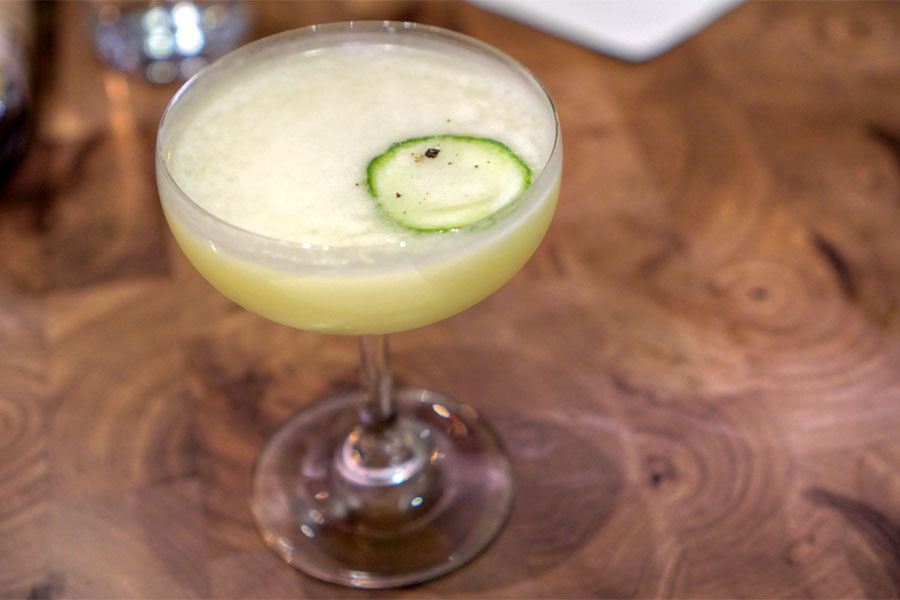 Unfiltered Sake · Yuzu · Green Chile · Ginger · Japanese Cucumber · Vodka [$13.00]
This
nigori
-based cocktail seemed to go over well. Strong aromas of cucumber and yuzu on the nose, while the palate was all about the spiciness of ginger, with an additional backing from the chile.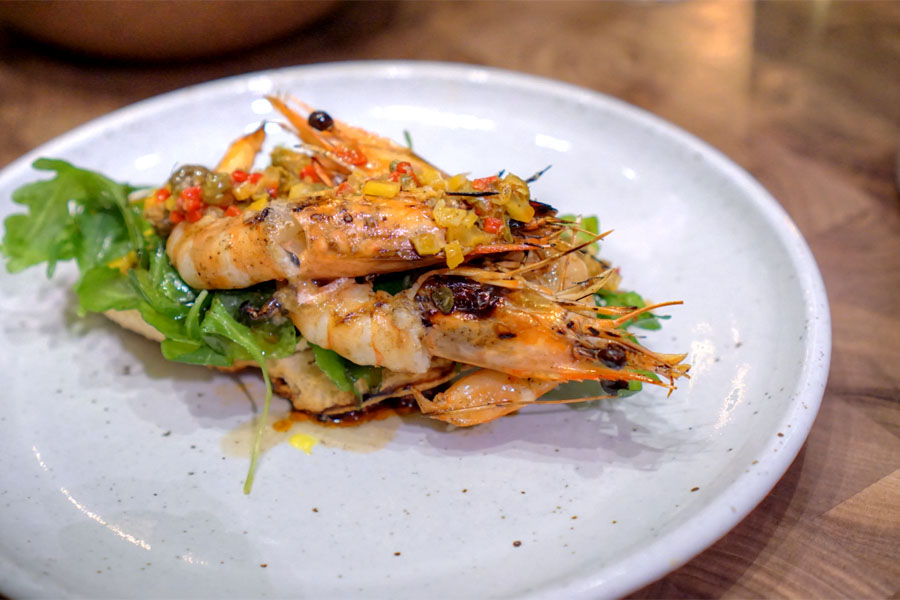 Blue Prawns·Chorizo·Capers·Pepper·Garlic·Parsley [$34.00]
Prawns were very good, coming out properly rare, snappy, and imbued with a great smokiness and spice. The crisp, charred bread worked surprisingly well as a base to boot.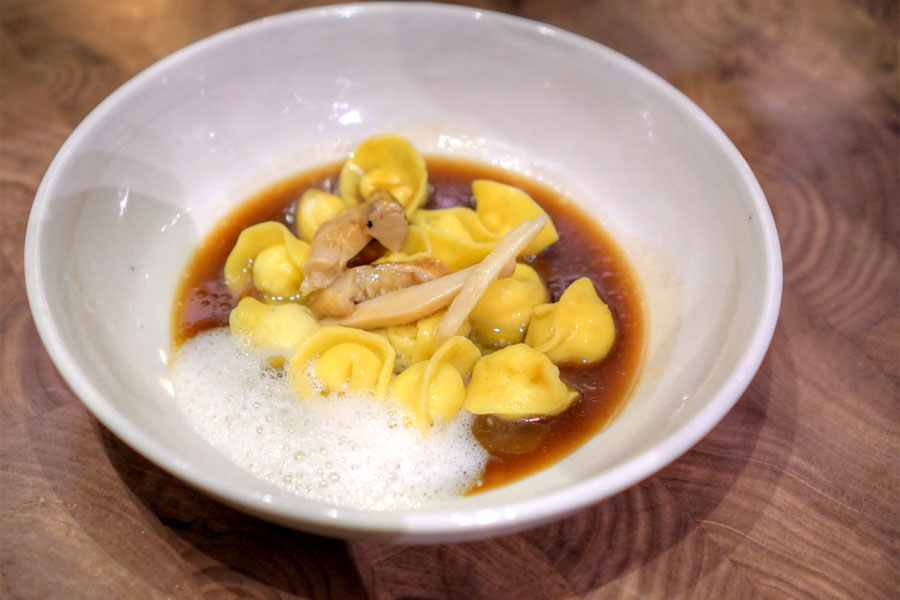 Tortellini·Castelmagno·Matsutake·Ham Bouillon [$28.00]
Tortellini were about what you'd expect, arriving all cheesy and pillowy to the bite. The key was that broth though, which combined the richness of ham with the earthy, musky aromatics of matsutake mushroom.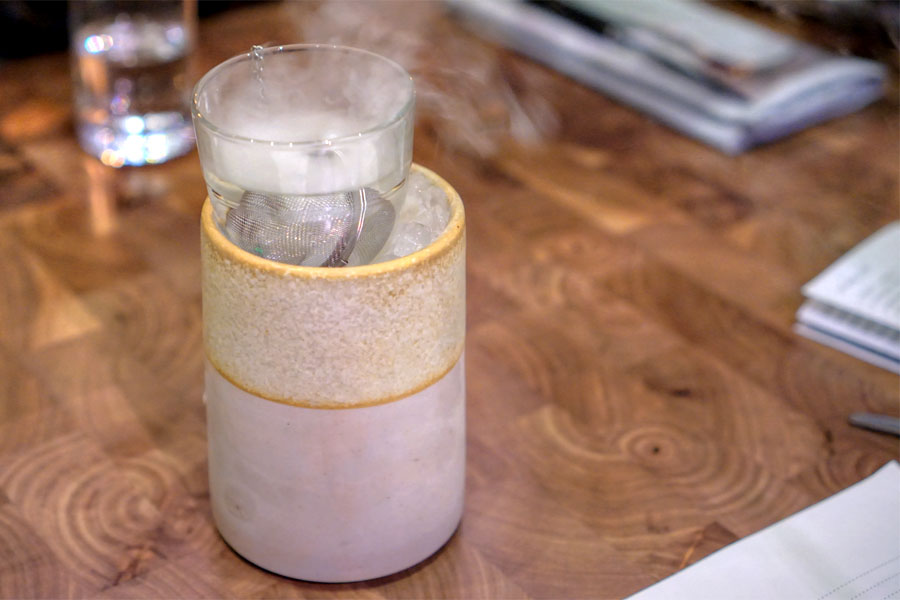 Roasted Banana · Otium Rum Blend · Lime Oleo Saccarum · Cacao Nib [$18.00]
Our final cocktail was a crowd pleaser, giving up boatloads of fruity, tropical banana notes and sweet spice, with the rum providing the necessary heft to the drink.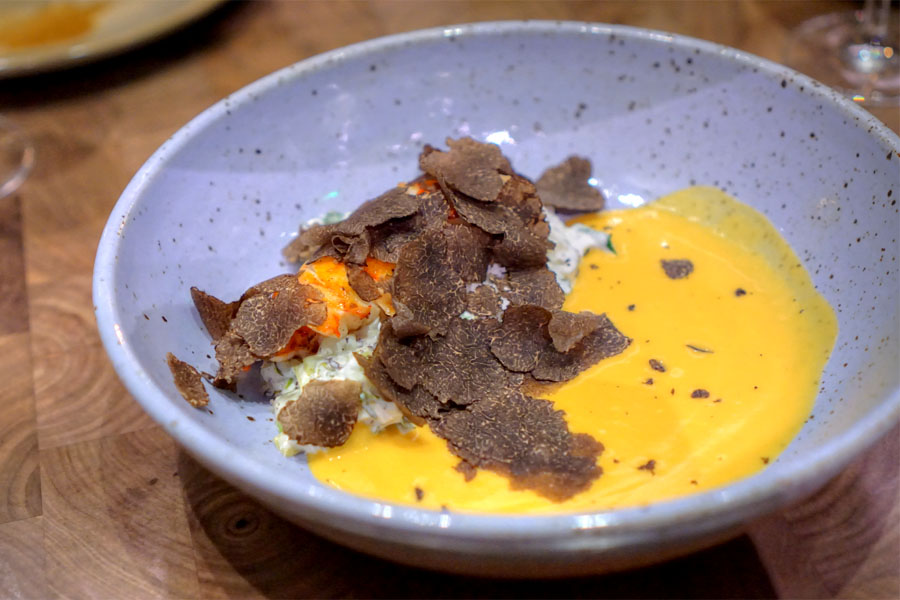 Lobster·Truffle·Lettuce·Yam Veloute [$38.00]
Lobster showed off a beautiful texture and flavor, and paired as well as you'd think with those shavings of black truffle. I wasn't super keen on the yams, but the lettuce was superb, adding a creamy, crunchy counterpoint to the dish.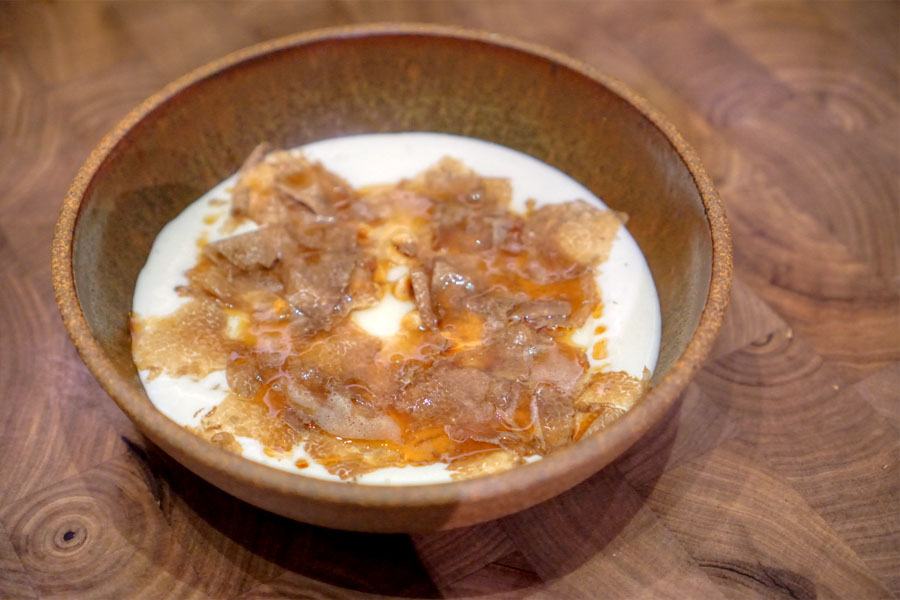 Next, the kitchen sent out an off-menu dish of white truffle polenta with brown butter and hazelnuts. It was no doubt the most decadent dish of the meal, an explosion of cheesy, salty, and truffle-y flavors cut by the crunch of those nuts. A table favorite.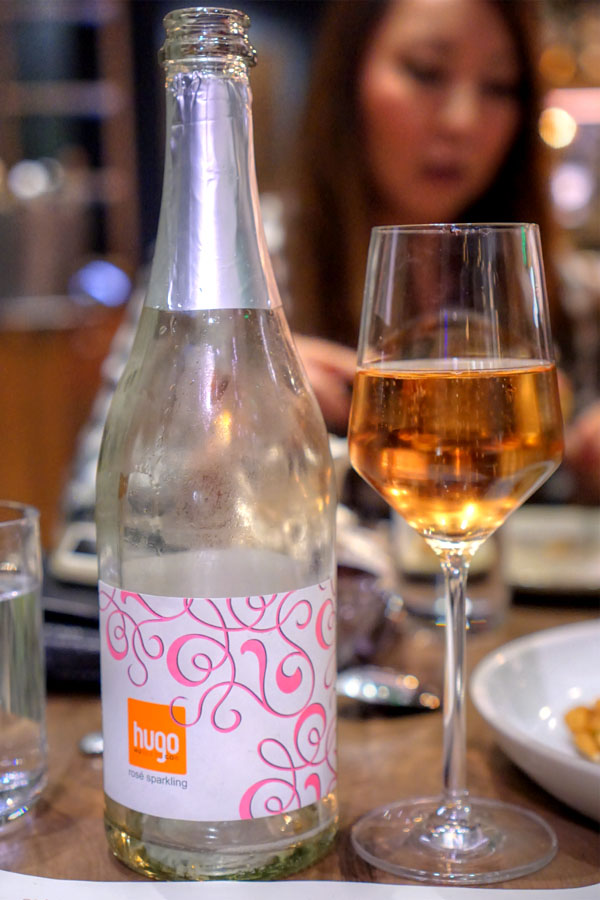 With the cocktails done with, we moved on to some bubbly, the
Sparkling Rosé, Huber, "Hugo," Traisental, Austria [$55]
. This was a bit of a quaffer, sweet and lemony on the nose, with a taste that went similarly fruity, but with a countering undercurrent of minerality as well.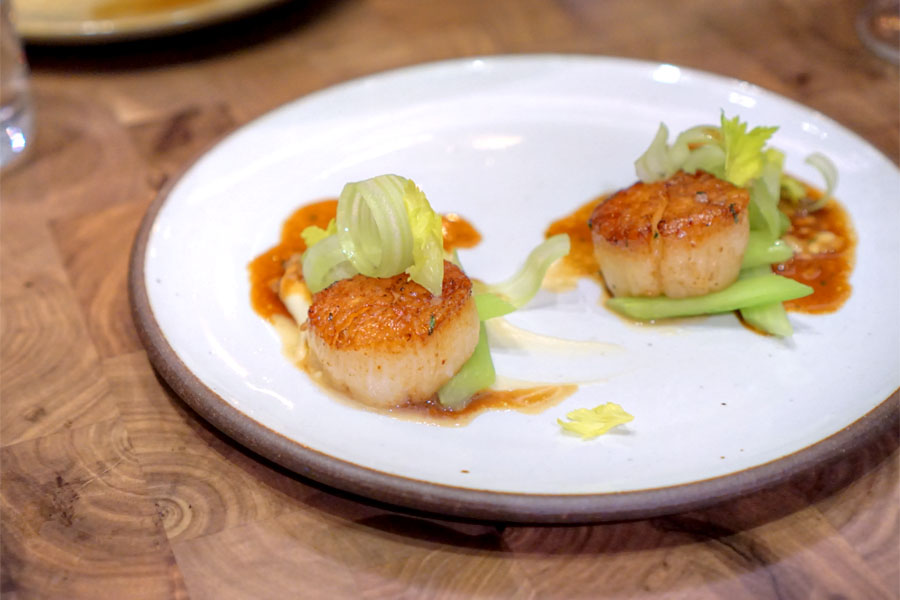 Scallop·Bone Marrow Vinaigrette·Celeriac·Celery [$32.00]
Scallops were well-caramelized and well-textured, with a very pronounced brine to 'em that was further augmented by the potency of the marrow. I'm generally not a fan of celery, but here it made sense as a crunchy counterbalance.
Beef Short Rib·Potato·Everything Topping [$36.00]
Short rib was near falling-apart tender, and oozing with massive amounts of deep, dark, beefy flavors, the "everything" seasoning working as an unexpected, but effective complement to the meat.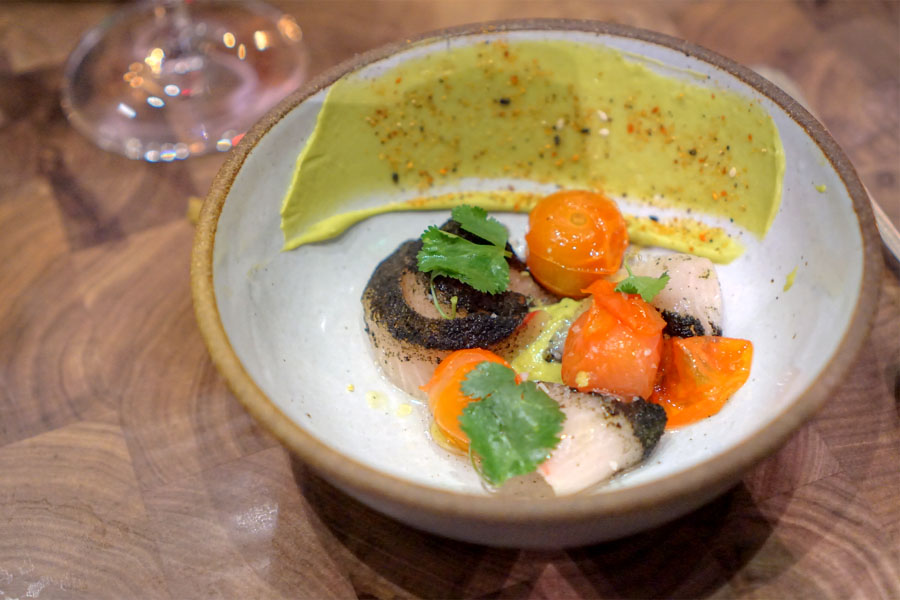 Hamachi·Nori·Avocado·Sweet & Sour Tomatoes [$15.00]
Hamachi was fatty and fishy and oily, its potent flavors evened out a bit by the bright, lush avocado, tangy tomatoes, and cilantro, especially. The dish made sense, but seemed slightly discordant overall though.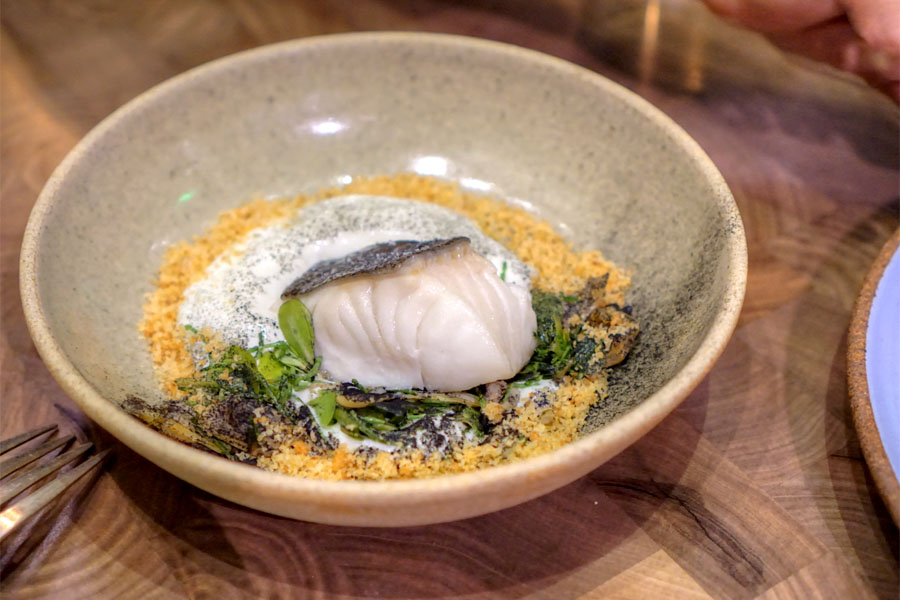 Cod·Burnt Onion·Clams·Purslane [$28.00]
Cod came out flaky and supple and almost gelatinous, though I wanted a crispier skin. Taste-wise, the fish was very mild, very delicate, so I would've liked more restraint when it came to the charred onion and clams.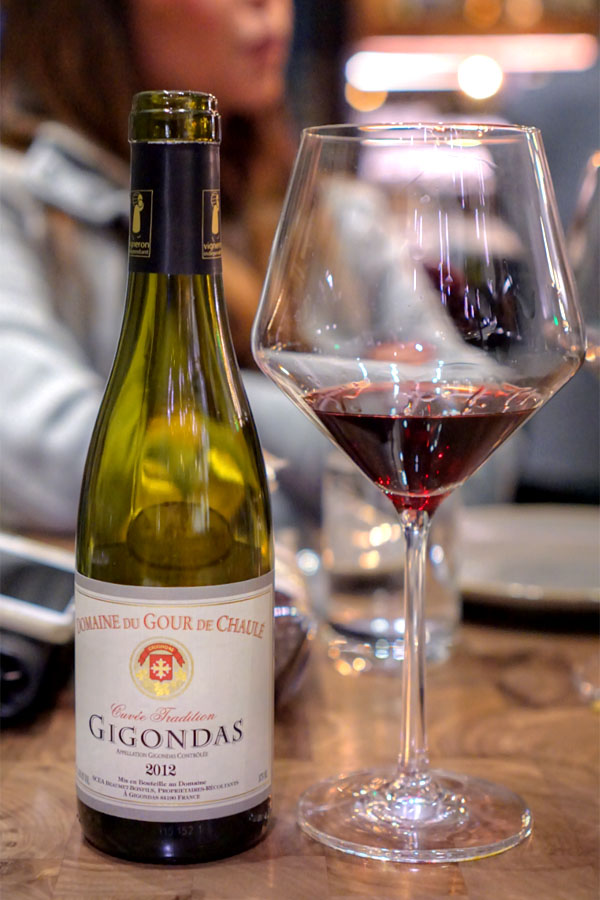 Moving on to a heftier wine now, the
Grenache Blend, Aline Bonfils, Gigondas, Rhône Valley, France 2012 [$35]
conveyed an almost meaty aroma, interspersed with violet. In terms of taste, I got a lot of pepper, berry fruit, and a healthy dose of tannins.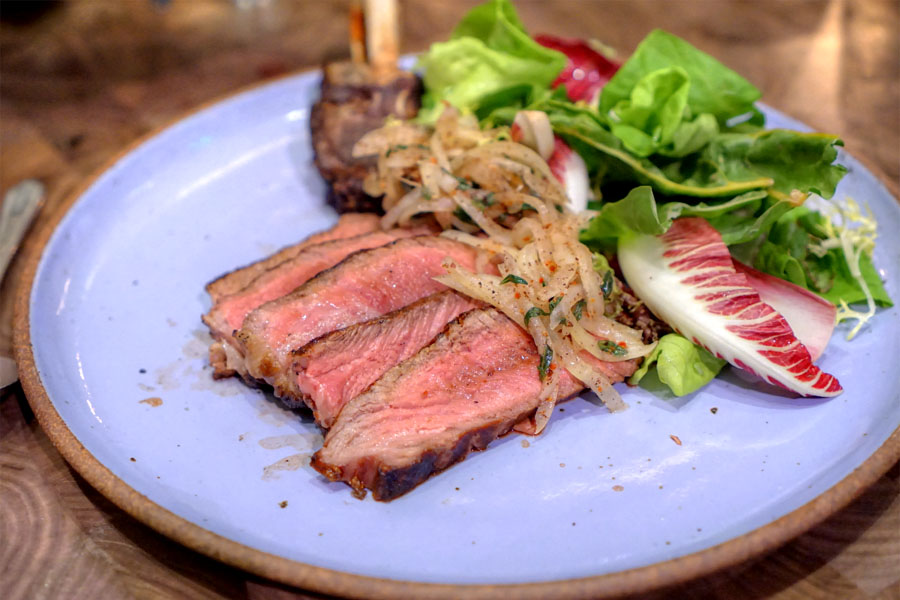 Beef·Sumac·Wild Thyme [$58.00]
Beef turned out far better than anticipated. I found it very tasty, very flavorful, with a great balance of salt and char, the zesty greens and tangy onions working well as moderating elements.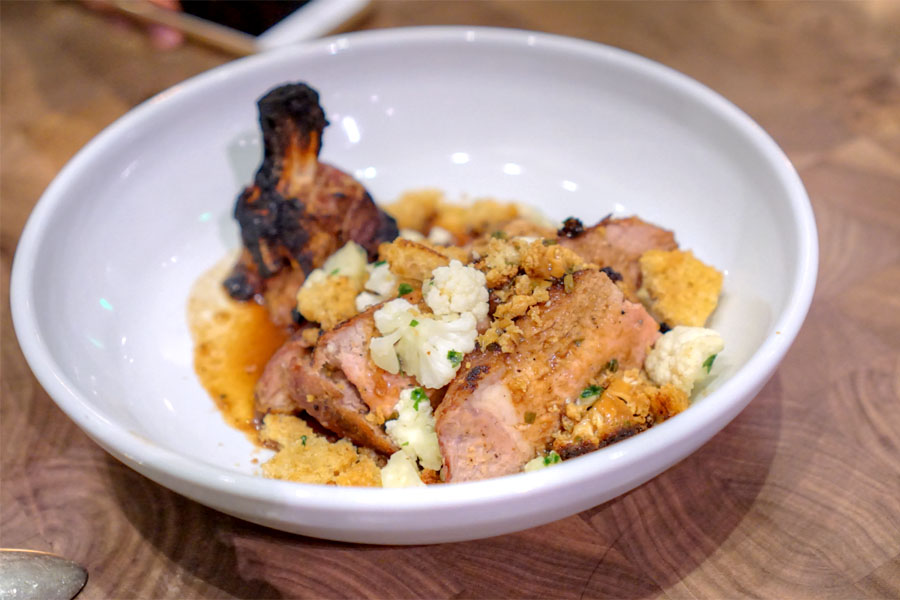 Pork·Cauliflower·Lemon·Caper·Country Bread [$38.00]
The pork was another standout, a tender, juicy chop that was one of the best I've had in a while. Outstanding seasoning, spice, and char on the meat, and I appreciated the use of cauliflower here too.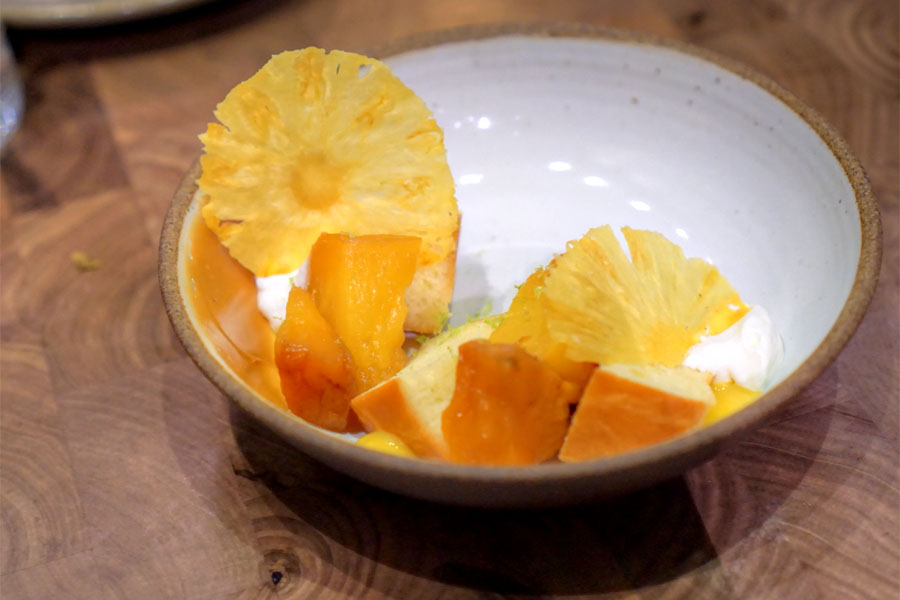 Baba Rum·Pineapple·Caramel·Passion Fruit [$12.00]
Getting into desserts now, a take on a
baba au rhum
hit the right notes, bringing forth a bevy of sugary, spicy, and boozy flavors.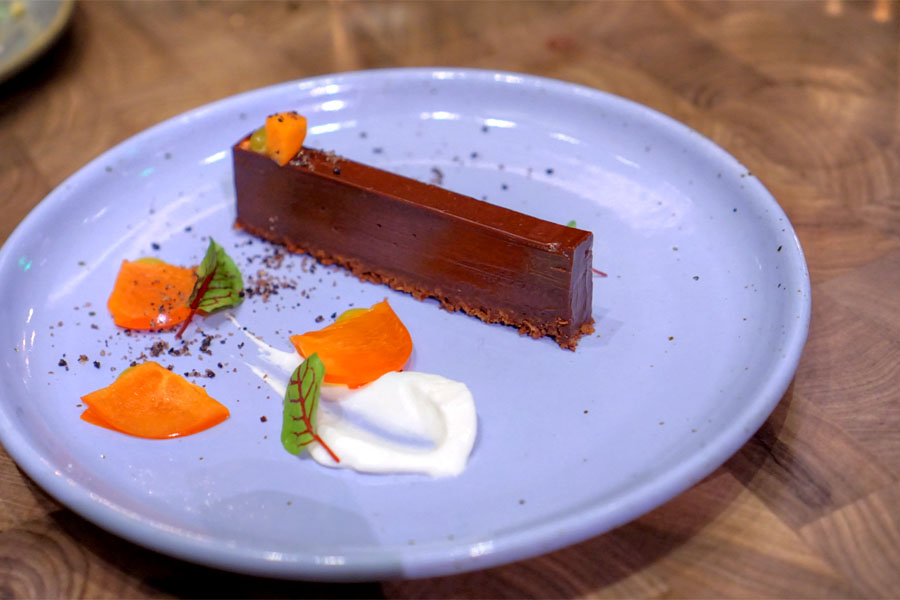 Chocolate Torte·Persimmon·Olive Sable·EVO Jam [$13.00]
The chocolate torte was as dense and as rich and as chocolatey as one would expect, so the persimmons were definitely called for. Interesting savoriness from the olive crumbles, too.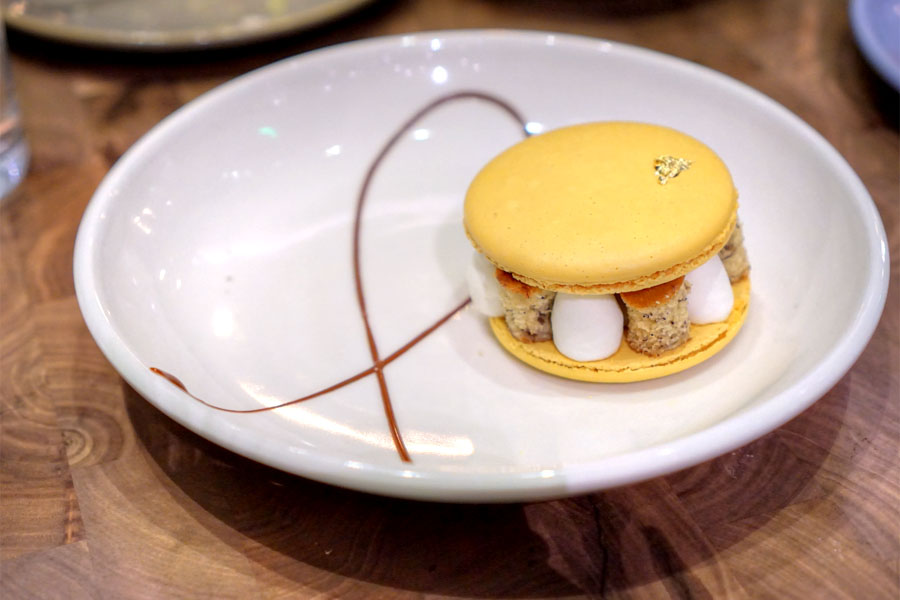 Banana Cream Grand Macaron [$14.00]
An extra large macaron showcased banana in a couple of ways, and I appreciated the dessert's textural variation as well.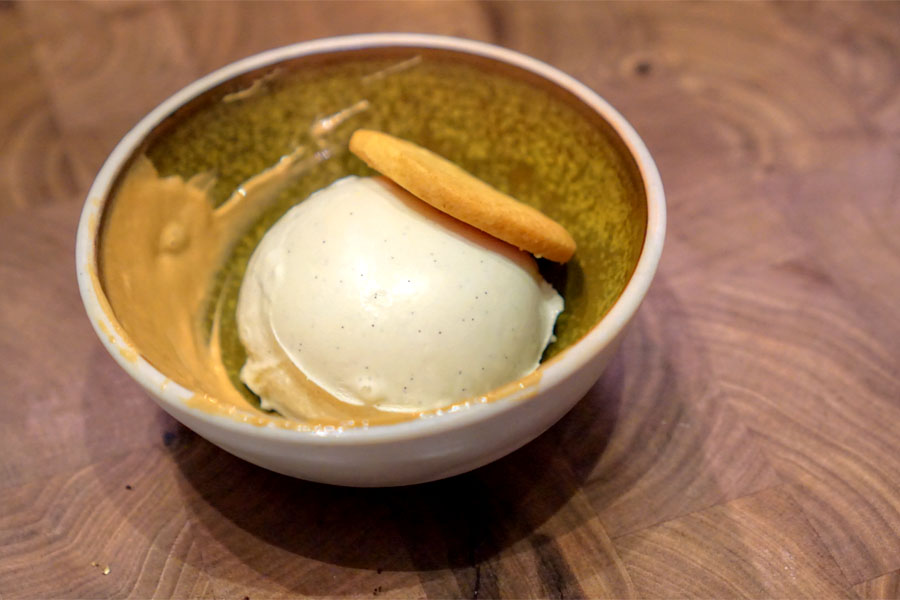 Ice Cream [$9.00]
A chai tea ice cream was excellent, with just the right amount of sweet, soothing spice to go up against the coffee crème anglaise.
Overall I liked how Otium brought together familiar flavors and elements and tropes, but arranged in manners and formats not typically seen. The food has a simple elegance to it, a sort of marriage between Hollingsworth's fine dining background and the more casual aesthetic that's so common here in LA. I think there's still room to grow though, so it'll be interesting to revisit somewhere down the line to see how the cooking's evolved.