The Halal Guys (Costa Mesa, CA)
The Halal Guys Restaurant
3033 Bristol St, Costa Mesa, CA 92626
714.850.1080
www.thehalalguys.com
Tue 12/15/2015, 07:15p-08:50p

Called it
.
Back in 2011, I visited the famous "
Chicken & Rice
" vendor for the first time after a meal at Wylie Dufresne's game-changing, dearly-departed
wd~50
. I remarked that I was "a bit surprised there hasn't been an attempt to capitalize on this halal trend here in LA." Well here we are, four years later. It's about damn time.
It wasn't until 2014 that the Halal Guys founders--Muhammed Abouelenein, Ahmed Elsaka, Abdelbaset Elsayed--really warmed up to idea of expansion. To that effect, they retained the services of Fransmart, the multinational franchise consulting and private equity firm responsible for the likes of Five Guys, Qdoba, Slapfish, and zpizza (they've opened up over 3,000 restaurants across the globe). The company ended up signing franchising deals with three entities in California, including SoCal's Halal or Nothing, an LLC with the rights to the brand from San Diego all the way up to Santa Barbara.
The Costa Mesa-based HoN is headed by CEO Thomas Pham, who boasts experience in hospitality marketing via his firm Slique Media, and also served as co-founder of mobile app Drink Pass, Prodigy Entertainment, and non-profit 12Footprints. His heavy-hitting business partners, meanwhile, are Andrew Chen (a fellow co-founder at Drink Pass, and co-founder of Picrender), Phillip Hoang (HoN CFO, and VP at mortgage brokerage Sterling Financial), Paul Tran (HoN COO, and Senior Director of Development for Fransmart), and Alvin Wong (co-founder and CFO of online electronics retailer eForCity).
The guys decided to open their first location in Costa Mesa ostensibly due to its centralized location and easy freeway access, and it ended up debuting on October 2nd to considerable fanfare. I actually attempted to go earlier, but the ridiculous lines resulted in a back-up dinner at
Garlic & Chives
instead.

Inside, things about what you'd expect (i.e., crowded). The kitchen dominates the space, while there's seating for about three dozen diners across various tables and counters.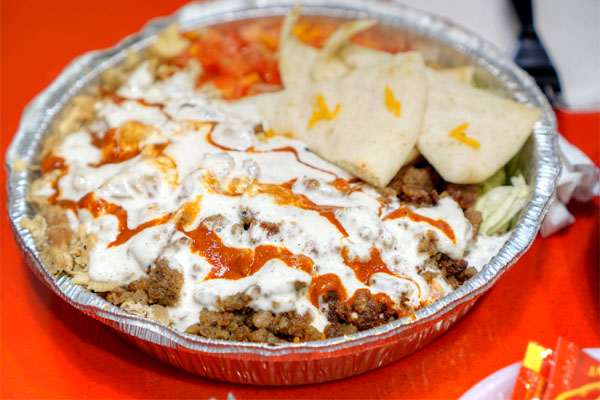 Halal Classic Platter [$9.95]
We began with the icon of "American Halal" cooking, a half-n-half mix of chicken 'n' gyro that pretty much started it all. The chicken itself was moderate in the juiciness and tenderness departments, but still worked for its intended purpose, providing a good dose of flavor. The gyro (which I've read may be beef instead of lamb?), on the other hand, was perhaps a touch more robust in terms of taste, but didn't deliver as much texturally. In both cases, the oft-mentioned white sauce was key, providing a creamy-tangy element that helped bring everything together, while the red sauce gave the dish a prickly heat. Meanwhile, the yellow long-grain rice functioned swimmingly as a base to the dish, and I appreciated the brightness provided by the lettuce and tomatoes, too. Overall, a gratifying plate of food, though I'll note that prices have crept up since opening, with the platters/sandwiches increasing a dollar, and other items 50 cents or so.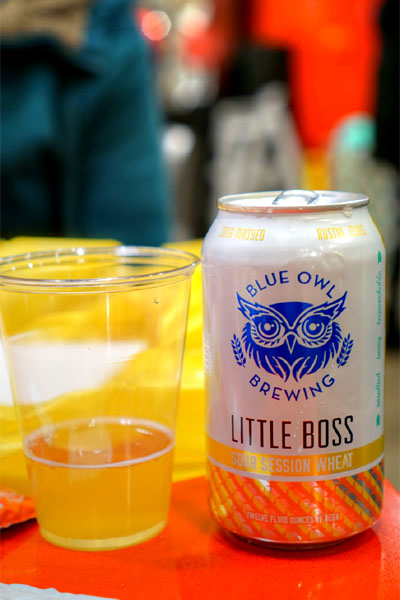 As New Yorkers will attest to, Halal Guys is meant to be eaten with some booze in your system. First up was something super light, the
2015 Blue Owl Little Boss
, a sour session wheat ale. Not too much going on with this one, though it was properly refreshing, with a Berliner Weisse-esque tartness.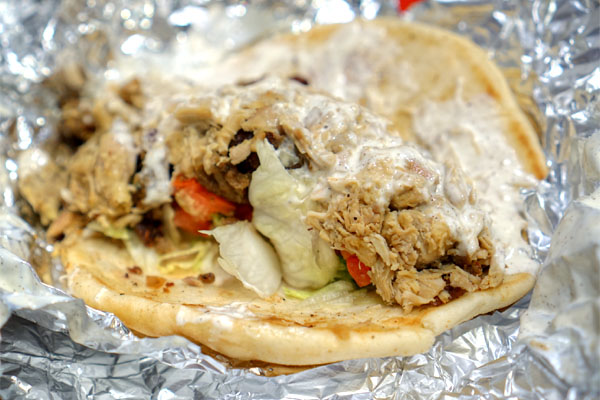 Halal Classic Sandwich [$7.95]
People rarely seem get the sandwiches here, but nevertheless I ordered one for completeness' sake. It's basically the same thing above, but wrapped in a pita,
sans
rice. It was tasty enough, with the flavors coalescing just fine, though it lacked the substantialness and heft of the platter.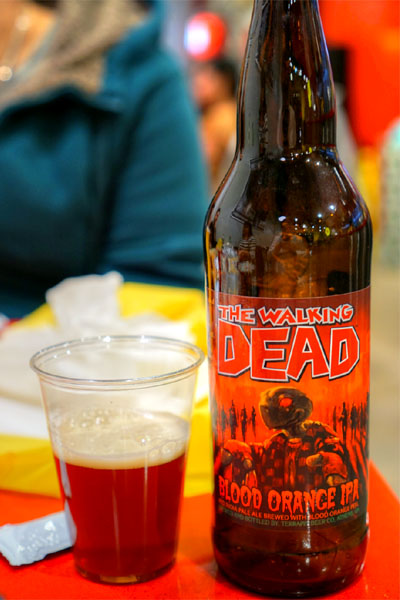 Next was something more potent, the
2015 Terrapin The Walking Dead
, a red India pale ale brewed with blood orange peel. I found it a fairly decent IPA, and appropriately hoppy, though I really wanted to taste more of the citrus.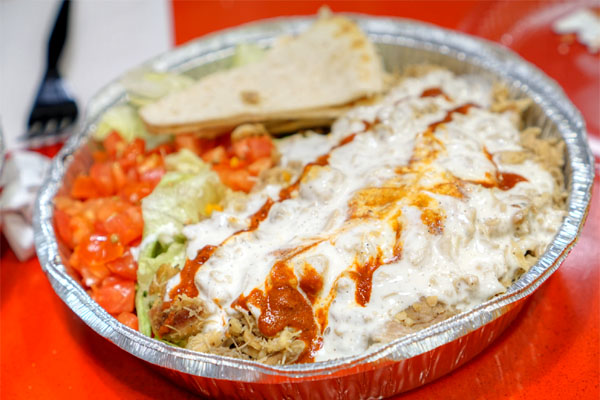 Chicken Platter [$9.95]
Here was a chicken version of the platter, basically the same satisfying experience as the Classic, but good if you really prefer fowl.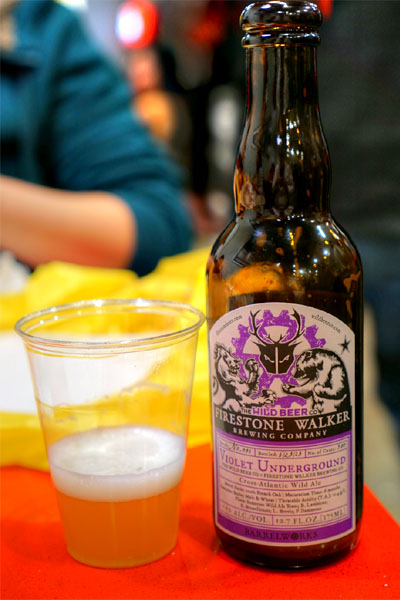 Brewed in collabo with The Wild Beer Co, the
2015 Firestone Walker Violet Underground
was a blended sour ale with raspberry and French candied violet petals, aged in French oak for six months. This was really quite tart, acidic, vinegar-y, with a hit of fruitiness toward the mid palate and the floral nature of the violet creeping in toward the end.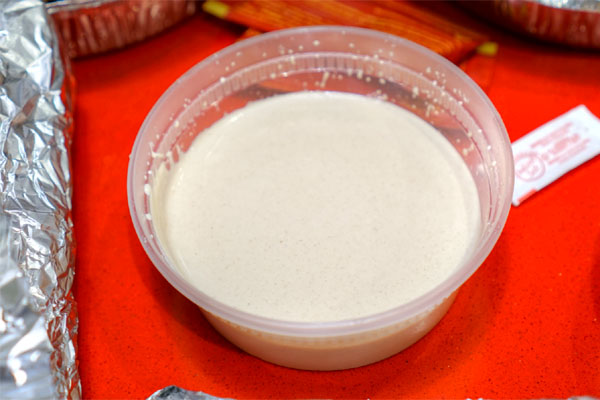 Tahini [$2.95]
In addition to the standard Halal Guys fare, we have a few new additions to the menu, including this fairly prototypical rendition of tahini.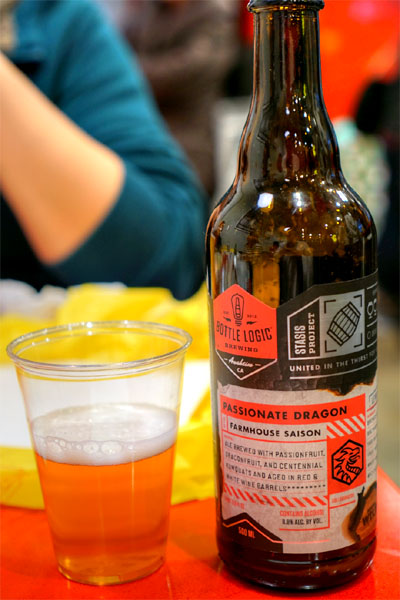 Created in collaboration with Arizona Wilderness Brewing Co, the
2015 Bottle Logic Passionate Dragon
was a farmhouse saison brewed with passion fruit, dragon fruit, Centennial kumquats, Sonoran white wheat, rosemary, and Arizona bay leaves, then aged for a year in Sauvignon Blanc barrels. There was a lot going on in the beer, but overall I founded it fruity and floral, with a slightly vinous edge and traces of herb and yeast throughout. A tasty one.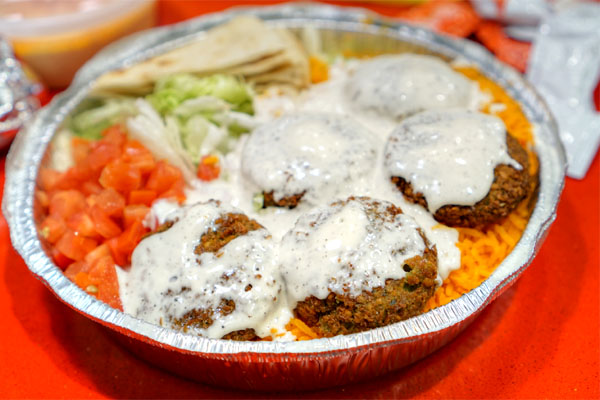 Falafel Platter [$9.95]
The falafel was the biggest surprise of the night, the fritters coming out crunchy on the outside, but still moist on the inside, with a great mix of savory, nutty, and herby flavors. A very reasonable substitute for meat, and much better than any of us expected.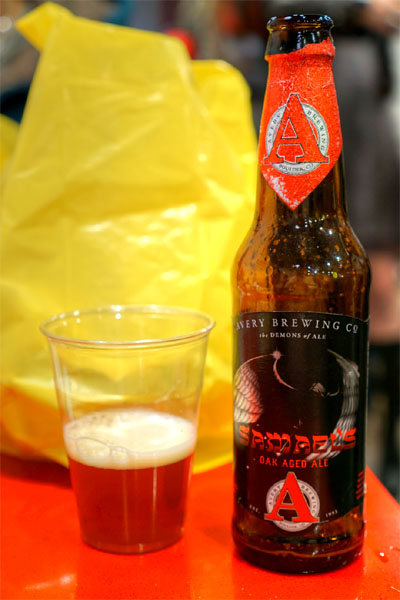 Moving into a heavier brew now, here was the
2013 Avery Samael's Ale
, an English-style oak-aged strong ale. With this one, think super malty, super caramel-y, with plenty of wood accents all over the place.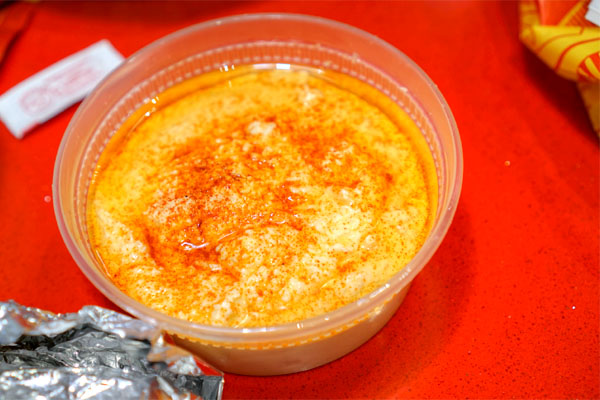 Hummus [$2.95]
The hummus did the job, with a bit of a spicy kick.
The
2015 Mikkeller 12" Winale
was a Belgian style golden with grape juice added. I rather liked it, finding loads of fruity, grapey flavors with the right amount of tart, crisp, countering notes.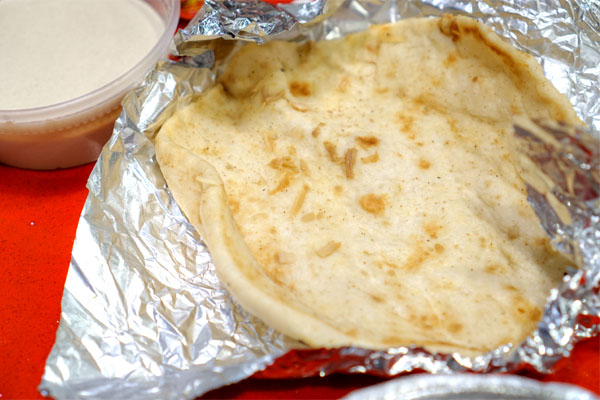 Pita came with the aforementioned tahini and hummus, and was particularly fluffy.
Our heftiest drink of the night came in the form of the
2013 Saint Arnold Bishop's Barrel 4
, a weizenbock aged in Woodford Reserve barrels, with cocoa nibs added, blended with 10% fresh beer. It was a tasty one, with plenty of sweet banana aromas and chocolatey booze on the nose. The palate displayed even more chocolate and sweet malt, joined by bourbon and a hint of banana-y character.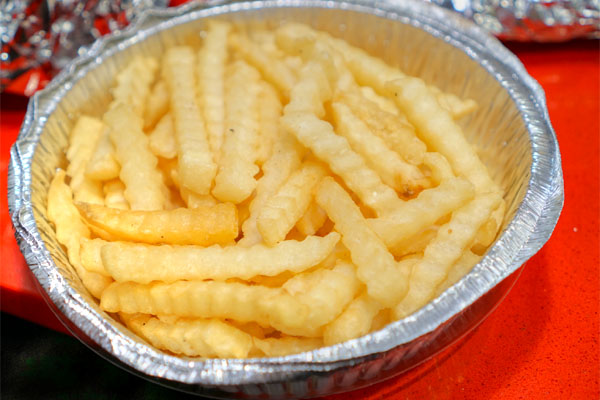 Fries [$2.95]
Fries were almost Del Taco-esque, which wasn't a bad thing given the setting. Try 'em dipped in the tahini above.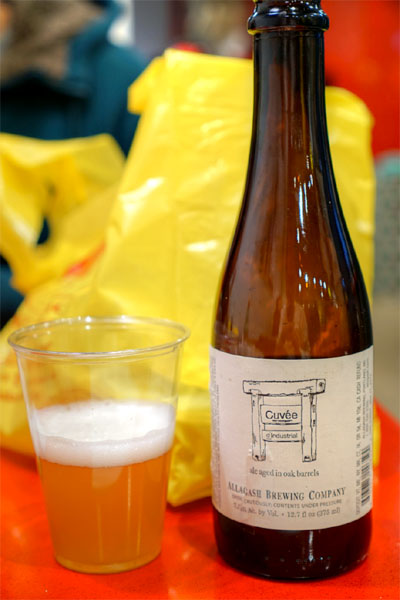 The
2015 Allagash Cuvée d'Industrial
was a highlight, a blend of wild ales barrel-aged from one to five years in a mix of American and French oak. Really lovely balance of flavors here between sweet-tropical fruit, spice, citrus, and oak, making for a delicious, multifaceted brew.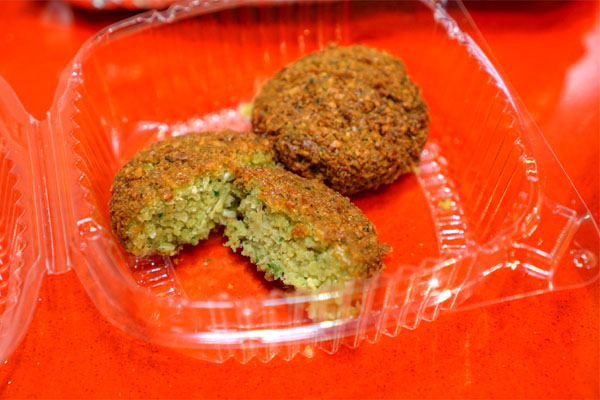 We all liked the falafel so much that we ordered another round of the stuff.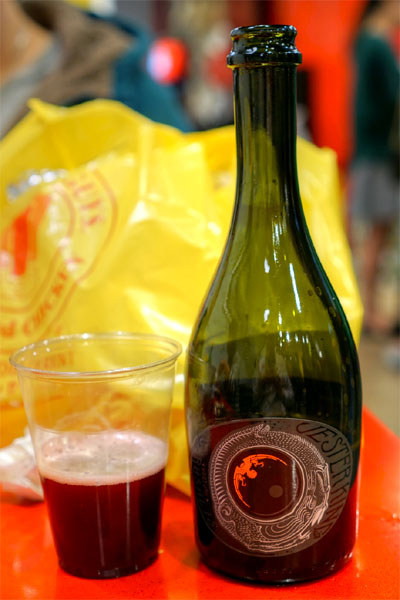 Last up was the
2015 Jester King Nocturn Chrysalis
, a barrel-aged sour refermented with Marion blackberries from Oregon. Think really dry, earthy, musty almost, with tart berry fruit layered on top.
In terms of the food, what we had tonight was a reasonable approximation of what's served at the carts back in New York. It's simple, satisfying fare, and is certainly worth checking out assuming the lines aren't too long. As for next steps, these same operators are planning to expand big time in Southern California, with 50 outposts planned from what I've read. Next up will be Long Beach, near the Traffic Circle, so look out for that early next year. On a broader scale, Halal Guys is looking at an additional 50 or so restaurants in NorCal, and over 200 worldwide. With so many locations in work, brand dilution should definitely be on their minds.