Maple Block Meat Co. (Culver City, CA)
Maple Block BBQ Restaurant
3973 Sepulveda Blvd, Culver City, CA 90230
310.313.6328
www.mapleblockmeat.com
Wed 12/02/2015, 08:00p-10:20p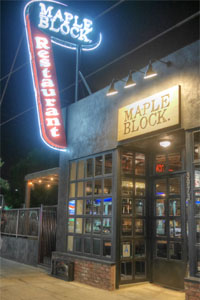 Los Angeles' barbeque game was upped recently with the debut of Maple Block Meat Company. The neighborhood-y eatery bowed on August 10th, a not-quite-Texas-style smokehouse that comes to us courtesy of Chef Adam Cole and partners Mike Garrett and Daniel Weinstock (a former sous at
Spago
who also did marketing for both
Patina
and Panda Restaurant Groups).
About the Chef
: Cole's originally from Texas, and grew up in a BBQ-rich environment, having spend his childhood years in his home state, as well as in North Carolina and Georgia. He eventually wed fellow chef Holly Jivin (currently CdC at
The Bazaar
), and in 2008, the couple moved from Atlanta to West Virginia. Cole began working at The Greenbrier, and started perfecting his BBQ skills under pit master Ken Hess. He also met Michael Voltaggio at the resort, and would later accompany him to Los Angeles.
In LA, Cole cooked under Voltaggio at The Bazaar, and followed him to
The Dining Room
as well as
ink
. He would leave the popular WeHo restaurant for a butchery position at Lindy & Grundy, where he stayed for three years. During his time there, he even hosted a barbecue pop-up at Tony's Saloon, with Adam Vourvoulis (
Hatchet Hall
,
Petit Trois
,
Trois Mec
, ink,
Mozza
,
Church & State
) doing the drinks. Maple Block, meanwhile, was announced in mid-2014. Assisting Cole in the kitchen here is Sous Chef Brian Lea, an alum of Trois Mec, Husk,
Red Medicine
, and The Bazaar.

Maple Block takes over the former home of the middling Villa Italian Restaurant. The space was redone by
Scott Kester
to a much more BBQ-appropriate aesthetic, replete with Texas-sourced J&R smokers fired with peach wood and yes, an eponymous big-ass maple block.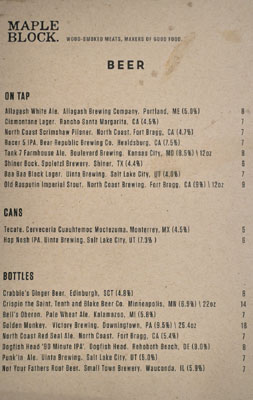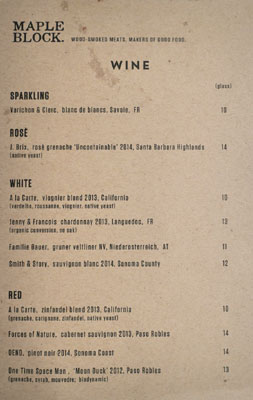 As for the menu, it's laid out in typical fashion, with a core selection of meats joined by starters and sides, while there's also a separate lunch menu with more sandwich-y items. To imbibe, you get a decent selection of beers and a smattering of wine. Click for larger versions.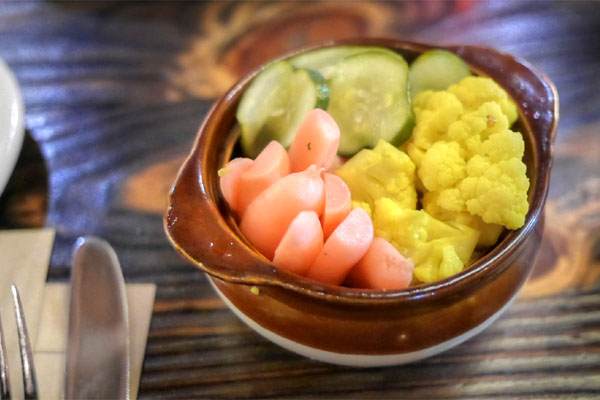 Pickle Plate [$6.00]
| assorted vegetables
Pickles were tangy and acidic, but with a whisper of sweetness and the right amount of crunch. My favorite? The cauliflower, natch.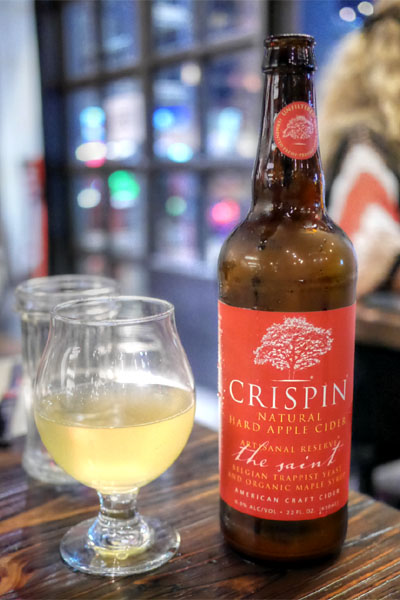 To drink, we got started with a cider, the
Crispin the Saint, Tenth and Black Beer Co, Minneapolis, MN [$14]
. Lots of juicy, floral apple on the nose with this one. The palate followed, with loads of sugary fruit and honeyed notes, backed by an undertone of booziness. Overall, I found this overly sweet, and lacking in the yeasty and funky notes that I prefer in a cider.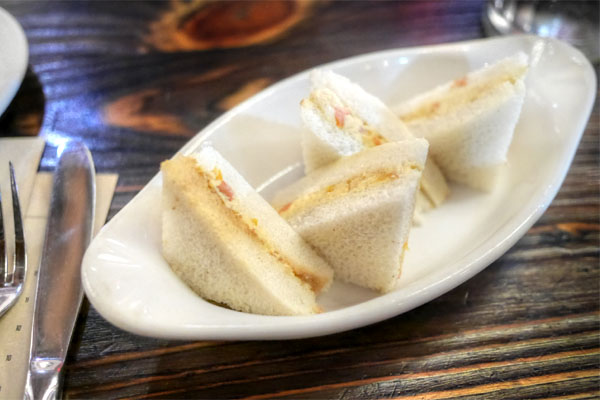 Pimento Cheese Sandwich [$6.00]
| with house-smoked sweet peppers
Pimento cheese was just what I wanted: all creamy and smoky and tangy, with just the right amount of Southern trashiness.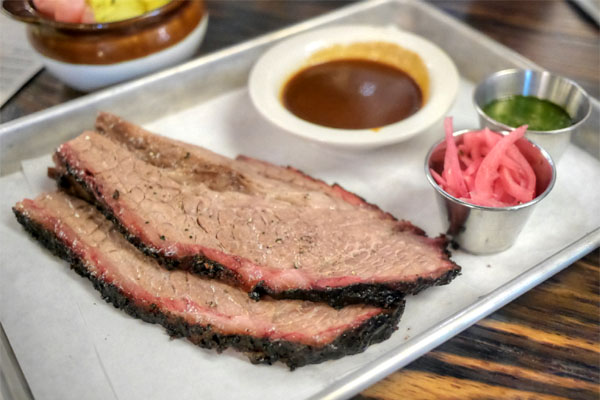 Beef Brisket (half pound) [$13.00]
| pickled onions, red and green sauces, sliced to order
Maple Block's known for their brisket, and it's not hard to understand why. Texturally, the meat broke apart with ease, but still showed off a satisfying chew, a crisp crust, and a good balance between fat and lean. In terms of taste, smoky and savory were both well conveyed, the inherent beefiness of the cut always present but complemented by spice and char. Loved the brightness of the included chimichurri-esque condiment, though the red BBQ-ish sauce I found way too sugary.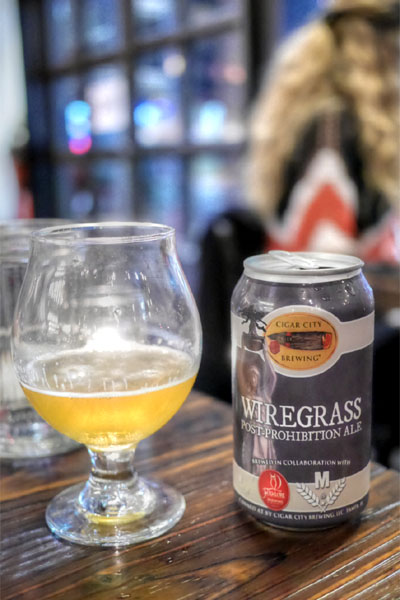 At this point we opened up some beers that we had on us, starting with the
2015 Cigar City Wiregrass Post-Prohibition Ale
. Brewed in collaboration with Folklore Brewing and MOOLA Homebrew Club of Alabama to celebrate the legalization of homebrewing in the state, this is described as a combination of an IPA and a pre-Prohibition pilsner. It was a thin, lightweight beer, plenty hoppy and citrusy to the smell, with a taste that further showed off the piney, bitter nature of the brew.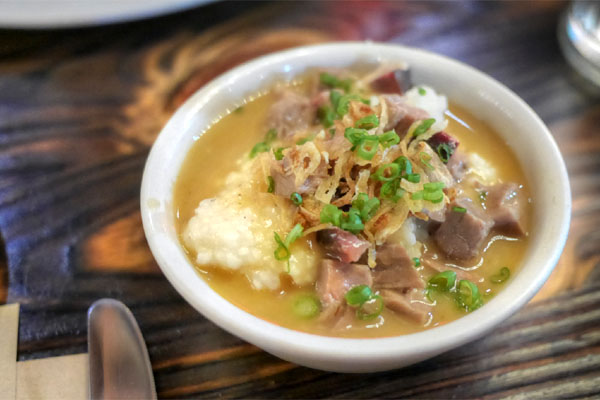 White Cheddar Grits [$9.00]
| smoked brisket gravy, crispy shallots
The grits was a winner as well, properly cheesy with a meaty, gratifying heft from the brisket bits. Great crunch from the fried shallots too.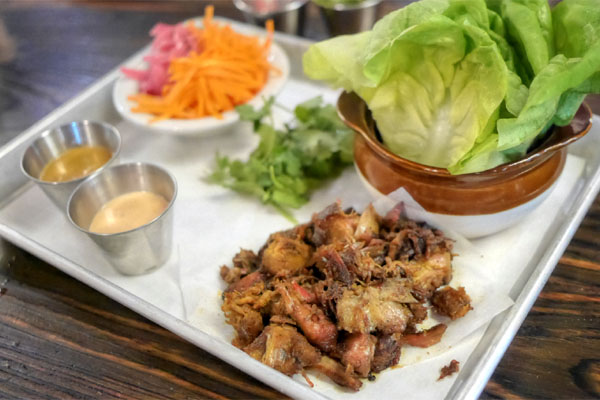 Pork Shoulder Lettuce Wrap [$11.00]
| bibb lettuce, pickled carrots, cilantro, comeback sauce
The wraps managed to impress. Think hearty, deeply-flavored chunks of shoulder set against the bright, refreshing crunch of the greenery, with the spicy-creamy kumback sauce tying it all together.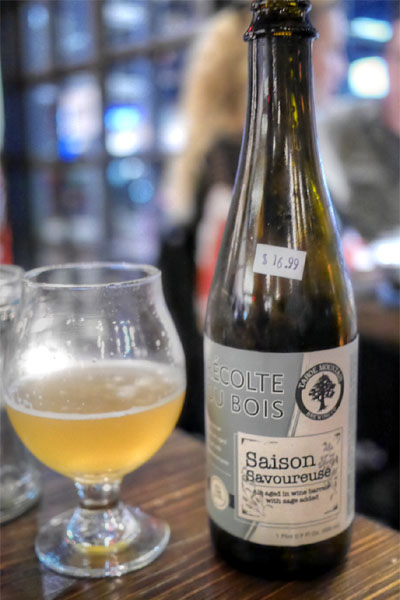 Here we had the
2014 Tahoe Mountain Récolte Du Bois - Savoureuse
, a Brett saison aged in wine barrels with sage. Classic nose of juicy fruit, grain, and earth; taste showed off barnyard and Brett, with just a light dusting of sage on top.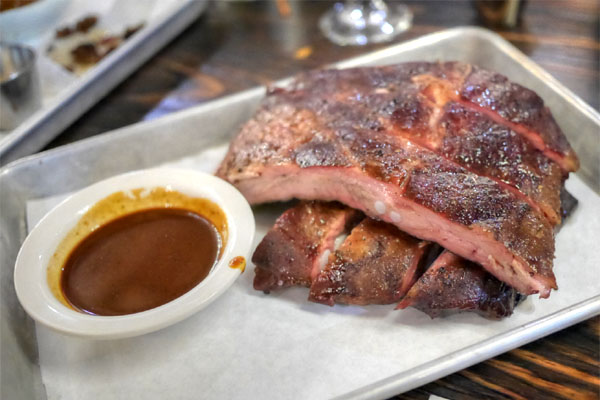 Pork Spare Ribs (half rack) [$25.00]
| choice of sauce: MAPLE BLOCK red or spicy red
The ribs were a standout, no doubt. Texturally, they were just the right amount of tender and just the right amount of fatty, ripping cleanly and effortlessly off the bone. Flavor-wise, their intrinsic porkiness was well conveyed, joined by a good layer of smoke and stickiness. The sauce wasn't necessary at all.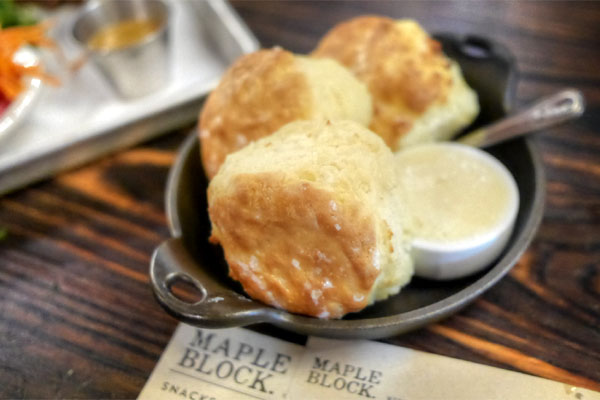 Buttermilk Biscuits [$7.00]
| honey butter
The biscuits were some of the tastiest I've encountered in a while, with crusty exteriors hiding hot, fluffy insides. I enjoyed 'em alone, but they were even better with a dab of that wonderfully sweet honey butter. Upon tasting, one of my dining companions exclaimed that these were "proper as fuck."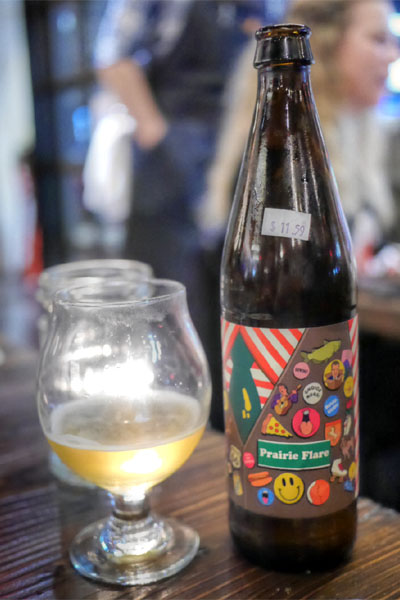 Next came the
2015 Prairie Flare
, a coriander- and orange-spiked gose. Sour and subtle salt on the nose, with a palate that was earthy and tart, the salt coming in midway and the finish redolent of grain.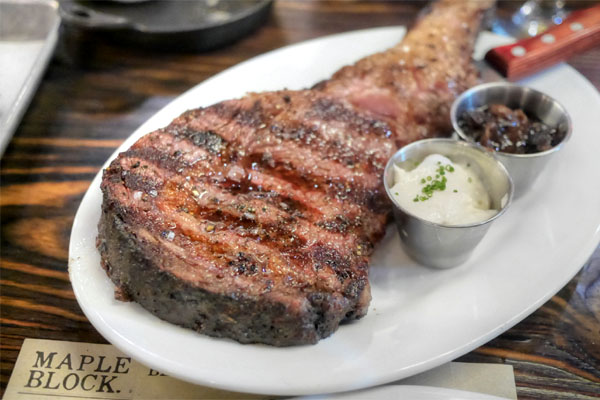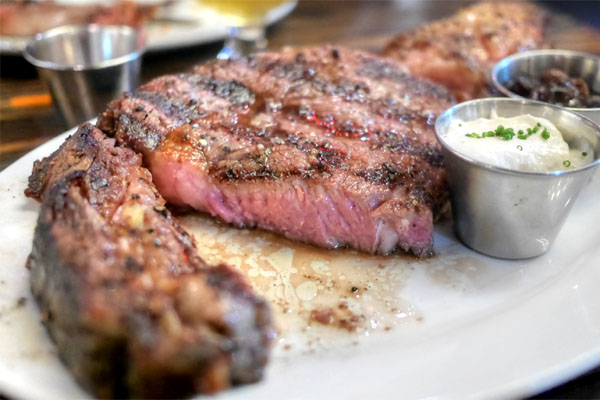 Prime Rib (20 oz. boneless) [$45.00]
| caramelized shallots, horseradish cream
The prime rib was an impressive looking specimen, for real, and ate beautifully: juicy and supple, with a wonderful meatiness well-complemented by all the char and smoke going on. Great counterpoint from the included horseradish too. Quite possibly the best prime rib I've had, actually.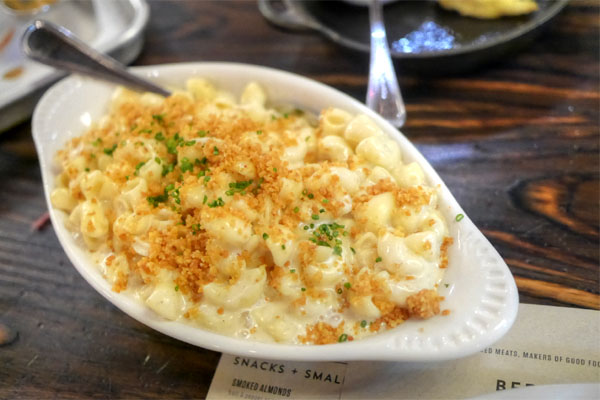 Mac & Cheese [$10.00]
| cheddar crumble
A generous helping of macaroni was particularly smooth, slick, not too cheesy but with a nice herby bent.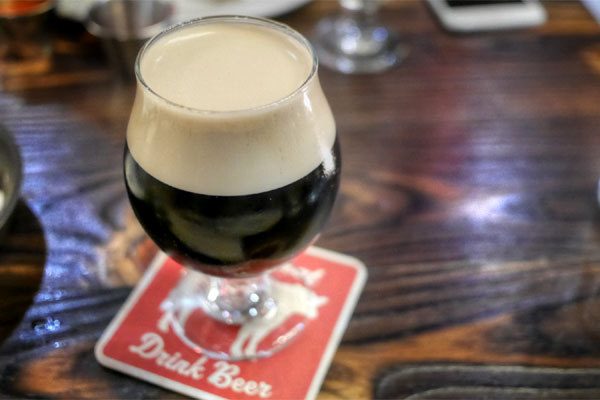 The
Old Rasputin Imperial Stout, North Coast Brewing, Fort Bragg, CA [$9]
on draft was just what you'd expect from the brew, with big hits of roast, malt, and chocolate all over the place. What struck me most was actually the silkiness of the mouth feel.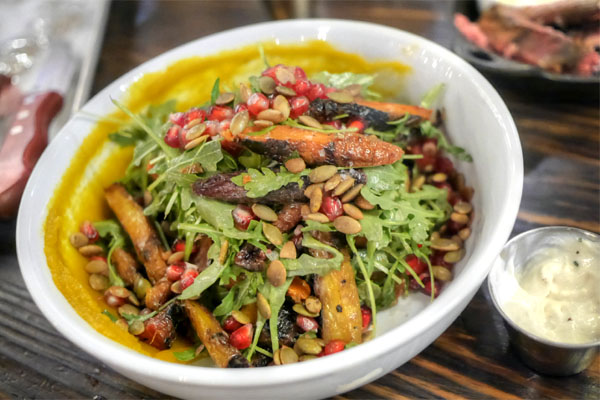 Seasonal Vegetable Salad [$12.00]
| grilled carrots, kabocha squash, pomegranate, pumpkin seed
A seasonal salad lived up to its name, delivering all sorts of sweet, spicy, autumnal flavors countered by the pepitas and zesty greens.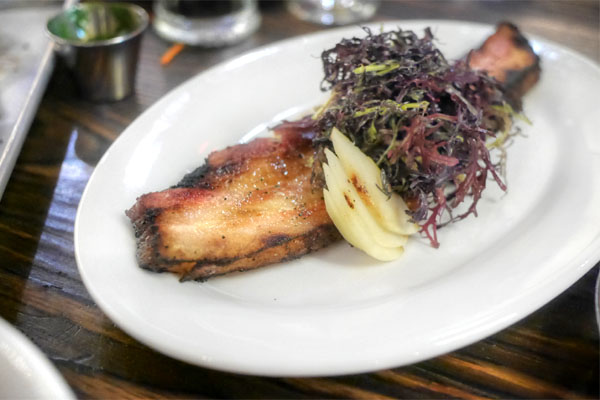 Smoked Pork Belly [$20.00]
| finished over a wood grill, peach mustard
Our final meat was the pork belly, and it was no doubt the most sinful of the bunch, a small piece of which seemed like it could sustain a person for days. People often hate on the word
unctuous
, but it really was appropriate here--a mouth-coating sort of unctuousness rendered in copious amounts of fat and char.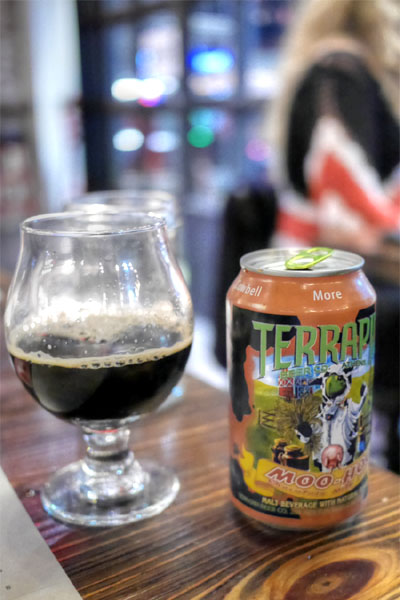 Continuing on with the dark stuff, here came the
2015 Terrapin Moo-Hoo
, a chocolate milk stout brewed with Olive & Sinclair cocoa nibs. This was probably the closest thing to adult chocolate milk that I've tasted, with massive amounts of sweet, smooth chocolate all up in yo' face.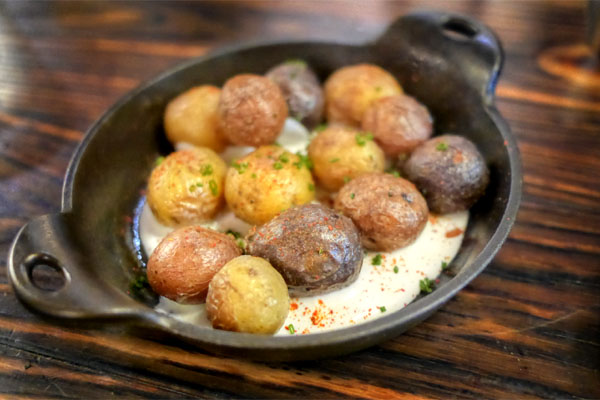 Smoked Peewee Potatoes [$10.00]
| crème fraiche, espelette, chives
Potatoes were firm to the bite and pleasantly salty, good with a dab of the included crème fraîche, but even better when taken with the horseradish from the prime rib.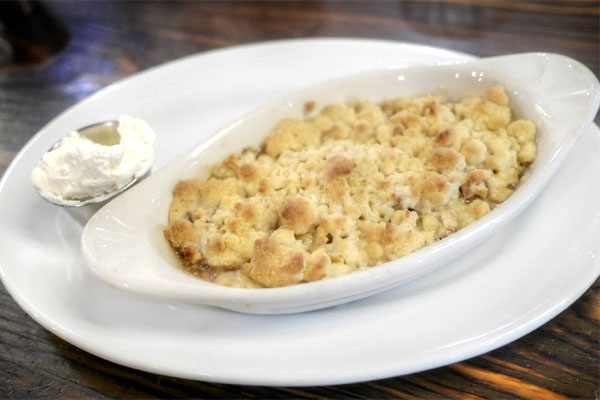 Seasonal Fruit Cobbler [$9.00]
| whipped cream
Getting into desserts now, our seasonal cobbler featured apples this evening. I found it a pretty prototypical preparation, the crisp, crunchy fruit matched by lots of sweet spice.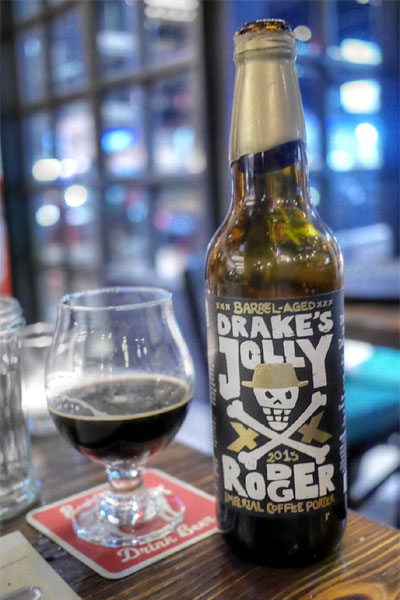 The
2015 Drake's Barrel-Aged Jolly Rodger
was up last, an imperial porter brewed with Highwire's Colombia Huila Finca La Ilusion Natural coffee and aged in High West Distillery rye and bourbon barrels. It was a great closer, teeming with aromatic notes of coffee, chocolate, and malt on the nose. On the palate, you had a base of oaky, boozy, caramel-y, chocolatey malt, on top of which the bitter, fruity nuances of the coffee could really shine.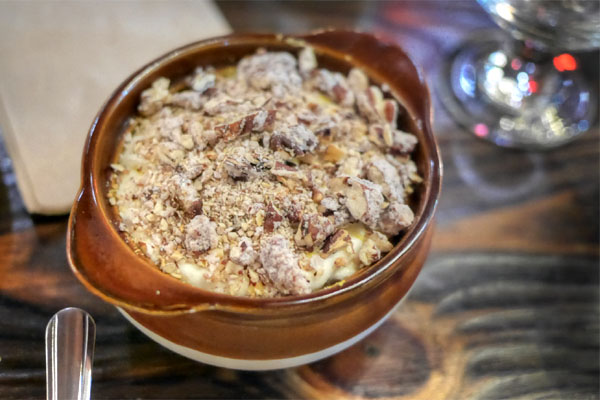 Cornbread Tres Leches [$9.00]
| candied pecans
This was one of the more interesting variations on tres leches that I've had, with the sweet, saturated cake showing off the requisite corn-y notes while the pecans imparted a lovely, nutty crunch to it all.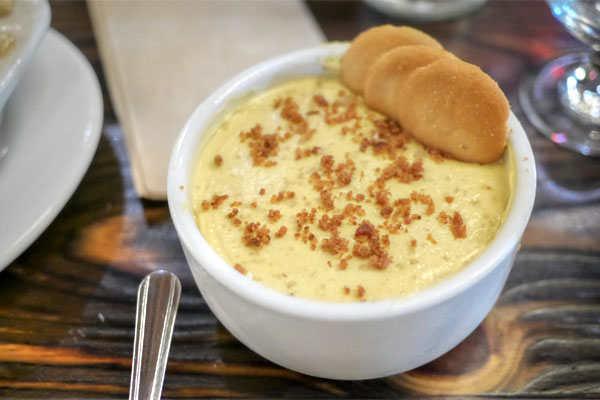 Banana Pudding [$9.00]
| peanut butter, bacon
Last up was my favorite of the desserts, one that perfectly combined peanut butter and banana into one delectable whole (and I don't even like PB), offset by a distinct savory edge.
We all left really satisfied with Maple Block and its combination of top-notch smoked meats and strong sides. A lot of people seem to think that this is the best BBQ in the City. I haven't had enough 'cue around these parts to say that, but it's a contender for sure.