Lawry's The Prime Rib (Beverly Hills, CA) [2]
Lawry's The Prime Rib Restaurant
100 N La Cienega Blvd, Beverly Hills, CA 90211
310.652.2827
www.lawrysonline.com
Sat 12/19/2015, 10:10p-12:40a

Despite being born and raised in Southern California, I'd actually never had a proper dinner at Lawry's until now, amazingly (I did a special wine dinner
back in '07
, but that doesn't count). A friend recently hosted a Christmas dinner there, so it was a perfect opportunity to get my first taste of their fabled prime rib.
A bit of history
: The restaurant is the work of Lawrence "Lawry" Frank and Walter Van de Kamp, who first teamed up in 1922 to open Tam O'Shanter in Atwater Village. In fact, it was there where the famous seasoning salt was initially created. The Beverly Hills Lawry's was opened in 1938, but moved across the street in 1947, setting up residence in the building currently home to The Stinking Rose. A new structure was eventually constructed at the original Lawry's site, and the restaurant moved back in 1993.
Executive Chef duties are handled by Dana Dare, who took over from longstanding (~25 years) EC Walter Eckstein in December 2014. Prior to Lawry's, he was the Executive Kitchen Manager for Yard House locations in Northridge and Palmdale, and also touts experience as Executive Chef/Partner at both LGO Hospitality and The Capital Grille. This was preceded by nine years at the House of Blues, as well as EC positions at McCormick & Schmick's and Louise's Trattoria.

The main dining room was bustling, and appropriately festive for the holidays.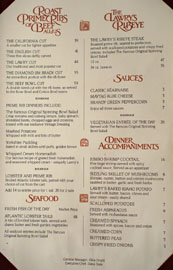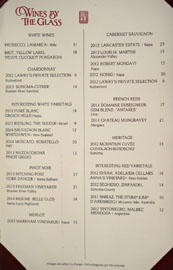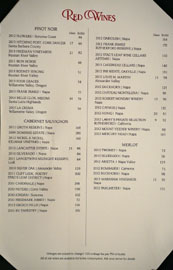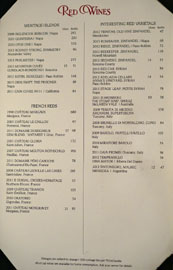 The menu here's pretty simple. You basically pick your main course and get all the trimmings along with it, though there are a few additional sides available. Drink-wise, think cocktails, some pretty typical beers, and an expectedly red-heavy wine list. Click for larger versions.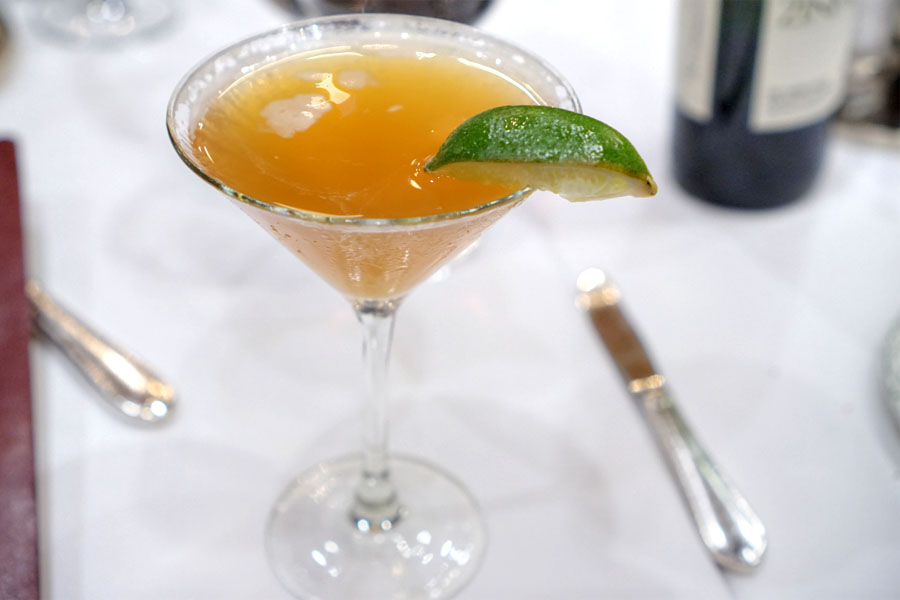 Side Car [$15.00]
| Hennessy VS, Cointreau, fresh lemon juice and simple syrup beautifully garnished in a lemon sugar-rimmed martini glass
I decided to start with a cocktail, specifically this take on the classic Sidecar. Unfortunately, I found it on the sugary, sticky side.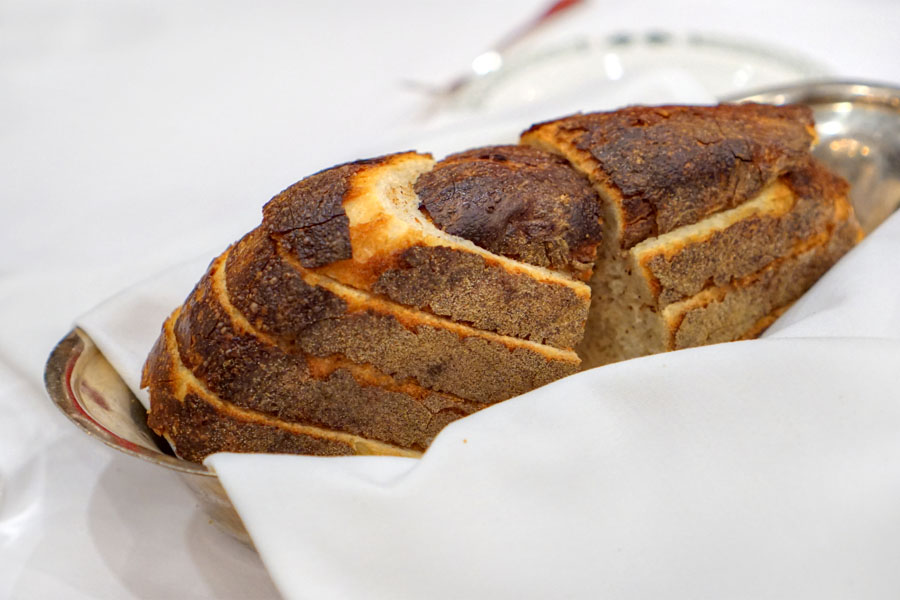 A sourdough-like bread was passable, but lacked that fluffy interior-crispy exterior texture that I prefer.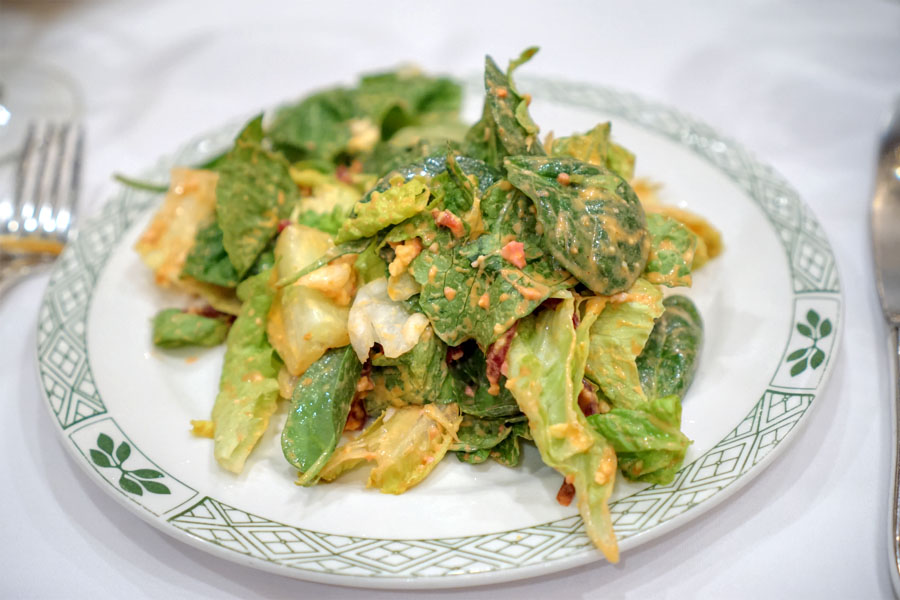 The Famous Original Spinning Bowl Salad
| Crisp romaine and iceberg lettuce, baby spinach, shredded beets, chopped eggs and croutons, tossed with our exclusive Vintage Dressing
I guess that they figured out right from the start that spinning the salad was somehow more effective that merely tossing it, though I'm unconvinced on its efficacy (you basically have a bowl with the greens sitting/spinning in another bowl of ice). Taste-wise, this was old school, the sweet-tangy sauce playing off the bitterness and crunch of the veggies while bits of egg formed a welcomed addition.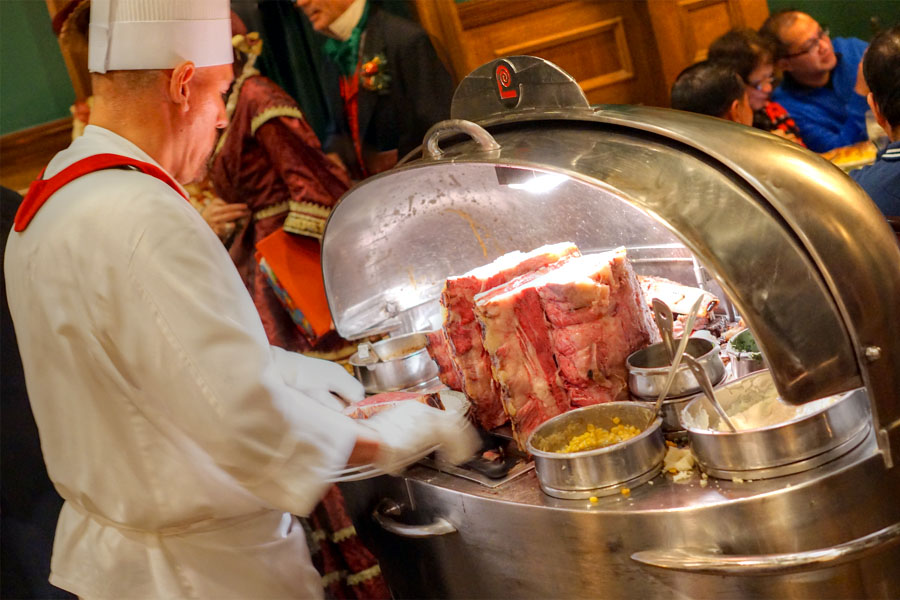 Above we see one of the restaurant's signature silver serving carts, from which your meat is carved tableside.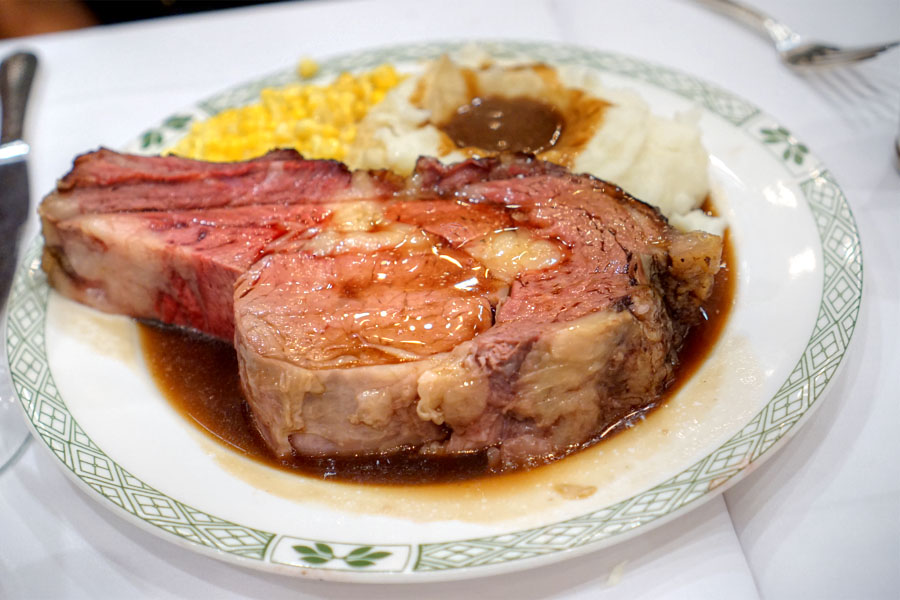 Roast Prime Rib of Beef Au Jus - The Beef Bowl Cut [$59.00]
| A double sized cut with the rib bone, as served to the Rose Bowl and Cotton Bowl teams
The iconic prime rib, pictured in the largest "Beef Bowl" cut. It was a solid rendition of the traditional dish. The meat was tender, juicy sure, though flavor-wise, I was looking for more depth, more beefiness.
Mashed Potatoes
| Whipped with milk and lots of butter
Mashed potatoes were pretty typical. Though "lots of butter" was advertised, I had a hard time finding it.
Robuchon
pommes purée
this is not.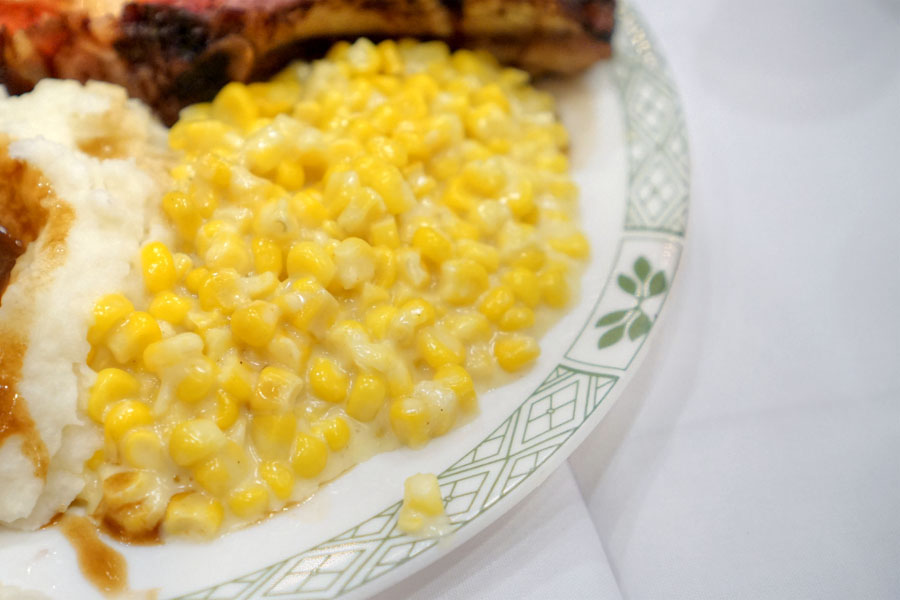 Creamed Corn
The corn was more successful, coming out properly sweet 'n' creamy.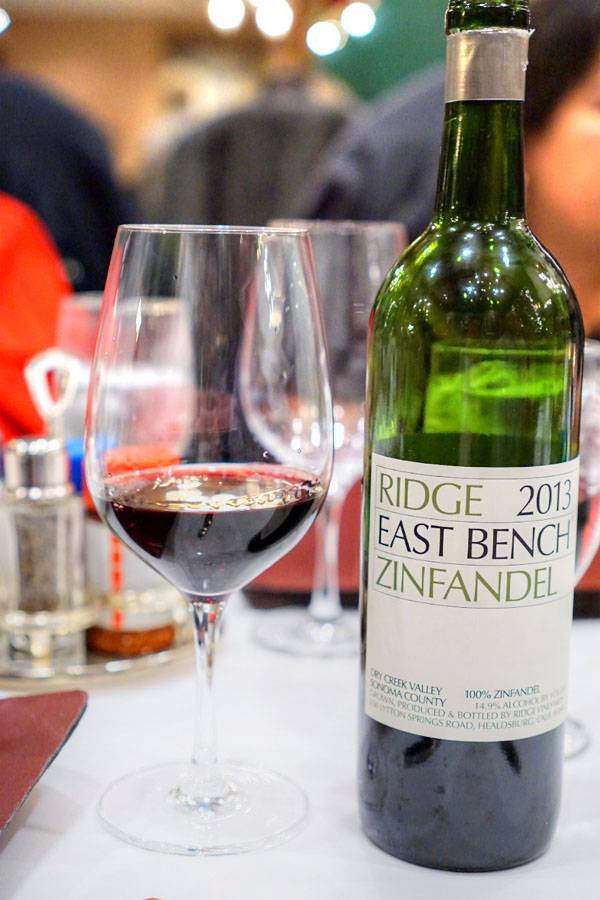 Time for some wine. Our first bottle was the
2013 Ridge, Zinfandel, Paso Robles [$72]
. I enjoyed this one, finding a nose full of heady, floral, violet notes and a palate that went jammy and sweet, with traces of savoriness and spice.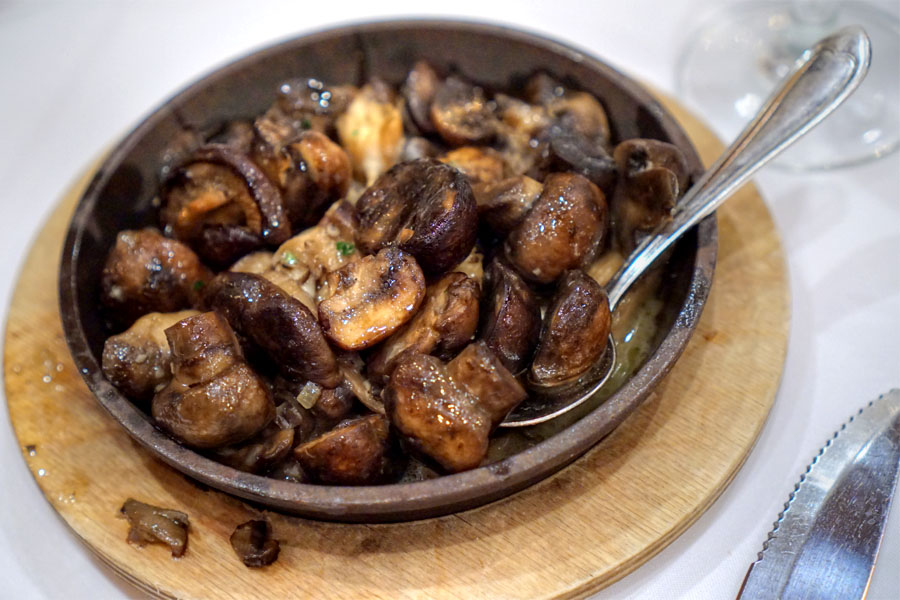 Sizzling Skillet of Mushrooms [$8.00]
| Shiitake, oyster, button and crimini mushrooms sautéed in butter, garlic and fresh herbs
This was probably my favorite of the sides, arriving all buttery with the earthiness of the mushrooms well conveyed.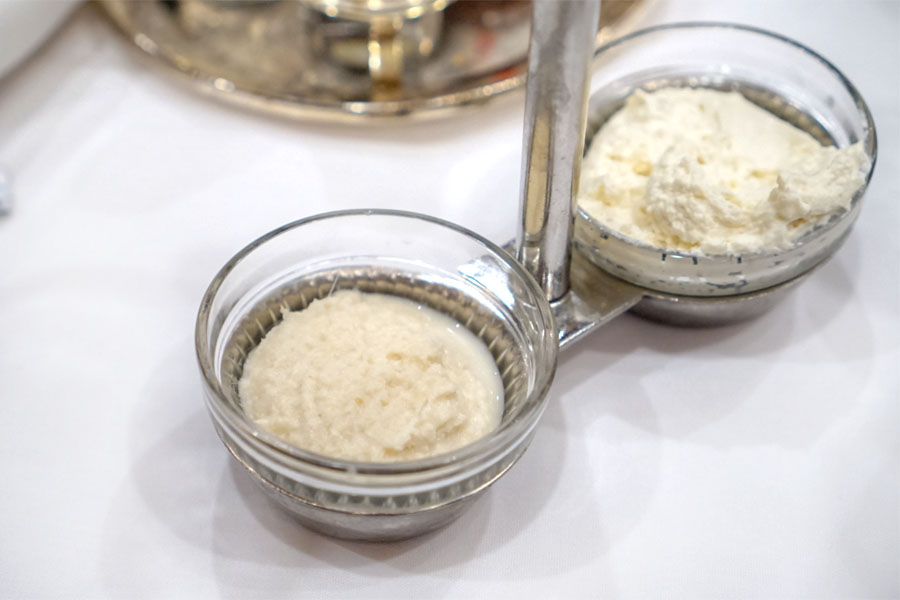 Whipped Cream Horseradish
| Our famous recipe of grated fresh horseradish and seasoned whipped cream - uniquely Lawry's
Two types of horseradish were provided, with the whipped cream version having a much,
much
more attenuated bite compared to the uncut.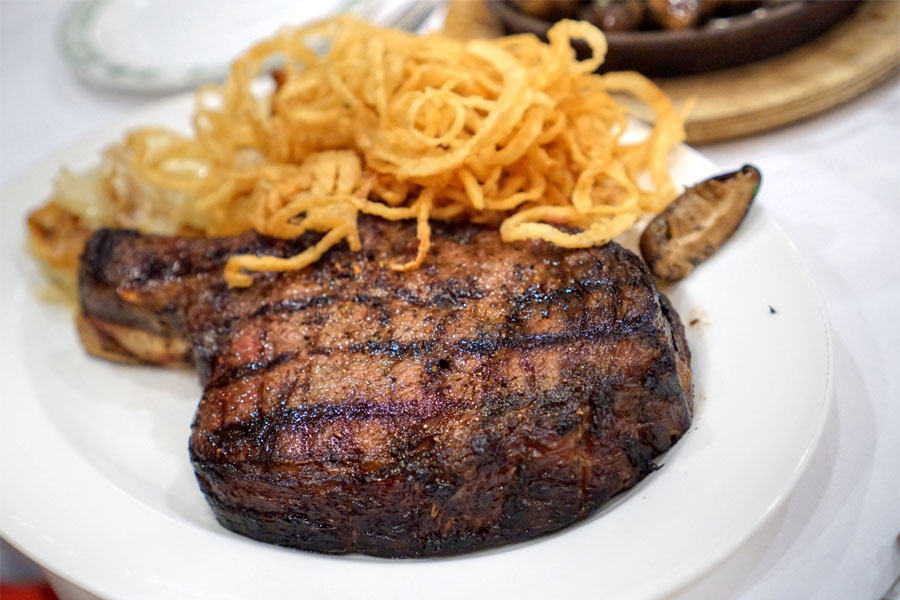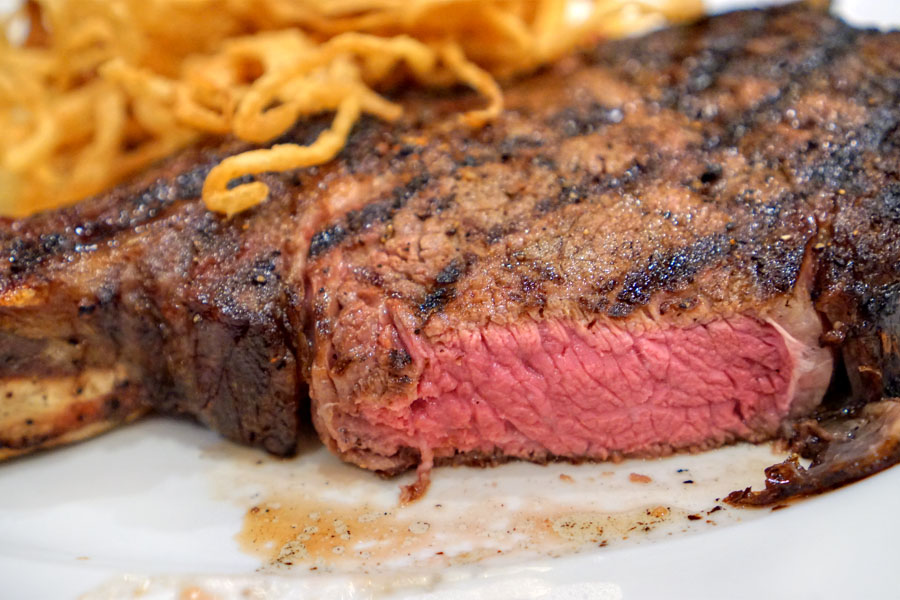 The Lawry's Ribeye Steak - 24 oz. bone-in [$55.00]
| Roasted prime rib, seared to perfection, served with scalloped potatoes and crispy fried onions
Prime rib and rib eye are the same cut of meat basically, so it made sense that the restaurant would have the steak as well. Some nice flavors here, and a welcomed char character, though the meat could've been more tender, fattier. I enjoyed the potatoes gratiné on the side, but the fried onions came out soggy.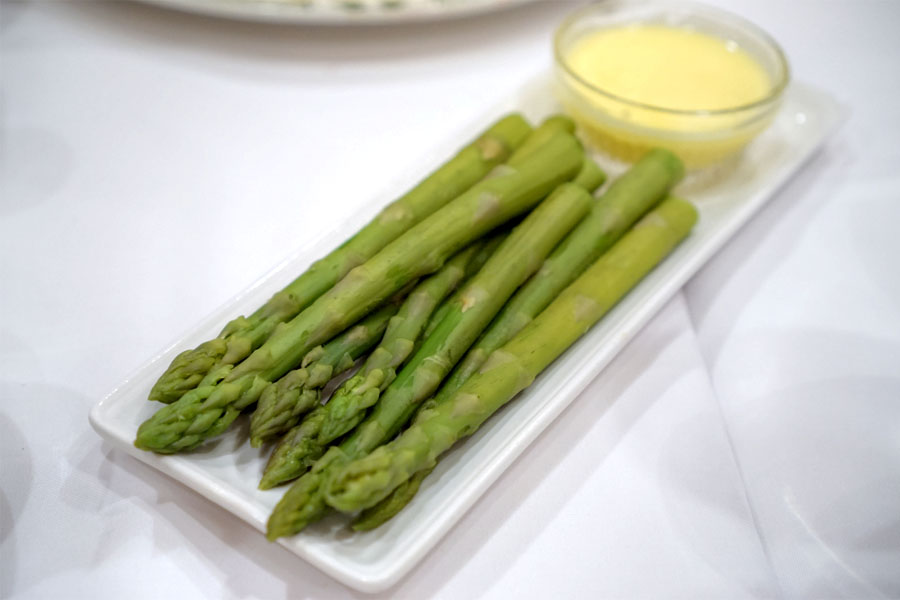 Fresh Asparagus [$9.00]
| Served with Hollandaise sauce
I'm pretty sure that this was the blandest preparation of asparagus that I've ever had, and even the hollandaise didn't help. Some char, some seasoning would've been nice.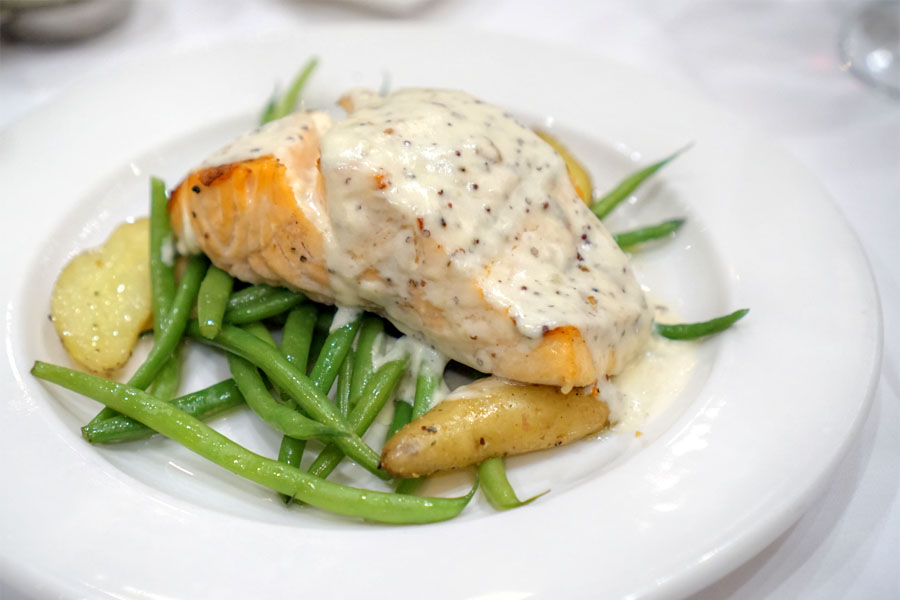 Fresh Fish of the Day [$41.00]
| Atlantic salmon
Salmon was dressed in a creamy, herby sauce that did a reasonable job accompanying the fish. In terms of texture, it was more cooked than I would've liked, but was decent enough. Haricot verts were pretty throwaway, though the fingerlings fared better.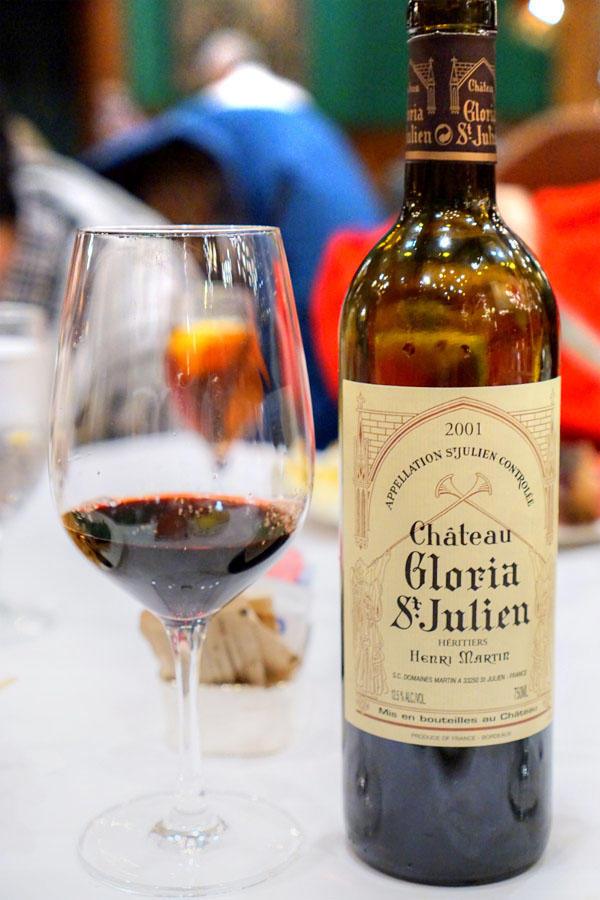 Our second wine was the
2001 Château Gloria, Saint-Julien, France [$132]
, which I really enjoyed. Despite its age, I got a lively nose redolent of jammy dark fruit. Taste was mature, smooth, round, with more dark fruit and a trace of spice.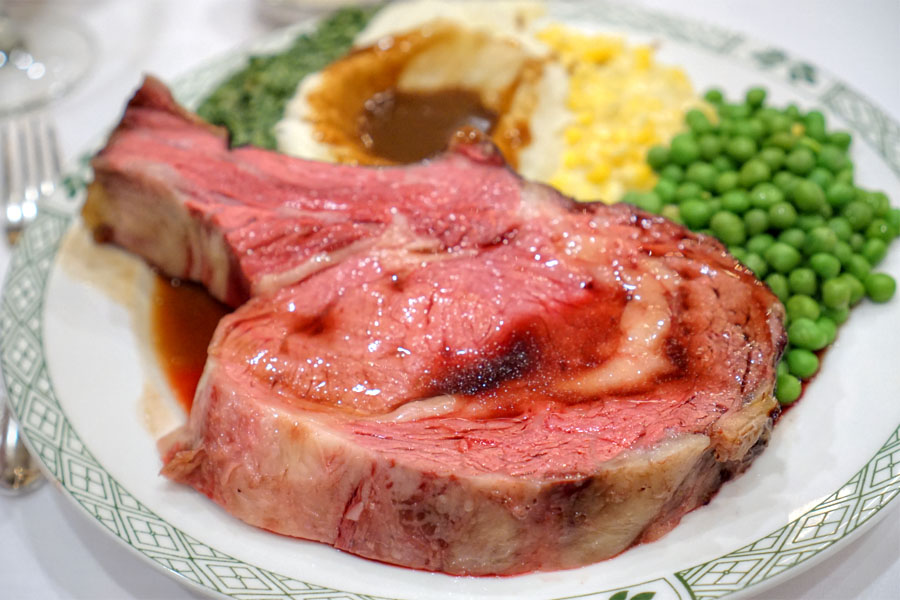 Roast Prime Rib of Beef Au Jus - The Beef Bowl Cut [$59.00]
| A double sized cut with the rib bone, as served to the Rose Bowl and Cotton Bowl teams
I also sampled a cut that was done rarer, which didn't seem to help the beef, making it a bit chewier actually.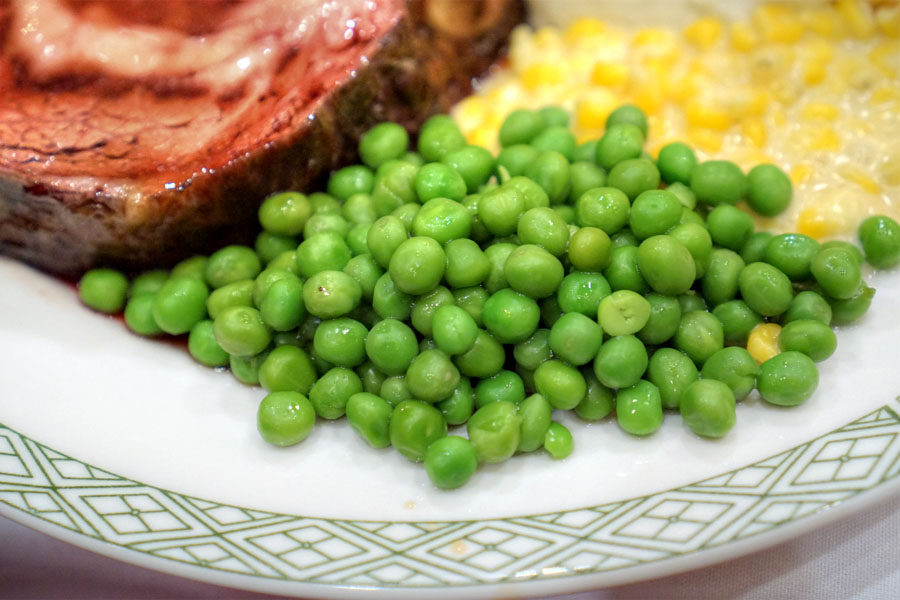 Buttered Peas
Buttered peas seemed to lack butter, or any sort of seasoning. Insipid, as with the asparagus above.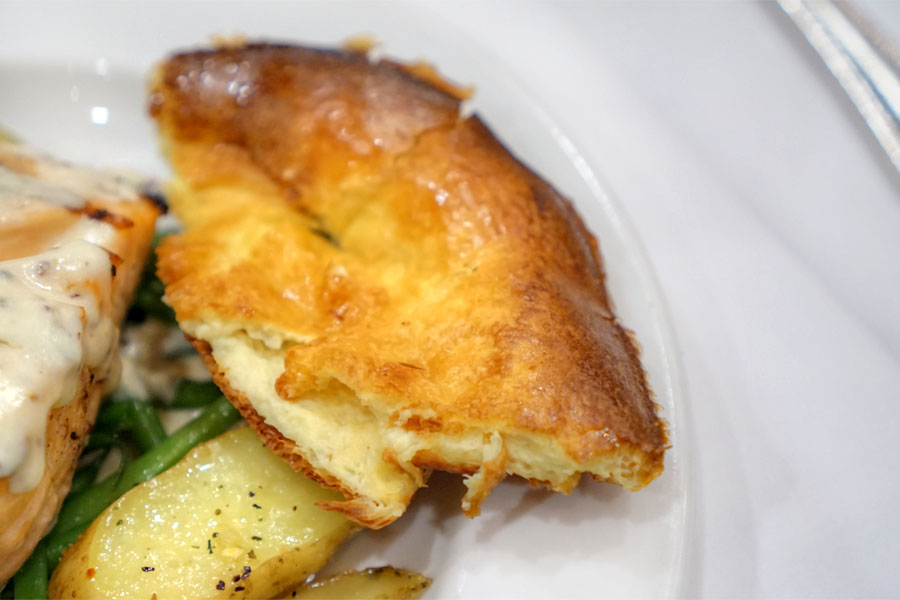 Yorkshire Pudding
| Baked in small skillets until puffy, golden brown
The Yorkshire pudding was much better, arriving light, eggy, almost fluffy.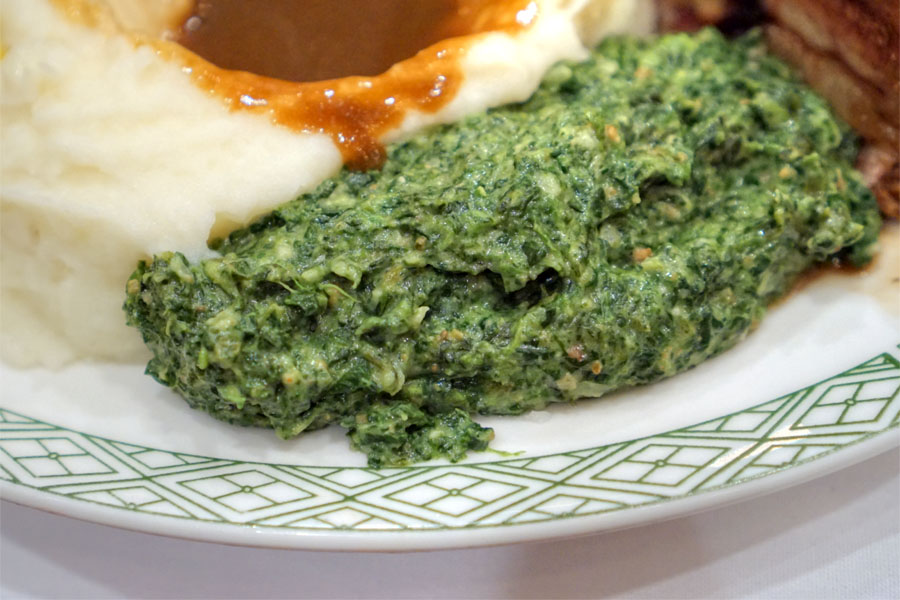 Creamed Spinach
| Seasoned with spices, bacon and onion
Spinach was definitely one of the better sides, herby and well-seasoned with the bitterness of the veggie still apparent.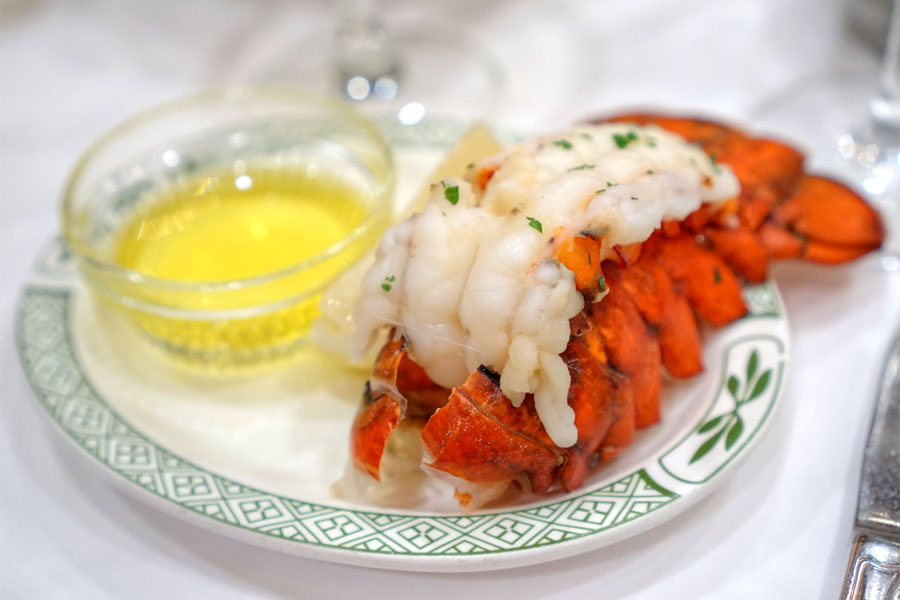 Broiled Atlantic Lobster Tail [$14.00]
The lobster tail was forgettable, coming out more cooked than I wanted and not particularly engaging in taste department either.

The carolers that roamed from table to table were a charming touch.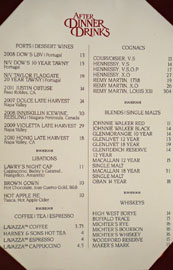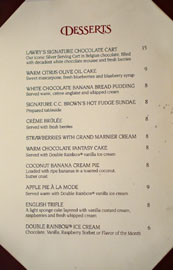 Desserts were pretty much par for the course. Click for larger versions.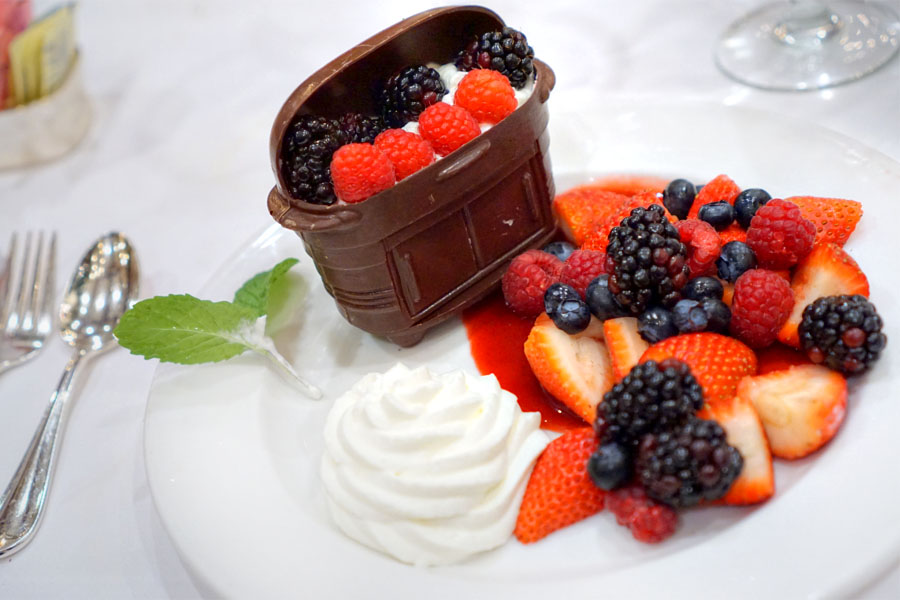 Lawry's Signature Chocolate Cart [$15.00]
| Our iconic Silver Serving Cart in Belgian chocolate, filled with decadent white chocolate mousse and fresh berries
The chocolate cart was the most interesting item on the plate.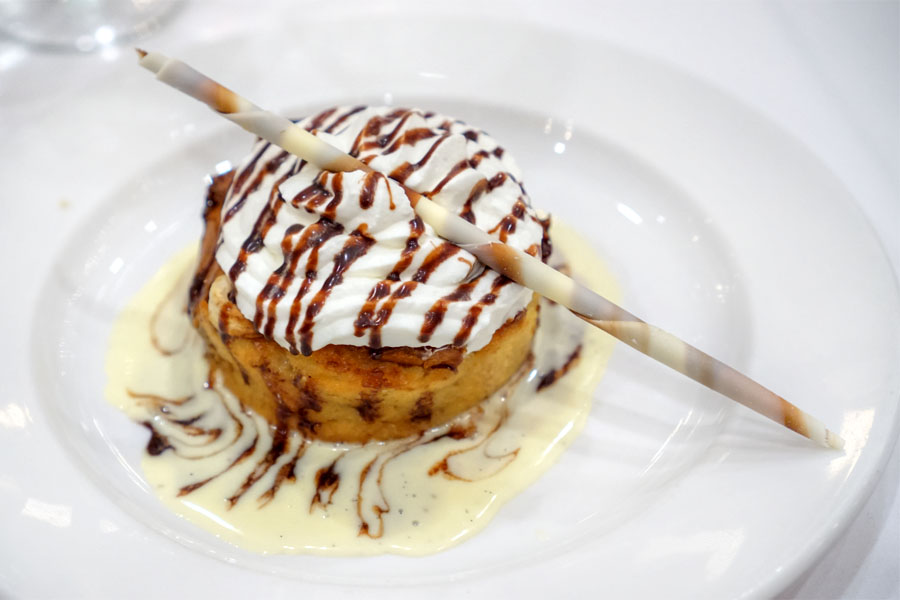 White Chocolate Banana Bread Pudding [$8.00]
| Served warm, crème anglaise and whipped cream
Bread pudding made for one of the better desserts of the bunch, a dense preparation with a permeating banana flavor.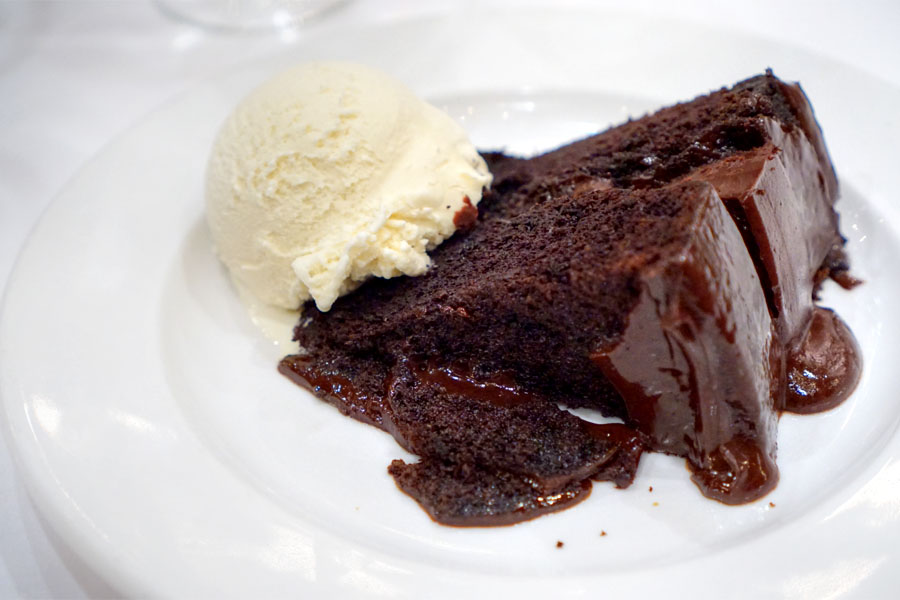 Warm Chocolate Fantasy Cake [$8.00]
| Served with Double Rainbow vanilla ice cream
Chocolate cake was as heavy and as rich as it looked, working in classic fashion alongside the ice cream.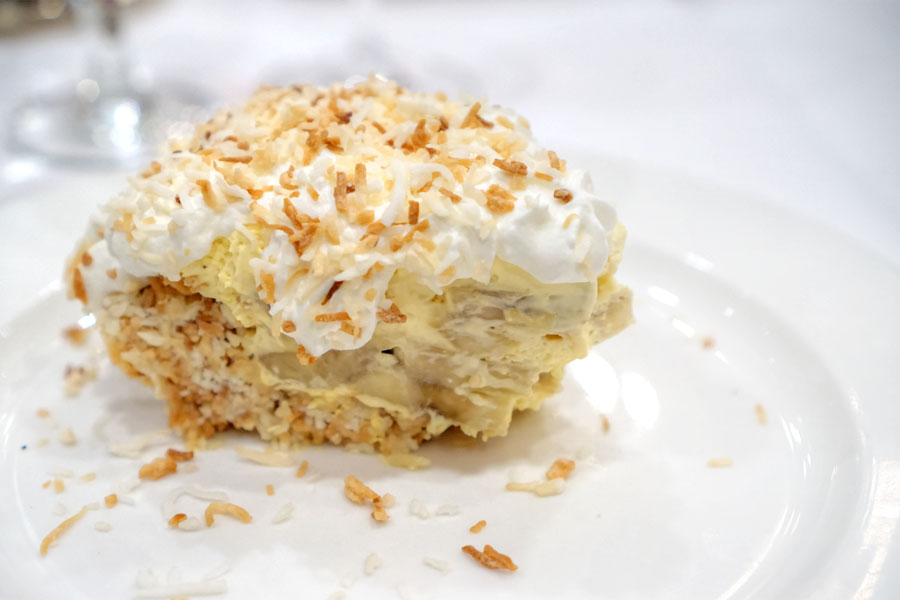 Coconut Banana Cream Pie [$8.00]
| Loaded with ripe bananas in a toasted coconut, butter crust
Another one of the stronger desserts for me. Robust banana flavors on this one, accented by hits of toasty coconut.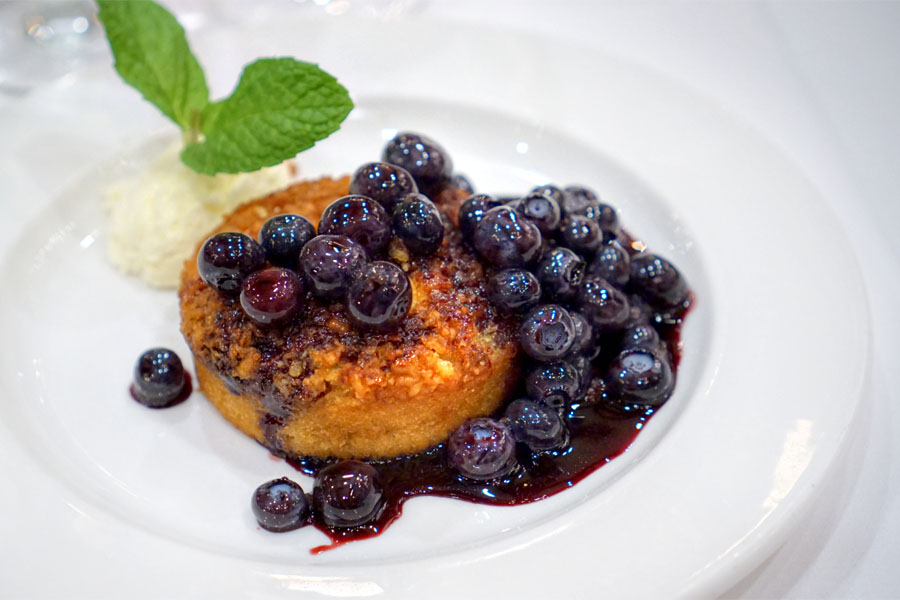 Warm Citrus Olive Oil Cake [$9.00]
| Sweet mascarpone, fresh blueberries and blueberry syrup
The olive oil cake presented a savory edge that played pretty well with the berries.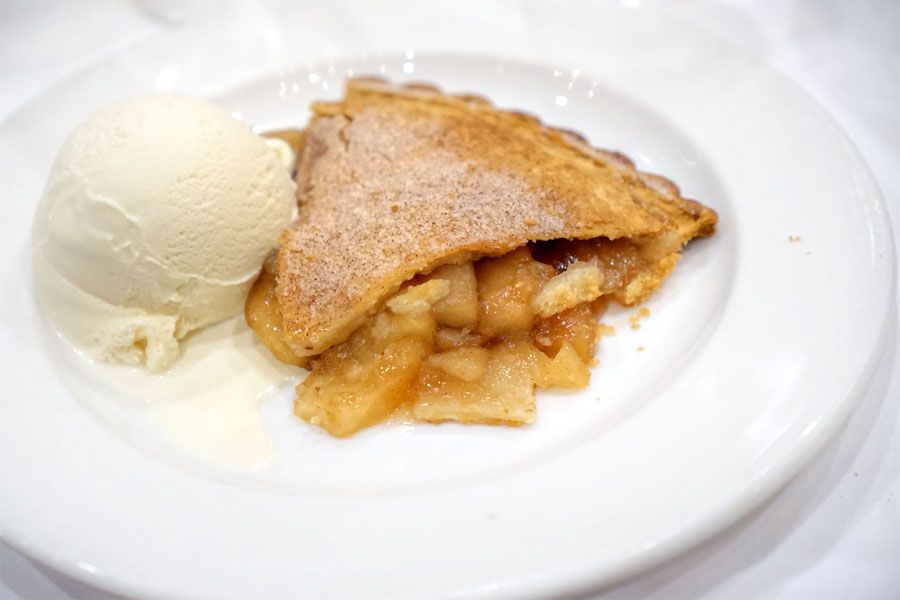 Apple Pie à la Mode [$9.00]
| Served warm with Double rainbow vanilla ice cream
An apple pie was textbook, pitting sweet, spicy flavors against vanilla ice cream.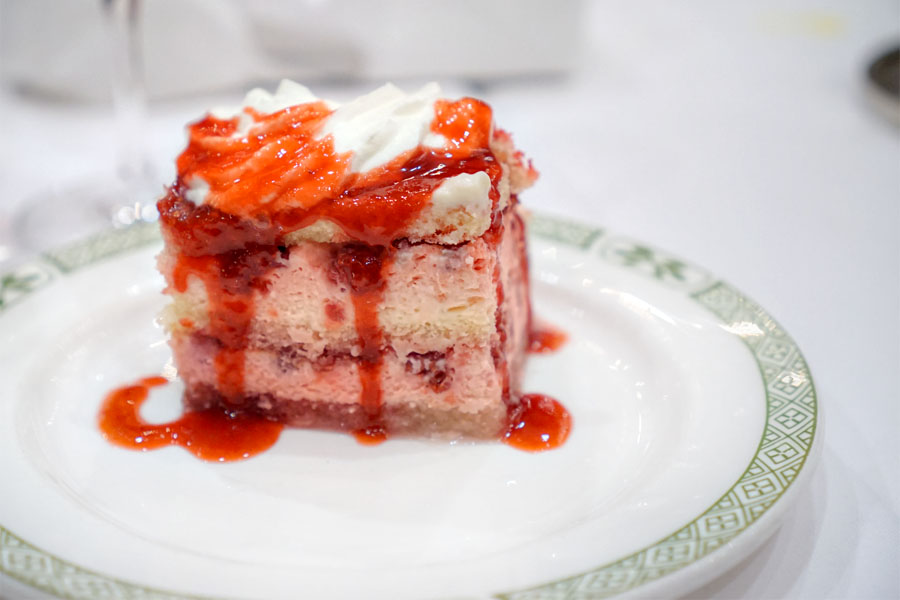 English Trifle [$8.00]
| A light sponge cake layered with vanilla custard cream, raspberries and fresh whipped cream
Super saturated, sugary, with the fruit providing a tempering tartness.
Given how much everybody talks this place up, I really wanted to love Lawry's, but our experience fell short on multiple fronts. The cooking's middle of the road, without much finesse, and often lacking in robustness of flavor. A shame. Maybe it would've been different if Walter were still around...