Wally's (Beverly Hills, CA)
Wally's Vinoteca & Restaurant
447 N Canon Dr, Beverly Hills, CA 90210
310.475.3540
www.wallysbeverlyhills.com
Fri 12/04/2015, 08:00p-12:50a

The last time I caught up with David Féau, he was dishing out some pretty great French-Chinese fare at his
Coin de Rue 13ème
pop-up in Chinatown. Since then, he's taken up the EC role at restaurant-slash-wine/spirits shop-slash-super fancy market Wally's, replacing opening chef and former
Providence
line cook Ralph Soroczynski, who decamped in August.
Wally's, of course, is an offshoot of Westwood wine behemoth Wally's Wine and Spirits, which was founded in 1968 by Steve Wallace as a neighborhood liquor store. The shop eventually grew to become arguably the top wine retailer in Los Angeles, attracting a large share of celebrity clientele in the process. In April 2013, Wallace retired and sold the business to longtime (20 years) employee Christian Navarro and the Marciano brothers of GUESS clothing fame: Paul, Maurice, Armand (no Georges though). With new ownership in place, construction of Wally's Beverly Hills began in earnest, and the place debuted last December.


Wally's takes over the old Monsieur Marcel location. It's a large space, with a bar area in the front and a more sedate dining room in the rear, flanked by the wine cellar on one side and the market on the other. There's also a private dining room out back.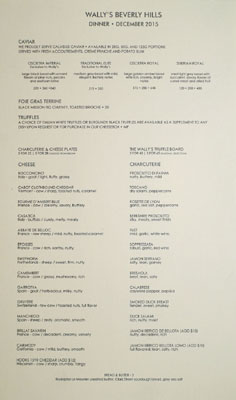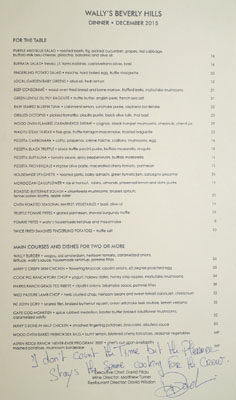 As for the food, Féau's got a Cal-French menu going on, divided simply into starters and mains, with the addition of cheese & charcuterie. Click for larger versions.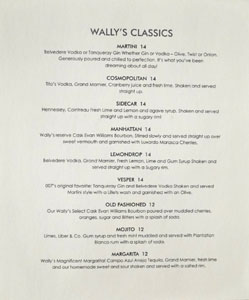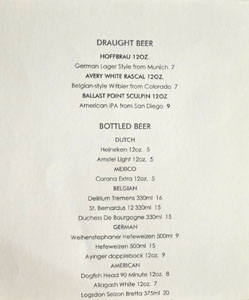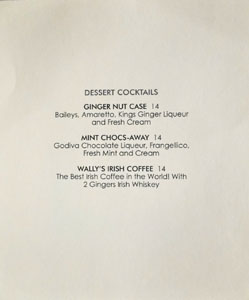 Drink-wise, we have a hundred or so wines by the glass (accessed via the Coravin system from what I understand) and a pretty ridiculous wine list as you'd imagine, managed by Wine Director Matthew Turner. Wines purchased at retail can be opened for a $40 corkage fee, though outside wine isn't allowed apparently. If wine's not your thing, there's also a small array of classic-leaning cocktails and a smattering of beer. Click for larger versions.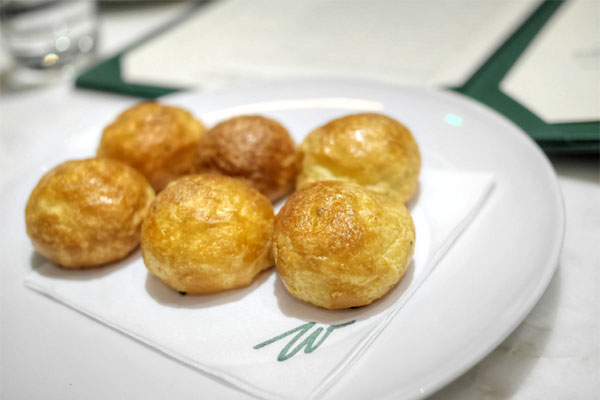 Complementary gougères just might've been the lightest I've ever had--super fluffy, airy examples with just the right amount of cheesiness.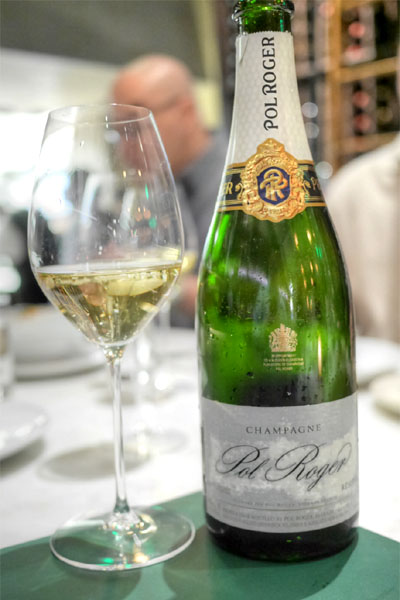 We began with bubbly, a bottle of
Pol Roger [$94.99]
to be exact. It was a fairly prototypical sparkler, with a nose that went grassy, appley, citrusy, boozy. Meanwhile, the taste leaned acidic, lightly fruity, with a persistent minerality and an alcoholic heat underlying.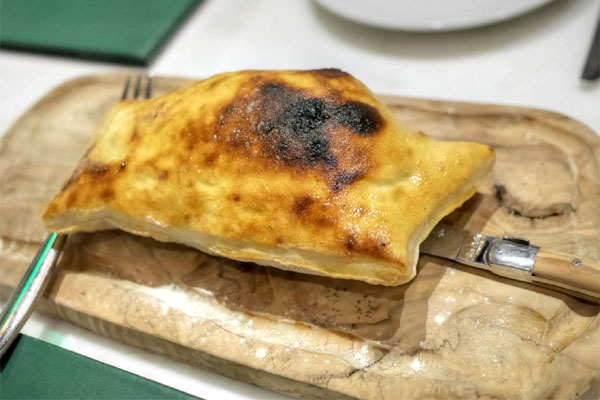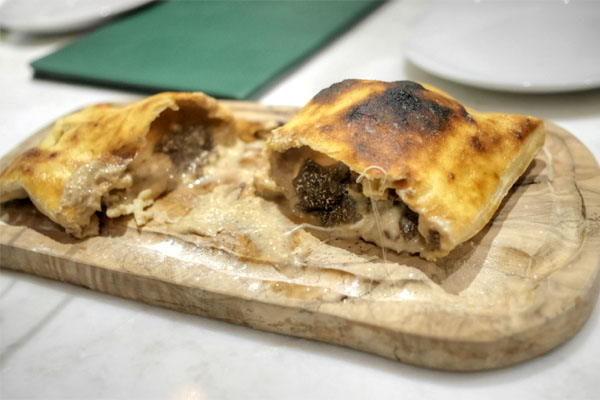 Truffle Pocket [$28.00]
Our first proper course was a special this evening, a calzone of sorts stuffed with truffled Gruyère. It was pretty fantastic, rich in earthy aromas of black truffle, with more truffle on the palate to pair with the salty, luscious cheese. Excellent crispness and char from the crust too to finish it all off. Utterly delish.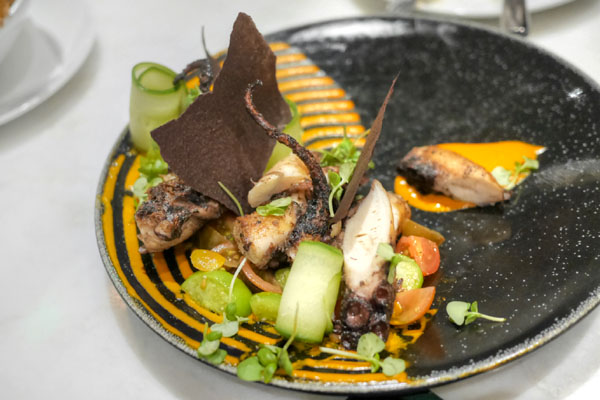 Grilled Octopus [$23.00]
| pickled tomatillo, piquillo purée, black olive tuile, thai basil
Octopus was a must-try, and came out wonderfully tender, with a great char to the tentacles. Lovely piquancy from the peppery sauce on the side, and I appreciated the brightness from the veggies too.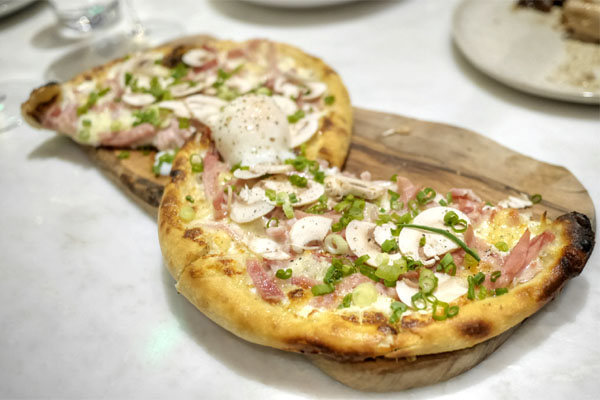 Pizzetta Carbonara [$16.00]
| cotto, jalapenos, crème fraîche, scallions, mushrooms, egg
We wanted to try one of the mini pizzas, and went with this carbonara-inspired version. A tasty combination of cheesy, hammy flavors and char, kicked up a notch by an enveloping lushness from the egg.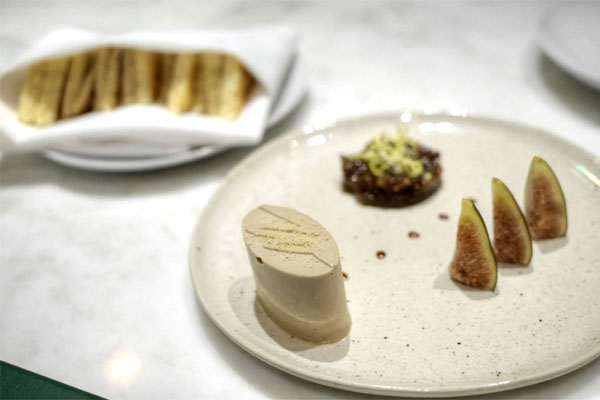 Foie Gras Terrine [$20.00]
| black mission fig chutney, toasted brioche
Foie gras was smooth, delicate, timeless, its richness well-paired to the sweet, spicy flavors of the fig chutney.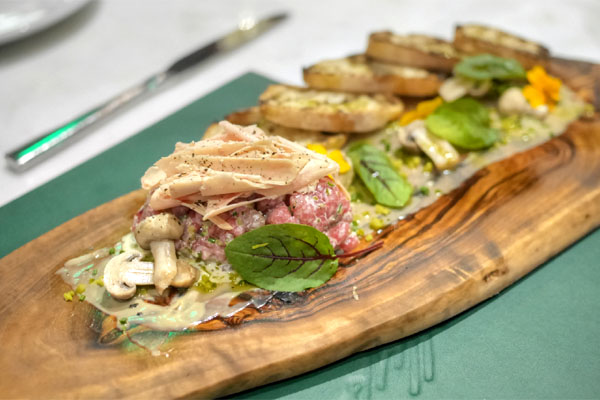 Wagyu Steak Tartar [$22.00]
| foie gras, truffle-tarragon mayonnaise, toasted baguette
The tartare was another winner, with the perfectly textured beef bound together by a fragrant truffled mayo while foie shavings imparted even more luxuriousness to the dish.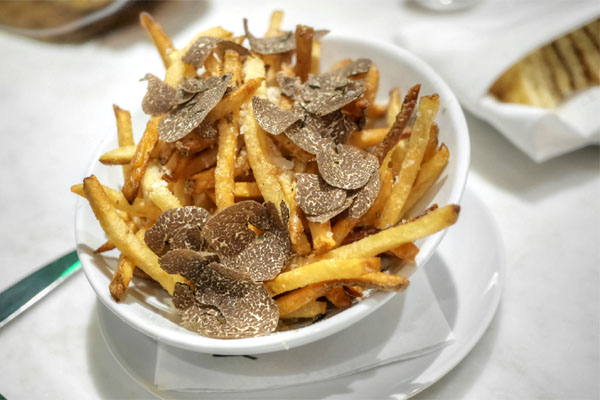 Truffle Pomme Frites [$18.00]
| grated parmesan, shaved burgundy truffle
Actual slices
made for a properly crisp, salty, truffle-y rendition of this oft-maligned dish. Welcome to the B.H., bitch.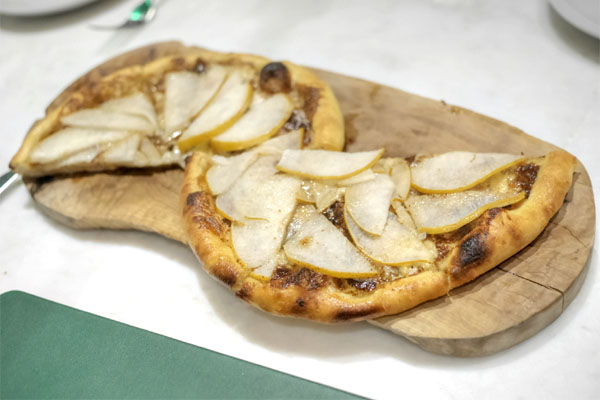 Pizzetta Asian Pear & Fourme d'Ambert
Féau then brought us an off-menu pizza, one that gave up a classic but effective combination of sweet fruit and funky blue, the whole thing working swimmingly with that crispy, charred crust.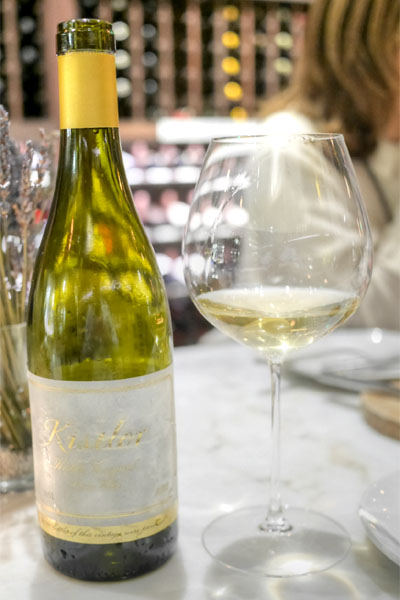 Our second bottle was a fairly celebrated California Chardonnay, the
Kistler 'Estate' 2011 [$229.99]
. I didn't get much on the nose unfortunately, but the taste was there, with rich, mineral-driven notes alongside light citrus, butteriness, and grass.
Charcuterie Plate [$38.00 + 15.00]
At this point we opted for a handsome looking charcuterie plate. Clock-wise from top-left:
Rosette De Lyon: Excellent porkiness and garlic-enhanced savor--yum.
Bresaola: Beefy, sticky, austere but enjoyable.
Duck Salami: Loads of deep, ducky goodness on this one.
Smoked Duck Breast: Hammy and soft to the bite.
Jamon Iberico De Bellota: Fatty and slick, with a distinct nutty character.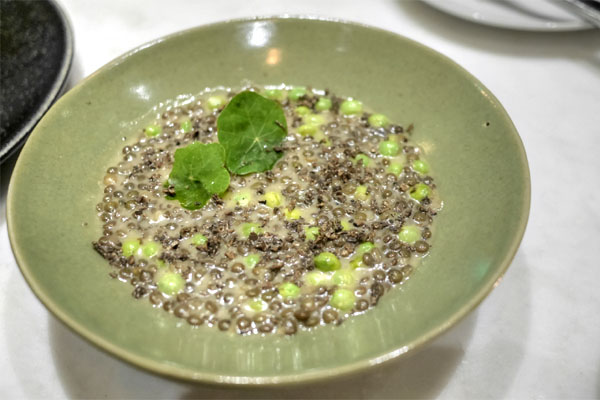 Green Lentils Du Puy Ragouté [$21.00]
| truffle butter, english peas, french sea salt
Féau's lentils have always been the best I've had, and he continued that streak tonight. Earthy flavors of the legume were heightened by the headiness of black truffle, while the peas imparted a tempering brightness and crunch. Make sure you get this.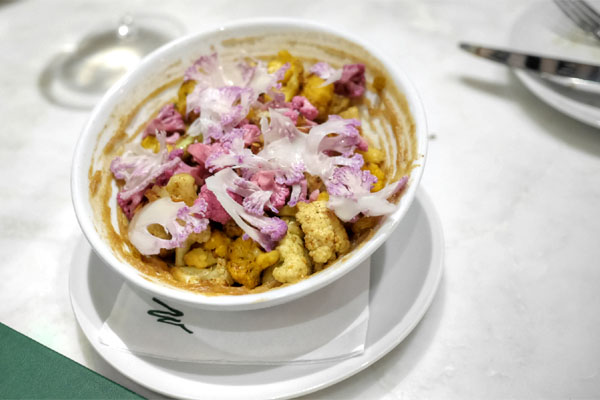 Moroccan Cauliflower [$14.00]
| ras el hanout, raisins, almonds, preserved lemon and date purée
Cauliflower was crisp and crunchy, augmented by the pervasive spice of ras el hanout while raisins and almonds gave up countering hits of sweetness and nuttiness.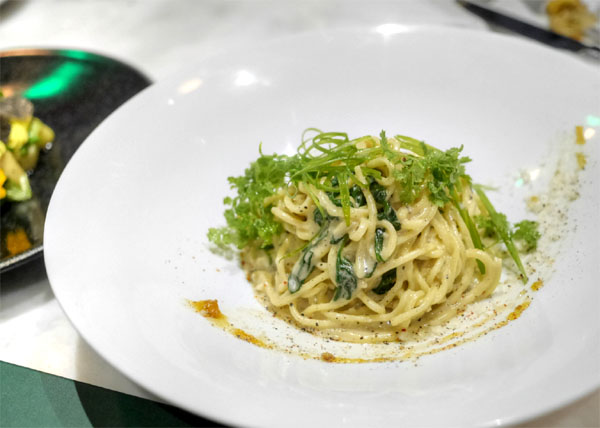 Housemade Spaghetti [$26.00]
| toasted garlic, baby spinach, green tomato jam, calcagno pecorino
Spaghetti delivered for sure, with satisfying nuances of pepper, garlic, and cheese, the greenery adding a touch of astringency to the mix. I found this a bit
cacio e pepe
-esque, actually--delish.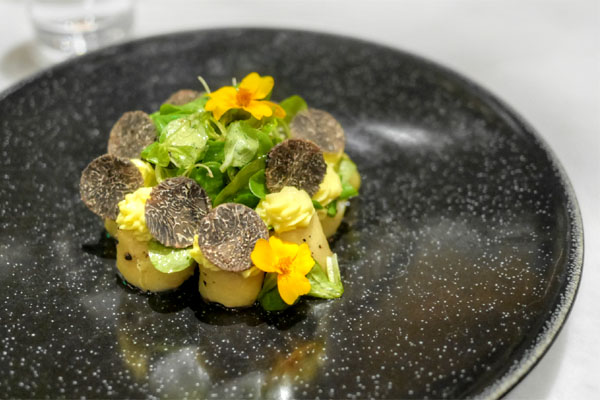 Fingerling Potato Salad [$23.00]
| mache, hard boiled egg, truffle vinaigrette
Next was no doubt the schmanciest potato salad I've encountered. It was damn tasty though, with a superb interaction between the potato and the truffle, moderated by the zestiness of mache while the egg gave even more potency to the dish.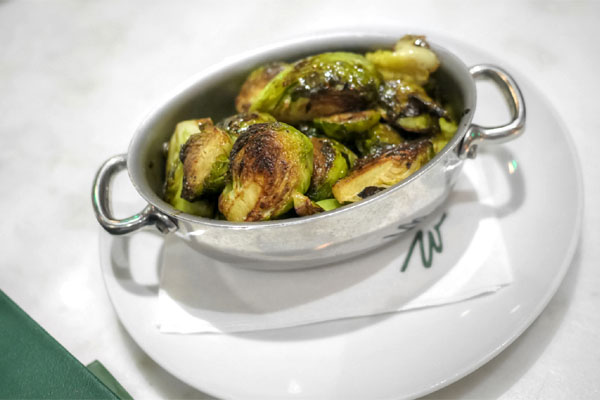 Brussels were spot on, all crunchy and charred, with a sweet-sour flair to 'em.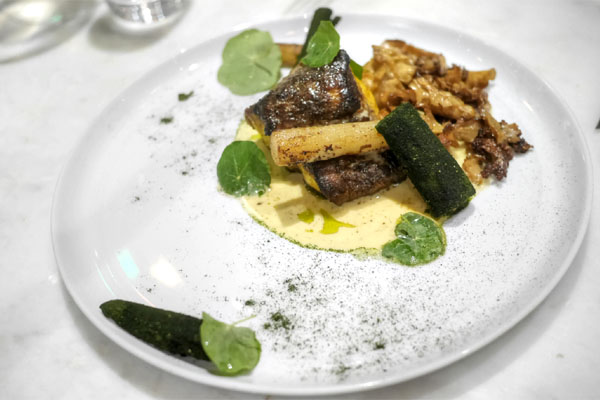 Cape Cod Monkfish [$32.00]
| spice rubbed medallion, lobster butter braised cauliflower mushrooms, caramelized salsify
Getting into the mains now, the monkfish was perfect texturally--springy and spongy and succulent to the bite--and taste-wise it met the mark as well, with a great spiciness to it that made sense with the snappy 'shrooms. Nice counterpoint from ash-covered batons of salsify, too.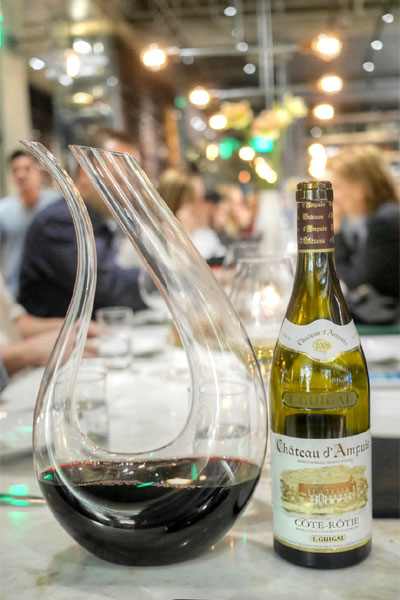 Served from a Riedel Amadeo decanter, the
E. Guigal Cote Rotie d' Ampuis 2008 [$164.99]
was our final wine of the evening, and my favorite by far. Massive bouquet of jammy fruit and violet. The palate, meanwhile, was utterly silky, bringing loads of peppery fruit and a delightful mintiness on the finish. Damn.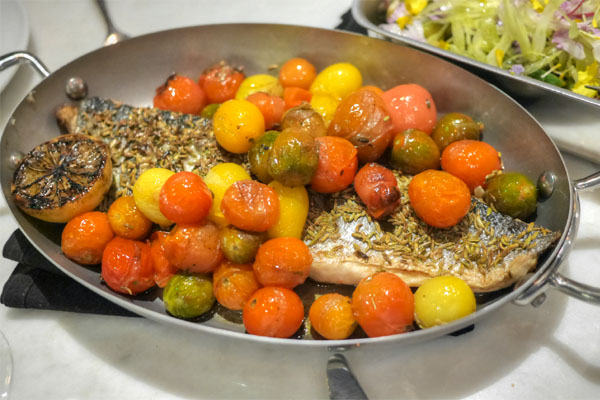 Wood Oven Baked French Sea Bass [$90.00]
| burnt lemon, blistered cherry tomatoes, seasonal vegetables
The seabass was a special tonight, and a standout, arriving gorgeously tender, juicy, and briny, with a wonderful hit of herbiness and spice from the skin (fennel seeds?). One of the best preparations of the fish I've had.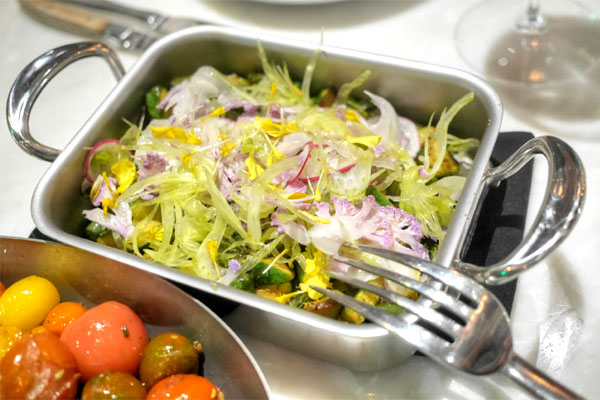 Veggies to accompany the bass.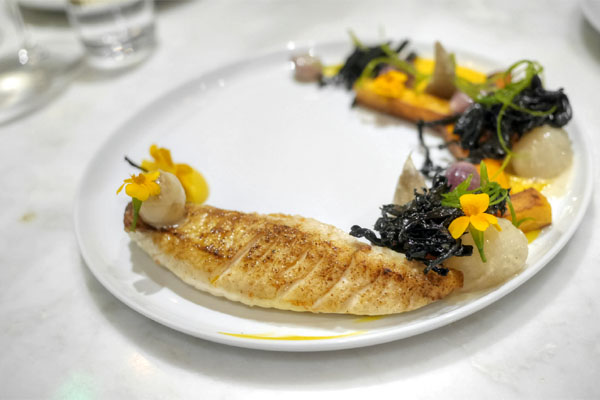 NZ John Dory [$32.00]
| seared filet, braised butternut squash, onion artichoke leek soubise, lemon verbena
Dory was a hit as well, a firmly-textured, super flavorful fish that worked seamlessly with the zippiness of that soubise. I'm not sure that the butternut squash was needed, but fortunately its sweetness was fairly subdued.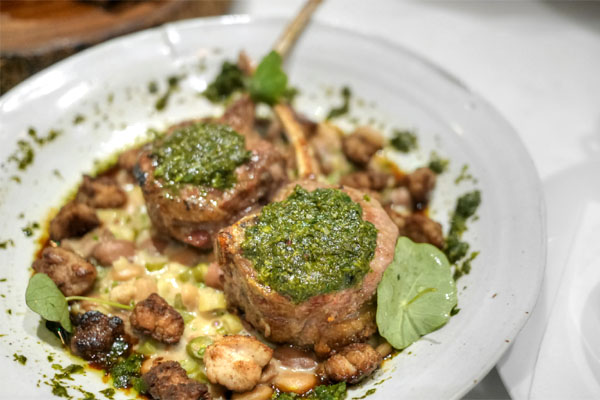 Wild Pasture Lamb Chop [$32.00]
| herb crusted chop, heirloom beans and sweet bread cassoulet, chimichurri
Lamb was deeply-flavored, the chimichurri working superbly as a bright, acidic counterbalance. Nice additional saltiness from the sweetbreads, though my concern was that the meat came out cooked more than I would've liked.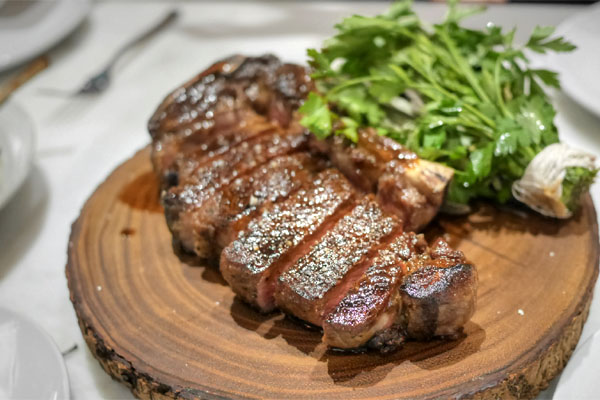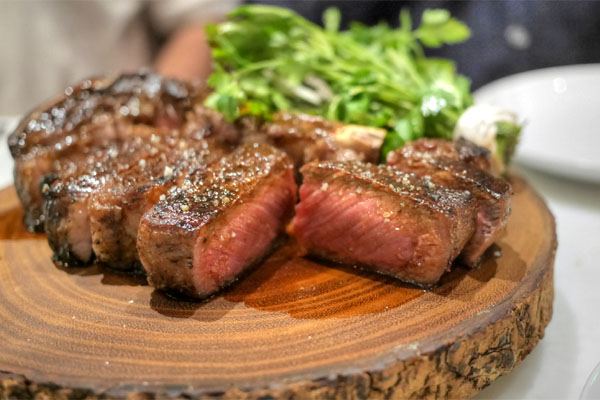 Aspen Ridge Ranch 'Never-Ever Program' Beef [$95.00]
| chef's cut upon availability, mashed potatoes, mushroom bordelaise
The Delmonico (a bone-in strip) was certainly our most substantial course of the meal, showing off a lovely char alongside plenty of pure, focused, beefy flavors.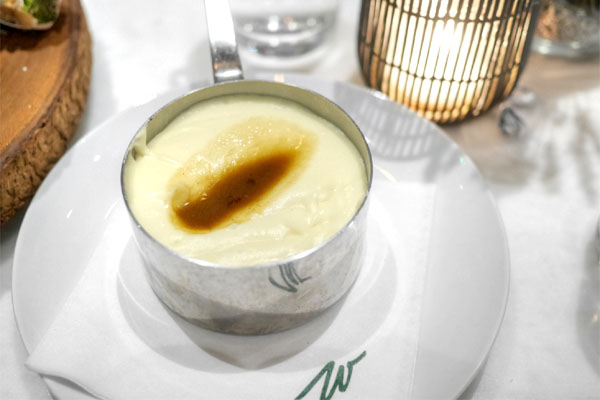 Mashed potatoes were just what you'd expect...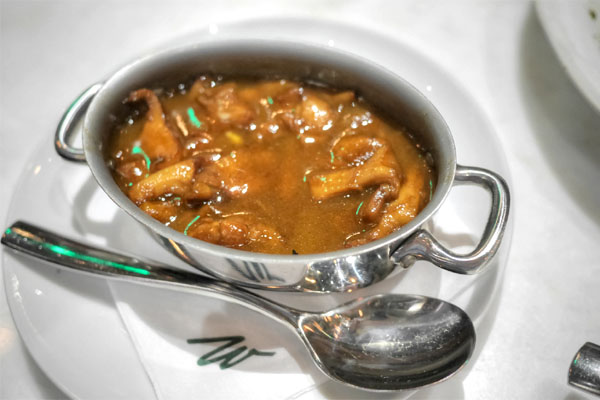 ...While mushrooms were tender, homey, and winey.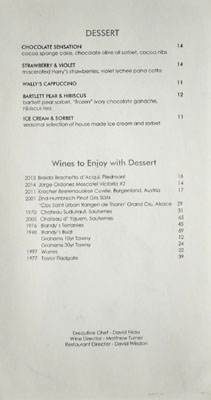 Desserts were also designed by Féau. Click for a larger version.
Strawberry & Violet [$14.00]
| macerated Harry's strawberries, violet lychee panna cotta
Strawberries were showcased here, their tart, sweet flavors smartly accented by the floral character of violet.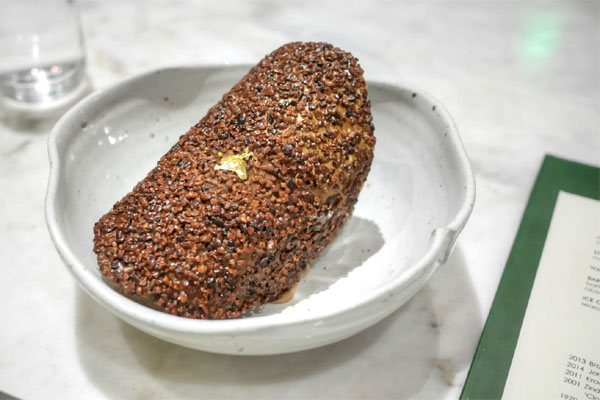 Chocolate Sensation [$14.00]
| cocoa sponge cake, chocolate olive oil sorbet, cocoa nibs
Chocolate came in multiple forms on this one, that airy sponge cake working particularly well with the nuttiness and crunch of the tuile.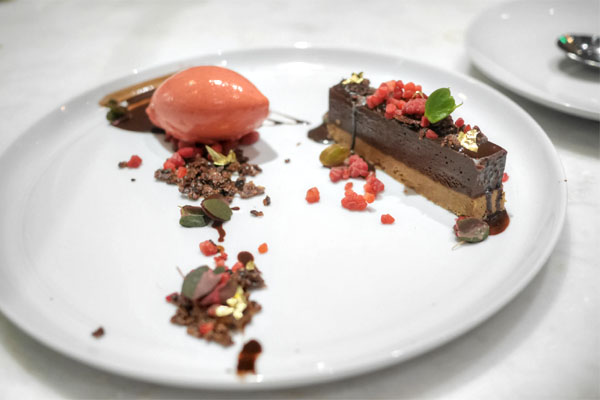 Chocolate Fondant [$12.00]
An off-menu dessert, this did an admirable job playing the heft of the fondant against the tang of raspberry. Great textures to boot.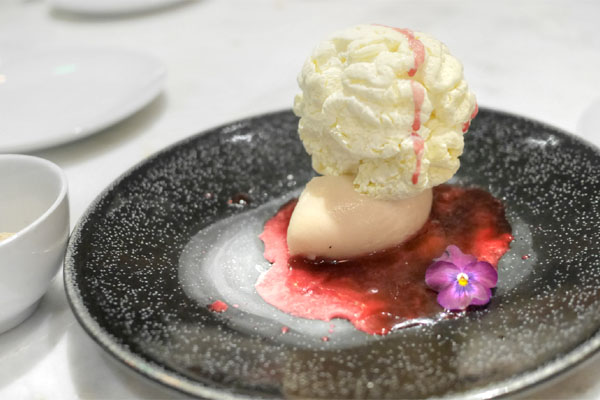 Bartlett Pear & Hibiscus [$12.00]
| bartlett pear sorbet, "frozen" ivory chocolate ganache, hibiscus tea
Creamy and sweet, with a wonderful floral element from the hibiscus and an almost jarring temperature contrast.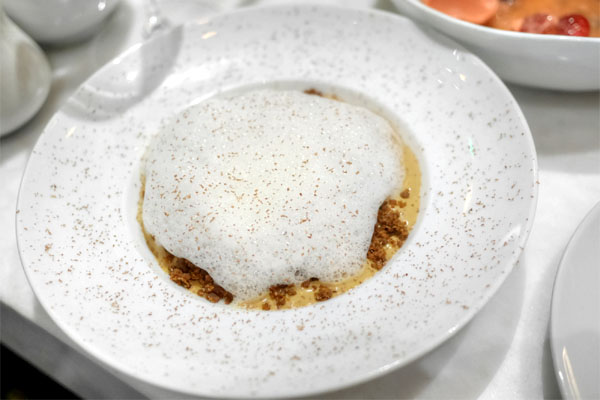 Wally's Cappuccino [$11.00]
My favorite of the bunch, bringing together coffee gelée, coffee buttercream, and coffee crumbles with hazelnut. Excellent nutty sweetness at first, leading to the lingering bitterness of coffee. And again, some really gratifying textures here too.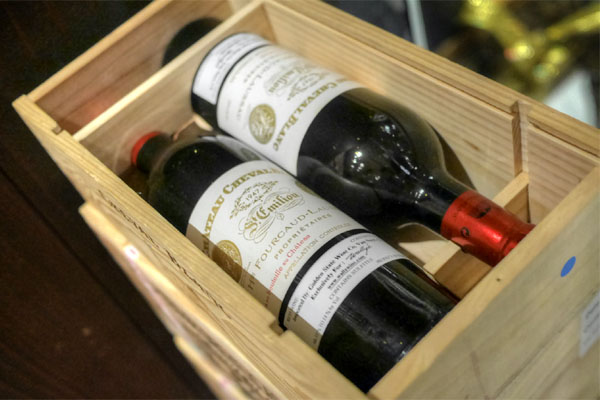 With dinner done with, we wandered about a bit and found these gems: the legendary 1947 Château Cheval Blanc, priced at $28,000 a bottle. It's a
very
hefty price, even for arguably the most famous wine of the 20th century, but the fact that these were just recently delivered straight from the château should make for the best possible provenance.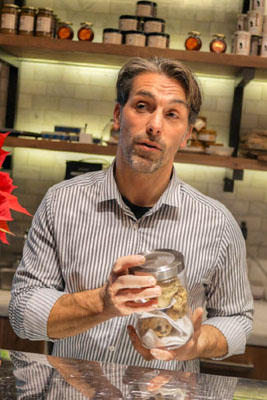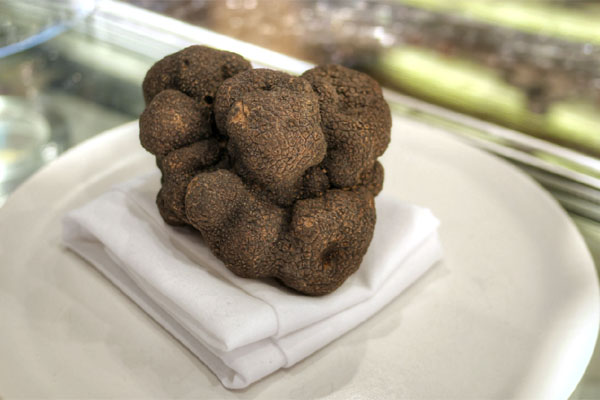 Féau proceeded to show off his truffle collection, which included the largest black truffle I've seen in person.
Coming into here, I was a bit apprehensive given that Beverly Hill's sort of known for playing it "safe" when it comes to food. I was afraid that Féau's talents would be put to waste, but fortunately those fears never materialized. The Chef's still doing "his" style of cooking, and the results compared favorably to what he was putting out back in the day at
The Royce
, albeit in a more casual manner. This is some of the more ambitious fare in the area, and from what I hear, people are responding positively to it, so I hope he keeps pushing. As for Wally's, the plan of the new owners is to expand the brand across the country and across the world, so we'll see if that ever comes to fruition.