Tofu and Noodles (Los Angeles, CA)
Tofu & Noodle Restaurant
3068 W 8th St, Los Angeles, CA 90005
213.915.0256
www.tofuandnoodles.com
Thu 03/10/2016, 09:25p-12:05a

Post-
Project by Project
mixer eats called for something open late and something cozy, and the very straightforwardly-named Tofu & Noodles (
Dubulang Guksulang
in Korean) seemed like it'd fit the bill. The place opened in December 2013, and is a home-style noodle joint run by Chef Lee, a Daejeon native, and her son.

T&N takes over the former strip mall home of Curry Hyang. It's been redone to a slightly more festive aesthetic, replete with plenty of
chalkwork
adorning the walls.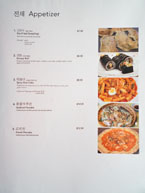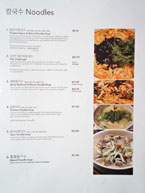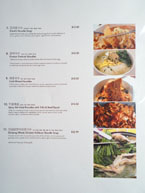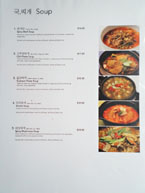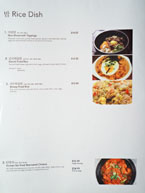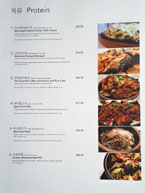 As for the menu, it's divvied up into various sections, with a particular focus on noodles and soupier dishes. Click for larger versions.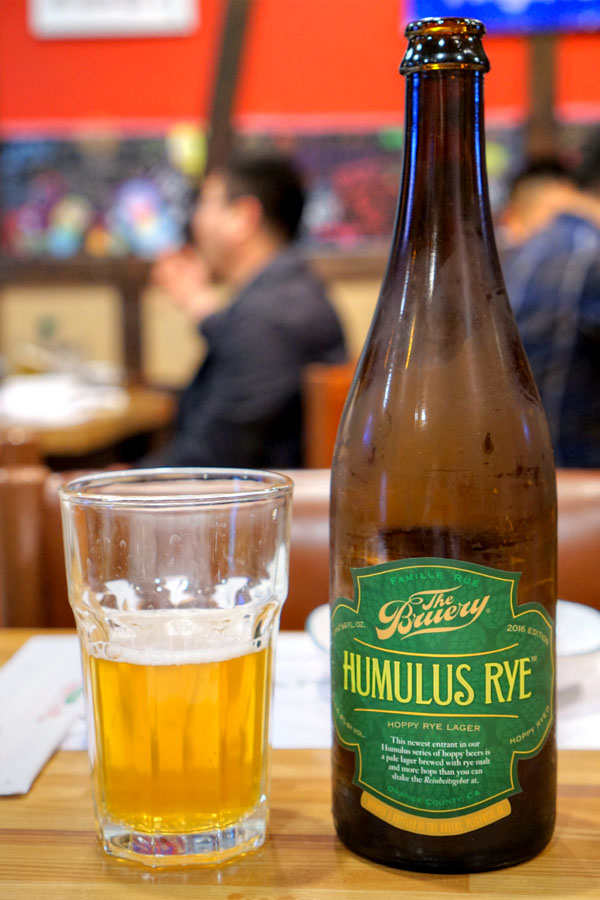 The restaurant advertises itself as BYOB-friendly, so we made sure to make use of the policy. Our first bottle was the
2016 The Bruery Humulus Rye
, a pale lager brewed with rye malt. It was pretty nice, sweet and hoppy to the smell and to the taste, with tropical-bitter notes joined by a rye spiciness on the palate.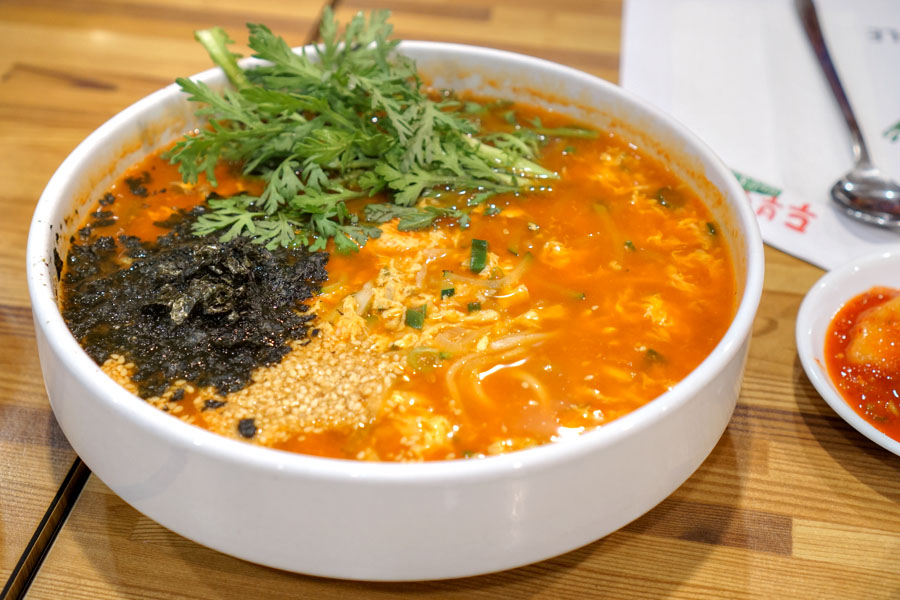 Original Spicy Knifecut Noodle Soup [$9.50]
| Spicy noodle soup specialty of Dae Jeon of South Korea. Dried fish, seafood and vegetable broth seasoned with Korean pepper paste and pepper powder with diced zucchini, green onions, egg, sesame seed, dried seaweed, and crown daisy leaves.
We began, fittingly, with Tofu and Noodles' signature
uhlkeunee kalguksu
, and it didn't let us down. Excellent interplay between the brine and umami notes of the broth and the soup's creeping heat, all moderated by the slick, supple noodles. A really well-integrated dish, with an extra bit of silkiness from the wispy shreds of egg, too. A must-try.
Korean Roll [$6.50]
| Korean Traditional roll with spam, imitation crab meat, pickled radish, carrots, eggs, and spinach.
Kimbap
was one of the better versions I've had, showing off some superb textures and a balance of flavors all tied together by the savoriness of
gim
.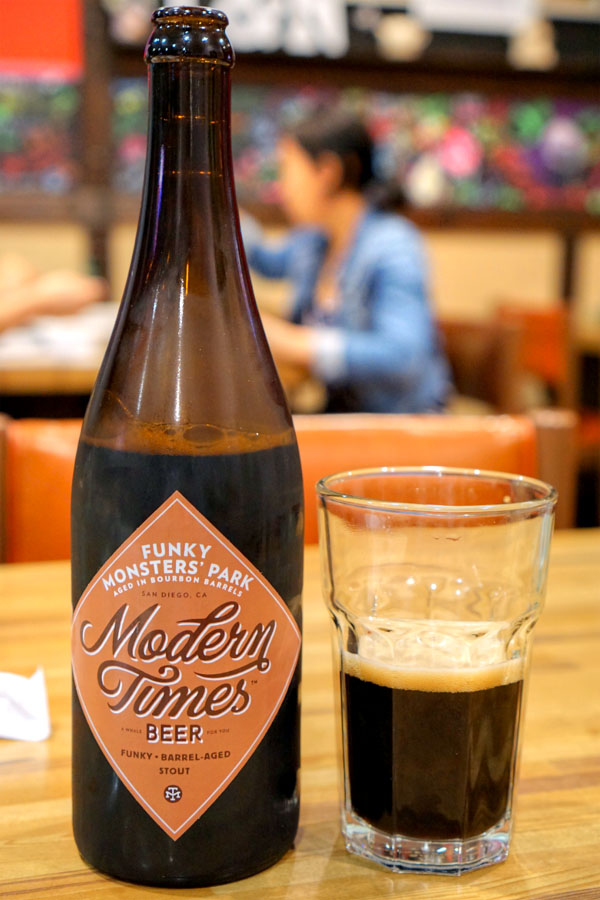 The
2016 Modern Times Funky Monsters' Park
was a sour stout, bourbon barrel-aged for a year with multiple strains of Brett as well as Lacto. It was better than I thought it'd be, tart to the smell with lots of dark fruit notes, while taste-wise, I got chocolate and roast commingled with a tangy, funky character.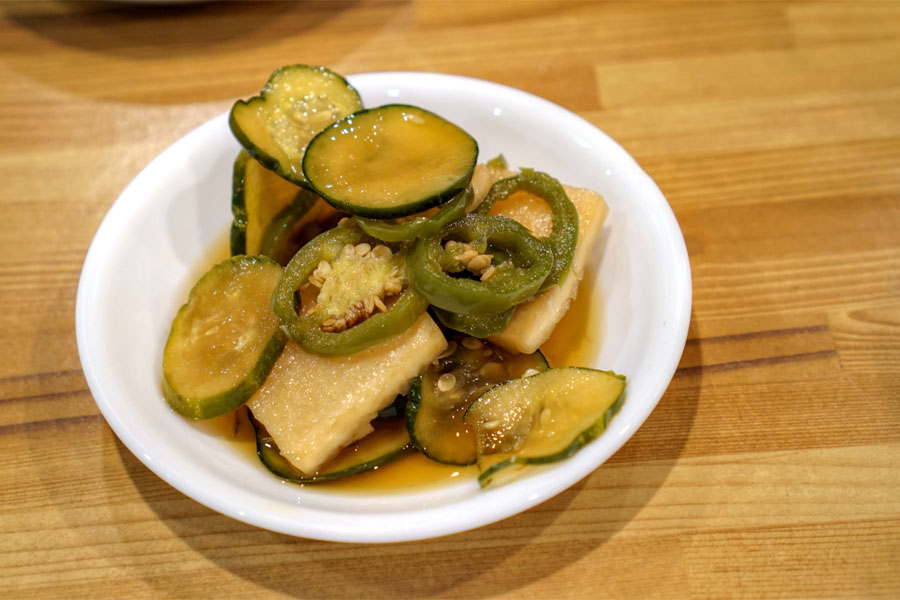 Four types of
banchan
were offered tonight, including this one comprising jalapeño, cucumber, and bamboo
jangajji
.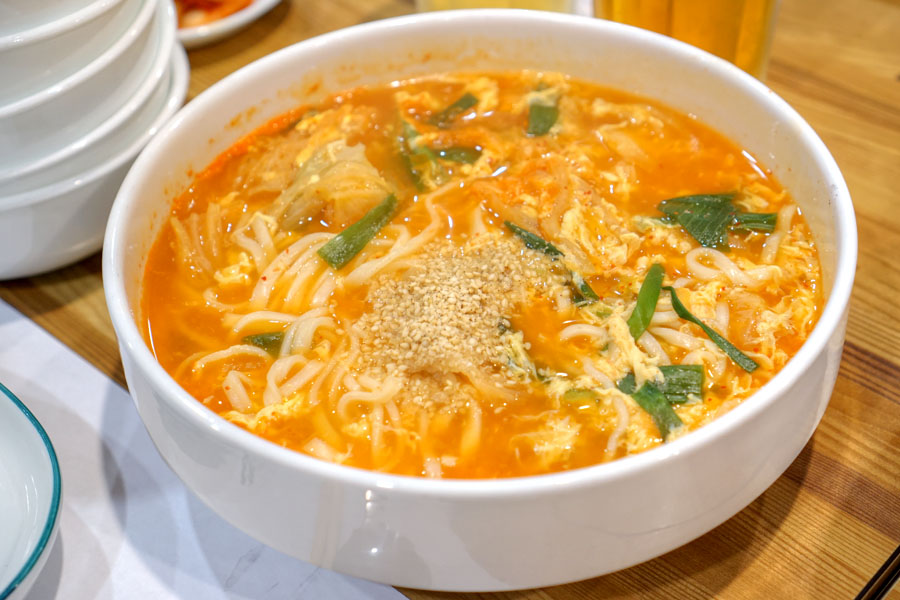 Kimchi Noodle Soup [$12.50]
| Seafood broth knife cut noodles flavored with aged kimchi with addition of onion, green onion, sliced zucchini, garlic, aged kimchi, and potatoes.
A
kimchi kalguksu
was well put together, doing a commendable job playing the pickle-y funk of kimchi against the knife-cut noodles. Nice contribution from the veggies to boot.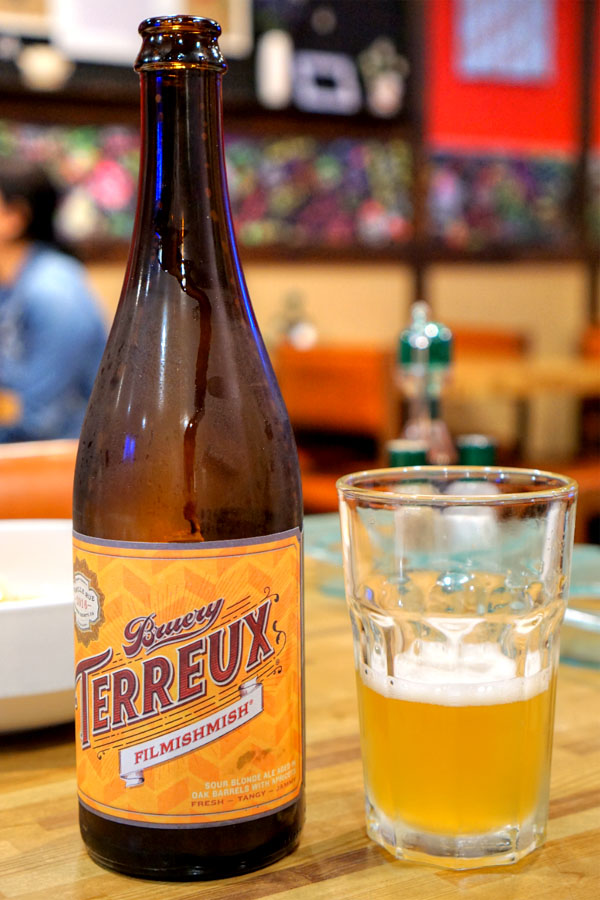 Next came an oak-aged sour blonde with apricots, the
2016 The Bruery Terreux Filmishmish
. Think quite tart, grainy in terms of aroma. Taste brought more yeasty, oaky qualities, with light notes of tangy stone fruit coming in toward the finish. I definitely could've used more apricot here.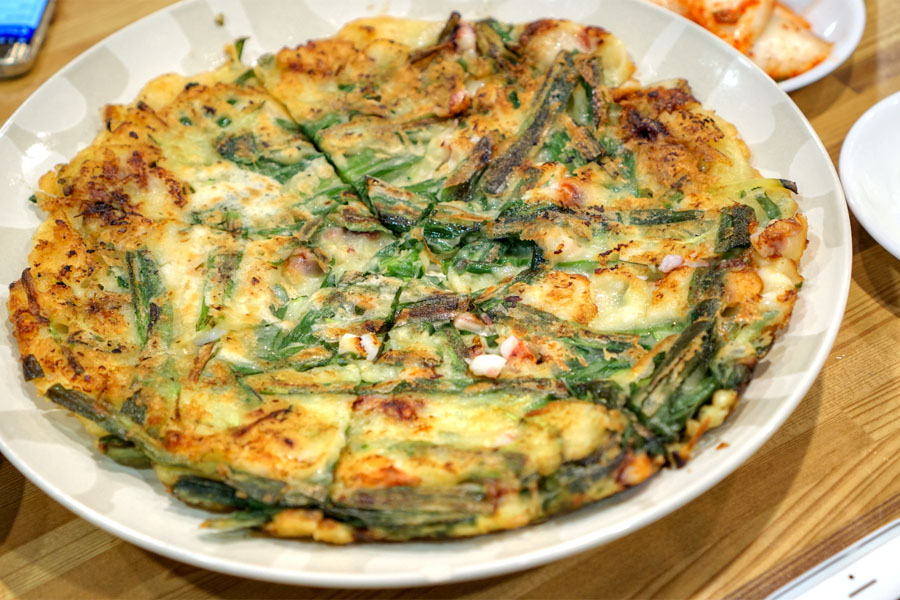 Seafood Pancake [$14.99]
| Traditional pan-fried leek pancake with assorted seafood.
My go-to dish of
haemul pajeon
delivered with its excellent char-powered savoriness and generous amounts of zesty scallion to pair with the seafood.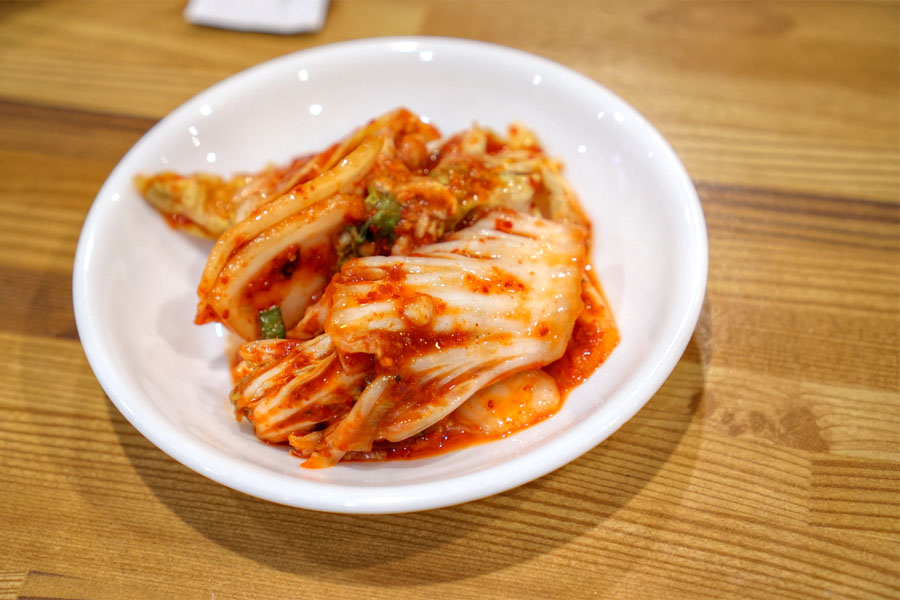 Baechu kimchi
seemed crunchier than usual, not a bad thing mind you.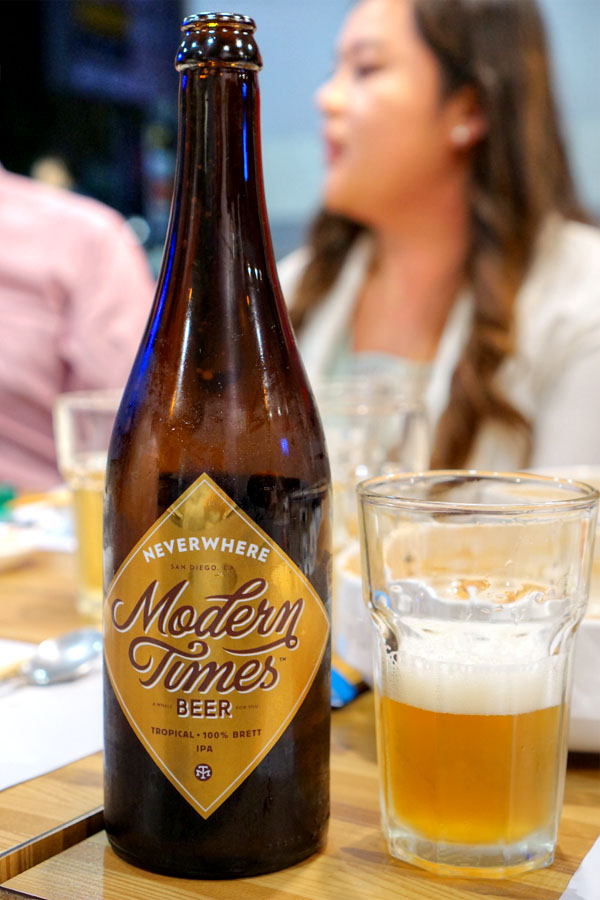 The
2016 Modern Times Neverwhere
was a 100% Brett-fermented IPA, hopped with Citra, Centennial, and Chinook. It was quite lovely, with hoppy, fruity aromas and a palate that went all juicy and tropical, with a soft bitterness underlying.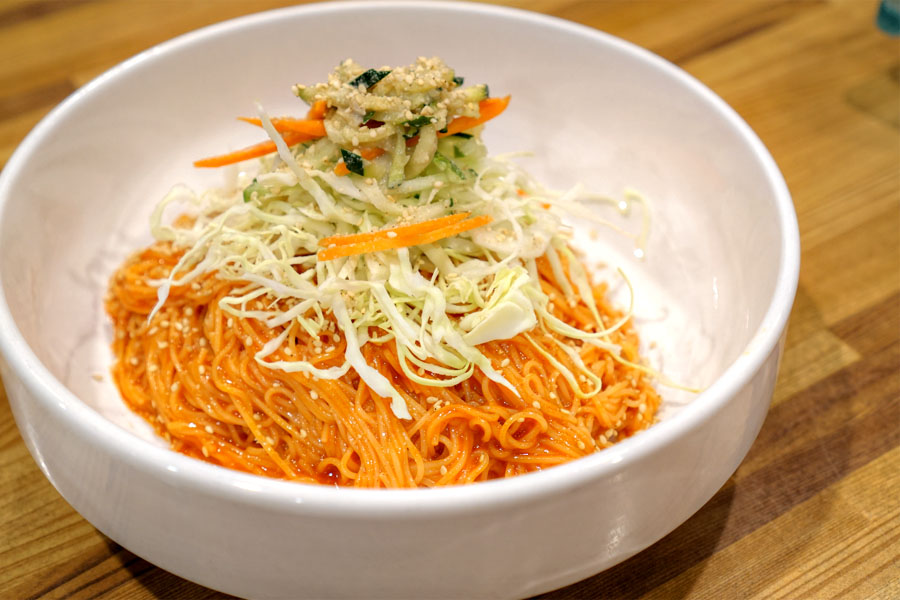 Cold Mixed Noodles [$10.50]
| Cold somen noodles with diced lettuce, carrots, seasoned zucchini, and diced cucumber mixed with Korean traditional sweet and spicy sauce.
The
bibim guksu
displayed a rich-yet-refined level of spice, augmented by some tangier notes and the brightness of the veggies. Great textures on the
somyeon
noodles too.
One of my dining companions made sure to check in on Yelp, which apparently scores you a free
chamchi samgak gimbap
, basically an
onigiri
-like rice ball with cooked tuna. I found it surprisingly delicious, with the creamy, briny notes from the fish really meshing well with the rice and umami flavors from the seaweed.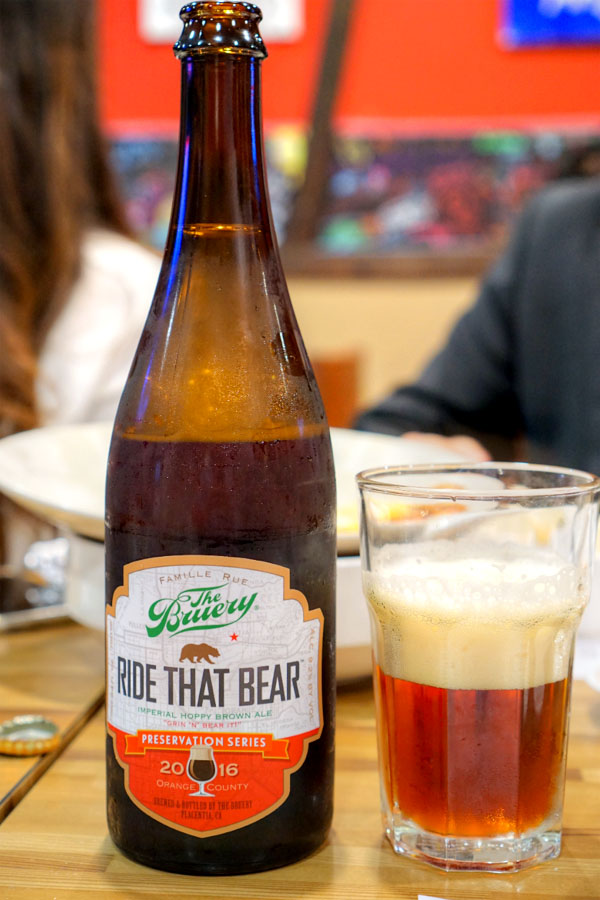 Our next beer brought out the
2016 The Bruery Ride That Bear
, a dry-hopped imperial brown ale. For me this was bitter and almost spicy in terms of bouquet. The taste brought a sweet, nutty base of malt, joined by a further hit of hops on the back end.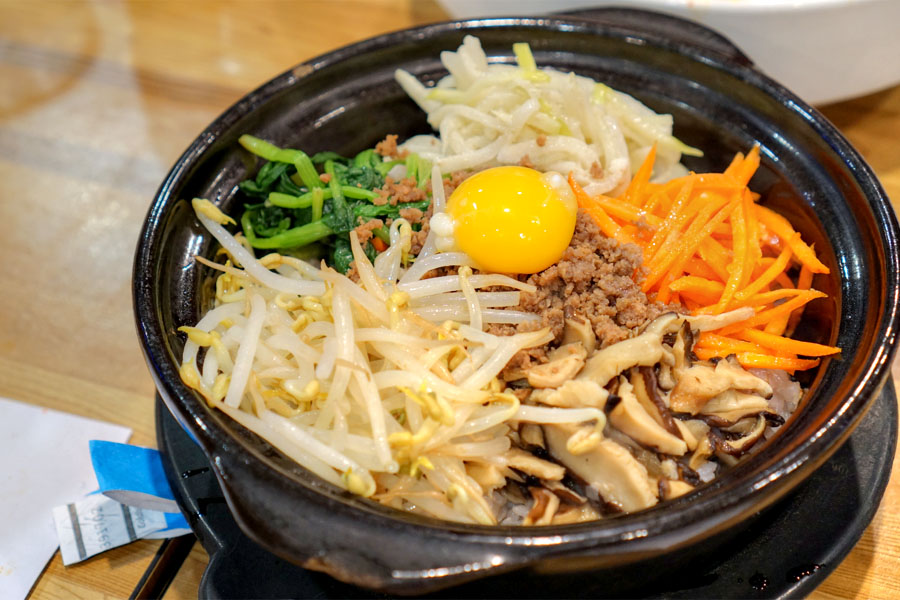 Rice Mixed with Toppings [$14.50]
| Rice with mushrooms, carrots, bean sprouts, spinach, marinated beef, and raw egg yolk seasoned with sesame oil served in a hot stone pot.
Ttukbaegi bibimbap
was presented in place of the usual
dolsot
preparation, and perhaps because of this, there wasn't as much
nurungji
as I would've liked. Nevertheless, it was still gratifying texturally, and its flavors were on point, well-enhanced by a rich depth of spice from a liberal application of
gochujang
.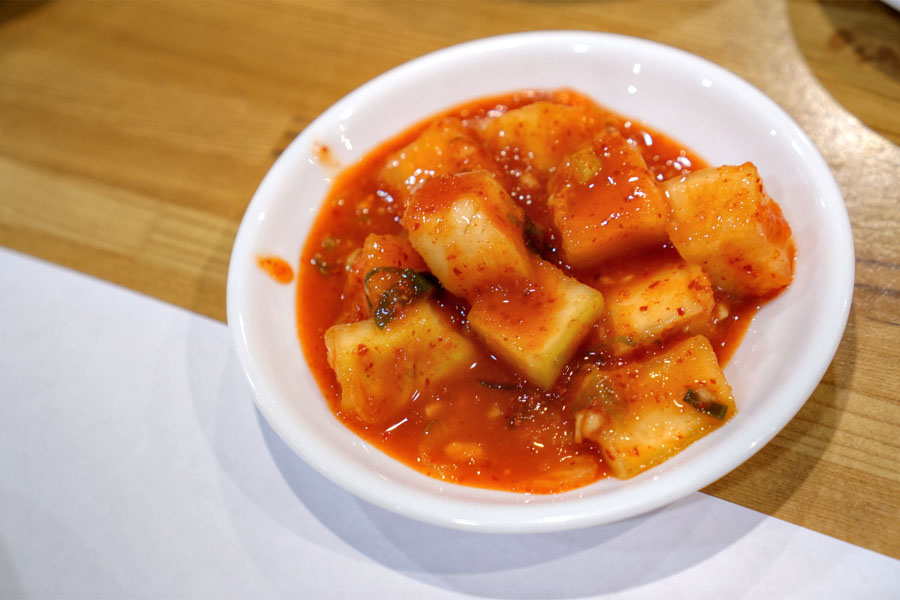 Kkakdugi
was properly crunchy.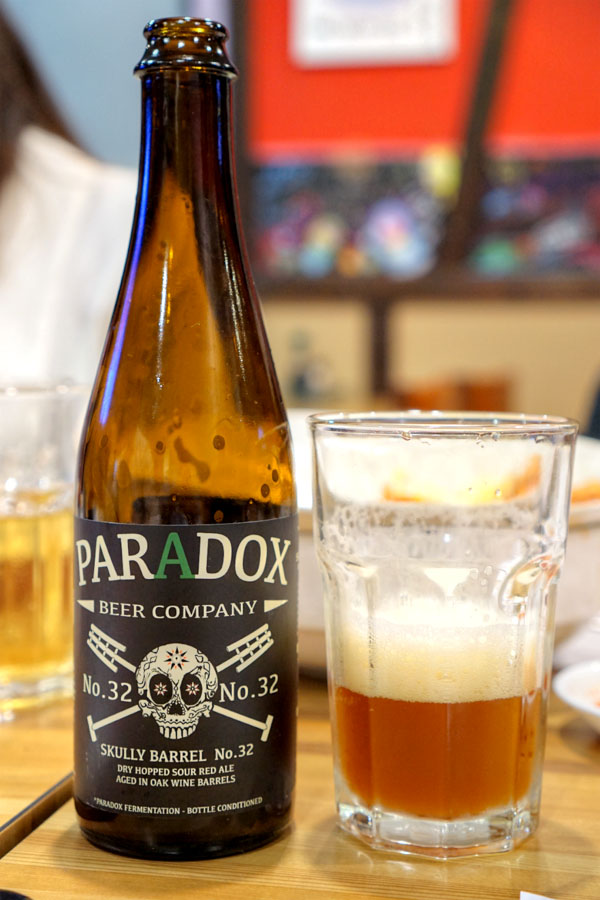 The
2015 Paradox Skully Barrel No. 32
was the first of two beers we had from the brewery, a sour red ale aged in oak wine barrels, then dry-hopped with Citra, CTZ, and Simcoe. Aromas of sweet, light citrus commingled with some earthiness. Taste brought soft fruit notes merging with a tart, oaky funk. Didn't get too much hoppiness though.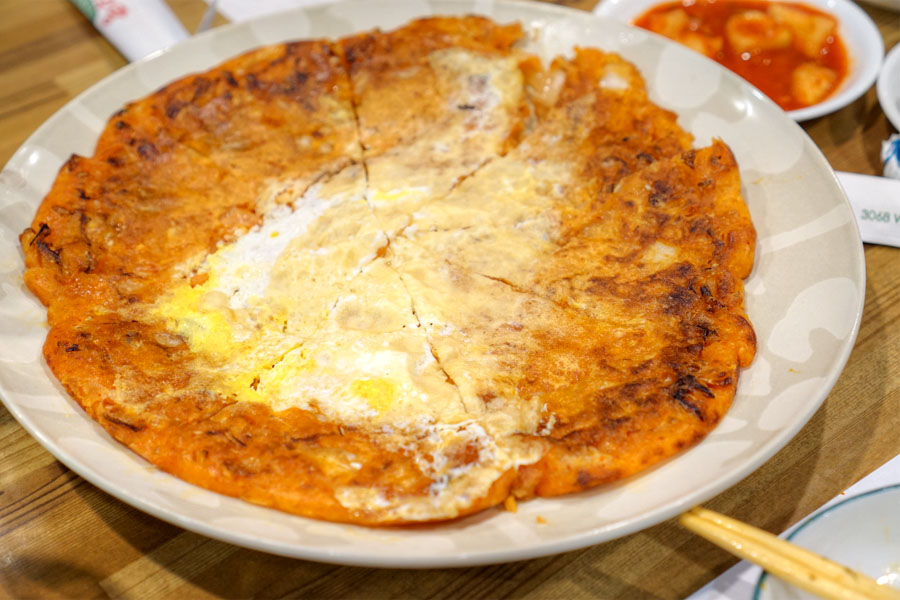 Kimchi Pancake [$12.99]
| Traditional pan-fried kimchi pancake.
Kimchijeon
came out almost fluffy to the bite, with the spice of the fermented veggie nicely balanced by the richness of egg.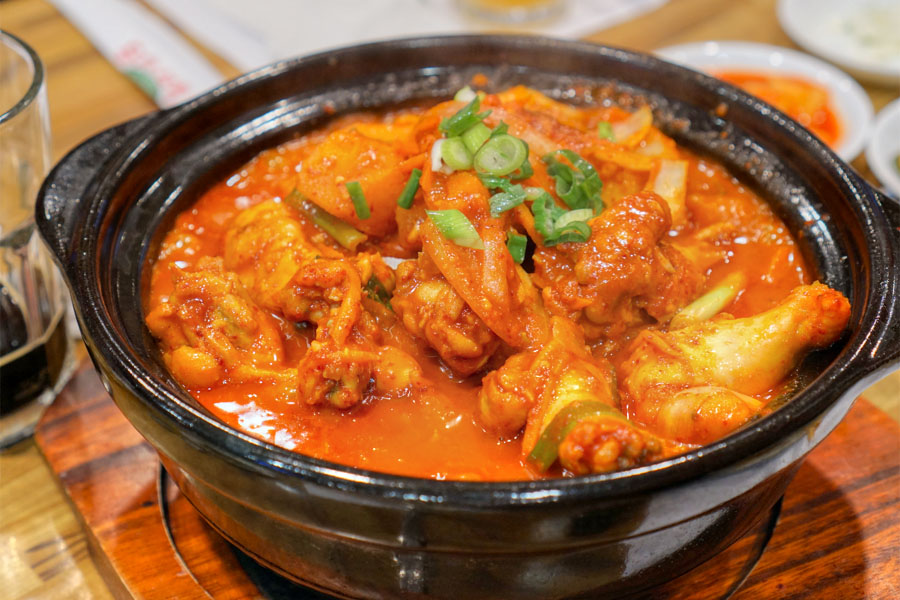 Korean Stir-fried Marinated Chicken [$34.99]
| Stir fried marinated spicy and sweet chicken with potato, green onion, and onion served over glass noodles in a heated stone pot.
A large serving of
dak bokkeum
was probably the homiest item of the night, the chicken enriched with a cozy bit of spice while potatoes added further heartiness to the dish.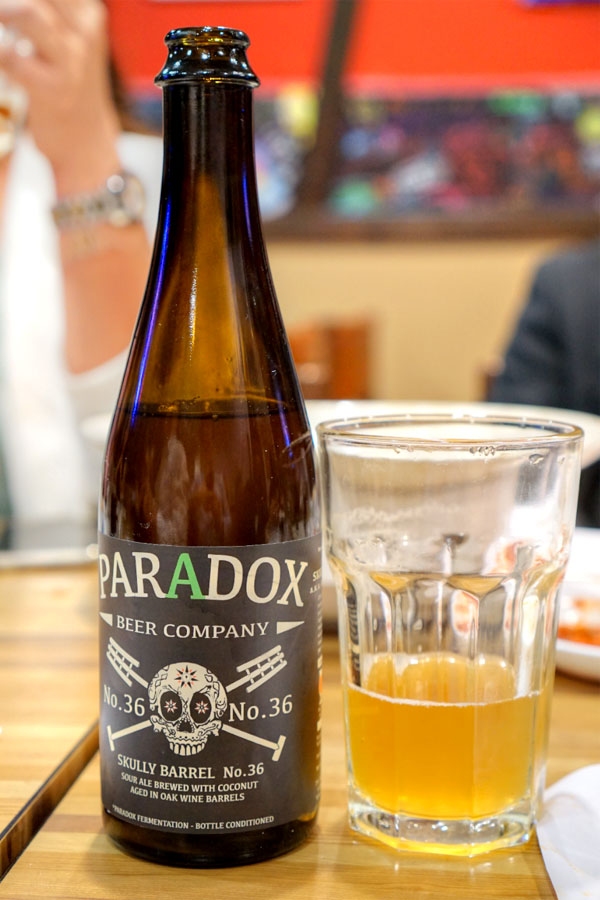 The
2016 Paradox Skully Barrel No. 36
was a sour golden ale brewed with toasted coconut and lime, then aged in oak wine barrels. I was definitely
not
a fan, since all I could think of was urinal cake. Disconcertingly reminiscent of a men's public restroom.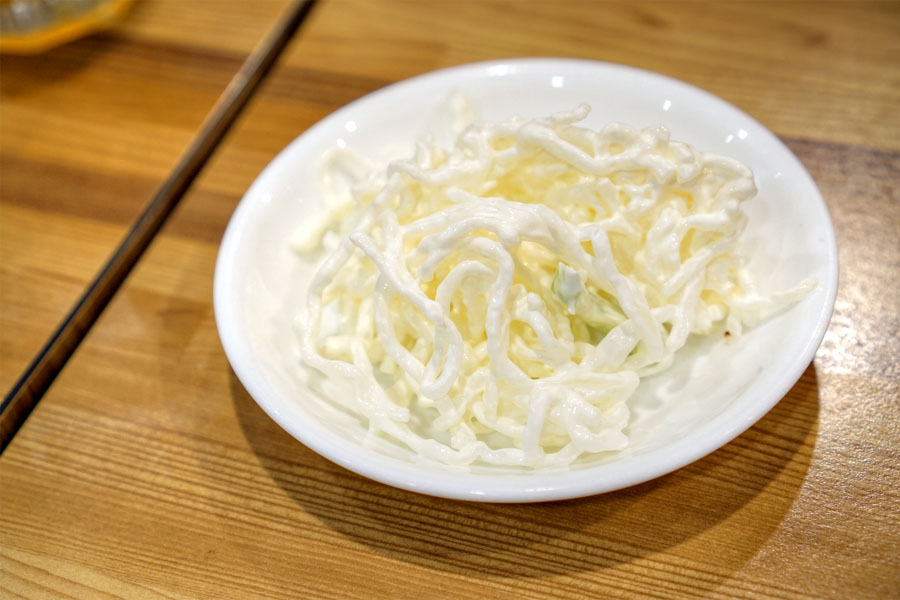 Cheonsachae
are semi-transparent noodles made from
dasima
(kelp), and here they made for a crunchy, creamy side dish.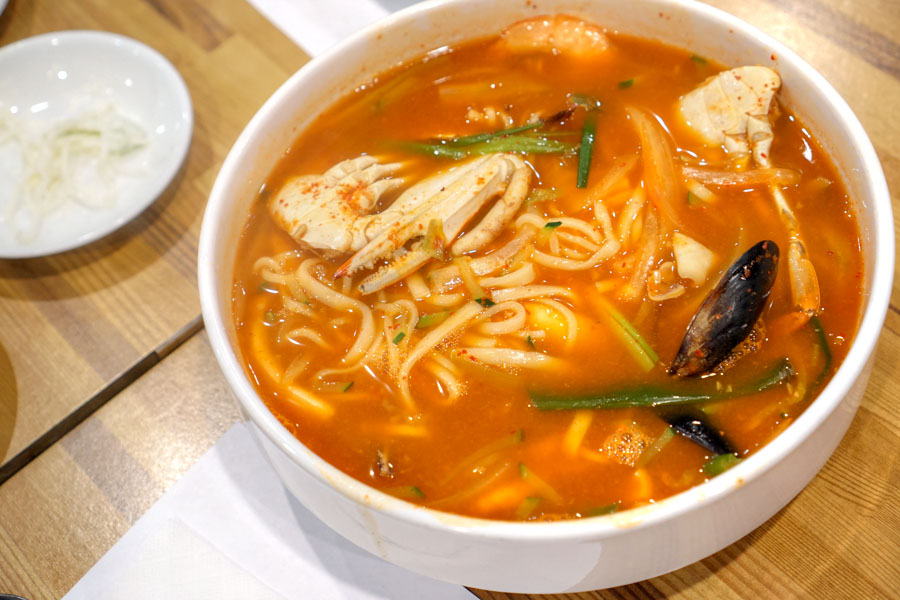 Spicy Seafood Knifecut Noodle Soup [$15.99]
| Spicy noodle soup flavored with crab, shrimp, squid, mussels, clams & oysters with additions of onion, diced zucchini, green onion, jalapeno, and garlic.
Our last noodle soup, the
haemul kalguksu
did an admirable job marrying the deep, complex brine of the various seafood with the healthy dose of heat in the broth.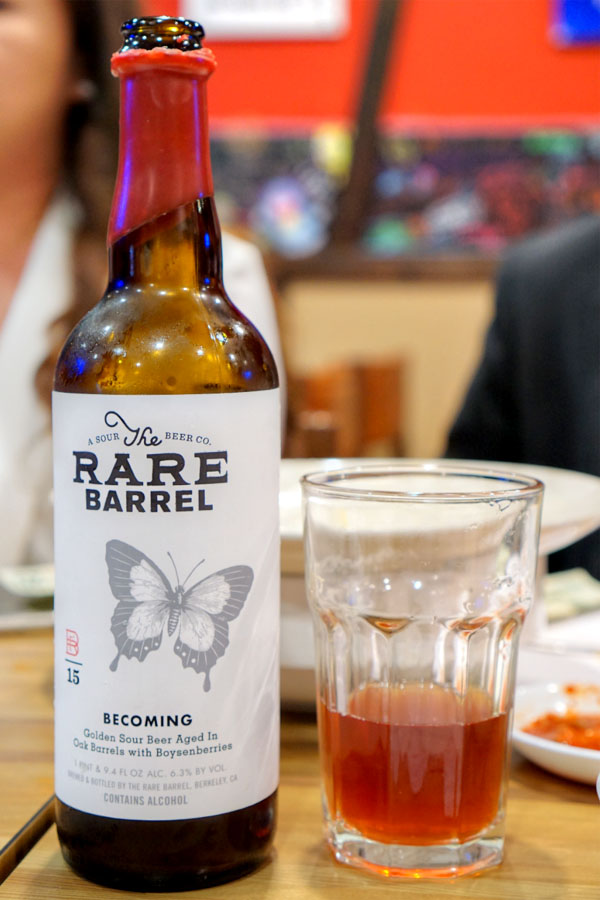 The
2015 The Rare Barrel Becoming
was a golden sour, fermented with
Saccharomyces
,
Brettanomyces
, and
Lactobacillus
, then aged in oak with boysenberries. Think loads of tart berry on the nose. The taste followed, and also gave up a musty, vinous quality with a bit of wood tossed in.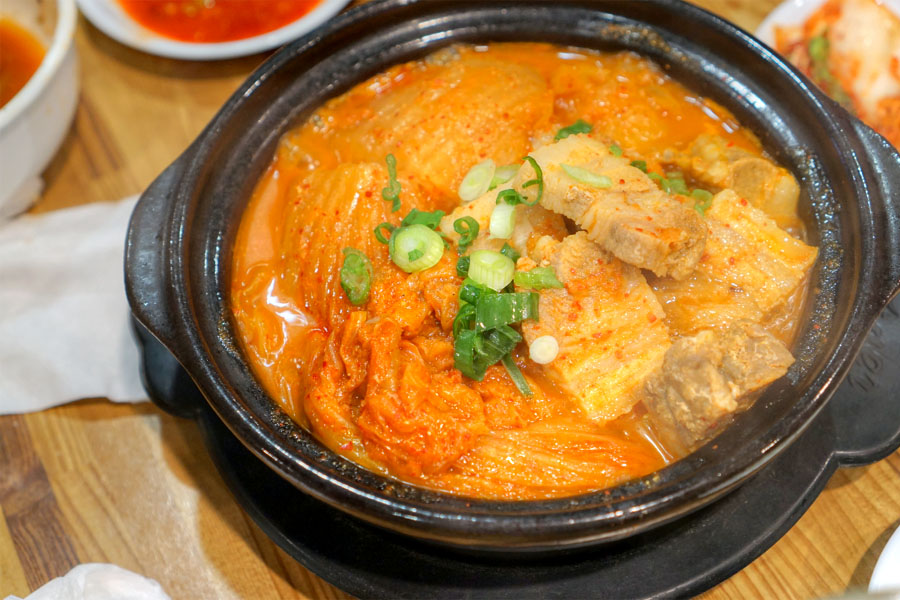 Steamed Tofu and Kimchi with Pork Belly [$15.99]
| Kimchi steamed in pork broth with pork belly slices and tofu. Served with combination rice (mix of brown, white and black rice).
The final dish of the evening was the
dubu kimchi jjim
, a classic preparation that set the piquant funk of the kimchi against those meaty slices of pork belly. A fitting closer.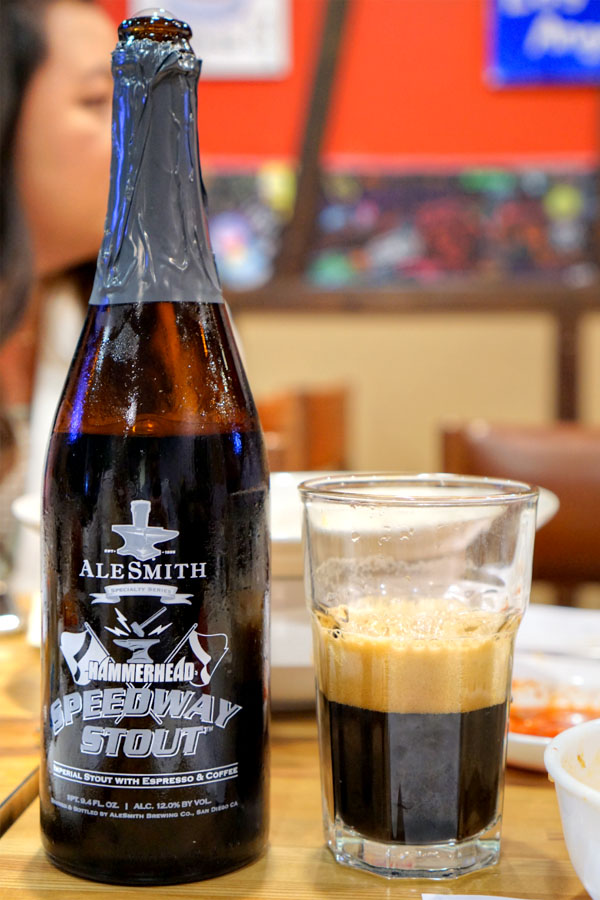 In place of dessert was a bottle of the
2016 AleSmith Hammerhead Speedway Stout
, the brewery's newly-released imperial stout with Ethiopian coffee and espresso beans added. Unsurprisingly, I found it noticeably more coffee-forward than the standard bottling: aromas of nutty, bitter roast and cocoa; taste was smooth and brought more of the same, but with a fruitier character to round things out.
Tofu & Noodles had been on my K-town hit list for a while, and I think we were all really satisfied with the place and its homey, comforting cooking. Definitely one of the better Korean experiences I've had in recent times, and one to add to your bookmarks.