Plate by Plate 2015 (Los Angeles, CA)
Plate by Plate 2015 at California Market Center
110 E 9th St, Los Angeles, CA 90079
www.platebyplate.org/la/
Sat 07/25/2015, 06:00p-10:00p

Over the weekend,
Project by Project
hosted its 13th annual
Plate by Plate
tasting benefit at the
California Market Center
. For the uninitiated, Project by Project is a nationwide non-profit focused on issues relating to the Asian-American community. Each year, the group chooses a particular theme to concentrate on--health, education, the arts, and so on--and partners with a charitable organization in that space. With 2015's theme of housing, the partner chosen was
Center for the Pacific Asian Family
, a local non-profit dedicated to providing shelter and support to victims of domestic violence. As in years past, Plate by Plate showcased the culinary talents of some of the City's most popular and up-and-coming eateries, all washed down by free-flowing beverages of various varieties.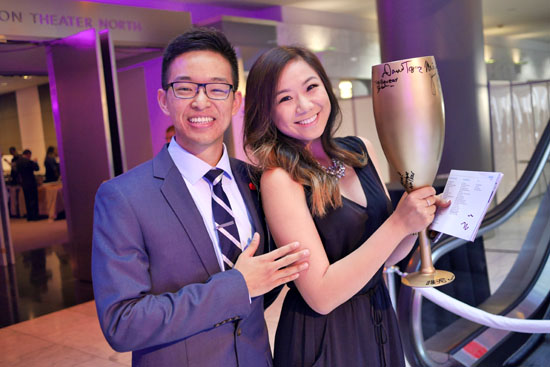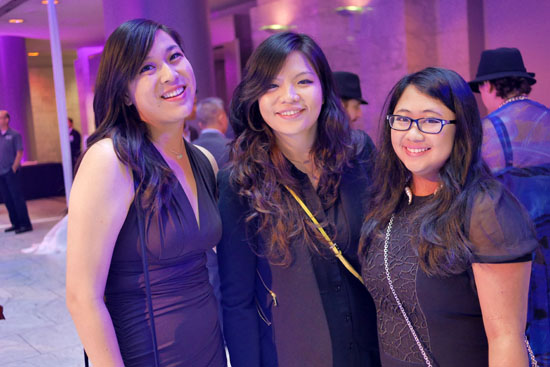 L:
Director of Finance Alek Tan and Marketing Team Member Kelly Li with the signed "Golden Goblet" award for best drink of the night (which went to 1886 at The Raymond). Members were advised not to drink out of said goblet.
R:
Former PbP teammates Becky Chou and Victoria Lee were in attendance.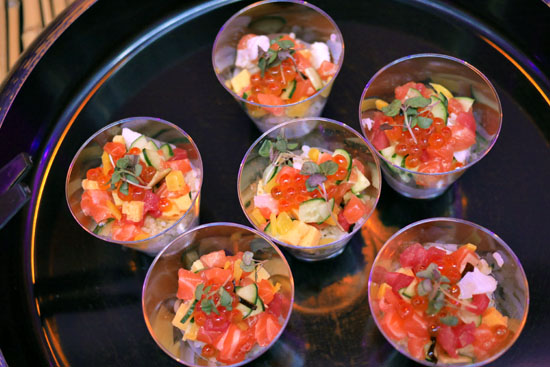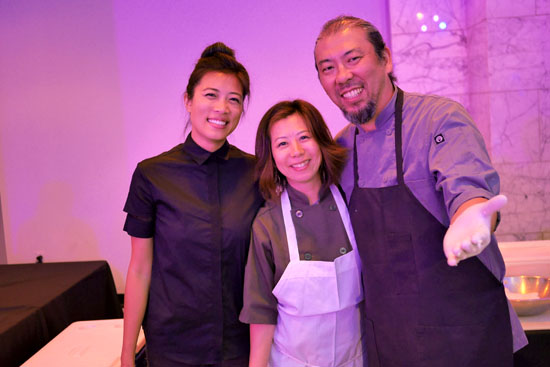 Hamasaku
Sushi Chef Yoya Takahashi was on hand with colorful cups of
Bara Chirashi
.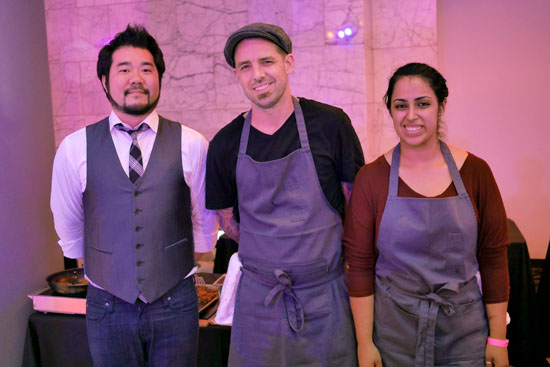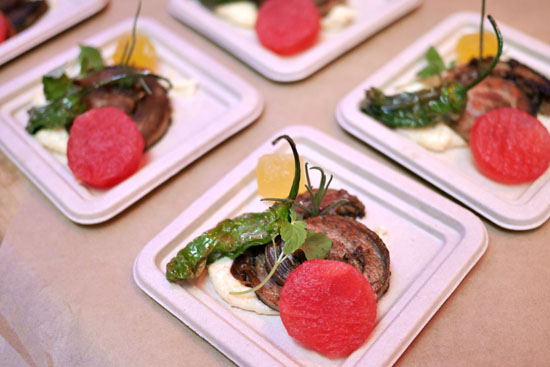 Philip Pretty of
Fundamental LA
lived up to his name with his comely plates of
Grilled Lamb Belly | corn grits, watermelon, shishito
.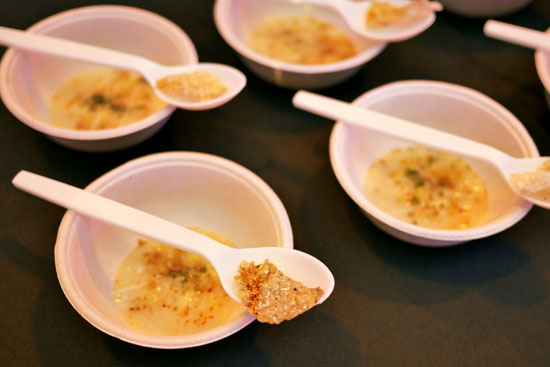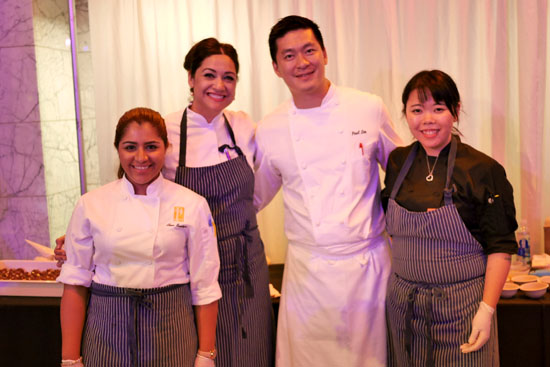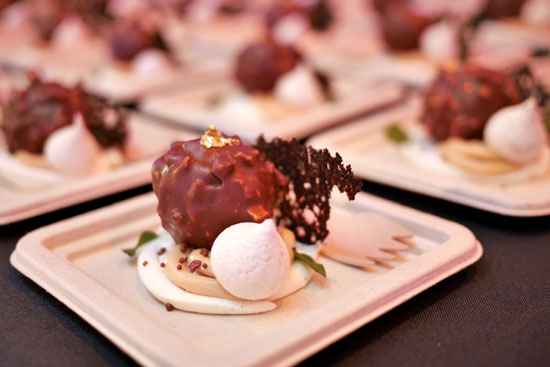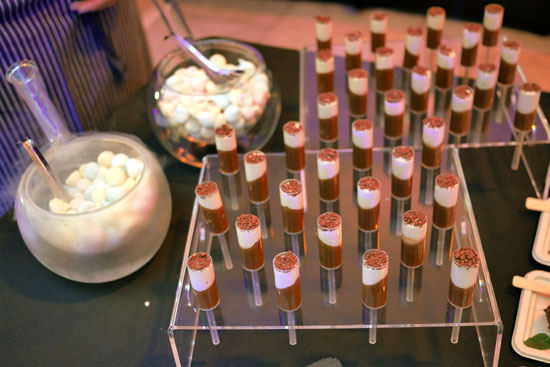 An ambitious
Nishiki Rice | bottarga, salmon chicharrón, beurre de baratte
was the contribution from
Patina
's new toque Paul Lee. Next door was an impressive selection of sweets from
Patina Catering
Pastry Chef Frania Mendivil, her headlining
Chocolate Cake Rochers | coffee whipped ganache, chicory pavlova, hazelnut crémeux, chocolate cake tuile
joined by
Mini Pushpops | exotic passion coconut crémeux, white chocolate, chocolate pop rocks
and the ever-popular
Nitro Cotton Candy Dragon Breaths
.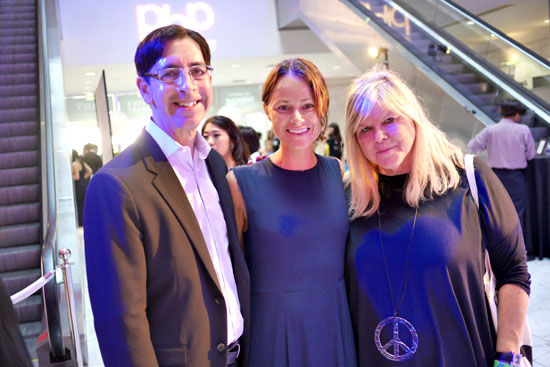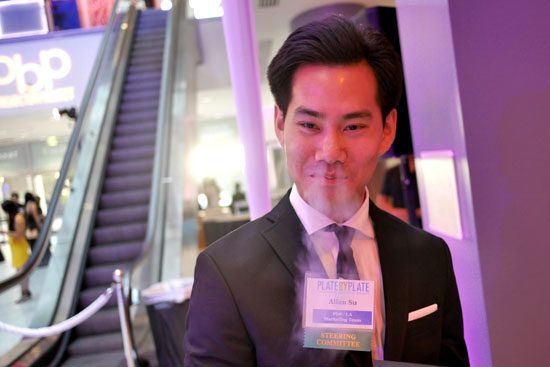 L:
Bill Chait and company were in the house to support a record eight restaurants from the Sprout LA family.
R:
Marketing Team Member Allan Su was one of the first to experience the ethereal delights of Patina's liquid nitrogen-laced candies.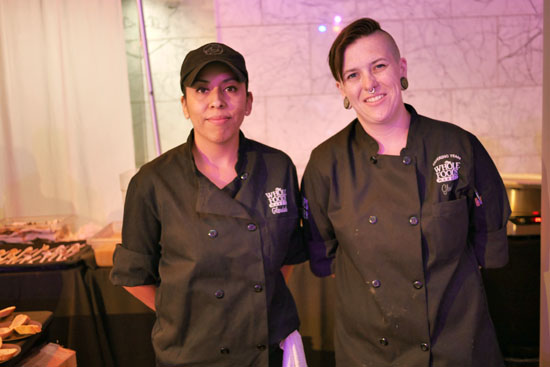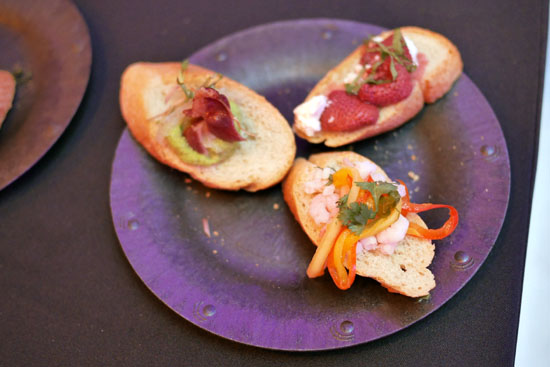 Event sponsor
Whole Foods Market
served up a trio of toasts:
Crispy Prosciutto with Grilled Sweet Onion Crostini
,
Bay Shrimp with Spicy Mango Slaw Crostini
, and
Kite Hill Ricotta with Pickled Strawberries Crostini
.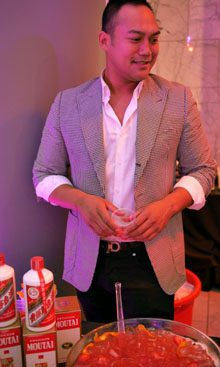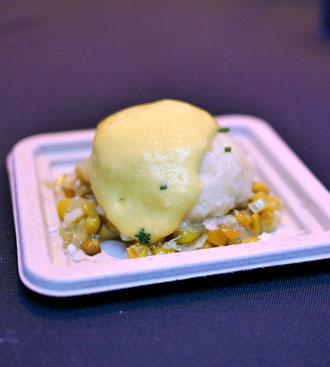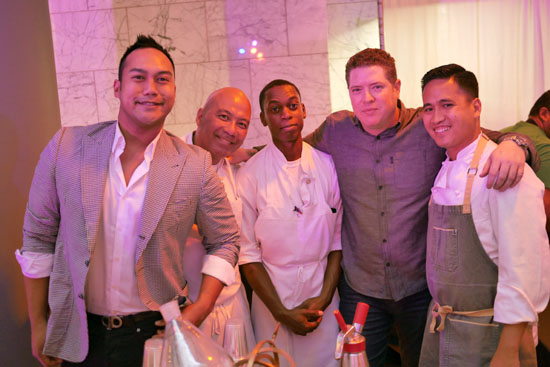 Steven Fretz and Ian Opina from
The Church Key
had
Ricotta Gnudi
and
Milk Chocolate Smores
going, while Beverage Director Devon Espinosa concocted a creative
baijiu
cocktail as a nod to the event sponsor:
U So Lucky | baijiu, strawberry, lemon, Chinese 5-spice, suze, orange peel
. Fretz, of course, is working on seafooder Fin and Fire in the Arts District, so we'll see if that place drops in time for PbP next year.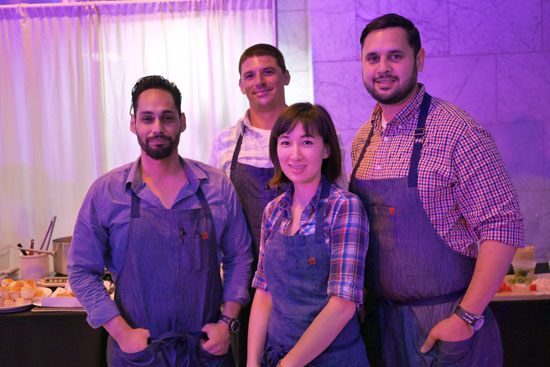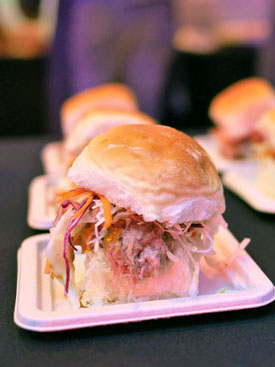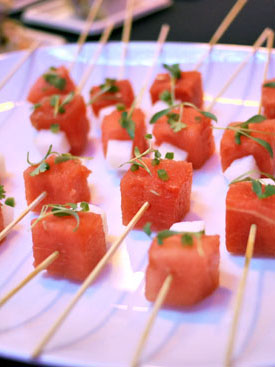 Over at the
Barrel & Ashes
table, CdC Michael Kahikina offered up
Pulled Pork Sliders | coleslaw, Carolina Gold, poppy seed bun
and a refreshing
Watermelon Salad | jicama, jalapeño, cilantro, radish, watermelon vinaigrette
.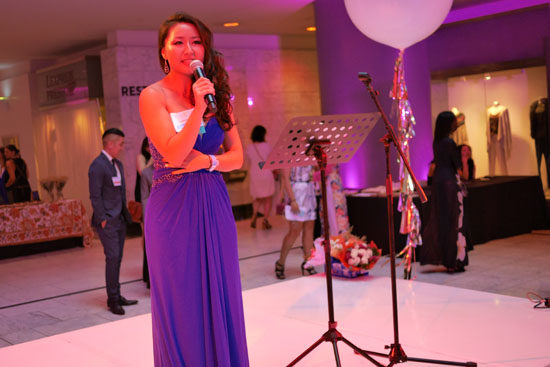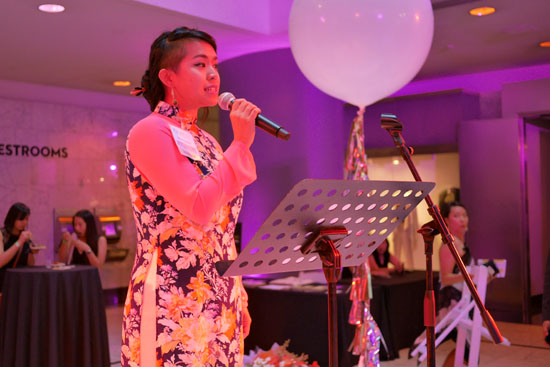 L:
President Yulree Chun giving her introductory remarks.
R:
A word from Dora Quach, Employment and Housing Resource Manager at CPAF.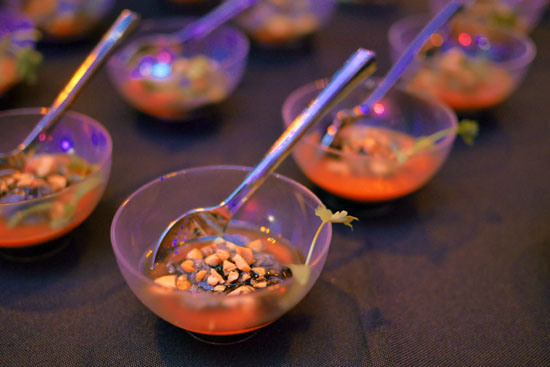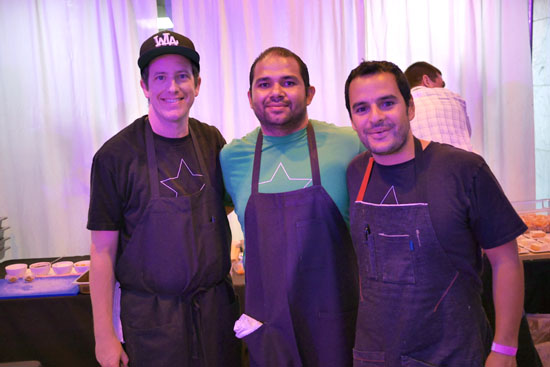 Chef de Cuisine Fabian Gallardo from
Petty Cash
did good with his
Ceviche Negro | local white sea bass, squid ink, mango, chile de arbol, peanuts
. Meanwhile, keep an eye out for Petty Cash v2.0 to debut in the old Fifty Seven spot sooner rather than later.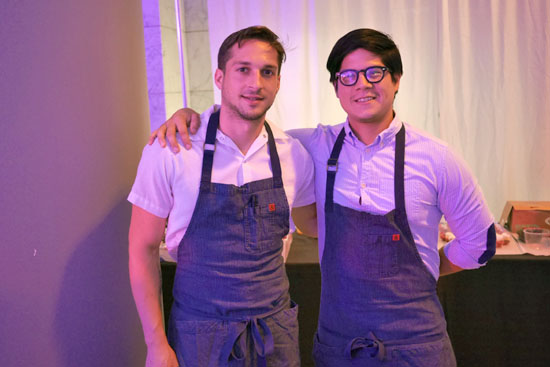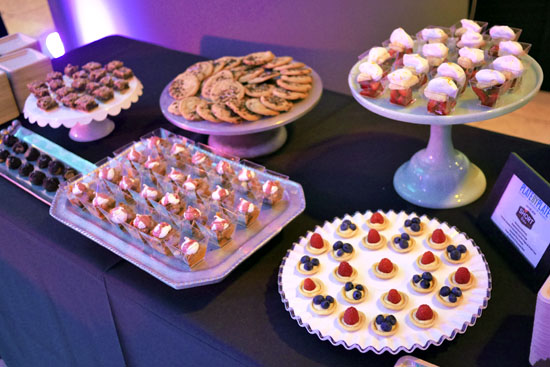 Short Cake
's Ivan Marquez had an impressive spread of the sweet stuff:
Pecan, Whiskey and Chocolate Bars
,
Chocolate Chip Cookies
,
Seasonal Stone Fruit Crisps
,
Strawberry Shortcakes
, and
Seasonal Berry Tarlets
. He was also relieved not to be outdoors this year.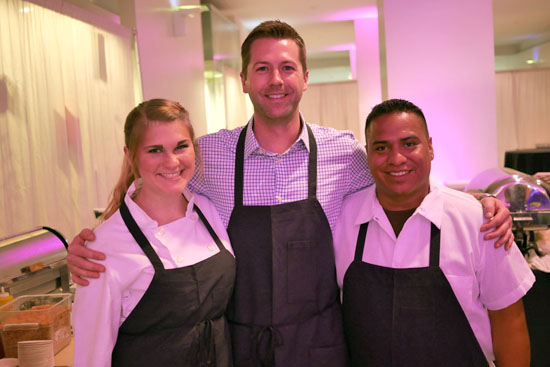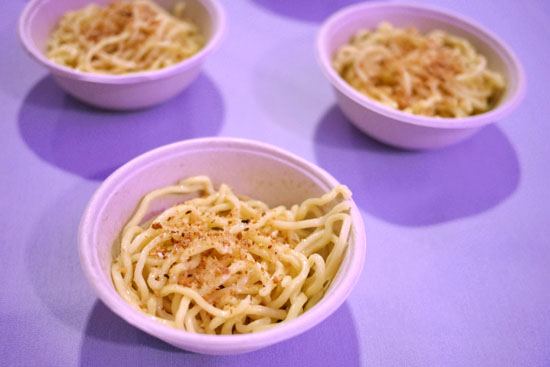 The team at
The District by Hannah An
had a crowd pleaser in the form of their eponymous
Hannah's Handmade Noodles
.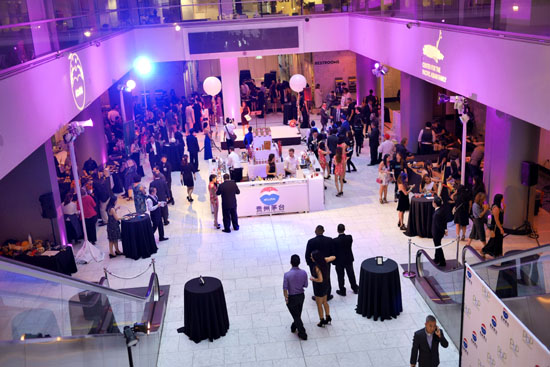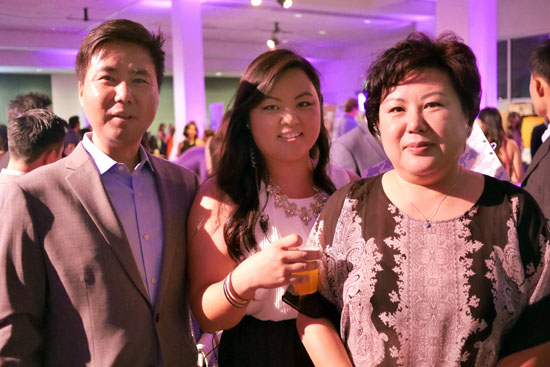 L:
The vantage point from the DJ station (pre-bass drop).
R:
A family affair: Manager of Event Production Tuyet Nguyen with mom Sunny and uncle James.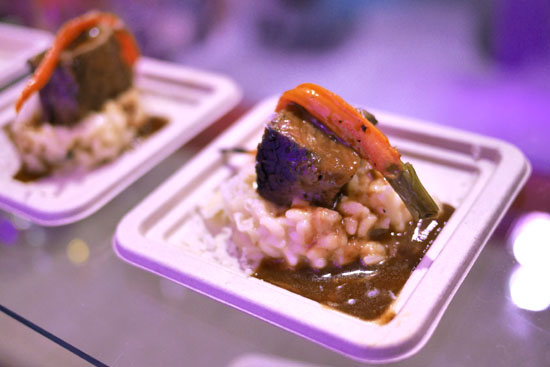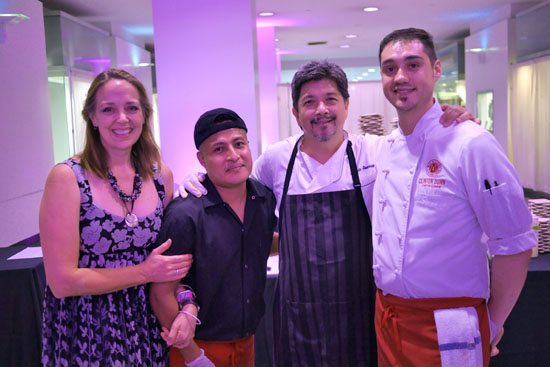 Andre Guerrero and Clinton Dunn from
Maximiliano
had one of the heartier plates of the night with their
Mushroom Risotto with Braised Short Ribs
.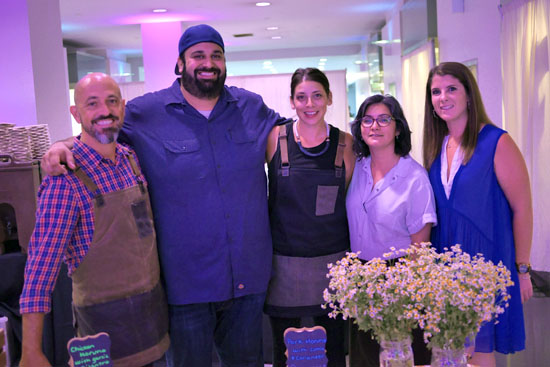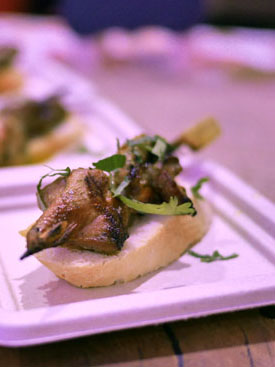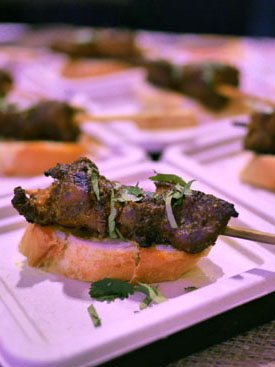 One of newest concepts tonight, David Rosoff and Chris Feldmeier's skewer-centric eatery
Moruno
brought both
Chicken and Pork Morunos
. Look for the restaurant to debut in the former home of Short Order in the coming months (with a take-out window opening on the 31st), and don't forget about their forthcoming outpost at Grand Central Market either.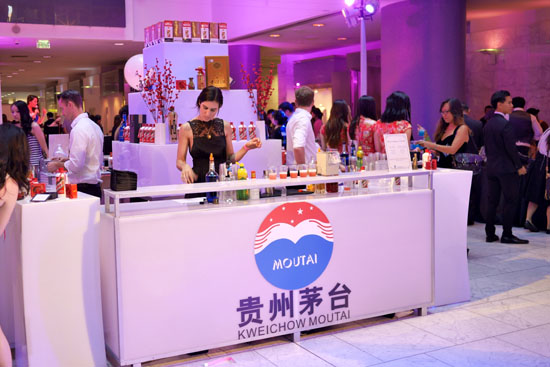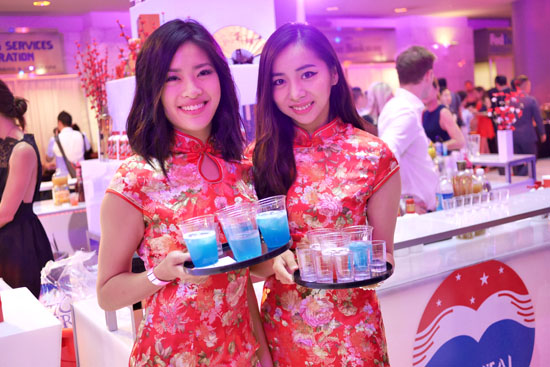 Plate by Plate's Platinum-level sponsor this year was
CNS Imports
, a local distributor/importer specializing in Asian spirits (e.g.
baijiu
). Their bevy of
cheongsam
-clad models added a nice pop of color to the space.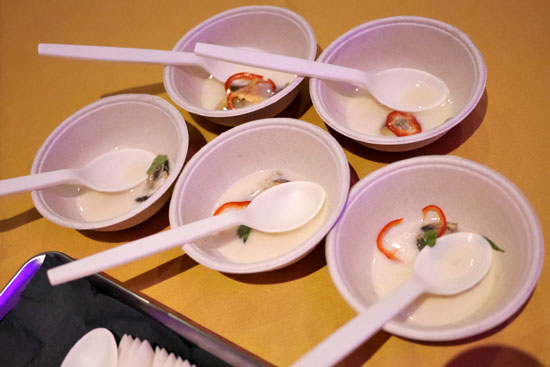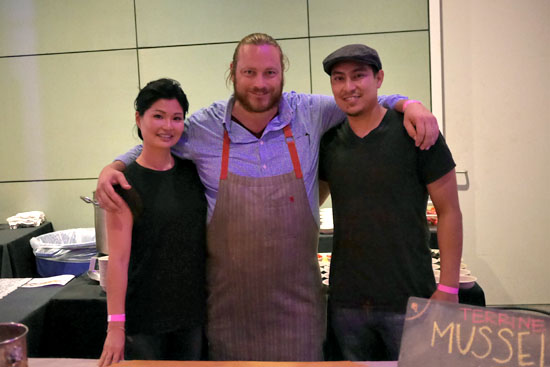 Moving from the Atrium to the Fashion Theater now, up first was
Terrine
, where Chef Kris Morningstar and Christina Lee doled out bowls of
Coconut Curry Mussels
.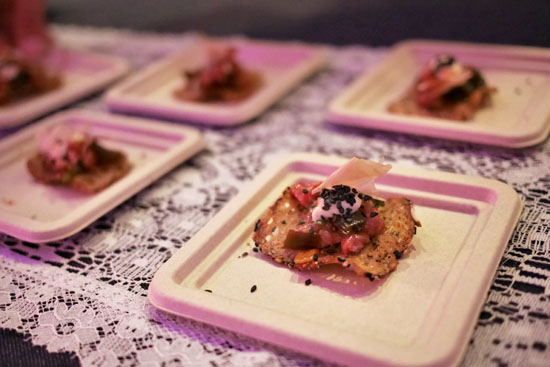 Though Chef Michael Hung will be departing
Faith & Flower
in the coming days, he still put forth a worthy effort with his
NY Steak Tartare | miso aioli, whole grain crackers
. As for his next move, I wouldn't be surprised if he stuck by Stephane's side.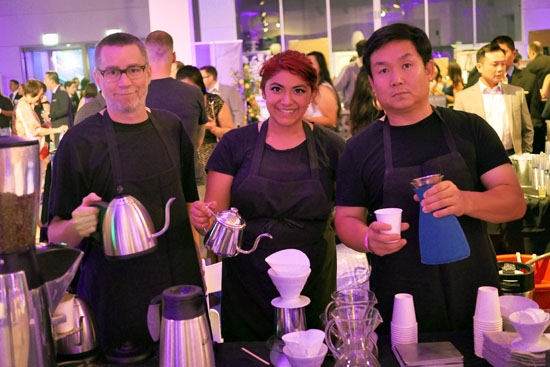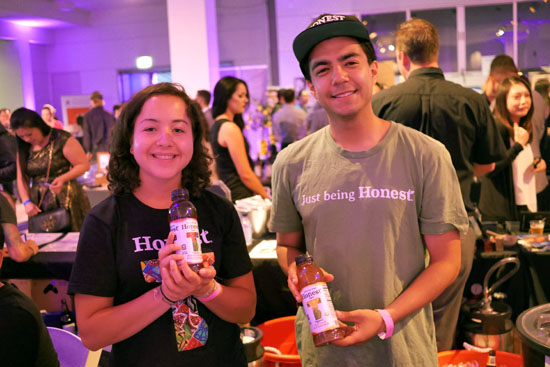 L:
Coffee duties tonight were the charge of
Cognoscenti
.
R:
Speaking of non-alcoholic beverages, there was also tea from pun-y purveyor
Honest Tea
.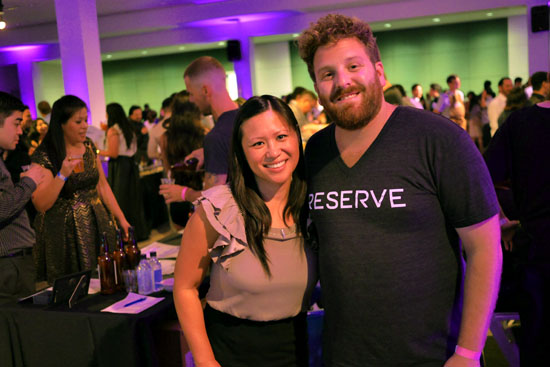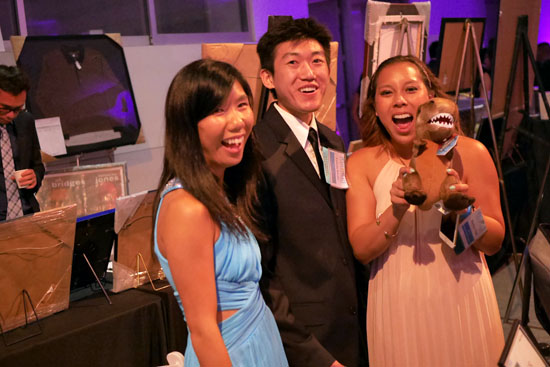 L:
Upstart dining app
Reserve
represent!
R:
Manager of Team and Leadership Development Stella Yuen, Volunteer Team Member Calvin Kwan, and Director of Volunteer Management Marilyn Tran stalking the silent auction items.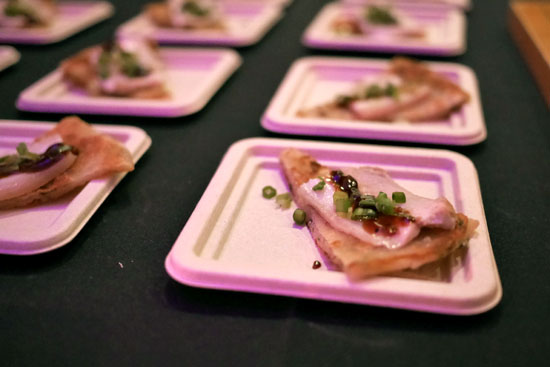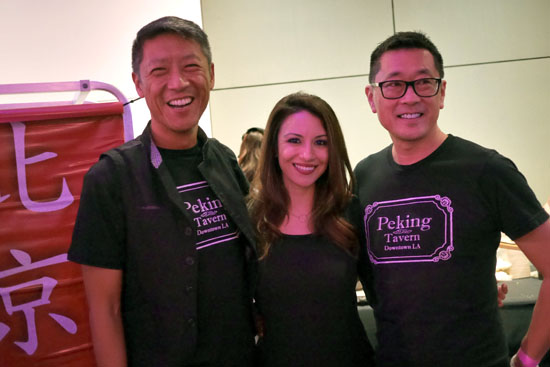 Peking Tavern
co-founders Andrew Chiu and Andrew Wong may have served
Peking Pork | pork belly on top of hand made scallion pancake with a drizzle of garlic oyster sauce
, but also created their own Andrew sandwich for one lucky lady.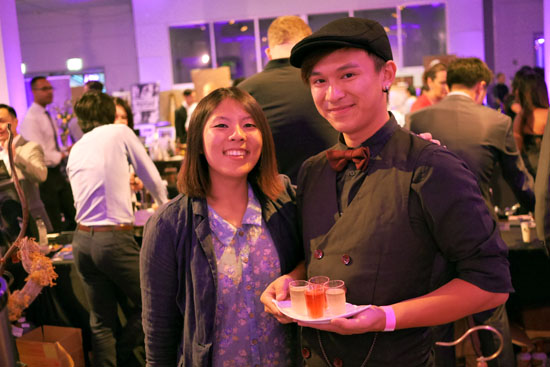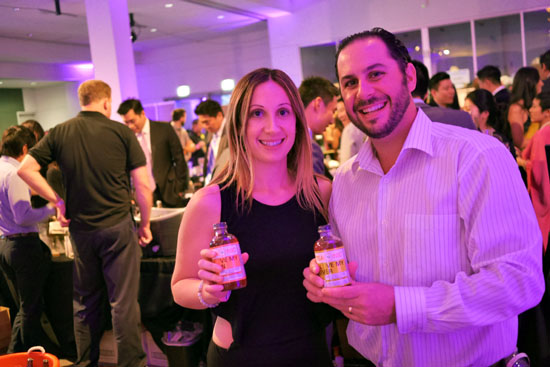 L:
Bird Pick Tea & Herb
had three varieties on tap:
Chrysanthemum Orangeade | chrysanthemum tea with oranges, lemon, lightly sweetened with sugar
,
Ginger Tea | ginger tea with honey & sugar
, and
Tropical Sunrise | white tea, lemon, orange, mint, hibiscus, lightly sweetened with sugar
. Diggin' the beret on Ryan Trinh.
R:
Also slanging tea was Desiree Chesler's
Teaonic
, which produces a line of oddly-specific teas specifically targeted toward improving particular areas of the body (e.g. Skin, Liver, Adrenals).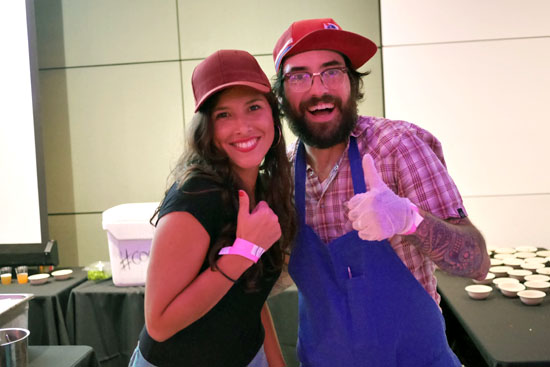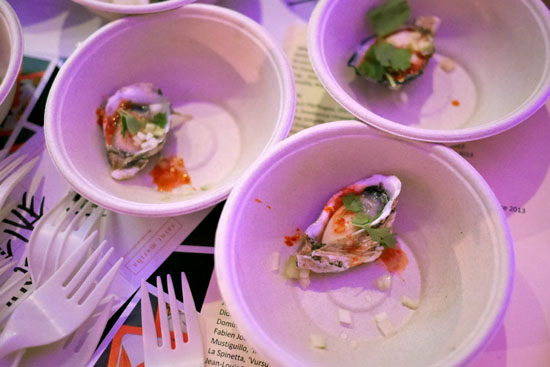 Saint Martha
's Nick Erven was looking more hipster than ever, churning out a dish of
Shucked Oyster | apple, celery, kimchi mignonette
. Was the descriptor of "shucked" really necessary though? I can't imagine guests having to pry off the shells themselves.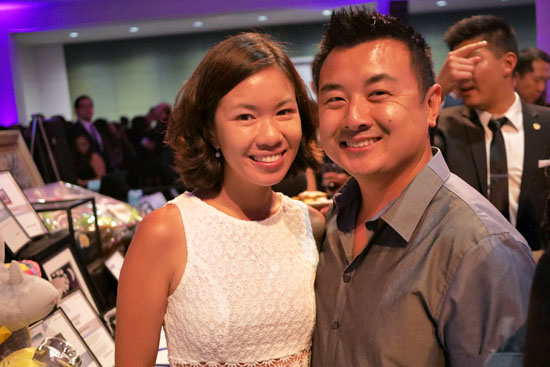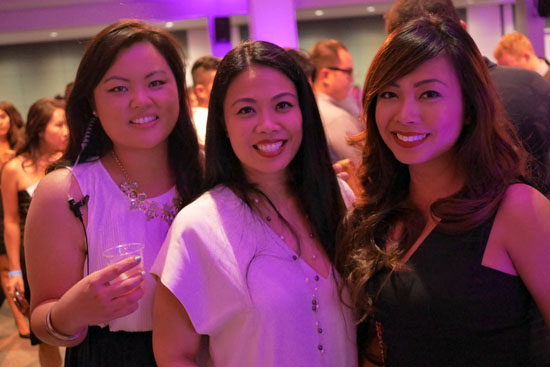 L:
Power couple Elizabeth Yang and Phil Cheng marked their second visit to Plate by Plate.
R:
Manager of Event Production Tuyet Nguyen and a double dose of Cherisse Cleofes (Cherisse Cleofe-squared) (yes, they have the same name).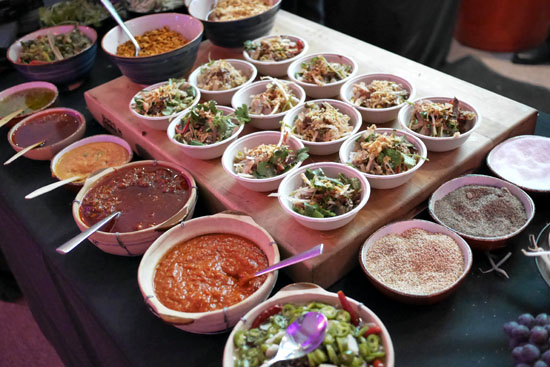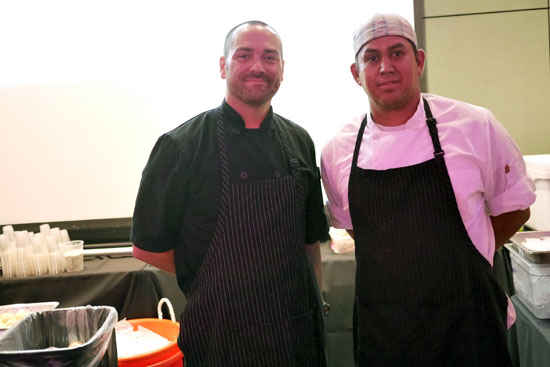 Little Sister
represented Blackhouse's first foray into PbP, and on deck was Chef de Cuisine Michael Segerstrom with a damn impressive-looking presentation of noodles. Watch out for another outpost of Little Sister to drop in Downtown in the coming months (Littler Sister?).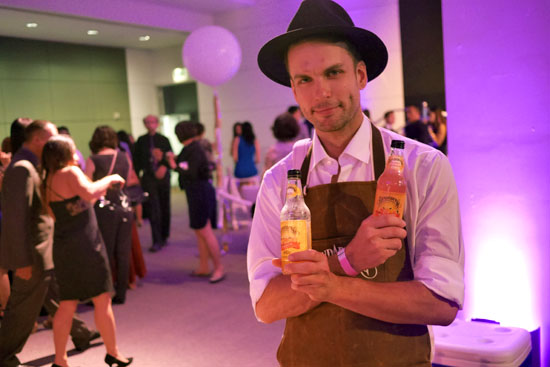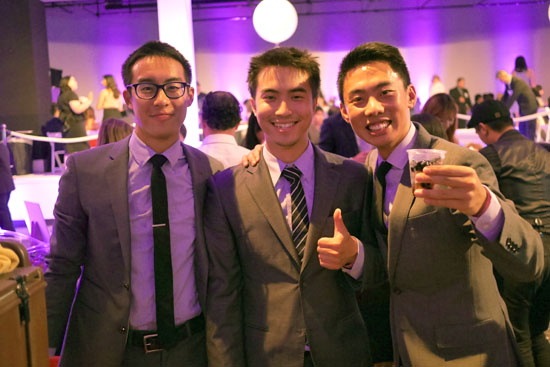 L:
The
Bundaberg
rep was smoldering, especially with his Oz accent.
R:
Boba 7
's
#Bobagasm
came fortified with Moutai tonight. Now, if only there was a way to infuse the boba pearls themselves with booze...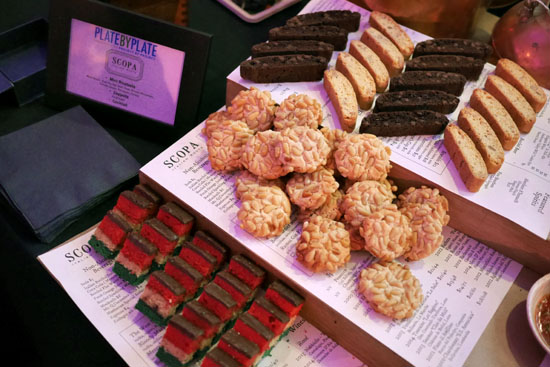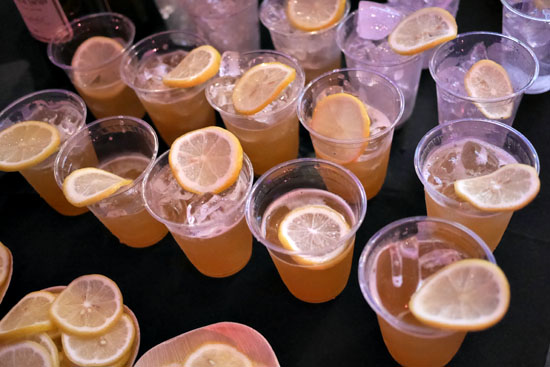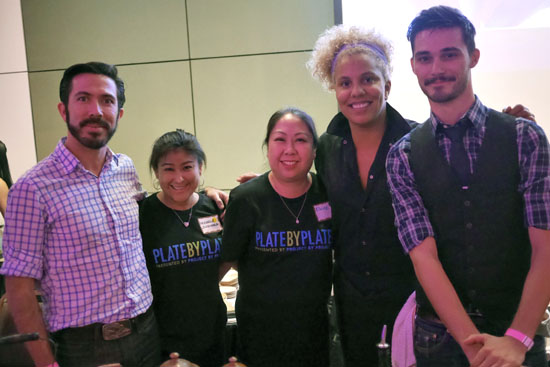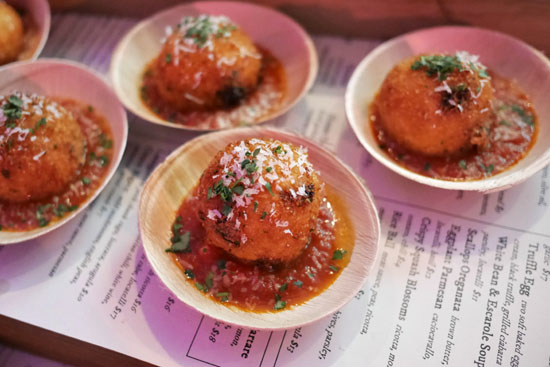 Naima Wilson and the
Scopa Italian Roots
team put on a strong show with their
Mini Riceballs | meat sauce, peas, ricotta, mozzarella, tomato sauce, parmesan, parsley
,
Italian Cookies
, and specialty libation.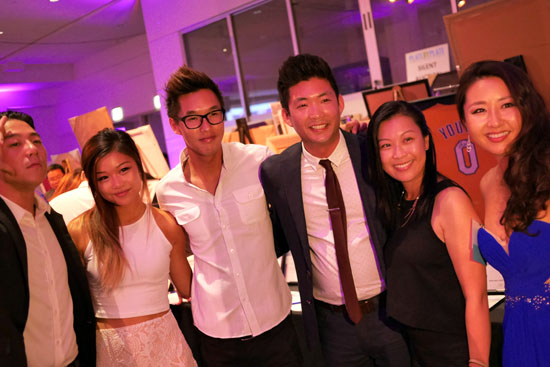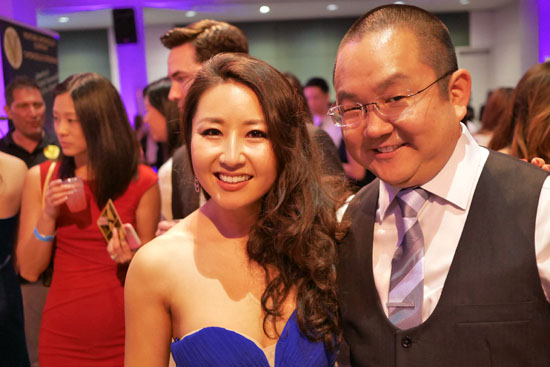 L:
President Yulree Chun with sundry VIPs, including Dan Matthews from Wong Fu Productions and Phil Yu of Angry Asian Man.
R:
Yulree again, this time with actor Aaron Takahashi (whom you may recognize from that commercial).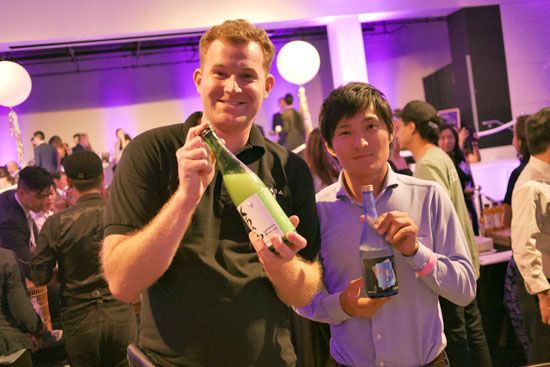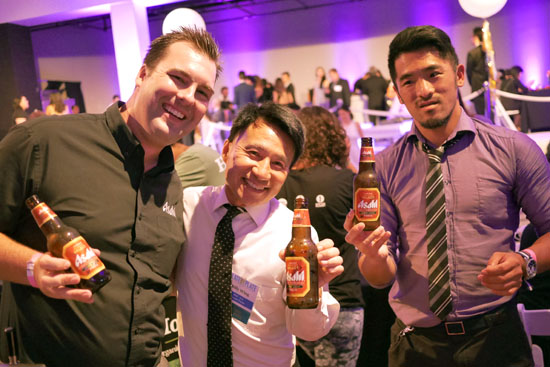 L:
Pacific International Liquor
offered up a number of different sakes as well as
Kawaba
beer.
R:
Asahi
's Taichi Seki was in the hizzy tonight, accompanied as always by Events Team Member Billy Wing.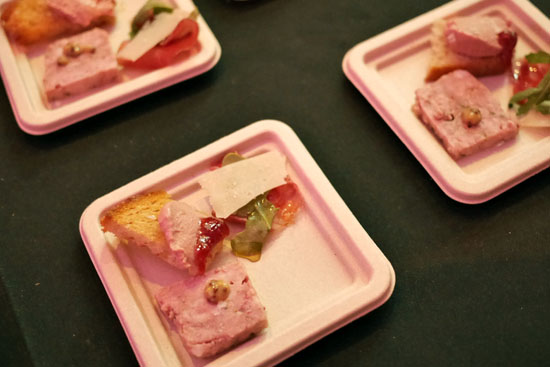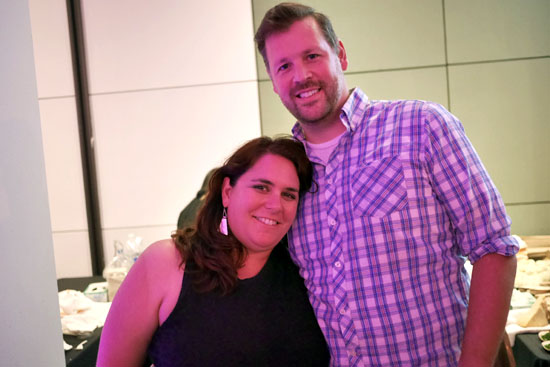 Chef Gavin Mills and wife Jessica showed off some sharp charcuterie skills via their
Chicken Liver Mousse | raspberry jam
,
Country Pate | mustard
, and
Bresaola | Parmesan, lemon, arugula
. Look out for Mills to take over the old Cucina Rustica spot with a new joint called Miro.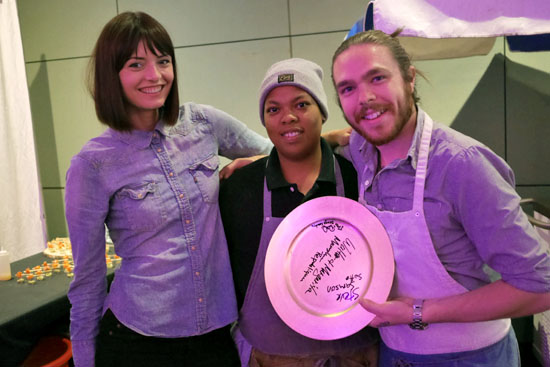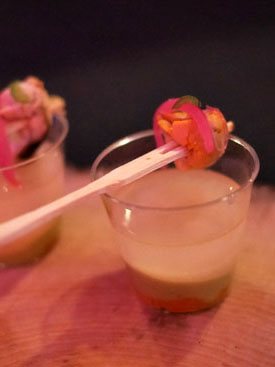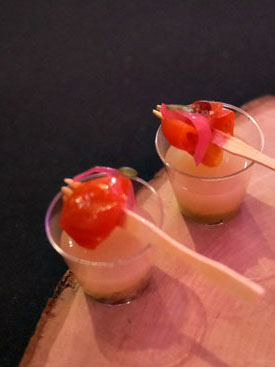 The winners of
last year
's "Golden Plate" award (not the plate pictured--that's this year's award, being passed around for signatures), Phillip Lee and wife-slash-model-slash-Pastry Chef Margarita Kallas served up both
Sea Urchin Sake Shooters
and
Vegetarian Sake Shooters
to promote
Scratch Bar
and
The Gadarene Swine
, respectively. Keep an eye out for a new incarnation of the former restaurant to drop in the Valley in the coming weeks--should be good, especially with how things are going at Gadarene.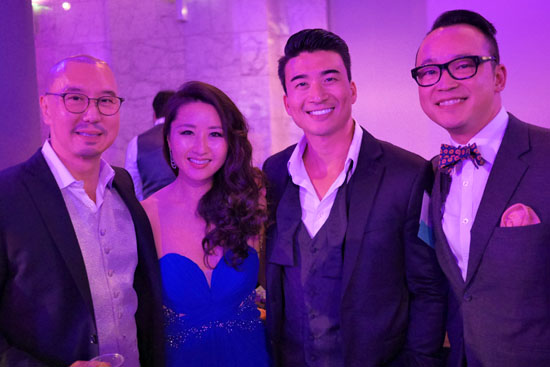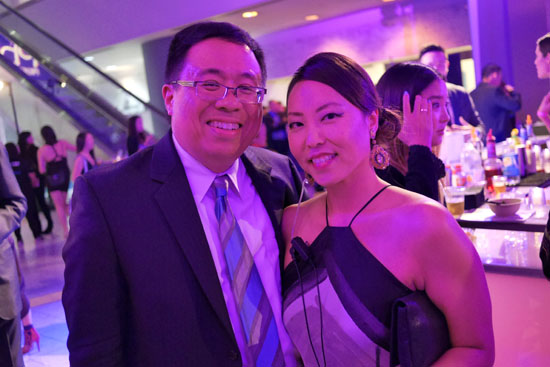 L:
President Yulree Chun and Outreach Team Member John Wirfs with Kerry Moy of M2K Group (the company behind the likes of Spear, EMC, and Triple 8).
R:
Events Team Member Cathy Hong with perennial PbP fixture Sherwin Goo (whom I believe I first encountered all the way back at
2010's event
).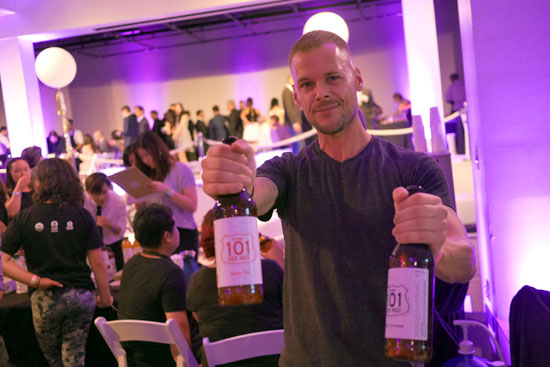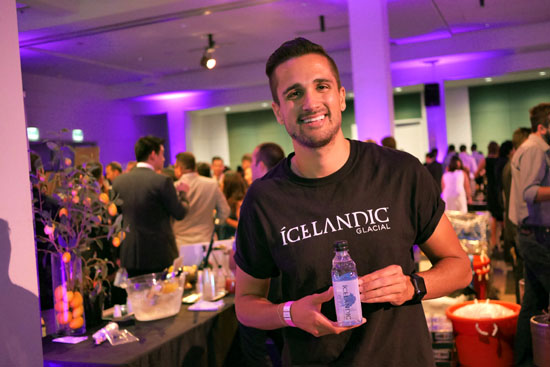 L:
101 Cider House
is the first cidery to be represented at Plate by Plate. About damn time, as their flagship, funky
SoCal Scrumpy
was particularly worth trying.
R:
PbP's water supplier is always key, and tonight's duties were handled by
Icelandic Glacial
.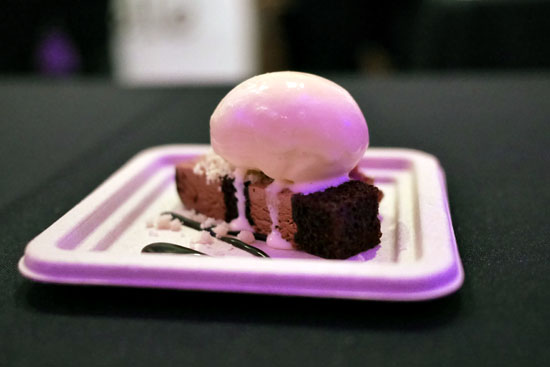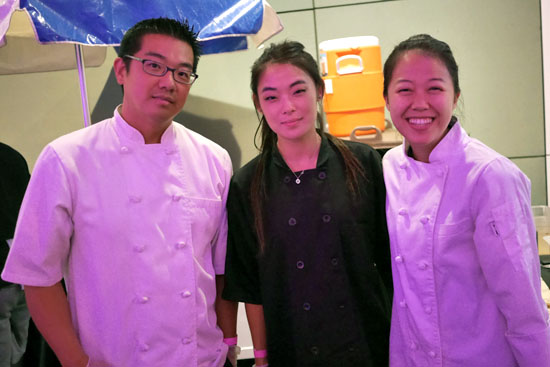 One of the schmancier desserts this evening was undoubtedly the
Chocolate Mousse Cake | cherries, Jordan almond ice cream
from
Quenelle
's John Park.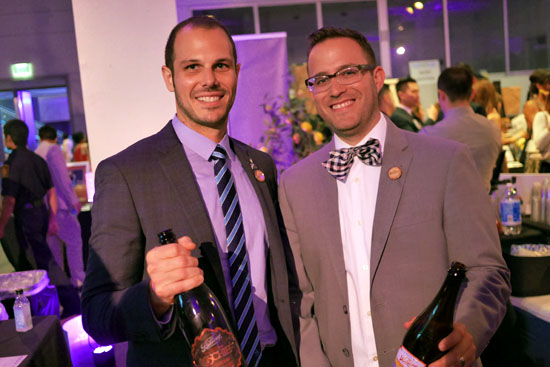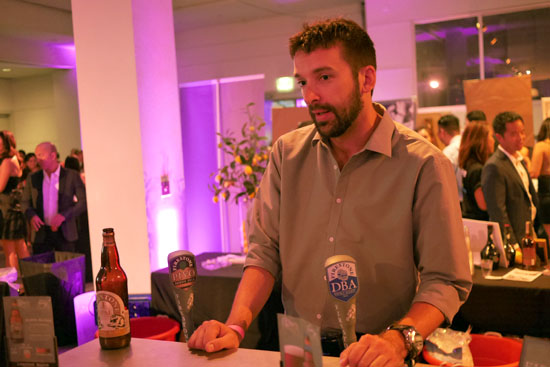 L:
Orange County's most celebrated brewery
The Bruery
was repped tonight by Manager of Sales and Marketing Benjamin Weiss, who marks his return to the event after an absence last year.
R:
Another beacon of the Southern California beer scene,
Firestone Walker
made their first appearance (hopefully not their last) at Plate by Plate this evening.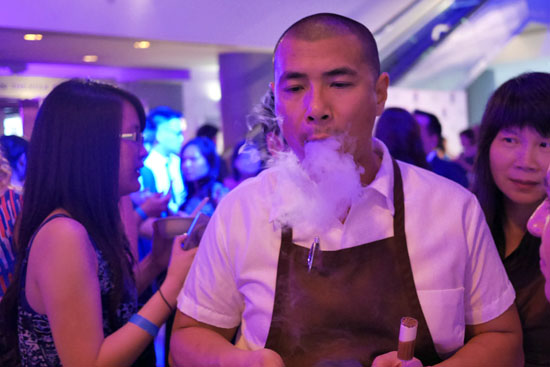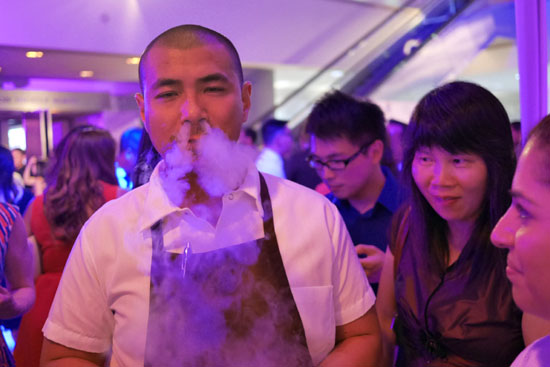 (Ex-)Faith & Flower's Michael Hung reels from the full force of Patina's Dragon's Breath.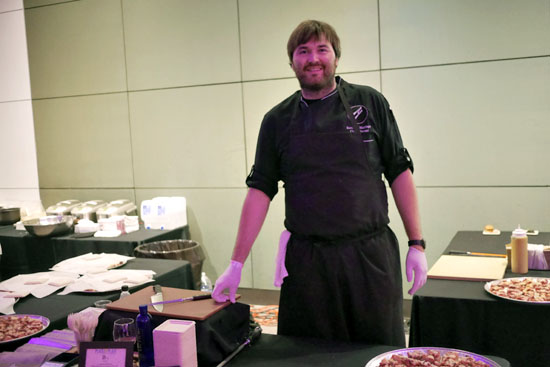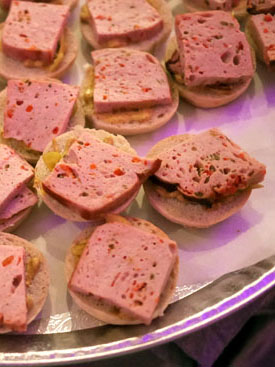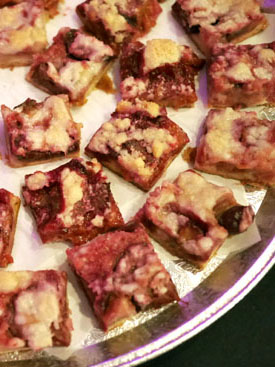 Given the crowd tonight, I'm pretty sure that Bernhard Mairinger from the new
BierBeisl Imbiss
was the tallest person in the building. Food-wise, he had
Leberkas Semmerl with Spicy Brown Mustard
, a sort of veal meatloaf, as well as
Linzer Kipferl
, shortbread cookies with apricot jam and dark chocolate glaze. The Chef is also working on a larger version of BierBeisl proper on the Westside, so definitely look out for that in the coming year.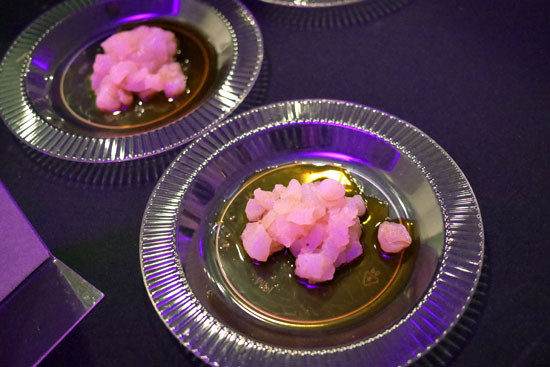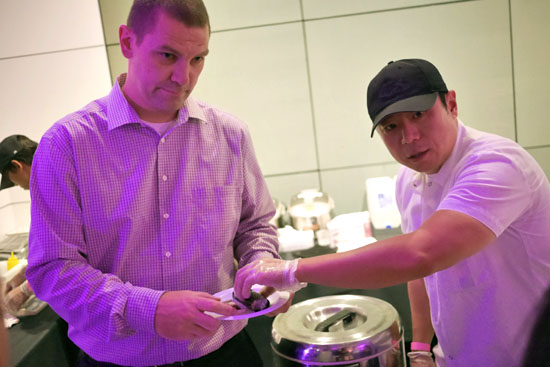 Headed by Kevin Bergschneider,
KazuNori
had the longest line for sure, not surprising given their vast menu of
Tuna Sashimi
,
Halibut Sashimi
,
Toro Hand Roll
,
Crab Hand Roll
,
Yellowtail Hand Roll
,
Salmon Hand Roll
,
Scallop Hand Roll
, and
Cucumber Hand Roll
,
all made to order
.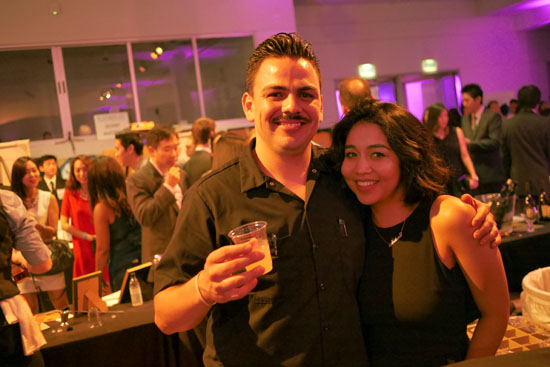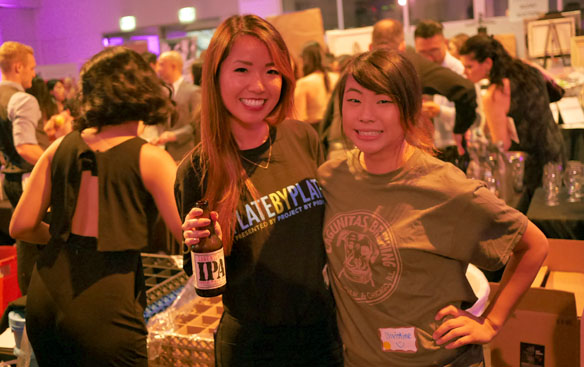 L:
Newbie brewer
Phantom Carriage
made a good showing for itself with a duo of sour, funky beers. That fine fellow is Bar Manager Jairo Bogarin, by the way.
R:
For those of hoppier disposition,
Lagunitas Brewing Company
had plenty of their signature IPA.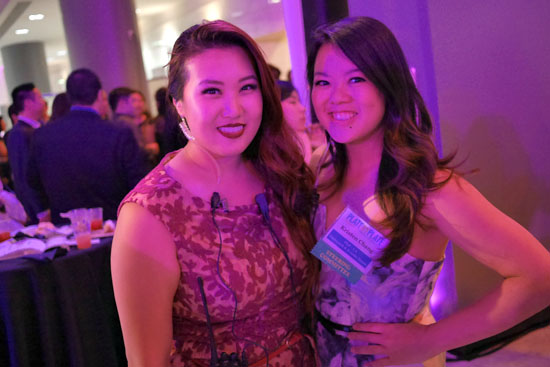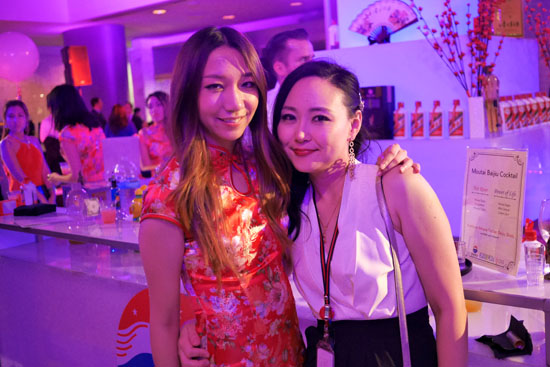 L:
Events Team Members Denise Chang and Kristen Chang, looking floral.
R:
CNS marketing rep Amy Hsu with one of her many, many models.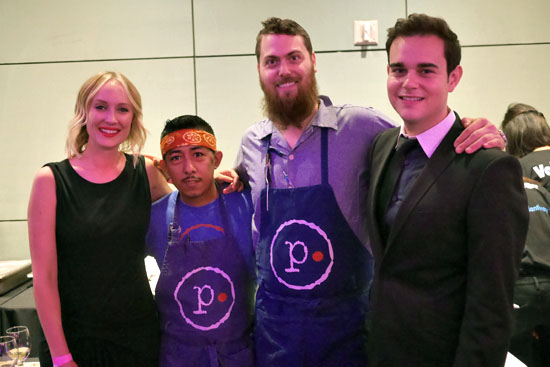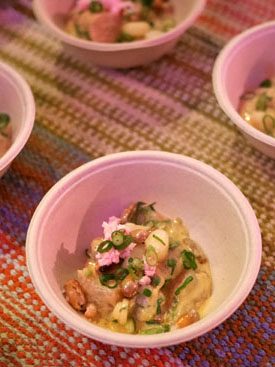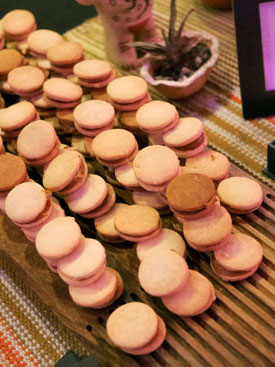 Picca
's
Ceviche Kokoda
and
Peruvian Alfajores with Cajeta
seemed to go over well with the crowd. Note Josh Drew (who's moving on to a different role at Sprout) as well as GM Lauren Smith and new Chef de Cuisine Tomas (only the first name is given, à la Madonna).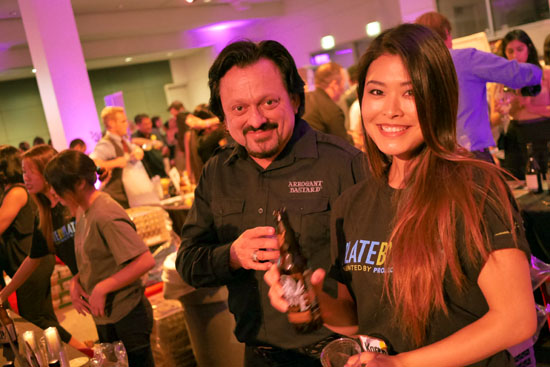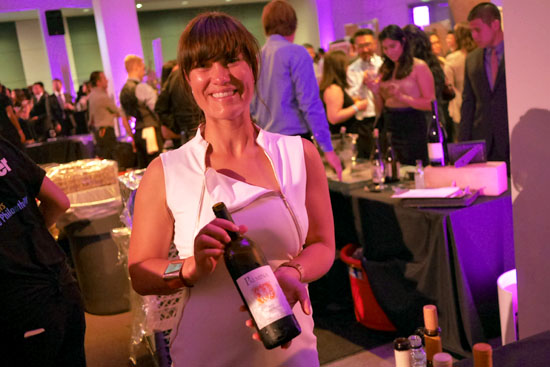 L:
Stone
's rep certainly looked the part of the
Arrogant Bastard
ale he was plying.
R:
Palmina
's Chrystal Seals Clifton looked as refined as her wine in that little white number.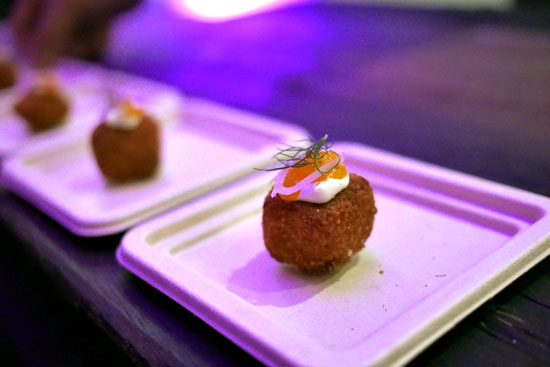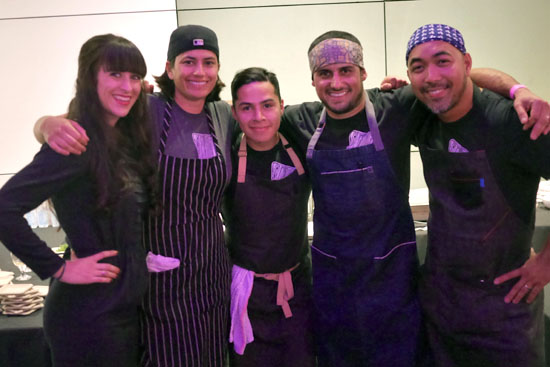 Unsurprisingly,
Bestia
's
Pan Fried Ciccioli | pickled fennel, candied kumquats, creme fraiche, pea tendrils
was an early favorite. Needless to say, we'll all be looking forward to Ori Menashe's upcoming Middle Eastern place on Mateo.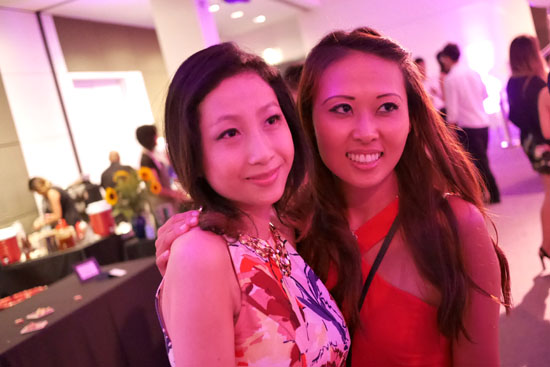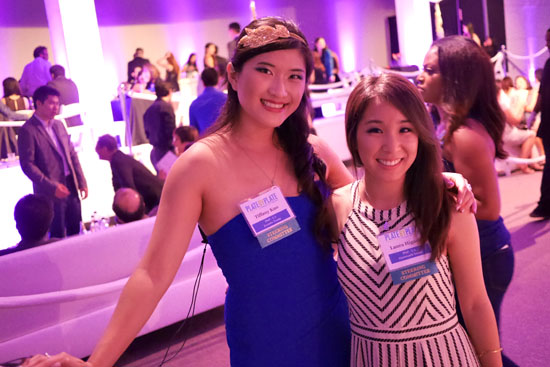 L:
Former PbP team member Kristy Lu returned to the event with a friend. I can't say the same about Eric Tung.
R:
Events Team Member Tiffany Kuo and Operations Team Member Laura Higashi.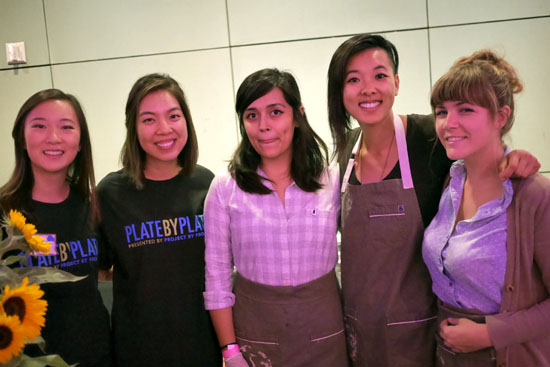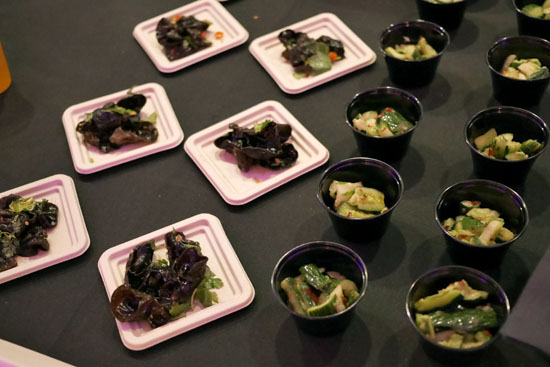 Pine & Crane
's Moonlynn Tsai offered up the restaurant's delightful
Woodear Salad
, as well as
Cucumber Salad
,
Passion Fruit Green Tea
, and a superb
Passion Fruit Shandy
.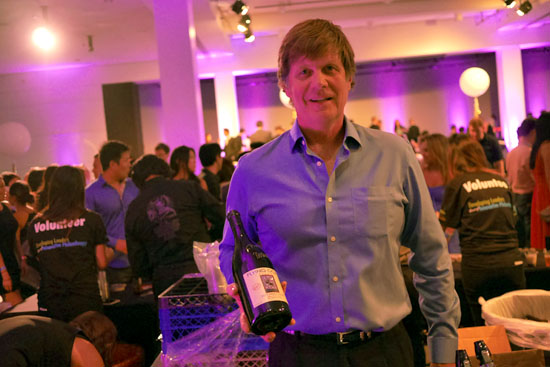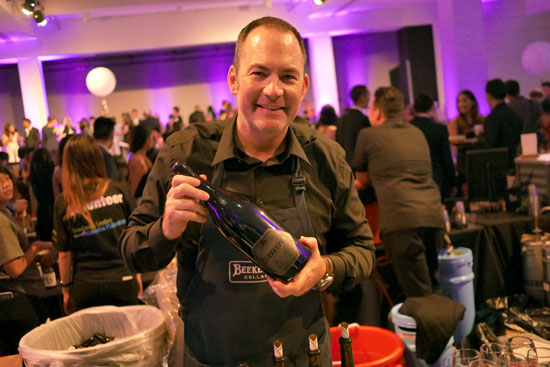 L:
Winemaker Norm Yost was on deck for Pinot Noir-specialist
Flying Goat Cellars
.
R:
Beekeeper Cellars
founder and Kevin Spacey lookalike Ian Blackburn poured one of his limited production Zinfandels, the
2012 Howell Mountain "Black Sears Vineyard"
.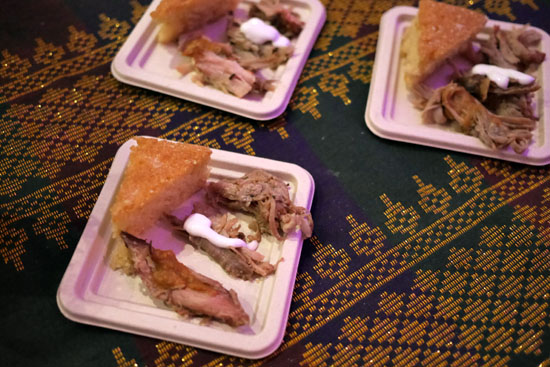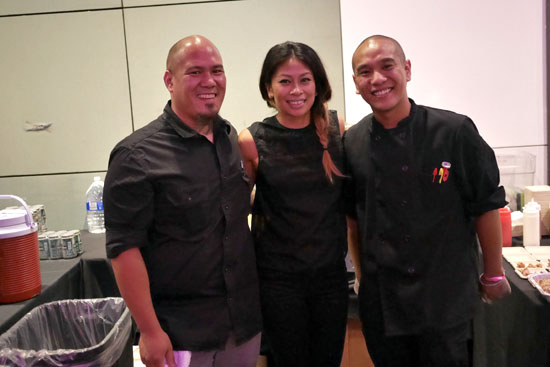 The Park's Finest
had Chef Johneric Concordia and GM Ricky Bautista plating up some
San Pablo Pulled Pork
and
Ann's Cornbread Bibinka
.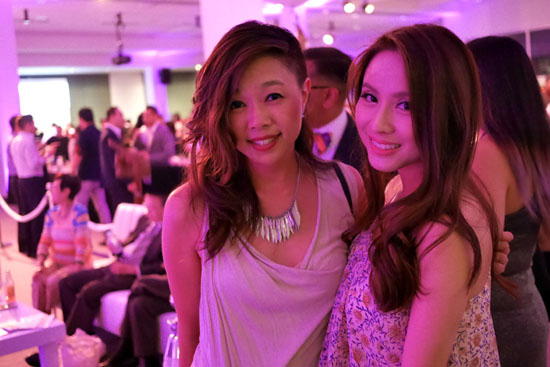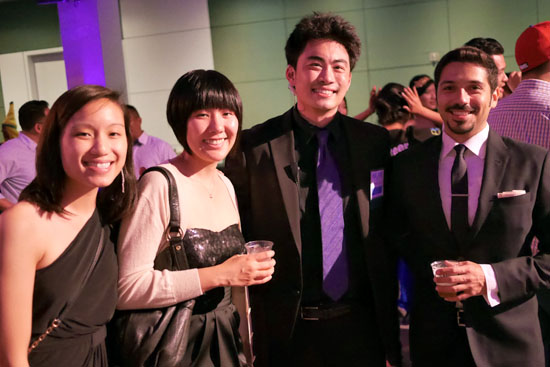 L:
Former OCA head and Yulree roommate Lisa Thong (now with edgier haircut) joins ex-PbP'er and noted Hello Kitty enthusiast Kayla Vu.
R:
Events Team Member Patrick Lee and accomplices.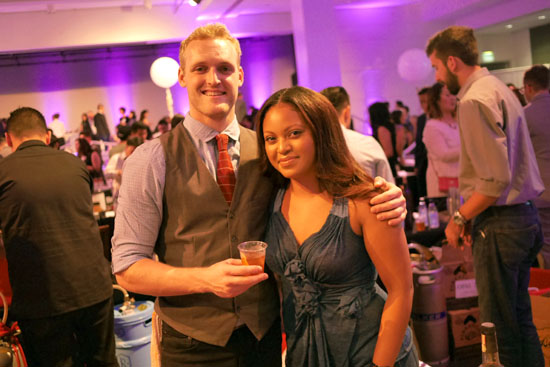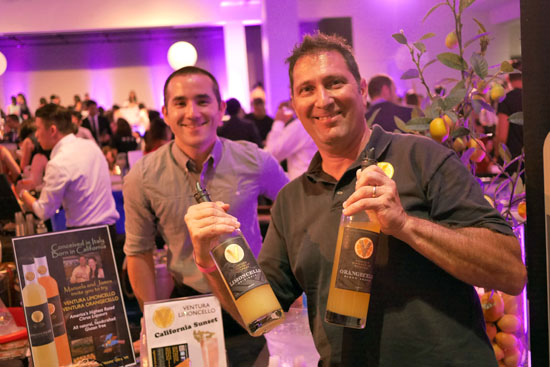 L:
1886 at The Raymond
ended up winning the award for best beverage thanks to their
Monte Carlo | a delicious Old-Fashioned variation using Benedictine instead of sugar & Rittenhouse Rye whiskey
.
R:
Last up on the beverage docket was
Ventura Limoncello
and effervescent founder James Carling.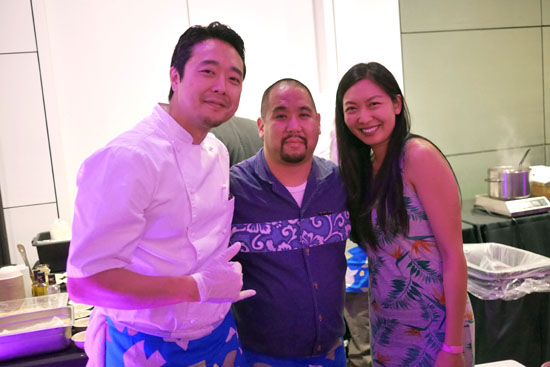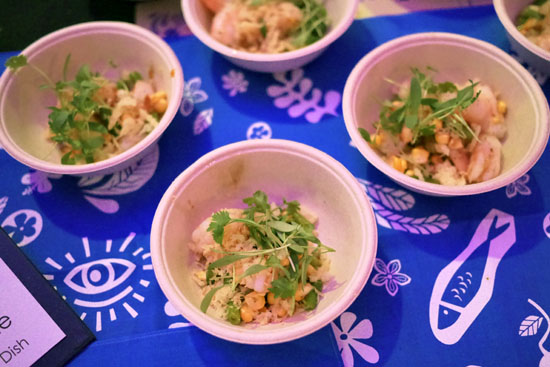 A-Frame
's new Executive Chef Johnny Yoo and Yoshi served up a nod to the current poke craze with their
Sweet Chili Shrimp Poke | sweet chili sauce, haricot vert, yellow corn, crispy tempura, cilantro
. Reiss Company marketing head Andrea Sun, meanwhile, was fetching as well in her tropical number.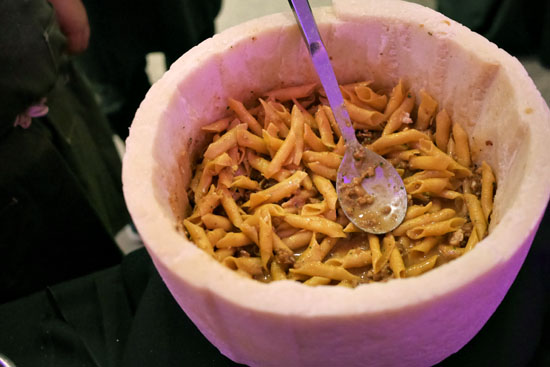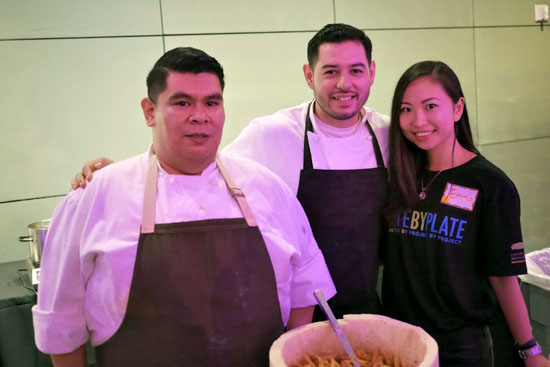 The award for most cheese-centric dish of the night has to go to
Drago Centro
with their
Garganelli | pork sauage, Parmesan cheese, fennel pollen
. I could smell the Parm from ten feet away.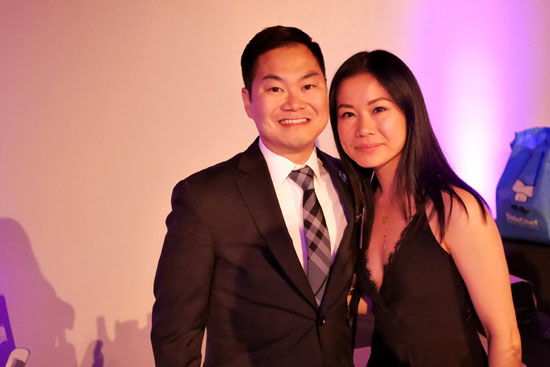 L:
National Treasurer Eden Tol and Events Team Member Ginny Chan.
R:
It just wouldn't be a complete Plate by Plate without Starry Kitchen frontman Nguyen Tran and his signature banana suit. In a throwback move, he served SK's iconic
Crispy Tofu Balls with Spicy Sriracha Aioli
once more, and even rocked the exact same sandwich board he did back when I first encountered him at
Plate by Plate 2010
.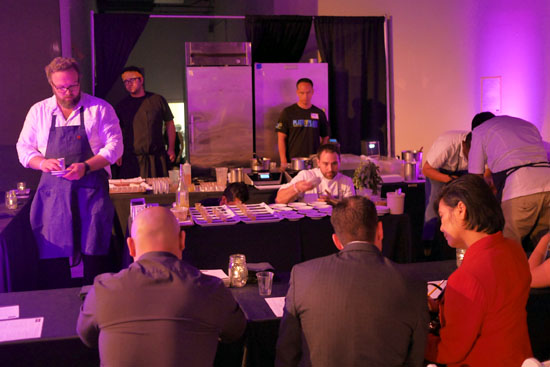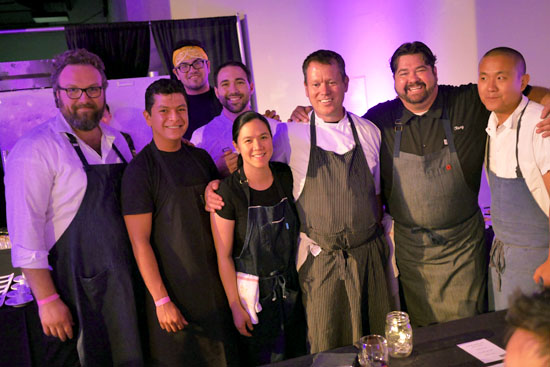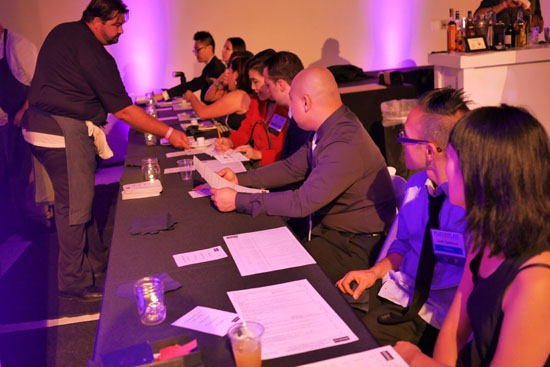 This year, we decided to really step up the VIP area and offer two seated dining experiences. Staffed this evening by Executive Chef Walter Manzke, Pastry Chef Margarita Manzke, GM/Beverage Director Taylor Parsons, and Director of Culinary Operations Rory Herrmann,
Republique
certainly had the most complex kitchen setup ever to grace Plate by Plate. The restaurant also had the lengthiest menu ever, a mini tasting comprising:
Taylor Bay Kumamoto Oyster | heirloom tomato, jalapeño, lime
;
Celery Cocktail | serrano, pineapple, tequila
;
Golden Corn Soup | green Thai curry
;
Cook Ranch Pork Belly | Black River osetra caviar
; and
Crème Caramel | Australian black winter truffles
for dessert. It's no surprise that they ended up taking home the prize for best dish.

The action on the VIP stage.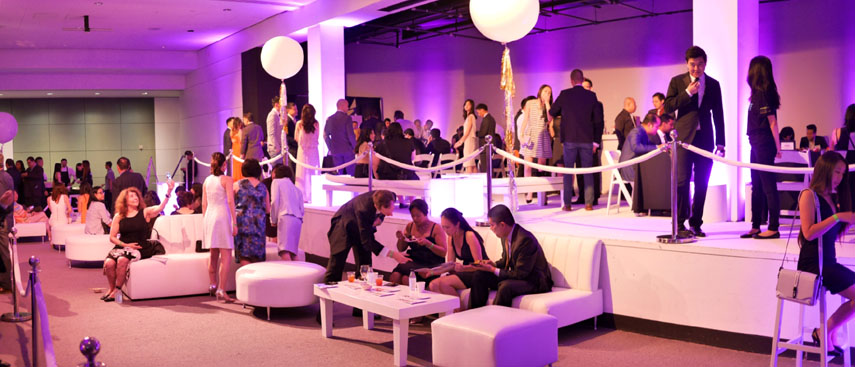 The Moutai VIP Lounge offered up something scarce: actual seating.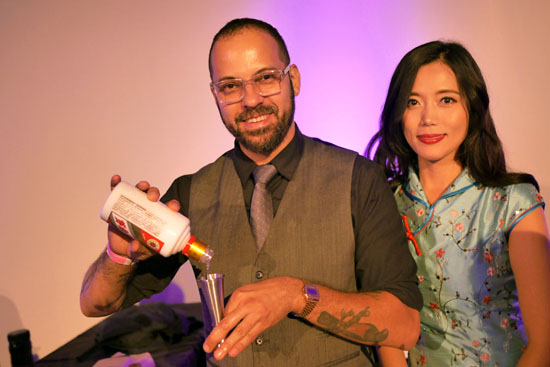 VIP bar duties were the charge of
Pour Vous
, helmed tonight by Bar Manager François Vera and sponsored by
CNS
. Vera created an inventive twosome of
baijiu
-focused cocktails: the
Chocolat Chinoise | Moutain Yingbin, yellow Chartreuse, China-China amaro, chocolate bitters, flaming absinthe
and the
China Car | Moutain Yingbin, Mandarine Napoléon, fresh lemon juice, simple syrup, orange blossom
. Damn he looks good here.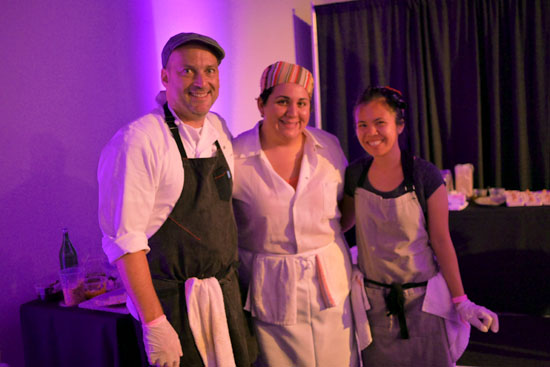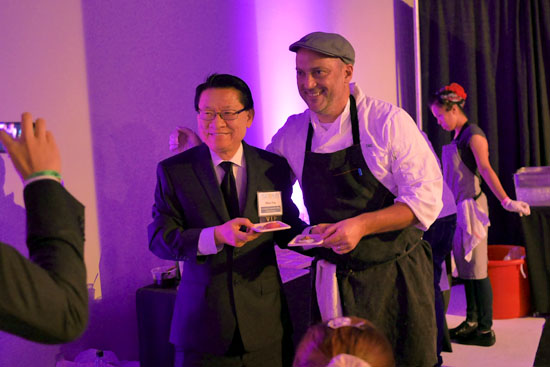 Not to be outdone, Steve Samson and
Sotto
presented a refreshing crudo bar concept, with a three-course menu of
Albacore Conserva | heirloom beans, pickled mustard seeds
;
Big-Eye Tuna Crudo | smoked eggplant puree, sweet onion, marinated zucchini, breadcrumbs
; and
Scallop Crudo | hazelnuts, market peaches, black summer truffles
. Another crowd-pleaser to be sure. Initially, there was actually a plan to have seated stations in the general admission area too, but space limitations prevented such a setup. Perhaps next year...

Previous Plate by Plate posts: 2014, 2013, 2012, 2011, 2010