Moruno (Los Angeles, CA)
Moruno Restaurant at the Original Farmers Market
6333 W 3rd St, Los Angeles, CA 90036
323.372.1251
www.morunola.com
Tue 03/08/2016, 07:30p-10:50p

The latest restaurant from a now Chait-less Sprout group comes to us courtesy of Chef Chris Feldmeier and David Rosoff. Named after
pinchos morunos
(a type of Moorish meat skewer), Moruno aims to present the North African- and Mediterranean-influenced cuisine of Southern Spain in a casual, live-fired manner. The place was announced in April 2015, and after a five-month stint of running a take-out window at the location, the team debuted the restaurant proper back in February.
About the Partners
: Rosoff actually worked in the music biz early in his career, but was introduced to wine by a former girlfriend. He wound up leaving entertainment, then took on positions in wine retail and wholesale before finding a job on the floor at the now-shuttered I Cugini in Santa Monica. This eventually led to a GM/Wine Director position at Michael McCarty's seminal Michael's in 1996, where Rosoff really began making a name for himself. After five years, he left and partnered up with
David Lentz
to open Opaline (at the current site of
Neal Fraser
's BLD). That placed closed in 2004 however, and he subsequently became GM/Wine Director at
Mark Peel
's
Campanile
.
It was here where he would meet Chris Feldmeier (a sous who'd come from Nine-Ten and Loews Coronado in San Diego) as well as
Matt Molina
, the restaurant's Chef de Cuisine. All three men left Campanile to join Nancy Silverton at
Mozza
, with Rosoff becoming GM/Wine Director, Feldmeier sous at Osteria, and Molina CdC at both Osteria and Pizzeria. Mozza, of course, blew up, and things went swimmingly for years, with Feldmeier even marrying Pastry Chef Dahlia Narvaez. However, Feldmeier ended up leaving the Mozzaplex in August 2013, with Rosoff following in February 2014. The two began thinking of opening their own place together, and settled on the concept for Moruno after experiencing its namesake skewers on a culinary research trip to Spain.

Moruno takes over the old
Short Order
, which closed last April. The space has been redone by
Studio Unltd
, the folks behind a number of notable projects including
Otium
,
PettyCash
,
BierBeisl Imbiss
,
Catch & Release
,
Bestia
,
MessHall
, and
BierBeisl
. Downstairs, you'll find a casual, woody indoor-outdoor dining area replete with a small bar, while the upstairs will house a Bar Vermut, a forthcoming vermouth bar, as well as a patio seating area.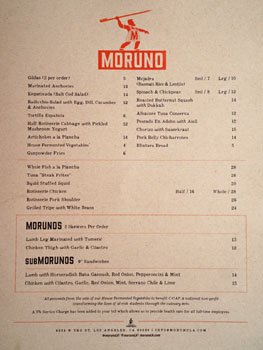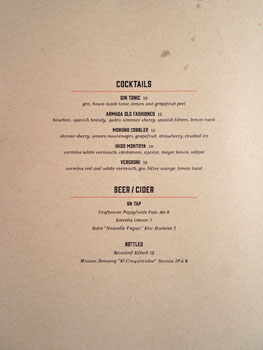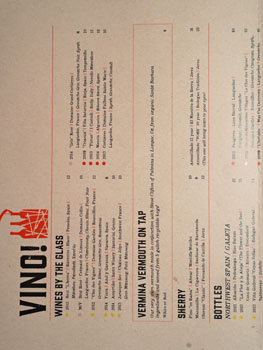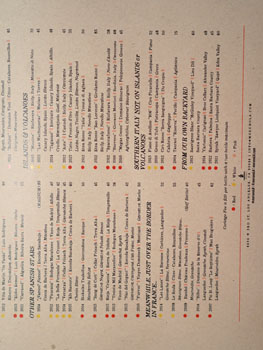 Moruno's
pintxo
-inspired menu is anchored by chicken and lamb skewers/sandwiches, while there's also a pretty complete selection of sides and even larger, more composed plates. Drink-wise, you get a small wine list (which includes sherries and a proprietary vermouth called Vermina, produced by Palmina), a handful of theme-appropriate cocktails from Dave Kupchinsky (whom we last saw at
The Fiscal Agent
), and a couple of beers to round things out. Corkage is $20, limit two bottles (waived for our sole bottle tonight). Click for larger versions.
A complementary bowl of olives to begin.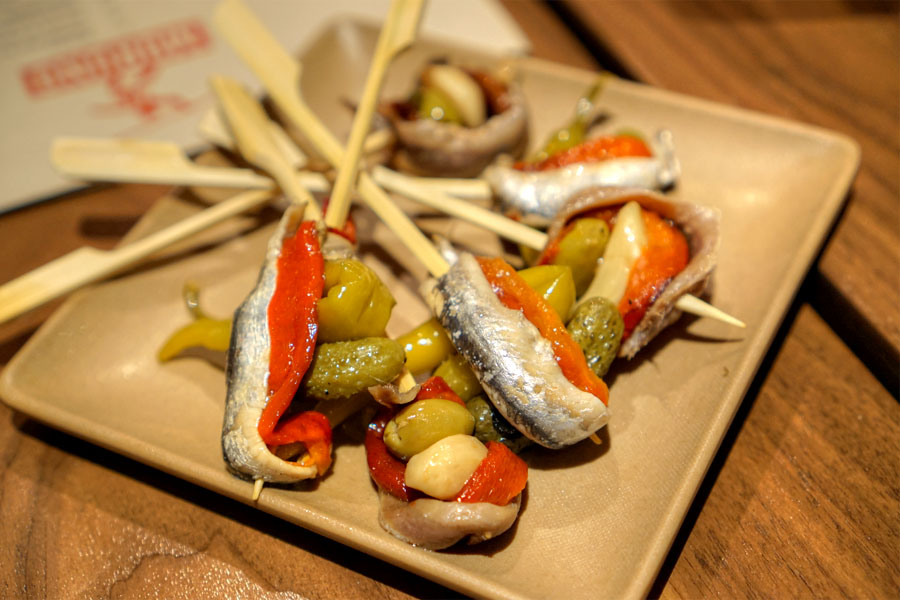 Also gratis were the
Gildas
, "lollipops" of anchovy, pepper, pickle, olive, and garlic. Nice acidity here to play off of the brine of the fish, while the chiles imparted a welcomed, lingering heat on the back end.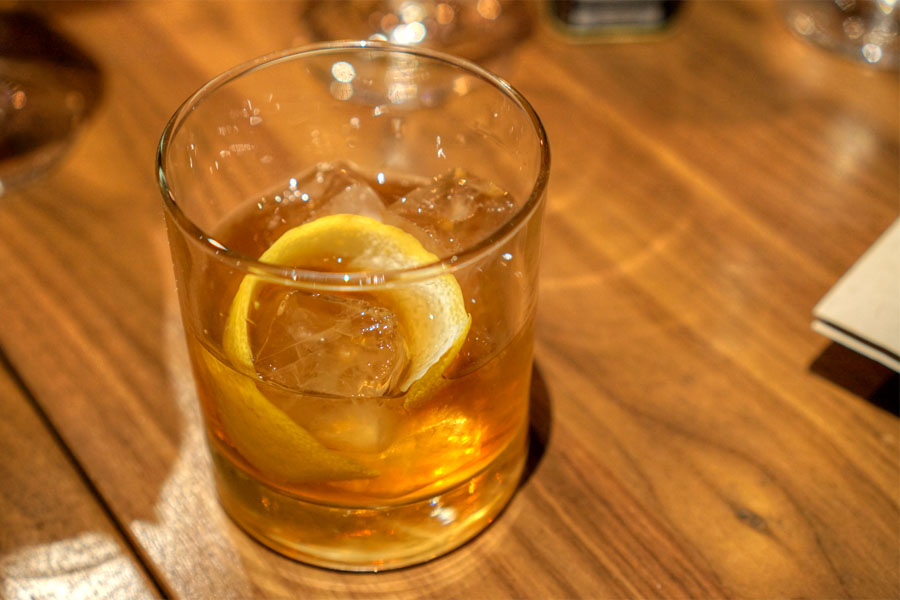 Armada Old Fashioned [$12.00]
| bourbon, spanish brandy, pedro ximinez sherry, spanish bitters, lemon twist
We made sure to try all five cocktails of course, and got started with this take on an Old-Fashioned. I found it more intensely-flavored and sugarier than usual, but still with a boozy, bittersweet base and countering overtones of citrus.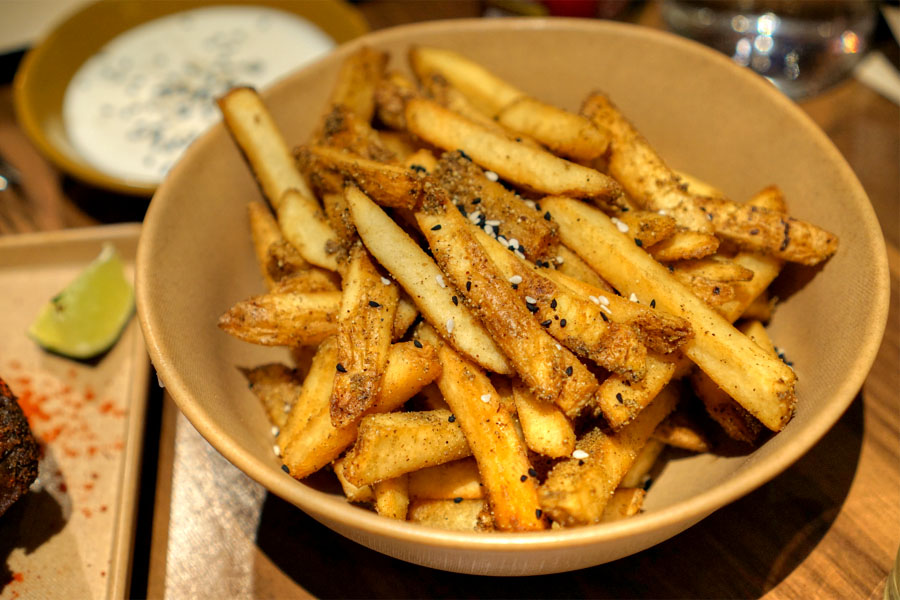 Gunpowder Fries [$6.00]
Fries were just crispy enough, with a heartiness to 'em that worked wonderfully with their aggressive spicing.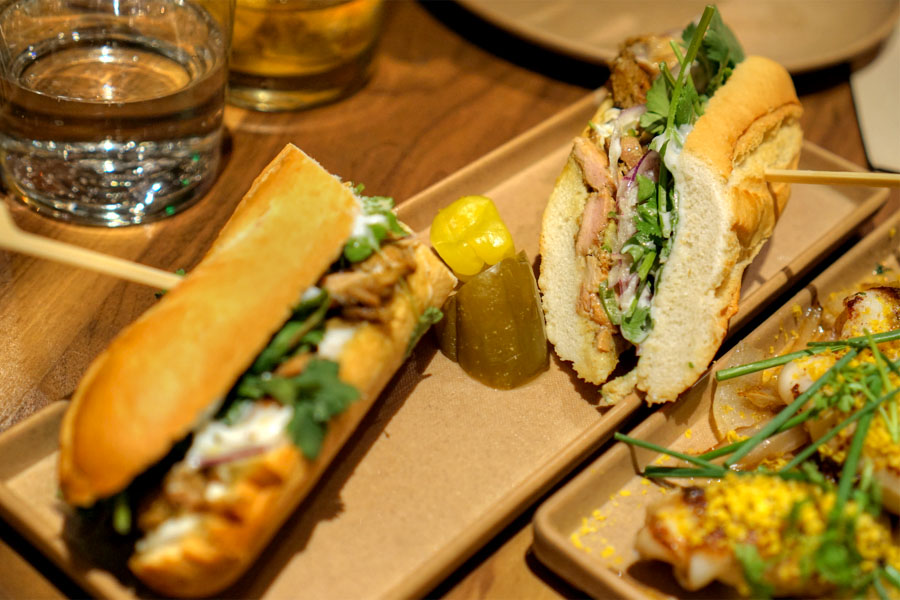 Chicken with Cilantro, Garlic, Red Onion, Mint, Serrano Chile & Lime [$13.00]
The first of two "Sub Morunos" was a hit, showing off a bevy of bright, tangy, herby, creamy nuances to pair with the chicken. Very nicely integrated with the baguette, ostensibly imported from Navarra.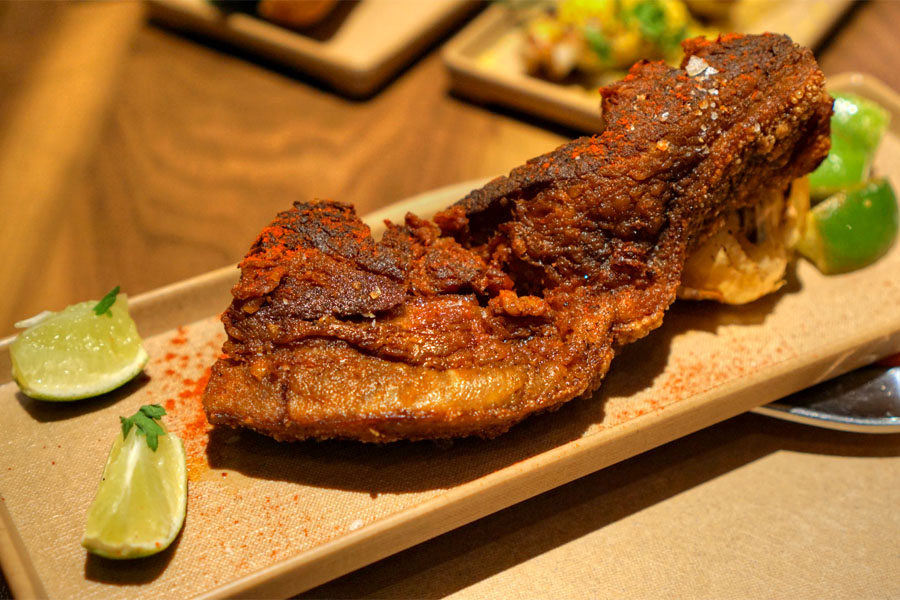 Pork Belly Chicharrones [$14.00]
Next came a legit-looking preparation of
chicharrón
: a super fatty, fried, flavorful, crunchy belly set against the potency of whole garlic and a squirt of lime.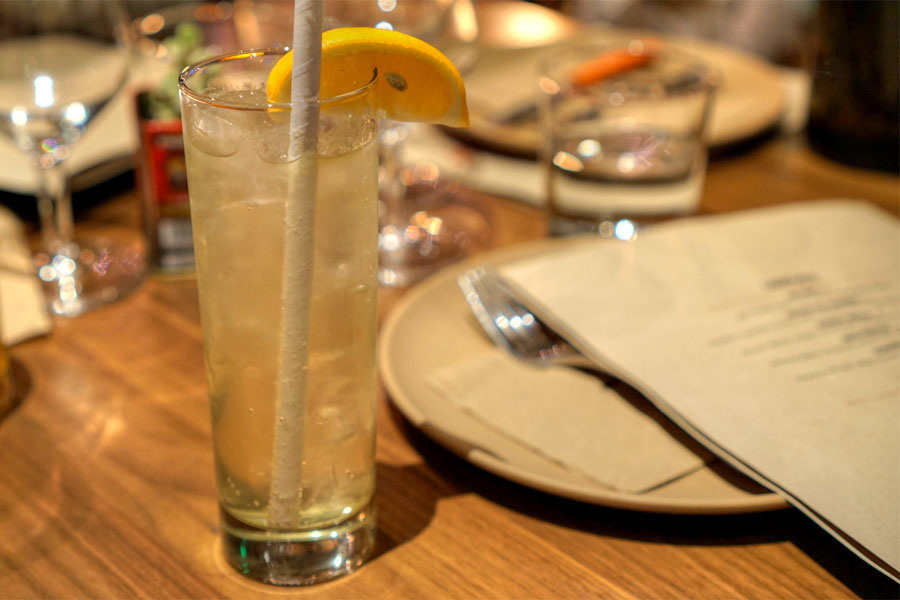 Inigo Montoya [$10.00]
| vermina white vermouth, cardamom, apricot, meyer lemon, seltzer
A reworked vermouth Collins was fruity and floral, with a zesty, almost ginger-y element to it. Refreshing.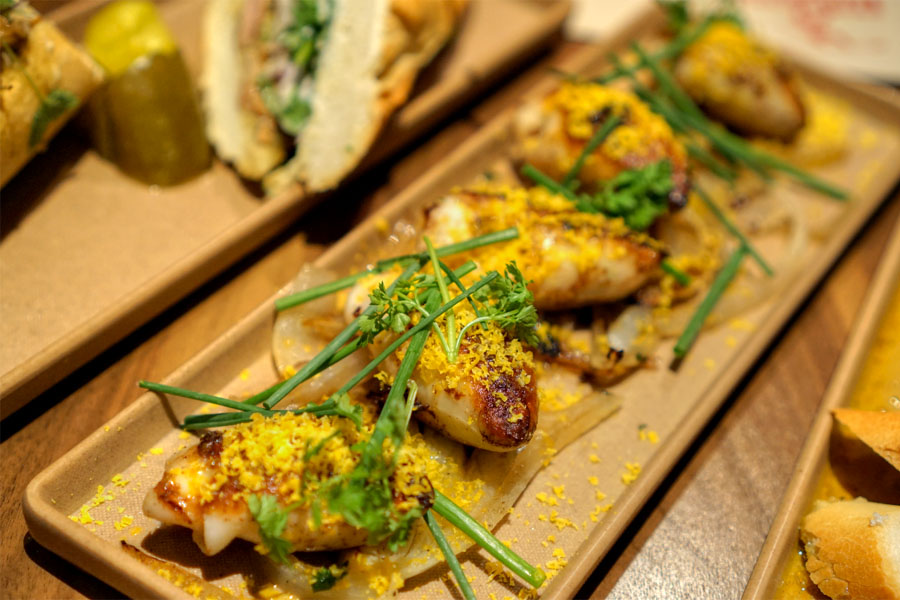 Squid Stuffed Squid [$20.00]
A chewy, charred, smoky outer layer of squid hid a brinier stuffing (which could've been juicier), both elements offset by the astringency of onion.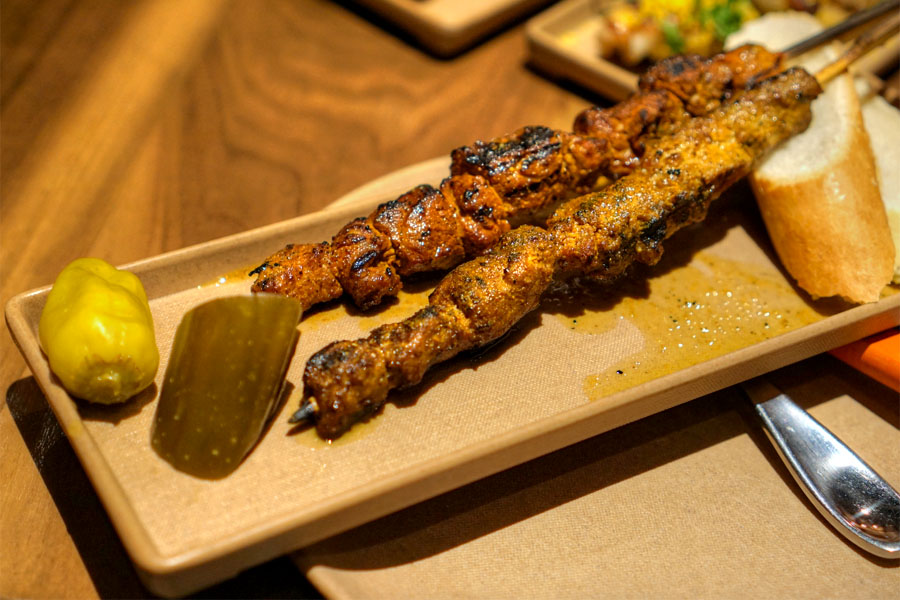 Lamb Leg Marinated with Turmeric [$13.00]
The lamb
moruno
was satisfying, coming out well-spiced, tangy, and herby, with a great smokiness to it.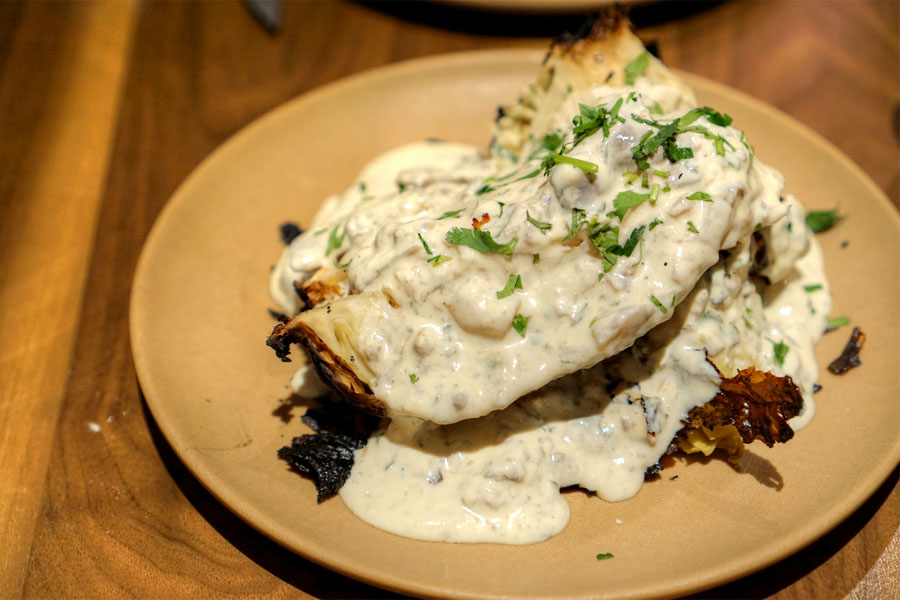 Half Rotisserie Cabbage with Pickled Mushroom Yogurt [$12.00]
Cabbage balanced a charred exterior with bittersweet, supple insides, the whole thing accented by copious amounts of creamy housemade yogurt. A bit reminiscent of the cabbage dish over at
Charcoal
.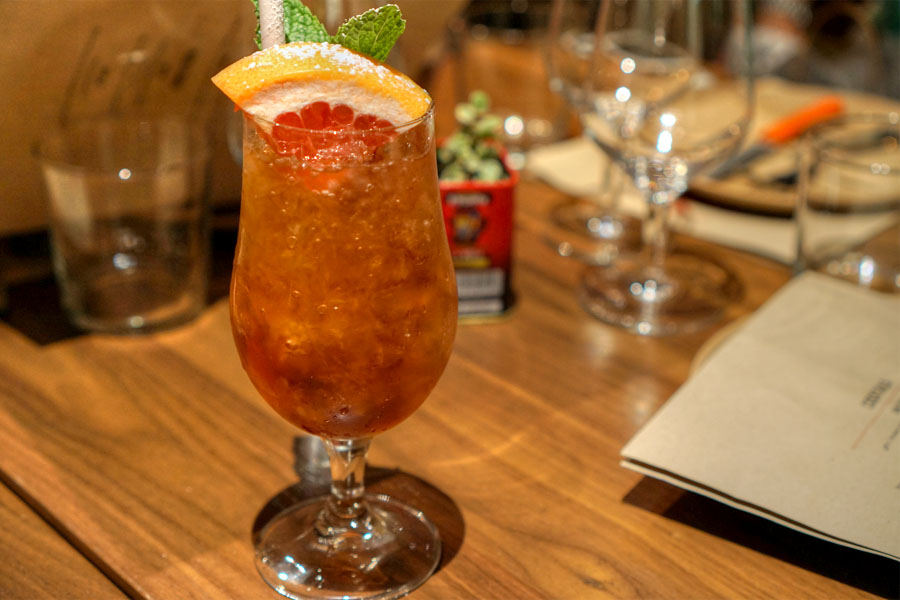 Moruno Cobbler [$12.00]
| oloroso sherry, amaro montenegro, grapefruit, strawberry, crushed ice
The cobbler came loaded with notes of sweet spice and dark fruit, with a nutty, oxidative quality from the sherry lingering long on the finish.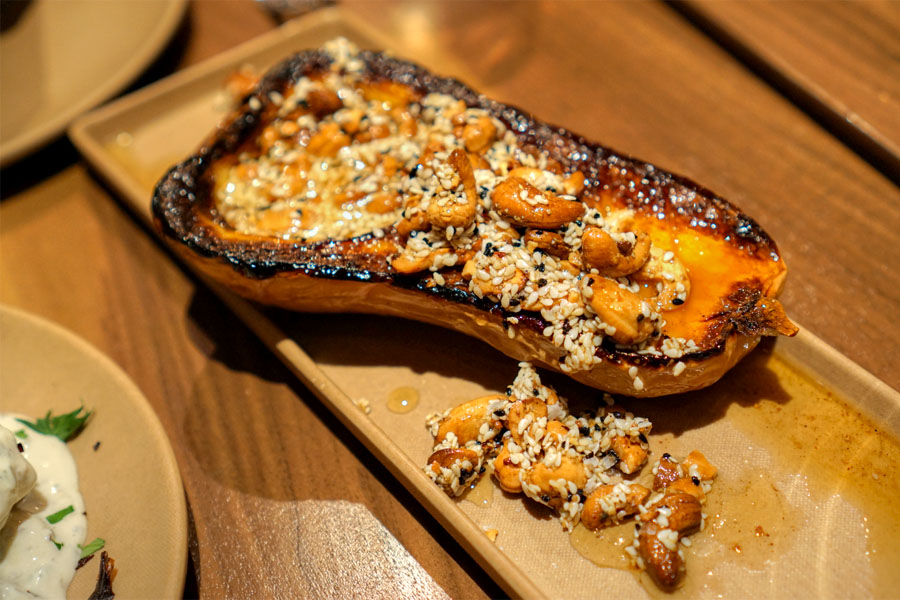 Roasted Butternut Squash with Dukkah [$14.00]
Feldmeier then sent out the squash, a smart presentation with roasty and sweet flavors evened out by the nuttiness, crunch, and earthy cumin-fueled spice of
duqqa
.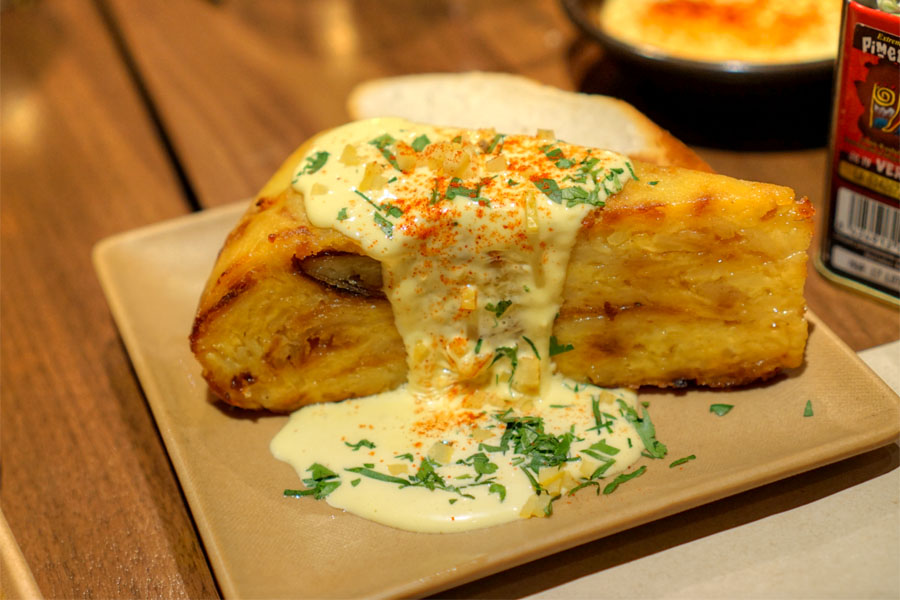 Tortilla Española [$6.00]
I would've liked a bit more textural variation on the tortilla, though it hit all the right notes taste-wise.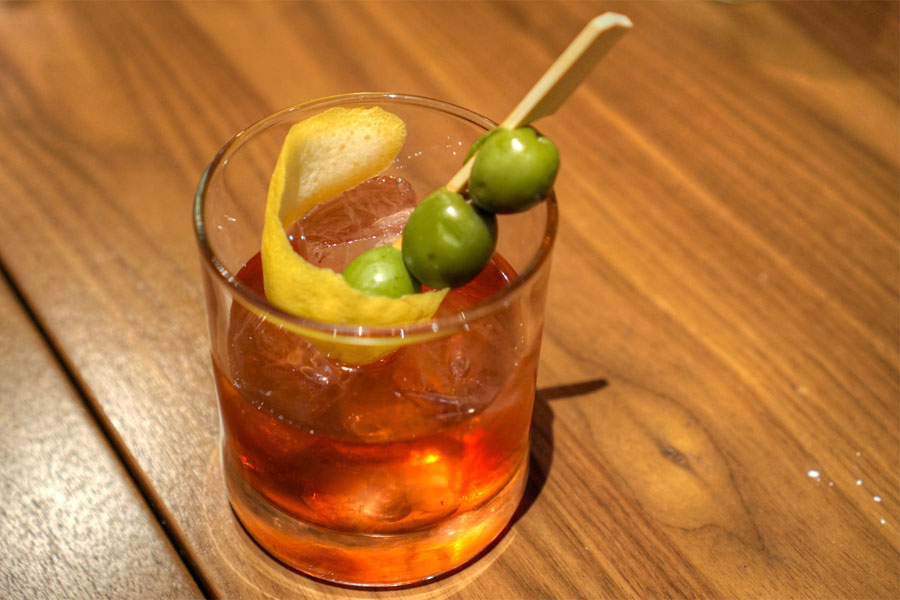 Vergroni [$10.00]
| vermina red and white vermouth, gin, bitter orange, lemon twist
The Negroni riff was perhaps my favorite cocktail of the night, a viscous drink with complex bittersweet, botanical, almost vegetal nuances cut by pricks of citrus.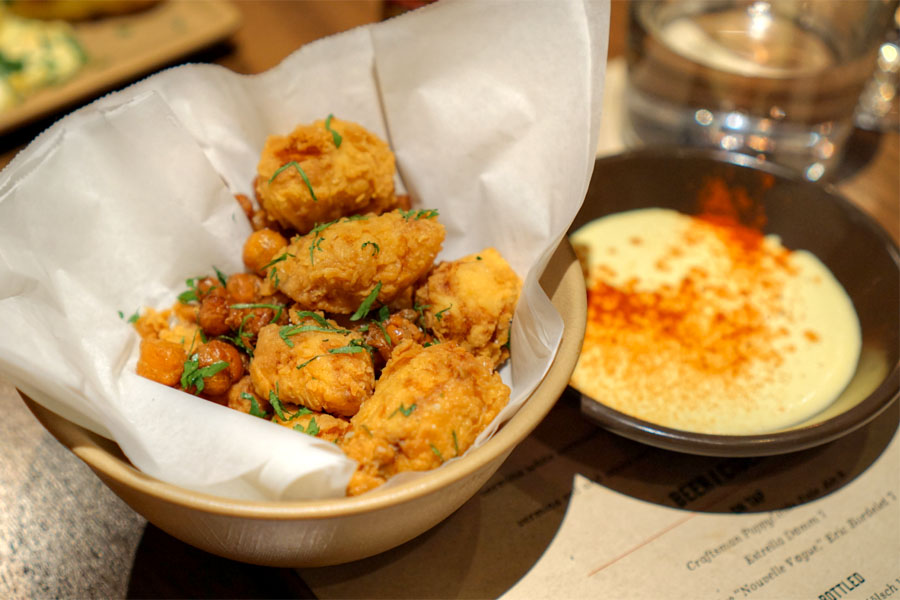 Pescado En Adobo with Aioli [$12.00]
Fish fritters were richly-spiced yet still ocean-y, and well-matched with the tart sherry aioli on the side. Yum.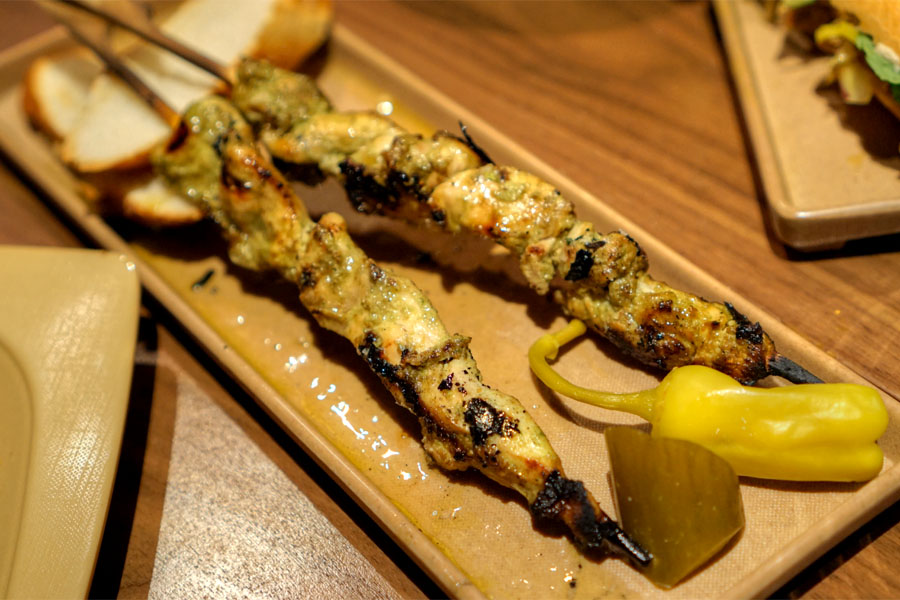 Chicken Thigh with Garlic & Cilantro [$12.00]
Chicken
morunos
delivered as well, the bird accented by hits of char, acid, and zippy cilantro.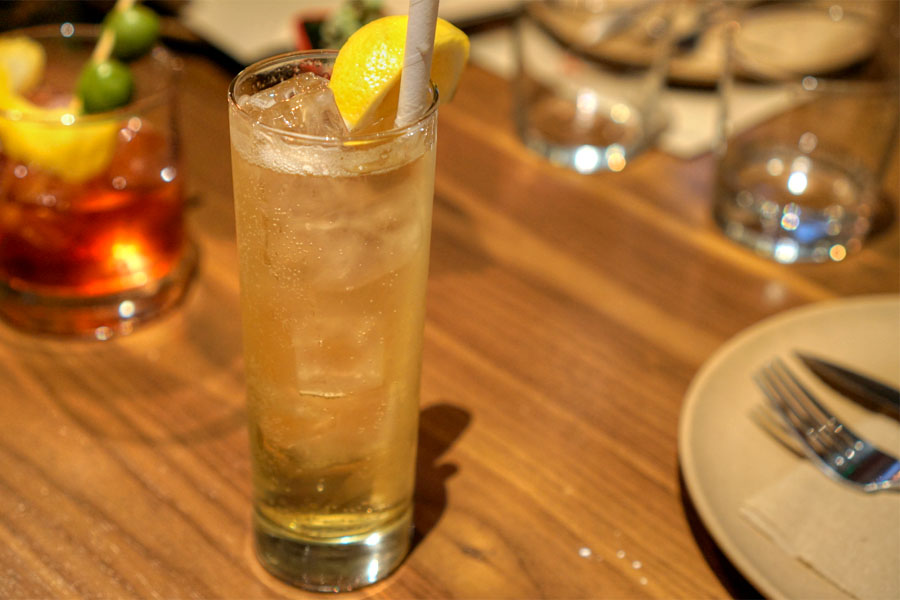 Gin Tonic [$10.00]
| gin, house made tonic, lemon and grapefruit peel
Our final cocktail brought out the G&T, a sweet-ish, somewhat herbal preparation that really highlighted the botanical nature of the gin.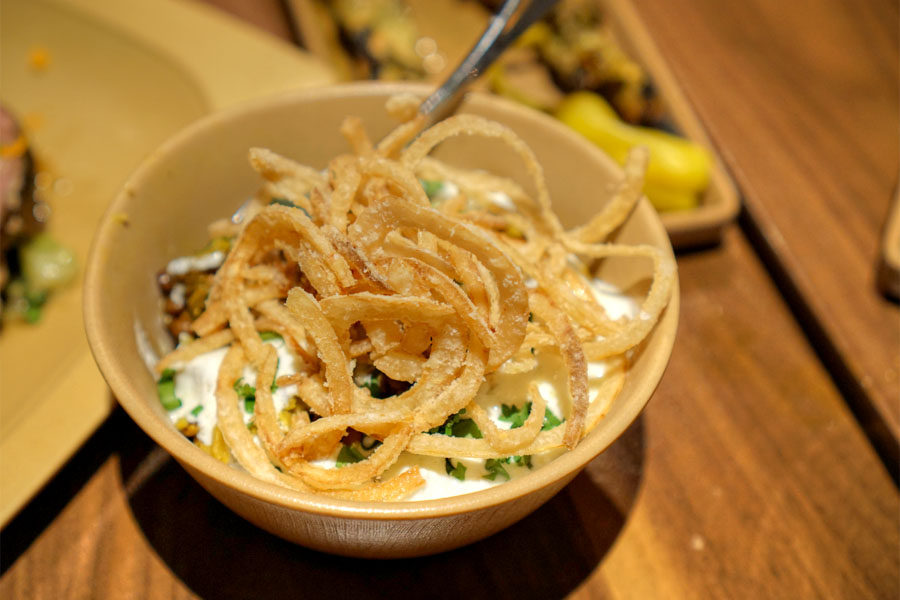 Mejadra (Basmati Rice & Lentils) [$10.00/lrg]
Mujaddara
was a surprise standout, giving us boatloads of hearty, warmly-spiced flavors offset by the coolness of yogurt. Great crunch from the onions, too.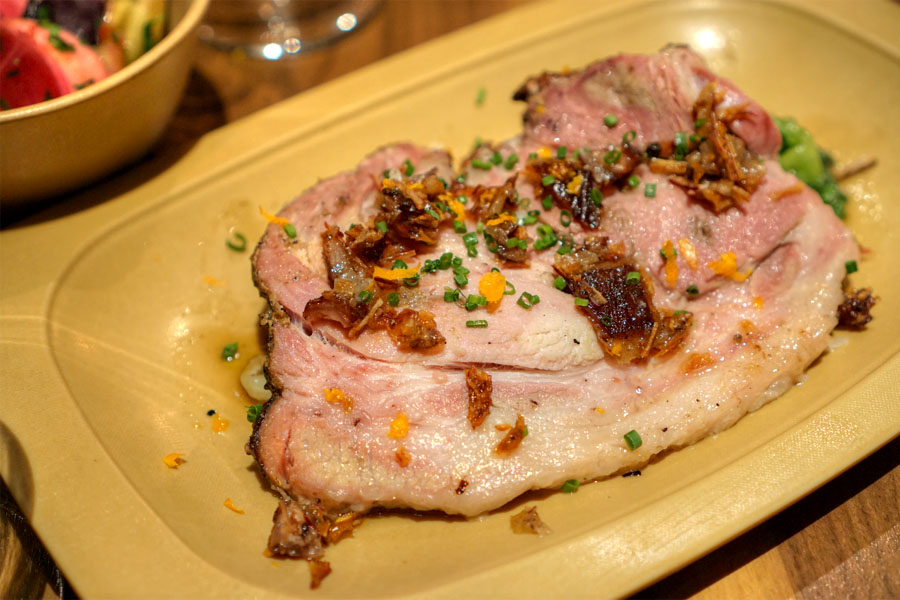 Rotisserie Pork Shoulder [$26.00]
A rotisserie'd shoulder arrived juicy, tender, and properly porky, with a particularly endearing bitter, wood-fired element to it.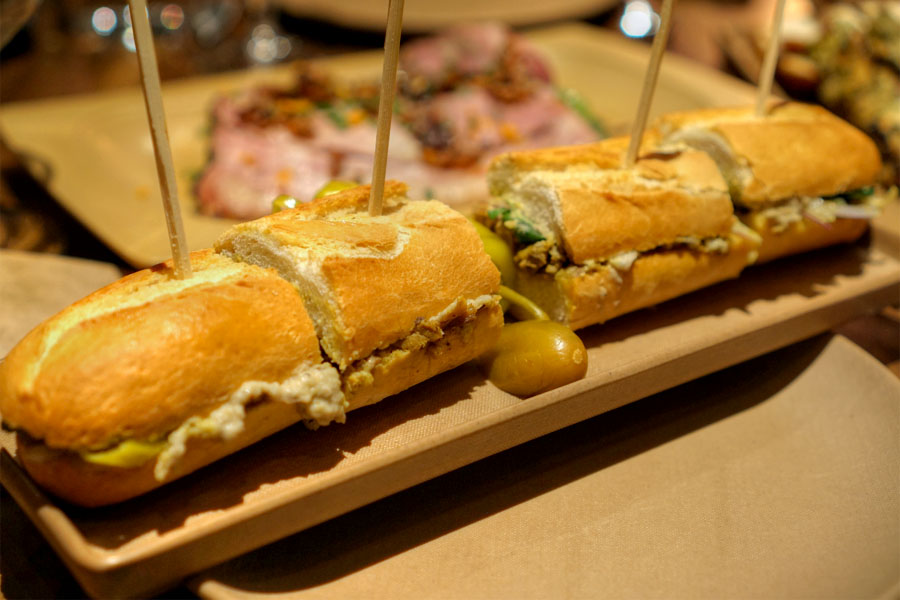 Lamb with Horseradish Baba Ganoush, Red Onion, Pepperoncini & Mint [$14.00]
For our second sandwich, lamb was accompanied by the deep, potent flavors of baba ganoush, with the mint and onion providing a much needed dose of herbiness and acidity to balance things out.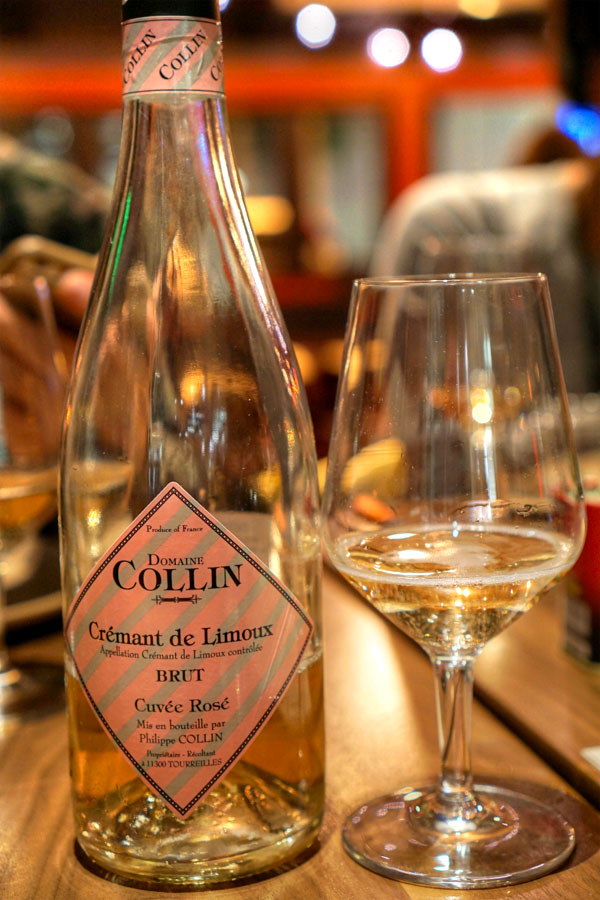 With the cocktails done with, we moved on to a bottle of the wine, the
M/V Brut Rosé - Crémant de Limoux || Domaine Collin || Languedoc, France [$30]
. A blend of Chardonnay, Chenin Blanc, and Pinot Noir, this was an easy-drinking sparkler, with a nose filled with sweet, apple-like aromas and a palate that went drier, more mineral-driven, with a persistent acidity.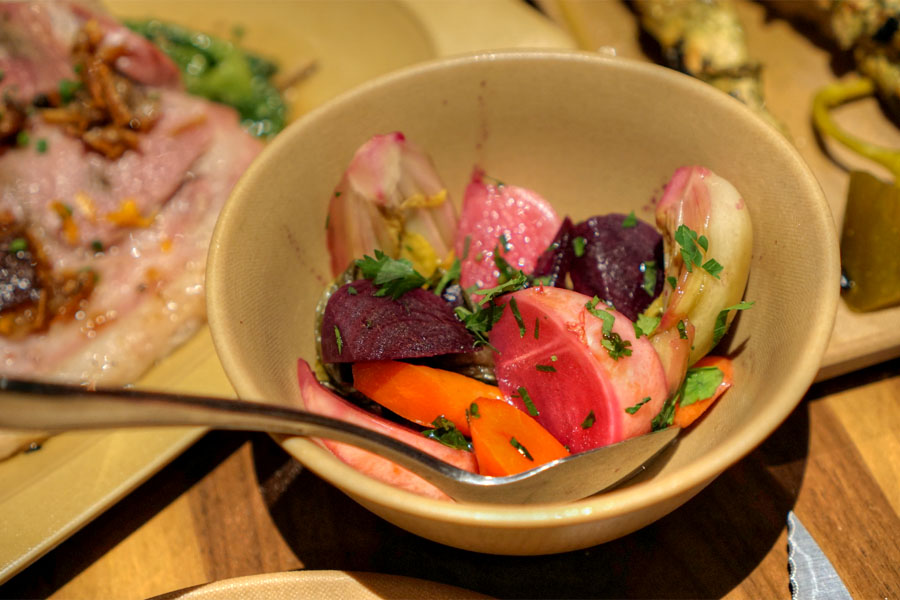 House Fermented Vegetables [$4.00]
Veggies were full of crunch, acidity, and funk.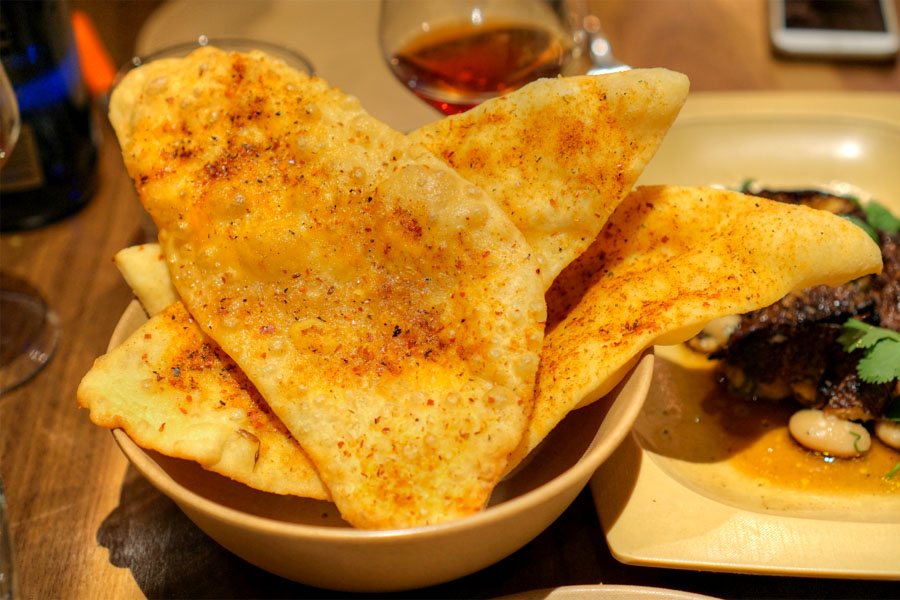 Bhatura Bread [$5.00]
Bhatooras
were a nice combination of airy and crisp. Delightfully spiced, and great with the spinach-n-chickpeas below.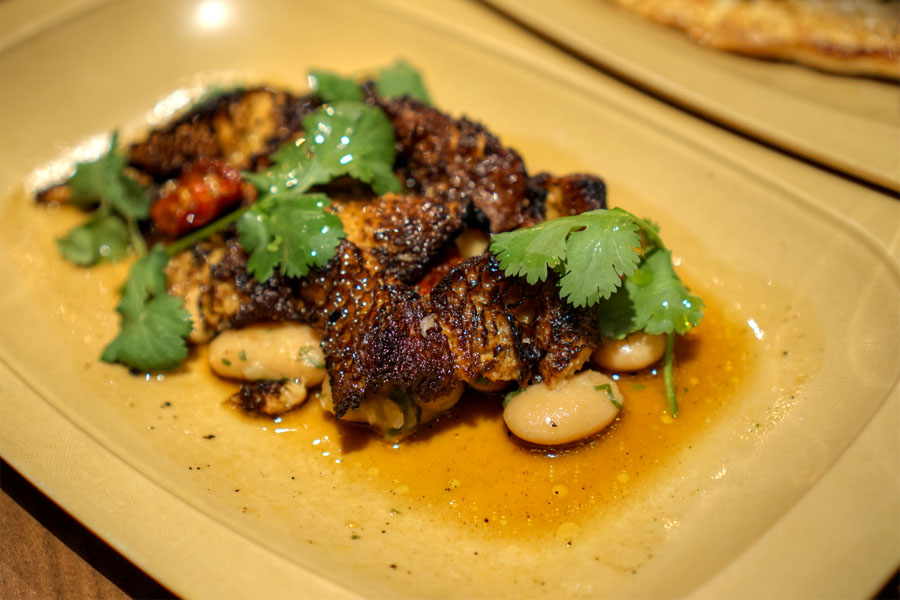 Grilled Tripe with White Beans [$24.00]
Supple shards of tripe offered up a smoky, sweet, sticky quality that might change your opinion of the stomach lining. I found it well-paired to the white beans, while the cilantro imparted a necessary brightness.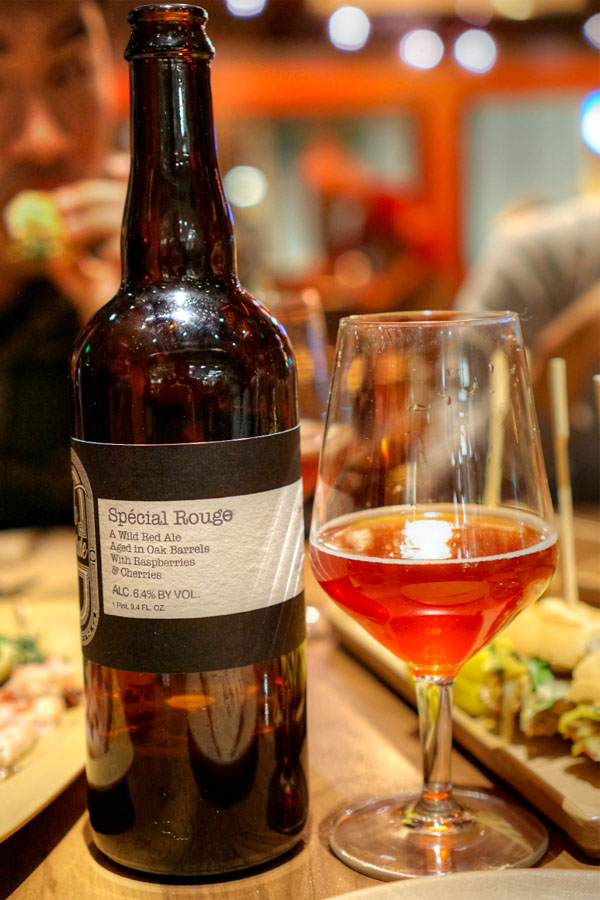 I had one bottle of beer with me, the
2015 de Garde Special Rouge
, a sour red ale aged in oak barrels with raspberries and Montmorency cherries. Lots of red fruit on the nose, the cherry really taking center stage. The taste brought further tartness, with the raspberry coming into its own.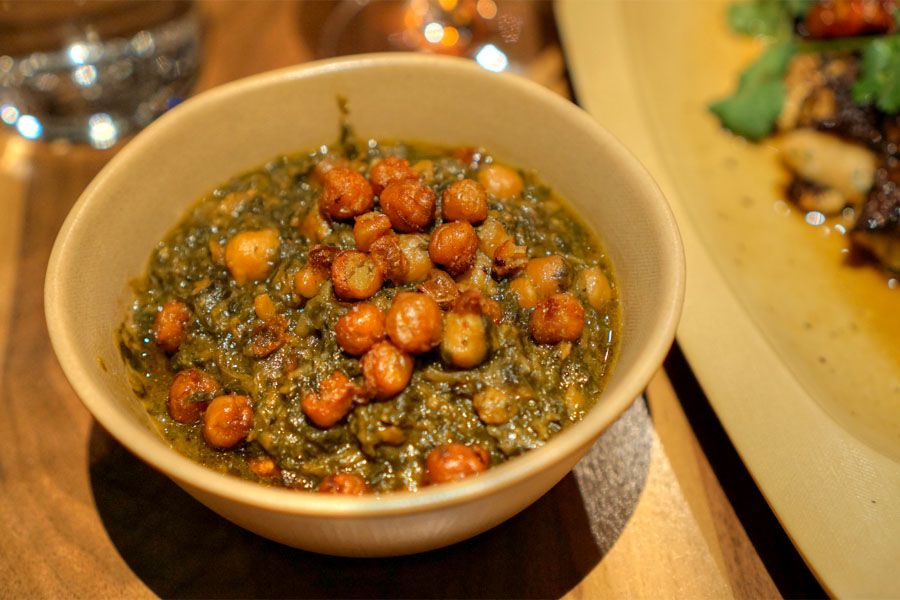 Spinach & Chickpeas [$12.00/lrg]
Long-cooked spinach displayed a bitter, earthy depth while chickpeas added a nutty textural element. Very nice.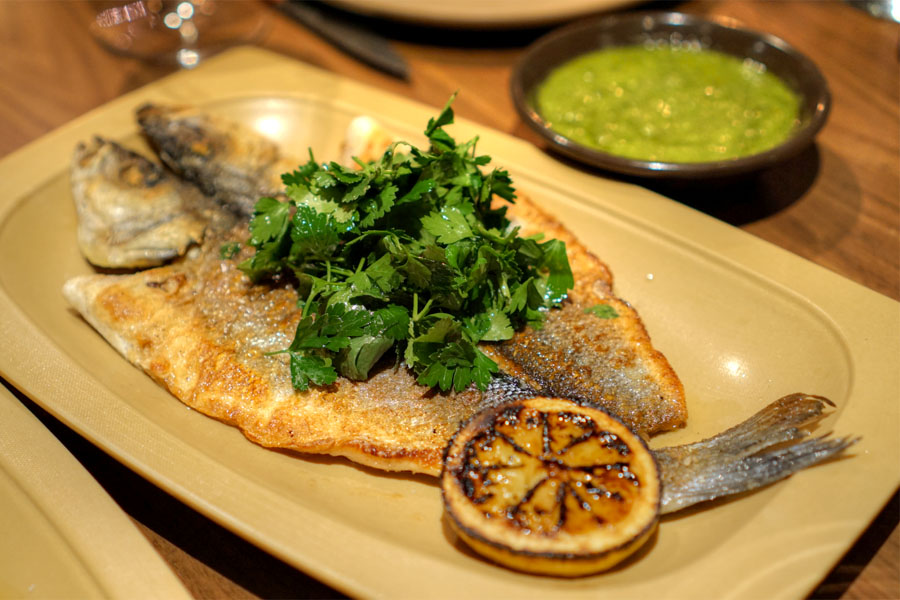 Whole Fish a la Plancha [$28.00]
Finishing off the savories was a boneless loup de mer, grilled on the flat-top. Think moist, tender, and oceany, with a delightfully crisp skin to boot. Even better with a dab of the zippy sauce on the side.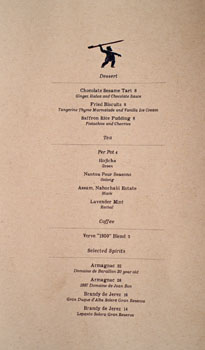 A small selection of desserts and after-dinner libations. Click for a larger version.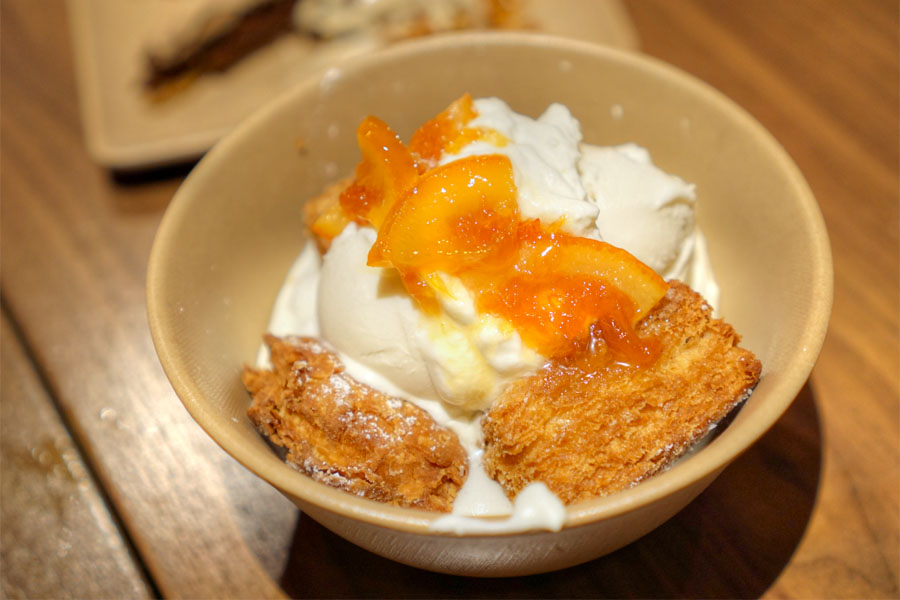 Fried Biscuits [$8.00]
| Tangerine Thyme Marmalade and Vanilla Ice Cream
Getting into the desserts now, biscuits provided just the right amount of savoriness to go along with your traditional flavors of citrus and vanilla.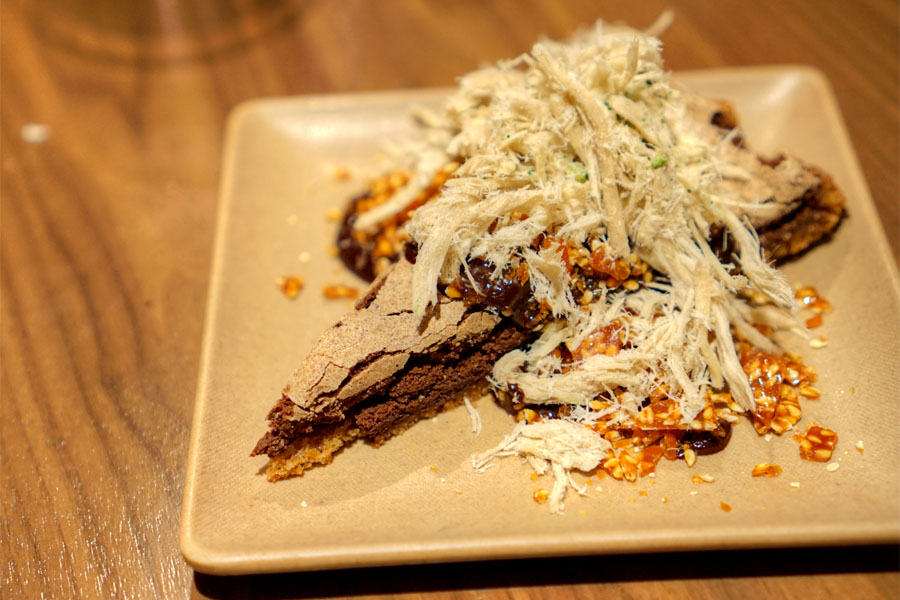 Chocolate Sesame Tart [$8.00]
| Ginger, Halva and Chocolate Sauce
The tart did a nice job pairing the nuttiness of sesame with the sweetness of chocolate. I wanted more ginger though.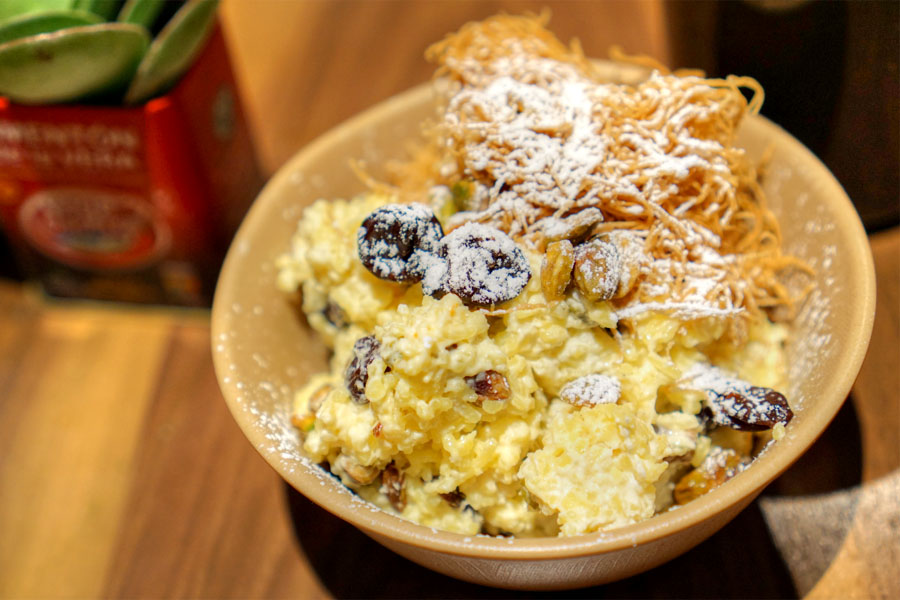 Saffron Rice Pudding [$8.00]
| Pistachios and Cherries
The pudding came out expectedly sweet 'n' ricey, with just a hint of saffron and the cherries working as a tart, fruity counterpoint.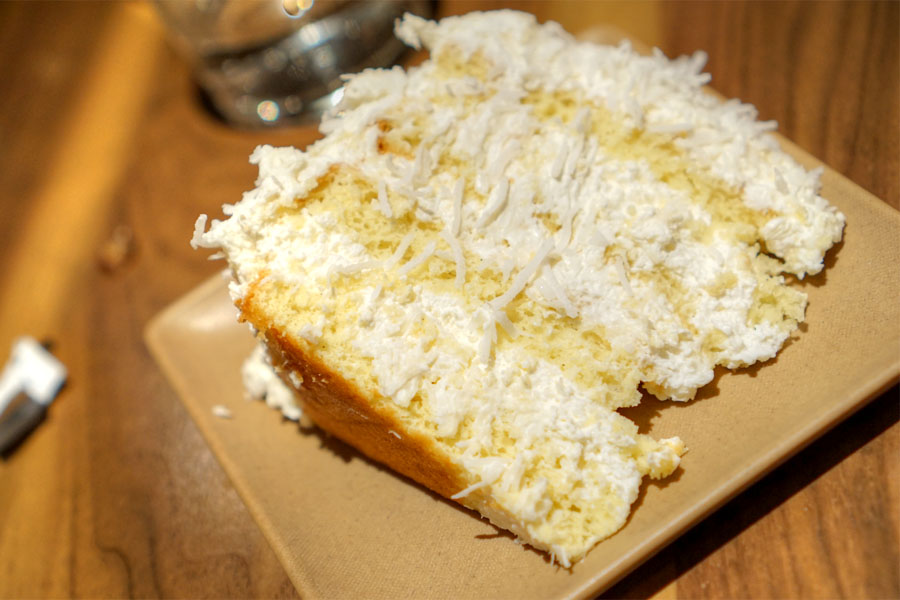 Since we were celebrating a birthday tonight, we ended with a homemade coconut-pineapple cake. It was one of the tastiest I've had (right up there with my benchmark at
The Hart and The Hunter
): rich and dense, yet somehow light, with a superb balance of sweet and tangy flavors.
Rosoff and Feldmeier are off to a good start with Moruno and their Spanish-inflected eats that represent a welcomed departure from the norm. As for next steps, the team is still working on Bar Vermut, which should open sometime this year serving mostly vermouth and sherry alongside
conserva
-type bites. But first, be on the lookout for Bar Moruno at Grand Central Market, which should drop in the late spring timeframe.