MB Post (Manhattan Beach, CA) [2]
Manhattan Beach Post Restaurant
1142 Manhattan Ave, Manhattan Beach, CA 90266
310.545.5405
www.eatmbpost.com
Wed 05/18/2016, 08:40p-11:15p

It's hard to believe it's been so long, but
M.B. Post
debuted almost exactly five years ago. Fresh off his stint at Water Grill, David LeFevre opened the place in April 2011 to considerable fanfare. The restaurant was instrumental in revitalizing the South Bay dining scene, and its effects are still being felt to this day. It'd been too long since I'd last visited (the previous time was after a meal at
Fishing with Dynamite
in '13), so I finally made my way back recently.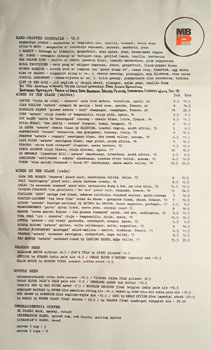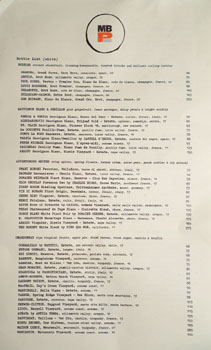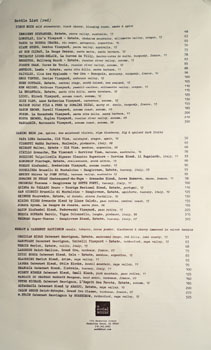 As for the menu, it retains its familiar format and its familiar dishes (e.g. the Brussels, the green beans, and of course those biscuits), and I'm glad to see that the hand-written notes are still in place. Click for larger versions.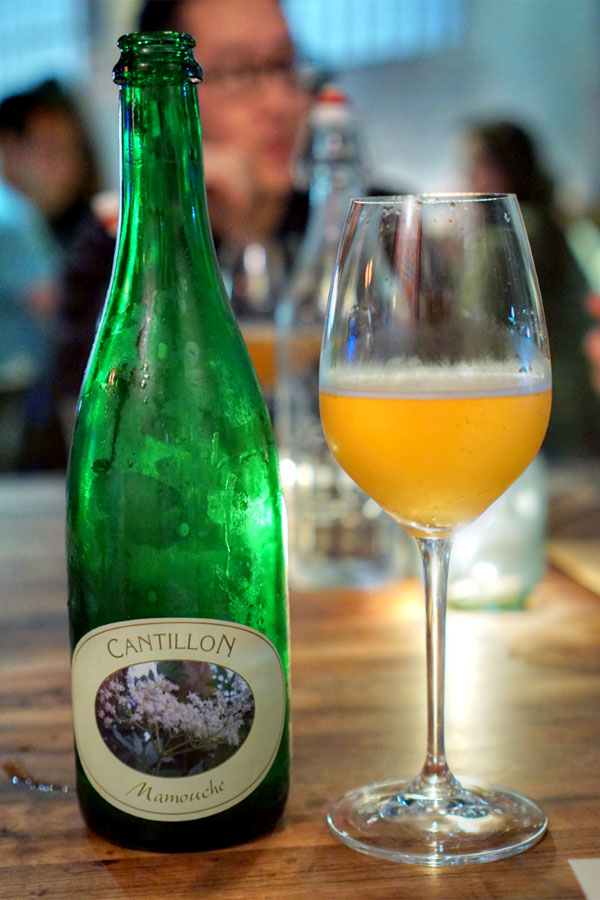 We'd arranged ahead of time to bring some bottles, and up first was the
2013 Cantillon Mamouche
, a two-year-old lambic with elderflowers added. Fragrant, tart, fruity bouquet along with lemon and a marked grassiness. The taste followed, with more sweet-n-sour going back and forth with an herbal element.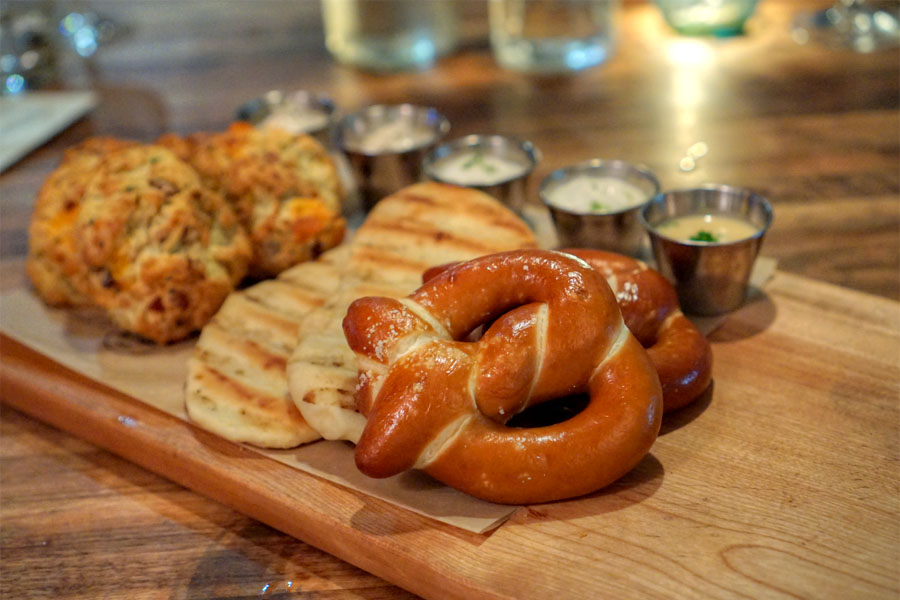 BACON CHEDDAR BUTTERMILK BISCUITS [$6.00]
| maple butter
GRILLED NAAN FLATBREAD [$4.00]
| harissa yogurt sauce
FLEUR DE SEL PRETZEL [$4.00]
| David's nuclear horseradish mustard
We began with M.B. Post's tried-and-true bread selection. Starting in the back, those signature biscuits were as I remembered: hammy, cheesy, and taken to another level with a dab of that sugary maple butter. The naan hit the mark, coming out simultaneously fluffy yet crisp, with an herby component to go against the cool yogurt on the side. I was also a fan of the pretzels, which I found just salty enough, and excellent with a brush of that spicy mustard.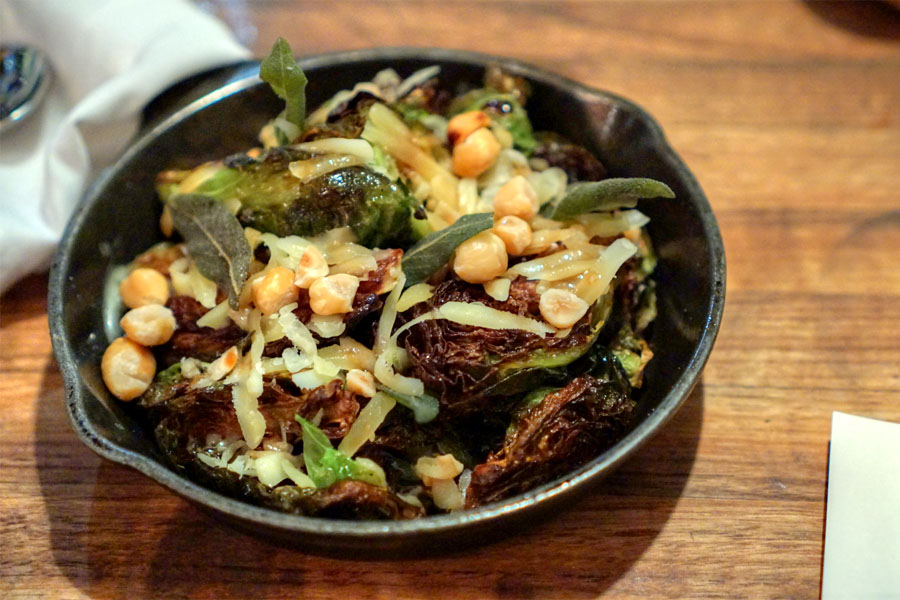 ROASTED BRUSSELS SPROUTS [$13.00]
| emmental, hazelnuts, sage
Brussels were satisfyingly textured and properly charred, their bitterness pairing swimmingly with the crunchy hazelnuts and aromatics of sage.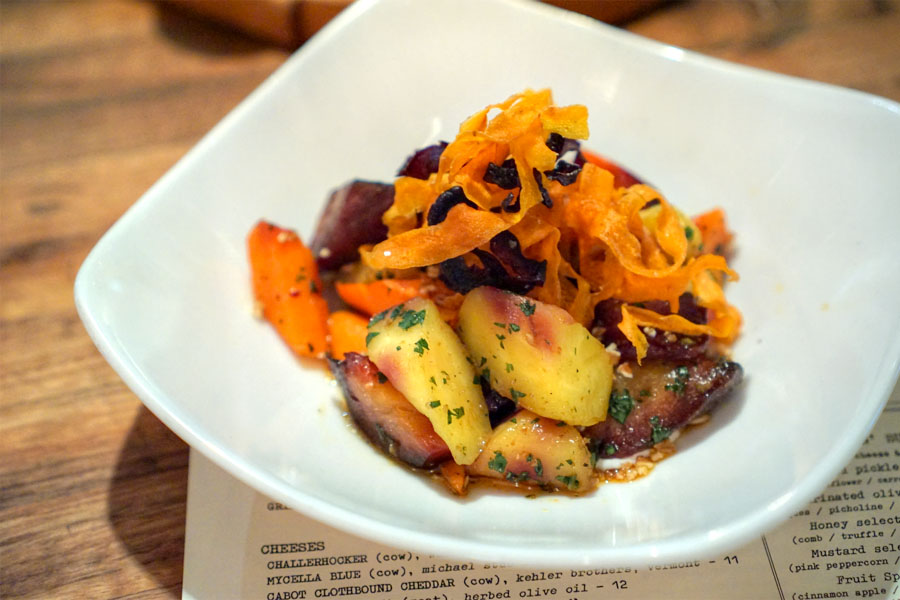 ROASTED CARROTS [$9.00]
| chermoula, lime yogurt, harissa, date, puffed bulgur
I found the carrots slightly firm to the bite, with a pleasant, warm spice that played well with that lime yogurt.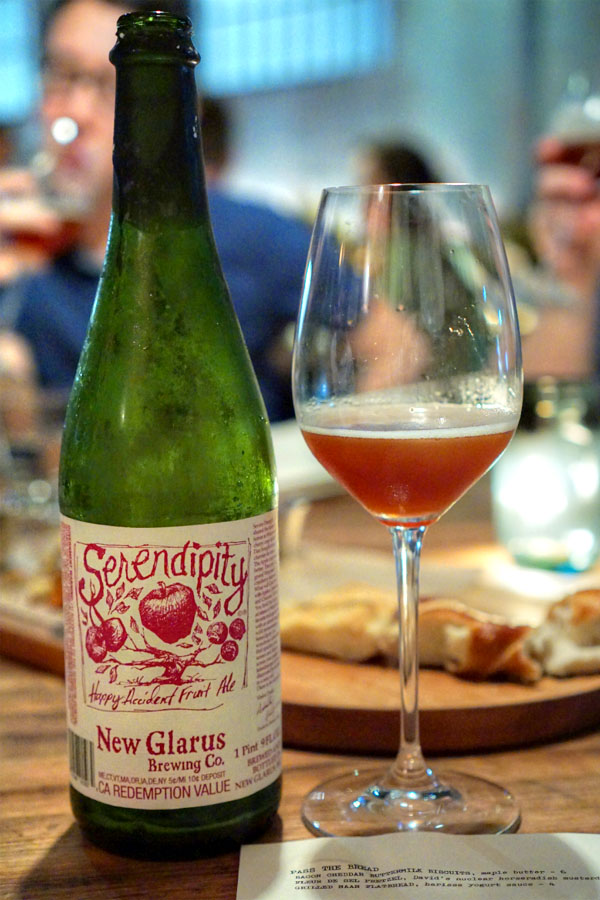 Our fruitiest beer of the night was of course the
New Glarus Serendipity
, aged in oak with apples, cranberries, and cherries. Nose was tart, candied, almost Fruit Roll-Up-esque. The palate went more acidic, with a strong apple presence, and actually reminded several of us of Jolly Ranchers.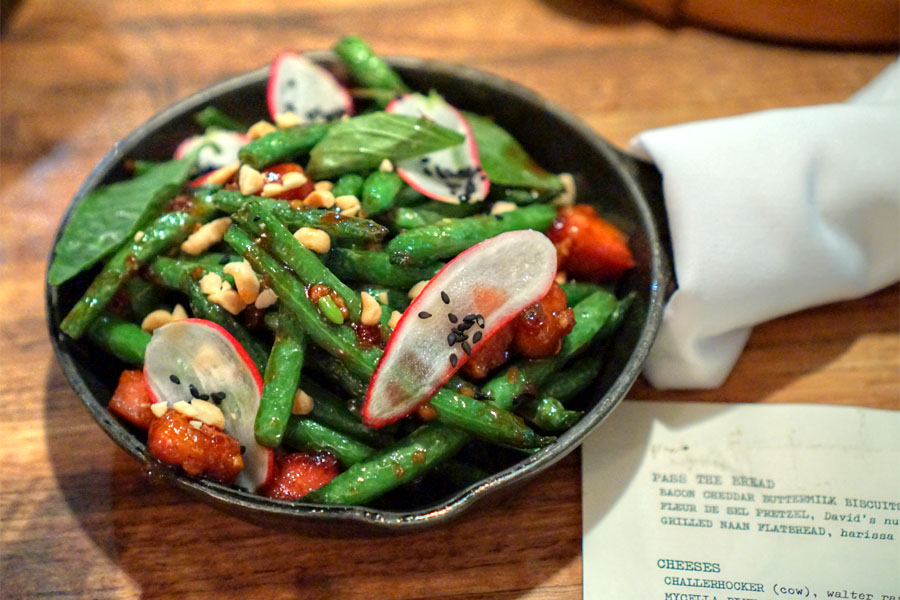 BLISTERING BLUE LAKE GREEN BEANS [$10.00]
| thai basil, chili sauce, crispy pork
Green beans were among the best I've had, coming out just the right amount of crunchy and loaded with Asian-y spice and savor, the Thai basil imparting a perfect amount of brightness to the fray. And if that wasn't enough, there's the crispy pork...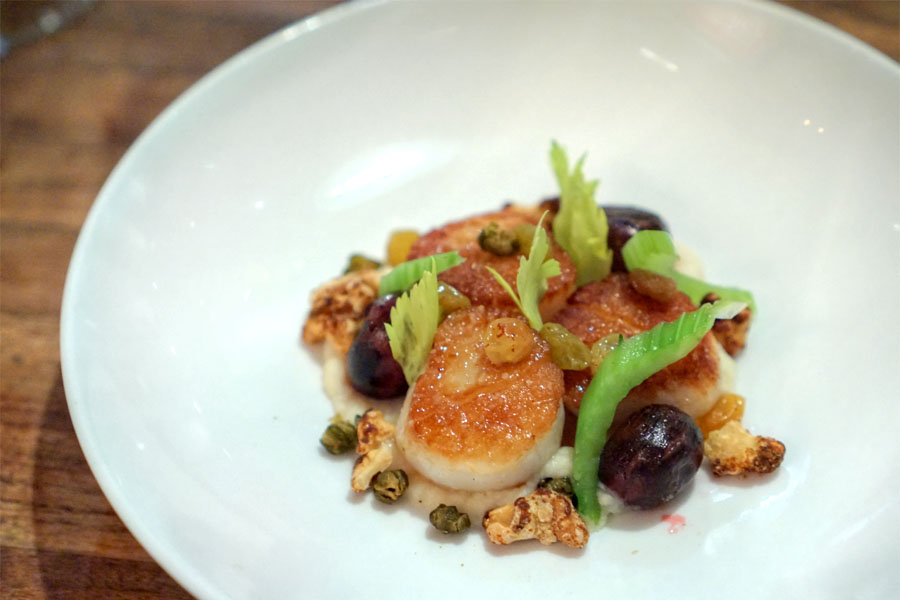 MAINE DIVER SCALLOPS [$19.00]
| celery root pureé, grilled grapes, spiced walnuts
Scallops were well-textured, well-caramelized, and deeply brined, with the celeriac and celery working as a counterpoint. Nice trace of sweetness too from the grapes.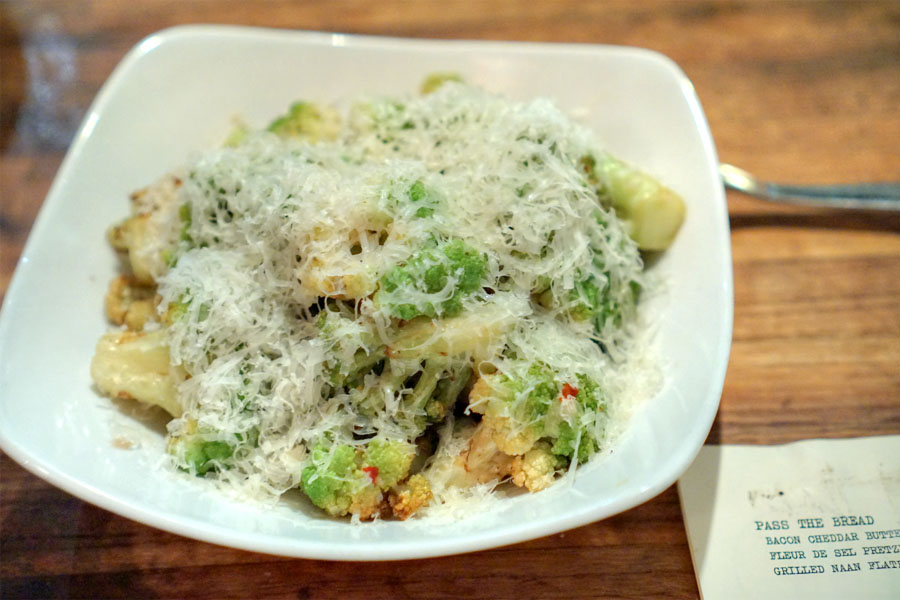 BROCCOFLOWER [$13.00]
| lemon, chili flake, parmesan
Broccoflower was a standout thanks to its gratifying crunch, considerable depth of flavor, and lemony tang. Given how well this turned out, I'm surprised that more chefs don't make use of the vegetable as an alternative to cauliflower.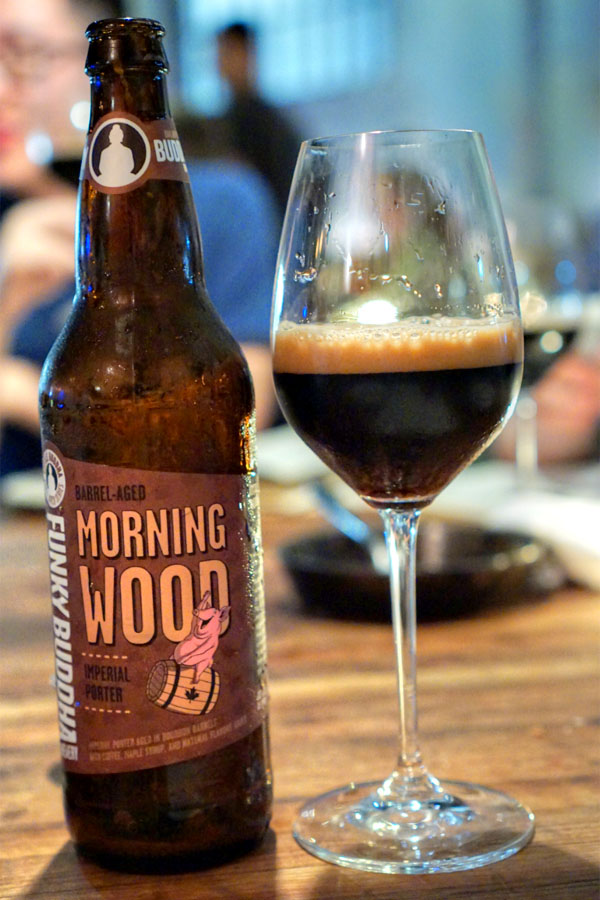 Next to drink was a bourbon barrel-aged imperial porter with coffee, maple syrup, and bacon, the
2015 Funky Buddha Morning Wood
(basically a BA version of the brewery's well-regarded
MBCP
). It was a doozy for sure. Huge aromas of sweet spice intermixed with coffee; one of my dining companions remarked that it smelled like Burger King French Toast Sticks. The taste was similarly massive, with coffee and maple in your face, and booziness and a slight saltiness underlying. Long, smooth, lingering finish with more sticky syrup everywhere.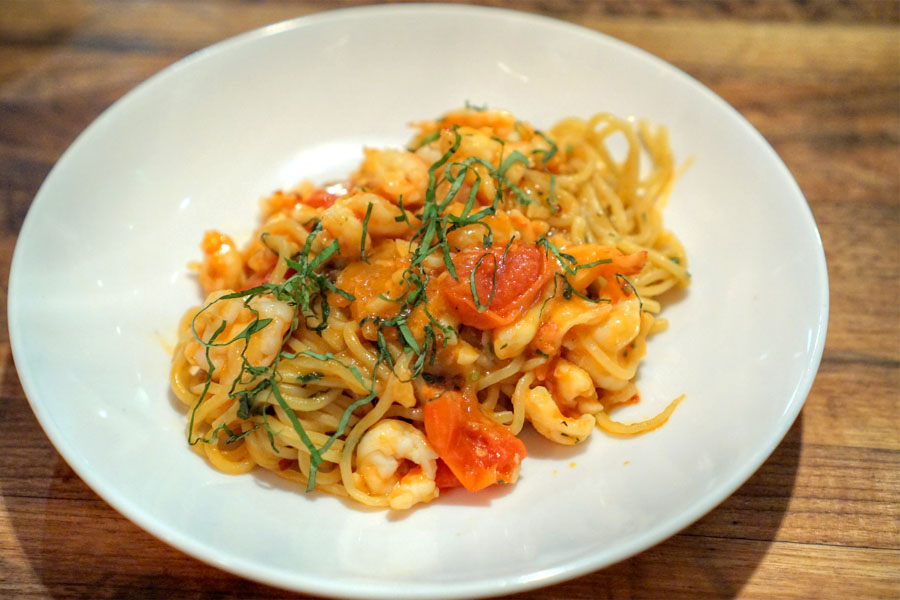 SHRIMP ARRABBIATA [$14.00]
| housemade spaghetti, cherry tomatoes, chili flake, basil
Our first pasta dish delivered. I got a nice bite on the spaghetti, and the tangy, spicy flavors here definitely made sense with the shrimp (which also had a good cook on 'em).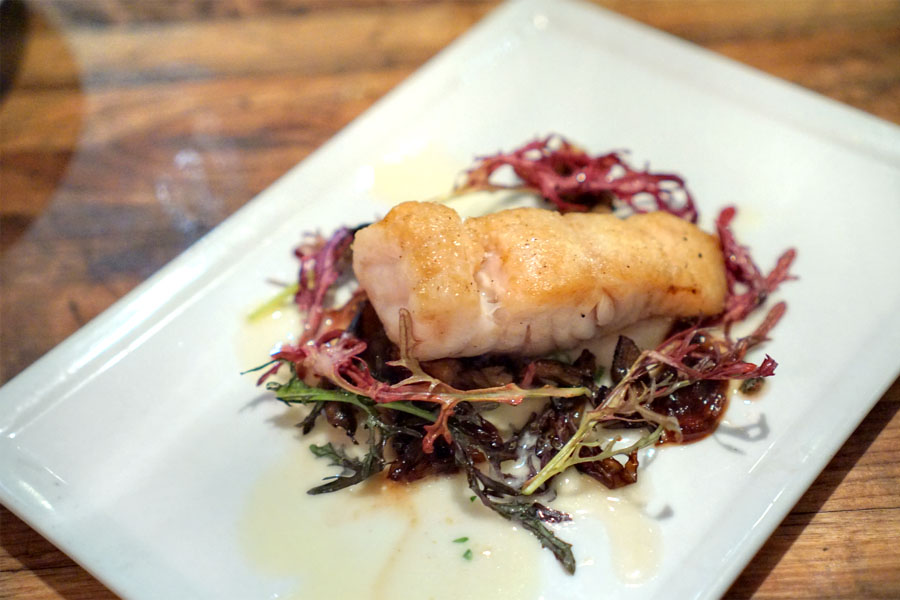 PAN ROASTED LING COD [$19.00]
| bacon butter, maitake mushrooms, agrodolce onions
A filet of lingcod came out with a proper flake, its mild taste augmented by the heft of bacon butter while maitakes added a touch of earth. Also key was that offsetting acidity from the onions.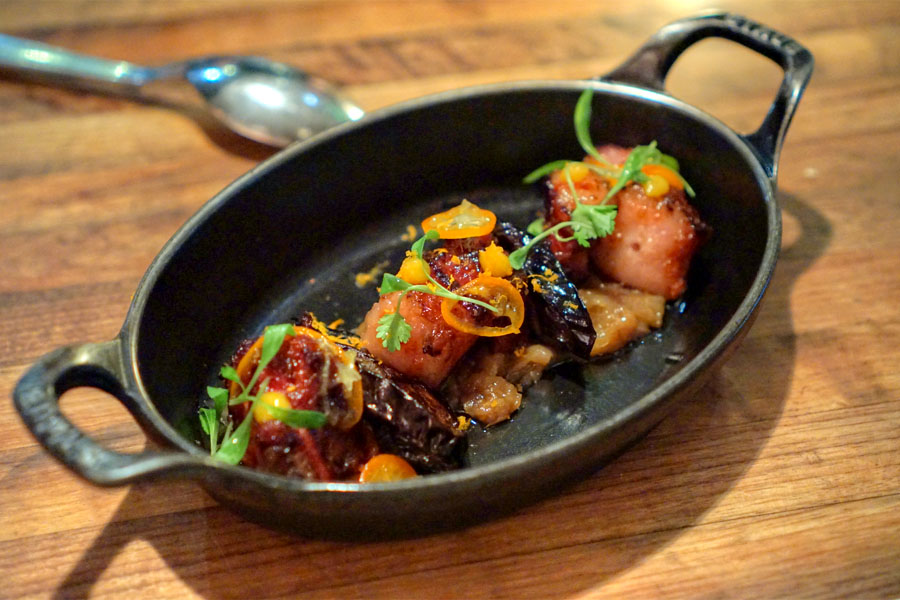 BBQ MOROCCAN LAMB BELLY [$16.00]
| harissa caramelized onions, japanese eggplant
LeFevre then sent out the lamb belly, a super rich, super fatty preparation loaded with dark, sweet-n-savory flavors. I definitely appreciated the contrast provided by the kumquats.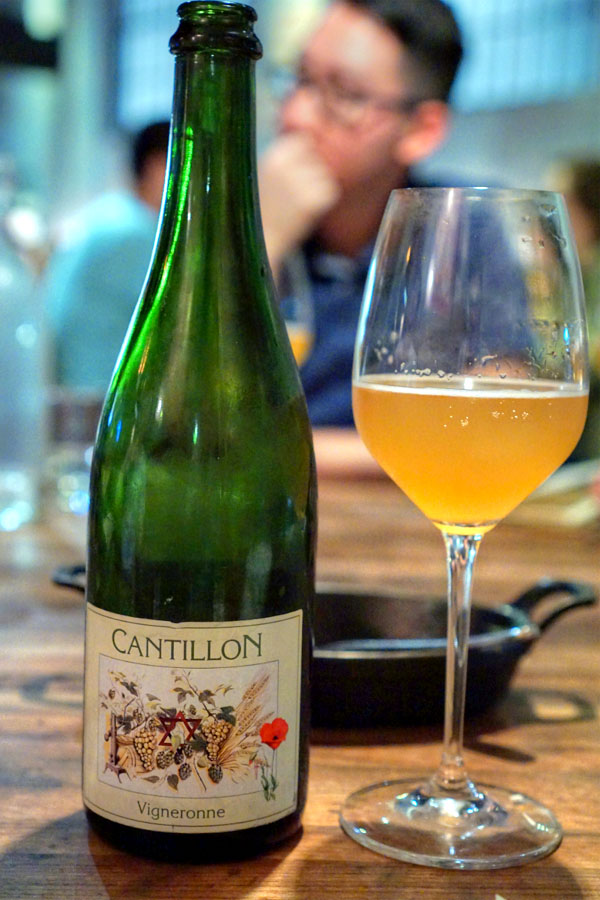 Here was the
2013 Cantillon Vigneronne
, another lambic, but this one aged with white wine grapes. The nose was definitely funkier, but also with a deeply sweet-spicy quality to it. In terms of taste, think tart and acidic, with a strong vinous backbone.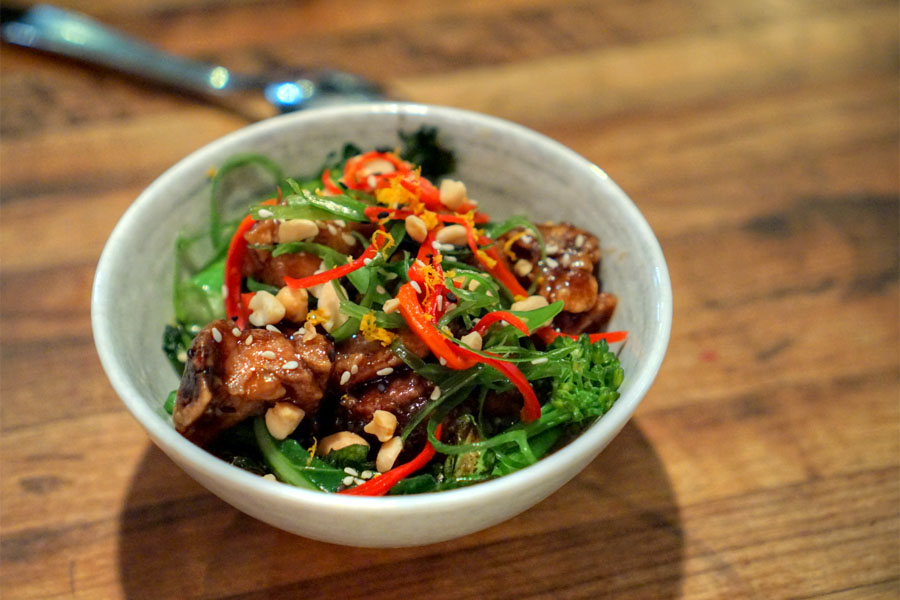 GENERAL TSO'S SWEETBREADS [$14.00]
| flowering broccoli, bamboo rice, sesame seeds, peanuts
Along with the lamb came the sweetbreads. They were another favorite, really recalling the sweet 'n' sour crunch you'd get from a traditional General Tso's, with everything perfectly balanced by the rice and veggies.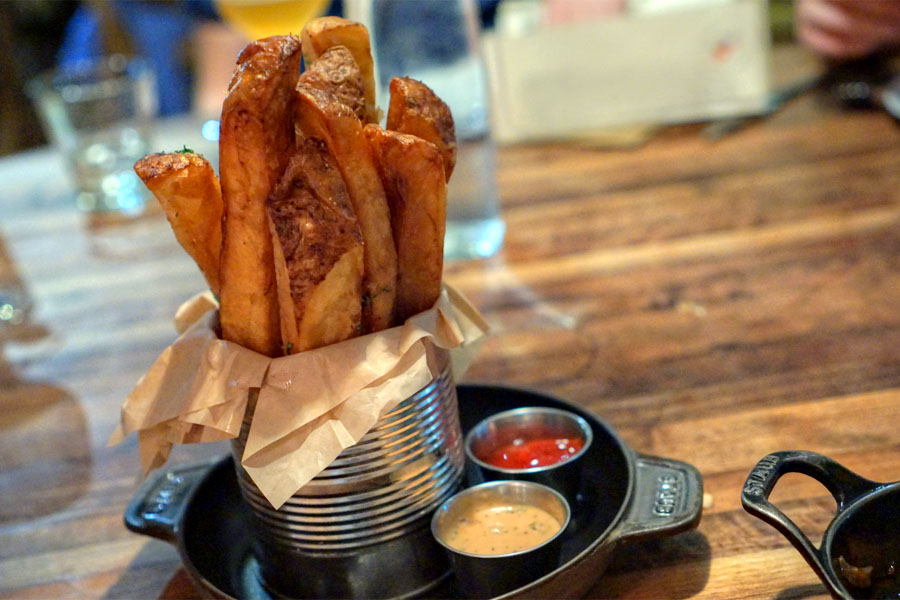 FEE FI FO FUM FRIES [$8.00]
| mbp fry sauce
The fries lived up to their name as easily the largest examples I've encountered. I found 'em hearty and dense, with some great counterpoints in the form of the ketchup and tangy, truffle-y MBP condiment.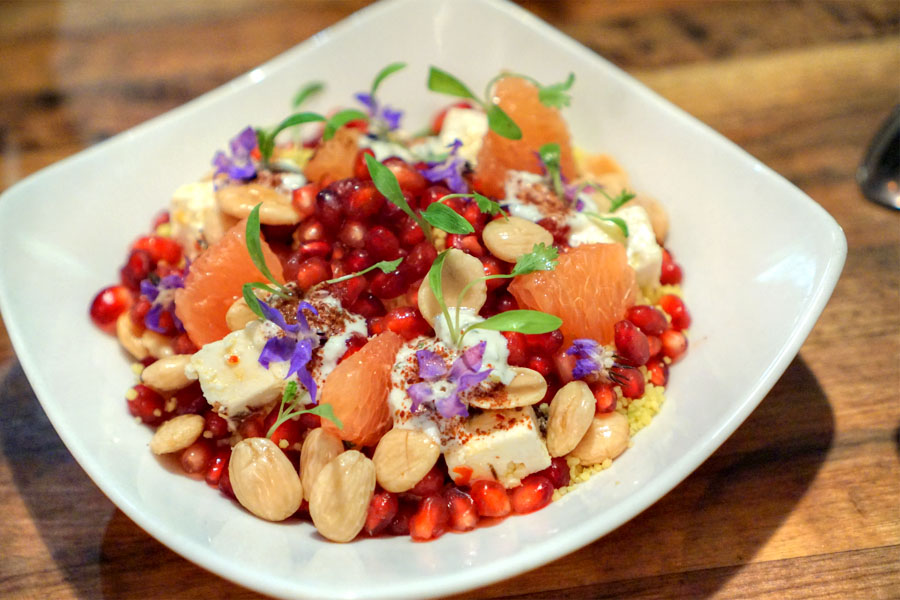 POMEGRANATE COUSCOUS [$9.00]
| lavender feta, marcona almonds, grapefruit, mint
The cous cous showed off some beautiful colors and flavors to match. It went light and bright, with some tangy pops from the pomegranate, some crunch from the almonds, and a lovely bit of lactic heft from the feta.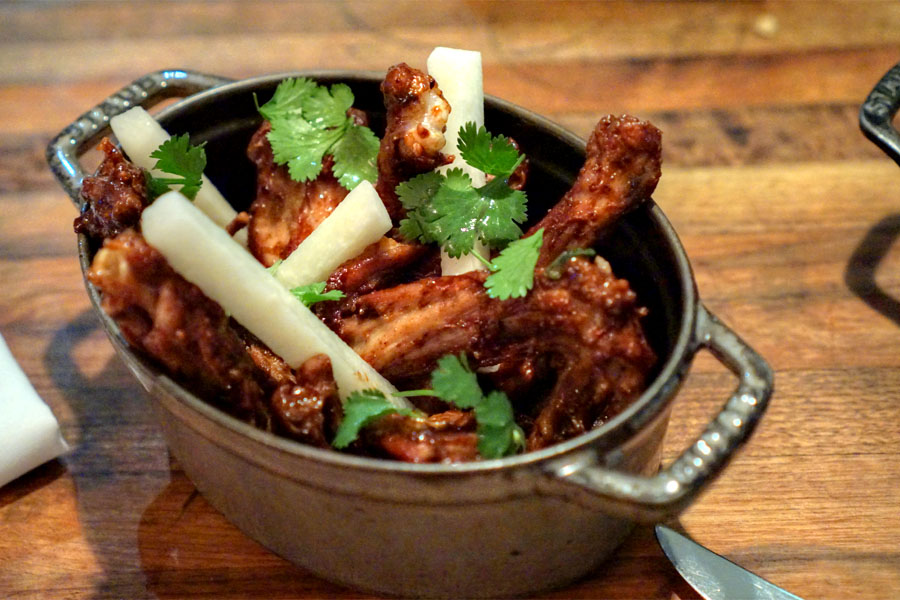 MAPLE LEAF FARMS DUCK WINGS [$12.00]
| caribbean jerk spice, pickled jicama, cilantro
Duck wings were tender, toothsome, and teeming with sweet, spicy jerk spice. Smart contrast from the jicama and cilantro, too.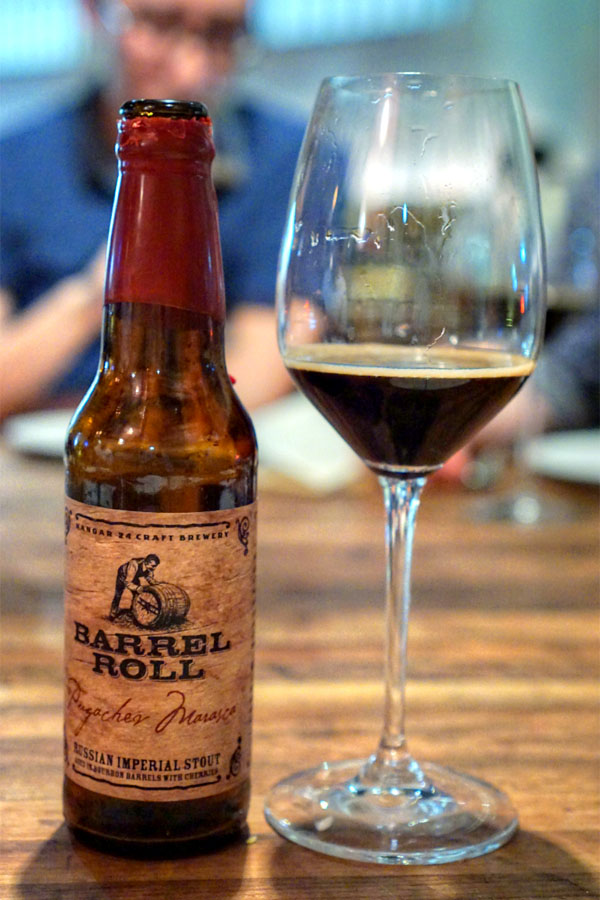 The
2015 Hangar 24 Barrel Roll: Pugachev's Marasca
was a Russian imperial stout aged in bourbon barrels for eight months, with maraschino cherries added. I got a nose full of sweet malt and chocolate, with a tartness overarching. The taste brought lots of cocoa, along with a marked barrel character, but not much cherry unfortunately.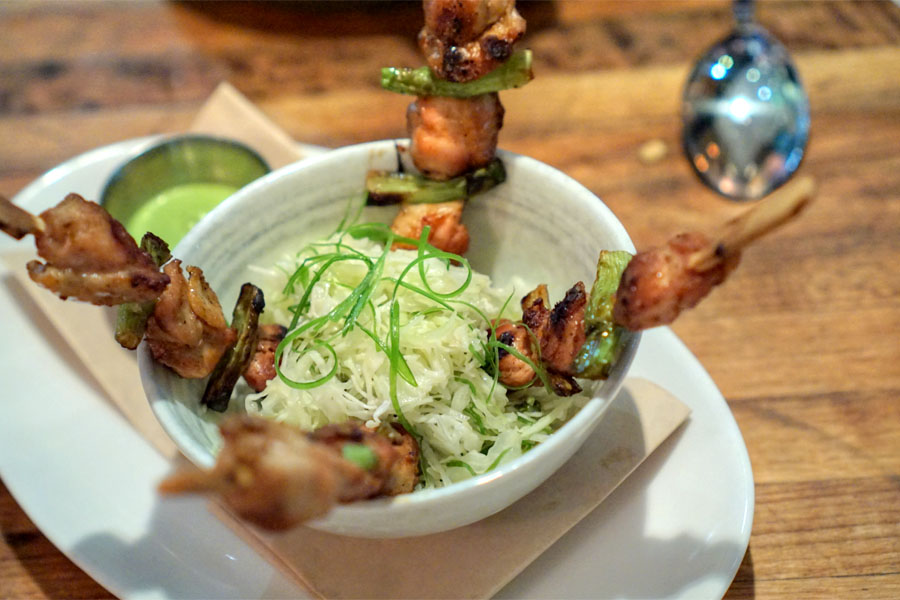 GRILLED SOY GLAZED CHICKEN OYSTERS [$13.00]
| green cabbage salad, yuzu kosho, aji verde
Chicken oysters were wonderfully-textured, almost springy to the chew, and had some great charring going on. I was a fan of the aji verde here, though I could've used more from the
yuzukosho
.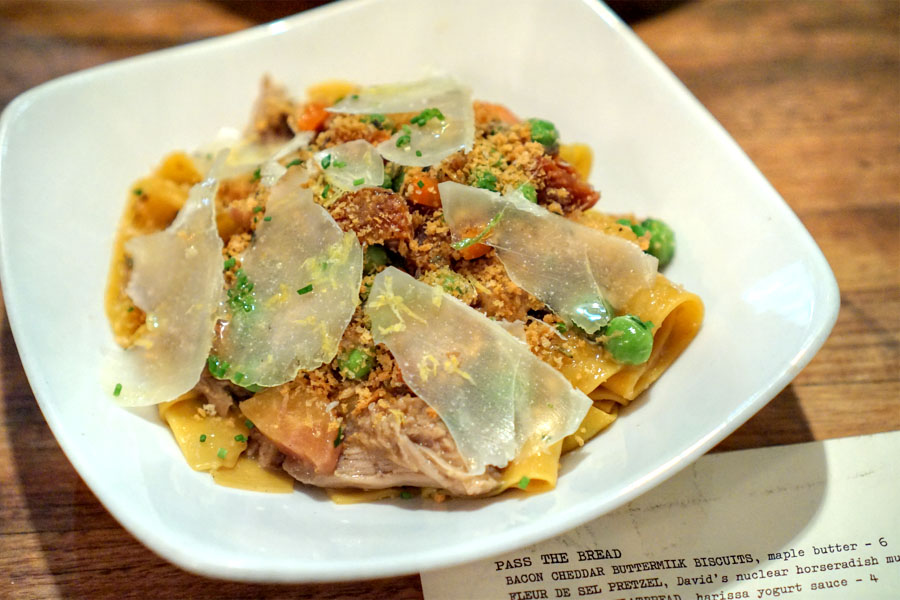 MILK-BRAISED PORK SHOULDER [$16.00]
| housemade pappardelle, valdivia farms english peas, bianco sardo
Pork shoulder made for the homiest dish of the night, a tender, herby presentation that certainly worked alongside the smooth ribbons of pappardelle. Nice touch of brightness from the peas, which was much appreciated.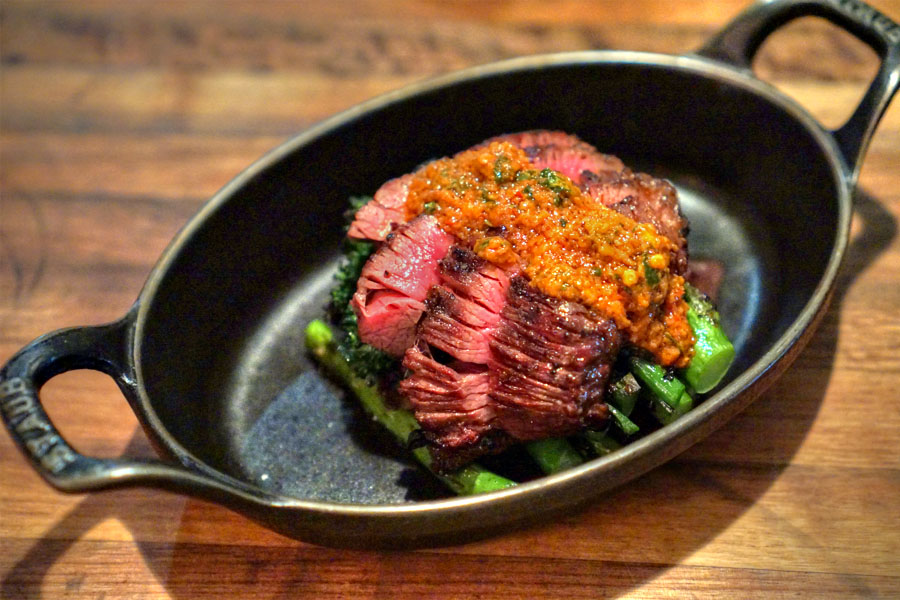 WHITE OAK GRILLED SKIRT STEAK [$19.00]
| grilled broccolini, red chimichurri
The skirt steak was our final savory, and came with bountiful amounts of char and smoke to go along with its inherent beefiness. Great bitterness from the broccolini, and I was a fan of that zippy chimichurri as well.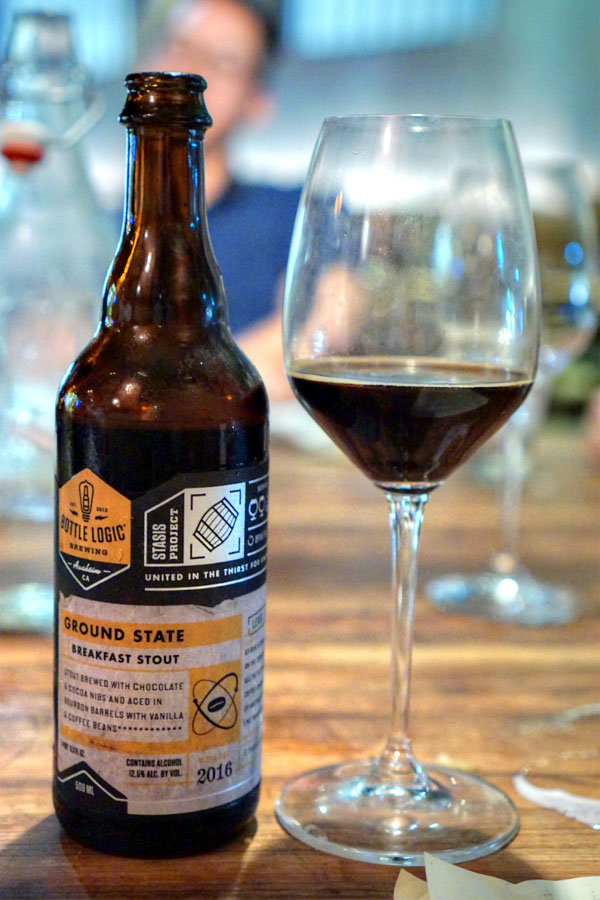 Our final beer was the
2016 Bottle Logic Ground State
breakfast stout, brewed with chocolate and cacao nibs, then aged nine months in bourbon barrels with vanilla and coffee beans. I'd actually had it
not long ago
, so I refrained from drinking the beer and instead sent most of the bottle back to the kitchen (where CdC Antonio Votta eagerly received it at the end of service).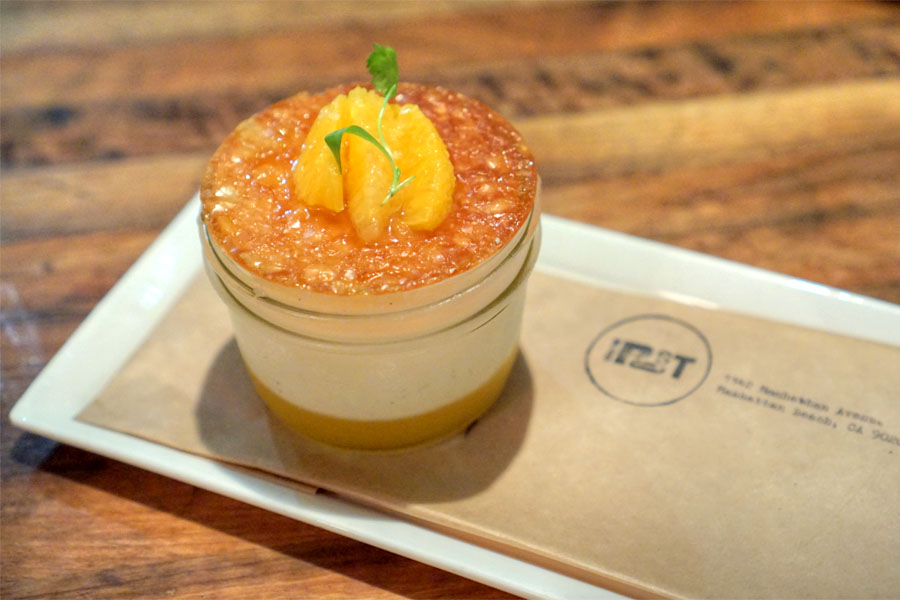 CITRUS PANNA COTTA [$7.00]
| cara cara orange, caramel tuile, cilantro
Time for dessert. The panna cotta was one of the better ones I've had as of late, a particularly dense preparation with a superb interplay of vanilla and citrus flavors. Curiously, while eating this, I kept thinking of Danish butter cookies.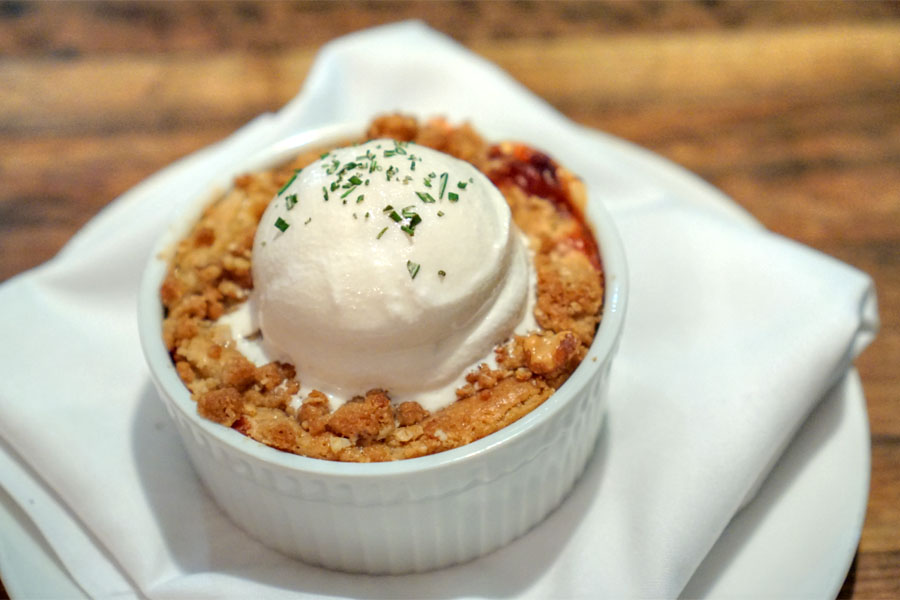 WARM STRAWBERRY & RHUBARB COBBLER [$8.00]
| walnut topping, rosemary ice cream
The cobbler displayed boatloads of rich, sweet, tart fruit, with the zestiness of rosemary serving as a surprisingly effective foil. Some neat temperature contrasts here too.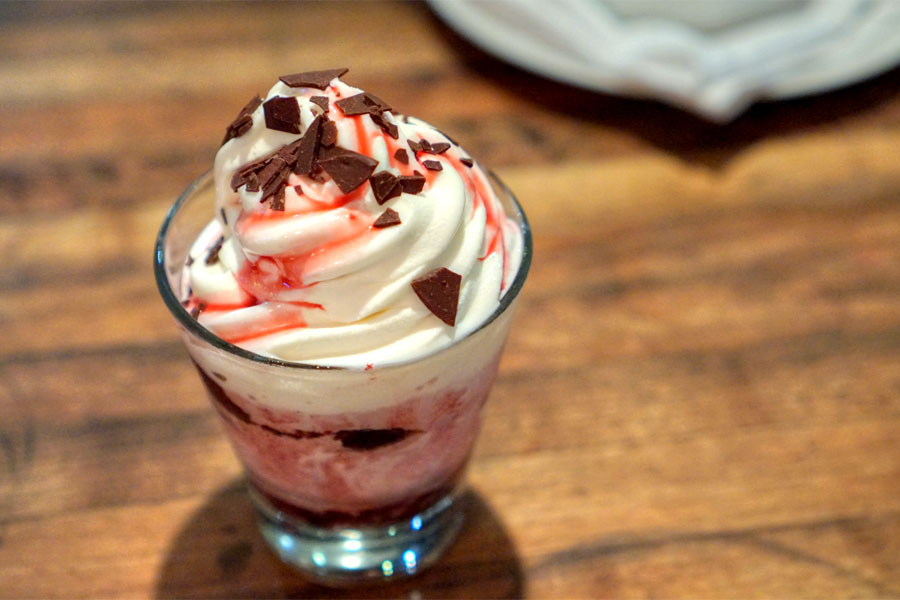 BLACK FOREST SOFT SERVE [$6.00]
| black forest cake, bing cherries, vanilla ice cream
Last up was the soft serve, a fun dessert that did an admirable job meshing chocolate, cherry, and vanilla into one delightful package.
We all left very full, and very satisfied. LeFevre and his team were pretty much spot on with the cooking tonight, and there's a certain ease, an effortlessness with the food. It's not surprising that this place has been so popular all these years. A South Bay benchmark to be sure.