MB Post (Manhattan Beach, CA)
Manhattan Beach Post Restaurant
1142 Manhattan Ave, Manhattan Beach, CA 90266
310.545.5405
www.eatmbpost.com
Sat 04/23/2011, 05:15p-08:05p

The South Bay dining scene just got a bit more interesting last Monday with the debut of David LeFevre's M.B. Post, the Chef's new "social house" opened in conjunction with Beverage Director/GM Jerry Garbus and Mike Simms (of Simmzy's and Tin Roof Bistro fame).
Simms comes from a long line of restaurateurs; his grandfather Arthur got the ball rolling with The Kettle in Manhattan Beach and the French Quarter Restaurant in West Hollywood, both of which are still operating. Father Thomas was the founder of the Mimi's Cafe empire (which he sold to Bob Evans for $182 million in 2004), and brother Chris started the Lazy Dog Cafe chain. LeFevre, an area resident, is best known by us Angelenos as the top toque at the venerable Water Grill, but at MB Post, he aims to make a return to his more rustic roots, bringing forth a casually sophisticated concept centered around seasonal small plates, conviviality, and sharing.
About the Chef
: LeFevre grew up in Wisconsin, and spent much of his youth cooking alongside his mother and grandparents. He studied industrial engineering, but soon realized that he wanted to be in the kitchen professionally, thus enrolling at the famed Culinary Institute of America in Hyde Park. After graduating in 1995, he interned at Chicago's iconic
Charlie Trotter's
, then went on to cook at the restaurant's first Las Vegas outpost, which has long since shuttered (interestingly, Trotter's
second attempt in Sin City
also failed). In 1996, LeFevre traveled to France,
staging
at Restaurant Jean Bardet in Tours, Bernard Loiseau's La Côte d'Or in Saulieu, and Roger Verge's Le Moulin de Mougins in Mougins (where
Raphael
's Adam Horton also worked).
Upon returning to the US, he became a line cook for his mentor Trotter, and eventually worked his way up to an Executive Sous Chef position. However, LeFevre left in 2002 to travel the world for two years, and during this period he was able to work with the likes of Tetsuya Wakuda at Tetsuya in Australia, Heston Blumenthal at Fat Duck in England, and even Ferran Adrià at El Bulli in Spain. Following, the Chef moved to Los Angeles to take over the reins at Water Grill, replacing Michael Cimarusti (who had left to open
Providence
). LeFevre garnered considerable acclaim for his cooking there, but would leave the restaurant in September 2010 to begin work on MB Post, his first solo project. He was replaced by none other than
Top Chef
alumna
Amanda Baumgarten
.

As the name implies, the restaurant occupies the building of the original Manhattan Beach post office (formerly occupied by Memphis at the Beach). The space was reimagined by Stephen Jones of
SF Jones Architects
, who's also had a hand in
Spago
, Chinois, Anisette, Daily Grill, The Hump, and even Lucky Strikes Lanes. Inspired by the character of a 1960's-vintage post office, MB Post is a rustic, thoughtful, beach-y environment, replete with reclaimed wood on seemingly every surface, bare cement, exposed rafters, a glass-enclosed open kitchen, and plenty of communal tables.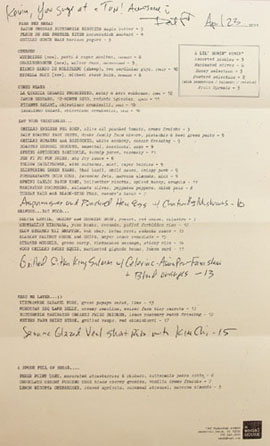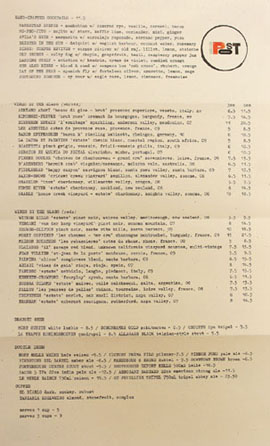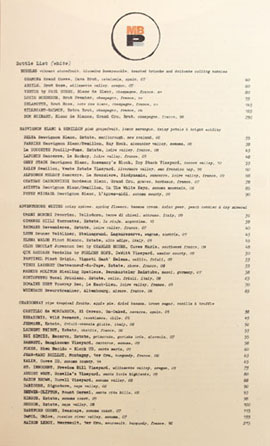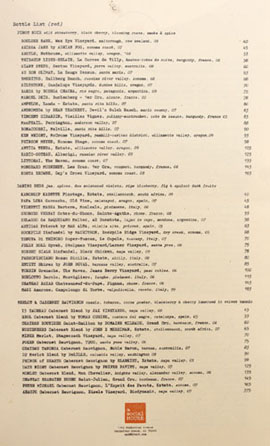 Clearly focused on small shared plates, the MB Post menu has a definite gastropub-y feel to it. To drink, we're talking about 10 hand-crafted cocktails, a surprisingly wide selection of boutique-producer wines, five beers on tap, and 10 by the bottle. Click for larger versions.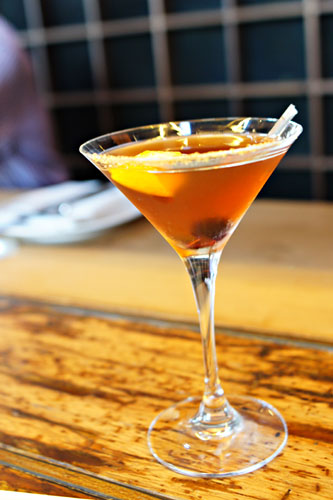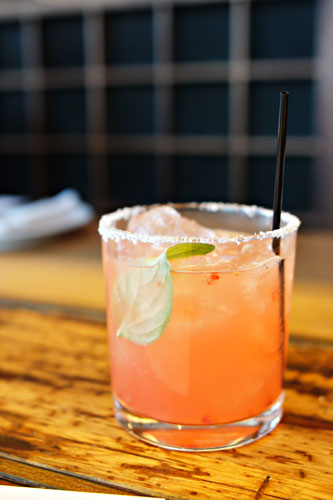 MANHATTAN AVENUE [$11.50]
| manhattan w/ sazerac rye, vanilla, caramel, bacon
OLD GEORGE [$11.50]
| salty dog w/ chopin, grapefruit, basil, raspberry pepper jam
Given our location, we just
had
to order the restaurant's take on the classic Manhattan. It was actually one of the better versions of the drink that I've had, with the great interplay between the vanilla and caramel doing a fantastic job in tempering the power of the rye, though the whiskey was still the star of the show; I didn't get much from the bacon however. Named after the post office's former canine mascot, the Old George, appropriately, was a riff on a salty dog. The traditional intersection of grapefruit and vodka was beautifully accented by the inclusion of basil, though I wanted to taste more from the pepper.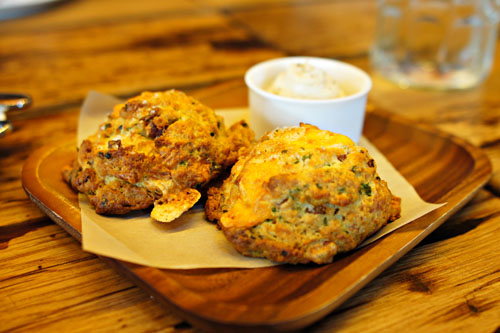 BACON CHEDDAR BUTTERMILK BISCUITS [$5.00]
| maple butter
In our first course, we had classic flavors of buttermilk, deftly complemented by the additional salty weight of bacon and cheese. The addictively sugary maple butter, meanwhile, was essential in completing the dish.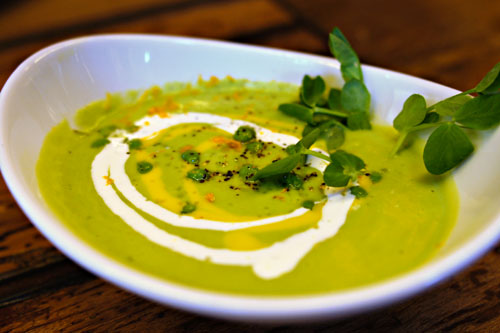 CHILLED ENGLISH PEA SOUP [$5.00]
| olive oil poached tomato, creme fraiche
Being a sucker for peas, I wasn't surprised that the pea soup was one of my favorite items on the menu. The green, vegetal flavors of pea were expertly augmented by the gravity of olive oil and crème fraiche, and tart overtones helped to brighten the dish. A refreshing, summer-y soup.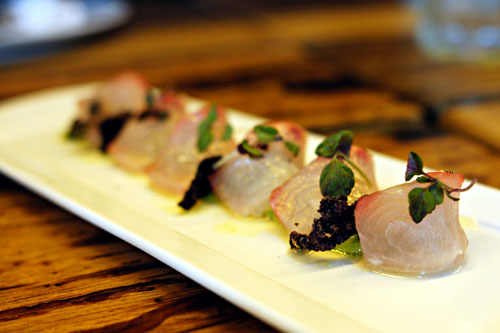 AUSTRALIAN HIRAMASA [$12.00]
| yuzu koshu, avocado, puffed forbidden rice
Hiramasa was delectable as well. The pairing of the kingfish,
yuzukosho
, and avocado was perfect, a gorgeous mélange of flavors that expertly played the piquancy of the condiment against the creaminess of the fruit. The puffed rice, meanwhile, served as a great textural element. Very nice.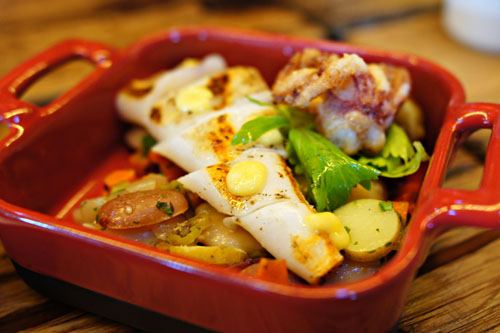 WOOD GRILLED SWORD SQUID [$11.00]
| marinated gigande beans, lemon curd
Squid was soft, supple, and snappy, with a definite sweetness heightened by the presence of grapes. Indeed, it was a joy to eat (the fried legs in particular), and I appreciated how the beans helped to ground the dish.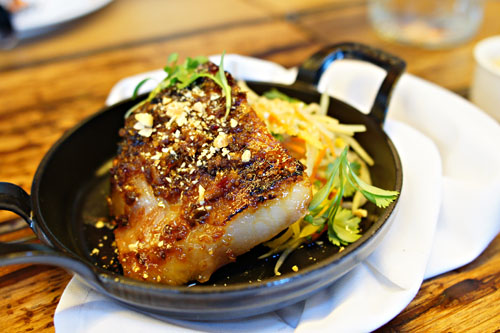 VIETNAMESE CARAMEL PORK [$13.00]
| green papaya salad, lime
Pork arrived expectedly decadent and unabashedly fatty, with a marked saccharine smack to go along with the intense pork-y goodness of the dish. The papaya salad helped to moderate the sheer heft of the meat, but I wanted a bit more crunch, a bit more acidity to it.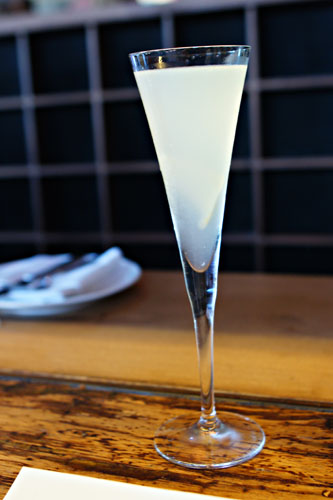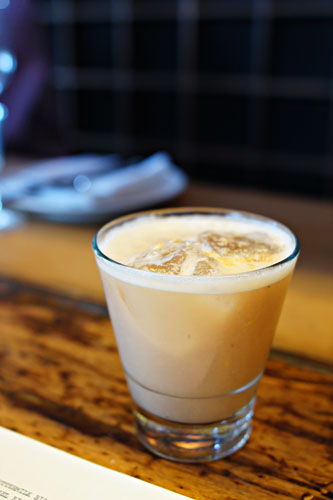 DIRGE: CORPSE REVIVER [$11.50]
| corpse reviver w/ old raj, lillet, lemon, absinthe
FESTERING BOROUGH [$11.50]
| ny sour w/ eagle rare, lemon, cinnamon, framboise
Time for round two of cocktails. The corpse reviver was worthy of its name, with an intensely lemon-y, almost astringent character paired with a boozy kick from the gin. The Festering Borough, meanwhile, was more interesting. It was almost like a raspberry ice cream in essence, with a wonderful sweet spice from the cinnamon.
BLISTERING GREEN BEANS [$9.00]
| thai basil, chili sauce, crispy pork
Green beans showed off plenty of Asian flair, with dark, heavy flavors beautifully set off by the tang of Thai basil, while the pork added further depth to the dish. One of my favorites.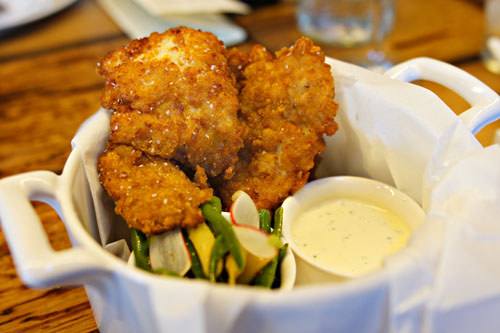 BUTTERMILK MARINATED ORGANIC FRIED CHICKEN [$12.00]
| lemon rosemary ranch dressing
Fried chicken is always a must order, but unfortunately I was left wanting by what basically amounted to chicken tenders. The meat really needed to be moister, more succulent, and more flavorful. There was plenty of buttermilk character to the bird, but something as simple as some rosemary and thyme would've gone a long way here. That being said, though the chicken didn't stand alone, it was quite tasty when taken in concert with the ranch and three types of beans (Chinese long beans, wax beans, haricots verts).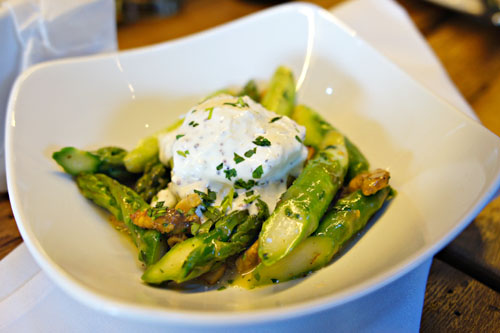 ASPARAGUS [$10.00]
| poached hen egg, chanterelle mushrooms
Asparagus was suitably bright and bitter, though it also conveyed a slight sweetness (from brown butter perhaps?) that we found a bit disconcerting. Nevertheless, I appreciated the earthiness imparted by the chanterelles, while the runny egg added an overarching lusciousness to the dish that helped tie everything together.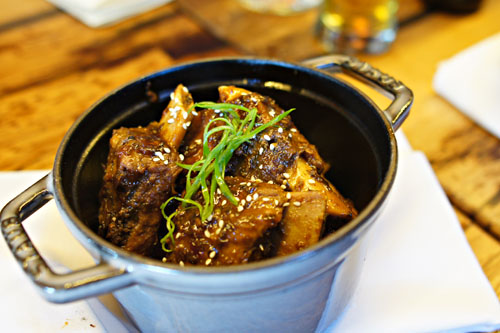 SESAME GLAZED VEAL SHORT RIB [$15.00]
| kim chi
Veal short ribs came to the table nearly falling-off-the-bone tender, with an Asian-y sweetness to go along with the deep, dark flavors of the meat. The kimchi, meanwhile, helped to countervail the considerable gravitas of the ribs.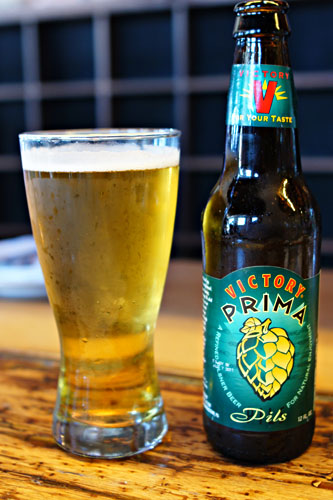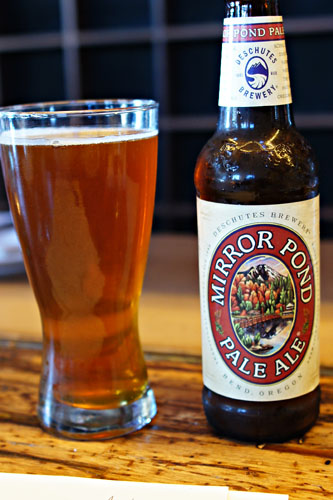 Time to move on to beers. The Prima Pils [$7.50] from Pennsylvania's Victory Brewing Company was possibly the best version of the style that I've had, with a wonderful herbaceousness tinged by a lovely floral character. We also tried Deschutes' Mirror Pond Pale Ale [$6.50], which had a strong caramel-y malt character balanced by a touch of citric hoppiness.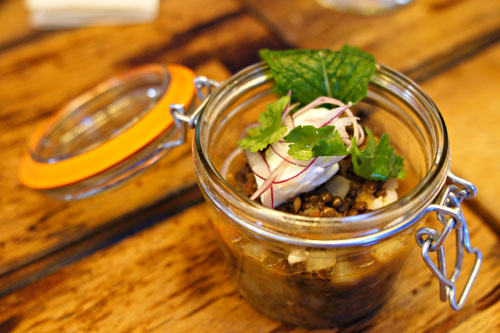 BELUGA LENTIL, SHRIMP and CHORIZO SOUP [$5.00]
| yogurt, red onion, cilantro
I was surprised to see the soup arrive in a canning jar. Appearances aside, I rather enjoyed it, with the lentils forming a lovely base to the soup, on top of which the yogurt, onion, and cilantro could really sing. The overall effect of eating everything together was not unlike that of a beef burrito!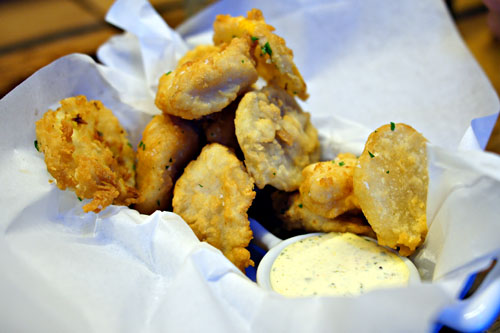 ALASKAN HALIBUT CHEEK and CHIPS [$15.00]
| meyer lemon remoulade
Halibut cheeks are considered the most prized portion of the fish, and here they were tender, buttery, and slightly stringy in consistency. They were tasty with the tangy remoulade, though I would've liked more traditional "chips."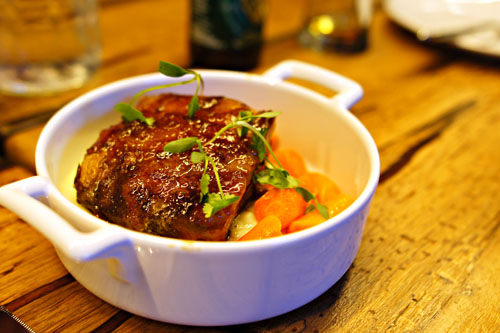 MOROCCAN BBQ LAMB BELLY [$13.00]
| creamy semolina, weiser farm tiny carrots
Our final savory course of the evening brought us lamb belly, which is something you don't see very often. Not surprisingly, the meat was brazenly fatty, with a definite ovine sapor accented by a smidgen of barbecue sweetness. The semolina was almost polenta-like in nature, and helped to counteract the richness of the meat. I did feel that the carrots, when eaten with the lamb, were a bit too saccharine however.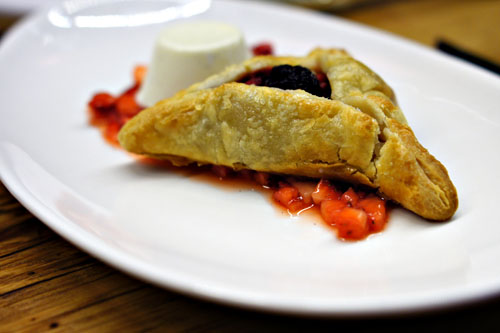 THREE POINT TART [$6.00]
| macerated strawberries & rhubarb, buttermilk panna cotta
In our first dessert, the floral, almost perfume-y sugariness of the strawberry-rhubarb combination was expertly paired with the relatively tame panna cotta. I liked the flavors here, but I would've preferred a flakier, lighter pastry shell.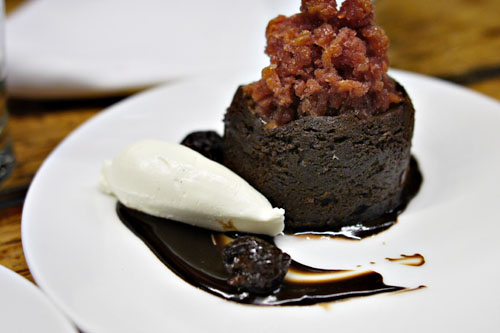 CHOCOLATE CHERRY PUDDING CAKE [$7.00]
| black cherry granita, vanilla creme fraiche
We closed with a delightful chocolate cake, which I found suitably moist and just sweet enough. The chocolate here played gorgeously off of the cherry (I especially appreciated how it was presented in granité form), and the crème fraiche was a nice touch as well.
MB Post is a great addition to the neighborhood, and it seems that I'm not the only one who agrees--the place was packed! To be sure, LeFevre's cooking here is a marked departure to what he was doing at Water Grill. It's not fine dining per se, but rather an eclectic blend of the familiar and the new. It's food that's comfortable, but manages to excite at the same time. There are some changes that I'd like to see in some of the dishes, but I think that I may have found my new go-to place in Manhattan...