77 Kentucky (Los Angeles, CA)
77 Kentucky Chicken Restaurant
698 S Vermont Ave, Los Angeles, CA 90005
213.263.2686
Mon 07/25/2016, 08:10p-10:55p

Koreatown's newest fried chicken joint landed on April 9th inside the Vermont Plaza complex that houses perennial K-town favorite Kobawoo House, taking over the former spot of BBQ Chicken (now at 6th and Kenmore).
Chilchilkenteoki
is the first US outpost of a chain of restaurants founded back in 1977, and apparently specializes in Busan-style fried chicken.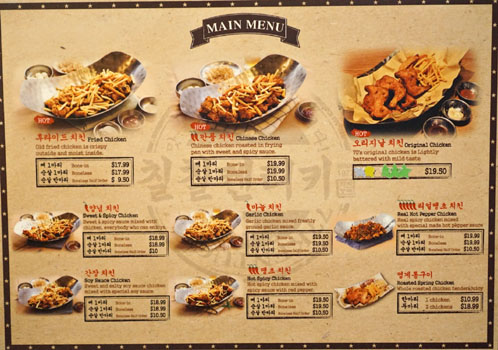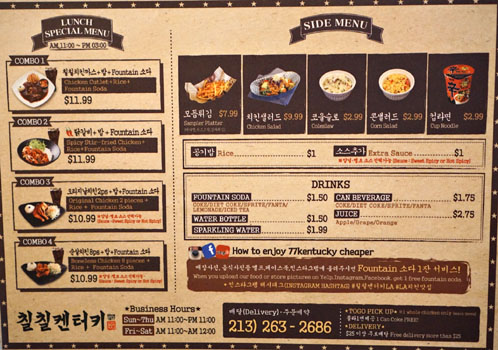 Menu-wise, you get nine variations on fried chicken, most of which are available in half-order portions. There's also a smattering of sides, along with soft drinks to wet your whistle. Click for larger versions.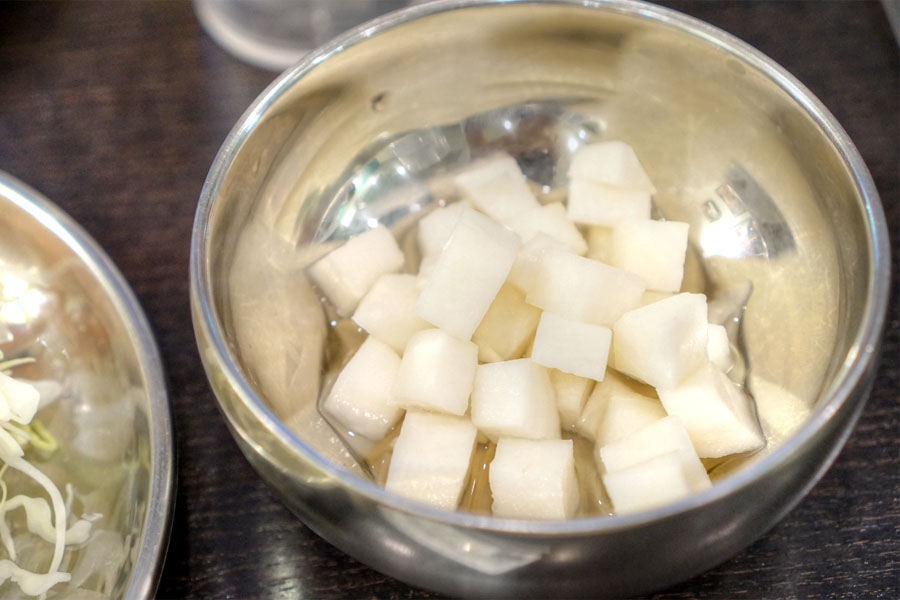 Crunchy, tangy
chicken mu
(pickled radish) was provided of course.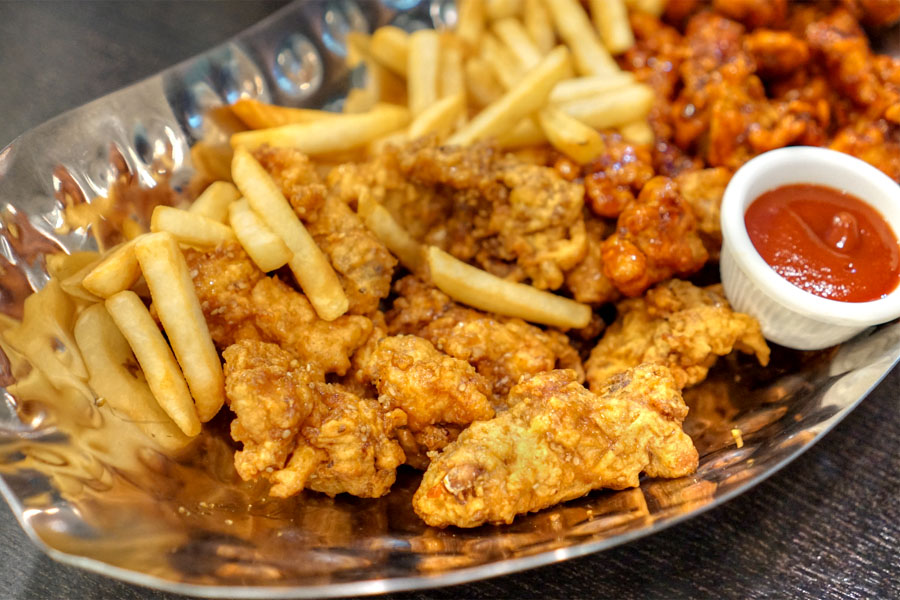 Garlic Chicken (Bone-in Half Order) [$9.75]
| Garlic chicken mixed freshly ground garlic sauce
We ended up going with a half-n-half order to start. The
Garlic
was a table favorite. I found it slightly sweet at first, but then the punch of garlic really kicked in and lingered long and strong. I got a satisfying crunch on the batter too.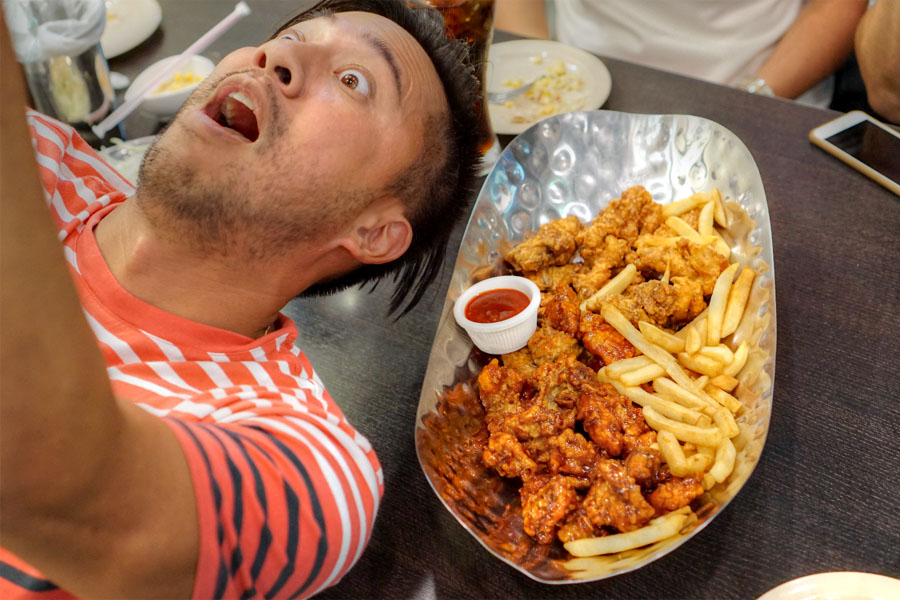 To provide a sense of scale, here we see a full order of chicken in relation to a human head.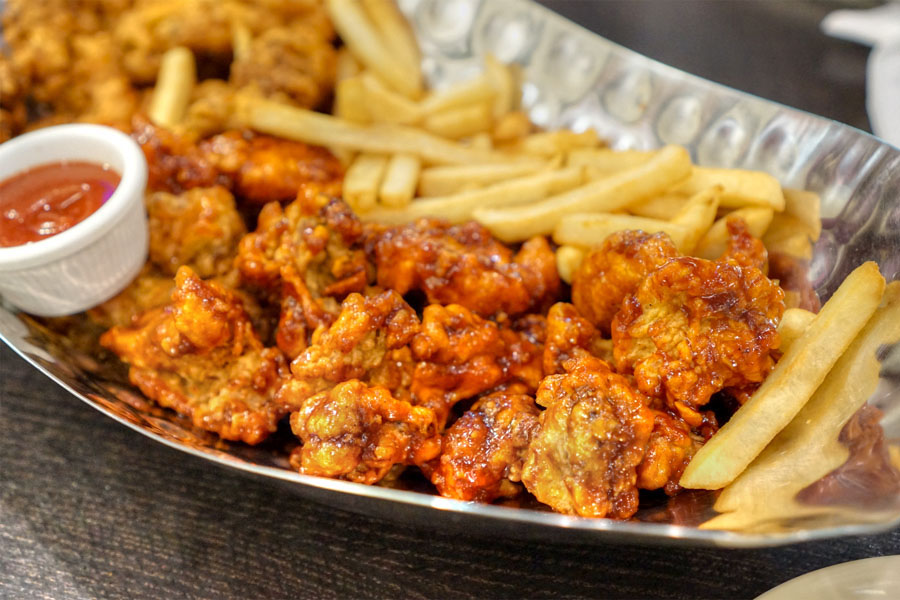 Hot Spicy Chicken (Bone-in Half Order) [$9.75]
| Hot spicy chicken mixed with spicy sauce with red pepper
The
Hot Spicy
lived up to its name with its mixture of sweetness and persistent, slow-burning heat. Fries were pretty standard, but worked as a contrast.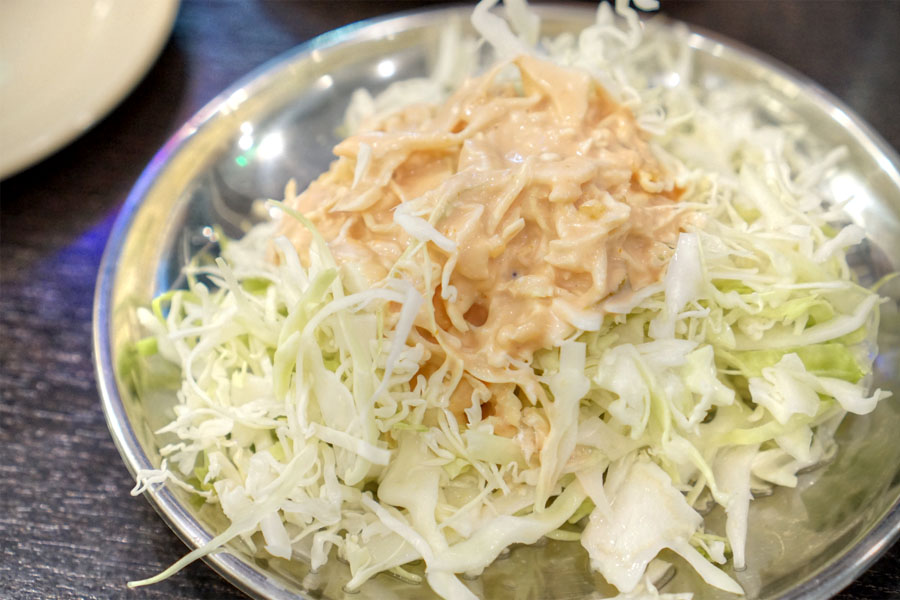 A complementary serving of shredded cabbage provided a bit of balance to the meal.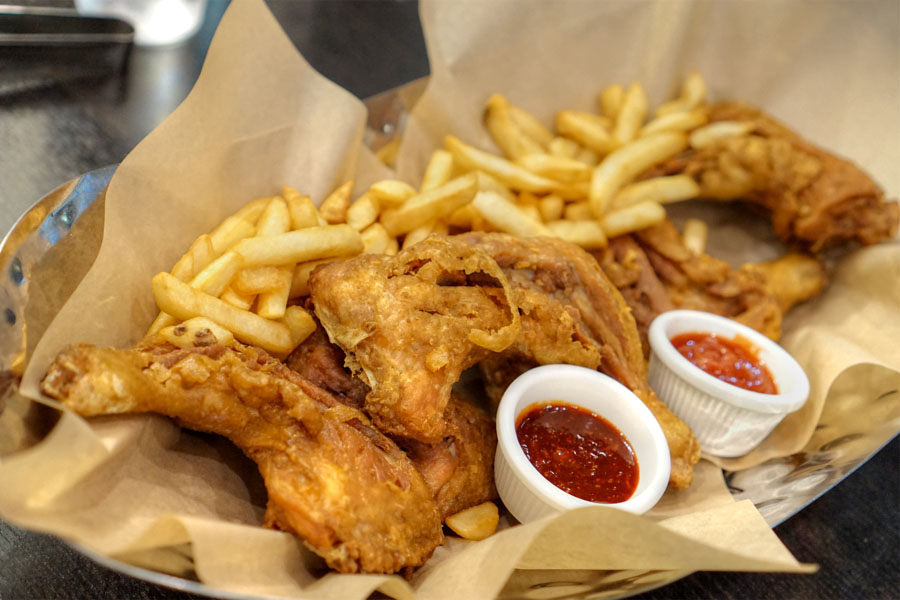 Original Chicken [$19.50]
| 70's original chicken is lightly battered with mild taste
The signature
Original Chicken
was a highlight. Containing dark meat only, it was definitely more of an old-school preparation, with a thin, crisp batter that really allowed the juiciness and flavor of the bird to shine.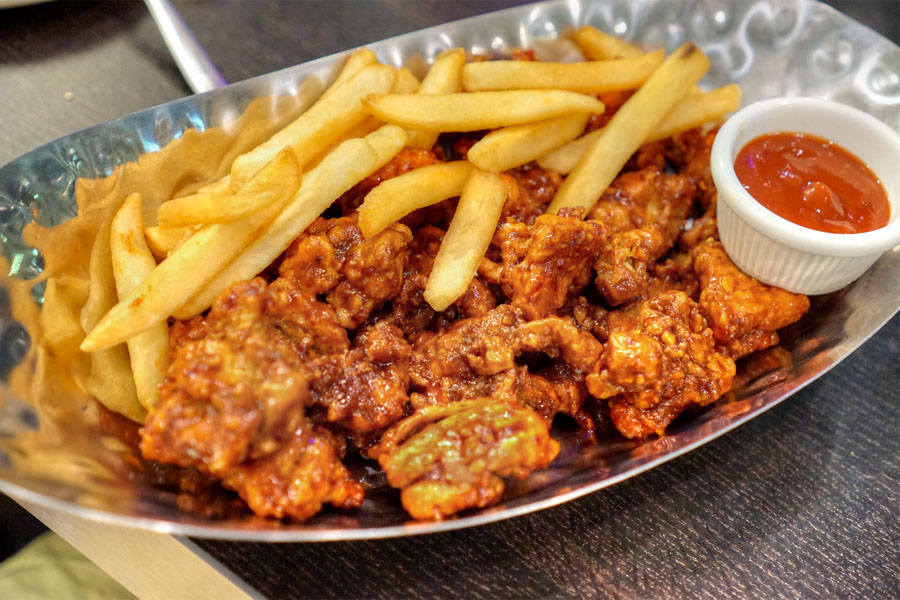 Sweet & Spicy Chicken (Boneless Half Order) [$10.00]
| Sweet & spicy sauce mixed with chicken, everybody who can enjoys
The classic
yangnyeom
preparation hit all the right notes with its marriage of spicy and sweet.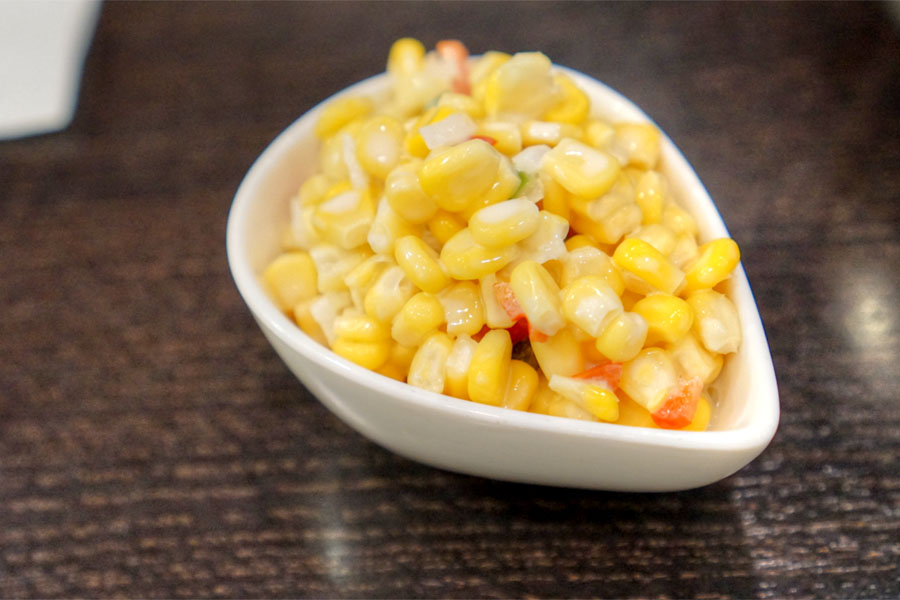 Corn Salad [$2.99]
A corn salad was light and refreshing, though tiny.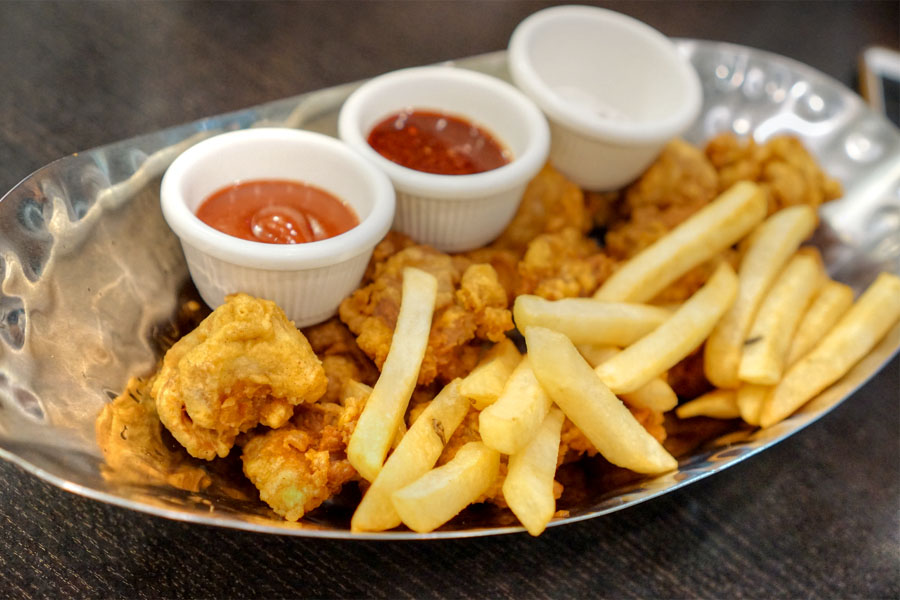 Fried Chicken (Boneless Half Order) [$9.50]
| Old fried chicken is crispy outside and moist inside
An unflavored version made for a purer expression of chicken, and worked well with a dab of the provided sweet-hot sauce and even better with a touch of salt-and-pepper.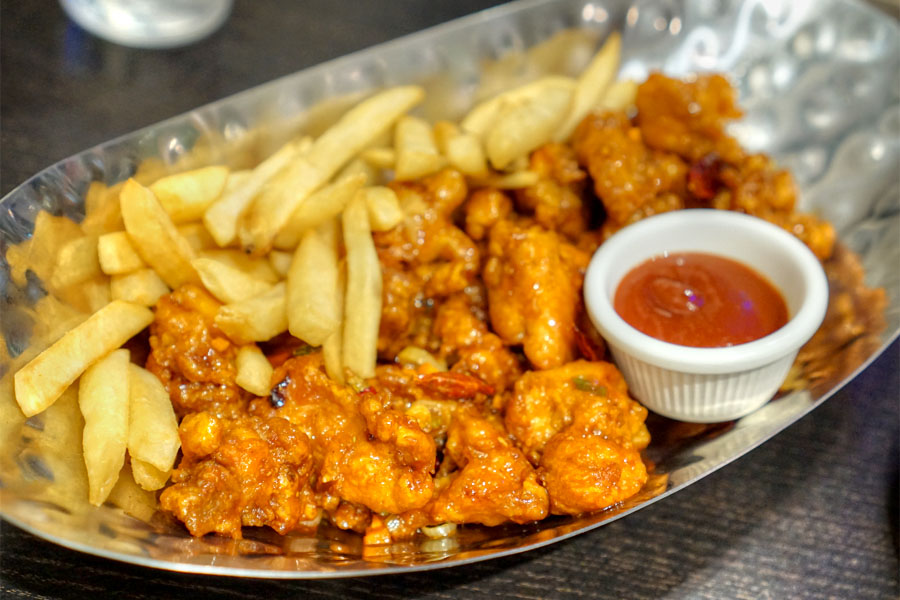 Chinese Chicken (Boneless Half Order) [$10.50]
| Chinese chicken roasted in frying pan with sweet and spicy sauce
Last up was the Chinese-inspired chicken, another standout. It was perhaps the most balanced of the bunch, with a delectable mix of sweet, spicy, and savory
kkanpunggi
flavors.
I think we were all pleasantly surprised by this place, and I will say that this was some of the better Korean fried chicken I've had in a while. Definitely worth a shot if you're craving the stuff.