Baldoria (Los Angeles, CA)
Baldoria Bar & Kitchen
243 S San Pedro St, Los Angeles, CA 90012
213.947.3329
www.baldoriadtla.com
Tue 06/14/2016, 08:00p-11:50p

Little Tokyo's drinking scene got a shot in the arm recently with the debut of Baldoria ("spree" in Italian), which opened on May 6th. The place comes to us from one David King, a Texas native who used to be GM/Wine Director of the shuttered Cube Marketplace & Cafe, and before that, a sommelier at
Mozza
. Kitchen duties are handled by Duke Gervais, a CSCA grad (c/o 2008) who previously cooked at Pizzeria Antica in Santa Monica as well as at Cube, where he became Executive Chef in August 2013 after the departure of Erin Eastland (who went to
Milo & Olive
). Meanwhile, Matt Bostick, another Mozza alum, joins the team as Beverage Director.

Baldoria takes over the former address of Michael Cardenas'
Aburiya Toranoko
, right next door to the old home of DTLA dining pioneer
Lazy Ox Canteen
(which is apparently becoming an outpost of Silver Lake's Gingergrass). The room was reworked by local firm
Project M Plus
(Salazar,
L&E Oyster Bar
) and is a simpler, cheerier space now (though I'm sort of bummed to see
Prime
's Murakami-inspired mural go). There's space for about five dozen inside, across mostly high top/communal seating, while the patio out front accommodates another 20.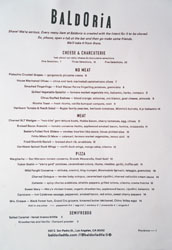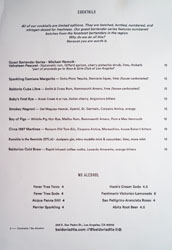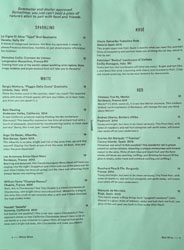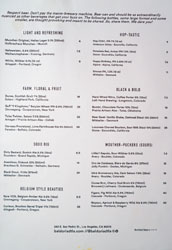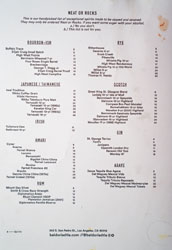 Early reports had Baldoria's menu taking inspiration from Haitian and Southern traditions, though what we had tonight was definitely Italian-ish. You get a selection of smaller plates and a surprisingly large array of pizzas, all with a strong emphasis on sharing. Drink-wise, cocktails are the focus here, and the conceit is that all of them are bottled in-house, by hand. What's also interesting is that the place has a guest bartender series in which said guest will create a single bottled cocktail to be added to the list. If cocktails aren't your thing, you can also get your sprits neat or on the rocks (
only
, and there's no vodka), and of course we have beer (eight taps, and a small list of bottles) and wine available too. Click for larger versions.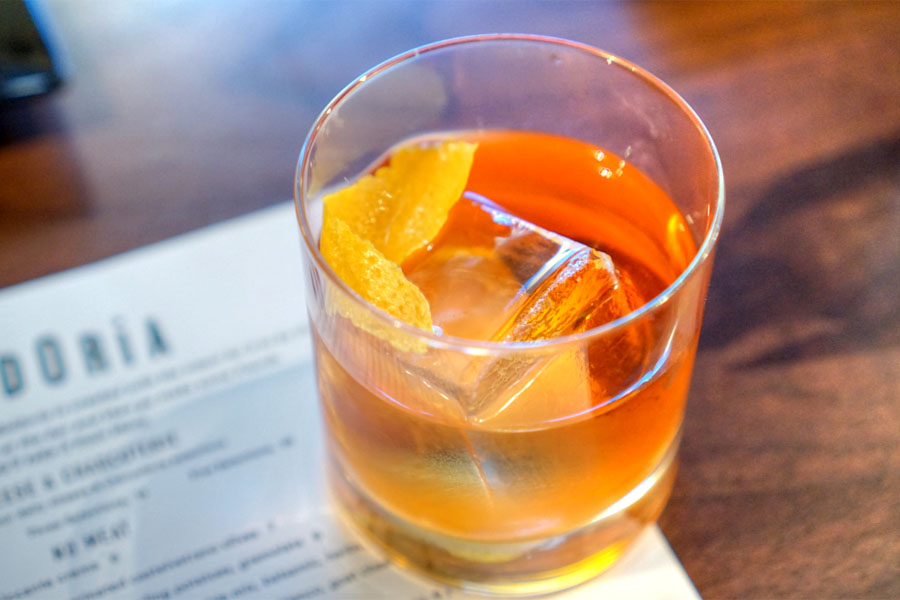 Smokey Negroni [$12.00]
| Del Maguey mezcal, Aperol, St. Germain, Carpano Antica, orange
Naturally, we made sure to give all the cocktails a go. Given my recent proclivity toward mezcal, I wanted to start with this Negroni variation, and it turned out to be probably my favorite of the bunch. Nose was appealingly smoky, with citrus and slight astringent notes. Taste-wise, I got the punch of mezcal first, which transitioned to an almost lush sweetness before finishing bittersweet and citrusy.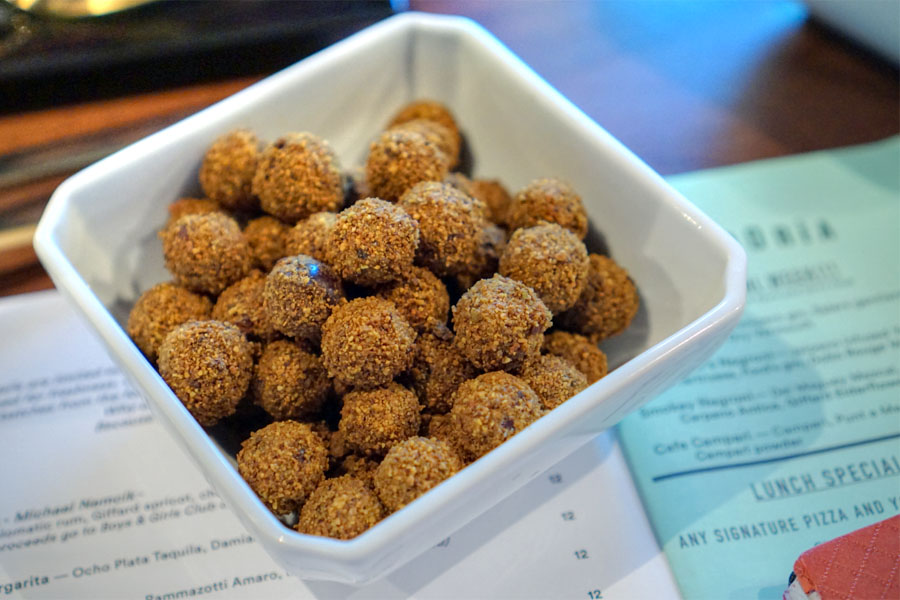 Pistachio Crusted Grapes [$6.00]
| gorgonzola piccante crema
The grapes were oddly addictive, with a great nuttiness from the pistachio playing off the funk of Gorgonzola and sweetness of the fruit in flawless fashion. Reminiscent of the grape amuse bouche at
Melisse
.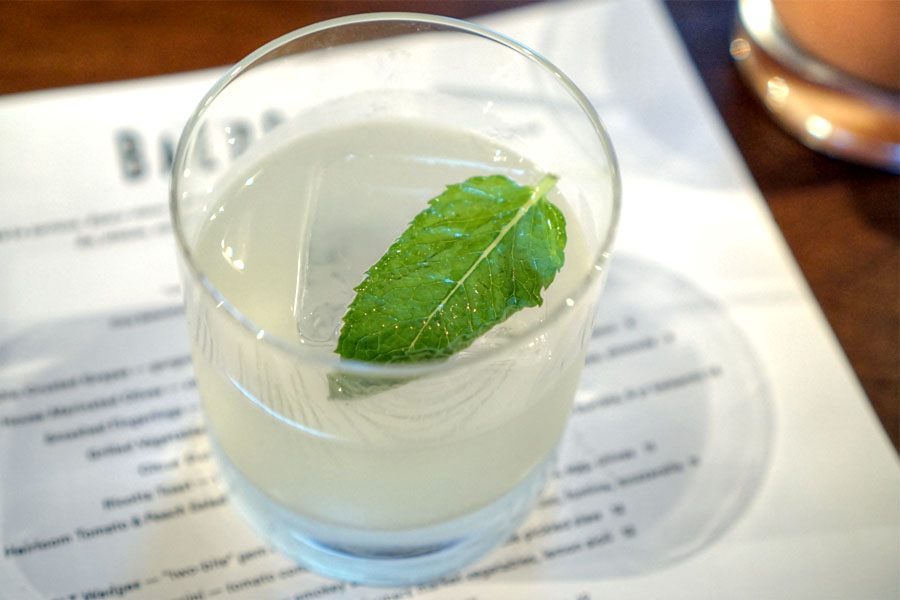 Eastside is the Bestside (DTLA) [$12.00]
| Junipero gin, nitro muddle mint & cucumber, lime, more mint
Our next cocktail was definitely on the refreshing side, with lots of bright, herby, citrusy flavors working alongside the gin.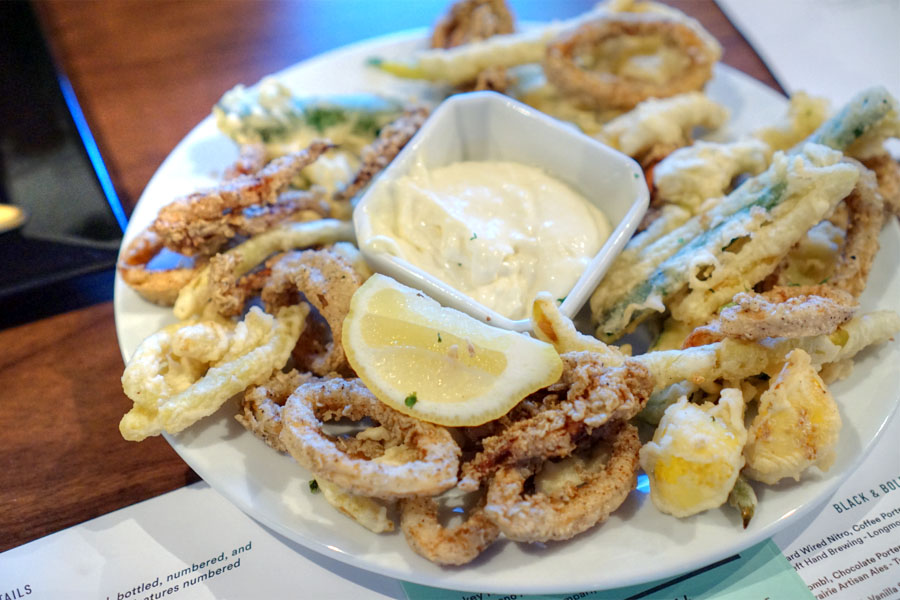 Fritto Misto Di Mare [$12.00]
| calamari, farmers market vegetables, lemon aioli
Squid was well-spiced, but even better with a dab of that tangy aioli, and I also appreciated the lightness provided by the veggies.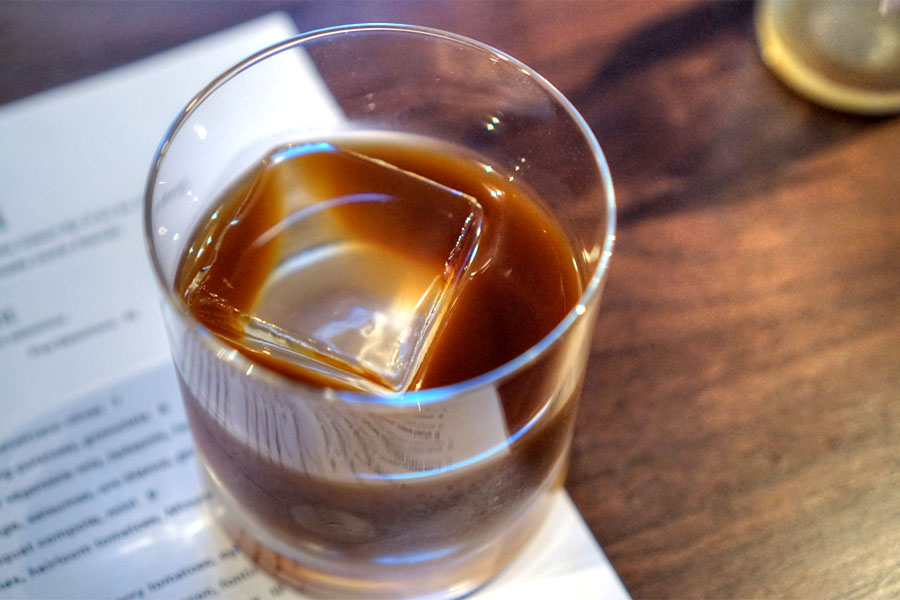 Baldorian Cold Brew [$12.00]
| Rapid infused coffee vodka, Luxardo Amaretto, orange bitters
This cold brew-inspired cocktail certainly showed off the bitter, roasty aromatics of the coffee, balanced out by comparatively sugary notes from the amaretto.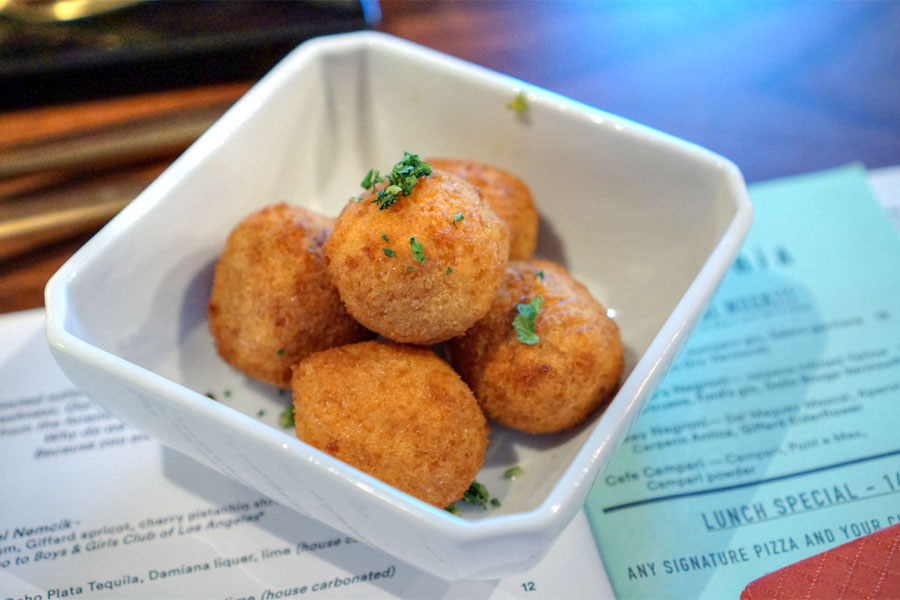 Braised Bacon Arancini [$11.00]
| tomato conserva risotto, applewood smoked bacon, fontina, mozzarella
Rice balls made for satisfying bites: a dose of cheesy, smoky, cozy, creamy goodness in a crisp little package.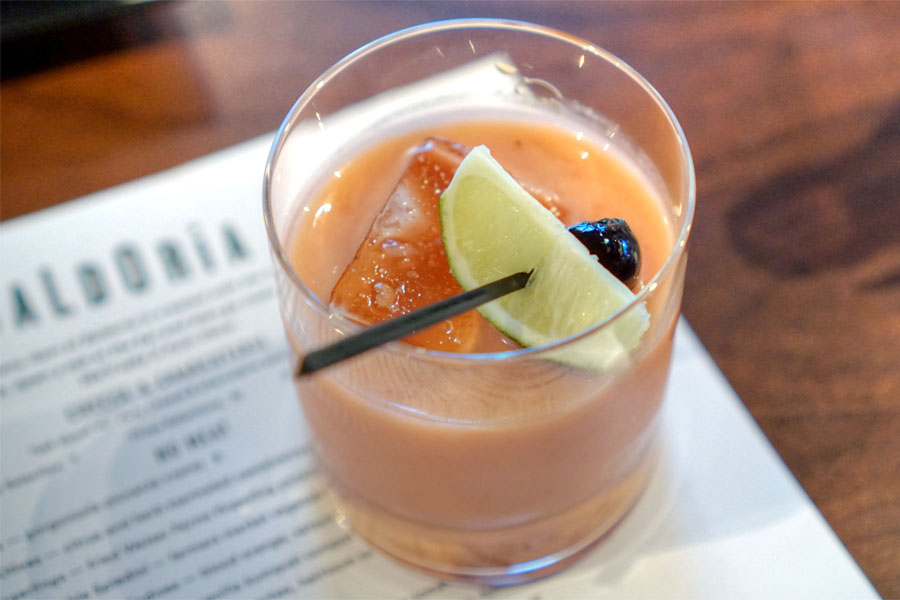 Velveteen Peacoat [$12.00]
| Diplomatico rum, Giffard apricot, cherry pistachio shrub, lime, rhubarb
Baldoria's first guest cocktail came from
Michael Nemcik
, whom we last caught up with at
Fifty Seven
and who's currently working at Mozza and Terroni (in addition to running online wine retailer
Cellar & Vine
). This was a viscous, cloudy concoction, with loads of sweet, almost cinnamon-y spice joined by stone fruit and a countering prick of tartness from the lime.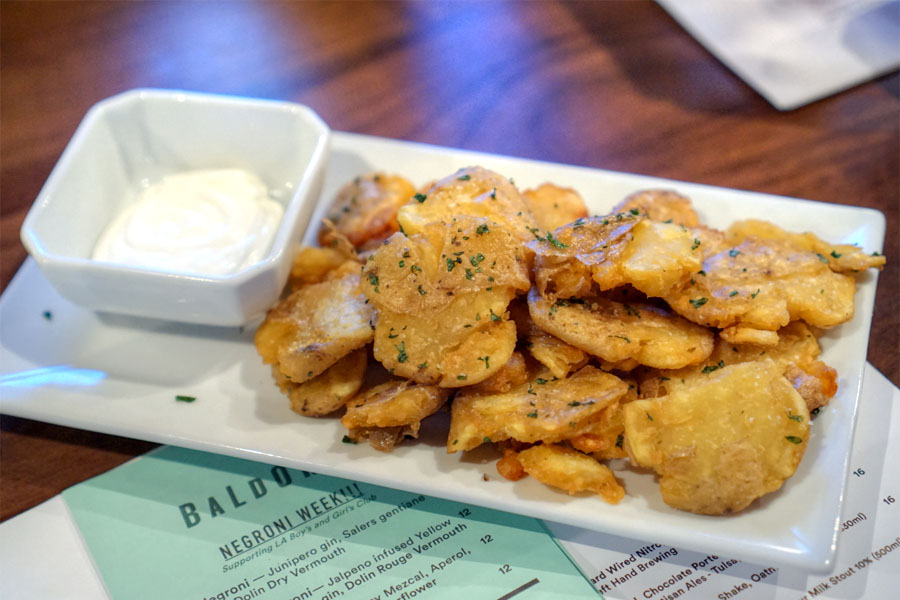 Smashed Fingerlings [$8.00]
| fried Weiser Farms fingerling potatoes, gremolata
Flattened shards of potato came out crisp and herby, with a nice kick of salt.
Circa 1887 Martinez [$12.00]
| Ransom Old Tom Gin, Carpano Antica, Maraschino, house Boker's bitters
This take on the Martinez was quite multifaceted, with a lovely intersection of bittersweetness between the Old Tom and Antica while the Boker's contributed a soft, botanical edge.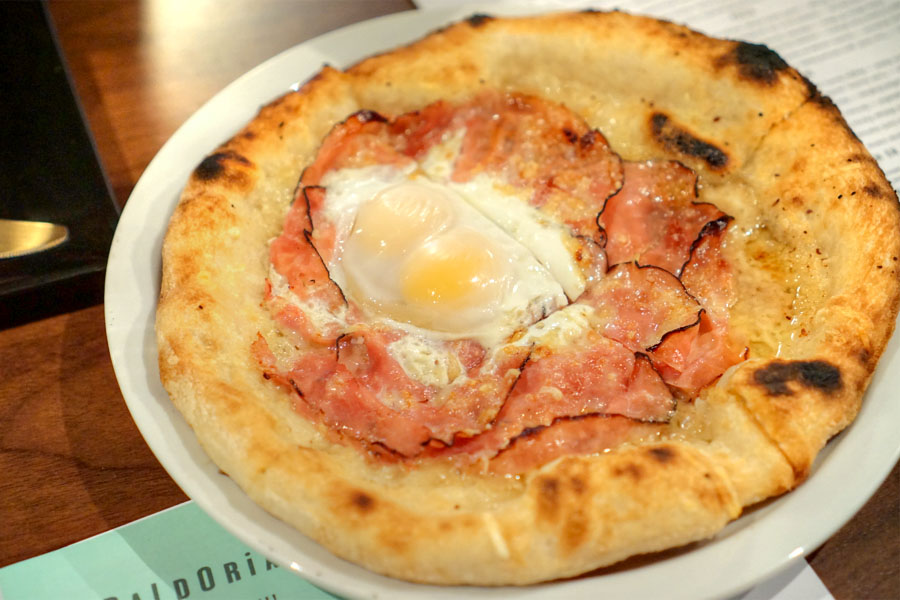 Mrs. Croque [$14.00]
| Black Forest ham, Grand Cru gruyere, browned butter béchamel, Chino Valley eggs
A pizza-fied
croque madame
was a crowd pleaser with its salty, hammy flavors set against the lushness of egg, cheese, and béchamel. Nice crust too, with a good balance of crispness and chew, and decent charring to boot.
Baldoria Cuba Libre [$12.00]
| Smith & Cross Rum, Ramazzotti Amaro, lime (house carbonated)
This version of the classic Cuba Libre was tart and bubbly, but conveyed more gravitas than usual thanks to the bittersweet nature of the Ramazzotti.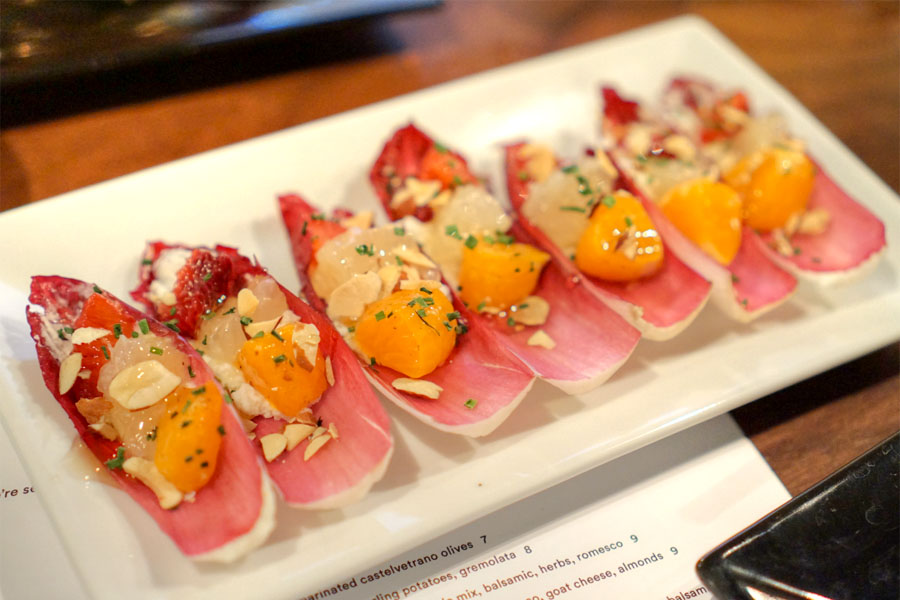 Citrus Stuffed Endives [$9.00]
| blood orange, satsumas, oro blanco, goat cheese, almonds
Our next dish paired the sweetness of citrus with the richness of chèvre, the endive working both as a vessel and as a crunchy contrast.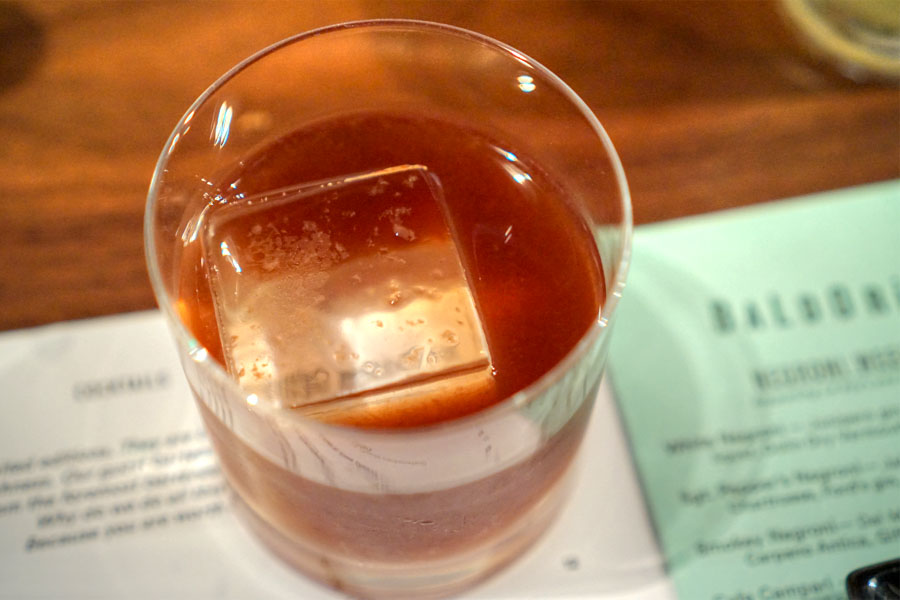 Baby's First Rye [$12.00]
| Knob Creek 6 yr rye, italian cherry, Angostura bitters
This was another standout for me thanks to its combination of sweet, aromatic cherry and spicy rye, with the Ango adding a hit of bitterness to the mix.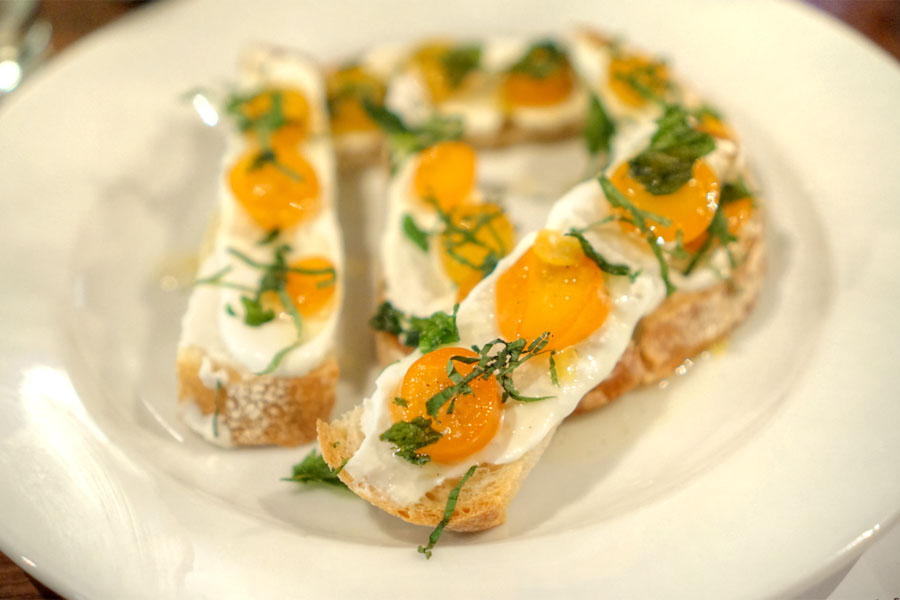 Ricotta Toast [$9.00]
| fresh ricotta, vanilla kumquat compote, mint
Here, the sweetness of the compote was a bit much for me, especially with the vanilla, though the ricotta did help temper things, as did the mint.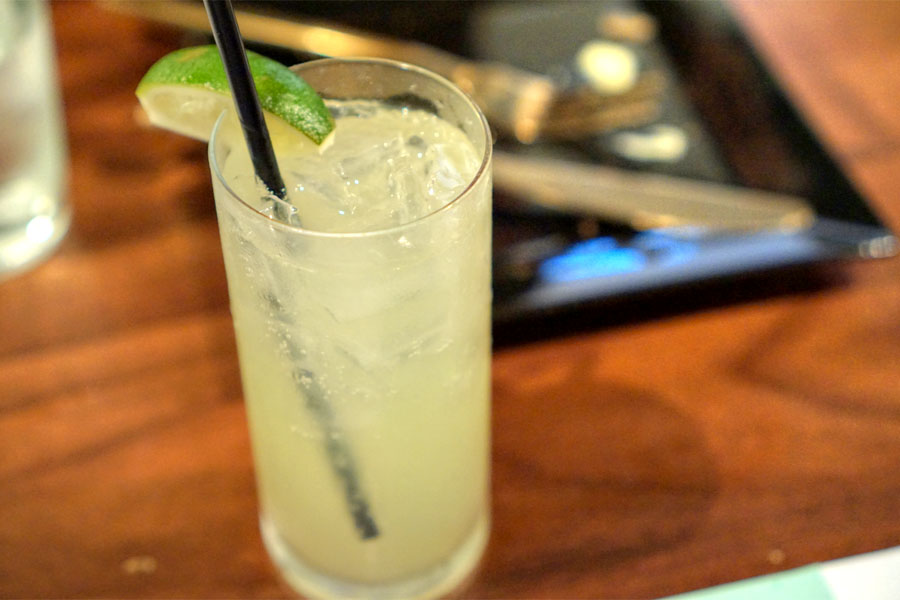 Sparkling Damiana Margarita [$12.00]
| Ocho Plata Tequila, Damiana liqueur, lime (house carbonated)
Baldoria's Margarita was fizzy and almost bracing, with the herbal nature of the Damiana providing a bit more punchiness to the traditional drink.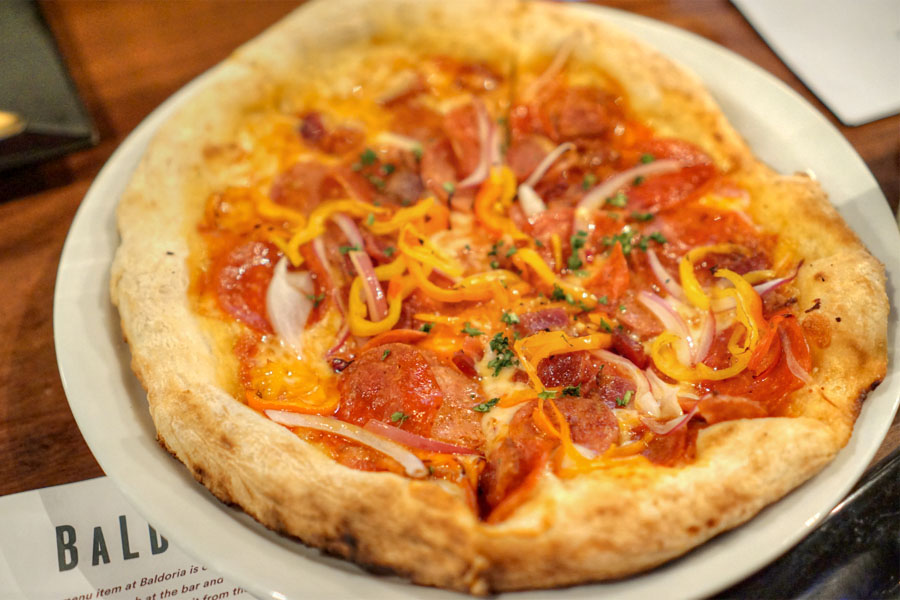 Carnivoro [$14.00]
| hot Calabrese sausage, pepperoni, smoked bacon, red onion, sweet cherry peppers
Our second pizza delivered as well with its bevy of meaty, spicy flavors cut by red onion and sweet pepper.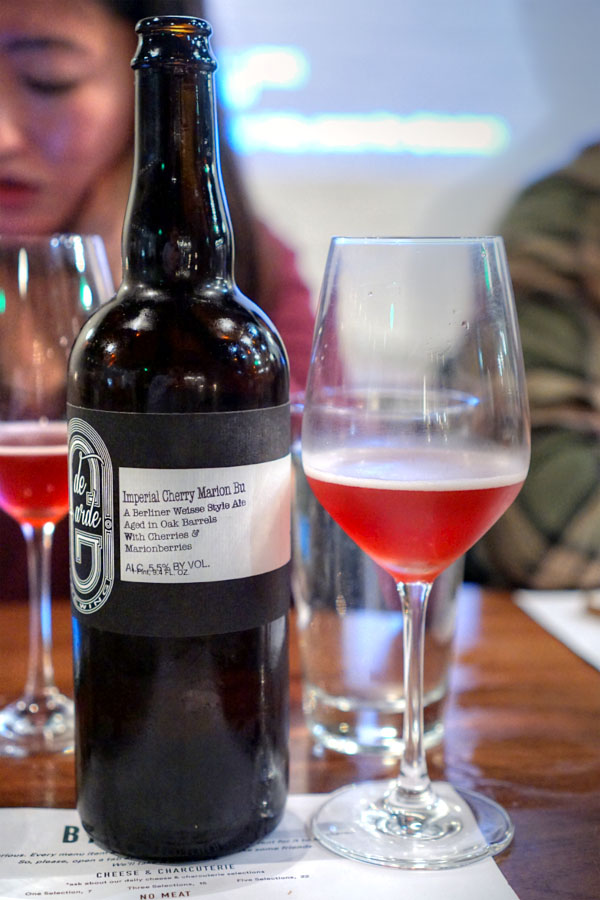 One of my dining companions had arranged with Bostick for us to bring some bottles, and so with the cocktails all sampled, we moved on to 'em. First came the
2015 de Garde Imperial Cherry Marion Bu
, a Berliner-style ale aged in oak wine barrels with Oregon Montmorency cherries and Marionberries. A very strong effort. Think super juicy, tart berries and earth on the nose, and a taste teeming with candied, almost Jolly Rancher-esque watermelon, tart fruit, and funk.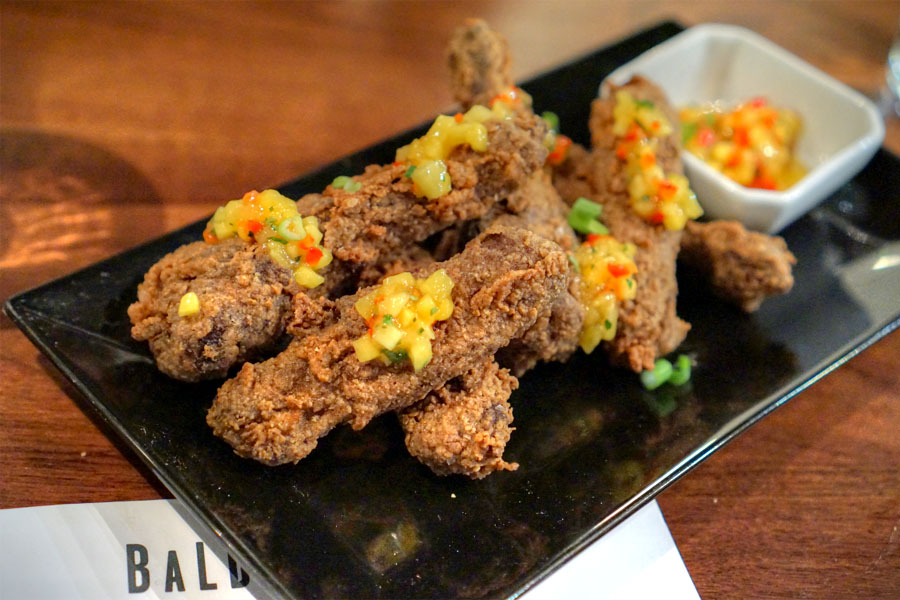 Caribbean Spiced Duck Wings [$12.00]
| confit duck wings, mango salsa, cilantro
Duck wings were super tender, crispy, and came loaded with plenty of that sweet island spice.
Fried Short Rib Ravioli [$12.00]
| braised short rib, arrabbiata
Raviolis arrived nicely crisp, and matched well with the piquancy of that
sugo all'arrabbiata
, though the actual short rib was a bit lost in there unfortunately.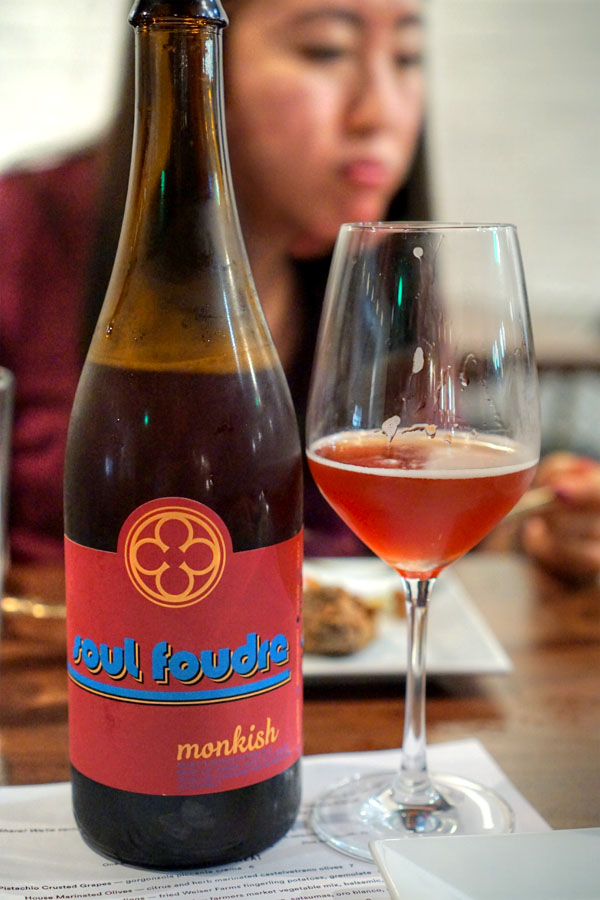 Our next beer was the newly-released
2016 Monkish Soul Foudre with Cherries
, a biere de garde aged in oak for 16 months, then aged several more months in wine barrels with fruit. This one was definitely funkier and tarter to the smell compared to the de Garde. On the palate, too, I found it super earthy, lactic even, with an almost lambic quality to it moderated by the sweet spice of cherry.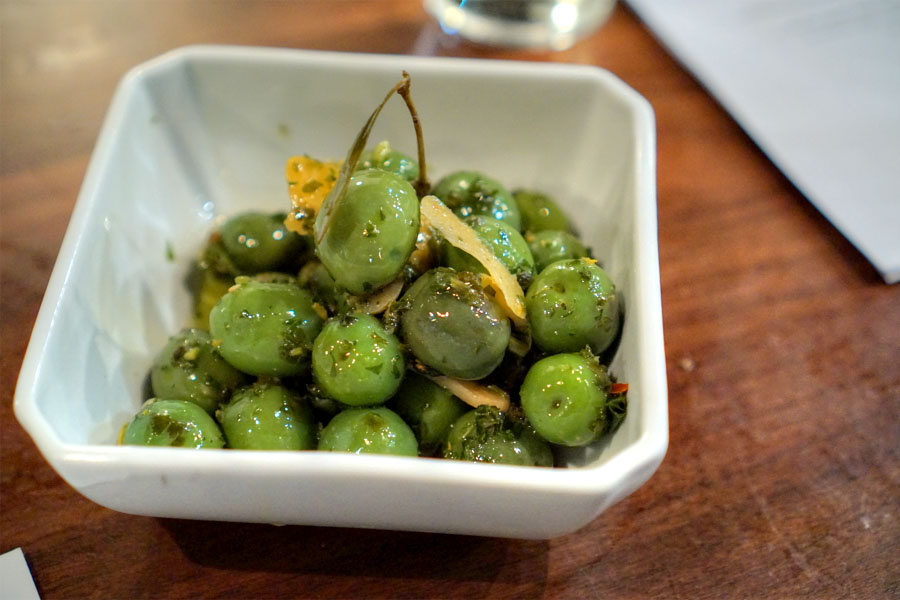 House Marinated Olives [$7.00]
| citrus and herb marinated castelvetrano olives
Castelvetranos were meaty little bites, with a nice astringency from the citrus and herbs.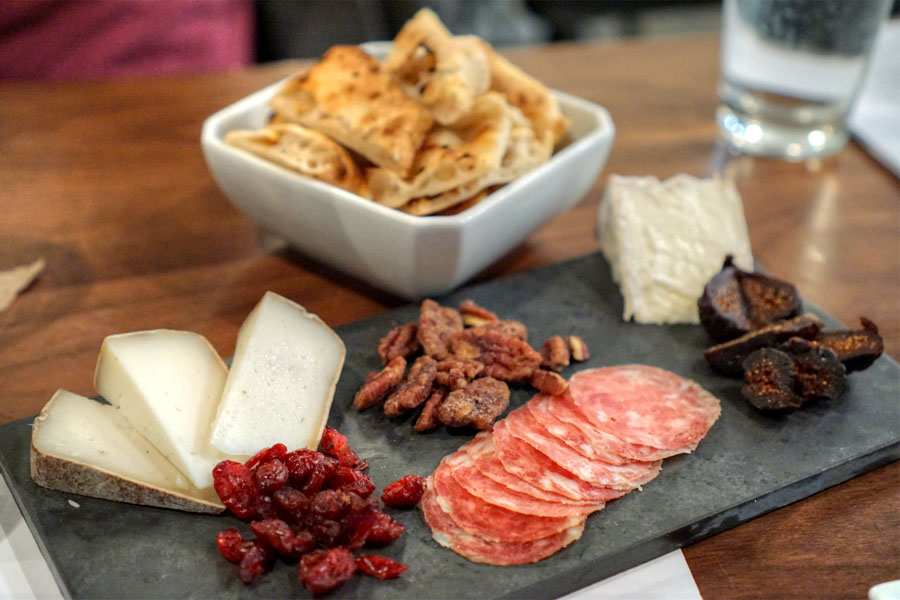 Cheese & Charcuterie [$15.00]
| Three Selections
Ahead of the desserts, we enjoyed a platter of Brillat-Savarin, Garrotxa, and spicy salami. Big, big fan of the included pizza bread here too.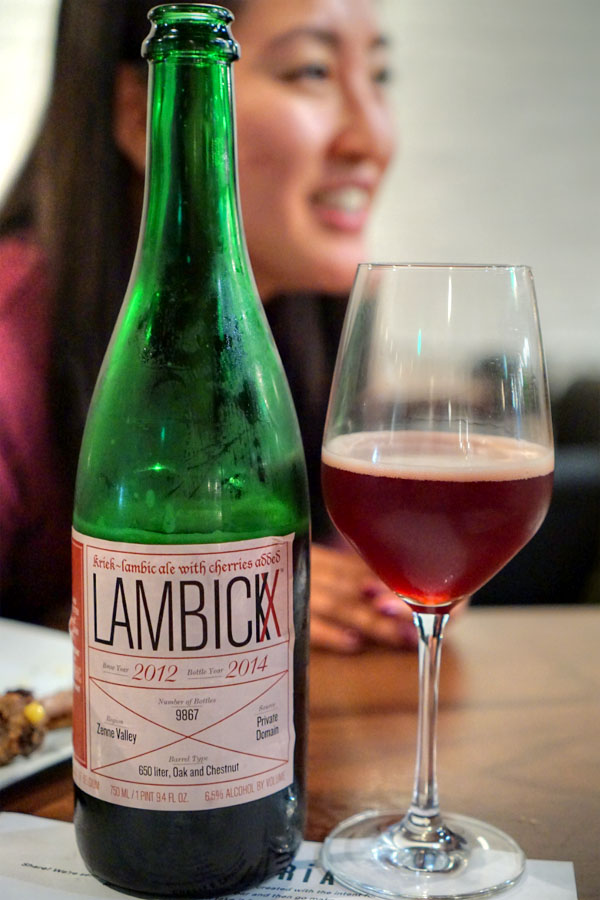 We continued the cherry trend with an oak- and chestnut-aged lambic, the
2012 Vanberg & DeWulf Lambickx Kriek
. Again, loads of barnyard and tart cherry in the bouquet. The taste followed, with a dry, forceful blue cheese funkiness to it intermixed with tart cherry juice.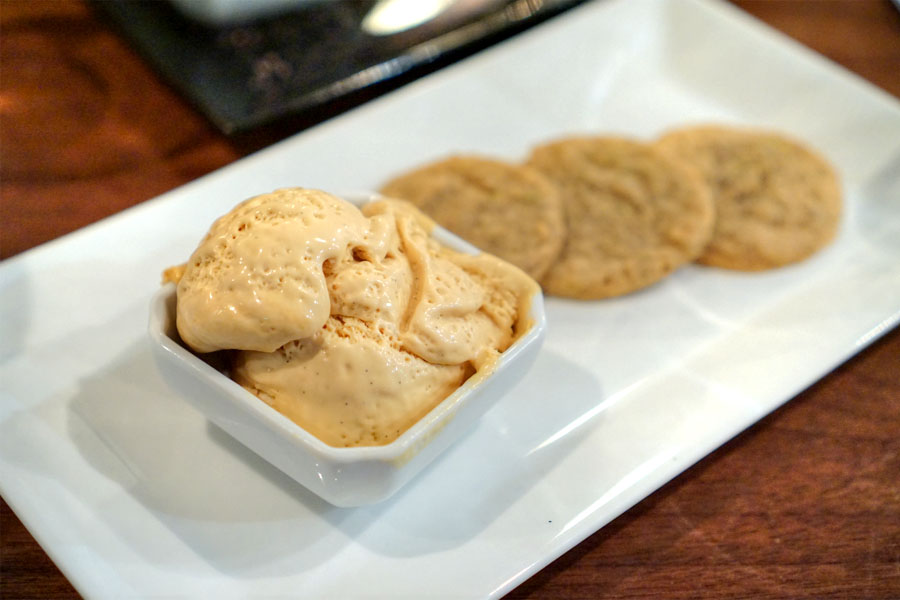 Salted Caramel [$5.00]
| fernet branca brittle
Dessert at Baldoria comprised two types of semifreddo. The first, salted caramel, brought all the rich, salty, sugary nuances that you'd expect.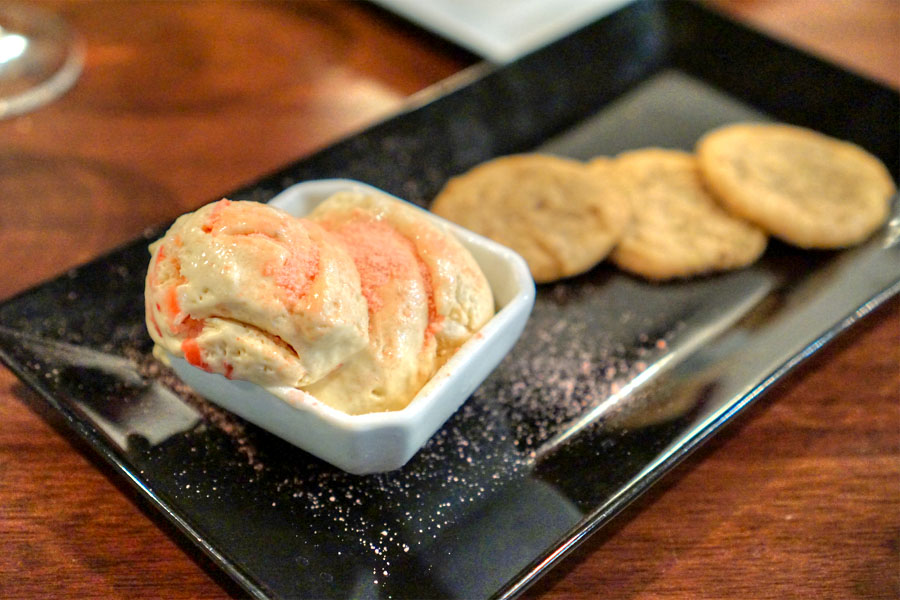 Strawberries and Vanilla [$5.00]
| Campari powder
The second was a touch more interesting with its balance of vanilla and strawberry notes, perked up by the bitterness of Campari.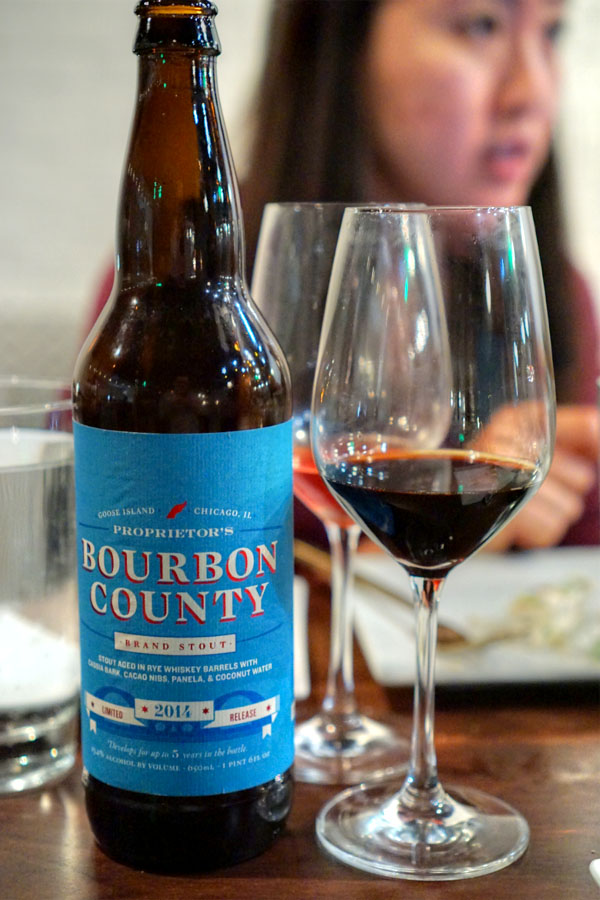 Our final beer was a rye barrel-aged stout with cassia bark, cacao nibs, panela, and coconut water: the much-hyped
2014 Goose Island Proprietor's Bourbon County Brand Stout
. The nose was all about that sweet, spicy cinnamon, with just a smidge of tartness showing through. On the palate I had again cinnamon up front, layered over a base of chocolate, with the light sweetness of coconut breaking through toward the finish.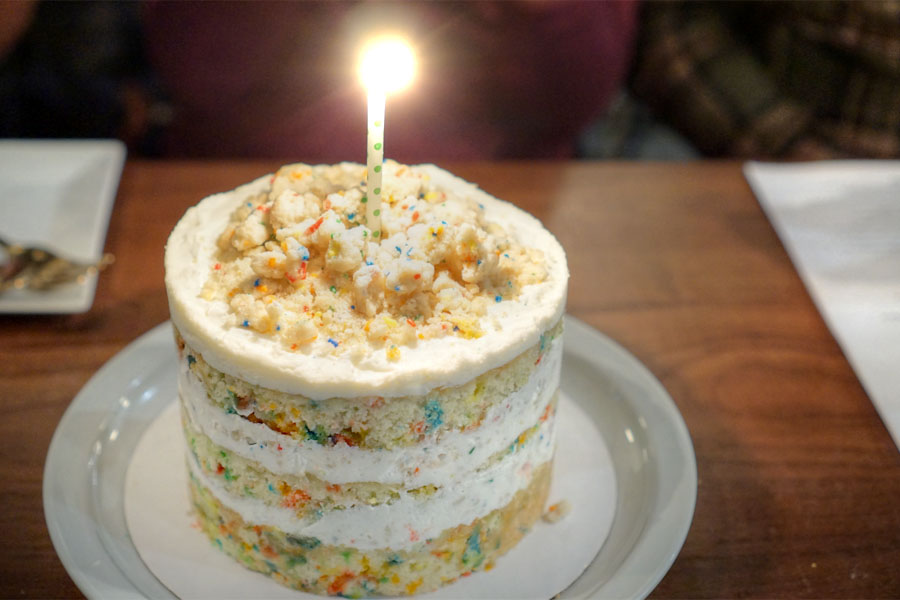 Last up was a take on the Momofuku Milk Bar birthday cake that one of my dining companions made. It was a marriage of nostalgia and modernity with its sweet, classic, "funfetti" flavors and crunchy bits of crumb. Having had authentic Milk Bar cakes before, I'm pretty sure that this could pass for an original.
I was a bit sad to see Toranoko close, but Baldoria looks to be a very different, but very suitable replacement with its innovative cocktail program, largely satisfying bar bites, and surprisingly strong pizza selection. A neat addition to Little Tokyo.