The Cannibal (Culver City, CA)
The Cannibal Beer & Butcher
8850 Washington Blvd, Culver City, CA 90232
310.838.2783
www.thecanniballa.com
Wed 06/22/2016, 08:15p-11:10p

Not long ago, we paid a visit to
Loqui
at Culver City's Platform complex, which was joined recently by The Cannibal. Named after cyclist Eddy Merckx, the New York transplant combines a butcher shop and restaurant, the former bowing on May 16th and the latter a week later. The place is the work of Christian Pappanicholas (Resto) and operating partner Cory Lane (a Momofuku and Nobu FOH vet), who operate two other Cannibal gastropubs in Manhattan: one in Midtown East (est. 2011) and one in Hell's Kitchen's Gotham West Market (est. 2013). In charge of the menu is Executive Chef Francis Derby (King, Shorty's.32, Momofuku Ssäm Bar, Solex, Tailor, Gilt,
wd~50
, Atlas), who also heads things in NYC. Running the day-to-day, though, is Chef de Cuisine Jude Parra-Sickels, a Momofuku alum who also worked at Roy Choi joints
A-Frame
,
Sunny Spot
, and
POT
.

The Cannibal was penned by
Studio MAI
(
Hinoki & The Bird
,
Gjelina
) and exudes that "rustic-yet-refined" feel that's all the rage these days. There's room for about 120 people inside, and even more if you include the decently-sized patio out front.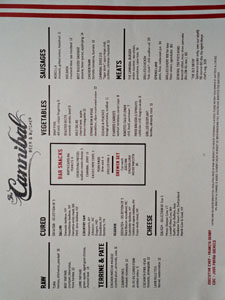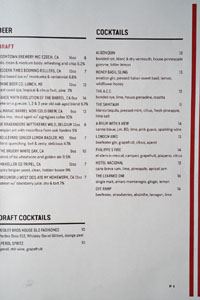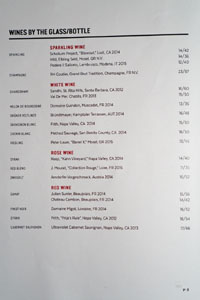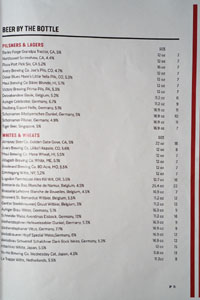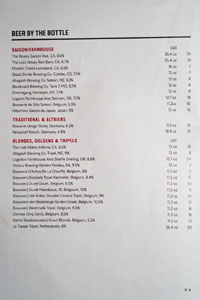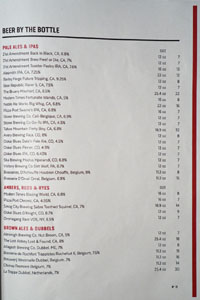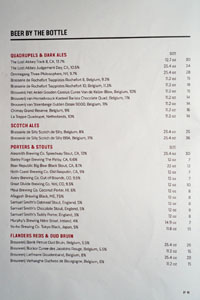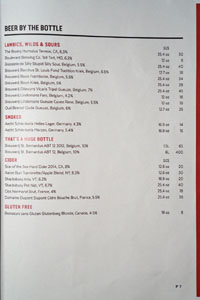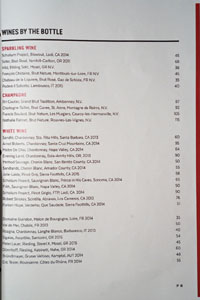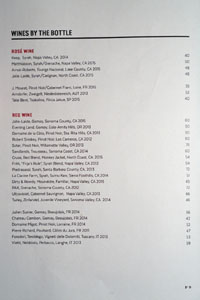 As for the menu, it's heavily biased toward charcuterie, as expected. You'll also find heftier meat plates and a healthy dose of veggies as well. To imbibe, beer is very clearly the focus here. You get 12 beers on draught (in a "flux capacitor" setup, as pioneered by
Beachwood
) along with a hundred-plus in the bottle, all managed by Beer Director Julian Kurland. It's probably the largest beer list I've seen in Los Angeles, though at this point it comprises just the usual suspects. In addition, there are about a dozen or so cocktails on offer and a pretty good sized wine list. Click for larger versions.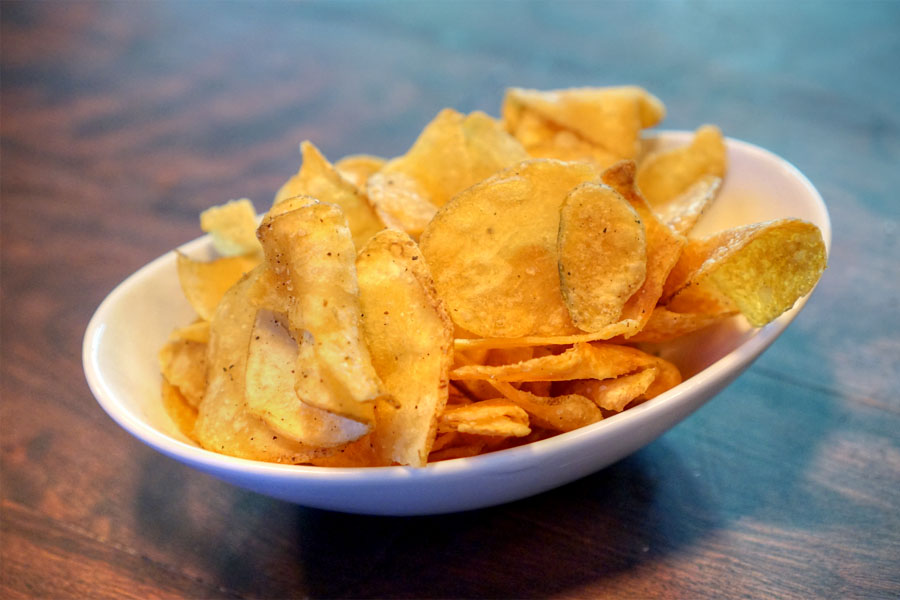 Cacio e Pepe Chips [$3.00]
Our table wasn't available at the stated reservation time (we were seated around 9:00 for an 8:15), so the hostess graciously set us up at the bar and poured us some complementary bubbly, which was a nice touch. In addition, we were given these chips and the pork rinds below, which were also supposed to be gratis, but unfortunately we ended up getting charged for the snacks. That being said, the chips were quite tasty, with a great crunch to 'em, though I could've used a tad more
pepe
in there.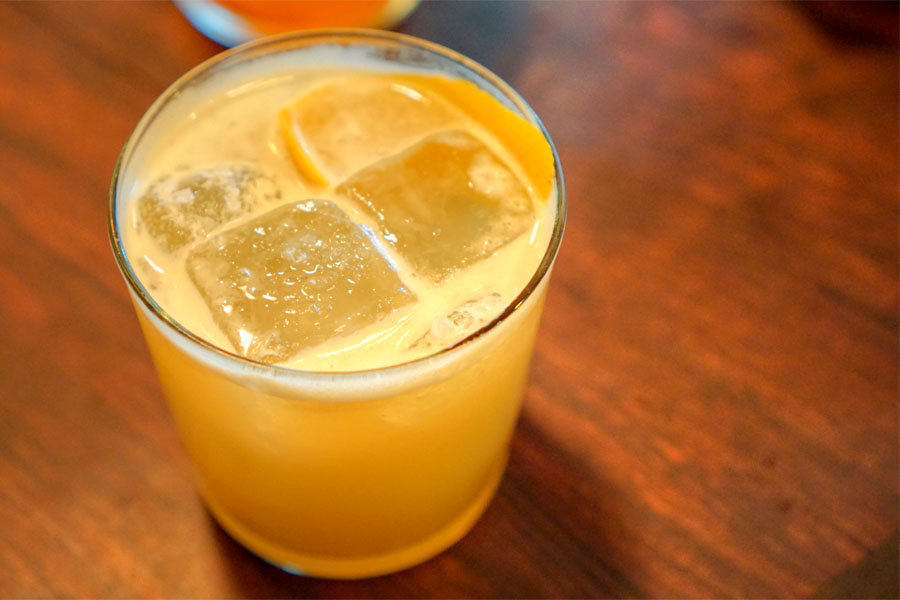 The Learned One [$14.00]
| single malt, amaro montenegro, ginger, lemon
We also ordered a few cocktails while standing at the bar. This first one was all about that ginger, which provided a zesty, acerbic contrast to the bittersweet and boozy notes in the drink.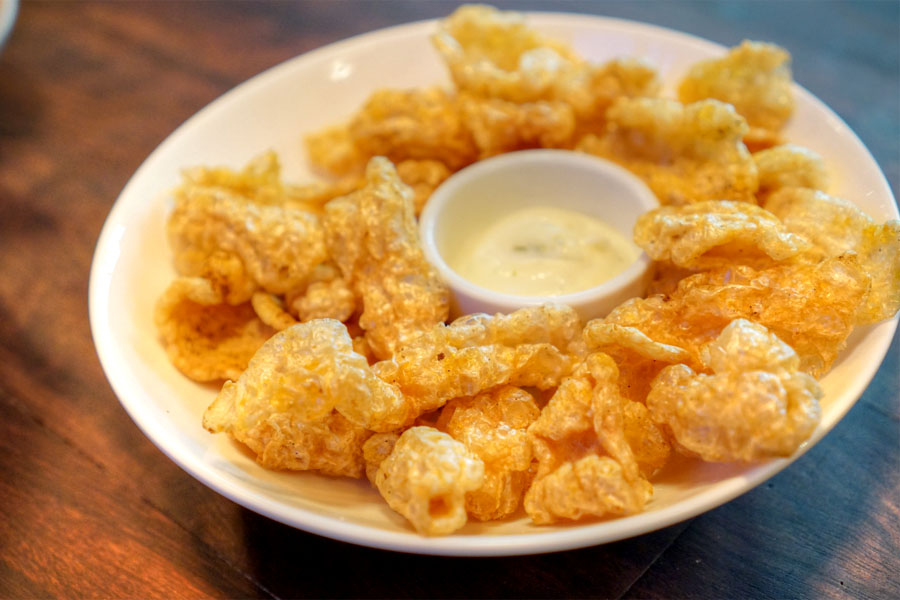 Pork Rinds [$4.00]
| lime aioli
Chicharrones
were delightful: perfectly crunchy and just salty enough, with the aioli adding a welcomed creamy element to the dish.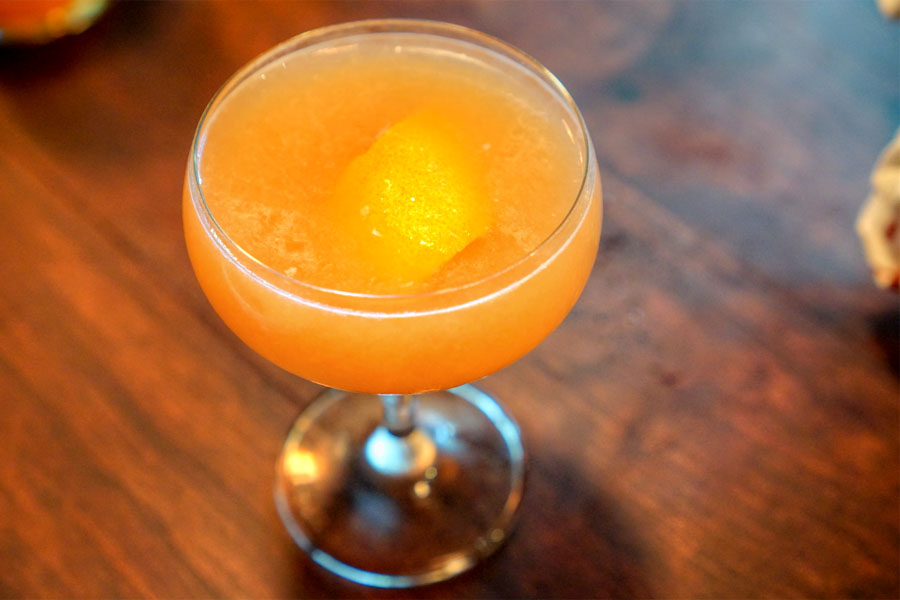 A Rhum with a View [$14.00]
| canne bleue, j.m. 80, lime, pink guava, sparkling wine
This next cocktail went down easy, with tangy, tropical, lingering flavors of guava over a base of rum.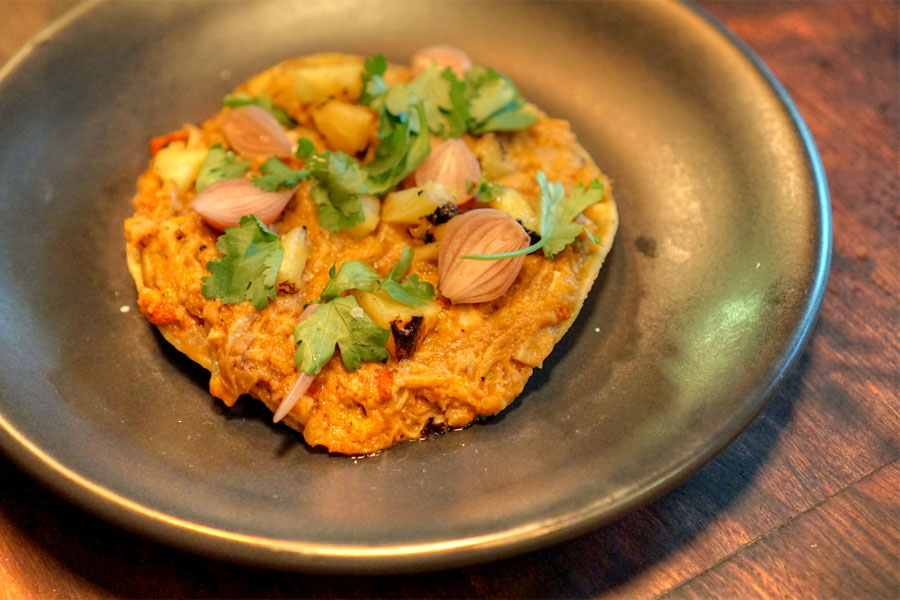 Cochinita Pibil Head [$12.00]
| tostada, pineapple
This take on
cochinita pibil
was a favorite of mine thanks to its super tender cuts of well-spiced pork paired with the brightness of the veggies and crunch of that tostada.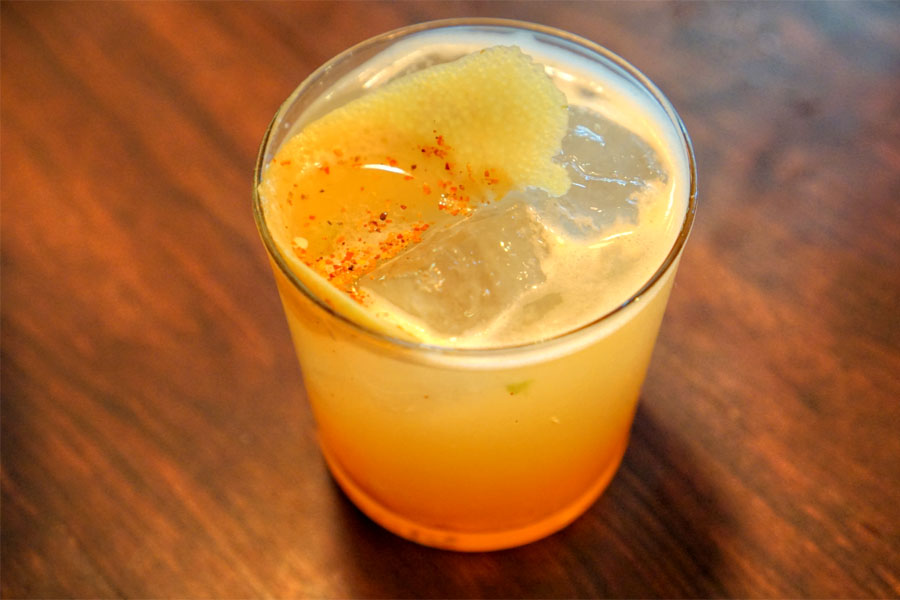 Philippe's Fire [$14.00]
| el silencio mezcal, campari, grapefruit, jalapeno, citrus
The mezcal cocktail also hit the mark with its balance of smoke and spice, all set against light, fruity hits of citrus.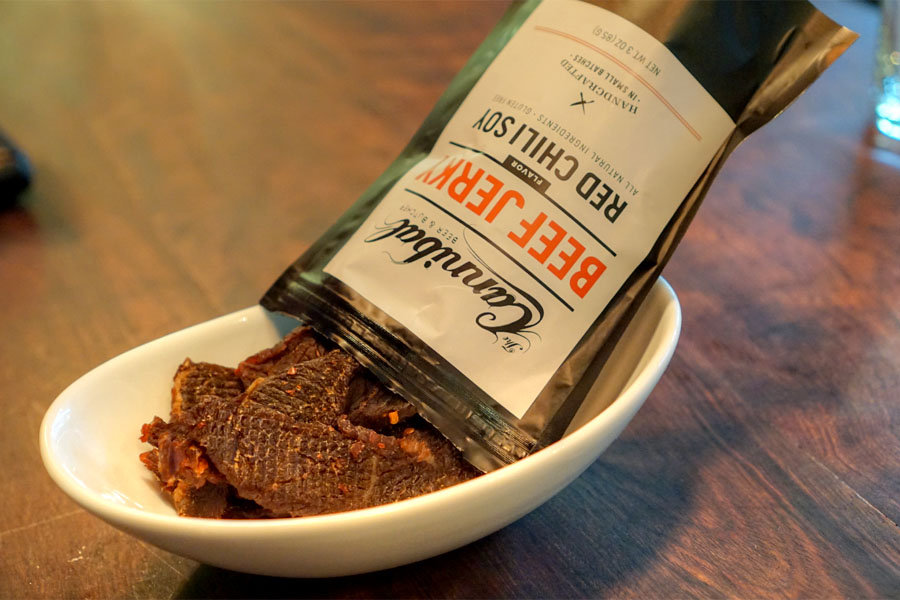 Cannibal Jerky [$10.00]
Jerky made for a gratifying chew and showed off some strong soy-powered flavors.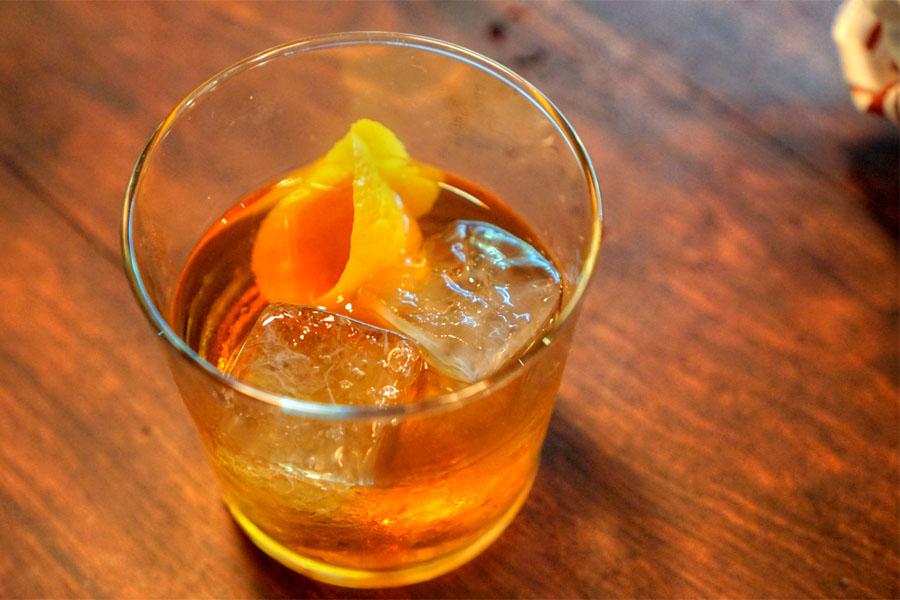 Medley Bros House Old Fashioned [$10.00]
| Medley Bros 102, Whiskey Barrel Bitters, orange peel
One of two available draft cocktails, the Old Fashioned was a viscous one, with an intense bittersweet flavor profile layered over the booziness and burn of the bourbon.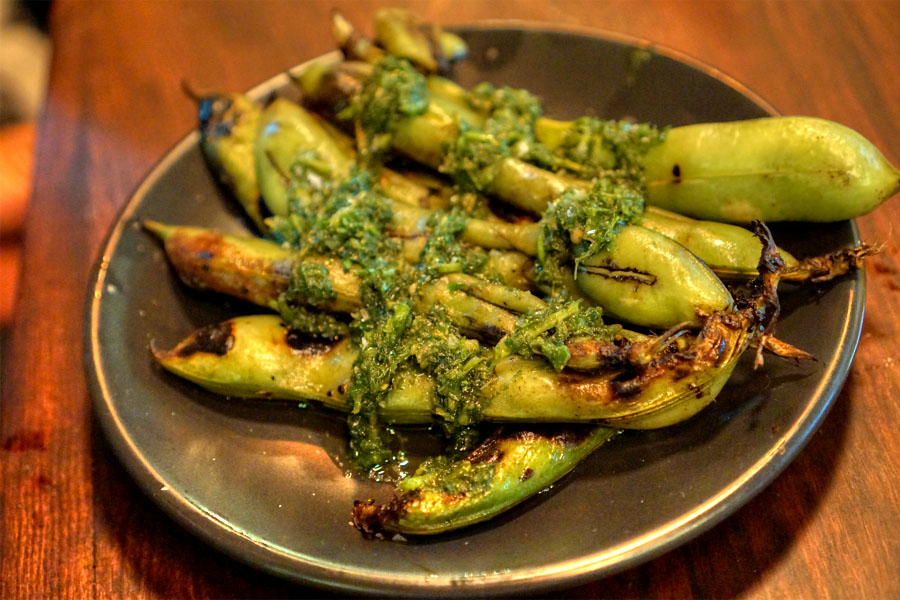 Grilled Fava [$5.00]
Fava beans were fun, coming out well-charred and satisfying to the bite.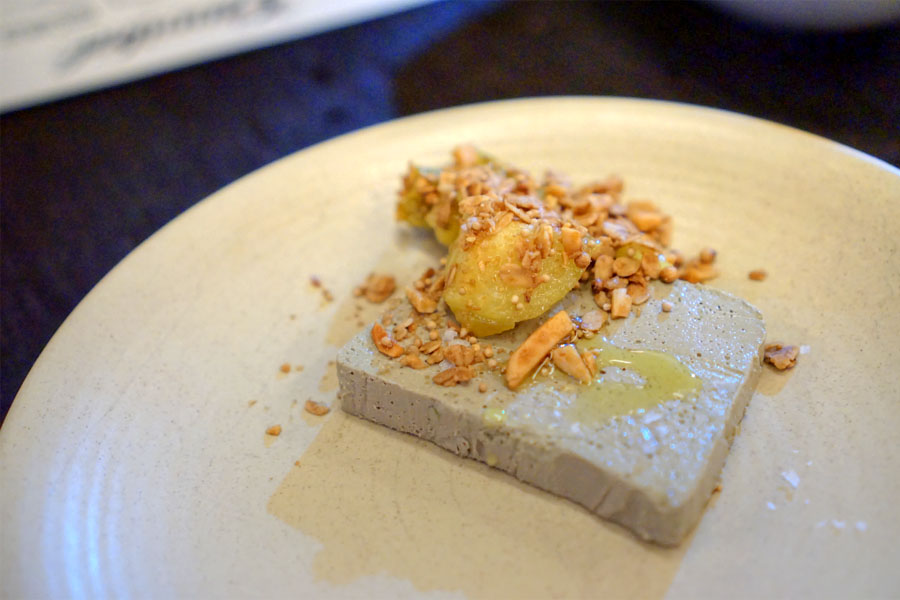 Chicken Matcha Mousse [$11.00]
| roasted plum, almonds, oats
At this point our table was ready and we moved into the dining room proper. A matcha-infused mousse did a nice job playing the bitterness of the tea against the richness of the bird, all while plum added a hint of sweetness and the oats a welcomed crunch.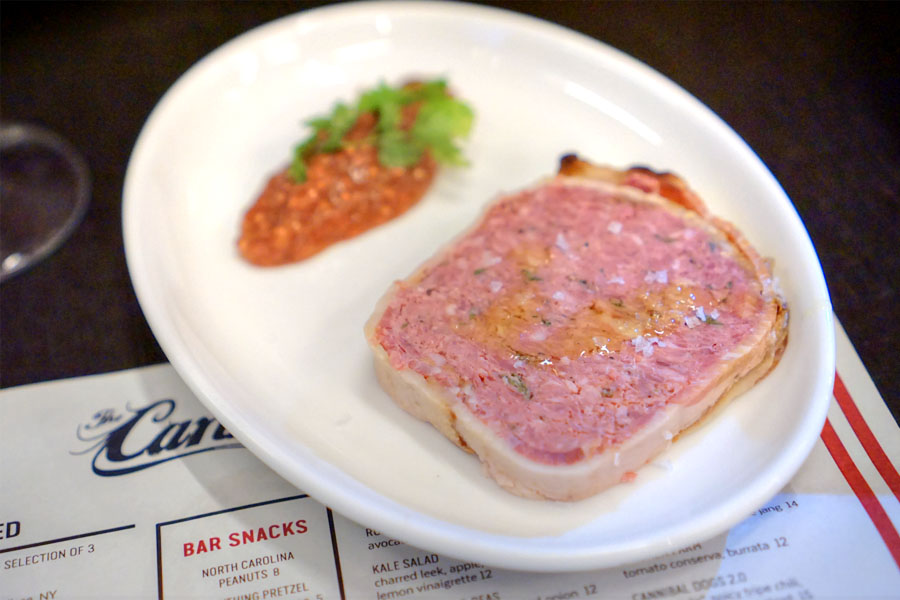 Country Pate [$12.00]
| rhubarb mostarda
The
pâté de campagne
was classic, a gritty, rustic preparation that was all about the pork.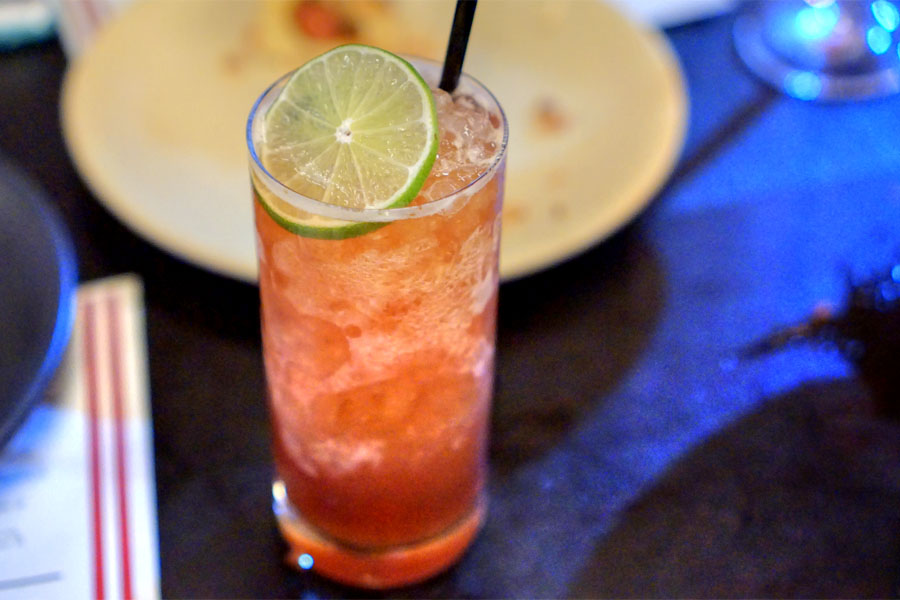 The A.C.C. [$13.00]
| bonded rye, lime, house grenadine, rosetta
Our next drink was on the bracing side, displaying plenty of tart, almost astringent notes cut by the sweetness of grenadine while the rye provided a spicy underpinning to it all.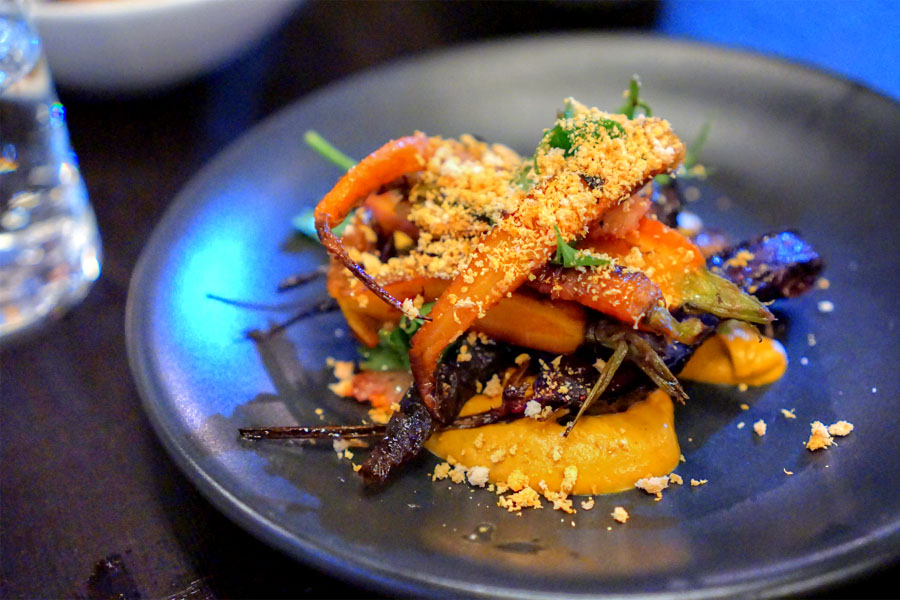 Charred Carrots [$8.00]
| walnut romesco, carrot tops
Carrots arrived soft and sweet, with a smidge of char and a noticeable nuttiness from the walnuts.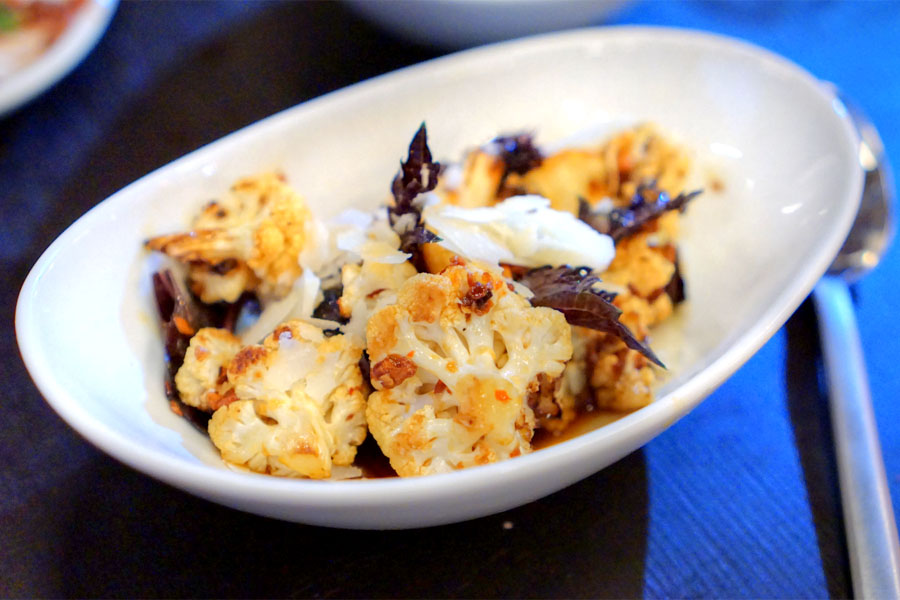 Roasted Cauliflower [$7.00]
| chili, basil, parmesan
The cauliflower was a standout, coming out well-charred and imbued with a deep, chili-fueled savoriness that I found utterly satisfying.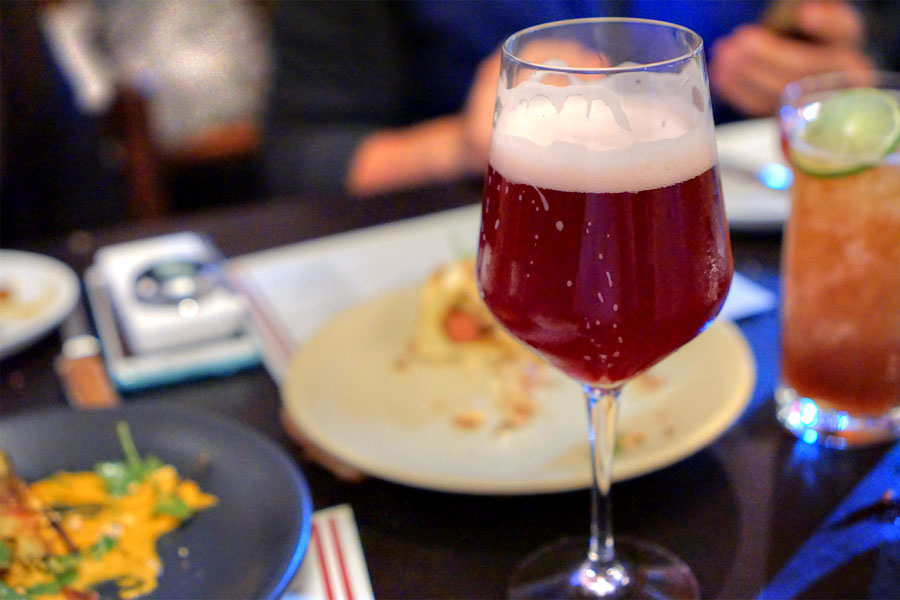 Our first beer was the
Brouwerij West Dog Ate My Homework [$7.00]
, a saison with blackberry juice added. I found this fairly restrained in its jamminess and berry qualities. Rather, I got a dry, slightly funky presentation with subtle fruit but an almost candied quality toward the finish.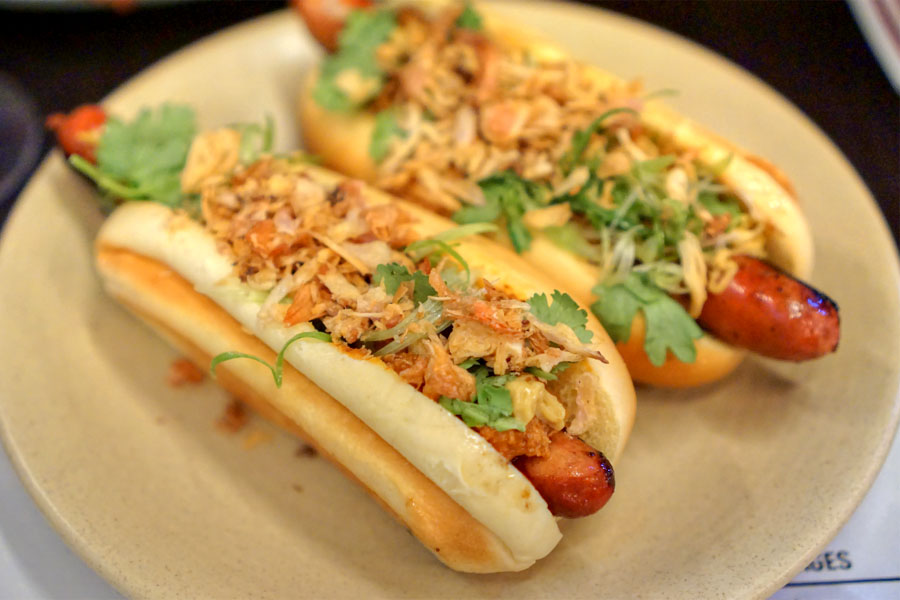 Cannibal Dogs 2.0 [$15.00]
| "tiger style", spicy tripe chili, scallion, chinese mustard
Hot dogs were meaty and snappy, augmented by the chili while the mustard provided a huge blast of heat all up in your nose.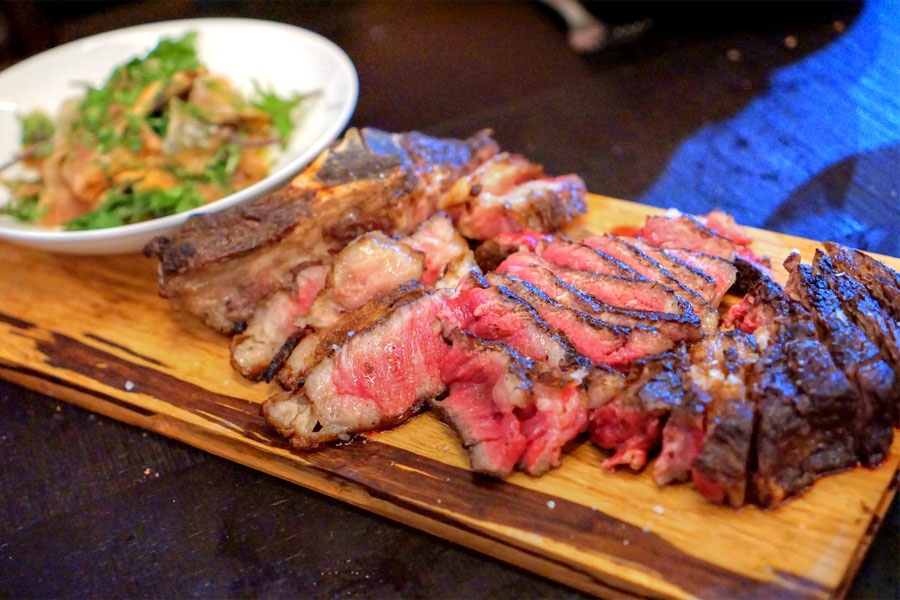 36oz Ribeye [$120.00]
Our large format dish of the night was the 60-day dry-aged rib eye, a nicely charred, particularly deeply-flavored preparation that conveyed a very concentrated beefiness. I definitely appreciated the counterpoint offered up by the mushroom and arugula salad on the side too.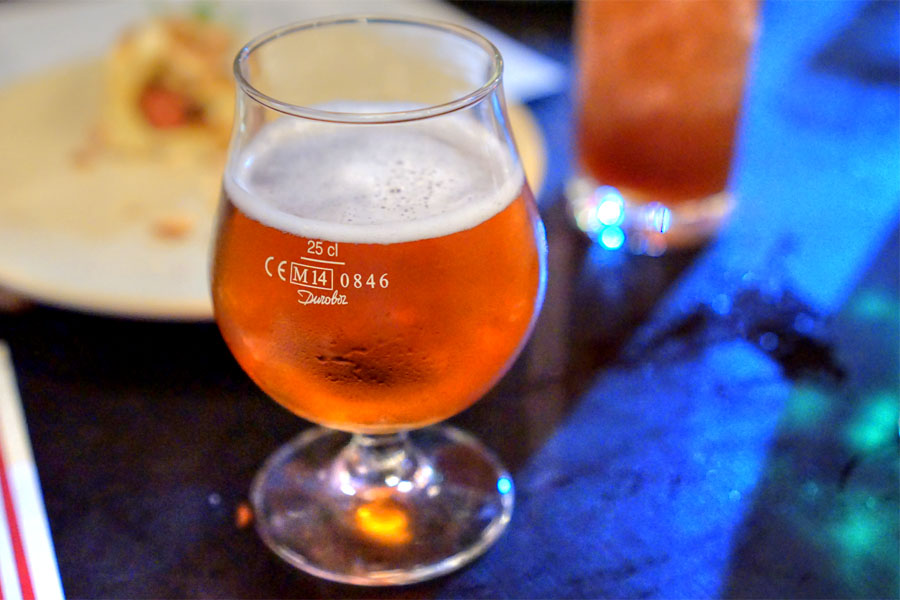 Next was the
Tahoe Mountain Evolution of the Barrel [$14]
, a gueuze-like brew composed of 1/2/3-year old barrel-aged ales. I found it quite acidic, vinegar-y even, with lots of oak and lemon on top of barnyard and a surprisingly large amount of roasty malt. Definitely not as finessed as its Belgian counterparts.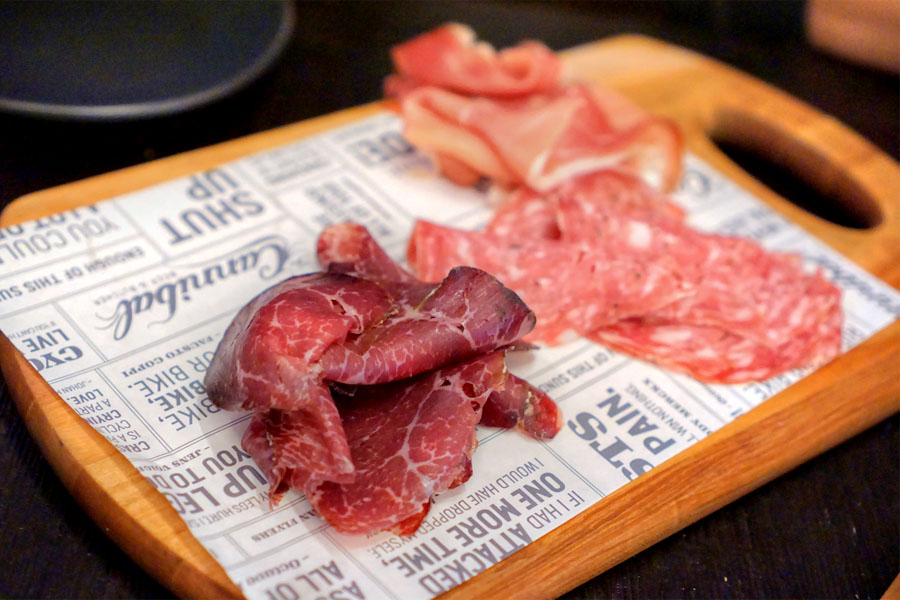 Cured [$18.00]
| selection of 3
Next up was a threesome of cured meats:
Salumi: Bresaola-biellese, NY - Super deep, sticky, with boatloads of flavor.
Salumi: Petit Jesu-biellese, NY - A classic salami that was easy to enjoy.
Country Ham: Johnston, NC - An unabashedly salty, rustic preparation that lived up to its "country" moniker.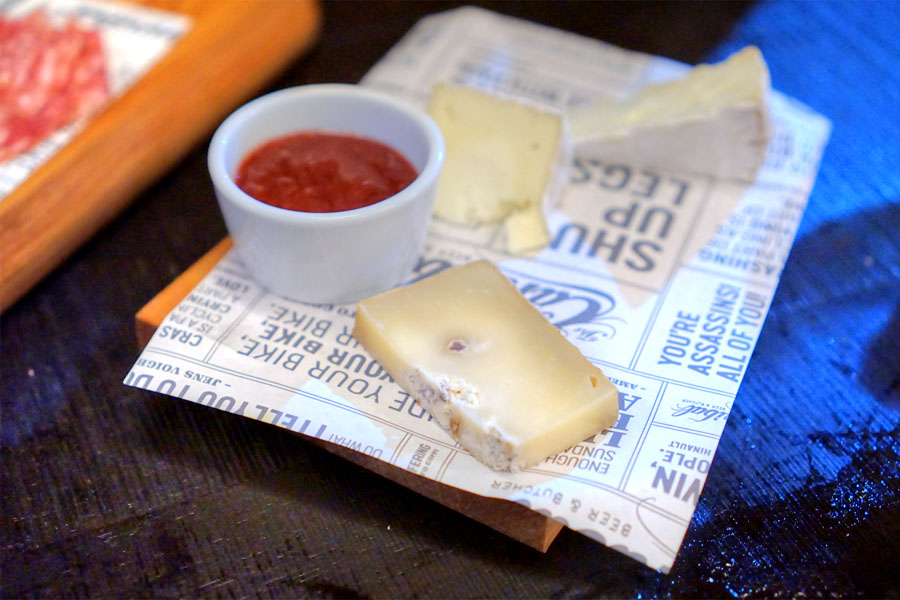 Cheese [$16.00]
| selection of 3
With the charcuterie, we had to have cheese as well:
Surfin' Blu-Buffalo, Italy - Affinaged with an IPA, this one showed off a marked fruity character, which I'm assuming was largely due to the hops from the beer.
Kunik-Cow & Goat, NY - Tart and creamy, with punch and pungency.
Moses Sleeper-Cow, VT - Brie-inspired; think rich and ripe, with a great mushroom-y sweetness.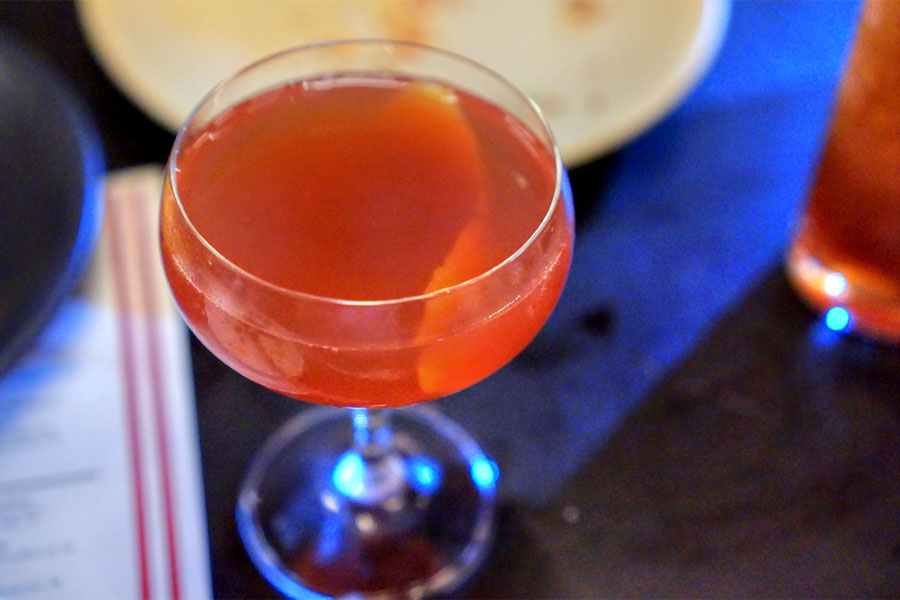 Algonquin [$12.00]
| bonded rye, blanc & dry vermouth, house pineapple gomme, bitter lemon
The final cocktail of the night delivered with its marriage of abundantly sweet, spicy notes joined by the complexities of the vermouths.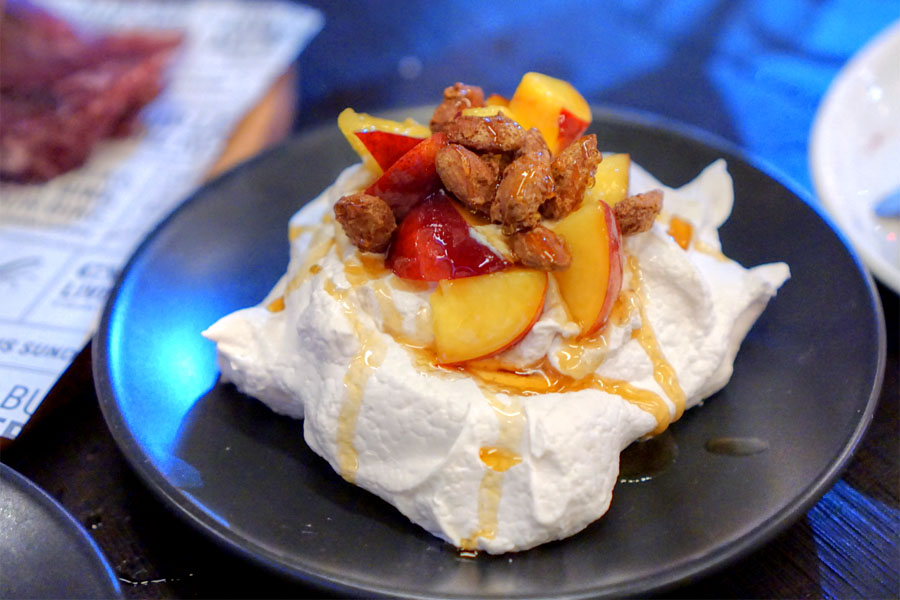 Pavlova [$7.00]
Two desserts were offered tonight, and naturally we went with one of each. The pavlova was properly light 'n' airy, with the meringue playing off of the stone fruit in classic fashion.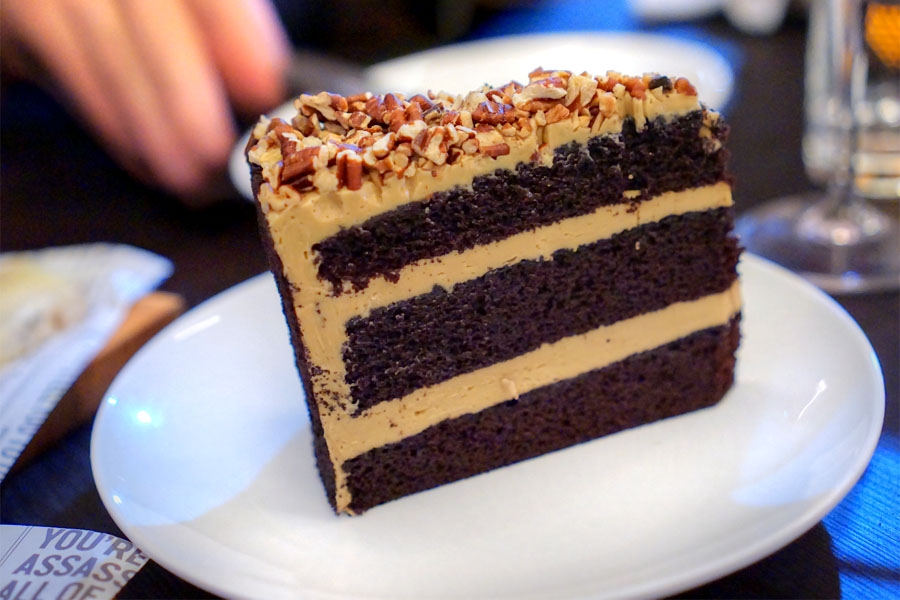 Chocolate Cake [$7.00]
The chocolate cake, meanwhile, was also sort of old school, but kicked up a notch by the nuts up top.
Culver City looks to have landed another notable spot with The Cannibal. The place serves up a fun, meat-focused menu, but the veggies held their own as well. The cocktails were quite good too, and I do commend the team for striving to put together a large bottle list. The billing was wonky though. In addition to the supposedly complementary chips and pork rinds mentioned above, we were also charged for a squash & peach salad and some guanciale, both of which we ordered but never received.