Shibumi (Los Angeles, CA)
Shibumi Restaurant
815 S Hill St, Los Angeles, CA 90014
213.265.7923
www.shibumidtla.com
Tue 06/07/2016, 08:00p-11:00p

The most significant Japanese debut of the year thus far is very likely Shibumi, which opened (finally) on June 7th. Named after a term translating roughly to "creative restraint" or "beautiful simplicity," the place is billed as a
kappo
-style establishment, a format that we haven't really seen all that much in LA. Situated somewhere between a formal
kaiseki
restaurant and a casual
izakaya
-type eatery, Shibumi comes to use courtesy of Chef David Schlosser.
About the Chef
: Schlosser hails from Santa Monica, and grew up culinarily sheltered in a Jewish-American family. He began working at the popular 72 Market Street Oyster Bar and Grill in Venice while attending high school, and after a year there, found himself at the Culinary Institute of America in 1996 (he interned for David Burke and Charlie Palmer during his time at the CIA). Following graduation two years later, he
staged
in France for a year and a half at top-level places such as Georges Blanc, Marc Meneau's L'Esperance, Alain Senderens's Lucas Carton, and Alain Passard's seminal L'Arpège.
In 1999, he returned home and found a job under none other than
Ludovic Lefebvre
at French cuisine bastion L'Orangerie, where he stayed for a year before working a very brief period as head chef at Balthazar. After doing the private cheffing thing for a while, Schlosser traveled to Thailand in 2001, and on the way there, stopped by Tokyo for three days, where he had a life-changing sushi experience that convinced him to pursue training in Japanese cookery.
In 2002, a friend secured him a position at
Masayoshi Takayama
's Ginza Sushi-ko. Though he was supposedly the first non-Japanese person to work there, he excelled, and was asked to help open Masa in New York. He declined however, choosing instead to stay and cook for Masa's protégé
Hiroyuki Urasawa
. Schlosser then moved to Tokyo, becoming chef for the US ambassador in Japan. After roughly four years, he secured a position at Kyoto's legendary Arashiyama Kitcho, under Kunio Tokuoka. He studied the art of
kaiseki
there, an eye-opening experience, and also received training in tea ceremony and floral arrangement (in Kyoto, he would also work stints at Miyamaso and Kikunoi Honten under Yoshihiro Murata).
At the beginning of 2010, Schlosser moved back to LA with the goal of opening his own spot in Downtown that summer. Those plans obviously fell through, and instead he began hosting a series of "Za-Zen" pop-ups, giving diners a taste of the
kappo
-style cooking he'd been working on. He returned again to Japan in August 2011, and in March 2012, began consulting for Neta in New York, even working on their cocktail program. August 2013 saw the Chef spend time in Northern California, and he continued his pop-up dinners through early 2014. In April 2014, Schlosser returned to Kyoto with
Jacob Kear
, and that fall, moved to NYC to open Shuko with the owners of Neta. He was back by November though to start work on Shibumi, and in August last year, even cooked a preview dinner for local icon
Kazunori
Nozawa
.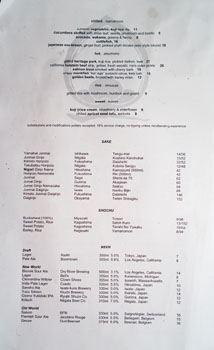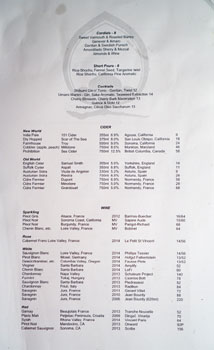 As for Shibumi's menu, it features traditional preparations interpreted using local ingredients, and is divided up into sections for chilled (
namamono
), hot (
atsumono
), rice (
omusubi
), and sweet (
kanmi
) dishes. Ordering à la carte is the sole option currently, but apparently the plan is to offer
omakase
-style tasting menus in the future. Beverage-wise, there's a spirit-forward cocktail program that I believe was written by Schlosser himself (he consulted for The Edison back in the 2006 timeframe if I recall). This is joined by a dozen sakes, a handful of shochus, a better than expected beer selection, a waaaay better than expected cider selection (which is refreshing to see), and a decently long wine list. Click for larger versions.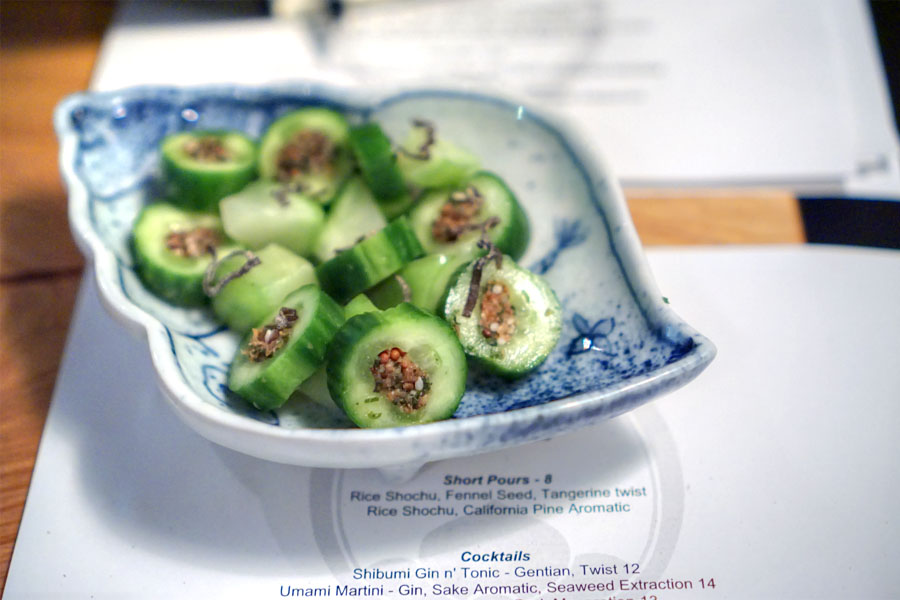 cucumbers stuffed with shiso leaf, seeds, umeboshi and bonito [$6.00]
We ended up running the gamut here, ordering two of everything on the menu, and up first was a unique take on cucumbers. The lightness and crunch of the
kyuri
were evident, but contrasted sharply by their deeply savory, funky, sweet-n-salty stuffing.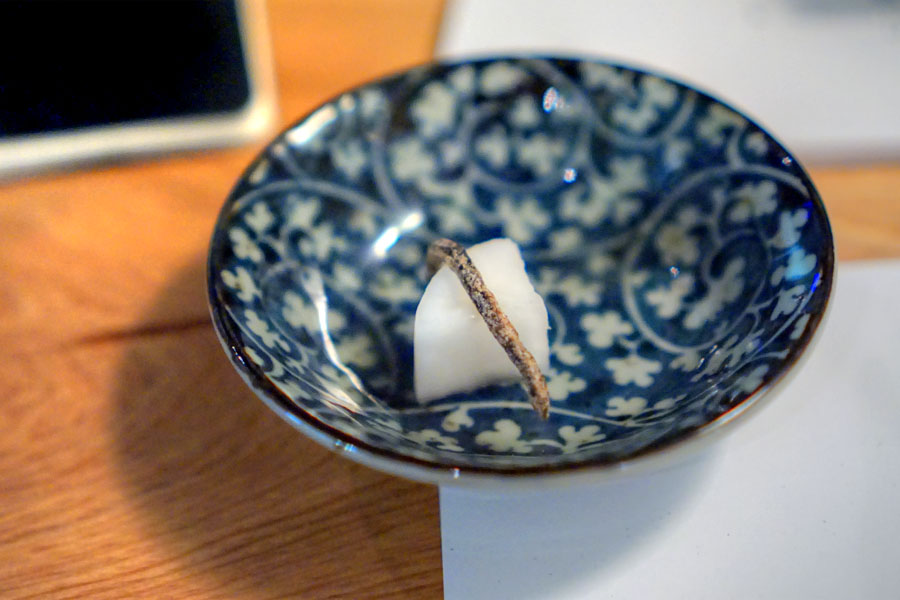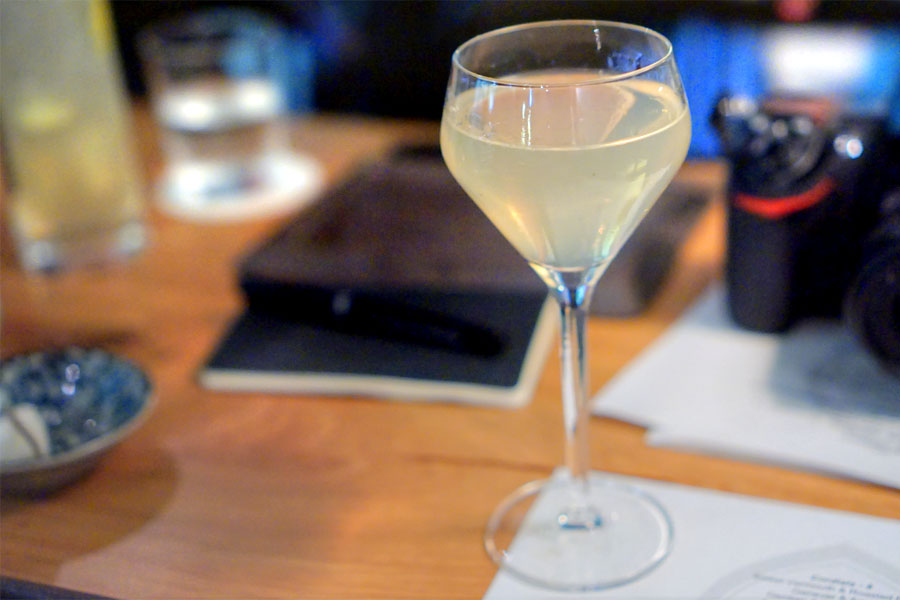 Umami Martini - Gin, Sake Aromatic, Seaweed Extraction [$14.00]
We made sure to give the cocktails a whirl of course, and this number was the most polarizing of the bunch. I got a lot of anise-y notes at first, but this quickly transitioned to bountiful amounts of umami intertwined with astringent gin botanicals. Note that the drink was accompanied by daikon radish and burdock.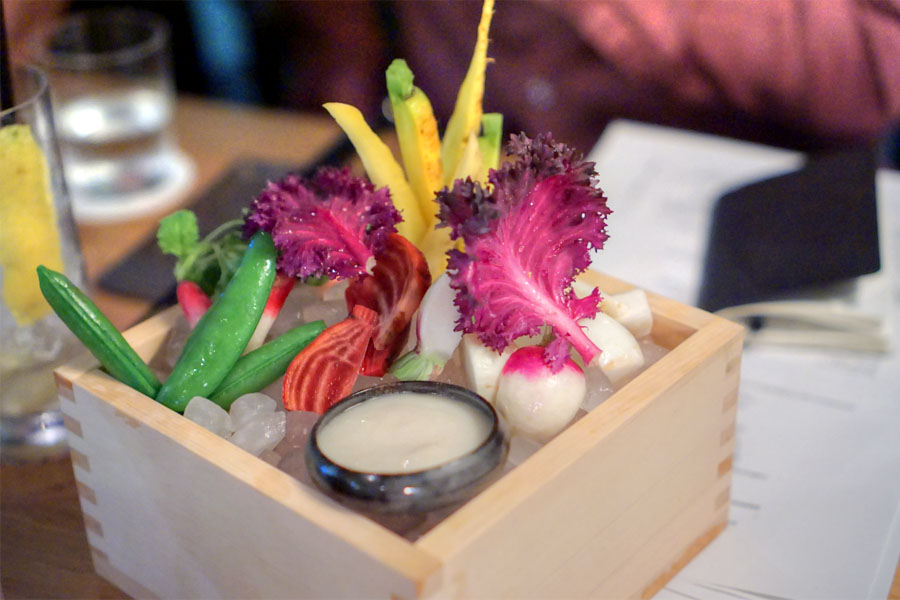 summer vegetables, koji rice dip [$11.00]
A sort of crudité course showed off the super bright, crisp, refreshingly bitter nature of the veggies, countered by the rich, sweet-savory nature of a
koji
-powered condiment.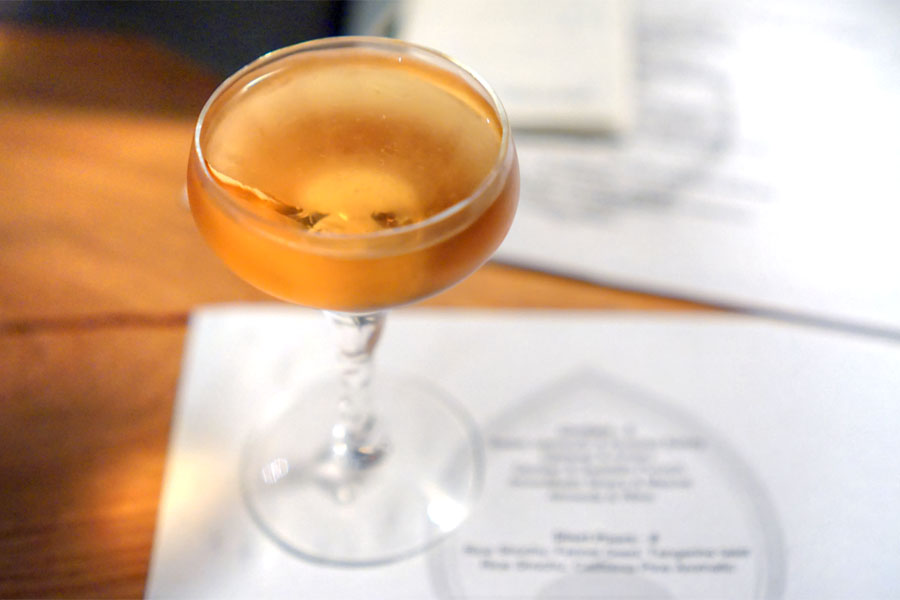 Amontillado Sherry & Mezcal [$8.00]
Perhaps my favorite beverage of the night was this two-item concoction. Think lots of sweet, dark fruit and nutty notes on the aroma, while the taste brought more aromatic fruit, light smoke, and a hint of petrol. Really well-integrated.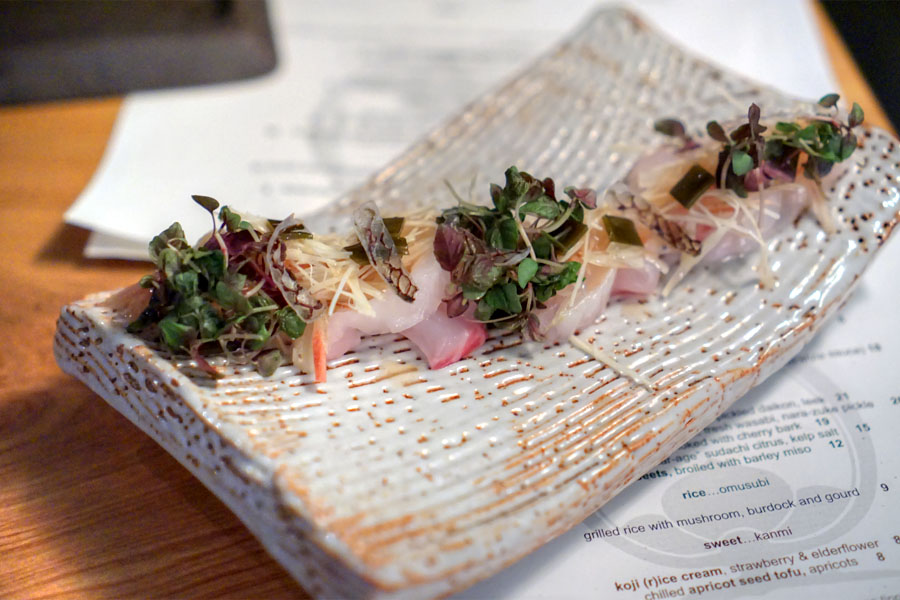 japanese sea-bream, ginger bud, pickled plum-irizake (edo style sauce) [$18.00]
Clean, lean cuts of sea bream were perked up by zesty slivers of what seemed like
myoga
while the tangy
irisake
worked to tie the various elements together. I liked how this seemed to have much more gravitas than your typical
tai
preparation.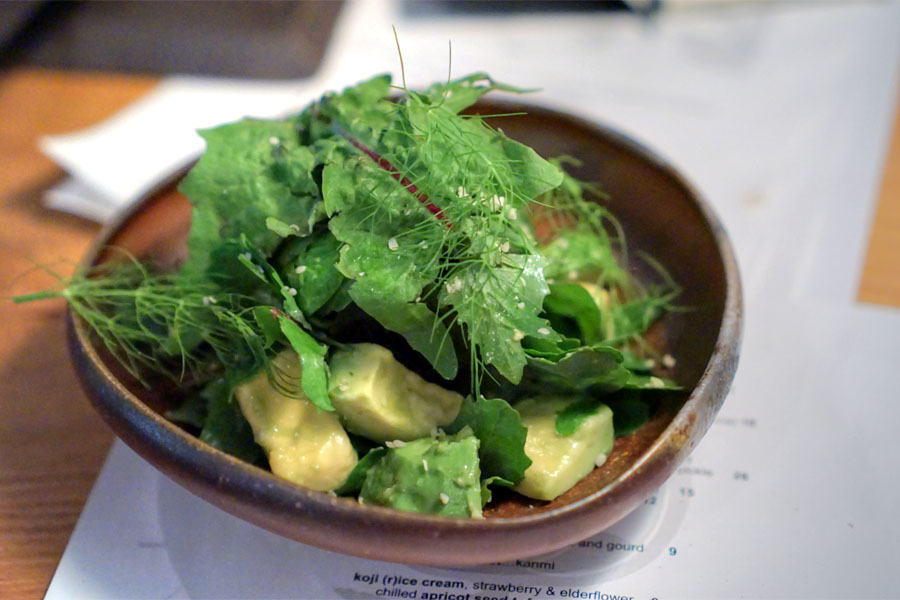 avocado, wakame, greens & hemp [$8.00]
Here, the lush, sweetish nature of avocado was moderated by bright, bitter greens, and I appreciated how the
wakame
added the right amount of savoriness to the mix.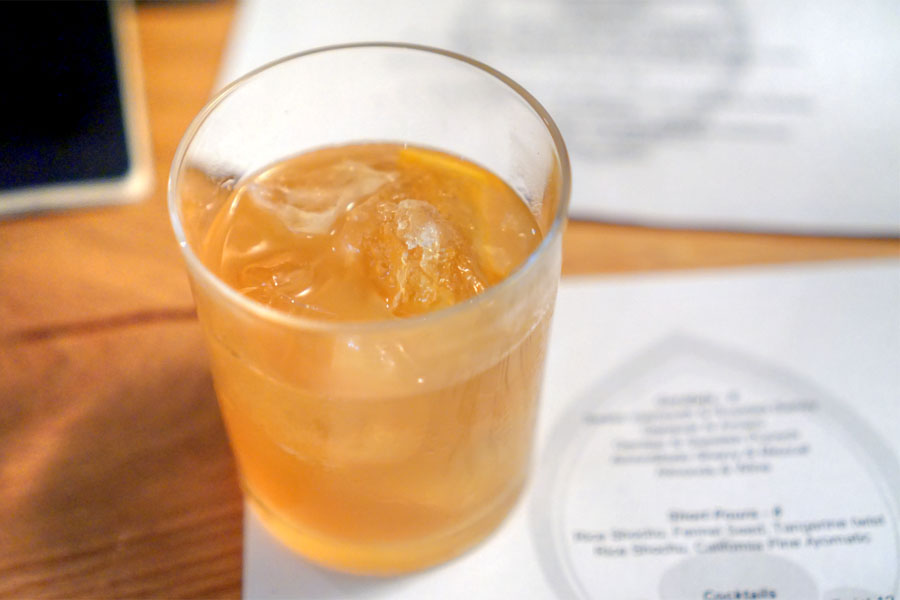 Armagnac, Citrus Oleo Saccharum [$13.00]
This Armagnac-based cocktail was another standout with its light, citrusy aromas and boozy, bittersweet palate augmented by pricks of umami.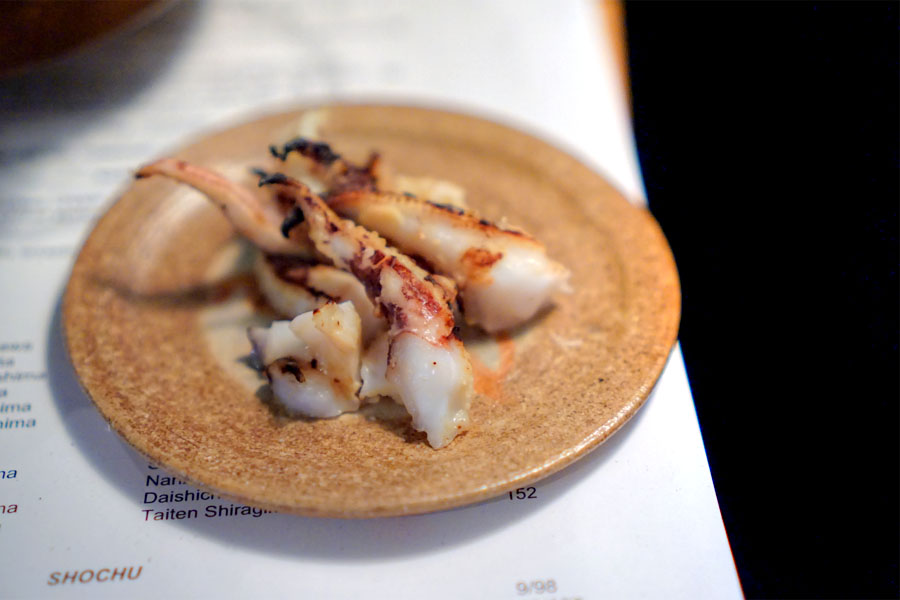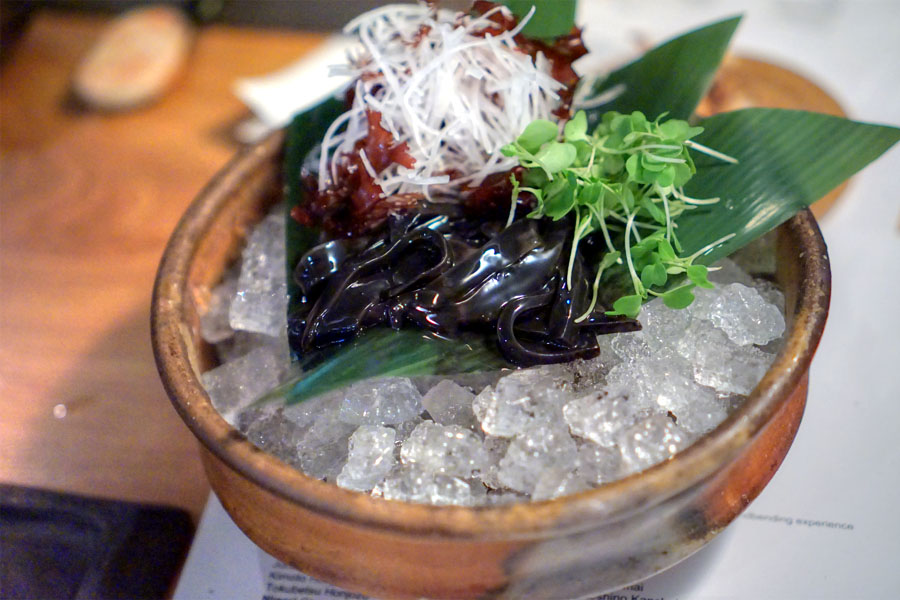 cuttlefish [$16.00]
Slippery, ink-enrobed cuts of
kouika
arrived super salty, super briny (a bit much for me, actually), their deep, oceany flavors evened out a smidge by the provided greenery. Meanwhile, accompanying the main dish was a side of snappy miso-cooked tentacles.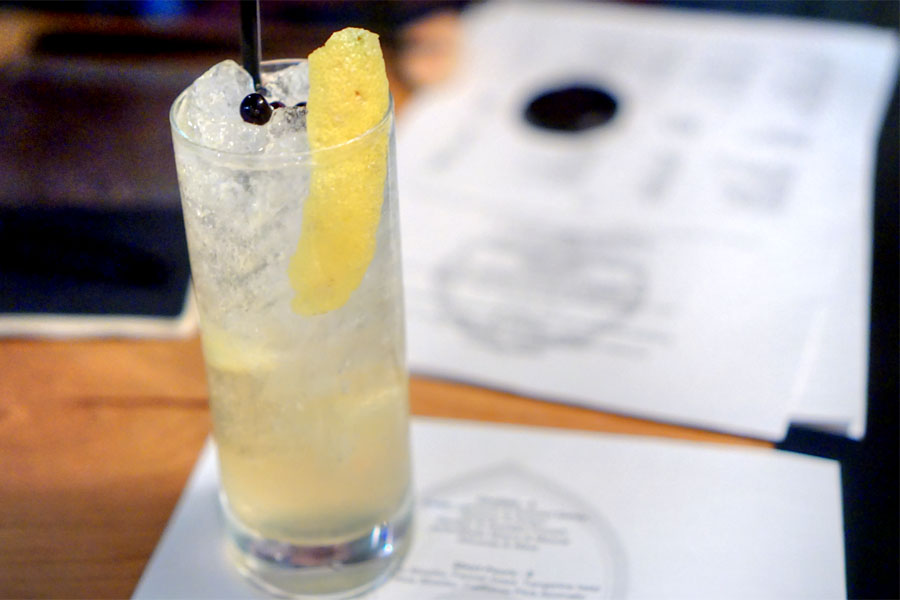 Shibumi Gin n' Tonic - Gentian, Twist [$12.00]
The restaurant's take on the classic G&T was refreshing yet definitely spirit-forward, with a very apparent botanical, bittersweet bent.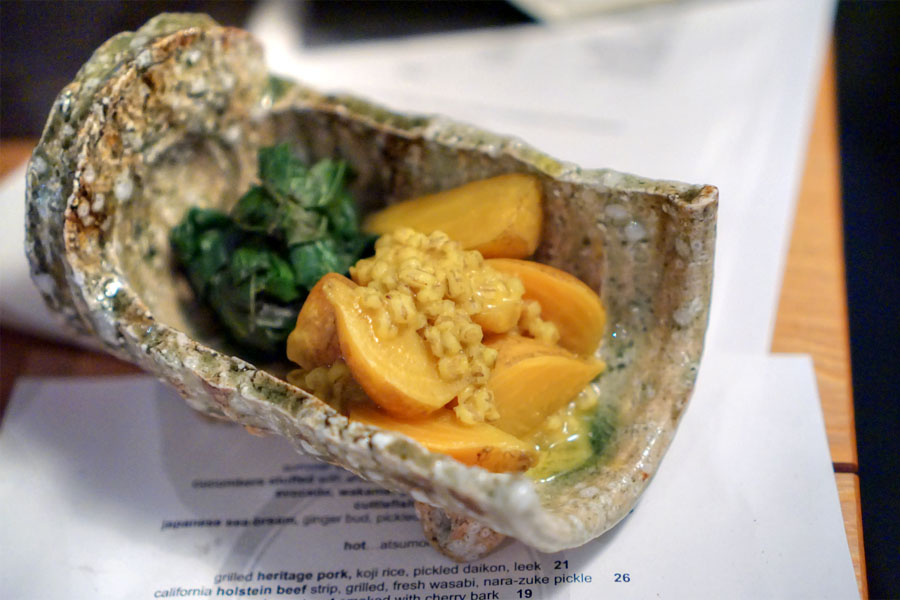 golden beets, broiled with barley miso [$12.00]
Beets had that earthy sort of sweetness you'd expect, but with the
mugi miso
providing even more depth and heft and the greens a shot of tempering astringency. Cozy and quite nice.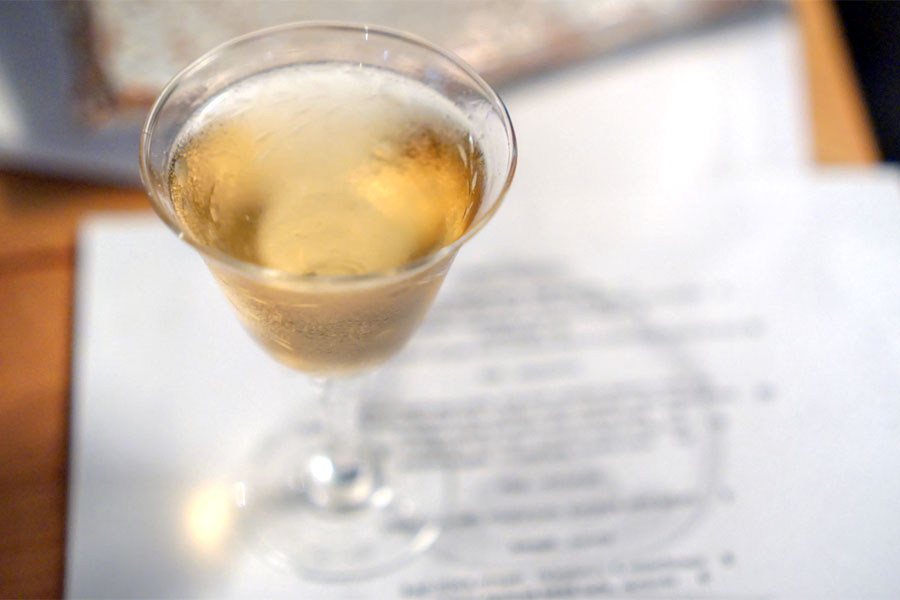 Almonds & Wine [$8.00]
Our second two-ingredient cordial brought a bouquet of sweet amaretto-like aromas. Taste-wise, I got more sugary, nutty notes, but with a sort of medicinal flavor underlying.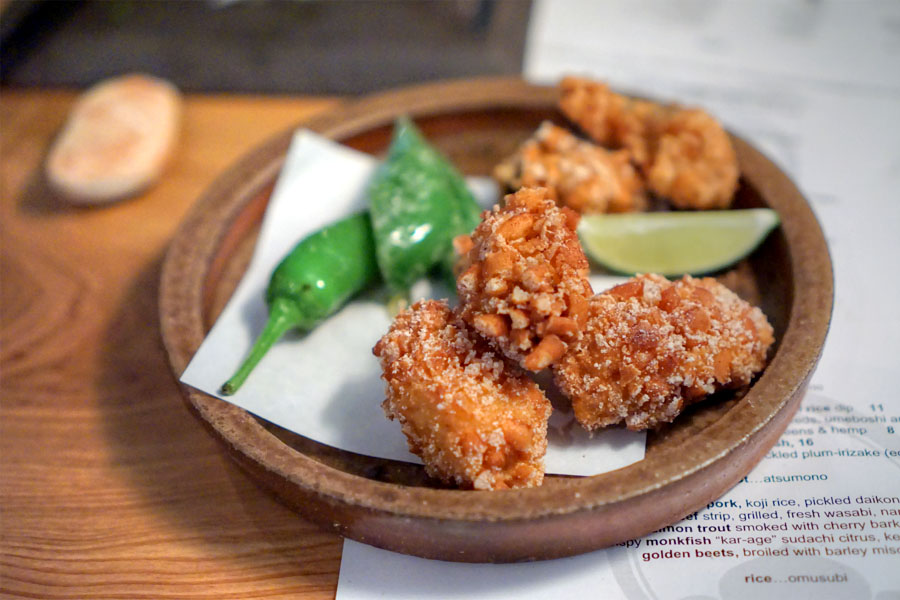 crispy monkfish "kar-age" sudachi citrus, kelp salt [$15.00]
The
karaage
was a crowd-pleaser. The fish was beautifully textured--meaty, springy, snappy, with crunchy exteriors--and a joy to eat, especially with a squirt of
sudachi
. Interestingly, I believe there were two parts of the monkfish presented, the standard portion as well as creamier, skin-focused bites.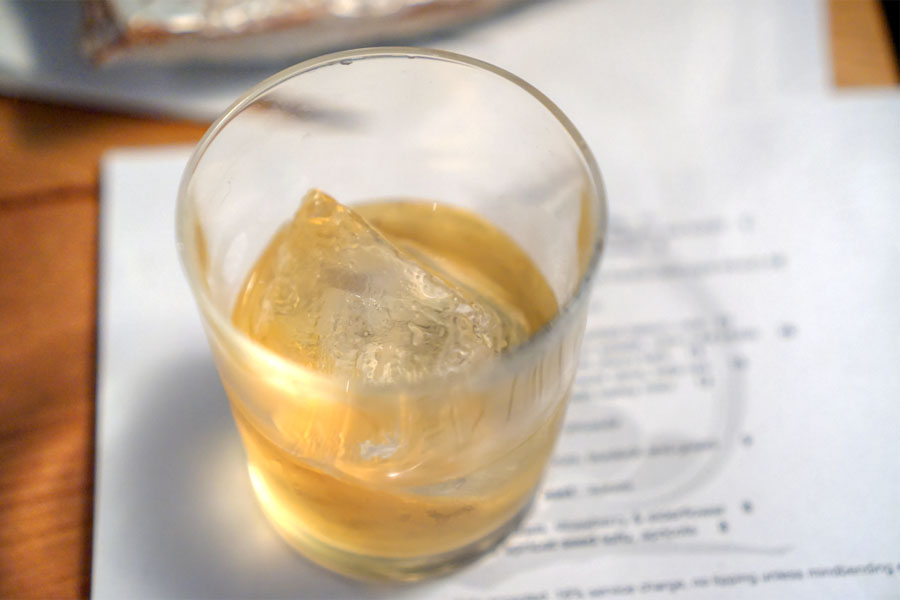 Cherry Blossom, Cherry Bark Maceration [$13.00]
Our final cocktail was this
sakura
-based creation, one that was undeniably sweet, floral, and almost candied, but not overbearing.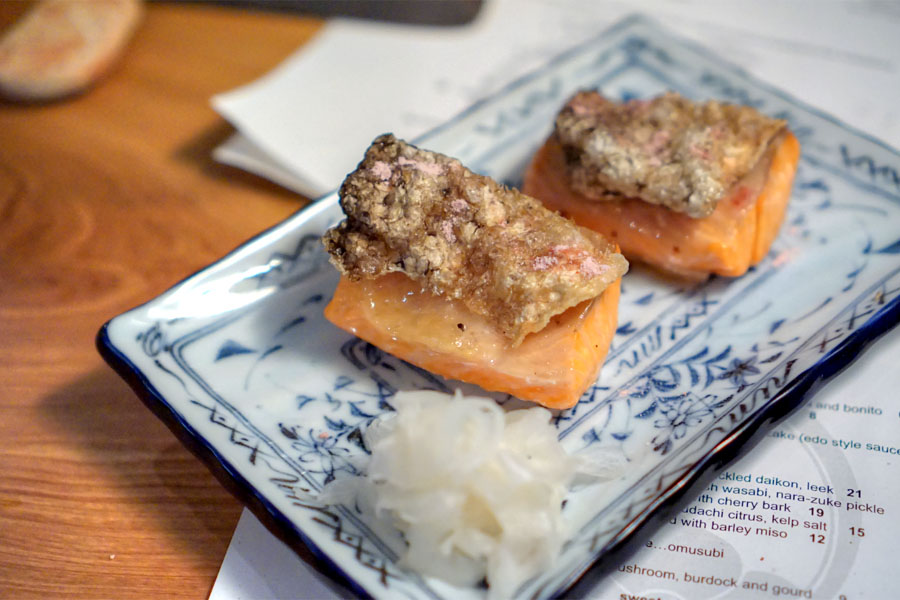 salmon trout smoked with cherry bark [$19.00]
The
sake
was a winner as well, the rich, still-slightly-rare filets imbued with a delightful smoke that worked beautifully alongside the inherent fattiness of the fish. Big fan of the salty "chicharrones" and shaved daikon too.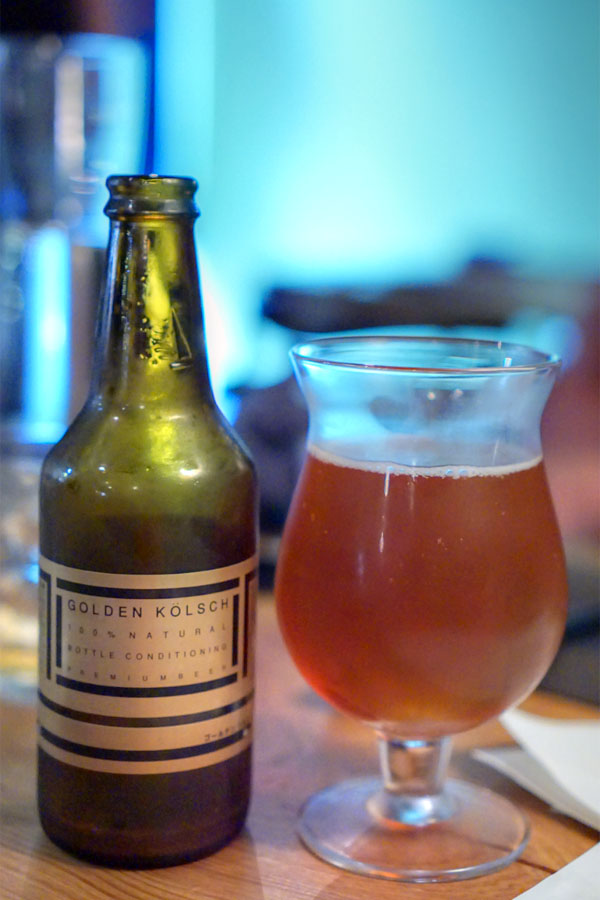 We sampled a beer as well, the
Niigata Beer Co. Kölsch [$12]
, which I'd not encountered before. This seemed darker than most examples of the style, and indeed, its flavors were certainly more robust, with lots of malty, grainy, toasty notes with even a touch of soy sauce in there.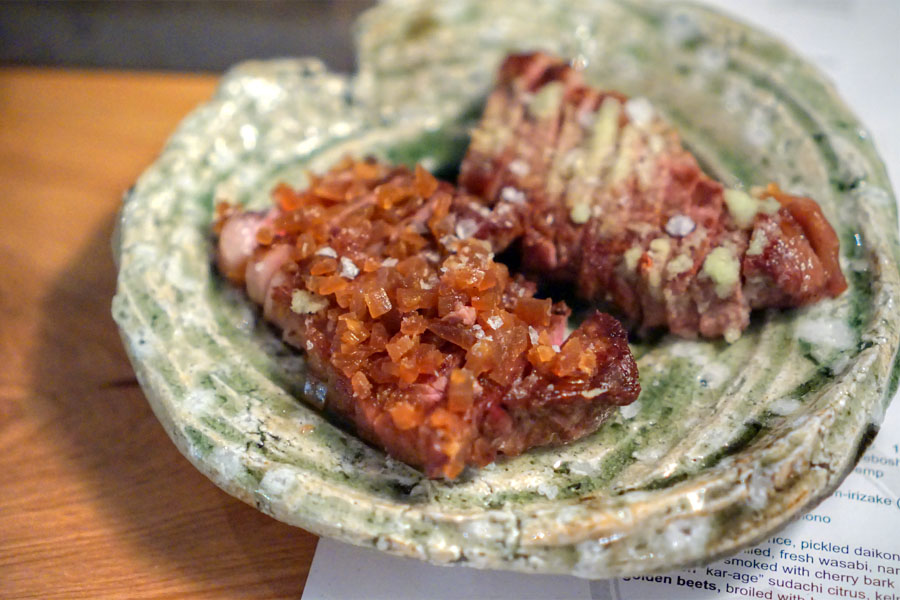 california holstein beef strip, grilled, fresh wasabi, nara-zuke pickle [$26.00]
Beef wasn't particularly fatty, but instead showed off a focused savoriness that made sense when paired against the heat of wasabi and those tart, crunchy
narazuke
pickles. I will say that I would've liked less cook on the meat, though.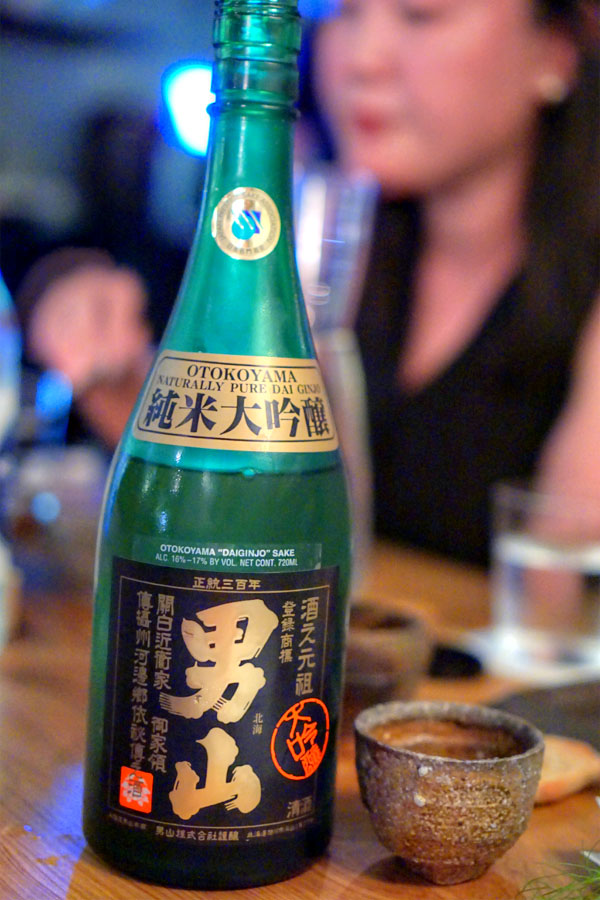 We'd actually brought a bottle of sake with us, the
Otokoyama Junmai Daiginjo
from Hokkaido. Nose was appreciably floral, sweet. The taste, meanwhile, was more austere, with distinctly rich, ricey notes intermixed with fruit and a hint of licorice toward the finish.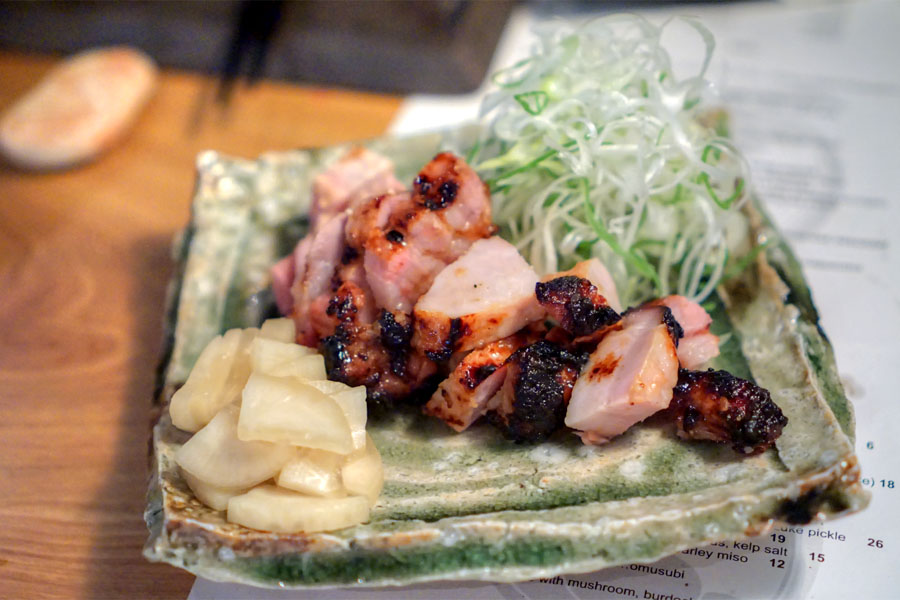 grilled heritage pork, koji rice, pickled daikon, leek [$21.00]
The pork was another highlight, the juicy, tender cuts enhanced by char and a slight sweetness. I enjoyed the pickles on the side, as well as the zippiness provided by the strands of leek.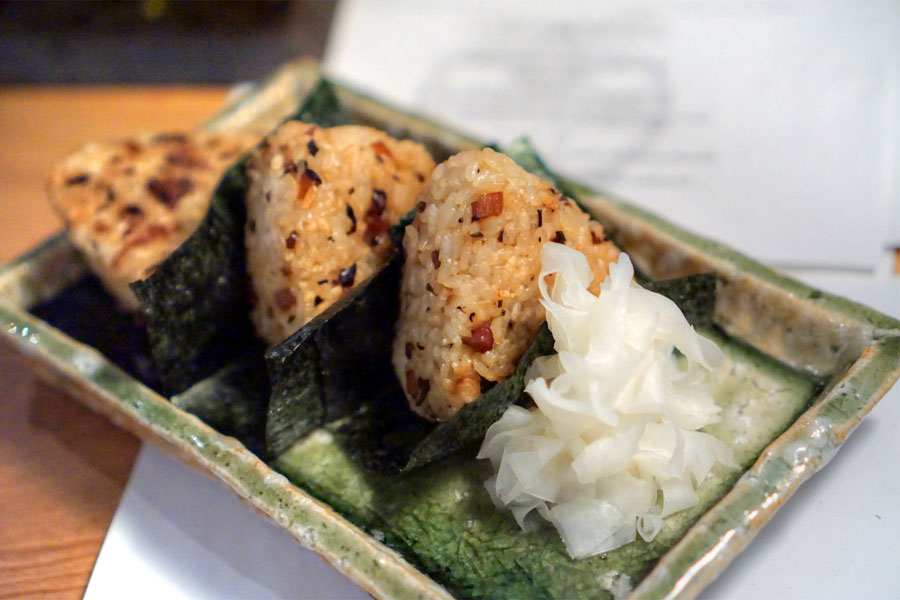 grilled rice with mushroom, burdock and gourd [$9.00]
Onigiri
were on point, and display plenty of hearty, almost funky flavors from the wood ear and shiitake. Nice brightness from the pickled daikon skin too.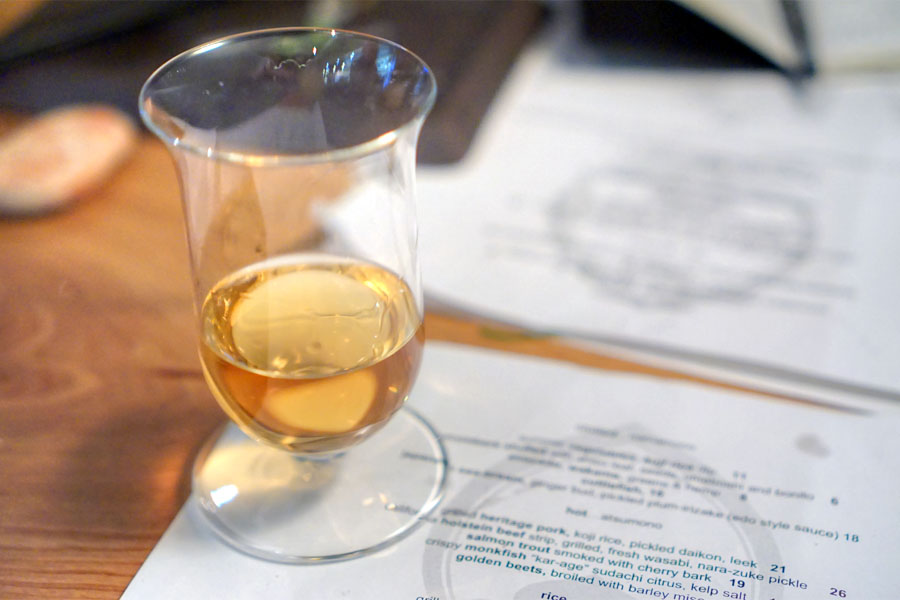 Our final beverage was a pour of
Nikka Coffey Malt Whisky
, which was quite lovely. The nose was great, with huge notes of sugary toffee and subtle spice. The palate, on the other hand, was rich and decidedly fruity at its core, but with a moderating spiciness throughout.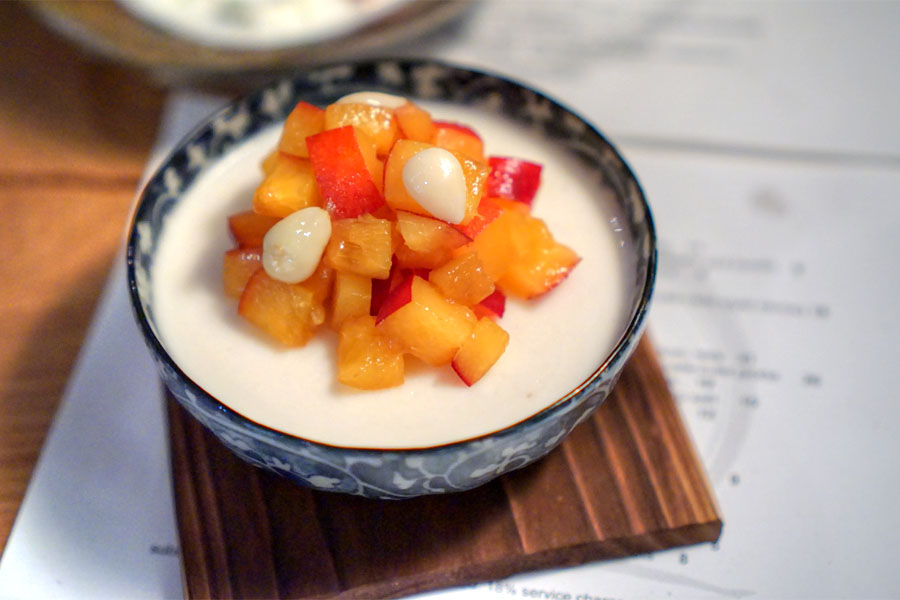 chilled apricot seed tofu, apricots [$8.00]
Time for dessert.
Annin tofu
was denser than I prefer, with a palpable bittersweetness to it, though the stone fruit up top did make for a semblance of balance.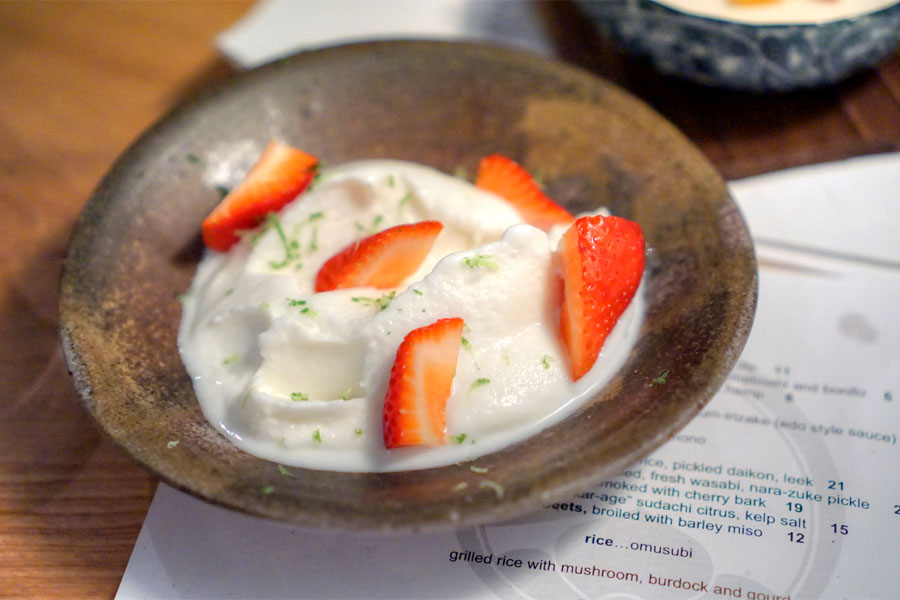 koji (r)ice cream, strawberry & elderflower [$8.00]
We preferred the second dessert: a spot on marriage of creamy, ricey notes and tart berry, with traces of citrus and even coconut for good measure.
LA's Japanese food scene is strong and varied, but even so, I don't think I'd ever dined at a restaurant quite like this before. Schlosser looks to be taking the aesthetics of
shibumi
to heart in his cooking. The food's seemingly straightforward, but conveys a thoughtfulness and confidence--as well as modesty--that's refreshing to experience. I'll be looking forward to seeing how this place develops.