Locol (Los Angeles, CA)
Loco'l Watts
1950 E 103rd St, Los Angeles, CA 90002
www.welocol.com
Sat 07/02/2016, 05:30p-06:50p
I recently paid a visit to the new "revolutionary fast food" spot Locol. Announced back in August 2014 at the MAD Symposium in Copenhagen, the place is the brainchild of
Roy Choi
and
Daniel Patterson
--along with Hanson Li, founder of Salt Partners Group (one of the backers of SF darling
Saison
)--and aims to offer a more healthful, more wholesome alternative to your usual fast food. The two chefs launched a controversial
Indiegogo campaign
that raised over $100,000 in March 2015, and had a goal of opening up that summer. Unsurprisingly though, Locol suffered some delays, and after being pushed back until Christmas last year, finally dropped on January 18th to considerable fanfare.

Situated across from Joyner Elementary, Locol takes over the former home of clothing store Aparrel Miluguita and the adjoining M&S Tobacco shop. Penned by
Scott Kester
(who also did Plum and Coi), the space is bright, clean, utilitarian, replete with movable cuboid seating and a
Superjacent
-designed patio out back. There's also a commissary kitchen that can be used for classes and other events.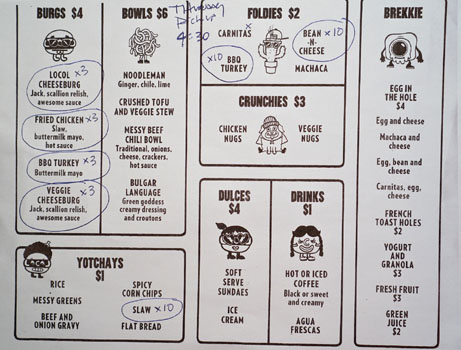 As for Locol's menu, it's priced in-line with most fast food, and comes divided neatly into sections for burgers, bowls, and so on. All-day breakfast launched on February 22nd, and basically features variations of toad in the hole/egg in the basket. Beverage-wise, you get some very reasonably-priced
agua frescas
as well as coffee from Tonx co-founder Tony Konecny. Pro tip: there's a
secret menu
available. Click for a larger version.
Iced Coffee [$1.00]
| Black
I'm no coffee snob, but according to some of my dining companions who are, this was pretty much as good as you're gonna get for a buck (which is to be commended).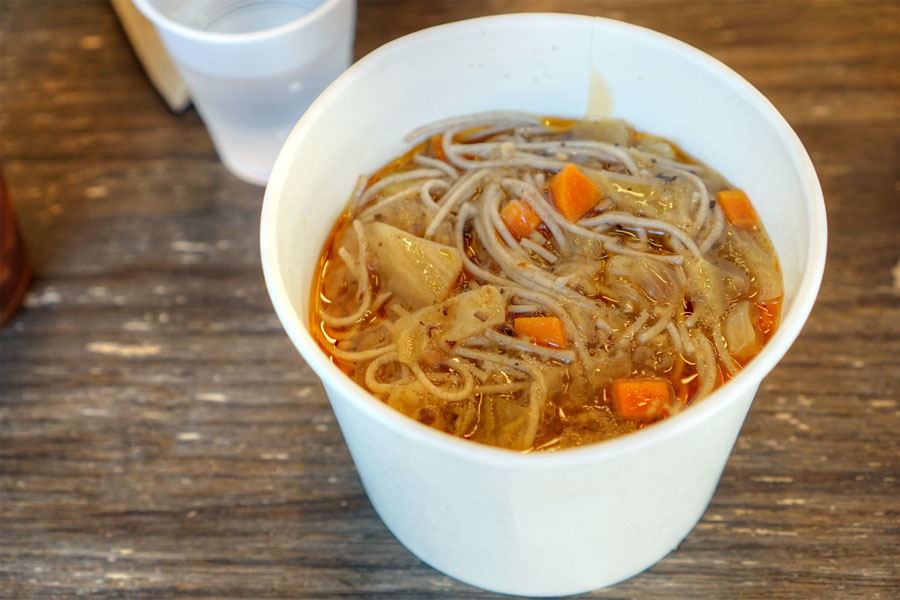 Noodleman [$6.00]
| Ginger, chile, lime
Our first bowl brought out some classic Asian-y flavors, with the veggies providing a nice textural contrast. I would've liked some more aggressive seasoning though, to make the dish a bit punchier.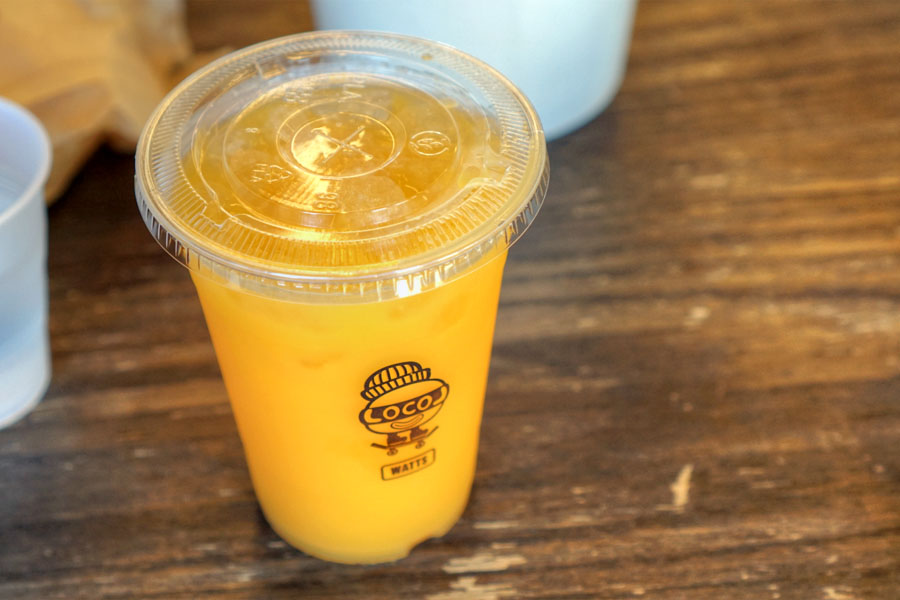 Agua Fresca [$1.00]
The person who took my order claimed that today's agua fresca was peach flavored, but I didn't get any stone fruit. Rather, we tasted more of a citrus/orange-y base, with some pineapple and tropical flavors mixed in. Either way, this was tasty and refreshing, and also a deal for only a dollar.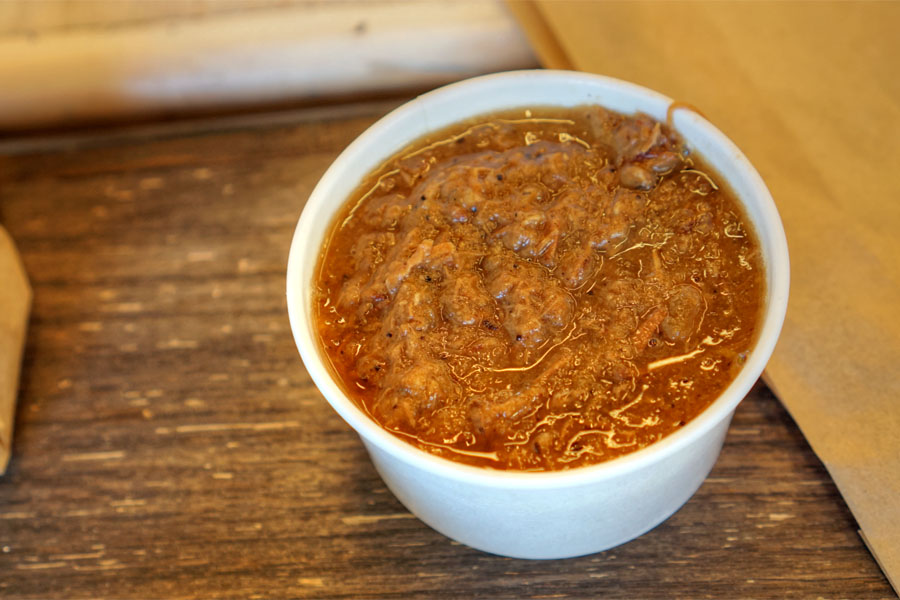 Beef and Onion Gravy [$1.00]
Teeming with bountiful amounts of deep, savory, beefy notes, the gravy was easily the star of the "Yotchays" section of the menu.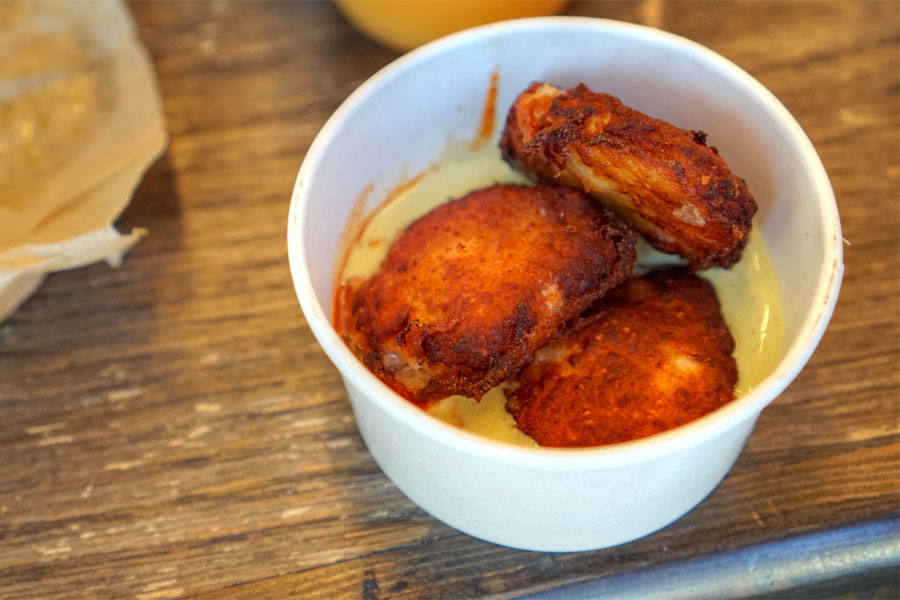 Chicken Nugs [$3.00]
Chicken nuggets were well-spiced and generally tasty, though on the dry side.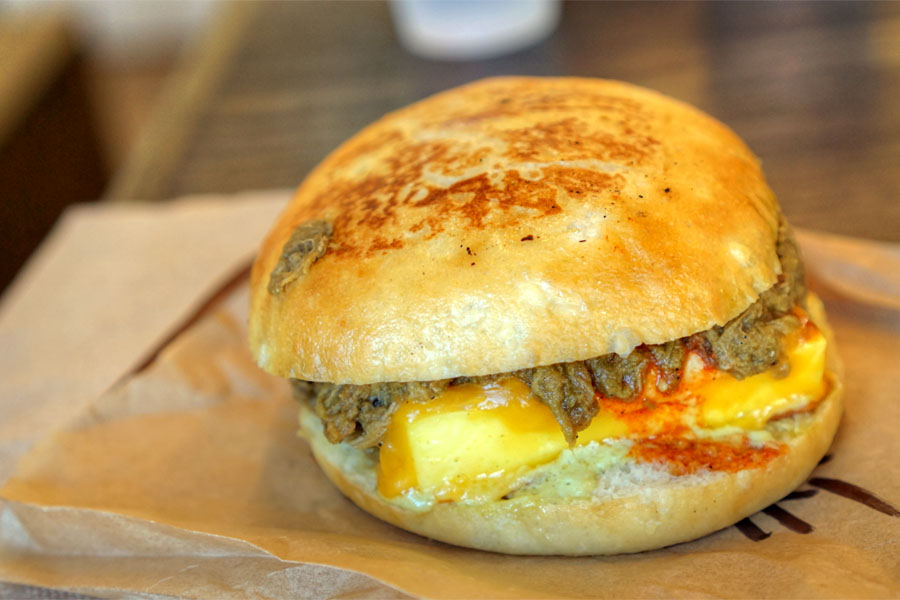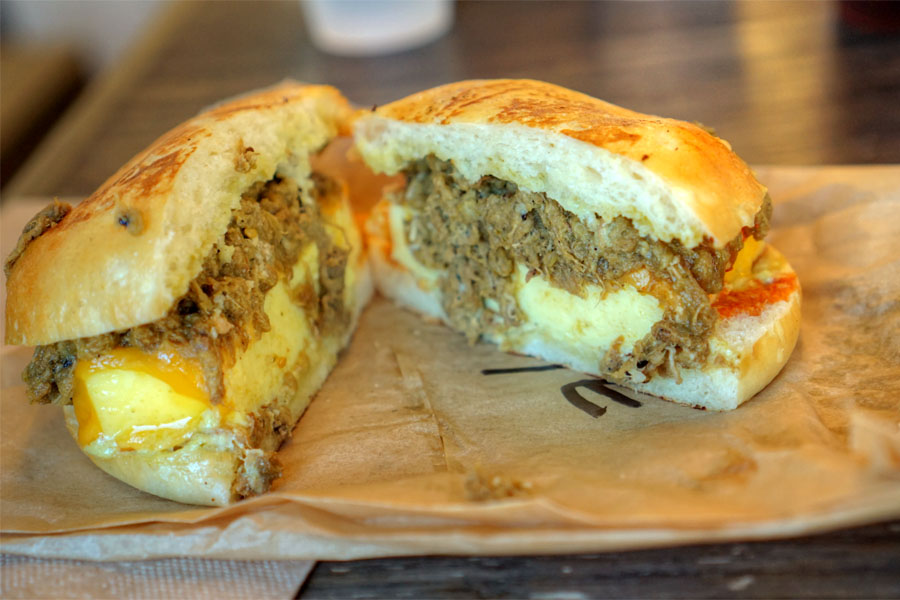 Egg in the Hole [$4.00]
| Carnitas, egg, cheese
This wasn't really an egg in the hole as advertised, but more of a breakfast sandwich. That being said, I rather liked it thanks to the spicing on the carnitas and how that played off of that fluffy egg. Nice texture and squish on the bun too, apparently a creation of Tartine's Chad Robertson.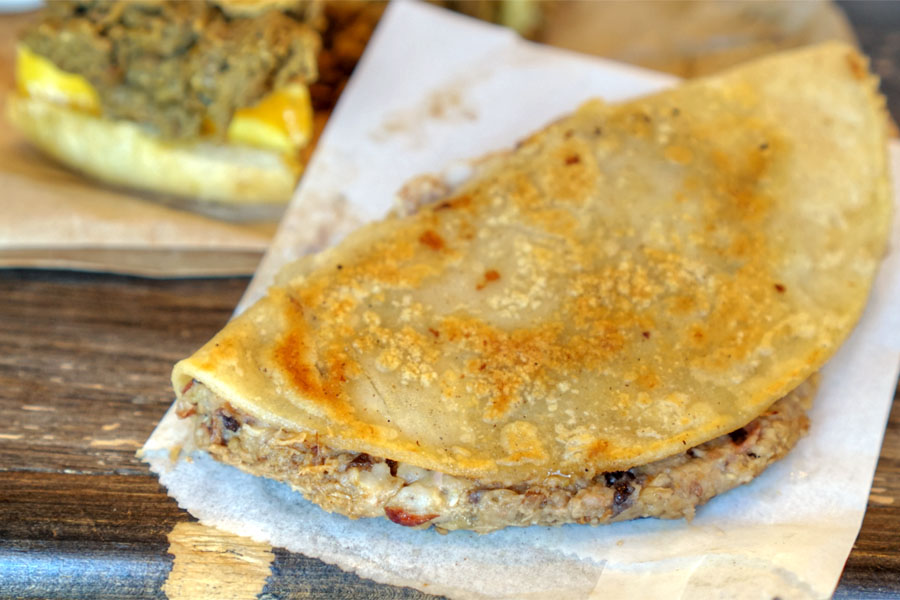 Machaca Foldie [$2.00]
Our first of the taco-esque "foldies" contained machaca. I wanted more spicing on the meat, which was slightly sweet, though overall the dish worked, and I especially enjoyed the crispness on the tortilla.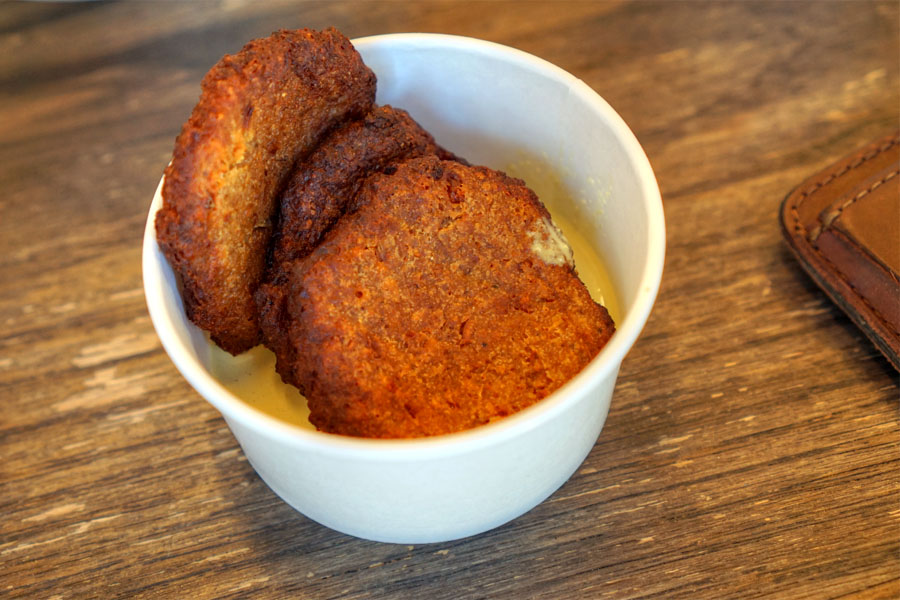 Veggie Nugs [$3.00]
The vegetable nuggets were a bit underwhelming and seemingly underseasoned. Definitely stick with the chicken above.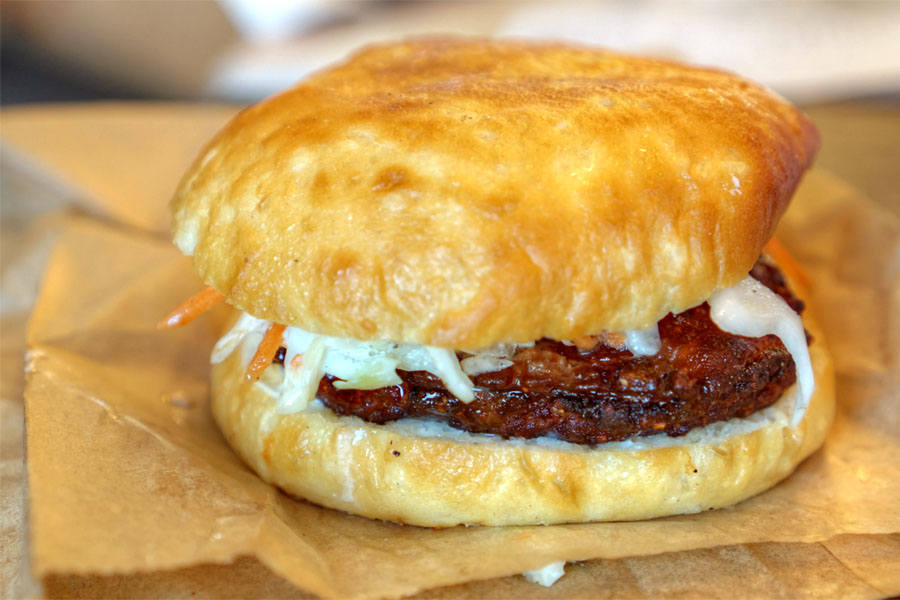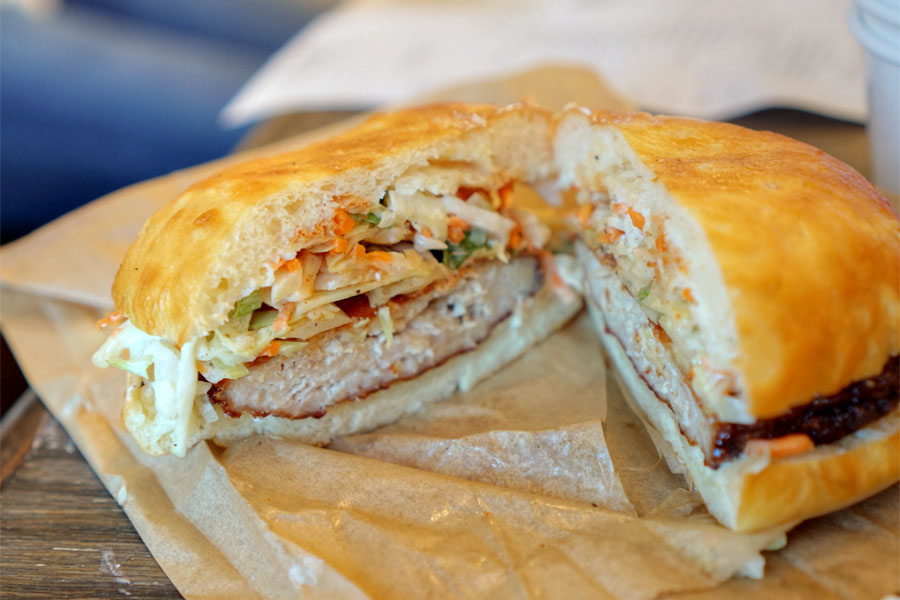 Fried Chicken [$4.00]
| Slaw, buttermilk mayo, hot sauce
The chicken sandwich was likely my favorite item here. Though the patty's supposedly cut with grain, I found it pretty juicy and surprisingly satisfying, especially when taken with the crunchy, tangy slaw. Great hit of heat on the back end too from the hot sauce.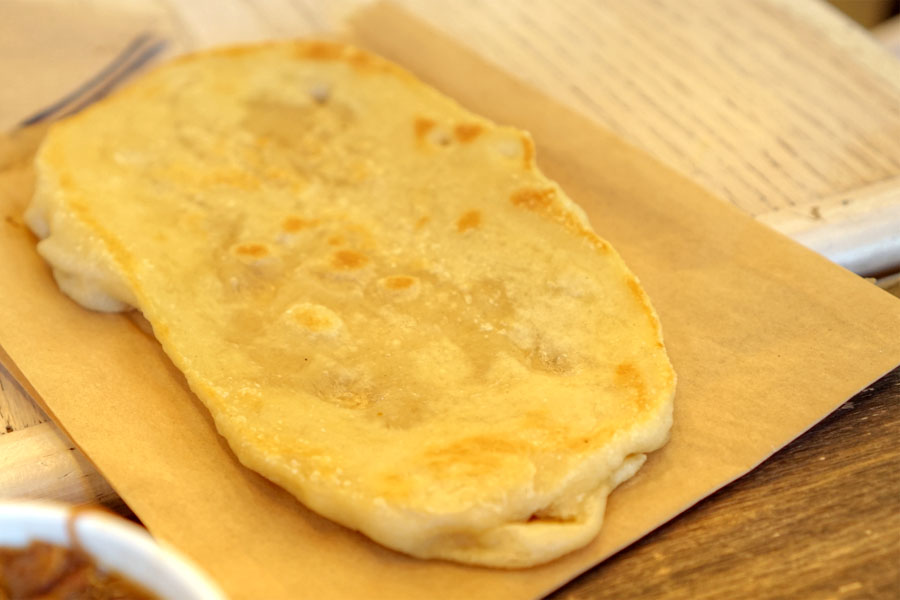 Flat Bread [$1.00]
Flatbread came out nice 'n' fluffy, and worked great as a vessel for the gravy above.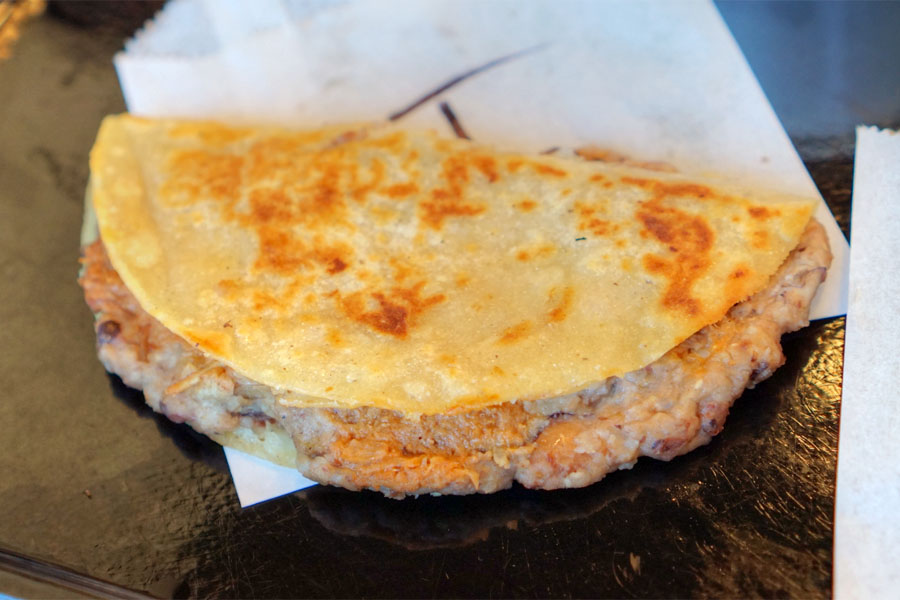 BBQ Turkey Foldie [$2.00]
The turkey version of the pseudo-taco was a tad nondescript, and needed more of the advertised barbeque quality.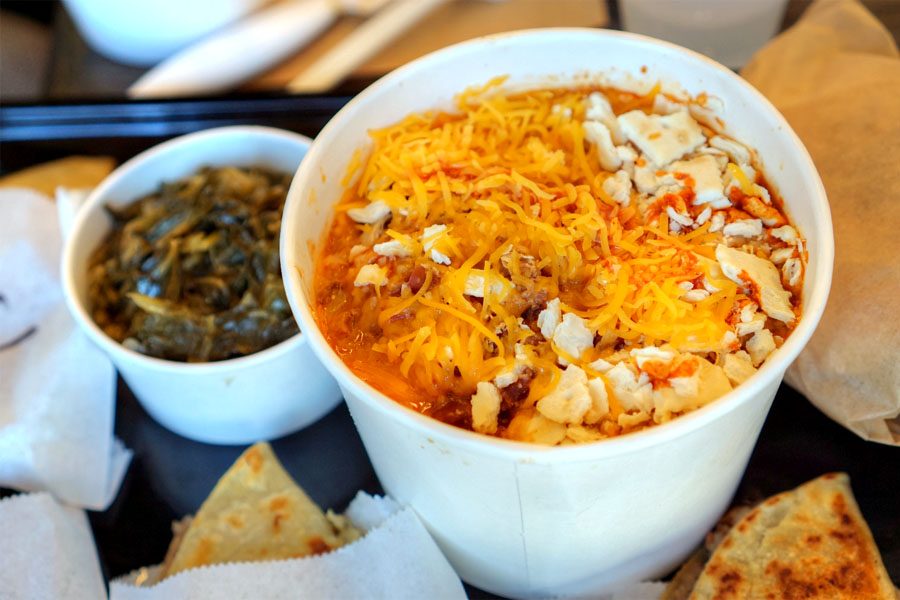 Messy Beef Chili Bowl [$6.00]
| Traditional, onions, cheese, crackers, hot sauce
The chili was the heartiest dish we had, with classic flavors and textures that were pretty gratifying. There's a large slug of rice at the bottom of the bowl, so this'll fill ya up.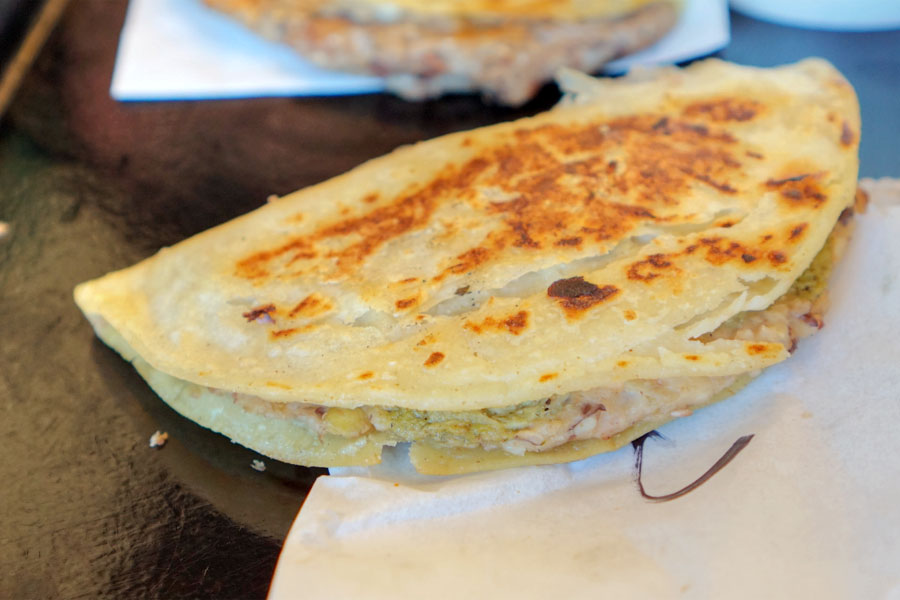 Carnitas Foldie [$2.00]
The carnitas-stuffed version of the foldie was an improvement over the preceding turkey, with the character of the actual pork shining through more.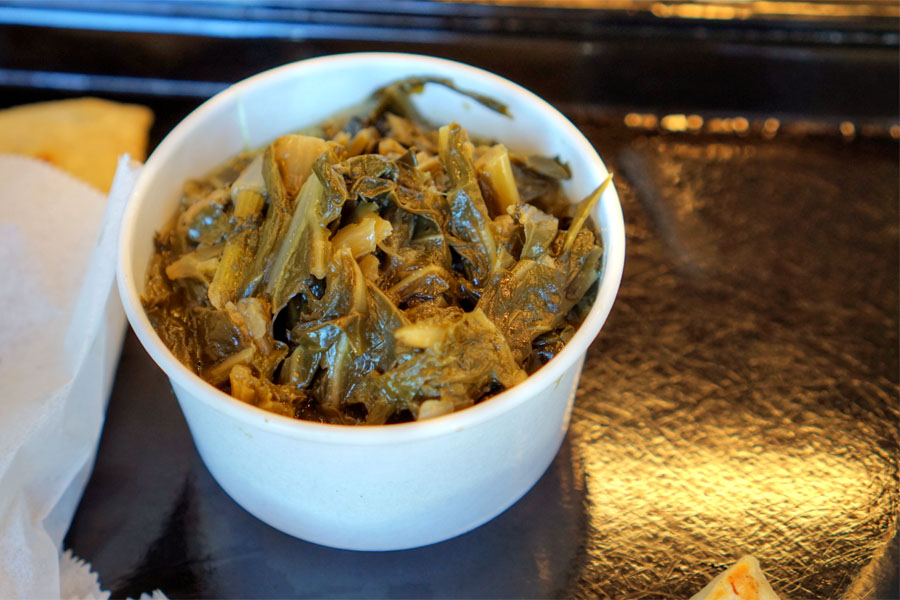 Messy Greens [$1.00]
Collard greens were super deep and earthy and bitter, just as you'd expect.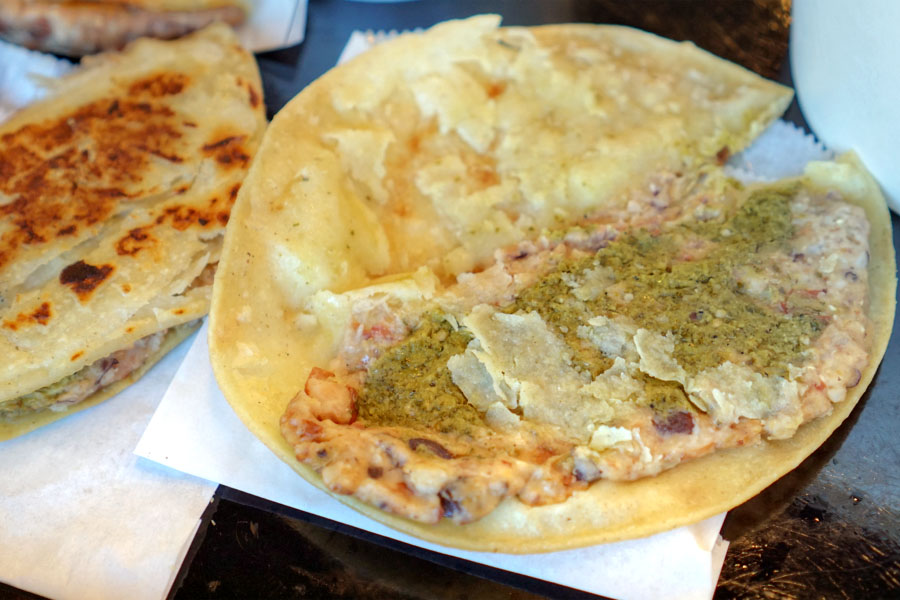 Bean-n-Cheese Foldie [$2.00]
Our final foldie was better than expected due to the contribution of the salsa verde here.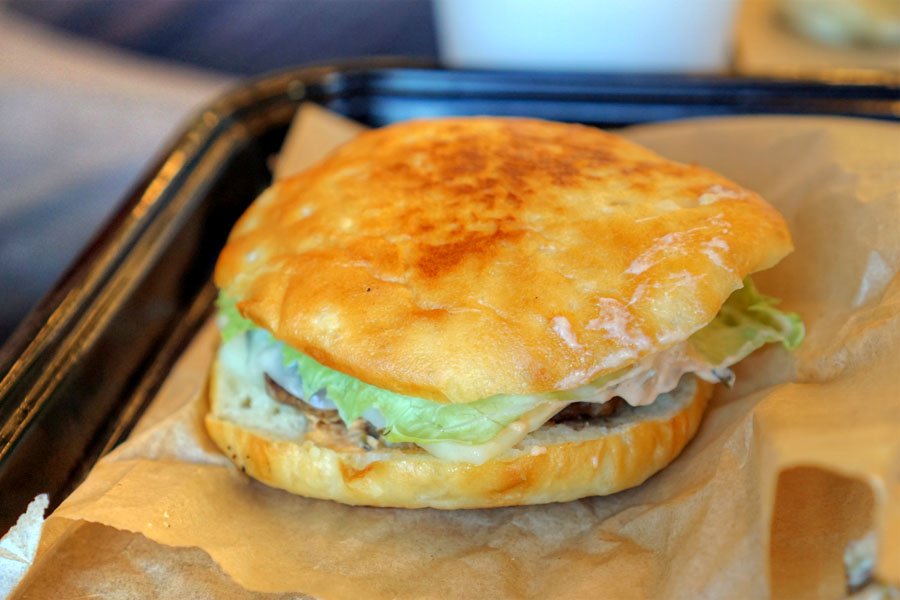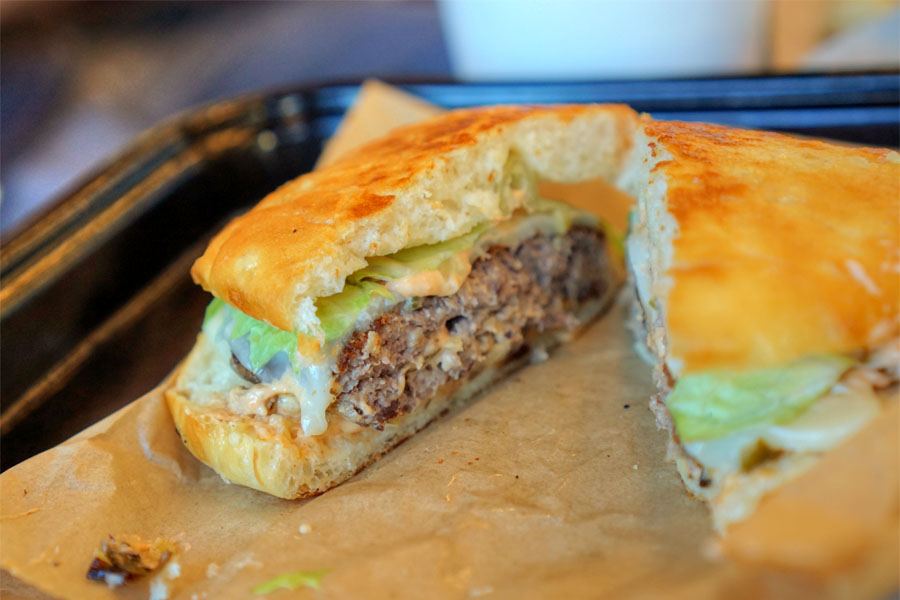 Locol Cheeseburg [$4.00]
| Jack, scallion relish, awesome sauce
We had to try the cheeseburger of course, and it was solid. Apparently the patty here also incorporates grain, but I didn't really mind it. Instead, I got your traditional marriage of beef 'n' cheese, complemented by the tanginess of that sauce and the crunch of lettuce.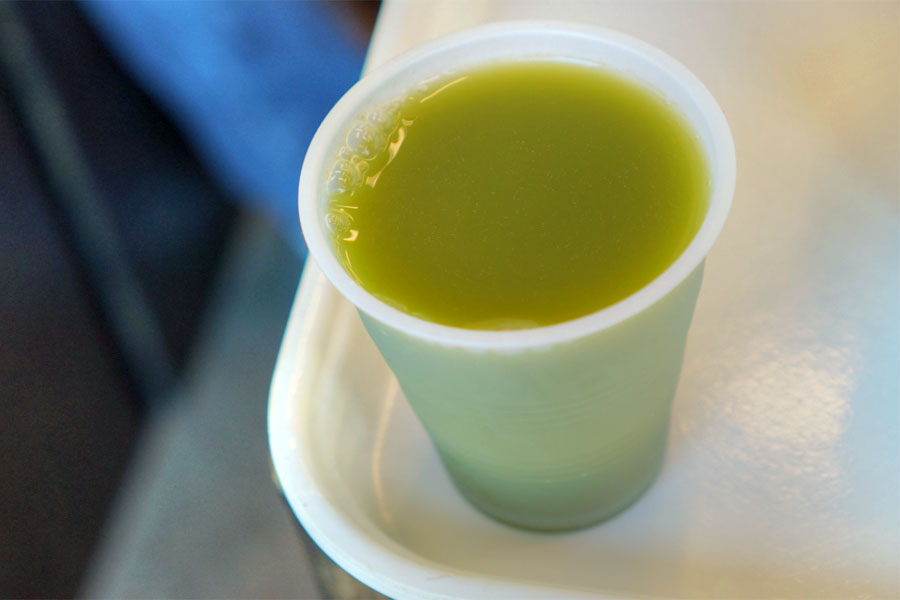 Green Juice [$2.00]
Locol's take on this popular veggie juice was super fresh, super bright, with a mixture of sweet, spicy, and vegetal flavors finished with the coolness of what seemed like cucumber.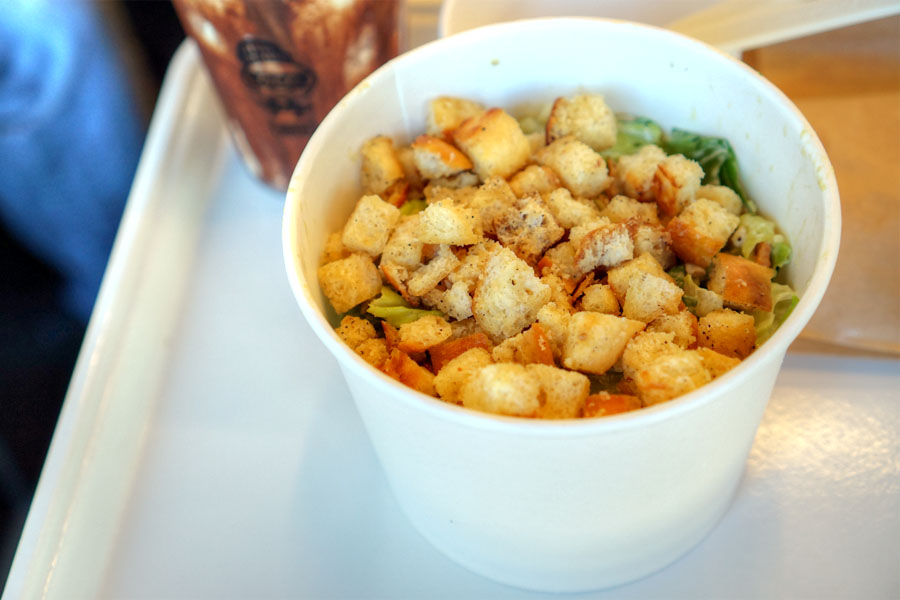 Bulgur Language [$6.00]
| Green goddess creamy dressing and croutons
A bulgur-enriched salad of sorts was enjoyable with its light, nutty flavors and crouton crunch, all tied together by the zip of that green goddess.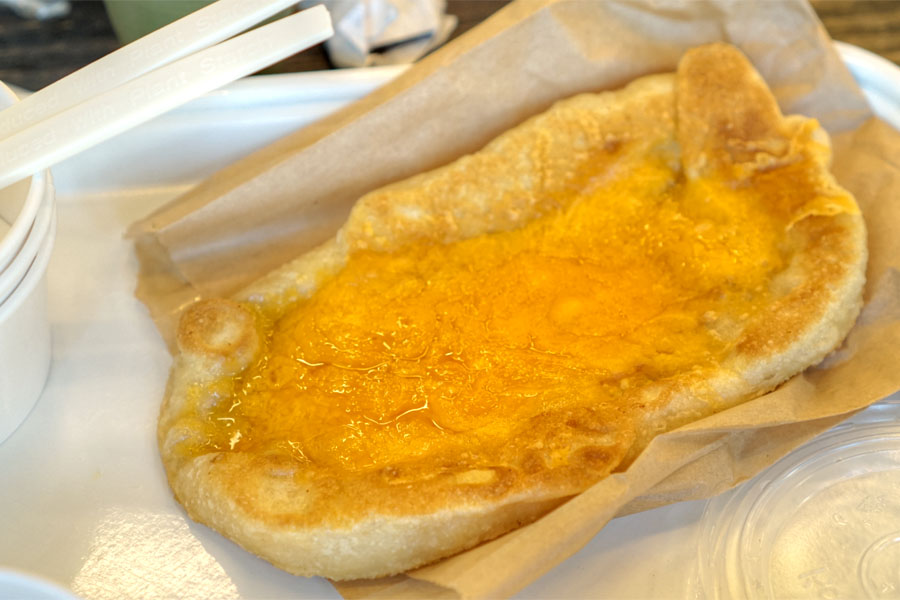 Norma's Flat Bread Cheese Toast [$2.00]
Our first "secret menu" item. You can't go too wrong with flatbread and cheese, and it worked here.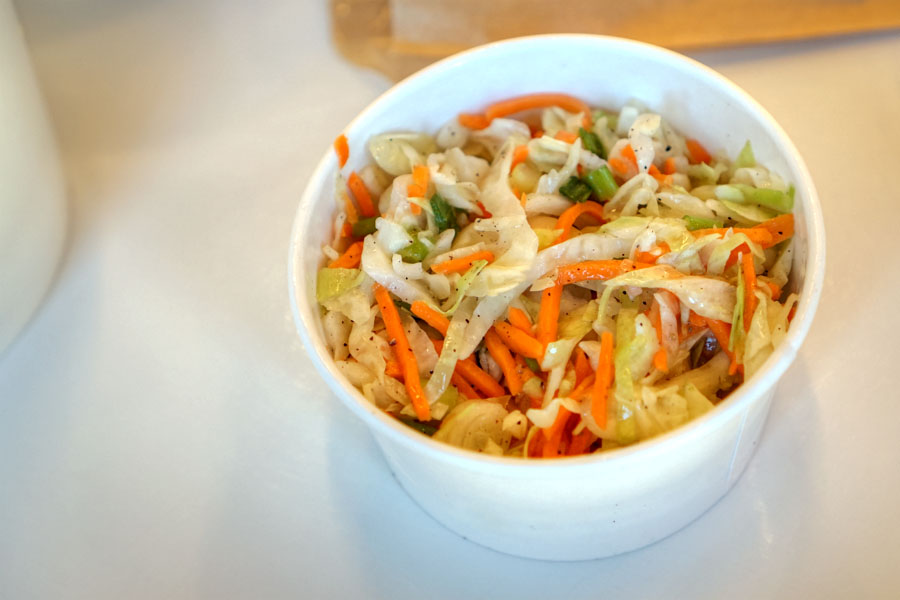 Slaw [$1.00]
Coleslaw came out crisp and super vinegar-y.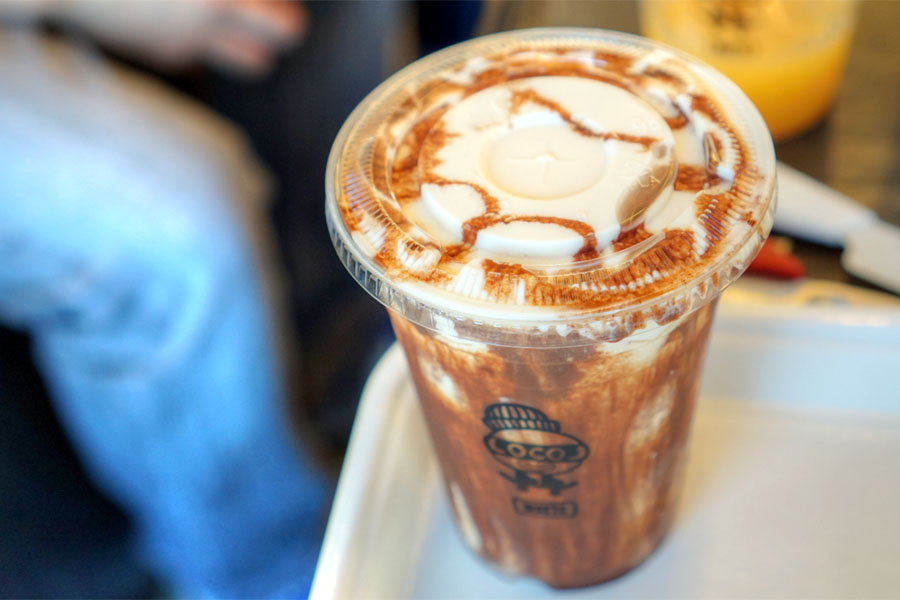 Jeremiah's Coffee Mocha Milkshake [$4.00]
Coffee and ice cream comprised our second off-menu order. Yum.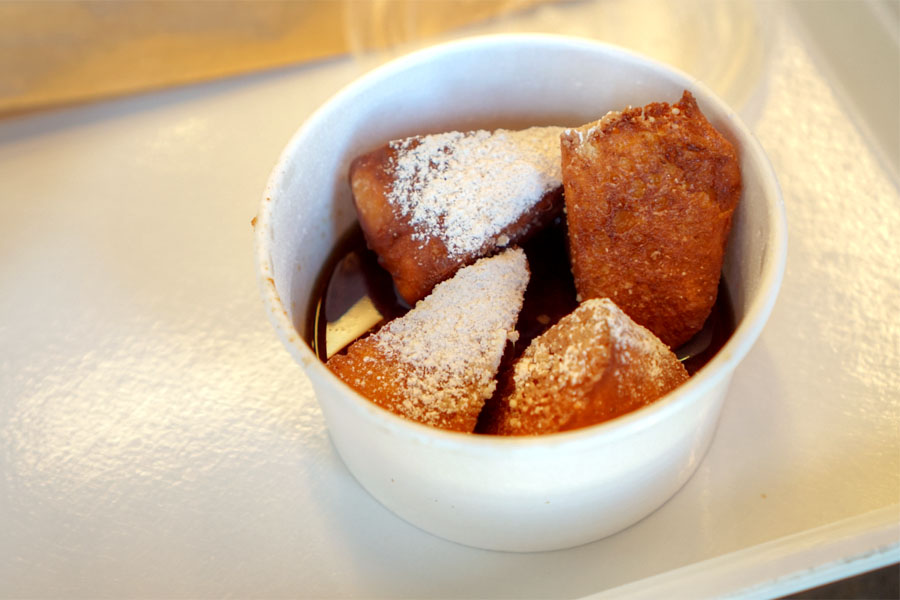 French Toast Holes [$2.00]
Some sweet bites for dessert.
As far as the menu's concerned, there were definitely some highs and some lows. But given what they're aiming for, I was reasonably content, and the place seems to be having a positive impact on the surrounding community, so there's that. I think I'd probably visit every so often if a Locol were to ever open in my neighborhood. And speaking of expansion, the second Locol actually bowed in Oakland back in May (in the former Plum space, no less), and plans call for further outposts in San Francisco's Tenderloin district (which was supposed to be the first to debut), as well as East and West Oakland. I've even heard talk of Anaheim too (Choi's parents used to own a Korean restaurant there). We'll see how far this goes.