Miro (Los Angeles, CA)
Miro Restaurant
888 Wilshire Blvd, Los Angeles, CA 90017
213.988.8880
www.mirorestaurant.com
Thu 05/26/2016, 08:00p-11:05p

The Financial District's dining scene got a shot in the arm recently with the debut of Miro. The place dropped at the end of April and is a reincarnation of the old Italian spot Cucina Rustica, which was opened by Albert Shahmoradian in April 2010 as a second outpost to his original restaurant in Montrose. Helming the kitchen now is Gavin Mills, whom we last caught up with over at
Tavern
, while the front-of-the-house is run by GM Tyler Dow, whom most of us know from his work at fellow Downtown eatery
Faith & Flower
.


Before Cucina Rustica, the building formerly held the U.S. Immigration and Naturalization Service's Application Support Center, and apparently opened in 1980 as Western Federal Savings and Loan. The space has been given a significant makeover, and now boasts a wood-swathed, mid-century sort of aesthetic upstairs. Downstairs, you'll find another bar, as well as the Whiskey Room (not pictured), which houses Miro's selection of rare whiskies, managed by Dow and Spirits Director Josh Allen (also ex-F&F).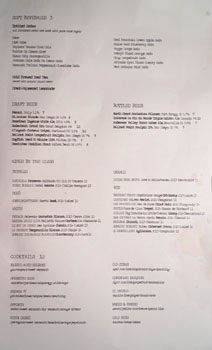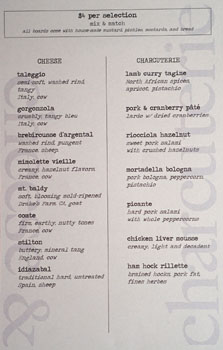 As for Miro's menu, it's Mediterranean-influenced for the most part, divided neatly into sections for veggies, meat, seafood, pasta, and pizza, while Mills' noted
charcutier
skills are evident in a separate charcuterie-n-cheese menu. Drink-wise, you get classic-ish cocktails, a handful of beers both on tap and bottled, and a fairly lengthy New World-Old World wine list. Corkage is $30 a pop. Click for larger versions.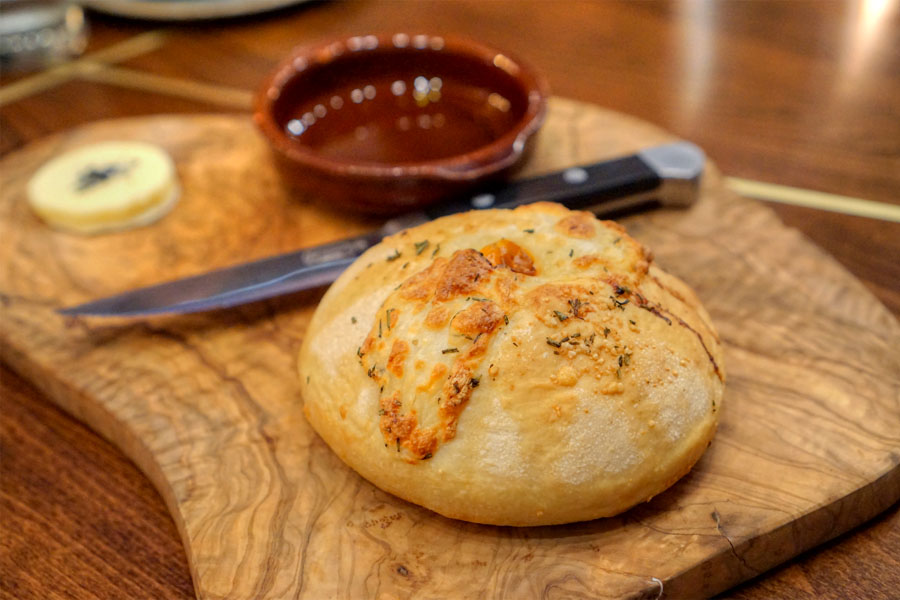 Bread Service [$6.00]
| house-made focaccia w/ house-churned butter & local olive oil
The focaccia was a welcomed sight, the bread arriving warm, sweet, and herb-tinged, delish alone and even better with a dab of butter or a dash of olive oil.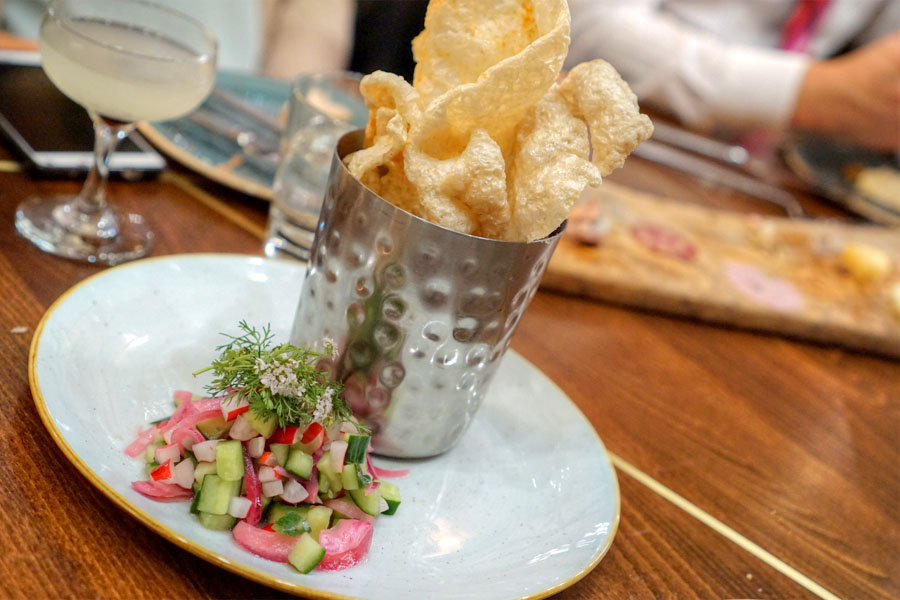 Complementary chicharrones were wonderfully crunchy, their saltiness matched by the acidity of the accompanying veggies.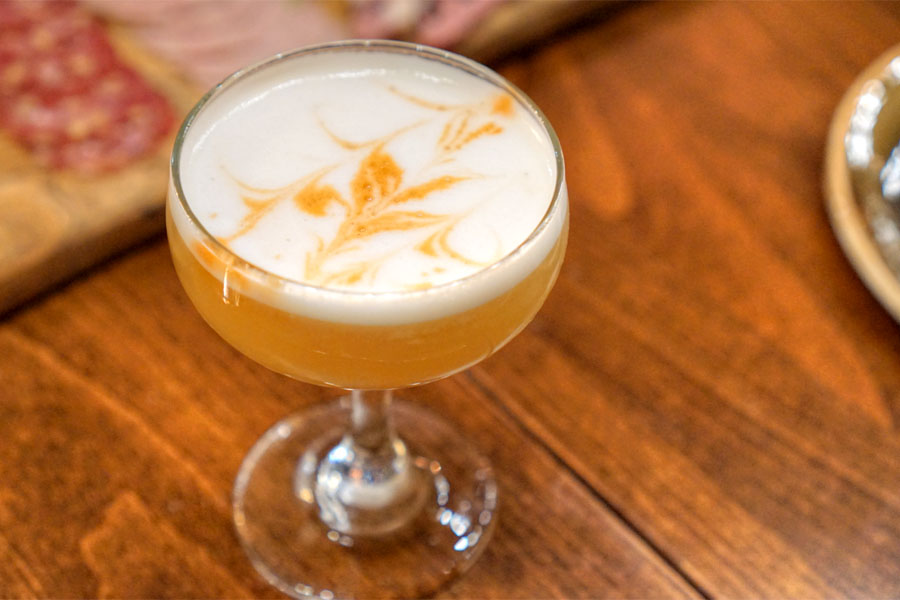 Amaretto Sour [$12.00]
| amaretto/rye/lemon/simple/egg white/ango
We made sure to sample a number of cocktails and started with this eggy number. Nice interplay between the sugariness of the amaretto and the lemon here, with the egg white providing a lush, creamy component.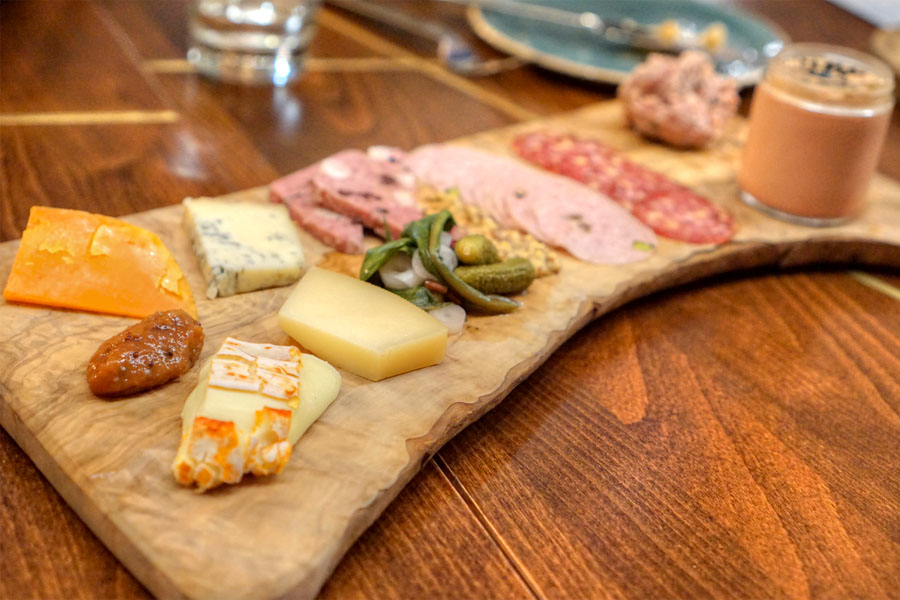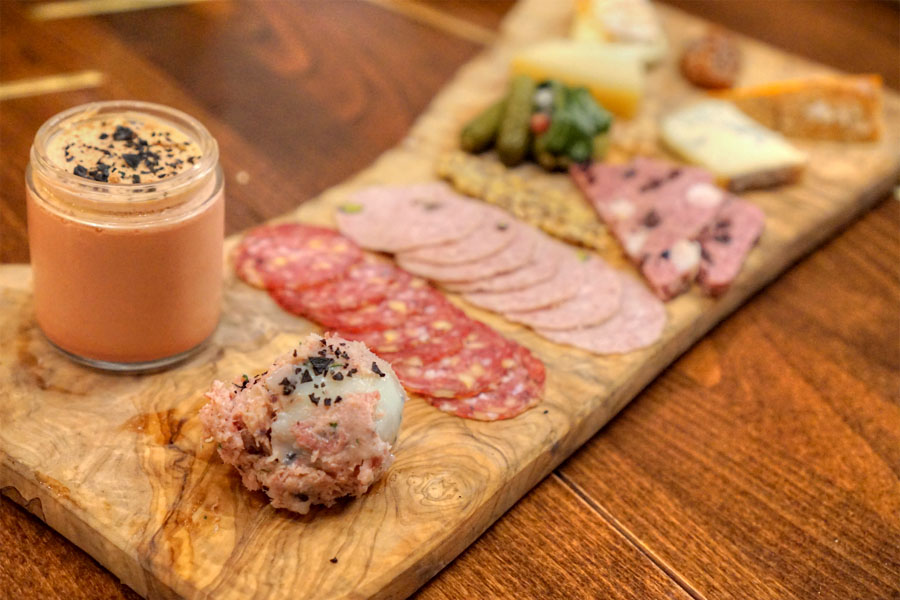 An impressive spread of Mill's charcuterie and cheese, served with housemade stone fruit mostarda, pickled cornichons and ramps, and a delightfully gritty mustard.
mimolette vieille | creamy, hazelnut flavors, France, cow
brebirousse d'argental | washed rind, pungent, France, sheep
gorgonzola | crumbly, tangy bleu, Italy, cow
idiazabal | traditional hard, untreated, Spain, sheep
pork & cranberry pâté | lardo w/ dried cranberries: Lovely fruity flavors balanced by the richness of pork and some well-placed hits of salt.
mortadella bologna | pork bologna, peppercorn, pistachio: A delicate, classic bologna taste perked up by spicy pepper notes, all in a soft, supple package.
nocciola hazelnut | sweet pork salami with crushed hazelnuts: Sweet and spicy, with a very satisfying porkiness.
chicken liver mousse | creamy, light and decadent: Smooth on the tongue, with a delicate but potent liveriness cut by a smidge of sweetness.
ham hock rillette | braised hocks, pork fat, fines herbes: Boldly porky and blatantly fatty, with a formidable spiciness underpinning.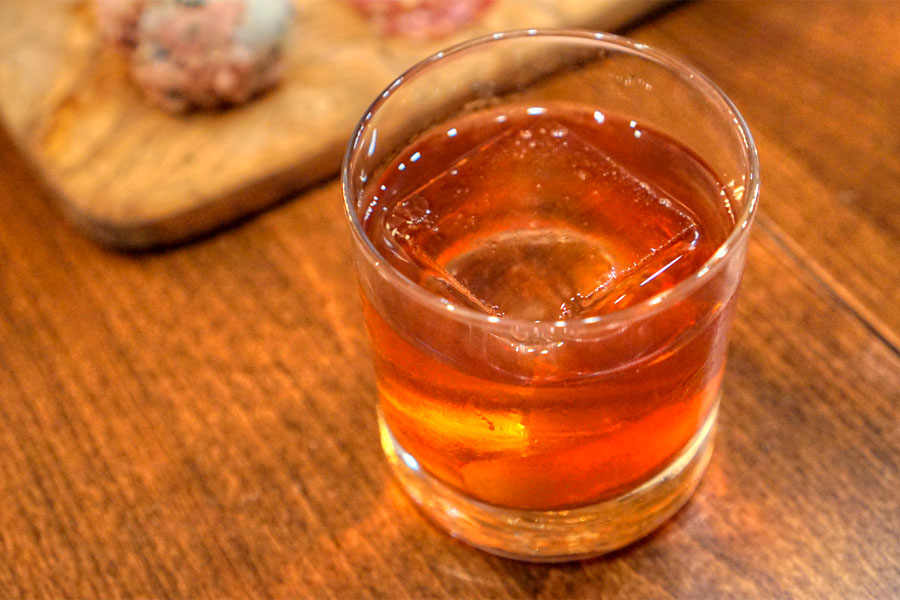 Vieux Carré [$12.00]
| rye/cognac/sweet vermouth/benedictine/ango/peychauds
The New Orleans classic: multifaceted, with a base of bitterness, booze, and spice notes layered with a perceptible sweetness.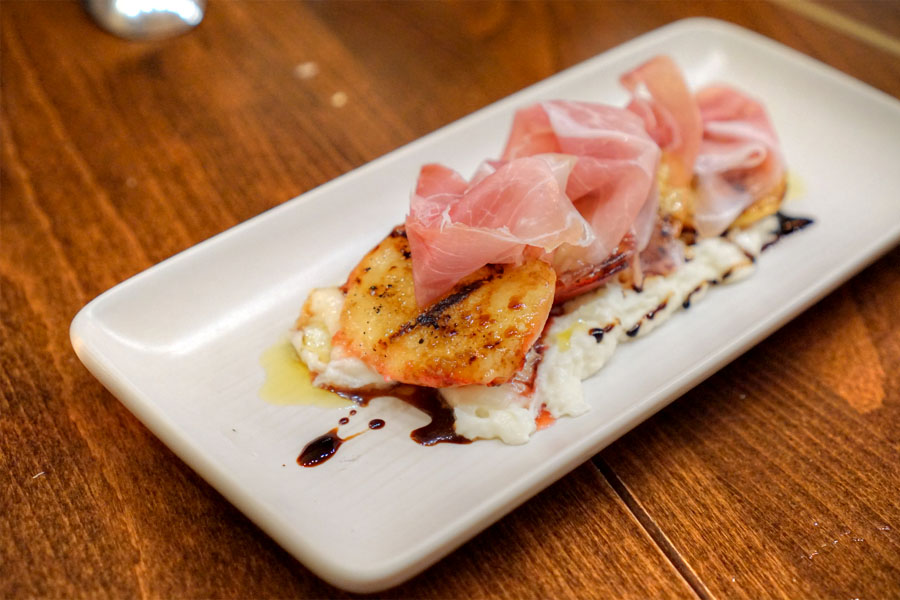 Grilled Peaches, Prosciutto & Burrata [$14.00]
A special this evening, peach, ham, and mozzarella married sweet, salty, and creamy in impeccable fashion, tied together by drizzles of olive oil and balsamic.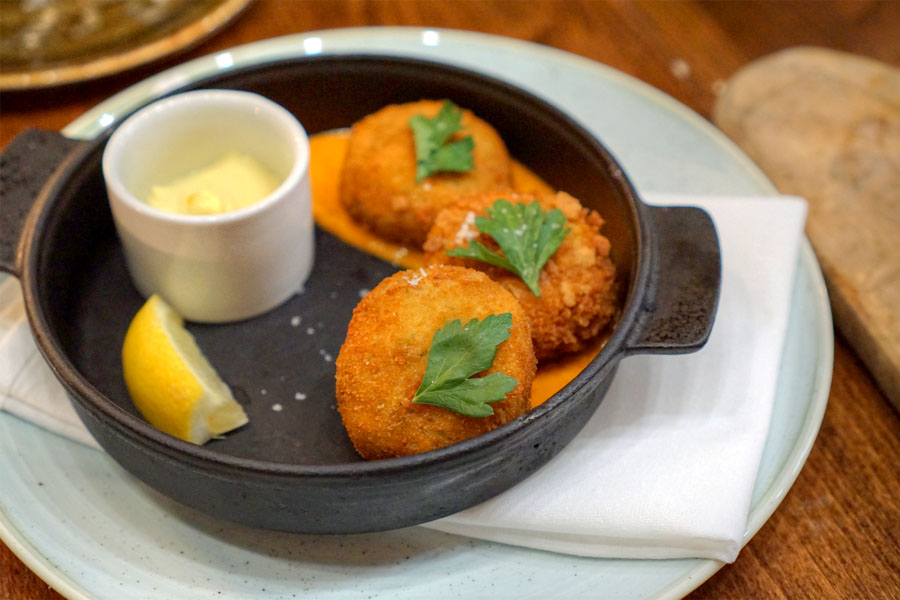 Bacalao & Potato Croquetas [$12.00]
| piri piri, garlic aioli
The salt cod was a must-try for me, and I appreciated how well the inherent fishiness of the bacalao paired with the heat of piri piri sauce.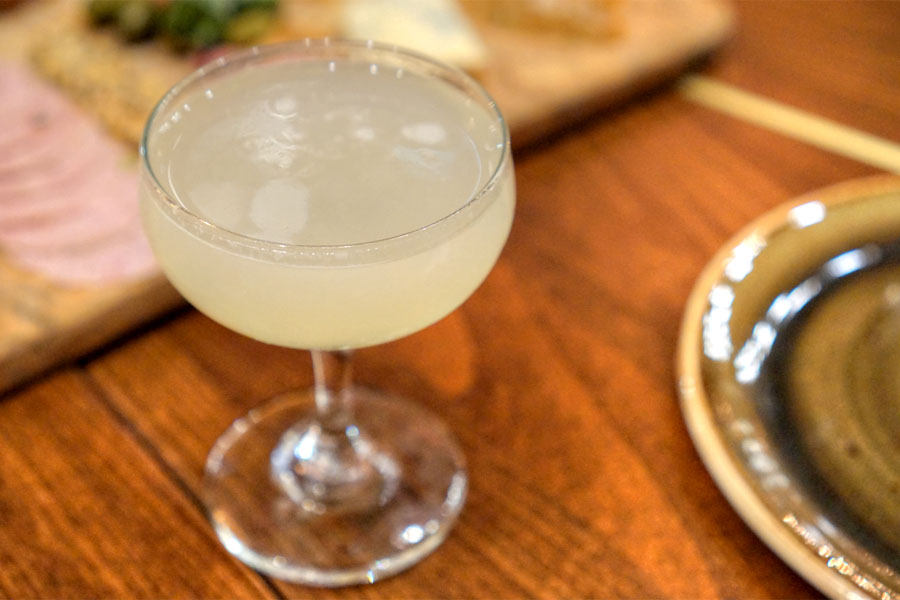 Hemingway Daiquiri [$12.00]
| light rum/lime/grapefruit/maraschino
Lemon-y and tart at first blush, then boozy, with the sweet complexity of maraschino becoming apparent on the back end.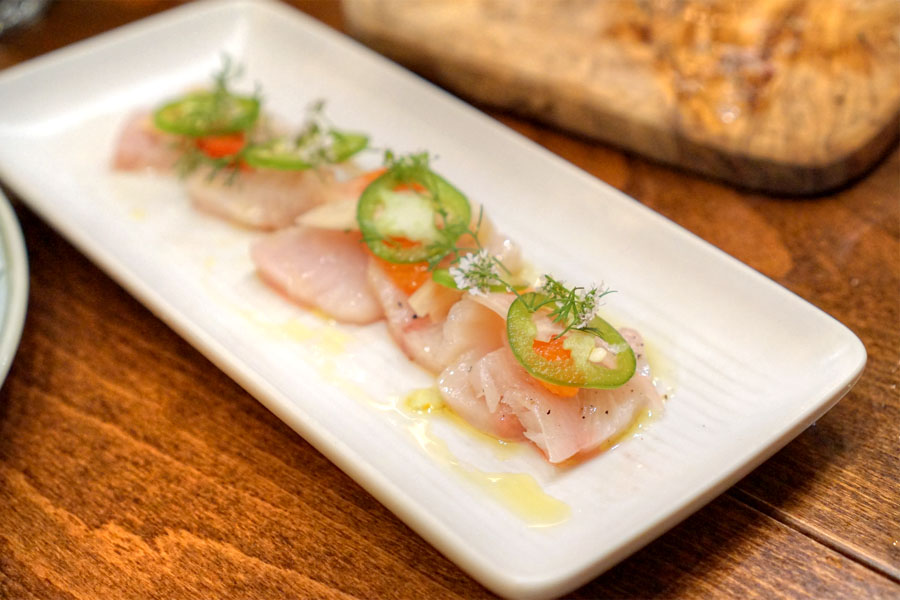 Yellowtail Crudo [$15.00]
| blood orange, cilantro, jalapeño, young ginger
Fatty slices of yellowtail were well-complemented by a simultaneous expression of heat, sweetness, and cilantro-fueled herbaceousness.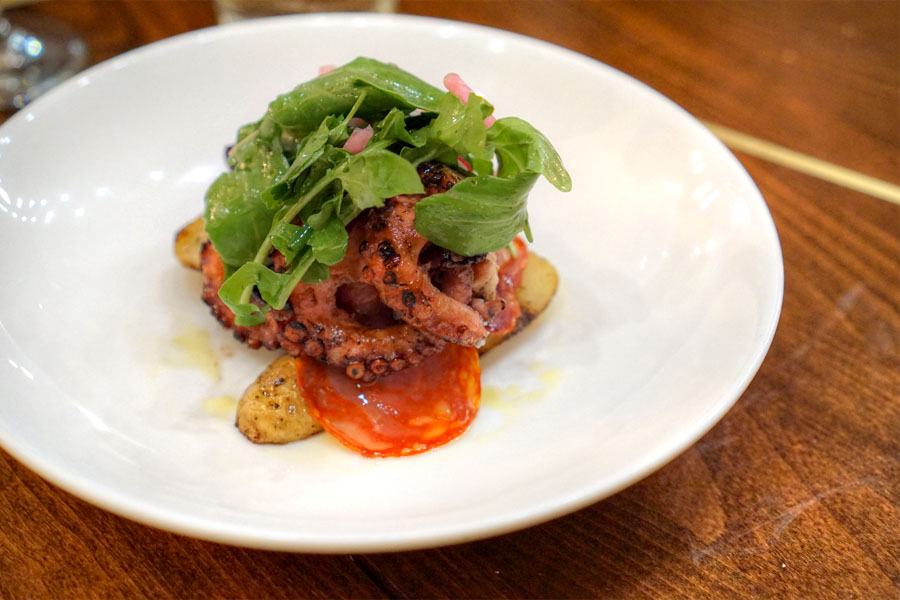 Wood-Grilled Octopus [$21.00]
| fingerling potato, winter citrus, chorizo, parsley
We were looking forward to the octo, and it delivered, with a great char and bite along with some delectably spicy notes from the chorizo, all while the fingerlings helped moderate everything.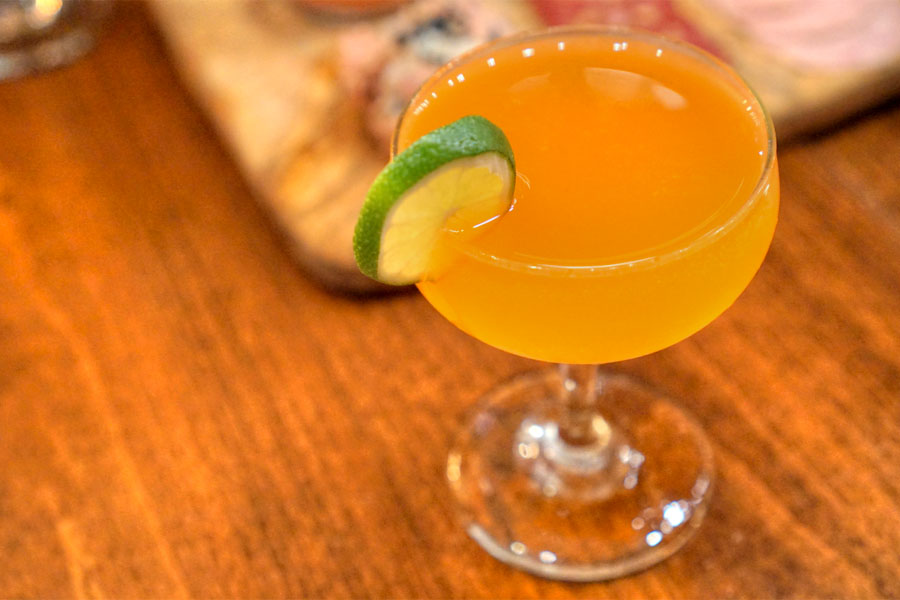 Naked & Famous [$12.00]
| mezcal/yellow chartreuse/aperol/lime
Next to drink was a relatively new creation from the folks at Death & Company. Think citrus-y at first, then with the smoke of the mezcal coming in alongside some marked bittersweet notes.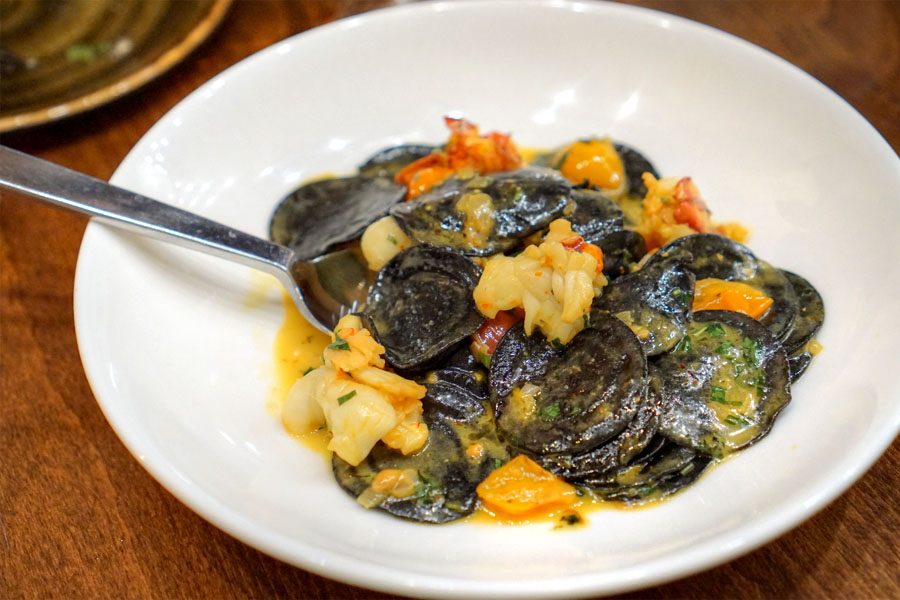 Squid Ink Corzetti [$26.00]
| lobster, saffron, cherry tomato
Corzetti's a relatively uncommon sight around these parts, but here it definitely worked as a counterpoint to the snappy, saffron-enriched lobster, with the cherry tomatoes imparting a touch of acidity to the mix.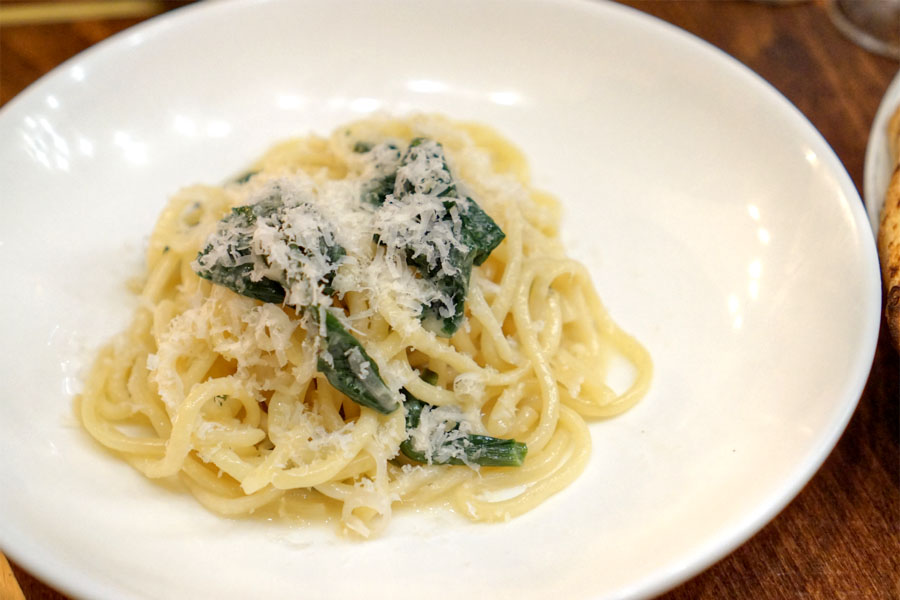 Buccatini [$18.00]
| ramp, local olive oil, parmesan
The bucatini met the mark too, showcasing the richness of the Parm while the ramps served as a contrast.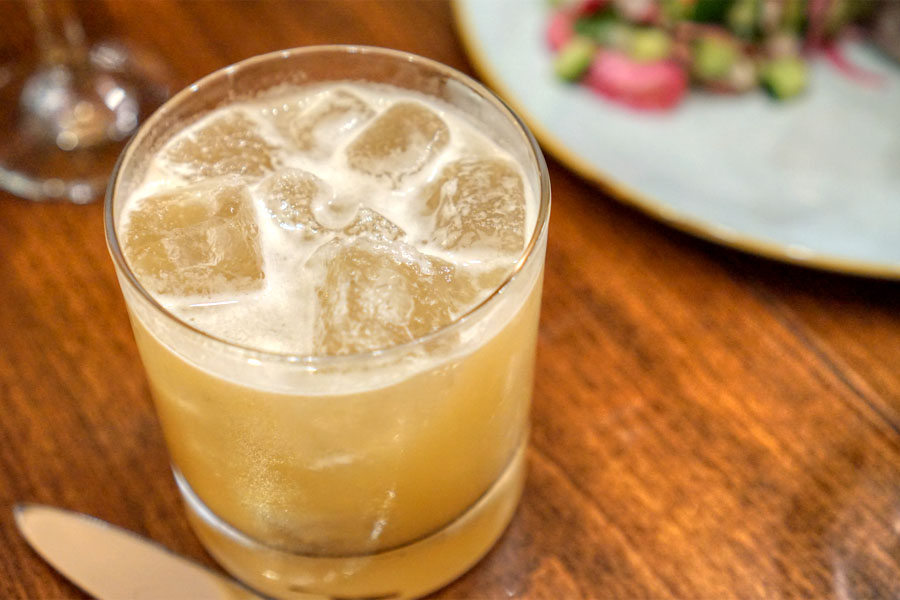 Gold Rush [$12.00]
| bourbon/honey/lemon
This modern classic from Milk & Honey was a standout, a balance of honeyed and boozy notes augmented by pinpoints of tart lemon.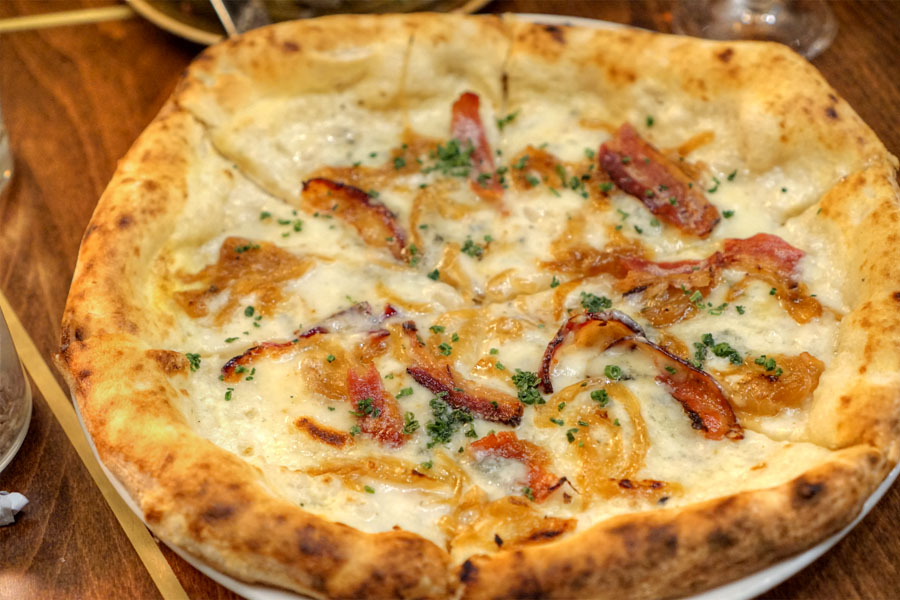 Bacon, Gorgonzola & Caramelized Onion Pizza
The kitchen then sent out our sole pizza of the night, one that had its sweet onion and salty bacon flavors joined by the unmistakable funk of Gorgonzola.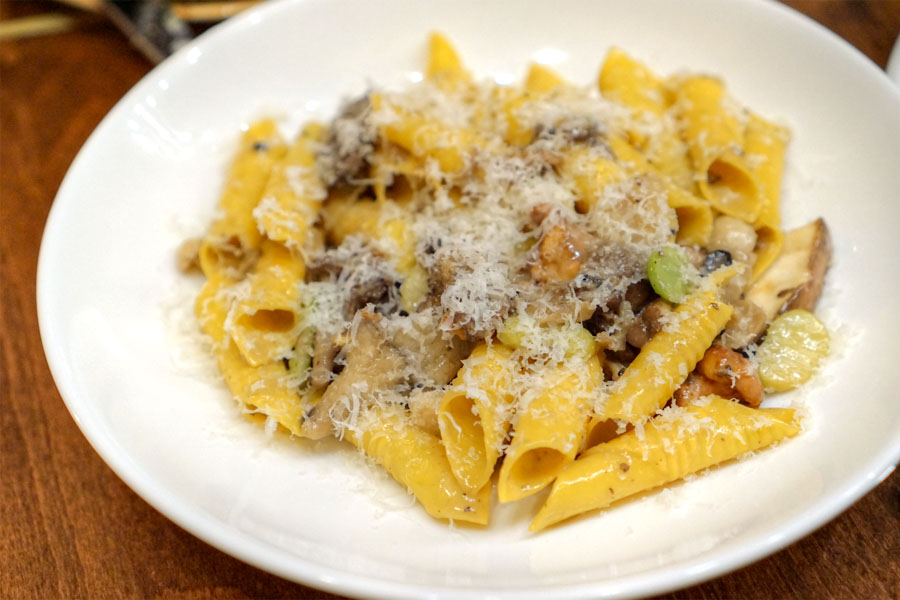 Garganelli [$24.00]
| wild mushroom, fava bean, truffle
The garganelli was probably my favorite of the pasta dishes, the tubes coming out well-textured and a fitting vehicle for the earthiness of truffle and mushrooms while favas added just a trace of brightness to things.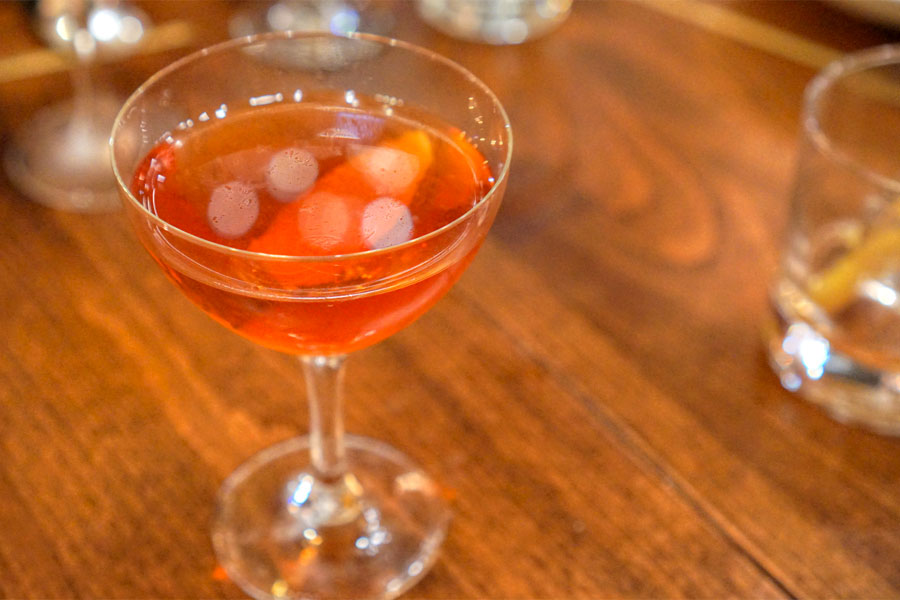 Affinity [$12.00]
| scotch/sweet vermouth/dry vermouth/orange bitters
This next cocktail packed a bit of punch, with the heft and spice of the whiskey beautifully matched by an influx of bittersweet notes.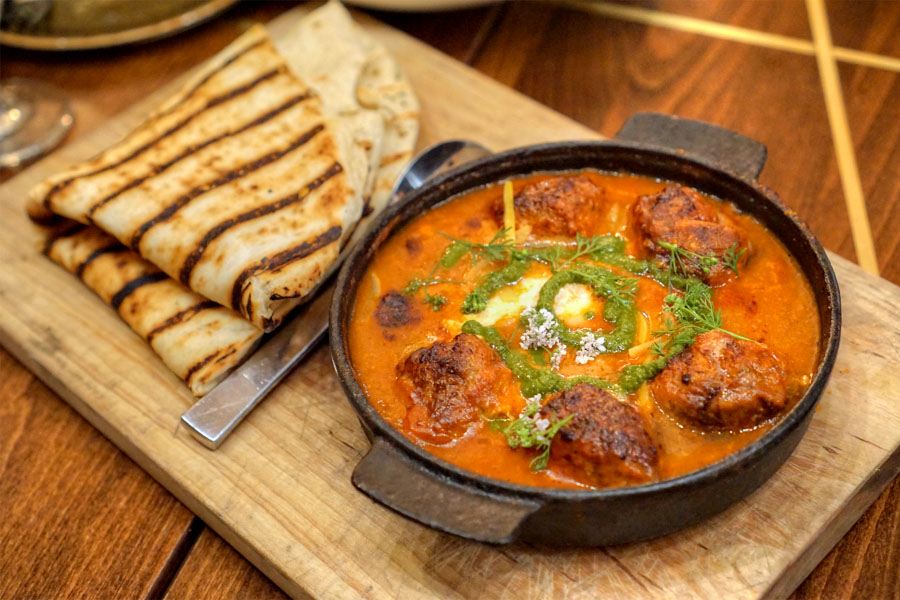 Lamb Kofta Tagine [$20.00]
| green harissa, preserved lemon, grilled bread, cage free egg
Kofta meatballs conveyed lots of lamb-y, herby depth, kicked up another notch by the harissa. Excellent fluffiness and char on the accompanying bread, too.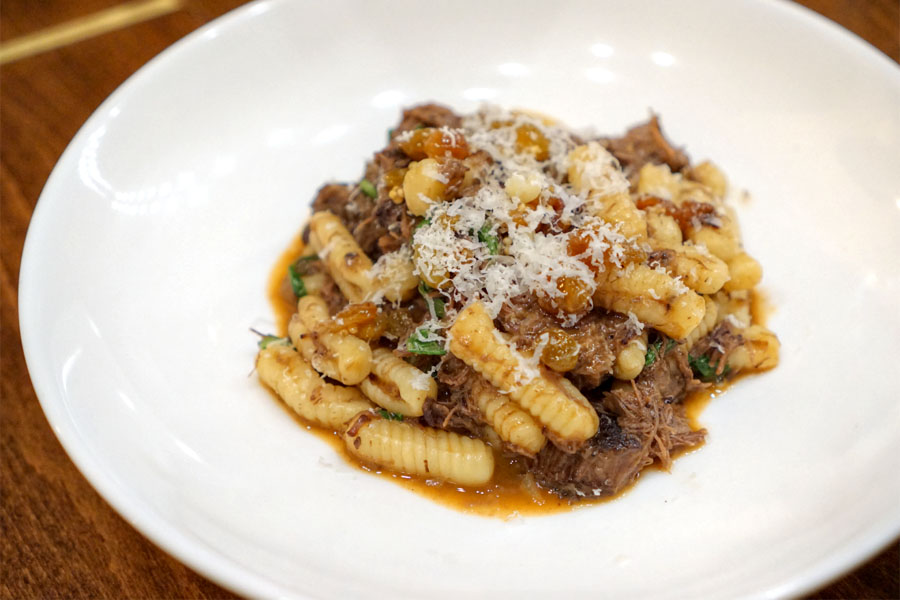 Beef Cheek Cavatelli [$26.00]
A special tonight, cavatelli combined the deep, dark flavors of long-cooked beef with the sweetness of golden raisin, the cilantro providing a necessary lightness.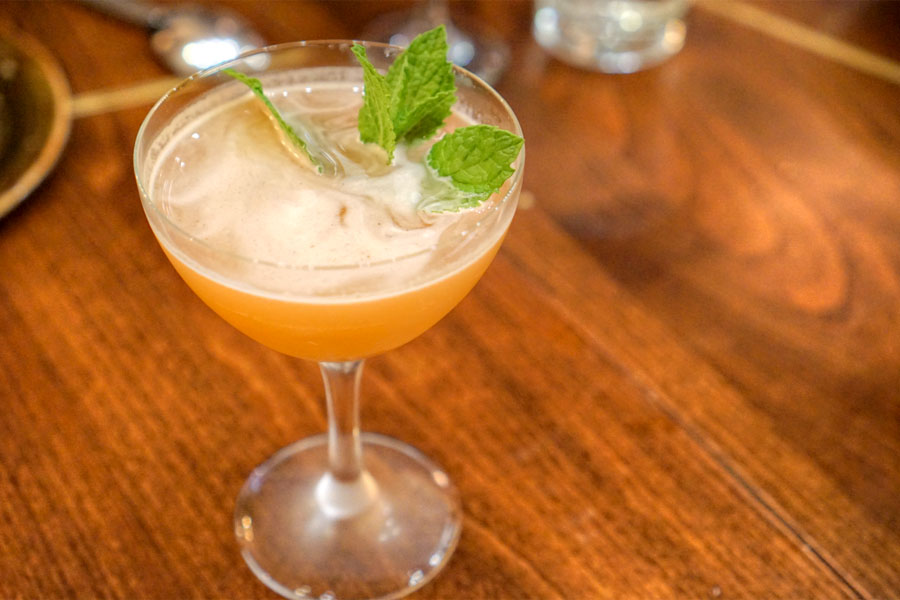 Old Cuban [$12.00]
| aged rum/lime/simple/mint/ango/sparkling
The Pegu Club was the source of our final cocktail, a mojito-esque creation that was definitely on the refreshing side, with a great conflux of minty and lime notes.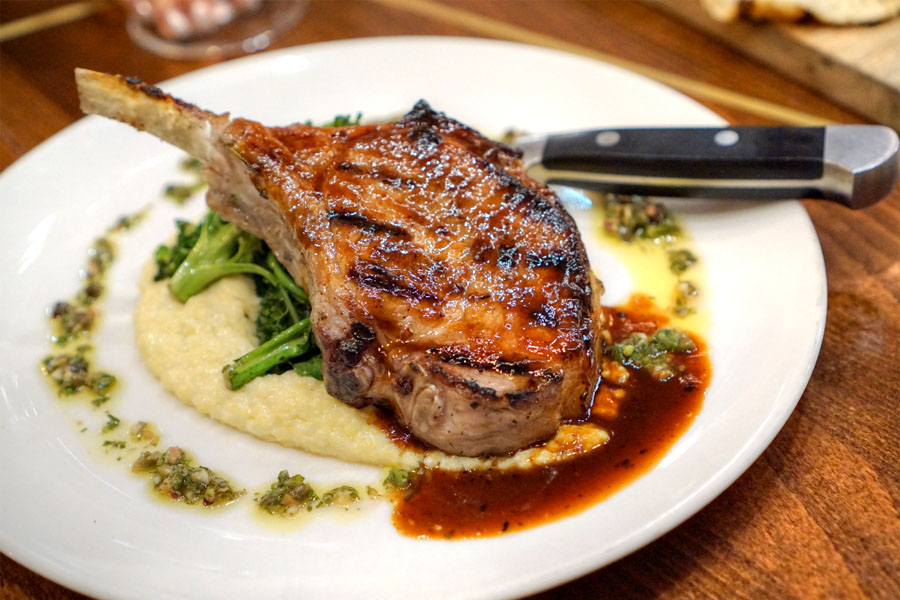 Wood Roasted Pork Chop [$33.00]
| sprouting broccoli, roasted garlic, polenta, salsa verde
We closed out the savories with a hefty chop, a particularly juicy example loaded with plenty of porky, salty flavors. I definitely appreciated the zing of the salsa verde here, not to mention the bitterness of the broccoli, as well as how the polenta worked to temper the dish.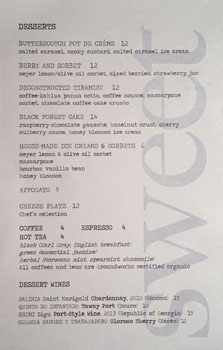 We were quite full by this point, but dessert was still a must. Click for a larger version.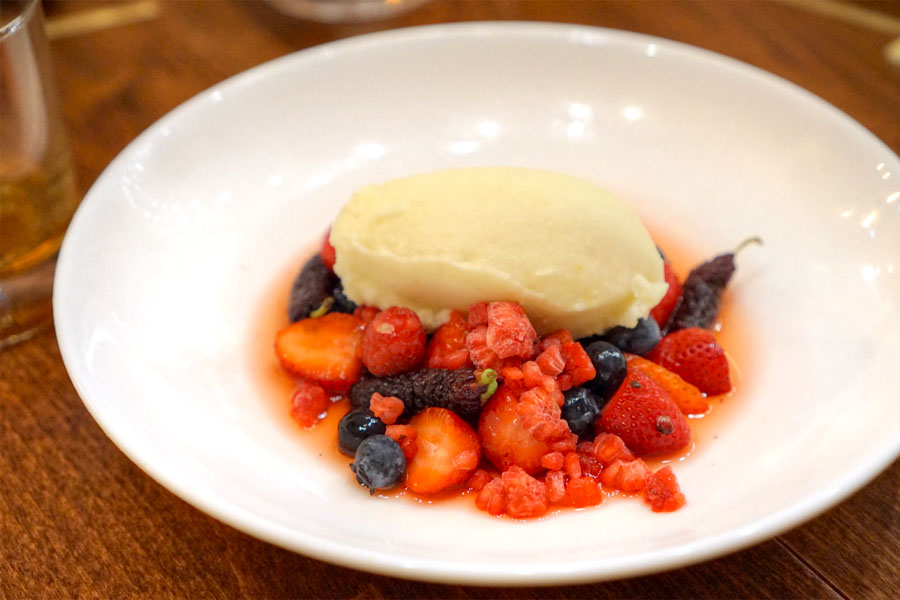 Berry and Sorbet [$12.00]
| meyer lemon/olive oil sorbet, mixed berries, strawberry jus
Things got off to a light start. Think a tart, almost bracing lemon sorbet paired with a bevy of sweet berries.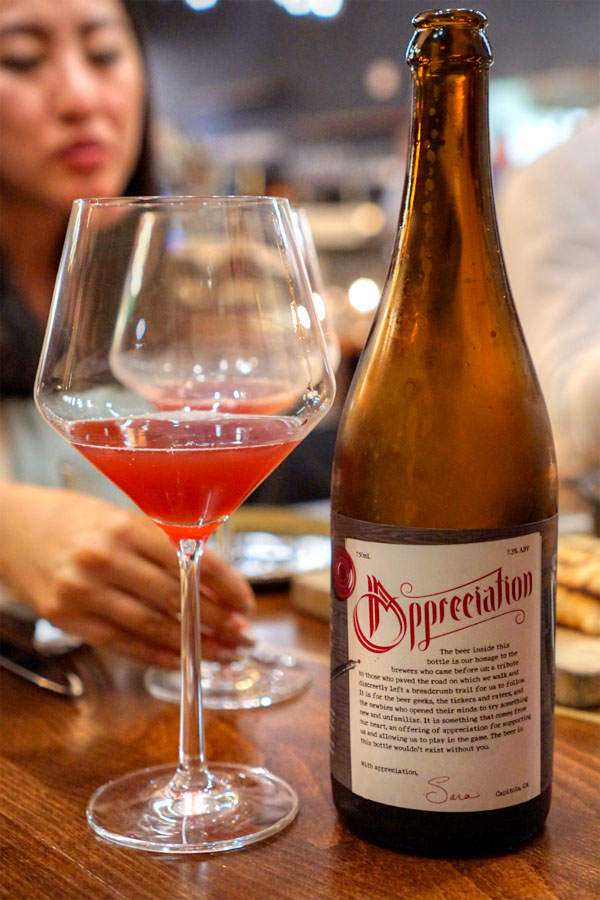 With the cocktails done with, I opened up a bottle that I had with me, the
2015 Sante Adairius Appreciation
, a wine barrel-aged farmhouse ale brewed with boysenberries. It was lovely, as expected. Nose was sour, but also properly jammy and fruit-forward. Taste-wise, I got a lot of berry tartness up front, balanced by a deep, penetrating funk, while the back end provided a candied, almost Fruit Roll-Up-esque finish.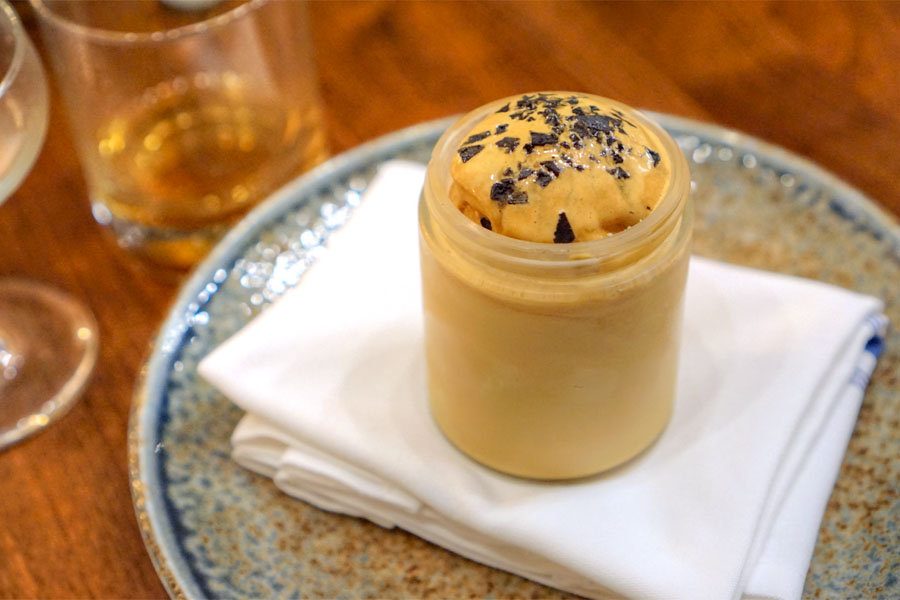 Butterscotch Pot de Créme [$12.00]
| salted caramel, smoky custard, salted caramel ice cream
The pot de crème came out rich and buttery, with a smart mix of salty and smoky nuances working as an offset.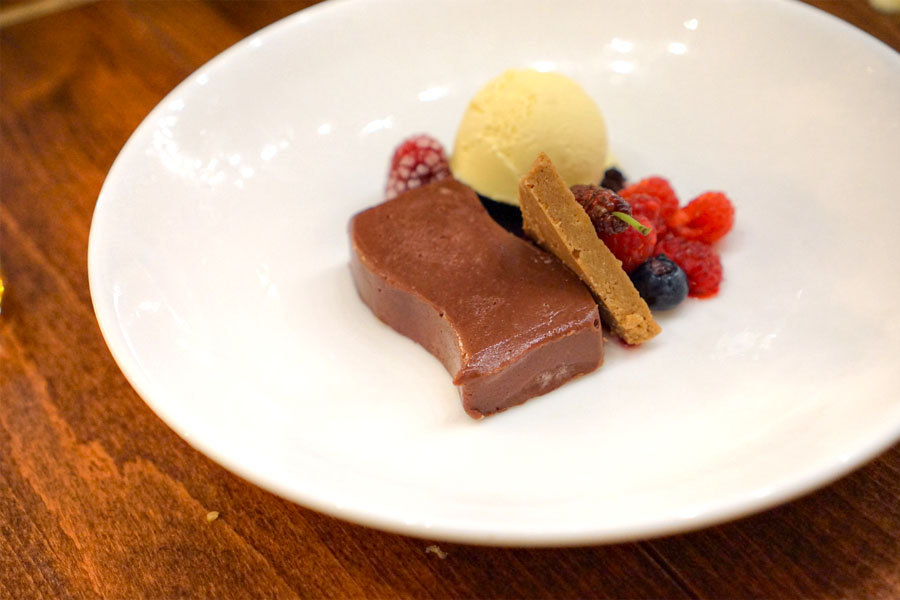 Black Forest Cake [$14.00]
| raspberry-chocolate ganache, hazelnut crust, cherry mulberry sauce, honey blossom ice cream
A sort of reimagined Black Forest cake showed off loads of chocolate alongside sweet berry. Great nutty crunch here from the hazelnut, while the ice cream provided a luxurious, honeyed presence.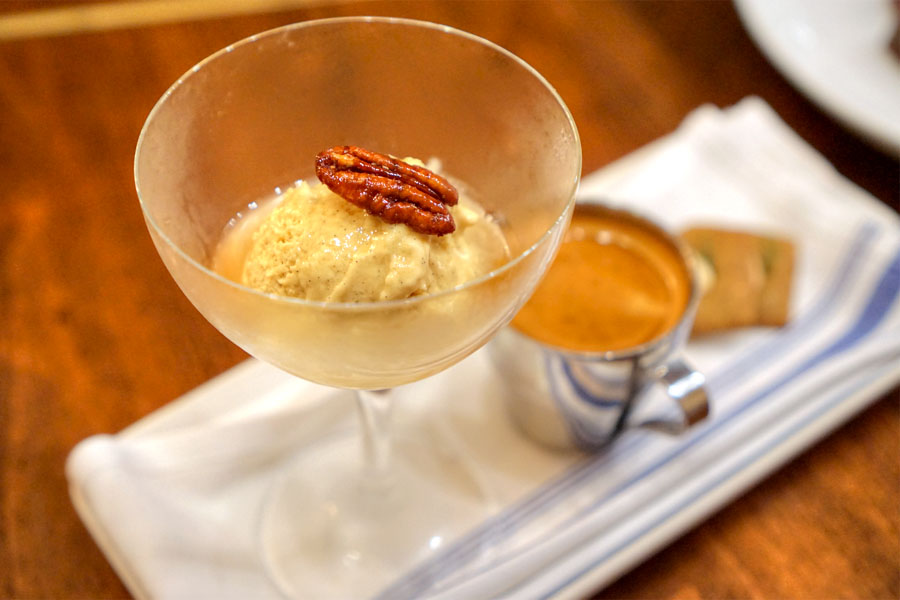 Affogato [$9.00]
The affogato was super coffee-forward, with lots of fruity, nutty, roasty flavors in your face, all smoothed out by the ice cream.
Miro looks to be a great addition to a somewhat underserved stretch of Downtown. The food's familiar enough for the area's business crowd with its Italian-leaning sensibilities, but is also appealing enough to make the place a bit of a destination at night. Hopefully Mills and company will be able to stick around for a while.