Border Grill (Santa Monica, CA)
Border Grill Restaurant
1445 4th St, Santa Monica, CA 90401
310.451.1655
www.bordergrill.com
Fri 10/07/2016, 08:00p-11:50p

As you may have read, I recently paid a visit to Susan Feniger's
Mud Hen Tavern
in order to give the place a final go before its shutter. Given that Feniger and Mary Sue Milliken's seminal Border Grill was closing around the same time (on the 8th), I figured it'd be a good idea to stop by for a last meal there as well.
Border Grill helped shape the Mexican cuisine scene in the Los Angeles area in the eighties, and is, of course, what really put the two Chefs on the culinary map. The restaurant first opened in 1985 in the old City Cafe spot on Melrose, but moved to its much larger Fourth Street home in 1990, where it'd remained ever since.

The restaurant was originally designed by Josh Schweitzer, husband of Milliken and ex-husband of Feniger. It's a bright, festive,
very orange
space, apropos for the concept they were going for.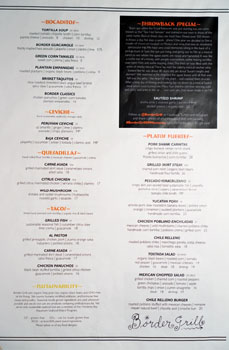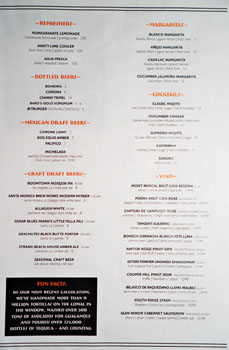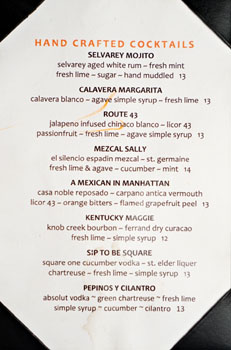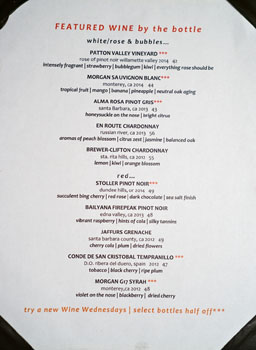 As far as the menu goes, you get a pan-Mexican selection of various staples, and in the weeks leading up to the closure, they had a rotating "throwback special" as well. Drinks comprise a passable selection of beer, a smattering of mostly Californian wine, and cocktails, Latin-flavored, of course. Corkage was advertised at $15 a pop, though we were only charged for one bottle. Click for larger versions.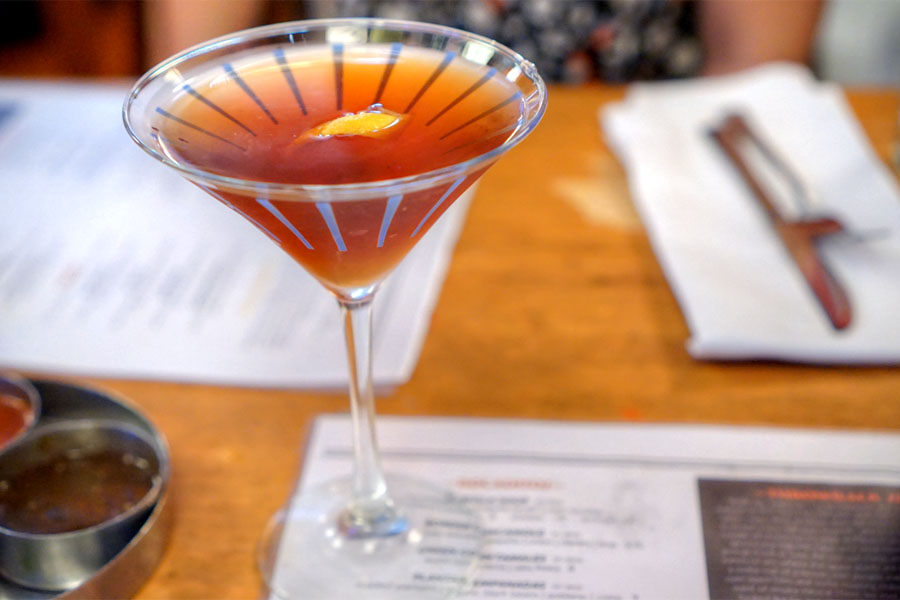 A Mexican in Manhattan [$13.00]
| casa noble reposado ~ carpano antica vermouth ~ licor 43 ~ orange bitters ~ flamed grapefruit peel
I began with this Manhattan variation, which I found a workable effort. Nice aromatic nose loaded with citrus and sweet spice; palate was bittersweet, boozy, with more of that warm spice mixed in.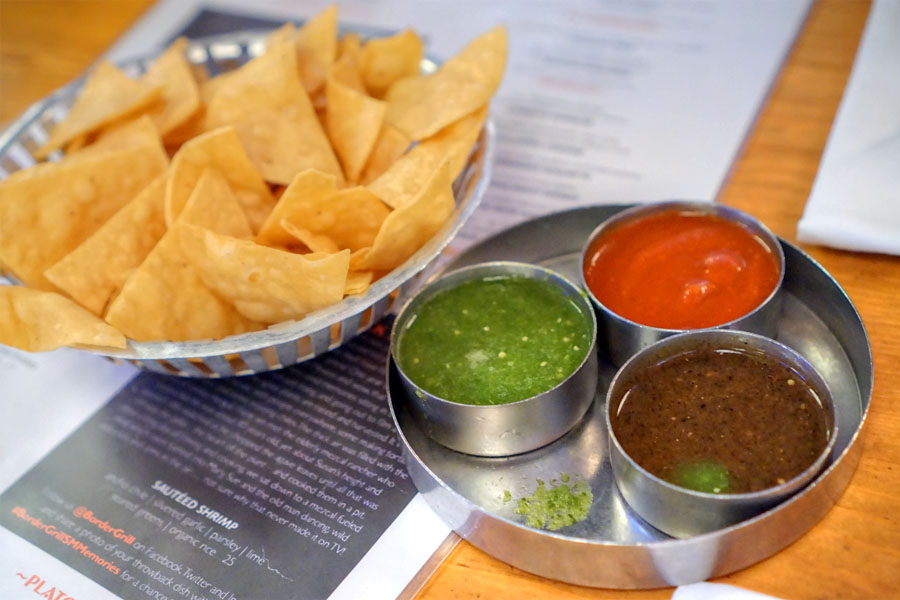 Chips arrived wonderfully crunchy and just the right amount of greasy. Quite tasty alone, but even better with one of the salsas: a sweetly spicy
roja
; a bright, fruity
tomatillo
; and a smoky
chipotle
(?).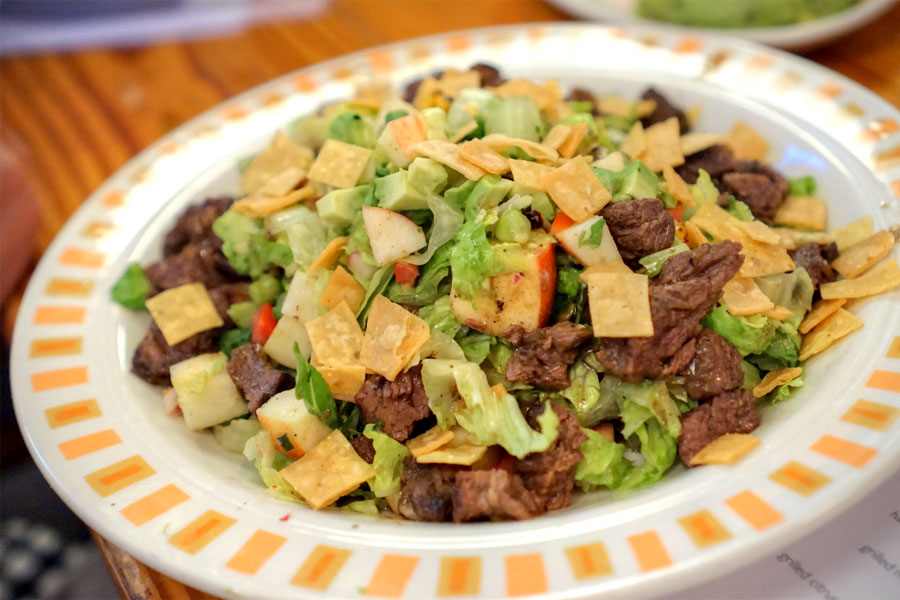 Mexican Chopped Salad [$18.00]
| steak, charred corn, roasted peppers, green chickpeas, avocado, tomato, apple, tortilla chips, onion, cumin vinaigrette
The salad was an unexpected standout for most of us at the table. The beef itself was actually surprisingly tender, with a touch of char and some sweet spicing to it. It paired easily with the greens, and I appreciated the additional crunch provided by the shards of tortilla chip.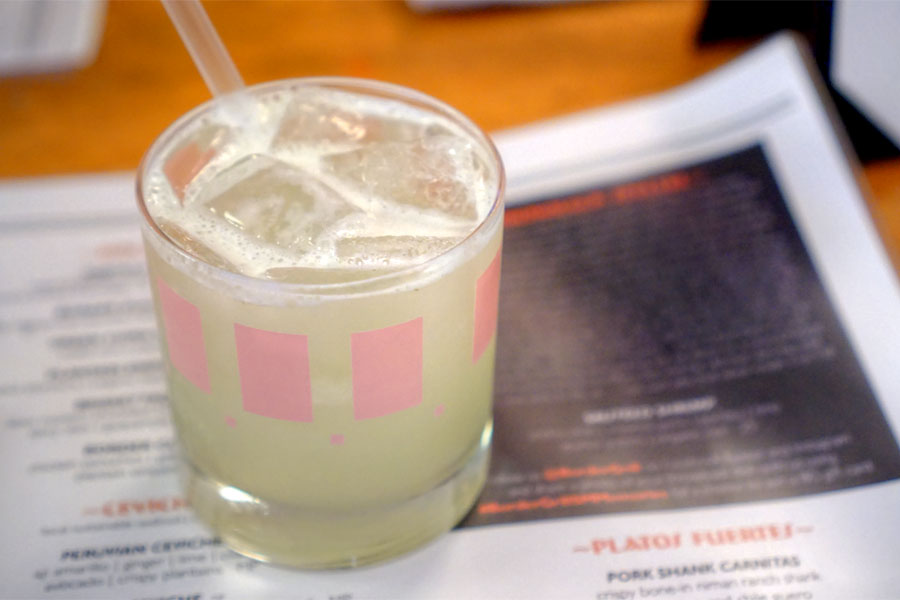 Mezcal Sally [$14.00]
| el silencio espadin mezcal ~ st. germaine ~ fresh lime & agave ~ cucumber ~ mint
My requisite mezcal cocktail showed off the spirit's signature smokiness of course, joined by some light medicinal-herby notes and a touch of sugariness from the St. Germain.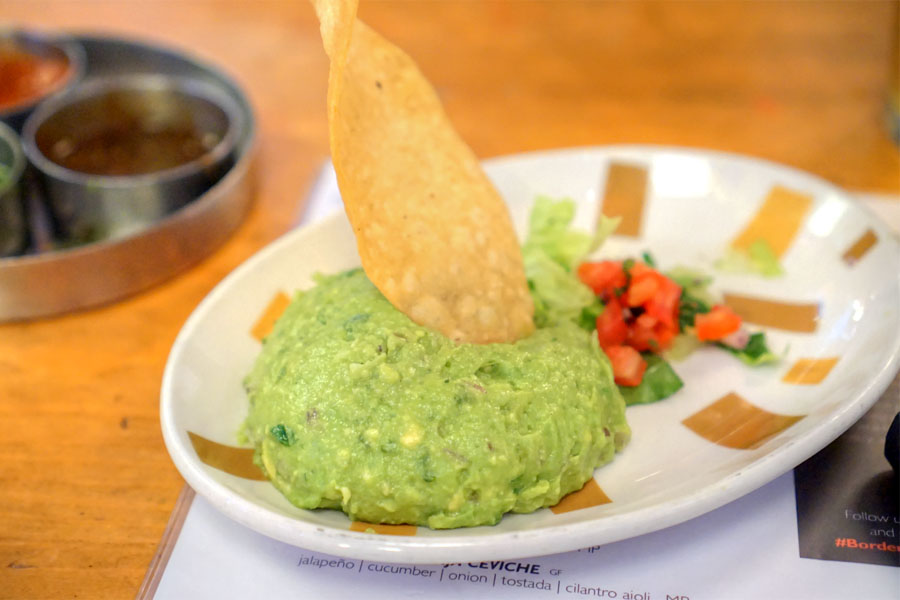 Border Guacamole [$9.75]
| freshly mashed hass avocado, jalapeño, onion, cilantro, lime
We felt compelled to give the guac a go, and it didn't let us down: a smooth, creamy preparation, with a keen acidity to it and a smidge of jalapeño heat.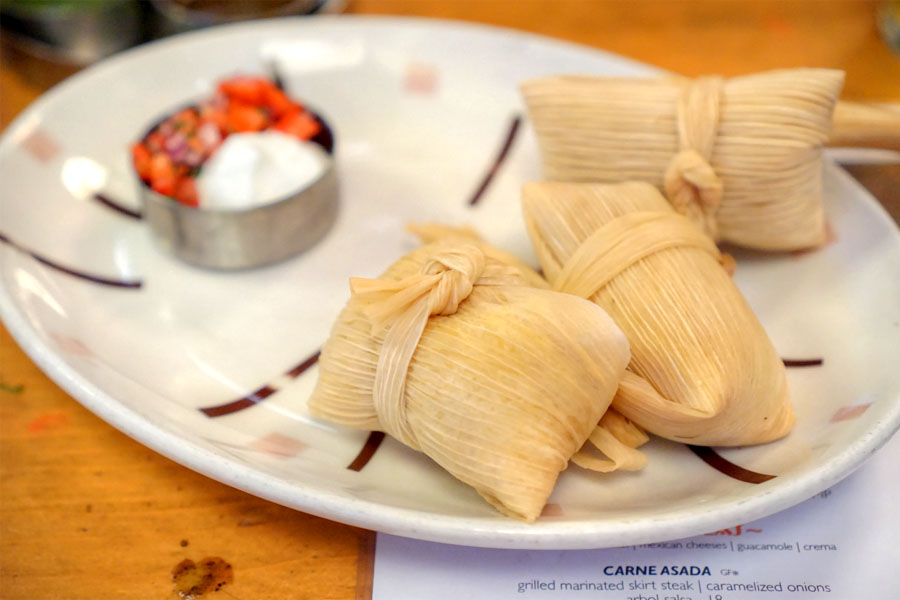 Green Corn Tamales [$8.00]
| sweet corn, crema, salsa fresca
"Sweet corn" would be an understatement. The tamales were easily the sugariest I've had, and I really would've liked some contrast from a salsa verde or something similar.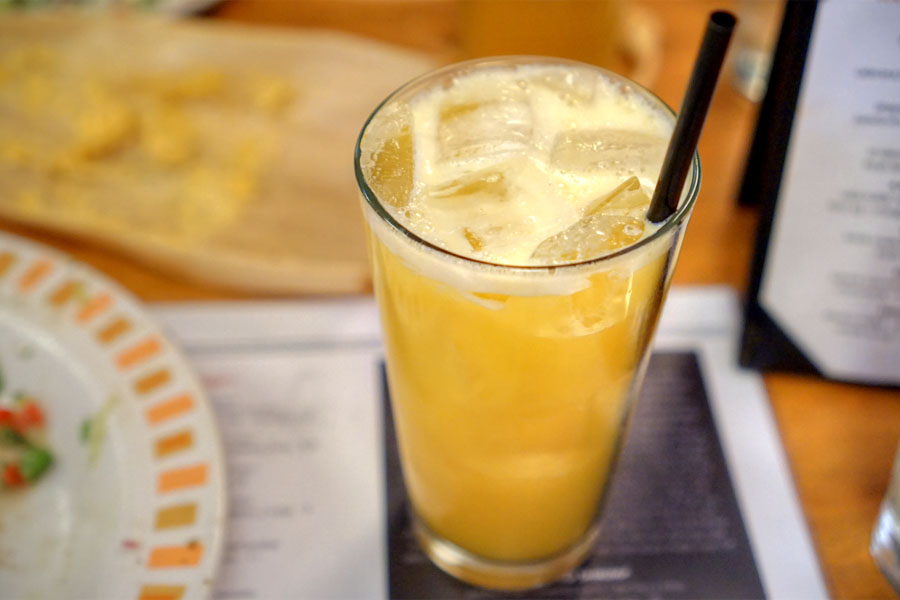 Route 43 [$13.00]
| jalapeno infused chinaco blanco ~ licor 43 ~ passionfruit ~ fresh lime ~ agave simple syrup
Our next cocktail forcefully conveyed passion fruit, with its sweet-tart flavors countered by an intense spiciness and the boozy weight of tequila.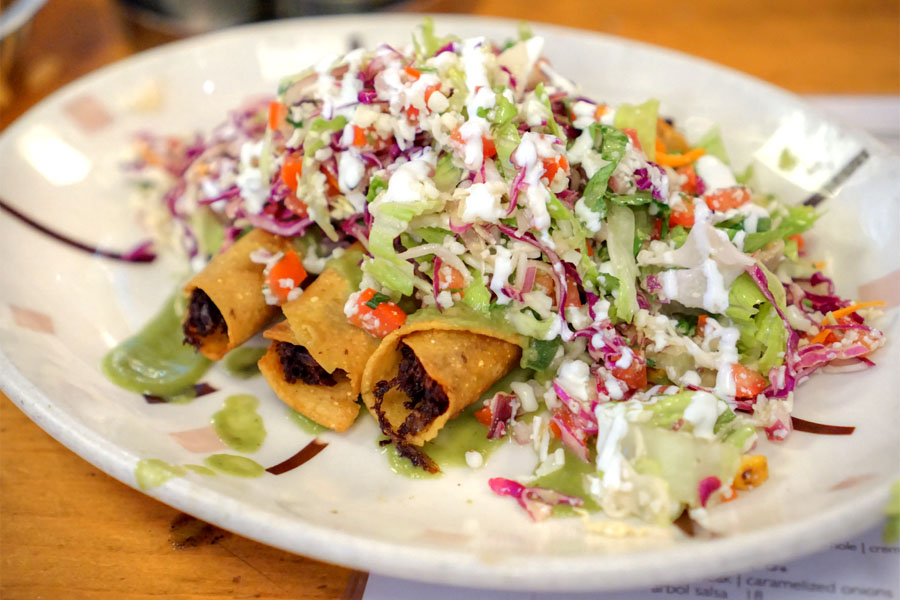 Brisket Taquitos [$11.00]
| slow roasted shredded black angus beef brisket, spicy slaw, guacamole, salsa fresca
Taquitos were your prototypical presentation: satisfyingly beefy, crunchy, and nicely balanced by the various accompaniments piled on top.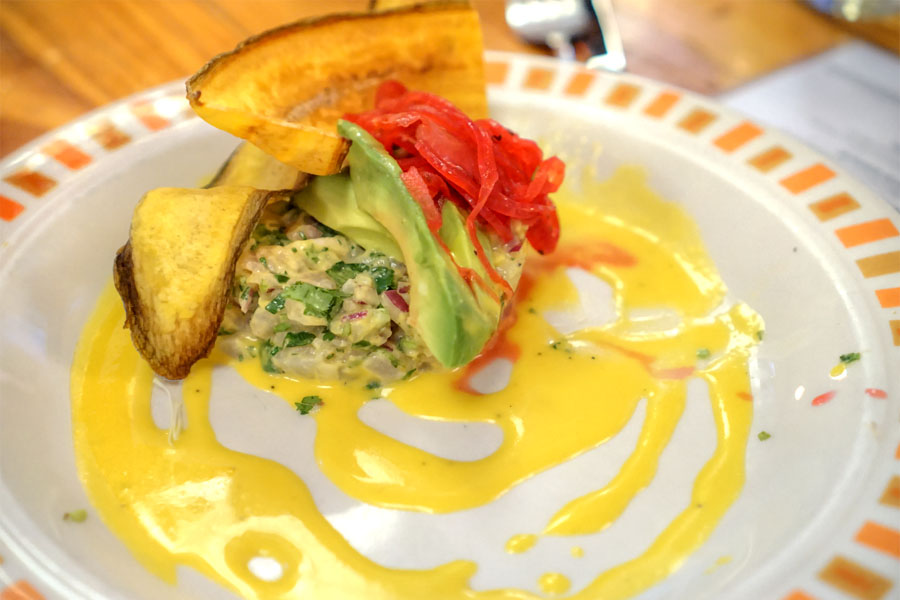 Peruvian Ceviche [$13.00]
| aji amarillo, ginger, lime, cilantro, avocado, crispy plantains
Our ceviche largely hit the mark thanks to its interplay between the fish and all the brightness and acidity on the plate. The avocado gave the dish an additional lushness, and I liked the crunch from the plantains, too.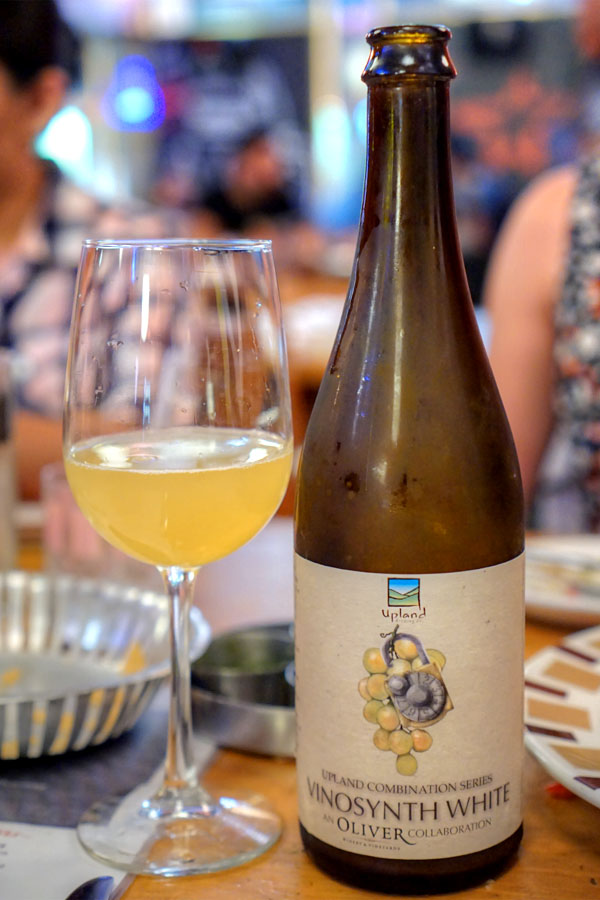 We transitioned to beer at this point, and first up was the
2015 Upland Vinosynth White
. A collaboration with Oliver Winery, this was a sour ale aged in white wine barrels, with locally grown Traminette grapes. Nose was of rich, tropical fruit and yeast, while the palate brought more in-your-face vinous notes paired with funk, acidity, and tartness of course.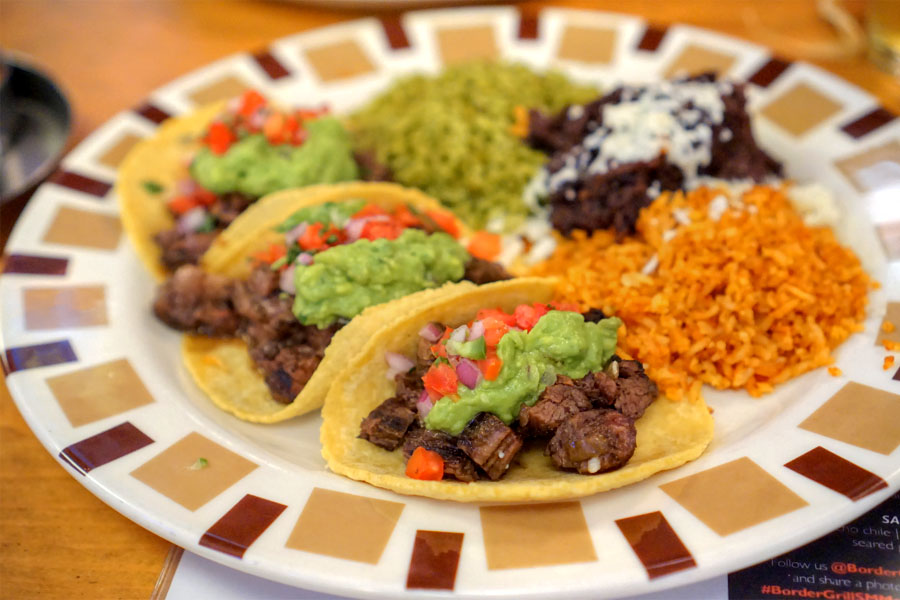 Carne Asada Tacos [$17.00]
| grilled marinated skirt steak, caramelized onions, salsa fresca, guacamole
Asada tacos are just about the most ubiquitous thing on the menu here, but were better than expected. The steak I found surprisingly tender and well spiced, and went effortlessly with accoutrements of guac and pico. Beans were about par for the course, but the rice, unfortunately, was a bit on the dry side.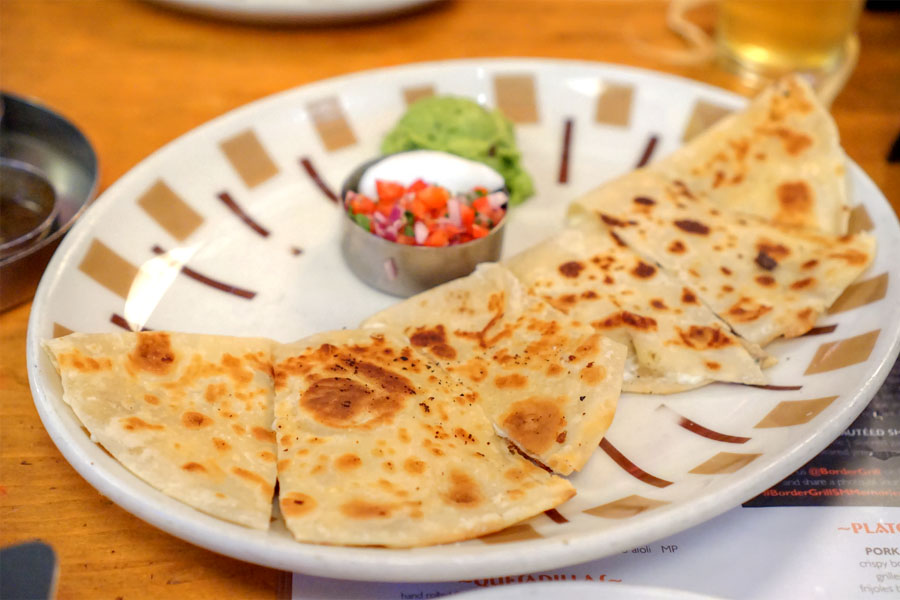 Wild Mushroom Quesadilla [$17.00]
| shiitake and oyster mushrooms, huitlacoche, roasted garlic, epazote
A mushroom quesadilla largely satisfied. I got some legitimately earthy flavors here, with the additional potency of corn smut also making itself known.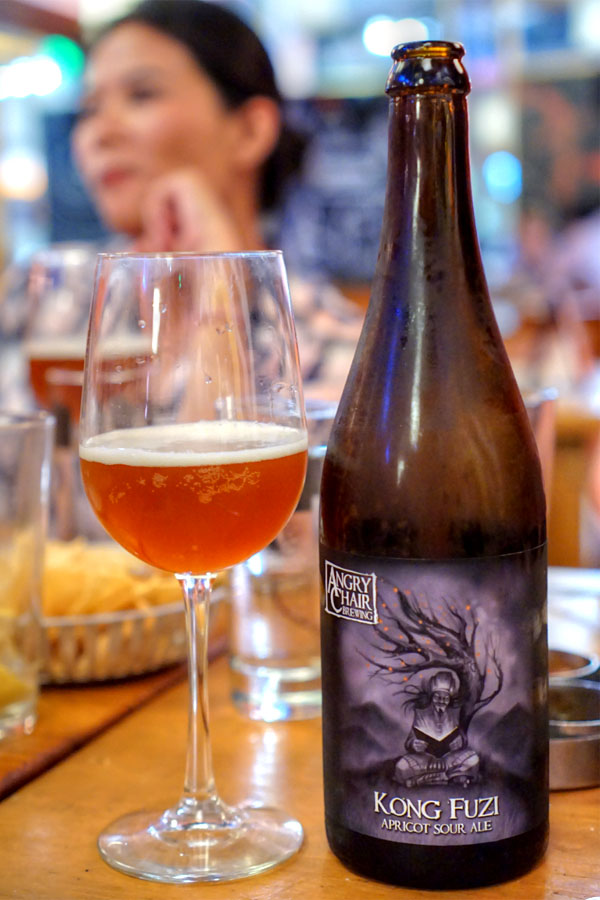 Next to imbibe was the
2016 Angry Chair Kong Fuzi
, a sour ale with apricots added. Aromas were of caramel and malt, with surprisingly little stone fruit. The taste was in a similar vein, veering bitter, malty, with only a tinge of apricot and a persistent oxidative quality that I didn't care for.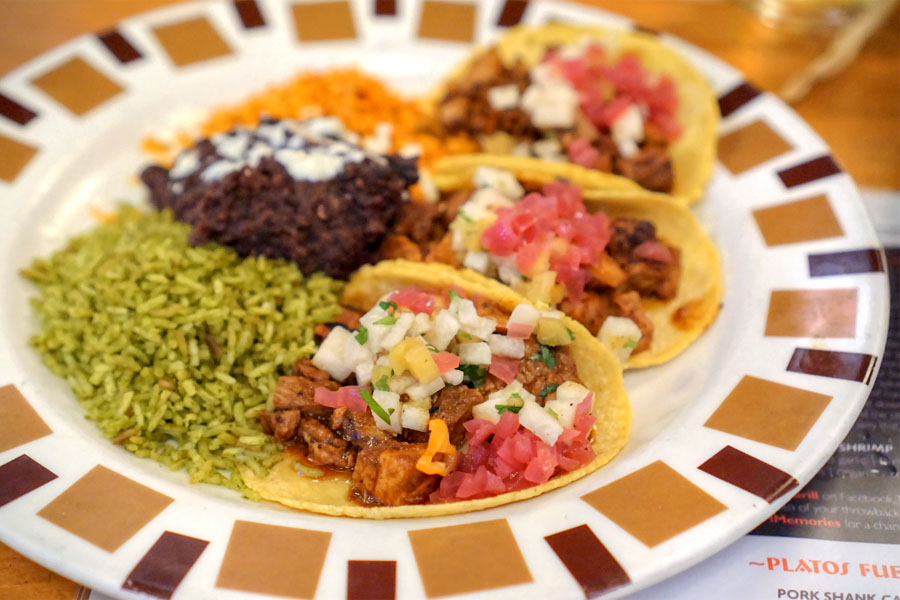 Al Pastor Tacos [$18.00]
| grilled pineapple, chicken, pork, jicama orange salsa, habanero, pickled onions
Al pastor tacos conveyed a deep, cozy spice, with the salsa providing a sort of contrasting sweetness and crunch.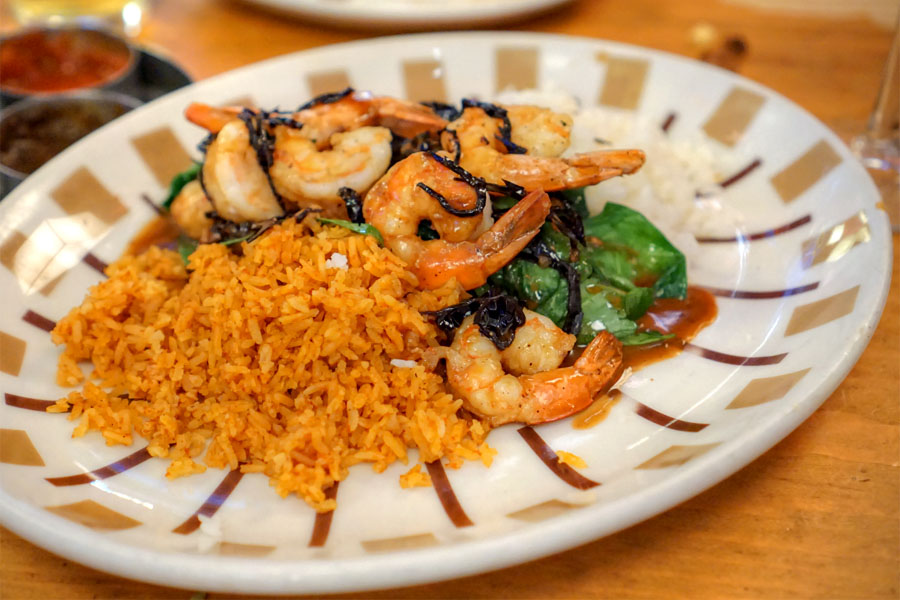 Sautéed Shrimp [$25.00]
| ancho chile, slivered garlic, parsley, lime, seared greens, organic rice
We ended our savories with the designated "throwback special." The shrimp were slightly over for my tastes, but not distractingly so, and showed off a tangy spice from the ancho that worked. Nice tempering bitterness from the green to boot.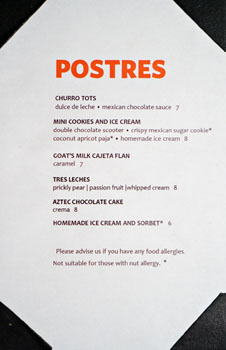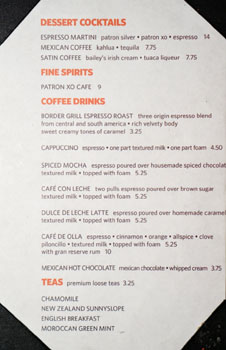 And to end: some Mexican-inflected desserts. Click for larger versions.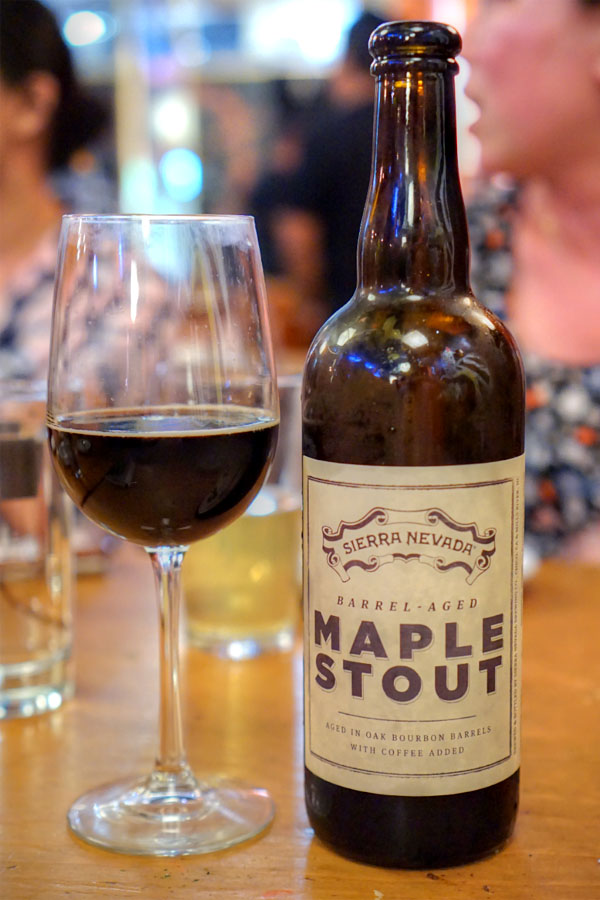 Dessert beer duties were handled by the
2014 Sierra Nevada Barrel-Aged Maple Stout
, aged in oak bourbon casks with coffee added. This one smelled of sweet, glorious spice over a base of rich malt. The taste brought lots of chocolate and more warm spice, with sugary maple lingering long on the finish along with a trace of alcoholic heat.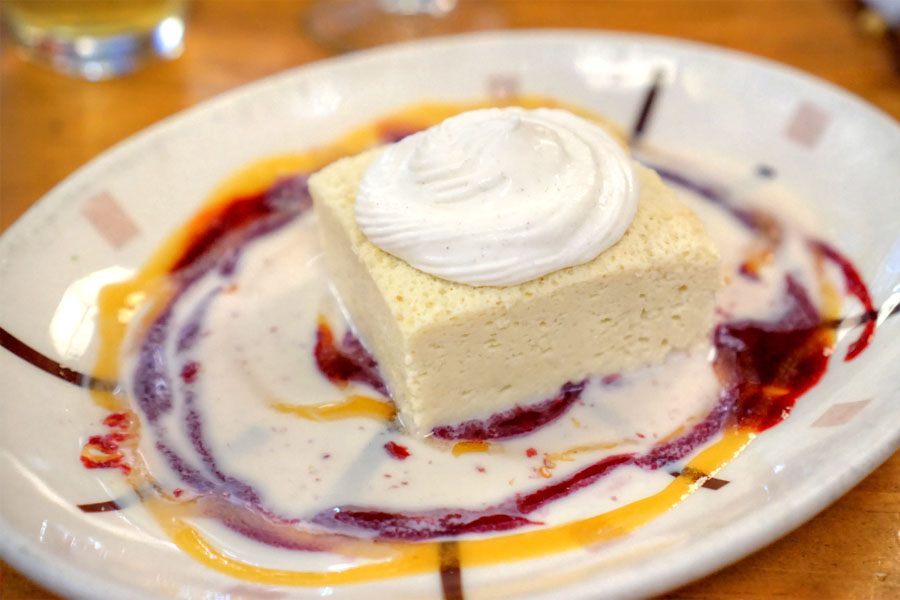 Tres Leches [$8.00]
| prickly pear, passion fruit, whipped cream
Our tres leches came out properly saturated with its namesake milks, a creamy, sweet cake offset only slightly by the prickly pear-passion fruit combo.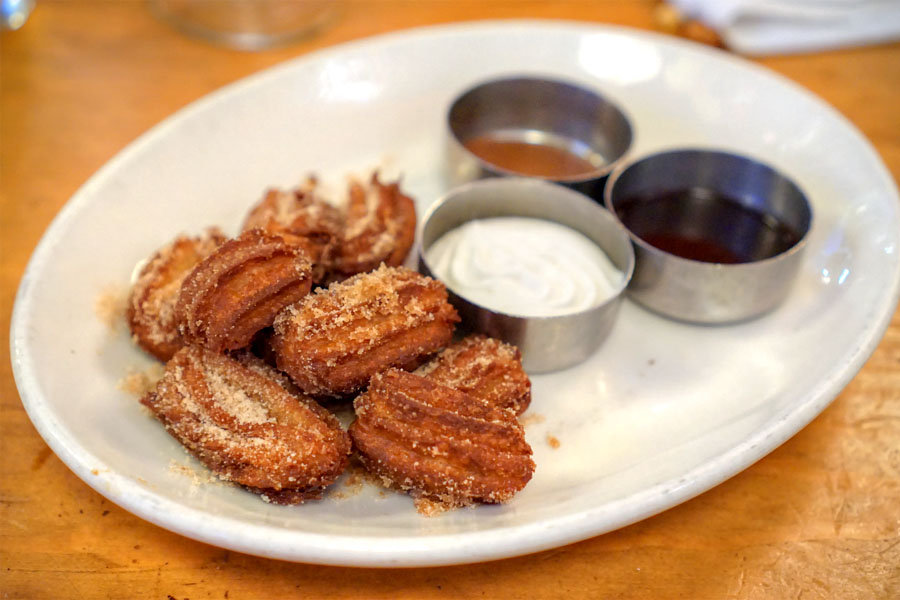 Churro Tots [$7.00]
| dulce de leche, mexican chocolate sauce
Warm mini churros were as fun as you'd expect, coming out creamy on the inside, crisp on the outside, and teeming with sweet spice.
Border Grill's sort of a legacy restaurant by this point, so it just felt right to visit on the place's penultimate night of service. The food was pretty good for the most part, and while the menu here may seem a bit staid by today's standards, I can see how it could've been pioneering back when Border Grill debuted in the 1980s. In any case, as you've probably heard, Feniger and Milliken are currently working on revamping the dining program over at Huntington Library, and they've got a number of restaurants still operating, so there's still plenty on their plates.