Winsome (Los Angeles, CA)
Winsome Restaurant
1115 Sunset Blvd, Los Angeles, CA 90012
213.415.1818
www.eatwinsome.com
Wed 09/21/2016, 08:00p-10:20p

The last time I reported on Jeremy Strubel, he had just checked out of
Sirena
after working a stint at Rustic Canyon. He popped up again on my radar late last year, when it was announced that he'd be Chef/Partner at Winsome, a new all-day restaurant located on the bottom floor of Echo Park's The Elysian apartment building. The place comes to us from Marc Rose and Med Abrous, the guys behind The Spare Room at the Hollywood Roosevelt, and opened in February for breakfast and lunch (and brunch) before dropping dinner at the start of August. Joining Strubel in the kitchen is another Jeremy, Jeremy Meyer, an alum of
CUT
who serves as Executive Sous Chef.


The restaurant is housed in a 1963-era William Pereira-designed structure that was formerly home to the Metropolitan Water District headquarters. The 75-seat space by
Wendy Haworth Design
has a mod diner sort of vibe, rendered in what appears to be fifty shades of beige. Ample patio seating is provided.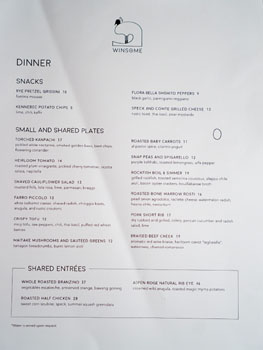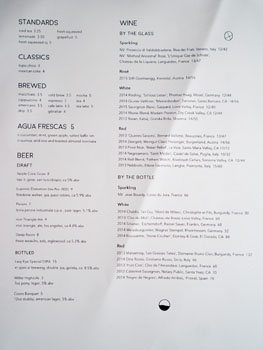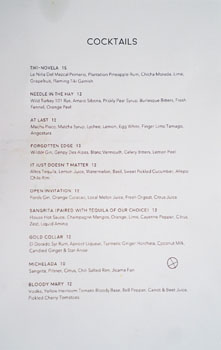 Winsome's dinner comprises mostly small plates, with a few snacks and mains, and of course there are separate breakfast, lunch, and brunch menus as well. Drinks-wise, you get some pretty interesting sounding cocktails from Beverage Director Edwin Cruz, a small wine list, five beers on tap (and a couple more in bottles), as well as a selection of soft drinks. Click for larger versions.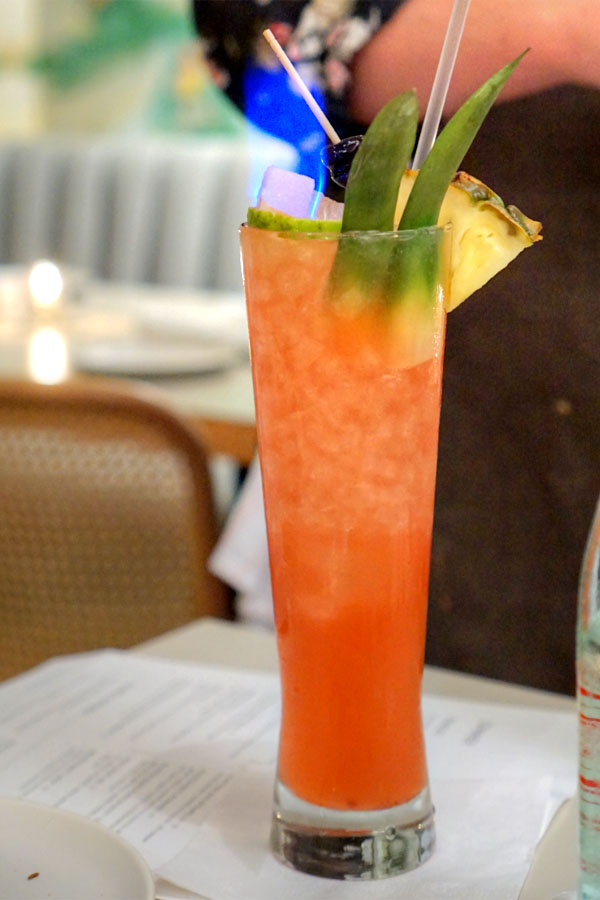 Tiki-Novela [$15.00]
| La Niña Del Mezcal Primario, Plantation Pineapple Rum, Chicha Morada, Lime, Grapefruit, Flaming Tiki Garnish
We focused on cocktails this evening and began with this tiki-inspired number, one that showcased a balance of sweetness and smoke accented by pricks of tart citrus. A good start.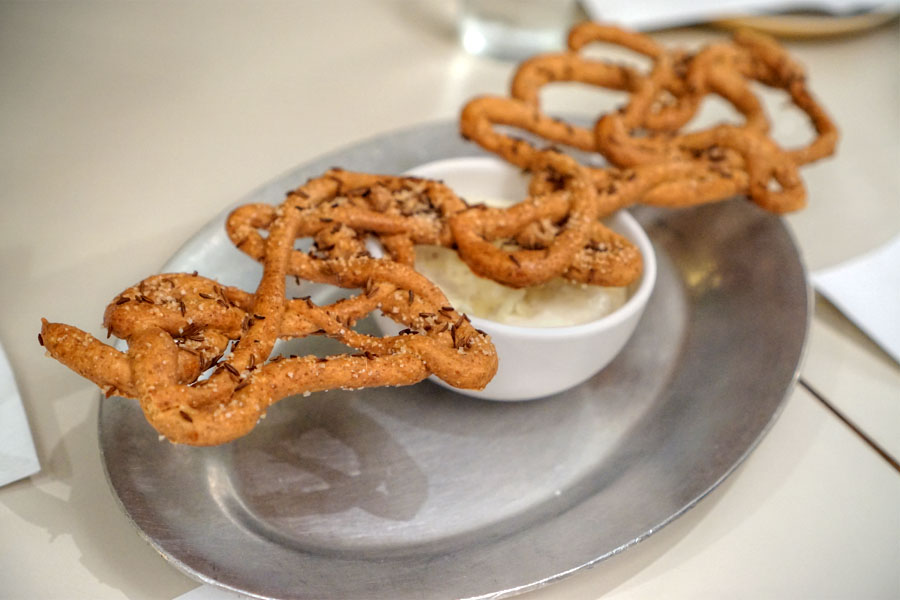 Rye Pretzel Grissini [$10.00]
| fontina mousse
A free-form breadstick was super crunchy, with a very strongly spiced rye component. Make sure to give it a dip in the slightly sweet, almost bracingly cold mousse provided.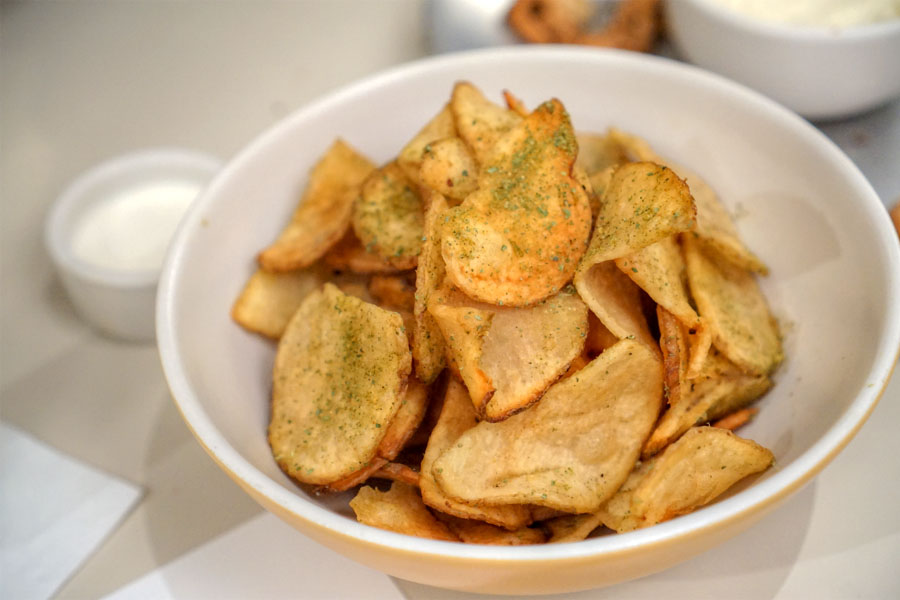 Kennebec Potato Chips [$5.00]
| lime, chili, kaffir
Texturally, the chips were a mix of crisp and flaccid, and taste-wise, the lime/chili and what seemed like lemongrass were front and center. Great counterpoint from the cool, tangy crème fraîche-based dip on the side.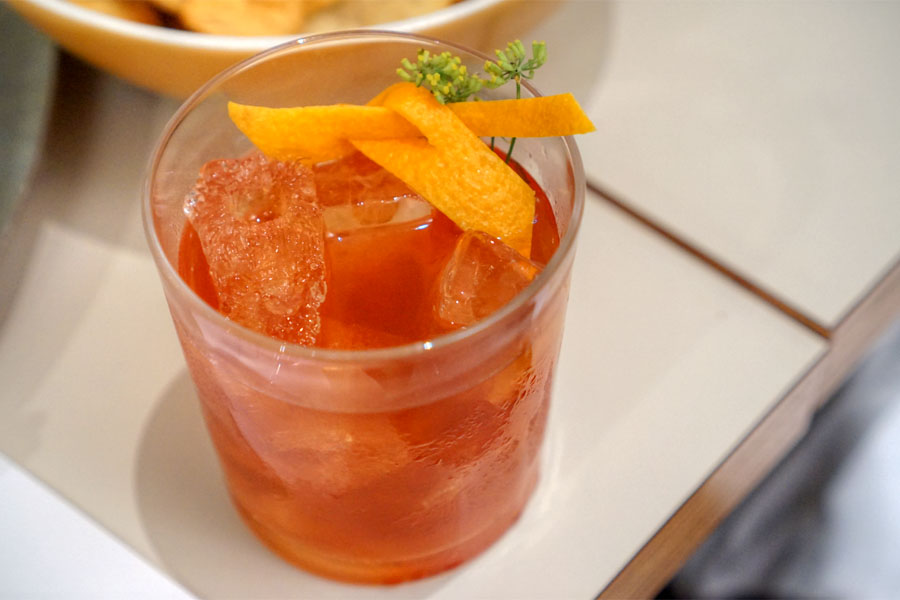 Needle in the Hay [$13.00]
| Wild Turkey 101 Rye, Amaro Sibona, Prickly Pear Syrup, Burlesque Bitters, Fresh Fennel, Orange Peel
Our next cocktail definitely went boozier, the rye marrying well with bitter and sweet flavors while the orange contributed some uplifting aromatics.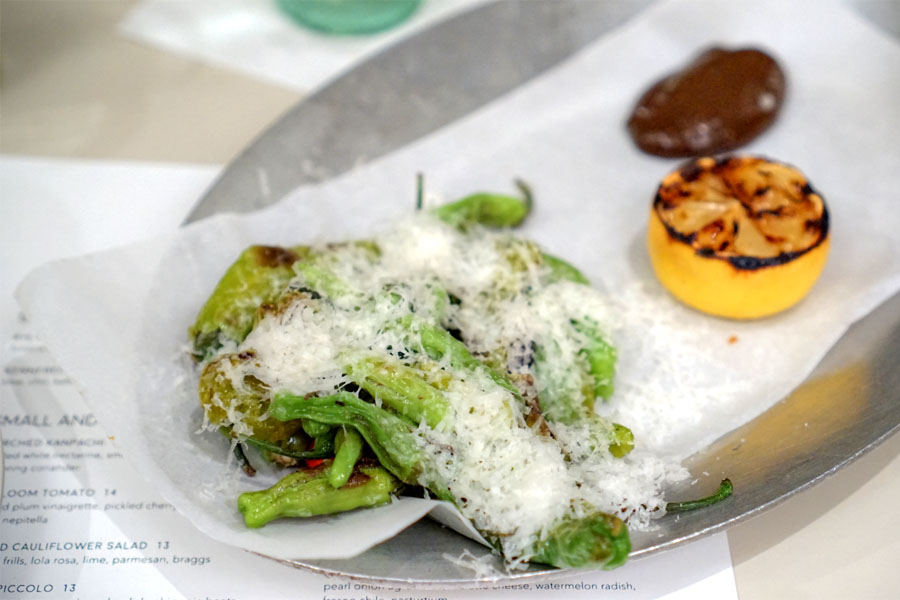 Flora Bella Shishito Peppers [$9.00]
| black garlic, parmigiano reggiano
Shishitos came out smoky and bitter, with a trace of sweet spice to 'em and a touch of salt from the Parm. Tasty, though the black garlic wasn't really necessary.
Speck and Comte Grilled Cheese [$13.00]
| rustic toast, thai basil, pear mostarda
I would've liked some meltier, gooier cheese here, but the combo of speck and Comte did make sense, and I especially appreciated the unexpected brightness imparted by the Thai basil.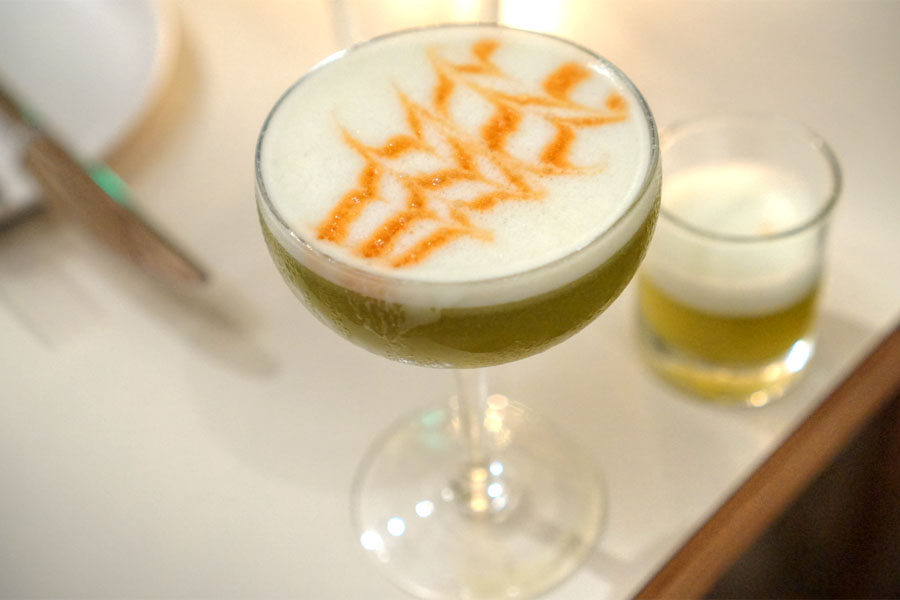 At Last [$12.00]
| Machu Pisco, Matcha Syrup, Lychee, Lemon, Egg White, Finger Lime Tamago, Angostura
A light, eggy nose on this cocktail led to a sweet, soft palate, one that was lightly astringent and conveyed a bit of a vegetal quality.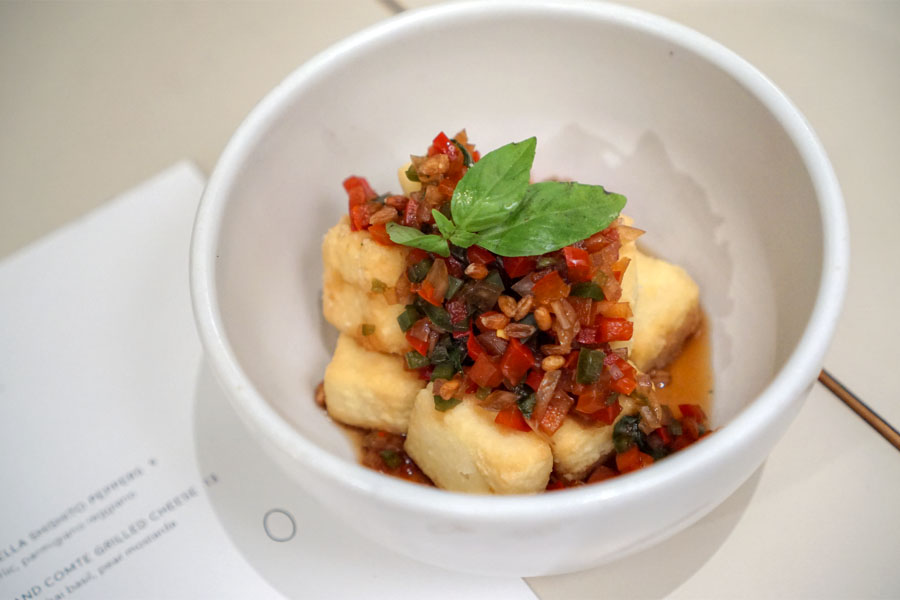 Crispy Tofu [$12.00]
| meiji tofu, raw peppers, chili, thai basil, puffed red wheat berries
Cubes of tofu were delicate, with a slight crispness. I did appreciate the savory-spicy kick offered by the pepper- and chili-infused topping, though there was too much of it.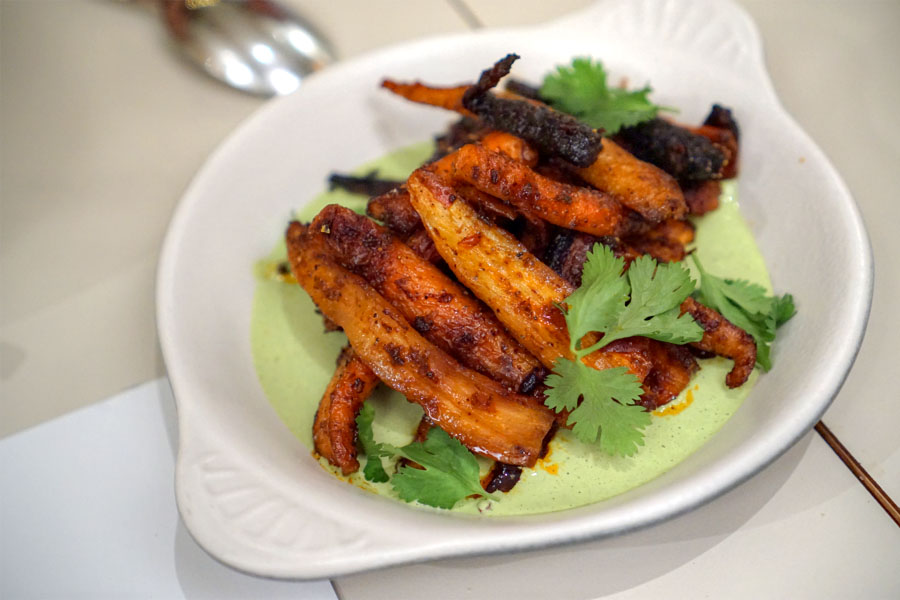 Roasted Baby Carrots [$11.00]
| al pastor spice, cilantro yogurt
Carrots displayed a balance of sweetness and heat, with the cilantro providing a welcomed herbiness on the finish. Texturally, they were soft to the bite, so I did want some crunchiness here as a counterpoint.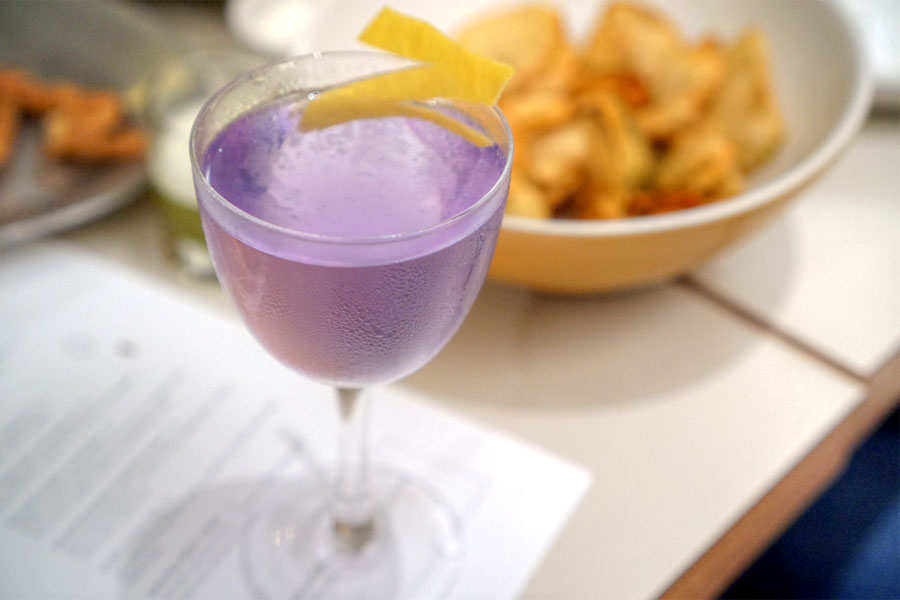 Forgotten Edge [$13.00]
| Wilder Gin, Genepy Des Alpes, Blanc Vermouth, Celery Bitters, Lemon Peel
This violet-tinted cocktail had a strong vegetal component on the nose, intertwined with lemon. In terms of taste, the botanical nature of the gin was at the forefront, joined by considerable amounts of celery and herbaceous spice.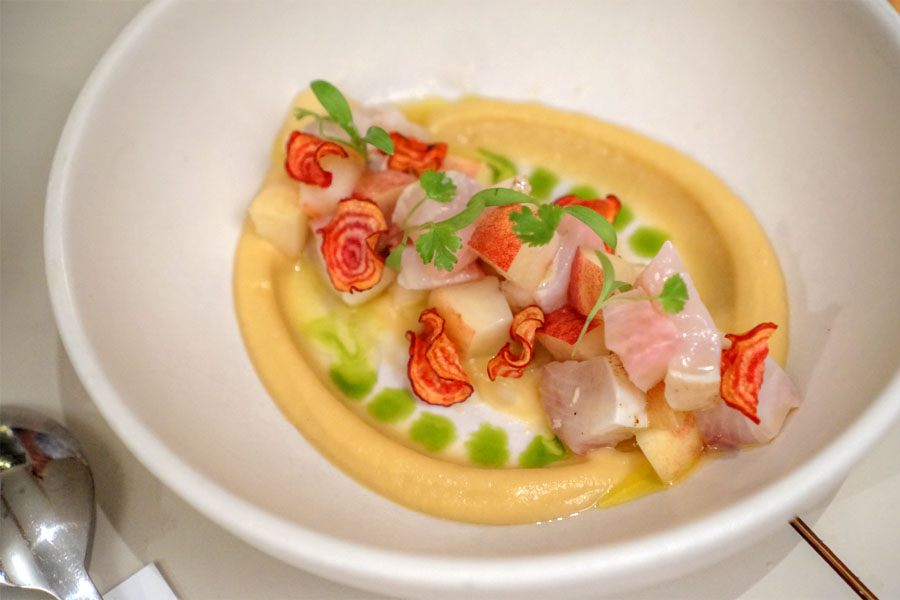 Torched Kanpachi [$17.00]
| pickled white nectarine, smoked golden beet, beet chips, flowering coriander
Dense, fatty blocks of amberjack went pretty well with the fruitiness of nectarine, while the smoked beet seemed to emphasize the weightier elements of the fish. Key was the cilantro again with its bright, zippy flavors.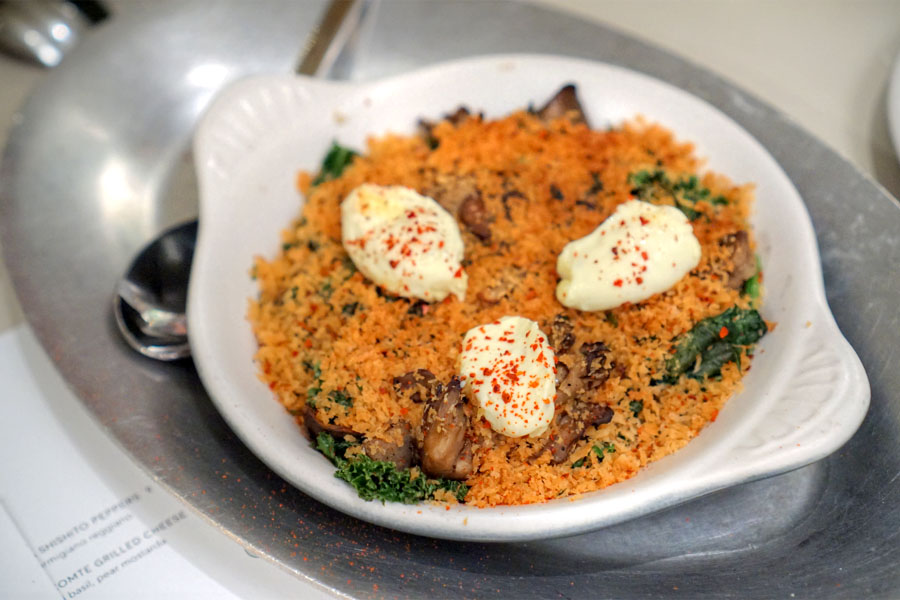 Maitake Mushrooms and Sautéed Greens [$12.00]
| tarragon breadcrumbs, burnt lemon aioli
Earthy, woodsy maitakes worked hand in hand with the austere, astringent quality of the greens, an effective combo. The crumbs gave a pleasant crunch to the entire dish, thus leaving the texture box checked as well.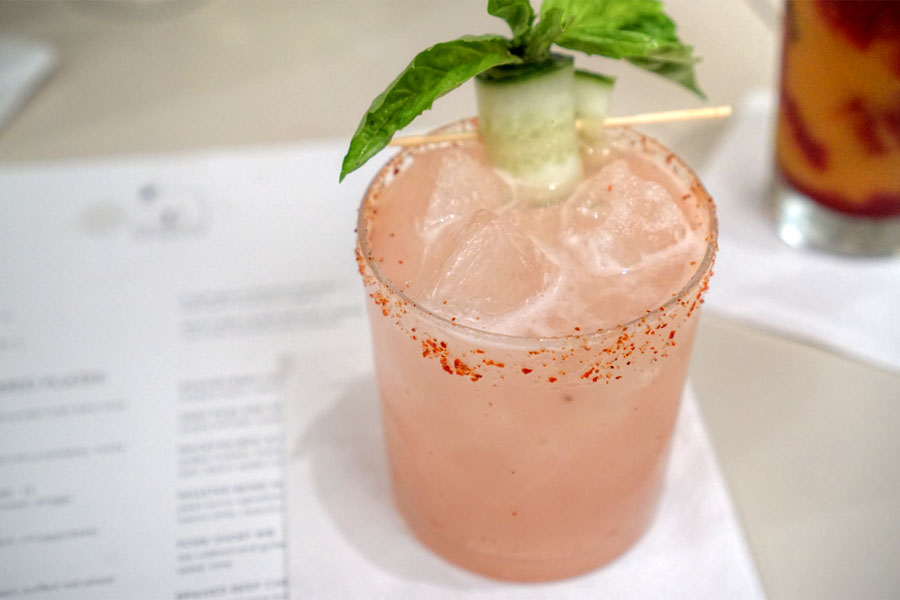 It Just Doesn't Matter [$12.00]
| Altos Tequila, Lemon Juice, Watermelon, Basil, Sweet Pickled Cucumber, Aleppo Chile Rim
I found this next drink rather refreshing, and almost lemonade-y in essence actually, though the vegetal, peppery notes present did keep things in check.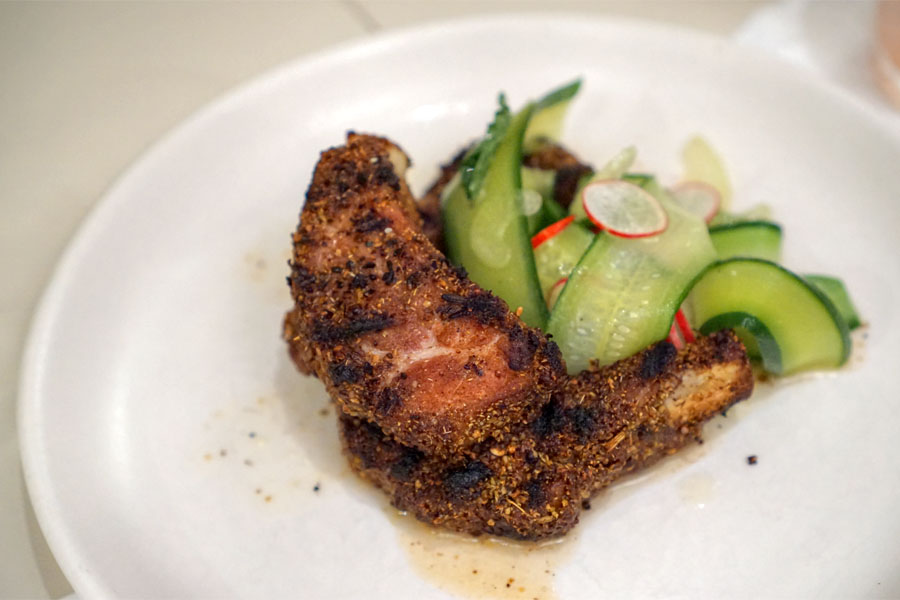 Pork Short Rib [$17.00]
| dry rubbed and grilled, celery, persian cucumber and radish salad, lime
Pork was falling-off-the-bone tender and came loaded with plenty of savory, aromatic spice, so the veggies on the side certainly worked as a balance. Curiously, this really reminded me of a Chinese dish I used to have growing up called
fenzhengrou
(steamed pork with rice flour).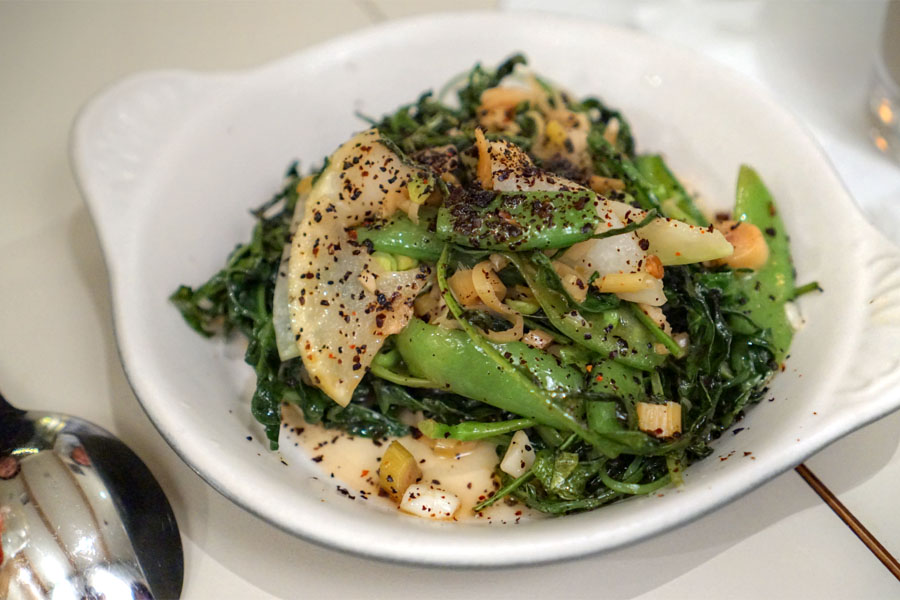 Snap Peas and Spigarello [$12.00]
| purple kohlrabi, toasted lemongrass, urfa pepper
A dish highlighting snap peas and broccoli arrived earthy and bitter, with a rich, deep, almost garlicky savor and plenty of lemongrass in the mix, as well as a sort of South Asian spice overarching everything.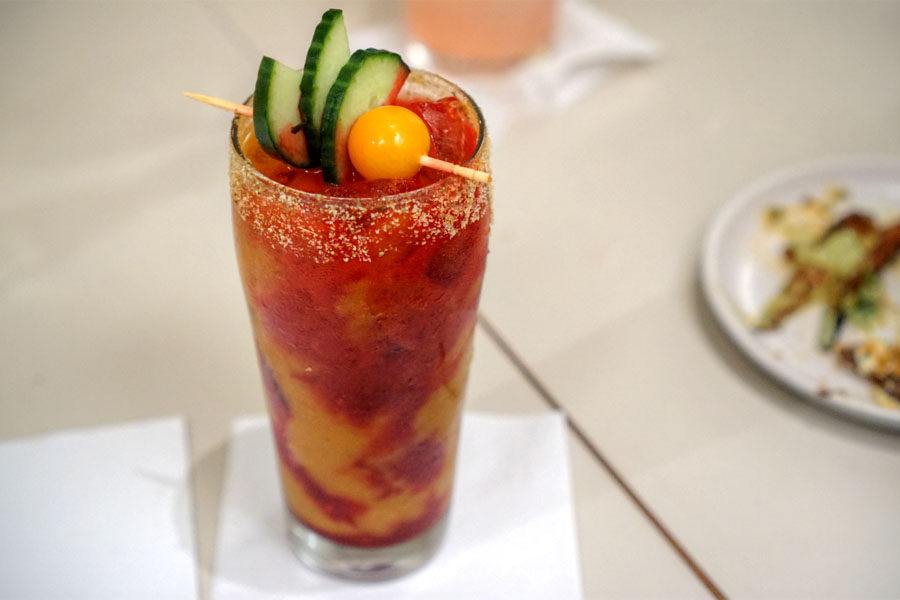 Bloody Mary [$12.00]
| Vodka, Yellow Heirloom Tomato Bloody Base, Bell Pepper, Carrot & Beet Juice, Pickled Cherry Tomatoes
I'm not a big Bloody Mary fan (one of my dining companions ordered it), but the drink was good for what it was. The tomato component was more multifaceted than most, and was paired with a strong, but not overwhelming salty and savory element.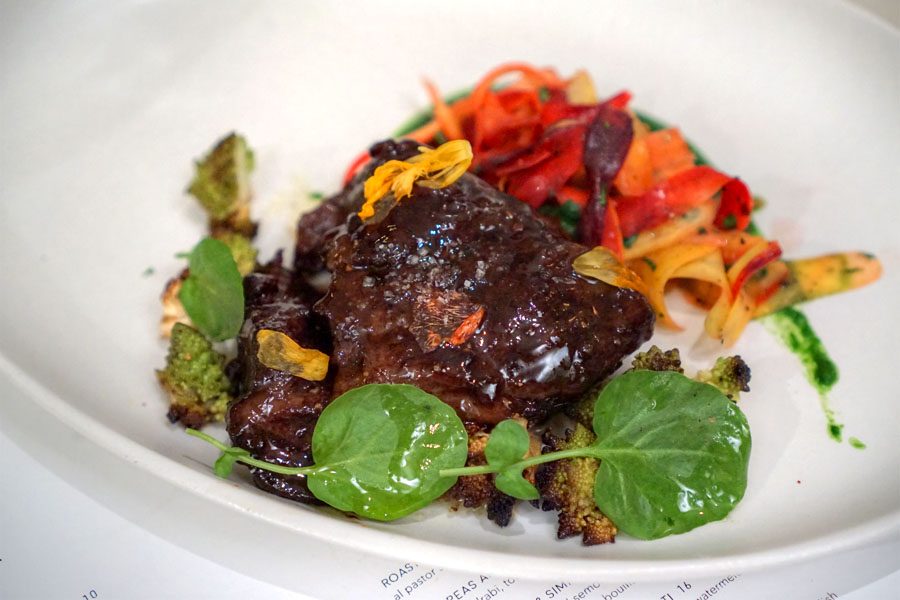 Braised Beef Cheek [$19.00]
| aromatic red wine braise, heirloom carrot "tagliatelle", watercress, charred romanesco
The cheeks arrived nearly gelatinous in consistency, and were teeming with the dark, bovine, red wine-infused flavors that you'd expect. Given the richness of the meat, the carrots and romanesco were key in providing lightness and texture. A favorite of mine.
Roasted Bone Marrow Rosti [$16.00]
| pearl onion agrodolce, raclette cheese, watermelon radish, fresno chile, nasturtium
This take on a rösti was akin to a decadent hash brown of sorts, with the well-charred potato patty augmented by slick, fatty splinters of bone marrow. That would've been overwhelming on its own, so the tartness of the agrodolce and the brightness of the greenery were absolutely critical.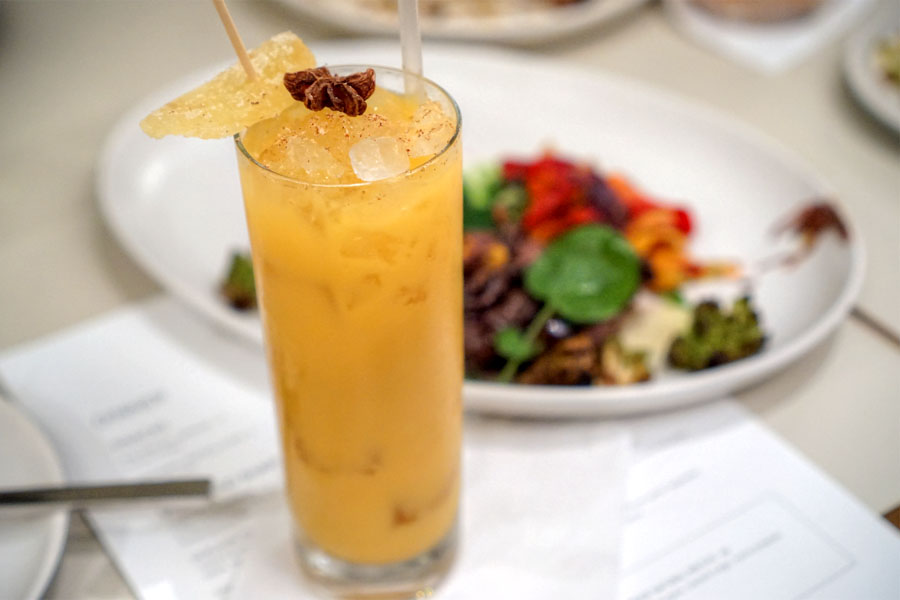 Gold Collar [$12.00]
| El Dorado 5yr Rum, Apricot Liqueur, Turmeric Ginger Horchata, Coconut Milk, Candied Ginger & Star Anise
Our final cocktail was an easy-drinker thanks to its base of rich, fruity flavors, though the aromatics and warm spices present did make for a more balanced drink.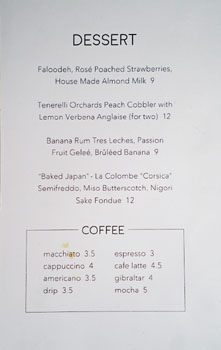 Of course, we saved room for the desserts, the work here of Pastry Chef Leslie Mialma (
République
, LAMILL,
Providence
, CSCA '04). Click for a larger version.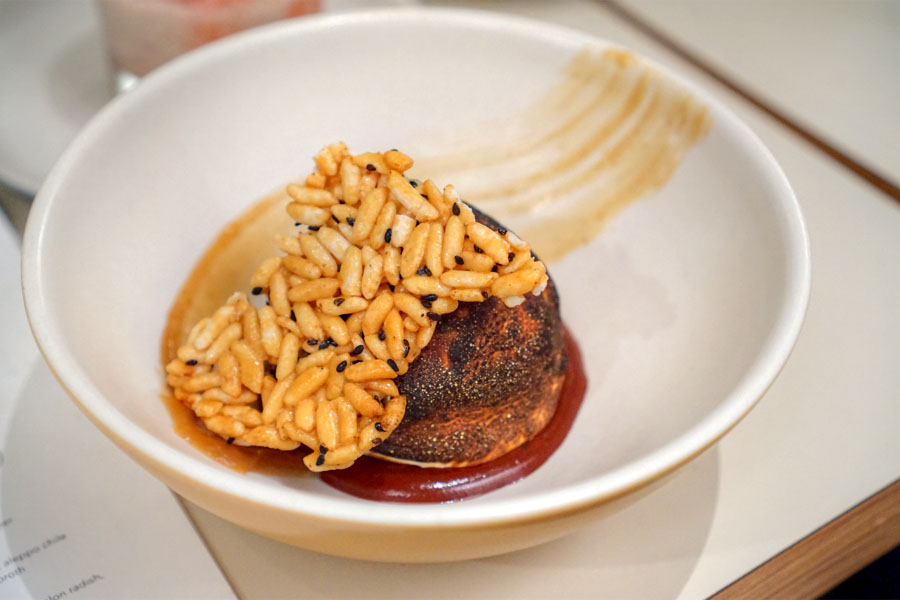 "Baked Japan" - La Colombe "Corsica" Semifreddo, Miso Butterscotch, Nigori Sake Fondue [$12.00]
A coffee-rich semifreddo was well-charred, and thus had an astringency and roast that made sense with the potency of that butterscotch, but unfortunately I didn't get much from the
nigorizake
. Great crunch from the rice cracker though.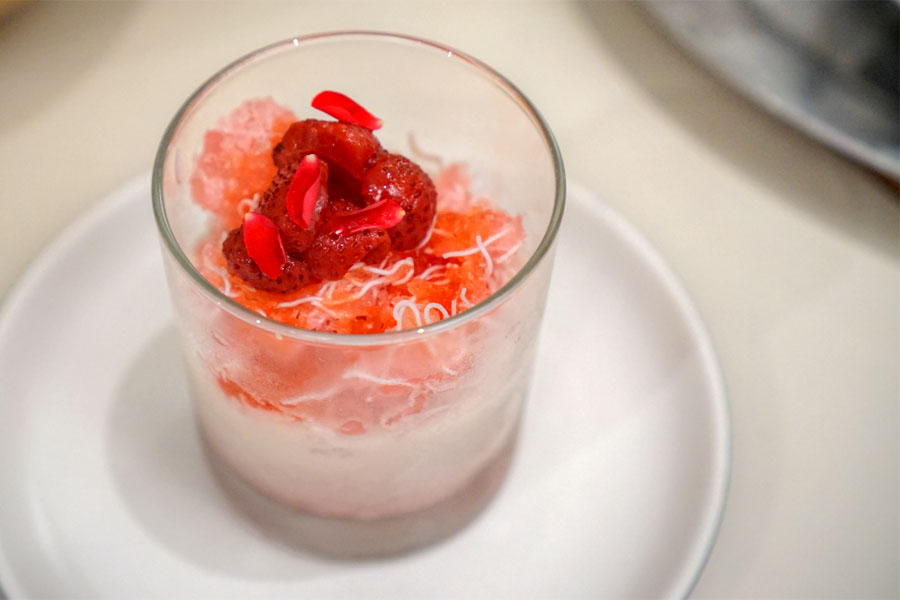 Faloodeh, Rosé Poached Strawberries, House Made Almond Milk [$9.00]
A take on the Persian dessert
faloodeh
came out extremely cold and extremely floral, with boatloads of rose to go along with the almond milk. Nice texture on the noodles, too.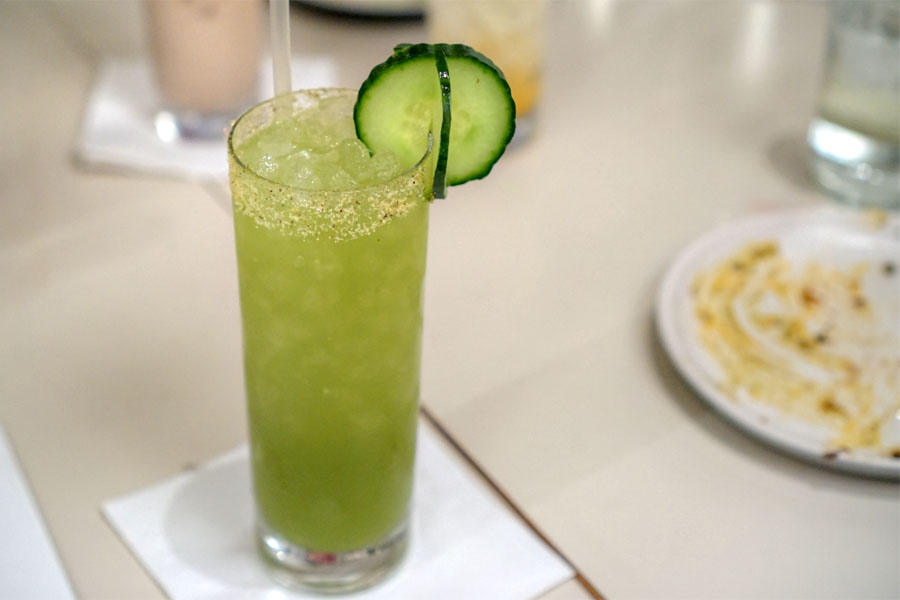 Agua Fresca - cucumber, mint, green apple, salted kaffir rim [$5.00]
With the cocktails done with, we decided to try the two agua frescas on the menu. This first one showed off the sweet, tart flavors of green apple, set against cool cucumber and a blast of salt from the rim.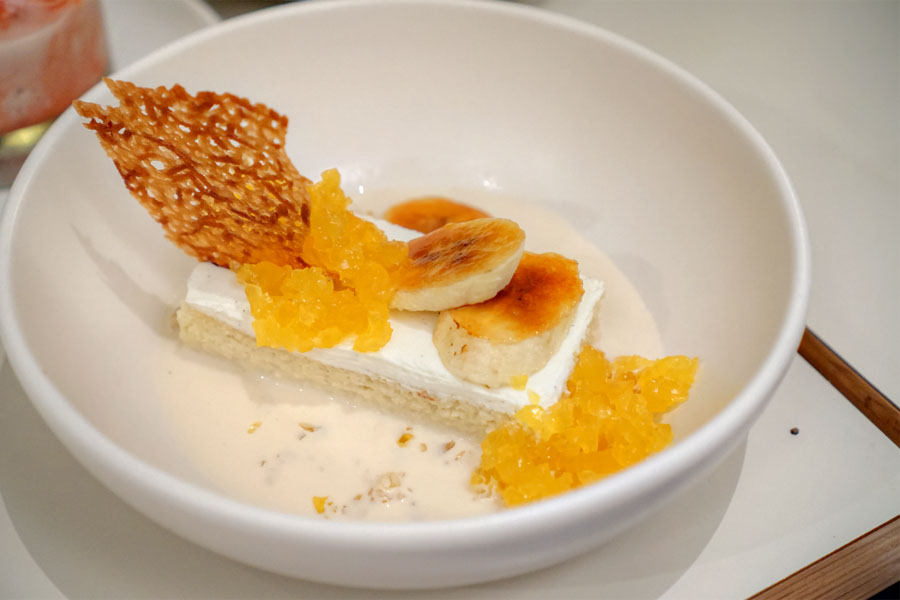 Banana Rum Tres Leches, Passion Fruit Gelée, Brûléed Banana [$9.00]
The tres leches was probably my favorite of the desserts, an utterly rich, creamy, saturated cake with plenty of banana and a tropical bent from the passion fruit.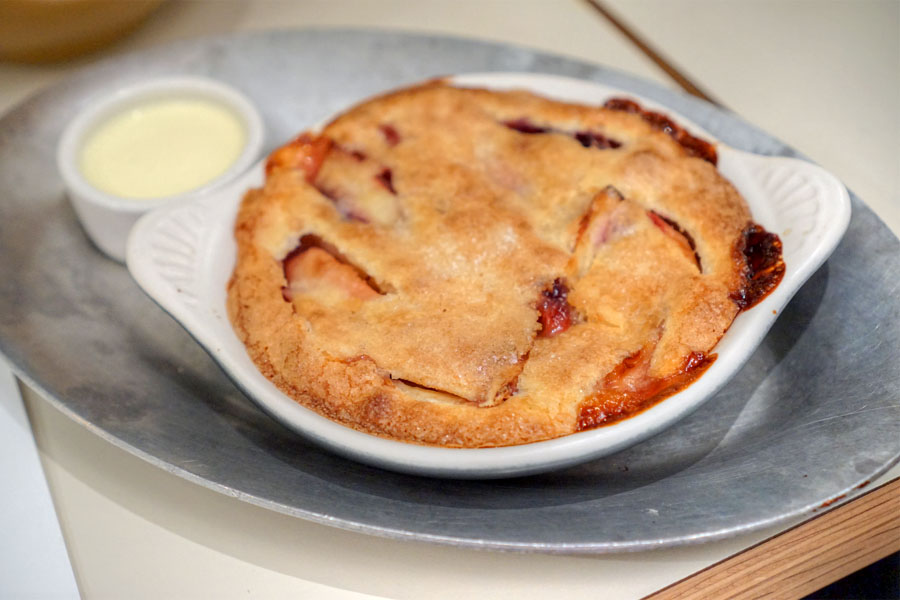 Tenerelli Orchards Peach Cobbler with Lemon Verbena Anglaise [$12.00]
The cobbler was pretty classic, showing up hot, crusty, and decidedly fruit-forward, but also possessed an unexpected zippiness thanks to that crème anglaise.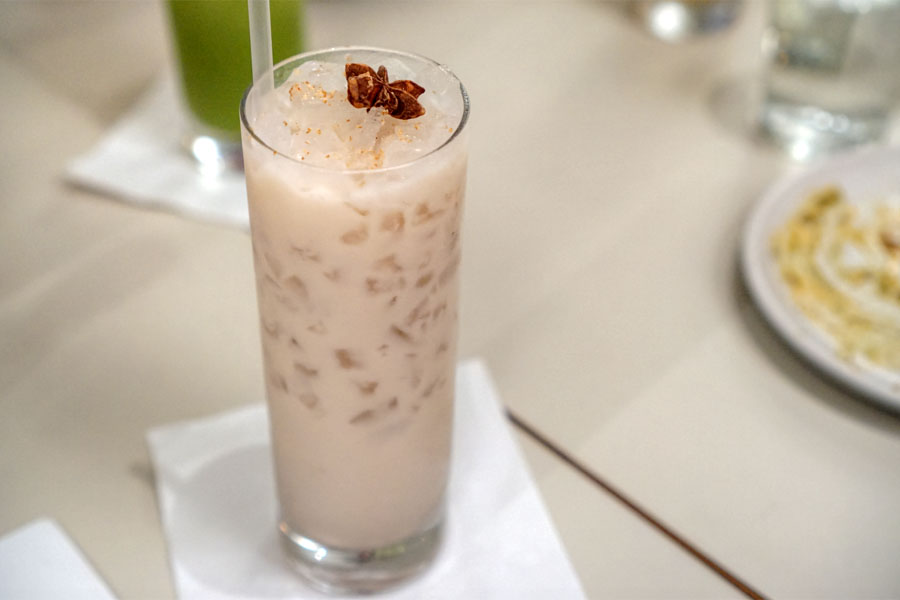 Agua Fresca - quinoa, wild rice and toasted almond horchata [$5.00]
Last up was the restaurant's rendition of horchata, a variation that had your classic sweetness and spice, but also a surprising floral character on the finish that I quite enjoyed.
Winsome's a pretty significant addition to the Echo Park dining landscape. Some of the food could stand a bit of tweaking, but the cooking's largely effective, combining a somewhat modern, multicultural approach with a slightly old school comfort. It's some of the most interesting stuff we've seen in the area since the shutter of
Allumette
, so hopefully this place can stick around a bit longer than Miles Thompson's effort.