Bestia (Los Angeles, CA) [2]
Bestia Restaurant
2121 E 7th Pl, Los Angeles, CA 90021
213.514.5724
www.bestiala.com
Sat 09/24/2016, 05:30p-08:10p

It may not seem like it's been that long, but
Bestia
actually opened back in November 2012. A "multi-regional rustic Italian" joint from the husband-and-wife team of Ori Menashe and Genevieve Gergis (along with
Sprout
), the place has somehow managed to remain one of the City's most difficult to secure reservations for nearly four years. Given that the last time I reported on the restaurant was a month after it opened, I figured it was finally time for a revisit (note though that I'd actually dined here a number of times in the intervening period, but didn't end up posting about my experiences).

Inside, things remain much the same as they've always been.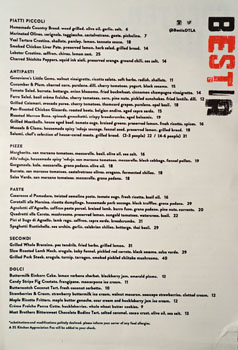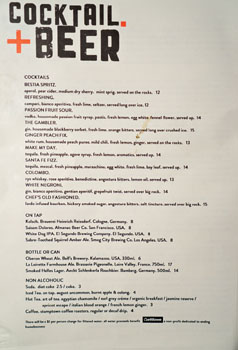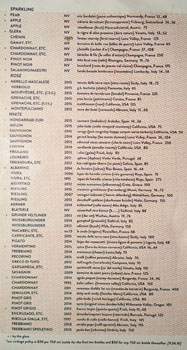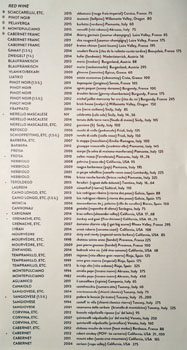 Bestia's menu retains its familiar cadence of snacks, starters, Acunto-baked pizzas, housemade pastas, mains, and desserts. Most of the items were new, but there were indeed a few standbys such as the marrow, little gems, and casarecce. As for the drinks, the original
Julian Cox
-designed cocktail list has been reworked, but still retains its original character. The wine list seems more extensive, while you still get four beers on tap and a few more in bottles. Click for larger versions.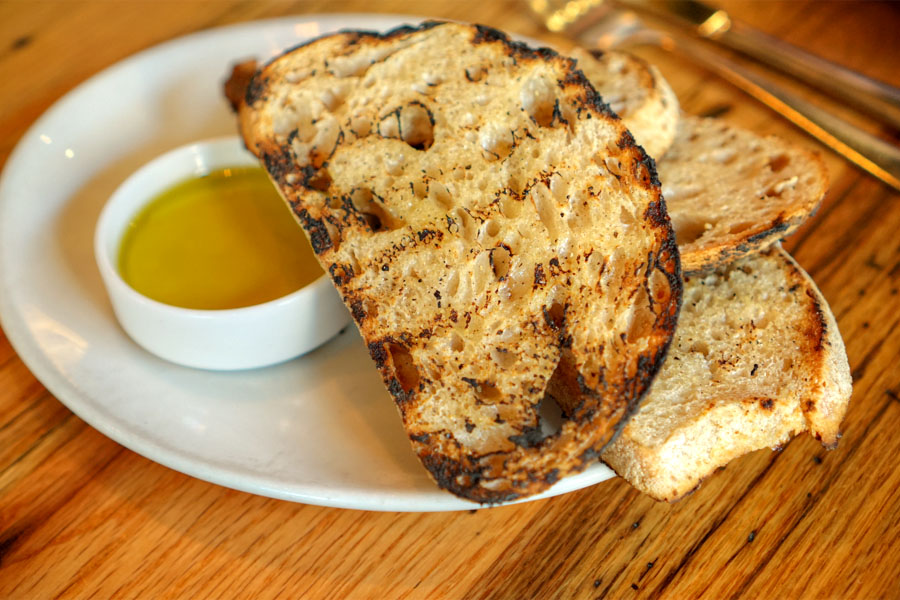 Homemade Country Bread [$6.00]
| wood grilled. olive oil. garlic. salt.
Crunchy, crusty slices of bread came imbued with a pleasant smoke from their wood grilling. Even better with a dab in that fruity olive oil.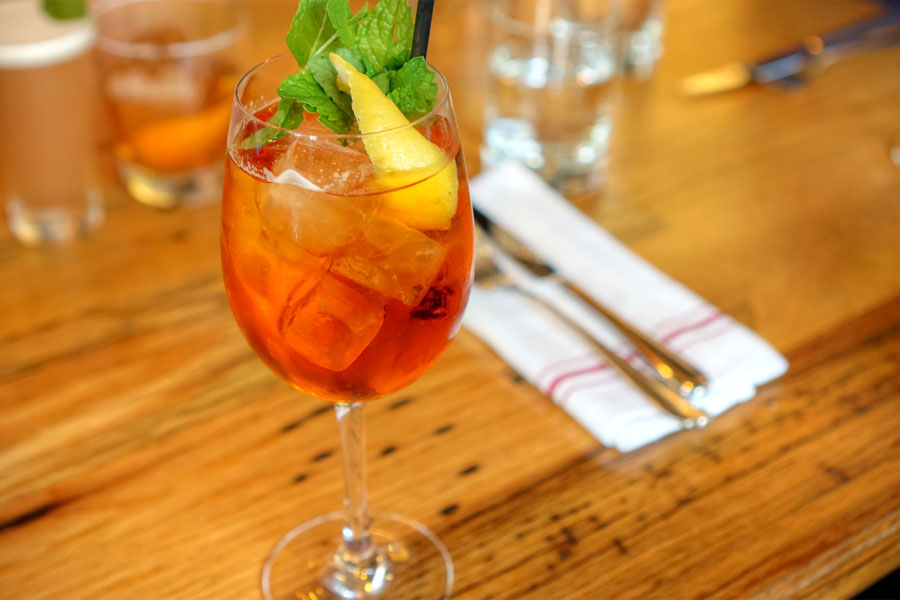 Bestia Spritz [$12.00]
| aperol. pear cider. medium dry sherry. mint sprig. served on the rocks.
Our first cocktail was as refreshing as expected, sweet at its core with lots of dark fruit notes, but cut by a touch of bitterness. A bit reminiscent of Chinese-style
suanmei
at times, actually.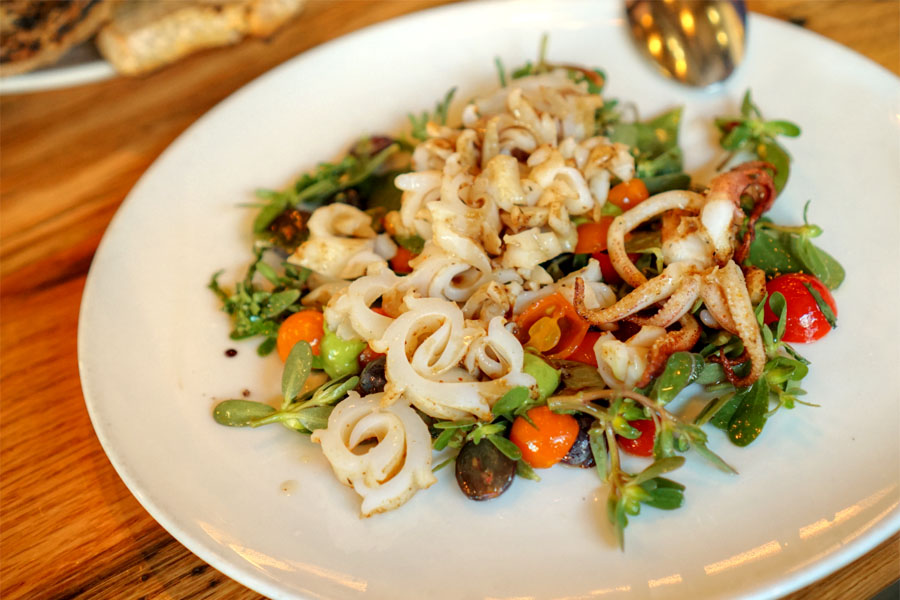 Grilled Calamari [$18.00]
| avocado puree. cherry tomatoes. thomcord grapes. purslane. opal basil.
Squid arrived with a pleasant char and chew, and I especially appreciated its pairing with the sourness of purslane.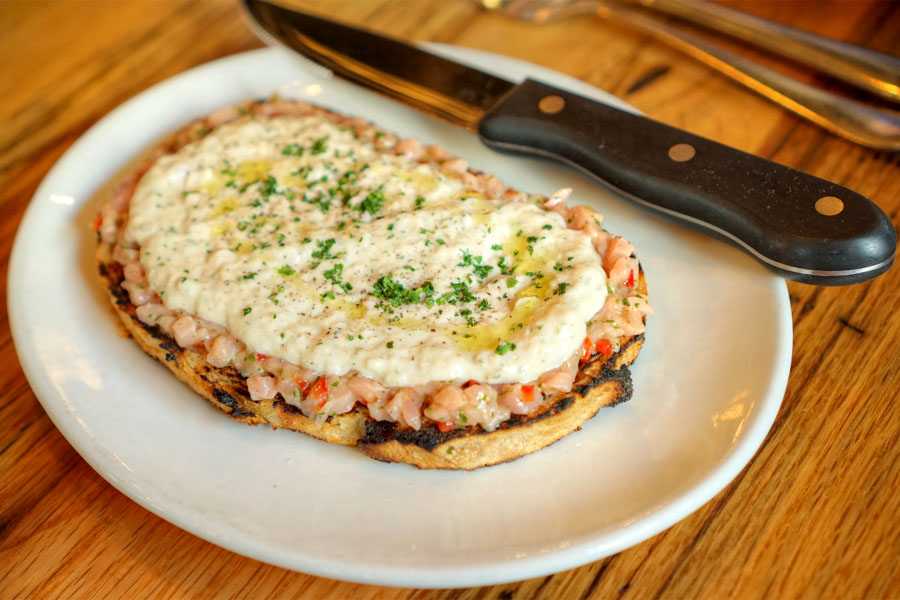 Veal Tartare Crostino [$18.00]
| shallots. parsley. lemon. tonnato sauce.
A combination of veal and tonnato presented itself well: creamy on the palate, with a delightful fishiness from the tuna and a crucial textural contrast from that smoky bread.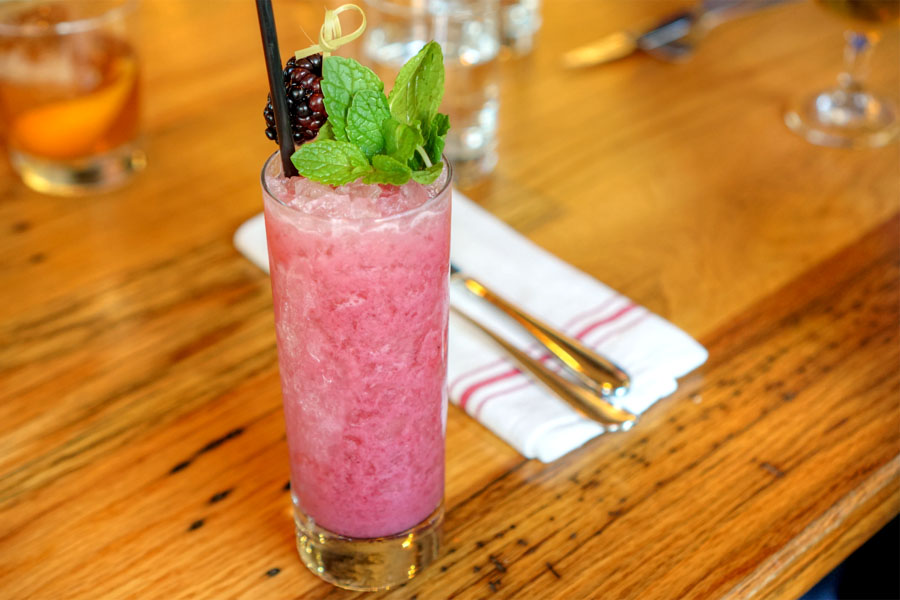 The Gambler [$15.00]
| gin. housemade blackberry sorbet. fresh lime. orange bitters. served long over crushed ice.
The botanical bent of gin was tempered here by the fruity, floral nature of blackberry, but bitter and spicy notes provided for a slightly more contemplative drink.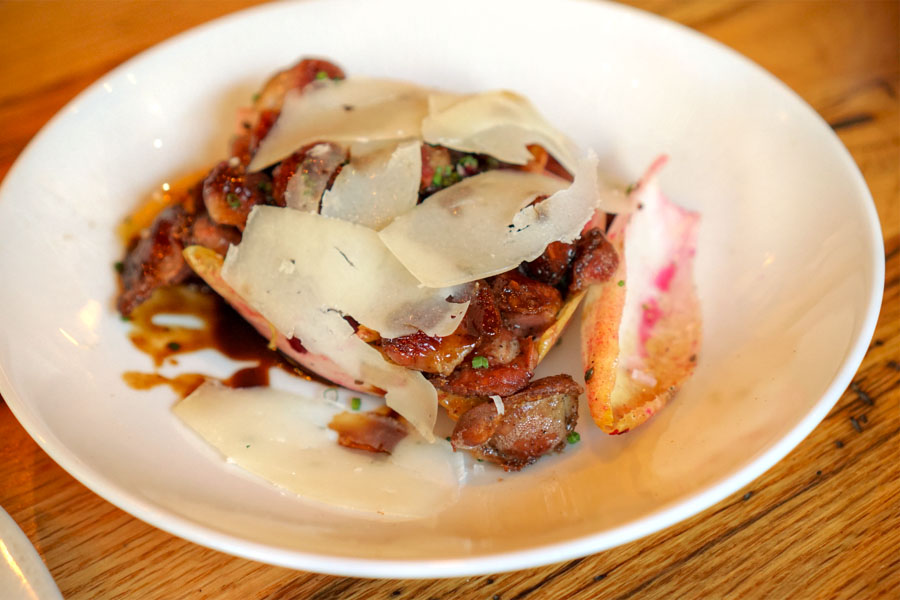 Pan-Roasted Chicken Gizzards [$15.00]
| roasted beets. belgian endive. aged capra sarda.
Gizzards were lovely, coming out well-charred and slightly crisp, with a deeply savory, earthy flavor profile that went beautifully with the crunchy cuts of endive.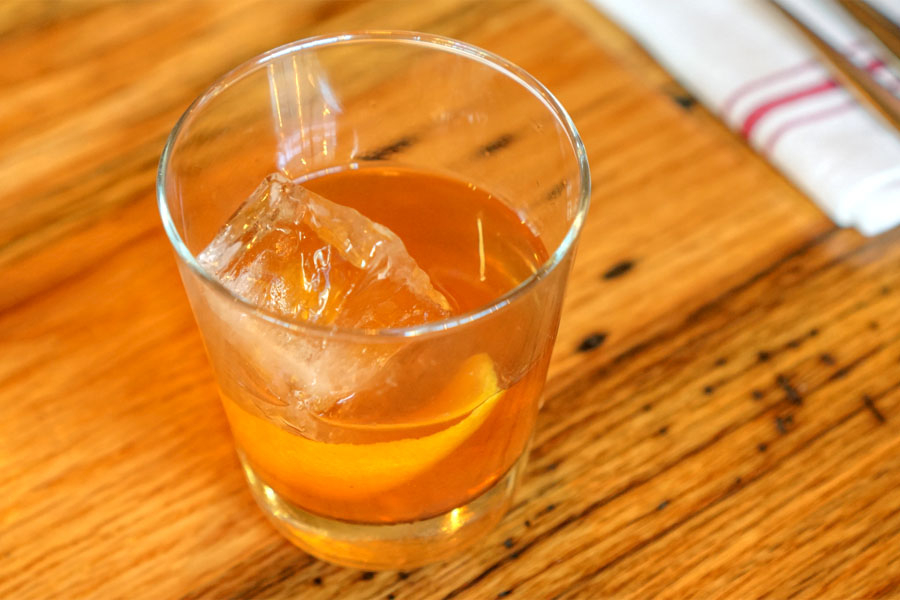 Chef's Old Fashioned [$15.00]
| lardo infused bourbon. hickory smoked sugar. angostura bitters. salt tincture. served over big rock.
Bestia's take on this classic cocktail had a surprisingly delicate nose, with just a hint of savoriness. Taste-wise, I got the expected booziness and bitterness, but with the hickory coming in on the mid-palate and the lardo sort of overarching, but never overwhelming.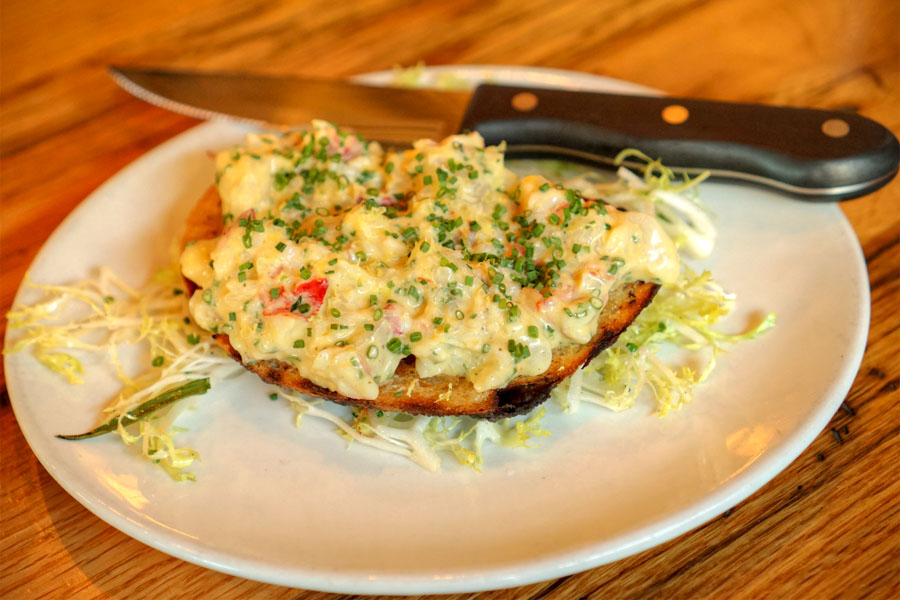 Lobster Crostino [$25.00]
| saffron. chives. lemon zest.
Lobster was soft and snappy to the bite, with a wonderful saffron- and lemon-fueled piquancy that matched well with the frisée.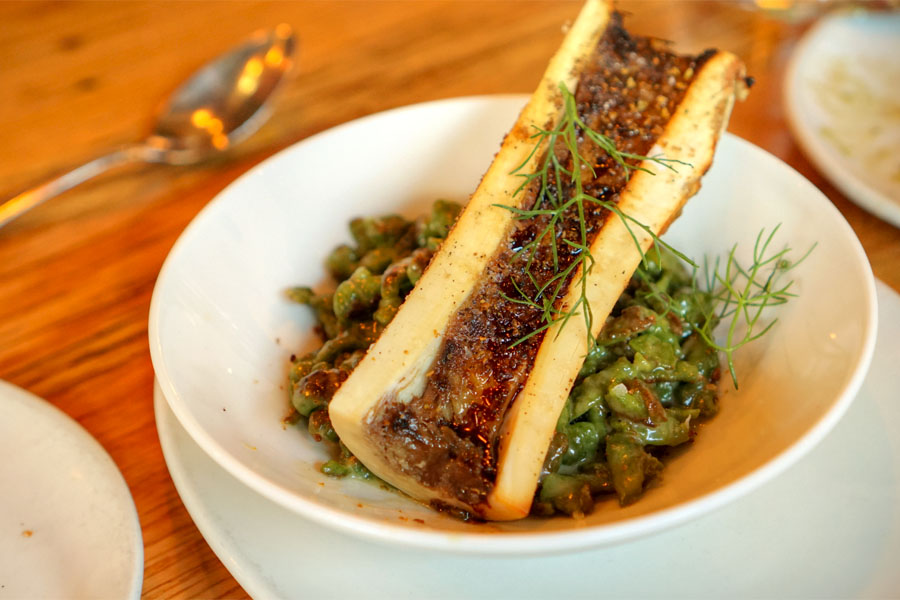 Roasted Marrow Bone [$19.00]
| spinach gnocchetti. crispy breadcrumbs. aged balsamic.
The restaurant's well-known marrow functioned as the perfect topping for spinach gnocchetti, adding a layer of luxuriousness to the soft, satisfying pasta.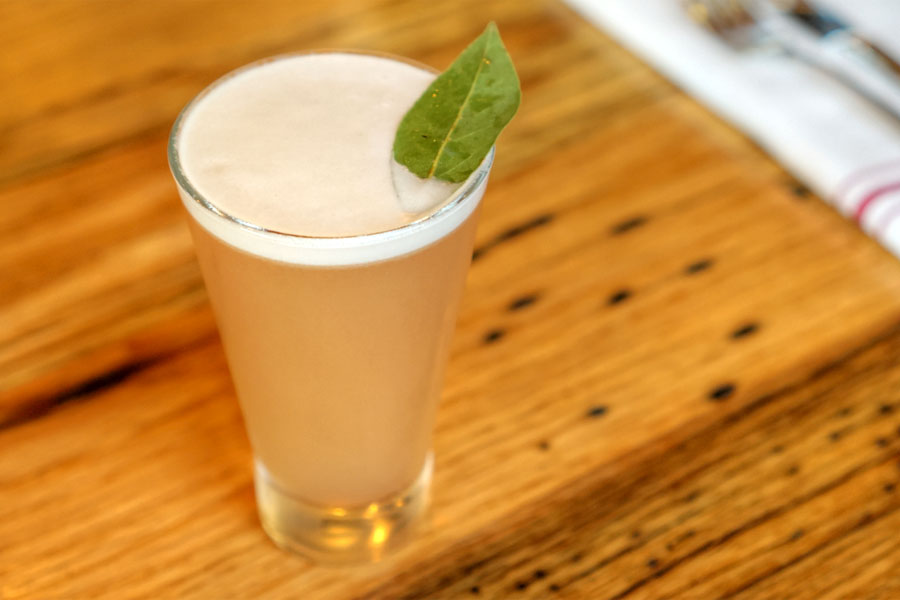 Santa Fe Fizz [$14.00]
| tequila. mezcal. fresh pineapple. maraschino. egg white. fresh lime. bay leaf. served up.
Tropical fruit and spice on the nose here. In terms of taste though, the fruit took a backseat, and I got soft, smoky flavors with a hint of chocolate up in there.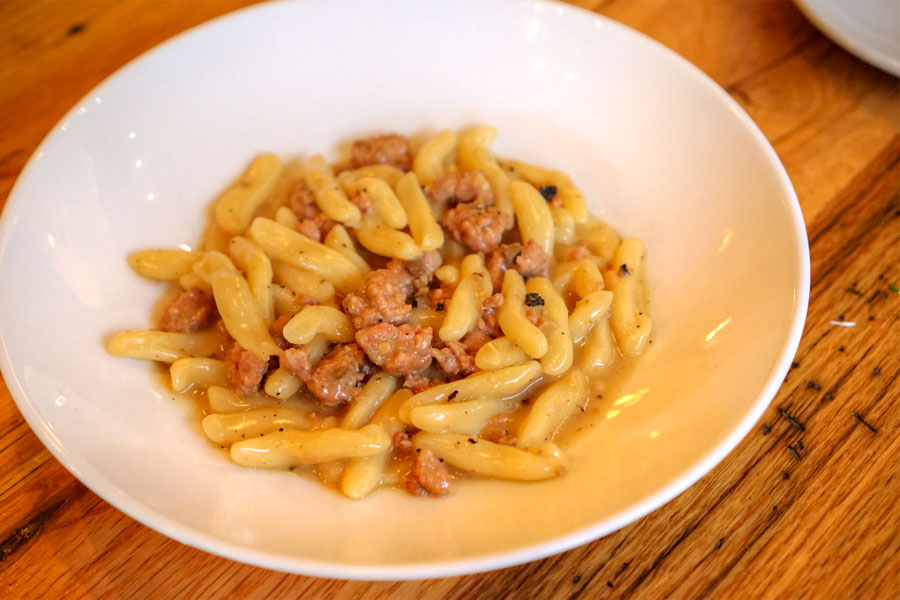 Cavatelli alla Norcina [$29.00]
| ricotta dumplings. housemade pork sausage. black truffles. grana padano.
Our first pasta course certainly delivered thanks to the gratifying bite on the cavatelli, the super savory-yet-peppery sausage, and of course the lingering musk of truffle on the finish.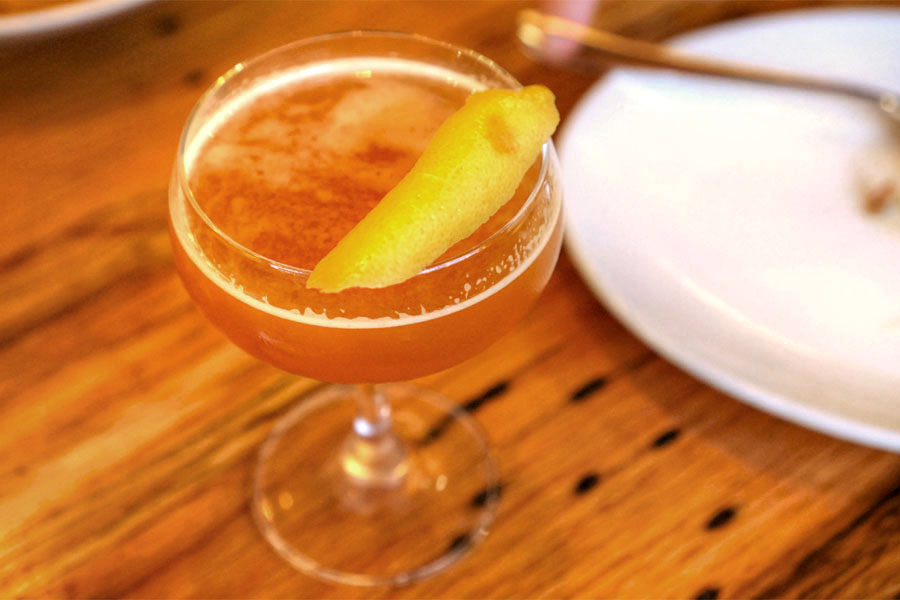 Make My Day [$14.00]
| tequila. fresh pineapple. agave syrup. fresh lemon. aromatics. served up.
This next cocktail featured delectably sweet 'n' spicy aromas, while its taste highlighted pineapple and agave at first blush, but with an astringency and booziness coming in later.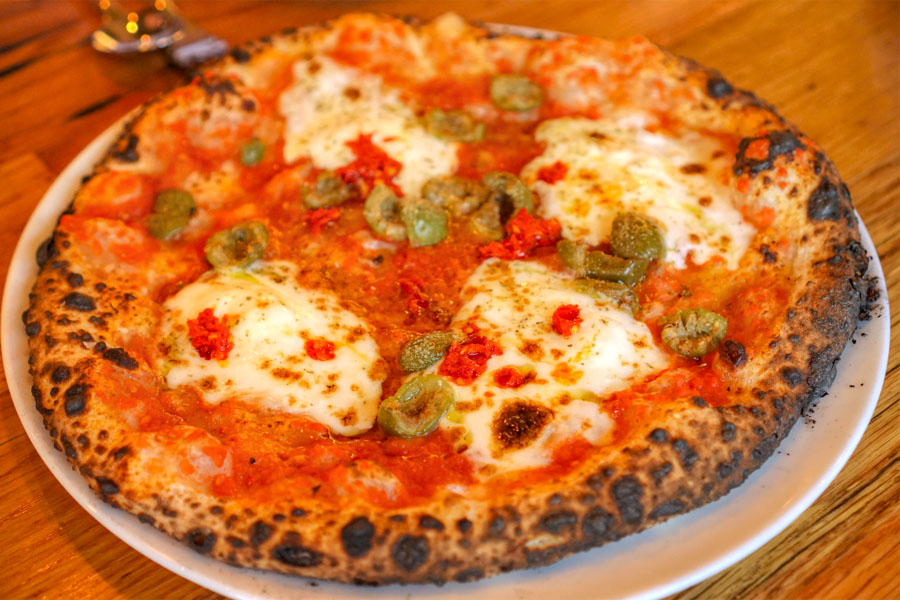 Burrata Pizza [$18.00]
| san marzano tomatoes. castelvetrano olives. oregano. fermented chilies.
We ordered a couple pizzas, and the first really did a great job showing off the tanginess of those Castelvetranos, especially set against the lushness of burrata. Nice bitterness and char from the crust to boot.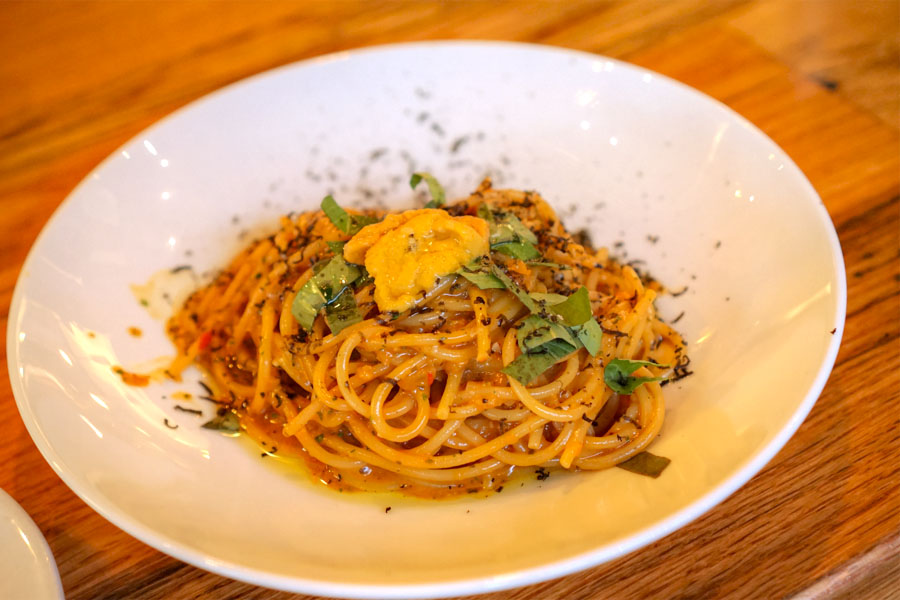 Spaghetti Rustichella [$29.00]
| sea urchin. garlic. calabrian chilies. bottarga. thai basil.
Spaghetti displayed the right about of bite and had a spot on balance of heat and brine, along with an almost licorice-like flavor that I detected.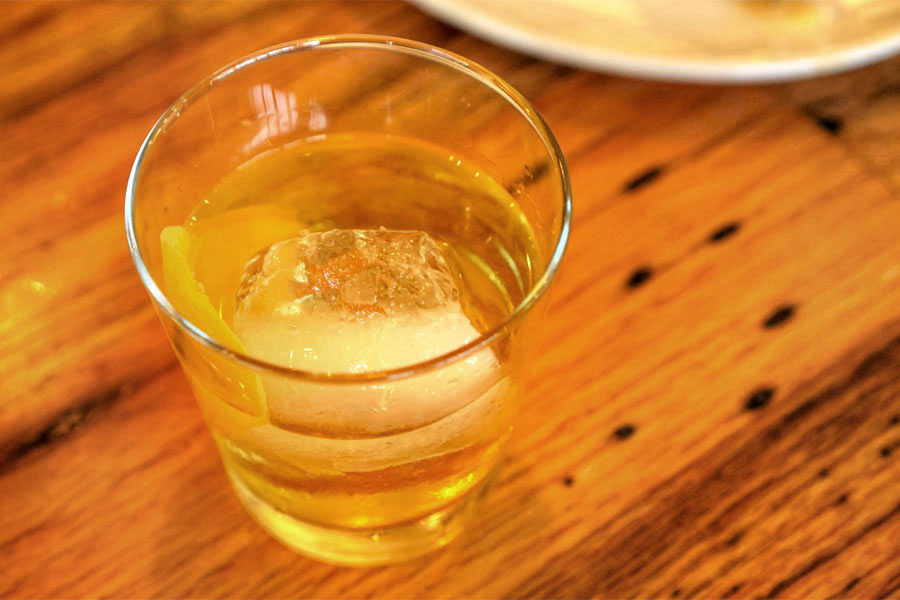 White Negroni [$14.00]
| gin. bianco aperitivo. gentian aperitif. grapefruit twist. served over big rock.
This Negroni variation featured a light, sweet nose, while the palate went bitter, savory, almost vegetal, but again with a sweet tinge and a hint of anise.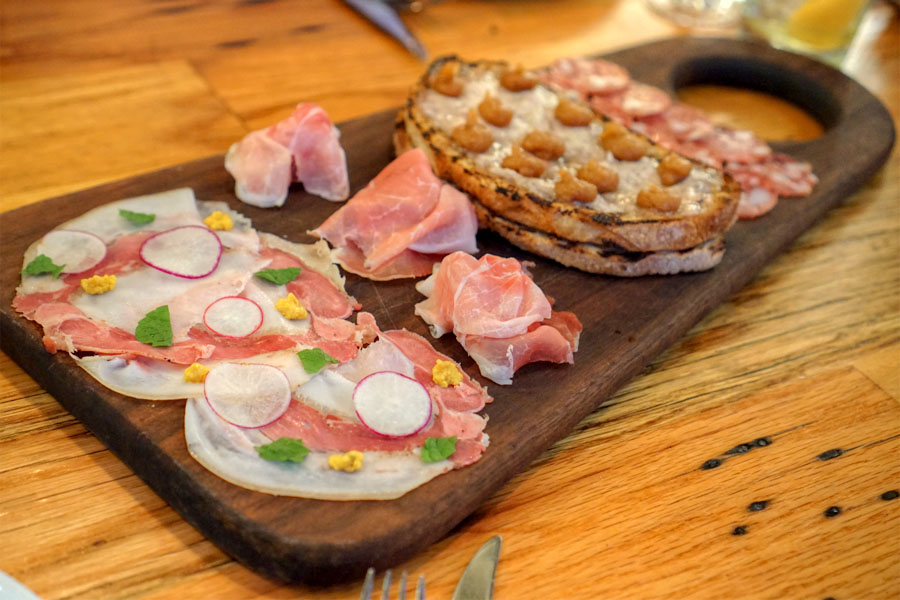 Salumi [$22.00]
| chef's selection of house-cured meats. grilled bread.
Of course we made sure to give Bestia's housemade cured meats a go as well. Front to back, we had:
A surprisingly delicate coppa di testa with radish, mint, and mustard.
Soft, slick, salty cuts of culatello.
Grilled bread with white 'nduja and date purée--a mix of sweet and salty, moderated by the toast.
A spicy 'n' savory salami with a touch of fennel flavor.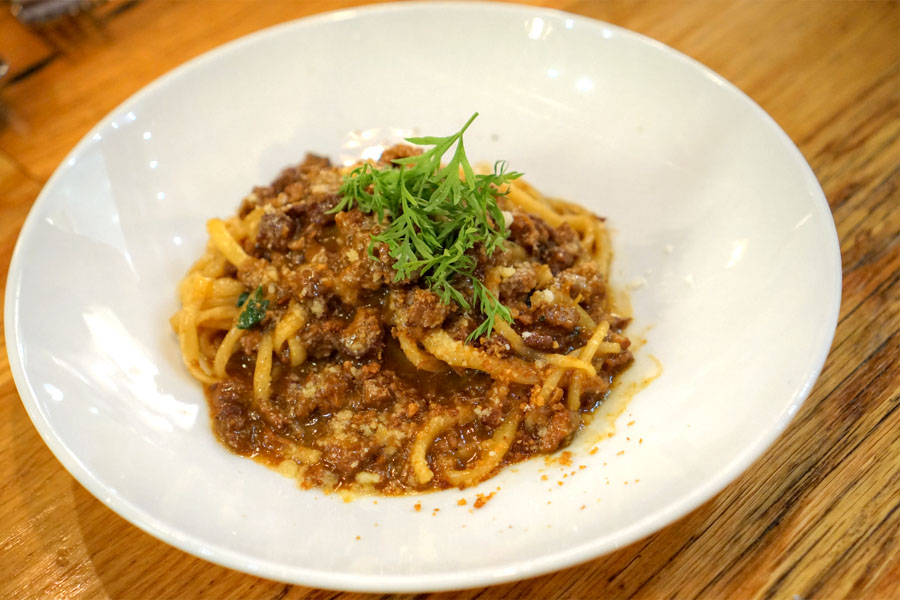 Pici al Sugo di Agnello [$21.00]
| lamb ragu. saffron. capra sarda. breadcrumbs.
Our final pasta hit the mark as well with its deep, dark, unabashedly rich flavors from the lamb, and I was quite the fan of the breadcrumbs as well.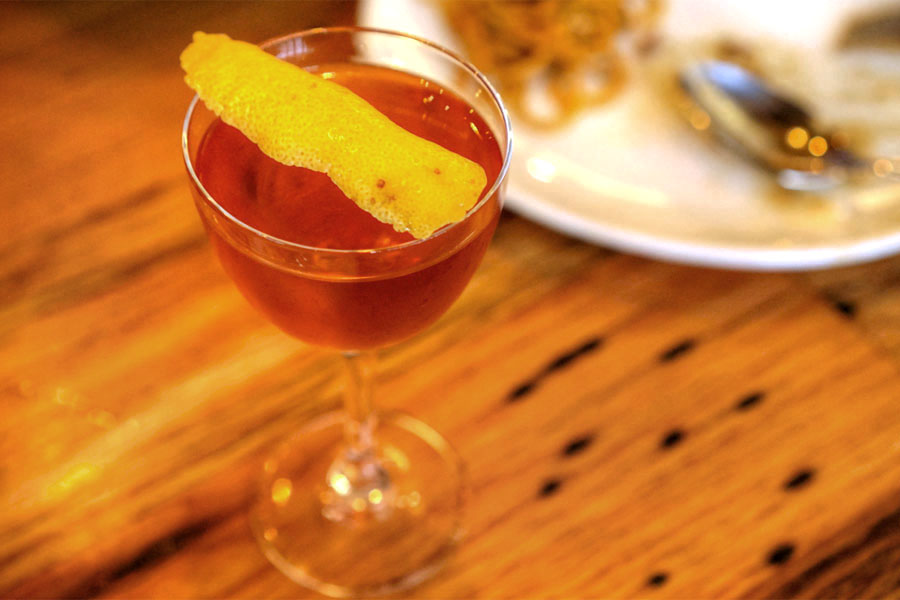 Colombo [$13.00]
| rye whiskey. rose aperitivo. benedictine. angostura bitters. lemon oil. served up.
We come to the evening's last cocktail, a Manhattan variation. I found this one super spicy, super boozy from the rye, but also balanced by the sweetness of the Cocchi, and I even detected a trace of nuttiness on the finish.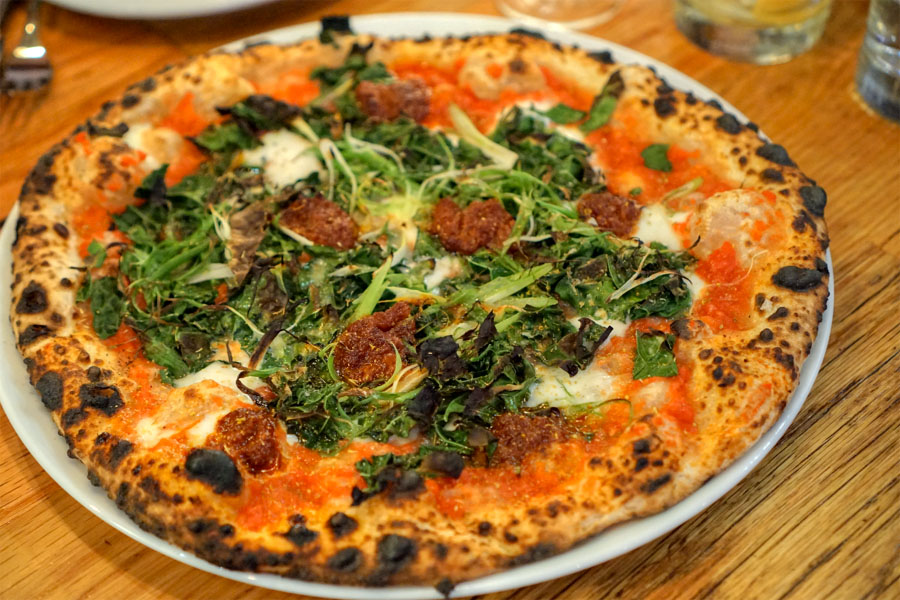 Alla'nduja Pizza [$19.00]
| housemade spicy 'nduja. san marzano tomatoes. mozzarella. black cabbage. fennel pollen.
Bestia's 'nduja made an appearance in our second pizza, giving it a spicy kick that paired gorgeously with the bitterness of cavolo nero, all while tomatoes provided a tartness to the mix.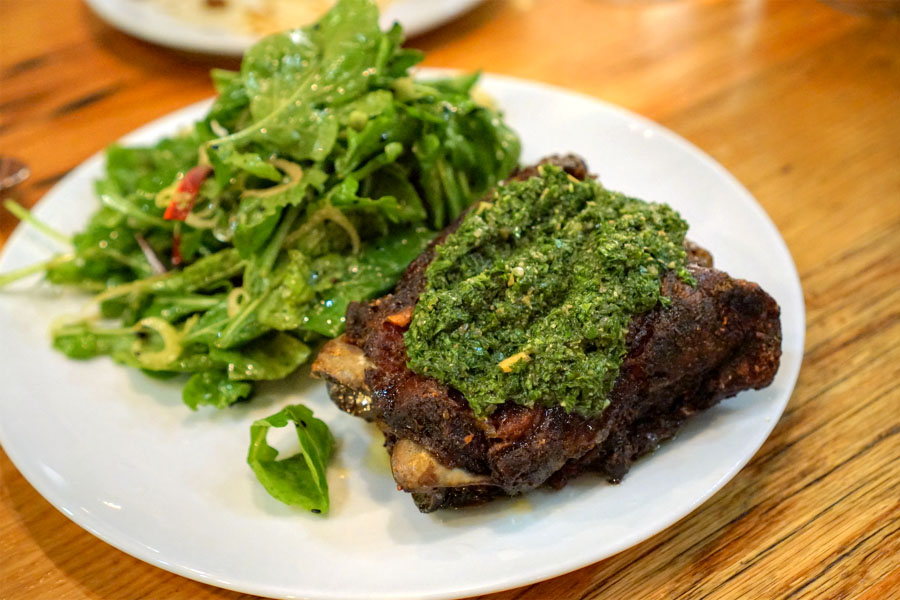 Slow Roasted Lamb Neck [$29.00]
| arugula. baby fennel. pickled red carrots. black sesame. salsa verde.
Long-cooked lamb neck was falling-off-the-bone, fork tender, and showcased all the rich, utterly savory flavors you'd want. Fortunately, the salsa verde and greens offered up the necessary brightness and acidity to balance out the dish.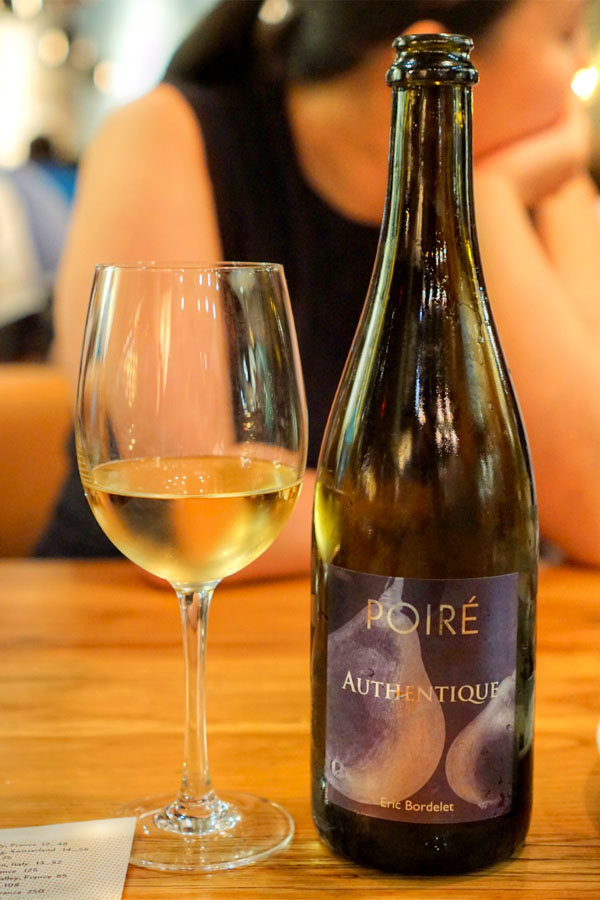 With the cocktails done with, we opted for a pear cider (or perry, if you prefer), the
NV Eric Bordelet, Poire Authentique, Normandy, France [$48]
. This was an easy-drinker for sure. I got a bouquet rife with pear, and a taste that conveyed yet more fruit, but also a countervailing yeasty, barnyard element.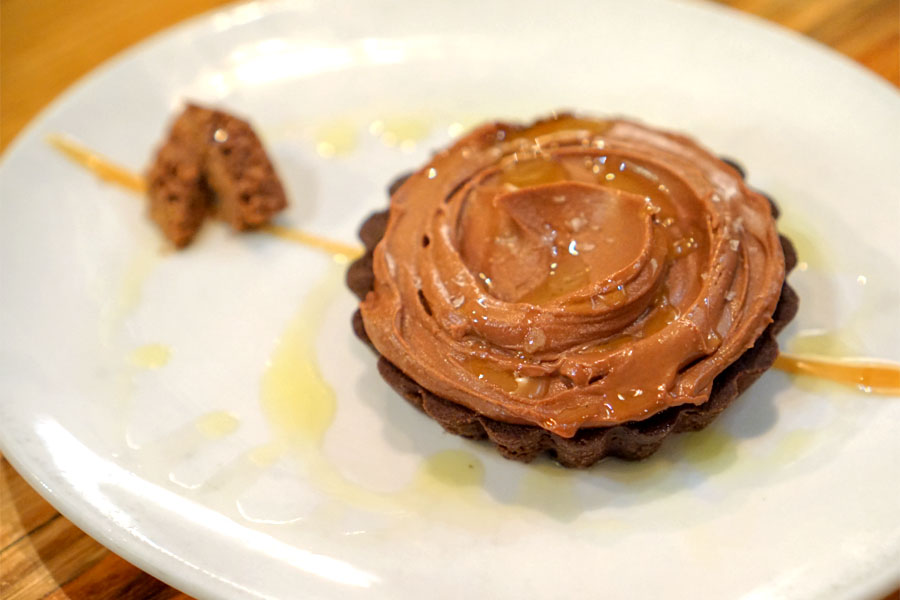 Mast Brothers Bittersweet Chocolate Budino Tart [$13.00]
| salted caramel. cacao crust. olive oil. sea salt.
Time for dessert. Bestia's popular budino tart displayed a mix of bitter and sweet from the chocolate, and was made even more interesting by the savory notes from salt and olive oil. Great crunch from the crust, too.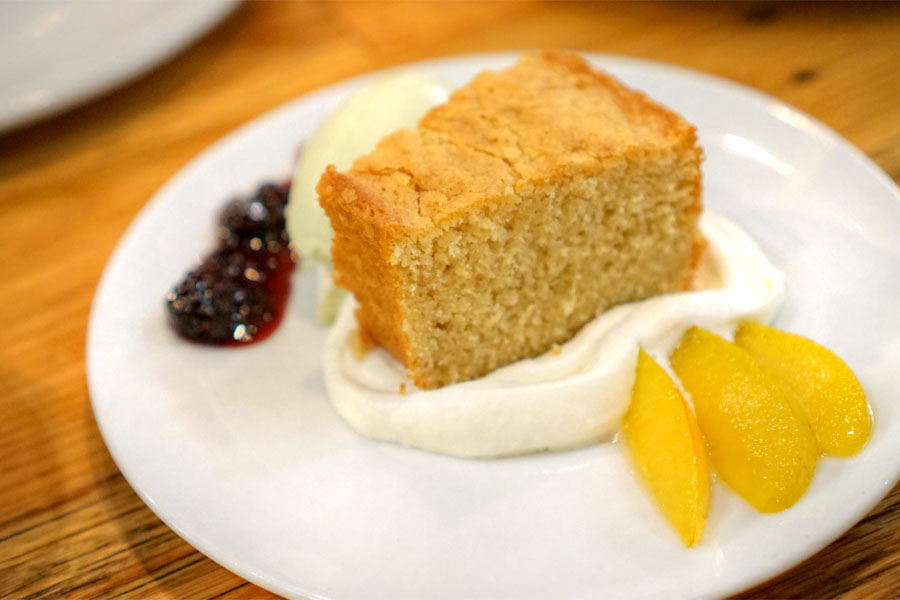 Buttermilk Einkorn Cake [$12.00]
| lemon verbena sherbet. blackberry jam. emerald plums.
An einkorn cake came out light in body, with a restrained sweetness that matched unexpectedly well with the bright, almost bracing nature of that lemon verbena, all while blackberry contributed an offsetting jammy component.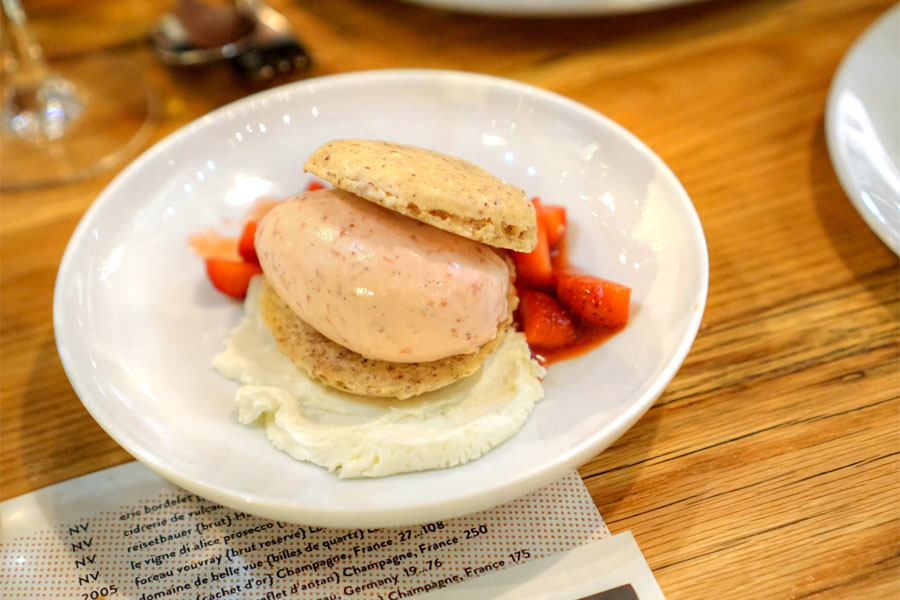 Strawberries & Cream [$12.00]
| strawberry buttermilk ice cream. walnut macaron. seascape strawberries. clotted cream.
Last came my favorite of the desserts, a perfect marriage of sticky macaron, cream, and robust, almost Pocky-like strawberry flavors that I found wholly satisfying.
Not surprisingly, the Bestia team once again delivered a very strong meal. One detects a certain comfort in the cooking, but you also find plenty to keep you coming back. After all, there's a reason why the place has remained one of the hottest tickets in town for nearly four years.