Mud Hen Tavern (Los Angeles, CA)
Mud Hen Tavern Restaurant
742 Highland Ave, Los Angeles, CA 90038
323.203.0500
www.mudhentavern.com
Tue 10/04/2016, 08:00p-11:00p

Mud Hen Tavern had been on my to-eat list pretty much ever since it opened, so when I heard that it'd be shutting down on October 11th, I really made an effort to visit. Named after the Toledo Mud Hens, a Minor League Baseball team, the places served up pubby comfort food from none other than LA icon Susan Feniger.
About the Chef
: Feniger was born in 1953 in Toledo, Ohio and grew up in a Russian-Jewish household with a mother who loved to cook and entertain. She was a tomboy growing up though, and only began getting interested in cooking professionally in high school when she took a job at the local Smith's Cafeteria in order to earn some spending money. After completing her studies, she attended Vermont's Goddard College for psychology, but wound up dropping out and living in a teepee, finishing furniture for a living. Feniger eventually transferred to Pitzer College in Claremont, California, where she majored in economics and worked at the school cafeteria. Her boss there suggested culinary school as the next step, and thus she completed her degree via an independent study program at The Culinary Institute of America at Hyde Park (c/o '77). During her time at the CIA, Feniger worked for local fish market Gadaleto's Seafood in New Paltz (which entailed late night trips to Fulton Fish Market) and later at French eatery Harrold's near Brewster.
Upon graduating, she moved to Kansas City to join then-boyfriend Josh Schweitzer (he was studying architecture at the University of Kansas) and landed a gig at Gus Riedi's La Bonne Auberge. The two ended up getting married, but divorced only after a couple years when Feniger decided she preferred the company of women (ca. 1978). From KC, she went to Chicago's Le Perroquet as only the second woman to ever work in the kitchen. The first was Mary Sue Milliken, who was hired shortly before her, and the two quickly became friends. Following, Feniger relocated to Los Angeles and cooked at Patrick Terrail's legendary Ma Maison under none other than Wolfgang Puck. In 1980, she went to France and
staged
at Louis Outhier's L'Oasis on the French Riviera (alongside
Joachim Splichal
apparently). Milliken happened to be at Casa Olympe in Paris at the same time, and the two met up and spent a month together, eating and working at catering company Potel et Chabot. By the end of their trip, the two had decided to partner up on a restaurant.
Upon returning to the US in 1981, Milliken went the private cheffing route while Feniger stayed at Ma Maison. However, Puck was already out by this time and was launching
Spago
. He wanted her to join him, but she declined. She ended up working part-time at an espresso bar next door to (and owned by) Barbara McReynolds and Gai Gherardi's L.A. Eyeworks, and she and McReynolds started dating soon thereafter. At the start of 1982, Feniger took over full-time, and in February, she brought on Milliken, who was in Chicago at the time. The two, along with McReynolds, Gherardi, and Margo Willits (who ran L.A. Eyeworks' international distro) formed an equal partnership and debuted City Cafe. The restaurant was tiny, seating only 11, and offered up a menu of eclectic, internationally-influenced dishes. In 1984, the same set of partners started work on the larger City Restaurant on La Brea. Feniger's ex Josh Schweitzer was brought on board to design the place (he did in on his spare time while working for Frank Gehry), and he ended up hitting it off with Milliken, with the two eventually getting married.
City Restaurant opened in 1985, the same year that the two Chefs went on a culinary tour of Mexico and, when they got back, opened Border Grill in the old City Cafe space. In 1990, the five partners debuted a much larger Border Grill in Santa Monica, set at the former site of City of Angels Brewing Company, which they'd consulted for prior to its closure in 1989. Schweitzer was also an architect for the brewery, and redesigned it to accommodate Border Grill (fresh off his work at
Campanile
, no less). Things began to fall apart a bit in 1991 however. Feniger and McReynolds broke up, and the five-way partnership they had was dissolved. The original Border Grill on Melrose stayed with L.A. Eyeworks (it closed in 1992, ostensibly due to rising workers' compensation insurance costs), while the Chefs kept the two newer properties.
Feniger and Milliken got their first real exposure to television in 1993, when they were invited to cook with the inimitable Julia Child on her PBS show
Cooking with Master Chefs
. In March 1994, they had to shutter City Restaurant, but by the next year, they were filming for Reese Schonfeld's newly-launched Food Network. The two ended up making hundreds of episodes of their shows
Too Hot Tamales
and
Tamales World Tour
between 1995 and 1999. 1998 saw Feniger and Milliken open the Latin-inspired
Ciudad
in Downtown, and the following June, an outpost of Border Grill bowed at Mandalay Bay in Las Vegas. In 2001, they consulted on the film
Tortilla Soup
, which was followed by a largely failed "Border Girls" partnership with Whole Foods. 2001 also had the launch of Border Grill at Pasadena's Paseo Colorado in September (closed 2004) and at Green Valley Ranch hotel-casino outside of Vegas in December (closed 2002).
Things were relatively quiet until April 2009, when Feniger dropped her first restaurant sans Milliken--multi-ethnic "street food" joint Street--in partnership with Co-Chef Kasja Alger (a longtime associate who'd started cooking at City in the late 1980s). In November that year, she filmed Season 2 of
Top Chef Masters
, and in 2010, she and Milliken replaced Ciudad with another location of Border Grill. Fall 2013 saw both the launch of Border Grill at LAX and the closure of Street. Street, however, was quickly transformed into Mud Hen Tavern in December, once again with Alger as partner. Border Grill at Caesars Palace came to light in October 2014, and Blue Window, a take-out window at Mud Hen, materialized in August 2015. In November 2015, Kogi's LAX outpost in Terminal 4 turned into yet another Border Grill, and most recently, a second Blue Window arrived at Terminal 3 this August.


The restaurant occupies a Hollywood address right up the street from heavy hitters
Trois Mec
,
Petit Trois
, and the
Mozzaplex
. The wood-wrapped interior's got an appropriately bar-like feel, while most of the seating's outside.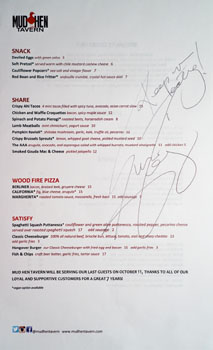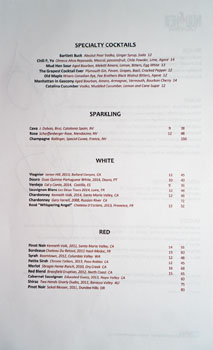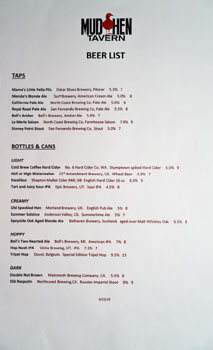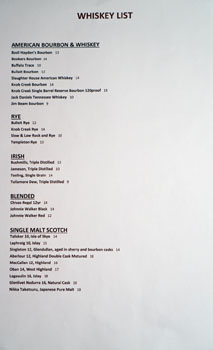 Menu-wise, Mud Hen offers up reasonably-straightforward, pubby fare. To drink, you get some fairly-interesting-sounding cocktails, a small wine list, and a decent array of beer. Corkage was $18, though it was graciously waived by our server tonight. Click for larger versions.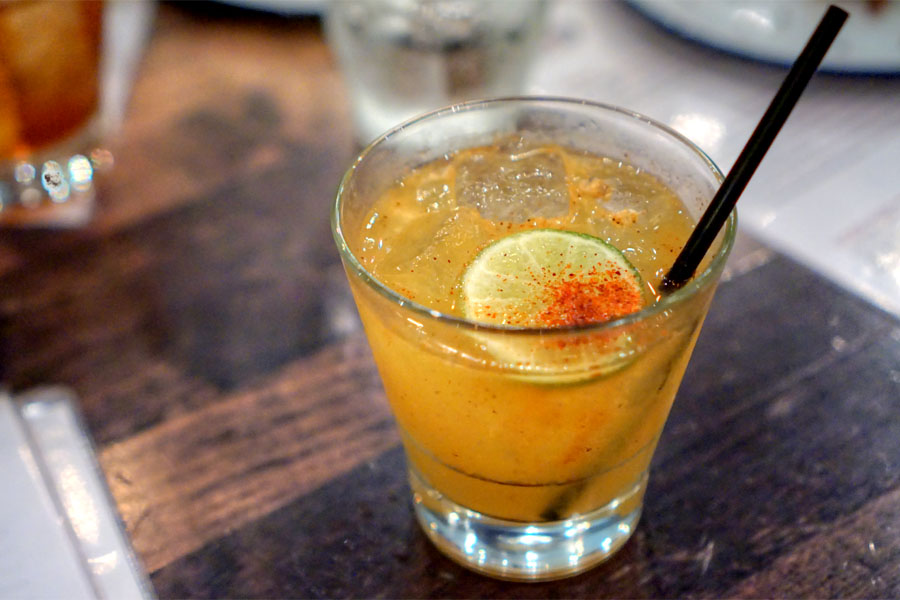 Chili P, Yo [$14.00]
| Olmeca Altos Reposado, Mezcal, Passionfruit, Chile Powder, Lime, Agave
Naturally we had a few cocktails to start. Our first I found exceedingly tart, with strong passion fruit notes and a big kick of spice coming in on the back end. I didn't get too much from the mezcal though, surprisingly.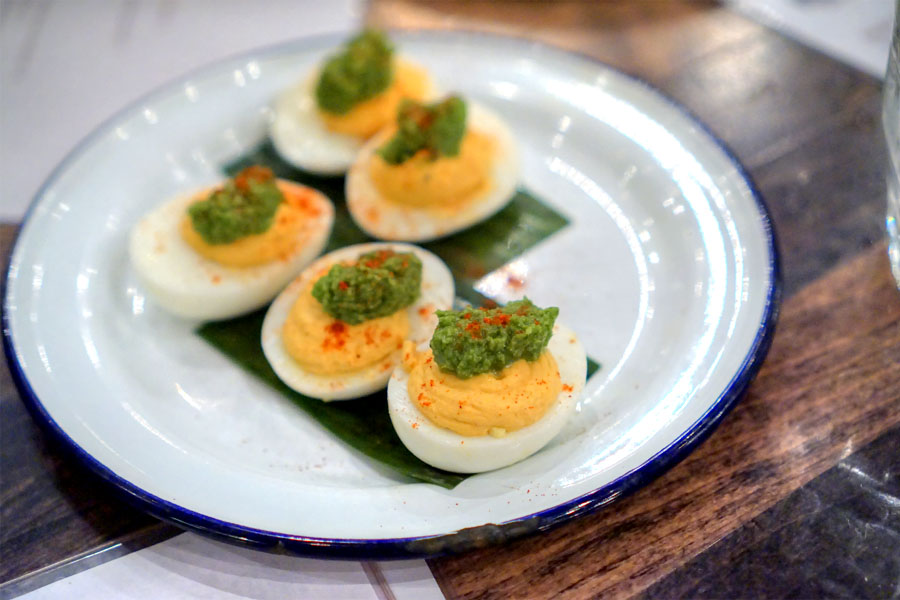 Deviled Eggs [$3.00]
| with green salsa
Eggs were well-textured and had a pleasantly warm, almost South Asian-esque spice that paired just right with the zip of the salsa.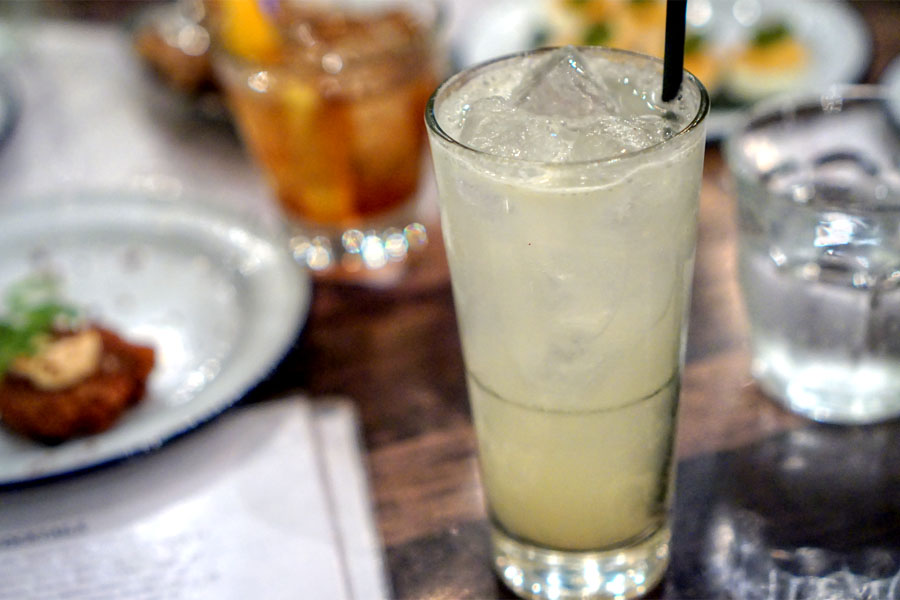 Bartlett Buck [$12.00]
| Absolut Pear Vodka, Ginger Syrup, Soda
Their version of a buck cocktail showed off big, bold flavors of pear countered by the spicy, bitter taste of ginger and a bit of booziness from the vodka.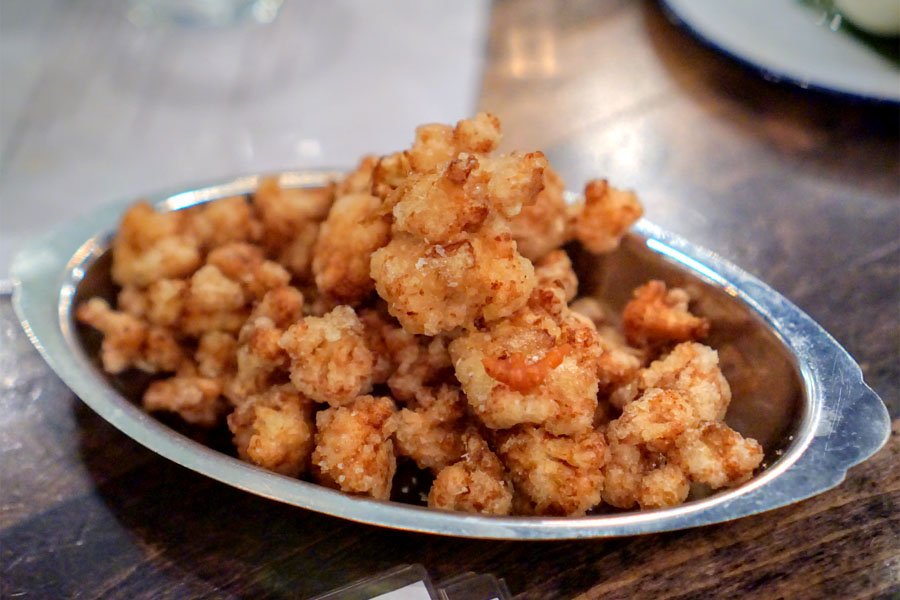 Cauliflower Popcorn [$7.00]
| sea salt and vinegar flavor
Cauliflower smelled strongly of their namesake potato chips, though the taste was slightly more subdued, balanced by the comparative mildness of the florets.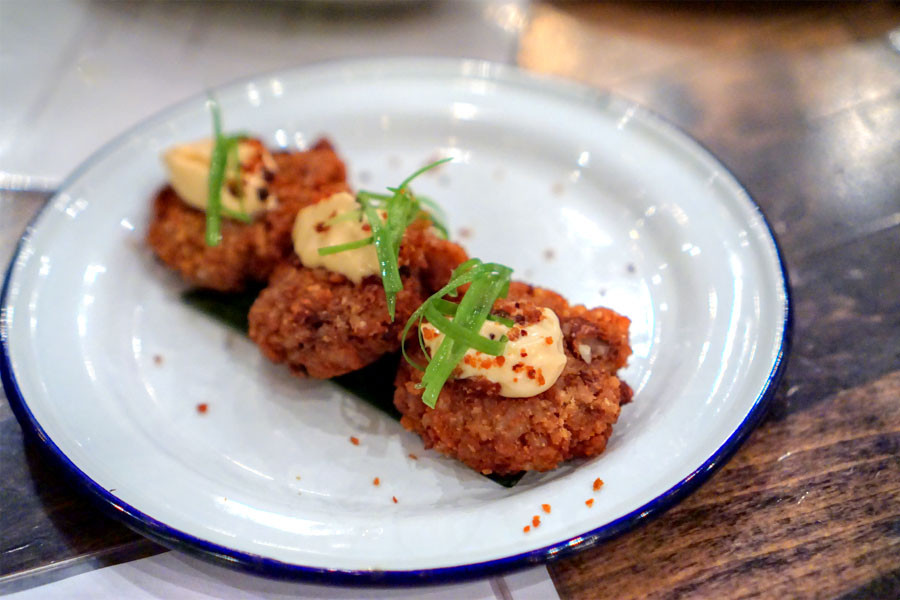 Red Bean and Rice Fritter [$7.00]
| andouille crumble, crystal hot sauce aioli
A red bean-rice fritter came out hearty, earthy, and well-balanced by the heat of that aioli.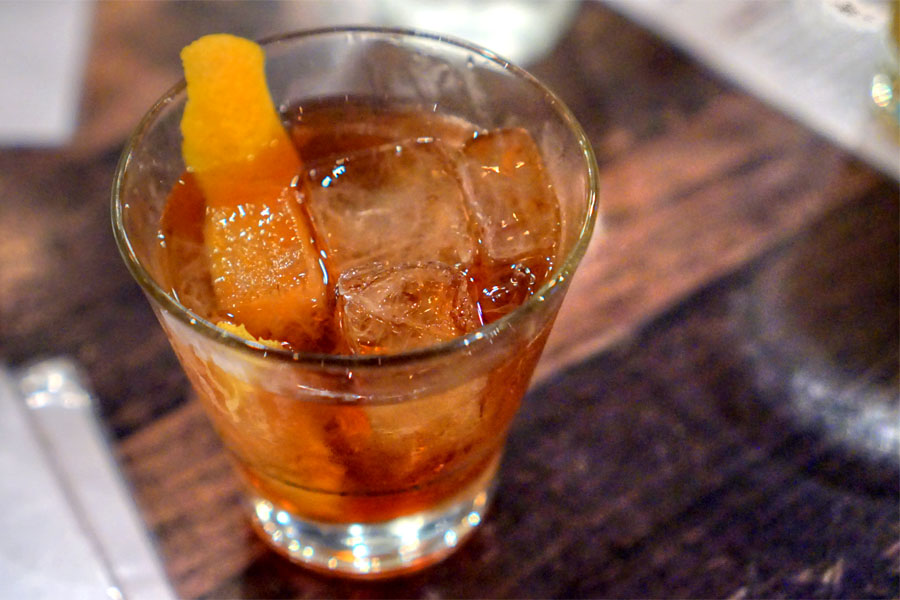 Old Maple [$12.00]
| Wisers Canadian Rye, Fee Brothers Black Walnut Bitters, Agave
One of my favorite cocktails this evening was this variation on the Old Fashioned. I got some great sweet-n-spicy aromas and flavors here, joined by robust notes of dark fruit and a nice booziness from the rye.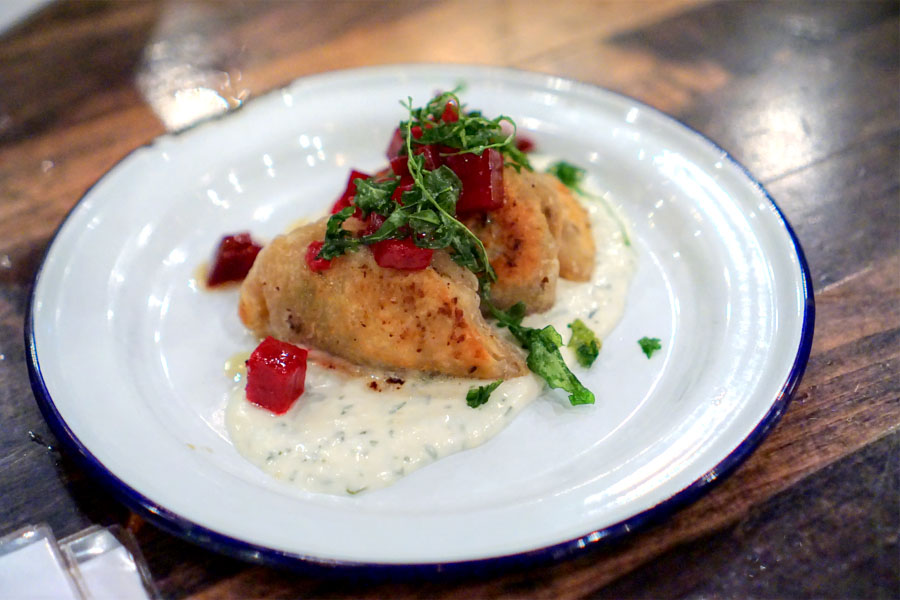 Spinach and Potato Pierogi [$8.00]
| roasted beets, horseradish cream
Pierogis were quite tasty, showing of a savory interplay between spinach and potato while the horseradish and beets provided simultaneous blasts of spicy and sweet.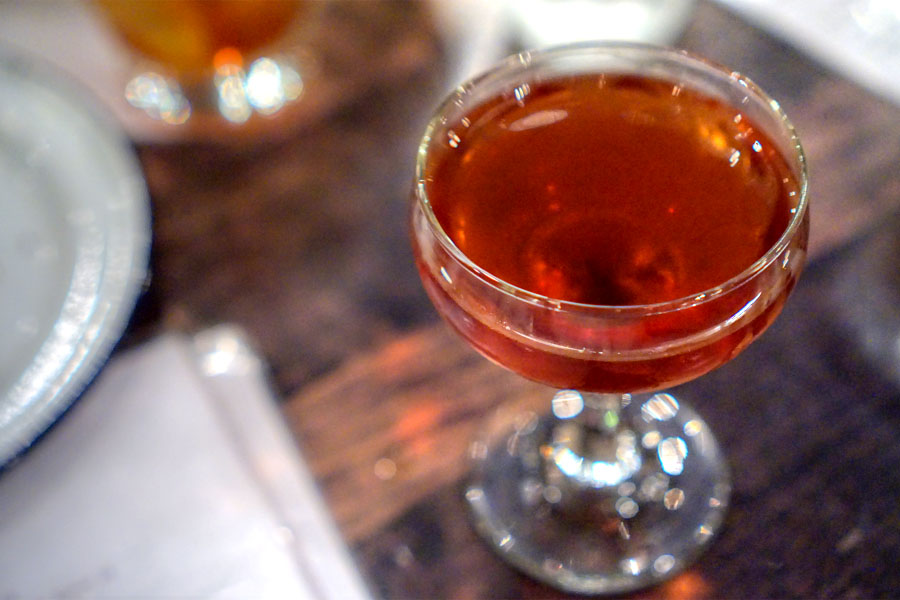 Manhattan in Gascony [$14.00]
| Aged Bourbon, Amaro, Armagnac, Vermouth, Bourbon Cherry
A take on a Manhattan went over pretty well. Nose was of sweet, aromatic dark fruit. On the palate, I found the cocktail decidedly viscous, boozy, bitter, with some further traces of fruit.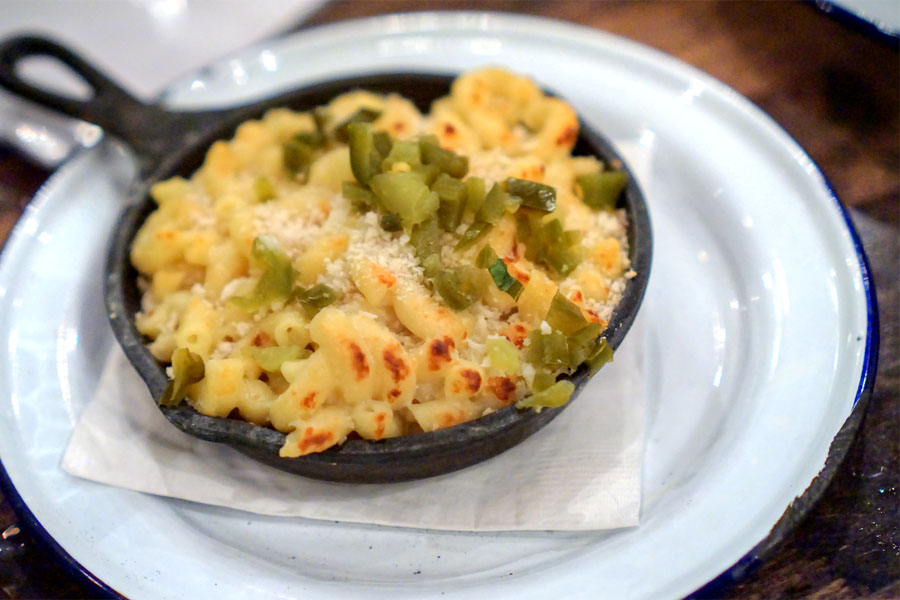 Smoked Gouda Mac & Cheese [$12.00]
| pickled jalapeño
Mac and cheese could've been creamier, though its flavors were on point: a balance of smoke, heat, and of course cheese.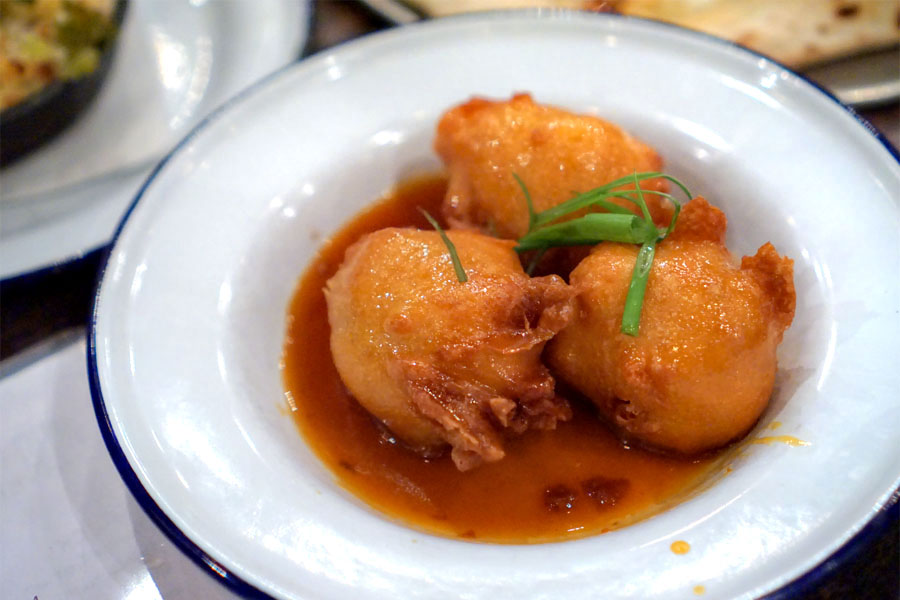 Chicken and Waffle Croquettes [$12.00]
| bacon, spicy maple sauce
A reimagined chicken and waffles was almost corn dog-like in terms of texture. More important though was the taste, which did a reasonable job mimicking the sweet-savory character of the classic dish.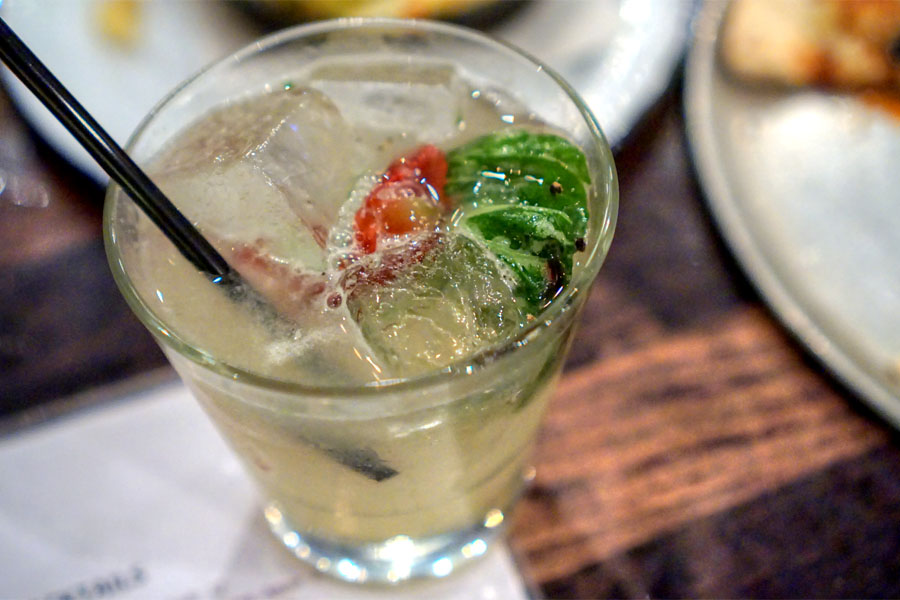 The Grapest Cocktail Ever [$12.00]
| Plymouth Gin, Pavan, Grapes, Basil, Cracked Pepper
This cocktail lived up to its moniker, giving us huge amounts of candied grape (think grape soda). Fortunately, the herbiness of the basil made for a semblance of balance.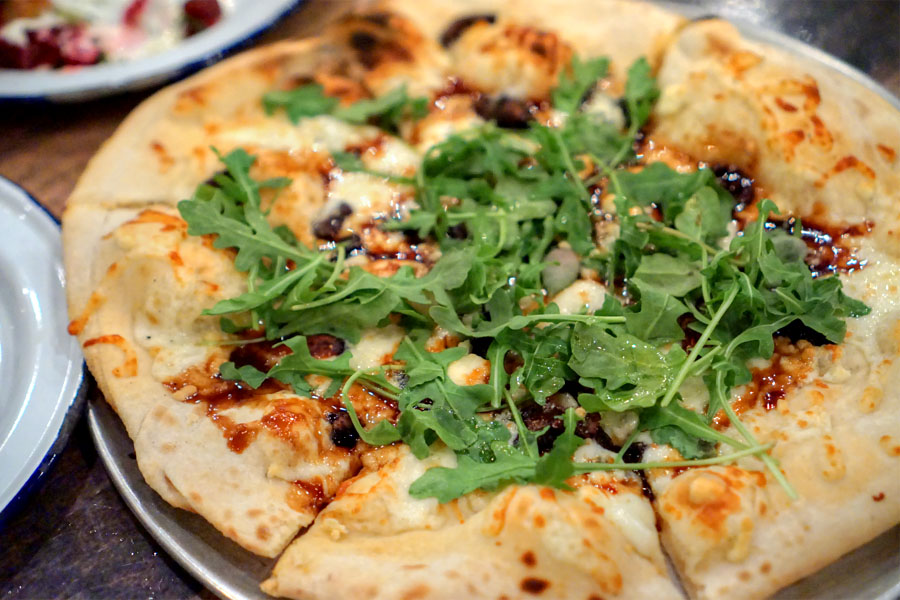 California Wood Fire Pizza [$15.00]
| fig, blue cheese, arugula
A combination of sweet fig, bitter arugula, and tangy blue cheese was well-worn but nonetheless effective. I really wanted more cook and crispness on the crust though.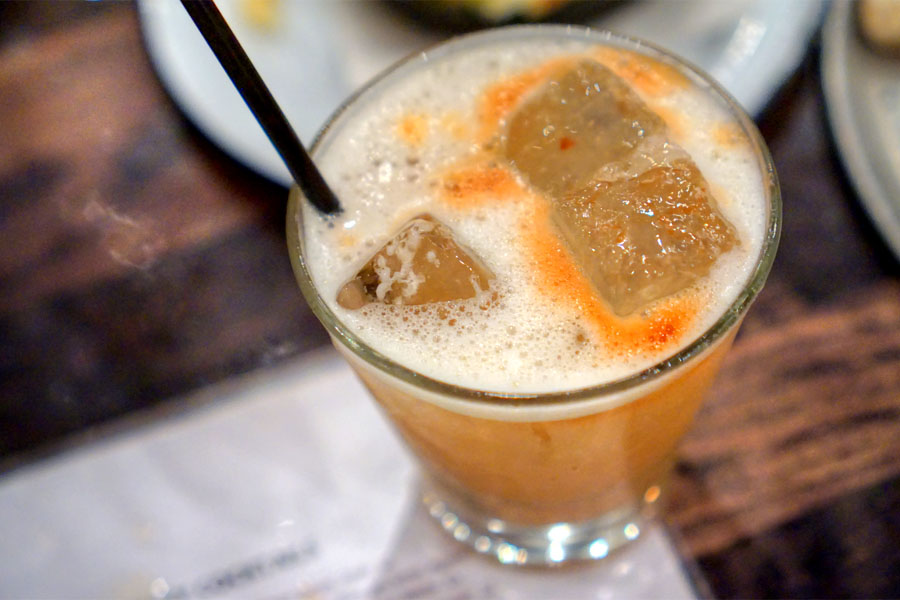 Mud Hen Sour [$13.00]
| Aged Bourbon, Meletti Amaro, Lemon, Bitters, Egg White
This take on a whiskey sour presented lots of sweet, floral notes (ostensibly from the Meletti), joined by a marked bitterness toward the finish.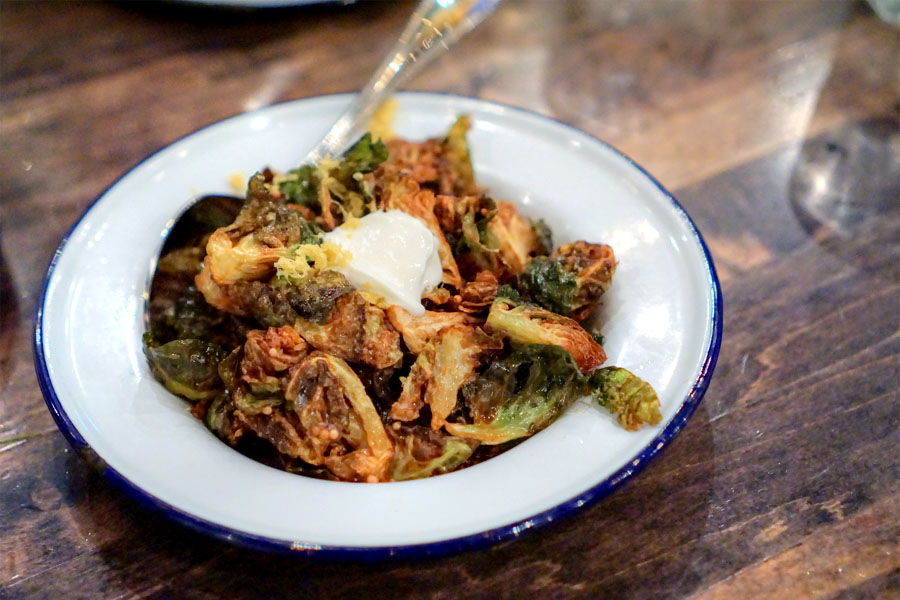 Crispy Brussels Sprouts [$10.00]
| lemon, whipped goat cheese, pickled mustard seed
Brussels were properly bitter and charred, their astringency tempered by the lushness of that goat cheese.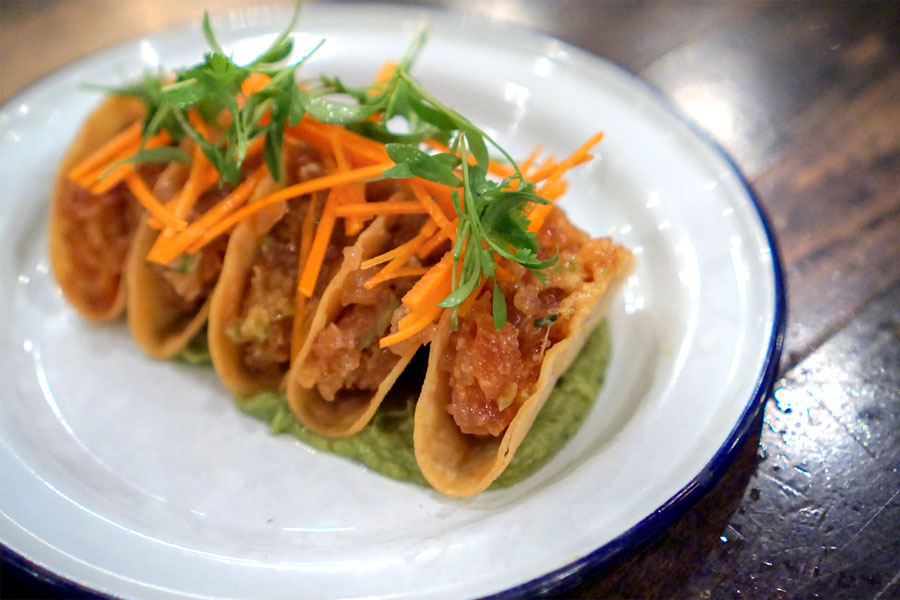 Crispy Ahi Tacos [$15.00]
| 4 mini tacos filled with spicy tuna, avocado, asian carrot slaw
A ubiquitous preparation of tuna tacos was satisfying in a sort of tried-and-true fashion, with a nice crunch and a welcomed zestiness from the cilantro.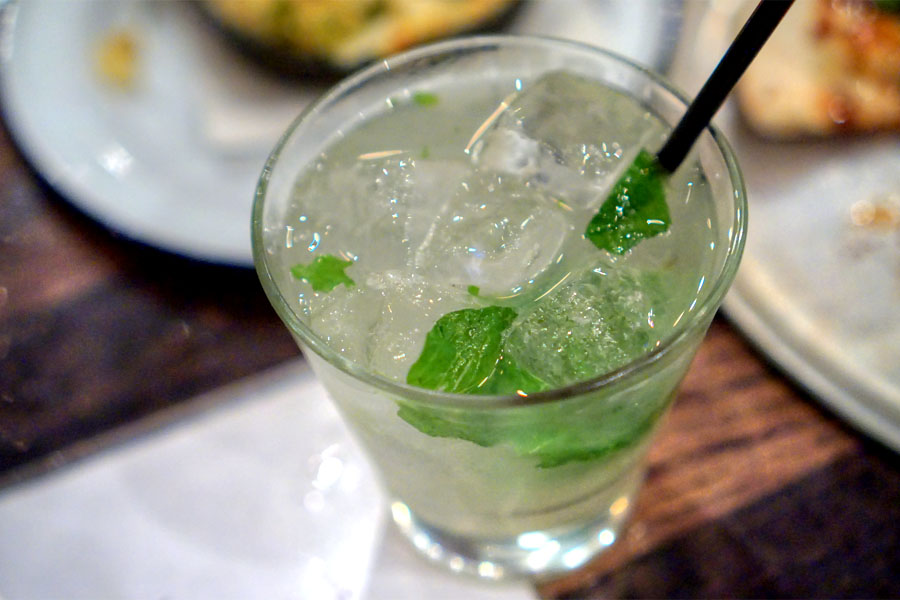 Catalina Cucumber [$12.00]
| Vodka, Muddled Cucumber, Lemon and Cane Sugar
Our final cocktail was an easy-drinker due to its light, breezy notes of mint and cucumber.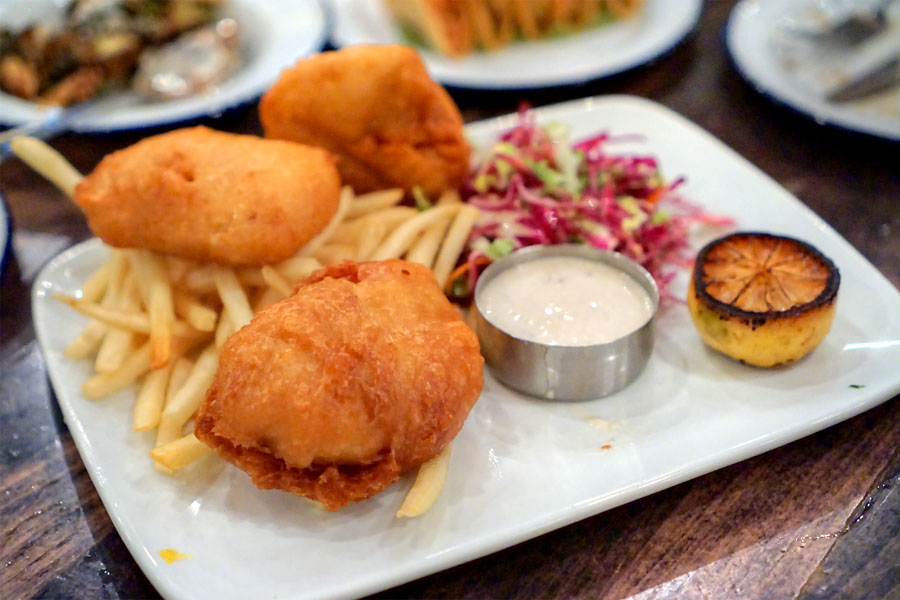 Fish & Chips [$17.00]
| craft beer batter, garlic fries, tartar sauce
I have a hard time saying no to fish 'n' chips. Texturally the fish had a balance of creamy and crispy, while taste-wise I got a bitterness from the beer batter. Unfortunately, the fries seemed to be lacking in the advertised garlic, though I did appreciate the brightness of the accompanying slaw.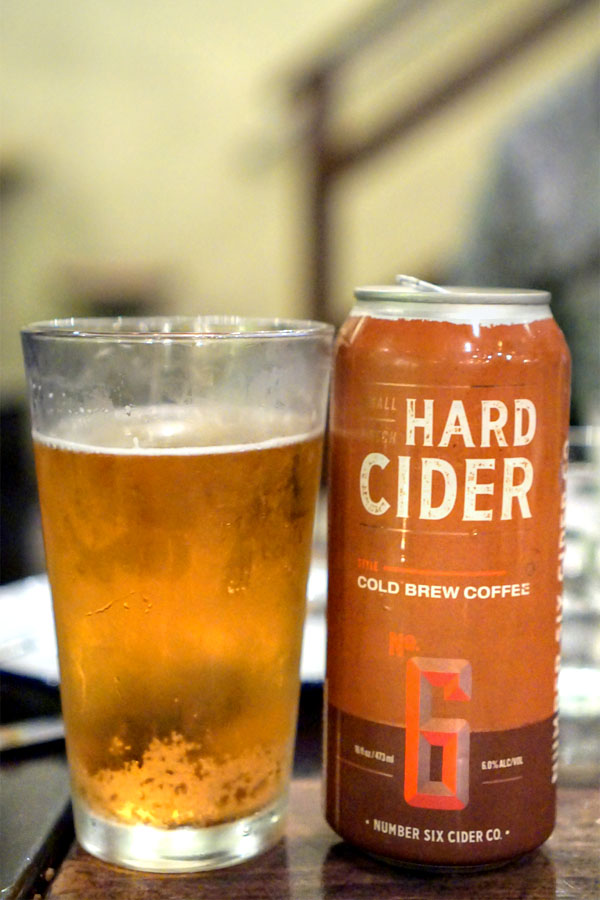 We moved on from cocktails at this point, and ordered the
Cold Brew Coffee Hard Cider, No. 6 Hard Cider Co, WA. [$9]
, an odd blend of cider and Stumptown coffee. Nose was filled with roast and bitterness, with a sweetness from the apples underlying. The taste, though, showed off more of the cider aspect, but with the coffee still present. Overall, I will say that this worked out better than I thought it would.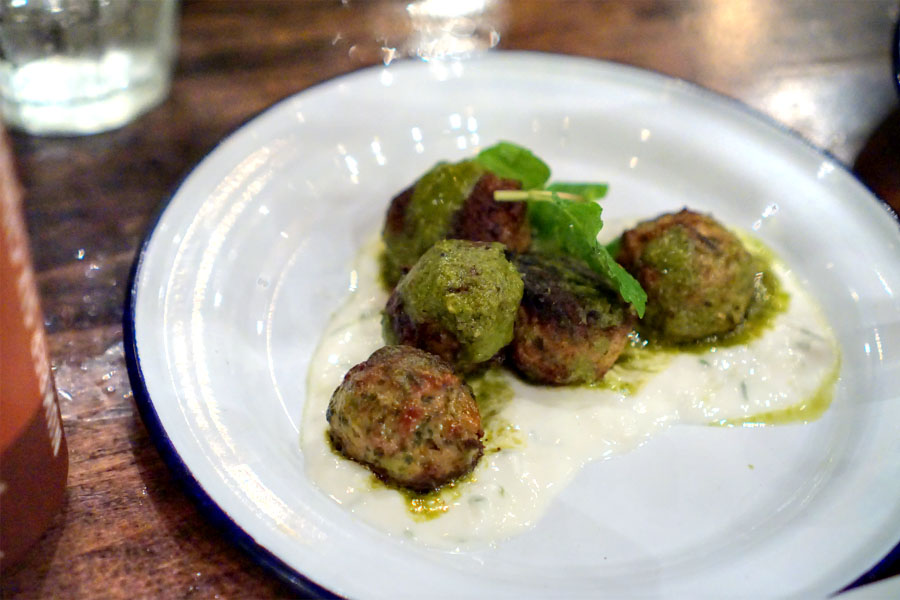 Lamb Meatballs [$10.00]
| mint chimichurri, yogurt sauce
Meatballs display plenty of lamb-y savor, nicely augmented by the yogurt while chimichurri imparted a necessary mintiness to lift the dish.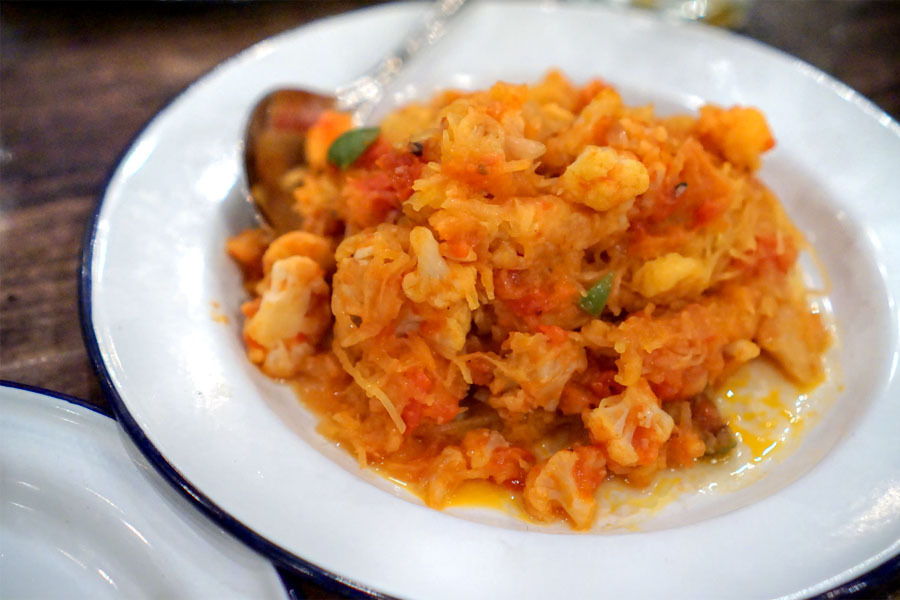 Spaghetti Squash Puttanesca [$17.00]
| cauliflower and green olive puttanesca, roasted pepper, pecorino cheese, served over roasted spaghetti squash
Our final savory course was also the least successful. It lacked the piquancy and punch that you find in your usual
puttanesca
, and I didn't get much from the Pecorino either.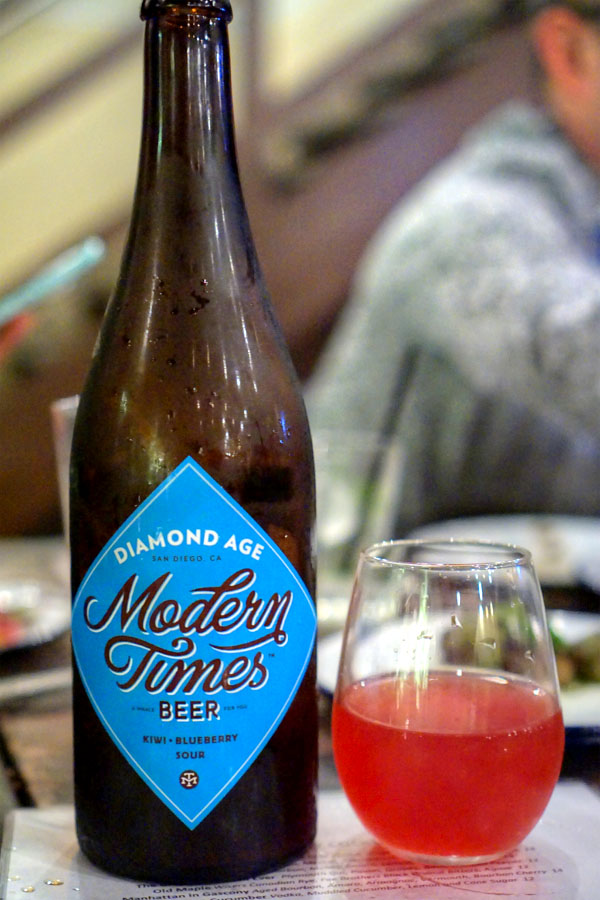 Next to drink was the
2016 Modern Times Diamond Age
, a mixed fermentation sour saison with kiwi and blueberry added, aged in red wine barrels. This one smelled expectedly funky and tart, with a layer of fruit underneath. On the palate though I found it much earthier than expected, giving us lots of acidity and a keen sourness from what I think was the kiwi.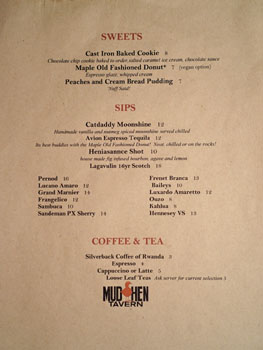 As for dessert, you just get three homey selections, with the occasional special. Click for a larger version.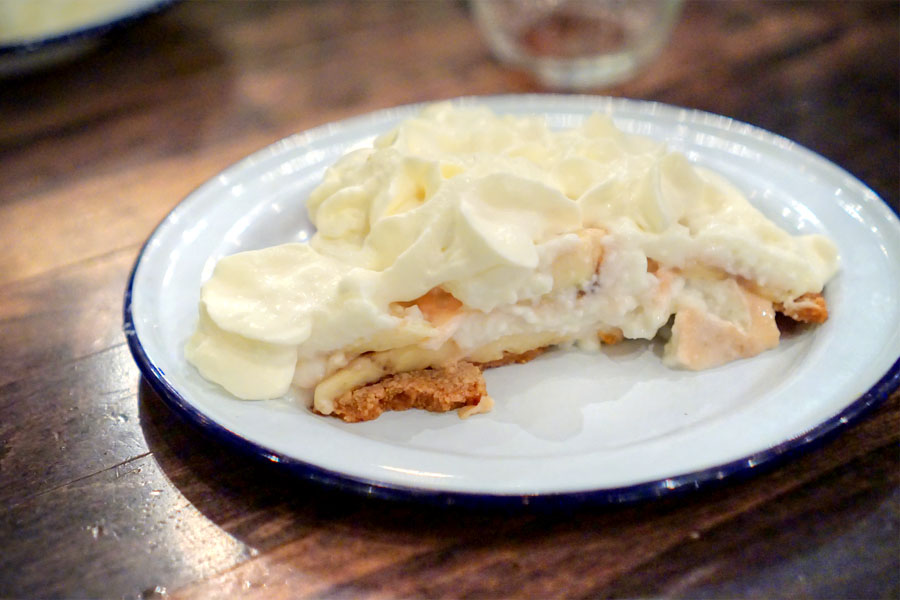 Banana Cream Pie [$6.00]
Our first dessert was a special, a rather flat, but fine-tasting example of a banana cream pie that had an additional point of interest from its smoky bacon crust.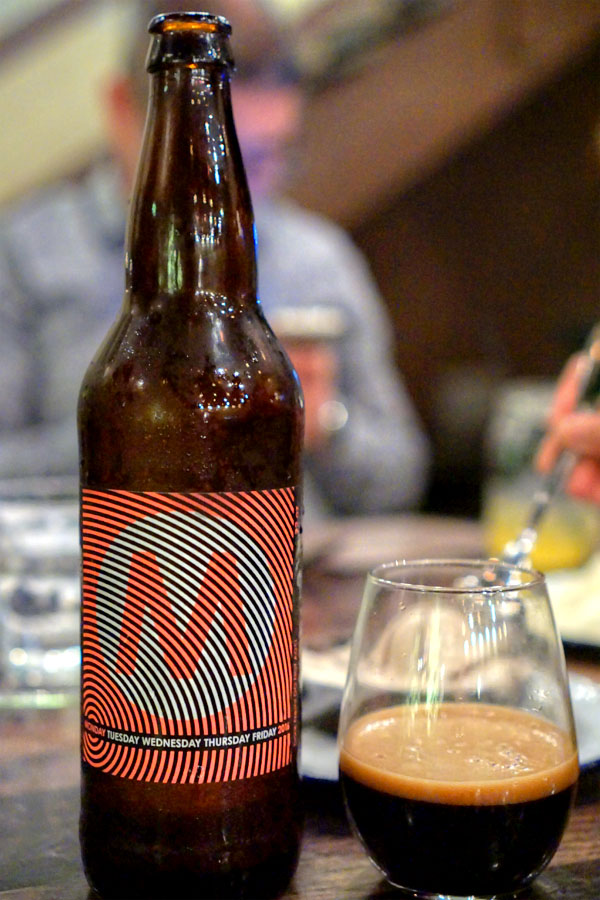 Dessert beer duties were handled by the
2016 Cycle Monday
, a maple syrup-infused bourbon barrel-aged imperial stout with coffee and cinnamon. Bouquet of in-your-face cinnamon and sweet malt. Taste was full of more malt and chocolate, with again a deluge of cinnamon spice, though not much coffee.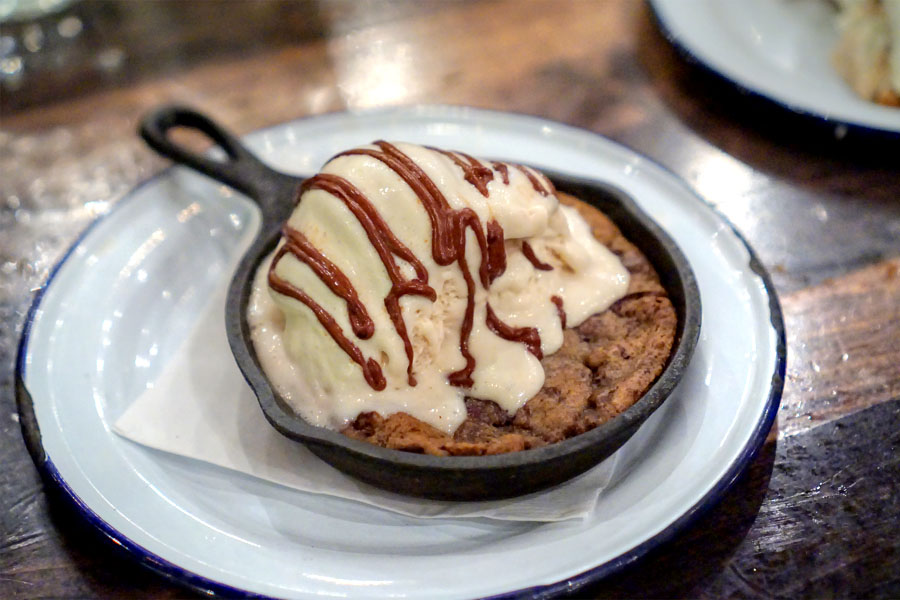 Cast Iron Baked Cookie [$8.00]
| Chocolate chip cookie baked to order, salted caramel ice cream, chocolate sauce
This Pizookie-like creation satisfied with is deep chocolate flavors set against the cool, enveloping richness of that ice cream.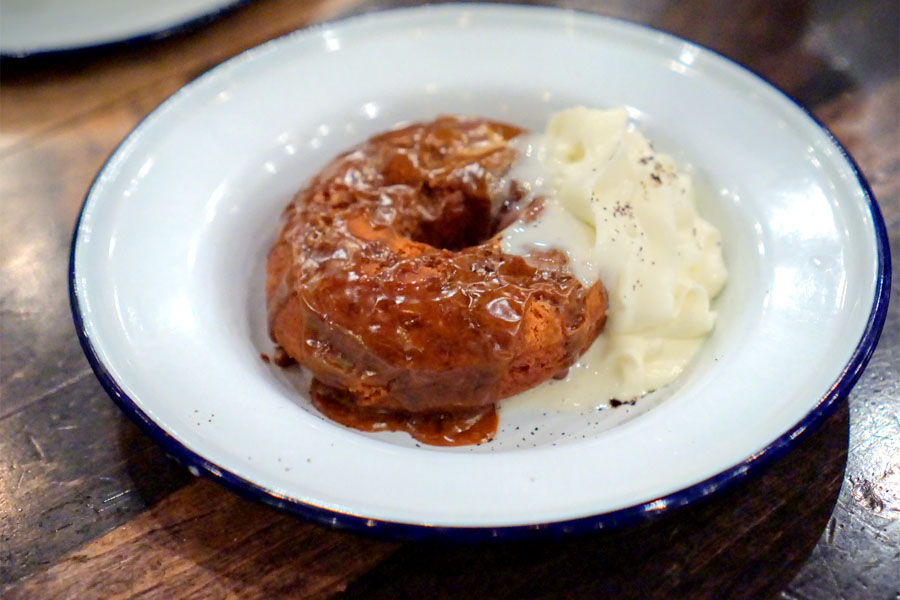 Maple Old Fashioned Donut [$7.00]
| Espresso glaze, whipped cream
Last up was my favorite of the desserts, an old-fashioned doughnut enriched by maple and just a smidge of coffee. Great with the beer above, by the way.
I'm glad I was able to make it out to Mud Hen before its closure, and I actually would've liked to have tried Street prior to the changeover. In any case, Feniger looks to have plenty on her plate going forward despite this shutter (and that of Border Grill Santa Monica). As we've all heard, she and perpetual partner Mary Sue Milliken are slated to take over the culinary program at The Huntington Library, Art Collections, and Botanical Gardens. This will include multiple dining concepts, some of which will open in the coming month, so more to come.