Masa of Echo Park (Los Angeles, CA)
Masa of Echo Park Bakery & Cafe
1800 W Sunset Blvd, Los Angeles, CA 90026
213.989.1558
www.masaofechopark.com
Wed 08/31/2016, 07:45p-09:55p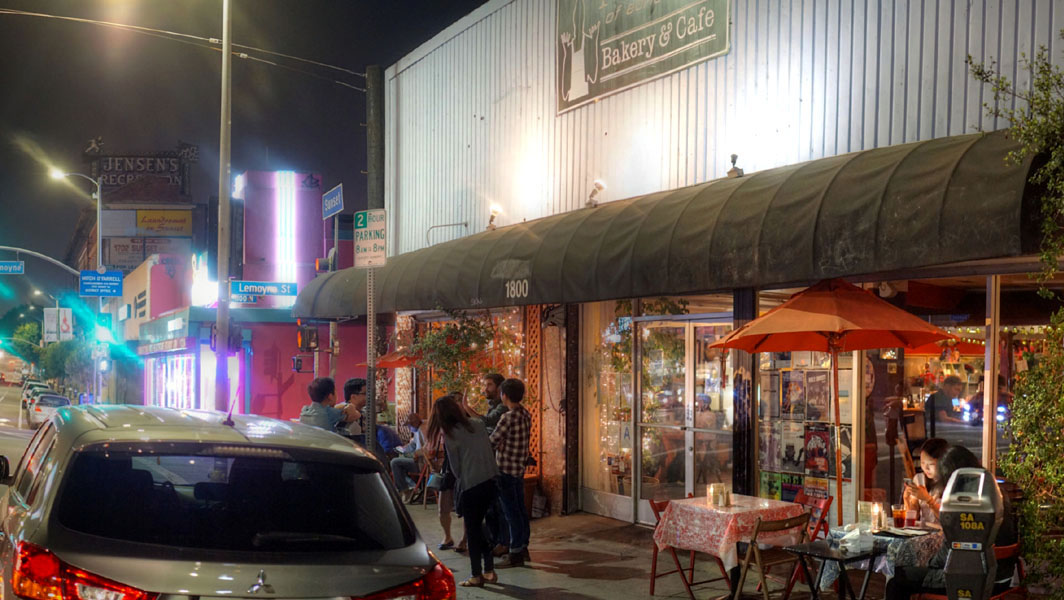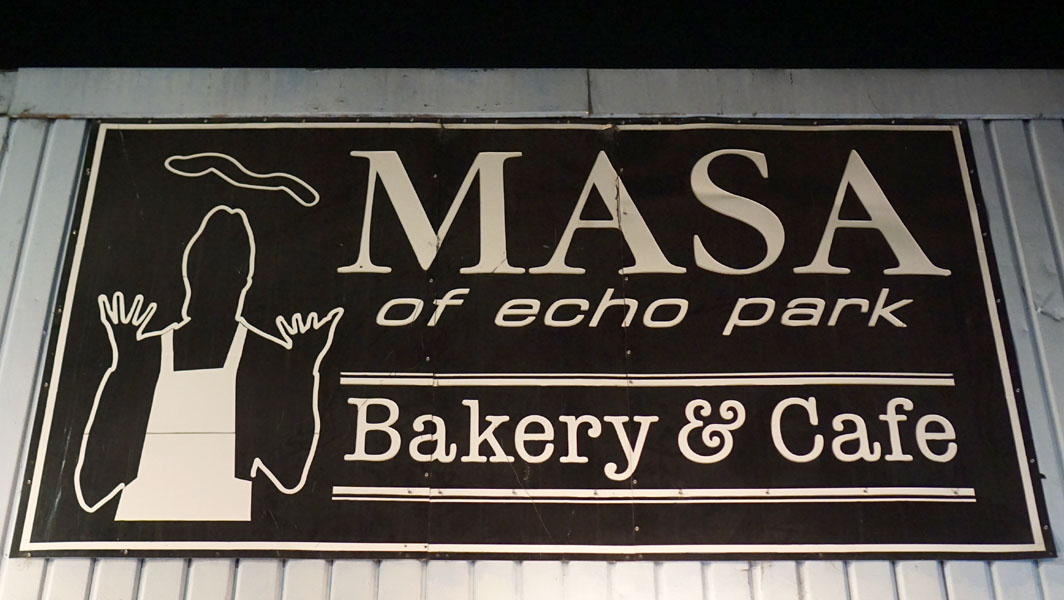 Given that I rarely get Chicago-style deep dish pizza, Masa's been on my to-try list for a while now. Opened in 2004, the place is one of standbys of the Echo Park dining scene, and comes to us from the husband-and-wife team of Rob Rowe and Rhonda Reynolds. Born and raised in Chicago, Rowe honed his craft at Windy City pizzerias and actually played bass for the band Wreck prior to becoming chef/owner at Masa.


Masa's housed in a 1922-era building that was originally used as a car dealership. It was then home to a number of restaurants/bakeries before being turned into its current, cozy state.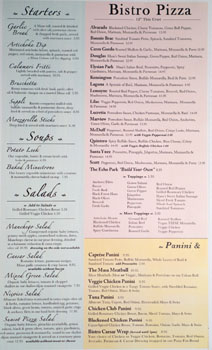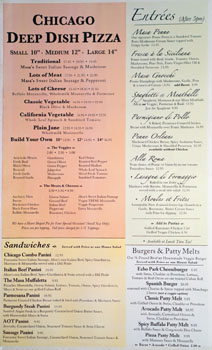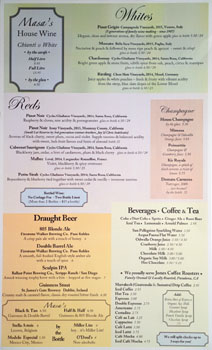 Not surprisingly, the menu's anchored by the deep dish pizzas, but there should be something for everybody thanks to all the other offerings: thin-crust pizzas, salads, pastas, sandwiches, burgers, and whatnot. Drink-wise, you'll find a handful of your usual beers and a smattering of wine. Click for larger versions.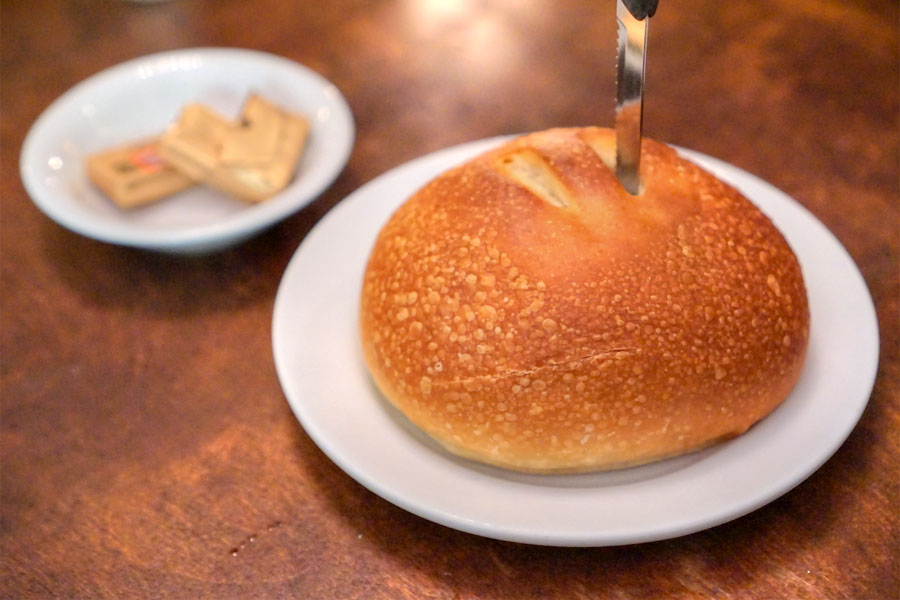 Masa's trademark Cuban bread arrived properly warm, with the loaf's crisp exterior hiding its soft, doughy insides.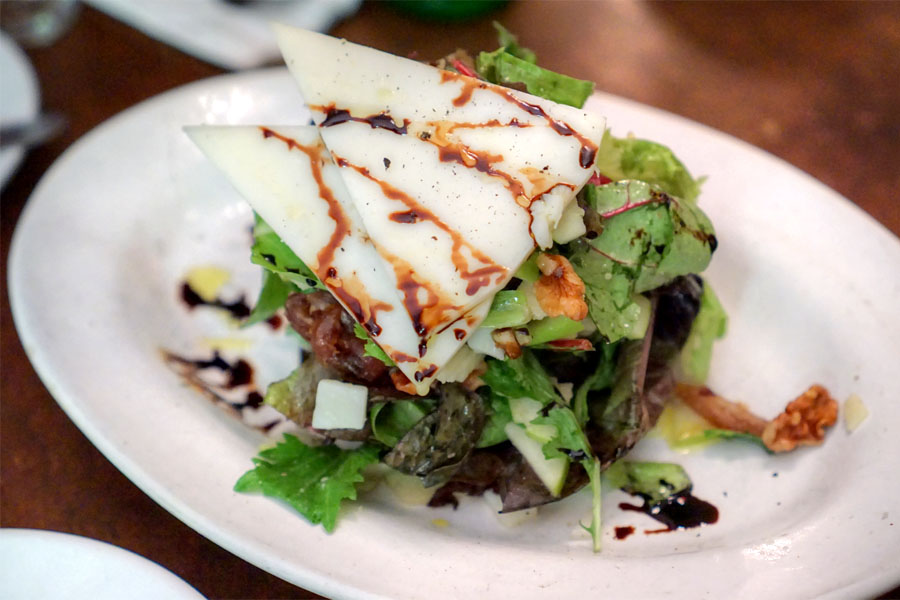 Manchego Salad [$10.95]
| Compressed organic baby lettuces, granny smith apples, caramelized walnuts, dates, Manchego cheese in our pear dressing, drizzled in a balsamic reduction & extra virgin olive oil
Our salad course was surprisingly satisfying, with a nice mix of nutty, sweet, tangy flavors and pleasant textures all grounded by the salty weight of the cheese.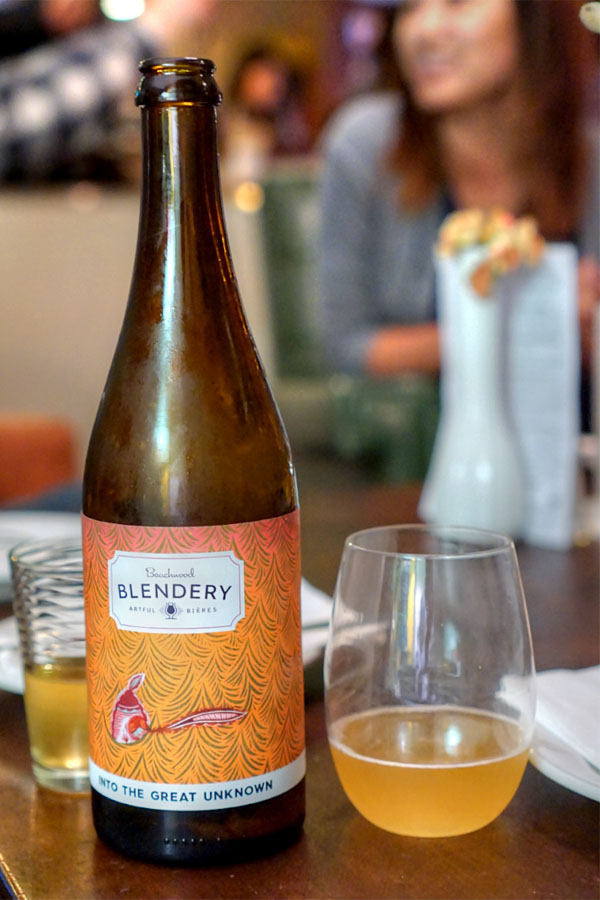 First up to drink: the
2016 Beachwood Blendery Into the Great Unknown (Mosaic Edition)
, an oak-fermented/aged (9-14 months), blended lambic-style ale dry-hopped with Mosaic then bottle conditioned with wine yeast for three months. It was a strong effort from the brewery. Nose was tart, acidic, grainy, with a great citrus-y bent. The palate brought juicy tropical fruit notes commingled with funk and a light hop bite. Really balanced and well put together.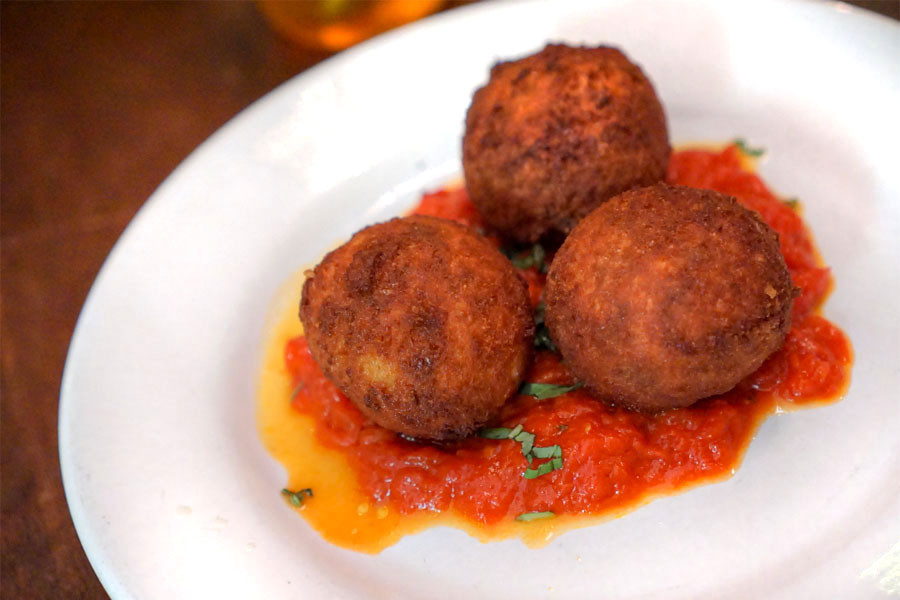 Suppli [$8.95]
| Risotto croquettes stuffed with buffalo mozzarella & parmesan cheese, deep fried & served on a bed of pomodoro sauce
Rice balls were soft and cheesy, making for a decidedly heavy, homey dish, though the tomato sauce did provide for a modicum of contrast.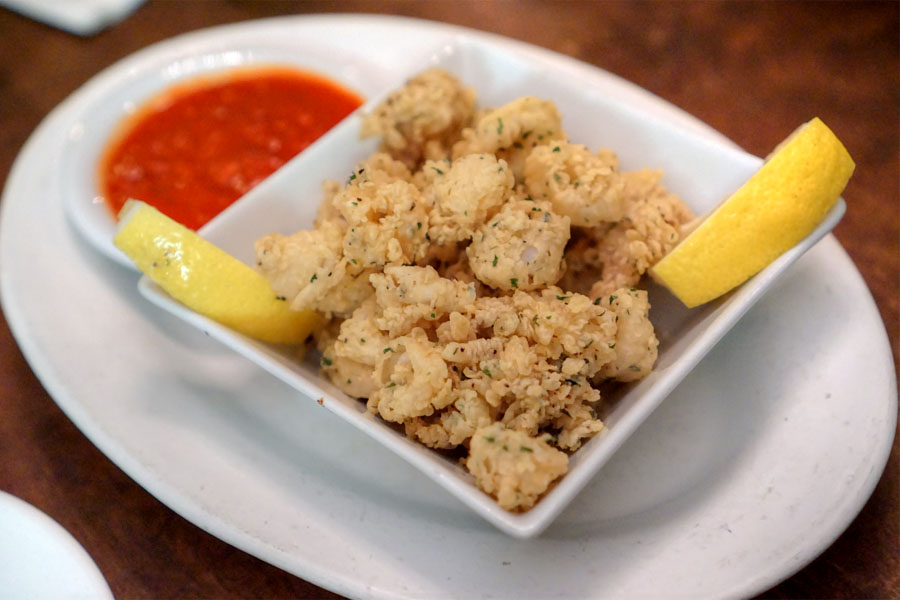 Calamari Fritti [$10.95]
| Lightly breaded with parsley, salt & pepper, served with marinara
The fried squid was pretty classic, with a light, flaky, somewhat herby batter. Better with a squirt of lemon and a dab in that marinara.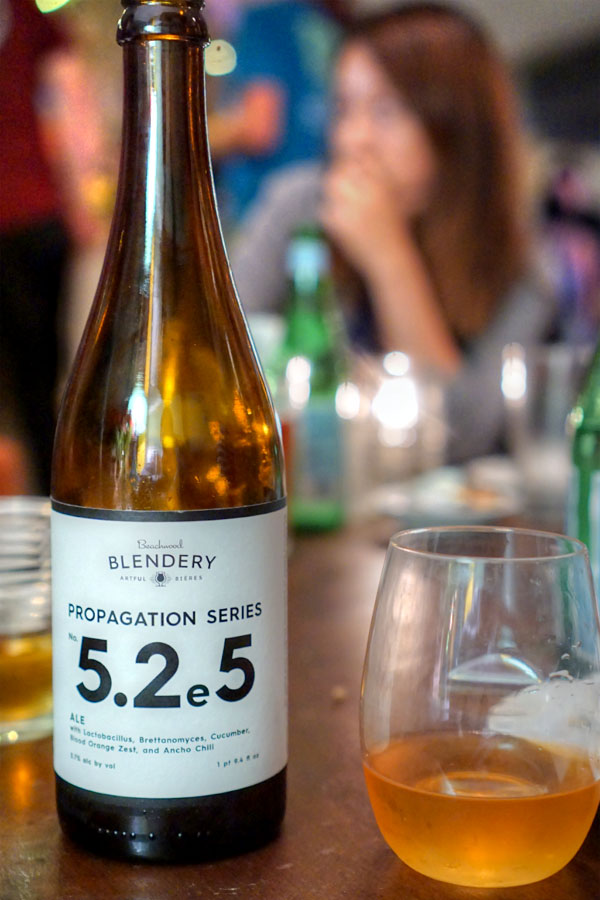 Sticking with the same brewery, the
2016 Beachwood Blendery Propagation Series: No. 5.2e5
was a Lacto- and Brett-infused Berliner Weisse with cucumber, blood orange zest, and ancho chili. Smelled tart 'n' tangy, with a pervasive spiciness, while the taste displayed more of the ancho at first, but with the cool, vegetal nuances of the cucumber coming in later.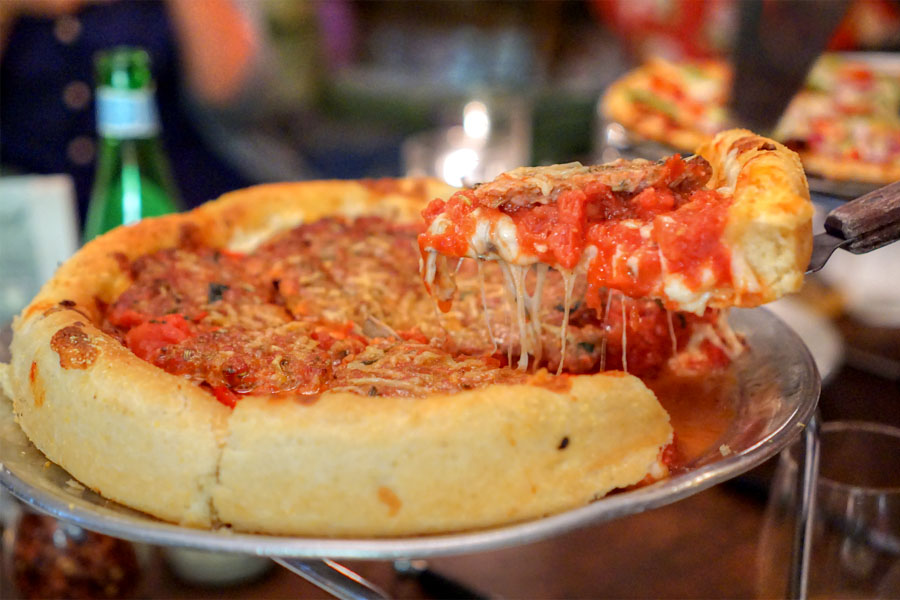 Small Traditional Deep Dish Pizza [$17.45]
| Masa's Sweet Italian Sausage & Mushroom
Naturally, we had to try Masa's signature pizza, baked 40 minutes in an 80+ year-old revolving oven installed by one of the building's previous tenants. It was a tasty example of the style, with the sweet, herby sausage well-complemented by the mushrooms while the combo of tangy tomato sauce and gooey cheese rounded out the pizza. Note also the substantial cornmeal crust.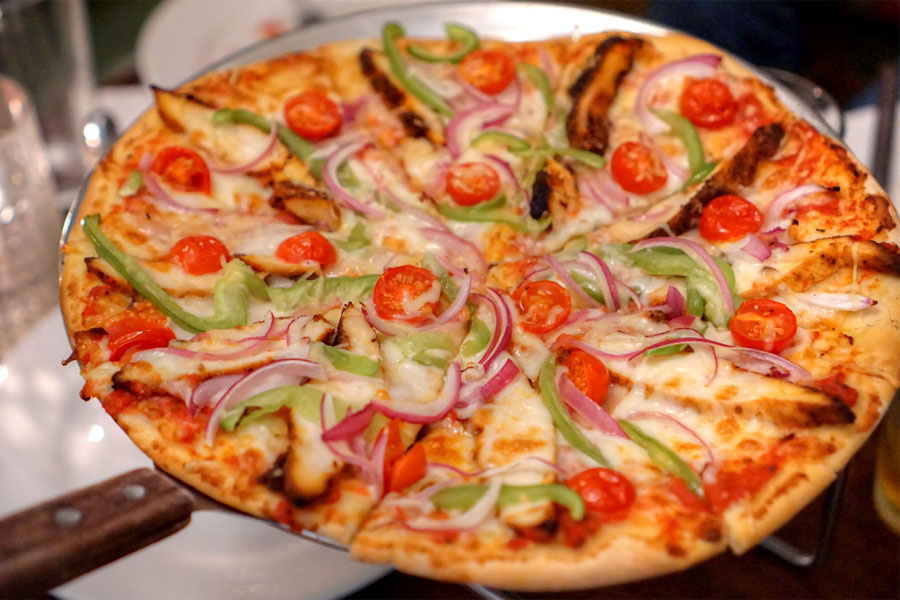 Alvarado Bistro Pizza [$13.95]
| Blackened Chicken, Cherry Tomatoes, Green Bell Pepper, Red Onion, Marinara, Mozzarella & Parmesan
Masa's thin-crust pizza also met the mark. Nice spicing on the chicken here, and I also appreciated the lightness of the various veggies present. Great hit of heat on the finish too.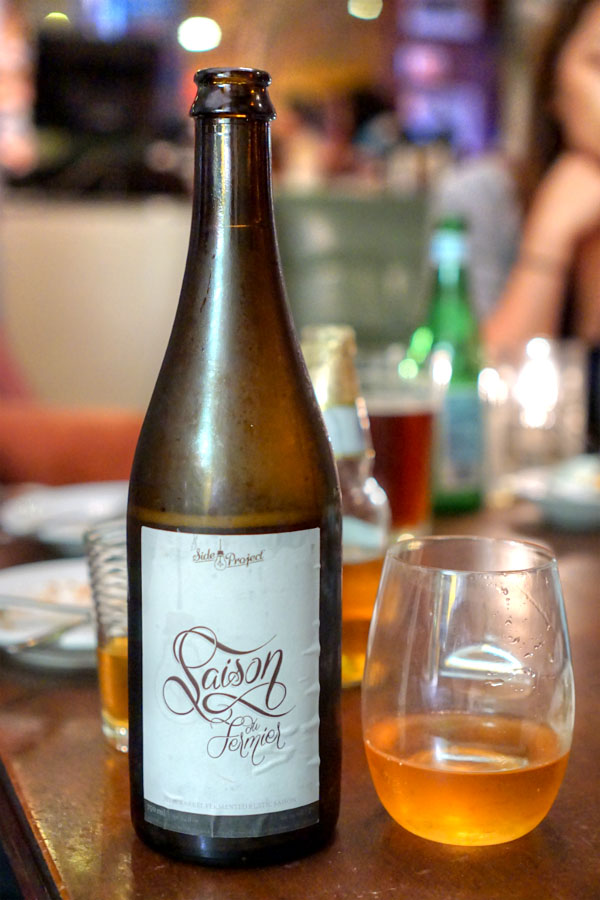 Last to drink was a wine barrel-fermented farmhouse ale with Brett and Lacto, the
2014 Side Project Saison du Fermier
. I got some deep, rustic, tart, grainy aromas on this one. The taste was definitely mature, but still lively, with plenty of sourness, funk, and a superb stone fruit-like sweetness throughout.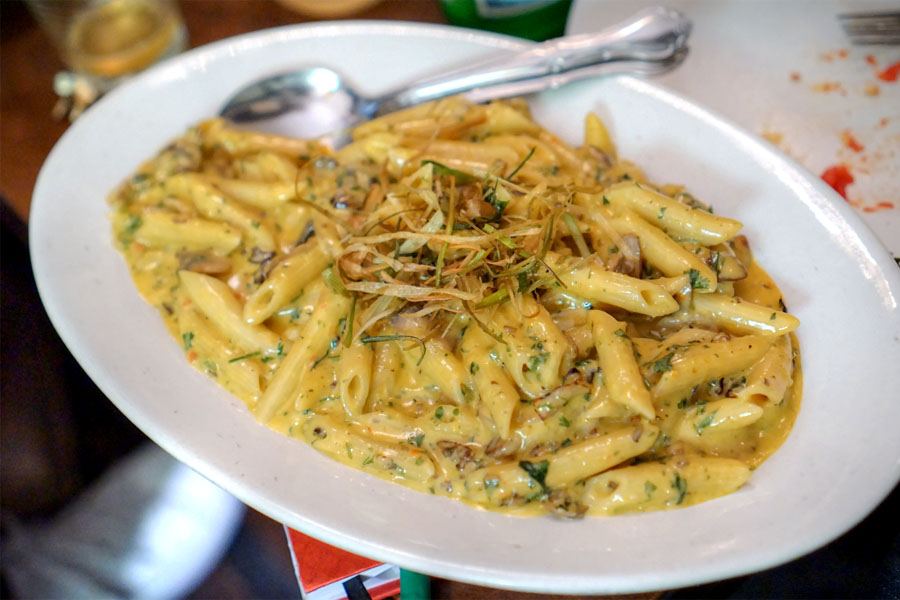 Masa Penne [$15.95]
| Our signature Penne Pasta in a Sundried Tomato Pesto Mushroom Cream Sauce topped with Crispy Leeks
Pasta arrived in a rich, heavy sauce loaded with umami, so I would've liked to have seen some more brightness in the dish to even things out. I also wasn't so keen on the texture and bitterness of those leeks up top either.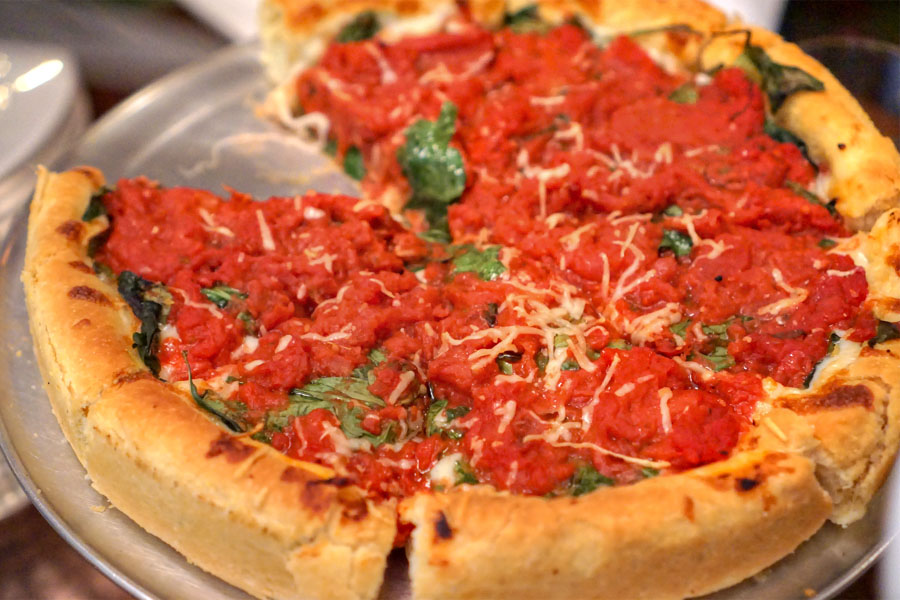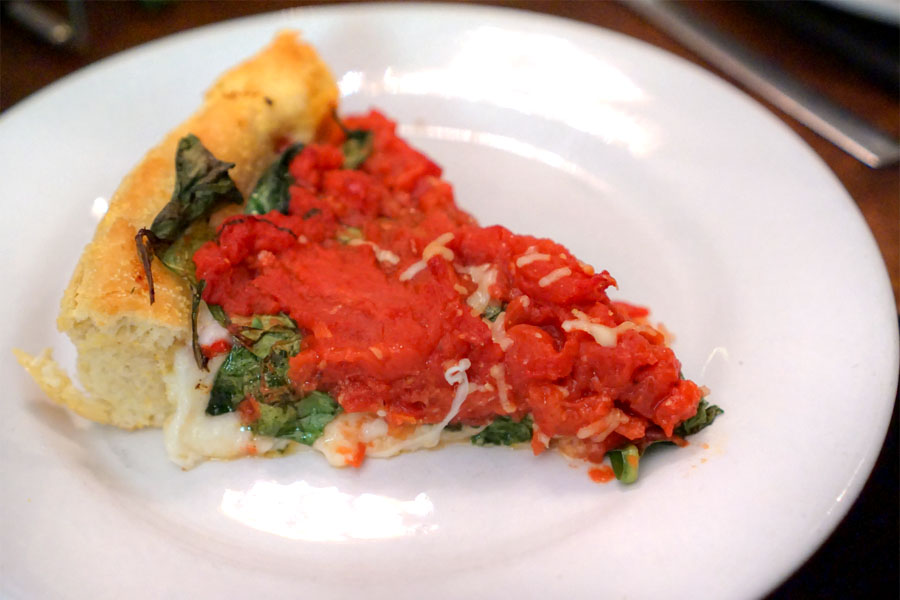 Large California Veggie Deep Dish Pizza [$22.95]
| Whole Leaf Spinach & Sundried Tomato
The veggie version of the deep dish also satisfied. Here, the focus was more on the interaction between the cheese and the tomato, with the spinach providing a fresh, zippy accent to it all.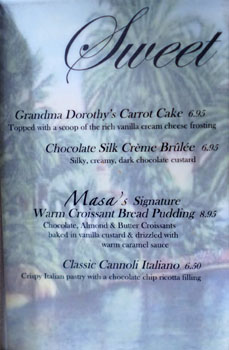 Not surprisingly, we were rather full at this point, but still made room for one dessert. Click for a larger version.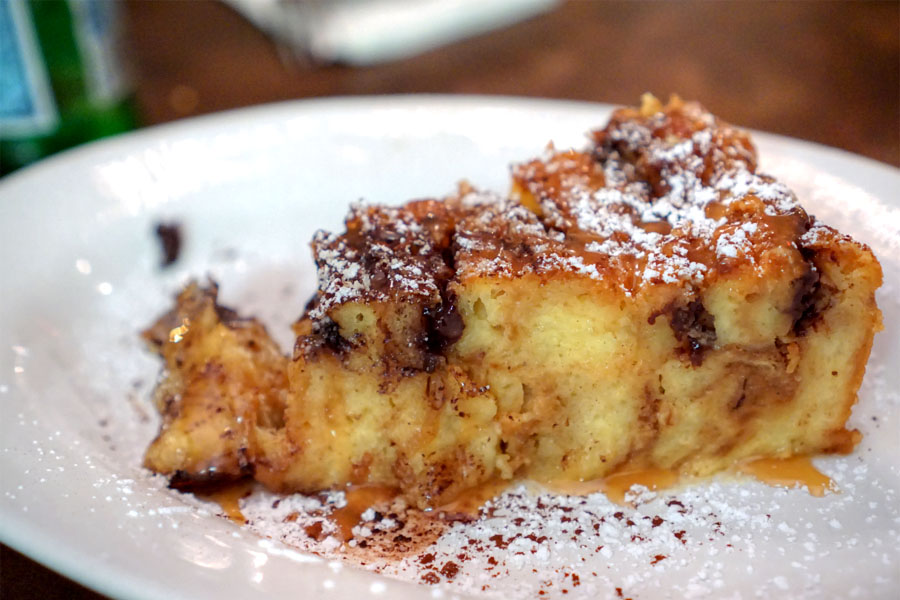 Masa's Signature Warm Croissant Bread Pudding [$8.95]
| Chocolate, Almond & Butter Croissants baked in vanilla custard & drizzled with warm caramel sauce
The bread pudding came out hot and near-gelatinous to the bite, with lots of chocolate paired with some nice dark fruit notes.
Pizza-wise, I will say that Masa pretty much delivered, while the other dishes were generally par for the course. If you're looking for deep dish in LA, this seems like the place to start (well, either here or Hollywood Pies I guess).