Moles La Tia (Los Angeles, CA)
Moles, Tamales y Antojitos La Tía Restaurant
4619 E Cesar E Chavez Ave, Los Angeles, CA 90022
323.263.7842
www.moleslatia.com
Sat 10/01/2016, 02:20p-04:45p

We were in the mood for mole, and thus trekked over to Maravilla's Moles La Tia to get our fix. The restaurant actually has an interesting history, one stretching all the way back to 1949. That's when Magdalena Martinez-Huerta and brother Lauro opened the legendary El Gallo Bakery on an East LA site now occupied by the 710 freeway (the shop later relocated). Their father had run various food service business in Guadalajara, and thus when the siblings immigrated to the US, the
panadería
was a natural fit.
In 1965, Magdalena gave birth to son Jesus Gabriel Huerta, but when he was 12, the family moved back to Mexico and the Bakery was left in the hands of a niece. Jesus returned to Los Angeles in November 1983, and at the start of the following year, took over El Gallo. He also expanded the family business with El Gallo Grill (which closed circa 2005 after a fire, but reopened in December 2011), El Gallo Cafe (shuttered and turned into the El Gallo Plaza event venue), and our very own Moles La Tia.
La Tia debuted in May 2008 with none other than mole
maestra
Rocio Camacho running the kitchen. It was here where the Oaxacan Chef really began making a name for herself, but she ended up leaving in September 2009, only to pop up again in March 2010 at La Huasteca in Lynwood. In October 2011 she struck out on her own with the first Mole de los Dioses in Bell, and the rest is mole history.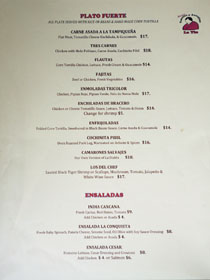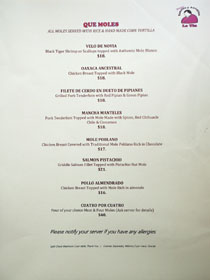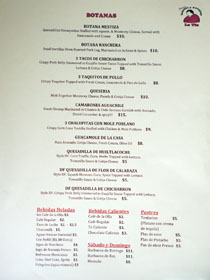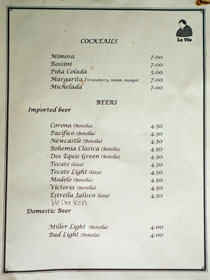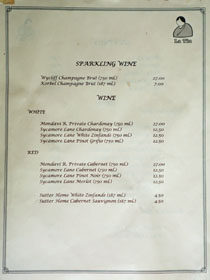 As far as the menu goes, the various preparations of mole are front and center of course (a smaller list than when Camacho was at the helm though), but there's also a good-sized selection of appetizers and mains to round things out. They also do a mean breakfast here, which is apparently served all day. In terms of drinks, the restaurant has a liquor license now, so you get a few commonplace cocktails, the usual suspects when it comes to beer, and wine you probably don't want. Fortunately, beer corkage was a ridiculously reasonable $2.50 per person, so we definitely made sure to make use of that. Click for larger versions.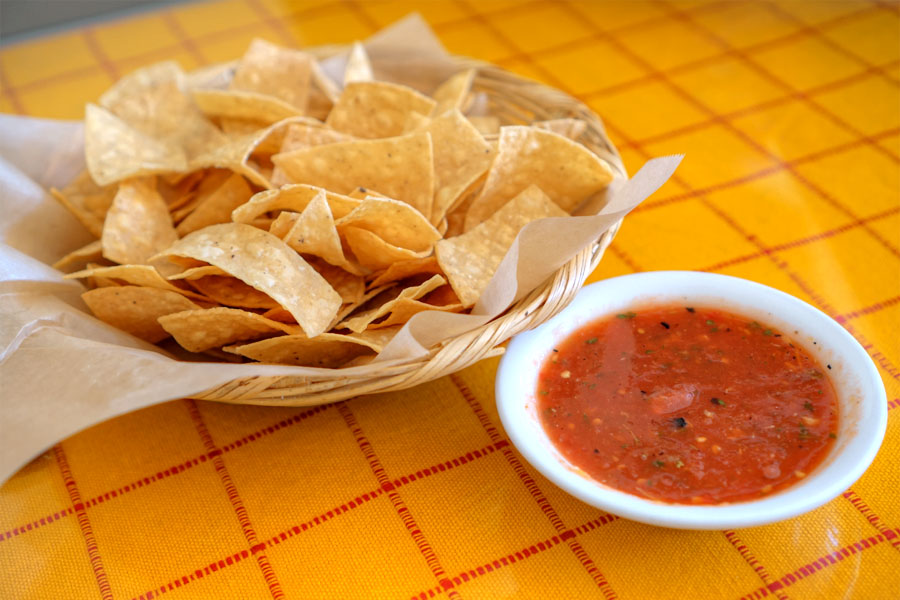 There wasn't anything out of the ordinary with the chips 'n' salsa, but the combination was still as addictive as always. We ended up going through many, many baskets.
Out first beer was the newly-released
2016 Modern Times Mage Hand
, an IPA hopped with Chinook, Simcoe, Mosaic, and Equinox. Smelled of intensely aromatic citrus at first, the hops coming through after some time. I didn't find it as juicy taste-wise though, as dank, bitter, herbal flavors were at the forefront, with only flashes of bright citrus.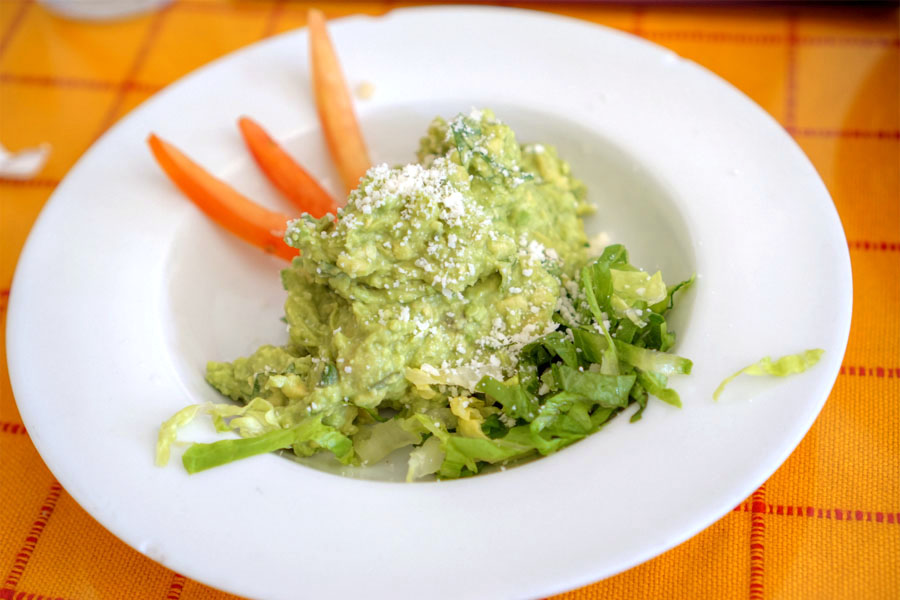 Guacamole de la Casa [$8.00]
| Hass Avocado, Cotija Cheese, Fresh Cream, Olive Oil
The guac was a pretty solid example--creamy with a nice contribution from the cotija--though I would've liked just a touch more acidity.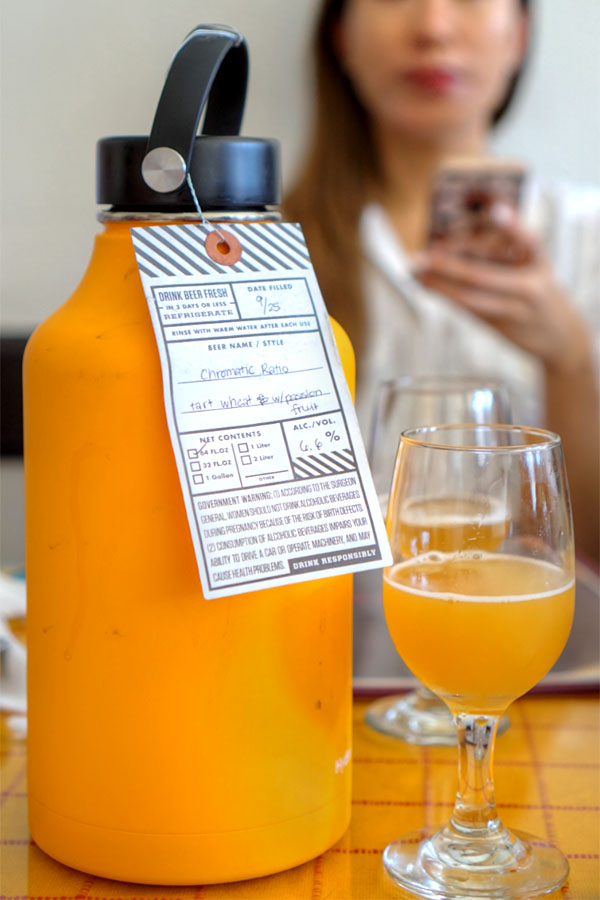 Next was a growler of
2016 Bottle Logic Chromatic Ratio
, a tart Belgian wheat beer with passion fruit. There was a lovely, uber-tropical nose of passion fruit, though not nearly as much of that showed up on the palate, which went generally tart, and quite bitter.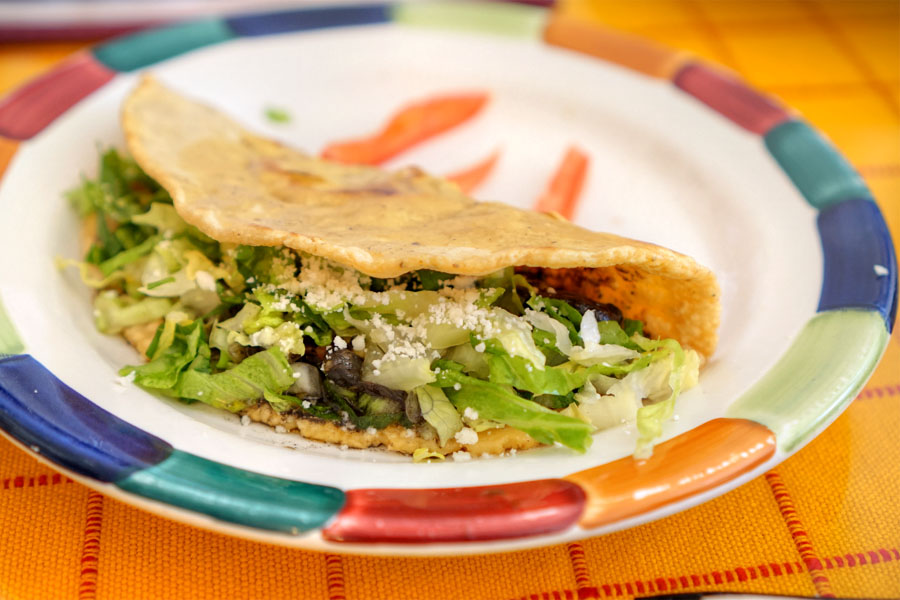 Quesadilla de Huitlacoche [$5.00]
| Style DF, Corn Truffle, Corn, Herbs Topped with Lettuce, Tomatillo Sauce & Cotija Cheese
We were drawn to this central Mexico-style quesadilla since it featured the unfortunately-named corn smut. Said smut showed off the musky, earthy flavors you'd expect though, and made for a nice base for all the other ingredients at play. Tasty.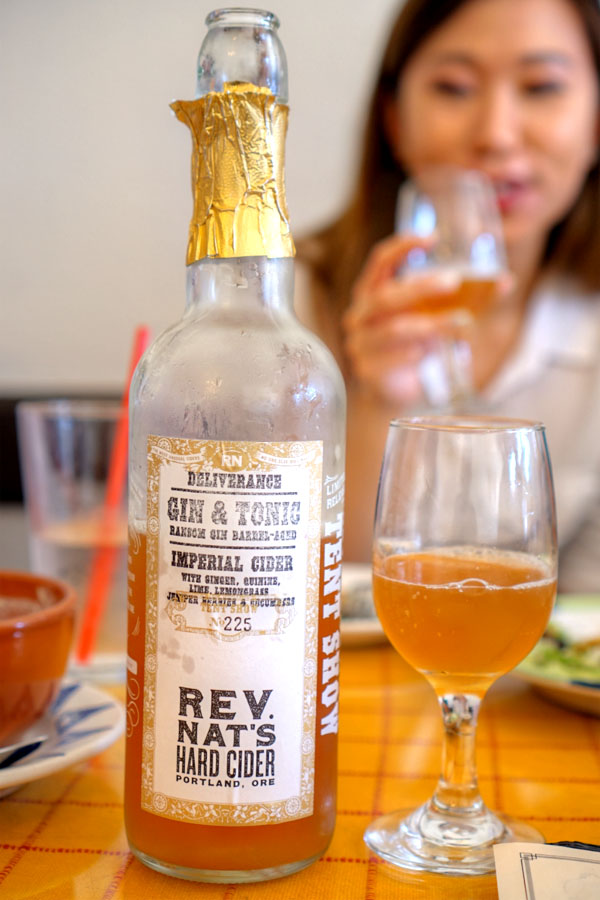 Our sole cider was the
2016 Reverend Nat's Deliverance Gin & Tonic
, a Ransom gin barrel-aged example with ginger, quinine, lime, lemongrass, juniper berries, and cucumbers. Bouquet was super zesty, with strong notes of ginger. In terms of taste, the gin was very well integrated, its botanical nuances meshing well with the piquancy of the other adjuncts while the cider's fruity sweetness was always evident.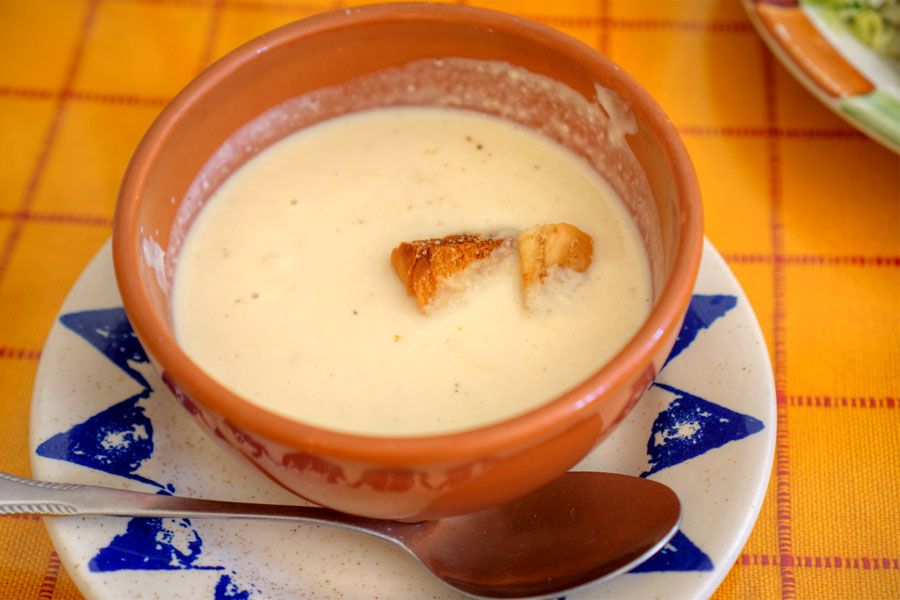 A complementary soup (described by our server as containing garbanzo) was creamy, homey, satisfying, with a bit of a nutty edge.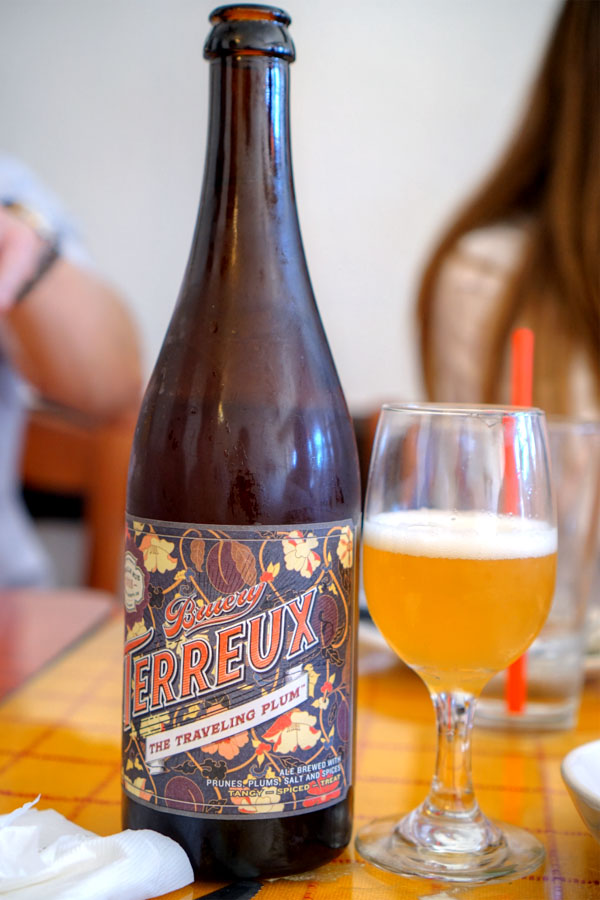 The
2016 Bruery Terreux The Traveling Plum
was a Lacto-soured gose-ish ale with prunes, plums, salt, and five-spice (anise, cloves, cinnamon, pepper, fennel seeds). Inspired by Chinese
li hing mui
(salted dried plums), the beer conveyed a tart nose with a distinct salinity to it. The taste displayed hints of tangy plum (which I felt could've been more apparent) and spice, along with a saltiness that only intensified toward the finish.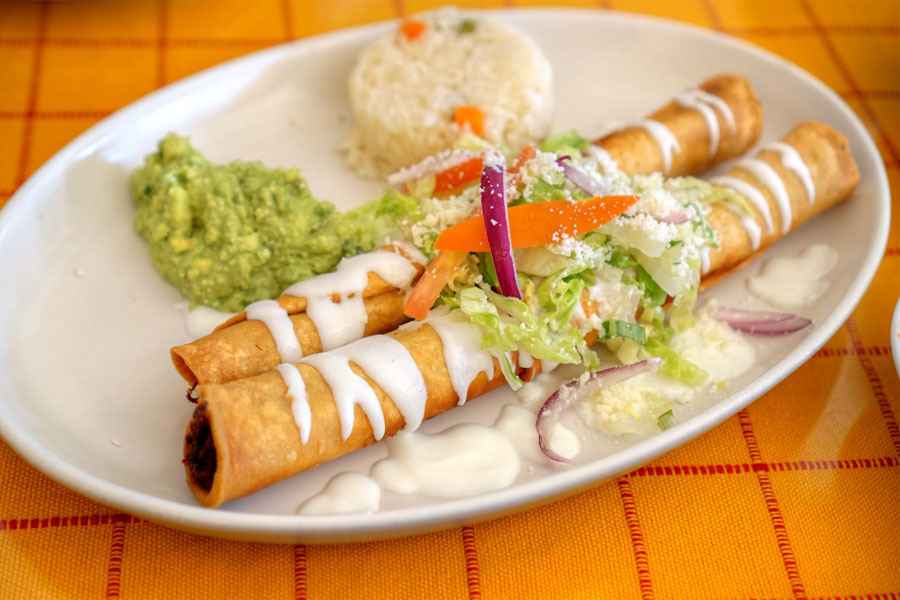 Flautas [$14.00]
| Corn Tortilla, Chicken, Lettuce, Fresh Cream & Guacamole
The flautas were the lengthiest I've seen, staying true to their namesake I suppose. They ate crunchy and classic, the chicken melding well with the brightness of its various accompaniments.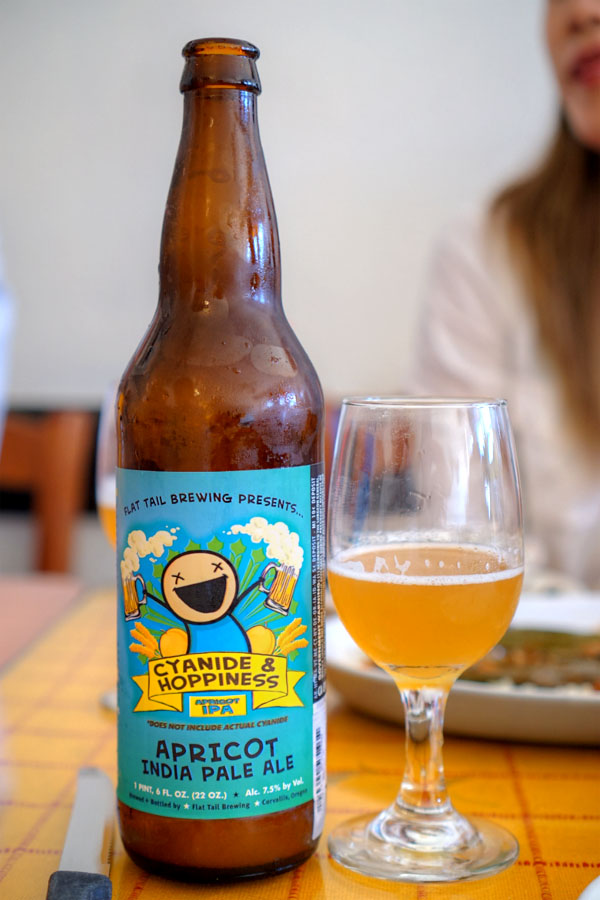 A collaboration with web comic
Cyanide and Happiness
, our second IPA was the
2016 Flat Tail Cyanide & Hoppiness
, hopped with Mosaic and Simcoe, with apricots added. Nose had the expected hoppiness, but with stone fruit peeking through. The palate was typically bitter, and didn't have much apricot, though I did find a malty sort of sweetness underlying.
Cochinita Pibil [$16.00]
| Oven Roasted Pork Leg, Marinated on Achiote & Spices
The
puerco pibil
was a favorite of ours. The meat arrived super tender, super juicy, with a penetrating spice and savor that lingered long. Excellent when taken with the tart pickled onions and the included handmade tortillas.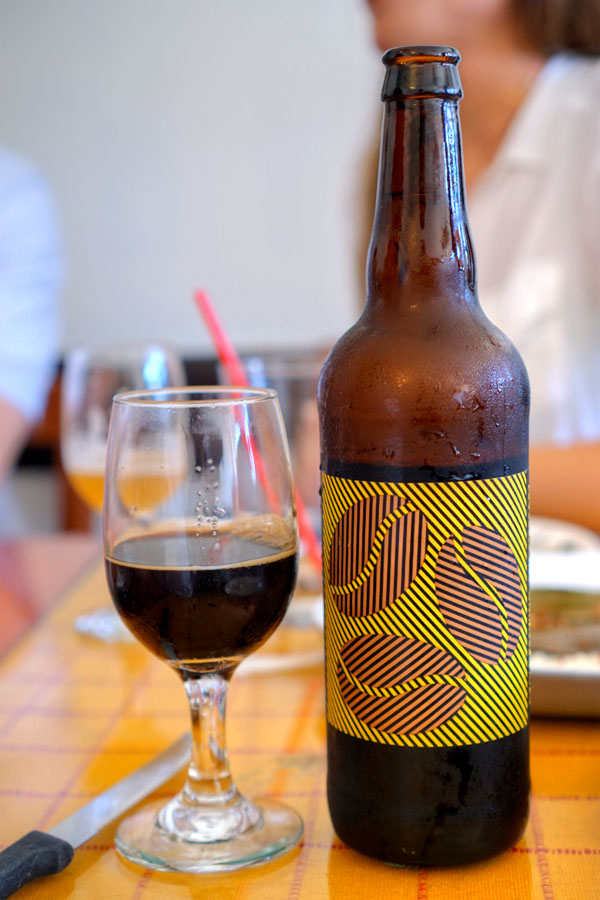 Our first barrel-aged imperial stout was the
2016 Cycle 3rd Anniversary BA Ethiopia Yirgacheffe
, featuring coffee from Mostra. This one smelled of chocolate intertwined with dark fruit, while the taste brought more of the same, along with malt and a tart, bitter quality. I will say that the coffee character was more subdued than I expected.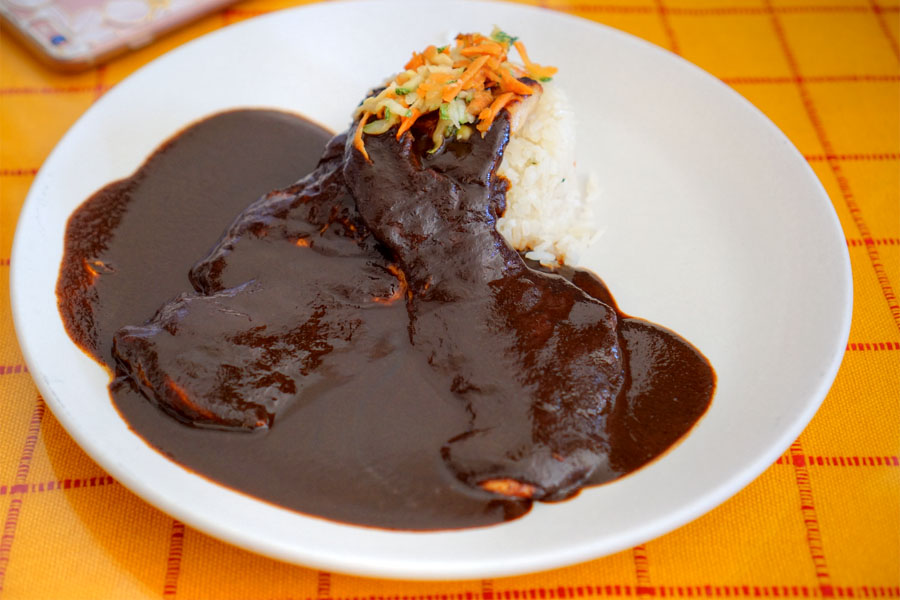 Oaxaca Ancestral [$18.00]
| Chicken Breast Topped with Black Mole
We got into the moles at this point, starting with Oaxaca's mole negro. It was a thick, viscous sauce, multifaceted of course, a marriage of spice, sweetness, smoke, and earth that shined over the comparative mildness of the chicken.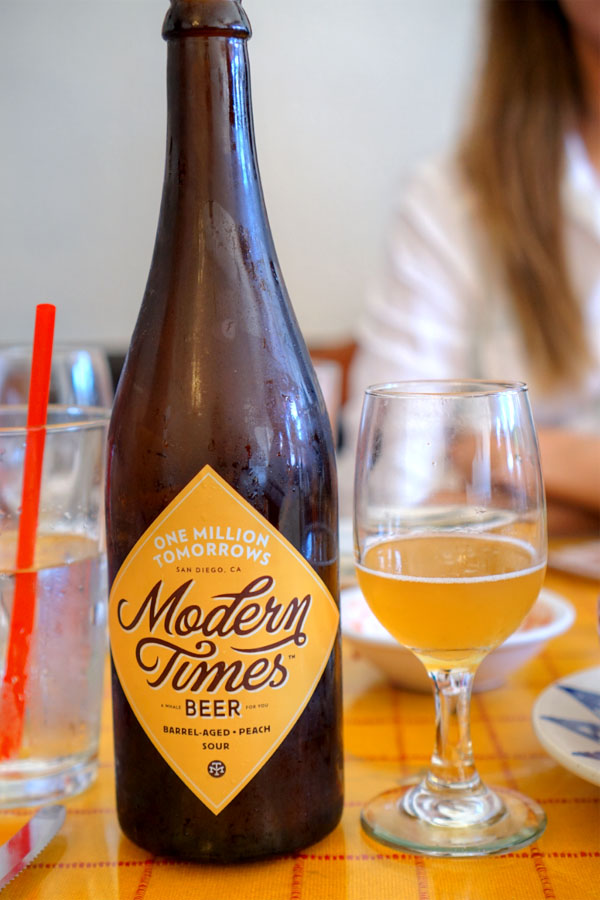 The
2016 Modern Times One Million Tomorrows
was a white wine barrel-aged sour saison with peach that had a bouquet rife with funk and stone fruit. On the palate, I found it strongly tart and acidic, with peach skin notes set over a marked Bretty quality.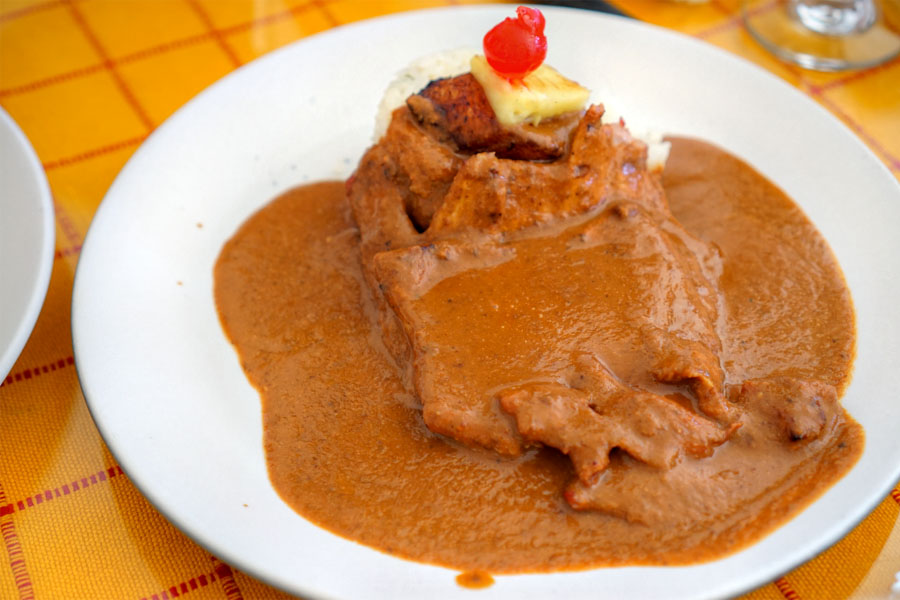 Mancha Manteles [$18.00]
| Pork Tenderloin Topped with Mole Made with Spices, Red Chilhuacle Chile & Cinnamon
Next was the curiously-named "tablecloth stainer" mole, probably the most polarizing of the bunch. I got loads of nuttiness and smoke, with an intense sweet-spice component from the cinnamon coming in and out. As for the pork itself, it was actually quite tender, though also clearly outshone by the mole.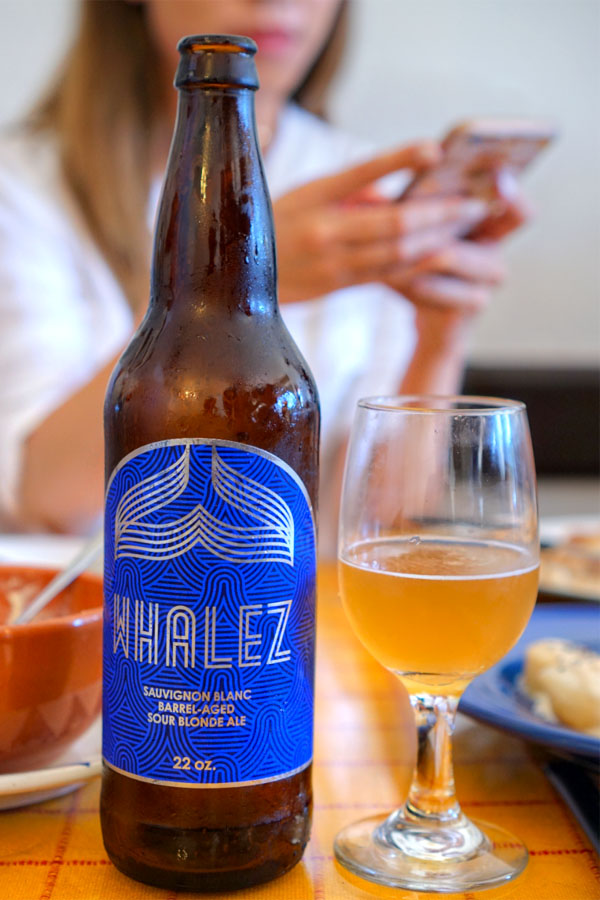 Here we have a Sauvignon Blanc barrel-aged sour blonde, the
2016 Orange Belt Whalez
, which also happens to be the first bottling from the operation, a side project of Cycle Brewing. I got tons of funk and yeast on the nose, while the taste brought more of that barnyard, but with lots of Sauv Blanc character in there as well. A good first effort.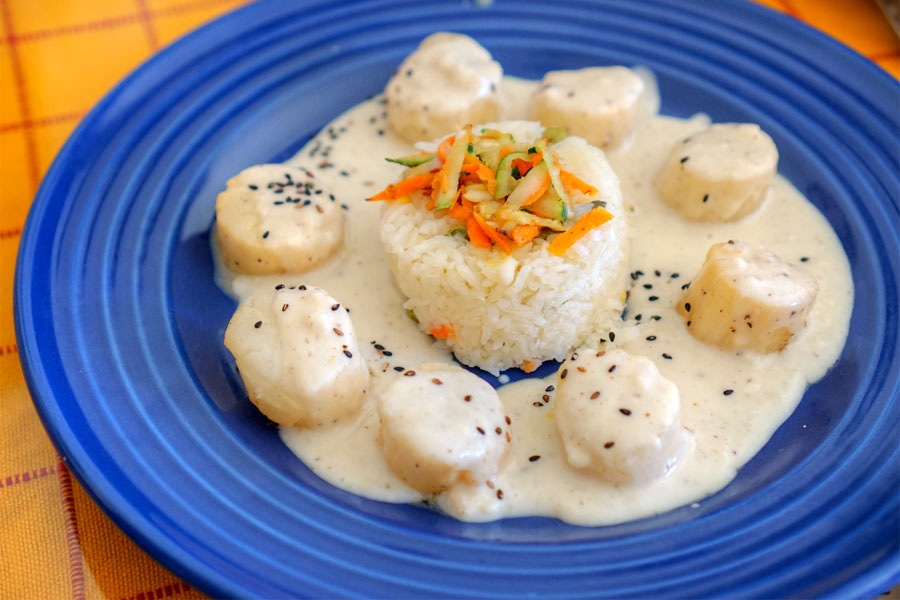 Velo de Novia [$18.00]
| Scallops Topped with Authentic Mole Blanco
Scallops arrived soft to the bite, with a palpable brine component that actually went surprisingly well with the sweet, fruity, somewhat nutty nature of the white mole (which I believe contained white chocolate, white wine, and nuts).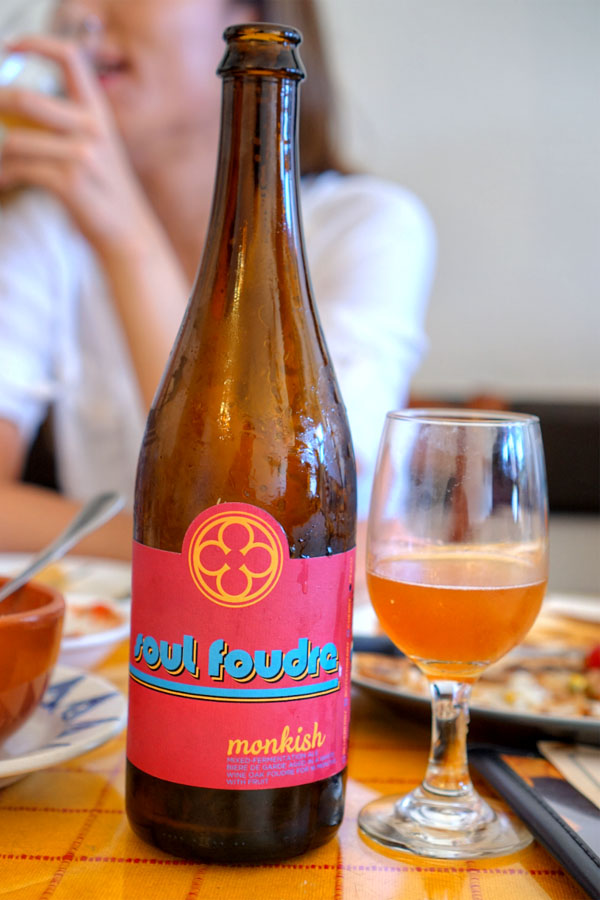 Our next stone fruit beer was the
2016 Monkish Soul Foudre with Peach
, a mixed-fermentation biere de garde aged in oak for 16 months, then aged a few more months in wine barrels with peach. I got aromas teeming with yeast and rich, fragrant fruit, while the flavor profile was similarly potent, bringing sweet spice and peach, with a tart backing.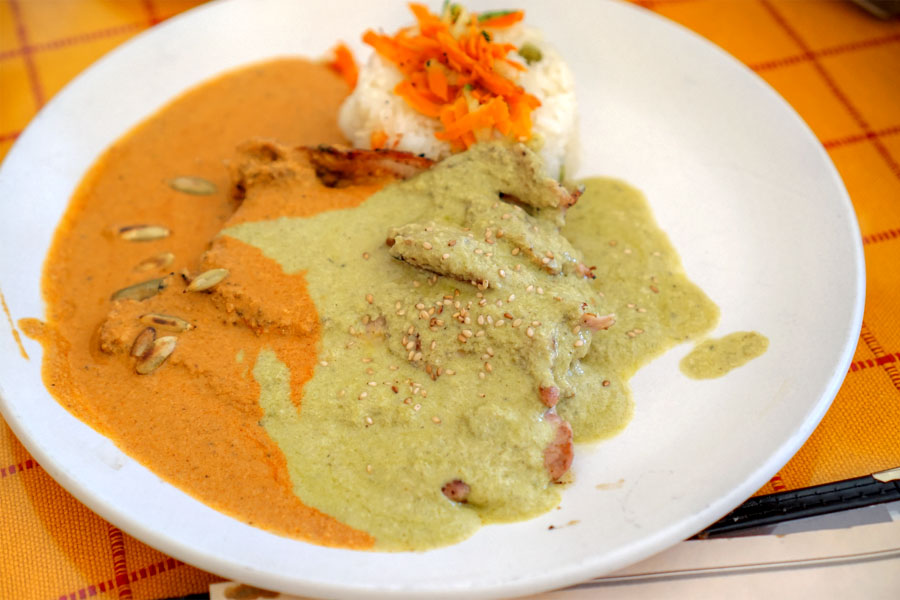 Filete de Cerdo en Dueto de Pipianes [$18.00]
| Grilled Pork Tenderloin with Red Pipian & Green Pipian
The duo of
pipianes
was another winner. The green version of the sauce tasted utterly bright, almost vegetal, with a spiciness and nuttiness throughout. On the other hand, the
rojo
had a deeper, smokier, more in-your-face spice, and even stronger nutty notes from the squash and sesame seeds. Both made absolute sense when taken with the pork.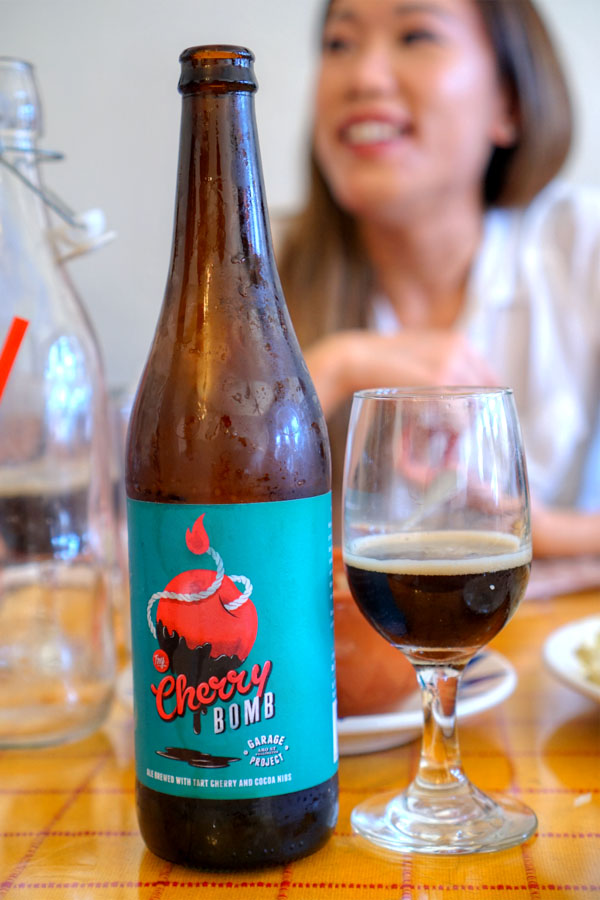 Here was the
Garage Project Cherry Bomb
, an imperial porter with cocoa nibs and tart cherry. Nose was decidedly tart, but chocolate-y. The taste went malty, with again a contribution from the cacao, but while I did get a tanginess throughout, it was hard to actually identify any cherry.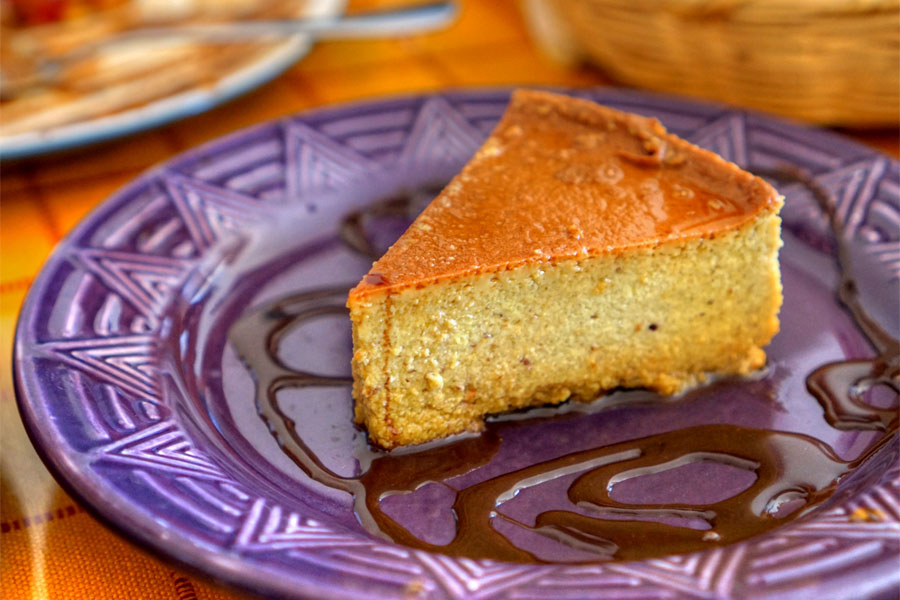 Flan de Pistacho [$5.00]
For dessert we opted for two preparations of flan. The first featured pistachio, and thus conveyed the nutty qualities you'd expect along with the creamy sweetness of the custard.
Our final beverage was the
2016 Modern Times Monsters' Park Aged in Rye Barrels with NOLA-Style Coffee
, an imperial stout with coffee, chicory, vanilla, and almond added. Not surprisingly given the adjuncts, the nose was filled with warm, sweet spice. The taste showcased only a fraction of that fragrance though, but instead had a solid malty, roasty base leading to a boozy, barrel-y finish.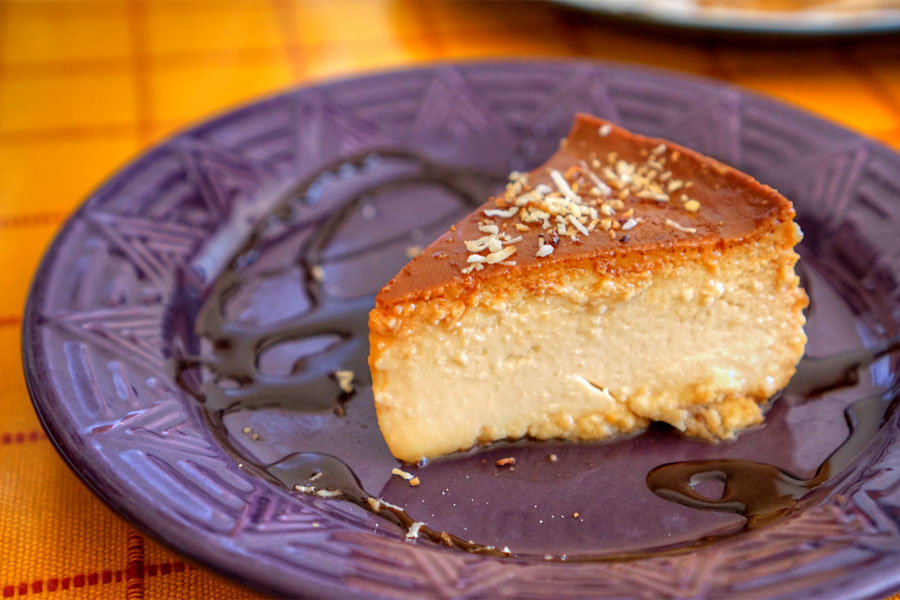 Flan de Coco [$5.00]
The final flan was also rather tasty, the coconut here being even more well-integrated into the dessert.
Despite Rocio Camacho's departure, Moles La Tia seems to be holding up quite well. The moles themselves hit the spot certainly, while the rest of the plates delivered to boot. Combined with the super reasonable corkage policy and friendly service, it all makes for a delightful dining experience that I'm already thinking of repeating.