Ballast Point (Long Beach, CA)
Ballast Point Tasting Room & Kitchen
110 N Marina Dr, Long Beach, CA 90803
562.296.4470
www.ballastpoint.com
Tue 08/16/2016, 07:40p-09:55p

If you recall, last November
Ballast Point
sold to Constellation Brands for a cool billion dollars. It looks like they're using that cash to expand their footprint, as evinced by the opening of the brewery's latest outpost on June 30th, situated at Long Beach's Alamitos Bay Landing. I'd actually been wanting to visit for a while, but numerous reports of ridiculous lines and general chaos at the place kept me away until now. And interestingly, I found out that the kitchen is run by Executive Sous Chef Carlo Guardado, who was formerly CdC over at
Playground
and also spent time at
Farmshop
with Josh Drew.


Ballast Point resides in the former home of Khoury's, which shuttered in the middle of 2015 (the place served me some of the worst food I'd ever had at a restaurant, so no loss there). The building has been dramatically remodeled, and is now an open, airy, massive space that accommodates a reported 670 patrons. There's a main dining room with the main bar, along with an outdoor patio area, with its own bar, as well as an entire upper deck area (not pictured), also with its own bar.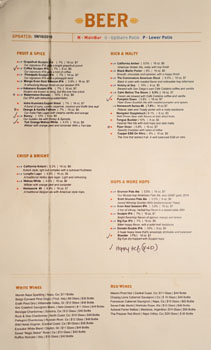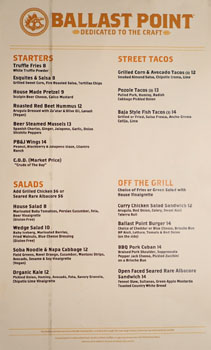 The main draw here is the beer, and the selection's semi-decent, with about 30 or so options comprising the brewery's core line-up as well a few more uncommon brews (sadly, not a sour or barrel-aged beer in sight though). Everything's available in four-ounce taster portions, which is nice, though do note that not all beers are available at each of the three bars. There's also a small wine list, if that's more your style. As for the food, you get a compact menu of your usual pubby dishes divvied up into sections for starters, salads, and mains. Click for larger versions.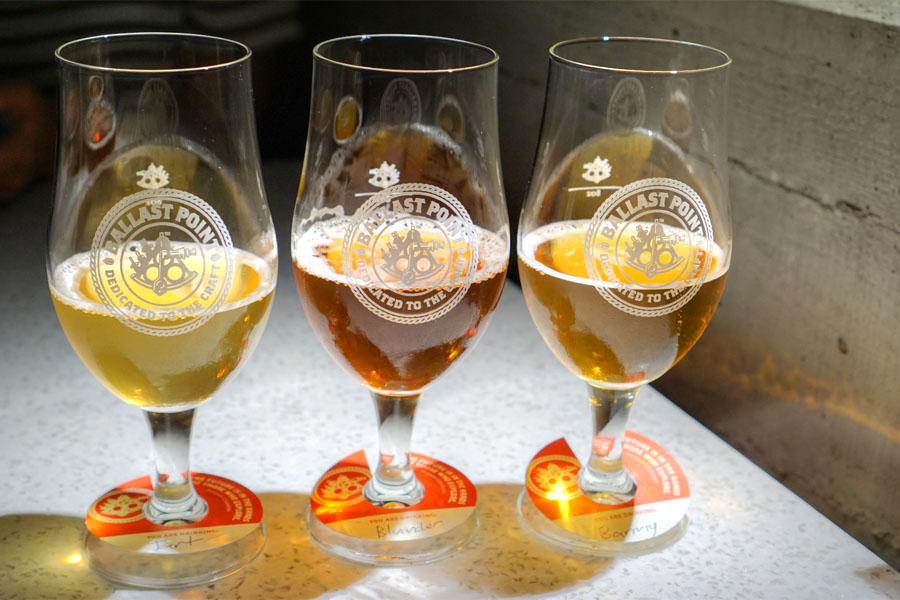 Tart Orange Wahoo White | Witbier with orange peel and coriander with a tart bite - A juicy, almost candied nose of orange. Taste was spicy, bright, a bit hoppy, with a somewhat artificial citrusy finish.
Blunder | Big Eye dry-hopped with Sculpin hops - Lovely nose with aromatic hops abound; possibly the best smelling beer of the night. On the palate: bitter, piney, with a delightful hit of sweet fruit on the back end.
Barmy | Our Golden Ale with honey & apricots - Not much in terms of bouquet, but the taste had plenty of fruit at first, leading to a tempering bitterness and some grainy notes.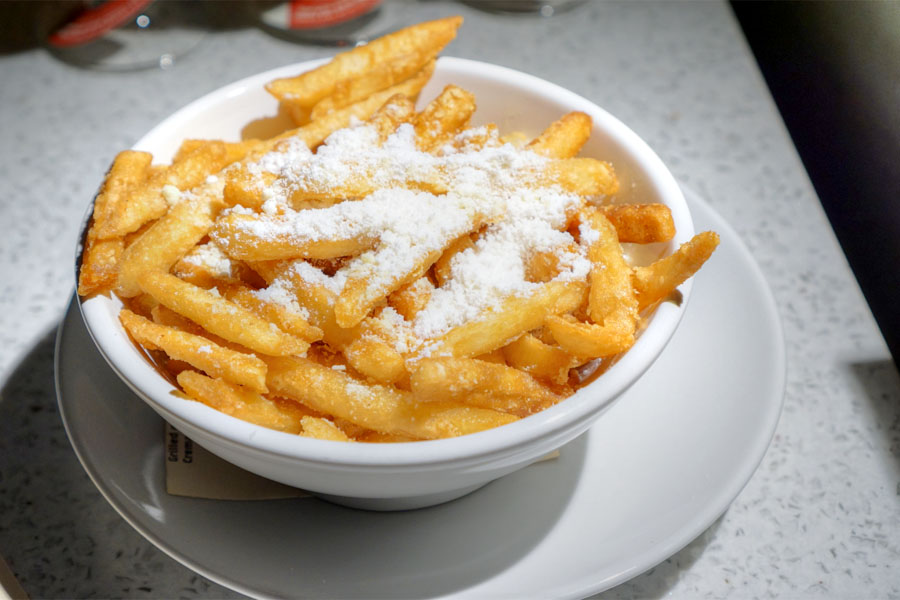 Truffle Fries [$8.00]
| White Truffle Powder
I was fond of the extra crispy texture on the fries, though I wasn't as keen on the sort of odd textural element from the truffle powder. The taste was fine, but I think good ol' truffle oil would've worked better here, despite how detested it is in culinary circles.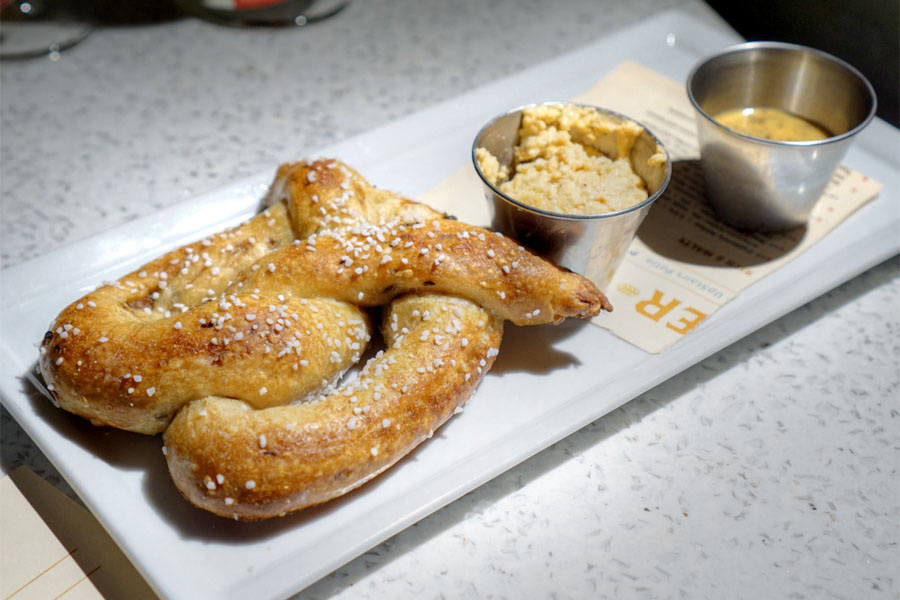 House Made Pretzel [$9.00]
| Sculpin Beer Cheese, Calico Mustard
The pretzel was on point taste-wise, though I wish it could've been served warmer/softer. Better with a dab in the cheese sauce or mustard.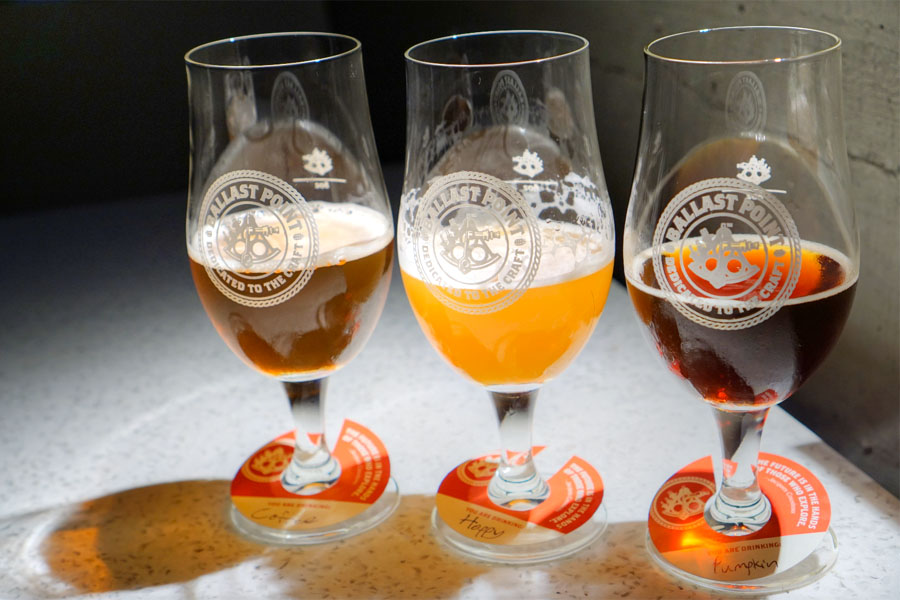 Coffee Sculpin IPA | Our signature IPA gets a hint of coffee - None of us really got much coffee at all, so when they said "hint" of coffee, they really meant it.
Hoppy Hef (R&D) - A light, semi-fruity hefeweizen with a hoppy, bitter bite, basically.
Pumpkin Down | Piper Down Scottish Ale with roasted pumpkin and spices - On both the nose and palate, I got plenty of malt, caramel, and sweet, pumpkin-y spice, so the beer was definitely as advertised.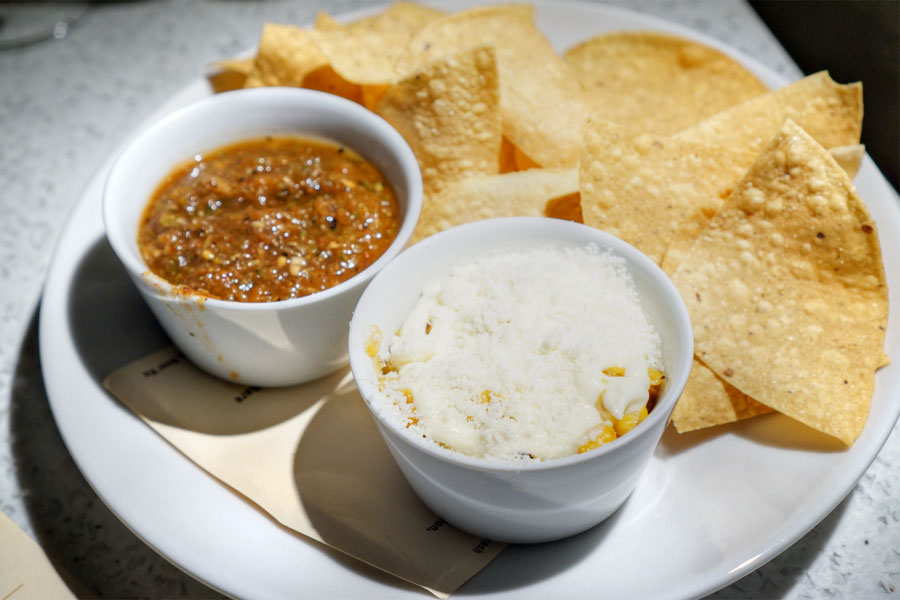 Esquites & Salsa [$8.00]
| Grilled Sweet Corn, Fire Roasted Salsa, Tortillas Chips
Esquites
were classic, a sweet, creamy preparation that actually worked well when taken alongside the smoky salsa.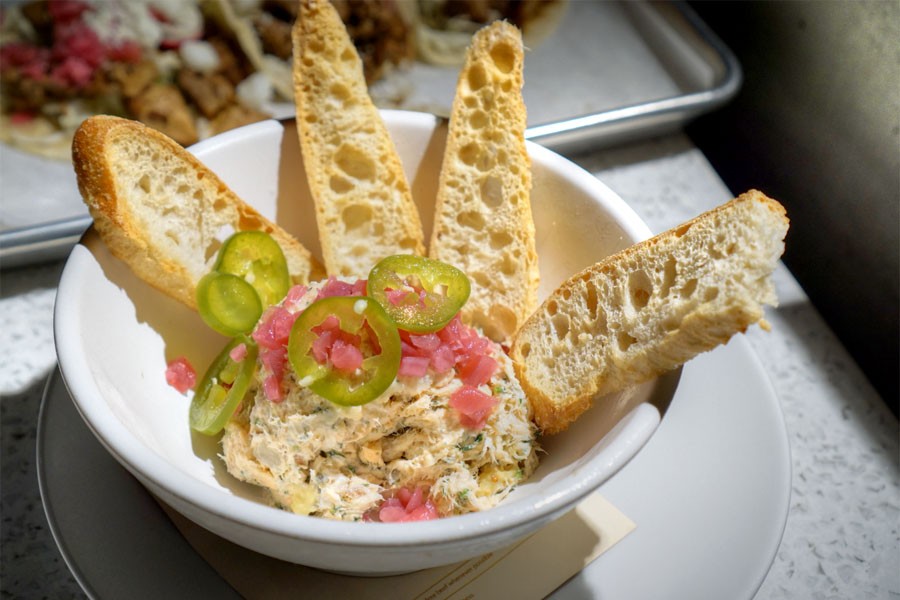 C.O.D. [$16.00]
| "Crudo of The Day"
The bartender I ordered this from couldn't really tell me what it was, only mumbling something about "salmon" and "bread" being involved. What we received looked more like a tuna salad, so I can only assume that they're playing fast and loose with the definition of "crudo." It wasn't too bad though, with the fish arriving creamy and smoky, brightened by the pickled onion while the peppers added a lingering heat to the dish.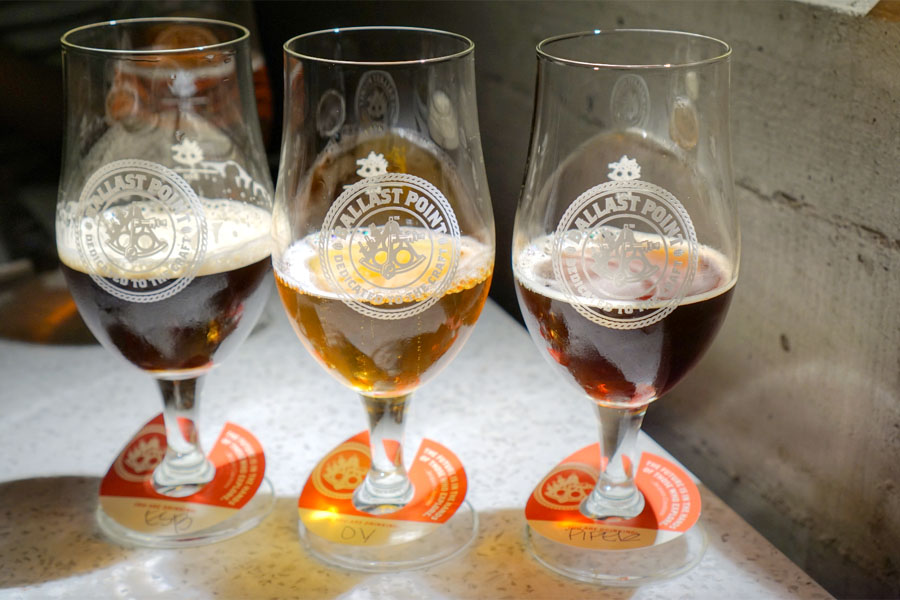 Copper ESB on Nitro | The One that started it all. A well balanced ESB on nitro - Dark fruit and coffee dominated the nose. The taste went lighter, and definitely smooth, with more bitter and roasty flavors going on.
Orange & Vanilla Fathom | Our India Pale Lager with creamy vanilla and orange - Creamsicle for sure, with a bit of bitterness peeking through for balance.
Piper Down | Sweetly complex with notes of toffee - Nutty and malty and roasty as expected, with subtle hops and a slight caramel-y sweetness.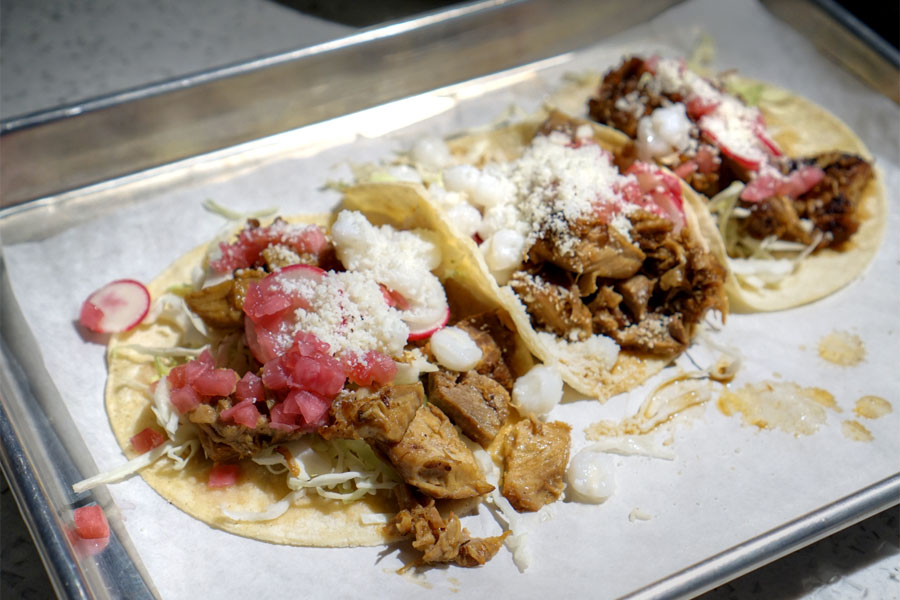 Pozole Tacos (3) [$13.00]
| Pulled Pork, Hominy, Radish, Cabbage Pickled Onion
I'm quite the fan of pozole, so this was a must-order. The pork itself was tasty enough, though lacking in the depth and spice one typically finds in the stew. I did appreciate the texture on the hominy, as well as the bitterness from the radish.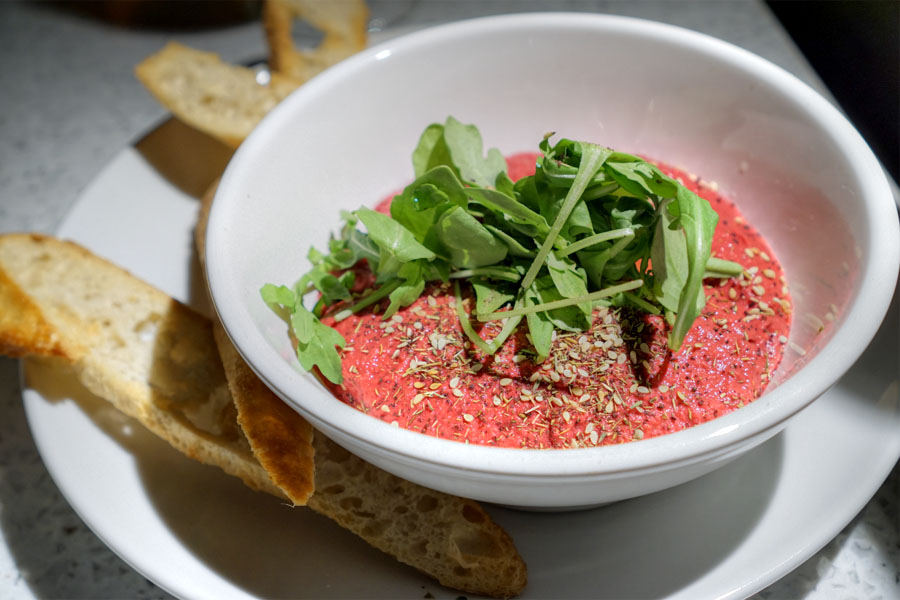 Roasted Red Beet Hummus [$12.00]
| Arugula Dressed with Za'atar & Olive Oil, Lavash (Vegan)
The beet hummus certainly wasn't shy about the beet, though I would've liked the hummus part to have shone through more. Lovely zestiness from the arugula for some contrast.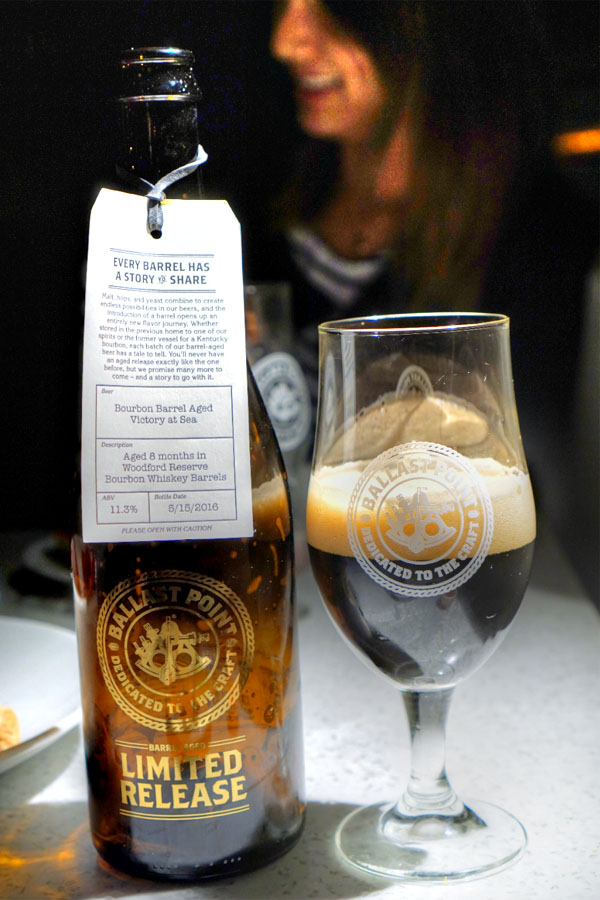 Last to drink was the
2016 Ballast Point Woodford Reserve Barrel Aged Victory at Sea
, aged eight months in bourbon barrels. Nose was chocolate and cocoa powder mixed with dark fruit and slight hops, while the taste brought more chocolate, roast, spice, and tartness, with a boozy heat underneath.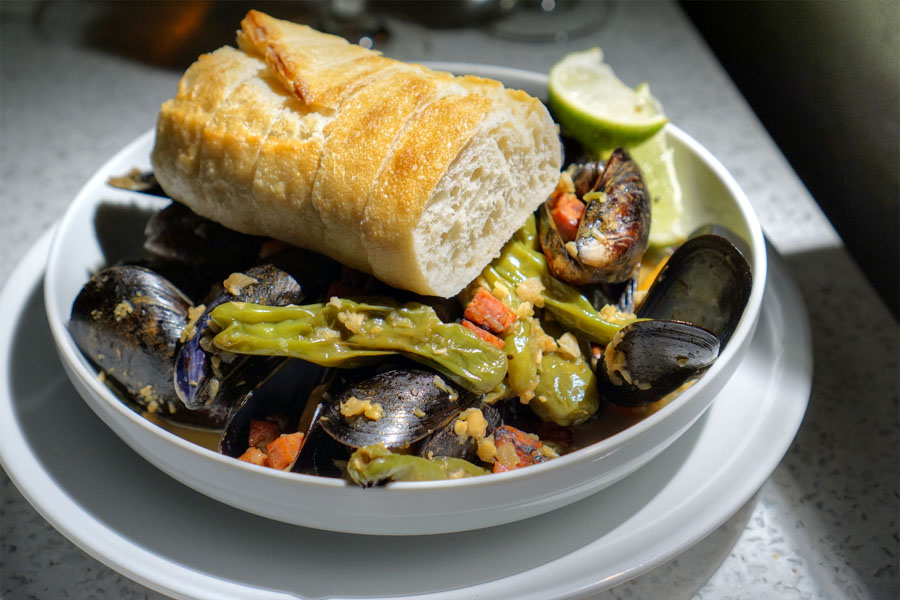 Beer Steamed Mussels [$13.00]
| Spanish Chorizo, Ginger, Jalapeno, Garlic, Onion, Shishito Peppers
Mussels made for arguably the strongest dish of the night, largely thanks to the rich, meaty, spicy heft of the chorizo.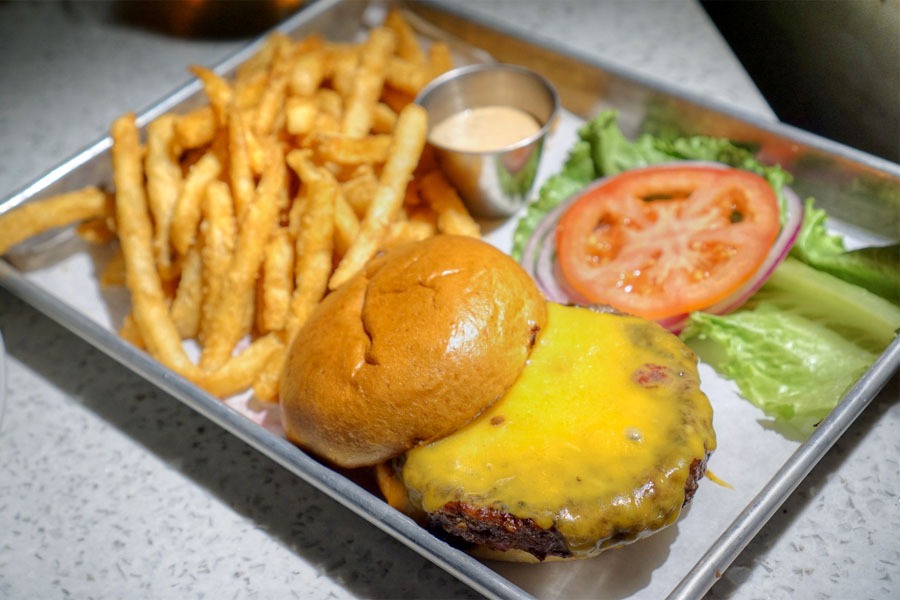 Ballast Point Burger [$14.00]
| Choice of Cheddar or Blue Cheese, Brioche Bun, BP Aioli, Lettuce, Tomato & Red Onion (on the side)
The burger largely met the mark, an old school prep with your classic interplay of meat-cheese-veggies. And again, nice texture on those fries.
I think there's some room for improvement here. The food was serviceable given the concept they're going for, but could've used some tweaking, and it'd be nice to have a little more exciting of a tap list. On top of that, the service model needs an overhaul. They don't really have servers, so you're forced to order at the bar. Now, the bar handles both food and drink orders (which works for small places like
Highland Park/Hermosillo
, but for one with several hundred customers?), so the operation's massively inefficient, probably understaffed (the employees that were there looked to be trying to do the best they could, to their credit), and results in
a lot of waiting around
. It's not management's fault that the place is busy, but it is their fault for failing to implement a system and hire enough staff to effectively manage the crowds. In the end, the overall experience was just a bit of an ordeal, unfortunately.