Belle Belle's Cue (Los Angeles, CA)
Belle Belle's Cue BBQ Restaurant
701 W Cesar E Chavez Ave, Los Angeles, CA 90012
323.897.9227
www.bellebellescue.com
Sat 05/06/2017, 02:40p-04:25p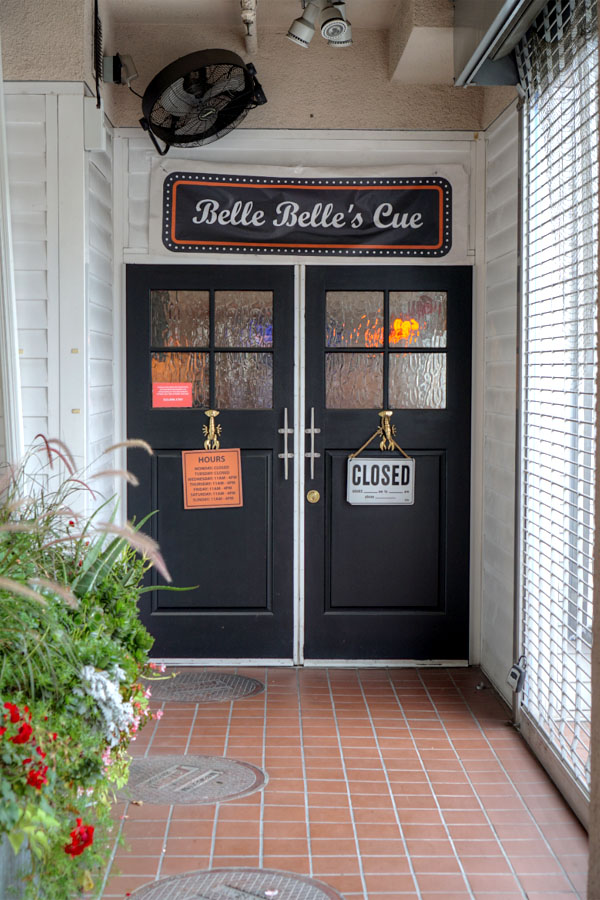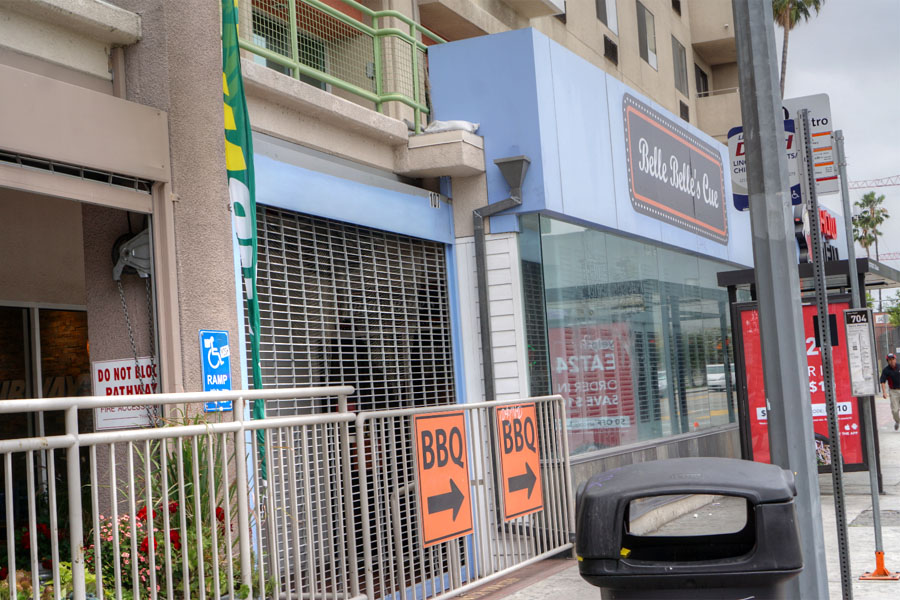 Justin Mi's Belle Belle's Cue is one of the newer openings to hit Chinatown in recent times. Named after Mi's 4-year-old daughter Isabelle, the place opened on January 13th serving Texas-style BBQ in the old home of
Lobsta Shack
, which shuttered near the end of 2016. Mi was actually the owner of Lobsta Shack as well, but apparently he'd always wanted to have a barbecue restaurant. Thus, he delved heavily into BBQ last year, and even traveled to Texas for research, eating his way through all the top spots before starting work on Belle Belle's.

Inside, not too much has changed since the Lobsta Shack days, which isn't surprising given the quick turnaround. I will say that there are some more rustic touches, though.

The menu's simple: a few types of meat, a couple sandwiches, sides. To drink, you get soft drinks, generic wine, and beers both draft and bottled.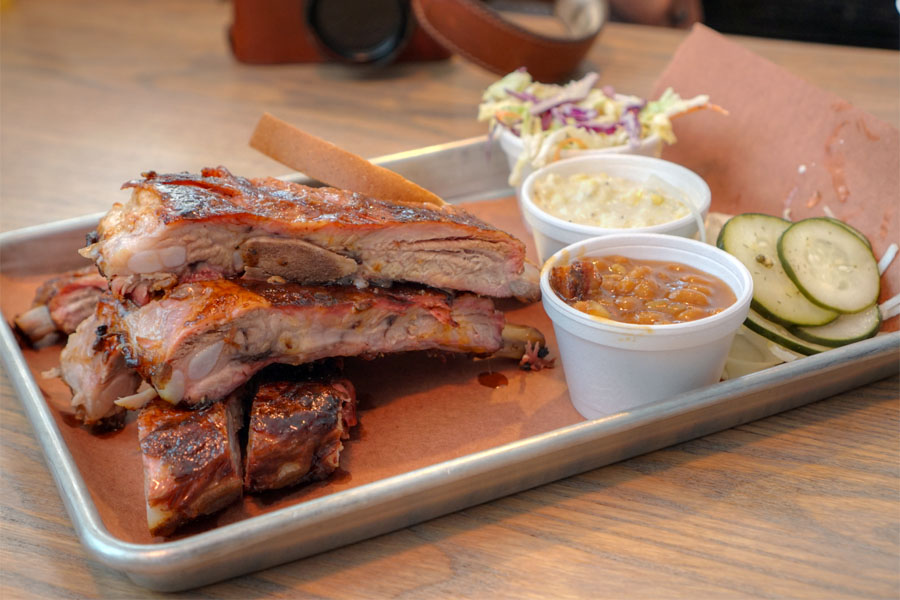 All You Can Eat Spare Ribs [$10.00]
Unbeknownst to us, the restaurant was running a $10 all-you-can-eat ribs and sides promotion on this particular day, which was a damn good deal. The ribs came out tender, fatty, tearing cleanly off the bone while still offering up a substantial bite. There was a subtle sweetness to the pork, though I would've liked a tad more smoke character. I will say that our second batch of ribs didn't turn out quite so well, as they didn't seem to spend enough time cooking.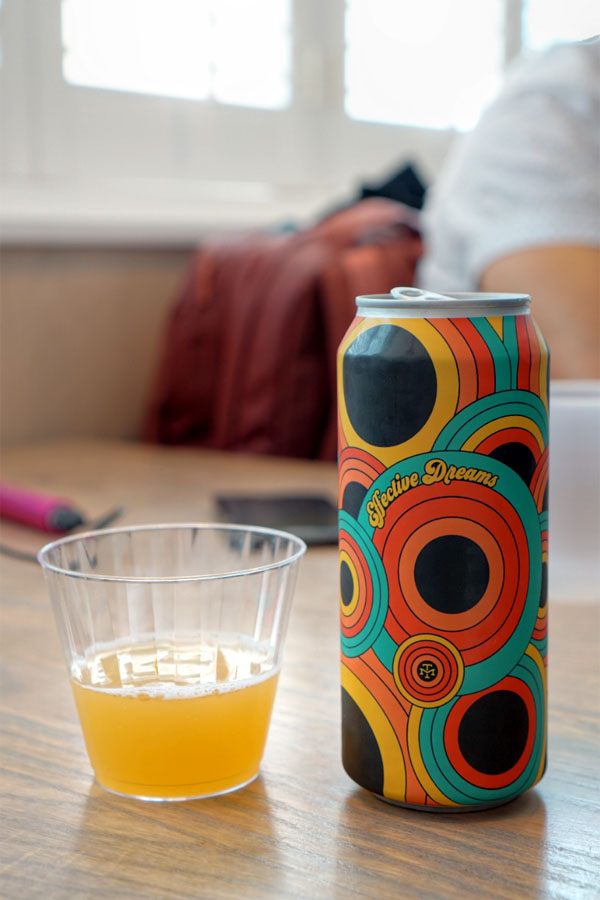 We had a large party today, and ended up going through a good number of beers. Up first was the
2017 Modern Times Effective Dreams
, a "hazy" IPA hopped with Citra, Mosaic, Southern Passion, and Experimental 9326, created in collaboration with Portland's Great Notion Brewing. Huge, juicy grapefruit aromas in your face, combined with a smidge of bitterness. On the palate I got a bitter bite initially, which then led to sweet, tropical citrus lasting long on the finish. Very refreshing, and very likely the best IPA that I've had from Modern Times so far.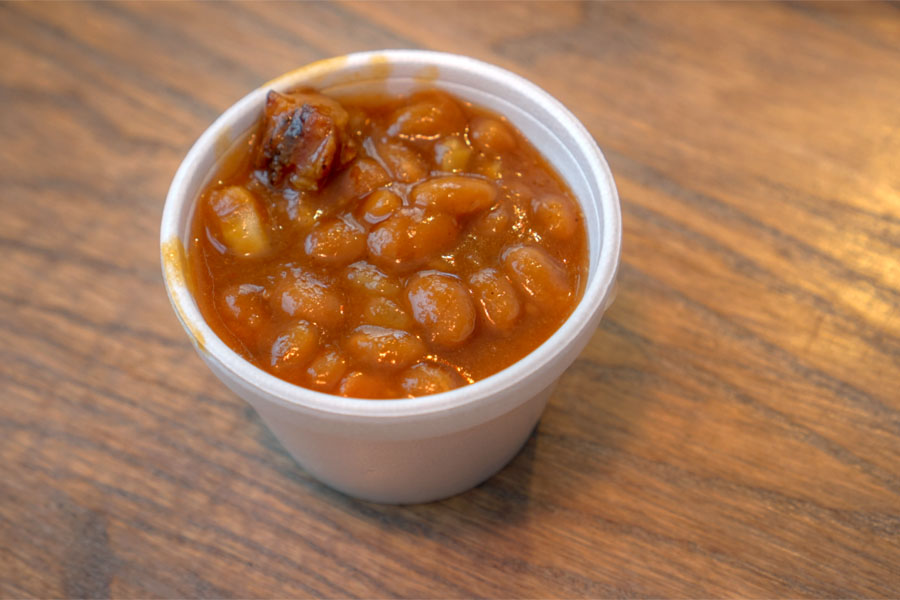 Baked Beans
I often find baked beans overly sweet, and that was the case here. Actually, these were even sweeter than most, coming across as almost cloying. I definitely wanted some acidity or more salt to balance things out.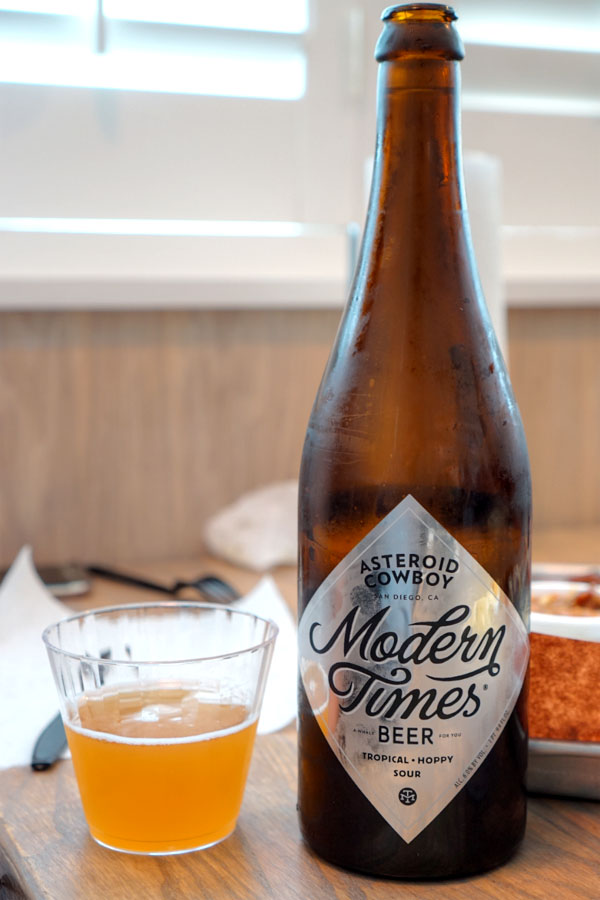 The
2017 Modern Times Asteroid Cowboy
was a kettle-soured ale hopped with Mosaic, Citra, and Horizon, fermented with 100% Brett, then dry-hopped again with the same hops. I really liked this one as well. The nose was bitter at first blush, but also brimming with a mix of sweet, juicy, and floral nuances. The taste went sour initially, with the hops coming in on the mid-palate before the finish brought big notes of grapefruit.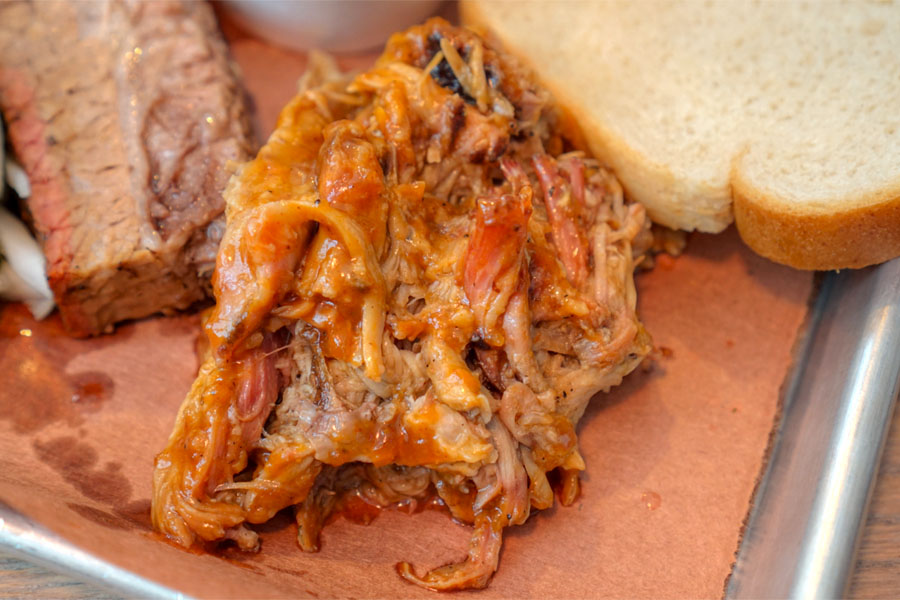 Pulled Pork (½ lb) [$10.00]
Pork shoulder arrived supple and fatty, dressed with a sweet-tart sauce. I found it tasty, though I would've preferred a touch less sauce in order to let the actual pork shine more. Fortunately, the included pickles and onions provided a much-appreciated crunch and acidity that helped offset the meat.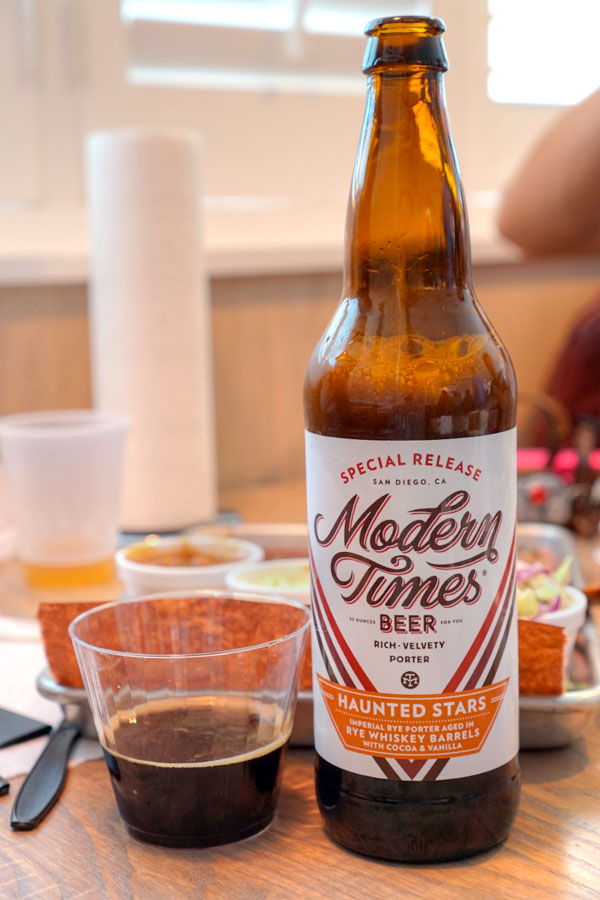 Here we had an imperial porter, the
2017 Modern Times Haunted Stars Aged in Rye Whiskey Barrels with Cocoa & Vanilla
. Aromas of rich chocolate and vanilla--very nice. Taste-wise, I got more smooth, creamy chocolate, but commingled with rye spice and booziness, with fragrant vanilla layered on top.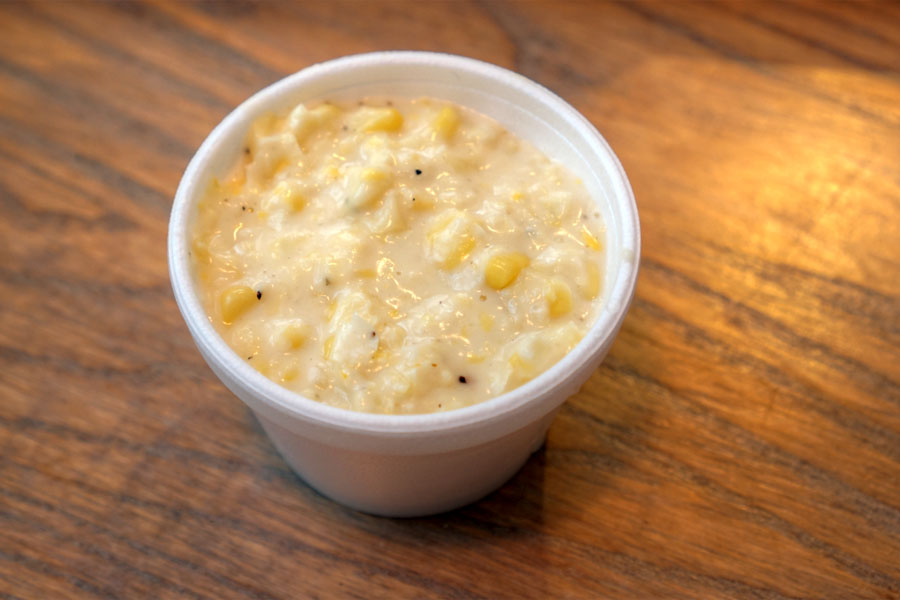 Creamed Corn
The creamed corn was certainly as creamy as advertised, but again, I wanted less overt sweetness and more salt.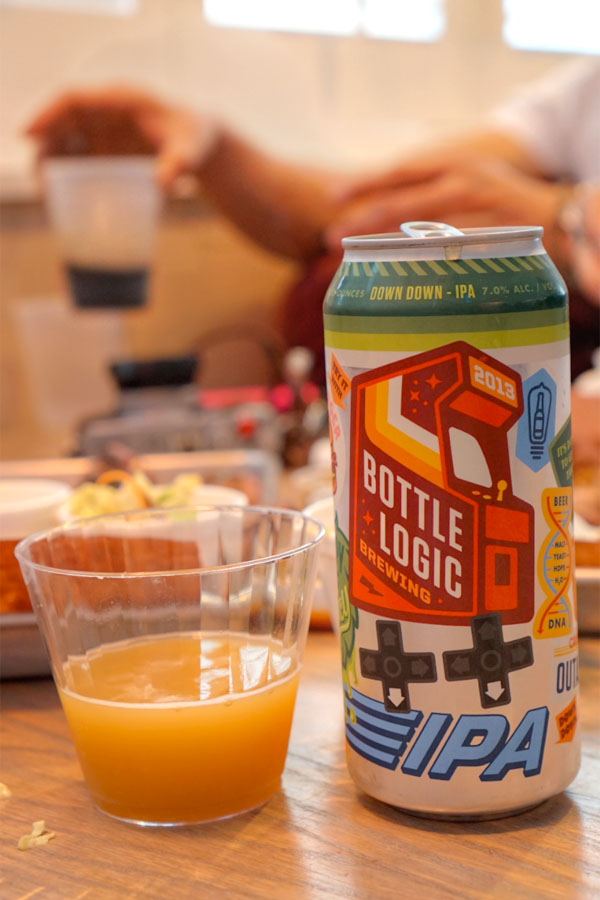 Here we had another attempt at a "hazy" IPA, the
2017 Bottle Logic Down Down
, this one hopped with Citra, Galaxy and Nelson Sauvin. The nose was quite nice, a combination of bitter-piney and tropical sweetness. On the palate, the beer drank thick, viscous, and had a hop-forward flavor profile with hints of juicy citrus and tropical notes peeking through.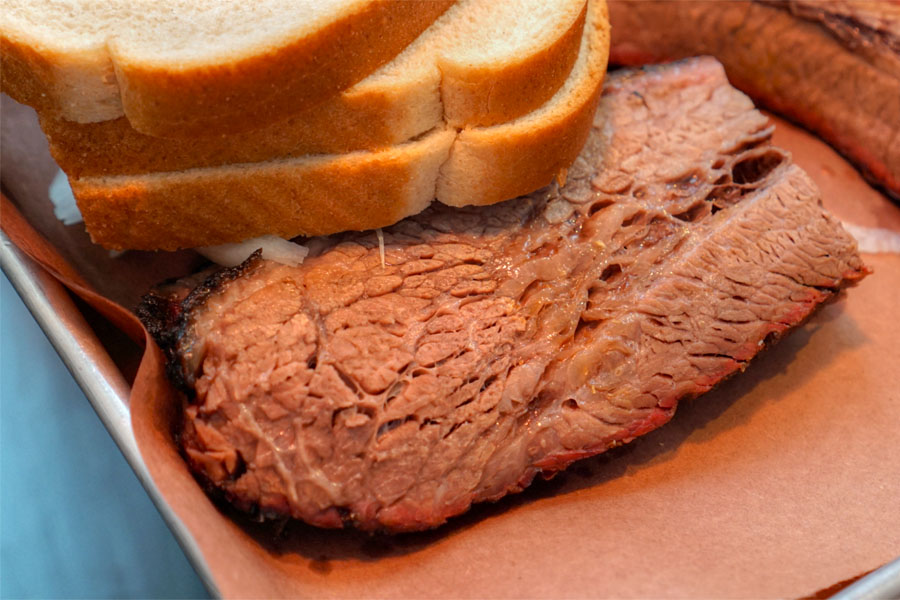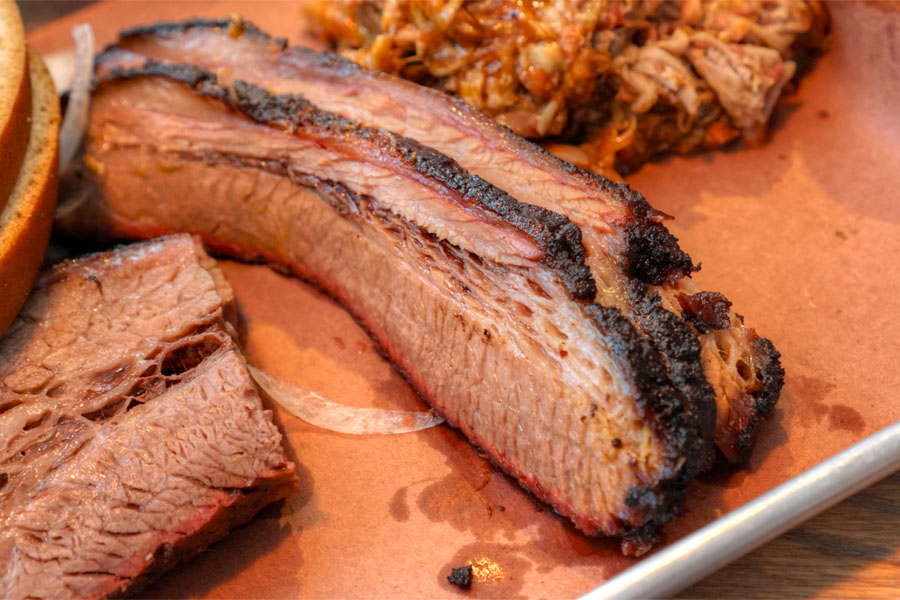 Brisket (½ lb) [$12.00]
Brisket's my preferred BBQ meat in general, and once again it was my favorite. We requested two cuts. On top was the "point," which arrived moist, fatty, soft, with a great salt-n-pepper seasoning on the bark. The leaner "flat" portion was a bit chewier, a bit drier as expected, but was still very enjoyable and well-seasoned, with a nice amount of smoke. If you're only getting one meat, make it brisket.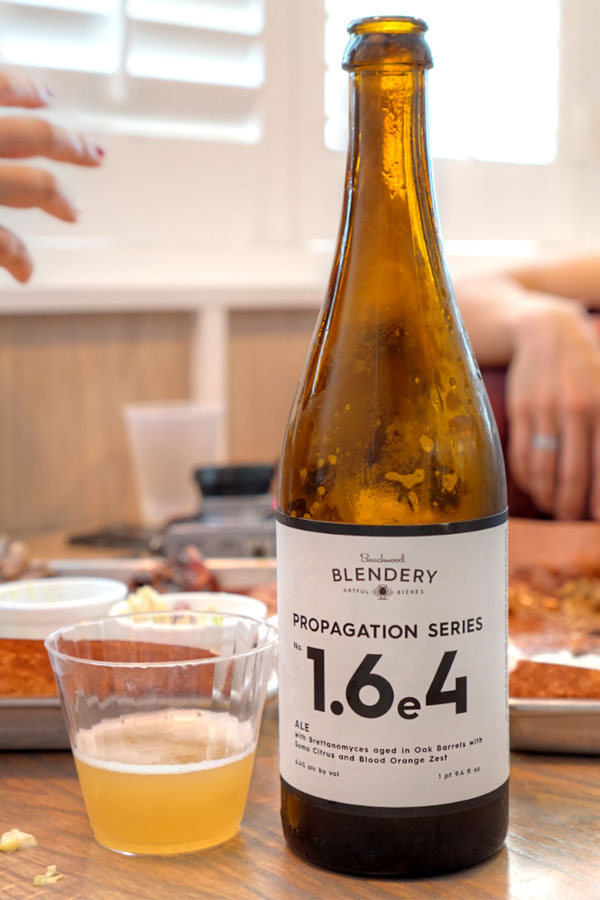 Next to imbibe was the
2016 Beachwood Blendery Propagation Series: No. 1.6e4
, a saison brewed with
Saccharomyces
, then aged in French oak with Brett, Sumo Citrus, and blood orange zest. Smelled of light, refreshing, juicy citrus fruit. The taste definitely showed off an orange-ish character combined with a nice tartness and yeastiness.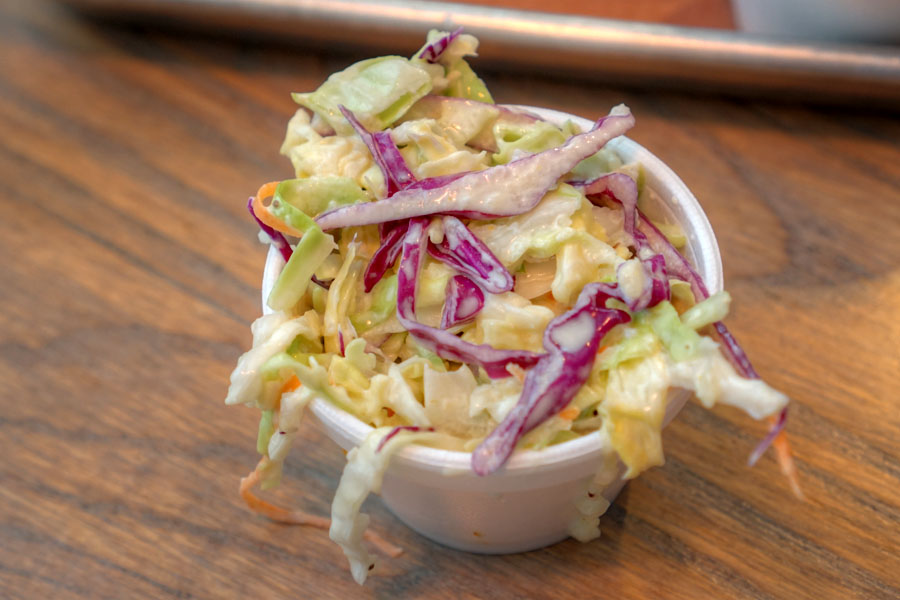 Pineapple Slaw
I enjoyed the coleslaw, which I found crisp and bitter, with a welcomed tanginess to it. Humorously, a few of us commented that this was almost "KFC-like," but not as creamy.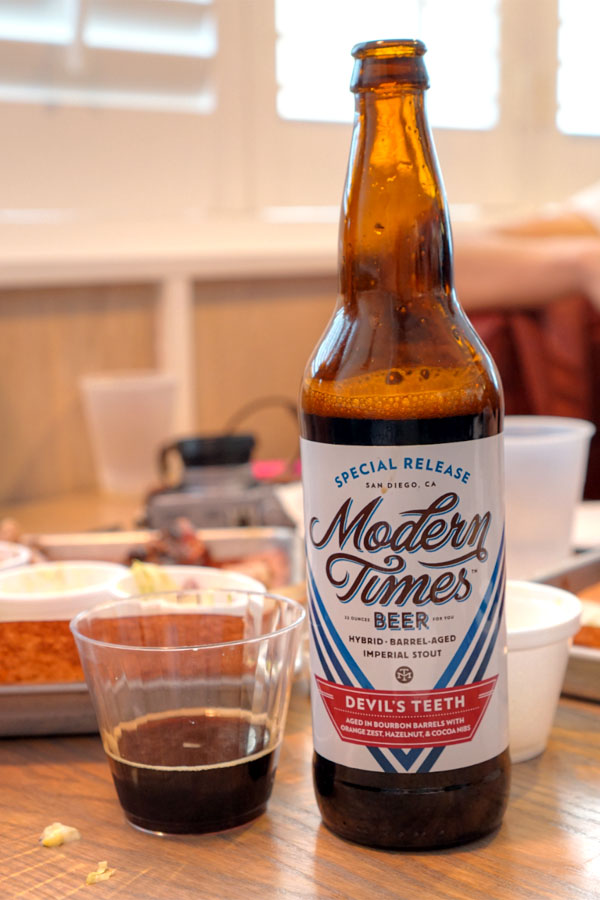 Here was an old ale-imperial stout hybrid, the
2016 Modern Times Devil's Teeth Aged in Bourbon Barrels with Orange Zest, Hazelnut & Cocoa Nibs
. The beer smelled strongly of chocolate and orange, recalling those similarly-flavored confections. The taste offered up a similar flavor profile, but with the addition of roast, oak, and a nutty component.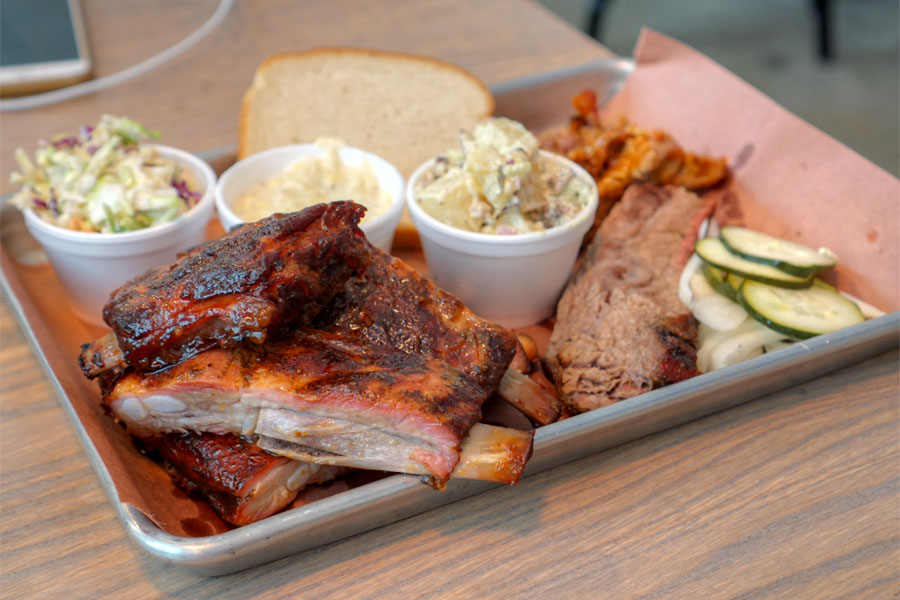 Some of my dining companions opted to get the AYCE ribs, but with additional small servings of brisket and pulled pork--probably a smart thing to do.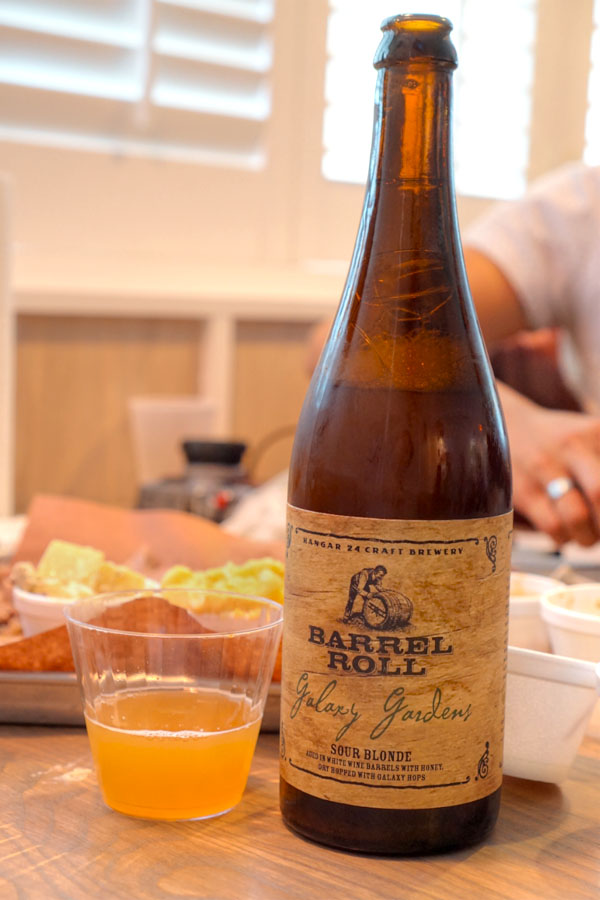 The
2016 Hangar 24 Barrel Roll: Galaxy Gardens
was a sour blonde aged in white wine barrels, refermented with orange blossom honey, then dry-hopped with Galaxy. I really enjoyed the sweet, fruity, almost candied aromas of the beer. The taste, meanwhile, started off sour, but then gave us more tropical, honeyed notes, with a distinct lychee-like character. A very pleasant surprise.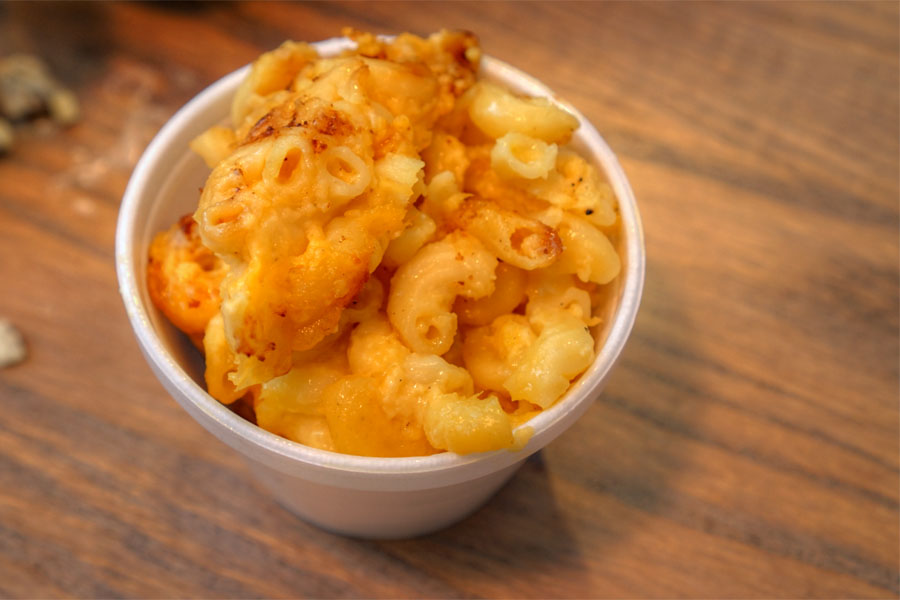 Baked Mac + Cheese [$3.00]
The macaroni and cheese had sort of a nostalgic taste to it, with a nice crust to boot.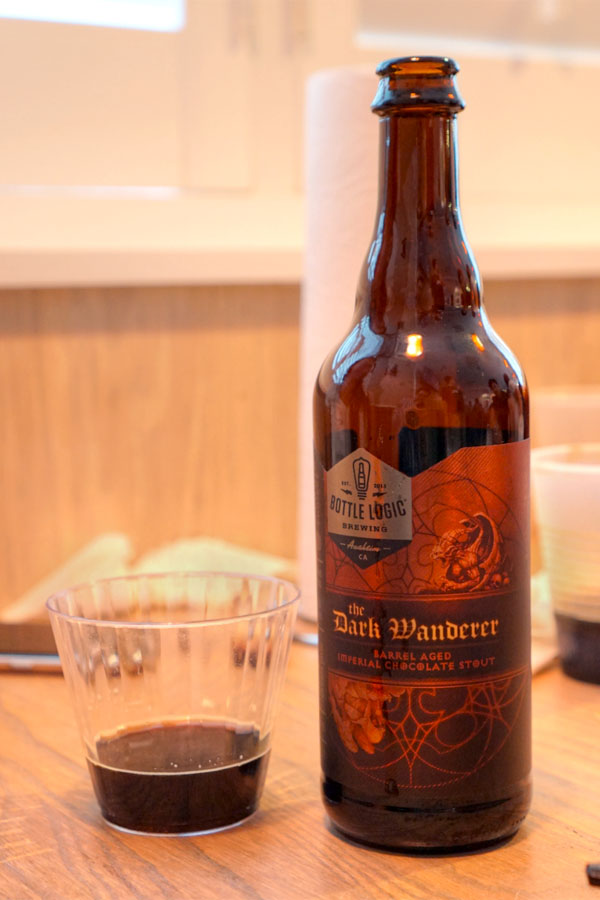 Next was a Buffalo Trace barrel-aged imperial stout with cacao nibs that was created to celebrate the 20th anniversary of Blizzard's Diablo, the
2016 Bottle Logic The Dark Wanderer
. Nose was rife with chocolate and had a delightful coconut-y edge. The taste was similarly rich in chocolate, but also conveyed vanilla from the barrel, as well as a somewhat oaky quality on the finish. One of the better chocolate stouts I've had.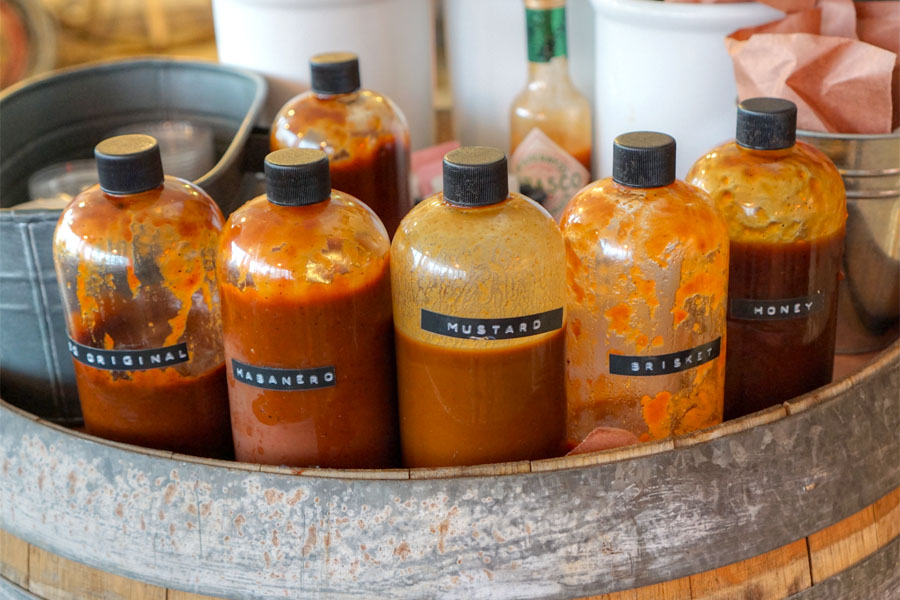 Housemade sauces included: BB Original, Habanero, Mustard, Brisket, and Honey. Personally though, I don't think the meat really needed any additional flavoring.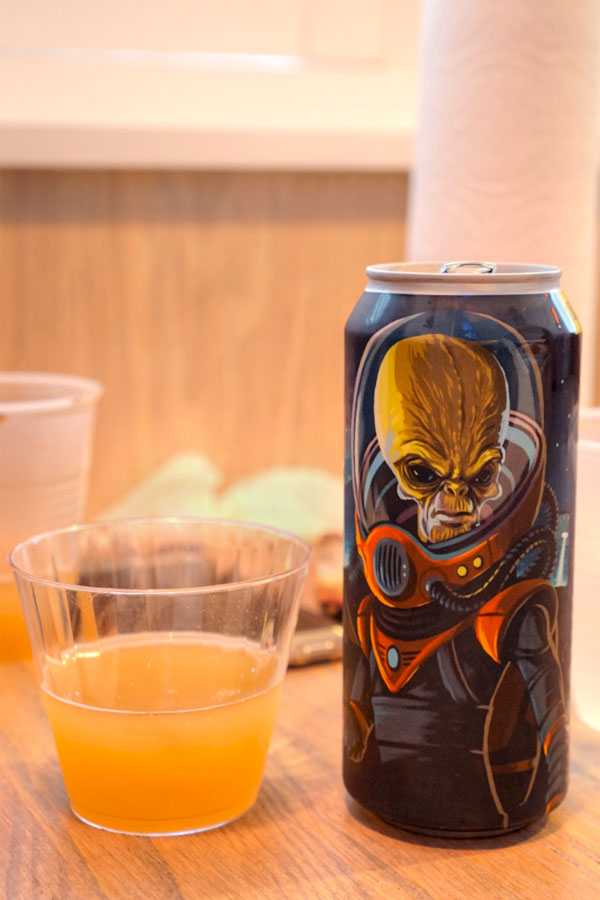 Last to drink was the
2017 Bottle Logic Hostile Intent
, a Berliner Weisse-style ale brewed with kiwi and starfruit (two uncommon additions). The bouquet was filled with juicy, tropical fruit all over the place, while the taste was tart at first, then super tropical once again, with the kiwi and starfruit really making themselves known. Very fun, and a favorite amongst many of my dining companions.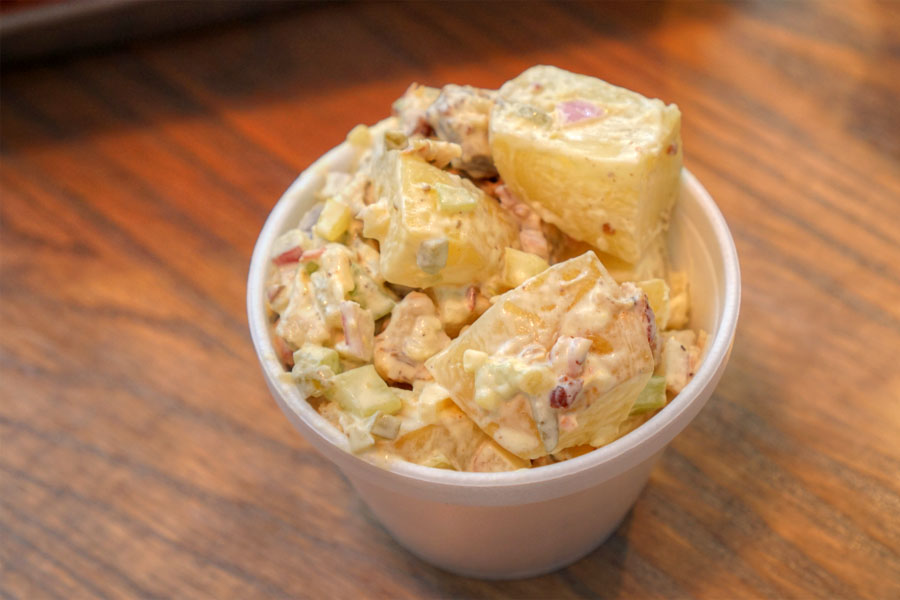 Potato Salad [$3.00]
The potato salad was a definite winner. Great tanginess here from the pickles and what tasted like mustard, and I liked the saltiness from the bits of pork(?) as well. In addition, I appreciated the large chunks of potato present, as well as their crisp, firm texture. My favorite of the sides.
I was sort of bummed to see Lobsta Shack shutter so suddenly, but Belle Belle's isn't a bad replacement. I had a couple nits with some of the food, but overall we were satisfied with the place. It's a pretty promising addition to our City's BBQ scene, and I imagine the meats will only get better once Mi gets his smoker further dialed in.