P.Y.T. (Los Angeles, CA)
PYT Restaurant
400 S Main St, Los Angeles, CA 90013
213.687.7015
www.pytlosangeles.com
Fri 05/26/2017, 09:15p-11:15p

To get everyone up to speed, the last time we caught up with Josef Centeno, it was October 2013 and he had just launched
Orsa & Winston
. In August the following year, it was announced that the Chef would be partnering with Pete McLaughlin for a revamp of Pete's Cafe & Bar, which bowed in Downtown in 2002. The longstanding eatery shuttered for a remodel, and re-opened in October as Pete's LA, serving updated American classics. However, in December, Pete's flipped to Ledlow Swan, and just a few days later, became simply Ledlow, with a more contemporary menu. January 2015 saw Centeno turn O&W into a two-month yakitori pop-up, while the Chef announced the casual Bäcoshop in Culver City in June 2016 (it would later open in March '17).
In September last year, we got word that the Ledlow space would be split into two separate concepts. The restaurant closed on the 5th for a very quick transformation, and re-emerged on the 8th. Ledlow's still around, but as a smaller, 24-seater with a focus on the bar and more pubby-type food. More interesting is P.Y.T. (apparently there's no officially meaning to the name, though "pretty young turnip" is a popular guess), a plant-based eatery that Centeno had been ruminating on for a while. Indeed, the Chef's always had a facility for veggies, as you might recall from the menu at
Bäco Mercat
, and he's been involved in student-run urban gardening though the LA Leadership Academy in Montecito Heights, which supplies some of the produce for the spot.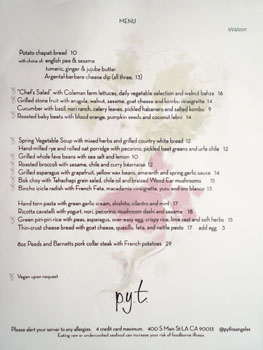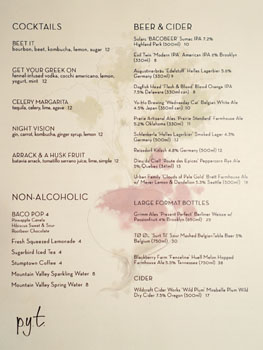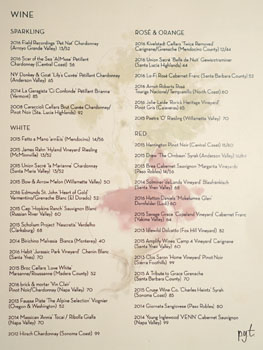 Here we see the menu, which features veggies prepared every which way, as well as a lone meat dish relegated to the bottom, alone. Lunch is also an option, and brunch is served on weekends. Drink-wise, you'll find a handful of cocktails, a small but fairly interesting beer selection, and a wine list highlighting mostly domestic producers from the West Coast. Click for larger versions.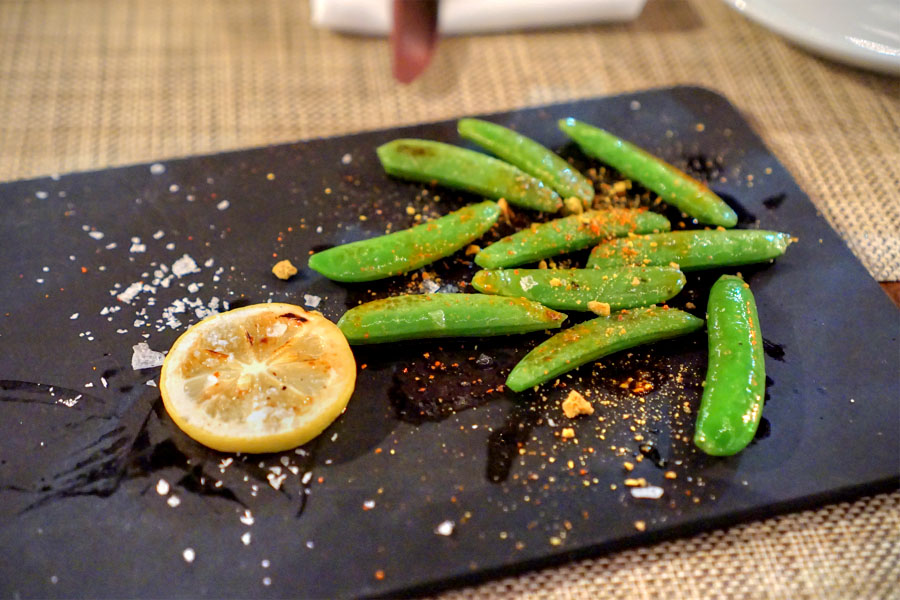 Serving as an amuse bouche were sugar snap peas dusted with pistachio and Fresno chili, with Meyer lemon. The peas were wonderfully crunchy, and as snappy as their name would imply. They had a light, fresh flavor profile that worked beautifully as a base for further additions of salt, heat, and acid. A very fitting way to start the meal.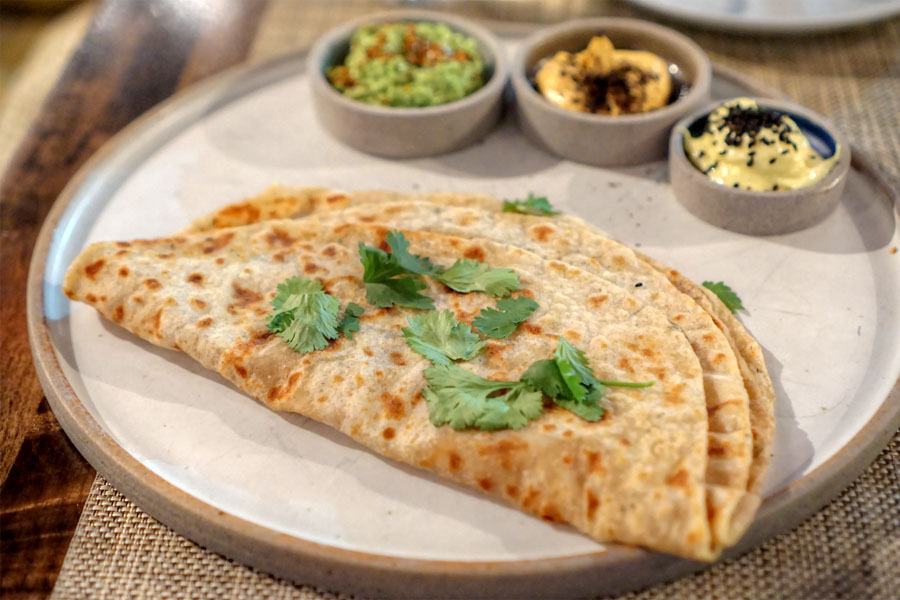 Potato chapati bread [$13.00]
| english pea & sesame / turmeric, ginger & jujube butter / Argental-berbere cheese dip
We began with an order of the
chapati
, just about the softest, most supple flatbread I've ever encountered. It made for some good eatin' alone, but do make sure to apply the three dips. My favorite was the super bright pea purée, accompanied by nutty sprinkles of sesame and what I believe was olive oil. We also had a smooth, slightly smoky cheese dip, as well as the silky, sweet jujube butter with its toasty edge courtesy of black sesame.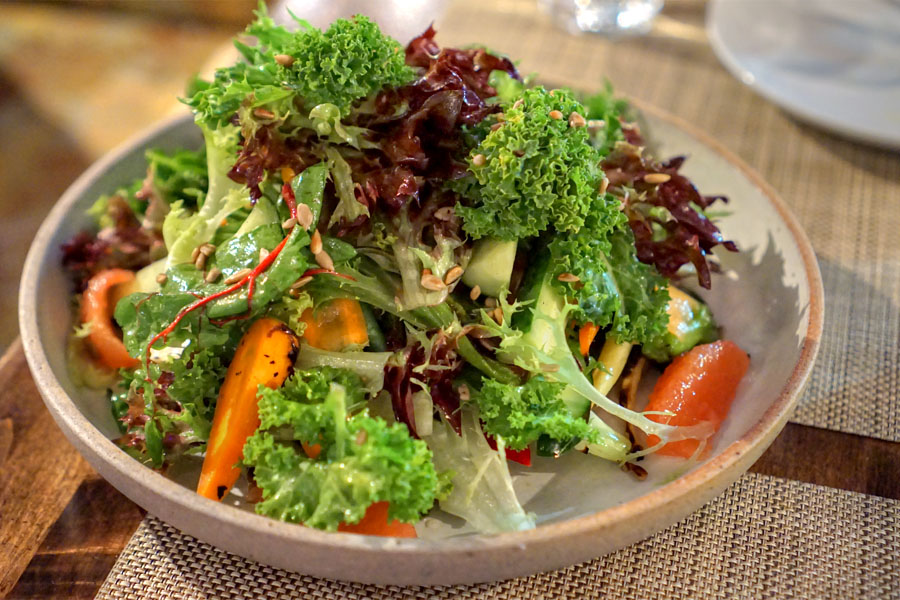 "Chef's Salad" with Coleman farm lettuces, daily vegetable selection and walnut bahza [$16.00]
P.Y.T.'s signature salad brought together a delightful mix of differing tastes and textures, lightly dressed to let the produce shine, and tied together by a nutty, spicy walnut condiment.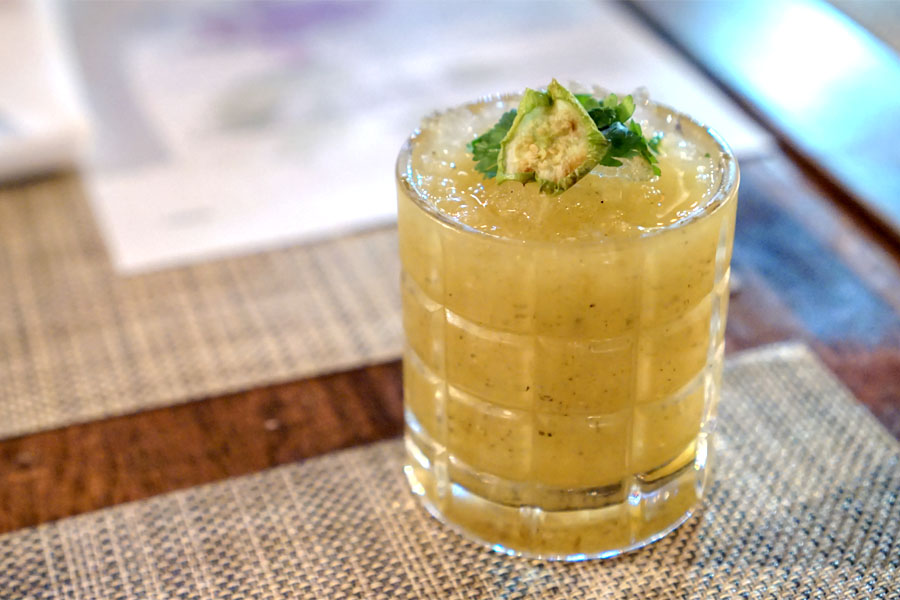 Arrack & A Husk Fruit [$12.00]
| batavia arrack, tomatillo serrano juice, lime, simple
We only had a couple cocktails this evening, and our first brought a bevy of sour, spicy flavors backed by the booziness of arrack, the simple syrup serving as a moderating element.
Hand-milled rye and rolled oat porridge with pecorino, pickled beet greens and urfa chile [$12.00]
A rye and oat porridge was homey and cozy, with a smoky sweetness from the Urfas that was matched by the tanginess of the greens. Excellent texture contrast from the seeds, too.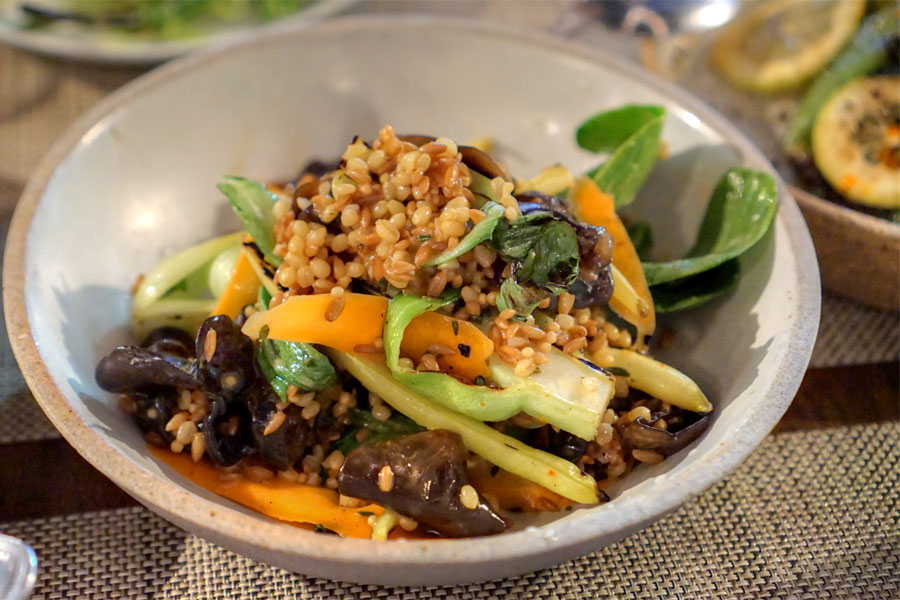 Bok choy with Tehachapi grain salad, chile oil and braised Wood Ear mushrooms [$15.00]
I'm quite the fan of bok choy, the here the vegetable came out crisp and vibrant, well-complemented by crunchy, nutty grains and pods of wax beans. Perhaps my favorite thing here, though, were the slick, slippery shards of
mu er
. A favorite of mine.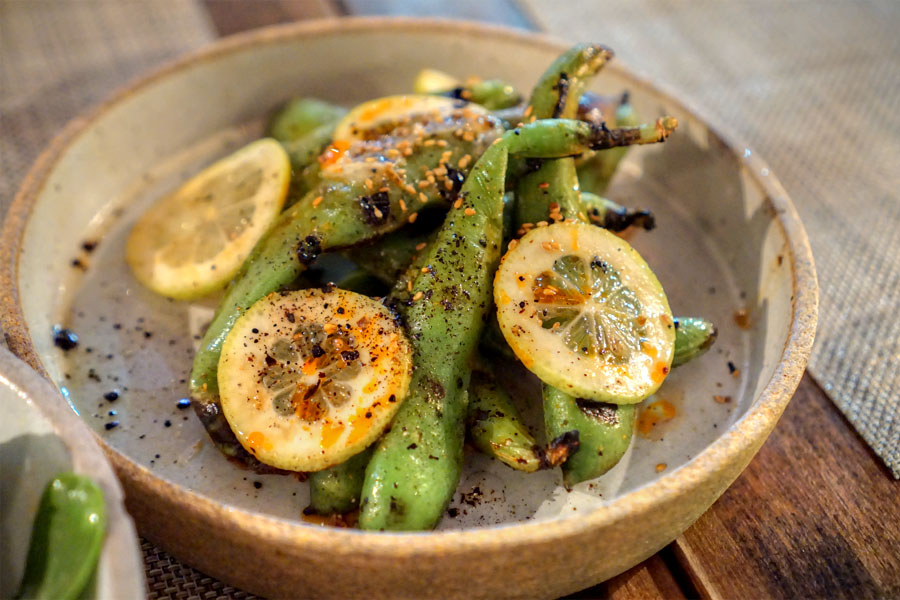 Grilled whole fava beans with sea salt and lemon [$10.00]
Favas were lovely. I know that you're supposed to extract the beans from the pods, but we just liked sucking on them, thanks to the liberal amounts of char, lemon, and salt present.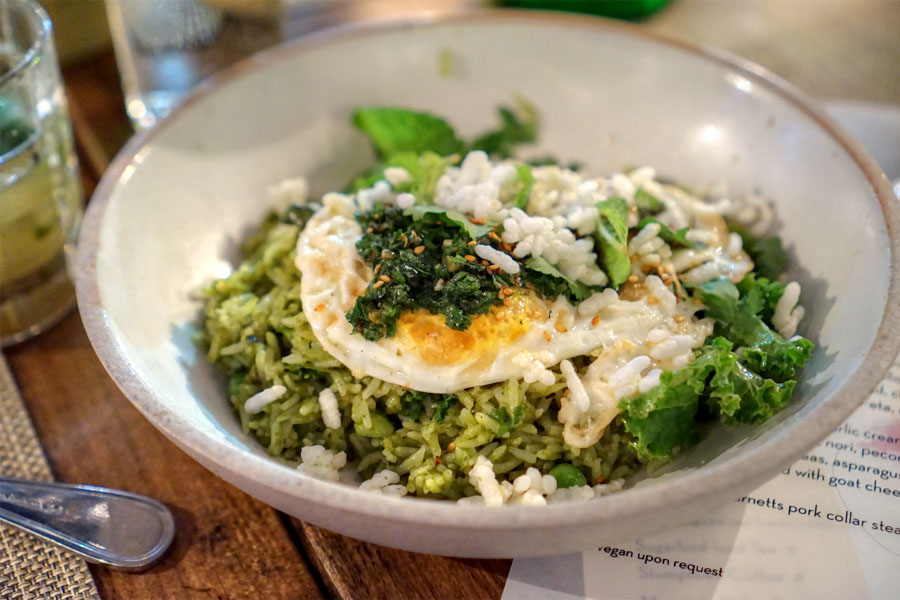 Green piri-piri rice with peas, asparagus, over-easy egg, crispy rice, lime zest and soft herbs [$15.00]
Next, the kitchen sent out another standout dish. The rice had a superb, creeping spice from the piri piri that was just enough, and I loved how that played with the bright, bitter veggies and pinpricks of tart lime. Also key: the crispiness of the puffed rice, and how the runny egg sort of enveloped everything. I just wanted to keep eating.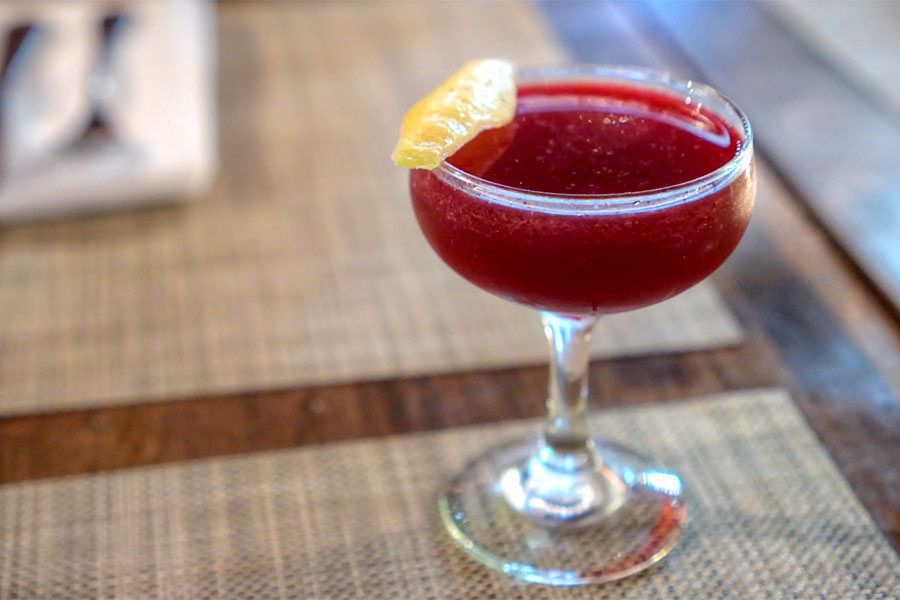 Beet It [$12.00]
| bourbon, beet, kombucha, lemon, sugar
Our second cocktail was definitely one of the better beet-based drinks I've had. The root veggie's earthy sweetness was well conveyed, but matched by the potency of bourbon and lemon.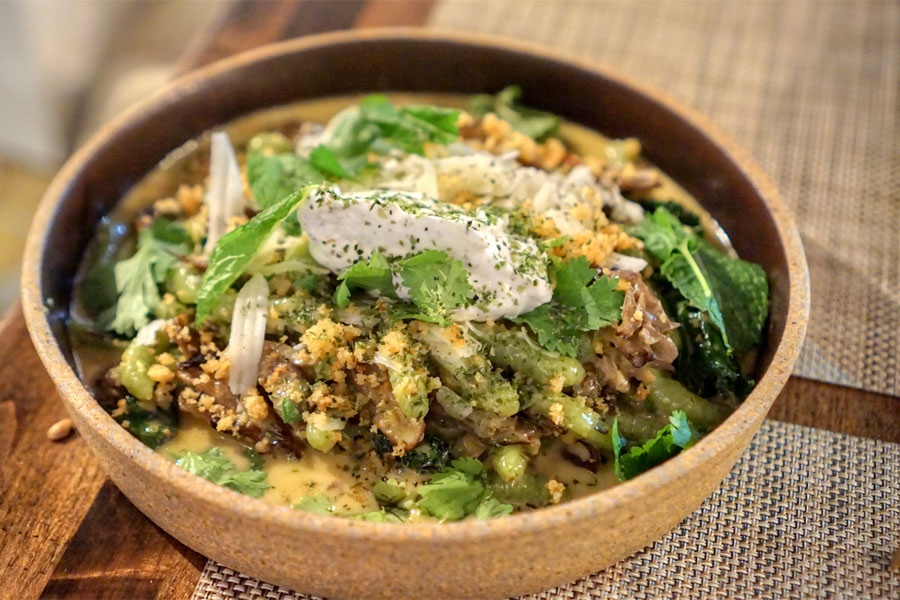 Ricotta cavatelli with yogurt, nori, pecorino, mushroom dashi and sesame [$18.00]
The cavatelli was perhaps my favorite in a parade of very strong dishes. The pasta arrived nicely firm, and was joined by a pretty incredible depth of flavor from the dashi. To this, the mint and yogurt imparted a lightness, and there was a sort of lowkey heat in the dish that was a pleasant surprise.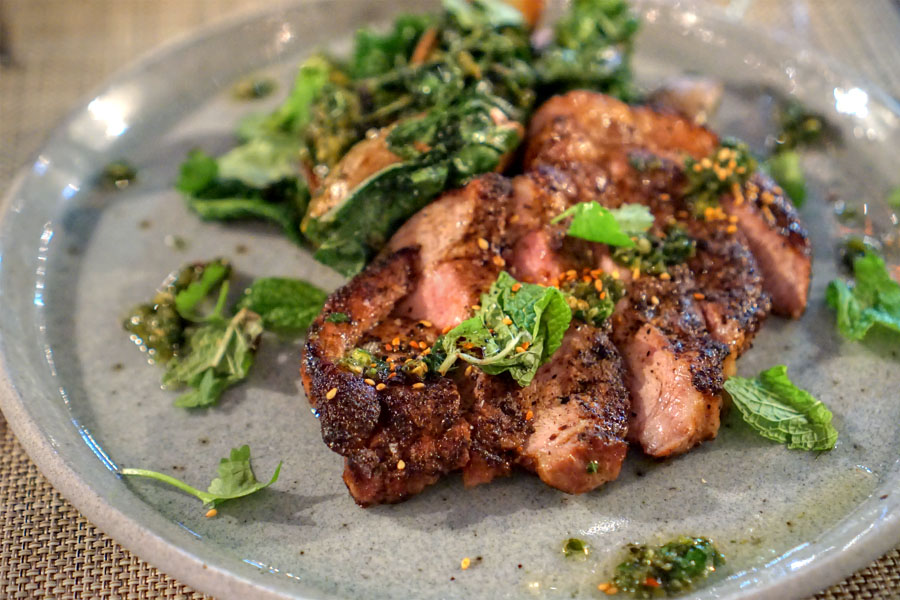 8oz Peads and Barnetts pork collar steak with French potatoes [$29.00]
With only one meat dish on the menu, we felt compelled to get it, and it didn't disappoint. Texturally, I found the collar tender, but with a gratifying chew. It was pretty aggressively-seasoned, super flavorful, and matched beautifully with the greenery on the plate. Potatoes were spot on, too.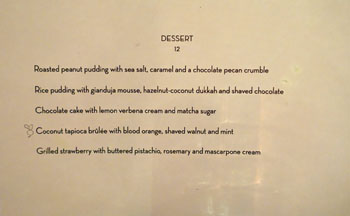 We were full by this point, but did save room for one dessert. I will say, though, that the dessert menu doesn't seem quite as interesting as the savory selection. Click for a larger version.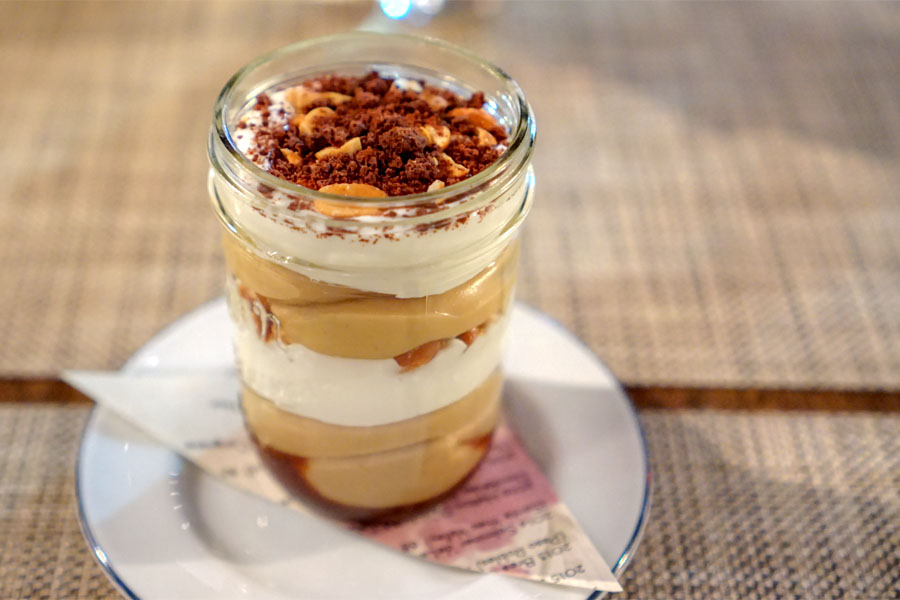 Roasted peanut pudding with sea salt, caramel and a chocolate pecan crumble [$12.00]
I'm generally not a huge fan of peanuts, but they were done justice here, meshing well with the salt-accented caramel. Nice textural contribution from the crumbles to boot.
P.Y.T. provided one more the more promising, more compelling meals I've had in recent times. The treatment of vegetables here was masterful. The way the kitchen combines, transforms, and reimagines ingredients results in food that's robust, soulful, familiar but finessed, with a quality that really speaks to LA's culinary zeitgeist. You really don't miss the meat.