Felix (Los Angeles, CA)
Felix Trattoria
1023 Abbot Kinney Blvd, Venice, CA 90291
424.387.8622
www.felixla.com
Tue 05/23/2017, 07:55p-11:05p

The last time I reported on Evan Funke, it was April 2015, and we'd just eaten at
Bucato
, where he'd cemented his reputation for top-notch
pasta fatta a mano
. The meal was lovely, but a month later, it was revealed that the Chef would be decamping from the Culver City restaurant due to a falling out with partner Ed Keebler. The departure also derailed their plans for Thoroughbred, a modern diner concept at the Platform development.
After keeping a low profile for a while, Funke made an appearance in Philadephila at Vetri in July, while in September, Bucato shuttered. In November, he did a one-night-only dinner with Jeff Mahin at Chicago's Stella Barra (he would stay on with parent company Lettuce Entertain You for some months), while February 2016 saw him slang porchetta sandwiches at Cofax. This was quickly followed up by a rather surprising announcement that the Chef was taking over
Joe's
, which had closed on V-Day. If you recall, it was long-rumored that Beau Laughlin would be making use of the space, but he instead went on to open
Kettle Black
and
Sawyer
in Silver Lake.
In late March '16, Funke went to Italy to hone his pizza-making skills, and also caught up with mentor Alessandra Spisni at La Vecchia Scuola Bolognese. In April, he previewed Felix at
Jon & Vinny's
, then got married the following month (and went to Spain for his honeymoon). At the end of June, the Chef teamed up with Michele Forgione for a dinner at Montreal's Impasto, and October 2016 had him serving porchetta at Smorgasburg and doing a $275 a head dinner at
Chi Spacca
. In November, Funke visited Italy once again, then popped up in Paris of all places, at Braden Perkins' Ellsworth. His final pop-up came in January this year, when he participated in a collaborative dinner at
Animal
.
Felix (Latin for "happy"), thus, debuted on April 7th, and is a pasta-focused, multi-regional Italian joint with a Californian bent. Funke has partnered with
Gusto 54
, a Toronto-based restaurant group helmed by Janet Zuccarini, and this is their first venture outside of Canada.


As stated above, Felix takes over the former home of Joe Miller's longstanding Joe's. The restaurant was overhauled by designer
Wendy Haworth
(
Winsome
, Gratitude, Gracias Madre), with significant input from both Funke and Zuccarini. Instead of the sort of Craftsman-y look it had before, the space is now is bit more homey, in an Old World sort of way. Note the glass-enclosed, temperature-regulated pasta lab in the center of the main dining room.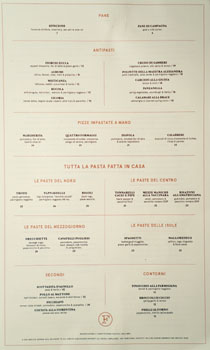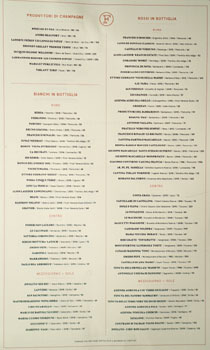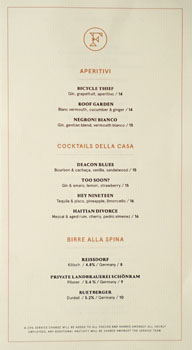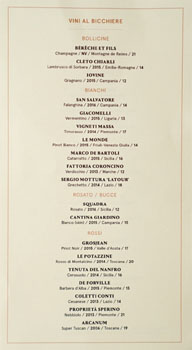 As for Felix's menu, it's centered on the handmade pastas of course (divided into four regions), but there are also theme-appropriate starters, mains, and even pizzas now (recall that Funke went to Naples to apprentice under some master
pizzaiolos
). To drink: cocktails by Brandyn Tepper (consulting/catering firm Cocktail Academy,
Hinoki & the Bird
), a smattering of beer (all German, curiously), and a mostly Italian wine list again divvied up regionally. Click for larger versions.
Deacon Blues [$15.00]
| Bourbon & cachaça, vanilla, sandalwood
We ended up having all the cocktails, and got things going with this uncommon combination of whiskey and cachaça. Intoxicating nose brimming with sweet, fragrant spice--think scented candles. The taste went more austere, boozy, but still had some muted aromatics coming in later.
Crudo di Gamberi [$19.00]
| ridgeback prawns, olio santo & lemon
Prawns has a simultaneously crisp yet creamy consistency, their brininess moderated by the application of olive oil and zesty slivers of scallion.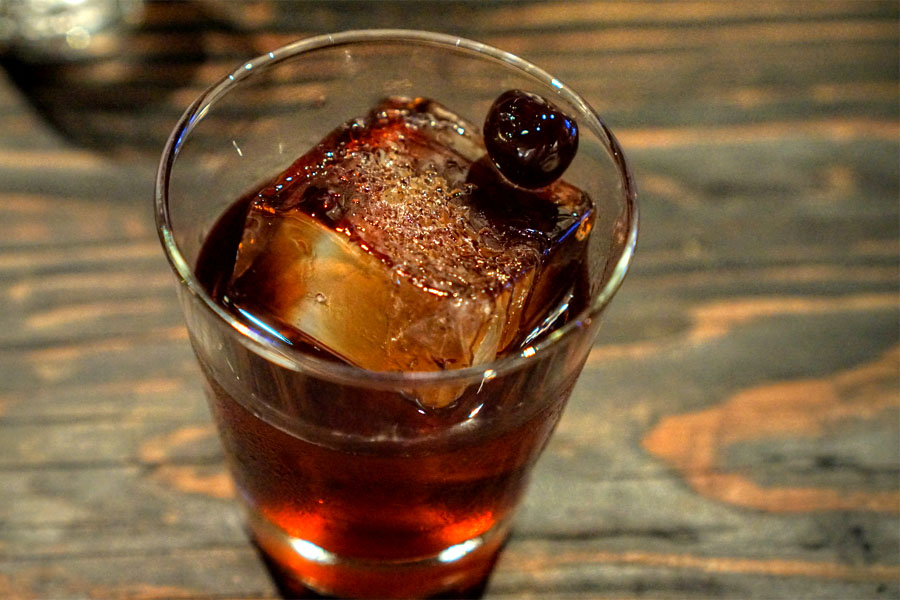 Haitian Divorce [$16.00]
| Mezcal & aged rum, cherry, pedro ximenez
This was my favorite of the cocktails. A bouquet filled with smoke, spice, and cherry led to flavors of mezcal-enriched spice and a finish dripping with more fruit, all with an underpinning of alcoholic heat.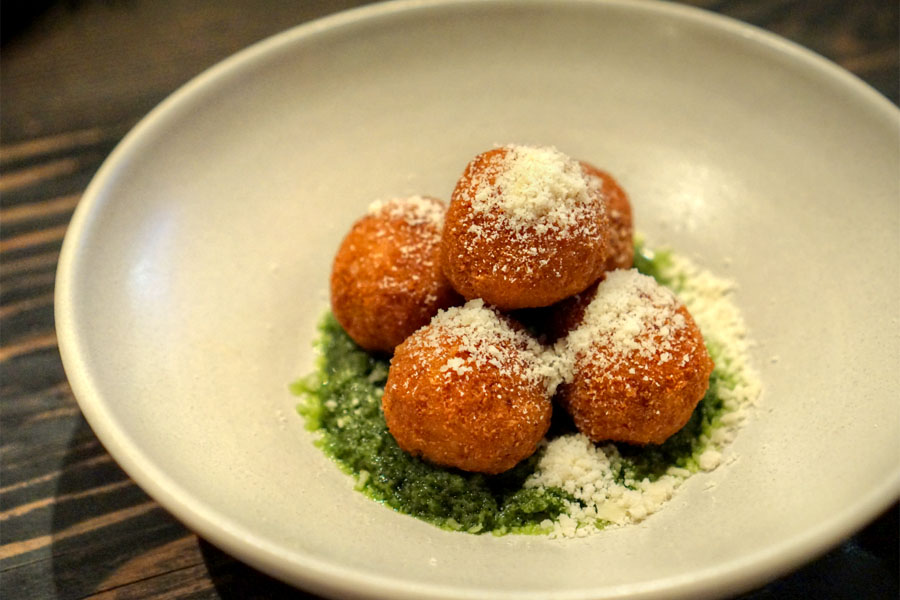 Polpette della Maestra Alessandra [$18.00]
| pork meatballs, salsa verde & parmigiano reggiano
I always tend to order meatballs on a menu, and these were ostensibly inspired by Funke's teacher Alessandra Spisni. They were delightful, some of the juiciest, most flavorful
polpette
I've had in fact. Very tasty alone, and even better with a dab of that super bright, nutty sauce on the bottom.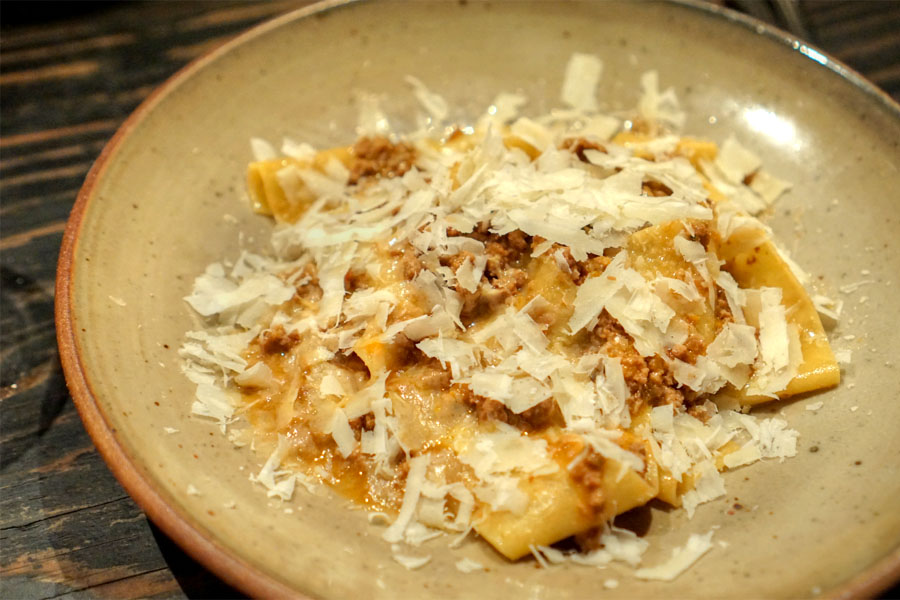 Pappardelle [$26.00]
| ragu bolognese "vecchia scuola", parmigiano reggiano 48 mo.
Getting into the pastas now, an "old school"
ragù alla bolognese
was the perfect topping for ribbons of just-firm-enough pappardelle. The sauce was meaty, yet restrained and not over-the-top, and worked hand-in-hand with the savory, nutty notes from the Parm.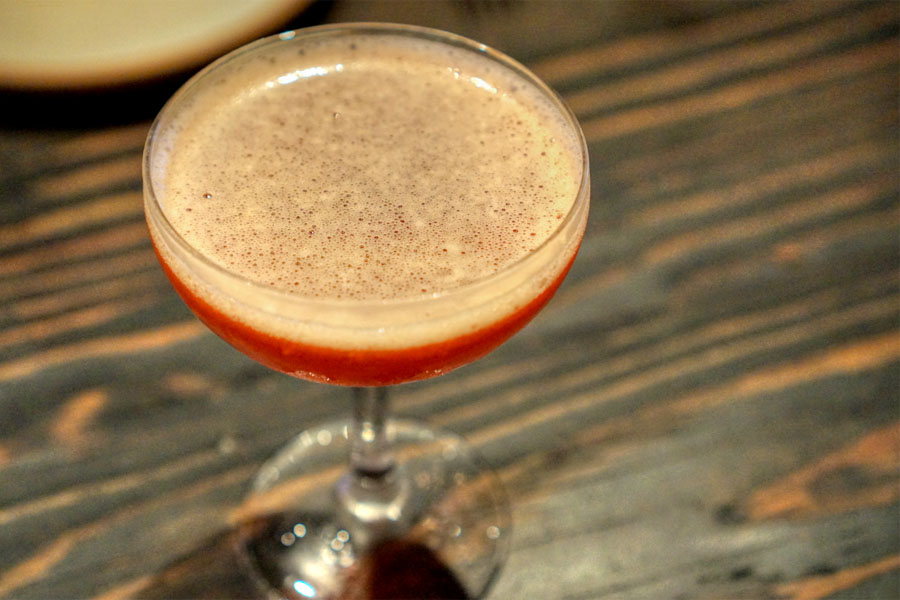 Too Soon? [$15.00]
| Gin & amaro, lemon, strawberry
Nose of very pleasant strawberry in this next cocktail. The taste, meanwhile, showcased rich berry fruit paired with a counterbalancing bitterness that prevented the drink from becoming too sweet.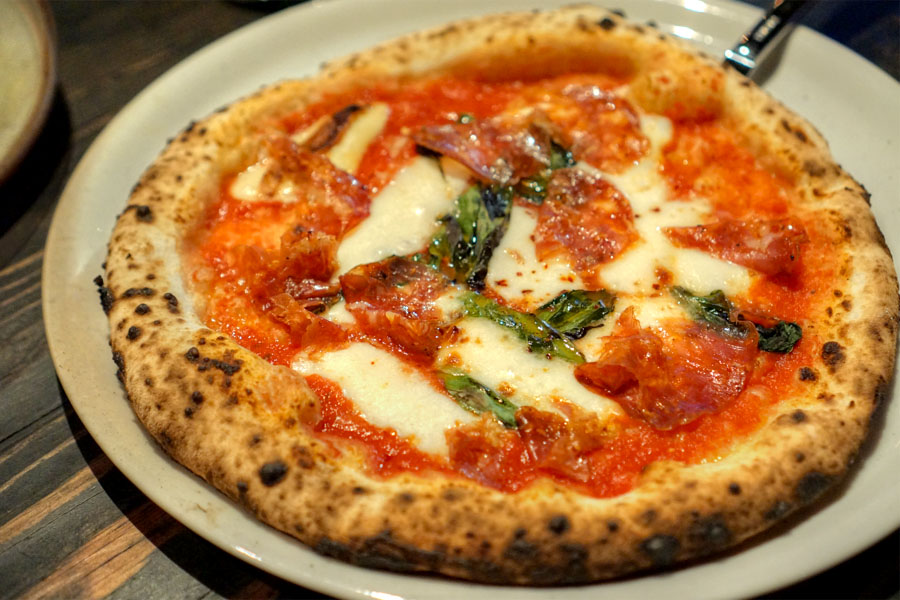 Pizza - Diavola [$21.00]
| pomodoro, smoked fior di latte & salame napoletano
Our lone pizza certainly looked the part, with its leopard spotted char and all. I got a good interplay between the tangy tomato and lightly smoked cheese, as well a welcomed hit of salt from the richly flavored salami. Solid crust, too.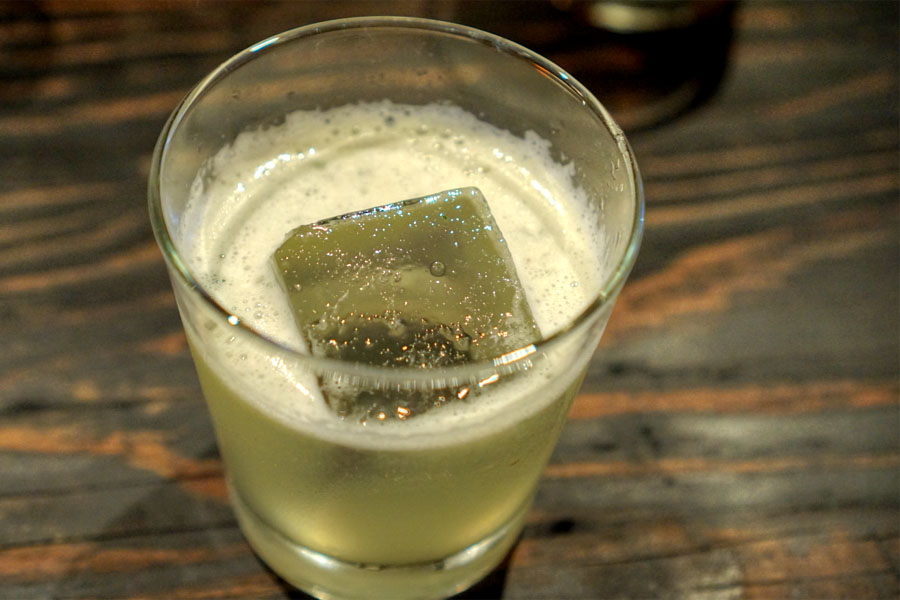 Hey Nineteen [$16.00]
| Tequila & pisco, pineapple, limoncello
This next cocktail smelled light and bright, with the limoncello peeking through just a bit. The taste was bitter, astringent initially, but the citrus and pineapple provided for a modicum of balance.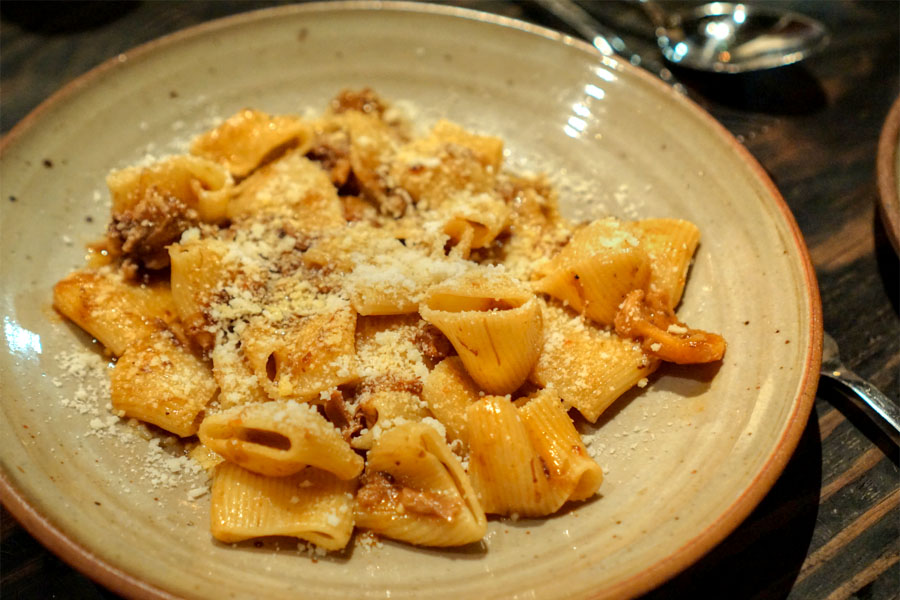 Mezze Maniche alla Vaccinara [$25.00]
| oxtail, pomodoro & pecorino romano DOP
Stout cylinders of pasta had a substantial bite, and stood up well to the rich, dark, savory flavors of the stewed oxtail.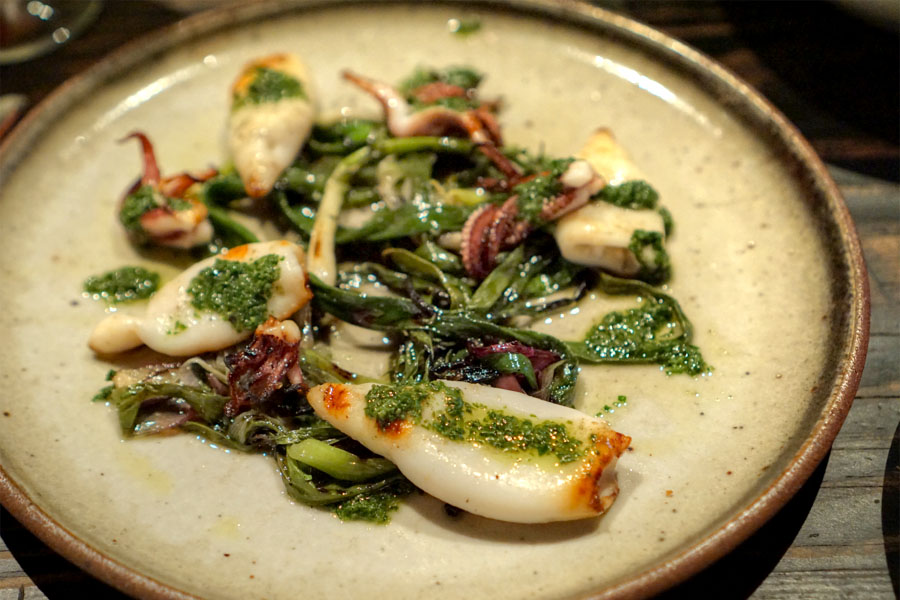 Calamari alla Brace [$18.00]
| salmoriglio & charred spring onion
Squid displayed a combination of softness and snap, while its inherently mild taste was accompanied by a healthy amount of char. I loved the zippiness of the
salmoriglio
here, as well as the smoky astringency of those scallions.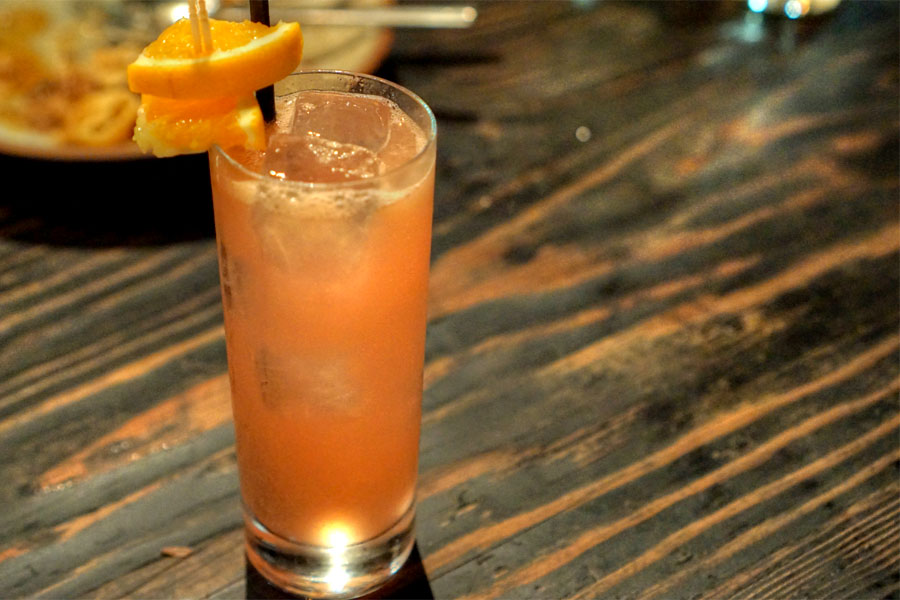 Bicycle Thief [$14.00]
| Gin, grapefruit, aperitivo
At this point, we'd finish all the cocktails and thus moved on to the apéritifs (yeah, we did things backwards). Our first I found fizzy and refreshing, with its tasty grapefruit flavors tempered by a measure of bitterness and the botanical nature of the gin.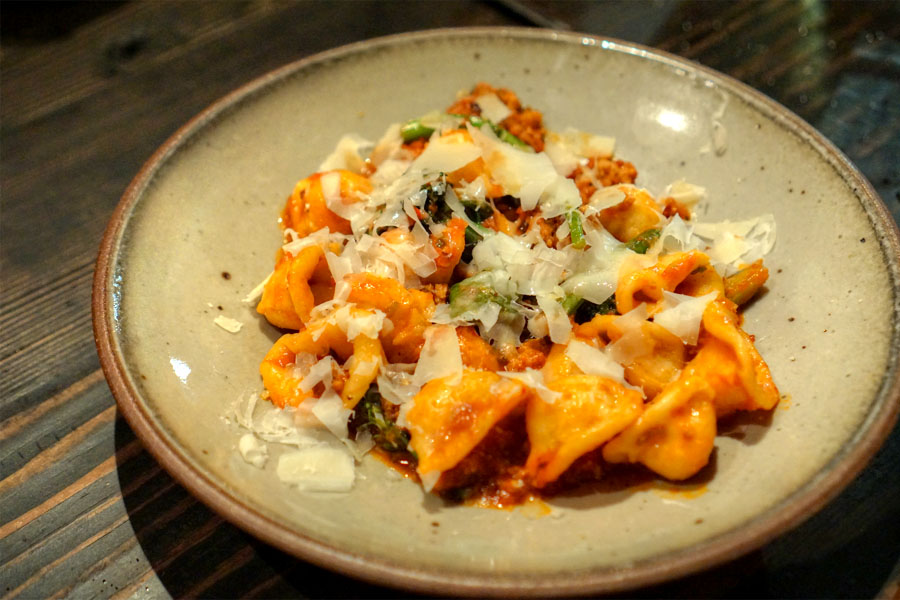 Orecchiette [$24.00]
| sausage sugo, broccoli di cicco, peperoncino & pecorino
The orecchiette had a great bite to it, and was probably my favorite of the pastas. What I really enjoyed here was the back-and-forth between the sausage and bitter greens, and how the chili peppers provided a creeping heat underscoring it all.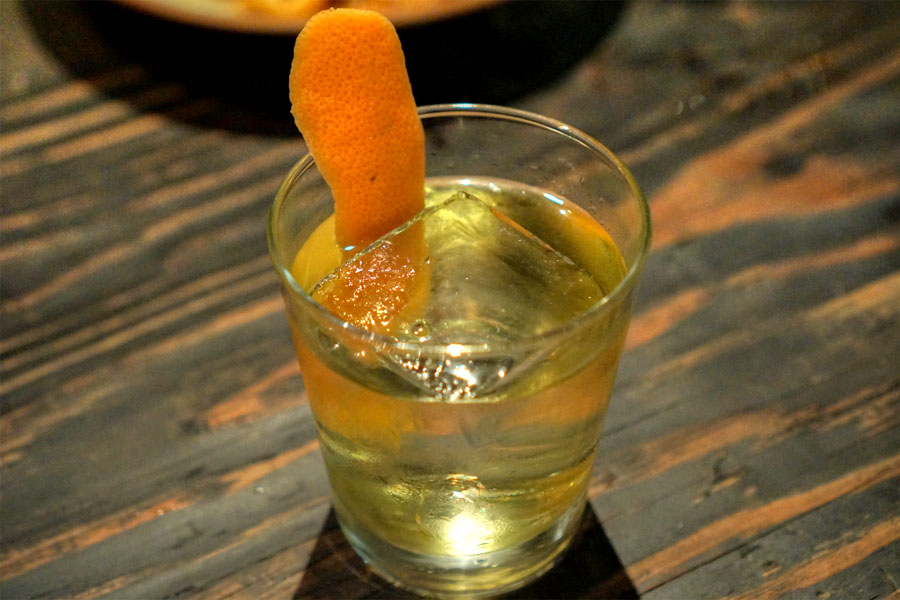 Negroni Bianco [$15.00]
| Gin, gentian blend, vermouth bianco
A white negroni went over well, its distinct citrusy character paired with herbaceous notes from the gin and just the right amount of bitterness.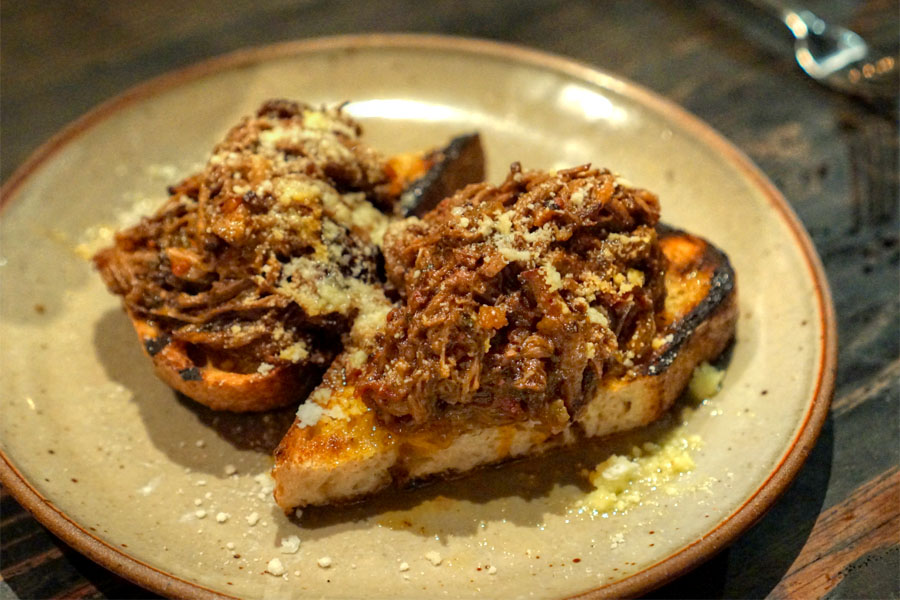 Picchiapò [$24.00]
| roman-style brisket, pomodoro, peperoncino & scarpetta
Brisket came out falling-apart tender, and teeming with all the rich, dark, umami-laden flavors you'd expect. The bread served as a fitting accompaniment, though I would've liked a bit more acidity to help cut through the heft of the beef.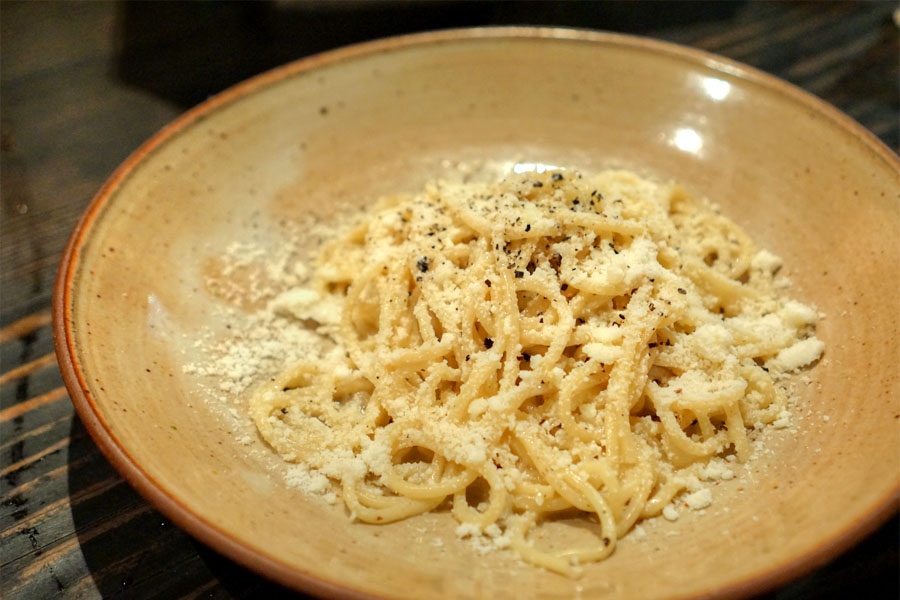 Tonnarelli Cacio e Pepe [$21.00]
| black pepper & pecorino Fulvi
This was another standout, and one of the better
cacio e pepe
preparations I've had. The pasta itself was well-textured, and I found the dish somewhat richer, somewhat creamier than most, with a spot on marriage of pepper and cheese.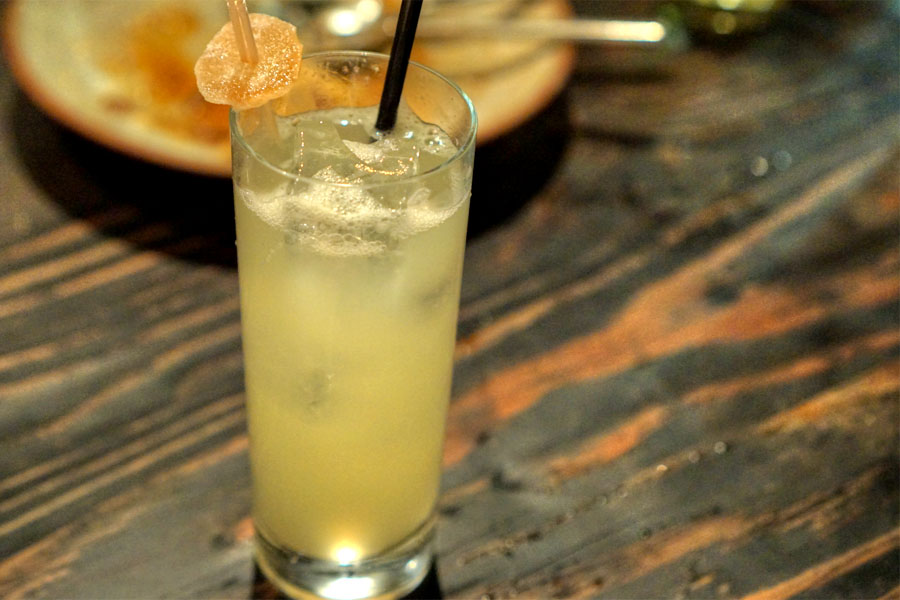 Roof Garden [$14.00]
| Blanc vermouth, cucumber & ginger
Our final
aperitivo
was a fun one, its ginger-y notes working as a contrast to the generally sweet, easy nature of the drink.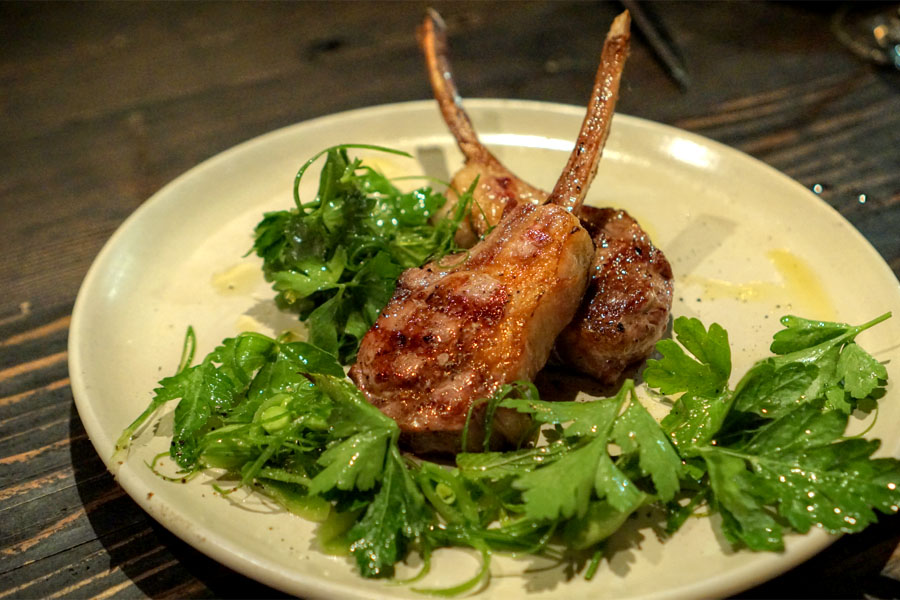 Scottadita d'Agnello [$42.00]
| peas & herbs
Lambs chops were excellent, arriving utterly juicy, tender, and flavorful. They were a joy to eat, and paired perfectly with the included greens, peas, and mint especially. A surprise standout.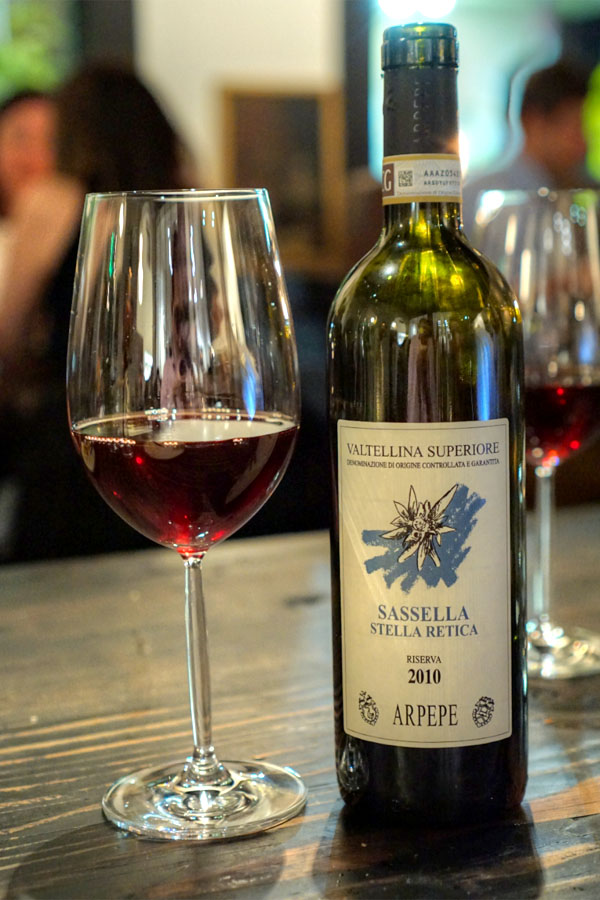 We finished with a bottle of Nebbiolo, the
AR.PE.PE. 'Sassella', Valtellina Superiore Riserva, 2010, Lombardia [$115]
. Nose here was peppery and spicy, with a fruity-yet-austere quality. The taste went in a similar direction. I got more of those spicy notes and light fruit appearing along with a dry, almost savory element, with some heat and tannins in the background. Interestingly, I found that the wine really opened up when taken with the lamb dish above.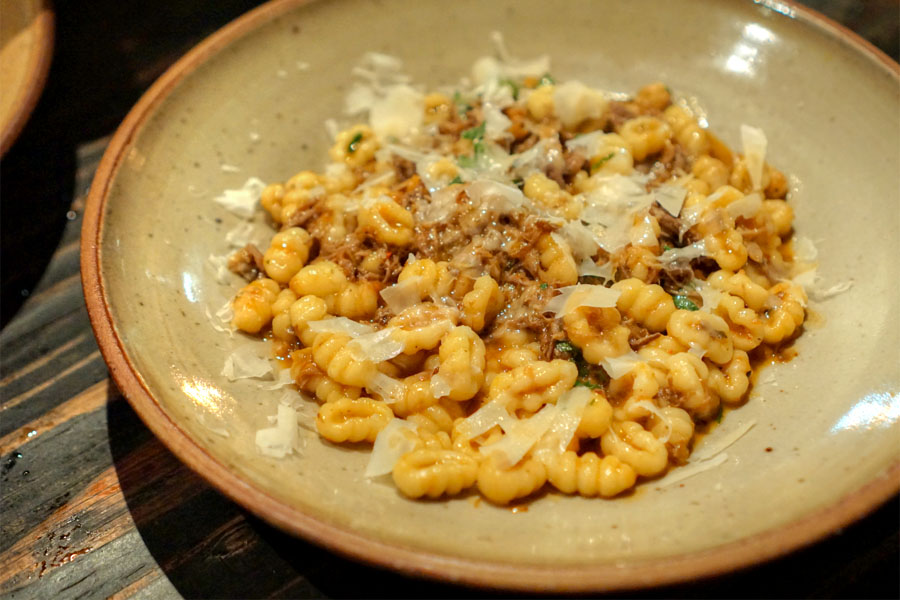 Malloreddus [$25.00]
| saffron, ragu d'agnello & fiore sardo
Hailing from Sardinia, our final pasta came out interestingly-textured, with a particularly satisfying chew. It worked as a stage for the hearty flavors of the lamb-based sauce and Pecorino, and I especially enjoyed the herby notes in the dish.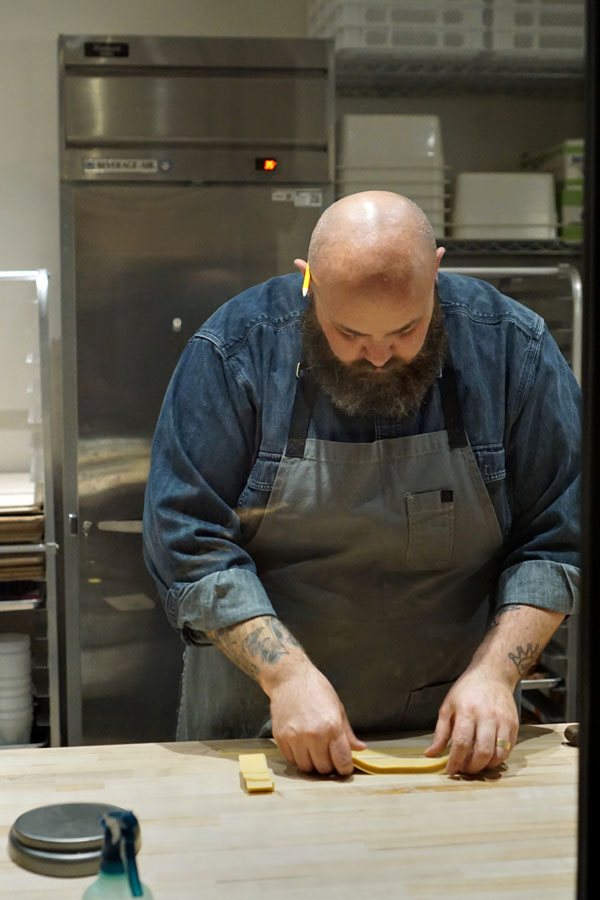 The Chef popped in and out of the pasta lab quite often throughout the evening.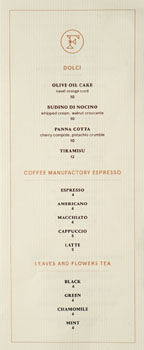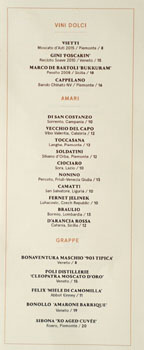 We were quite full at this point, but somehow managed to save room for all four of the desserts. Click for larger versions.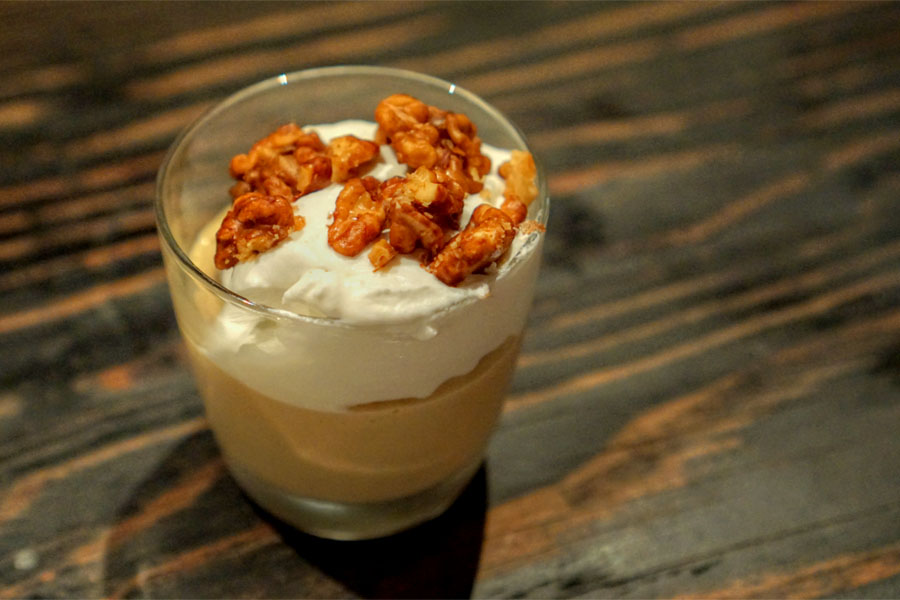 Budino di Nocino [$10.00]
| whipped cream, walnut croccante
We began with a
budino
that, according to one of my dining companions, was superior to the one at
Mozza
. She might be right. Flavors were rich, sugary, caramel-y, but balanced by the whipped cream on top and those nutty, crunchy shards of walnut.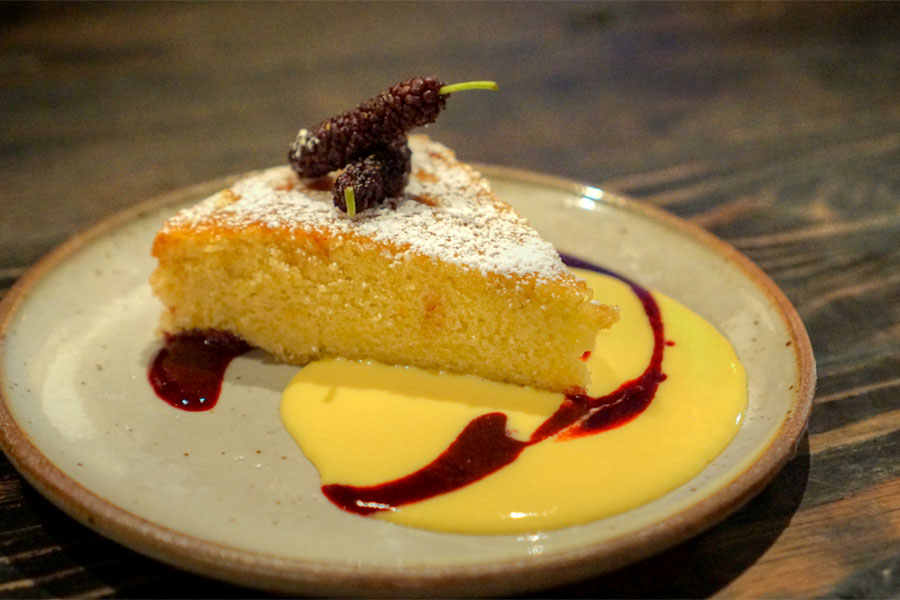 Olive Oil Cake [$10.00]
| navel orange curd
This olive oil cake hit the mark as well thanks to its slightly savory nature from the
olio
and the tartness of that orange curd.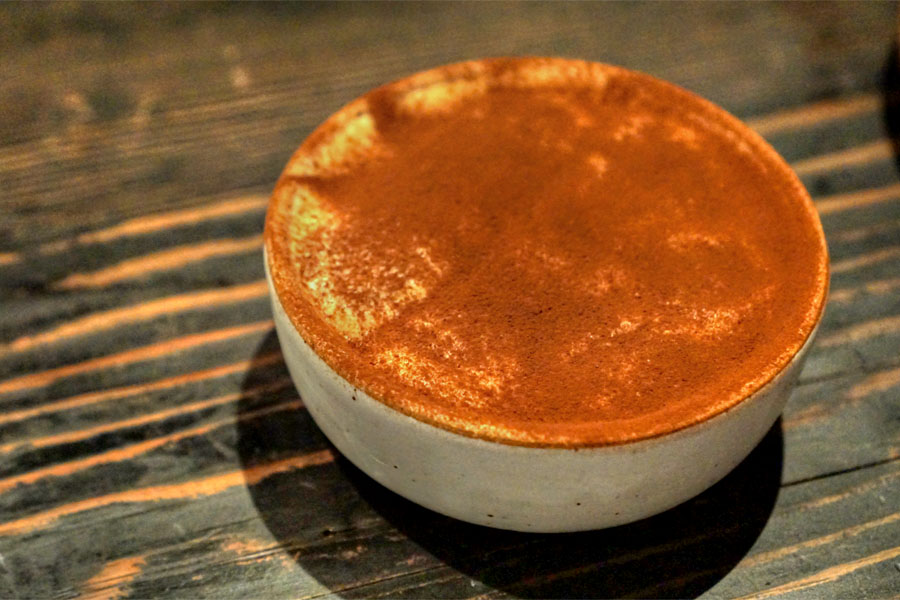 Tiramisu [$12.00]
The tiramisu didn't look like much, but the flavors were there. I found it well-balanced, with the coffee and chocolate playing off each other in classic fashion.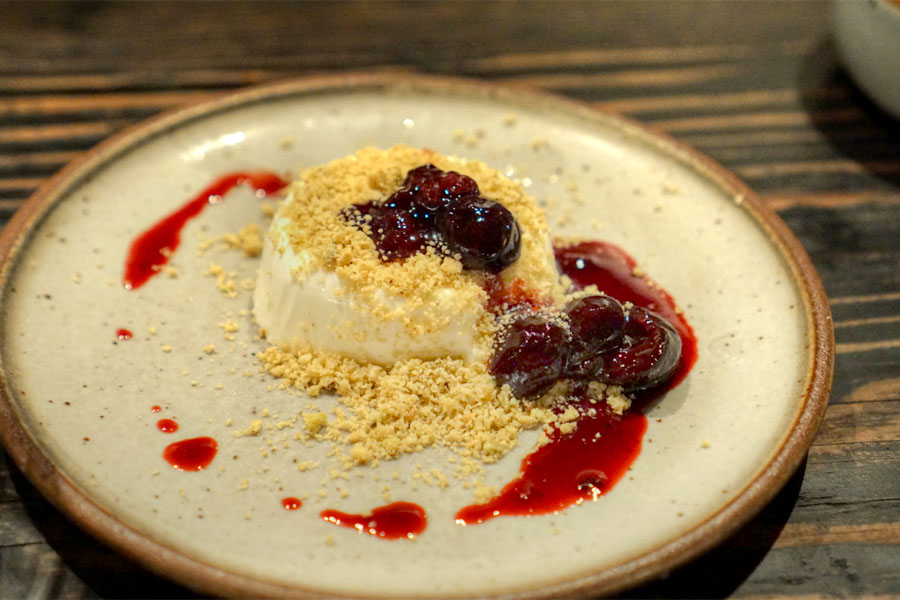 Panna Cotta [$10.00]
| cherry compote, pistachio crumble
Last up was the panna cotta, a dense-but-light preparation with a particularly apparent lactic character that went well alongside the sweet-n-sour fruit.
Felix is no doubt one of the mostly hotly-anticipated Italian debuts of 2017, and the place didn't disappoint. As expected, Funke's pastas were on point, but his non-pasta dishes actually made a strong case for themselves as well. It's a more than worthy replacement for Joe's, and another good addition to our City's Italian cuisine scene. It's nice to have the Chef back in LA, and hopefully things will last a bit longer this time around.