Sea Harbour (Rosemead, CA)
Sea Harbour Seafood Restaurant
3939 Rosemead Blvd, Rosemead, CA 91770
626.288.3939
Sat 05/20/2017, 07:30p-10:55p

Among Hong Kong-style seafood places in the SGV, Sea Harbour's arguably the most well-regarded. The restaurant was actually started in 1999 up in Richmond, British Columbia (near Vancouver) by a group based out of Zhongshan, Guangdong province (they still run a handful of restaurants in China). Leading the kitchen was Chef Tony Ho, a disciple of abalone specialist Yeung Koon Yat from Hong Kong's famous Forum Restaurant.
Ho and company opened the Rosemead location in 2001, thus starting the trend of high-end, non-cart dim sum in the Los Angeles area. The success of Sea Harbour allowed further expansion: Rowland Heights debuted in 2003 (it flipped to Happy Harbor in '05), and a casual cafe concept called Sea Harbour Gourmet House followed in San Gabriel not long after (in the current Beijing Tasty House space). They even expanded to Las Vegas in December 2008, taking up residence at Caesars Palace (it lasted until '11).


Inside, things are nice enough, and appropriate for the style of dining. Note the prominent live seafood tanks. And yes, there was a Sino-Korean(?) wedding reception happening this evening that occupied about 70% of the restaurant.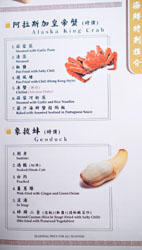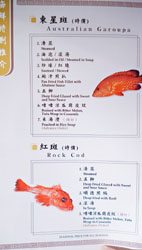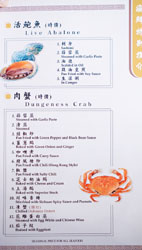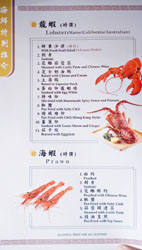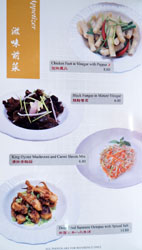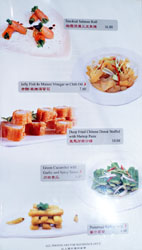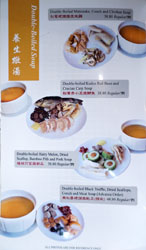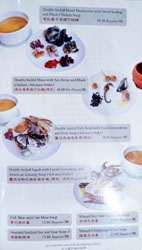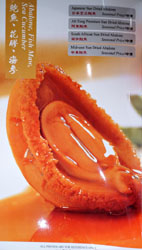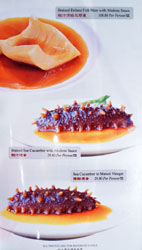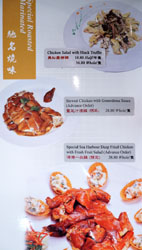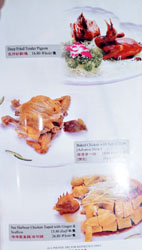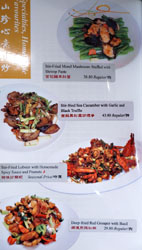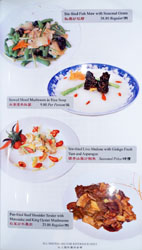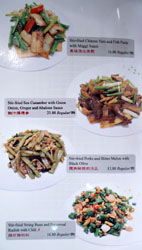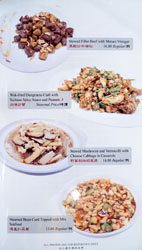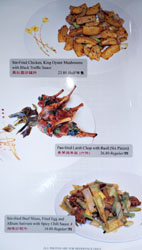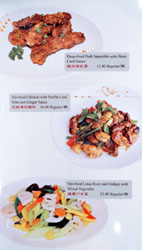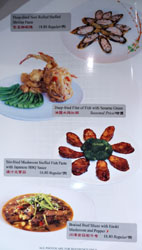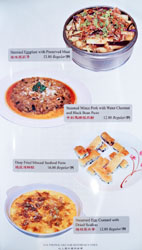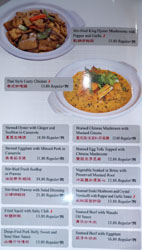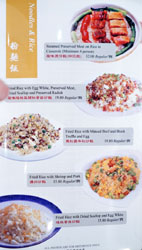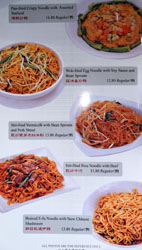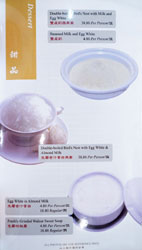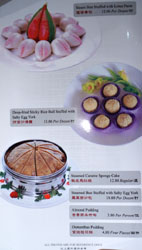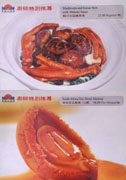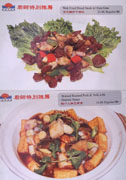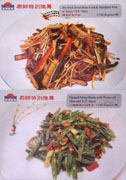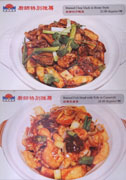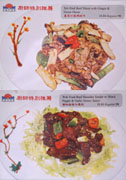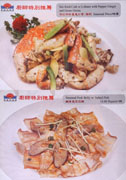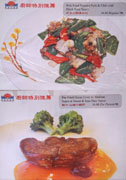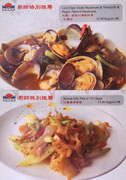 These days Sea Harbour's more known for its dim sum, but there's a very complete dinner menu as well featuring exactly the type of cuisine you'd expect at a high-end Cantonese seafood restaurant. Beverage-wise, there's not much to report: six types of tea, soft drinks, pedestrian beer, and house wine you won't want. As for corkage, we were told $20 a bottle, but one of my dining companions negotiated it down to a flat $100 fee for everything. Click for larger versions.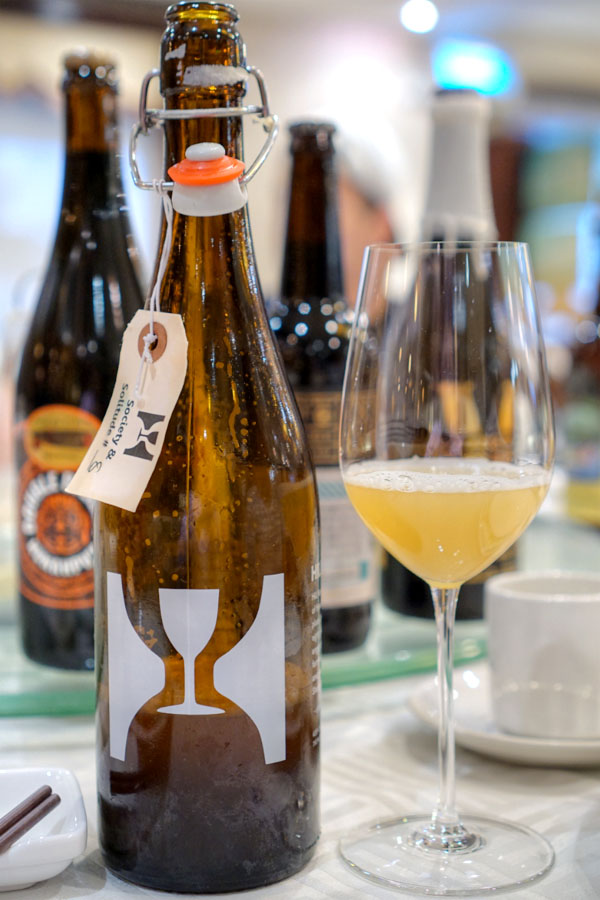 This was a bit of a beer-focused dinner, so everybody brought a nice stout (or two), and optionally some hops. We started with a growler of the
2017 Hill Farmstead Society & Solitude #8
, an American imperial pale ale hopped with Simcoe, Citra, and Mosaic. Very aromatic nose here, with a pleasing balance of both bitter and juicy. Upon tasting, I found it bitter, crisp, with a bite to it and a hoppy finish. Interestingly, as the beer warmed, the finish got sweeter, and even showed off some candied notes.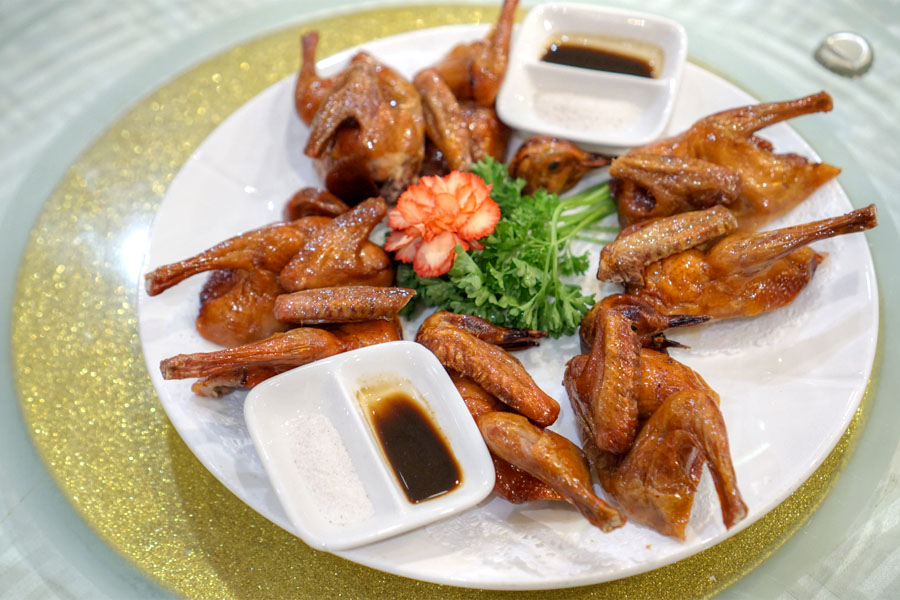 Deep Fried Tender Pigeon [$16.80 x 4]
Squab came out with a crisp, almost shatter-y skin, the bird's deep, savory flavors complemented by a good amount of fragrant, sweet spice.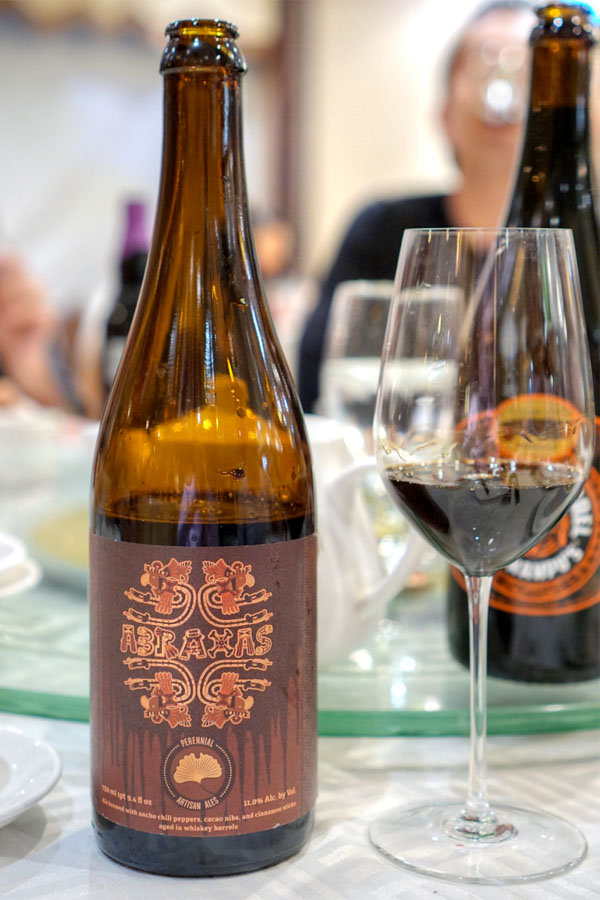 The standard-bearing
2016 Perennial Barrel-Aged Abraxas
was an imperial stout aged for a year in Rittenhouse Rye barrels with cacao nibs, vanilla beans, ancho chiles, and cinnamon sticks. Smelled of rich chocolate commingled with cinnamon and a hint of booziness. On the palate, I thought it was super smooth, sometimes even syrupy, with a balanced amount of sugary heat joined by wisps of light vanilla. This one was drinking quite well, and got even smoother as the night progressed.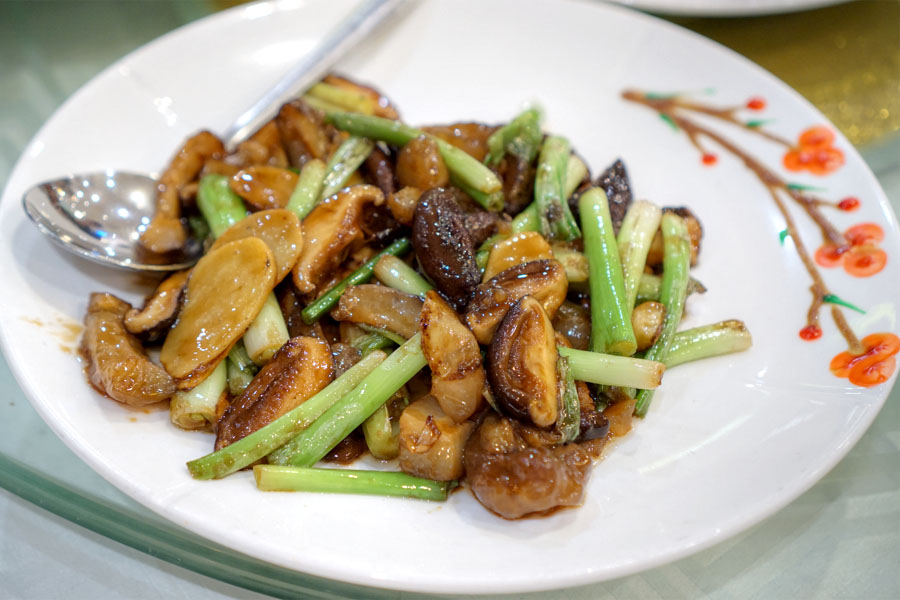 Stir-fried Sea Cucumber with Green Onion, Ginger and Abalone Sauce [$23.80]
Haishen
was well presented, coming out slippery and snappy, its mild taste enriched by umami notes from the abalone and mushroom. I also appreciated the zestiness provided by the ginger and scallion as well--very nice overall.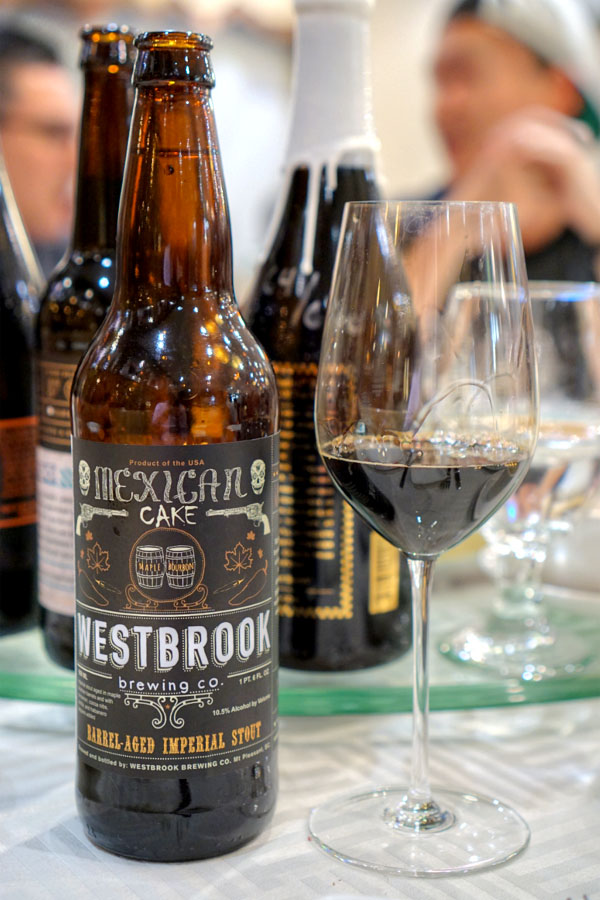 Our next imperial stout was aged 12 months in maple bourbon barrels with cinnamon, cocoa nibs, vanilla, and habanero peppers: the
2016 Westbrook Maple Bourbon Mexican Cake
. The nose on this one recalled spicy date cake, which wasn't a bad thing. In terms of taste, I found it smooth, with not much spice initially, but boatloads on the close. The beer seemed to get spicier and spicier the more I drank, so I would've liked more from the maple syrup to help cut that.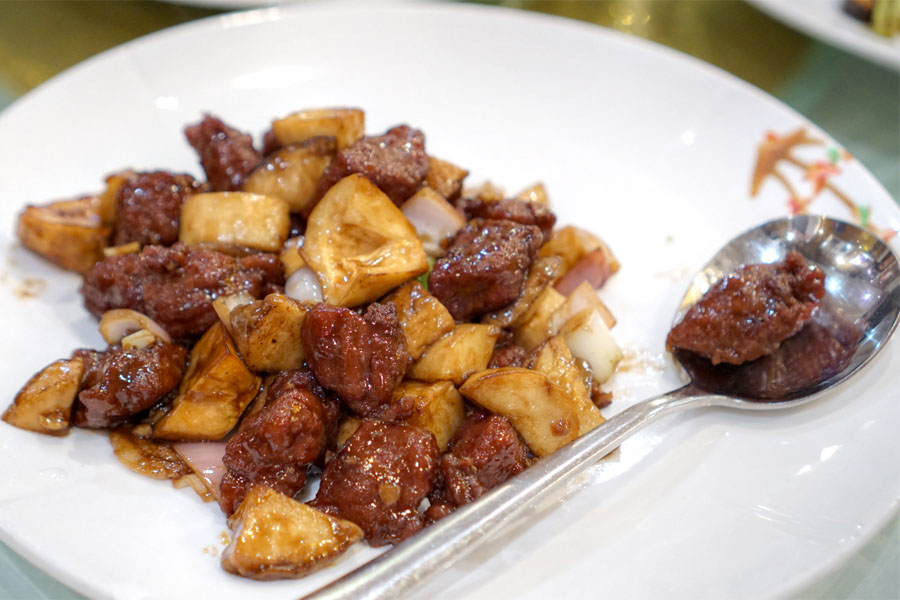 Stewed Fillet Beef with Mature Vinegar [$16.80]
The beef was slightly chewier than I would've wanted, but delivered in the flavor department for sure. I loved the rich, tangy nature of the vinegar utilized, and was fond of those spongey mushrooms and zippy cuts of onion, too.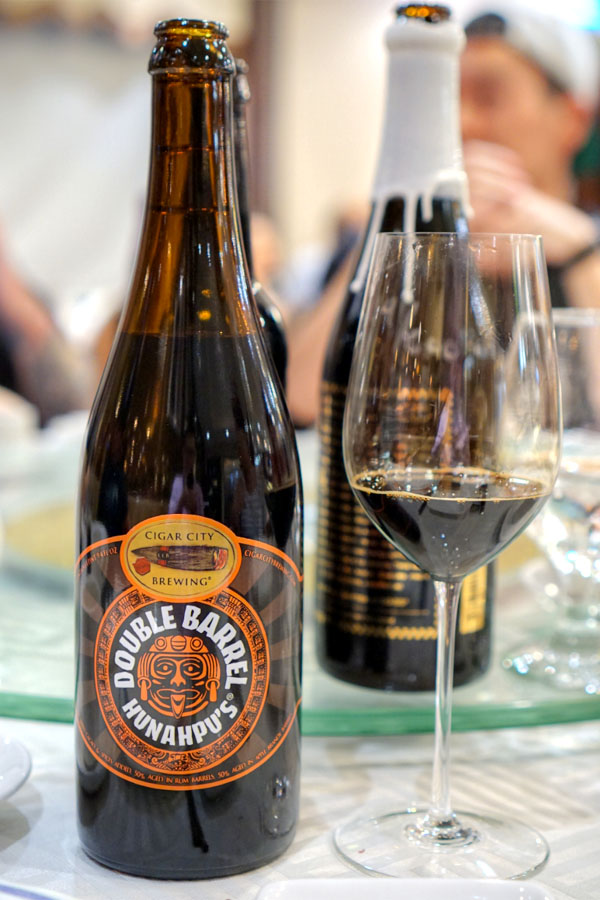 Continuing on with the Mexican-y theme, here was the
2016 Cigar City Double Barrel Hunahpu's
, an imperial stout conditioned on Peruvian cacao nibs, ancho and pasilla chiles, cinnamon, and Madagascar vanilla beans, then aged in apple brandy and rum barrels and blended. Very malty, chocolatey nose with spice and dark fruit peeking through. The taste brought lots of roast at first blush, then transitioned to a combination of vegetal and berry notes before finishing with a lingering, intense, fruity spice.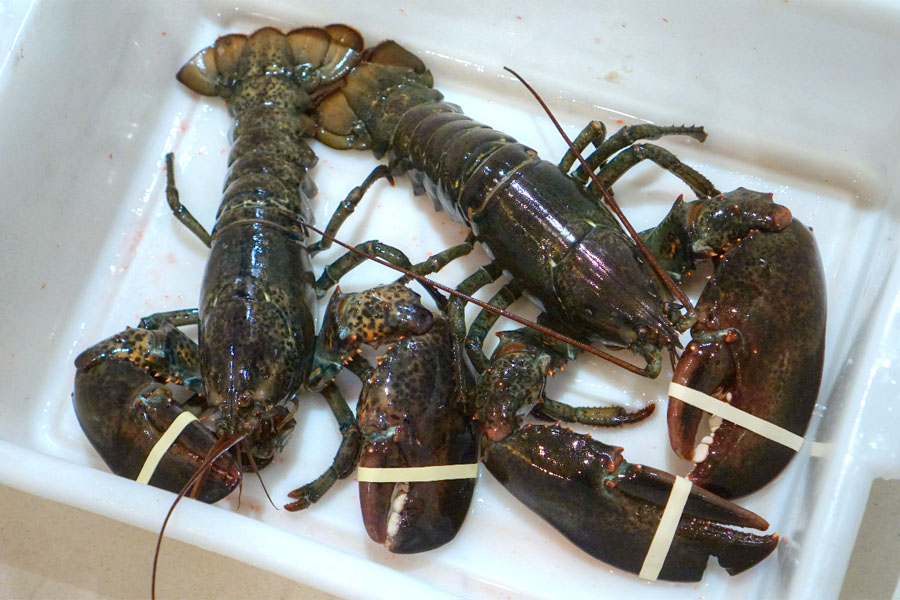 The two lobster we'd picked out. Given that this was a live seafood sort of place, we felt the urge to indulge a bit.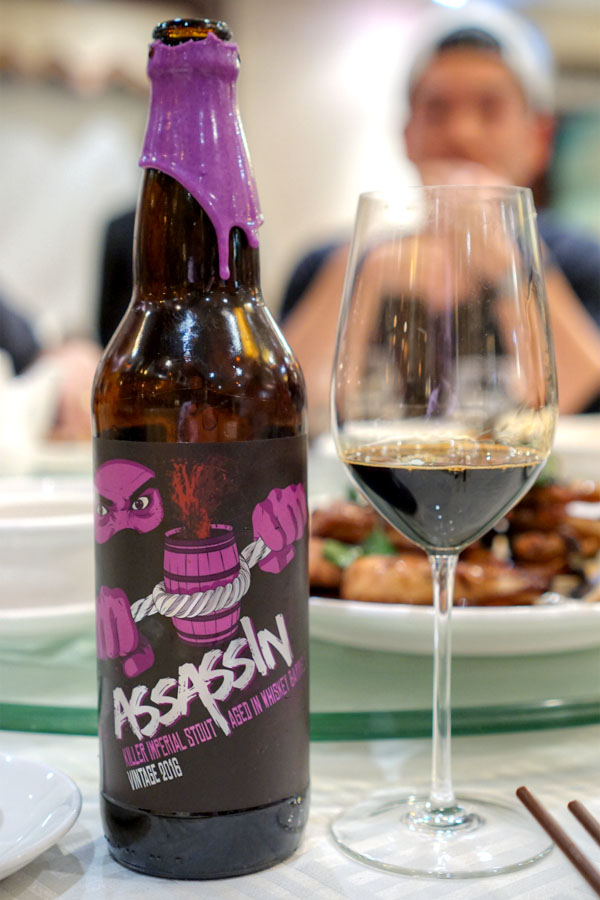 Next to drink came the
2016 Toppling Goliath Assassin
, an oft-hyped imperial stout aged in whiskey barrels. Aromas were heavy on the chocolate and malty characteristics, with a tinge of tart berry. The taste conveyed more of the same, along with roasty coffee, oak, and some sweet, dark fruit.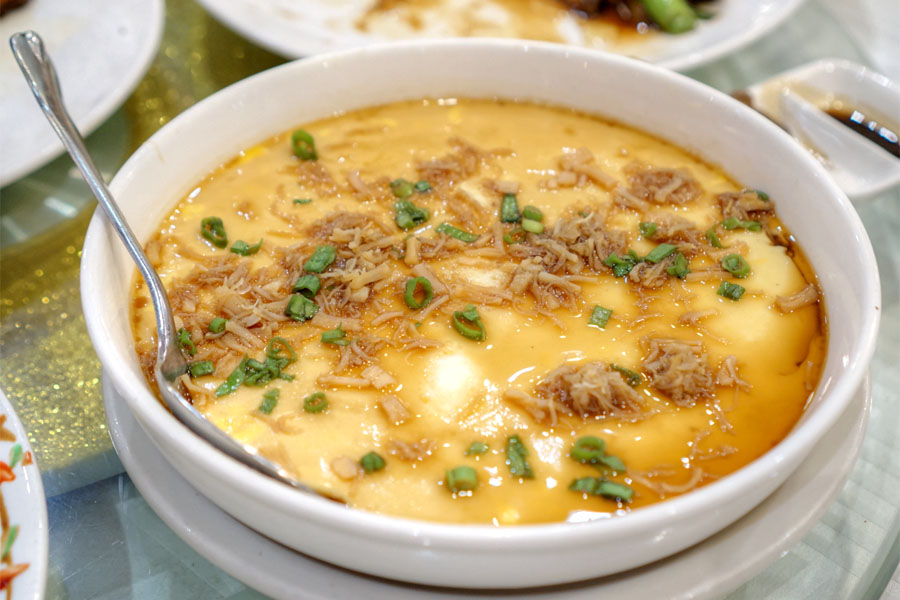 Steamed Egg Custard with Dried Scallop [$12.80]
The
zheng dan
was a favorite of mine. The actual egg itself I found light, fluffy almost, with a mild taste dutifully enhanced by the depth of dried scallop. Yum.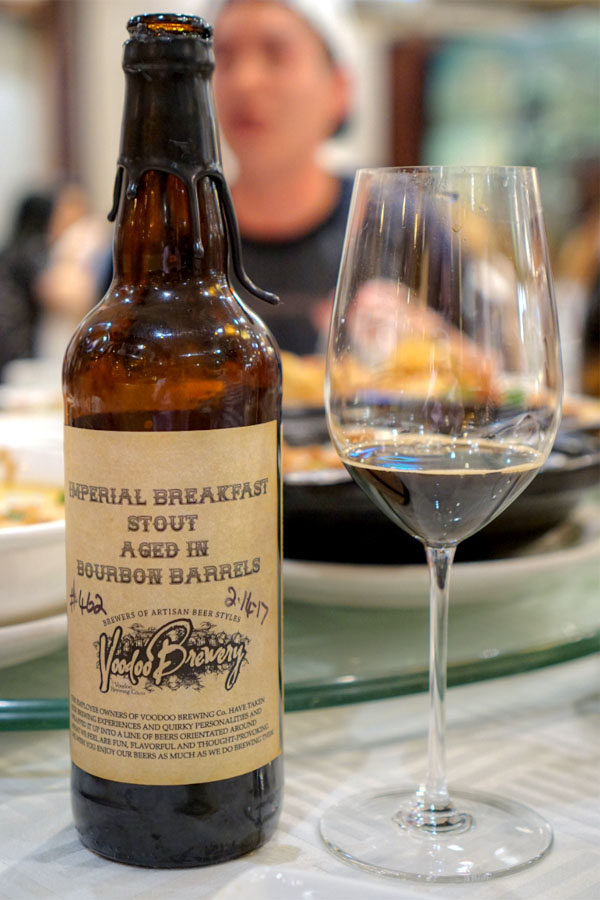 The
2017 Voodoo Imperial Breakfast Stout
was an imperial stout with coffee, Ghanaian cocoa nibs, and maple syrup, aged 20 months in Woodford Reserve bourbon barrels. Nose of chalky chocolate and roasted malt, with light wood. The palate displayed more of the advertised cacao along with maple and oak, with the coffee providing a roasty, bitter counterpoint. Breakfast-y for sure.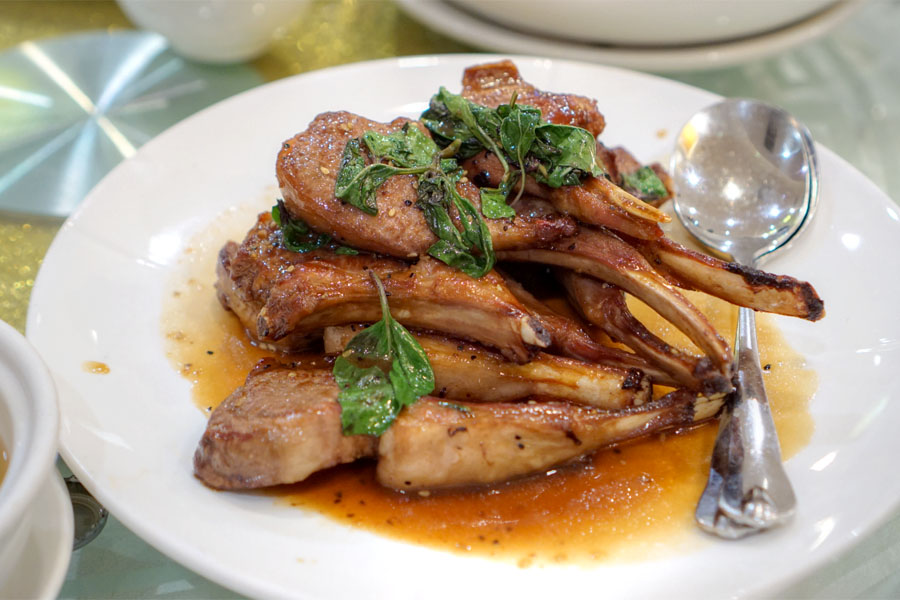 Pan-fried Lamb Chop with Basil (Six Pieces) [$26.8 x 1.5]
The lamb chops were surprisingly delicious, arriving very tender, very flavorful, with a wonderfully fragrant counterpoint from the basil.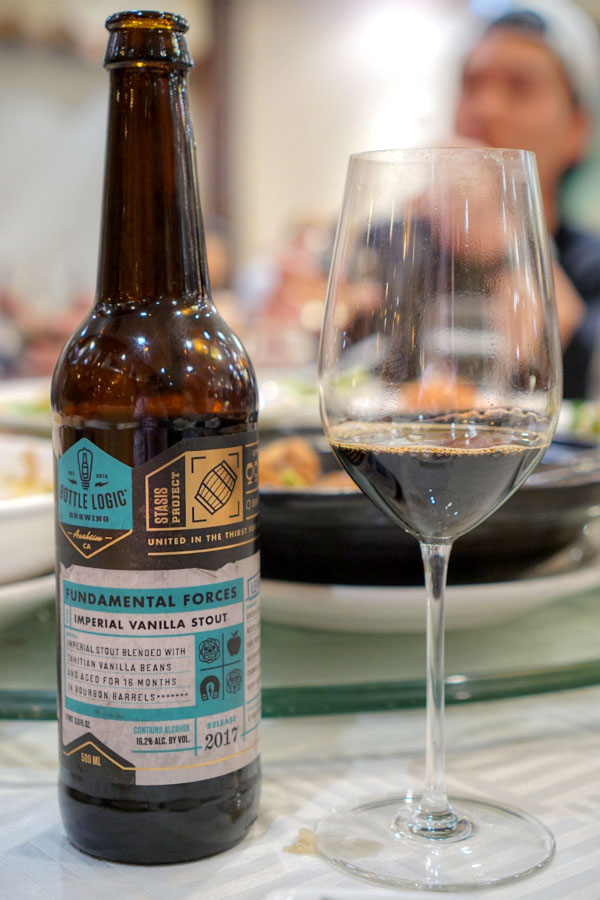 The
2017 Bottle Logic Fundamental Forces
was an imperial stout with Tahitian vanilla beans aged 16 months in bourbon barrels. The bouquet on this one was big on the vanilla and chocolate, with a bit of alcoholic heat in the background. In terms of taste, I'd say oaky and boozy initially, but then definitely malt-forward, with rich, aromatic vanilla notes that lingered long and strong. With time, I got even more marshmallow character from the beer.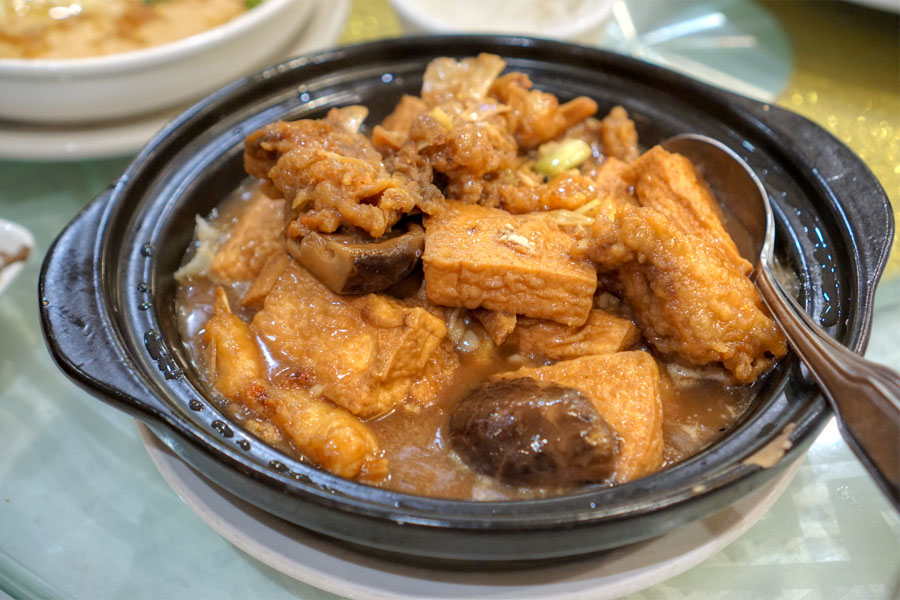 Braised Fish Head with Tofu in Casserole [$28.80]
Soft, yet substantial chunks of tofu really soaked up the rich, heady flavors in this dish, making it a real surprise standout for me. I also loved the meaty mushrooms here, as well as the crisp shards of lettuce at the bottom of the casserole.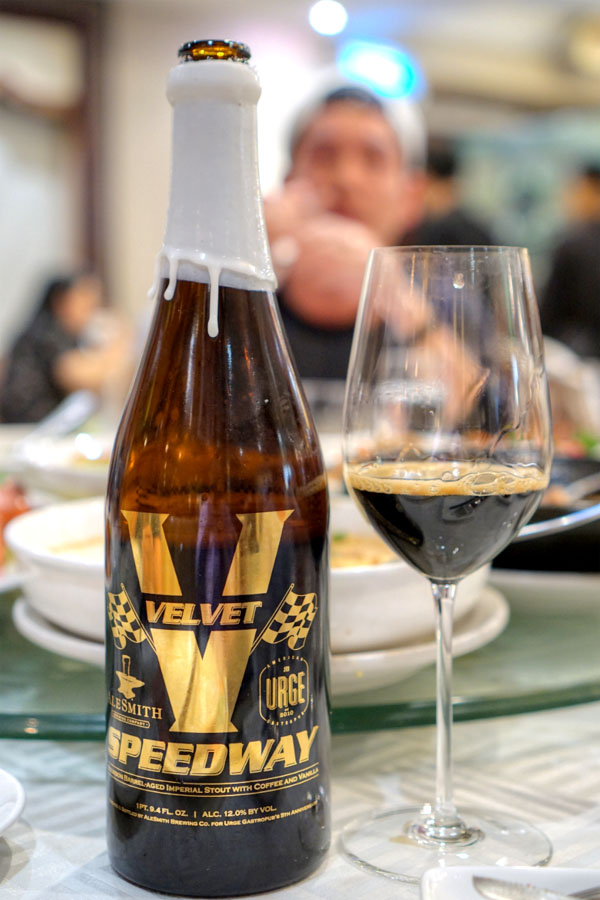 Created to celebrate Urge Gastropub's 5th Anniversary, the
2015 AleSmith Velvet Speedway
was an imperial stout aged for a year in 23-year-old Evan Williams bourbon barrels, then treated with a rye whiskey-infused Madagascar vanilla bean tincture and bourbon barrel-aged Jamaica Blue Mountain cold brew coffee from Mostra. The nose here had a surprisingly large amount of vanilla, along with your expected malty notes and some coffee. Taste-wise, I found it super smooth, chocolatey, roasty, with some alcoholic spiciness but only a slight trace of vanilla (but then again, AleSmith beers aren't all about big adjunct flavors typically).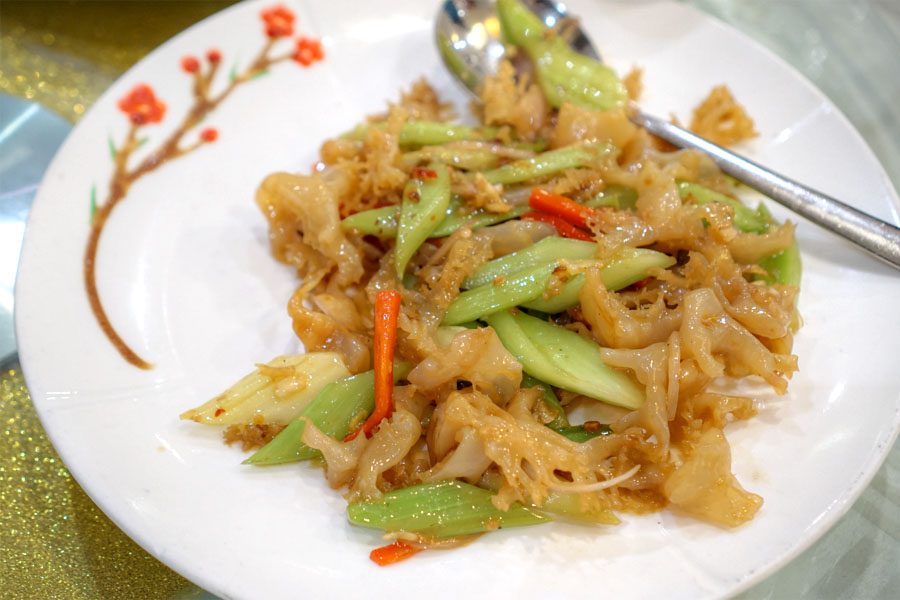 Stewed Jelly Fish with XO Sauce [$15.80]
Slick cuts of jellyfish were a joy to eat, their delicate flavor really kicked up a notch by the potency of XO. Nice bitter crunch from the celery, and I detected a slight heat in the dish as well.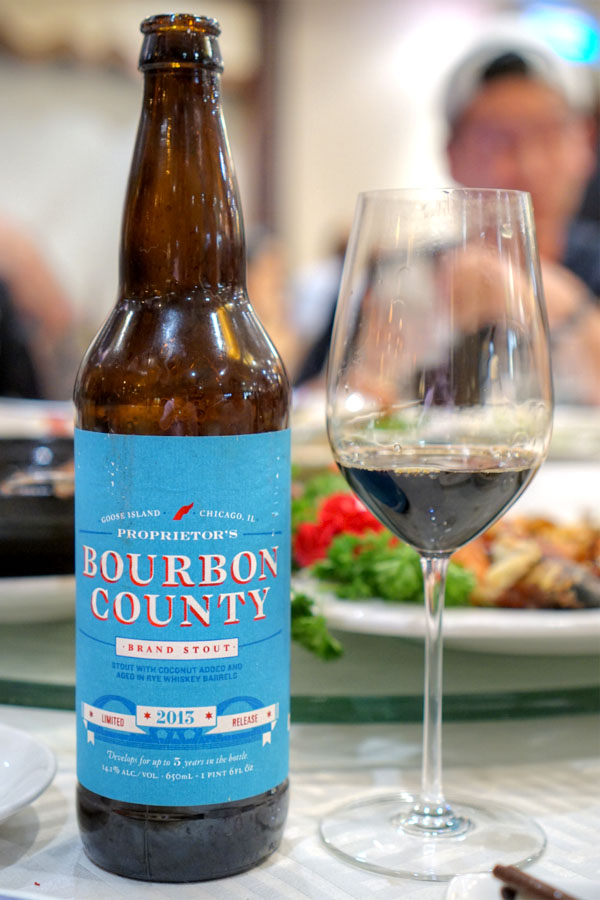 An imperial stout brewed with toasted coconut and aged in rye whiskey barrels, the
2013 Goose Island Proprietor's Bourbon County Brand Stout
just might've been my favorite beer of the night. Nose brimming with chocolate and coconut. On the palate, think thick, viscous,
smooth
, with more chocolate and rich coconut all over. This one lived up to the hype, and I was really impressed by how much coconut was still left after all these years.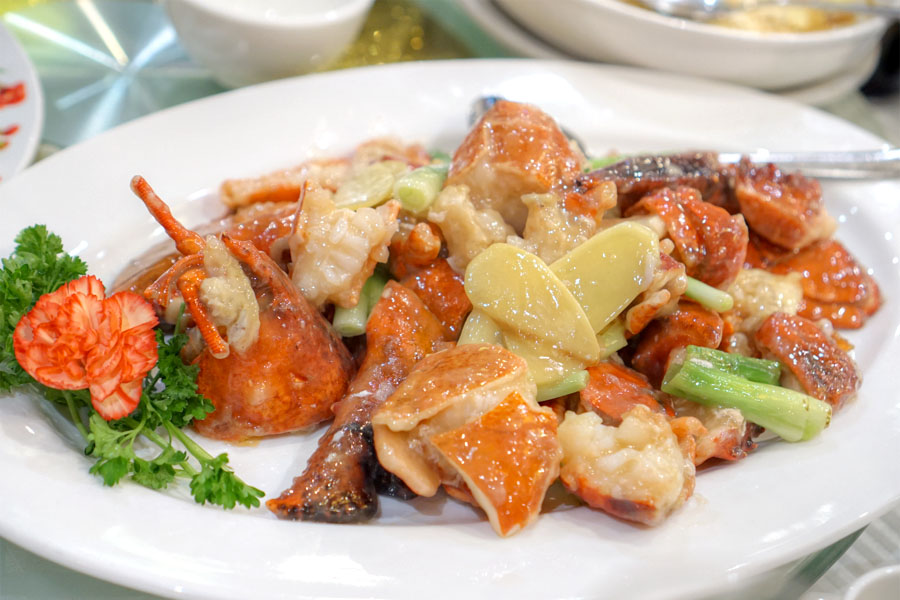 Lobster - Sauteed with Egg White [$38.80 x 3]
The live lobster we'd picked out earlier finally made its appearance, and it didn't disappoint. I found the meat soft, spongey, but with a good snap to it. The accompaniments here were relatively restrained, so we really got to taste the inherent sweetness of the lobster.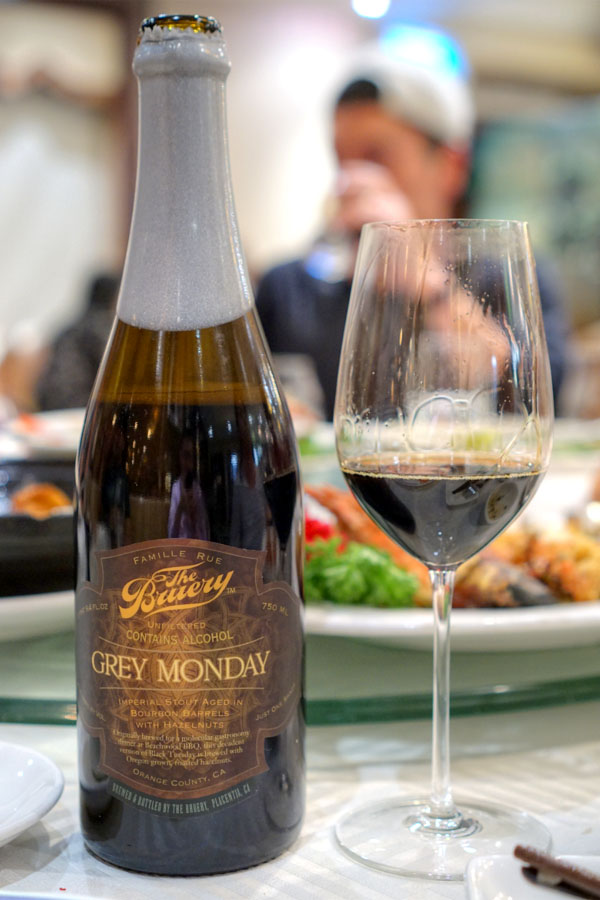 The oldest beer we sampled was the
2012 The Bruery Grey Monday
, the batch 1 version of the brewery's well-known hazelnut-enriched bourbon barrel-aged imperial stout. This one smelled boozy to be sure, but with a roasty quality joined by some distinct honey-like notes. On the palate I found this very smooth, with a bit of heat and coffee, but nary any hazelnut. However, it did have lots of that aforementioned honey, and one of my dining companions even likened it to mead. It was interesting to see how age had transformed the beer--very neat.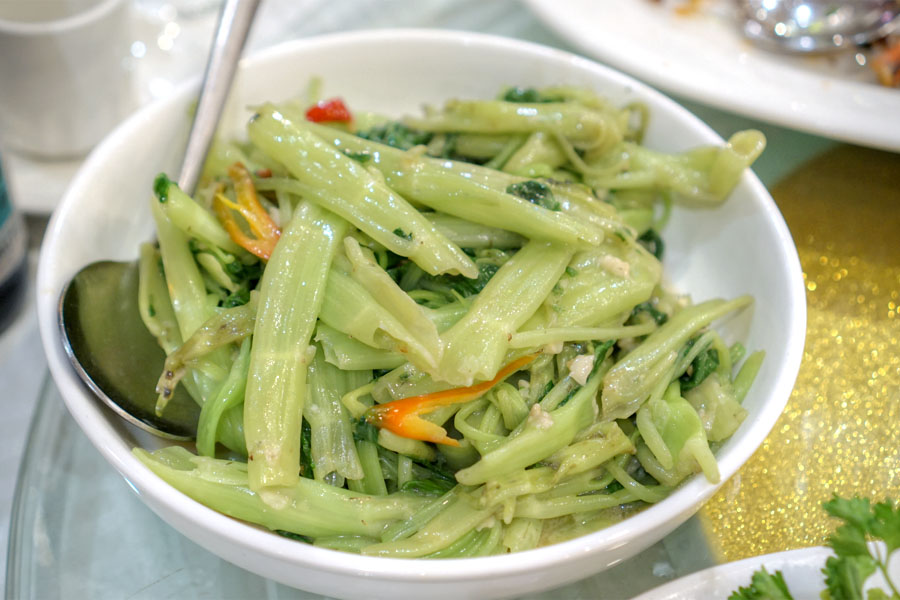 Tung Choi [$16.80]
An off-menu dish of
kongxincai
was a winner with its satisfyingly crisp texture and light savoriness. A welcomed respite from the otherwise strong flavors in the meal.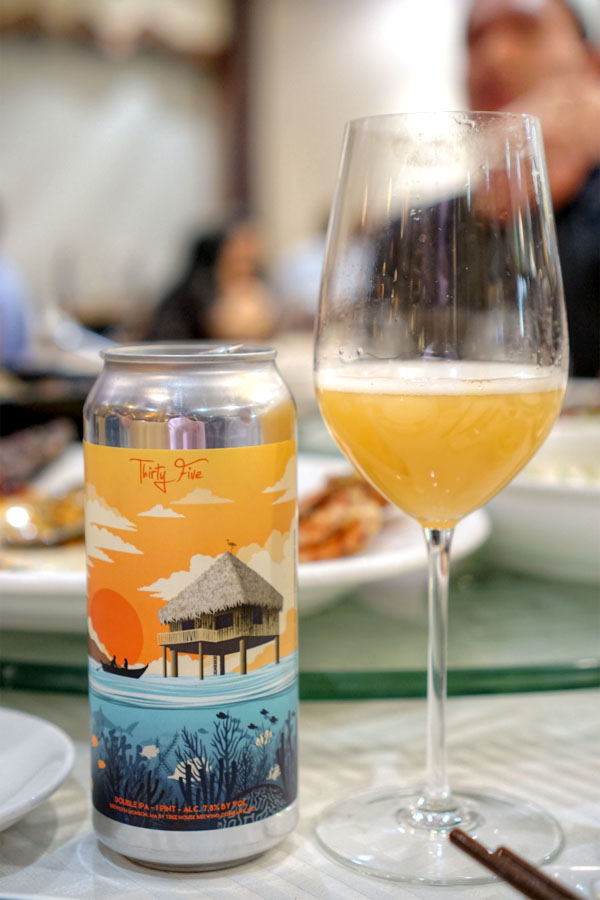 With the stouts all drunk up, we moved on to some lighter beers. First was the
2017 Tree House Curiosity Thirty Five
, an IPA brewed with Columbus and Simcoe. Nose was of hops of course, but it also showed off an odd element that made me think of brown butter. There was none of that on the tongue though, but instead I got the sharp, piney, hoppy, astringent flavors that I expected, though surprisingly little citric character.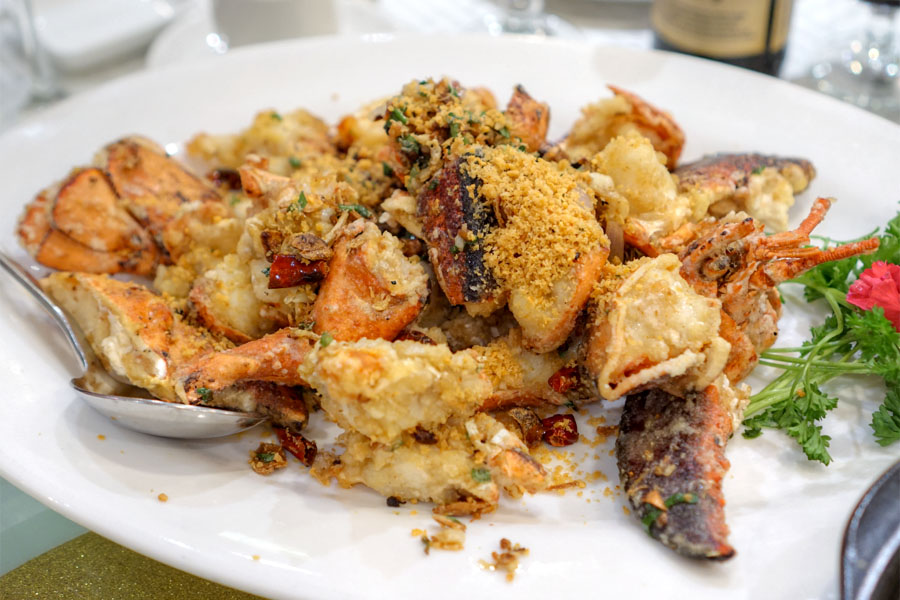 Lobster - Pan Fried with Salty Chili [$38.80 x 3]
Our second lobster preparation definitely went in a different direction, but was just as enjoyable. There was certainly some mouthwatering spice and garlic at play here, but even with the stronger flavors, the hero of the dish was never overwhelmed.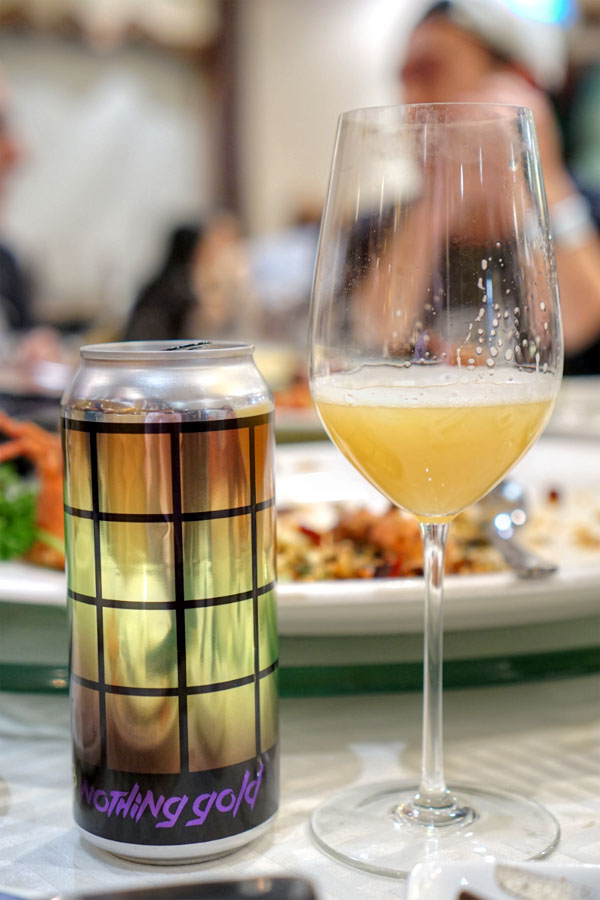 The
2017 Bissel Brothers Nothing Gold
was a double IPA with Equinox, Citra, and Amarillo. Nose was sweet and juicy, with a tasty citrus quality. The taste was on the dank, bitter, grassy side at first, but showed off more tropical fruit on the back end.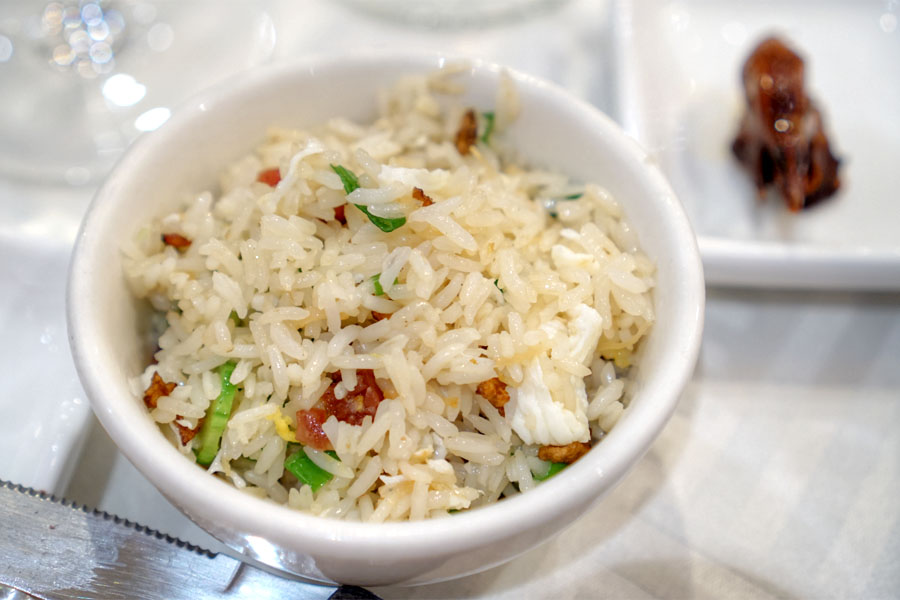 Fried Rice with Egg White, Preserved Meat, Dried Scallop and Preserved Radish [$19.80]
I often like to end with some fried rice, and it was
on point
tonight. Great eggy bits, bitterness from the asparagus, and salt from the preserved meat--I could've used a bigger bowl. Do note that the photo depicts only one-eighth of a serving (we had our server pre-split the dish).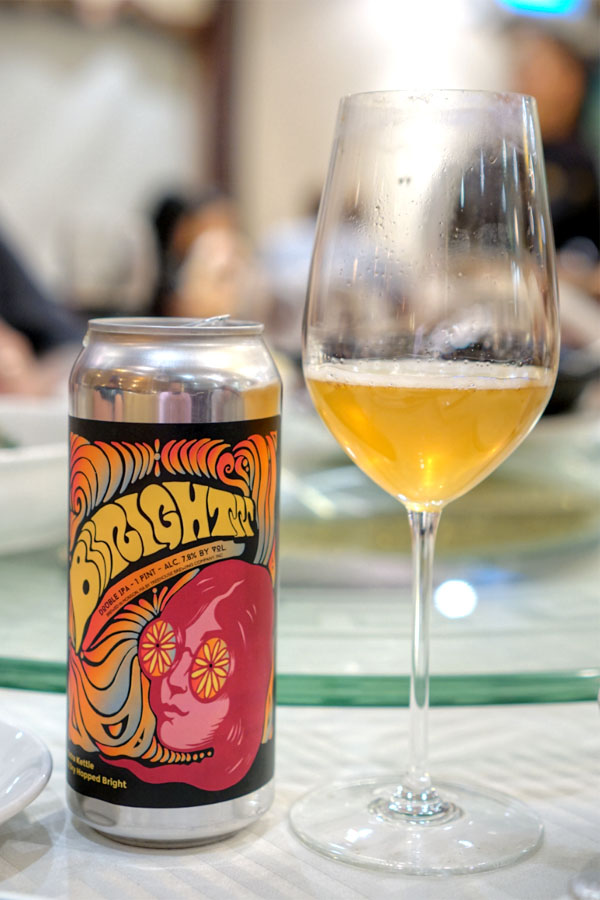 Another double IPA we had was the
2017 Tree House Bbbrighttt
, basically an extra kettle- and dry-hopped version of the brewery's regular Bright. The beer smelled of a nice balance of fresh citrus and hops. The taste was as bright as advertised, with tropical fruit, and a bitter, piney, dank finish.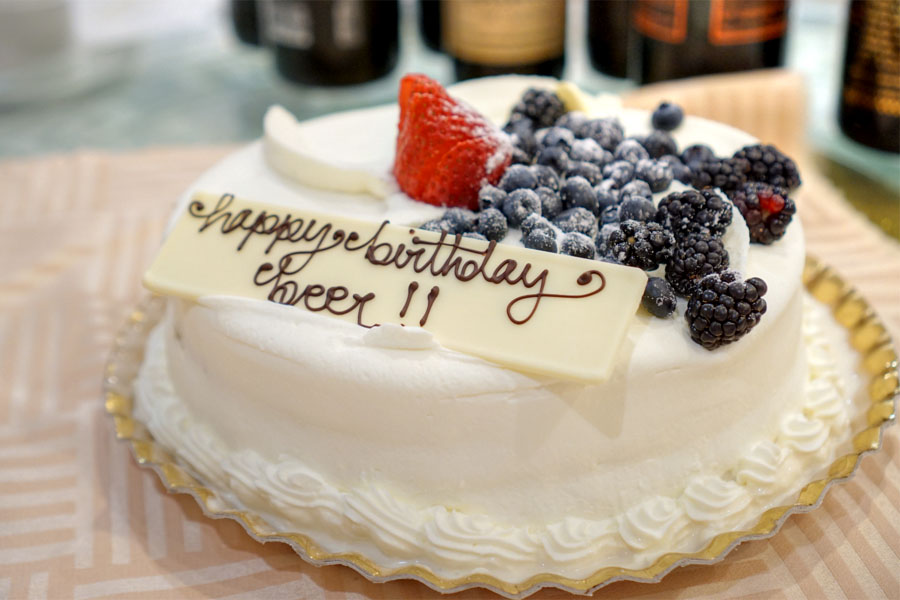 One of my dining companions brought along a
Milk'n Berries
cake from Porto's for dessert (there was no cake cutting fee).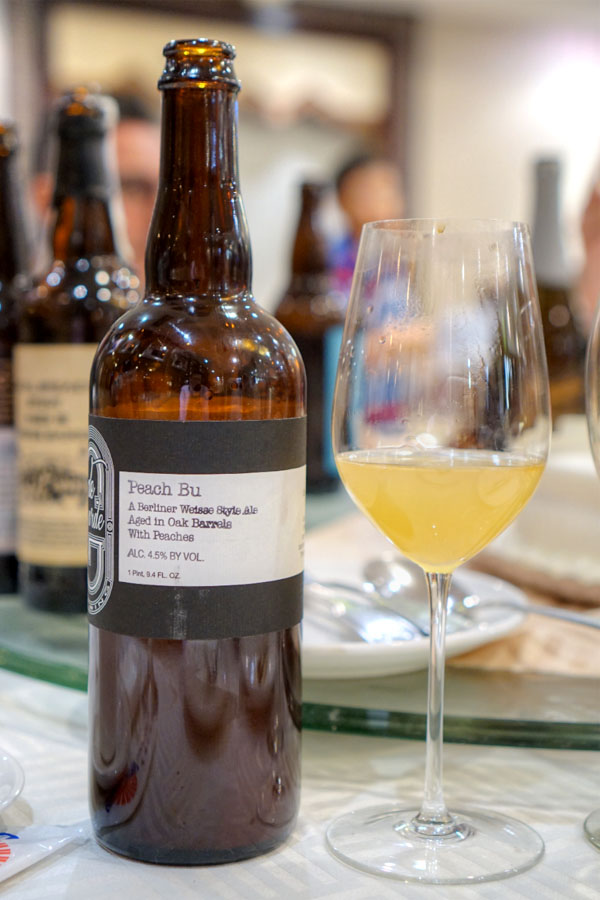 Our sole sour of the evening was the
2017 de Garde Peach Bu
, a Berliner Weisse-style ale aged in oak barrels with peaches. Nose here was very sour, with the fruit in the background. The taste conveyed only light peach at first, along with tartness and yeast, while the back end had more of that rich stone fruit I was looking for.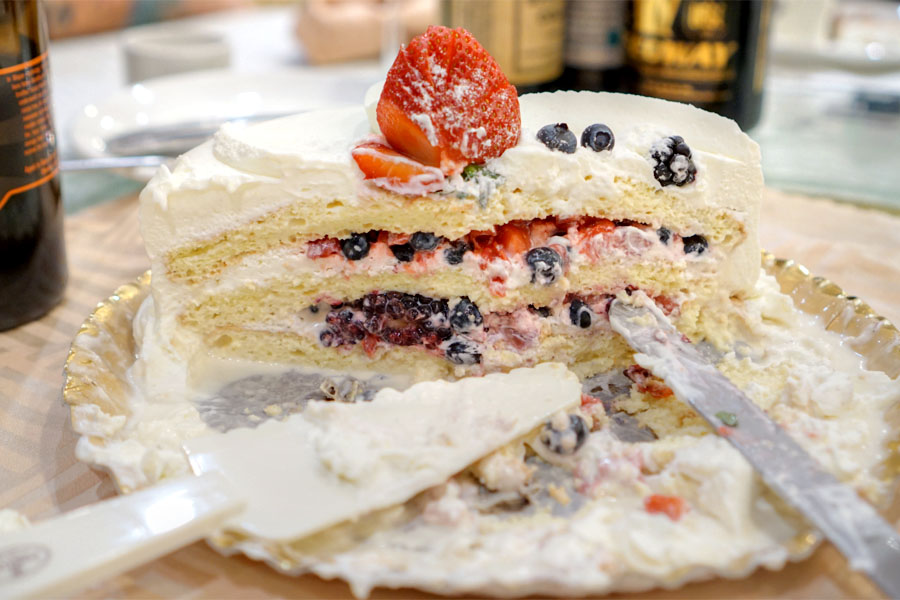 The cake was pretty much a
tres leches
, with layers of sponge soaked with condensed milk, evaporated milk, cream, and brandy, then finished with whipped cream and berries. A sweet, tasty conclusion to the meal.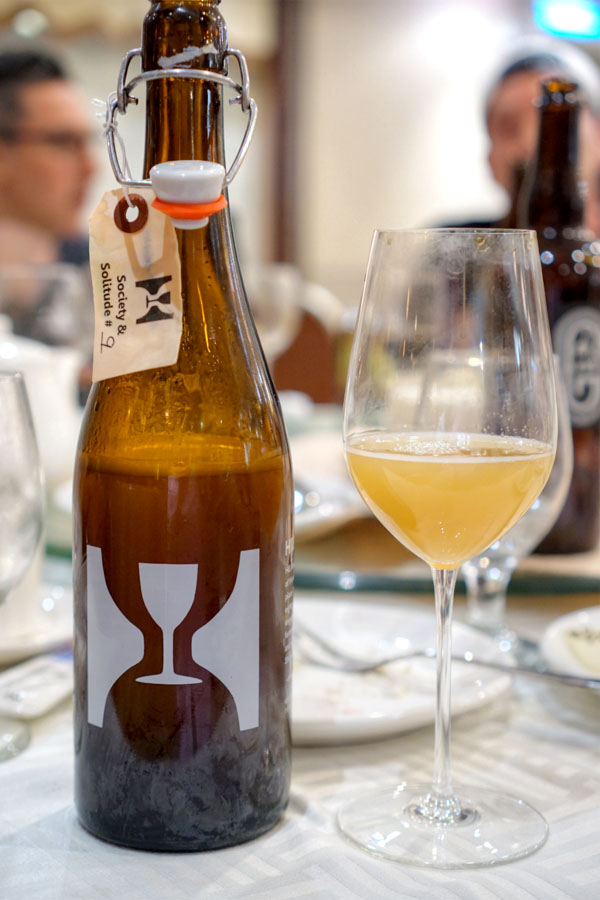 Our last beer was the
2017 Hill Farmstead Society & Solitude #9
, a double IPA with Nelson Sauvin, Motueka, and Amarillo. Aromas here were hoppy and grassy sure, but with an unexpected sweet spice. Taste-wise, things went in a dank, bitter, vegetal direction, but with some contrast provided by layers of tropical fruit.
We all had a lovely time at Sea Harbour, with some great food and great beer. I have to say that this certainly was one of the strongest Chinese meals I've had in recent times, one that really reiterated the pleasures of a good Hong Kong-style seafood dinner. I still need to report on this place for dim sum, too.