Here's Looking at You (Los Angeles, CA) [2]
Here's Looking at You Restaurant
3901 W 6th St, Los Angeles, CA 90020
213.568.3573
www.hereslookingatyoula.com
Sun 05/07/2017, 09:00p-11:25p
A friend of mine recently returned home to Southern California after a five-year stint in China, and I ruminated for a bit on which restaurant to take her to. I needed one that could function as a sort of reintroduction to the Los Angeles dining scene, one that really screams "LA," and ended up settling on Jonathan Whitener and Lien Ta's
Here's Looking at You
. The Koreatown eatery opened last July, and has established itself as a restaurant that really captures our City's culinary zeitgeist, with cuisine that blends the Chef's classical training with the multicultural influences of the Southland.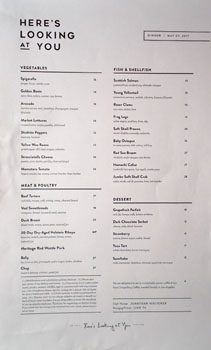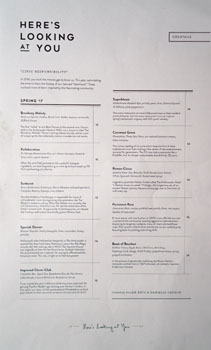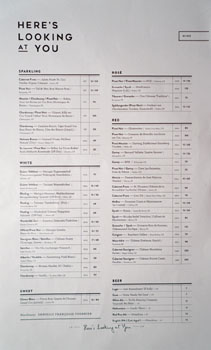 The menu's slightly longer now, but retains the same cadence it'd had before. I noticed a number of standby dishes (e.g. the shishitos, tartare, octo), though there was plenty new to try as well. On the beverage side of things, HLaY is on its third cocktail list (this one inspired by the restaurant's K-Town locale), crafted once again by Allan Katz and Danielle Crouch, while Danielle Françoise Fournier's wine list remains intact. Click for larger versions.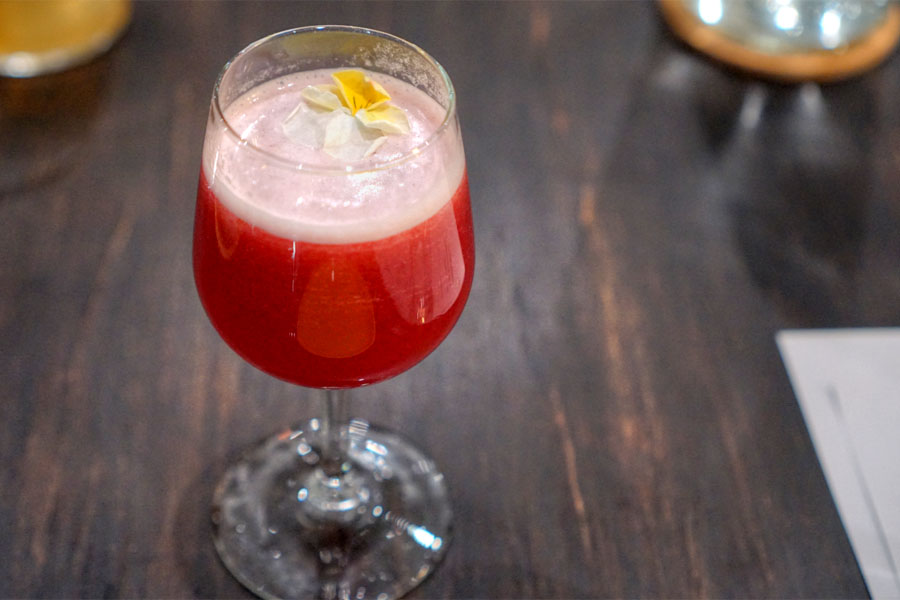 Superbloom [$14.00]
| Rittenhouse Bonded Rye, prickly pear, lime, Dimmi liquoré di Milano, pink peppercorn
This was a timely cocktail, given that SoCal had recently experienced a "super bloom" of flowers thanks to all that rain we'd been having. As you might imagine, it showed off a strong, vibrantly floral nose. The taste again had a floral, fruity sweetness to it, but also conveyed a contrasting piquancy and spice that prevented the drink from becoming too sugary.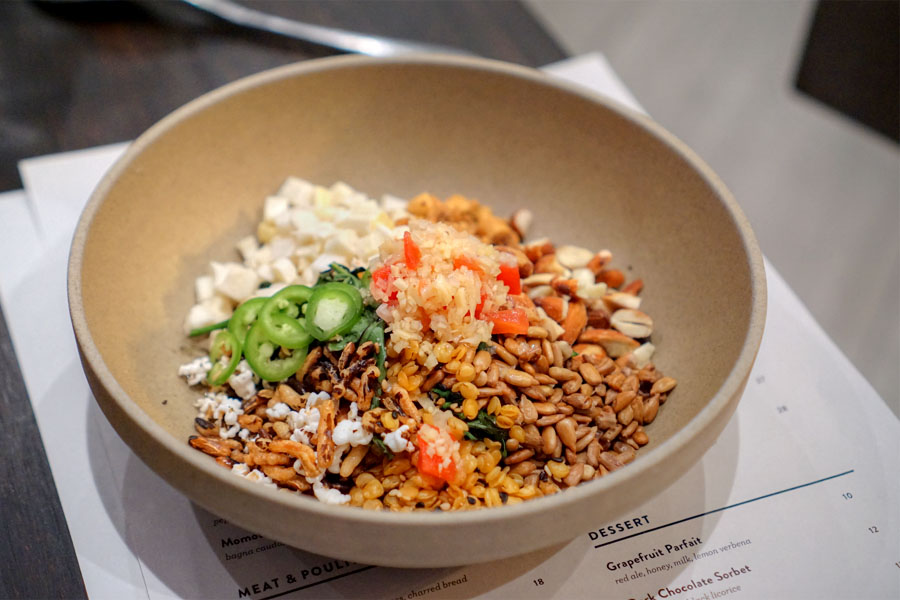 Spigarello [$15.00]
| ginger, h.o.p., seeds, nuts
The spigarello was a favorite. I loved the nuttiness here, and how that meshed with savoriness and lingering heat in the dish, while the greens served as a wonderfully bitter base. A lot going on, but everything just came together beautifully. Great textures, too.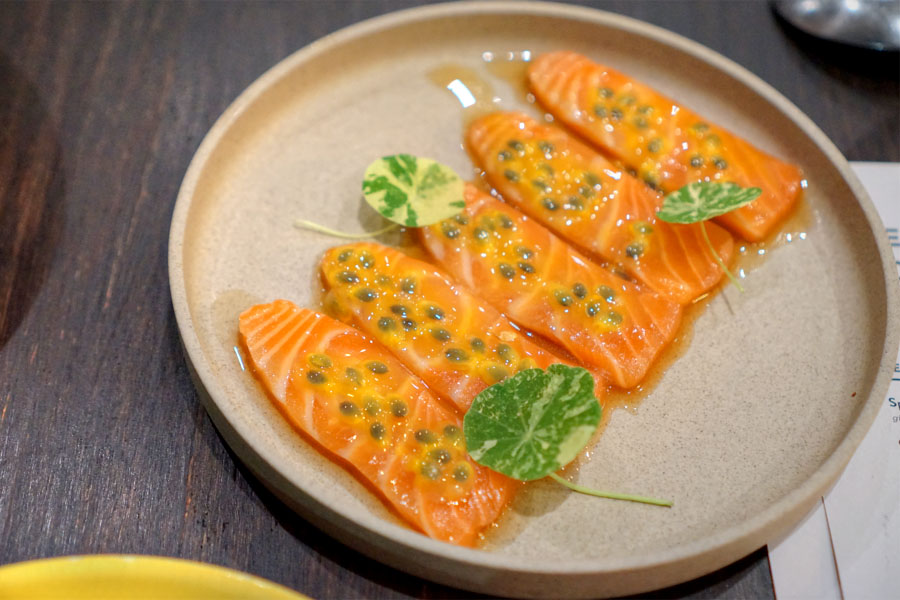 Scottish Salmon [$13.00]
| passionfruit, smoked soy, shiitake vinegar
In our next course, soy and shiitake amplified the inherent richness of the salmon. At the same time, passion fruit imparted a sweet-tart element that worked as a sort of unexpected, but actually very effective counterpoint to the fish.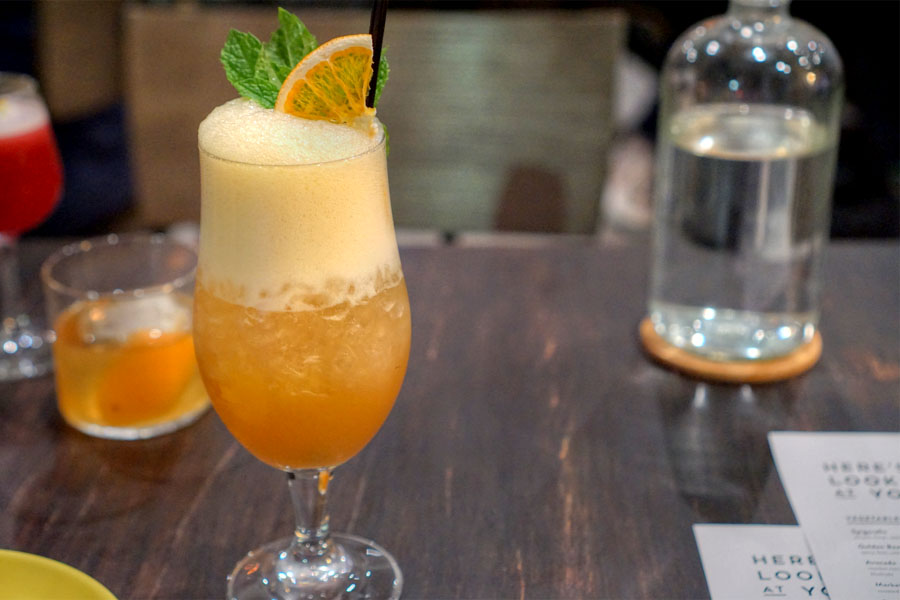 There's a Cocoanut Grove cocktail on the printed list, named after the nightclub at the old Ambassador Hotel. However, we were offered an original tiki version to try (Scotch, orange juice, pineapple juice, grenadine), which is apparently one of the Chef's favorite drinks. I found it fun and fruity, with huge amounts of citrus and nary any trace of booze. This one could be dangerous.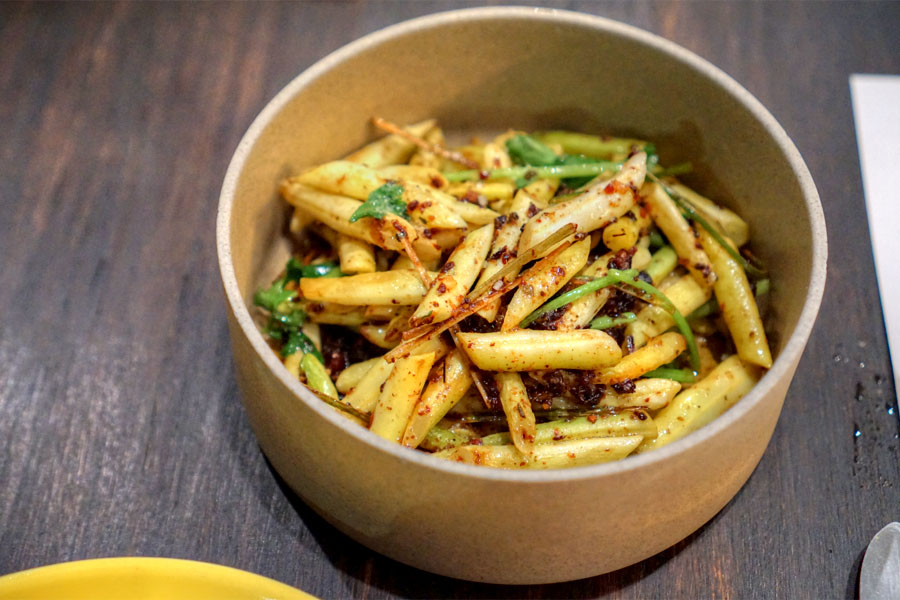 Yellow Wax Beans [$12.00]
| grasshopper XO, leek scapes, cilantro
I was a big, big fan of the wax beans. They came out firm and crunchy, and were well-matched with the savory, tangy depth of that
chapulines
-enhanced XO. Leeks, meanwhile, provided an extra bit of brightness that perfectly rounded out the dish.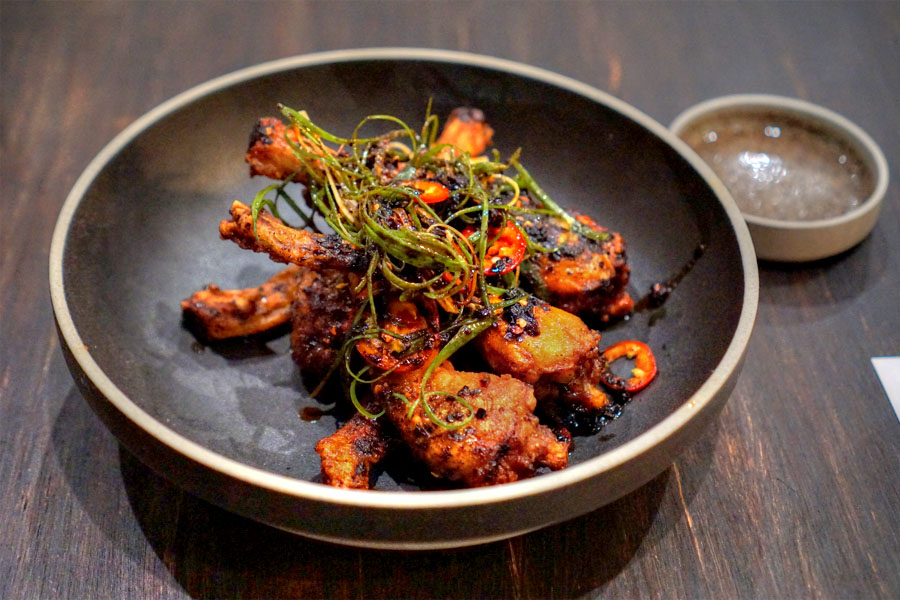 Frog Legs [$16.00]
| salsa negra, scallion, lime, s&p
The frog legs were another favorite. They were about as juicy as you can get, tender, and super flavorful, with a fantastic spice and seasoning from the salsa negra. Nice touch of astringency from the scallions as well. Quite possibly the best preparations of frog legs I've had.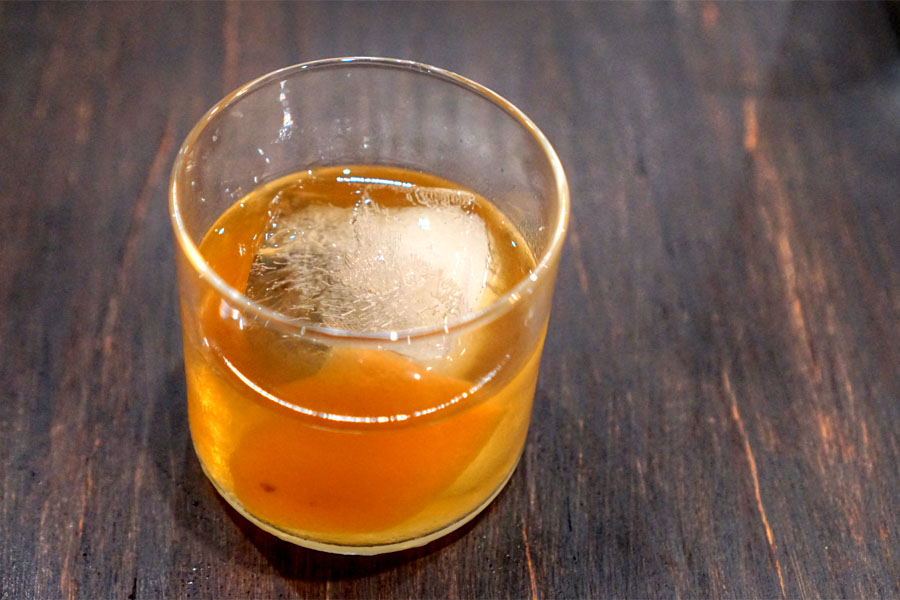 Beast of Bourbon [$14.00]
| Buffalo Trace, Eagle Rare, Old Crow, Bird Dog, Fighting Cock, Stagg, Wild Turkey, grapefruit-honey syrup, grapefruit bitters
A variation on the Brown Derby cocktail definitely worked things out. It smelled fantastic, with heady, almost caramel-like aromas commingled with citrus. The taste showed off a sugariness from the honey, evened out by a persistent booziness and bitterness, while the back end conveyed a bevy of sweet spice notes.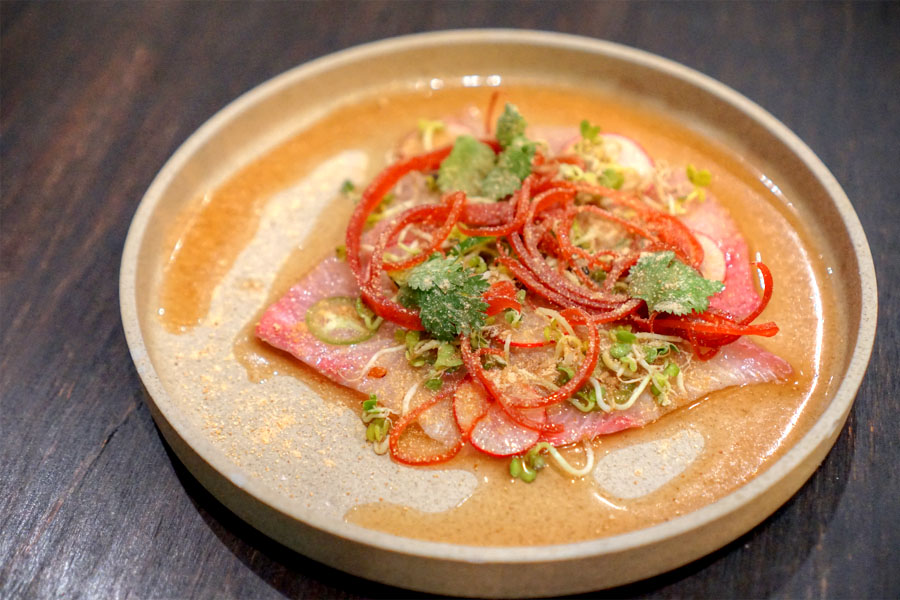 Young Yellowtail [$15.00]
| tamarind, serrano, radish, cilantro, banana blossom
The kitchen then sent out a dish of yellowtail. It was another winner, with a balance of sour, spicy, and herby that pretty much perfectly complemented the fish. Make sure to get everything in one bite though.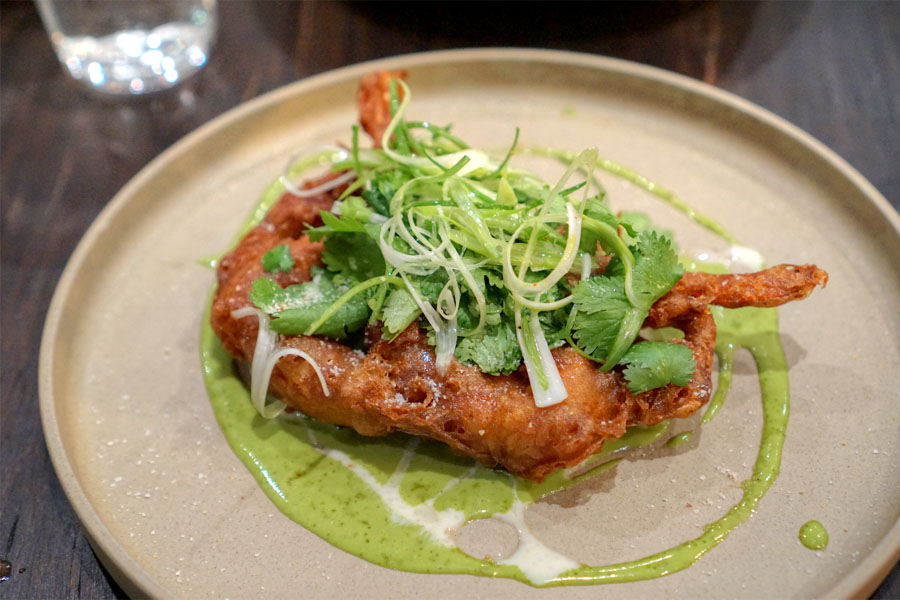 Jumbo Soft Shell Crab [$28.00]
| salsa verde, sal de gusano, lime, coriander
Along with the yellowtail came the soft shell crab, which turned out to be no doubt one of the strongest preparations I've had. Really nice crispness, sweetness, and brine on the crab, and I definitely enjoyed the brightness of that salsa verde. Excellent zestiness from all that greenery on top, too.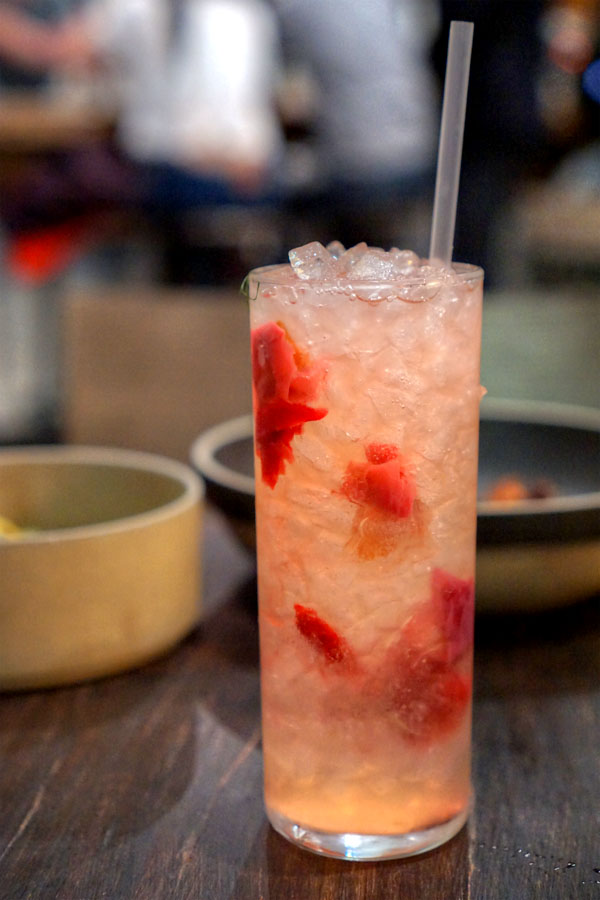 Persistent Rose [$15.00]
| Jamaican Rum, verjus, pickled rose petals, lime, raw sugar, dashes of rosewater
Next was a swizzle-inspired cocktail ostensibly created by the Chef himself. I got boatloads of floral, sweet, almost lychee-like nuances in this one, but with the rum peeking through just enough. Protip: eat the pickle-y bits afterward.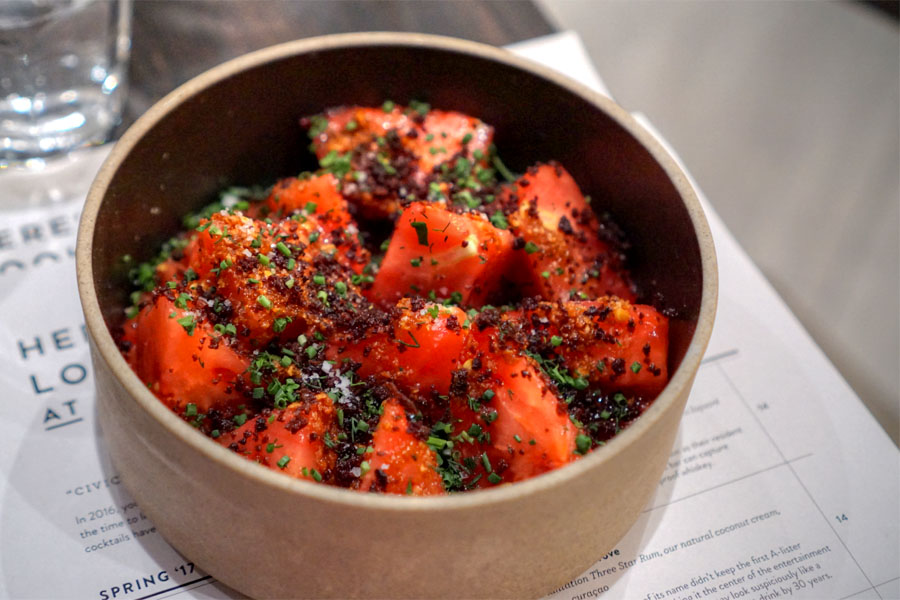 Momotaro Tomato [$14.00]
| bagna cauda, lap xuong, creme fraiche, fines herbes
Momotaros were done justice. They were firm, meaty to the bite, yet still juicy and refreshing. I loved the salty contrast provided by the
lap cheong
(almost resembling bacon bits here), but even more crucial was the richness of the
bagna càuda
on the bottom.
Heritage Red Wattle Pork Belly [$27.00]
| key lime amba, pineapple, palm sugar, herbs, shallots
For our final savory, pork belly went in a seemingly Southeast Asian direction. The meat itself came out properly fatty, with a great crispness on the skin. The belly certainly had a heft to it, but the myriad of sour, spicy, herby, slightly sweet, slightly funky notes made for a well-balanced, multifaceted dish in the end.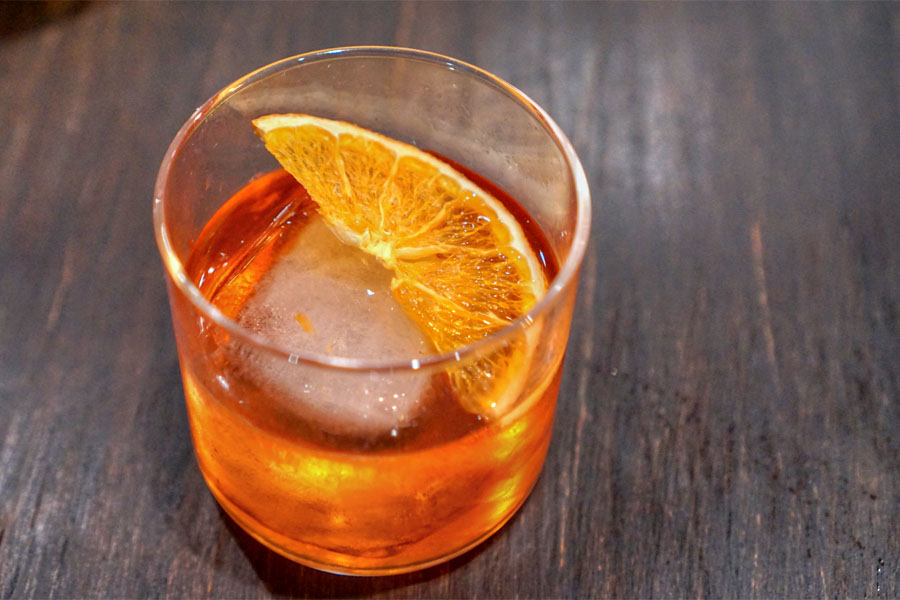 Sunburst [$15.00]
| Avua Amburana Cachaça, cherry blossom-infused aperitivi, Carpano Bianco, hyssop, yuzu bitters
Our final cocktail smelled of sweet spice intertwined with citrus. The taste unmistakably conveyed the cachaça, but layered on top were bittersweet, floral, spicy flavors that made for a more contemplative drinking experience.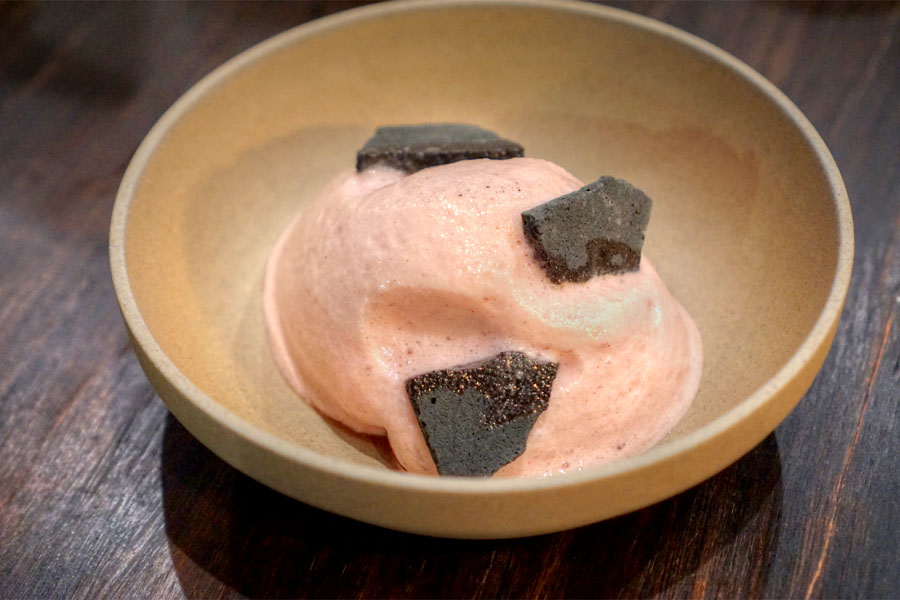 Dark Chocolate Sorbet [$12.00]
| cherry, cola, black licorice
Time for some dessert, the work of
Animal
alum Karla Subero (note: she ended up leaving the restaurant just weeks after this meal). This was a fun one, tasting vaguely of Cherry Coke but with an unexpected, but welcomed licorice kick on the back end.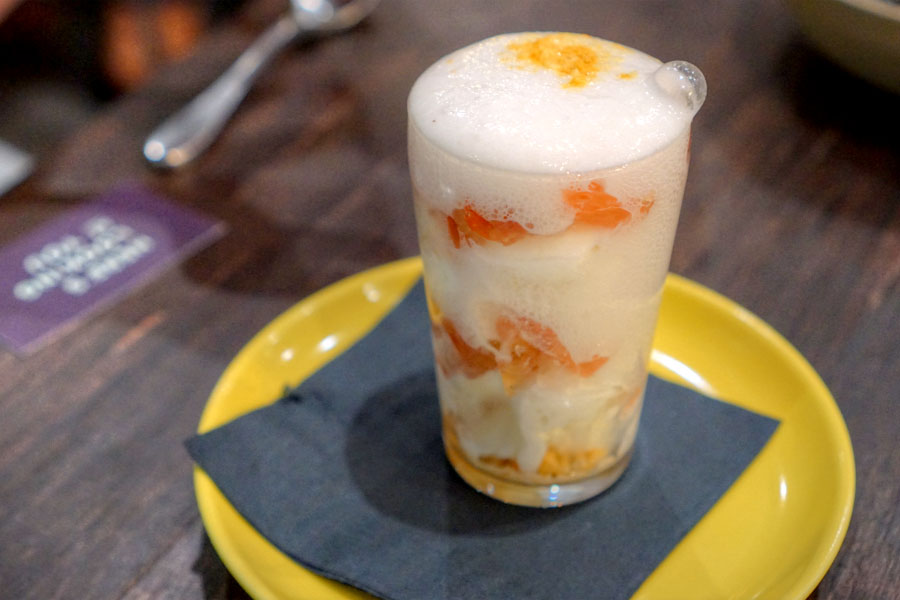 Grapefruit Parfait [$10.00]
| red ale, honey, milk, lemon verbena
The parfait was similarly whimsical, with an appealing back-and-forth between milk and honey punctuated by tart bursts of citrus. Nice crispy bits in there, too.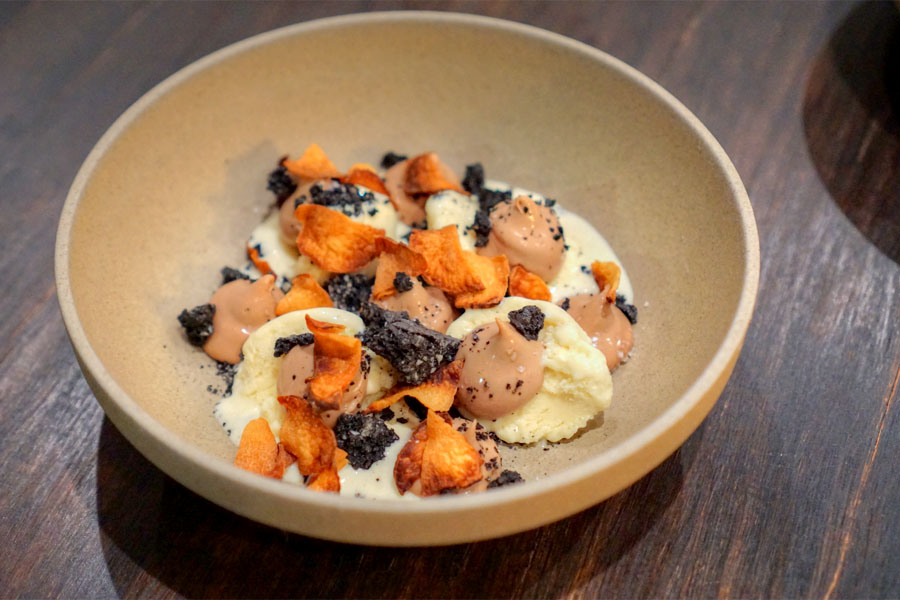 Sunchoke [$12.00]
| milk chocolate, hazelnut, almond, squid ink meringue
Last up was my favorite of our desserts, a well-put-together hodge-podge of salty, sweet, and nutty, in a multitude of textures. Neato.
Whitener's cooking tonight seemed even sharper, more confident than before, and I really struggled to find fault in the food. It also served as a great example of what's going on in LA's culinary landscape these days. For my friend, it was an almost eye-opening experience, one that really showed how the City's cuisine has evolved over the past half-decade. I'm expecting lots more from the team here in the future.