Mama Lion (Los Angeles, CA)
Mama Lion Restaurant
601 S Western Ave, Los Angeles, CA 90005
213.377.5277
www.mamalion.com
Thu 05/25/2017, 07:45p-11:25p
When I last caught up with Michael Hung, it was October 2015 and he was still over at
Viviane
at the Avalon Hotel. However, he and Bombet Hospitality were out by October 2016, apparently due to the expiration of their one-year operating contract with the place. The Chef kept a low profile for a while, but in March it was announced that he'd be helming the kitchen at Mama Lion, a new supper club-inspired joint in Koreatown.
Mama Lion grand-opened on May 2nd, and is the brainchild of Robert Kim, an LA hospitality vet who cut his teeth at Eurochow in Westwood, The Beverly Hills Hotel, and the Park Plaza Hotel. Also joining the team is Aidan Demarest (Neat Bar,
1886
, The Spare Room, First & Hope, The Edison, The Doheny, Seven Grand), who functions here as both General Manager and Beverage Director.

Mama Lion takes its name from the
original
Mama Lion, a nightclub that once occupied the address, which is within spitting distance of K-Town staples
Beer Belly
and
Here's Looking at You
. The building was later home to Night Club NHK, World Cup, Zzyzx, and most recently,
saengseon hoe
specialist
Neptune's Lounge
. I remember the space from the Neptune's days, and I can say that it's been drastically,
drastically
redone, in a good way, by local firm
Kelly Architects
(
Mud Hen Tavern
,
Hinoki & the Bird
,
Clifton's Cafeteria
,
Wood & Vine
,
Mozza
, Seven Grand, The Edison). The room is richly-appointed, and a bit lounge-y as expected, with the bar front and center.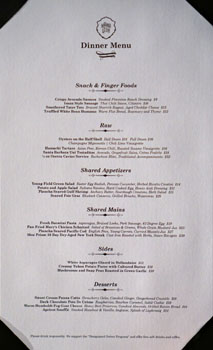 Hung's supper clubby menu features dishes of various formats and culinary traditions, and lends itself to sharing, natch. There are also abbreviated happy hour and late night menus available. Beverage-wise, the focus here is on the dozen cocktails offered, the work of head barman Todd Eames (The Love Song Bar, Little Toni's, Neat Bar). You also get a handful of beers on tap and in bottles, a pretty lengthy Scotch list (surprisingly), and a small wine list with your usual suspects. Click for larger versions.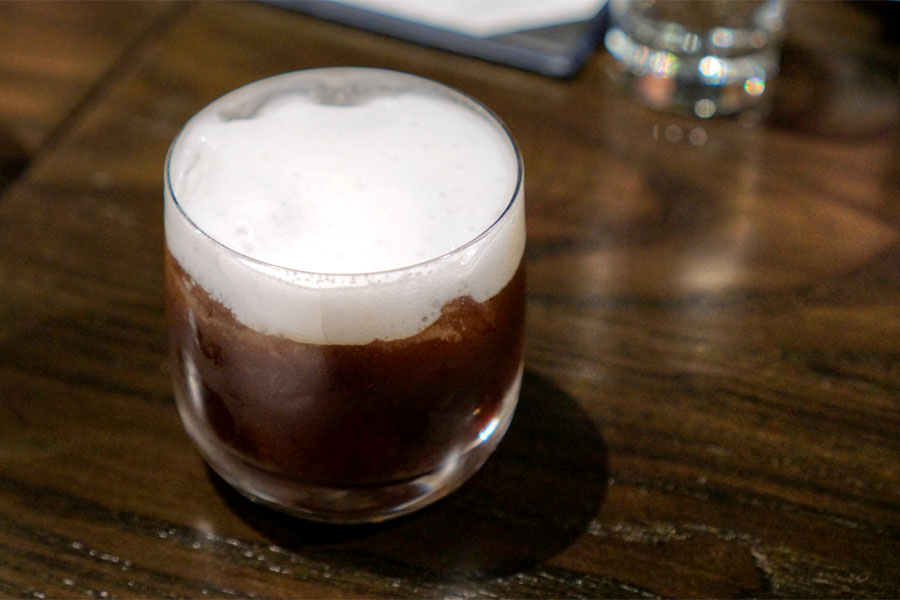 Black Swan [$12.00]
| Cardamom-Infused Vodka, Kahlua, Cold Brew, Vanilla, Coconut Foam
The first of many cocktails was to my liking, as it really showed off the nutty, roasty qualities of the coffee, combining it with layers of sweet spice and vanilla.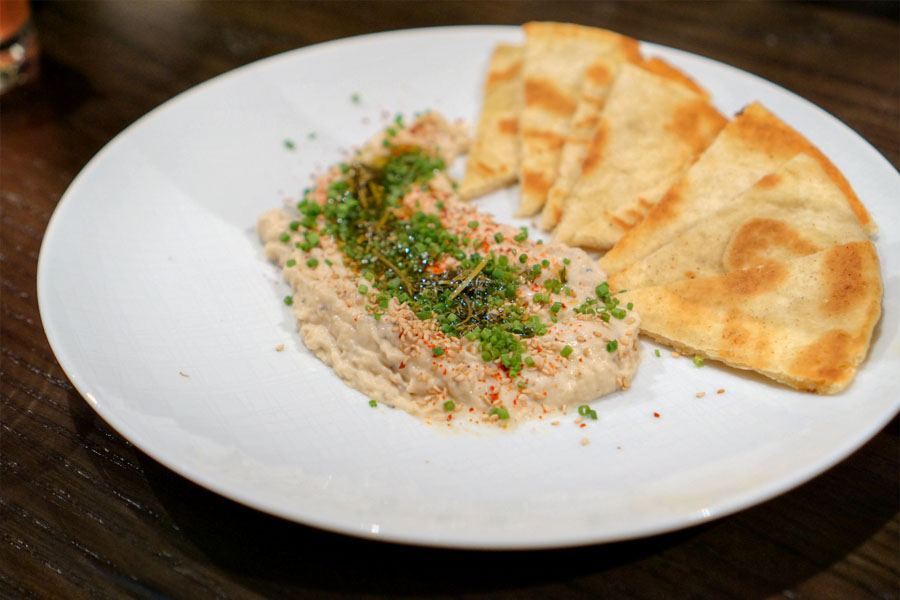 Truffled White Bean Hummus [$12.00]
| Warm Flat Bread, Rosemary and Thyme
A take on hummus was a fun way to start, and wasn't shy about the advertised truffle, which went unexpectedly well with the nutty, herby nature of the dip. Quite satisfying when taken with the soft-yet-crisp triangles of pita.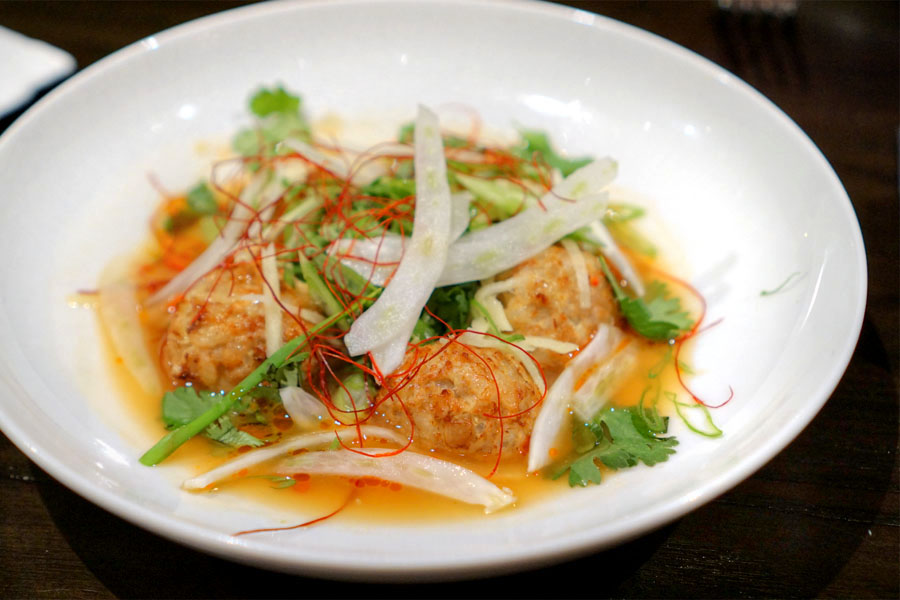 Isaan Style Sausage [$10.00]
| Thai Chili Sauce, Cilantro
Not surprisingly, Hung's interpretation of
sai krok Isan
didn't have the in-your-face ferment-y funk that you'd encounter at a place like
Night+Market
. That being said, the sausages did have a discernable sourness to them, and paired superbly with the tangy broth and cilantro.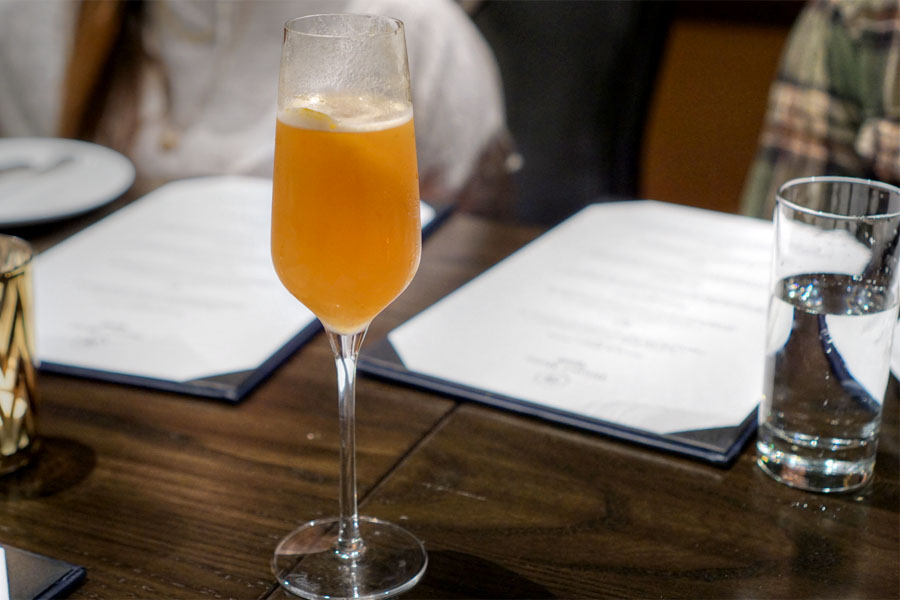 Baby Mama [$22.00]
| Hennessy VSOP, Pomegranate Liqueur, Lemon, Champagne
Here, think boozy and somewhat astringent, with juicy citrus and a trace of pomegranate as well, all backed by a healthy dosing of cognac on the palate. Also, do note that one of my dining companions had already taken a swig of the cocktail before I could photograph (it arrived filled close to the brim).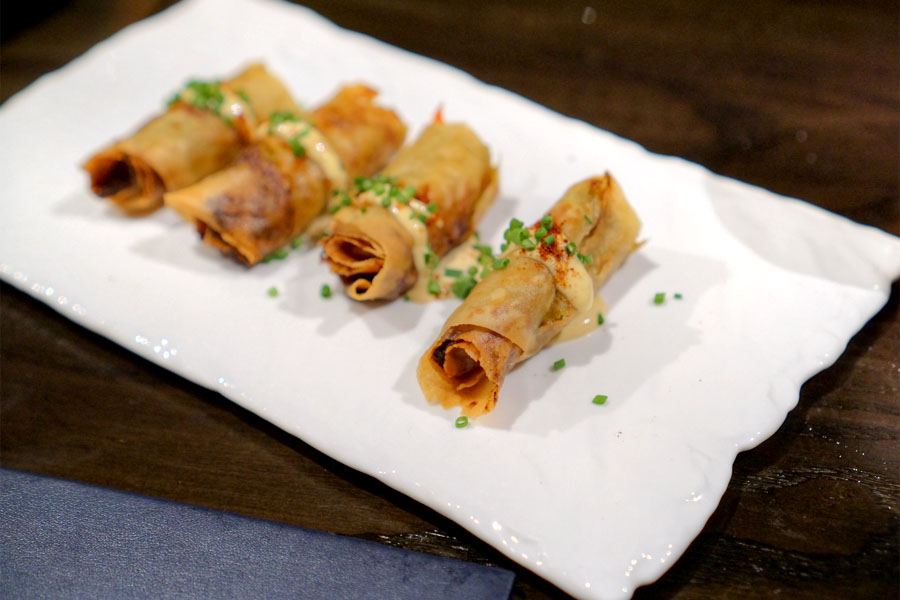 Crispy Avocado Samosa [$9.00]
| Smoked Pimenton Ranch Dressing
Samosas were as crispy as advertised, and had a savory quality that was brightened up a bit by the incorporation of the avocado. I would've liked to have seen these in their more common tetrahedral form, though.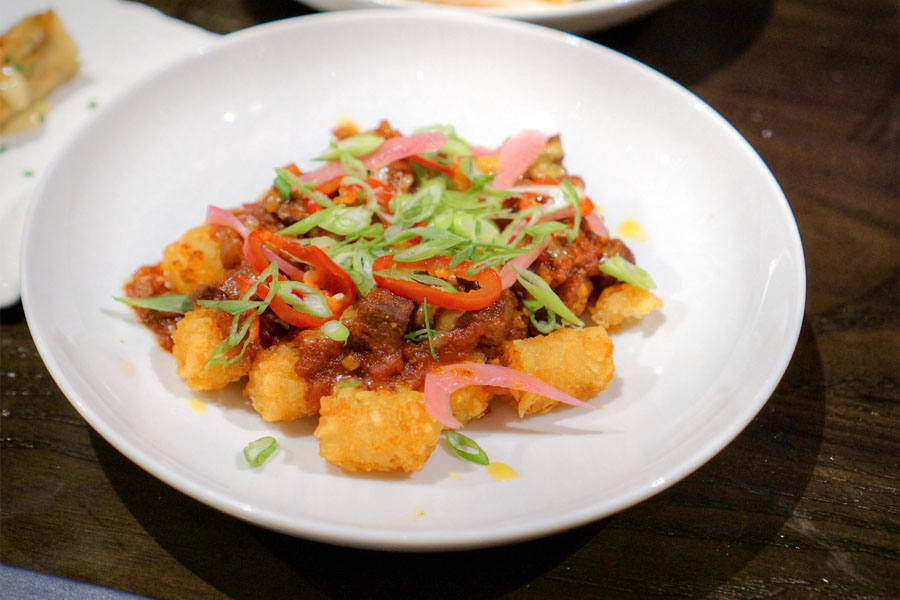 Smothered Tater Tots [$12.00]
| Braised Shortrib Ragout, Aged Cheddar Cheese
This was easily one of the best "fancy" tot preparations I've had. Texturally the potatoes were spot on, and worked as a base for the slow-cooked beef while herbs and onions provided a zesty contrast. There was just enough heat here as well. A standout.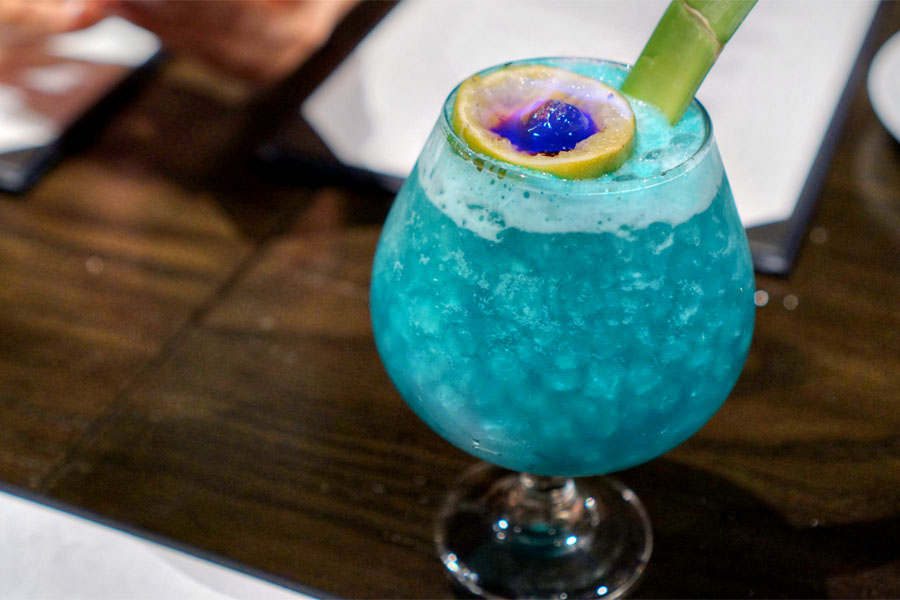 Royal Hawaiian [$15.00]
| House Rum Blend, Blue Curaçao, Fresh Pineapple, Cinnamon Syrup
This Blue Hawaii variation served as the requisite tiki-inspired libation, and I will say that it was sort of refreshing to see a blue-colored cocktail, a rarity these days. Not surprisingly, I got loads of tropical sweetness here, but with the rum serving as a boozy backbone to it all. One of my drinking companions evened likened this to Hawaiian Punch.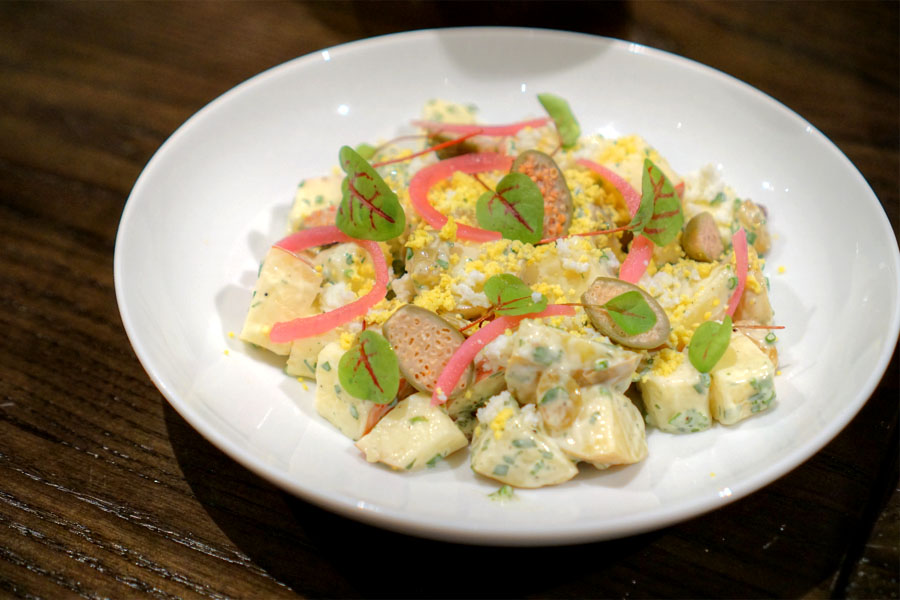 Potato and Apple Salad [$12.00]
| Sultana Raisins, Hard Cooked Egg, Honey Aioli Dressing
As regular readers will know, I'm quite the fan of potato salad, so I had to try this. It was one of the more intriguing versions I've had. The flavors worked, with the chunks of apple imparting a sweet, juicy crunch to the dish while caper berries gave up a pleasant tartness. Also key was the pickled onion, which provided just a bit more oomph to things.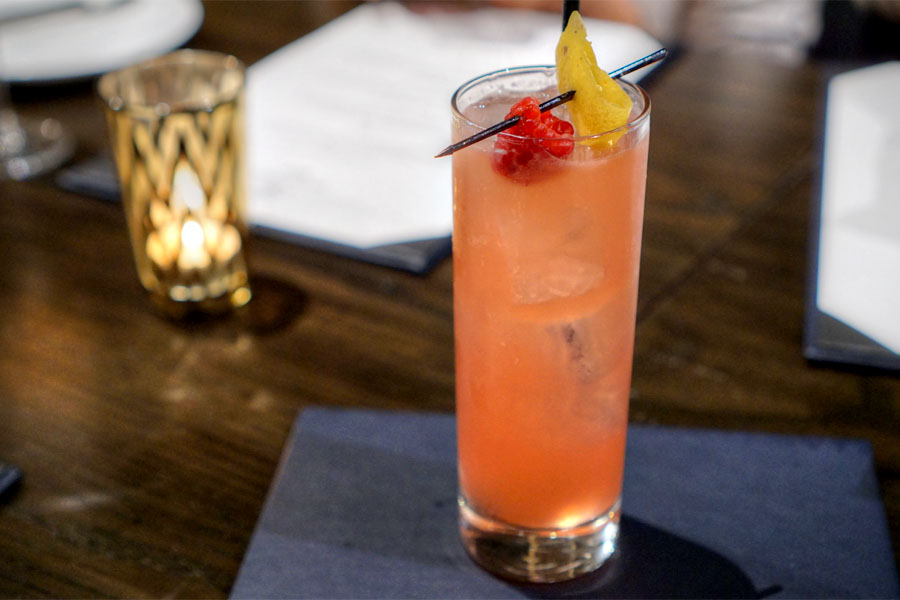 Doumi [$13.00]
| Belvedere Vodka, Elderflower, Raspberries, Lemon, Marquis Super Berry
Befitting its name, this was probably the "girliest" cocktail on the menu. Lots of bold berry flavors, cut by citrus and a touch of bitterness for good measure.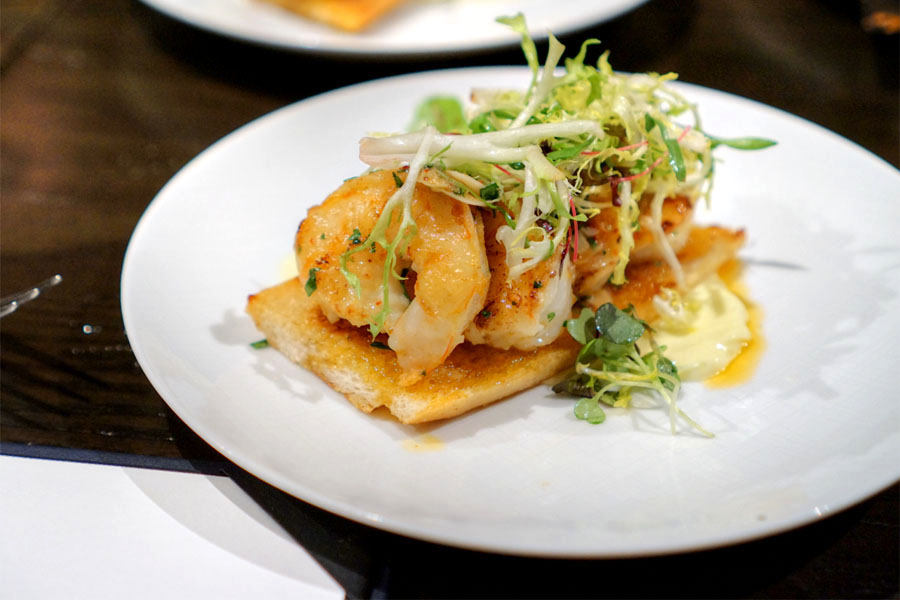 Plancha Seared Gulf Shrimp [$15.00]
| Anchovy Butter, Sourdough Croutons, Herb Salad
Shrimp were well seasoned, their flavor seemingly amplified by the application of that anchovy-enriched butter, and I appreciated the lightness of the salad up top.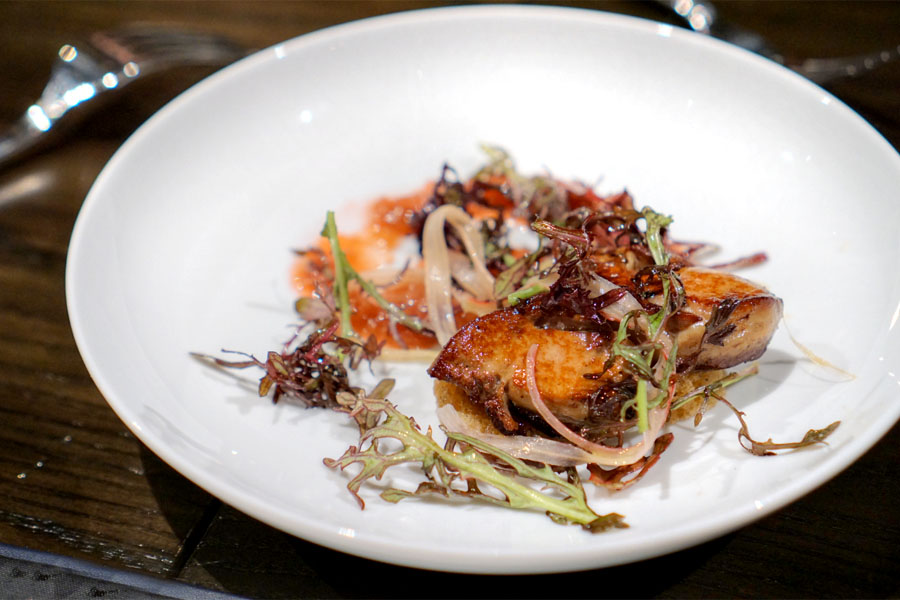 Seared Foie Gras [$26.00]
| Rhubarb Conserve, Grilled Brioche, Watercress
Foie displayed its unmistakable richness, balanced by the liver's char and sear. Fortunately, the rhubarb here was more tart than sweet, and I liked the moderating effect of the brioche as well.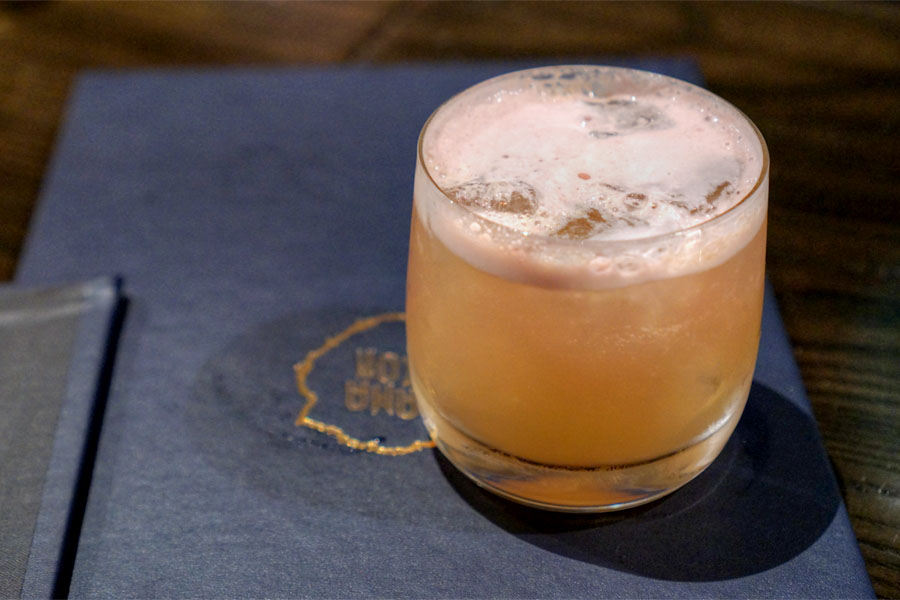 Rockefeller [$13.00]
| Bulleit Bourbon, Lemon, Sugar, Red Wine Foam
Our next cocktail had some lovely sugary and citrus notes to it, but could've actually used more whiskey to make for a more balanced, substantial drink.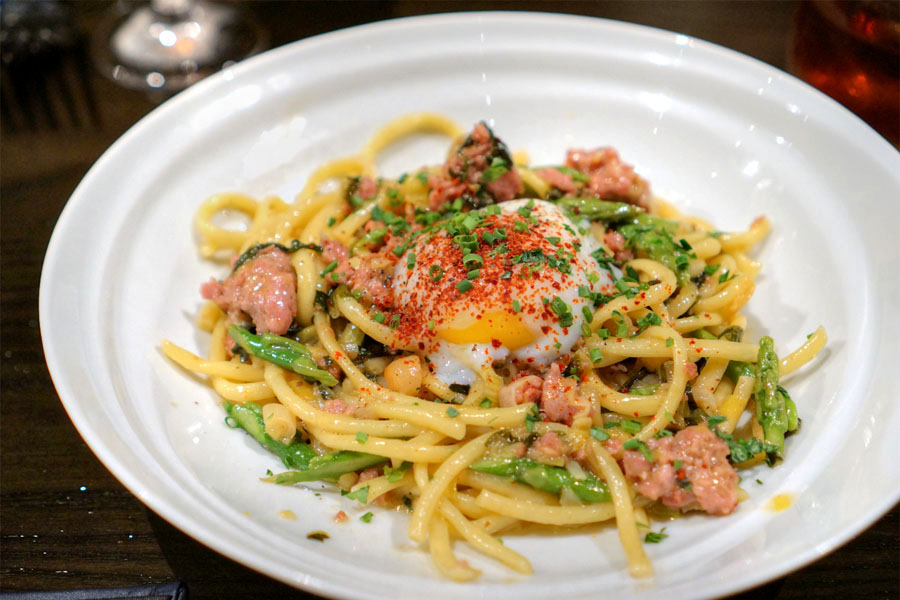 Fresh Bucatini Pasta [$19.00]
| Asparagus, Braised Leeks, Pork Sausage, 63 Degree Egg
Given how much we were ordering, the kitchen gifted us the bucatini, which turned out to be a favorite of mine. I loved the savoriness and seasoning of the pork, and how that played with the sheer bitterness of the asparagus, the egg imparting richness to the dish. Really satisfying.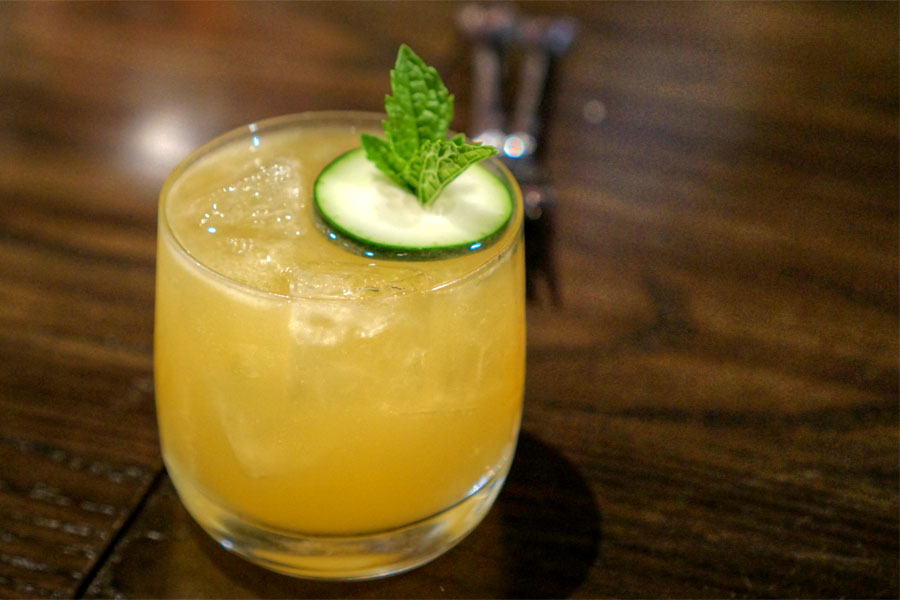 Sun God [$14.00]
| Tequila, Ancho Reyes, House-Made Tangerine Cordial, Habanero Shrub, Cucumber, Mint
The tequila cocktail went herby and bright at first, then conveyed an almost honeyed sweetness before finishing with lots of bitterness and heat.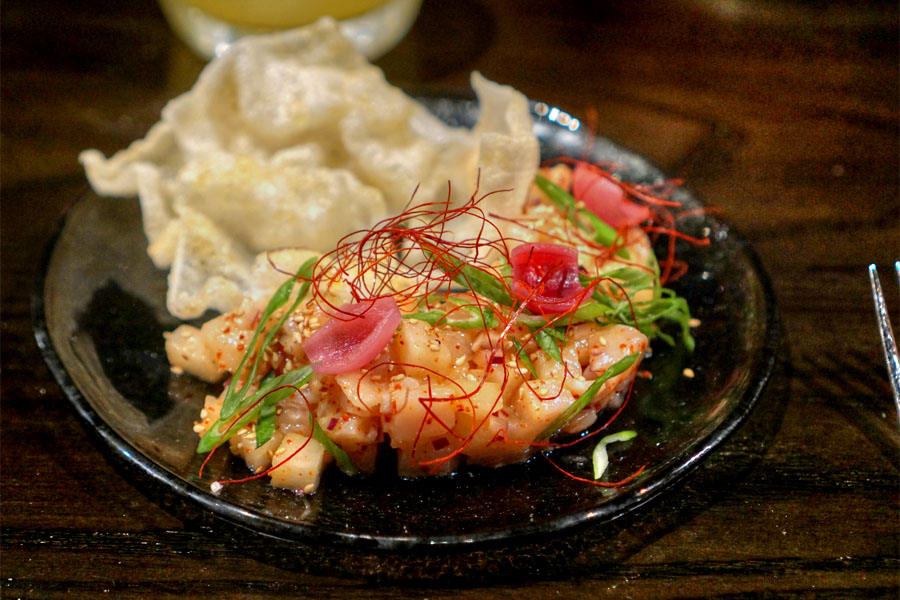 Hamachi Tartare [$16.00]
| Asian Pear, Korean Chili, Roasted Sesame Vinaigrette
Yellowtail arrived fatty and briny, its potency matched by sweet
bae
and the zestiness of scallion. Wonderful crunchiness on those crackers to boot.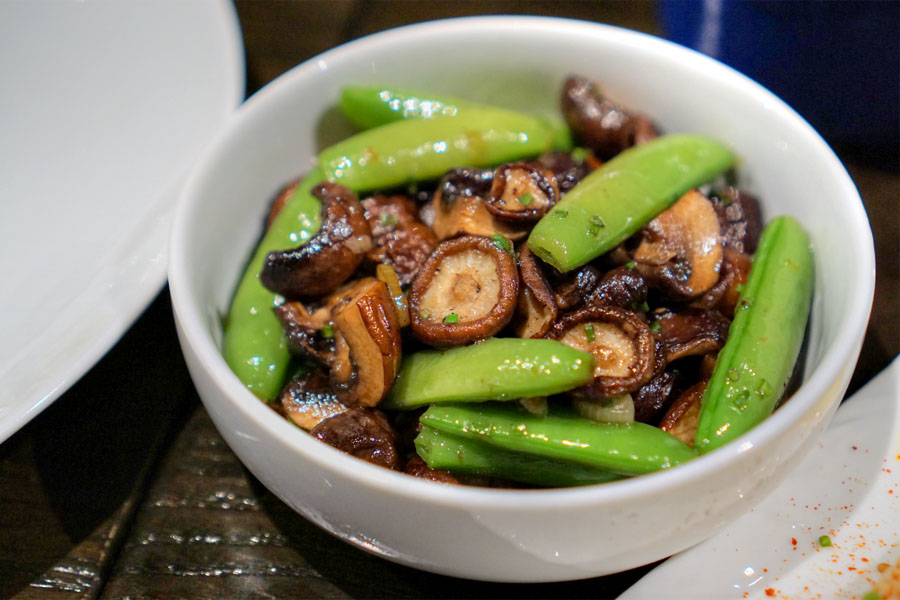 Mushrooms and Snap Peas Roasted in Green Garlic [$10.00]
Great back-and-forth here between the snappy, bright peas and earthy shrooms. You don't see the two paired very often in a side dish, but perhaps you should.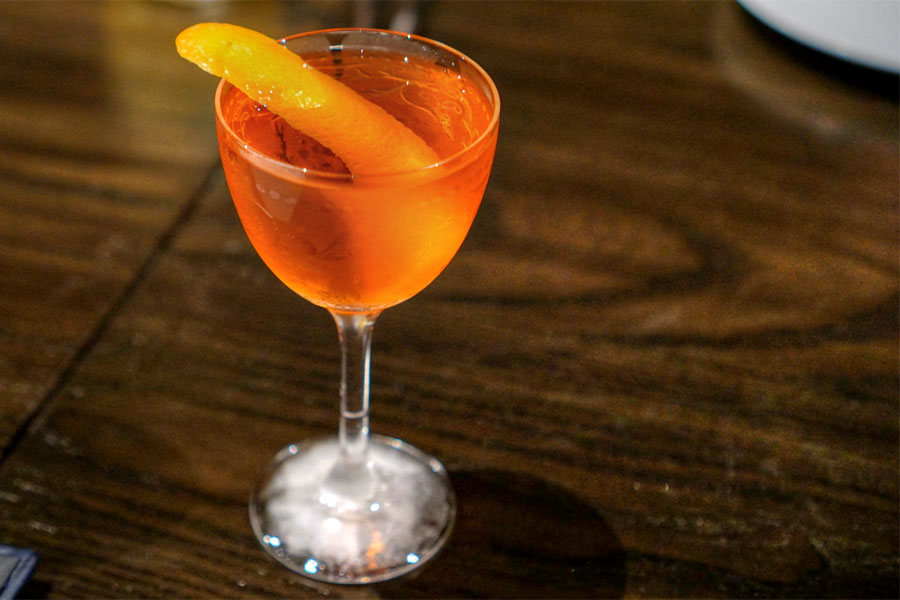 Alpine Lift [$14.00]
| Rogue Spruce Gin, Aperol, Zirbenz, White Vermouth
This cocktail was one of my favorites. Lovely citrusy, astringent nose, with a piney, herby palate laced with bittersweet notes and a smidge of alcoholic heat.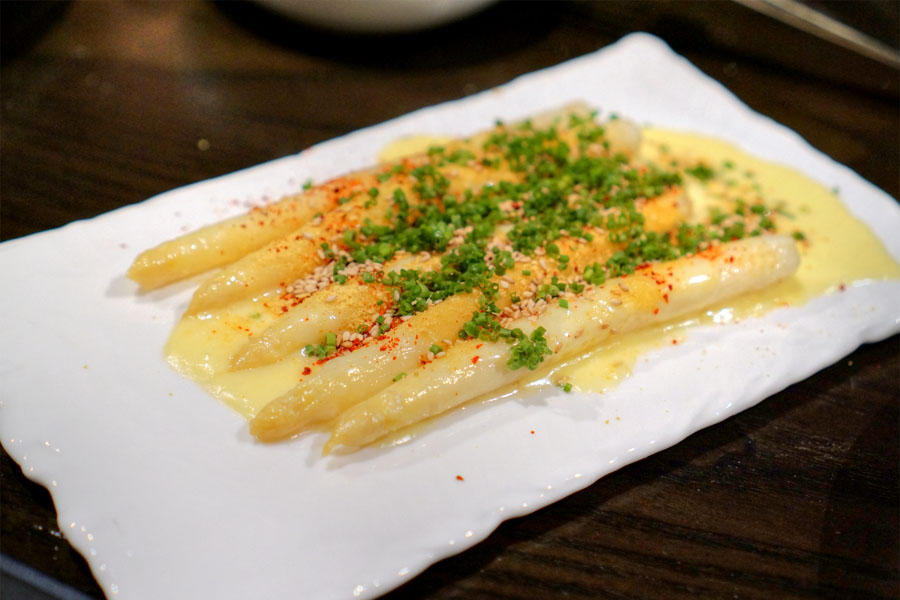 White Asparagus Glazed in Hollandaise [$12.00]
Stalks of asparagus arrived crunchy and nutty, and well-matched with the classic accompaniment of Hollandaise.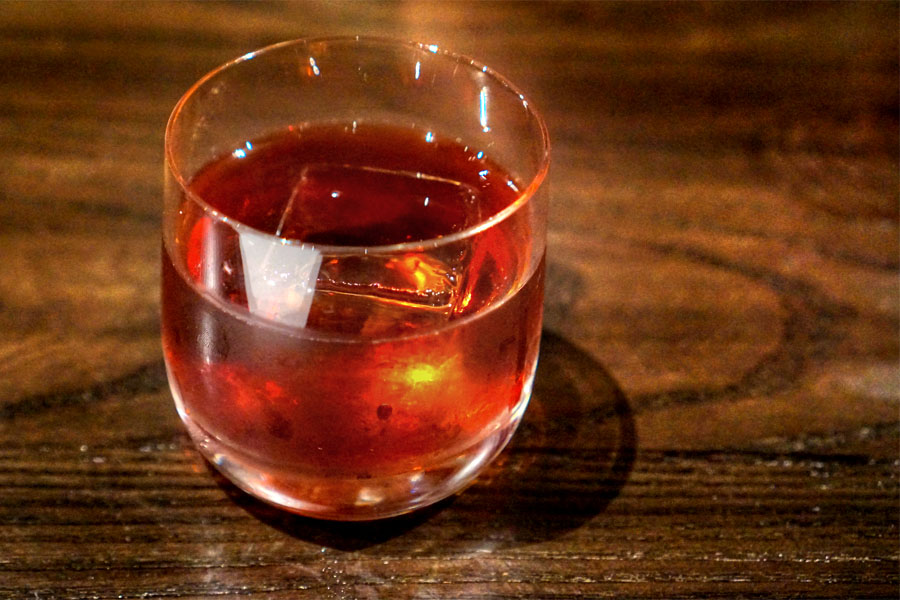 Statesman [$13.00]
| Rittenhouse Rye, Averna, Aperol, Walnut Bitters, Angostura
Another standout cocktail. I got some super aromatic aromas, with lots of booziness matched by sweet, almost cherried notes. The taste conveyed more bittersweet, boozy nuances, but the key was the use of rye whiskey, which made for some wonderfully spicy flavors that I quite enjoyed.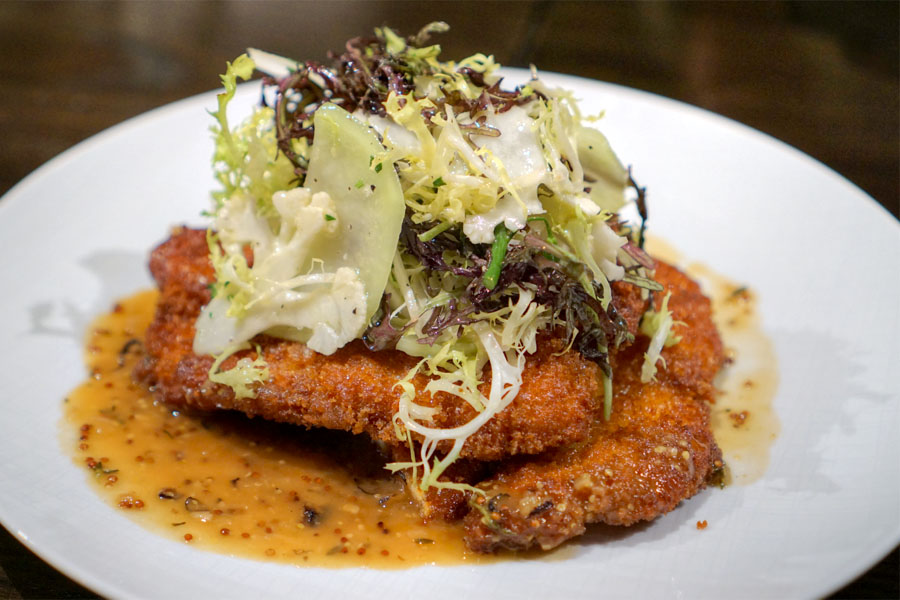 Pan Fried Mary's Chicken Schnitzel [$25.00]
| Salad of Brassicas & Greens, Whole Grain Mustard Jus
Hung's version of schnitzel worked. The bird was well seasoned, and surprisingly moist, with a great crispness to the breading. I appreciated the crunch and zippiness of the salad on top, too.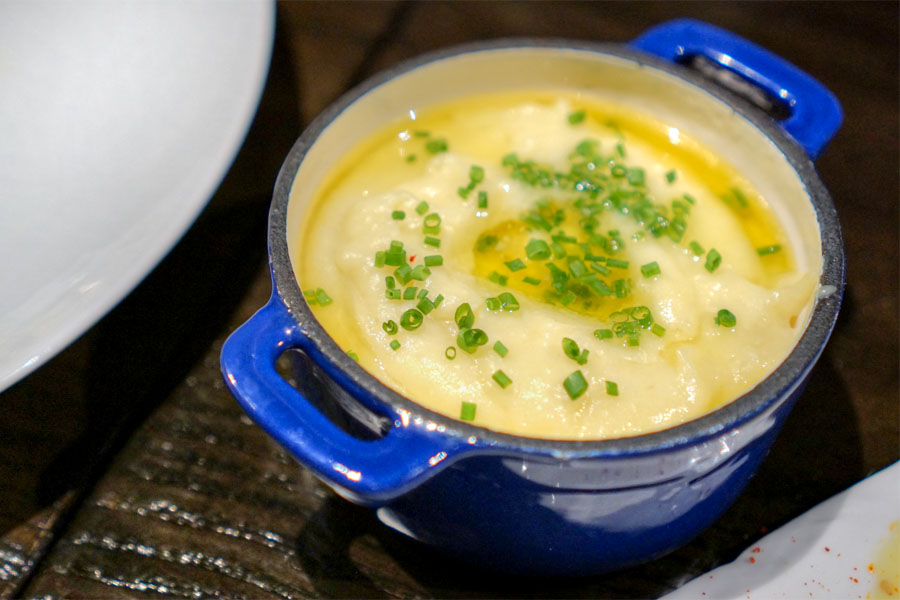 Creamy Yukon Potato Puree with Cultured Butter [$10.00]
Pureéd potatoes were on point, coming out smooth, rich, and utterly buttery.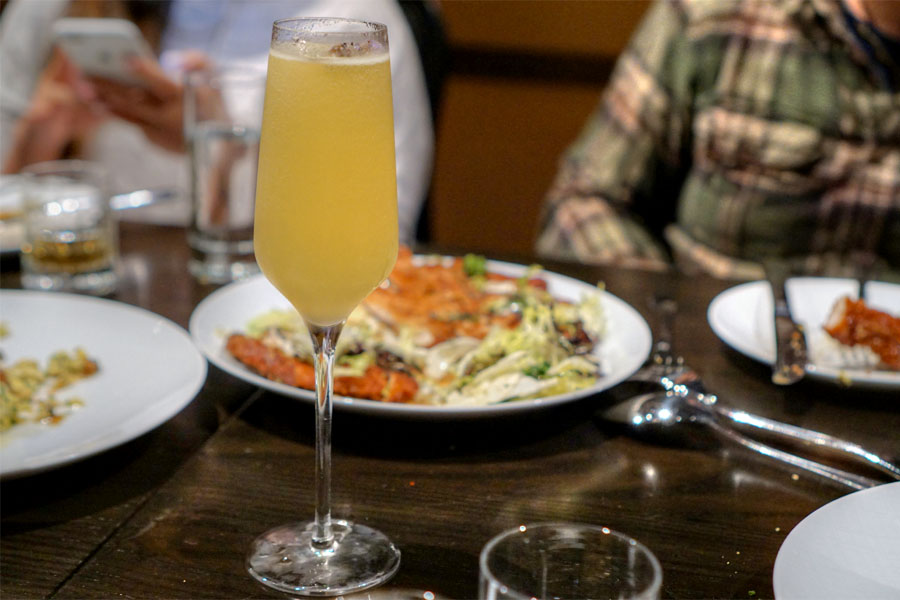 Honey Pot [$15.00]
| Beefeater Gin, Lemon, Honey, Champagne, Lavender
Our second fluted cocktail had its bite from the gin and lemon evened out by notes of honey, while the lavender served as an aromatic element.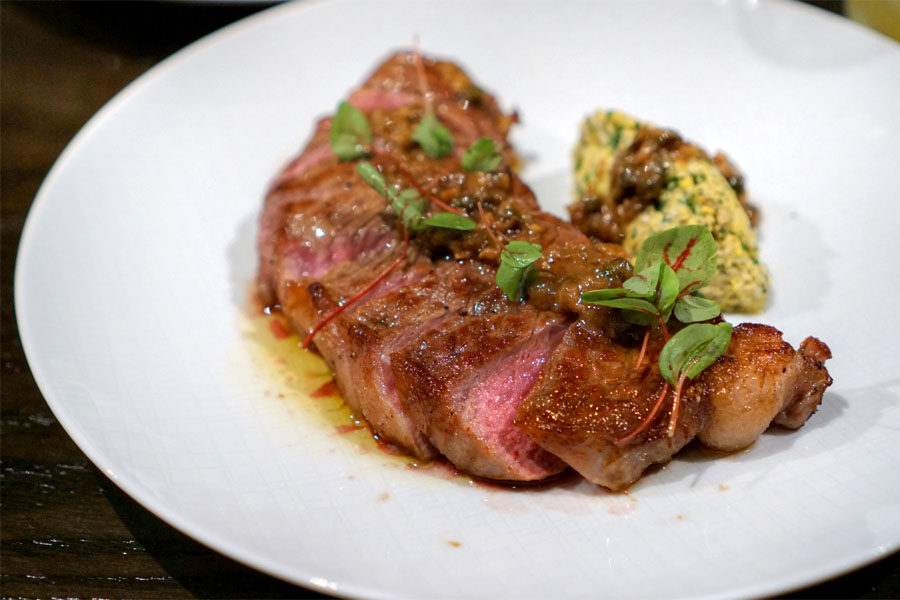 10oz Prime 28 Day Dry-Aged New York Steak [$39.00]
| Cast Iron Roasted with Herbs, Sauce Ravigote
In our final savory dish, strip steak had a great depth and savoriness from its dry-aging, and definitely made sense with the tanginess of the paired
ravigote
. Very tasty.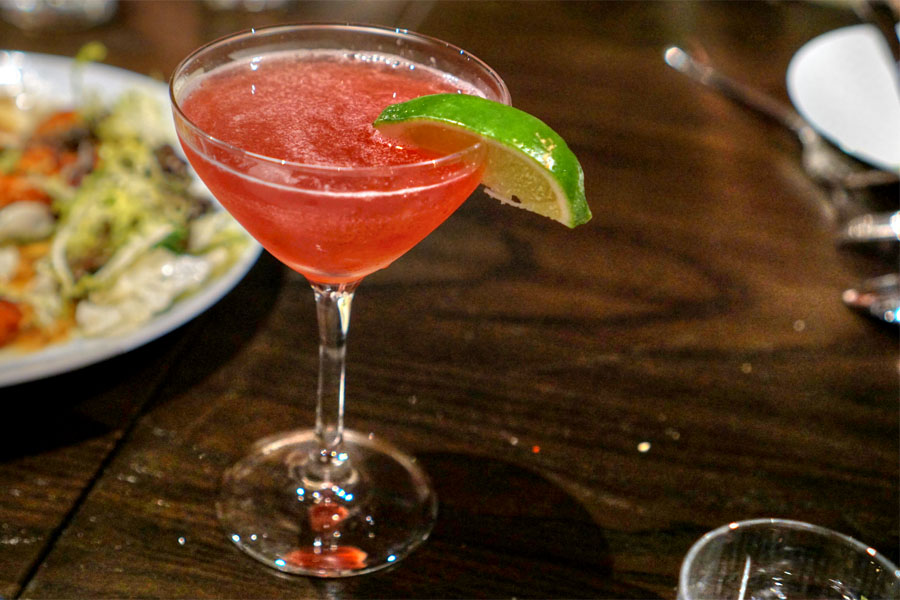 Harpoon [$13.00]
| Ketel One Vodka, Cranberry & Raspberry Liqueurs, Lime, Sugar
This was a fruit-forward sort of cocktail, but the berries never became overwhelming thanks to the lime and heat from the vodka.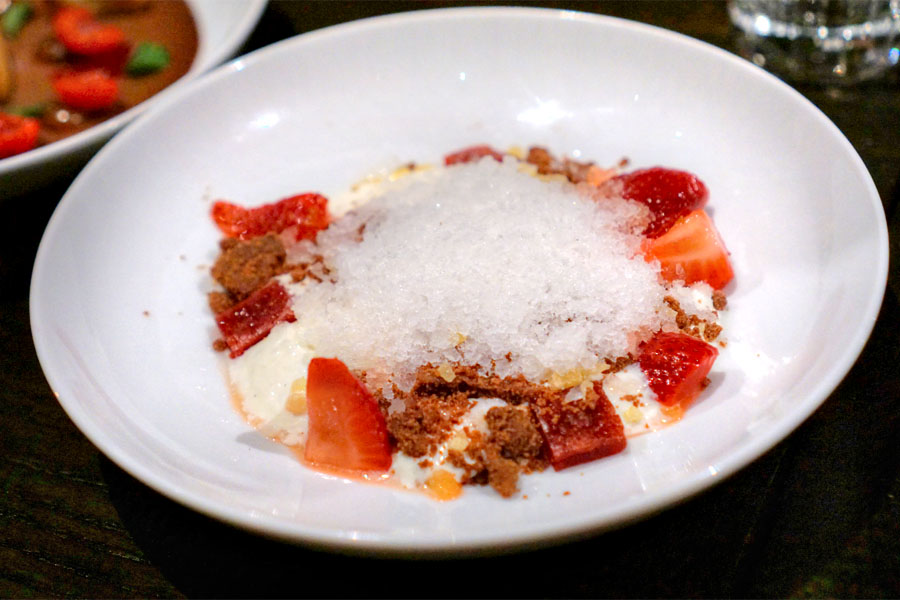 Sweet Cream Panna Cotta [$10.00]
| Strawberry Gelee, Candied Ginger, Gingerbread Crumble
Time for dessert. The panna cotta was one of the more interesting versions I've had. I liked the jamminess of the strawberry, and how that worked alongside the ginger. The crumbles, meanwhile, provided some textural variation.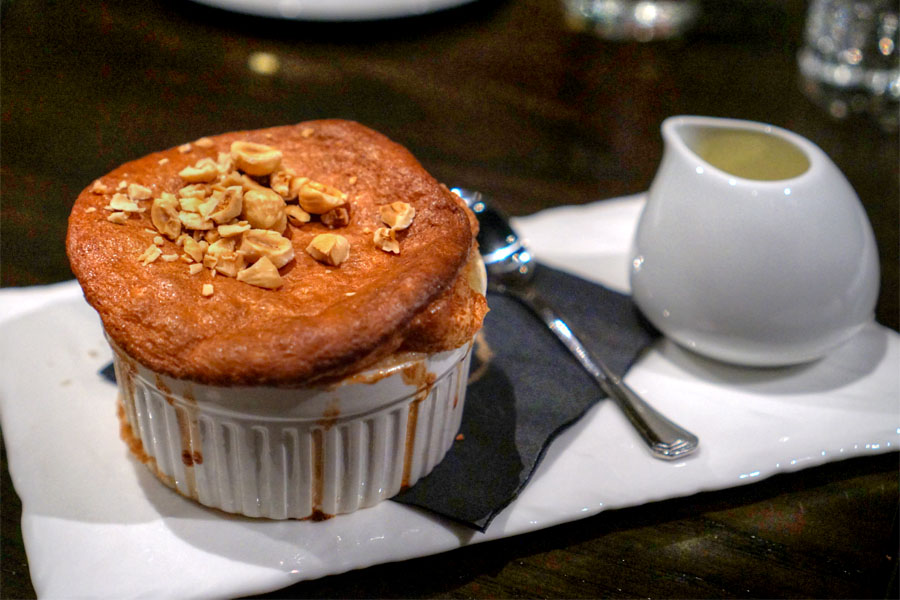 Apricot Soufflé [$14.00]
| Smoked Hazelnut & Vanilla Anglaise, Splash of Laphroaig
I found the soufflé eggy and rich, with just enough fruit. I enjoyed the hazelnuts, though I didn't get too much from the whisky.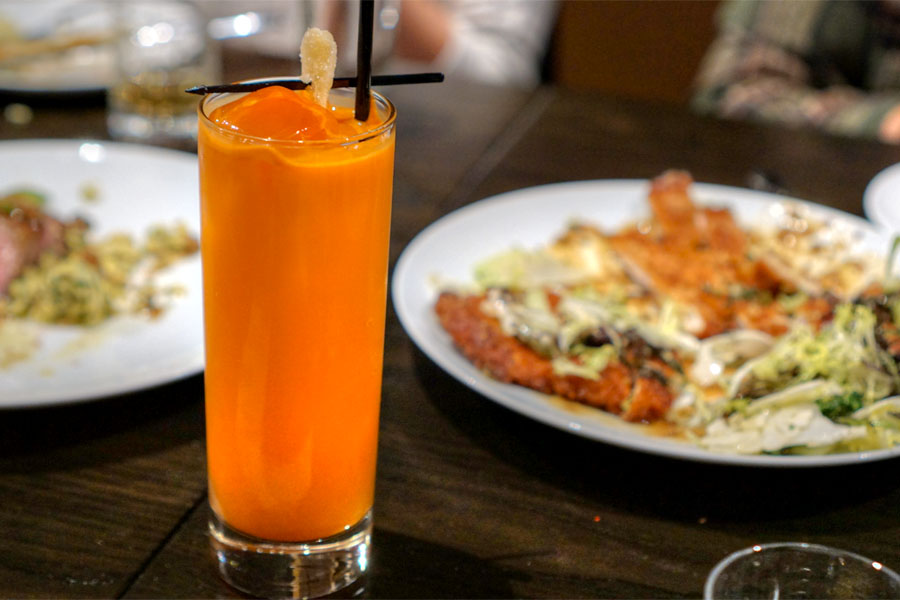 Golden Tonic [$14.00]
| Beefeater Gin, Carrot, Lemon, House-Made Turmeric & Ginger Syrups, Soda
Our final cocktail was probably the most vibrantly orange drink I'd ever encountered. It definitely displayed the sweet, vegetal nature of the carrot, but fortunately this was balanced out by the astringency of lemon, ginger, and gin.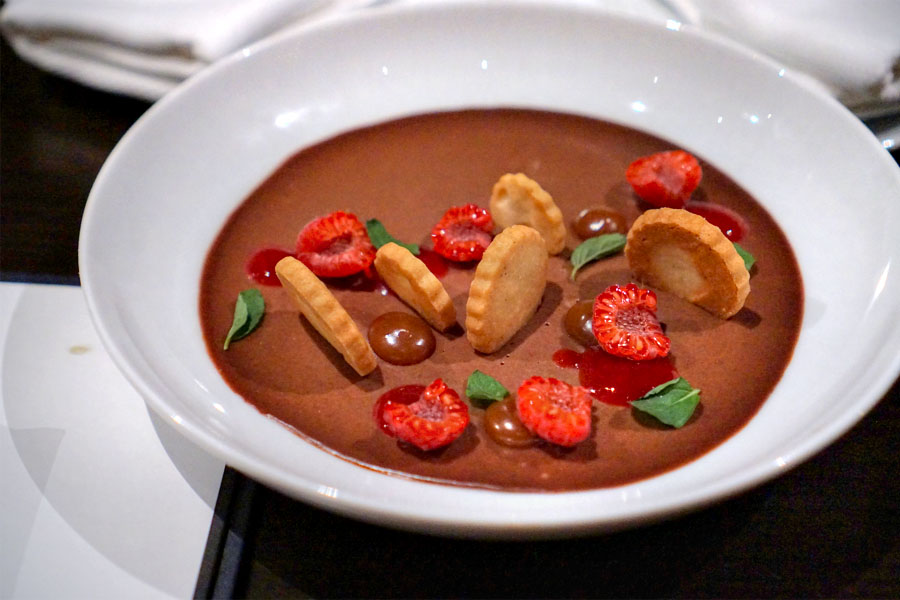 Dark Chocolate Pots De Crème [$10.00]
| Raspberries, Bourbon Caramel, Sablé Cookie
The
pot de crème
certainly looked schmancier than most. I got a classic combination of raspberry and chocolate, but taken up a level by the richness of the bourbon-laced caramel. Excellent textural contrast provided by the cookies, too.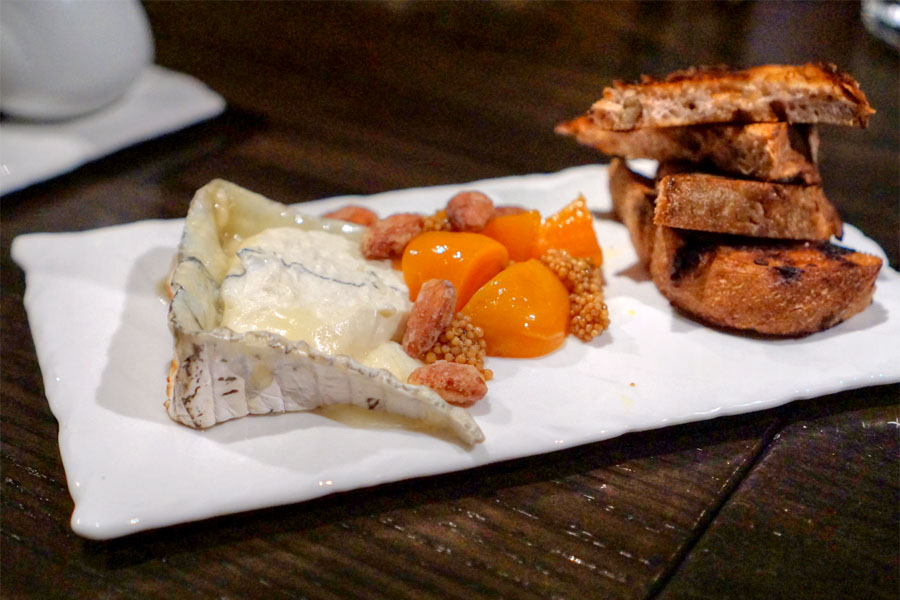 Warm Humboldt Fog Goat Cheese [$14.00]
| Honey Beet Preserves, Candied Almonds, Grilled Raisin Bread
Last up was the cheese, a creamy, funky
chèvre
that was superb over the bitter, charred raisin bread.
It was great to witness Hung back in action after a bit of a hiatus. The food's more casual than we're used to seeing from the Chef, but it's fun, lighthearted, and works for the what they're going for with Mama Lion. This is a nice spot, fancy in some ways, but still approachable and relaxed, and serves as another worthy addition to K-town's nightlife scene.