SteelCraft (Long Beach, CA)
SteelCraft Outdoor Urban Eatery
3768 Long Beach Blvd, Long Beach, CA 90807
562.533.0317
www.steelcraftlb.com
Fri 06/02/2017, 08:00p-10:10p

One of the newer food-related developments to catch my eye is SteelCraft. Situated in Bixby Knolls, the place describes itself as an "outdoor urban eatery," or basically a fancy outdoor food court. The conceit here is that the structure is largely built out of repurposed shipping containers from the nearby ports. It's the brainchild of Kim Gros, a longtime Bixby resident and HR professional who's spent time with Coca-Cola and Disney-ABC. Her partner is Martin Howard of the construction firm Howard CDM, who provided both the contracting services as well as the land for SteelCraft. Construction began in August 2016, and the place grand-opened on February 3rd this year.
There are eight vendors occupying the space currently, though we were only able to sample four of 'em: Tajima Ramen, Desano Pizza, Pig Pen Delicacy, and Waffle Love. SteelCraft is also home to Lovesome Chocolates, Smog City Brewing, Steelhead Coffee, and The Fresh Shave.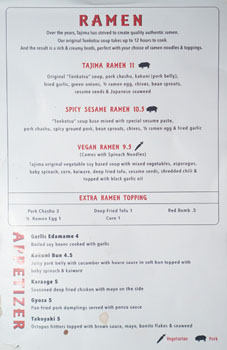 Our first stop was Tajima, since it's one of the stalls that closes earlier in the evening. The place was started by owner Sam Morikizono all the way back in 2001. His first restaurant was in San Diego, and now Tajima has seven locations, including right here in Long Beach (apparently the first dedicated ramen shop in the City). Menu-wise they're keeping it simple: three types of ramen and a few appropriate starters. Click for a larger version.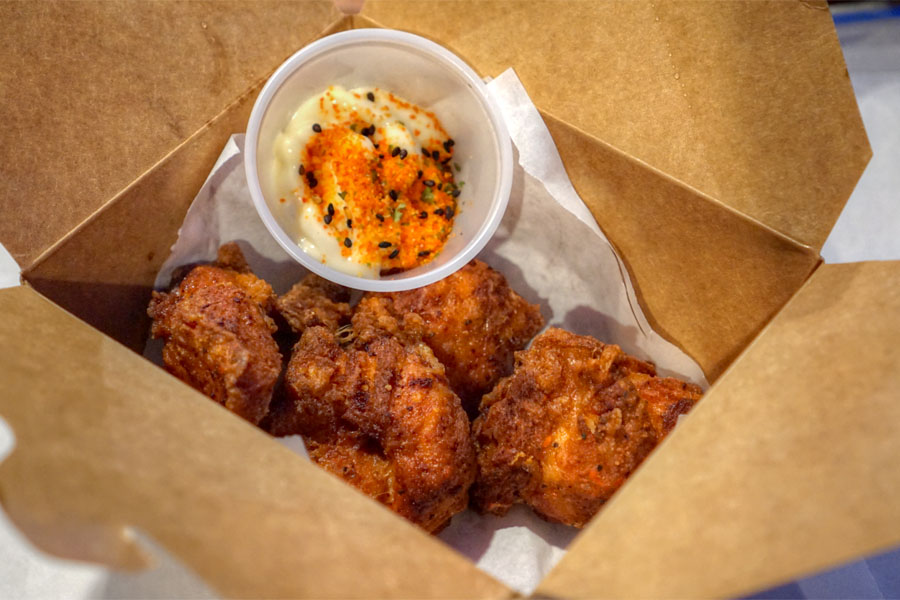 Karaage [$5.00]
| Seasoned deep fried chicken with mayo on the side
I'm a sucker for
karaage
, but Tajima's didn't quite hit the mark. The chicken was properly crispy, tender, and juicy. However, I found it underseasoned, and a bit flavorless, though the sauce on the side did help.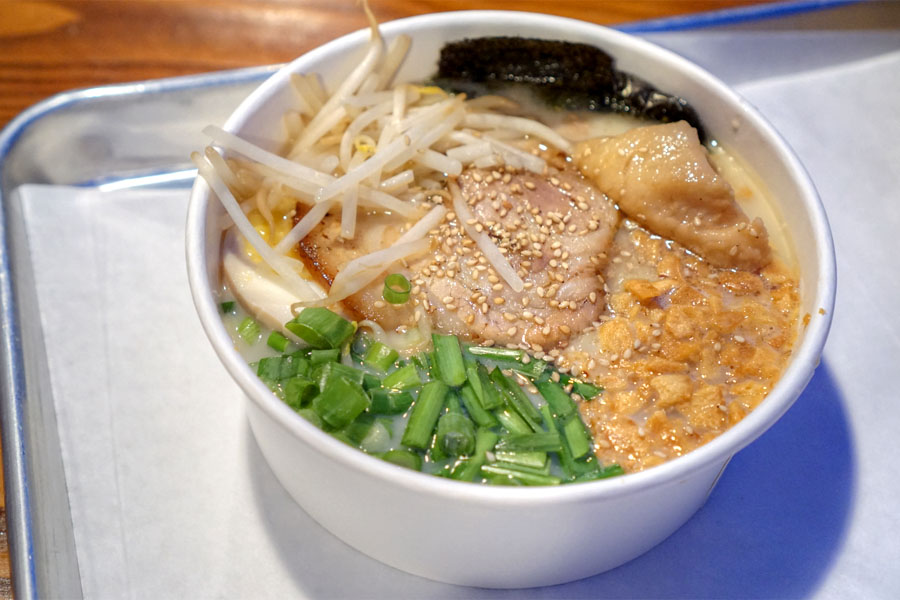 Tajima Ramen [$11.00]
| Original "Tonkotsu" soup, pork chashu, kakuni (pork belly), fried garlic, green onions, ½ ramen egg, chives, bean sprouts, sesame seeds & Japanese seaweed
We were all fairly satisfied with Tajima's signature ramen. The
tonkotsu
broth was creamy and rich, with a distinct porky funk that was further amplified by the
chasu
and fatty
kakuni
. The various accompaniments lightened and brightened the dish, and I especially appreciated the half-egg. Noodles, meanwhile, were slightly firm, with just a bit of spring.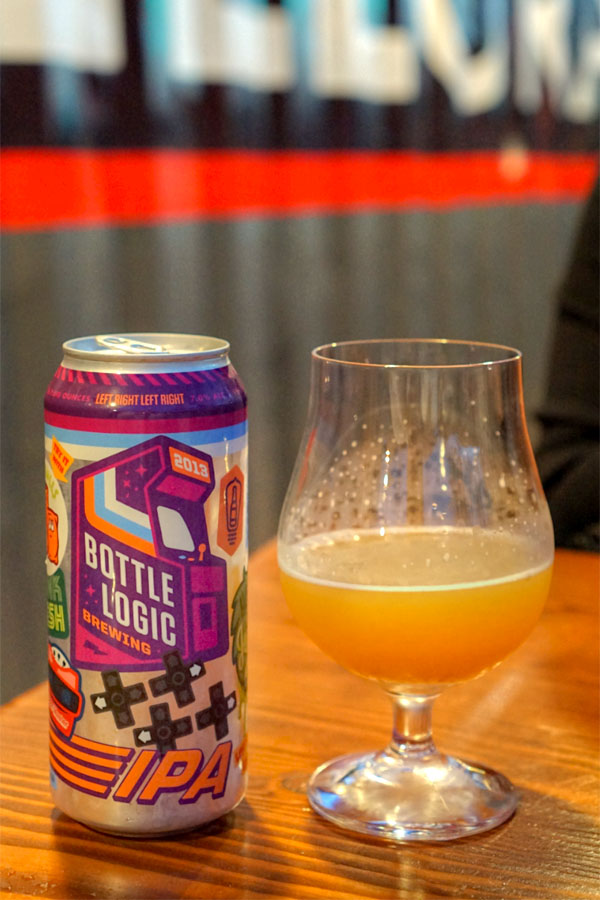 Our first beer was the
2017 Bottle Logic Left Right Left Right
, a "hazy" IPA hopped with Amarillo, Equinox, Motueka, and Loral. The nose here was actually intensely bitter, with only a smidge of grapefruit in there. Similarly, the palate went more bitter, vegetal, dank, without much "juiciness" or tropical fruit, though there was a slight candied character on the finish.
Takoyaki [$5.00]
| Octopus fritters topped with brown sauce, mayo, bonito flakes & seaweed
The
takoyaki
was a pretty prototypical presentation, with a nice balance of creamy and crunchy textures and a lot of umami from the
katsuobushi
.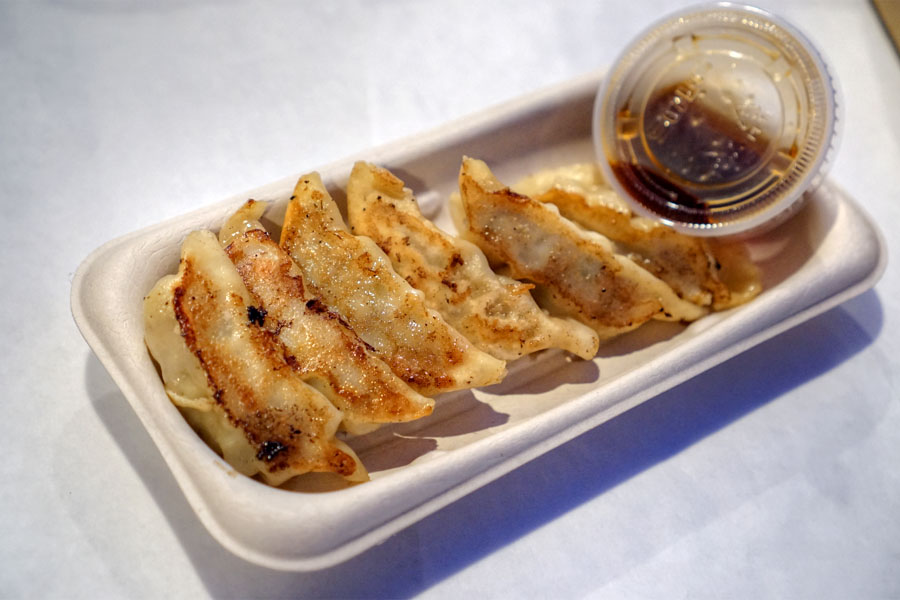 Gyoza [$5.00]
| Pan fried pork dumplings served with ponzu sauce
Gyoza were a bit tepid. I would've liked 'em crispier, with more depth of flavor in the filling, though I did appreciate the unexpected heat in the dipping sauce.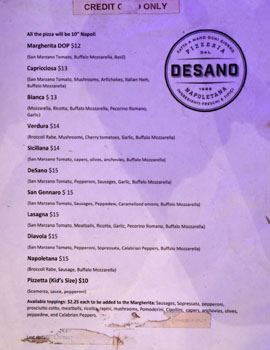 Our next stop was Scott DeSano's eponymous pizza joint, which boasts six locations across the US. He started the business in 2012, focusing on Neapolitan-style pizzas, which are apparently cooked for 90 seconds each in a wood-fired oven. The menu listed ten varieties on offer this evening. Click for a larger version.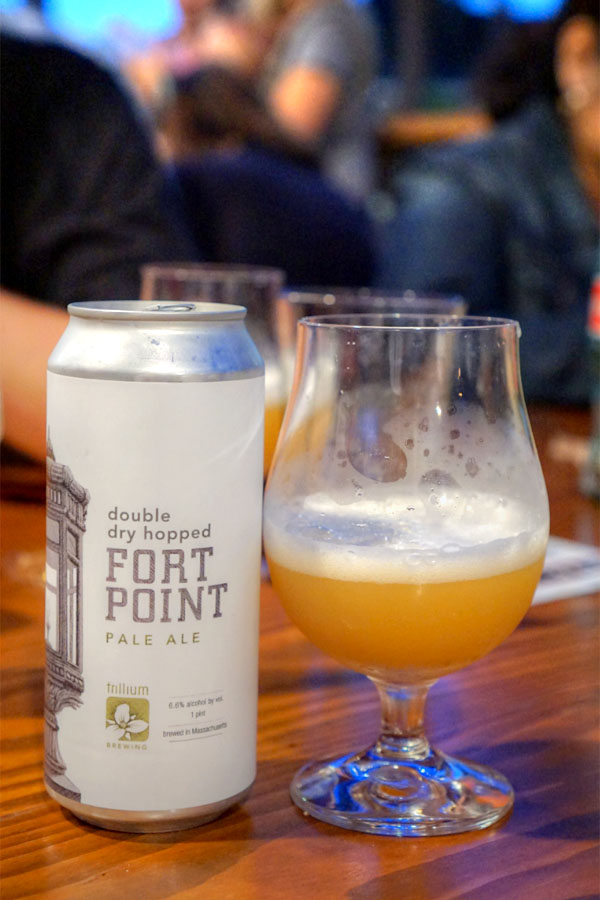 The next beer was the
2017 Trillium Double Dry Hopped Fort Point
, a pale ale dry-hopped with Citra. Nose was super aromatic, with soft, herbaceous hops abound. The taste was similarly soft, but also bitter, piney, with some juicy, tropical notes and a light spiciness.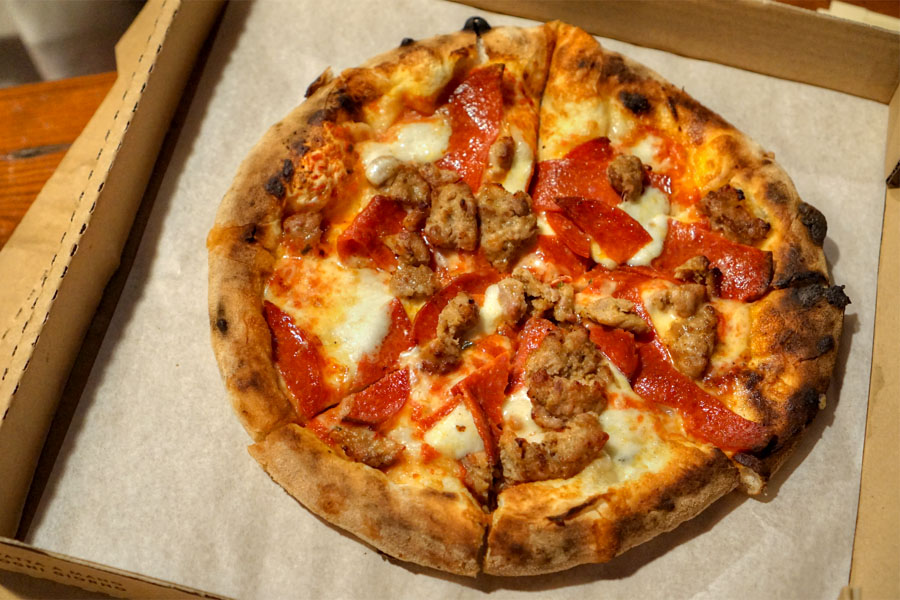 DeSano [$15.00]
| San Marzano Tomato, Pepperoni, Sausages, Garlic, Buffalo Mozzarella
DeSano's signature pizza largely delivered. I enjoyed the savoriness and spice from the two types of meat, which made for a classic, satisfying sort of flavor profile. Crust-wise, I will say that it was on the chewier, doughier side, with a slight char and some crispy bits.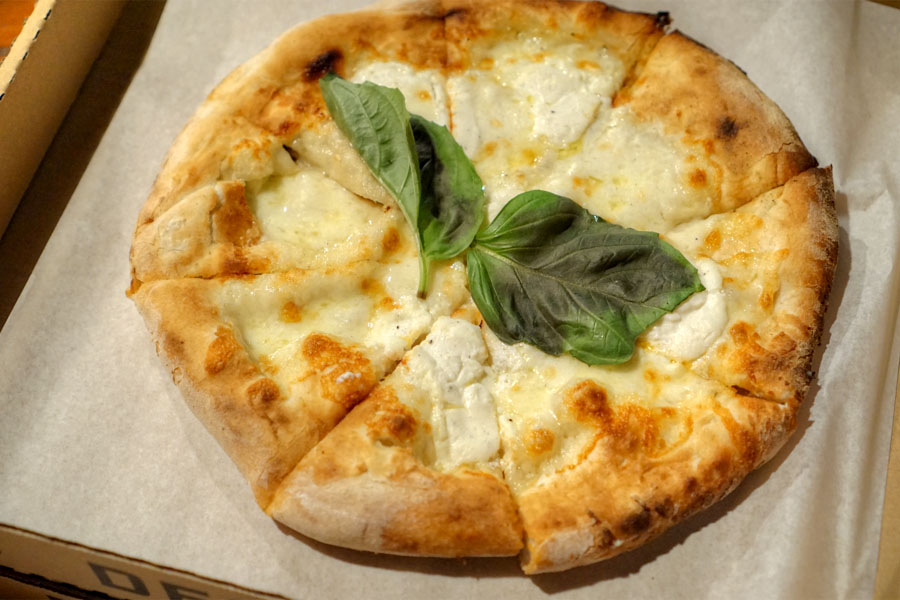 Bianca [$13.00]
| Mozzarella, Ricotta, Buffalo Mozzarella, Pecorino Romano, Garlic
The white pizza was a success, showing off a multipronged cheesiness along with plenty of garlic and a touch of fragrant basil for good measure.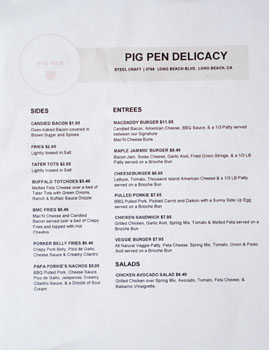 Our final savory stop was Pig Pen Delicacy, which features Asian-y comfort food from owners Andy Nguyen (Afters Ice Cream), Kevin Bobby/Mark Cruz (GD Bro Burger), and Jason Trinh. The original PPD was at the
4th Street Market
in Santa Ana (since closed), and there's also another outpost at the Trade Food Hall in Irvine. The food here definitely skews toward the semi-trashy side, and is probably what you want to go with your beer. Click for a larger version.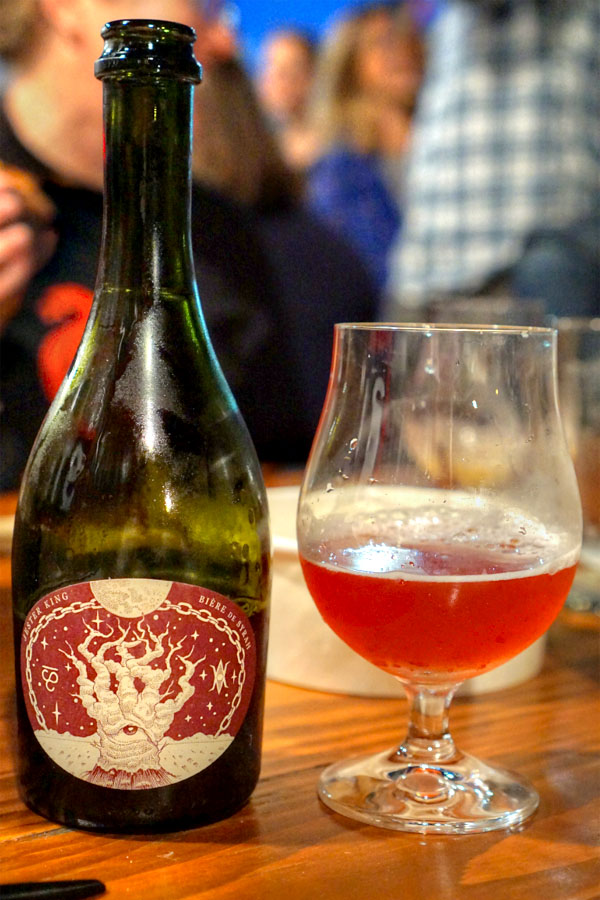 Speaking of beer, next was the
2015 Jester King Bière de Syrah
, a blend of sour ales aged in oak for up to a year, refermented with Syrah grapes from California, aged an additional nine months in oak, then finally bottle-conditioned for two more months. As expected, the aromas were decidedly funky, tart, and wine-like. The taste followed, with plenty of earthy, oaky nuances wrapped up in a sour, deeply vinous package.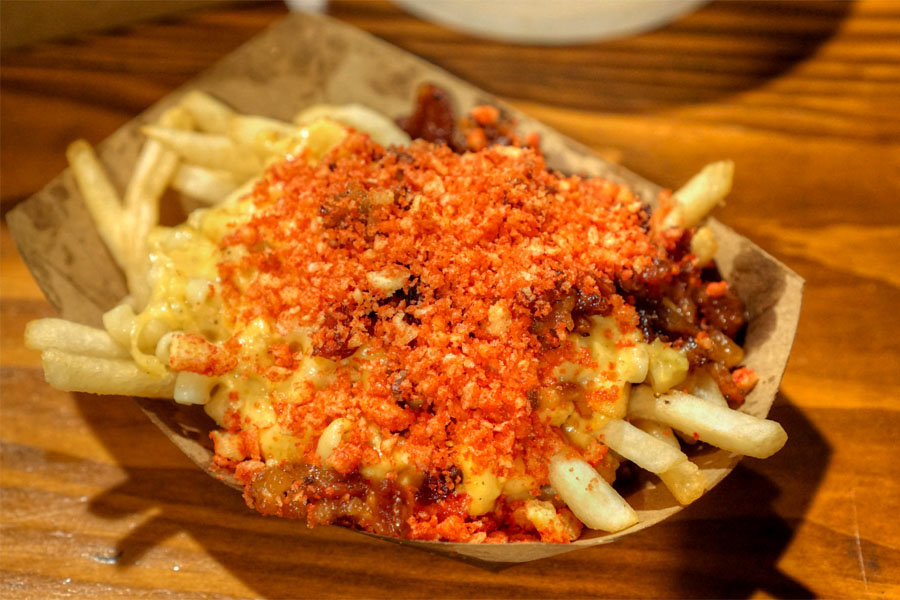 BMC Fries [$6.49]
| Mac'N Cheese and Candied Bacon served over a bed of Crispy Fries and topped with Hot Cheetos
This was as slutty as it sounds. The fries themselves were pretty uninspired (think limp McDonald's fries), but they did work reasonably well as a base for the mash-up of mac 'n' cheese, bacon, and Cheetos. I would've liked larger shards of the Cheetos though, to make for more textural contrast.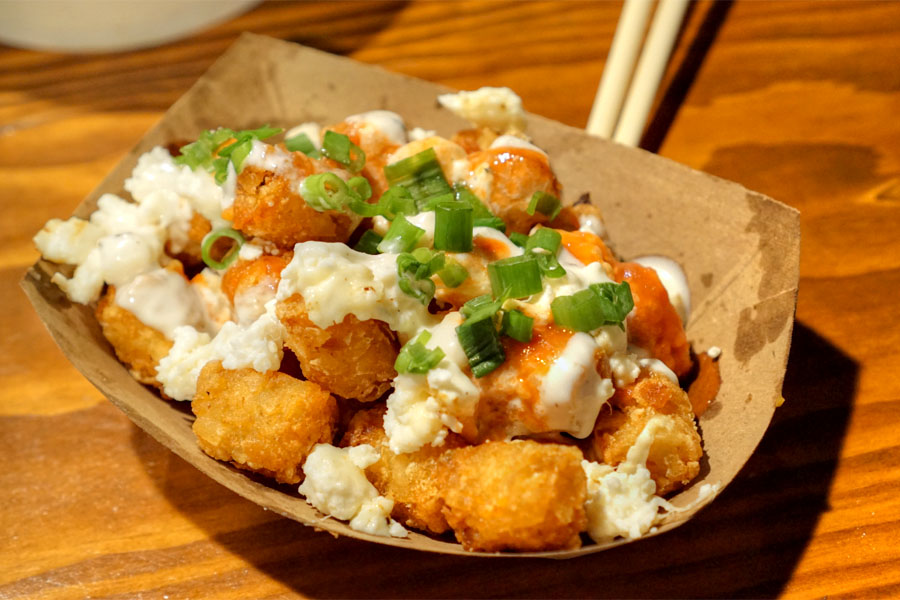 Buffalo Totchoes [$5.49]
| Melted Feta Cheese over a bed of Tater Tots with Green Onions, Ranch & Buffalo Sauce Drizzle
The tots were well-textured, though the dish was a bit heavy-handed with the feta. I wanted more of that tart, tangy Buffalo sauce to even things out. The scallions were much appreciated however.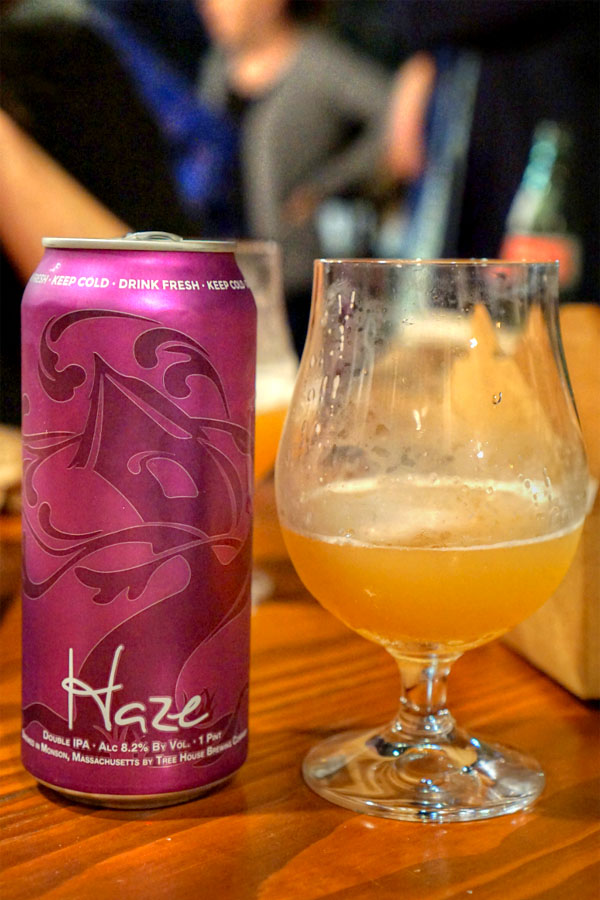 Next came another double IPA, the
2017 Tree House Haze
. I got a sweet, soft nose, with light herbal elements. On the palate, the beer was soft and sweet and viscous, with a nice back-and-forth between hop bitterness and both citrus and stone fruits.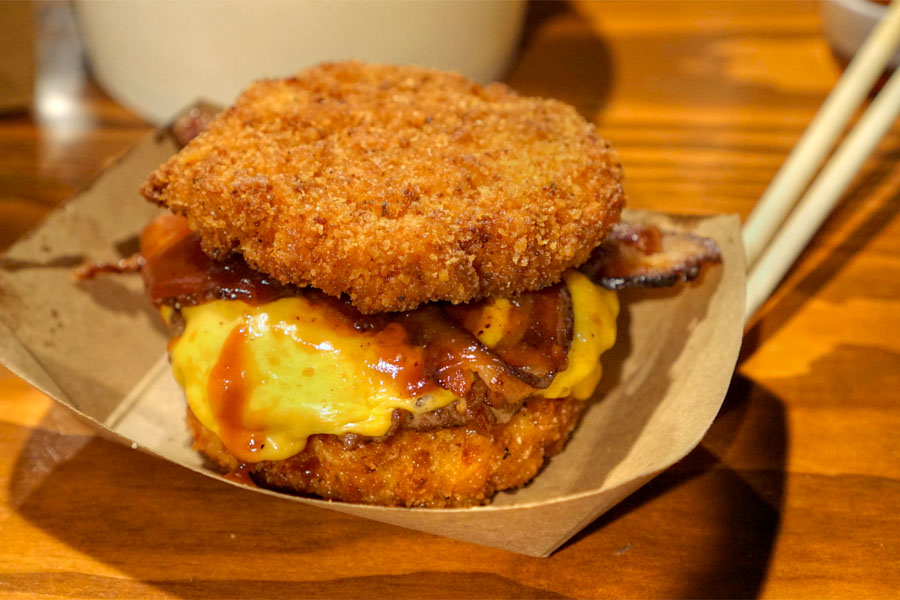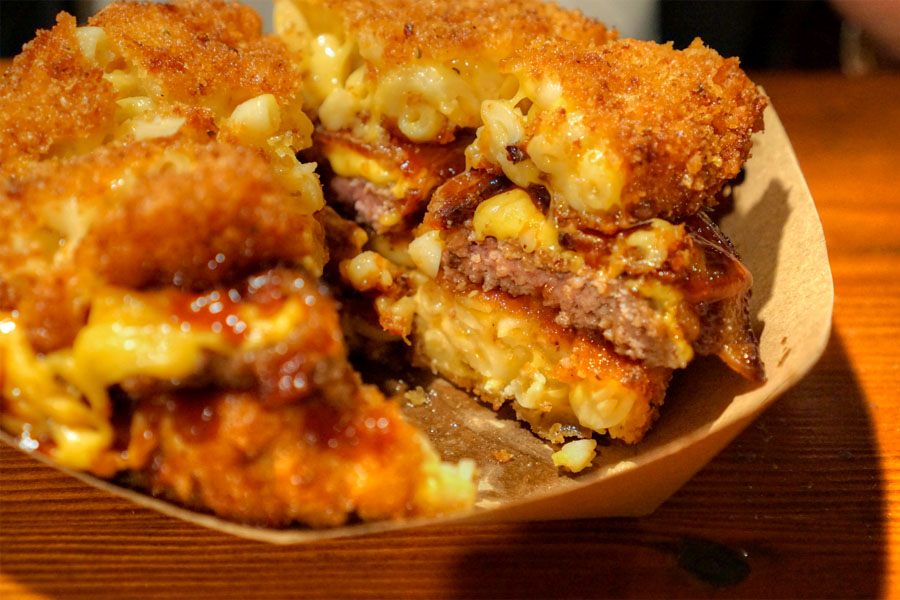 Macdaddy Burger [$11.95]
| Candied Bacon, American Cheese, BBQ Sauce, & a 1/3 Patty served between our Signature Mac'N Cheese Buns
Pig Pen's signature burger was on the gimmicky side. The mac 'n' cheese buns were a combination of crispy and creamy, but didn't exactly make for an easy eating experience. Taste-wise, there was an excessive sweetness due to the bacon and BBQ sauce combination, though I did enjoy the actual patty here and how that meshed with the cheese.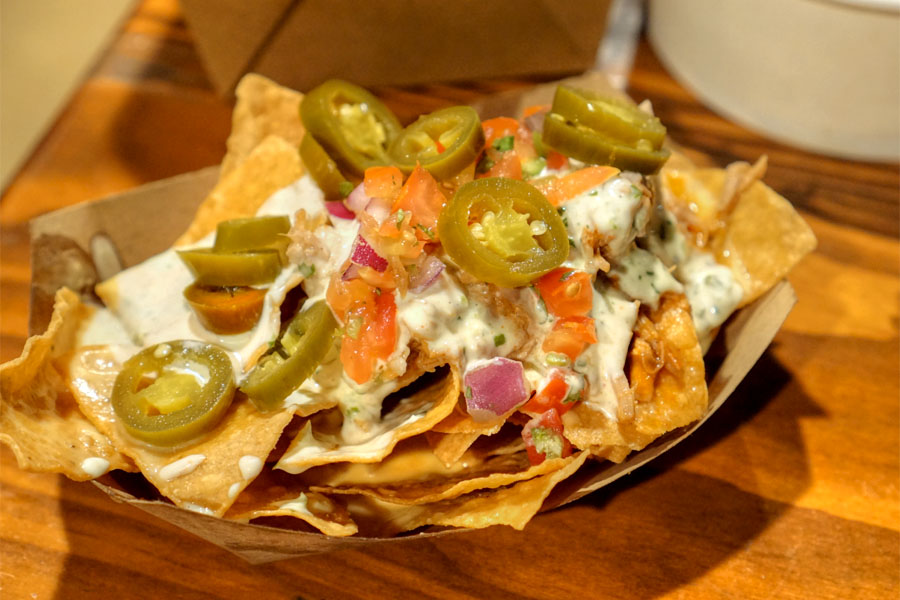 Papa Porkie's Nachos [$5.95]
| BBQ Pulled Pork, Cheese Sauce, Pico de Gallo, Jalapenos, Creamy Cilantro Sauce, & a Drizzle of Sour Cream
The pork worked reasonably well, coming out soft and somewhat sweet. However, the problem was that the dish was overly "saucy," which meant that the chips were quickly rendered soggy and unappealing.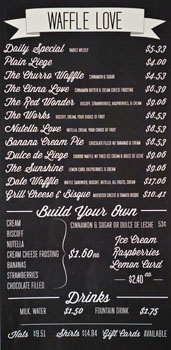 For dessert, we headed over to Waffle Love, one of many locations situated throughout Utah, Arizona, and California. The chain was founded in November 2013 by Adam Terry, and was part of Season 6 of
The Great Food Truck Race
. They're known for their Belgian-inspired Liège waffles, which are available in a dozen or so preset combinations, or completely custom. Click for a larger version.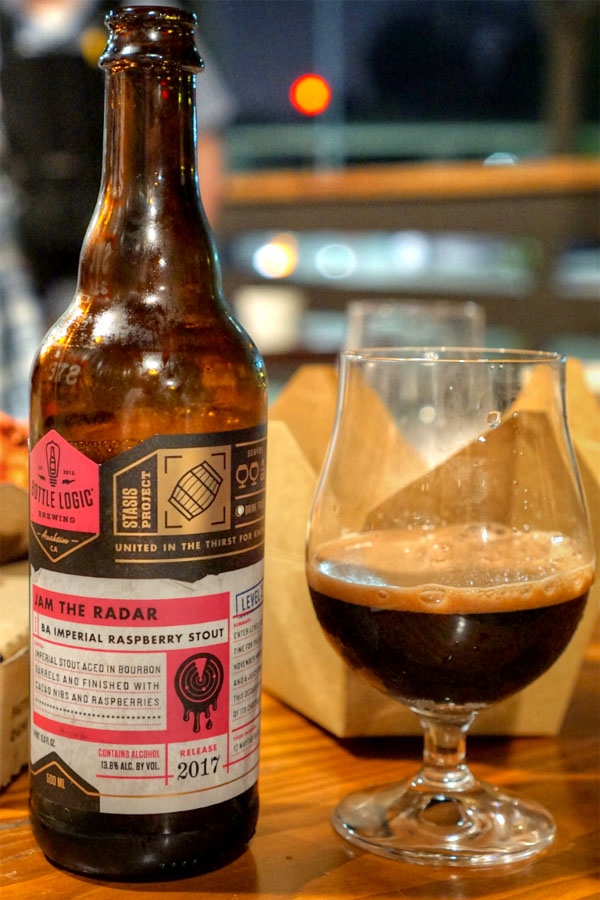 Our final beer was the
2017 Bottle Logic Jam the Radar
, an imperial stout aged in bourbon barrels and finished with cacao nibs and raspberries. It smelled of juicy, jammy berry commingled with chocolate--superb. The taste had a base of chocolate and light barrel, with sweet fruit all over the place; think chocolate-covered raspberry. Overall, much tastier than I had expected.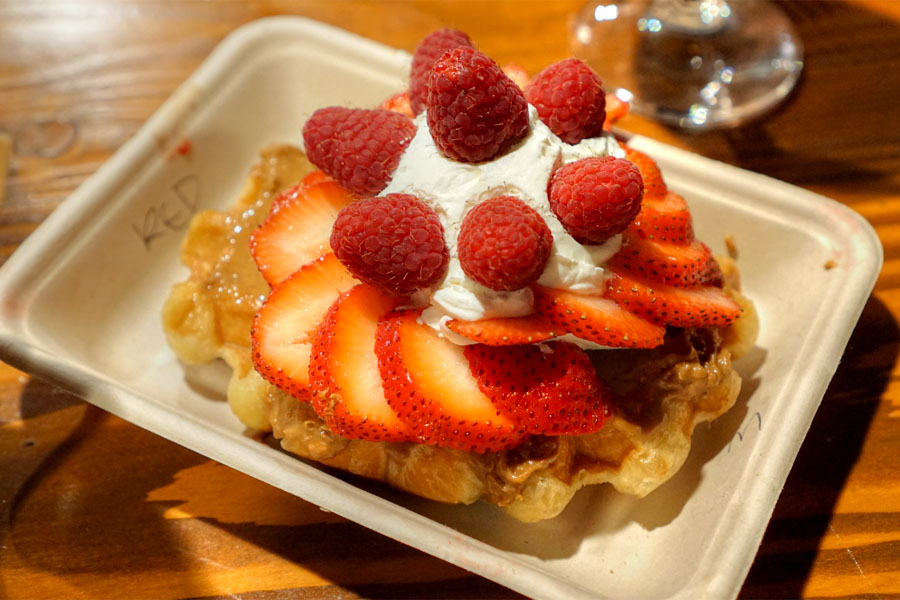 The Red Wonder [$9.06]
| biscoff, strawberries, raspberries, & cream
The beer actually made sense with our desserts. The first did a great job balancing the sweet, spicy, caramel-y flavors of biscoff with notes of tart, bright berry, the waffle serving as a delightfully soft base for it all.
Dulce de Liege [$9.06]
| churro waffle w/ fried ice cream & dulce de leche
The second was also a winner. The essence of churro was nicely captured, and I was a big fan of the crisp, cereal-y bits included. The ice cream was on point as well. Very tasty.