Chianina Steakhouse (Long Beach, CA)
Chianina Restaurant
5716 E 2nd St, Long Beach, CA 90803
562.434.2333
www.chianina.com
Sat 05/27/2017, 07:40p-10:55p

It had been a while since we'd visited a proper steakhouse, so we decided to give Chianina (named after an Italian cattle breed renowned for its meat quality) a shot. The place opened in December 2013, and bills itself as an Italian-inspired American steakhouse. Chianina is part of Michael Dene's eponymous Michael's Restaurant Group, which also runs Michael's on Naples, Michael's Pizzeria, and
Working Class Kitchen
. The restaurant is led by Bryant Taylor, a CSCA grad who was previously sous chef at Michael's on Naples (which is actually just up the street), while GM duties are handled by MRG managing partner Massimo Aronne.


Chianina occupies the former home of the longstanding Kelly's, an Irish steakhouse that was founded all the way back in 1958. The space was revamped by
Studio Unltd
(
Moruno
,
Otium
,
Petty Cash
,
BierBeisl Imbiss
, The Rose,
Catch & Release
,
Bestia
,
BierBeisl
,
MessHall
), and now features an appropriately modern steakhouse sort of vibe.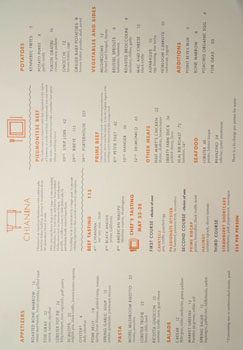 Chianina's menu follows the typical format: the steaks as the focal point, joined by suitable starters and sides. Drink-wise, you get a selection of cocktails, a few beers, a pretty complete array of spirits, and a fairly lengthy, global wine list put together by Aronne. Corkage was $25 a pop, though it can be waived for each bottle you purchase off the list. Click for larger versions.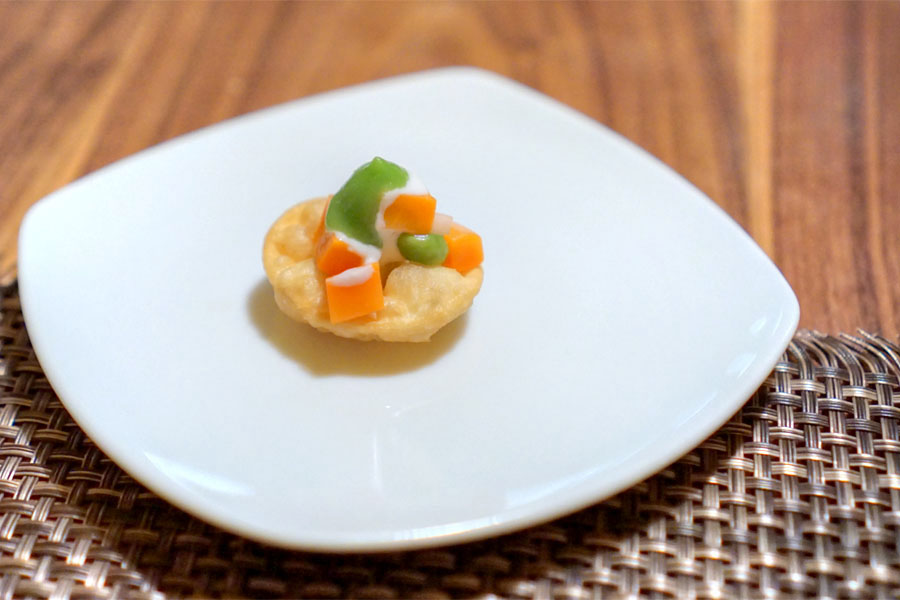 Our amuse bouche was a pea and carrot salad
en croute
with smoked crema and citrus. The veggies were crunchy, perhaps a touch underdone, and bound together by that crema, while the pastry I found overly crispy. A bit of a throwback I have to say.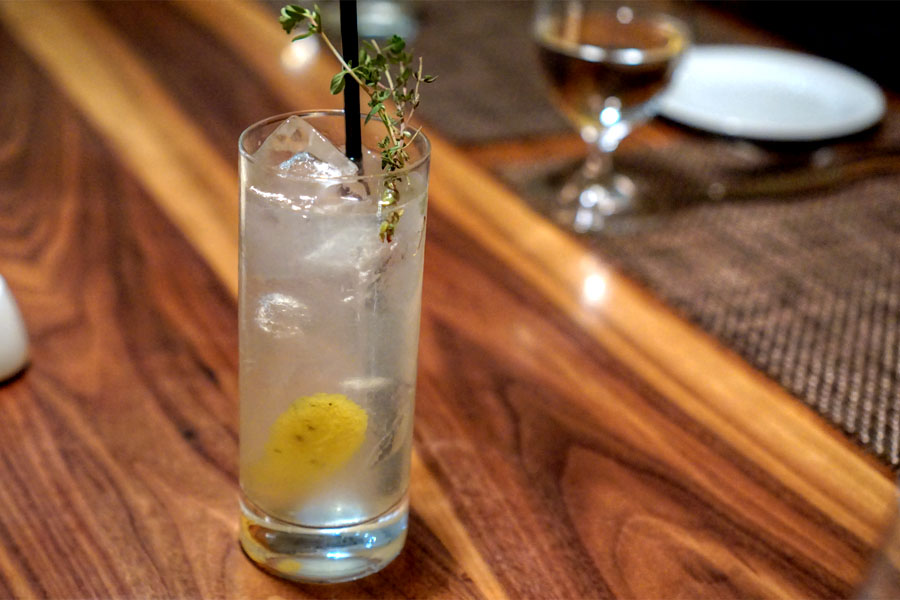 One More Thyme [$13.00]
| ketel one vodka, fresh lemon, kumquat, fino sherry, prosecco, thyme
We gave the cocktail list a whirl, naturally. Our first was certainly on the lighter, more refreshing side, with zippy lemon-y flavors joined by a slight herbaceousness from the thyme and just a smidge of sweetness. I didn't get much from the sherry though.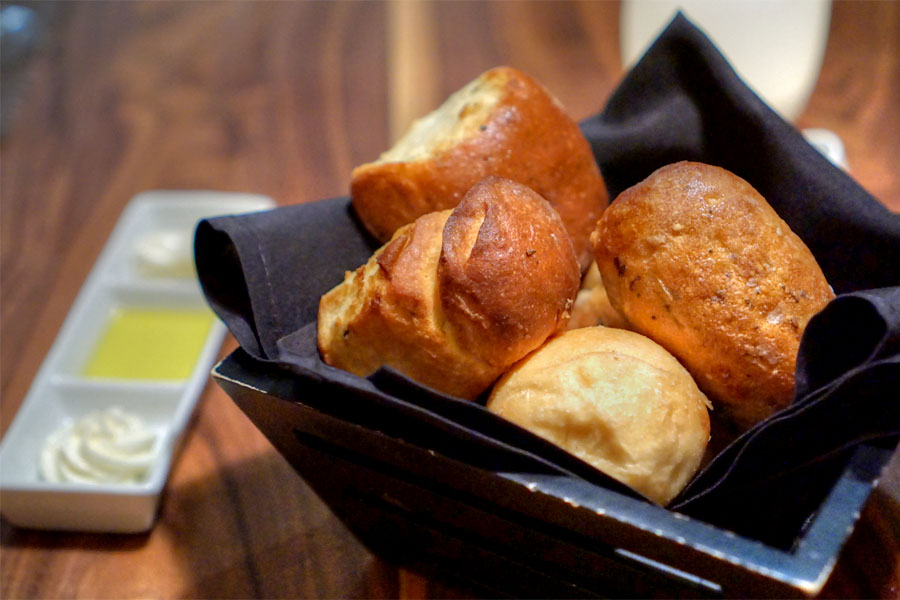 We were very happy with the bread, which I believe is baked in-house. I was able to sample three varieties: one peppery and crusty, one soft and slightly sweet, and one boasting plenty of nutty sesame.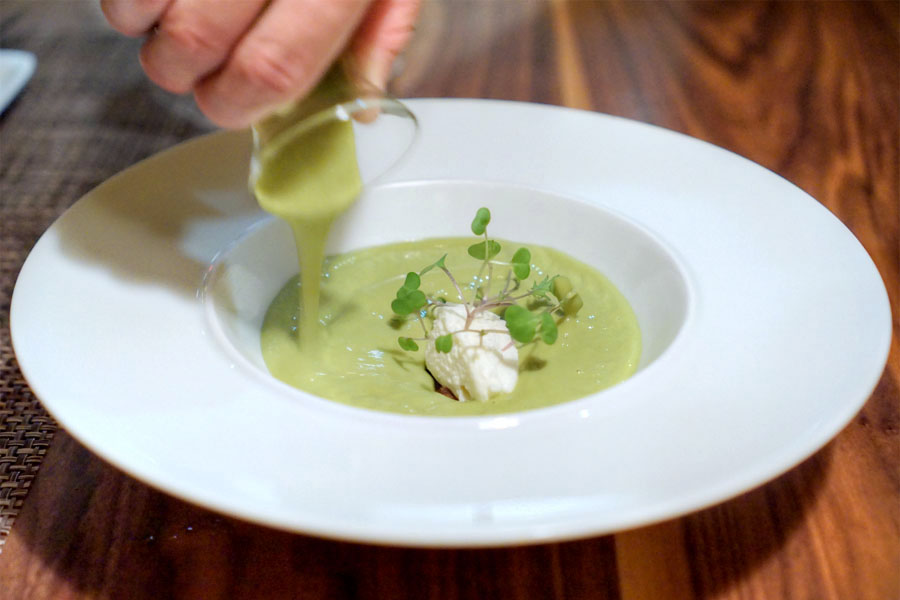 Spring Garlic Soup [$15.00]
| potato, guanciale, parmesan mousse
The soup was a surprise favorite. I loved its bright, bold, creamy flavors and robust notes of garlic, and how that worked with the savoriness of potato and cured pork.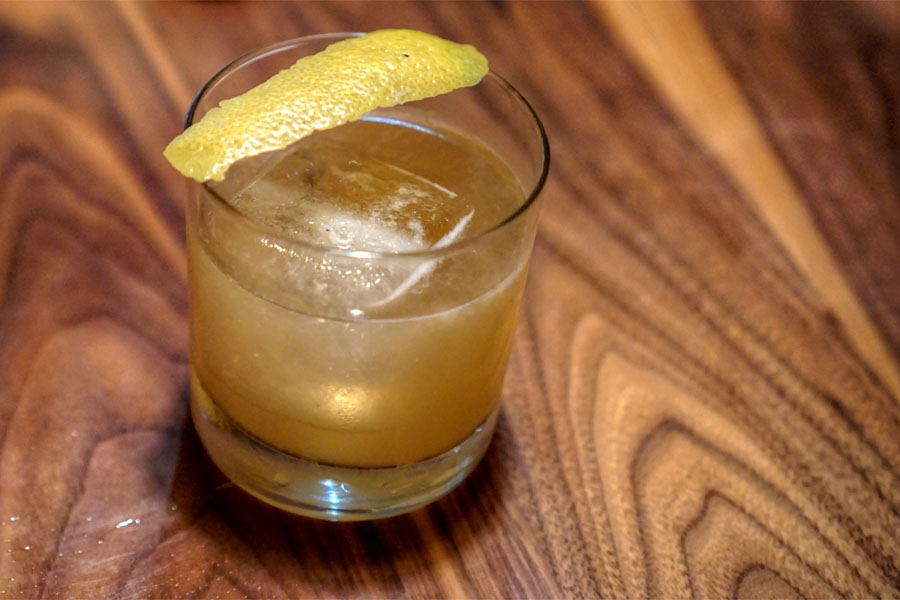 Spice Dream [$12.00]
| malahat spiced rum, fresh lemon, ginger syrup, cinnamon, aztec chocolate bitters
This next cocktail was definitely more assertive. It had an intense nose of almost candied citrus, while the taste balanced chocolatey, astringent, and floral flavors with plenty of baking spice.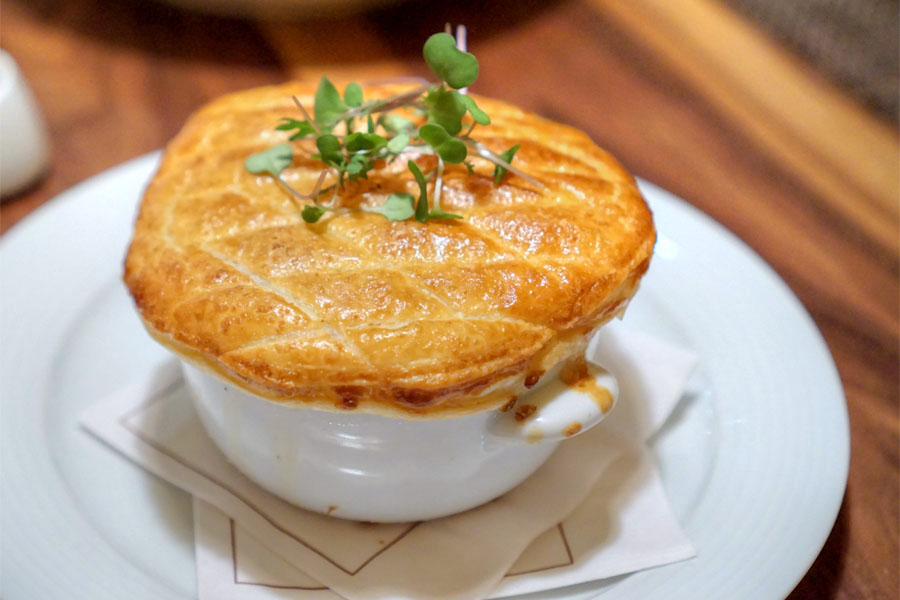 Lobster Pot Pie [$24.00]
| king trumpet, root vegetable, puff pastry
I'm a sucker for pot pie, so I had to order this. Think classic and cozy, with a nice flakiness on the crust and some well-cooked bits of lobster.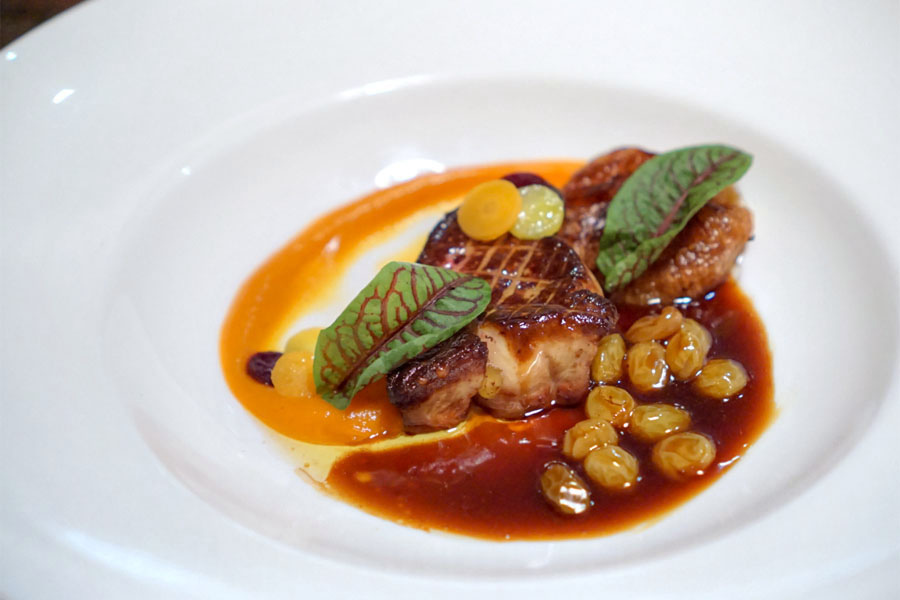 Foie Gras [$32.00]
| carrot, raisin, cipollini
The foie showed off its signature richness, offset by the nice sear going on. The carrot and raisin went in a sweet direction, but fortunately things didn't get too overpowering.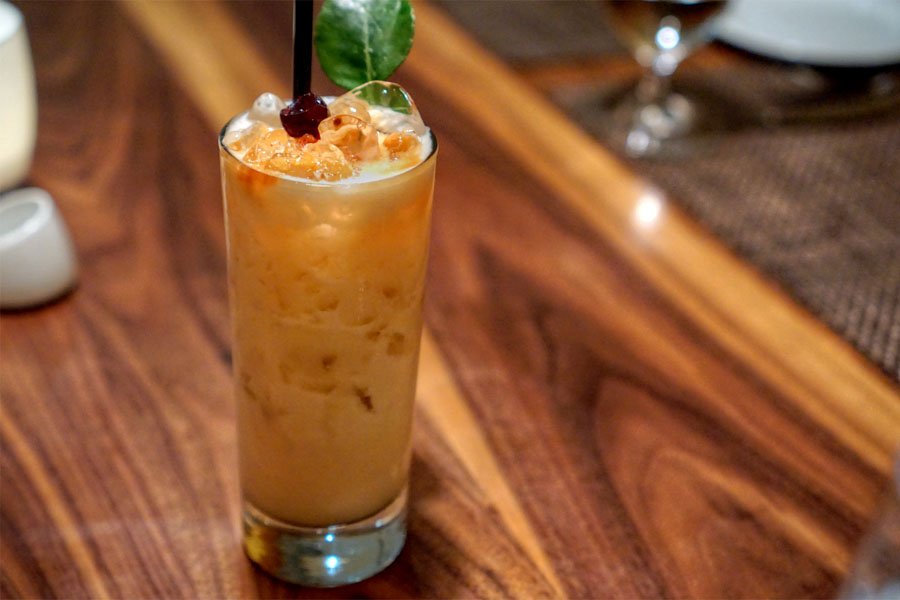 The Escape [$13.00]
| papa's pilar blonde & dark, coconut, mango, aromatic bitters, kaffir lime
This was undoubtedly the most polarizing cocktail that we tried. It was a viscous drink, with a healthy dosing of sweet spice and tropical fruit commingled with an almost savory quality. One of my fellow dining companions even likened it to a Jell-O salad.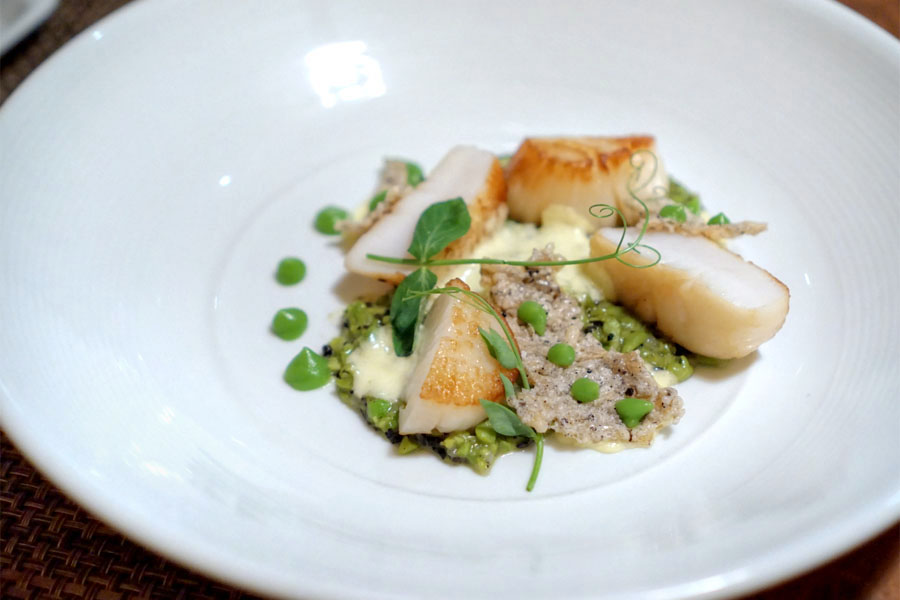 Scallops [$22.00]
| english pea, black truffle, brown butter espuma
The scallops were a favorite of pretty much everybody. They had a proper cook, and I appreciated how their salinity worked with the sweet, bright flavors of the peas. Truffle added a whisper of muskiness to the dish, and I loved the crunch of the crispy rice here as well.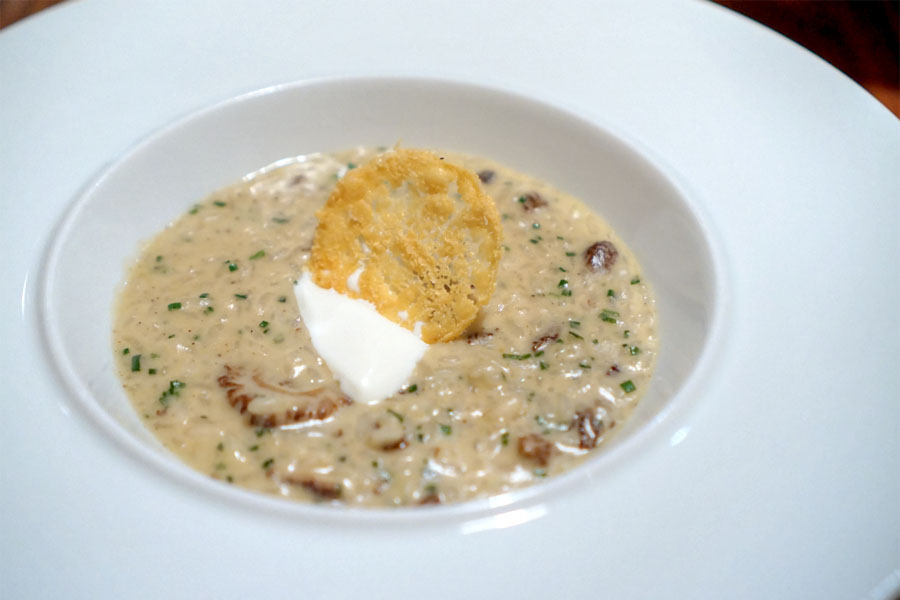 Morel Mushroom Risotto [$22.00]
| ricotta, pecorino
I can't resist a risotto, and this one didn't disappoint. The rice had a pleasant chew to it, and the dish's creamy, luxurious mushroom flavors were nicely paired with the ricotta. Great textural contrast from that chip, too.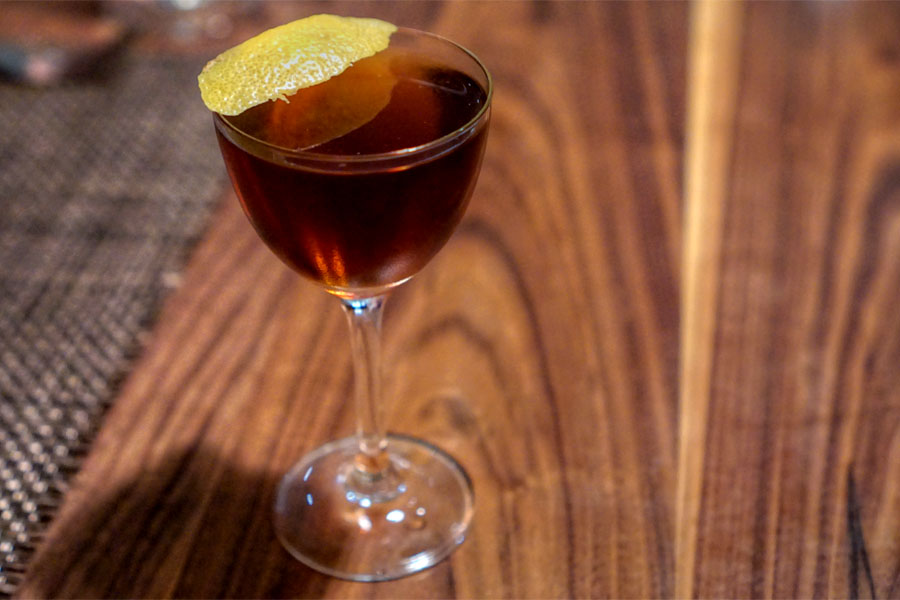 Alley Cat [$14.00]
| templeton rye, gran classico, cynar, carpano antica sweet vermouth, flamed citrus
At this point, we moved on into the "Chianina Classics" portion of the cocktail menu. This one smelled of citrus mixed with sugary, medicinal notes. The taste went in a similar direction, coming in sweet at first, but finishing bitter and herbaceous. Several of my fellow drinkers actually recalled cough syrup.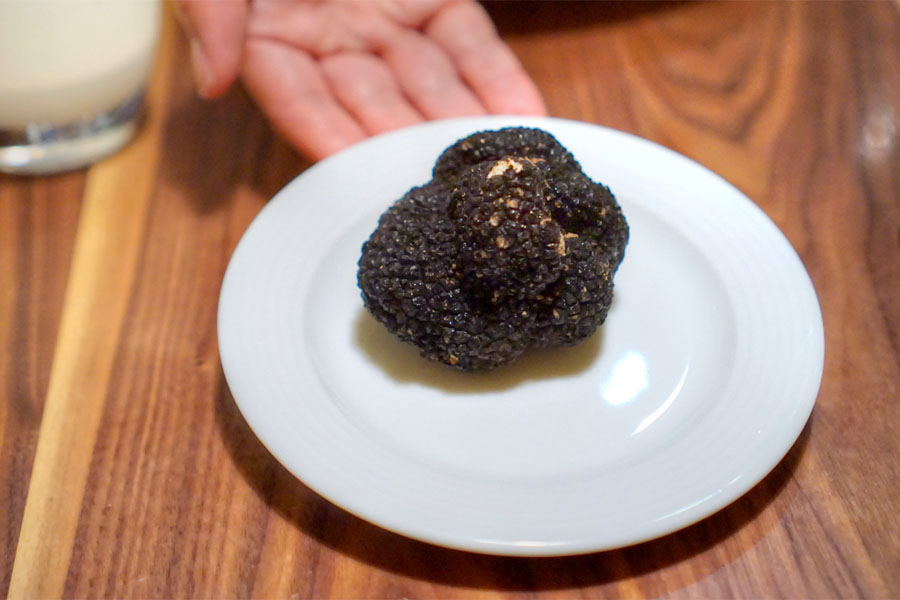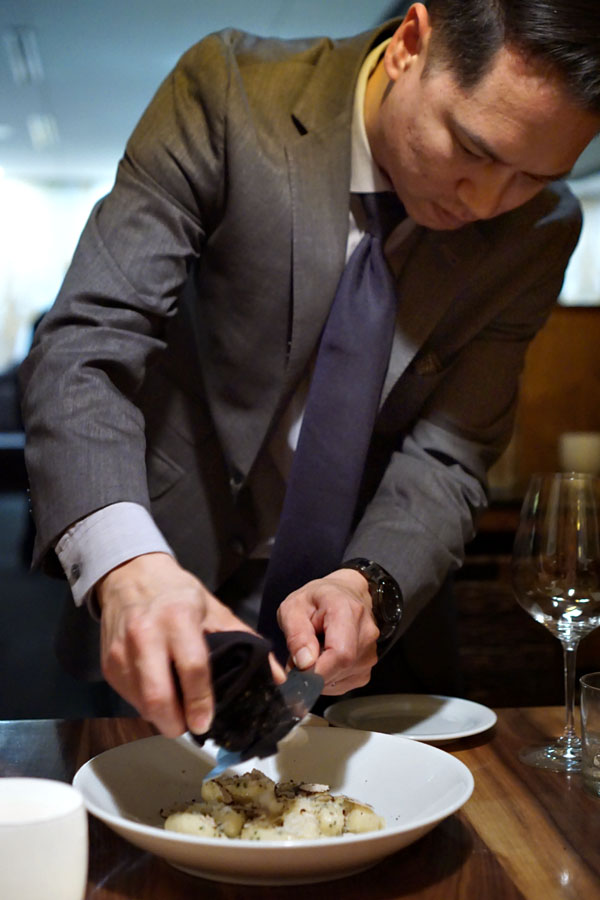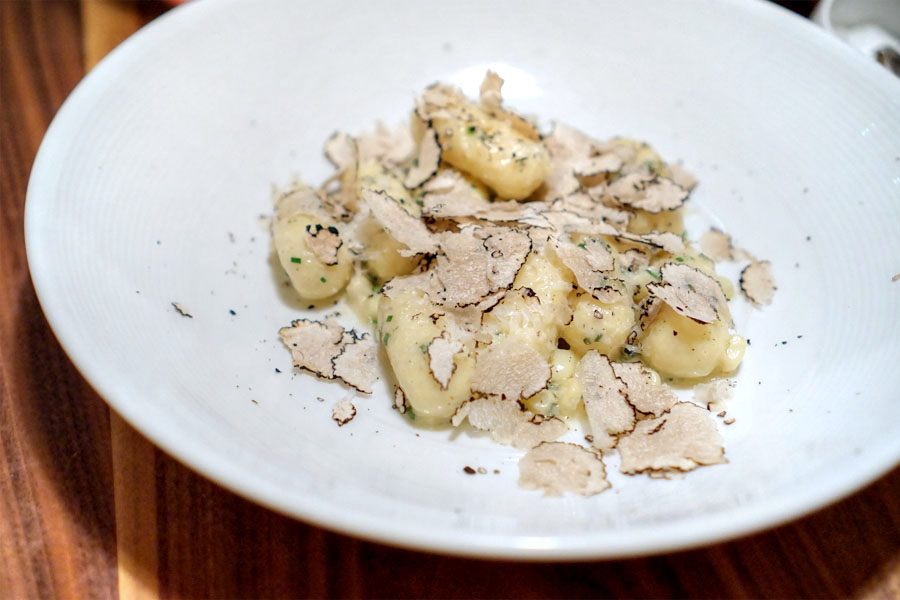 Ricotta Gnocchi [$35.00]
| summer truffle, corn, goat cheese
Gnocchi were soft, fluffy, and slightly grainy, and married well with the sweetness of corn while the
chèvre
provided the necessary richness. The truffle was on the milder side (not surprising given that it was of the summer variety), but still imparted a much appreciated earthiness to the dumplings.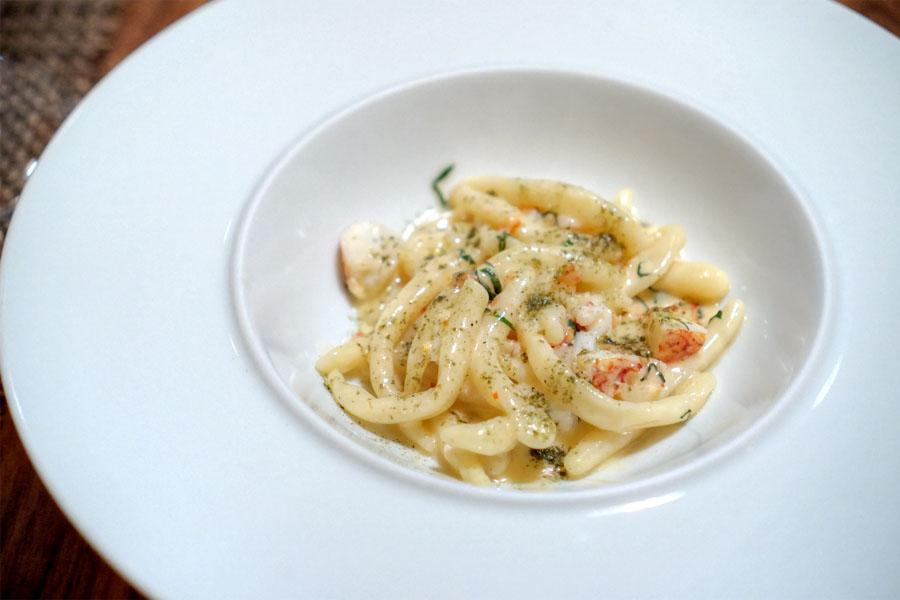 Lobster Trofie [$22.00]
| fresno chile, basil
The trofie was another standout. Coming out substantial to the bite, the pasta worked effortlessly as a complement to the sweet, snappy lobster. Nice trace of heat from the Fresnos, too.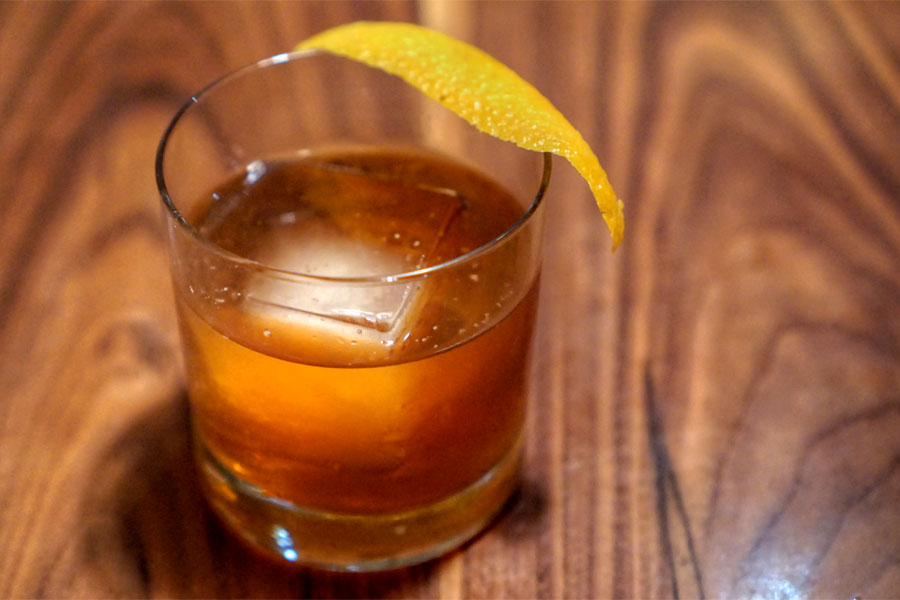 Sergio's Old Fashioned [$14.00]
| chianina fat-washed bourbon, aromatic bitters, maple
Our final cocktail showed off a bitter, vegetal character at first blush, then displayed some savory, bacon-like flavors that meshed expectedly well with the sugary maple in the drink. If you're wondering who Sergio is, it's the name of the restaurant's stylized cow mascot.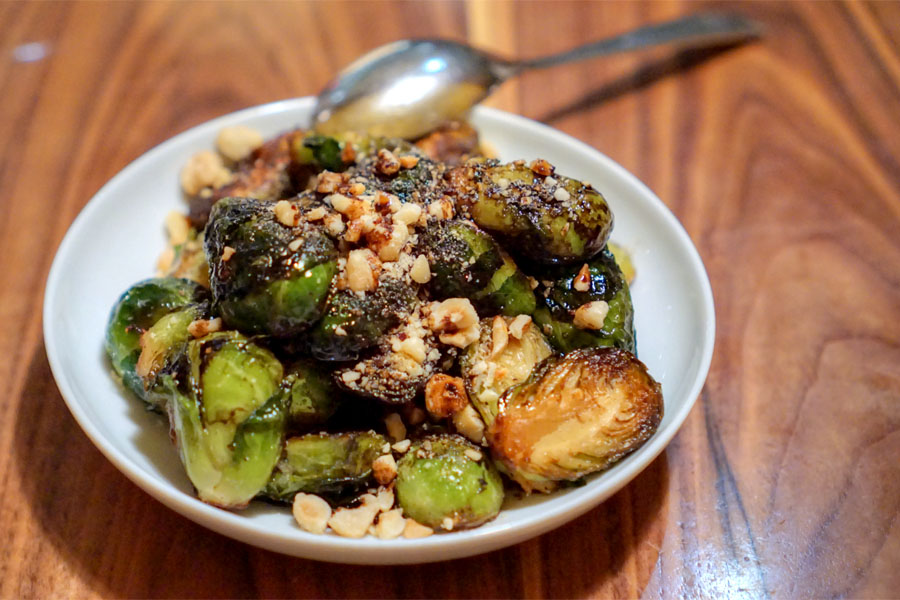 Brussel Sprouts [$8.00]
| balsamic, hazelnut
We ordered a number of sides to go along with the steak. Brussels were bitter, heavily charred, and as a result, very smoky. Balsamic made sense here, imparting a tart, acidity quality to the dish.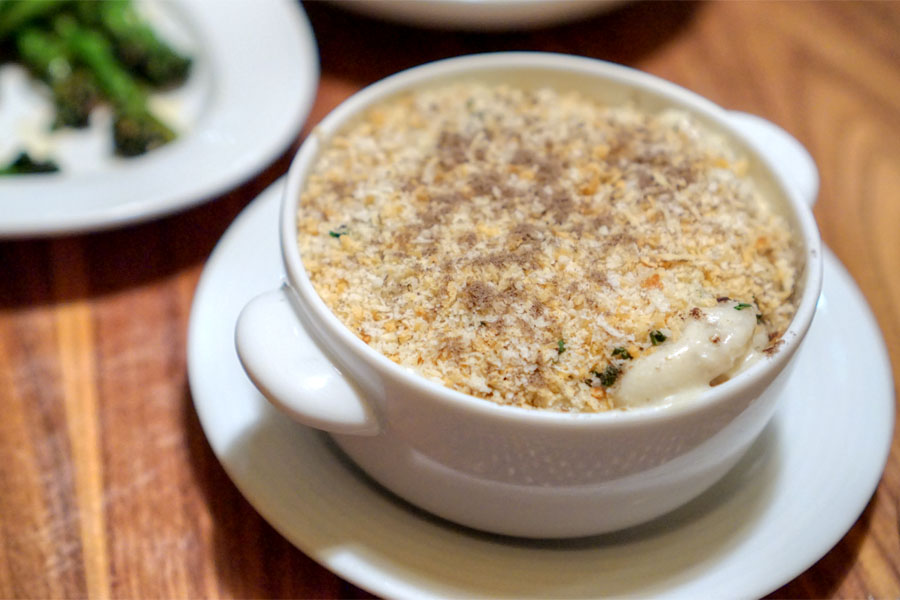 Mac and Cheese [$15.00]
| black truffle
The mac 'n' cheese delivered, with the al dente pasta coming out properly cheesy and nicely accented by more of that truffle.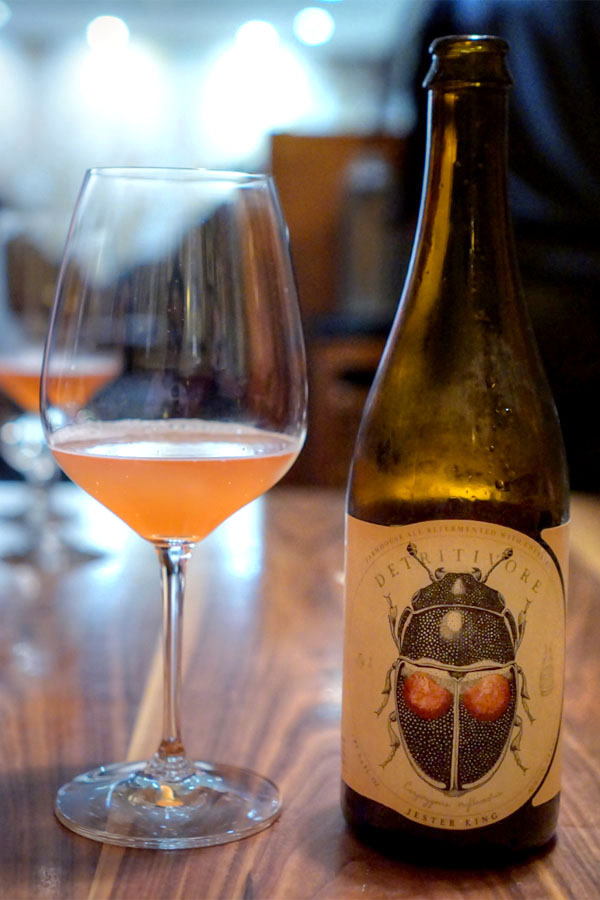 We opened up a bottle of beer next, the
2016 Jester King Detritivore
, a sour farmhouse ale with aged hops, refermented with second-use sour cherries. Aromas were tart, funky, with subtle cherry peeking through. The palate went in a similarly sour direction, and displayed distinctly barnyard-y notes leading to an off-dry, fruity finish.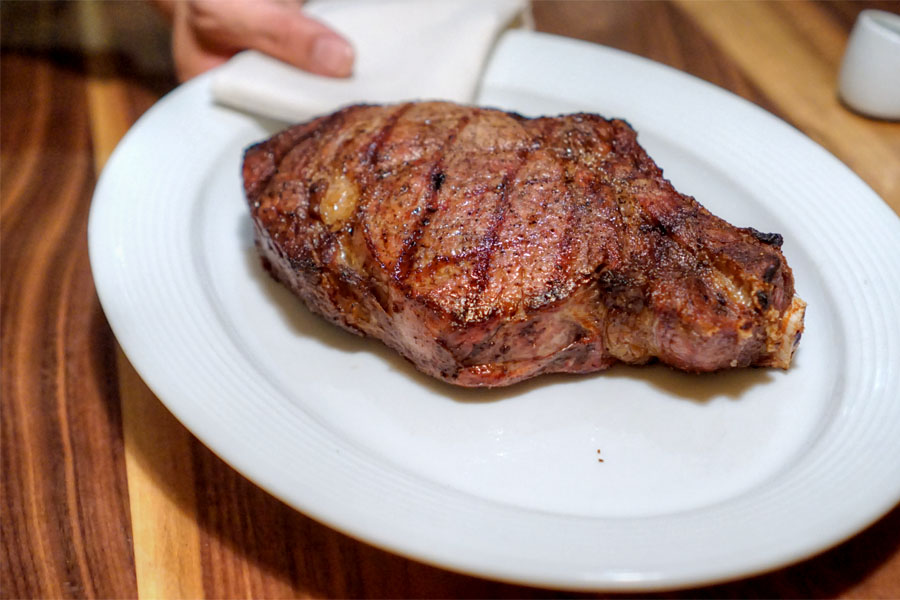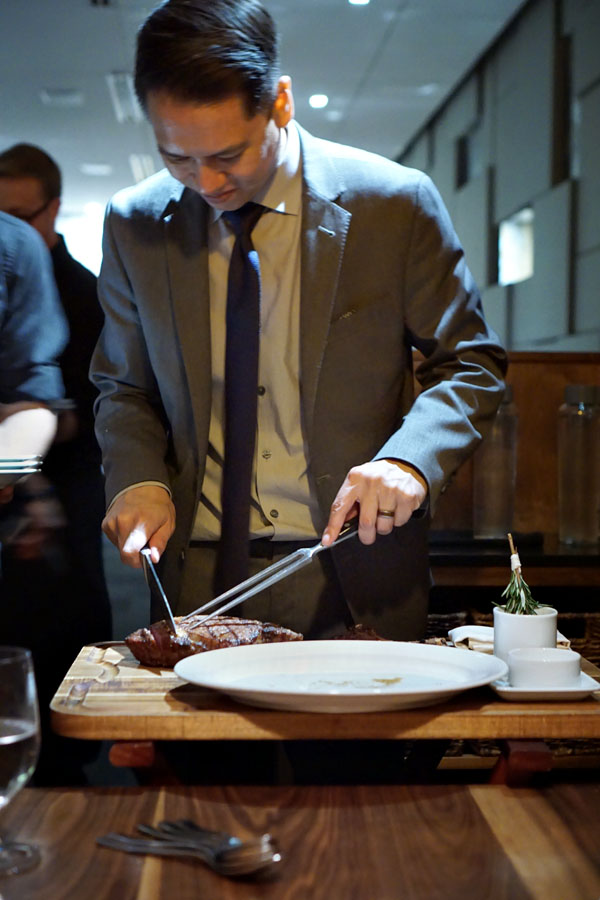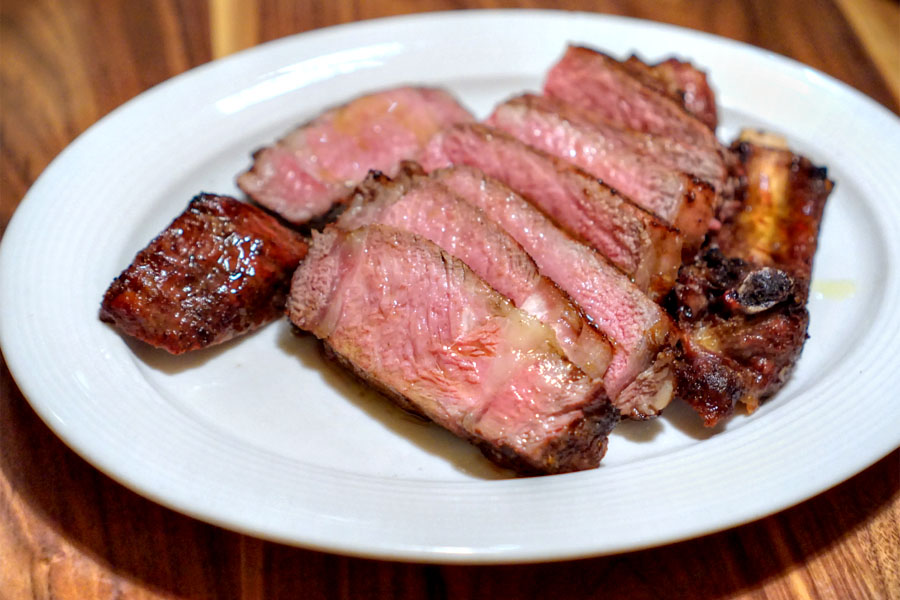 Piedmontese Beef - 29oz Ribeye [$115.00]
Our first steak arrived juicy and tender, though a bit light in the flavor department (probably due to the leanness of the beef), though I did appreciate the application of rosemary and olive oil. I would've probably preferred a touch less cook on the rib eye as well.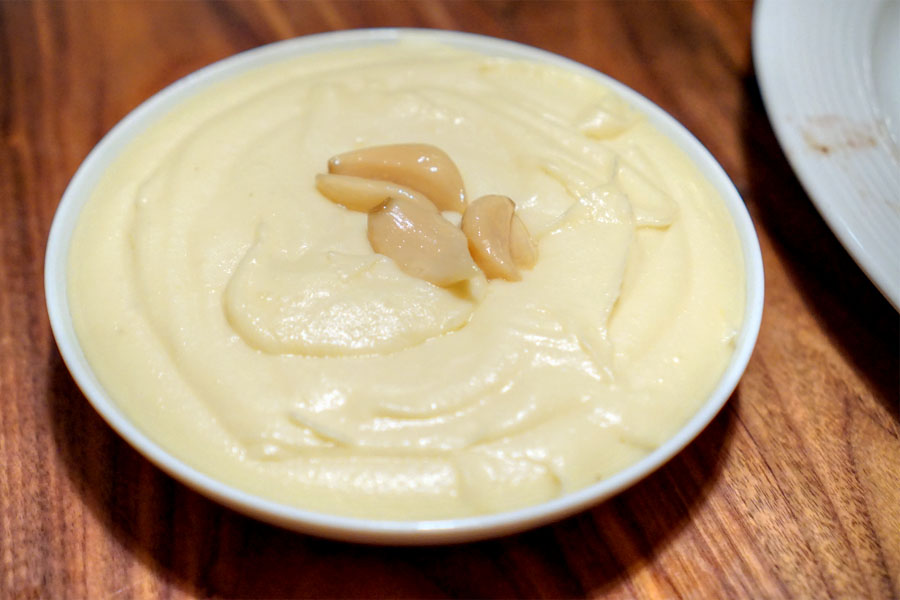 Potato Puree [$8.00]
| garlic confit
Pommes purée
were super smooth, with an excellent garlickiness throughout.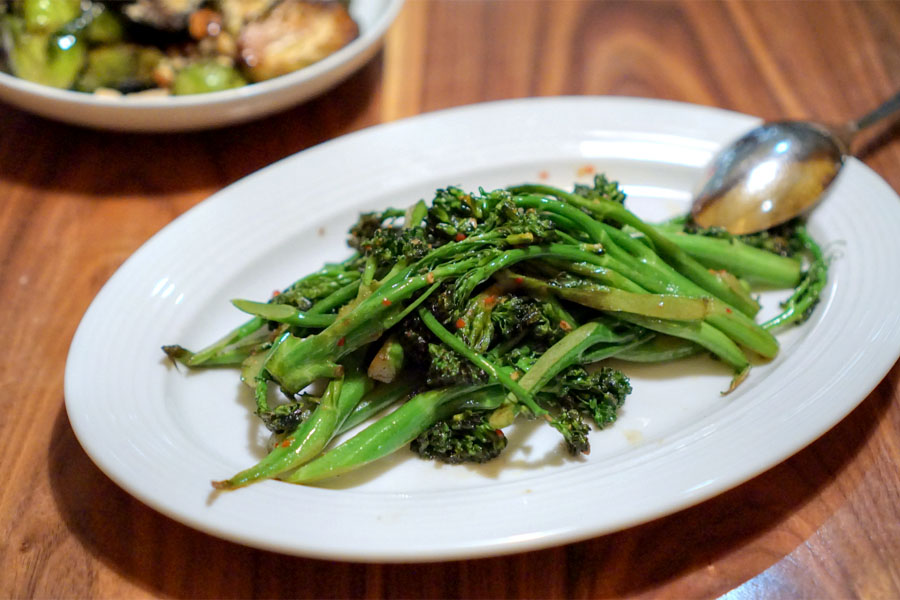 Roasted Broccolini [$8.00]
| anchovy, chilies, garlic
Broccolini was just as bitter and crunchy as I wanted, with an additional depth courtesy of the anchovy and chile.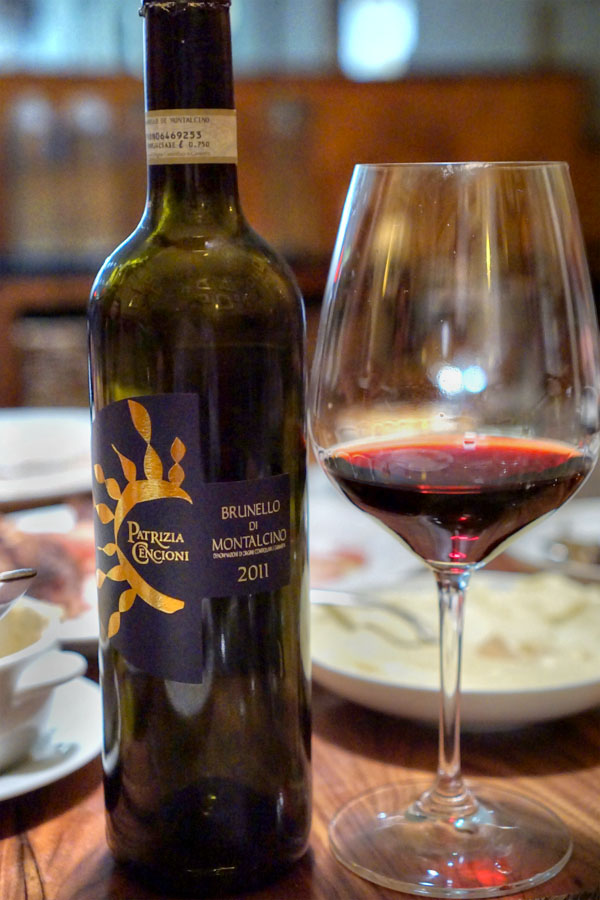 Wine duties were handled by the
Patrizia Cencioni, 2011 Brunello di Montalcino, Toscana [$90]
. On the nose I got pepper, herb, cherry cola, and a touch of minerality. The palate was a bit more one-dimensional, and had a fruitier character, backed up by soft tannins.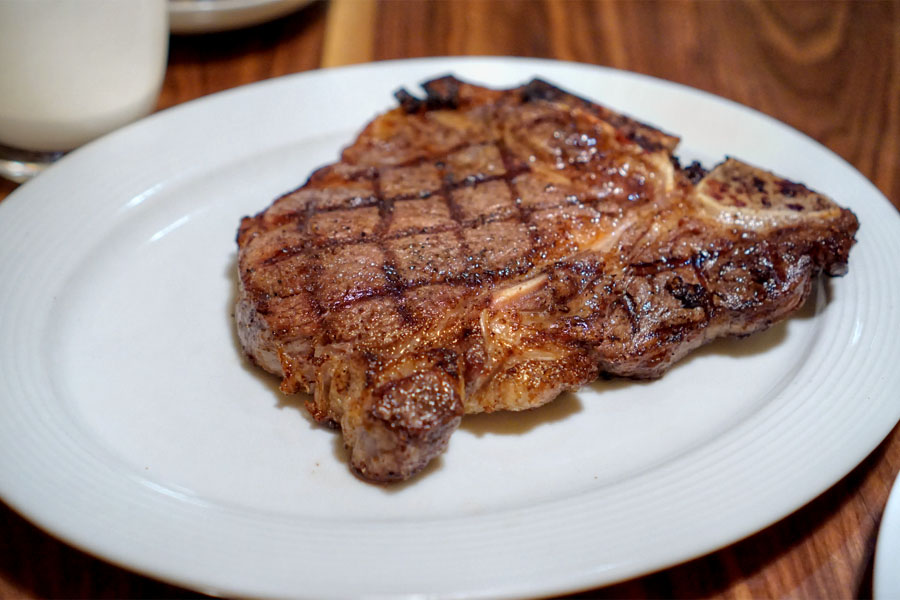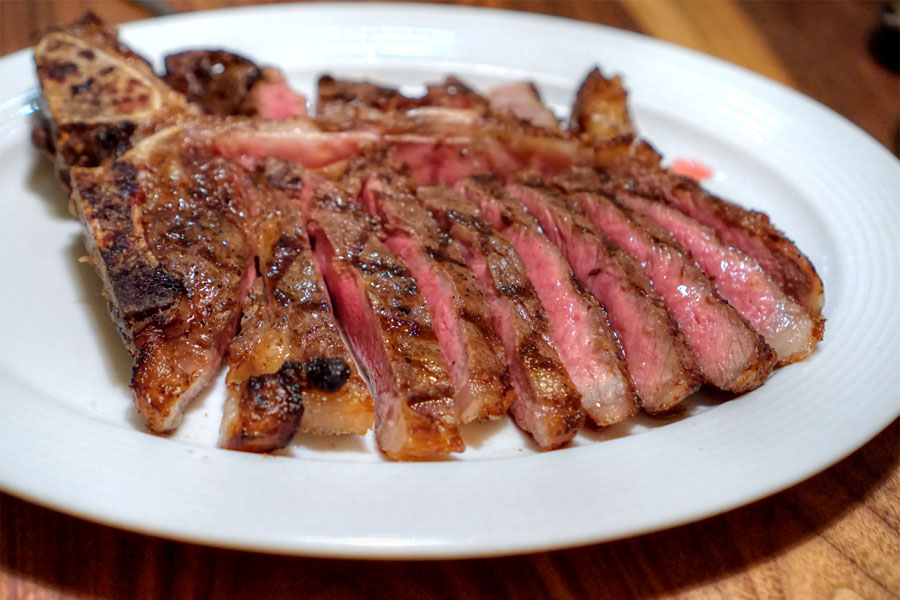 Chianina Beef - 33oz New York Strip [$215.00]
The restaurant's namesake cattle is apparently raised in Utah exclusively for Chianina's use. It didn't let us down. I found this steak much richer, much fuller in flavor, with well-integrated marbling and a suppler texture. Nice bit of a peppery bite on this one, too.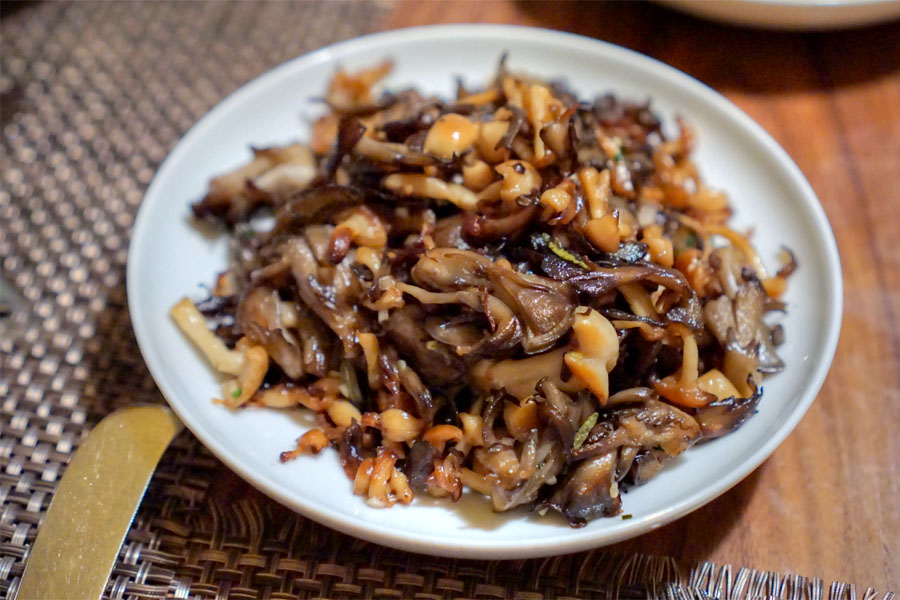 Mushrooms [$12.00]
| farmed and foraged, thyme
Mushrooms were about par for the course, and came lightened up by the application of thyme.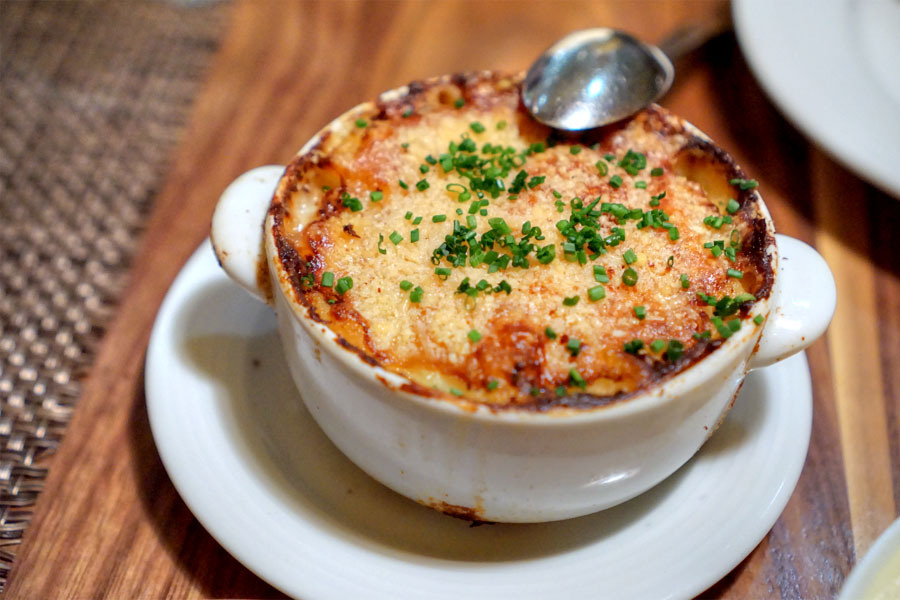 Yukon Gratin [$10.00]
| cream, grana padano
The gratin was perhaps my favorite of the sides thanks to its rich, gooey nature and wonderfully crisp, cheesy crust.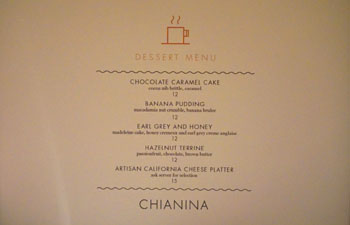 We definitely saved room for the desserts, which I'll say were surprisingly modern in presentation. Click for a larger version.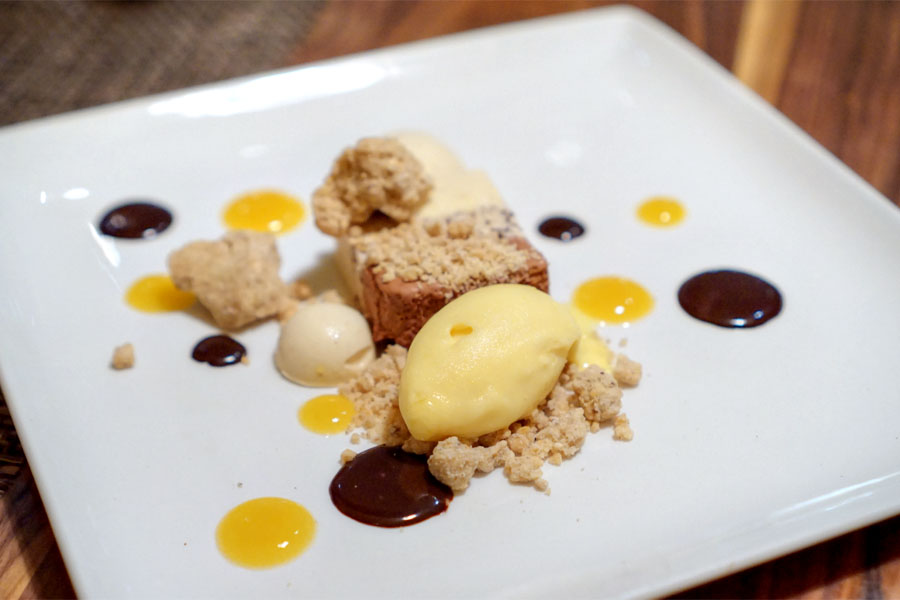 Hazelnut Terrine [$12.00]
| passionfruit, chocolate, brown butter
I was a fan of the crumbly texture of the terrine, as well as its sweet-nutty taste, perked up by pinpricks of salt. I got a nice countering tartness from the passion fruit as well.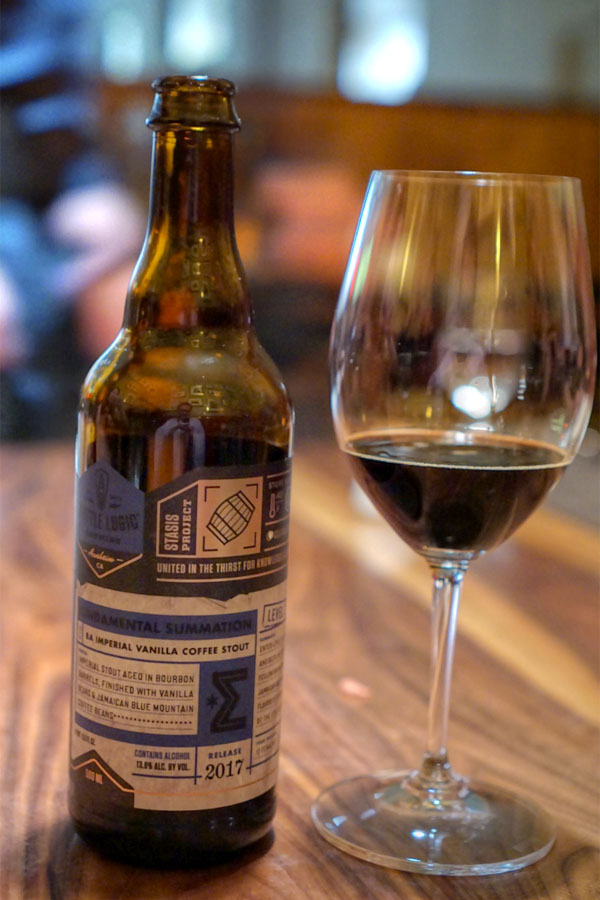 Our dessert beer was the
2017 Bottle Logic Fundamental Summation
, an imperial stout aged in bourbon barrels, finished with vanilla beans and Mostra Jamaican Blue Mountain coffee, created in collaboration with 3 Sons Brewing. The nose here was rife with vanilla, with notes of dark fruit, chocolate, and coffee. Taste-wise, I got more roasty coffee up front, along with oak, booze, and a finish filled with the advertised vanilla.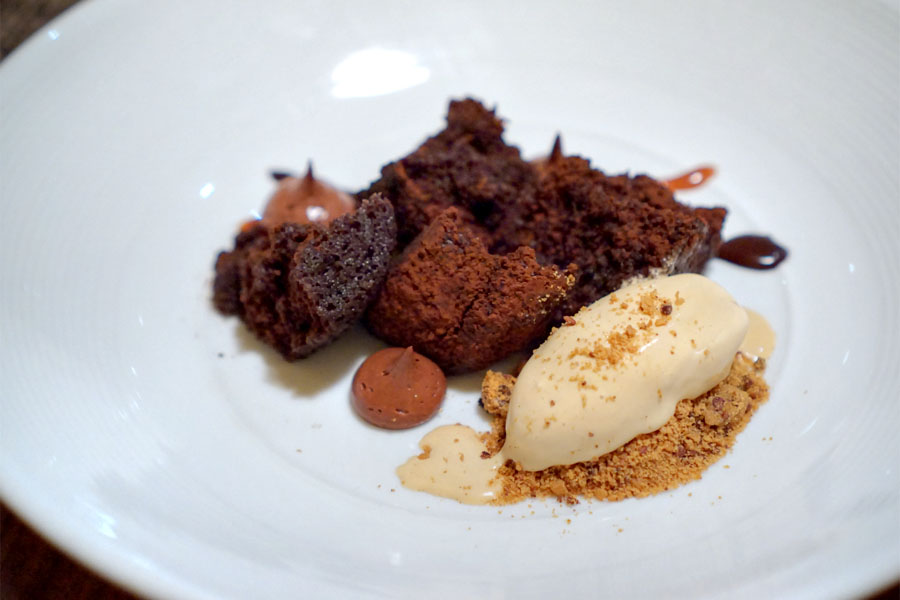 Chocolate Caramel Cake [$12.00]
| cocoa nib brittle, caramel
The beer certainly went well with our chocolate dessert. I appreciated the moistness of the cake, and how that married with the brittle and contrast provided by the ice cream.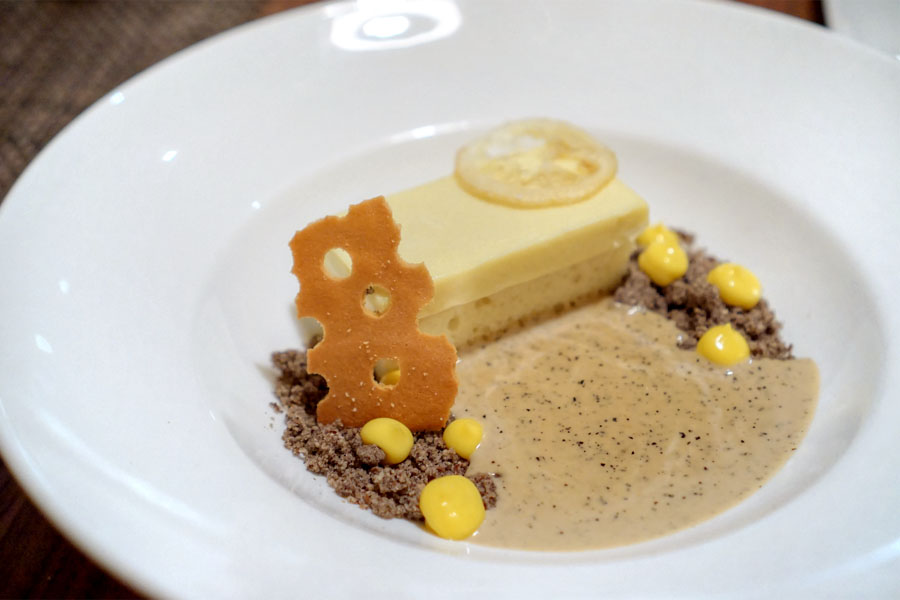 Earl Grey and Honey [$12.00]
| madeleine cake, honey cremeux and earl grey creme anglaise
This was the most unexpected of our desserts. I really enjoyed its fragrant, tea-like aromatics, which definitely meshed with the honeyed and lemon verbena-like notes present. Some nice textures going on here, too.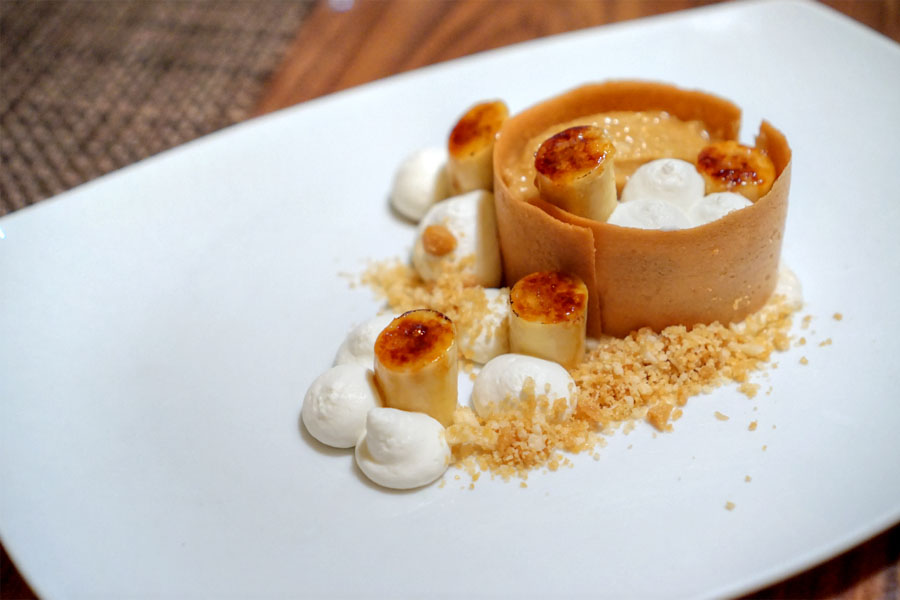 Banana Pudding [$12.00]
| macadamia nut crumble, banana brulee
We ended with my favorite of the bunch. I got some really rich, intense, true-to-life banana flavors, perfectly balanced by the cream and macadamias while the tuile added a great crunch to the mix.
Aside from the rib eye, we were all pretty satisfied with our meal at Chianina. The starters were actually better and more interesting than anticipated, while the sides were largely on point, and dessert was a pleasant surprise. The restaurant's eponymous steak was a winner to boot. Overall, a notable addition to the Long Beach dining scene I'd say, and a worthy alternative to your usual steak-y suspects.