The Rogue Experience (West Hollywood, CA)
The Rogue Experience Restaurant at Wolfgang Puck Test Kitchen
8687 Melrose Ave, West Hollywood, CA 90069
800.275.8273
www.rogue-exp.com
Wed 06/21/2017, 07:30p-11:45p
The last time I was at the Pacific Design Center...it's been a while...I think I was purchasing some pillows. My latest visit, however, was for an entirely different reason: a dinner at
Wolfgang Puck
's latest Los Angeles dining venture.
In late 2015, Puck consolidated his corporate offices and test kitchen at the PDC, and in the latter half of 2016, began hosting friends and family at said kitchen. In October, the public started getting the opportunity to book private parties at the kitchen counter, and the meals were dubbed the "Wolfgang Puck Test Kitchen." Earlier this year, it was decided to expand and formalize the series, and thus, tickets to the newly-monikered The Rogue Experience went on sale on March 20th for seatings starting April 19th. Tickets are available via Tock, and there's only room for eight guests a night, Wednesdays through Fridays (though Saturdays are open for buyouts at a hefty $3000).
Each week, an alternating group of chefs from various parts of Puck's empire get together at Rogue to create a collaborative tasting menu. The goal of this is to explore new concepts, ingredients, and techniques, some of which can then be brought back to the chefs' home kitchens. You might recall that Dave Beran of Chicago's Next and
Alinea
joined the team in December last year. However, he left at the start of June to begin work on Dialogue, his upcoming tasting menu-only project in Santa Monica, and Rogue is operating without a "resident chef" for the time being. Cooking tonight were Alan Latourelle and Jenny Ung from Wolfgang Puck Catering (I understand they'll be staying at Rogue for a while, to bring some constancy to the operation), as well as
Dylan Hallas
(Chef de Cuisine, Spago Las Vegas), Angela Ippolito (Pastry Chef, Lupo), and Jett Mora (Executive Chef, Red Seven).

Your evening begins at 7:30pm with a cocktail reception at Puck's studio kitchen-slash-lounge area. Here you'll get to meet your fellow dinner guests.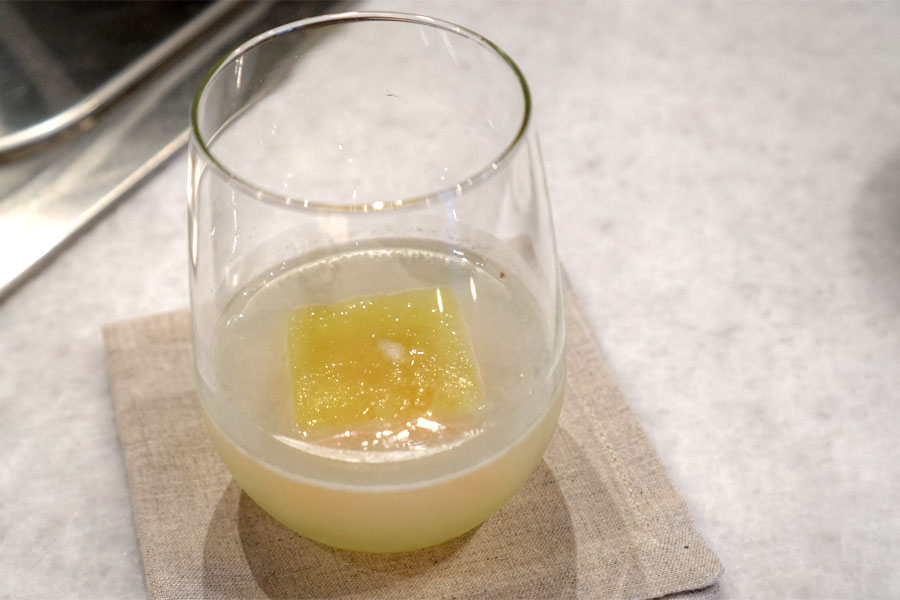 The night was largely coordinated by David Evers, a six-and-a-half year veteran of the Wolfgang Puck organization who started out in Vegas, but also claims experience in New Jersey, Singapore, and Bahrain. He returned Stateside in January this year, and has since been working operations and development for Puck. Evers prepared our welcome cocktail, which featured three types of melon that were juiced, put through a rotary evaporator, and layered into an ice cube. This was joined by mezcal, lime, and a salt made out of shavings from a dehydrated
jamón ibérico
dashi. The aim of all this was to create a cocktail reminiscent of the classic pairing of prosciutto and melon, and it did a pretty good job at it. I got a lot of smokiness from the mezcal, which combined with the ham salt to create a savory sort of flavor profile. This was then offset by the fruitier notes from the melon as well as pricks of tart lime.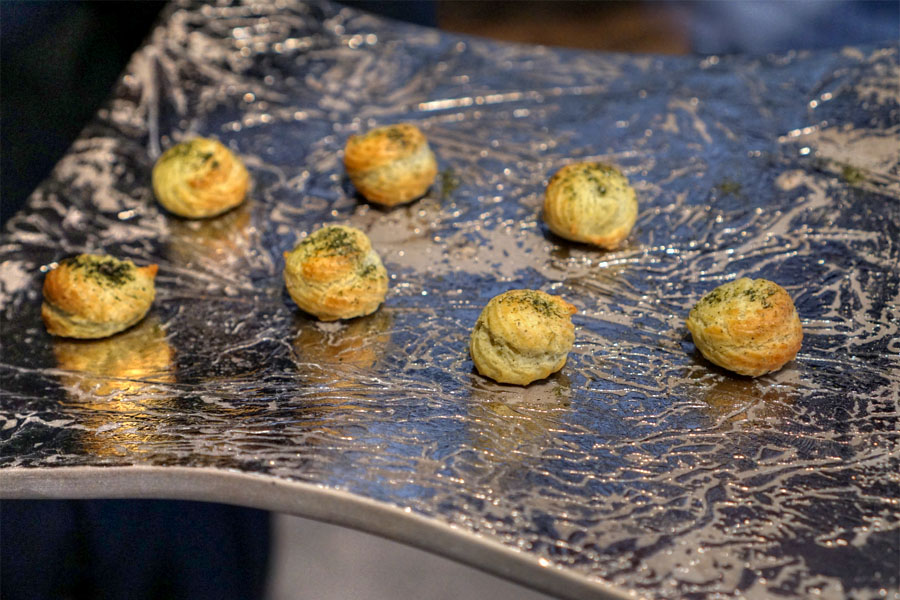 AB 1: RAMPS | BEAN CURD | SEA VEGETABLES
We were also presented with a duo of
hors d'œuvres
, and here we had what basically amounted to schmancy
gougères
. They were delicious, with an ocean-y taste that played superbly with the zestiness of the ramps.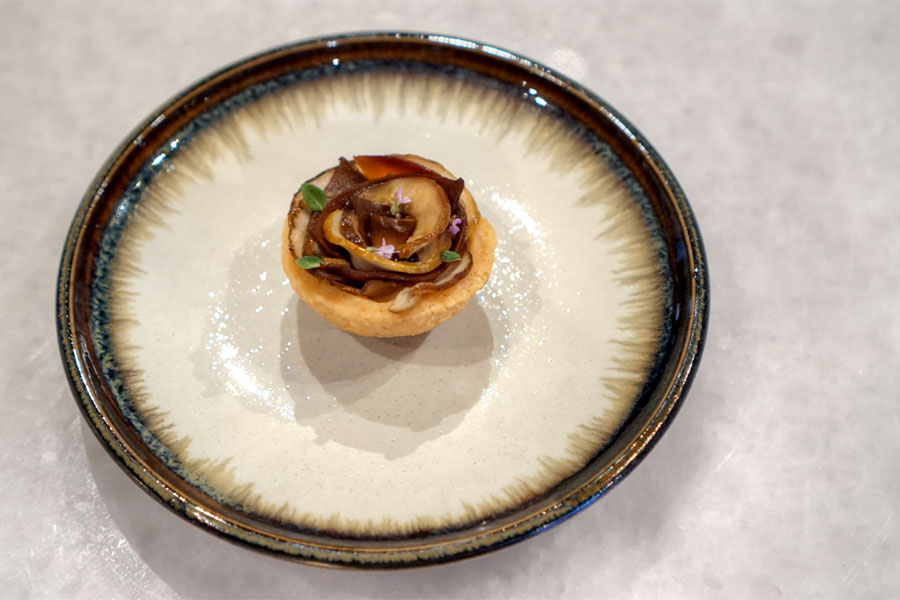 AB 2: ABALONE | PORCINI | TURNIP
Next was a rather beautiful tartlet of sorts. There was an interesting marriage here between the abalone and porcini, while I found the pastry delightfully crumbly, with a touch of sweetness.

We spent about 30 minutes lounging about, then were led through the dishwashing station and prep area by Evers.

We then took a seat at the chef's counter, which nominally seats eight, but can be extended to ten. Above is the view from the third seat from the left.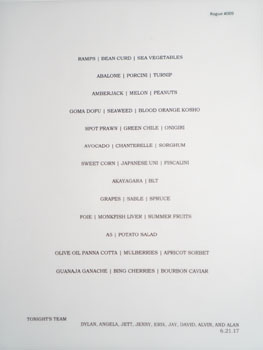 Here we see our menu for week #9, which featured a loose sea theme. The cost was $155 a head, plus $85 for beverage pairings, 20% service, and 9.25% tax. Note that this is a huge step down from last year's pricing, which was $295 a person and $135 for wine, and even the $195/$100 when the series was announced in February. Meanwhile, corkage is $50 a pop, though we didn't make use of it. Click for a larger version.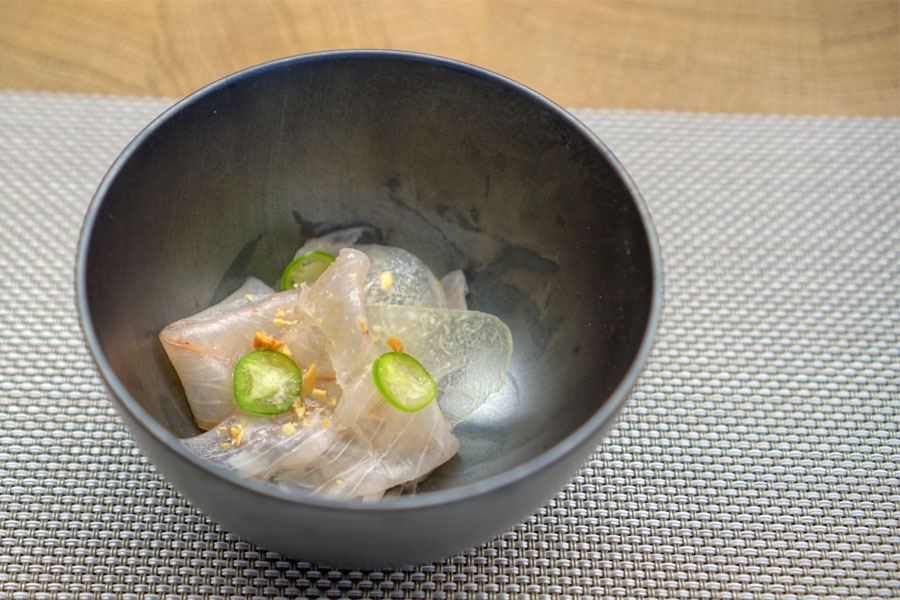 1: AMBERJACK | MELON | PEANUTS [Alan Latourelle]
Our meal proper got off to a strong start. Baby
kanpachi
was shaved so thin as to be nearly transparent. Its flavors were clean, fresh, and complemented by the slight sweetness of melon. What really worked for me here, though, was the interplay between the peanuts and peppers, which presented an almost Thai-inspired sensation that matched beautifully with the fish.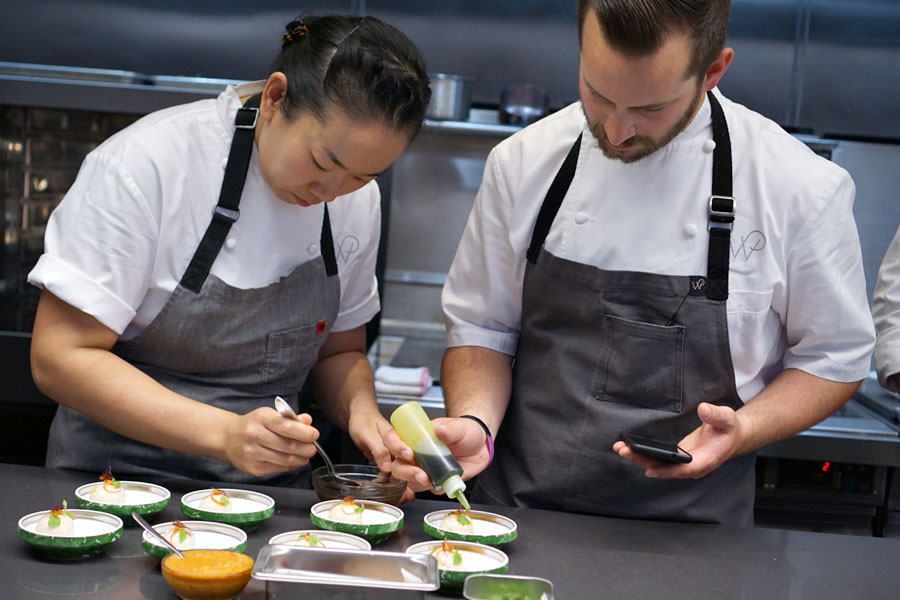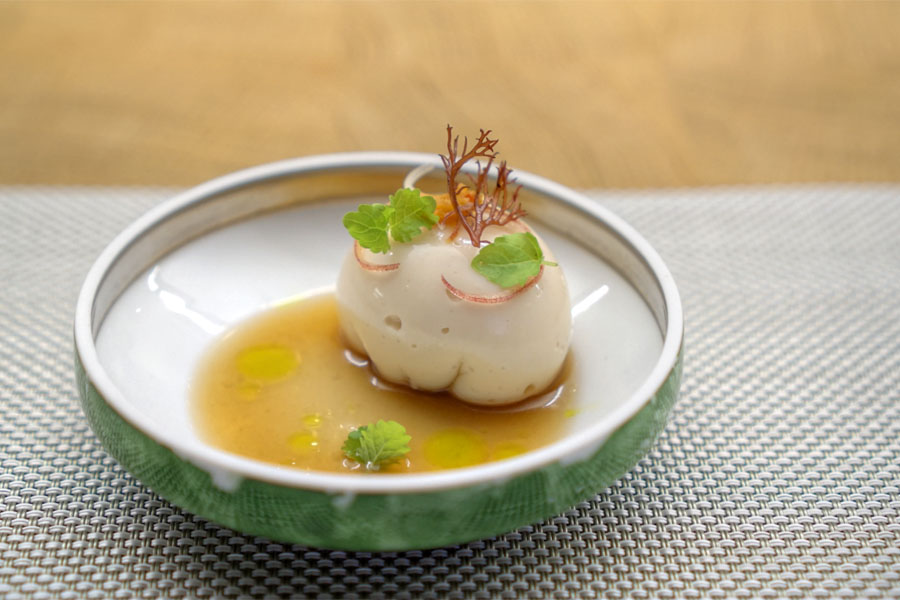 2: GOMA DOFU | SEAWEED | BLOOD ORANGE KOSHO [Jenny Ung]
The
goma dofu
was a sesame tofu created with
kudzu
starch and dashi. I got a delicate, nutty flavor profile, one that had a great back-and-forth with the richness of what I believe was a soy-sesame vinaigrette. There was a great salinity from the live seaweed as well, not to mention a punchiness from the onion and micro lemon basil.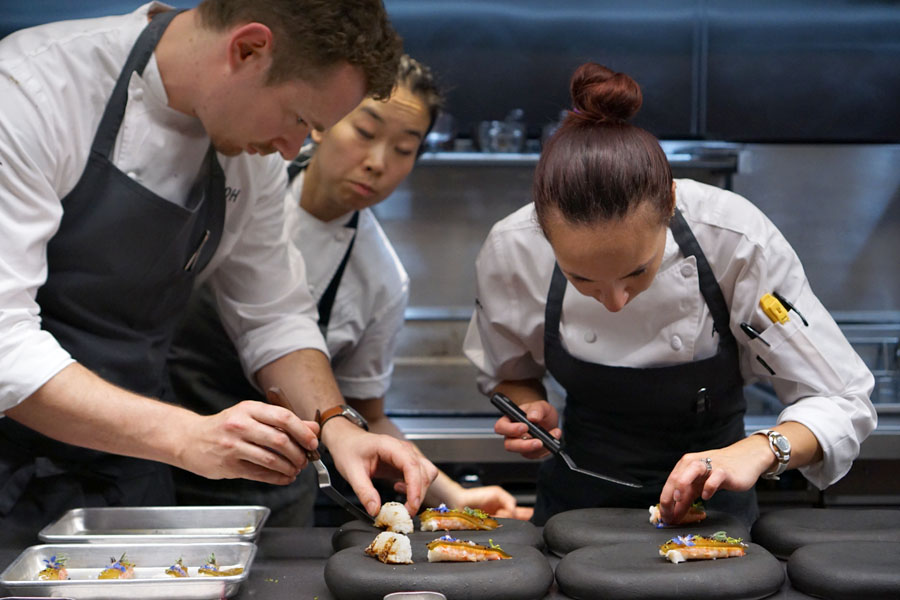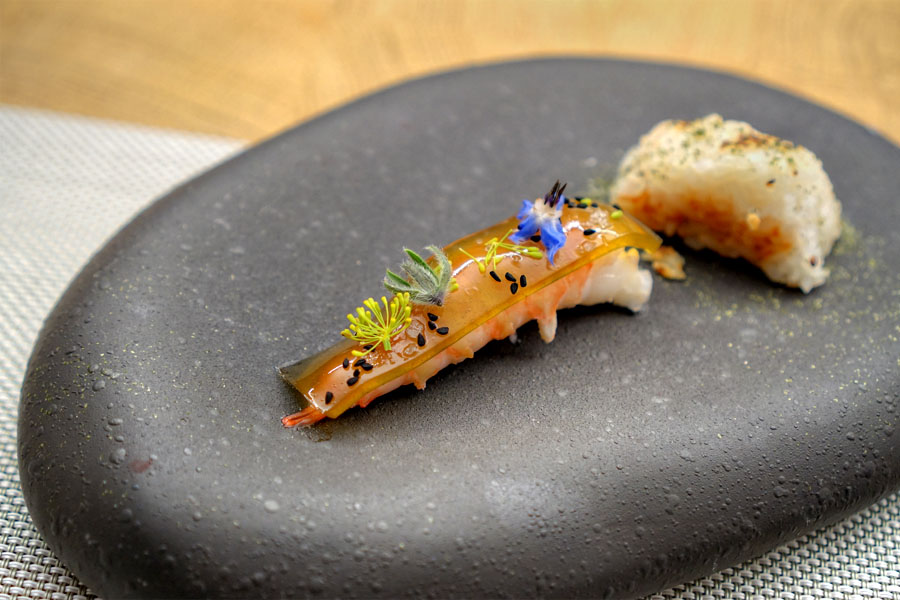 3: SPOT PRAWN | GREEN CHILE | ONIGIRI [Dylan Hallas]
A multifaceted presentation of Santa Barbara spot prawn (designed to utilize every part of the crustacean) seemed to be a favorite amongst the guests. I began with the
onigiri
, stuffed with the shrimp's innards. It was one of the best I've had (and one of the best bites I've had all year), with its deep, sweet flavors offset brilliantly by the crispy grilled rice and toasted nori powder. The rest of the prawn went in a more European direction, and featured a strip of pepper gelée topped with nigella seeds, borage flowers, and dill seeds. The tail had a great snap to it, along with a refined brine that matched perfectly with the bright, herbaceous, savory notes of its accompaniments. I loved the finishing note of dill here to boot.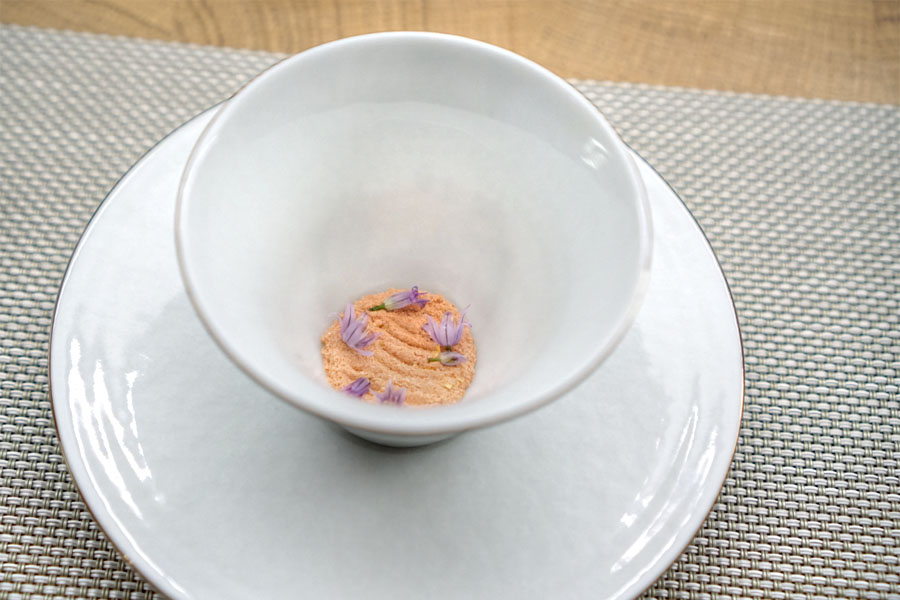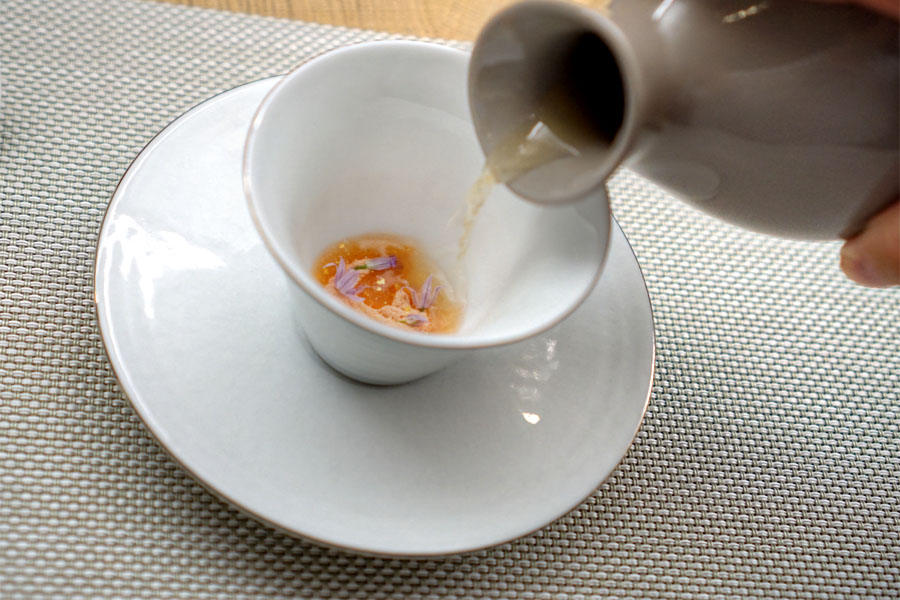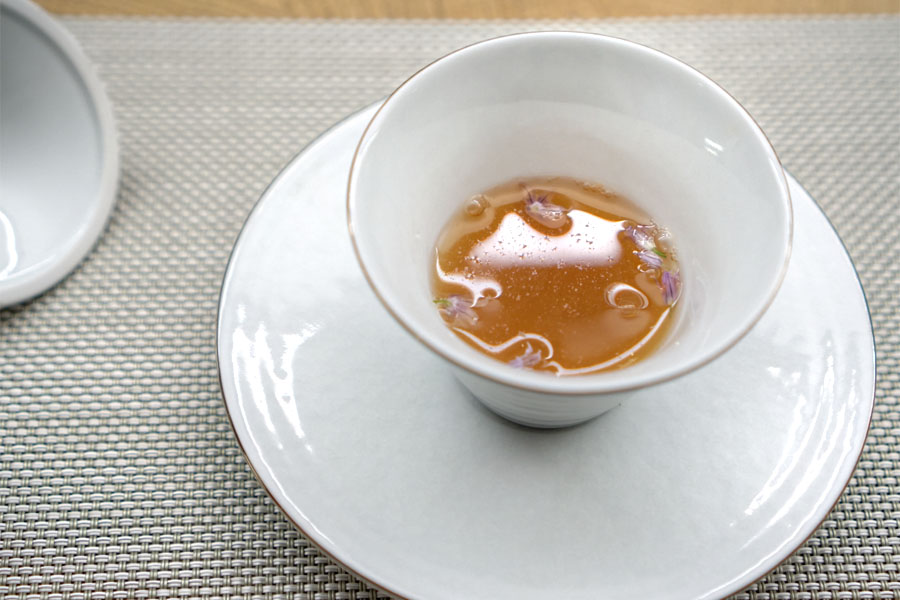 And we're not done with the course above yet. A dashi was made with spot prawn bodies, Monterey sea lettuce, and
sakura shoyu
(cherry blossom soy). This was then poured into a powder of dehydrated shells. The result was the condensed essence of the shrimp, a super rich, earthy, cozy concoction lifted up by the zing of those flowers. A damn fine course.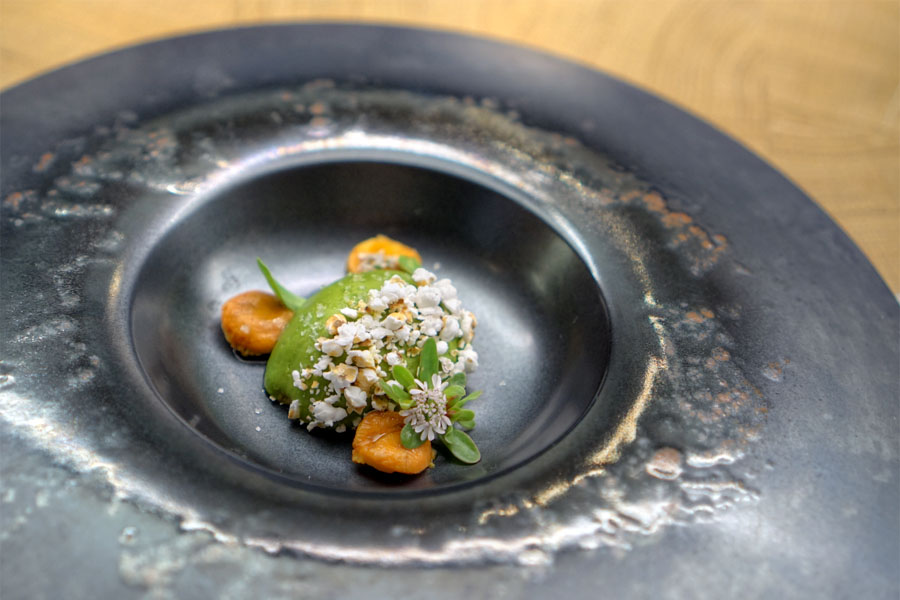 4: AVOCADO | CHANTERELLE | SORGHUM [Alan Latourelle]
Next was baby avocado, atop chanterelle buttermilk cream, with green chili and puffed sorghum. I was a big fan of the creaminess of the dish, and how that worked hand-in-hand with the savoriness of the mushrooms, but the key was the creeping, prickly heat--a wonderful surprise. I got a much appreciated touch of herbiness as well, and a great textural contrast from the sorghum, too. Very probably the most intriguing preparation of avocado I've ever had. Superb.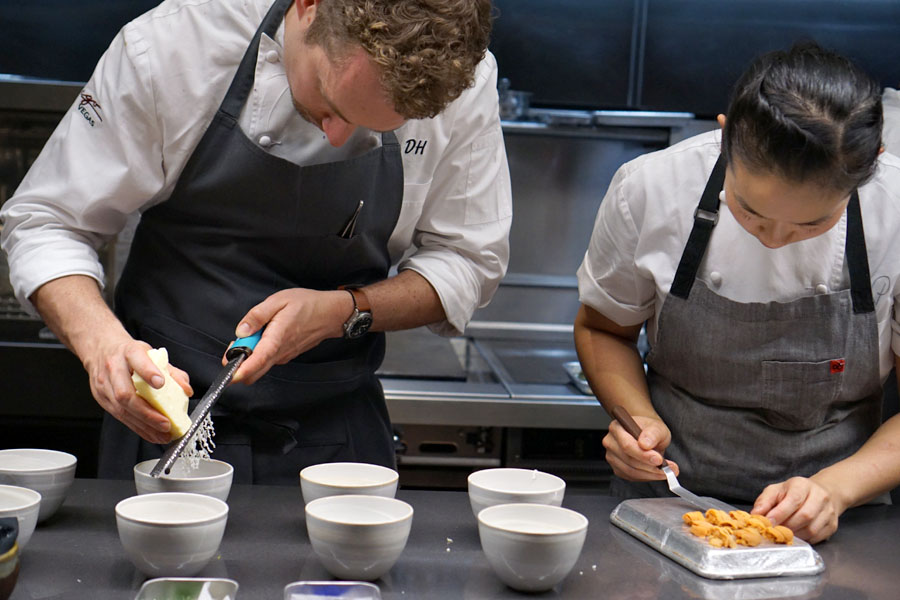 5: SWEET CORN | JAPANESE UNI | FISCALINI [Jenny Ung]
Here, white corn was juiced and cooked, turning it into a thick pudding. On top we had Hokkaido sea urchin, corn blossoms, coriander blossoms, and two-year-aged Fiscalini cheddar. The uni was sweeter than I expected from a Japanese varietal, and the corn was even more sugary, so the salty, nutty nuances of the cheese were crucial, as was the zestiness of the coriander.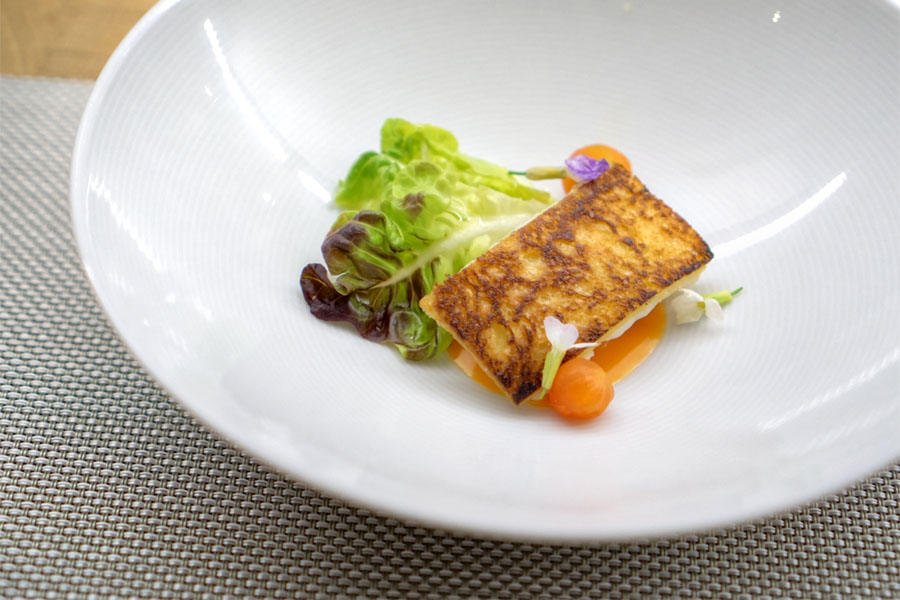 6: AKAYAGARA | BLT [Alan Latourelle]
One of my dining companions thought this was grilled halloumi cheese upon first sight, but rather, it was red trumpet fish with a toasted brioche "skin," joined by bacon-tomato sauce, lettuce, and sweet cherry tomatoes. The idea was to do a play on a BLT, and it worked. The fish itself had a meaty, satisfying bite and a great crust, while the bacon contributed a palpable smokiness to the dish, and the veggies a well-placed brightness. A fun one.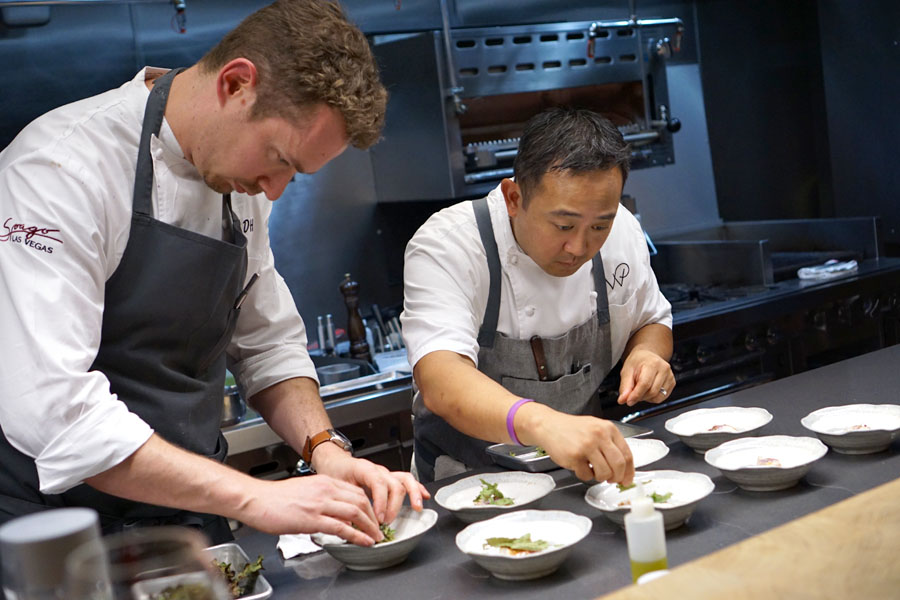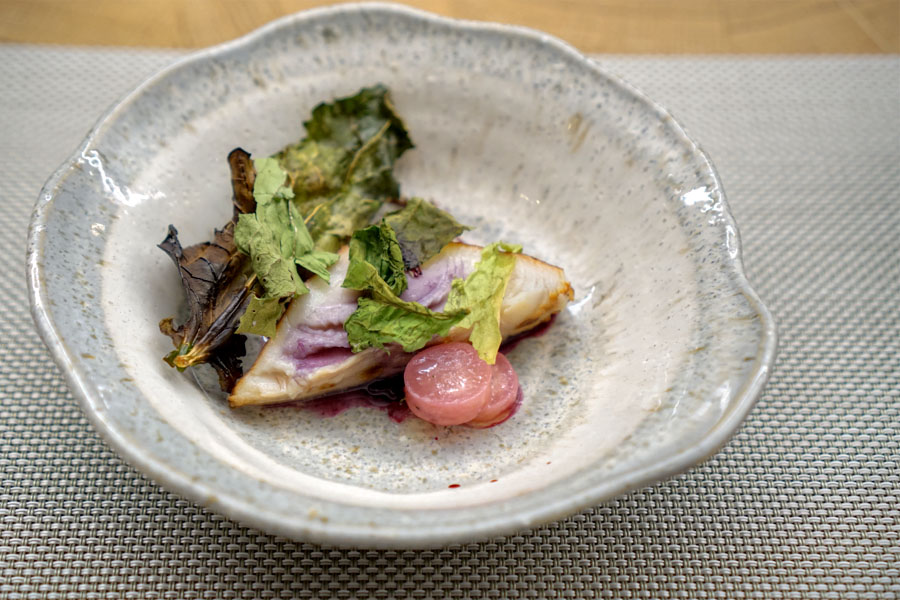 7: GRAPES | SABLE | SPRUCE [Dylan Hallas]
Our second fish course was inspired by a single ingredient: spruce tips, which are in season during spring/summer but have a piney, fall/winter flavor. The sable I found soft, fatty, and flaky, with a wonderful, lingering smokiness that gave it a homey, autumnal vibe. I enjoyed the fish alone, but it also worked as an integral part of the dish, which had contrasting notes of sweetness (from that I believe were Thomcord grapes) and savoriness (from the charred greens) to go along with the slight bracing quality of the spruce.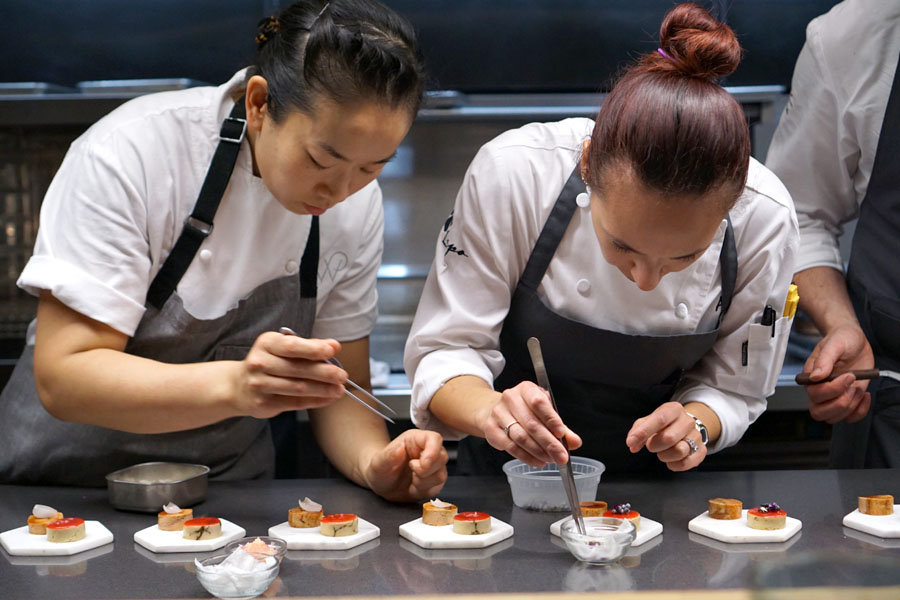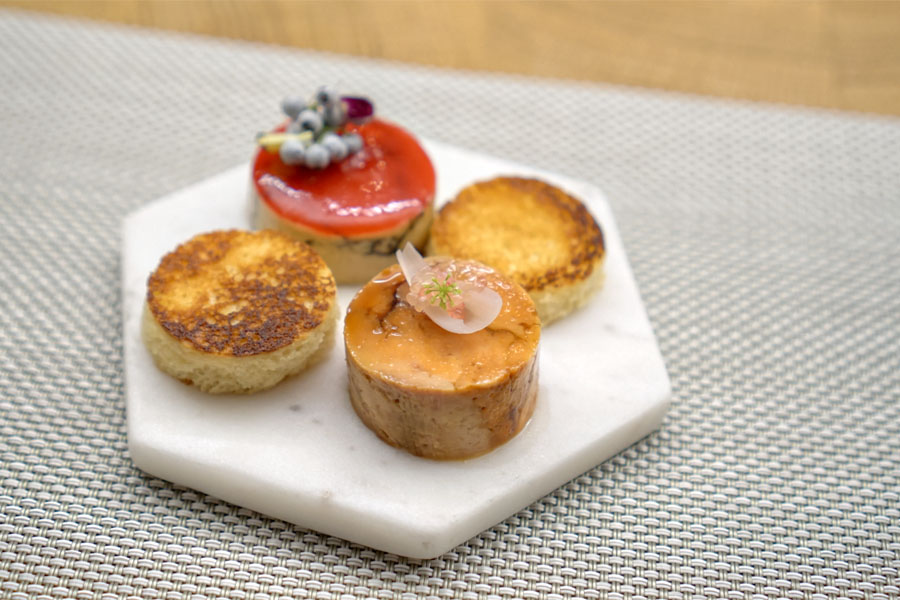 8: FOIE | MONKFISH LIVER | SUMMER FRUITS [Jenny Ung]
A juxtaposition of land and sea, of cold and warm was rendered in liver form.
Ankimo
arrived characteristically rich and briny, with a fantastic salty-savory counterpoint from its inlay of barley miso and caramelized onions. I also appreciated the additional umami provided by the dressing of reduced, abalone-infused dashi. The foie, meanwhile, ate soft and silky smooth, its refined-yet-heady flavors complemented by veins of nori while a bold strawberry glaze imparted just the right amount of sweet-tartness. The accompanying Chinese milk bread toast was spot on as well--another standout.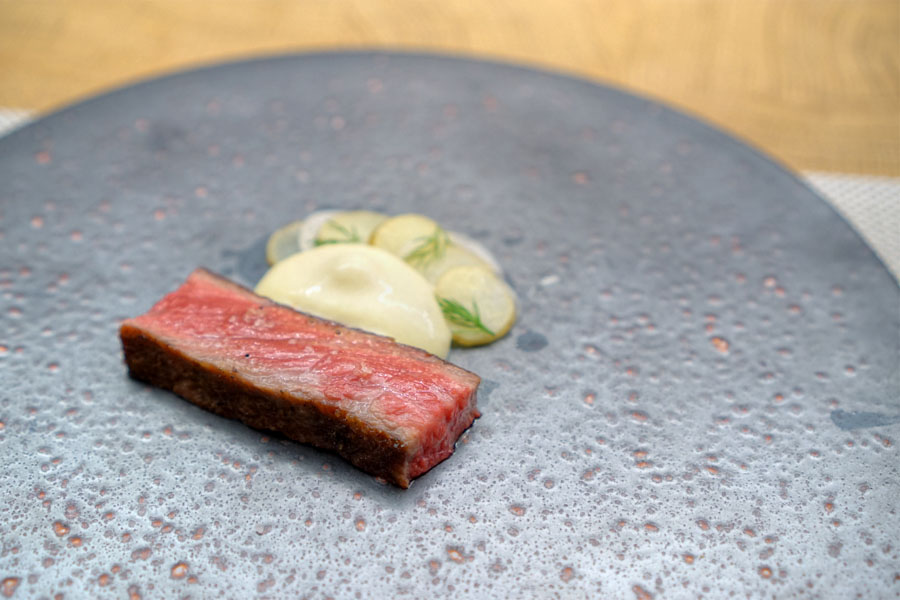 9: A5 | POTATO SALAD [Alan Latourelle]
Our final savory managed to be yet another favorite. A cut of A5 Miyazaki
gyu
strip steak was divine, conveying a concentrated beefiness in perfect balance with blasts of salt and fat--I wanted a bigger piece! On the side was a reimagined potato salad of sorts, consisting of thinly-sliced potato, shaved onion, and a hardboiled egg espuma. I think it did an admirable job recalling the classic dish, and made for a worthy pairing to the meat. A departure from the evening's sea theme, but one of the tastiest three bites of beef I've had in a while.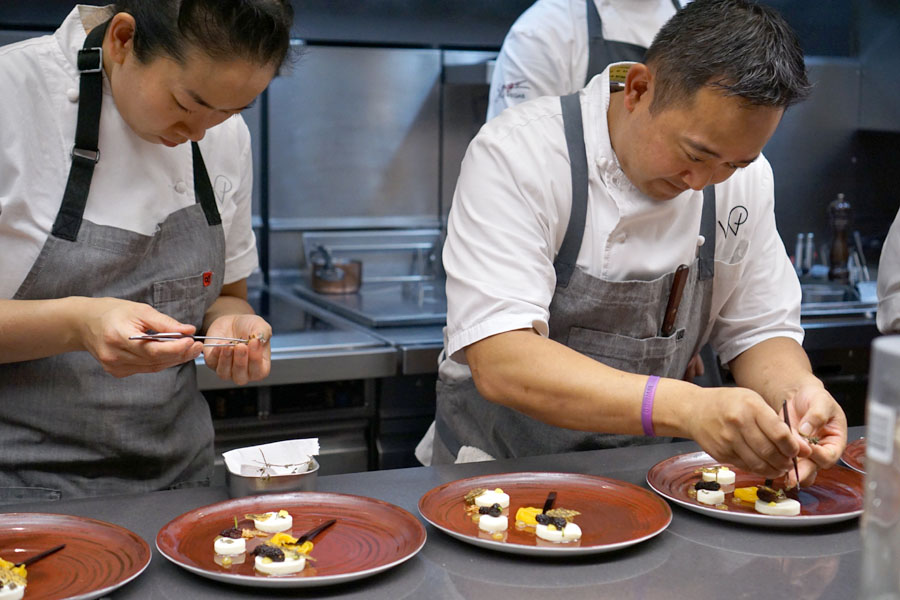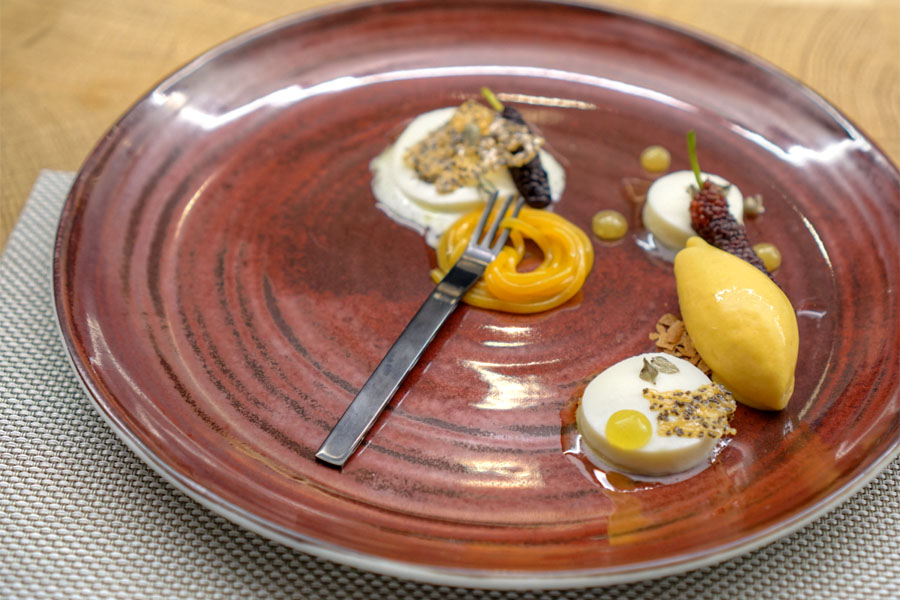 10: OLIVE OIL PANNA COTTA | MULBERRIES | APRICOT SORBET [Angela Ippolito]
Dessert time. Panna cotta came with a bevy of accoutrements, including mulberries macerated with Prosecco and sugar, kalamansi gelée, poppy seed tuiles, apricot noodles, and apricot sorbet. The overall effect was akin to a Creamsicle, but with a nutty, slightly herbaceous bent.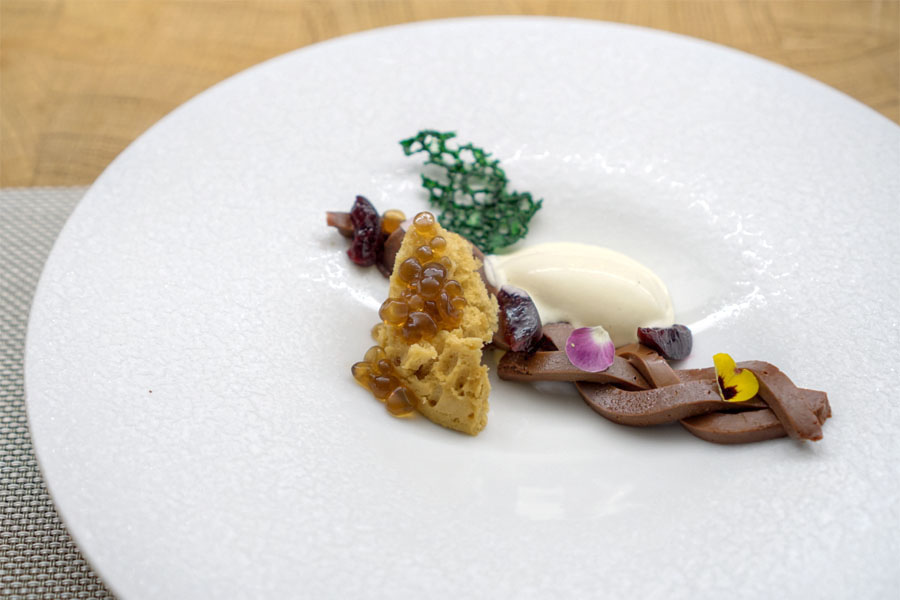 11: GUANAJA GANACHE | BING CHERRIES | BOURBON CAVIAR [Angela Ippolito]
The second dessert showcased a braided dark chocolate ganache with praline microwave sponge cake, Bulleit bourbon spherifications, poached cherries, malted milk gelato, and a "coral" tuile. The idea here was a play on an Old Fashioned cocktail. I got lots of rich chocolate notes, evened out by the boozy spheres while the malty ice cream worked to tie it all together.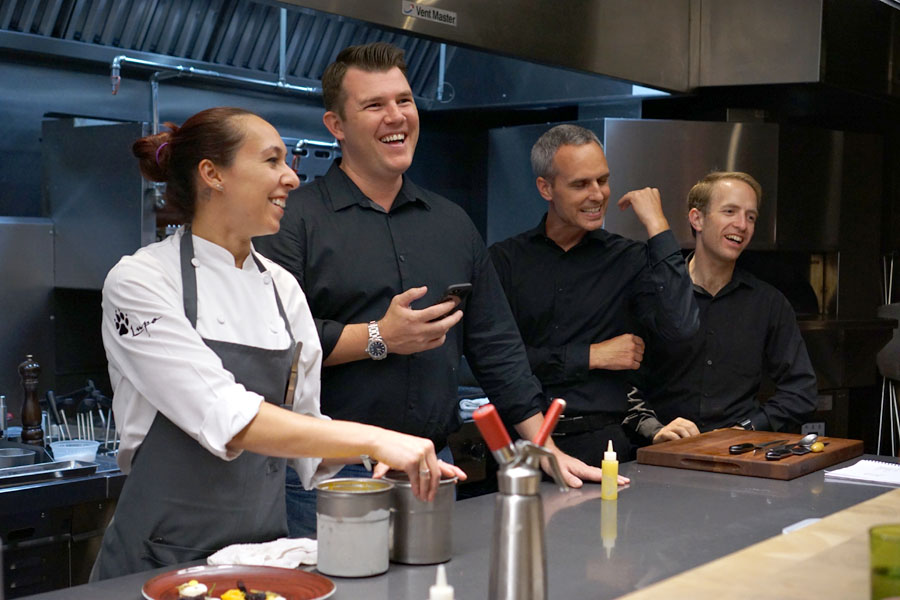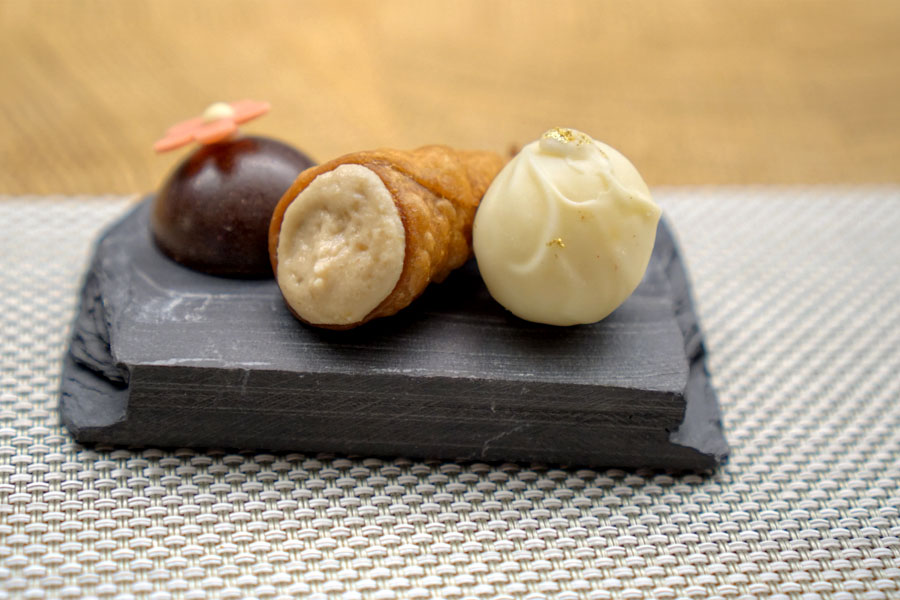 Mignardises comprised a sweet-spicy ancho chile-infused dark chocolate dome with cayenne pepper; a wonderfully crunchy, seashell-shaped
cannolo
filled with praline, riccota, and mascarpone cream; and a zesty white chocolate and lemon chiffon truffle.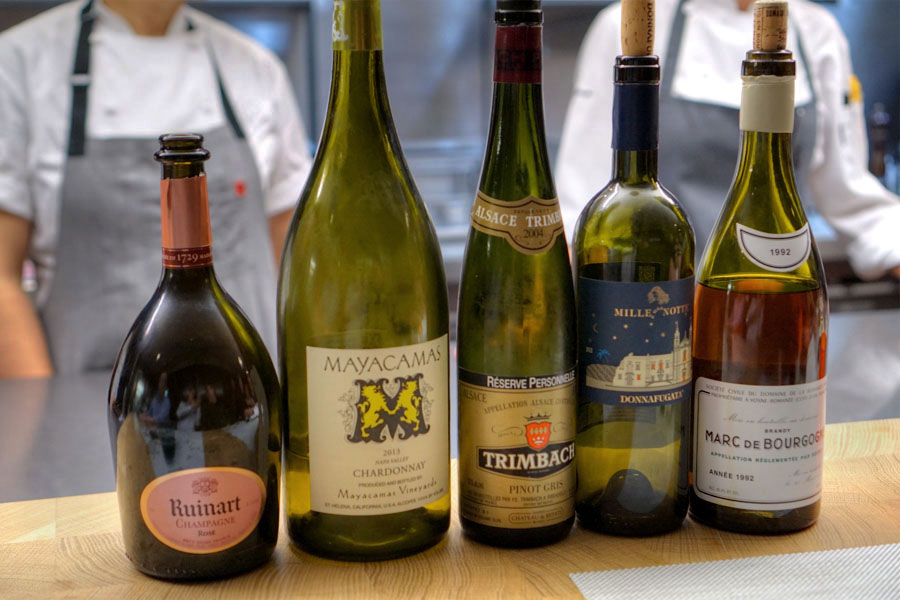 You get "unlimited" pours of the wines, and everything we had tonight was lovely: non-vintage
Ruinart Champagne Brut Rosé
,
2013 Mayacamas Vineyards Chardonnay
,
2004 Trimbach Pinot Gris Réserve Personnelle
,
2012 Donnafugata Contessa Entellina Mille e Una Notte
.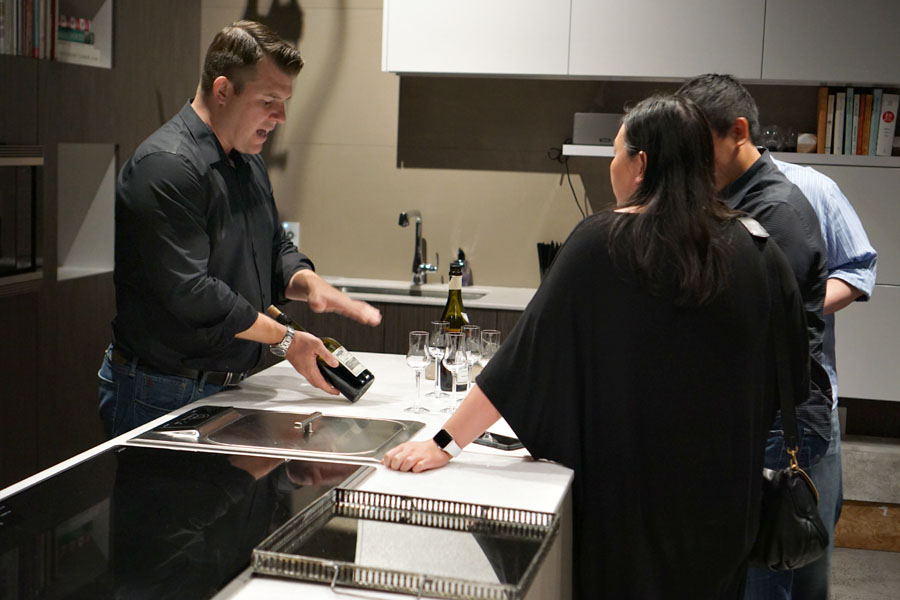 The actual dinner lasted two-and-a-half hours, and following, we retired to the lounge area out front for about an hour and enjoyed some after-dinner drinks.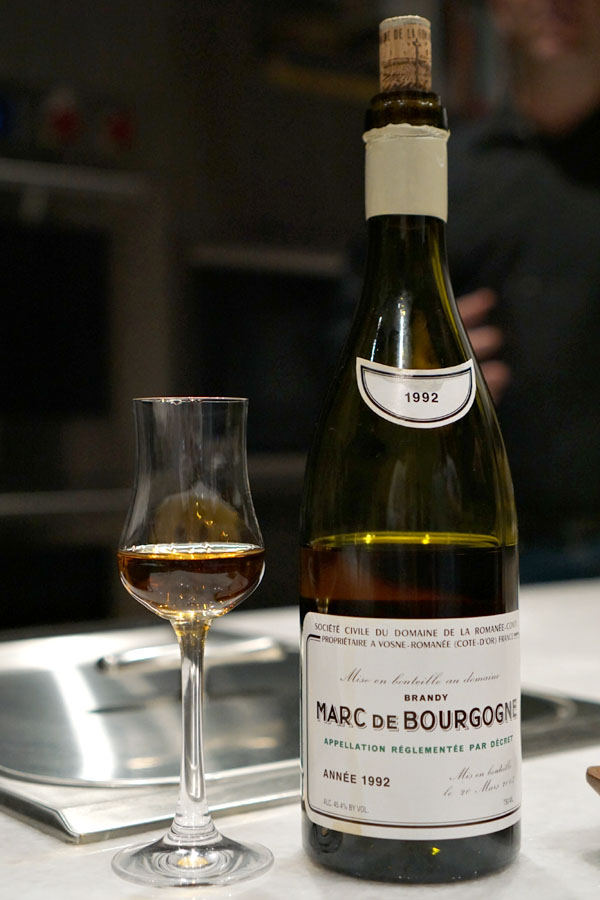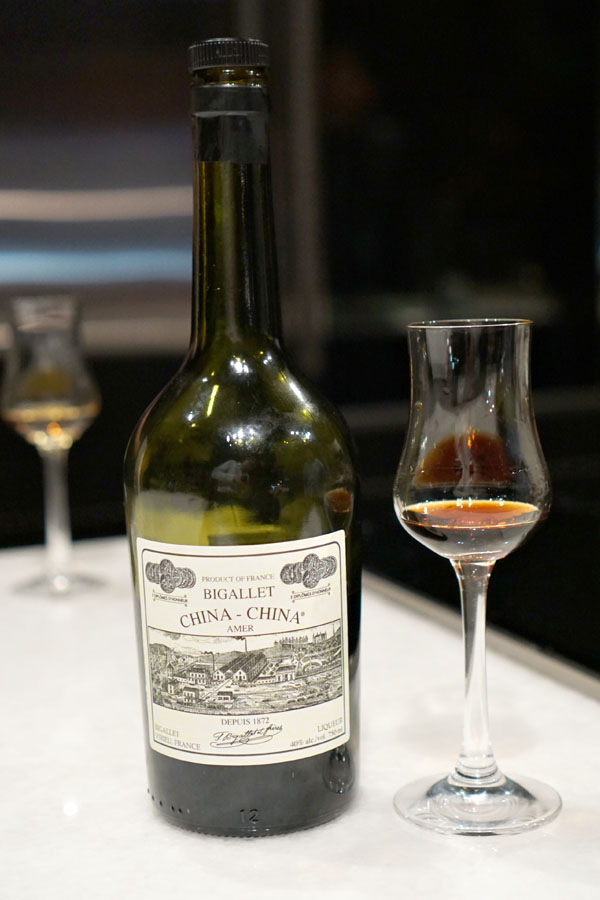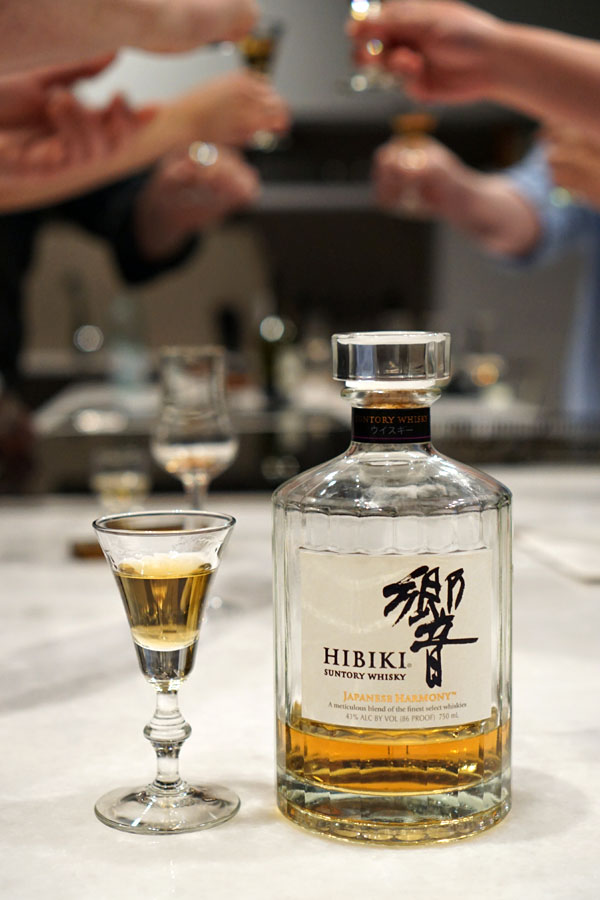 Unsurprisingly, we were most excited about trying the
1992 Domaine de la Romanee-Conti Marc de Bourgogne
, a pomace brandy made from leftover wine and grape must (apparently all from the Romanée-Conti AOC) that was distilled in 1992, aged 20 years in oak, then bottled and released in 2013. We also had some
Bigallet China-China Amer
, which made for a fitting digestif, and ended with a sampling of
Hibiki Japanese Harmony
, a blended Japanese whisky.
The Rogue Experience is probably Puck's first significant foray into more modernist type cuisine, and also his most ambitious restaurant yet I must imagine. The food was pretty consistently strong throughout the entire evening, and it really struck a balance between familiarity and more contemporary notions. That is, the cuisine wasn't too "out there," but was still interesting, creative, memorable, and most importantly, delicious. Service, meanwhile, was about as personal and as intimate as its gets, not surprising given the 1:1 guest-to-staff ratio. It'll be curious to see if the stuff that goes on here makes it into any of Puck's more mainstream eateries, but for now, Rogue has got to be one of the most unique dining experiences in all of Los Angeles.