Vaca (Costa Mesa, CA)
Vaca Restaurant
695 Town Center Dr, Costa Mesa, CA 92626
714.463.6060
www.vacarestaurant.com
Fri 06/09/2017, 08:45p-11:25p

It'd been a while since I had Spanish cuisine, so I was excited to try out Vaca, one of the hottest restaurants to hit Orange County in recent times. The place comes to us courtesy of Chef/Owner Amar Santana, whom many of you probably know from his strong performance on
Top Chef
. With Vaca ("cow" in Spanish), his aim is to present a wide-ranging Spanish cuisine experience inspired by the Country's diverse culinary traditions.
About the Chef
: Santana was born in 1982 in the Dominican Republic, but his family moved to the US when he was 13, settling in the East Elmhurst section of Queens, NYC. As a freshman in high school, he enrolled in a cooking course sponsored by the non-profit Careers Through Culinary Arts Program. He dropped out quickly though (due to his elementary English skills at the time), but gave the class another shot his sophomore year and ended up loving it. By age 16, Santana was interning at David Waltuck's renowned Chanterelle on the weekends, and also spent time at Ken Aretsky's Butterfield 81, working under Patricia Williams. In 1999, he even won a competition sponsored by C-CAP, and as a result, spent two weeks at Le Cordon Bleu in London.
After finishing up at Long Island City High School in 2000, he went on to the Culinary Institute of America on a scholarship. Santana began an externship at Charlie Palmer's Aureole in 2001, where he was mentored by CdC Gerry Hayden. After graduating from the CIA the following year, he returned to Aureole as a line cook, but eventually worked his way up to sous by age 23. In 2007, he helped open Charlie Palmer at the Joule in Dallas, then went on to Reno to open both Charlie Palmer Steak and Fin Fish. After consulting for Seabourn Cruise Line, Santana relocated to Southern California to start work on
Charlie Palmer
at Bloomingdale's, which debuted in mid-2008. The restaurant was mostly well-received, but the Chef would end up leaving Palmer's side in 2011 (replaced by Seakyeong Kim).
With his heart set on opening his own place, he partnered with his GM Ahmed Labbate (Charlie Palmer Steak in Vegas, Aureole in NYC and Vegas, Aquavit) and investor Rich Cadarette (an orthopedic implant mogul). The trio launched the modern American eatery Broadway by Amar Santana in Laguna Beach in September 2011, and the restaurant quickly garnered considerable acclaim. The success of Broadway allowed Santana to secure a position on
Top Chef: California
(airing from December 2015 to March 2016), where he finished right behind winner Jeremy Ford. Vaca, meanwhile, bowed at the very end of 2015, right in the midst of
Top Chef
mania.
For Vaca, partners Labbate and Cadarette have returned, and Santana has also brought on Paul Roy (co-founder of beverage products supplier Big Train) as an investor. General Manager duties are handled by Ghali Benhima (Broadway, Eclipse di Luna/Loca Luna in Atlanta, Restaurant Marrakesh at Walt Disney World), while the Chef de Cuisine is Luis Gomez (former sous at Broadway,
Studio
at The Montage)


Vaca is situated on the ground floor of the Park Tower complex, next to the Segerstrom Center for the Arts and
Water Grill
, and across the street from South Coast Plaza. Old school readers might recall that the spot was once slated to be the home of a second branch of
David Myers
' Comme Ça brasserie. That never happened, but the narrow, 2,700-square-foot space does fit the bill for Vaca, with its warm tones befitting the restaurant's Spanish theme. There's room for about 50 diners, with another 19 at the bar and eight at the charcuterie station. In addition, the north patio holds an extra 20, and the south patio 40.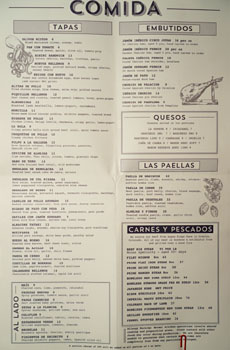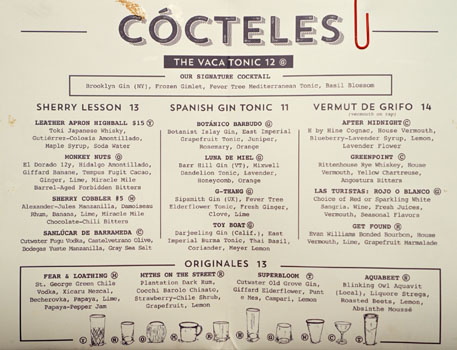 Vaca's menu is a lengthy affair, centered on tapas, but also featuring
embutidos
and cheeses, large format paellas, and a rather impressive array of meats. I will say that I was very excited at the sight of "Japanese Kobe" at $22 an ounce, but it turns out that it was mere Miyazaki
gyu
(I checked the certificate). An abbreviated lunch menu is also served on weekdays. To drink, we focused on the cocktails, Spanish-inspired creations from Bar Manager Michael Rooney (who joined the Vaca Group in 2013 at Broadway) and Bar Consultant Gabrielle Dion (The Mixing Glass retail shop). There are also a few beers and a decently-sized, mostly Spanish wine list. Corkage is $25 per bottle up to two, and increases $10 per bottle after that. Click for larger versions.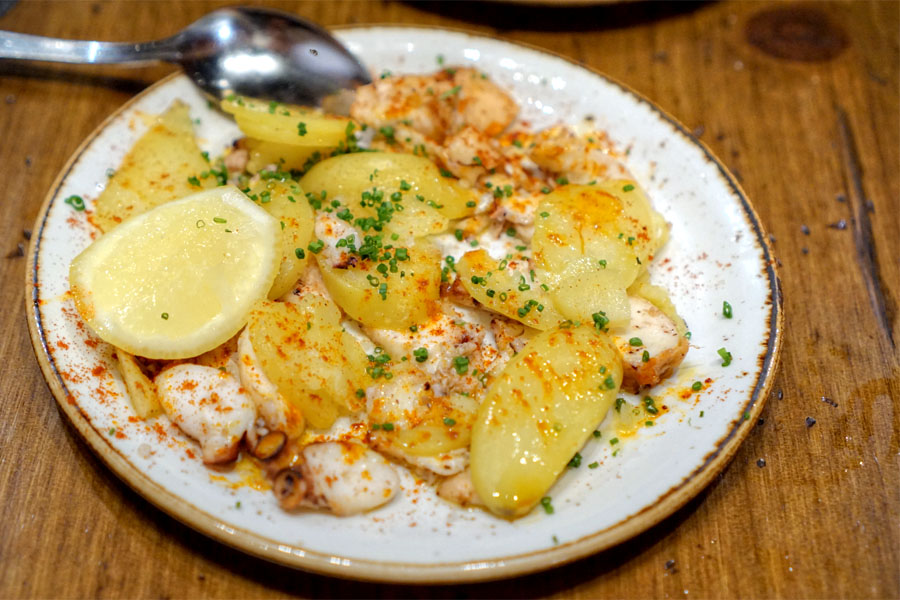 Pulpo a la Gallega [$15.00]
| Warm Spanish octopus, fingerling potatoes, pimentón, Spanish olive oil
We began with a Galician staple. The octopus arrived with just the right amount of chew, its comparatively mild taste taking up the flavors of the paprika and olive oil with ease. Potatoes definitely worked as a moderating element, and I liked the dish even better with a squeeze of lemon.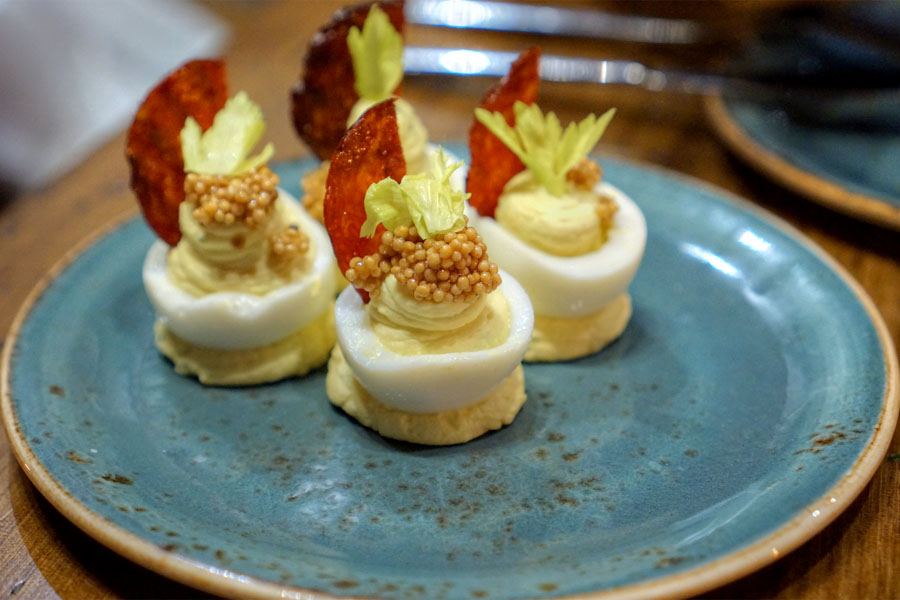 Huevos Rellenos [$9.00]
| Deviled eggs, pickled mustard seeds, crispy chorizo, celery hearts
Given my penchant for deviled eggs, I couldn't resist this. It was a pretty much spot on presentation: creamy, but with a mustard-y tang, the chorizo adding a well-placed crunch and spice to the mix.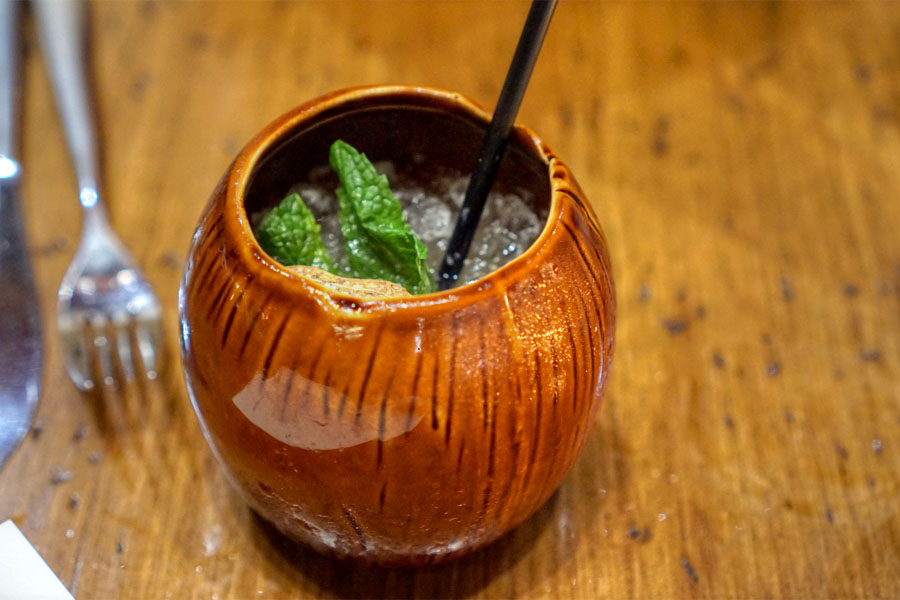 Monkey Nuts [$13.00]
| El Dorado 12y, Hidalgo Amontillado, Giffard Banane, Tempus Fugit Cacao, Ginger, Lime, Miracle Mile Barrel-Aged Forbidden Bitters
We worked our way through a few of the cocktails. The first went in a decidedly fruity direction, with very apparent notes of banana meshing with sweet spice and a nutty, oxidative quality from the sherry. I got a little lime in the coconut, too.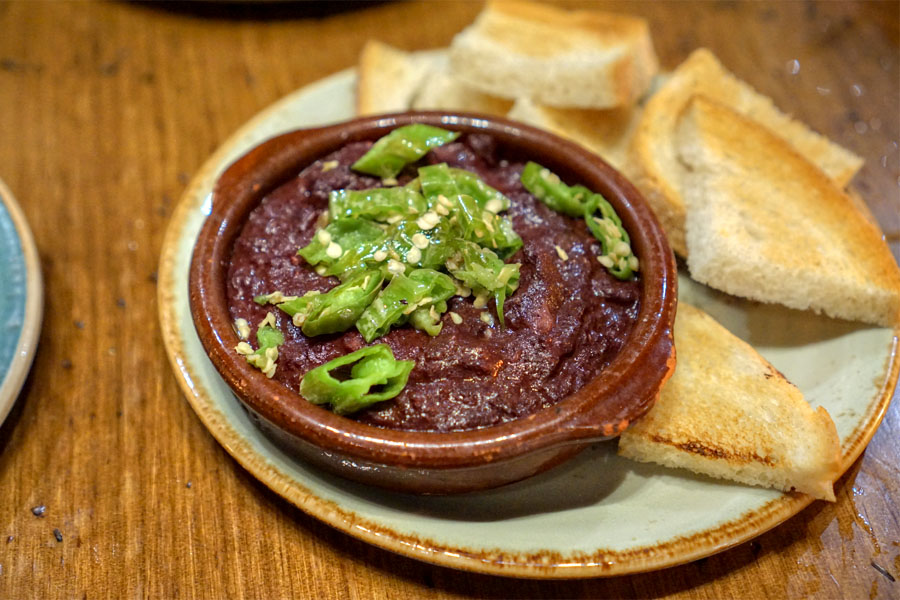 Morcilla [$11.00]
| House-made blood sausage pudding, shishito peppers, toasted bread
The blood sausage was a favorite of ours, and one of the better preparations I've had of the dish. Flavors here were super earthy, deep, intense, but never clumsy, and were nicely offset by the zippiness of those peppers. Excellent over the included toast.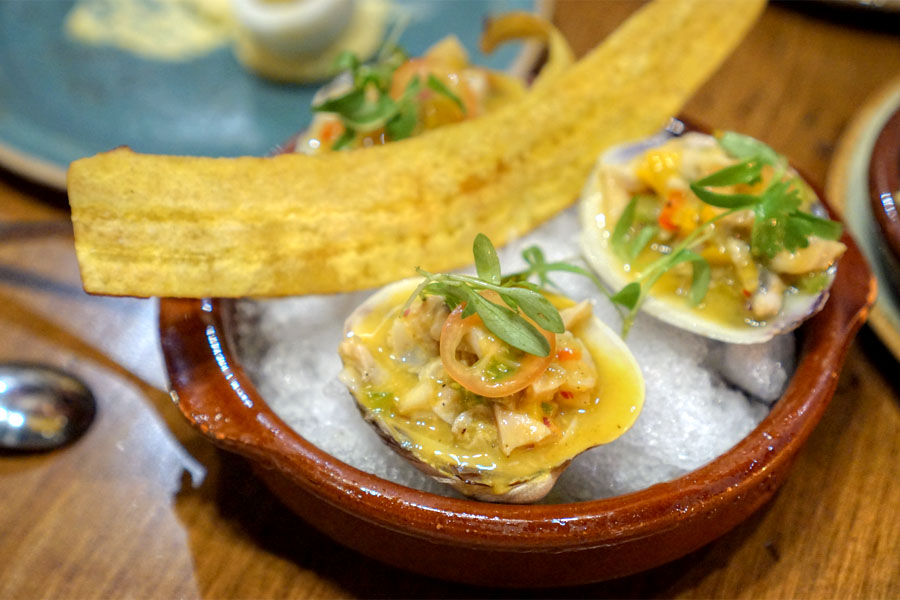 Ceviche de Almejas [$12.00]
| Clam ceviche, Thai chili, citrus, tomato, plantain chips
The ceviche showed off some super bright, super bold flavors, with a piercing heat and a zestiness from the herbs. At the same time, the plantains had a sweetness that provided a bit of counterbalance to it all.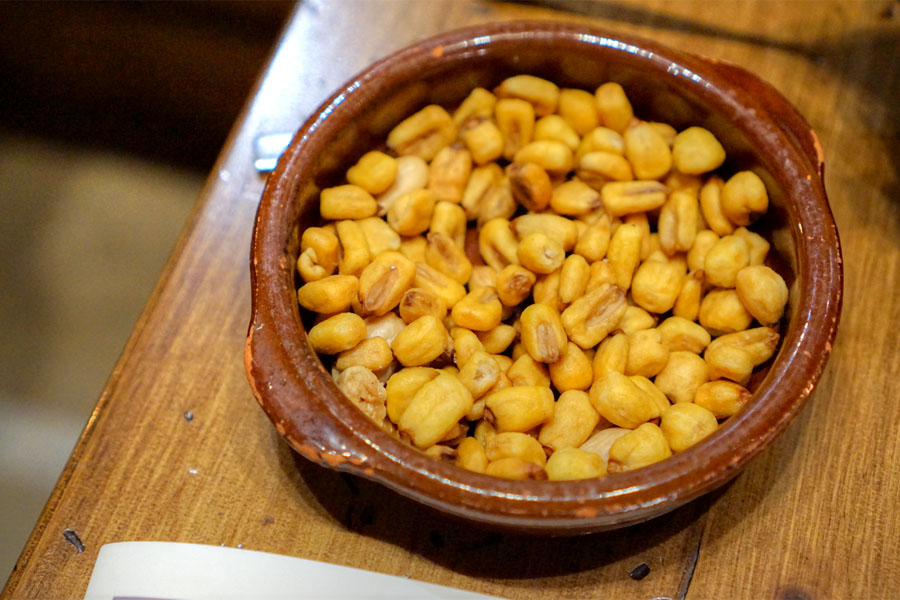 Crunchy, complementary
cancha
(corn nuts) hit the spot, and had some pine nuts(?) thrown in for good measure.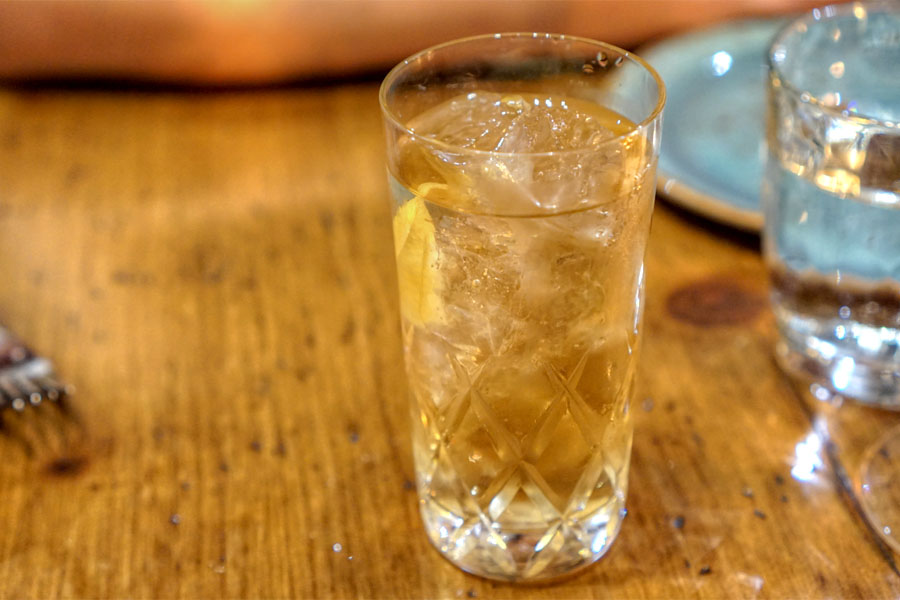 Leather Apron Highball [$15.00]
| Toki Japanese Whisky, Gutiérrez-Colosía Amontillado, Maple Syrup, Soda Water
Our second cocktail combined the muted character of whisky with an underlying sugariness from the maple and just a smidge of nuttiness from the sherry.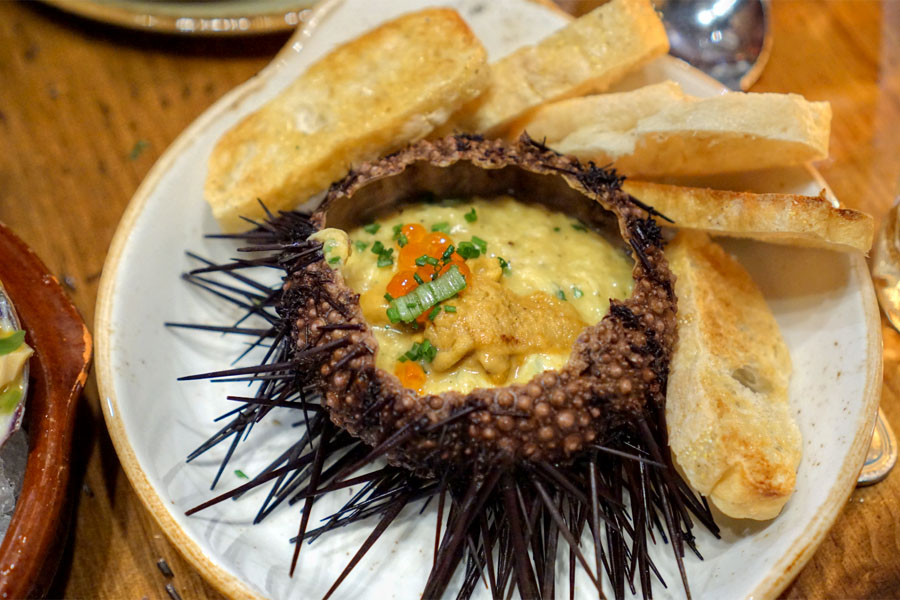 Erizos con Huevo [$16.00]
| Fresh sea urchin scrambled eggs, miso butter toast
The marriage of soft, runny eggs and sweet, briny urchin proved to be a very tasty union. Lovely when spread over the included toast.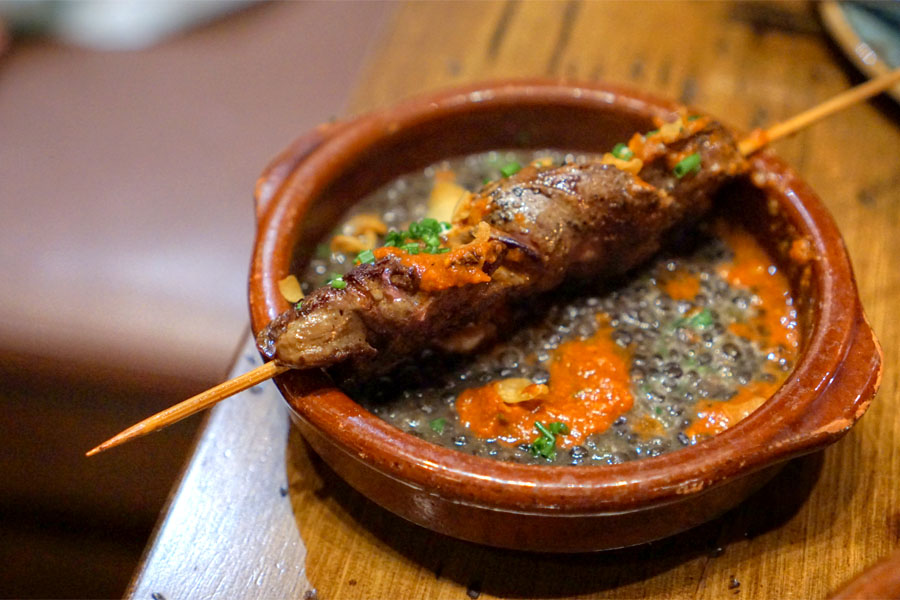 Higados de Pollo [$13.00]
| Chicken livers, beluga lentils, chermoula, crispy garlic, lemon-yogurt
Chicken livers arrived soft and slightly creamy, with some super earthy, bold flavors that were evened out just enough by the lentils and pricks of lemon.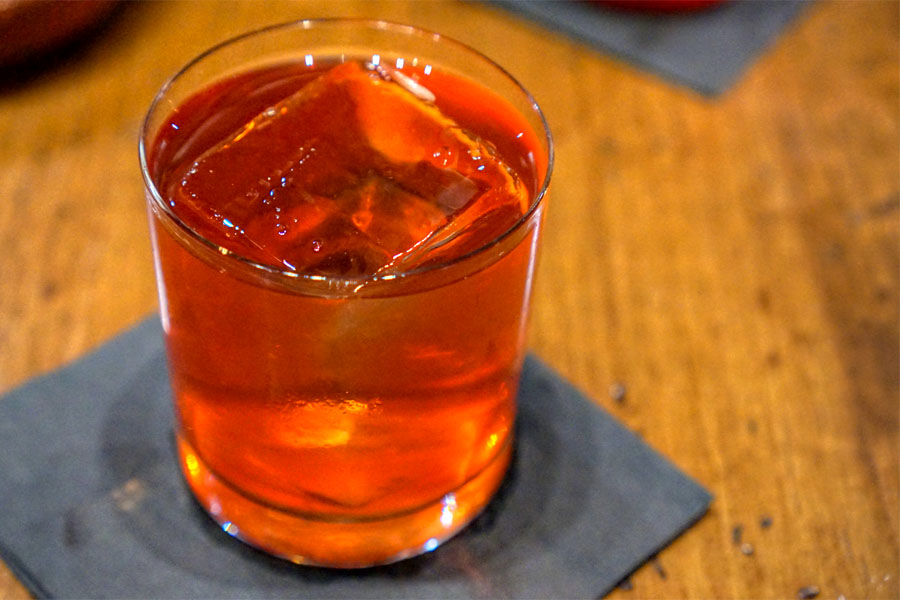 Best In Show [$14.00]
| Earl Grey-Infused Botanist Gin, Vermut de Grifo, Campari, Miracle Mile Toasted Pecan Bitters
Created for
Negroni Week
, this cocktail smelled pleasantly bittersweet, with merely a trace of the advertised tea making itself known. The taste, meanwhile, more directly showed off the Earl Grey, balancing its fragrance with a mix of both sweet and astringent nuances.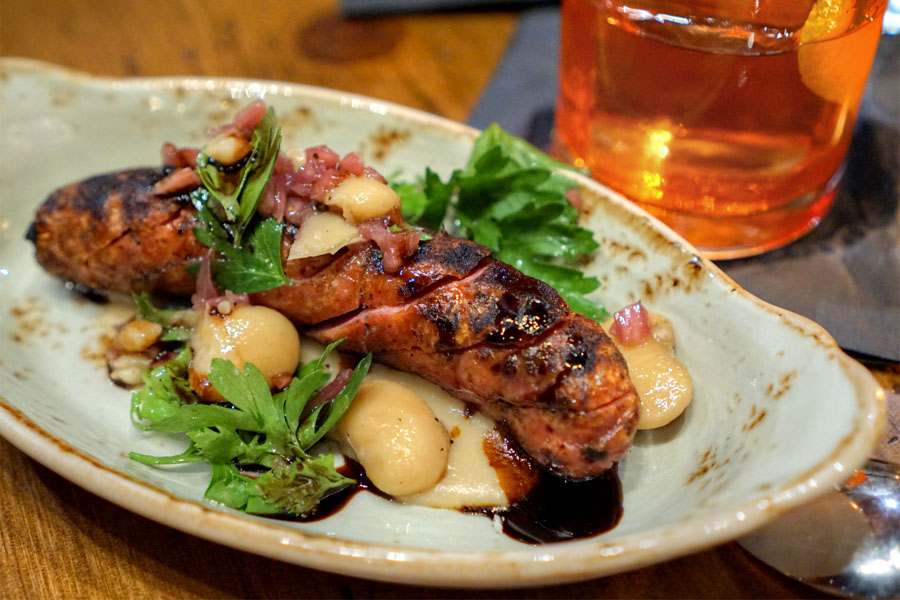 Butifarra [$10.00]
| Grilled pork sausage, white bean purée, parsley salad
The
butifarra
was another highlight. I was a fan of the snap of its casing, as well as its porky yet slightly sweet flavors, which reminded me a bit of Chinese
xiang chang
. Excellent counterpoint from the hearty beans, and I liked the punch imparted by the parsley as well.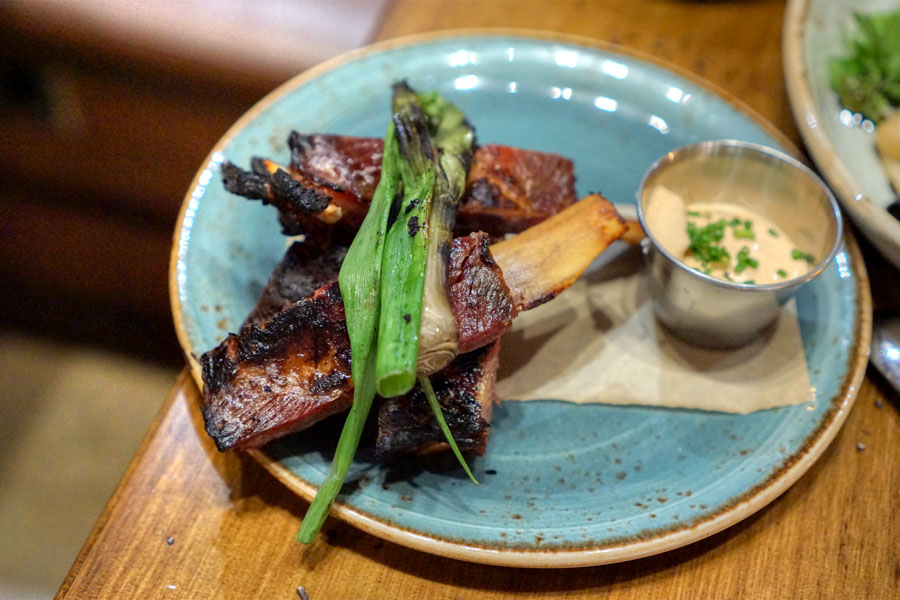 Costillas de Borrego [$15.00]
| Lamb ribs, paprika-yogurt, charred scallions
Lambs ribs arrived super smoky, their rich flavors offset by bitterness and char. Make sure to give 'em a dip into that creamy, tangy, paprika-infused yogurt.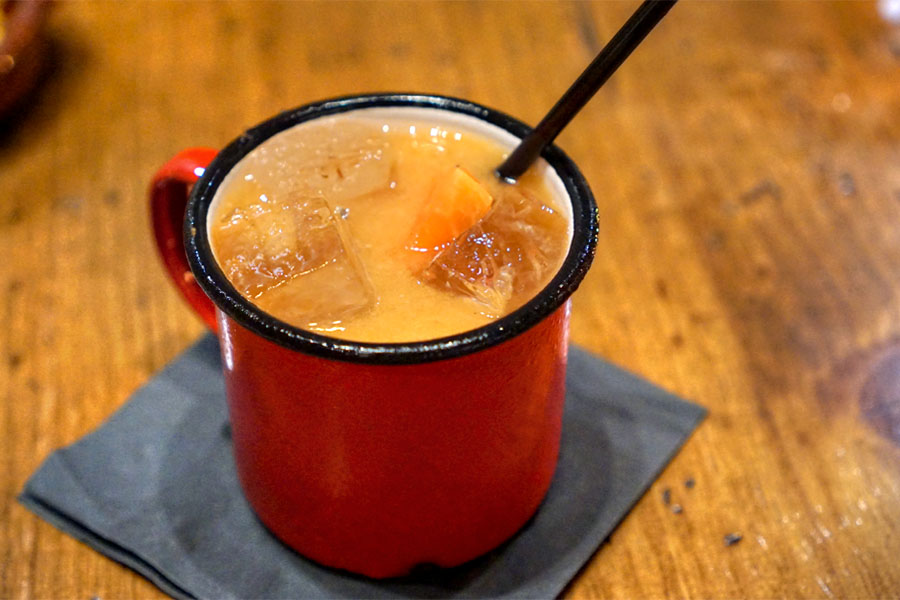 Fear & Loathing [$13.00]
| St. George Green Chile Vodka, Xicaru Mezcal, Becherovka, Papaya, Lime, Papaya-Pepper Jam
We could definitely taste the unmistakable combination of mezcal and chili in this cocktail, a robust amalgam of flavors that was then balanced out by the sweetness of papaya.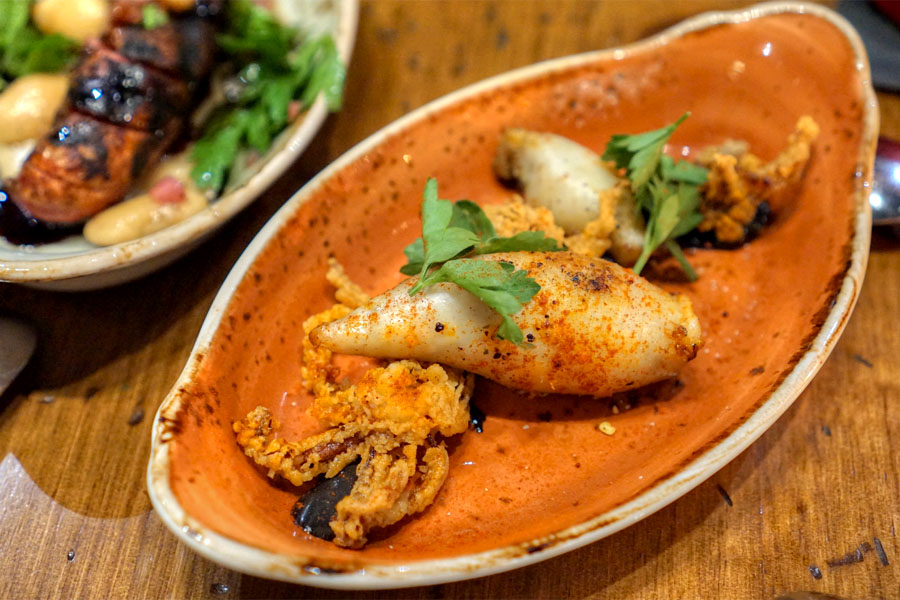 Calamares Rellenos [$14.00]
| Charcuterie stuffed calamari, squid ink aioli
The squid itself was on point here, especially those crispy fried bits, though I wanted more oomph in the actual stuffing, and perhaps more acidity overall.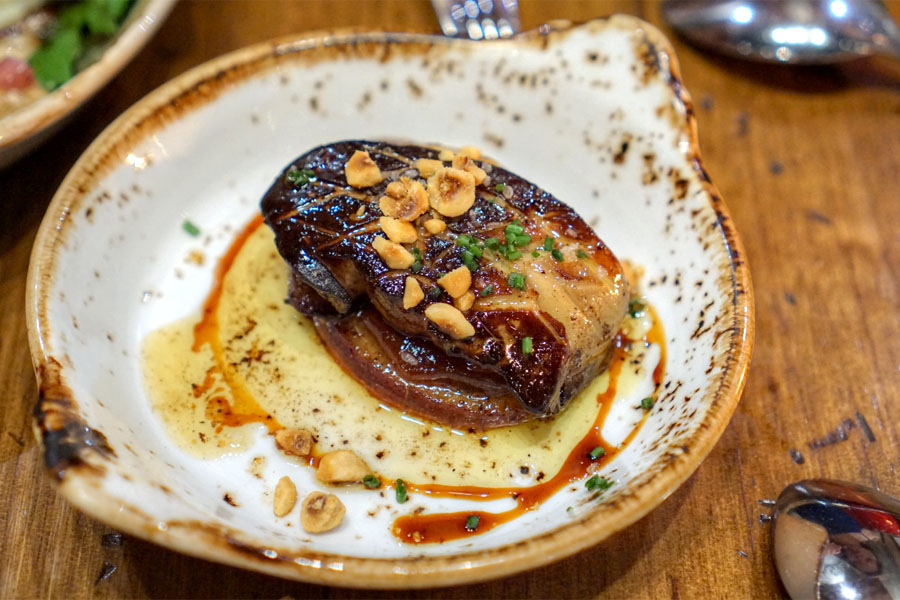 Higado de Pato con Pera [$16.00]
| Seared foie gras, toasted hazelnuts, pomegranate, pear purée
Foie gras came out properly supple, with a nice sear going on. Flavors were as rich as you'd expect, though the large amount of fruit utilized made the dish overly sweet for me.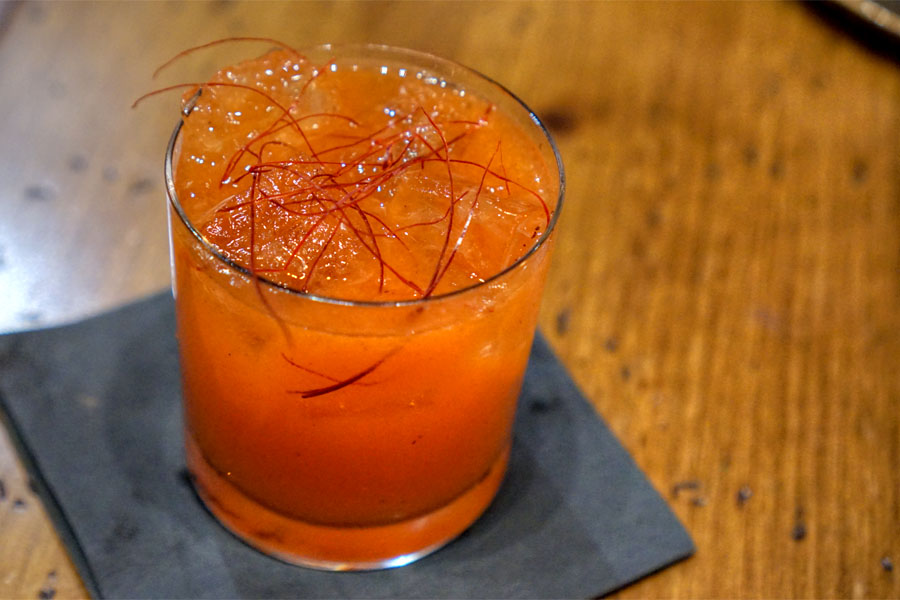 Myths on the Street [$13.00]
| Plantation Dark Rum, Cocchi Barolo Chinato, Strawberry-Chile Shrub, Grapefruit, Lemon
Our last cocktail veered in a tart, tangy direction, getting almost vinegar-y at times. Fortunately, the strawberry and almost guava-like flavors here helped rein that in, as did the acrid nature of the Chinato.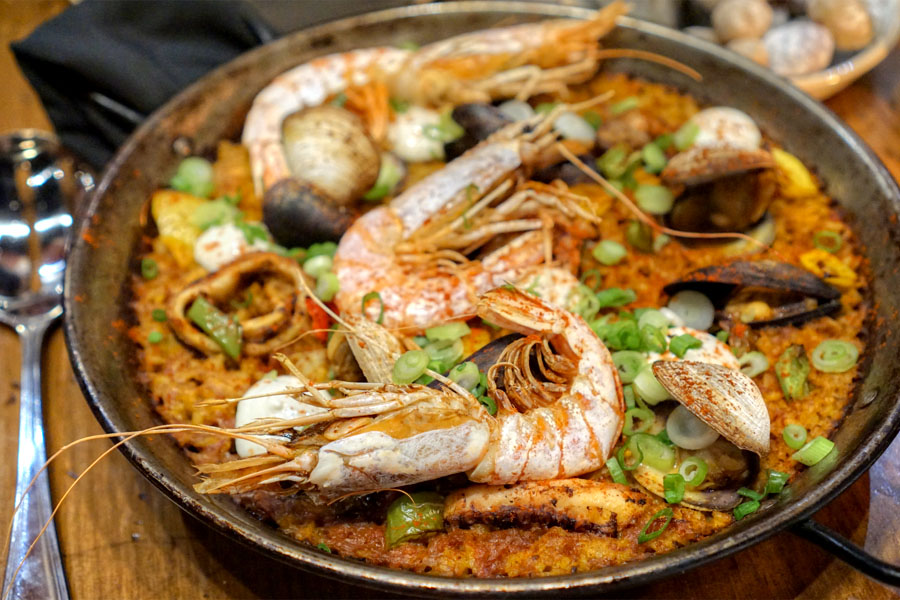 Paella de Mariscos [$42.00]
| Seafood paella, clams, mussels, shrimp, octopus, saffron bomba rice
The paella was certainly our most substantial dish of the night. The kitchen did a pretty great job imbuing the rice with the flavors of both saffron and seafood, and I really enjoyed the contributions from the scallions and aioli. Texturally the rice worked as well, and I liked how they were able to develop a nice
socarrat
. However, for the actual
mariscos
, I really wanted less cook on 'em.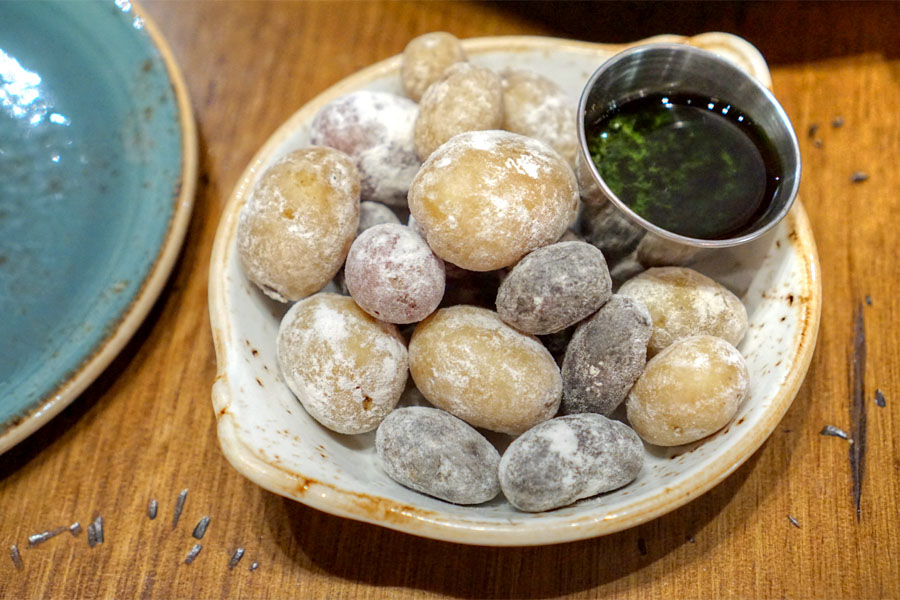 Papas Canarias [$8.00]
| Salted roasted baby potatoes, salsa verde
This take on
papas arrugadas
delivered. The potatoes I found firm but yielding, with a generous dosing of salt that matched perfectly with the bright, zingy flavors of the salsa.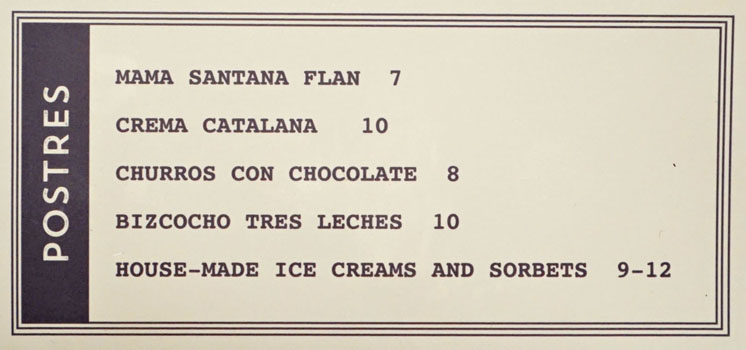 Desserts at Vaca are straightforward. We only opted for one, as we were very full by this point.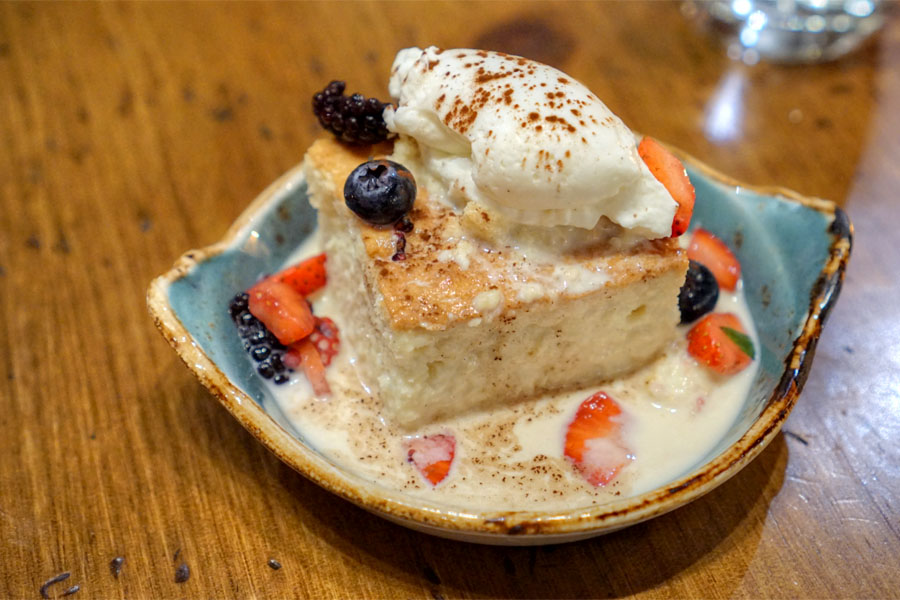 Bizcocho Tres Leches [$10.00]
The
tres leches
was one of the better I've had, coming out wonderfully sweet and saturated, the berries working well as a tart contrast. Yum.
We actually don't have all that many Spanish restaurants in Southern California, so it's nice to have Vaca in the mix now. I found a couple quibbles with the food, but altogether we were pleased with our experience here and Santana's multifaceted take on the cuisine. The beverage program's worth checking out as well, with cocktails that are some of the best in the area. Overall, a very welcomed addition to the OC dining scene to be sure.