The Walker Inn (Los Angeles, CA) [3]
The Walker Inn Bar & Lounge at Hotel Normandie
3612 W 6th St, Los Angeles, CA 90005
213.263.2709
www.thewalkerinnla.com
Sun 02/19/2017, 08:10p-10:00p
Following a homey dinner at the new
Yuk Dae Jang
and dessert at Cassell's, we made our way to The Walker Inn for our 8:00 reservation. My
last visit
here featured the "Climate" menu, and after "Science Fair," "Holiday Scoundrels," and "Greatest Hits" themes, the bar changed things up most recently at the end of January. Tonight's subject matter was "Winter Citrus," which as you might expect given the name, features cocktails incorporating a variety of Southern California citrus fruit.
Note that our previous bartender, Bryan Bruce, left The Walker Inn in December and is now focusing on his own venture, Aperitif Cocktail Catering, based out of Redlands I believe. In his place, we were tended to by ex-Salt's Cure/
Bestia
/Varnish barman Daniel Zacharczuk (with support from GM Trevor Easter), who proved more than capable.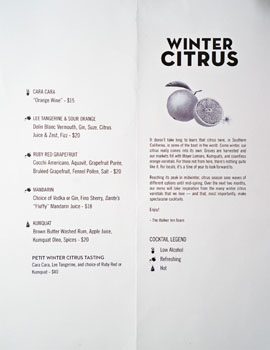 And here we see "Winter Citrus," which was considerably shorter than the previous menus we'd encountered. Note also the presence now of a $40 preset tasting option. Click for a larger version.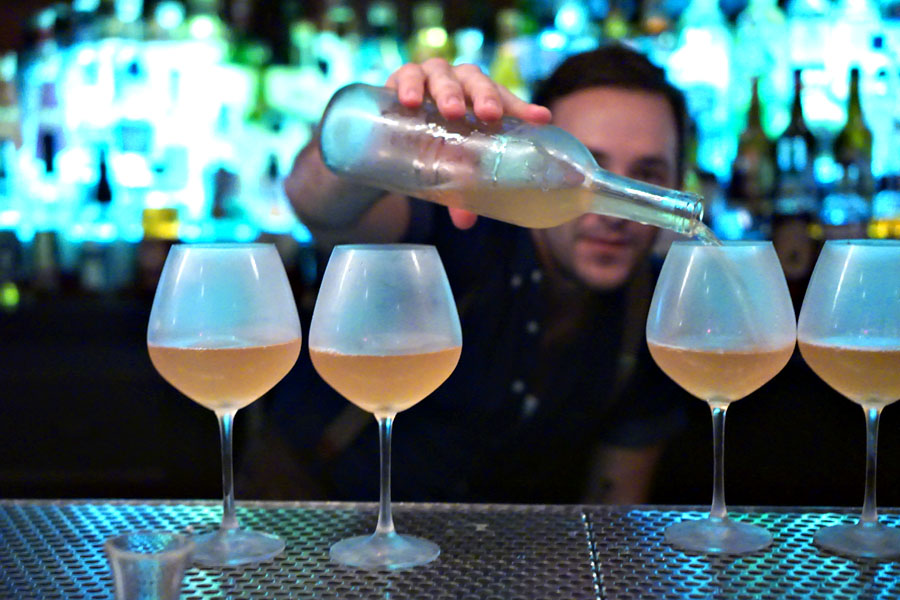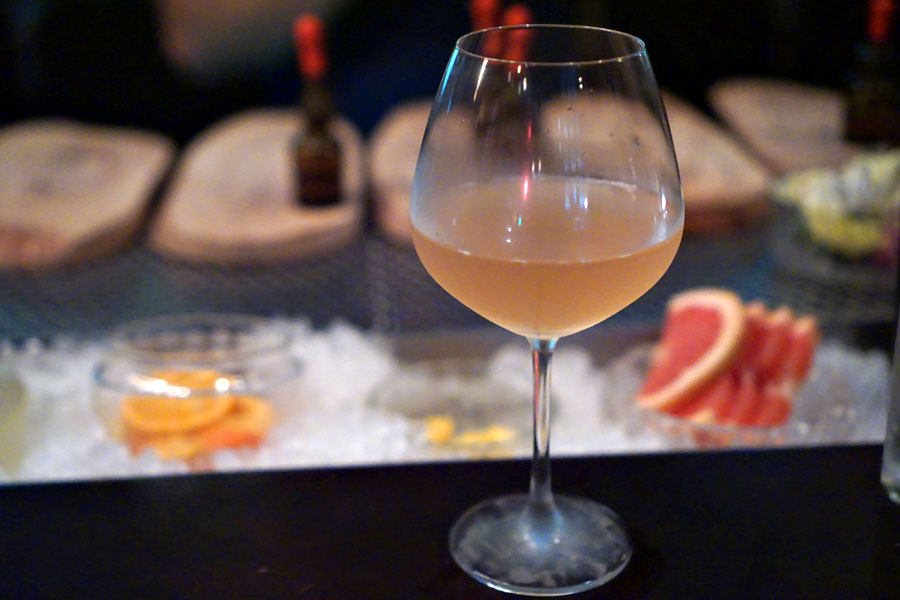 Cara Cara [$15.00]
| "Orange Wine"
Orange wine refers to a white wine that has spent time in contact with grape skins, hence the color. It seems to be a bit of a "thing" now, so I suppose it made sense for the Walker Inn team to start us off with their cocktailian version. Their faux orange wine comprised Chardonnay, a Cara cara distillate, brandy, apple cider vinegar, and orange blossom honey. I certainly got what they were going for, with a nose filled with sweet, fruity, and as well as funky notes. Taste-wise, think floral, citrusy, a touch spicy, but with a persistent bitterness and a definite boozy backing.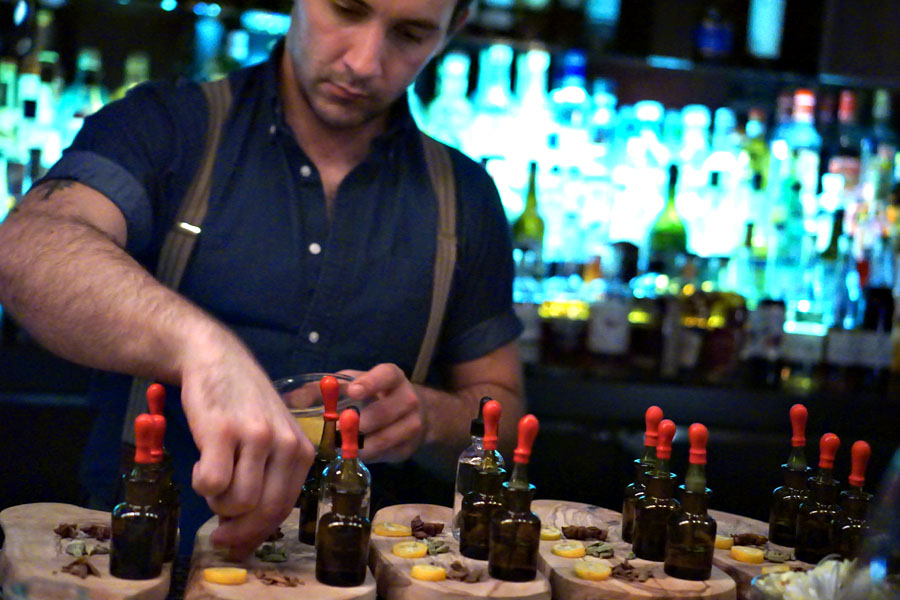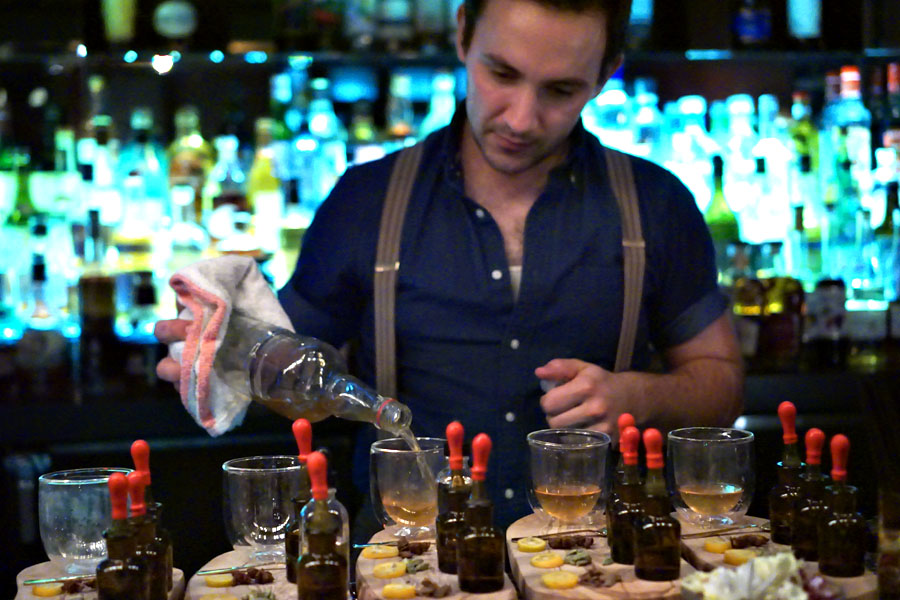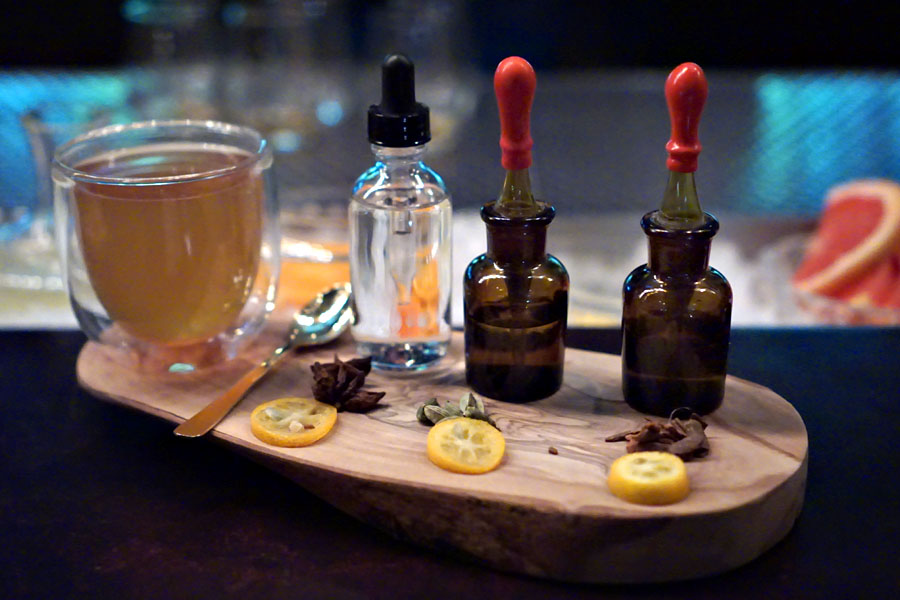 Kumquat [$20.00]
| Brown Butter Washed Rum, Apple Juice, Kumquat Oleo, Spices
The orange wine was followed by a winter-y, hot toddy-inspired cocktail. The toddy itself was based on a kumquat oleo saccharum with Madeira, apple juice, and brown butter rum, and was paired with a trio of tinctures: star anise, cardamom, and cinnamon. The idea was to apply the three concentrates to the toddy to your taste--a bit of an interactive process. Taken alone, the cocktail smelled strongly of sweet spice, a characteristic that continued on to the thick, rich palate, where it was joined by some citric, nutty elements. With the addition of the three tinctures (I ended up with a 3:2:1 ratio), the holiday/baking spice aspect was amplified even more.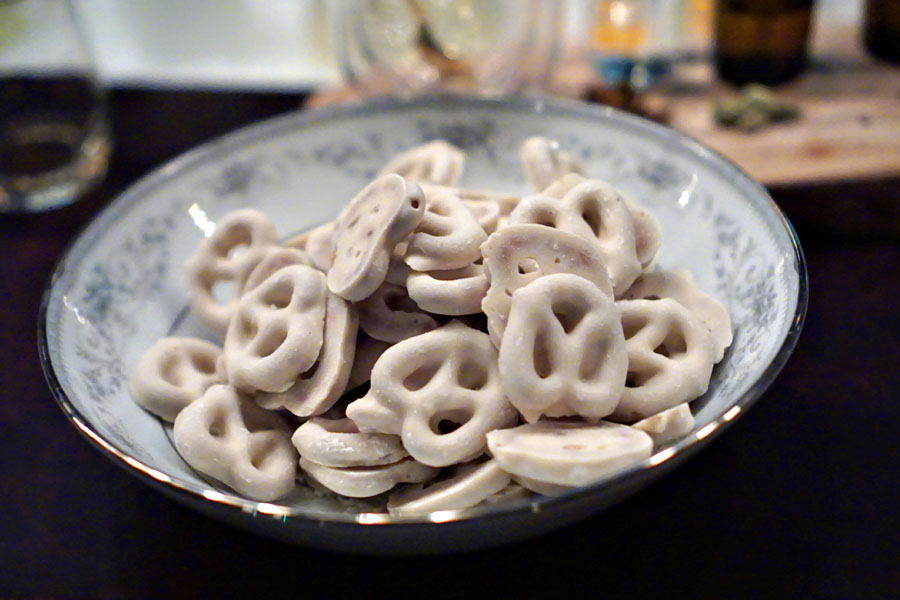 One of my drinking companions brought along some yogurt-covered pretzels to munch on, while the staff graciously provided the bowl.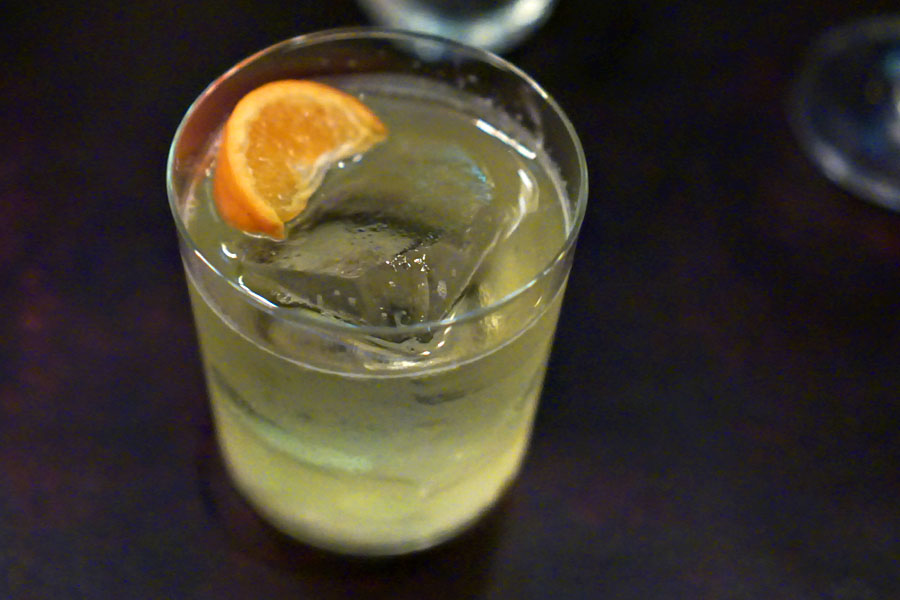 Lee Tangerine & Sour Orange [$20.00]
| Dolin Blanc Vermouth, Gin, Suze, Citrus Juice & Zest, Fizz
The most spirit-forward cocktail we had blended a citrus zest distillate with Fords gin, Dolin Blanc, and Suze gentian. The whole thing was then force-carbonated, giving it an effervescence that was particularly refreshing after the potent toddy above. The drink smelled fantastic, showing off loads of super bright, super aromatic citrus. Taste-wise, I got forceful, focused, true-to-life tart-sweet citrus married with a bitter, herbal bite.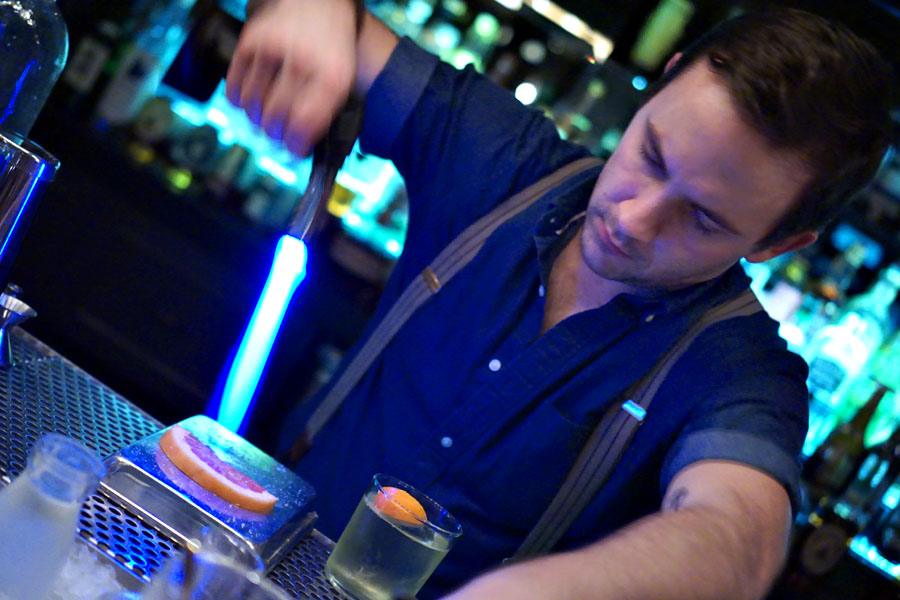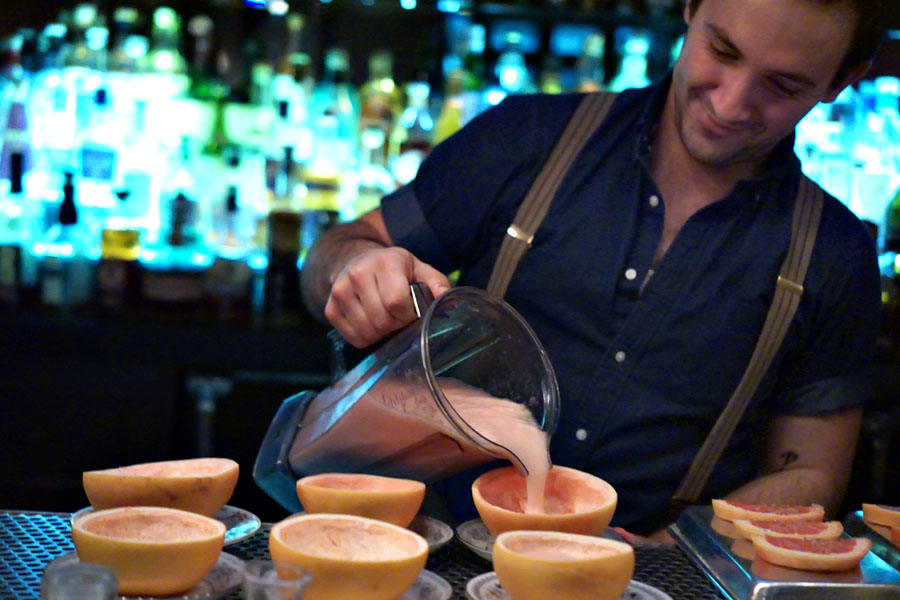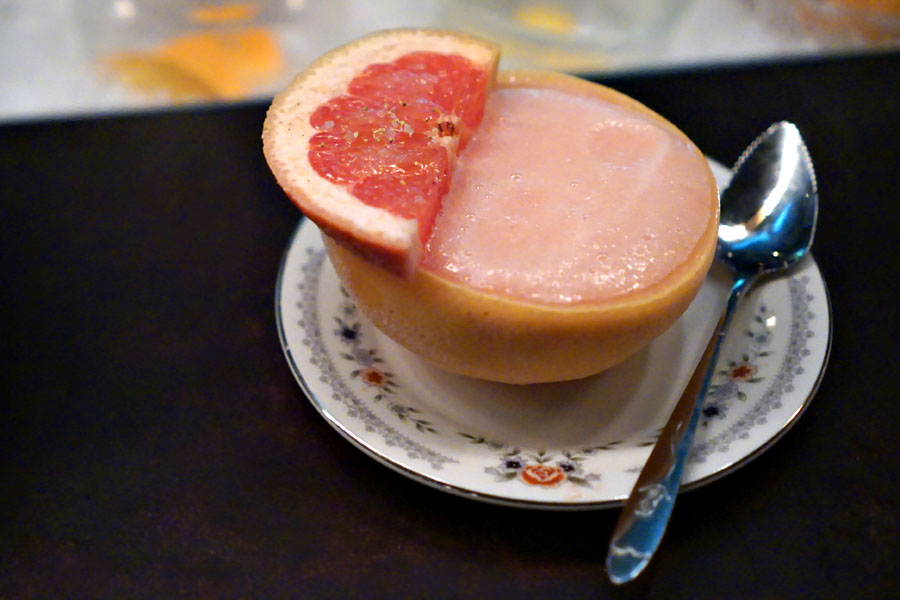 Ruby Red Grapefruit [$20.00]
| Cocchi Americano, Aquavit, Grapefruit Purée, Bruléed Grapefruit, Fennel Pollen, Salt
Next was a play on the idea of having a half grapefruit with breakfast. What we had was blended grapefruit mixed with lemon, Cocchi Americano, and akvavit, then garnished with a torched grapefruit with sugar, sea salt, and fennel pollen. The result was a bracing, bittersweet slush that showcased the grapefruit's flavor, but with a wonderful touch of counterbalancing anise on the finish.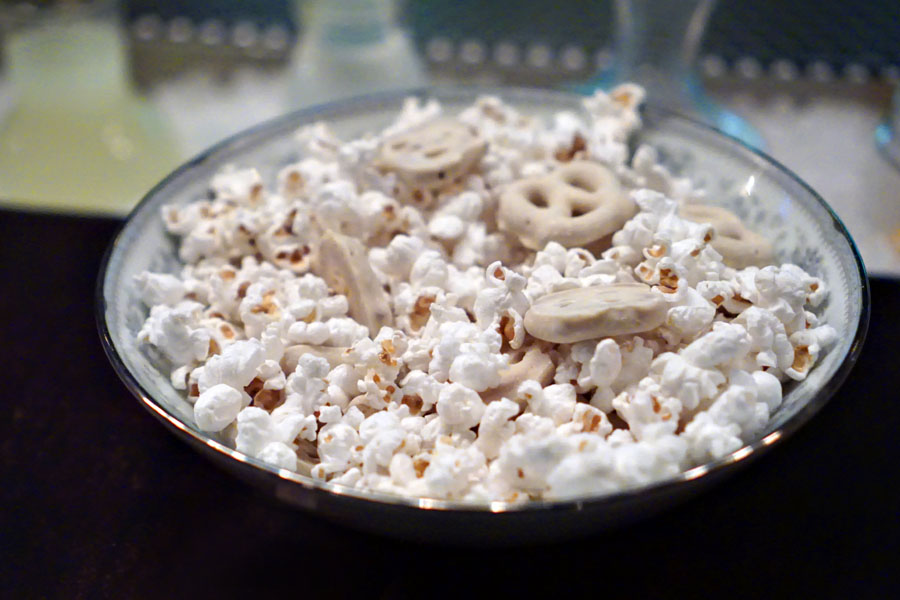 Our pretzels were later joined by Walker Inn's addictive coconut oil-sea salt popcorn.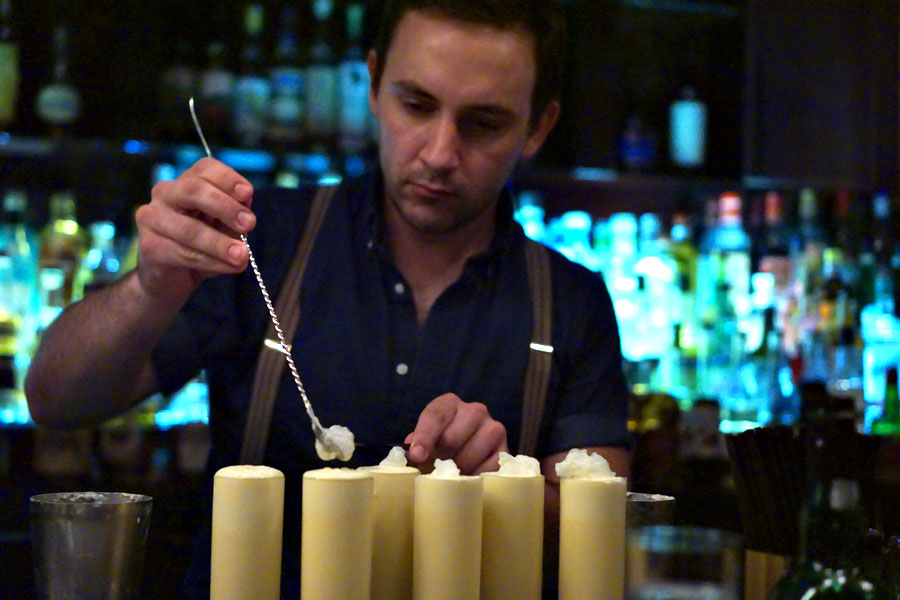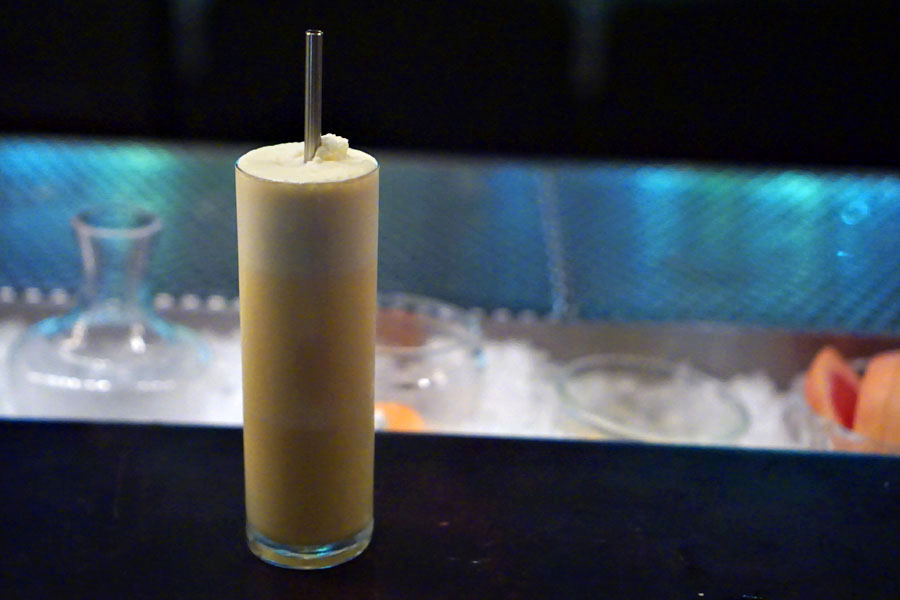 Mandarin [$18.00]
| Choice of Vodka or Gin, Fino Sherry, Dante's "Fluffy" Mandarin Juice
The final citrus cocktail was a playful marriage of Orange Julius and a Ramos gin fizz. The drink starts with the "fluffy" juice of pulverized whole mandarins (popularized by Caffe Dante in NYC), and the liquid is combined with fresh-squeezed mandarin, cream, egg white, Fino sherry, and vanilla liqueur. The end result, a viscous beverage, really did convey the orange-y, creamy qualities they were looking for, and I loved the dry, nutty finish contributed by the sherry.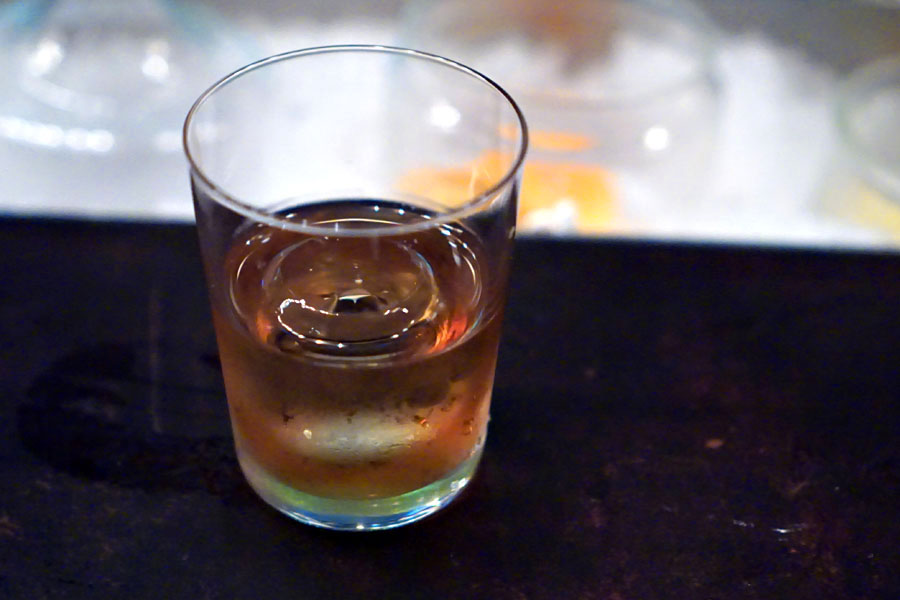 A fellow drinker mentioned that she was a fan of the Vieux Carré, so Easter whipped up this variation called the Full Windsor. The cocktail's basically identical to the VC, but with Highland Park 12-yr scotch and Clear Creek apple brandy in place of the rye and cognac. It was lovely, really highlighting the fruitiness of the brandy and the subtle smokiness of the whisky, but with the bitters still in play.
Zacharczuk and company made for yet another thoroughly enjoyable experience at The Walker Inn. I think they certainly succeeded in showcasing the various varieties of citrus, and I liked the more compact menu format as well, which allows you to more easily sample all the cocktails offered.
---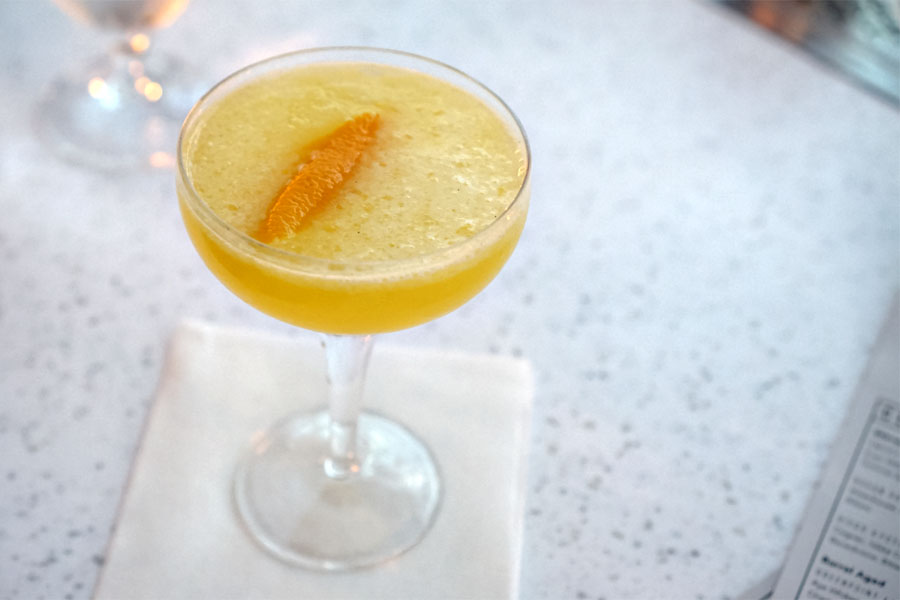 Golden Iris
Afterward, we headed over to
Terra Cotta
for a quick
sa-cha
round. Ostensibly named after the owner's wife, our first cocktail brought together orange juice, vodka, lemon, a bourbon-vanilla bean syrup, and specks of vanilla bean. This smelled great, with lots of orange paired with a light, creamy character. The taste followed, but with the vanilla becoming more apparent. Lovely finish with more bright citrus all over the place.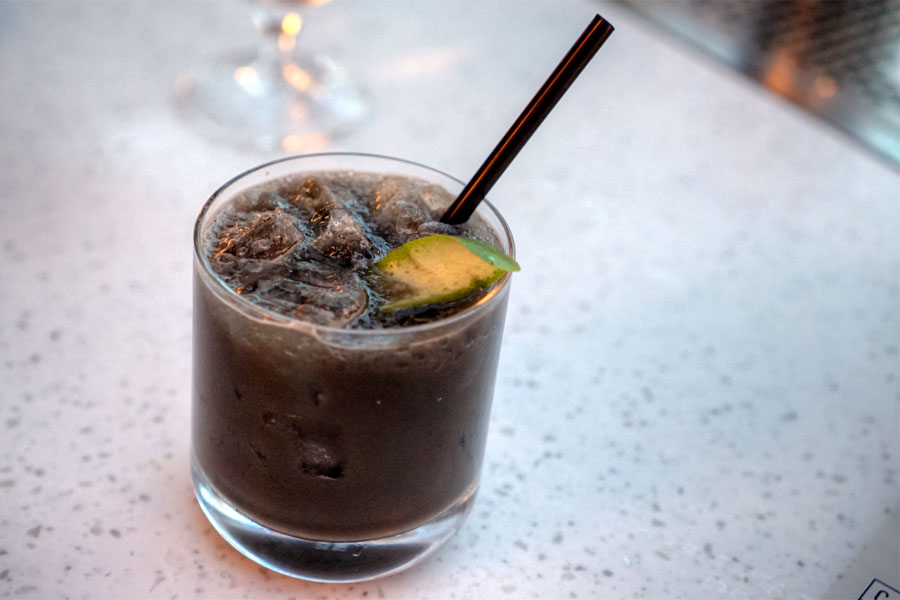 Blac Velvet
| Rhum JM, Angostura 7 year, Black Sesame, Lime
Our second cocktail incorporated black sesame, which is something of an uncommon ingredient. It did a great job calling attention to the nutty, almost smoky qualities of the seed, and paired that with a touch of tartness from the lime and the potent nature of the rums.