Woodley Proper (Encino, CA)
Woodley Proper Bar & Restaurant
16101 Ventura Blvd, Encino, CA 91436
818.906.9775
www.woodleyproper.com
Tue 06/13/2017, 08:00p-11:20p

Phillip Frankland Lee and Margarita Kallas-Lee's bar-slash-restaurant Woodley Proper opened on April 7th. The long-awaited cocktail joint features drinks crafted by Devon Espinosa (whom we last saw over at
The Venue
in K-town), though he has since decamped. Meanwhile, the kitchen tonight was run by Chef Alex Carrasco (Blue Tavern, Manhattan Country Club,
Mo-Chica
, Westside Tavern,
Paiche
, Viceroy,
Joe's
), who's also heading up the Lees' upcoming projects in Santa Barbara.

Woodley Proper resides on the second floor of the Encino Place shopping center, next door to both Frankland's Crab & Co (which opened on May 19th in the spot previously reserved for Luke Reyes' Oh Man! Ramen) and
Scratch | Bar & Kitchen
. Designed by Jordan Olson, the space is a cozy affair that lends itself to lounge-y dining.





To drink, you get a wide-ranging array of cocktails of sundry styles and formats, along with a few wines and a smattering of beer. Food-wise, think various types of bar-appropriate bites. Click for larger versions.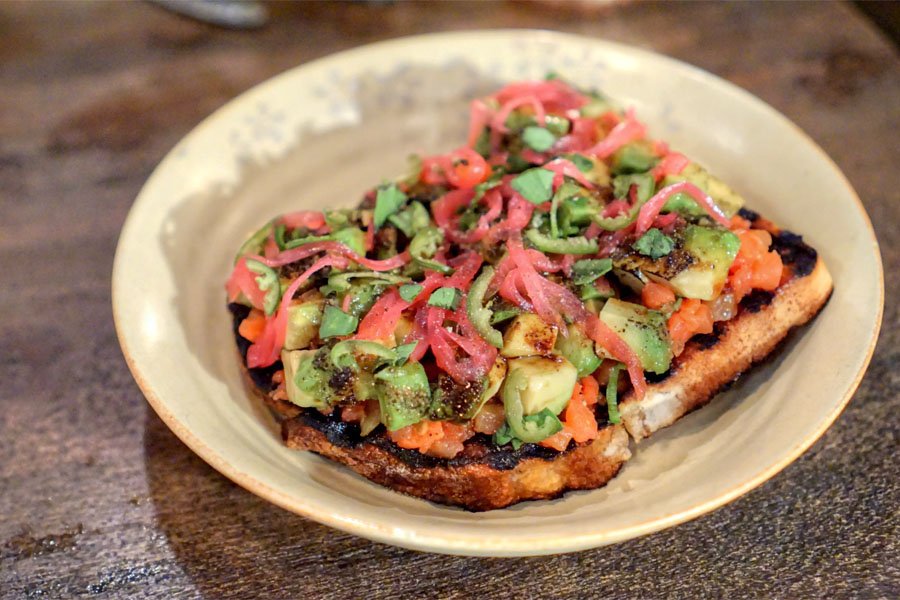 Ground Tomato & Burnt Avocado [$12.00]
| w/ Sweet n' Sour Onions & Balsamic
We started with one of the four "country style sourdough toasts" on the menu. Think creamy and sweet, with the onions and balsamic offering up a contrasting acidity. Nice char on the bread.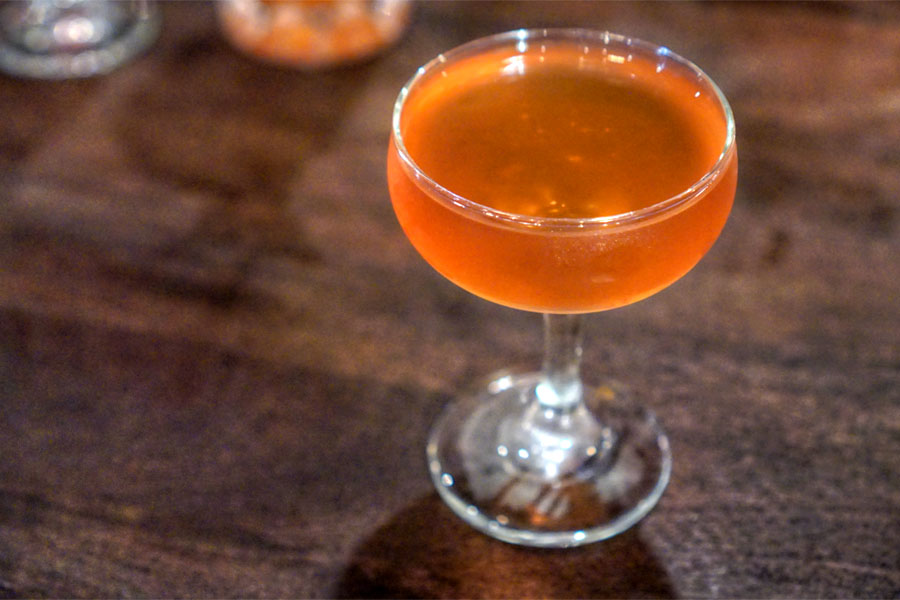 Proper Sazerac [$12.00]
| Rye & Pernod Ricard Absinthe Rinse w/ Peychaud's Bitters & Expressed Lemon
Our first cocktail was a pretty prototypical presentation of the traditional Sazerac. Aromas were fairly subtle, displaying citrus and a marked fruitiness. On the palate, I got a lot of spicy, boozy notes, with apparent anise from the absinthe wash.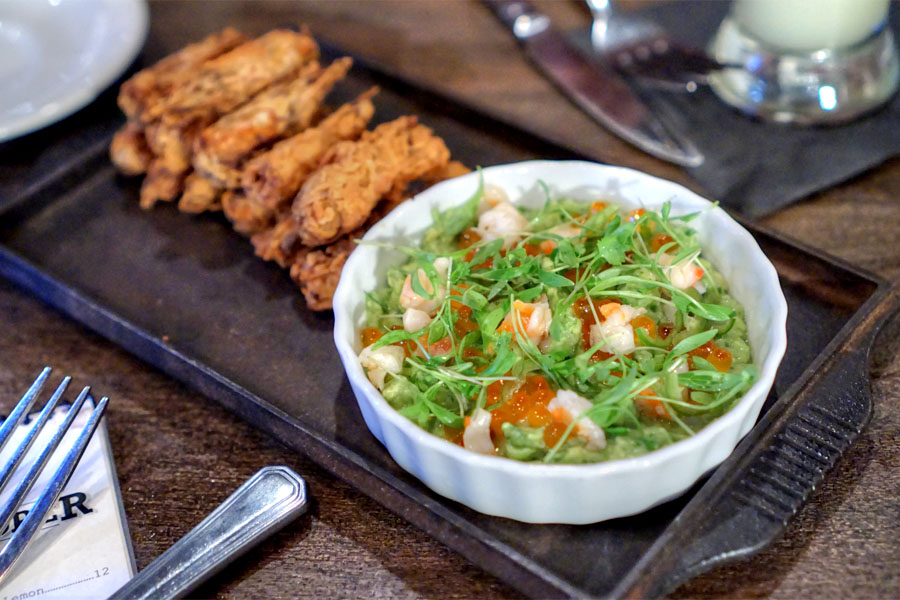 Pickled Shrimp Guacamole [$13.00]
| w/ Crispy Prawn Heads & Salmon Caviar
This was a fun dish, and one of my favorites. Taken alone, the shrimp heads ate crunchy and salty. However, they also worked swimmingly as a vessel with which to experience that sweet, creamy,
ikura
-punctuated guac. You'll probably want to get this.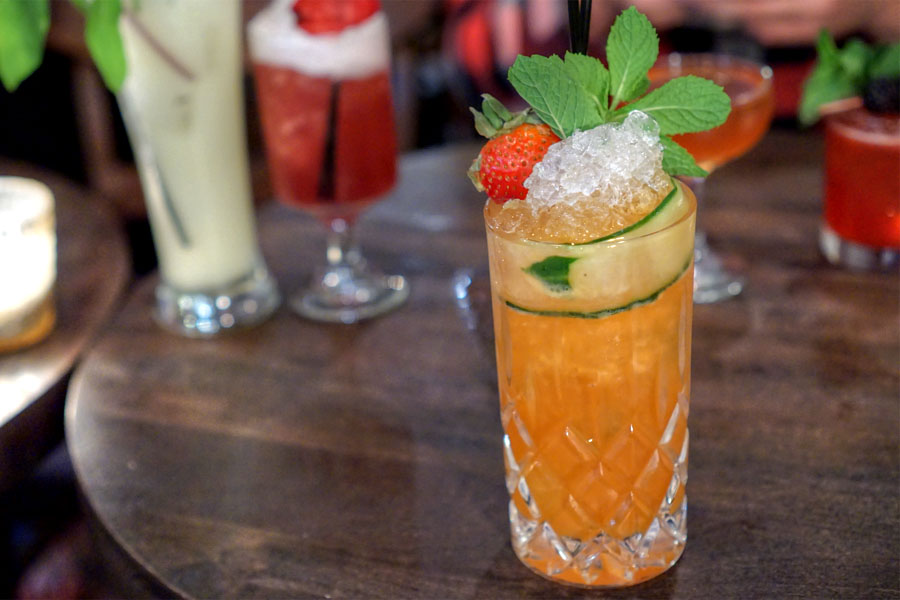 Valley Girl [$13.00]
| Pimm's & Ginger Beer w/ Lemon, Strawberry, Orange & Cucumber
Unsurprisingly given the name, I found this a fruity, soft, easy-drinking cocktail. I would've liked more from the ginger, though.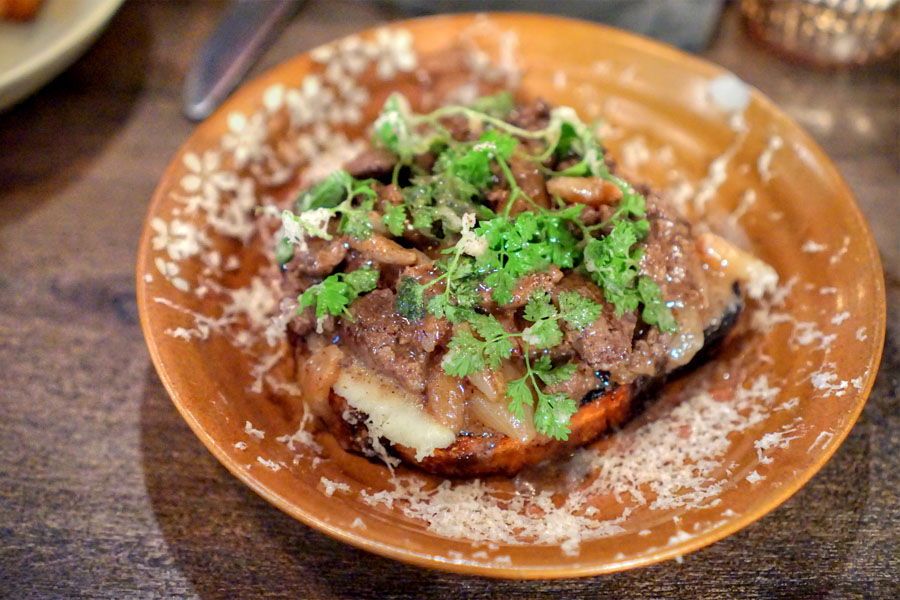 Roasted Chicken Livers & Pearl Onions [$14.00]
| w/ Potato Hummus & Black Truffle Butter
The chicken liver was another standout, and of the tastier preparations of the ingredient that I've had. The key was the potato, which worked wonders as a counterpoint to the richness and heft of the organ meat. This should be another must-order.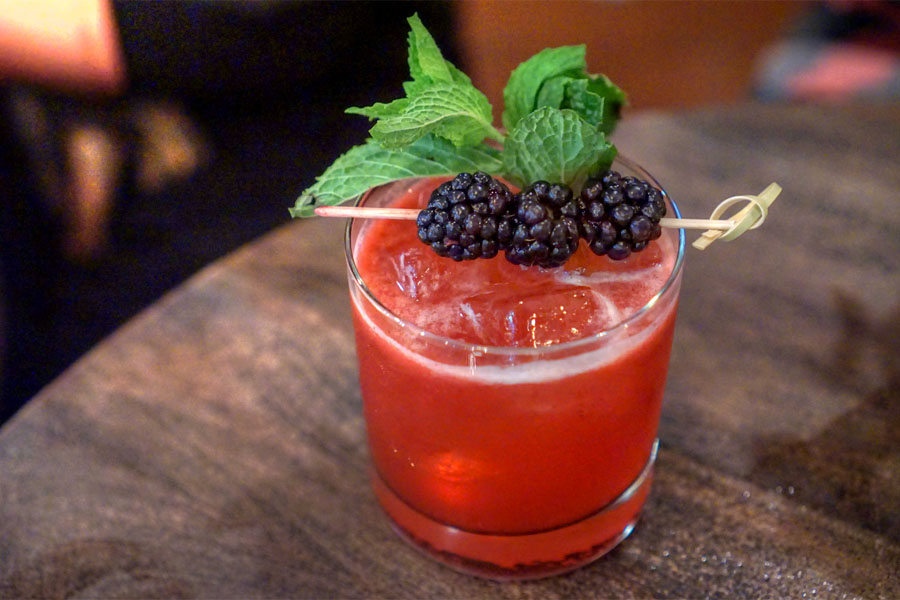 Proper Seasonal Smash [$12.00]
| Bourbon w/ Blackberries, Lemon & Mint
This was a refreshing cocktail to be sure, full of fun, fruity flavors with just a trace of citrus. One of my dining companions even likened it to "fruit punch."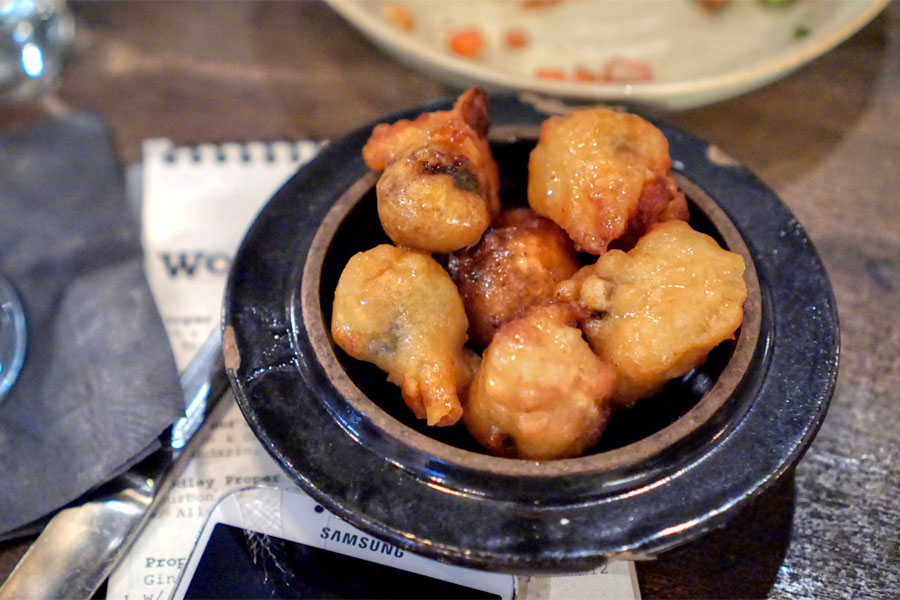 Honey Fried Olive Stuffed Olives [$6.00]
| w/ Honey Lime Syrup
Here we had a bit of a throwback to the days of the original
Scratch Bar
in Beverly Hills. Crunchy to the bite, they displayed the very essence of olive, but evened out by sugary blasts of honey. Fun.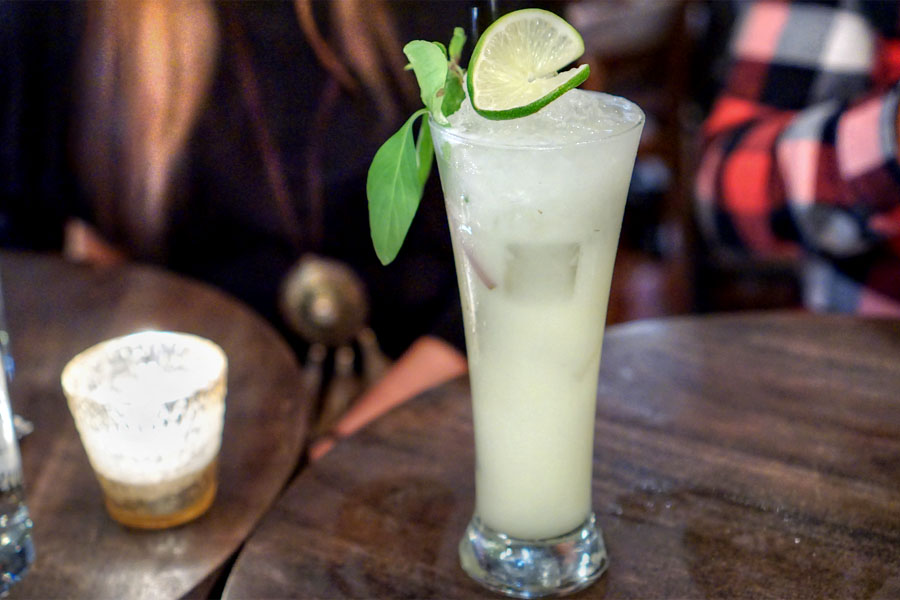 Staycation [$14.00]
| White Rum & Coconut w/ Kaffir, Thai Basil & Pineapple
This was another cocktail that went down easy. Lots and lots of sweet coconut, but offset by the tartness of lime and pineapple.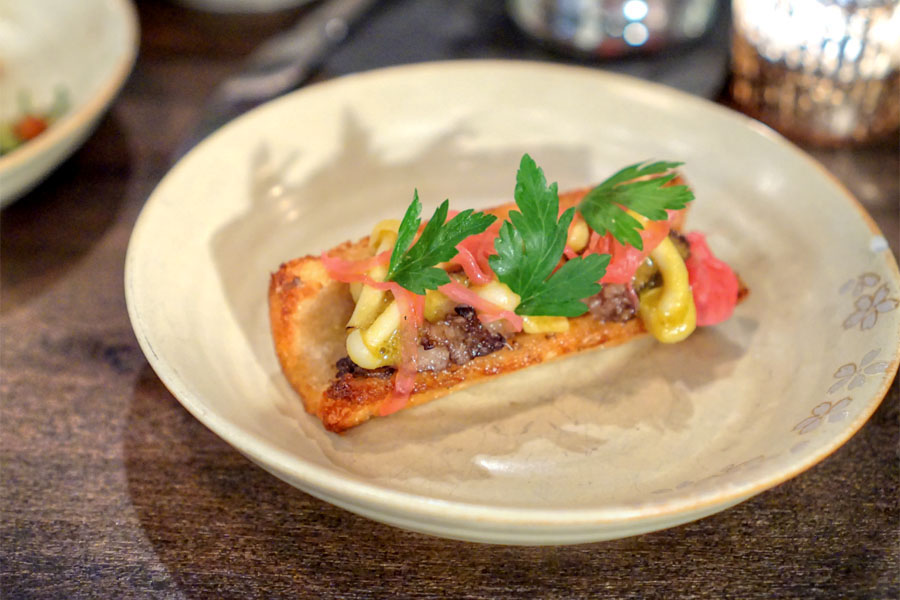 Bone Marrow Roasted In Sourdough [$12.00]
| w/ Spiced Mushrooms
An O.G. Scratch Bar dish called the "Bone Marrow Box" formed the basis for our next course. You got the slick, fatty nature of the marrow sure, but paired with lighter, brighter notes from pickled onion,
shimeji
, and parsley, all while the toast provided some textural variation.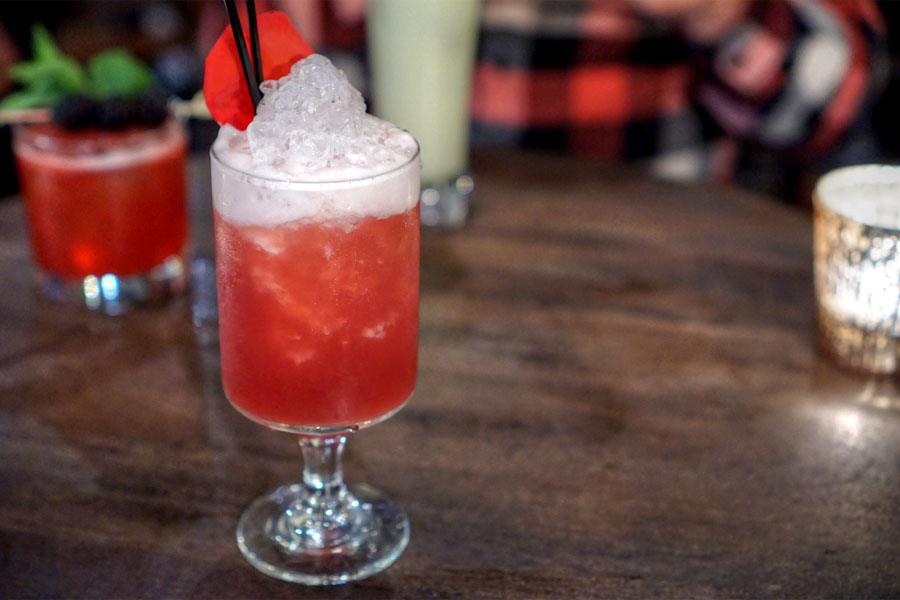 Jovita [$12.00]
| Framboise Eau de Vie & Lillet Rouge w/ Pineapple, Lime & Rose Water
Our fifth cocktail conveyed near-jammy raspberry flavors commingled with floral, grapey nuances. The drink also had a bitter, almost oxidative sort of edge that made for some balance.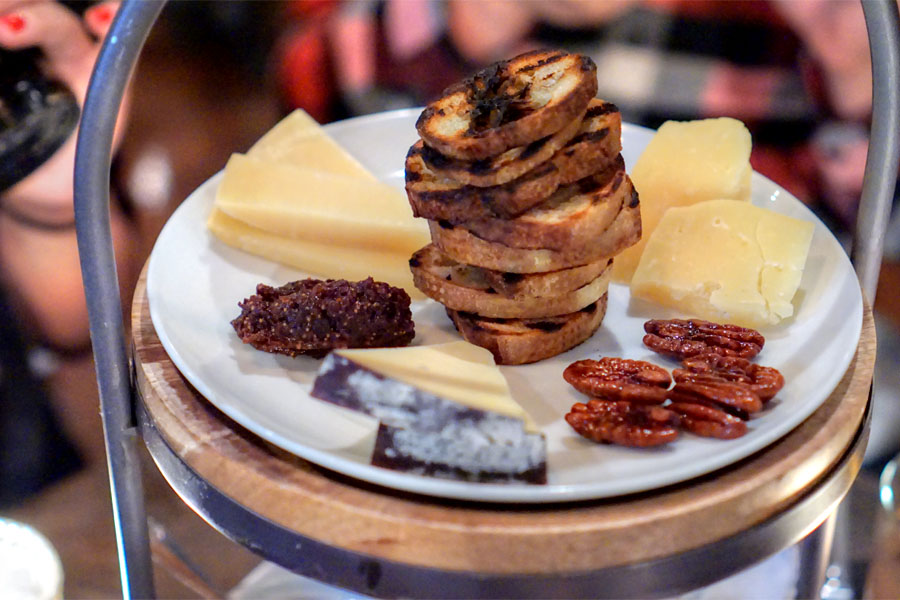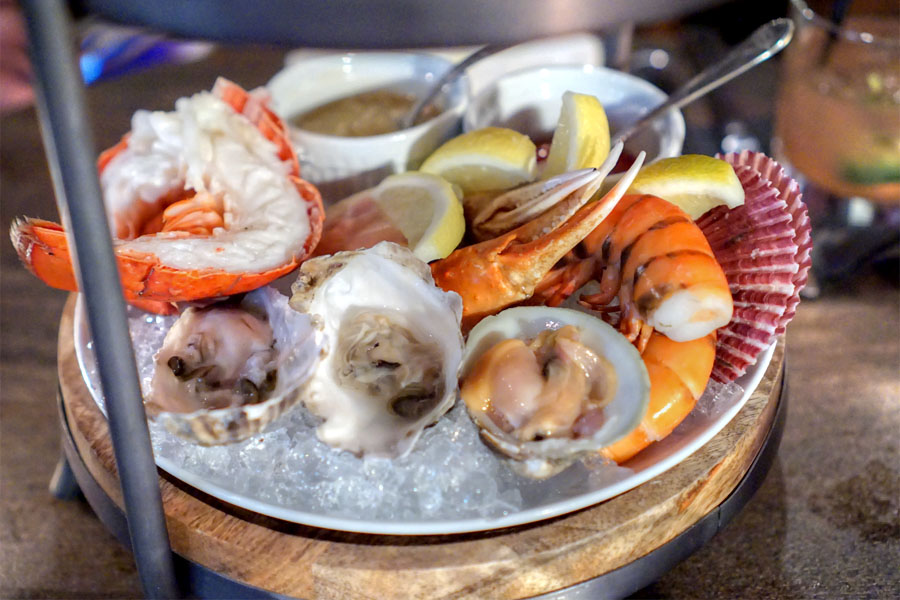 The Proper Tower [$65.00]
| A Large Selection of Raw & Steamed Shellfish, Scratch|Bar x Stepladder Cheeses
& House Cured Charcuterie
served w/ Proper Accoutrements
Woodley Proper prides itself on its towers, so we felt compelled to give the smaller of the two a go. Disappointingly, the kitchen had run out of their housemade charcuterie, so we ended up with more cheese. And speaking of said cheese, clockwise from bottom we had Swiss, Parmesan, and Cheddar, accompanied by grilled sourdough baguette, beet mustard, fig jam, and candied pecans. Meanwhile, the seafood spread comprised the following: Peruvian scallops; fresh, snappy Mexican gulf shrimp; delightfully briny littleneck clams; Glacier Point oysters; soft, sweet Maine lobster; and crab claws, all served with cocktail sauce and
leche de tigre
.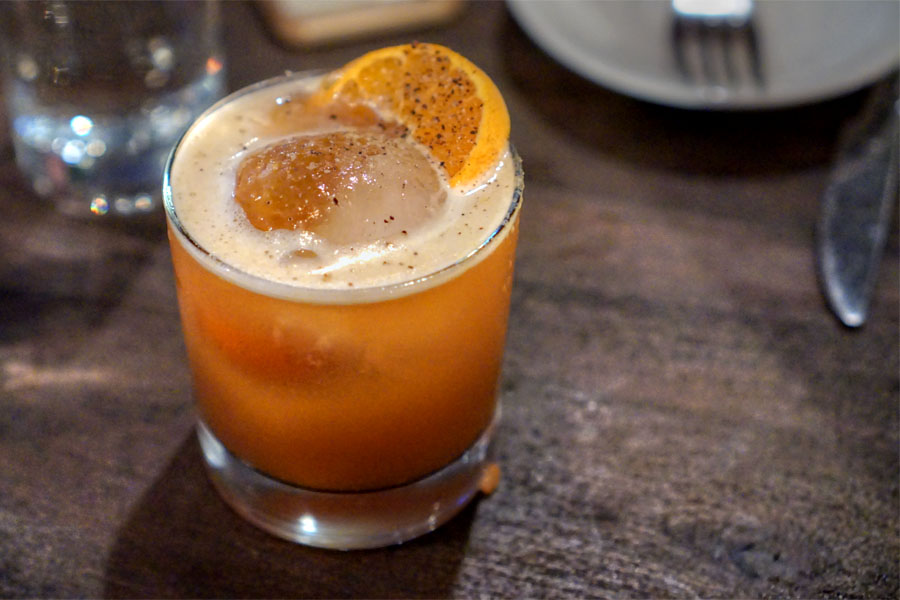 Frankland's [$13.00]
| Bourbon & Carpano Antica Formula w/ Mandarin, Averna, Lemon & Cracked Pepper
Named after the Chef, this next cocktail was one of my favorites. Its warm, sweet, spicy nose led to a distinctly bittersweet, boozy palate, with a balance of sour and fruity elements.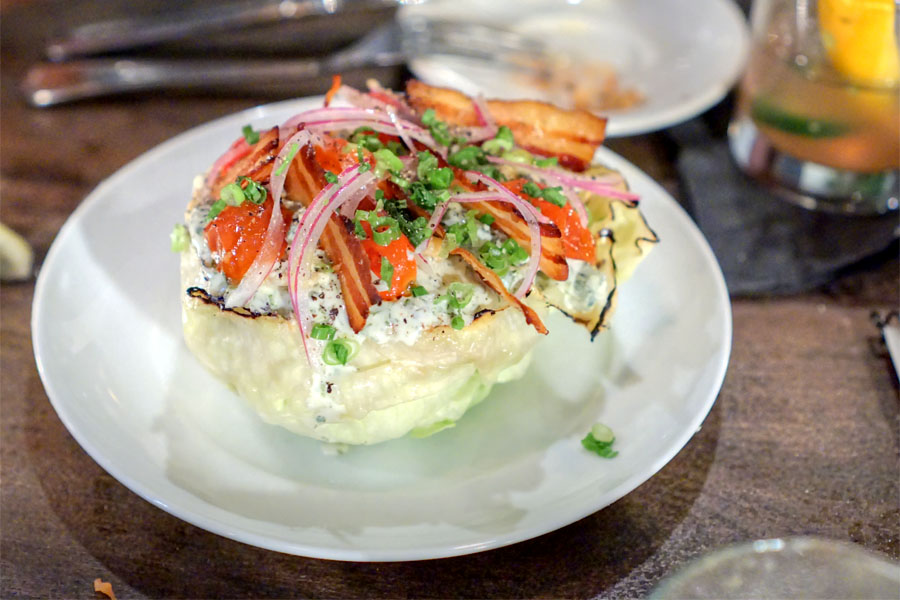 Charred Iceberg, Blue Cheeses & Bacon [$14.00]
| w/ Buttermilk Ranch, Tomato & Scallion
As far as salads go, the wedge is generally one of my preferred, and that was the case this evening. I really enjoyed the bright crunch of the lettuce, and how that meshed with the funk of blue cheese and the salty bites of "cartoony" bacon, the tangy dressing tying everything together.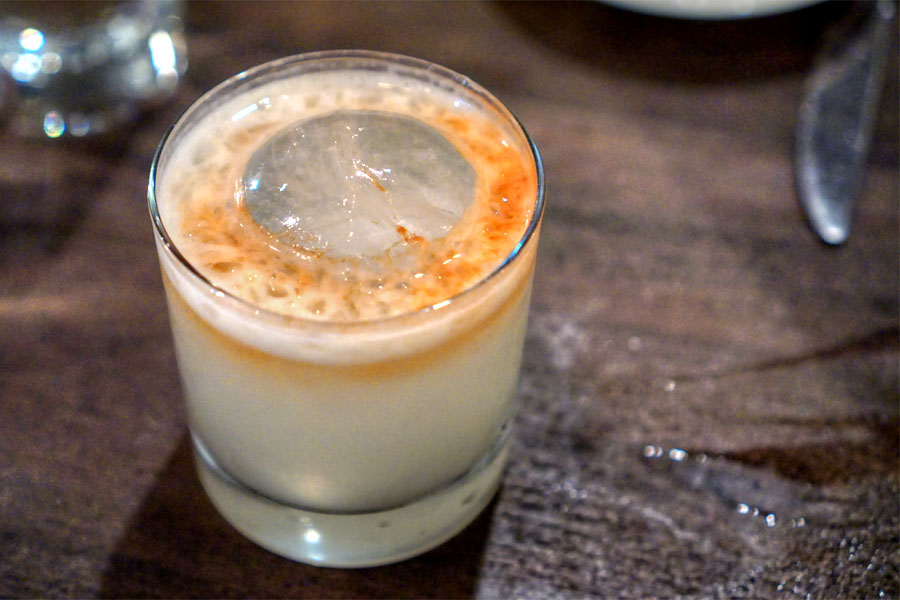 The First Date [$12.00]
| Gin & Floc de Gascogne w/ Lemon Orgeat & Orange Blossom
I quite liked this cocktail as well. Aromas of sweet, tropical spice transitioned to tangy, fruity flavors that were taken up a notch by a very noticeable floral character.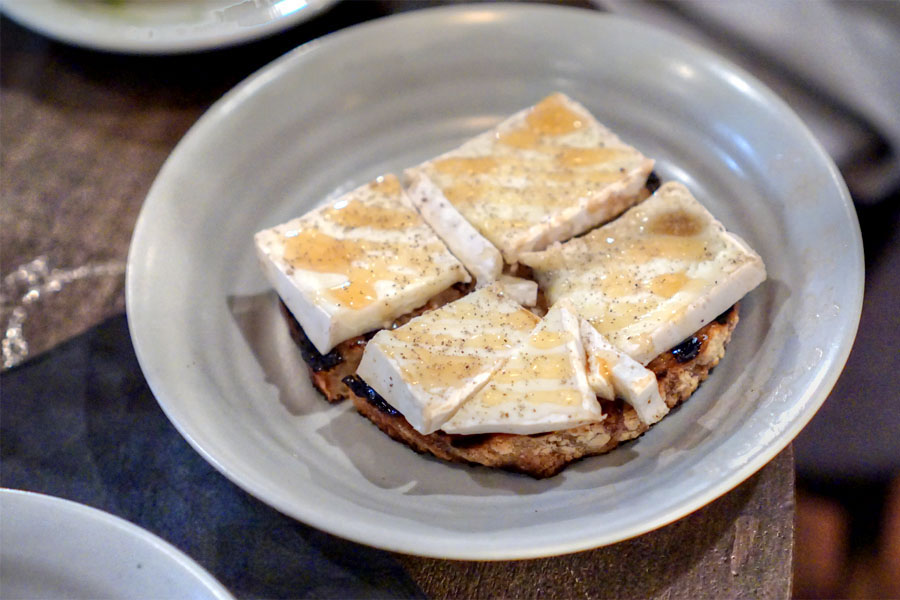 Scratch|Bar x Stepladder Triple-Creme [$11.00]
| w/ Smoked Honey and Black Pepper
Our third and final toast managed to be a table favorite thanks to its combination of creamy, sweet, and smoky flavors. Delish.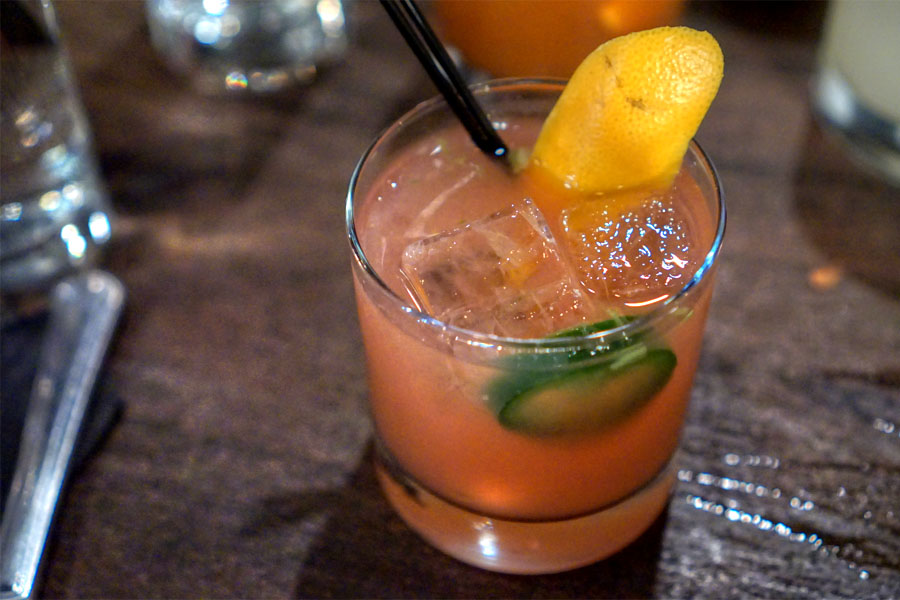 Los Encinos [$12.00]
| Tequila Blanco w/ Grapefruit, Jalapeno & Pomegranate
I got boatloads of heat in this cocktail, courtesy of jalapeños of course, though the fruit did help moderate things.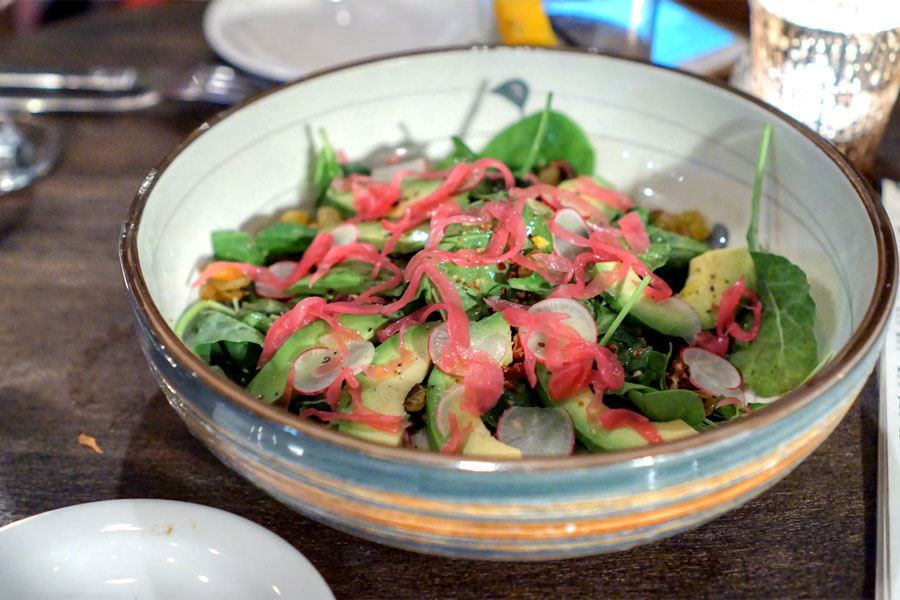 Bitter Greens, Golden Raisins & Avocado [$12.00]
| w/ Candied Pecans & Orange Dressing
The second salad was as bitter as its name would imply, but fortunately said bitterness was cut by lush avocado, sweet raisin, and the nutty crunch of those pecans.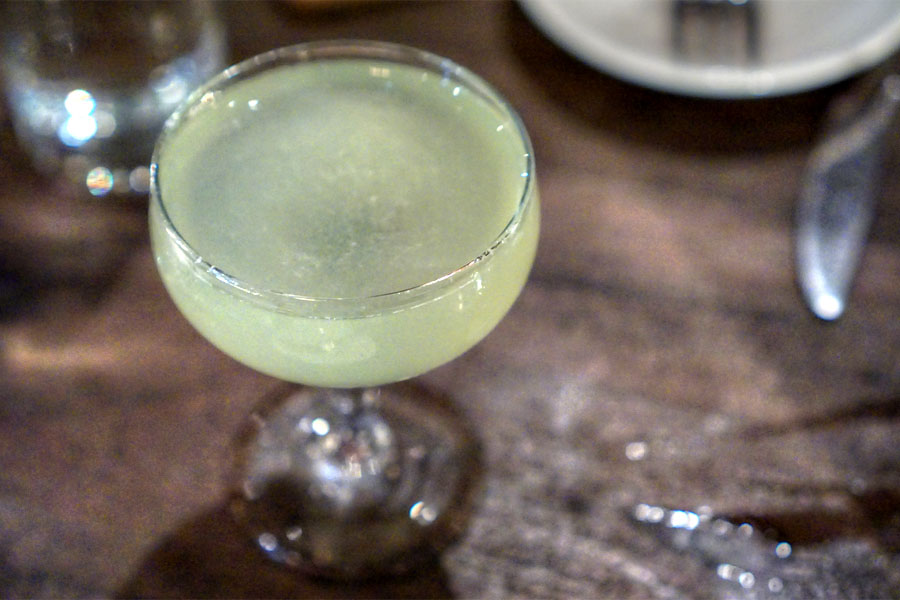 Proper Last Word [$12.00]
| Gin & Green Chartreuse w/ Luxardo Maraschino, Lime & Cherry
This Prohibition-era cocktail drank unabashedly bittersweet and herbal, and had a spicy bite that was tempered only slightly by the cherry at the bottom.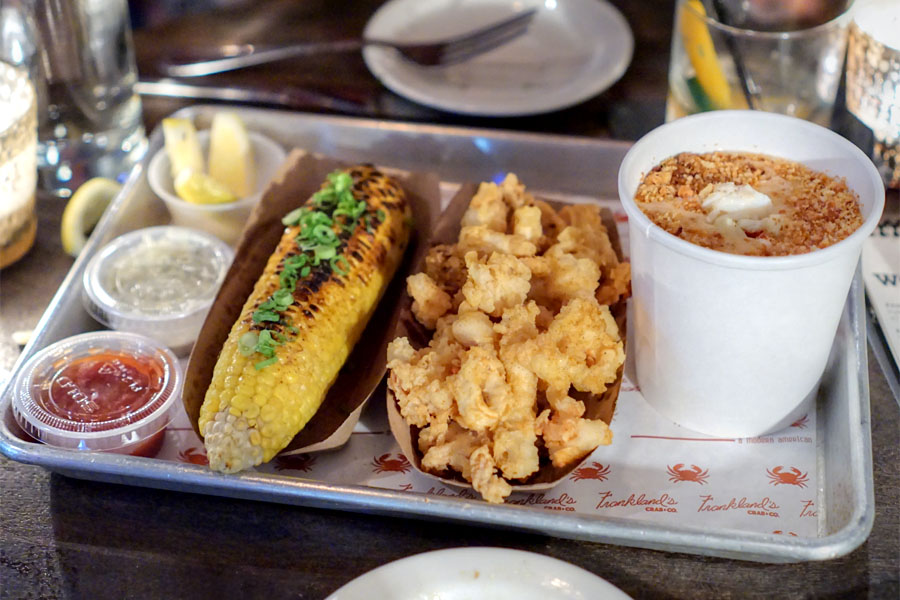 Pro tip: You can order food at Frankland's Crab & Co next door and have it delivered. Seen above: a sugary, almost caramel-y
Lobster Buttered Corn on the Cob [$5]
; crisp, lightly battered
Fried Calamari [$10]
; and a deeply-flavored
Pint of Chowda [$12]
.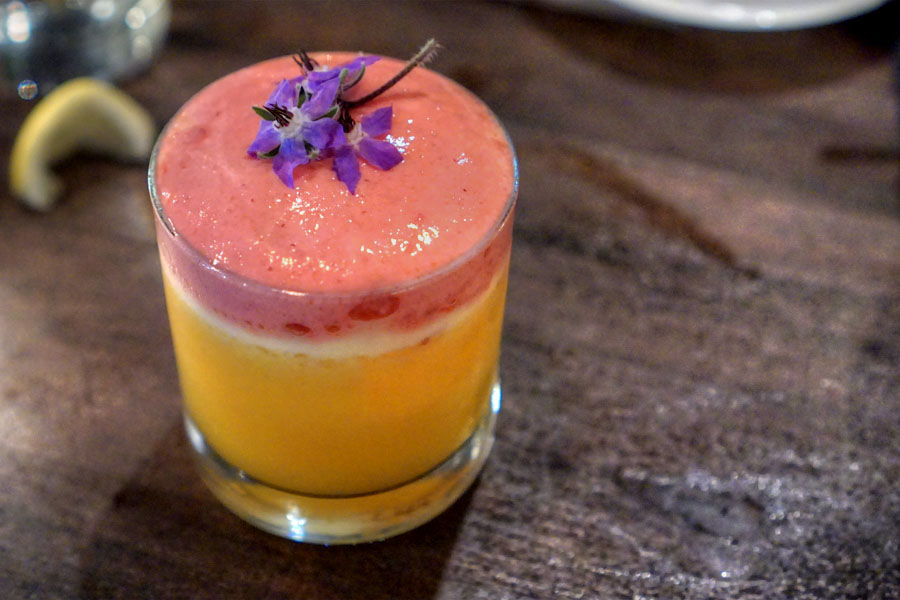 Jordy [$14.00]
| Vodka & Yellow Chartreuse w/ Passion Fruit & Raspberry Foam
More than a couple of my dining companions likened this cocktail to rainbow sherbet, and I could totally see where they were coming from. Think viscous, sweet, fruity, yum.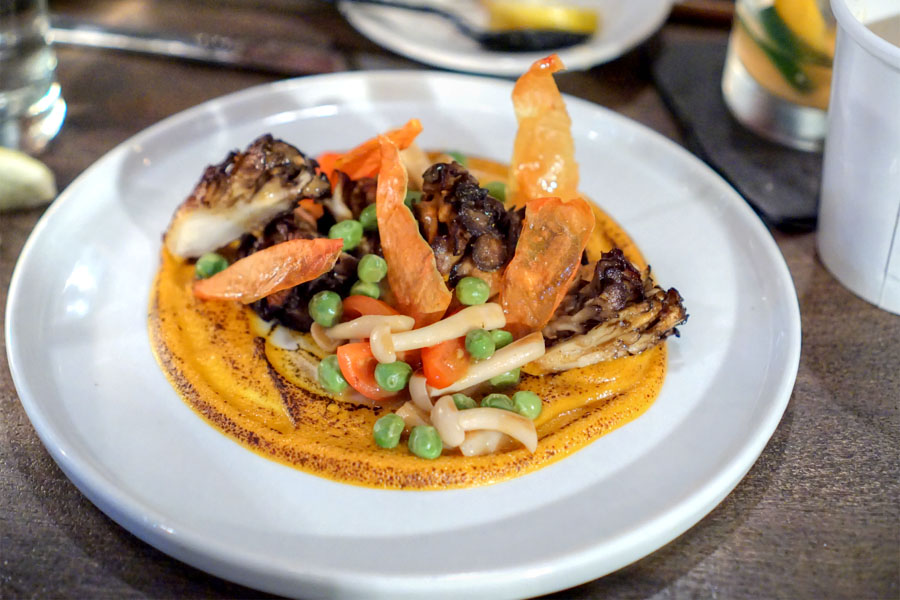 Charred Maitake Mushrooms [$16.00]
| w/ Sweet Potato & English Peas
This was a variation of a dish I first had at
The Gadarene Swine
. I liked the snap, char, and earthiness of the mushrooms and how that worked alongside the veggies. However, as was the case last time, the sweet potato just went too spicy, too sugary, too domineering.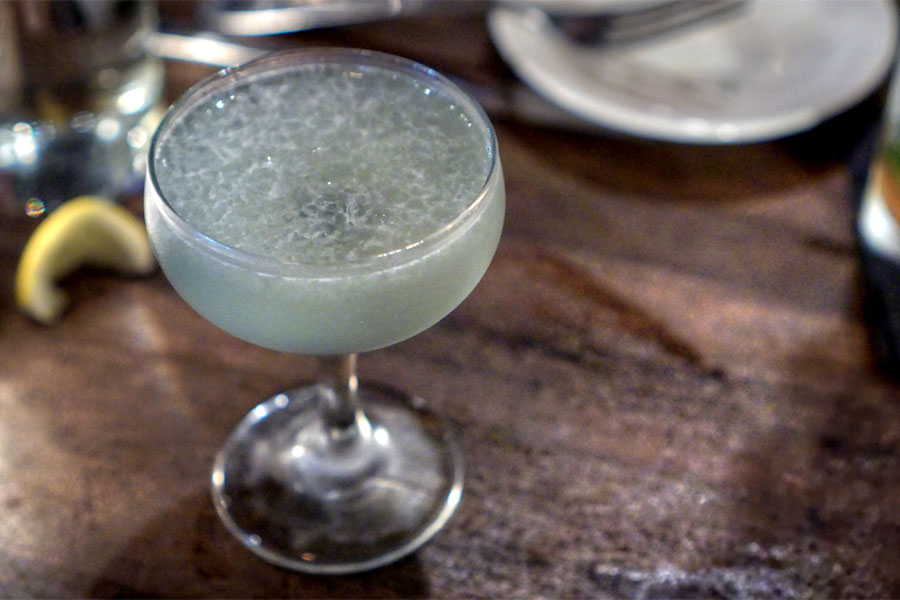 Proper Aviation [$12.00]
| Gin & Luxardo Maraschino w/ Creme de Violette & Lemon
A take on the classic Aviation cocktail did a great job showing off the floral nature of the crème de violette, playing it against the gin and lemon in, yes,
proper
fashion.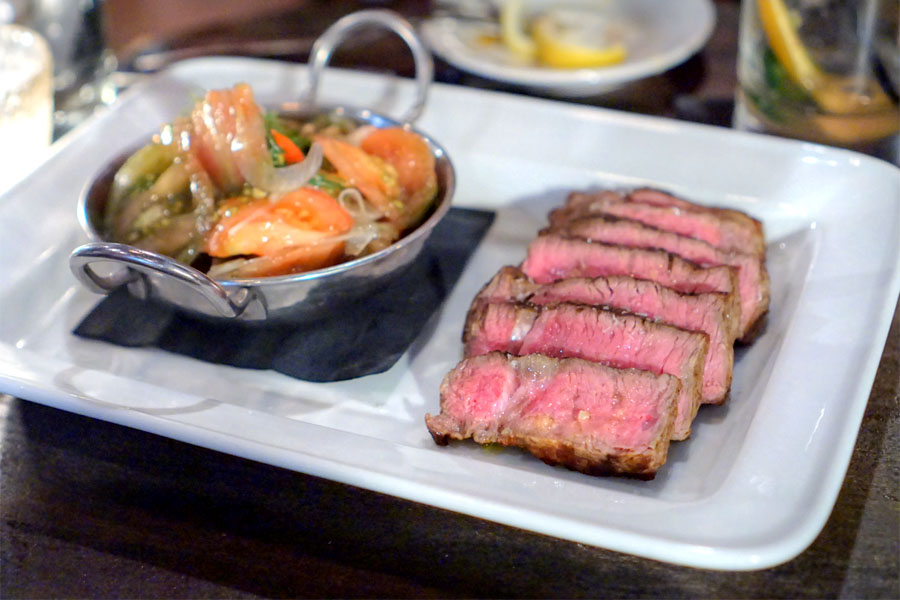 Dry Aged Prime New York Strip (12oz) [$48.00]
| w/ Russian Tomato Salad
In our final savory, strip steak came out full-flavored and well-spiced, the herby, sweet-n-sour tomato salad on the side working perfectly as a counterbalance.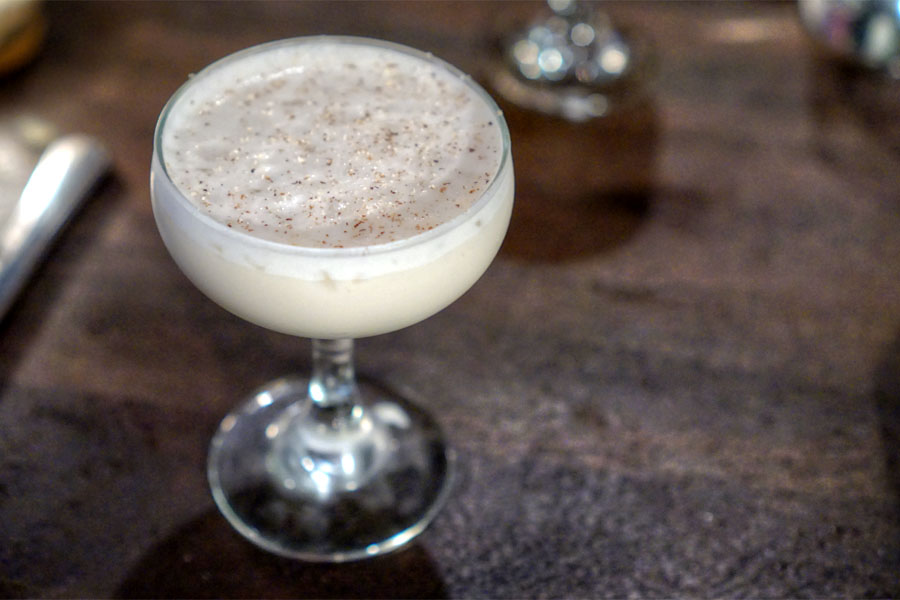 Proper Brandy Alexander [$12.00]
| Cognac & Creme de Cacao w/ Cream, Nutmeg & Cocoa Nibs
Time for dessert and dessert-appropriate cocktails. The Brandy Alexander was as decadent as you'd expect, with chocolate and cream flavors all over the place. Think of it as boozy ice cream.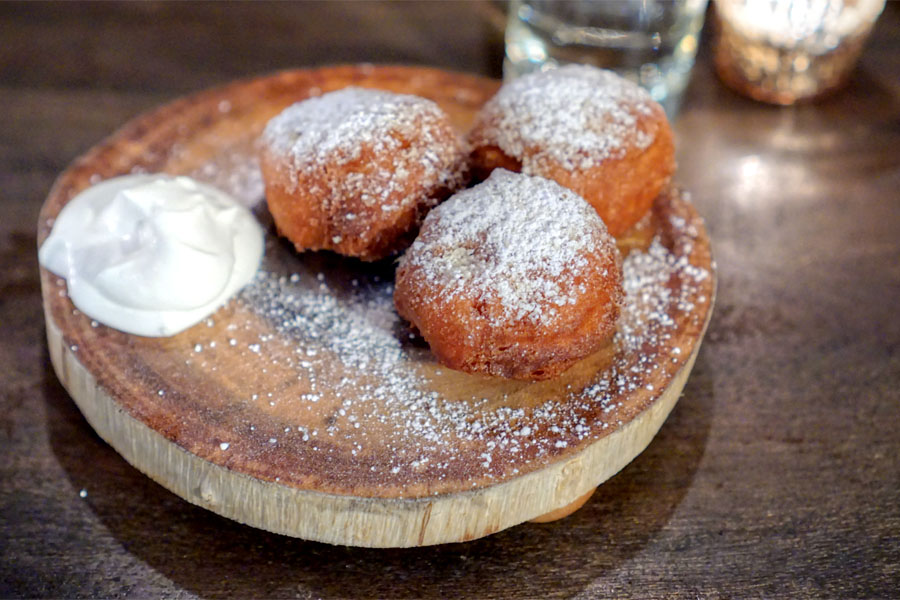 Brioche Donuts [$12.00]
| w/ Bergamot Whipped Cream
Doughnuts came out hot and soft, their rich, eggy flavors working hand-in-hand with that subtly fragrant whipped cream.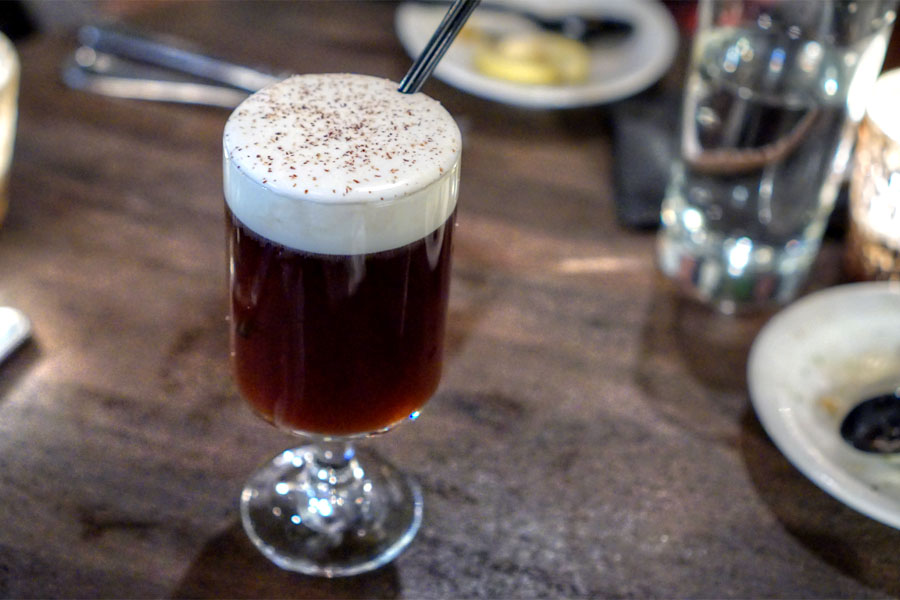 Irish Cold Brew [$12.00]
| Irish Whiskey & Cold Brew Coffee w/ Cointreau Whipped Cream
Our final cocktail was all about bitter, roasty coffee, softened only just by the Cointreau-infused cream.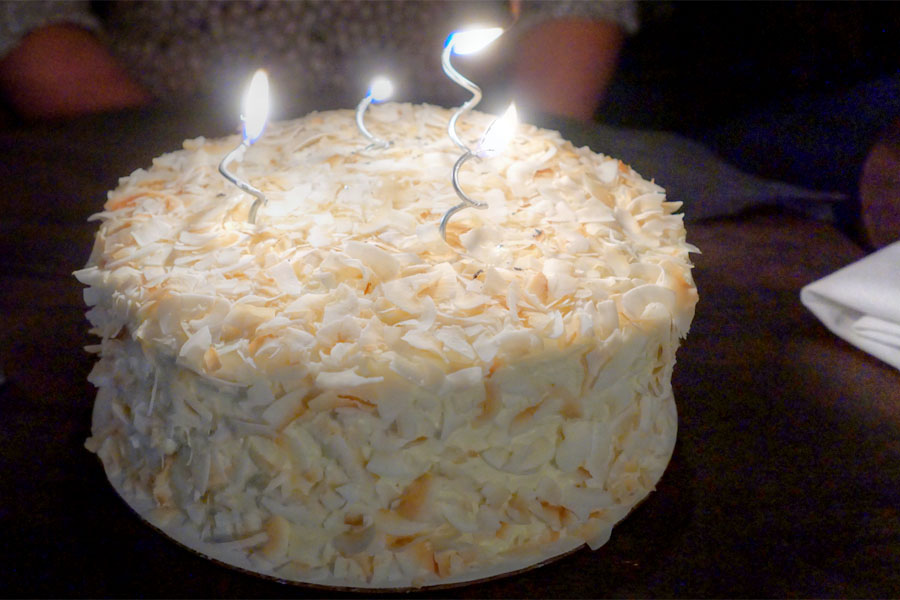 I've been a big fan of coconut cake ever since I had a very strong example of such at
The Hart and The Hunter
. Knowing this, one of my dining companions created the cake above, which was also modeled after the iconic version at Charleston's Peninsula Grill. It was right up there, standing toe to toe with what we had at H&H with its spot-on marriage of coconut and vanilla in a moist-yet-light package, the shaved coconut providing a wonderful contrast in texture.
In addition to running out of the homemade charcuterie, three of the cocktails that we wanted to sample (Not Far From The Tree, Second Hand Smoke, and the namesake Woodley Proper) were also unavailable, which was disheartening. That being said, the cocktails that we did have were by and large quite tasty, as was the food. Overall this is a nice spot I'll say, and a worthy add to the Valley's dining scene.