Maradentro (Los Angeles, CA)
Maradentro Mexican Cuisine
1168 S Barrington Ave, Los Angeles, CA 90049
424.273.1377
www.cocinasycalaveras.com/maradentro/
Sat 06/17/2017, 08:00p-10:45p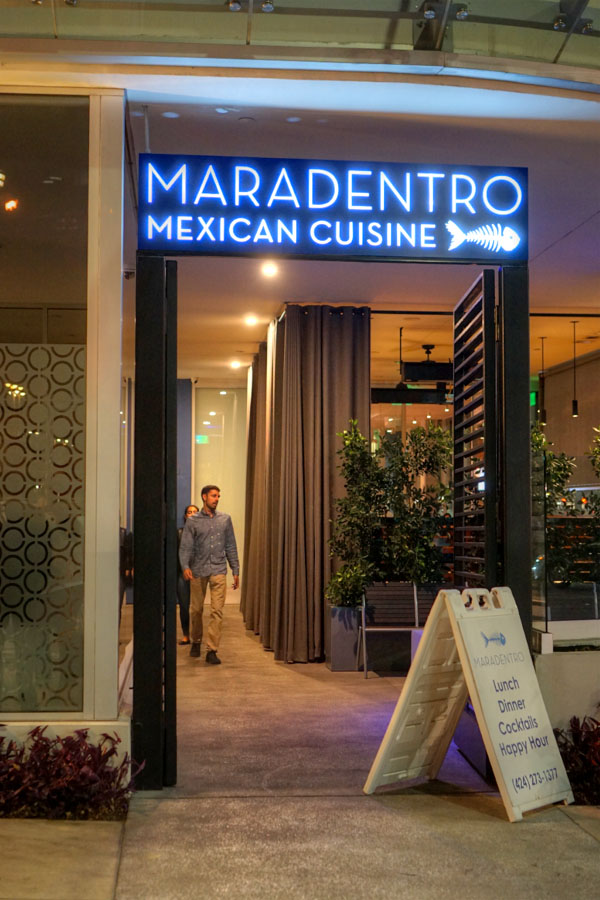 I don't find myself dining in Brentwood all that often, but a need for food in the area brought us to Mexican eatery Maradentro, which opened in March last year. The place is the brainchild of Jesse Gomez and Corporate Executive Chef/Partner Jose Acevedo, and is part of the Cocinas y Calaveras family. The restaurant group also includes Yxta in Downtown and three Mercado locations in Santa Monica, Beverly Grove, and the Hollywood Hills.
A bit of history
: Jesse Angel Gomez was born in 1974 in Chinatown's French Hospital, but grew up in Eagle Rock and Highland Park. His father passed away early on, so he was raised largely in the midst of his family's restaurant, El Arco Iris, which was founded by his grandparents, Querétaro immigrants Gustavo and Irene Montes, in 1964. He ended up working there on occasion during his high school years, but his mother encouraged him to seek another path. Gomez thus decided that he wanted to become a lawyer, and after finishing up at South Pasadena High in 1992, eventually found himself at Princeton. He graduated in 1998 with a degree in psychology, and the next year, took classes at Loyola Law School for a semester before dropping out.
With his passion for law behind him, he decided to focus on learning the restaurant business. Gomez started out working at Cha Cha Cha, a now-shuttered Caribbean eatery in East Hollywood, as well as at the defunct Crocodile Cafe in Pasadena. He also spent time at Innovative Dining Group's Katana, then went to Hillstone Restaurant Group for a year-and-a-half, where he worked in management at Houston's. Another Houston's alum, Nic Villarreal, opened
Taléo Grill
in Irvine in 2004 (closed 2012), and brought Gomez on board. It was here where he would meet his future business partner, Jose Acevedo.
Acevedo is a native of Guanajuato, Mexico, and started cooking at the age of six. He was the oldest child in his family, and thus helped out his mom in the kitchen while his father ran a
carnicería
. He furthered his culinary education by learning from other family members, including many located in other regions of Mexico, and later found himself working in the
familia
's butcher shop. Acevedo spent a couple years in Mexico City, taking in the cuisine scene there, and eventually moved to the US when he was 19. Stateside, he was employed at chain-y spots such as Cheesecake Factory and Claim Jumper, and also worked at the now-closed Wolfgang Puck Cafe at the Irvine Spectrum. And yes, he's also a Hillstone vet, having cooked at Houston's before taking on the Executive Chef role at Taléo.
Gomez, however, didn't stay at Taléo for long. In April 2005, he went back to El Arco Iris, remodeling the space and revamping the menu to considerable success. In 2006, he was even able to have his mom, Angie Montes, retire. That retirement turned out to be brief, as she started running the place again after her son debuted Yxta at the end of February 2009. Gomez's first solo project took over the old Skid Row-adjacent Sixth Street Bar and Grill, and was named after Loyola professor and novelist Yxta Maya Murray. Initially, the spot was basically an updated version of El Arco Iris, but in 2010 he hired Acevedo to take over the kitchen, which marked the start of their partnership.
Their work at Yxta formed the basis for Mercado. The first launched in SaMo in May 2012, taking over the former La Serenata de Garibaldi. This was followed in September 2013 by another on West 3rd, in the old Faux Pas Bistro location. In February 2014, news came that Gomez and Acevedo would be taking over Halong Bay in Eagle Rock and turning it into a seafood-focused concept called Maradentro, but that deal ended up falling through (the space is now Posto Giusto). Mercado #3 debuted in October that year, taking over from Spoonful in a northern stretch of Hollywood. Maradentro did eventually open in April 2015, not in Eagle Rock but in Studio City, at the site of Jeffrey Saad's La Ventura. Meanwhile, a second outpost of the seafooder bowed in March 2016 in Brentwood. In December 2016, Gomez announced the closure of the first Maradentro, and the group is now flipping the restaurant to a more casual Mercado Taqueria.
Lastly, in February it was announced that El Arco Iris would be closing after 53 years in business. Gomez had considered turning the restaurant into another Yxta, but ended up selling the property to local real estate investment firm Coda Equities, ostensibly because it would allow his mother to retire quickly. Their final night of service was April 27th, and the space is now home to Partido, a Filipino/French joint from Chef Lynne Tolentino.


Maradentro resides on the ground floor of The BW apartment complex, at an address that once held Cafe Röckenwagner (which closed in July 2015). It spans 1,800 square-feet and seats about 80 across the dining room and patio out front. Design duties were handled by Ana Henton (
The Bellwether
,
Love & Salt
,
Aestus
,
Ración
,
Lukshon
, Corkbar,
BreadBar
), who's sort of the go-to designer for the restaurant group. It's a vaguely nautical space, with lots of light wood and some ocean-y blue.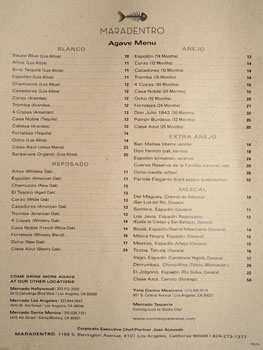 Menu-wise, Acevedo has an approachable selection of Mexican-inspired dishes, with an emphasis on seafood of course. To drink, you get a limited cocktail list by Cesar Arenas (Las Perlas), 10 beers, a small array of wines, and a fairly lengthy agave list. Corkage was $20, with a limit of two. Click for larger versions.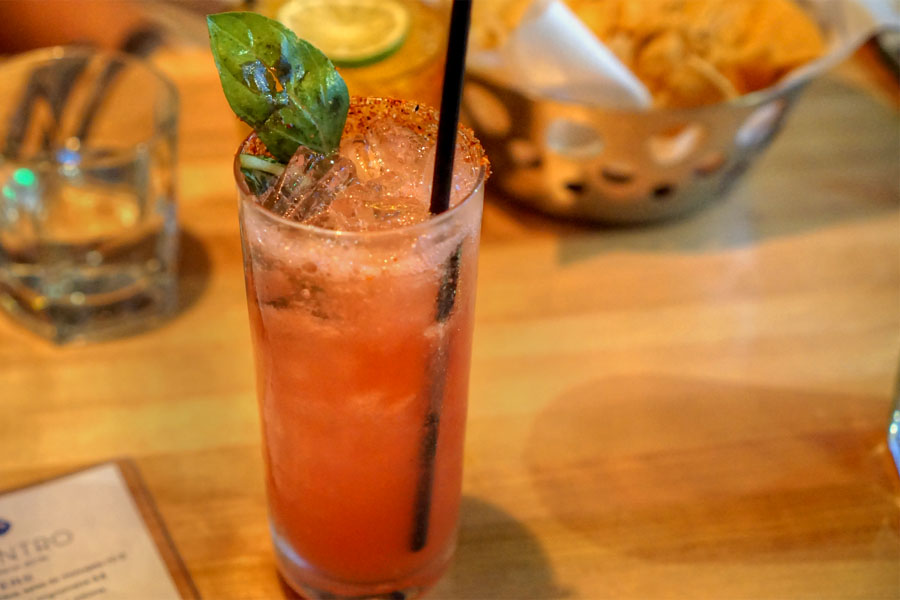 Watermelon Basil Margarita [$13.00]
| altos silver tequila, fresh watermelon, lemon juice, aperol, basil, chile tajín rim
As always, we got things going with a few cocktails. This first one tasted of candied, Jolly Rancher-like watermelon, but with a boozy back end and a touch of spice to keep things in check.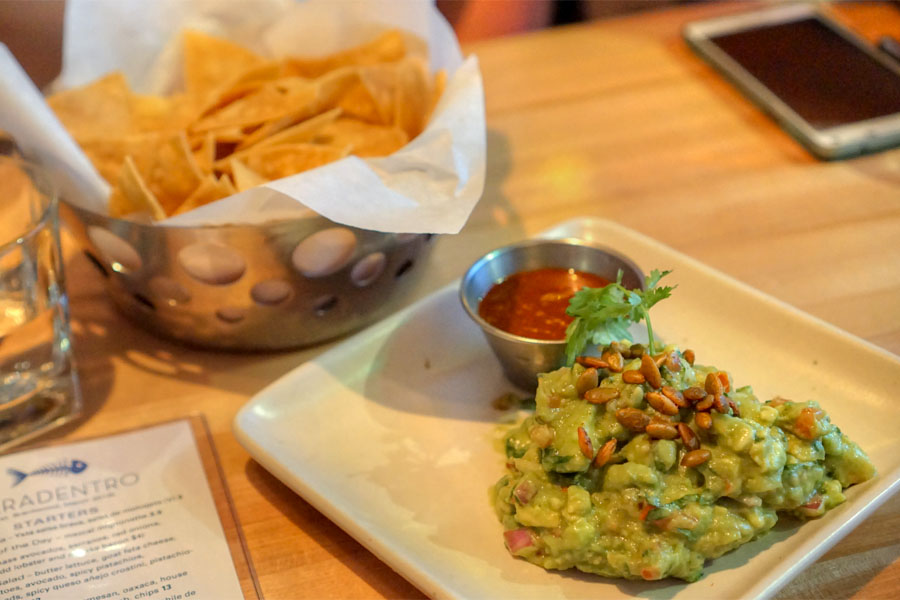 Guacamole [$11.00]
| hass avocados, serranos, red onions, cilantro
The guac delivered--a creamy, classic preparation with a welcomed nuttiness and hint of heat. Also appreciated was the smoky salsa on the side.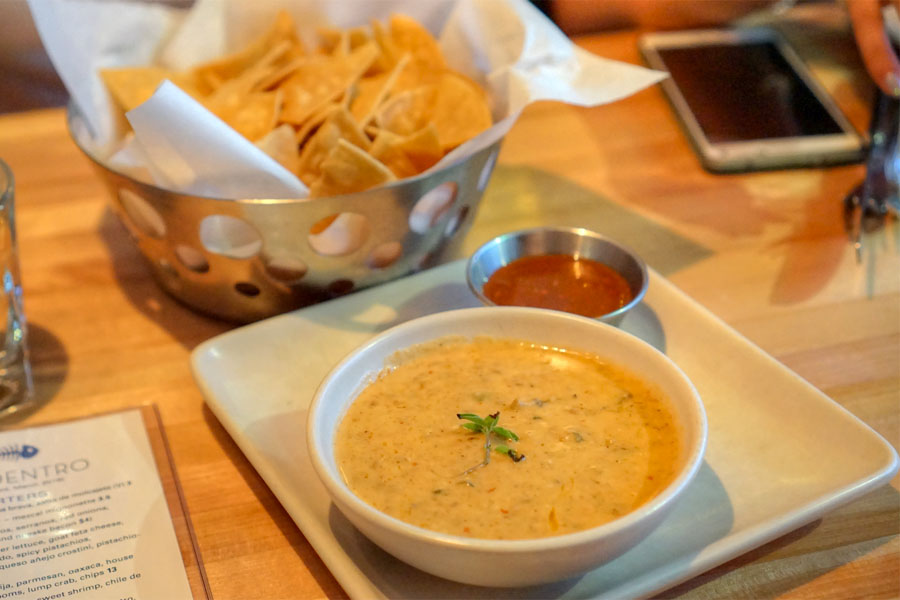 Crabiqueso [$13.00]
| melted cotija, parmesan, oaxaca, house chorizo, poblanos, mushrooms, lump crab, chips
A cheesy dip of crab and cheese also hit the mark, with the brine of the crustacean working pretty well with the copious amounts of
queso
. Also key was the chorizo, which added a depth and heft to the dish.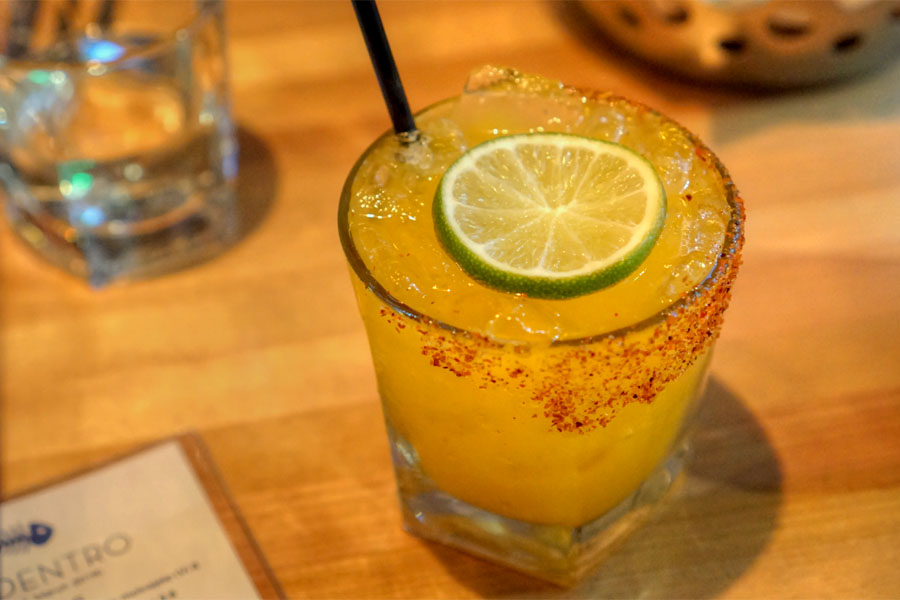 Margarita of the Day [$14.00]
The evening's special margarita featured a combo of passion fruit and mango. It worked well enough, with the sweet-tart nature of the passion fruit at the forefront for sure, offset by some spicy undertones that made for a modicum of balance.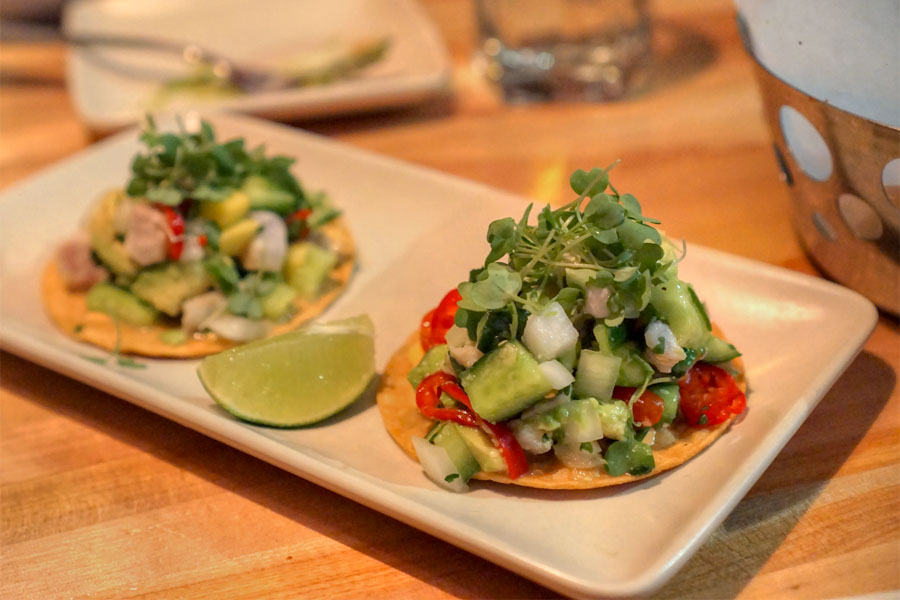 Tostaditas de Ceviche [$15.00]
| fresh white fish, cilantro, onions, avocado, serranos, citrus, chile de arbol aioli
Mini ceviche tostadas were light and crunchy, though they had too much in terms of the veggies and not enough of the actual fish. I would've liked a smidge more acidity as well.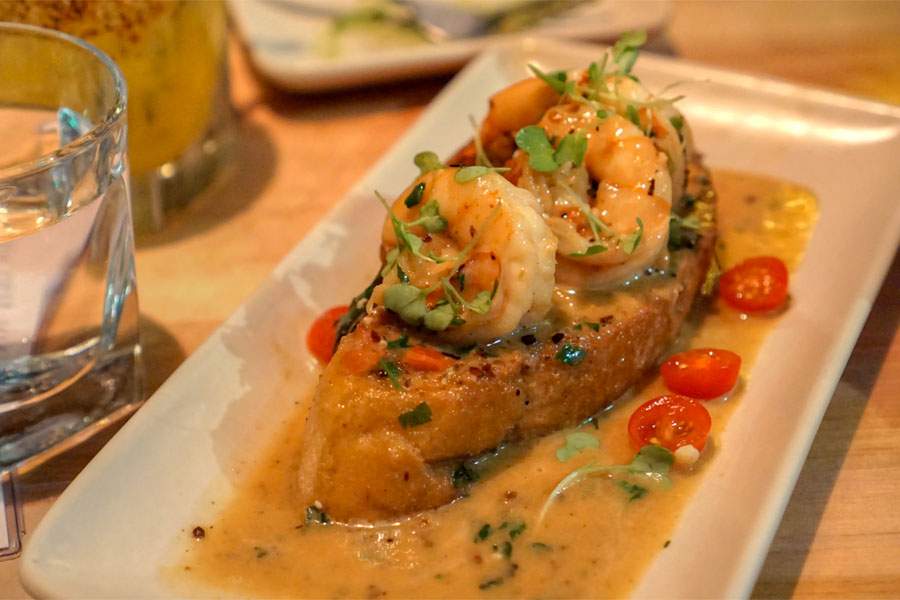 Ajillo Shrimp Toast [$15.00]
| Mexican sweet shrimp, chile de arbol garlic butter, ciabatta
Shrimp arrived a bit overdone, and the bread too heavy, too buttery. I wanted more acid, more brightness,
something
to lift the dish.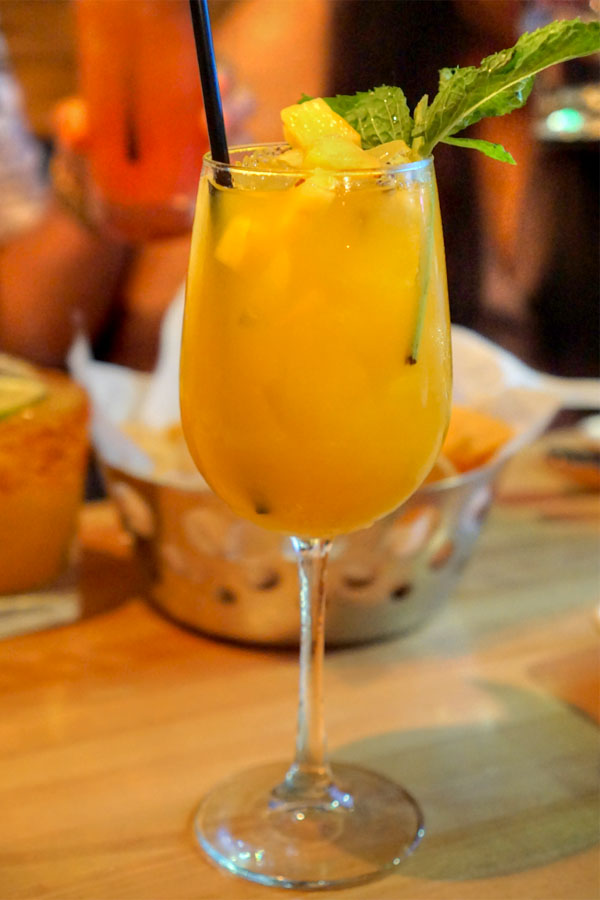 White Sand Sangria [$11.00]
| altos reposado tequila, white wine, fresh fruit
The sangria I found sweet and easy-drinking, with lots of fruit, a touch of wine, and barely any trace of the tequila peeking through.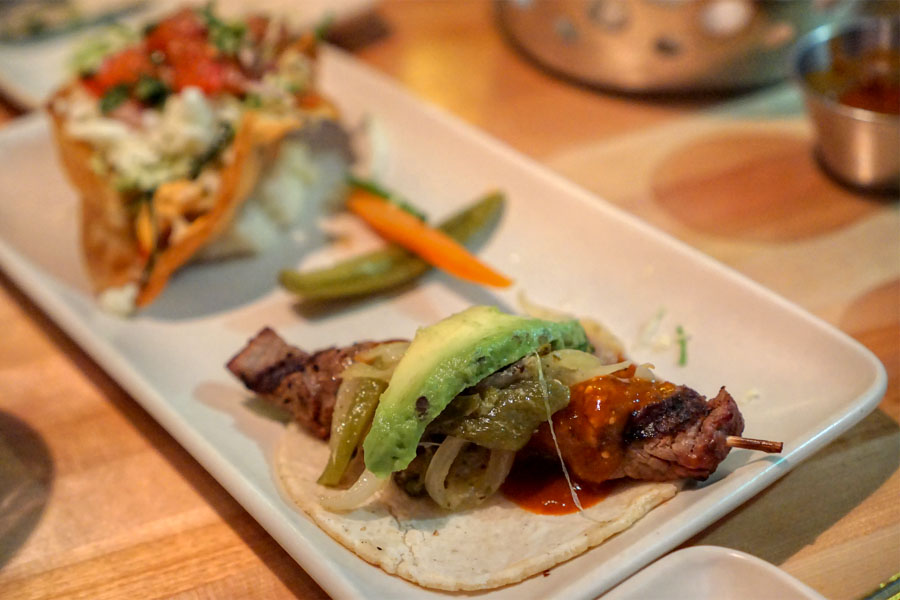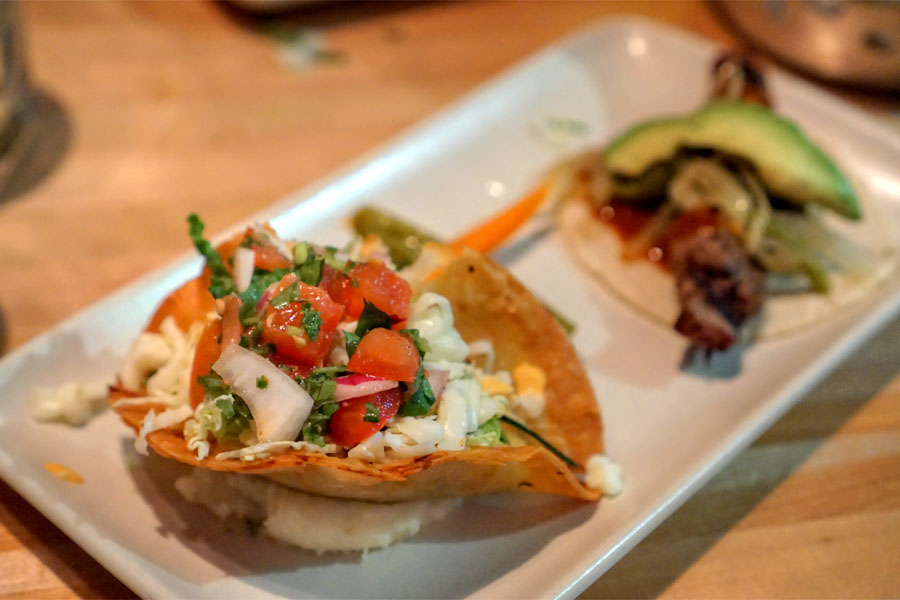 Surf and Turf [$18.00]
| Lobster Taco and Filet Mignon Taco, onions, poblanos, avocado, Yxta salsa brava
Time for tacos. The "surf" was tasty enough, but I had a hard time locating the actual lobster, and interestingly, I actually preferred to eat it with the mashed potato holding the taco shell in place. The filet, meanwhile, came out pretty tender, with a good sear and a nice smokiness from its paired salsa.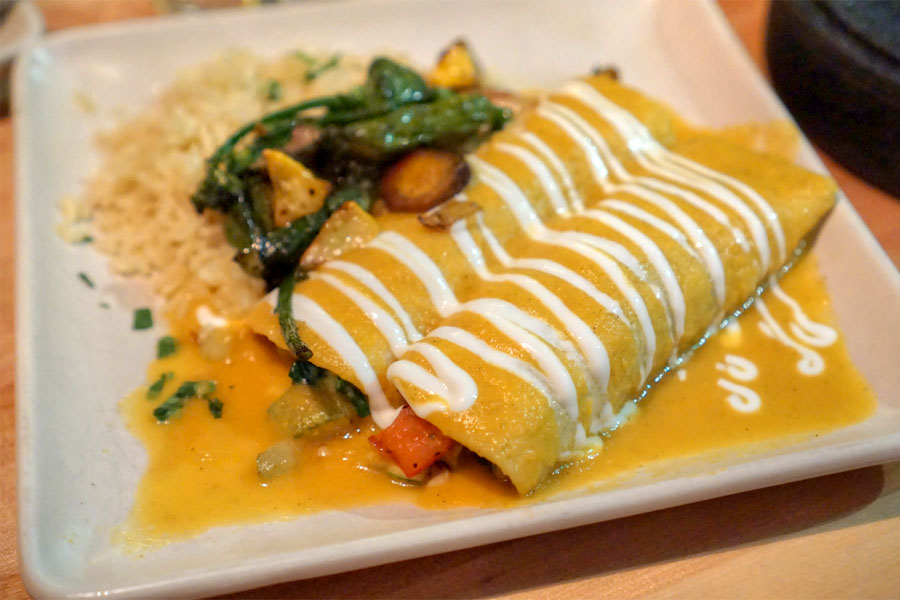 Enchiladas de Verduras [$16.00]
| sauteéd spinach, mushrooms, onions, calabacitas, yellow mole, crema fresca, cilantro lime rice, market vegetables
I felt that the veggies certainly could've used more seasoning, and the mole didn't really help much, coming across as a bit muted. The vegetables, however, were well-textured, and I did enjoy the rice.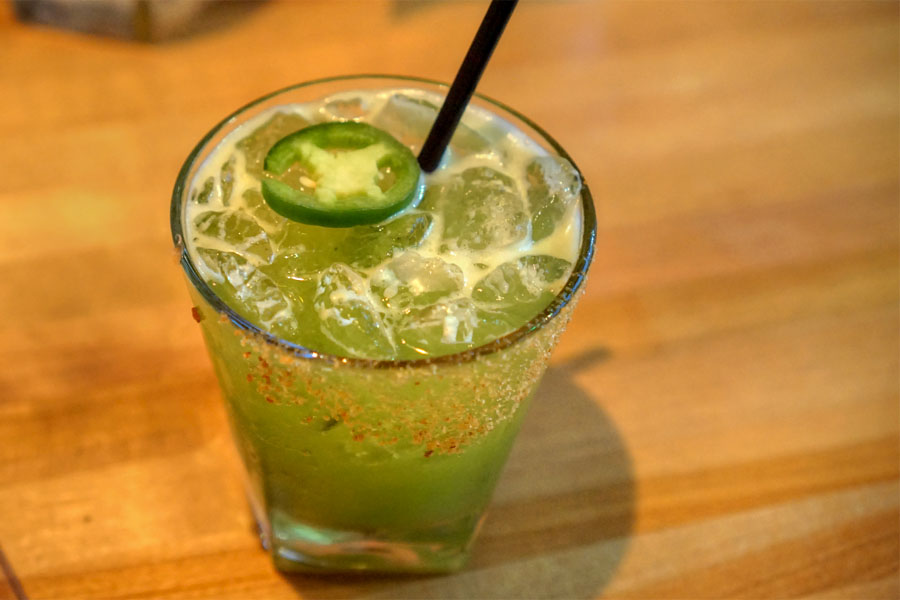 Spicy Cucumber Margarita [$14.00]
| cazadores silver tequila, house jalapeño purée, chipotle salt rim
Our final cocktail showed off loads of cucumber at first, leading to booziness and spice, with a sweetness underpinning everything.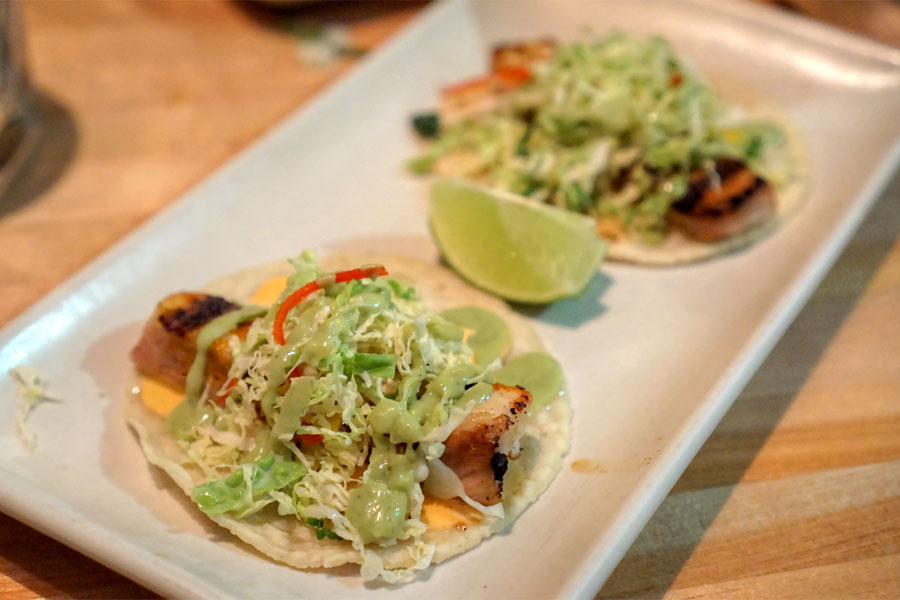 Tacos de Pescado [$14.00]
| grilled white fish, Mexican slaw, avocado salsa, chile de arbol aioli
The
pescado
tacos were pleasant, with the white fish coming out moist, tender, and well-charred, backed by a persistent heat while the slaw imparted a lightness.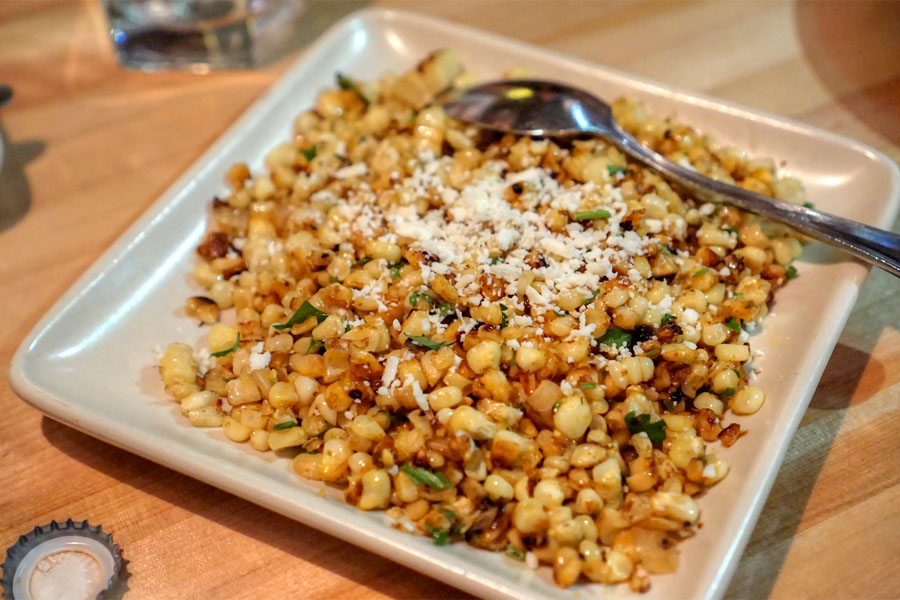 Grilled Corn [$9.00]
| grilled sweet corn, caramelized onions, chile piquin butter, queso cotija
Texturally I was a fan of this take on
esquites
, but the corn seemed overly sweet to me. I wanted more acidity to even things out, perhaps from some lime.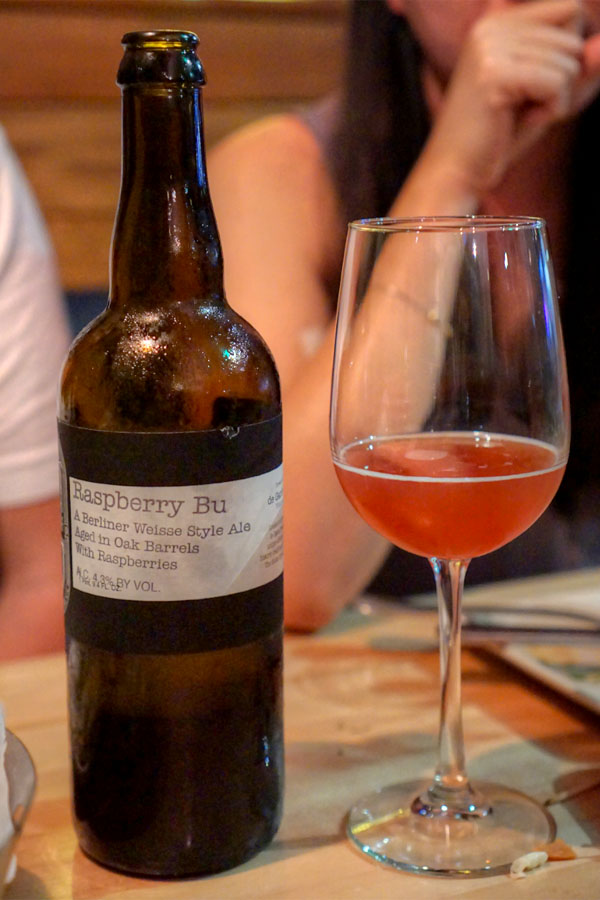 I'd brought along a beer with me, the
2015 de Garde Raspberry Bu
, a Berliner Weisse-inspired sour ale aged in oak with raspberries. The nose here was expectedly tart, but with a good amount of jammy fruit still. On the palate I got more raspberry, but also plenty of sour, acerbic notes joined by light oak and slight yeast.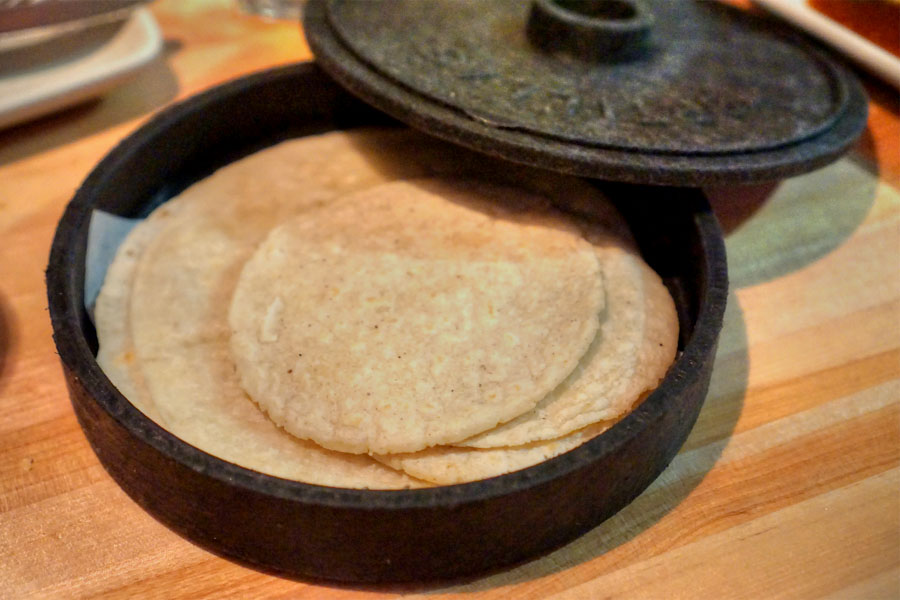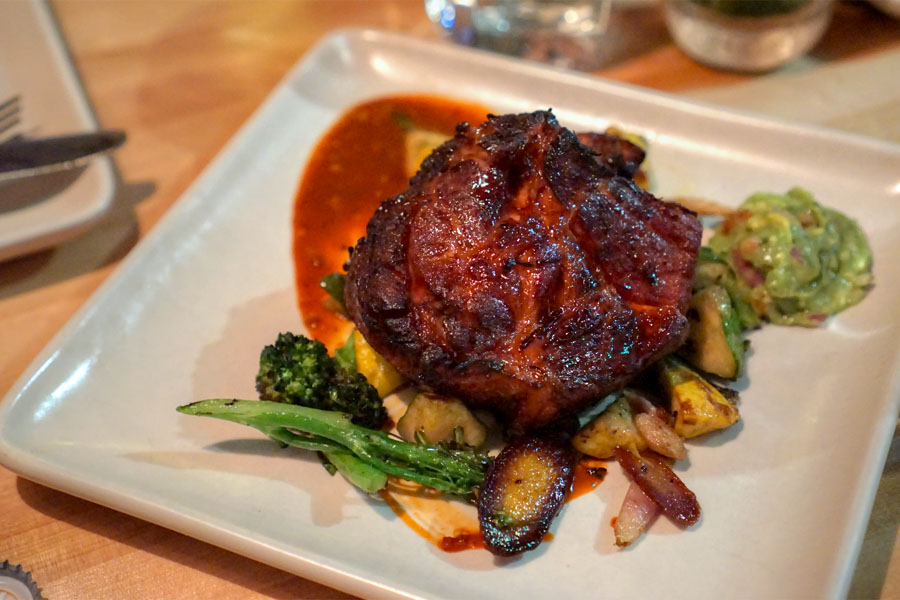 Chef Jose's Carnitas [$24.00]
| slow-cooked natural pork, guacamole, Yxta salsa brava, market vegetables, tortillas
Our final savory was an impressive looking mass of meat. The pork was indeed fork tender, pulling apart at the slightest touch, though I would've liked more crispy bits. It was also a bit on the sweet side, though this was partly offset by the bitterness of the included veggies. Overall pretty tasty when tucked into some tortillas.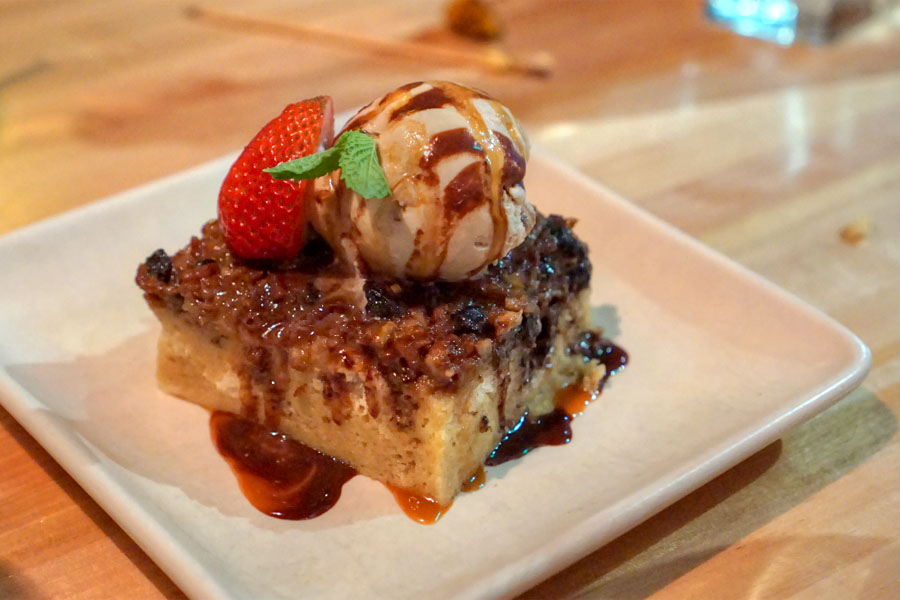 Capirotada [$10.00]
Our bread pudding-like dessert arrived soft and saturated, with rich dark fruit flavors that meshed well with the sweet spiciness of the ice cream.
The Cocinas y Calaveras group has a mission statement, right on their website, of serving "elevated Mexican cuisine that is
accessible to everyone
." With that goal in mind, they've been pretty successful I'll say. However, the result of such a pursuit is cooking that's just not very memorable. Gomez has emphasized his intent of building a brand and growing to as many locations as possible, and I'm guessing that this is merely the inevitable conclusion.