Hip Hot (Monterey Park, CA)
Hip Hot Restaurant
500 N Atlantic Blvd, Monterey Park, CA 91754
626.782.7711 / 626.800.2508 / 626.861.0888
www.hiphotinla.com
Thu 08/10/2017, 07:50p-10:40p

There's no denying that Sichuan food is hot these days, and tonight we visited one of the slightly lesser known contenders in the SGV. Hip Hot is the work of Chef/Owner "Tiana" Tiantian Qiu, and stands out from the rest for its emphasis on seafood (which generally isn't super well represented in the cuisine).
About the Chef
: Qiu spent many of her younger years in Shenzhen, and graduated from Shenzhen College of International Education (an international high school) in 2005. She later moved Stateside for schooling, and completed her studies at Case Western in 2009, majoring in business. After spending some time in Chengdu, Qiu started grad school at USC in 2012, finishing two years later. Following, she and boyfriend (now husband) Kai Lin faced the expiration of their student visas in a year's time, and therefore needed to secure employment. The decision was thus made to start a restaurant, as although Qiu wasn't trained as a chef, she'd always been interested in the biz and had hosted numerous dinner parties in her college years. She soon started working on getting Hip Hot off the ground, and the place ended up debuting not too long after, in March 2015.

Hip Hot resides in the Atlantic Times Square mixed-use project (opened in 2010), and takes over the old home of Fortune Dumpling, which shuttered in November 2013. The interior's definitely been redone to a more casual aesthetic. Note the crab mural, a nod to Qiu's focus on seafood, as well as the glass-topped dining tables, each containing a playful decoration within.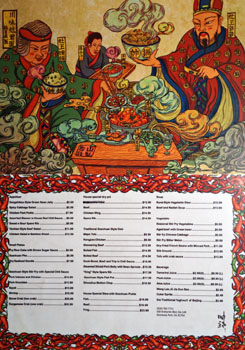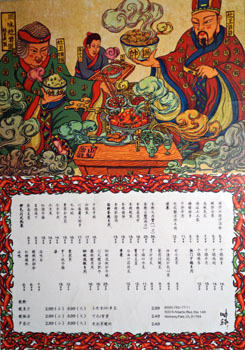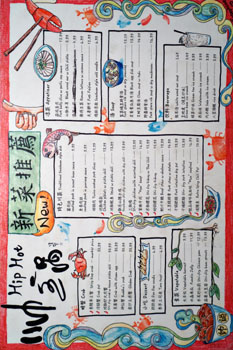 Menu-wise, you get most of your classic Sichuanese dishes, but augmented by a number of more new school preparations, many of which feature seafood (especially on the
chalkboard menu
). To drink, there's a variety of non-alcoholic Chinese-y libations, along with beer. We were also able to BYOB with no corkage fee, which is a huge draw for us. Click for larger versions.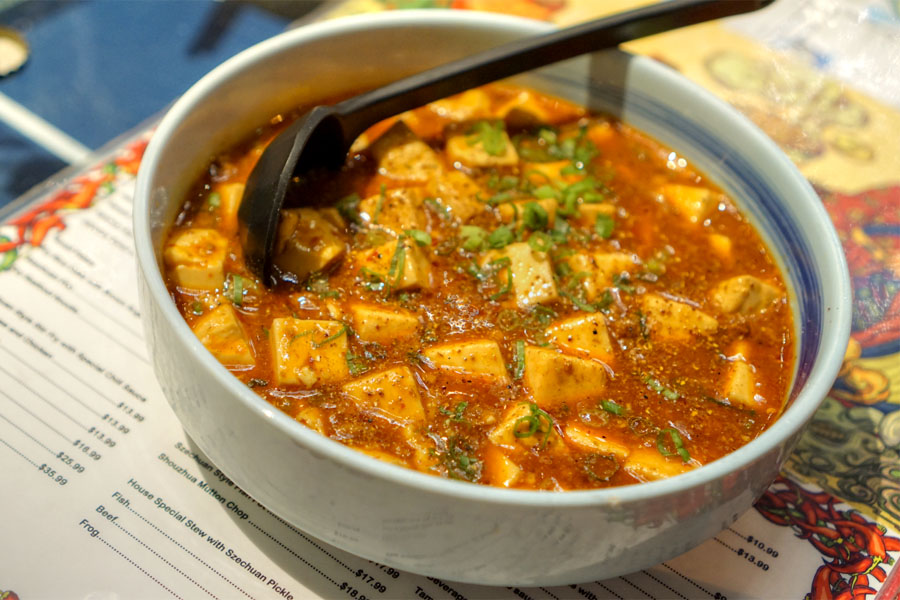 Mapo Tofu [$9.99]
We began with the
mapo doufu
, a staple of the Sichuanese kitchen. What struck me first was its smell, which was intensely, intensely peppery and detectable from well across the table. The taste continued to display that pepperiness, along with just enough
mala
and a measured amount of heat. This all meshed beautifully with the actual tofu and minced meat in the dish. Very nice.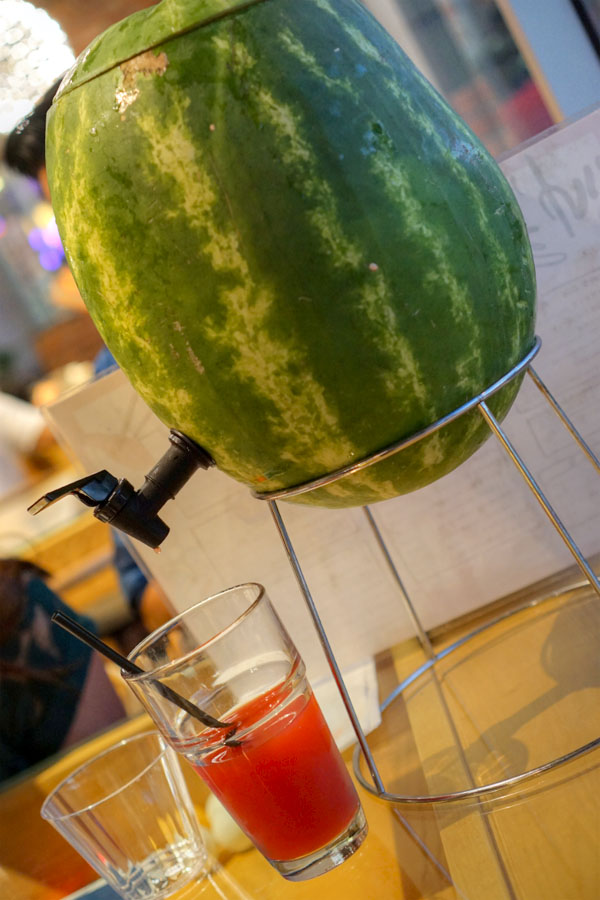 Watermelon Juice Party [$18.99]
I'm not sure if it made for a party
per se
, but the watermelon juice was as delicious and refreshing as you'd expect. However, we kept wondering if they reuse the watermelons--probably best not to think too much about that.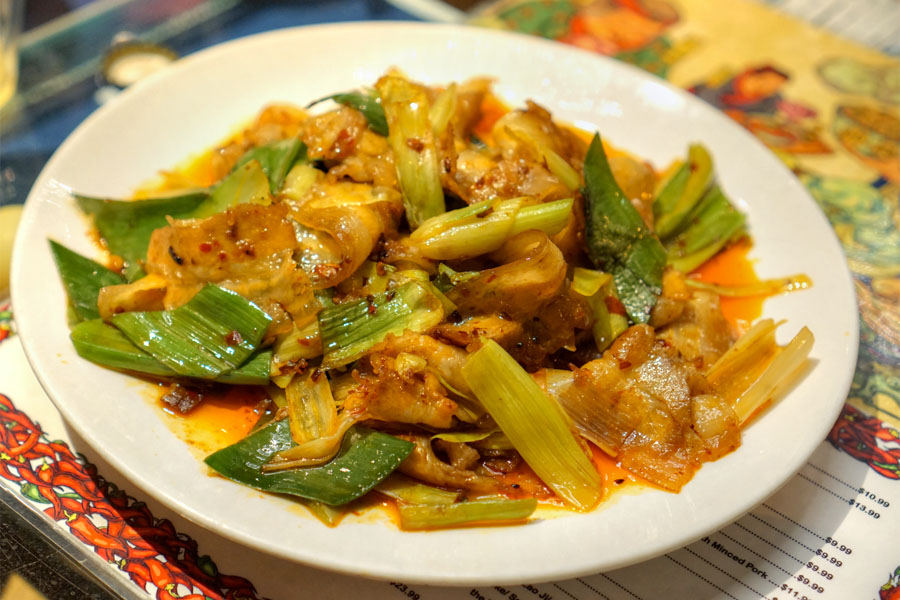 Twice Cooked Pork Slices [$12.99]
The
hui guo rou
was certainly one of the better versions I've tried. I really liked the thinness of the pork, which made for a great textural combination of firm, crisp, and slick. And in terms of taste, the richness of the meat definitely worked alongside the zippiness of those leeks.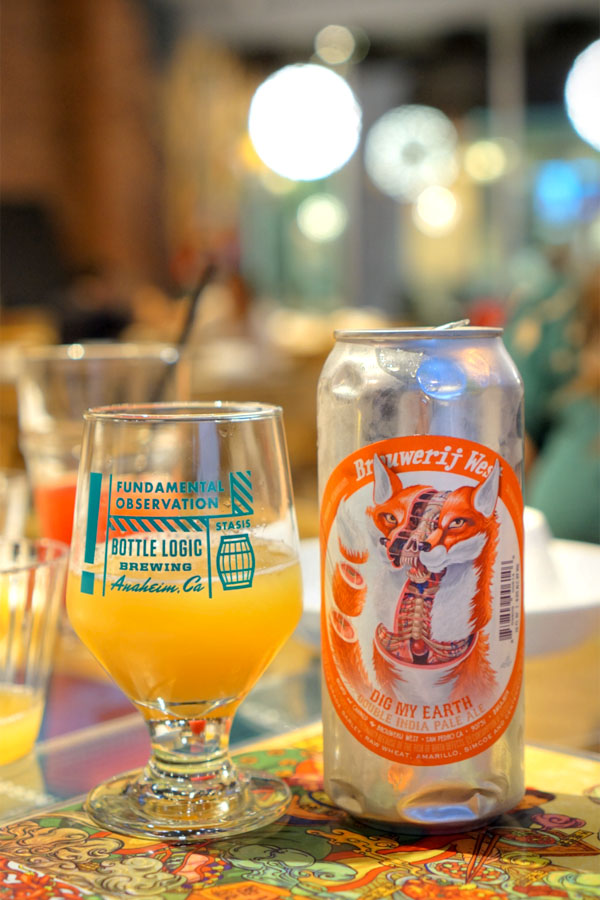 First up beer-wise was the
2017 Brouwerij West Dig My Earth
, a double IPA with Amarillo, Simcoe, and Centennial hops. I got a surprisingly weak nose, with what seemed like melon coming across, along with just a trace of herbiness. On the palate, think soft, easy-drinking, with light hop bitterness, pine, and subtle citrus fruit. Nothing really screamed for attention here, but we still found the beer quite tasty.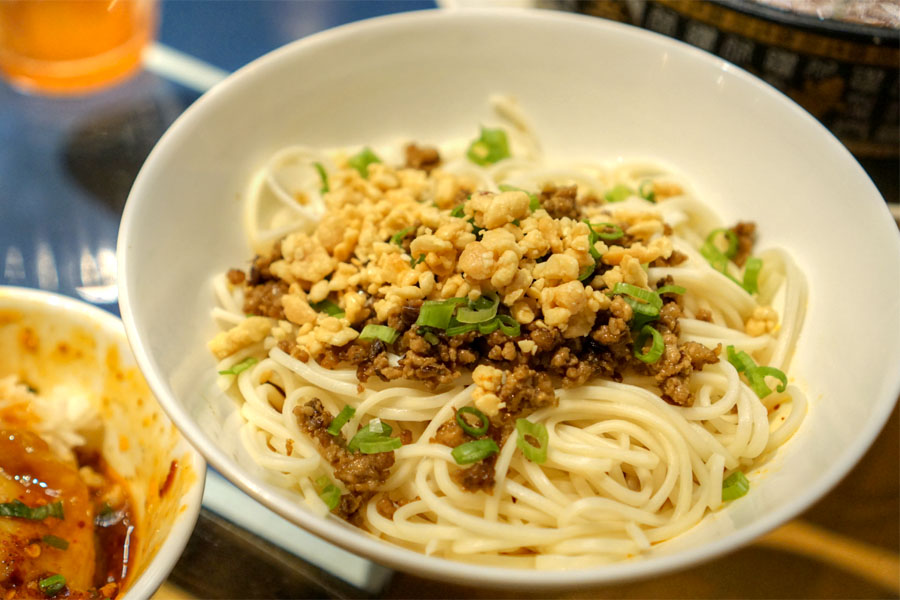 Dan Dan Noodle [$6.99]
The
dandanmian
was a relatively restrained preparation. I got a nice texture on the noodles, while flavors definitely veered nutty, with a heat building up slowly.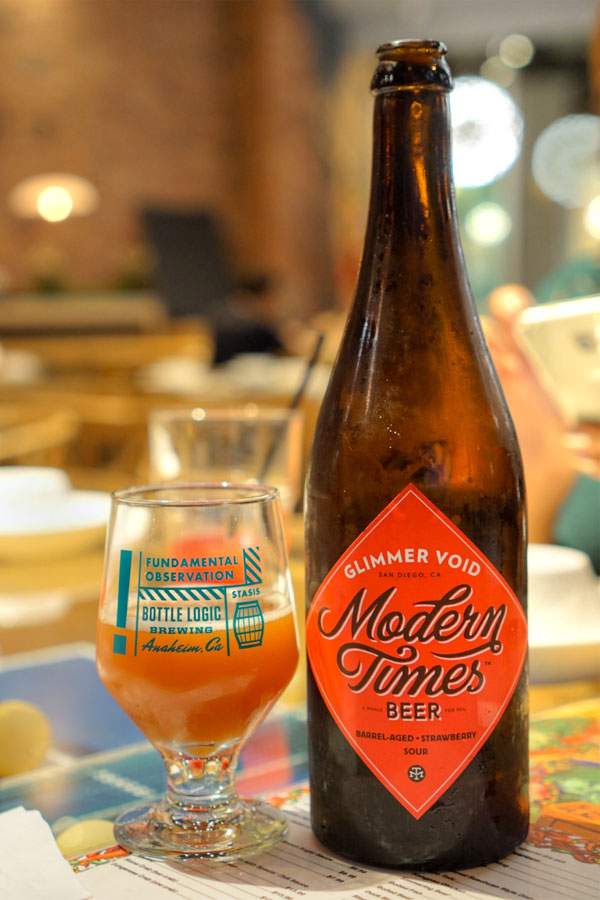 The
2017 Modern Times Glimmer Void
was a blend of a red wine barrel-aged
oud bruin
and a red wine barrel-aged Flanders red, fermented with Lacto/Pedio/Brett, with strawberries added. Aromas displayed berry and vinous nuances, with a backing of funk. The taste, meanwhile, went sour, tart, acidic at first, then transitioned to a blast of long-lasting strawberry layered over oak and red wine.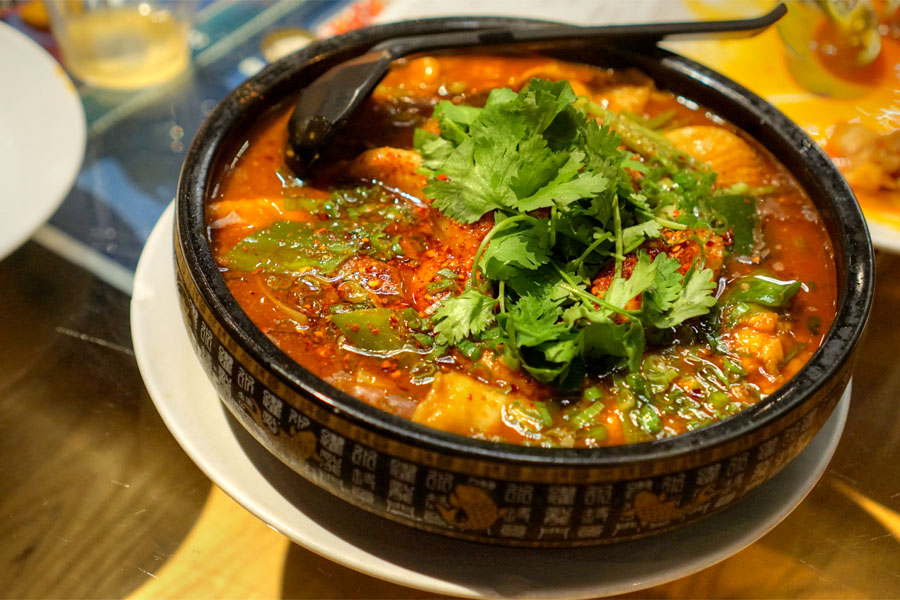 Boiled Fish [$14.99]
Shuizhu yu
is one of my favorite Sichuanese dishes, and Hip Hot's did not disappoint. The fish came out supple but flaky, its delicate flavors working effortlessly with the palpable, yet not overwhelming heat and the dish's vegetal notes. Great over some rice.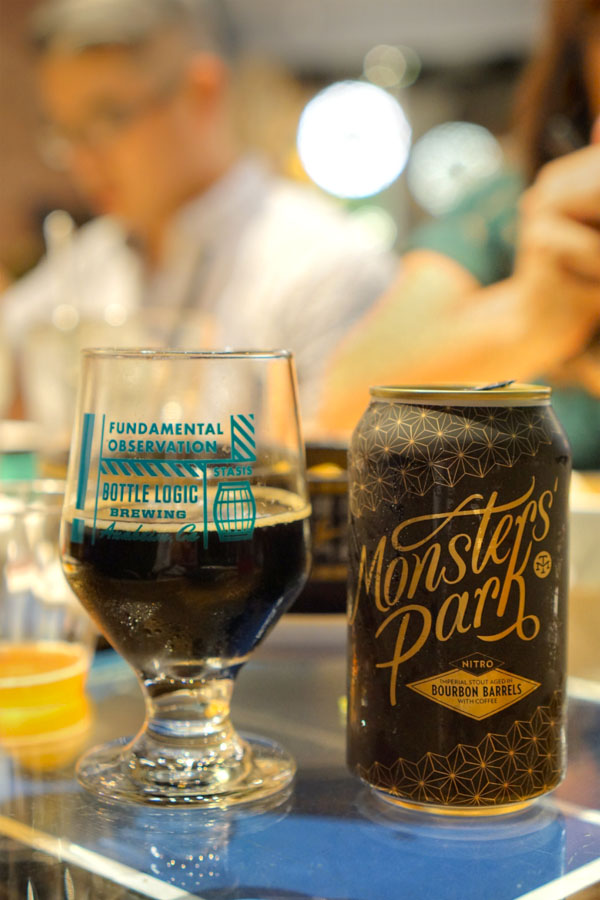 Next to drink was an imperial stout, the
2017 Modern Times Nitro Monsters' Park Aged in Bourbon Barrels with Coffee
. Very appealing nose filled with cozy wafts of chocolate. On the palate, the beer was ridiculously smooth (due to the use of nitrogen), and just glided down your throat, leaving traces of roasty coffee and chocolate in its wake.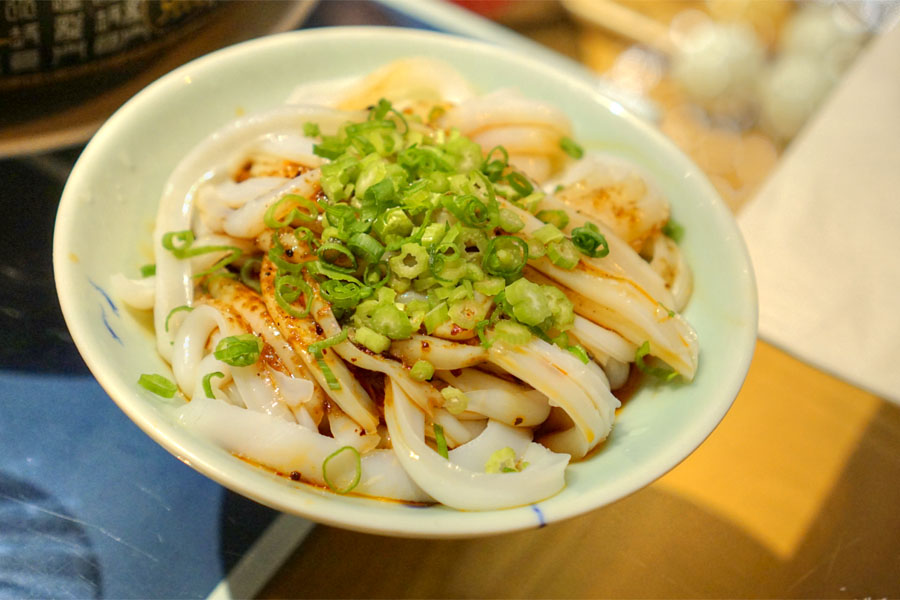 Dongzhikou Style Green Bean Jelly [$5.99]
The
liangfen
was spot on, and modeled, I assume, after that of the well-known
Dong Zikou Zhang Lao Er
restaurant in Chengdu. The noodles were slippery and supple, a perfect base for a piercing,
mala
spice that really stays with you.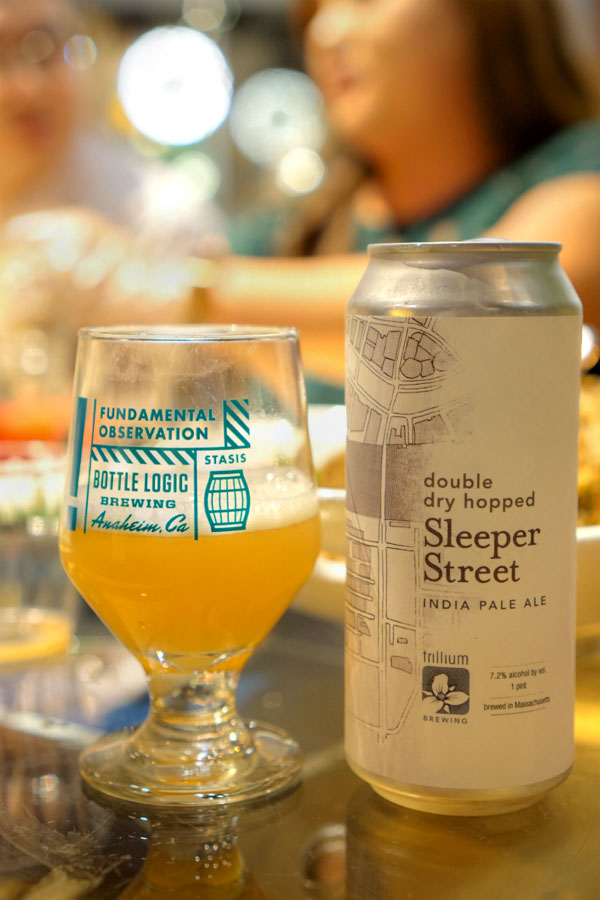 The
2017 Trillium Double Dry Hopped Sleeper Street
was another IPA, this one hopped with Columbus and El Dorado, then dry-hopped with even more El Dorado. Its bouquet was super bright, yet soft, with citrus and an almost candied character. The taste was fruity, tropical, round, but with a tinge of bitterness that lingered.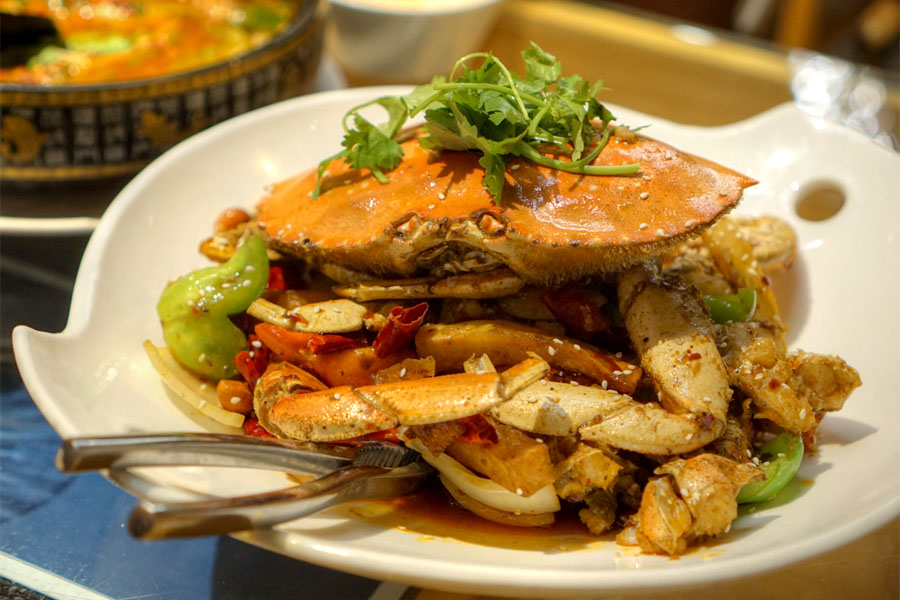 Szechuan Style Stir Fry with Special Chili Sauce - Dungeness Crab [$35.99]
We had to get Hip Hot's signature crab of course, and I have to say that I was pretty impressed. There was certainly heat in the dish, but it was a deliberate, calculated heat, one that managed to pique the palate without overwhelming the soft, sweet, briny crabmeat. The veggies also worked superbly for contrast, and I was especially fond of the batons of potato, which were almost like what you'd find in a
lomo saltado
.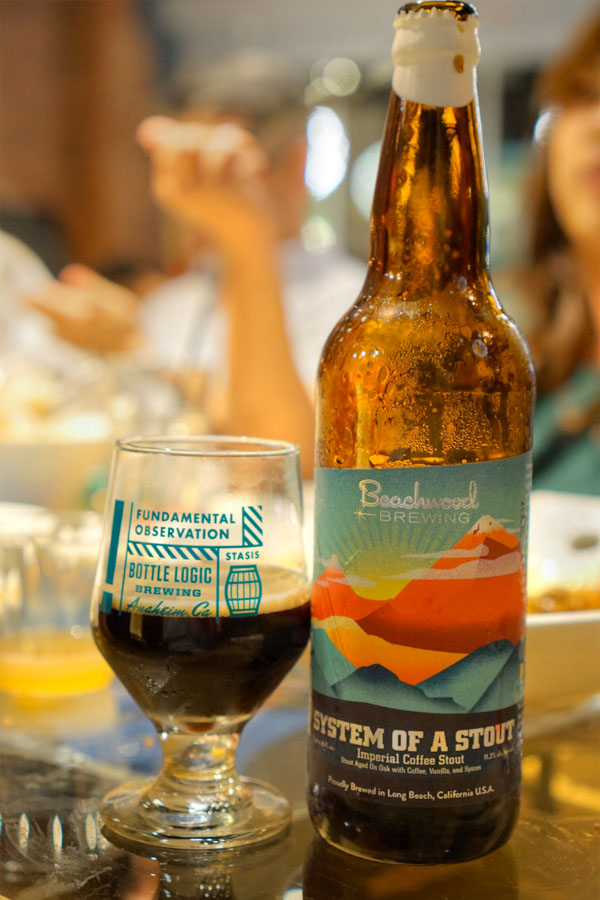 The second stout of the evening came in the form of the
2017 Beachwood Vanilla System of a Stout
, which was aged on oak with the addition of Portola coffee, vanilla, cardamom, and molasses. Aromas were rife with vanilla-imbued chocolate--very nice. Taste-wise: smooth chocolate and malt, light coffee, and omnipresent vanilla. Much better than I was expecting.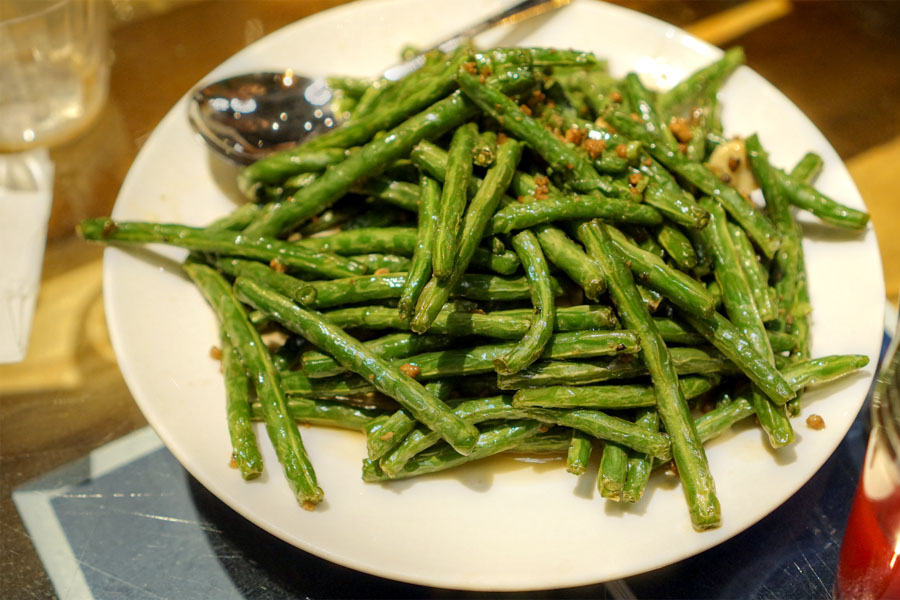 Dry-Fried French Beans with Minced Pork [$11.99]
Gan bian siji dou
tends to be one of my go-to Chinese dishes, and Hip Hot's was arguably the most refined version I've had. What I noticed first was the crunch and blistering of the
haricots
. Then came the taste, which showed off the savoriness of the pork without losing sight of the actual bean.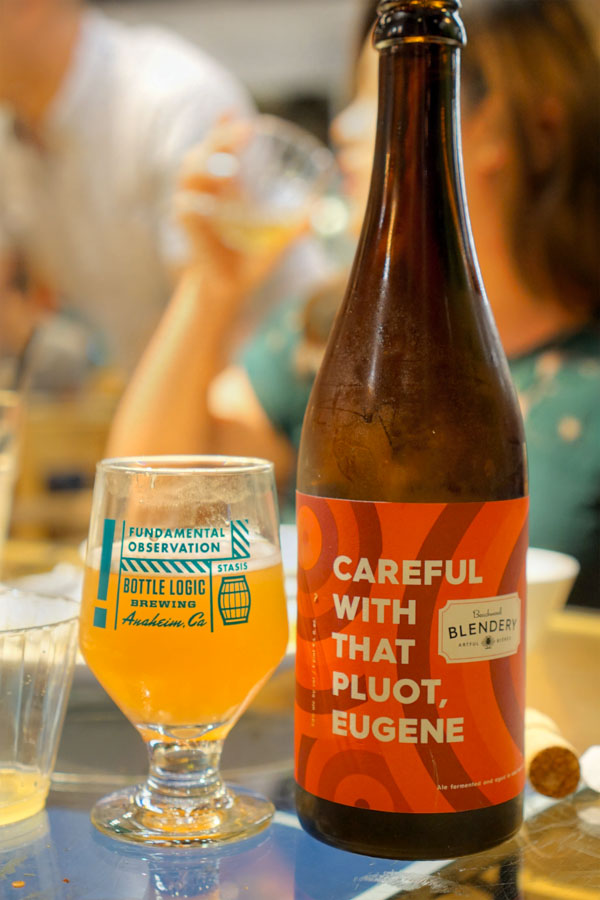 The
2016 Beachwood Blendery Careful With That Pluot, Eugene
was a lambic-inspired sour ale, aged in oak barrels with Crimson Heart pluots from Murray Family Farms. Appealing nose filled with sweet, near-candied fruit and funk. The taste followed, with soft, sweet stone fruit flavors commingled with restrained acidity and barnyard.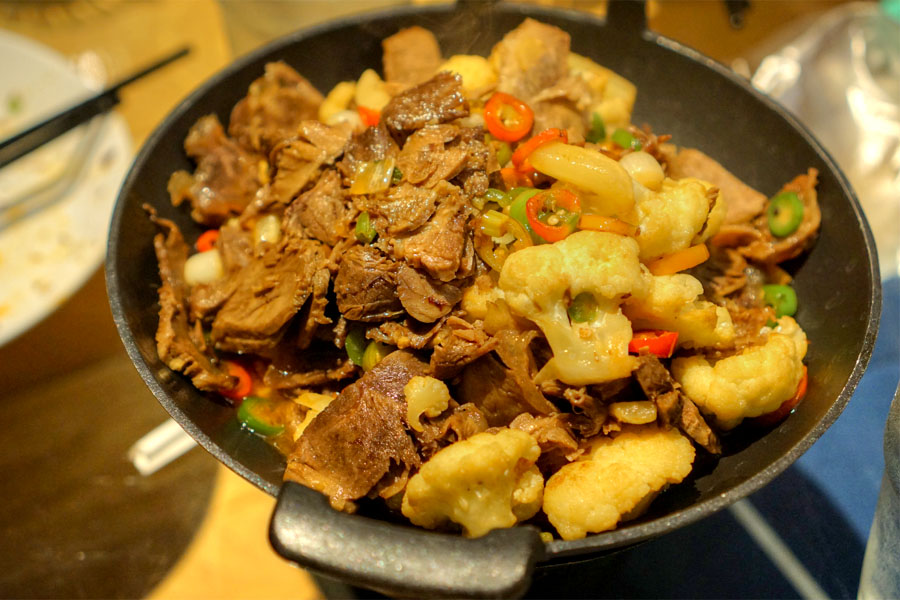 Special Beef & Cauliflower Dish [$13.99]
One of my dining companions requested a special beef dish, and this was the result. The actual meat here was almost like what you'd find in
fuqi feipian
--flavorful and well-spiced, with a nice balance of lean and fat. The cauliflower worked as a foil (though it was softer than I'd prefer), while a medium dosing of heat served to bring everything together.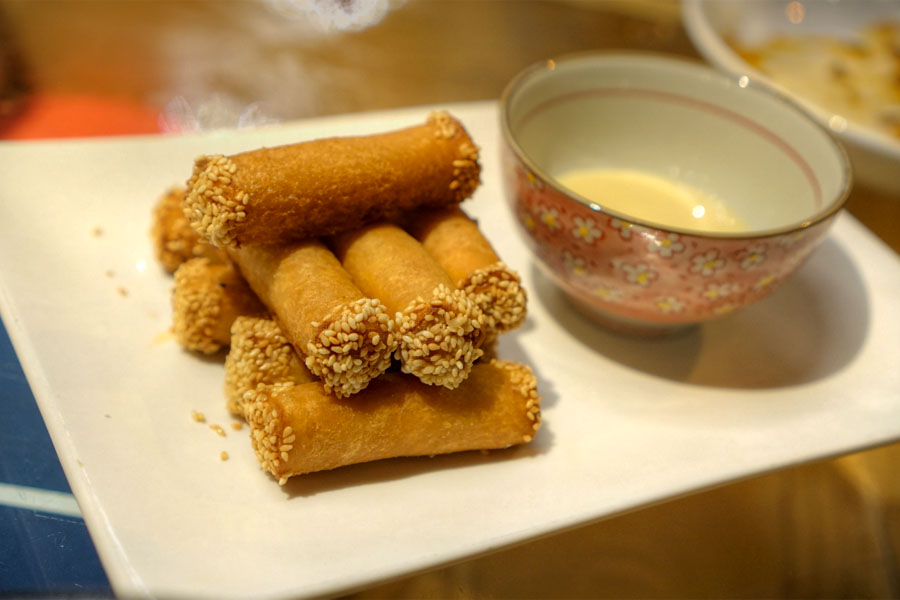 Taro Toast [$6.99]
The kitchen ended up sending out two complementary desserts, I'm assuming because we'd ordered quite a bit of food. The first was surprisingly to my liking, largely thanks to the back-and-forth between the sugary taro and the nuttiness of the sesame. Great dipping sauce, too.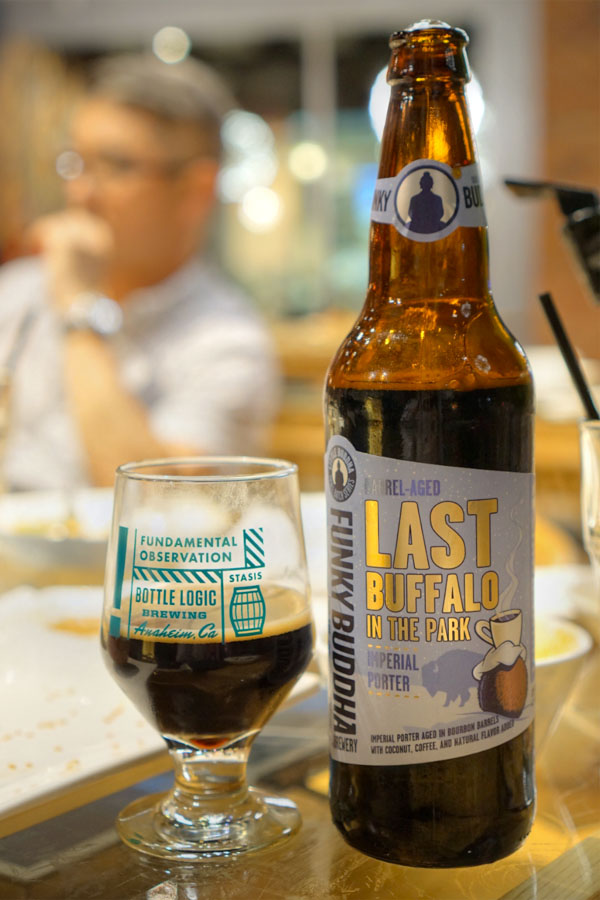 Our final beer was the
2016 Funky Buddha Last Buffalo in the Park
, an imperial porter with coconut and coffee that was aged in bourbon barrels. This one smelled great, with huge amounts of sweet coconut all up in my face. The taste brought oak and coffee up front, which quickly transitioned to more coconut and chocolate, the finish displaying a tiny bit of heat.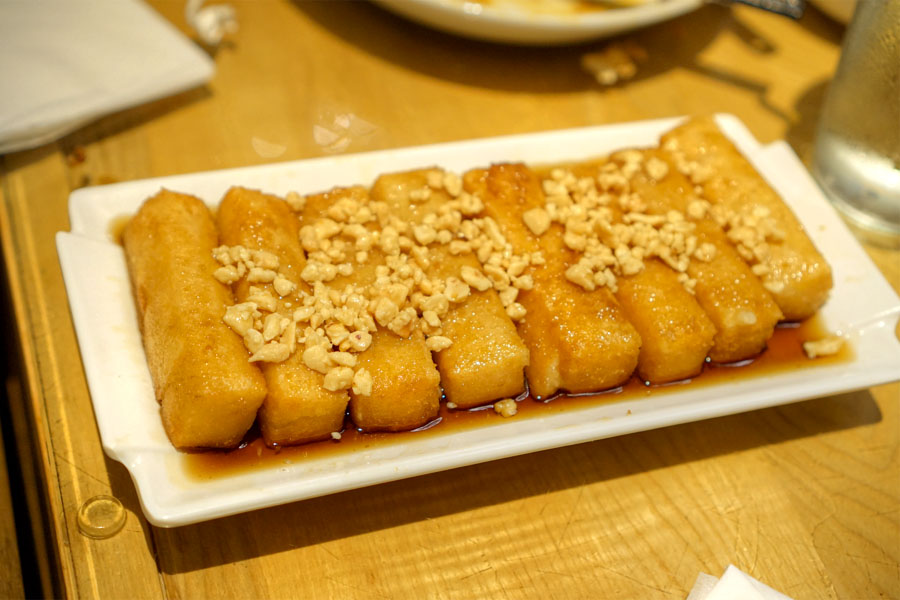 Fry Rice Cake with Brown Sugar Sauce [$6.99]
Bricks of rice cake were a combination of gelatinous and crisp, and came loaded with sticky, sugary flavors offset just a smidge by the nutty bits on top.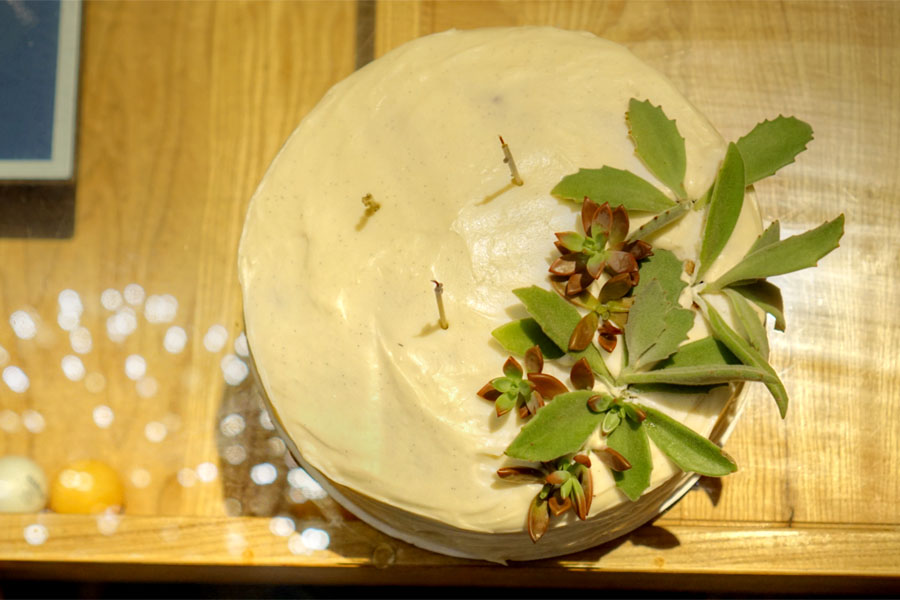 This was a birthday dinner, so one of my fellow diners brought along a homemade Hummingbird cake, replete with pineapple, pecan, cream cheese frosting, and real succulents as the decorative elements. It was delish, with a great interplay between the cake's tropical flavors and the nuttiness of pecan. Really nice with the beer above.
I have to say that I was extremely pleased with Hip Hot. The cooking was pretty consistently strong, showcasing robust, yet polished flavors laced with purposeful amounts of heat and spice. Based on what I've seen and tasted so far, I'm a fan of Qiu's take on the cuisine, and I'm curious about the rest of the menu. We can't forget about the free corkage either, which is reason enough to return.