Guisados DTLA (Los Angeles, CA)
Guisados DTLA at Spring Arcade
541 S Spring St, Los Angeles, CA 90013
213.627.7656
www.guisados.co
Sun 07/30/2017, 07:45p-09:05p

Created in 2010 by Armando De La Torre and Chef
Ricardo Diaz
(who's since left the partnership), Guisados has no doubt cemented itself as one of the premiere taquerías in the Southland, known for its braised meats and hefty tortillas. I last reported on the restaurant back in
November 2013
, and since then, Guisados has expanded from two locations to five. The chainlet's third outpost opened in August 2014 inside Downtown's Spring Arcade Building, taking over a spot that previously held an electronics retailer. West Hollywood followed in May 2015 (at the old Gangnam Pocha), while Burbank dropped in October 2016 (in the former Orchard Flats Cold Pressed Juicery space).

The menu retains Guisados' familiar format, with most tacos priced at $2.95 a pop (more detailed descriptions of the food are available on the
printed menu
). The six-selection sampler remains, as do the weekend-only tamales. New however are the breakfast options, which I wish were served all day. To drink, you get familiar agua frescas, but also beer and sangria thanks to this location's liquor license.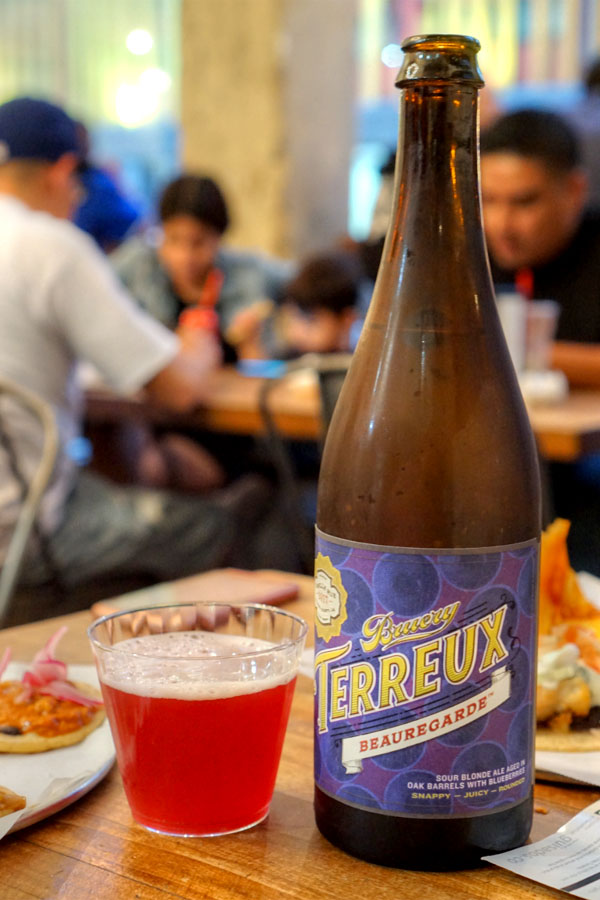 Given that Guisados has a long tradition of BYOB, I brought a few beers with me. First was the
2017 Bruery Terreux Beauregarde
, an oak-aged sour blonde with blueberries. Nose was quite nice, with funky, barnyard-y notes commingled with sour berry. The palate went crisp, bright, with tart blueberry flavors layered over light yeast and oak. One of the tastiest sours I've had from the brewery in a while.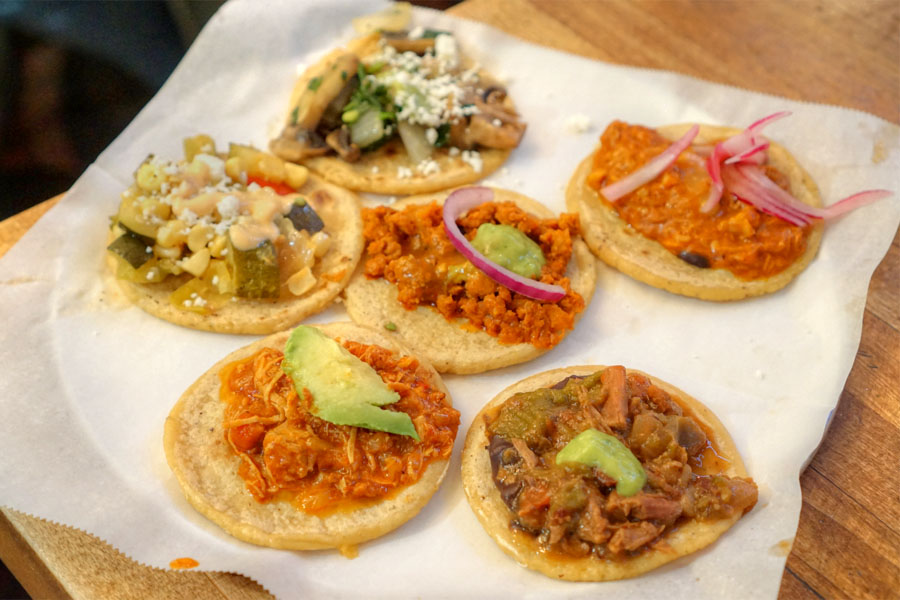 6 Mini Taco Sampler [$7.50]
We wanted to try as many of the tacos as possible, so we went with two of their samplers.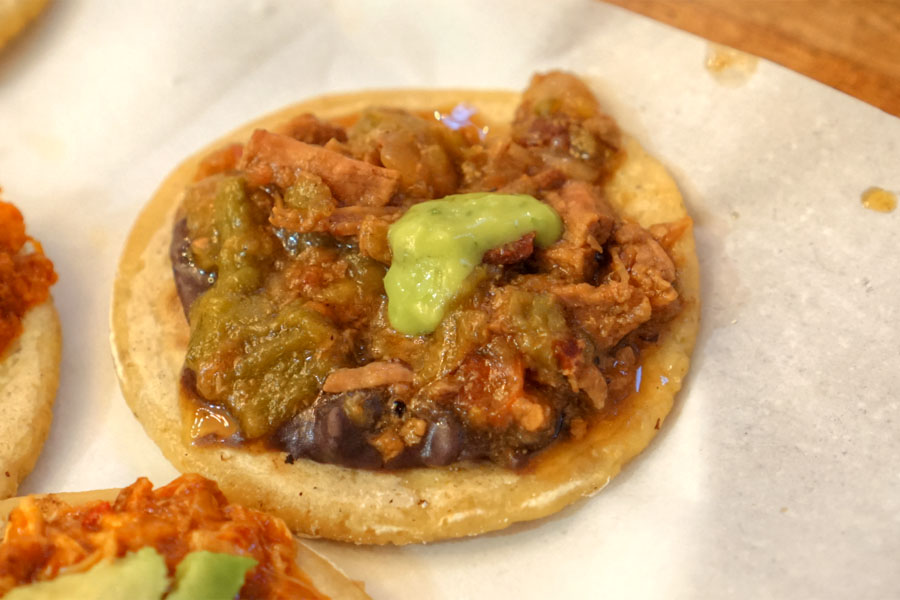 Steak Picado
| flank steak braised with bacon, peppers and onions -served with salsa verde chile atop black beans-
Our first taco showcased the rich, deep, classic flavors of the long-cooked beef, perked up just enough by a dollop of salsa verde.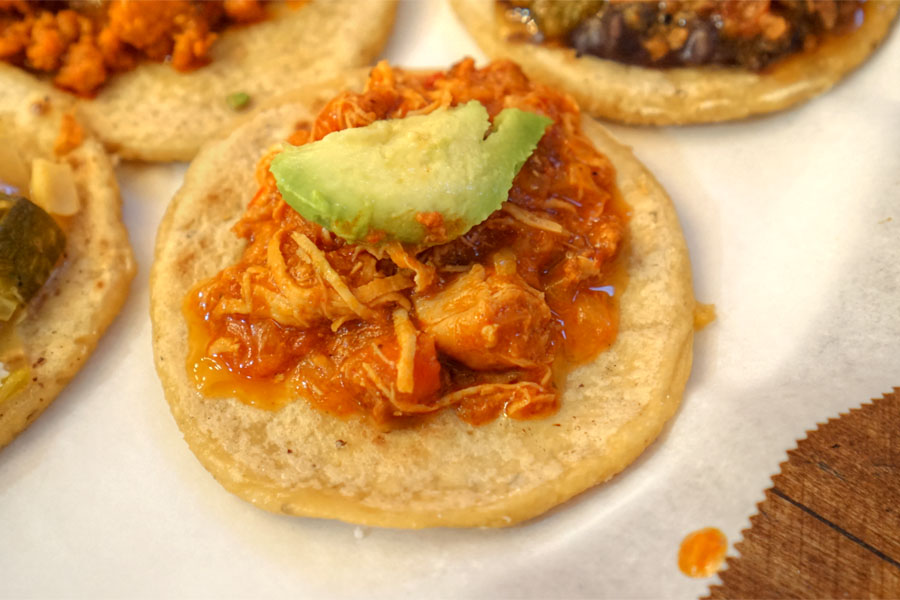 Tinga de Pollo
| chicken braised with chipotles, pork chorizo, tomatoes & cabbage -served with chipotle chile and avocado-
The
tinga
taco brought out tender shards of chicken, bolstered by a just-perceptible amount of heat.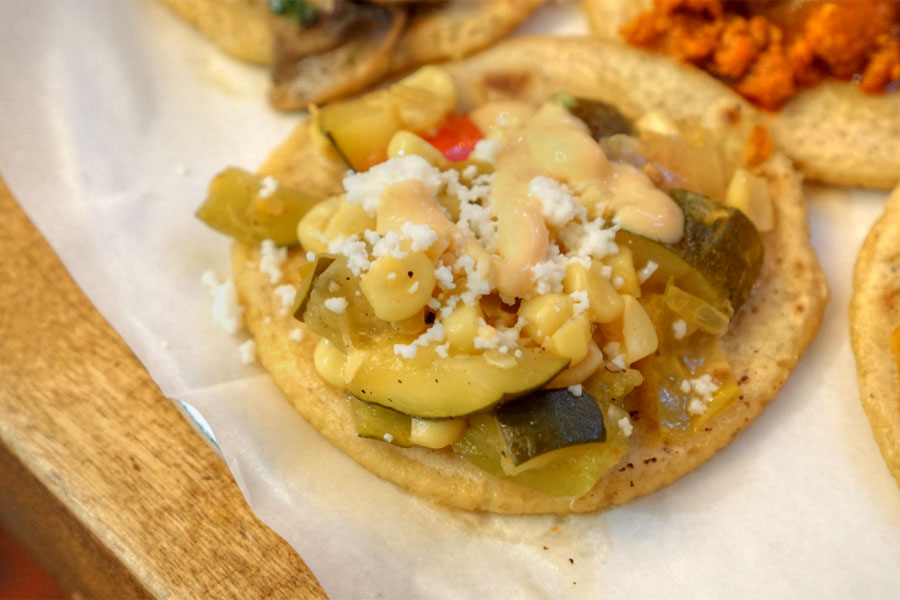 Calabacitas
| squash, tomatoes, bell peppers, onions & corn -served with chipotle-cream and queso fresco-
Guisados' veggie option was eating well, with a nice back-and-forth between sweet corn and bell pepper, the chipotle sauce tying it all together.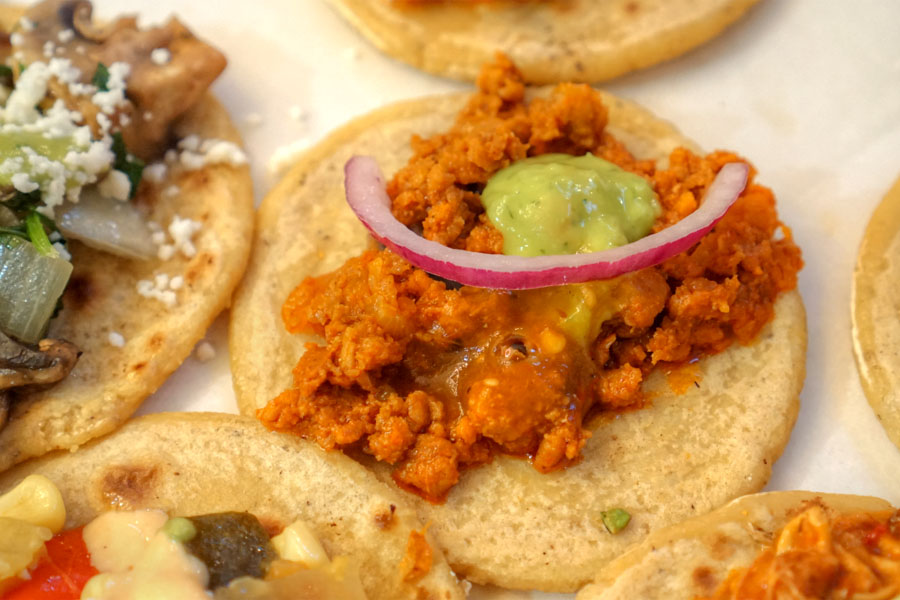 Chorizo
| mexican pork sausage -served with salsa verde, chile arbol & red onion atop black beans-
Crumbly bits of chorizo were well-spiced and particularly satisfying with the salsa verde. One of my personal favs.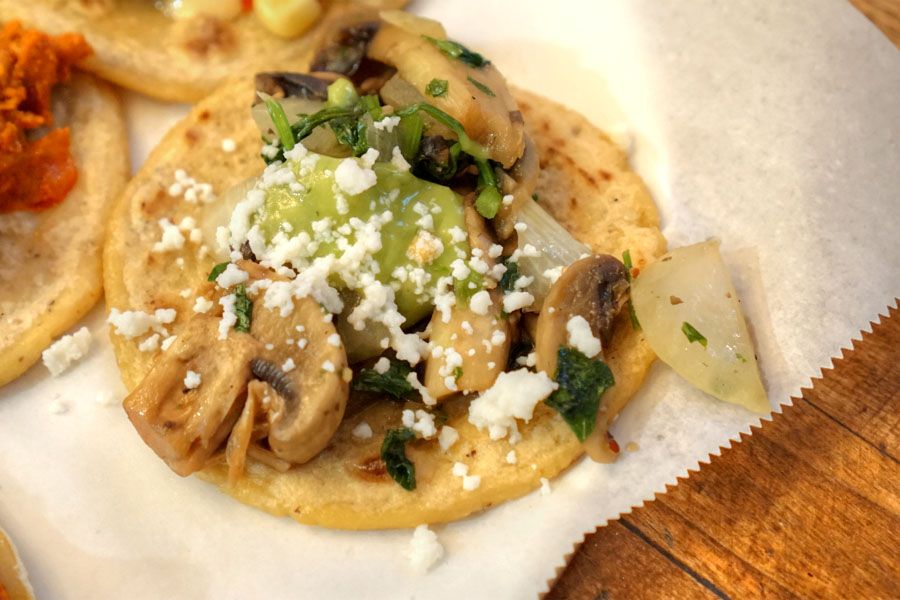 Hongos con Cilantro
| mushroom simmered with cilantro and onions -served with salsa verde and queso fresco-
The mushroom taco worked it out, playing the earthiness of the
hongos
against cilantro and onion, with a creeping spice underpinning everything.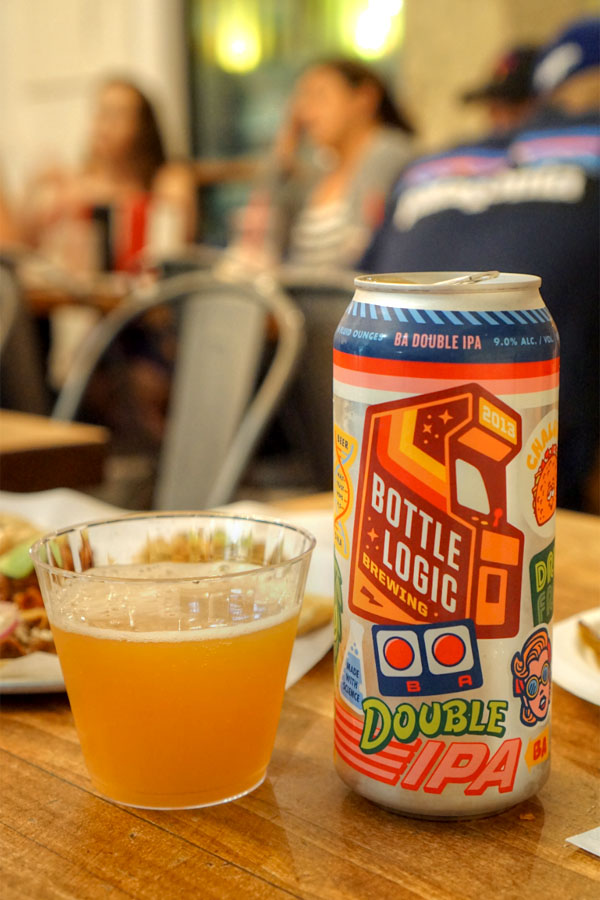 Next to drink was the
2017 Bottle Logic B•A
, a double IPA hopped with Amarillo, Simcoe, Mosaic, Citra, and El Dorado. Really nice aromas of juicy citrus intertwined with grassy hops. On the palate, think rich and thick, with a sharp, bitter quality at first leading to light dankness and juicy fruit, the finish lingering long with bitter rind notes.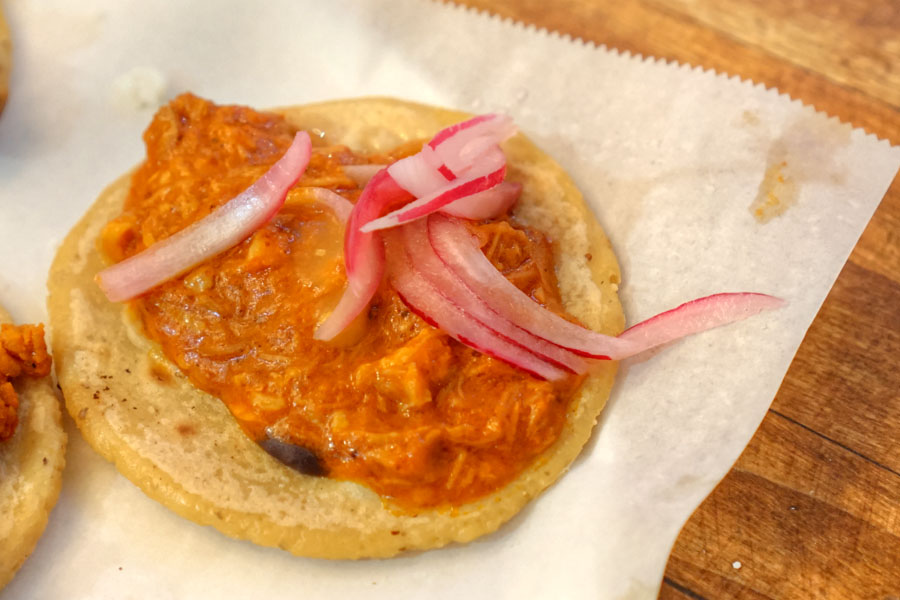 Cochinita Pibil
| shredded pork braised in a sweet achiote marinade -served with habanero chile & pickled onions atop black beans-
Puerco pibil
came out properly tender, with a subdued spice. Nice zippiness and crunch from those onions.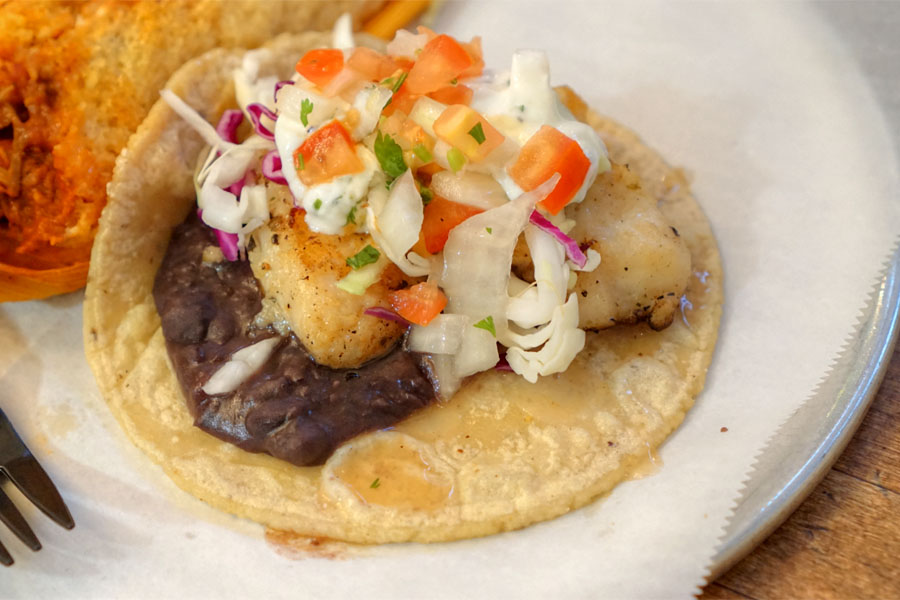 Pescado [$3.25]
| grilled white fish atop black beans -served with cabbage, avocado, cream, chile arbol & pico de gallo-
The fish arrived well-cooked, linking up well with the black beans while other accompaniments provided a needed brightness and acidity. Note that this was a full-sized taco, as the seafood options aren't available in sampler form.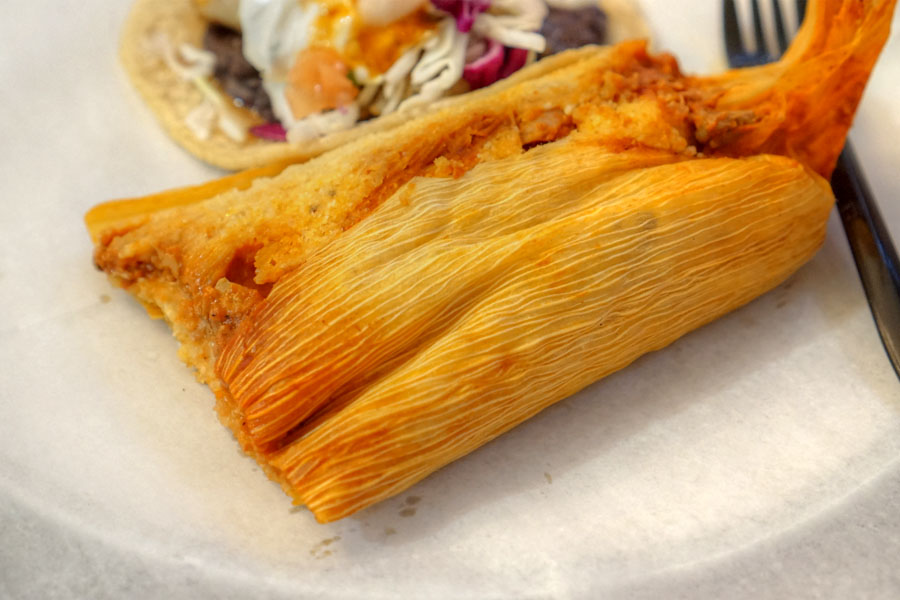 Tamal de Puerco
Our lone
tamal
definitely highlighted the nature of its
masa
, the gritty corn flour conveying a sweetness that worked with the savoriness of the pork filling.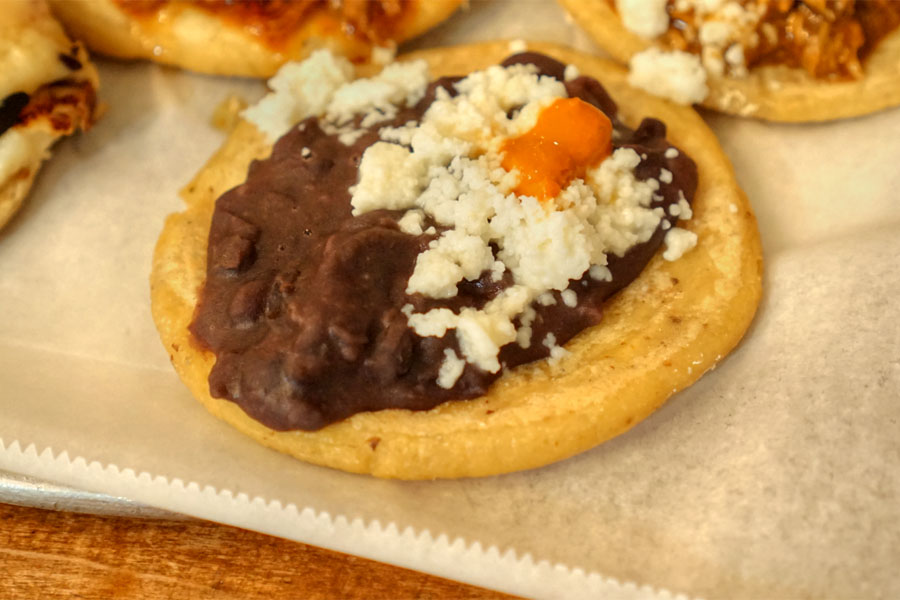 Frijoles con Queso
| black beans served with queso fresco and chipotle chile
The combination of beans and cheese made sense here, though overall the flavors seemed a bit restrained.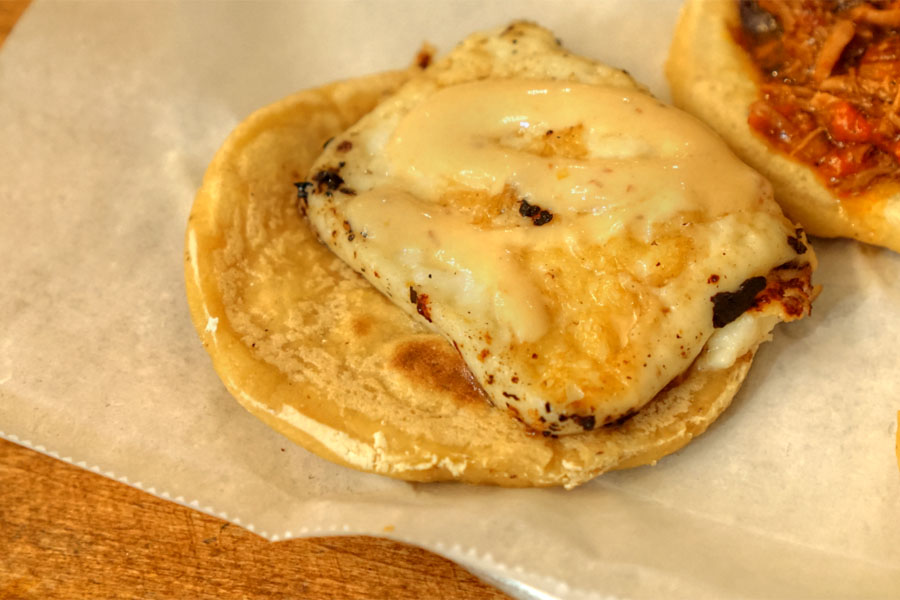 Quesadilla
| grilled queso served with chipotle sour cream
The cheese taco was a standout. I loved the lactic sweetness from the
queso
, as well as its charred bits.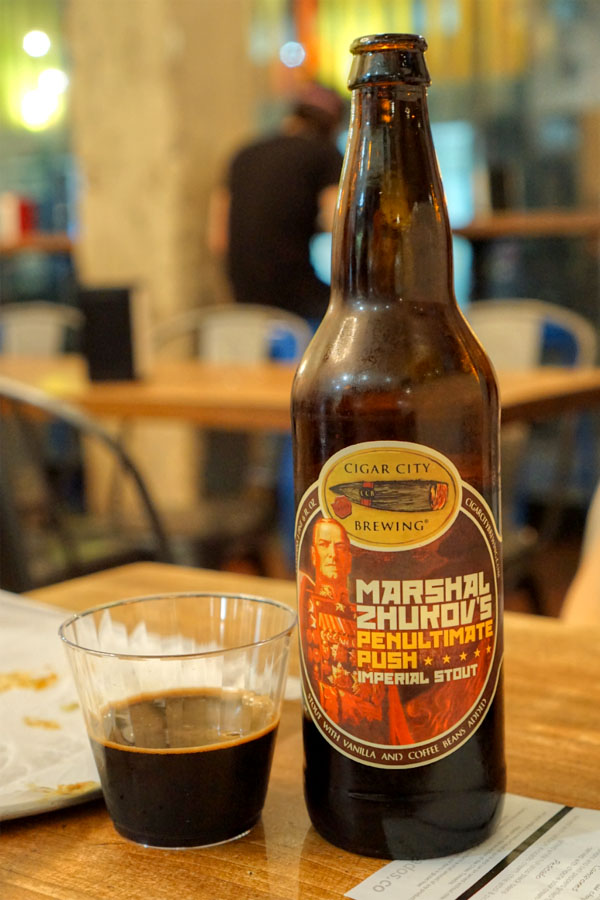 Our final beer was the
2017 Cigar City Marshal Zhukov's Penultimate Push
, an imperial stout with coffee beans, vanilla, and cacao nibs added. The nose was rife with coffee, cocoa, and a touch of booziness. Taste-wise, I got a lot of smoke and roast at first, which was joined by cocoa powder, sweet vanilla, light hop bitterness, and a slight medicinal edge.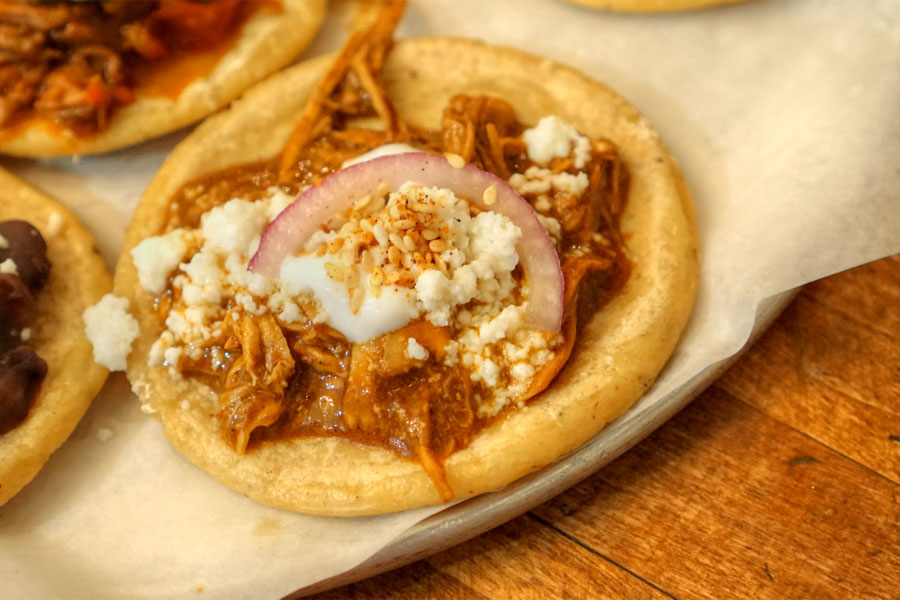 Mole Poblano
| chicken braised in a nutty poblano-style mole -served with queso fresco, cream, red onion and a salsa seca-
This next taco was another favorite thanks to the rich, nutty, sweet flavors of the mole, which worked as a spot on complement to the chicken.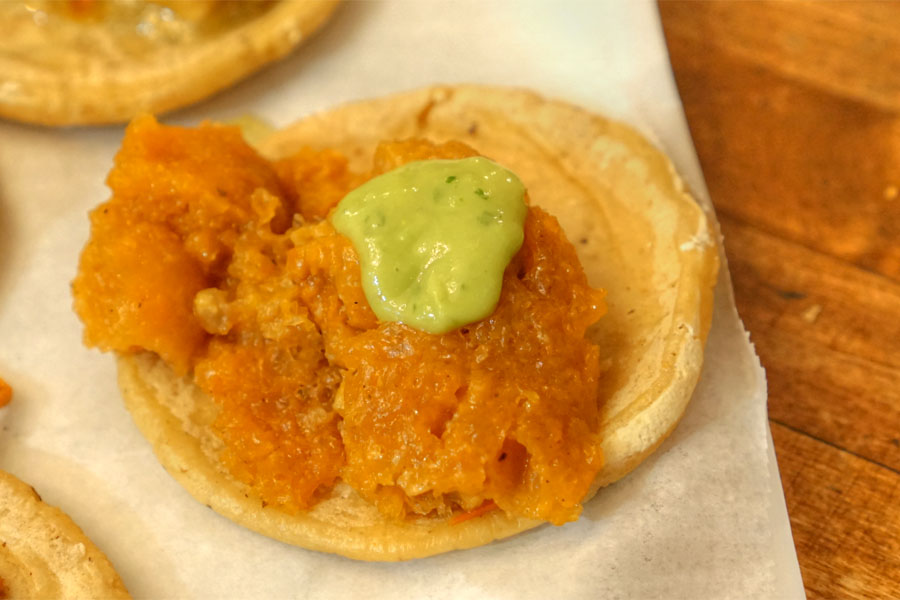 Chicharron
| Pork rinds simmered in a chile verde -served with salsa verde atop black beans-
This was perhaps the most challenging of the bunch due to the aggressive taste of the pork rinds and their gelatinous consistency. This was also one of the spicier tacos, and the heat was actually key in providing a sense of balance.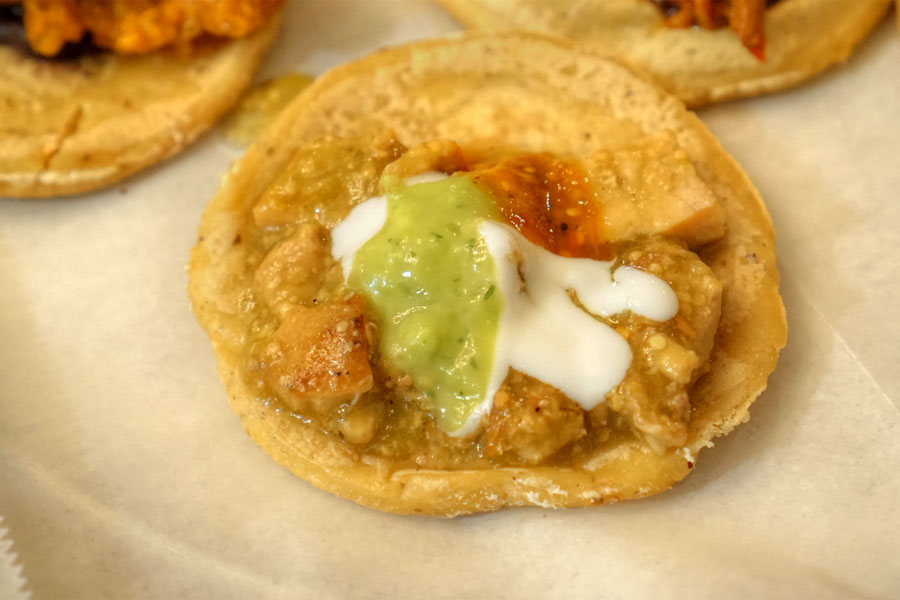 Chuleta en Chile Verde
| grilled pork chop diced & simmered in a homemade chile verde -served with salsa verde, chile arbol & cream atop black beans-
Pork came out surprisingly tender, its salty, savory flavors evened out by the tanginess of the chile verde.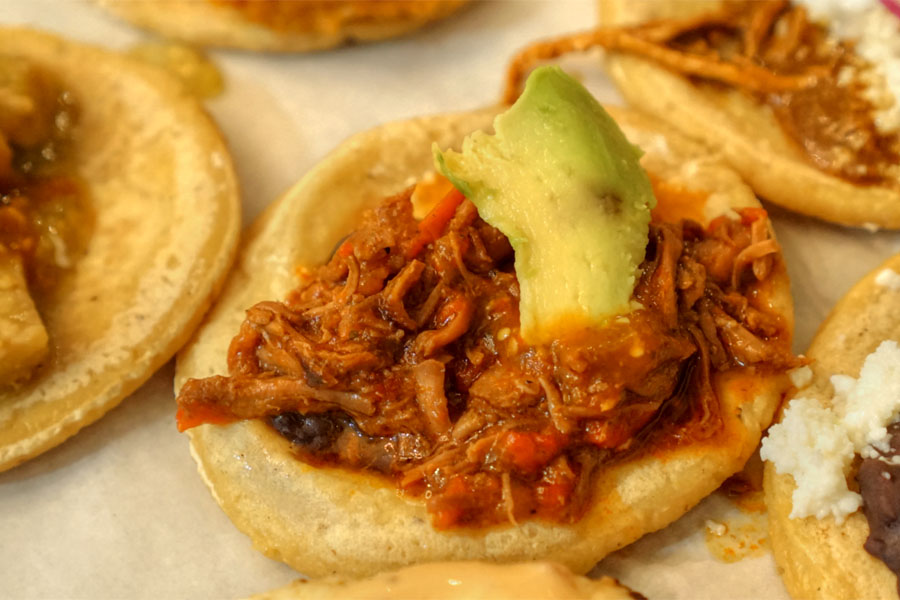 Bistek en Salsa Roja
| flank steak braised with red bell peppers, tomatoes, and onion -served with red chile arbol and avocado atop black beans-
Our second steak selection once again put the spotlight on the stewed beef, a richly-flavored preparation kicked up a notch by just a smidge of heat.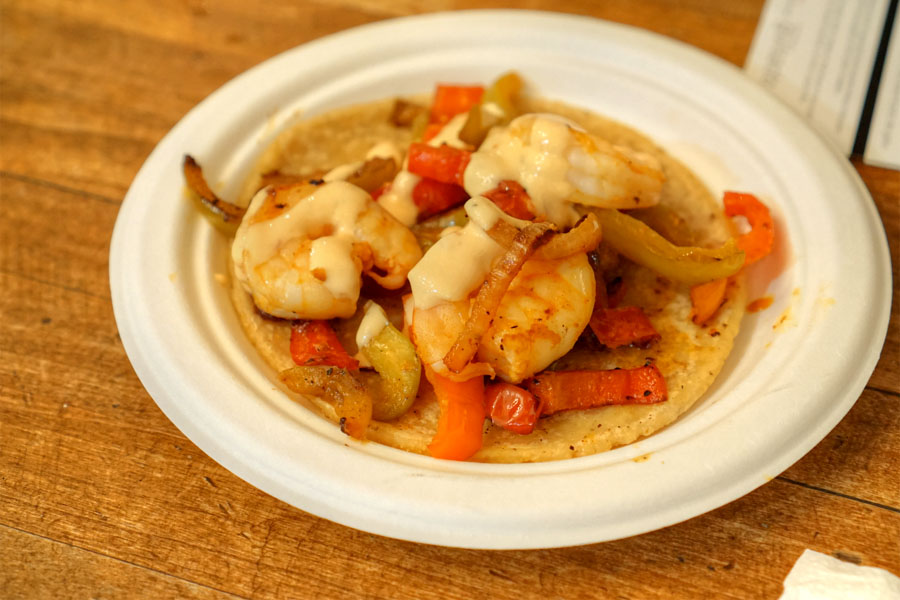 Camarones [$3.25]
| shrimp, onions and bell peppers grilled fajita-style -served with chipotle sour cream-
In our final taco of the night, well-cooked, snappy shrimp really worked with the charred, smoky veggies while the chipotle cream sort of bound all the elements together. Nice.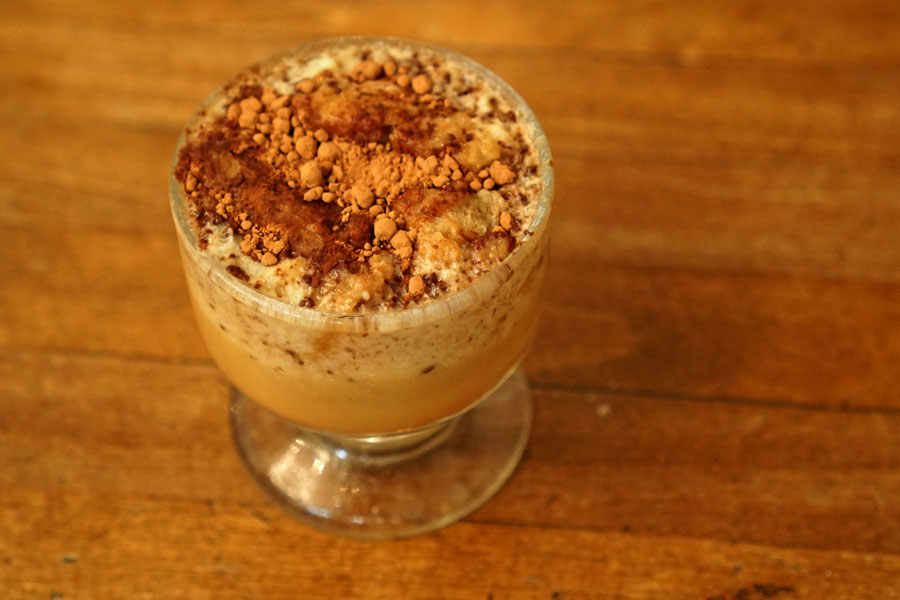 For dessert, my dining companion brought along a homemade mini-tiramisu.
I don't know if they've altered their recipes, or if it's just that my palate has changed, but the spice and seasoning seemed slightly toned down here in Downtown (possibly to make the food more accessible?). That being said, the tacos were still enjoyable, and as always, I appreciated the large variety on offer. With five locations now in the books, I guess we'll see how far the De La Torres can take Guisados.