Rosaliné (West Hollywood, CA)
Rosaline Restaurant
8479 Melrose Ave, West Hollywood, CA 90069
323.297.9500
www.rosalinela.com
Thu 08/03/2017, 08:15p-10:45p
Ricardo Zarate's back, and it's about damn time. I last reported on Martin all the way back in April 2013, when the Chef had just opened
Paiche
, his seafood-focused,
izakaya
-esque joint on the border of Marina del Rey. A lot has transpired since that meal, so I'll just catch everyone up on what's gone down (a lot, actually):
Nov 2013: Zarate launches Blue Tavern, a less overtly Peruvian eatery inside Santa Barbara's Hotel Indigo.
Dec 2013: The Chef's longtime partner Stephane Bombet steps away--the first sign that something was amiss. Bombet went on to open Faith & Flower the following March.
Aug 2014: It was announced that Suave Rico, Zarate's pollo a la brasa concept, would debut at Culver Crossroads in late fall (next to Kimukatsu). That never happened.
Oct 2014: The other shoe drops--Zarate is out from Sprout. The reason according to the Chef: he couldn't handle all the expectations, and cracked under the pressure.
Dec 2014: Mo-Chica closes. The space eventually turns into Ray Garcia's B.S. Taqueria.
Dec 2014: Paiche also shutters. Jason Neroni's Catch & Release takes over, but doesn't last too long.
Dec 2014: And finally, Blue Tavern shuts down. It became Nuance the following April, but subsequently closed at the start of 2016.
Jan 2015: Zarate makes himself widely available for pop-ups, catering, and events.
Feb 2015: His cookbook is available for presale.
Mar 2015: He makes an appearance at Cochon 555 (along with winner Walter Manzke, Tony DiSalvo, Steven Fretz, and Kris Morningstar).
Apr 2015: Coachella.
Jun 2015: The Food & Wine Classic in Aspen.
Jul 2015: Perfecto Rocher leaves Smoke.Oil.Salt and is replaced by "consulting chef" Zarate.
Aug 2015: He starts a dinner series with Table8 called "Once," which is held in Santino's in Santa Monica. It lasts until October 25th.
Sep 2015: An appearance at The Taste, put on by the LA Times.
Oct 2015: His cookbook, The Fire of Peru: Recipes and Stories from My Peruvian Kitchen, is released.
Nov 2015: Zarate and SF's Danny Kou (La Mar Cebicheria Peruana) cook a five-day pop-up at Los Balcones del Peru benefitting Fundación Pachacútec.
Dec 2015: He returns to Los Balcones for a dinner celebrating the launch of his cookbook. The Peruvian consulate is in attendance.
Jan 2016: The Chef announces that he's taking over the old Comme Ça in partnership with Walter Schild's Culinary Lab group (which also runs Hinoki & the Bird).
Feb 2016: A pop-up at Hinoki, which makes sense given the common ownership.
Mar 2016: He leads the charge at Los Angeles' Latin Food Fest.
Mar 2016: The Palm Desert Food & Wine Festival.
Apr 2016: Coachella.
May 2016: Zarate shoots with the Life & Thyme crew in Japan.
Jul 2016: A single night affair in Feastly's Downtown loft.
Aug 2016: After a one year absence, the Chef makes his return to Plate by Plate.
Sep 2016: He's filmed by Tastemade.
Feb 2017: Zarate opens Mamacita, a fast-casual bowl joint, in Hollywood. The restaurant is also in partnership with Culinary Lab.
Apr 2017: Coachella, repping Mamacita.
May 2017: He participates in Food Bowl, presented by the LA Times.
Jun 2017: Picca finally closes at the start of the month.
Jun 2017: Somewhat coincidentally, Rosaliné grand-opens not long after, on June 12th.
The restaurant is named after the Chef's mother, and from what I understand, aims to serve classical Peruvian cuisine with a Californian slant (of course).



As mentioned above, Rosaliné takes over the address that previously held Comme Ça, and the longstanding Noura Cafe before that. The interior has been completely redone by
Kevin Tsai Architecture
, and is an inviting indoor-outdoor space that's pretty much completely unrecognizable compared to what was here when
David Myers
ran things.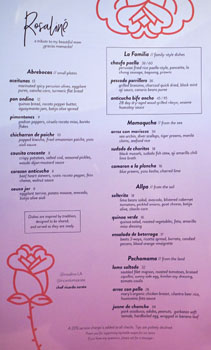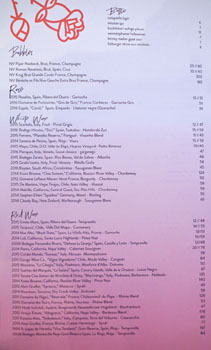 As for Rosaliné's menu, it's divvied up into sections for snackier starters, more substantial plates, and large format items, and there's a separate ceviche selection. Many of the dishes should sound familiar to old school Zarate fans. Drink-wise, the focus is on the cocktail program, which features updated Peruvian classics and is the work of veteran barman and
Julian Cox
protégé Jeremy Lake (Lost Property Bar, Crossroads,
Playa
,
Test Kitchen
,
Sotto
,
Rivera
, Soho House). There are a few beers and a compact, international wine list as well, if that's your thing. Corkage is $25 a pop, with a maximum of two bottles. Click for larger versions.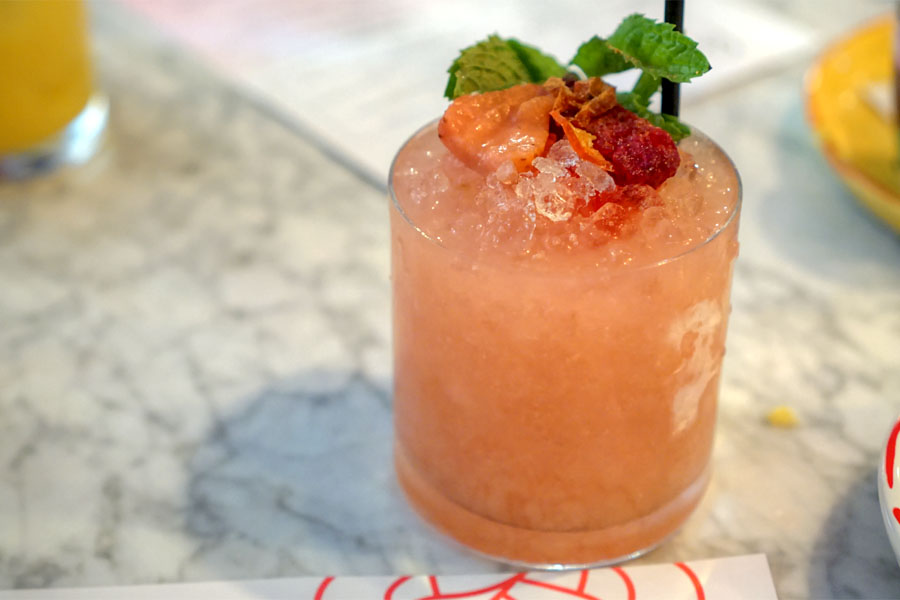 jab to the jaw // citrusy, sweet [$15.00]
| cactus pear & strawberry brandy, lemon, orgeat, chinese five spice, fermented fruit
Naturally, with Lake behind the bar program, we had to try at least a few of his cocktails. Our first was definitely on the quaffable side, displaying sweet-n-fruity, but never cloying flavors backed by a layer of bitterness and light spice.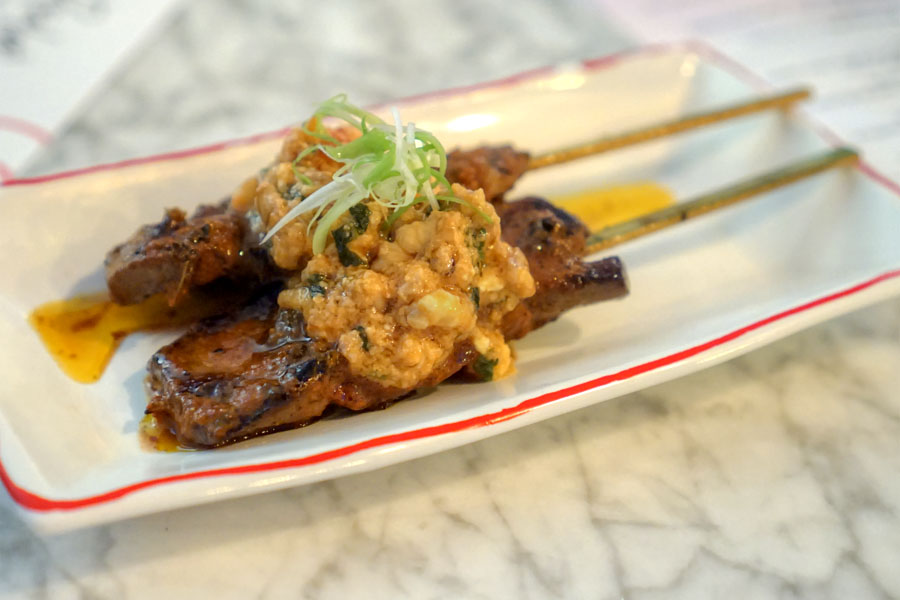 corazon anticucho [$8.00]
| beef heart skewers, rustic rocoto pepper, feta cheese, walnut sauce
I believe Zarate was responsible for my first taste of beef heart, back in 2010 at
Test Kitchen
, so I felt compelled to order the skewer this evening. Texturally, it had just the right amount of chew, along with a great char and smoke, while its richness paired nicely with the green onion and that creamy-spicy-nutty sauce on top.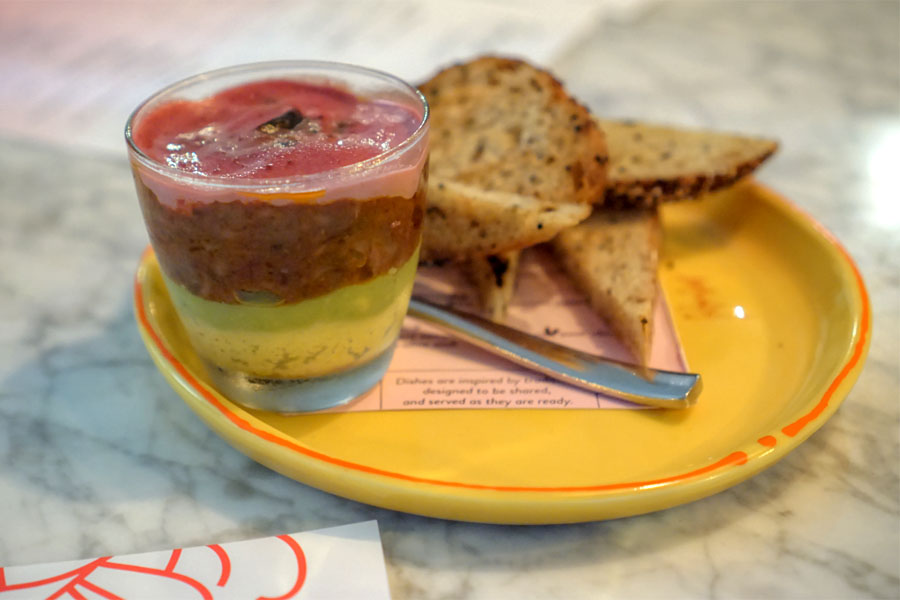 causa jar [$9.00]
| eggplant terrine, potato mousse, avocado, botija olive aioli
The Chef's reimagined version of
causa
worked, the smokiness of eggplant marrying well with the creamy, tangy sweetness of avocado while the potato served as a moderating element.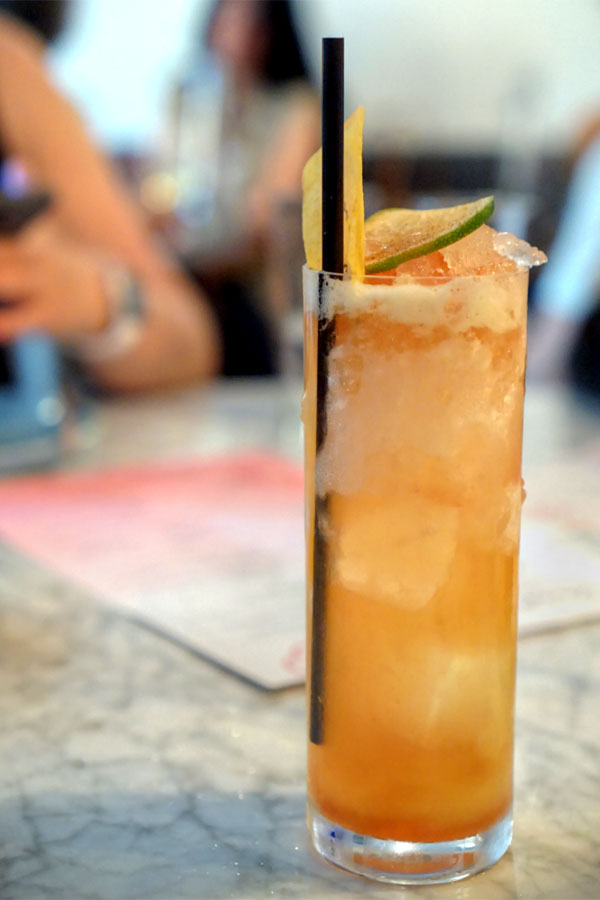 passion of the geist // exotic, citrusy [$15.00]
| cachaça, blanco tequila, passion fruit, lime, banane du brésil, crème de cassis
This was another easy drinker. Flavors were overall on the tart, sweet, smooth side, but with a subtle, almost Campari-like bitterness overarching. Barely any heat.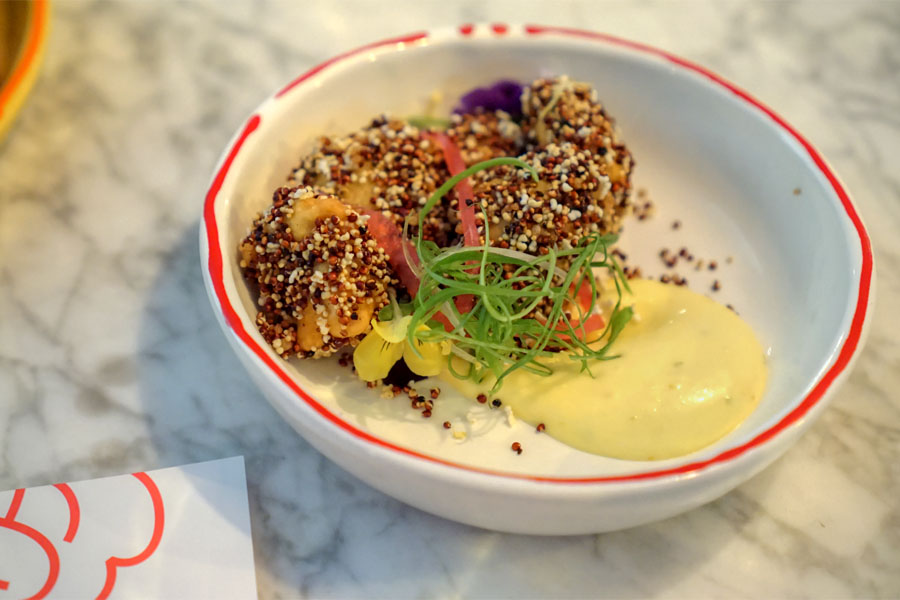 chicharron de paiche [$10.00]
| popped kiwicha, fried amazonian paiche, yuzu aioli sauce
Arapaima was turned into fritter form, and I liked the meatiness of the fish, as well as its gritty, crunchy coating. Make sure to use the included aioli, which provided a necessary zippiness to the dish.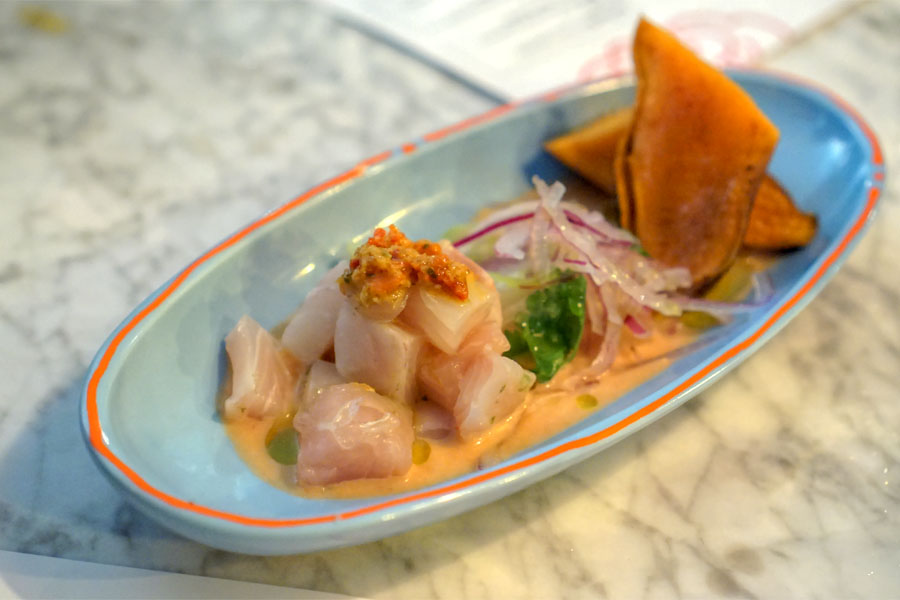 kampachi ceviche [$20.00]
| baja california amberjack, aji pesto, charcoal oven roasted sweet potato, aji limo lime dressing
Amberjack arrived clean and well-textured, loaded with all the bright, acidic, citrusy flavors you'd expect, with a superb contribution from the red onion to boot. Although I'm usually not a fan of sweet potato, it really worked here, providing a soft, sugary element that evened out the other flavors at play.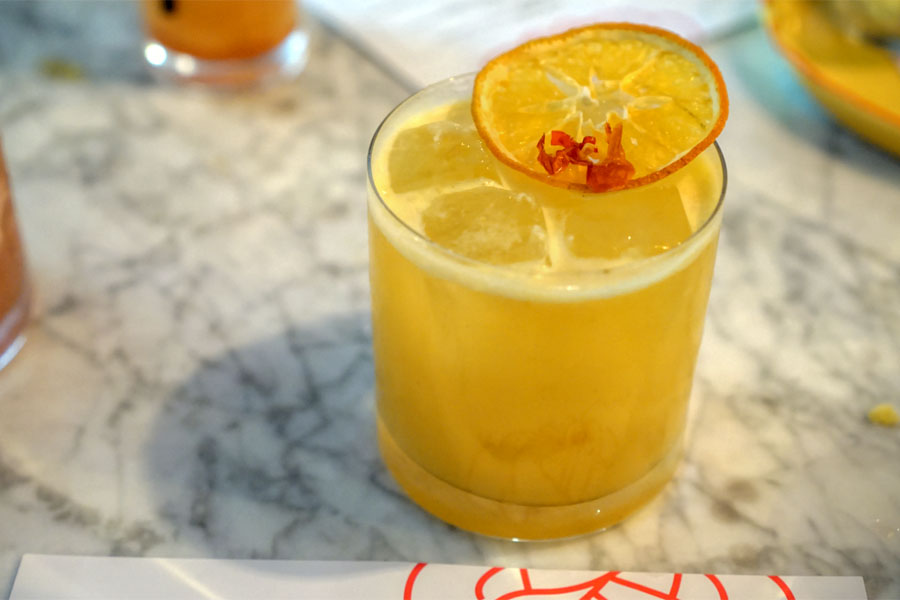 bellicose warrior // citrusy, spicy [$13.00]
| mesquite-smoked pisco, aji amarillo, pineapple, lemon, curacao, kümmel
This next cocktail packed a punch for sure. Aromas were spicy, sweet, creamy, with a definite anise-y note from the Kümmel. On the palate, I got lots of tropical fruit and a light smoke, leading to a palpable heat that really stayed with me.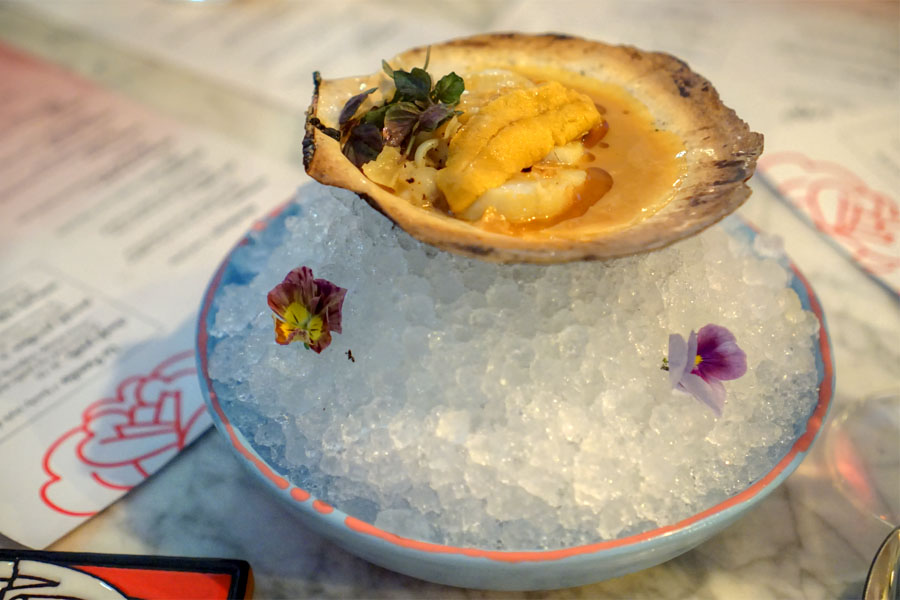 tiradito de concha con erizo [$22.00]
| live scallops, sea urchin, uni leche de tigre, crispy garlic
A combination of urchin and scallop worked. I tasted lots of what I believe was sesame oil at first. This then subsided, giving way to the sweet brine of the seafood. Well-textured overall, and I especialy enjoyed the crunchy bits of scallop included.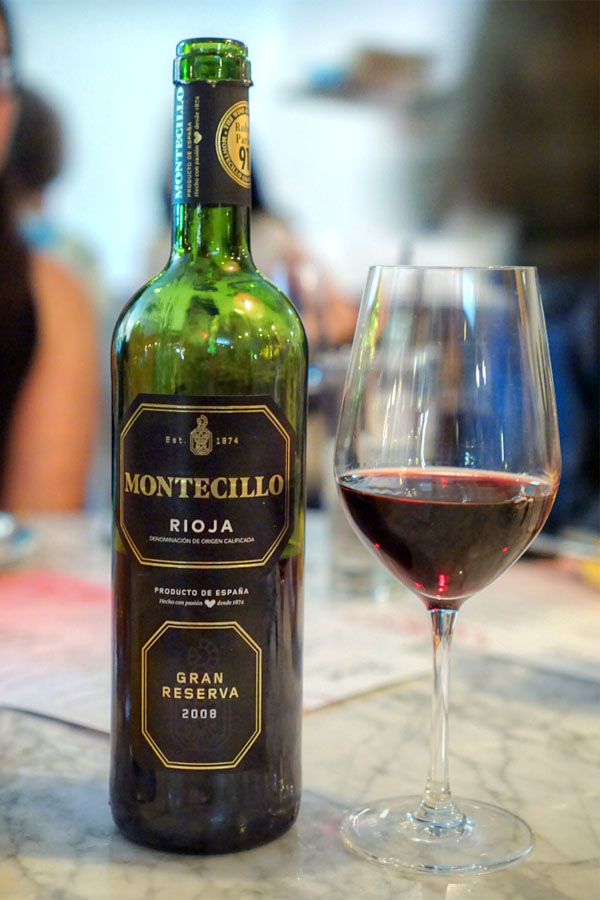 We also had some wine, the
2008 Bodegas Montecillo Rioja Gran Reserva Spain, La Rioja, Rioja - Tempranillo [$84]
. I found the nose peppery, spicy, with an element of dark fruit. On the palate: earthy, oaky, herbaceous, with a noticeably tannic quality.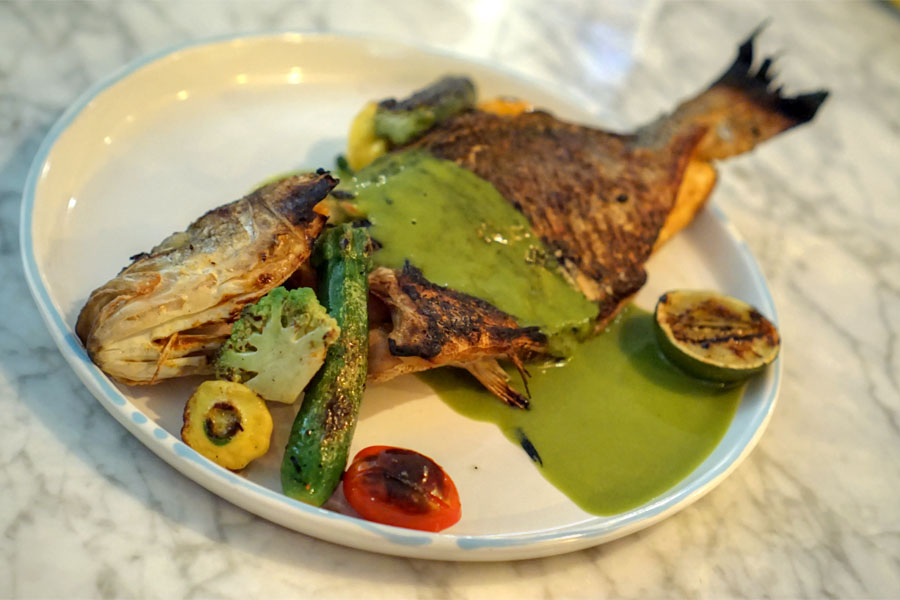 pescado parrillero [$36.00]
| grilled branzino, charcoal quick dried, black mint aji sauce, canario beans puree
A standout for me, the bass arrived juicy and supple, with a relatively delicate flavor profile that meshed well with the fish's aggressively-seasoned, charred skin. Very tasty, especially when taken with that multifaceted, minty
huacatay
sauce. Nice veggies, too.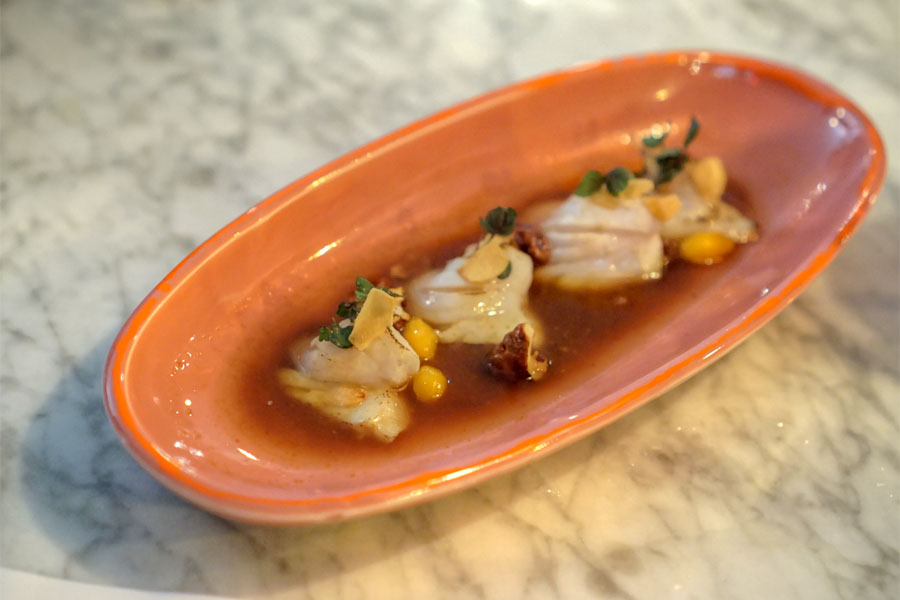 tiradito de corvina [$16.00]
| ensenada sea bass, amazonian charapita chili, tamari yuzu walnut dressing
Corvina had a great bite to it, along with a punchiness courtesy of the
tamari
and pricks of heat from the
charapita
. The most unexpected thing here? The sweet, crunchy shards of walnut.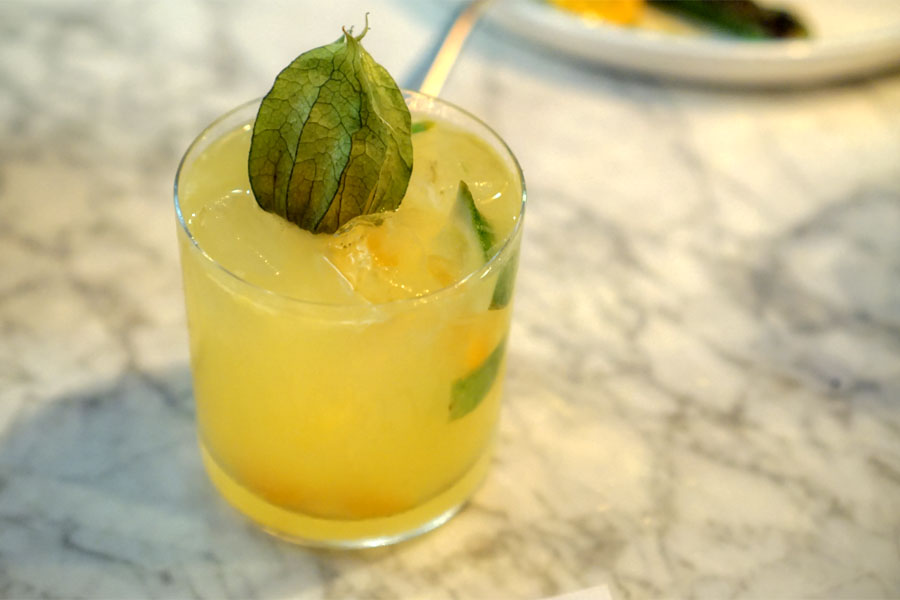 quita calzón // citrusy, refreshing [$13.00]
| el silencio mezcal, gooseberry, coconut water, lime
Getting back into the cocktails, this one showed off a very apparent smokiness from the mezcal, which was then matched by tart, fruity notes and light wisps of coconut.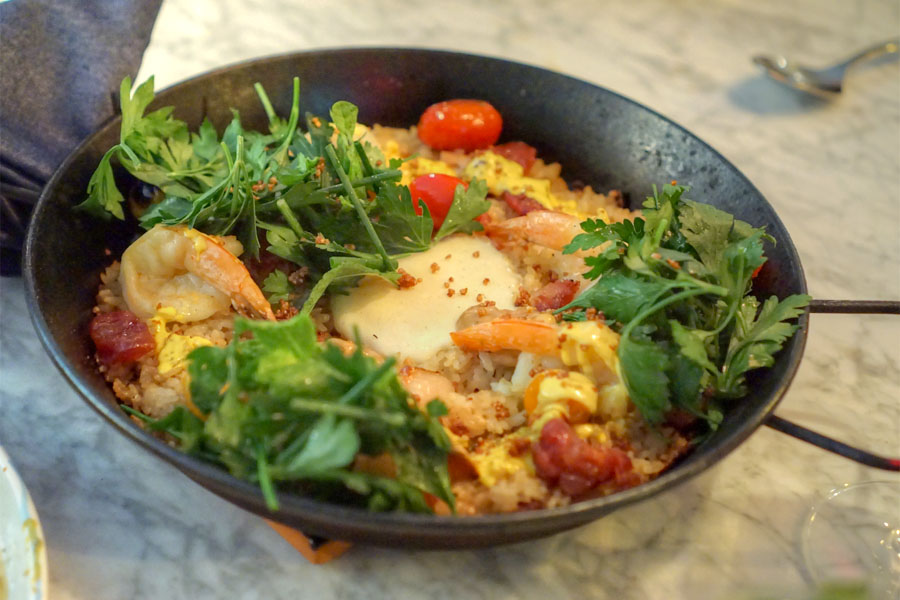 chaufa paella [$38.00]
| peruvian fried rice paella-style, pancetta, la chang sausage, bagoong, prawns
This paella-like dish was another favorite. I definitely appreciated how the rice was so thoroughly imbued with the flavors of bacon and
lap cheong
, as well as the smokiness of the shrimp. Texturally this was extremely satisfying too, and I loved how well developed the
socarrat
was--probably the best I've had.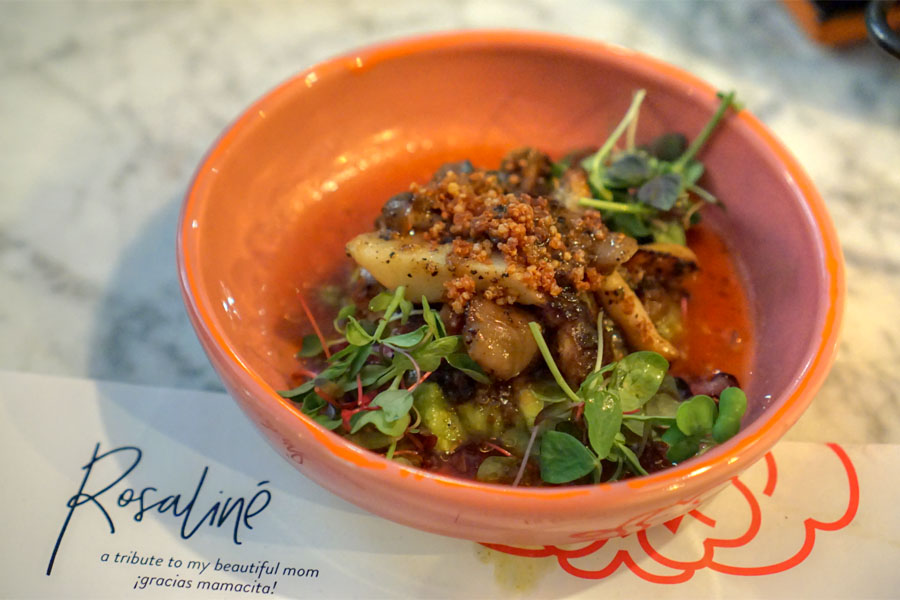 ceviche de hongos [$15.00]
| king mushrooms, shimeji, palta avocado, charred tomato ponzu
An unconventional ceviche, this next dish played the woodsy quality of mushrooms against the bright, umami flavors of a tomato ponzu, the avocado working to moderate the interaction.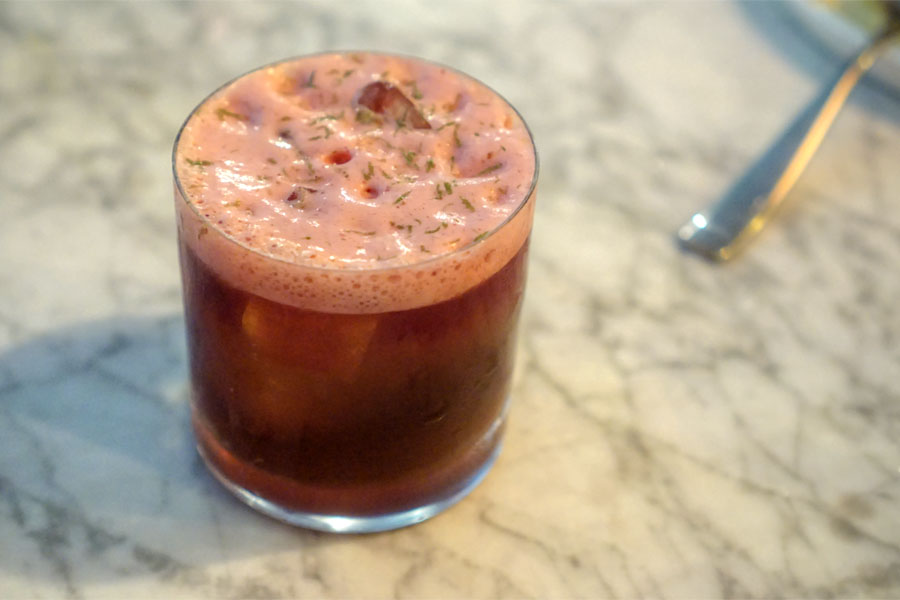 p.c.c. // citrusy, bittersweet [$14.00]
| quebranta pisco, ramazzotti, mexican coke, jarabe de ciruela, lime, chicha morada foam
This was a fun cocktail, with loads of sweet spice in a soft, gluggable package. One of my dining companions even likened it to a "spiked jamaica."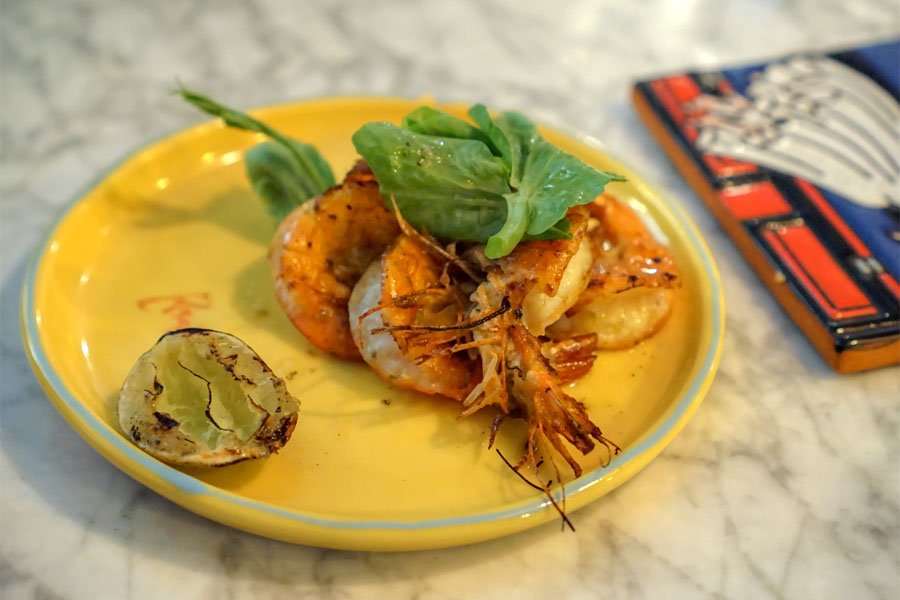 camaron a la plancha [$16.00]
| blue prawns, yuzu kosho, charred lime
Prawns were properly charred and beautifully textured, their smoky, saline flavors perked up by a squirt of citrus.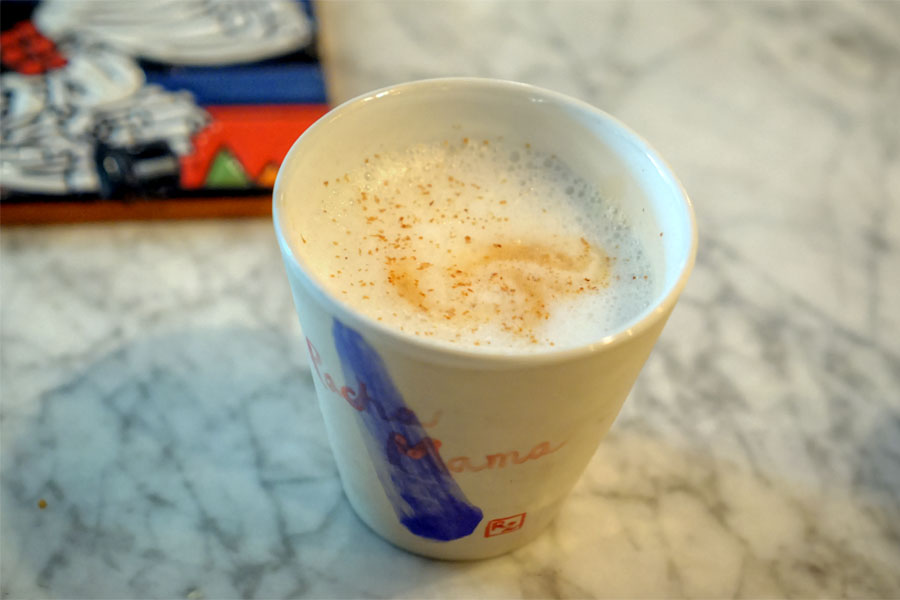 pisco sour // citrusy [$12.00]
| quebranta pisco, citrus, egg white, peruvian bitters, cinnamon dusting
A riff on Peru's national cocktail worked. Flavors were smooth and fruity, with an almost apple-like quality, and I was a big fan of the sweet-spiciness imparted by the cinnamon.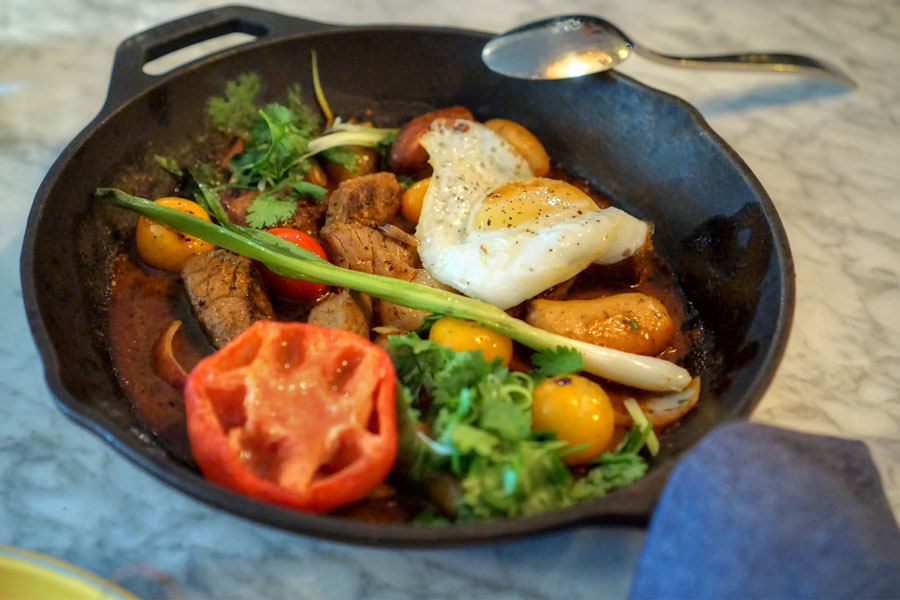 lomo saltado [$32.00]
| sautéed filet mignon, roasted tomatoes, braised cipollini, sunny side egg, kimlan soy dressing, tomato coulis
Given the sort of iconic status that
lomo saltado
holds in the Peruvian kitchen, we felt the need to sample Zarate's interpretation. Due to the dish's use of filet, the beef was about as tender as it gets, and came loaded with a soy-fueled savoriness that matched well with the potatoes and veggies. Some rice would've been great with this.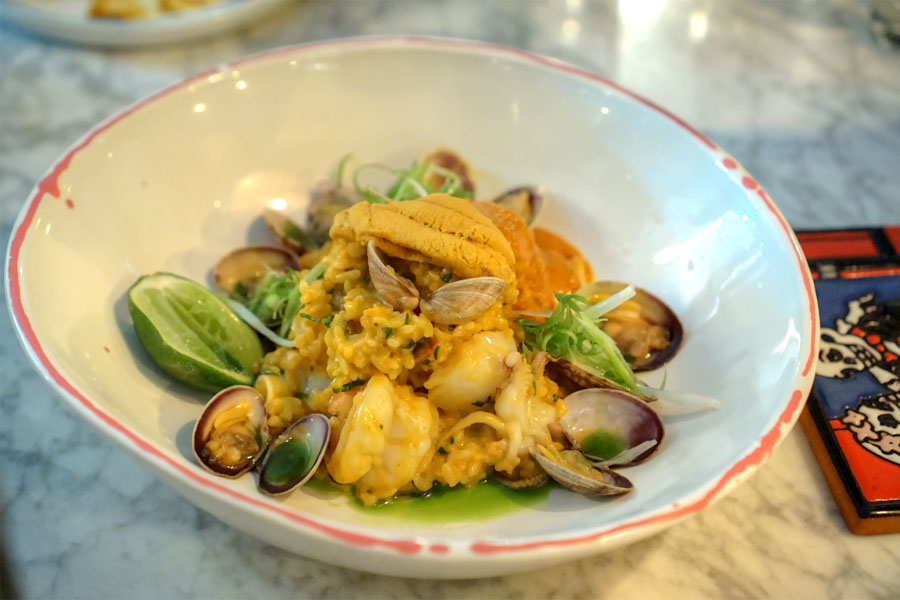 arroz con mariscos [$36.00]
| sea urchin, diver scallops, tiger prawns, manila clams, seafood rice
Our final dish before dessert was another table favorite. Each item of seafood here was well-represented, distinct, yet contributed to a cohesive whole. I especially liked how the sweet, marine flavors of the urchin sort of enveloped everything, as well as the zestiness of the scallion. Great consistency on the shrimp, too.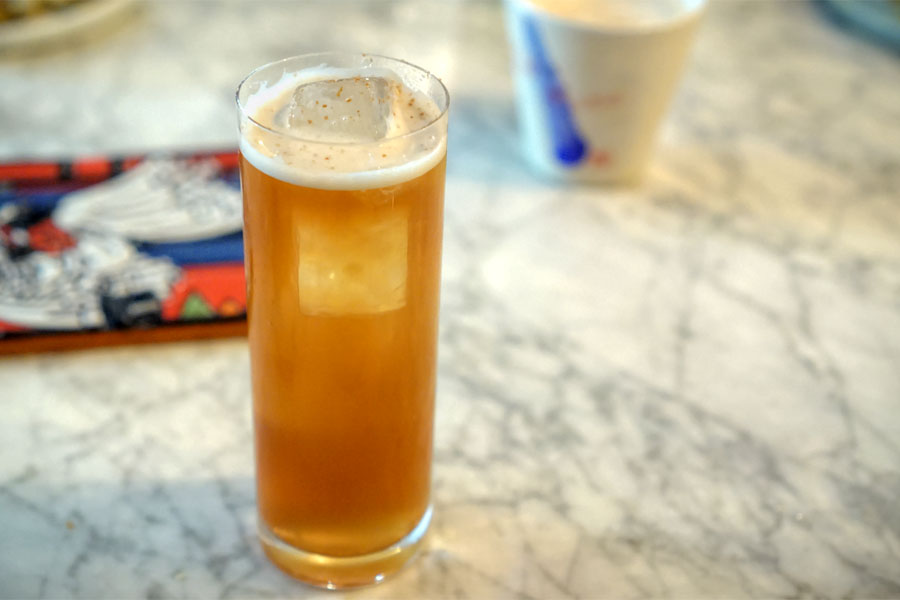 chicha // refreshing [$11.00]
| bourbon, house-made corn chicha, bitters
Our final cocktail also went down easy thanks to its light, sweet, corn-y flavors, augmented by just a smidge of bitterness.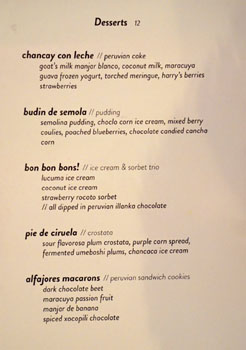 Desserts were a must, and here they're the work of Pastry Chef Debbie Renteria. Renteria attended the CSCA, and during her time there, externed at John Sedlar's now-shuttered Playa. She then went on to work with Zarate at Picca for four years, then transitioned to Catch & Release, where she cooked under Katherine Benvenuti. Her last post was at The Rose Cafe-Restaurant with Jason Neroni. Click for a larger version.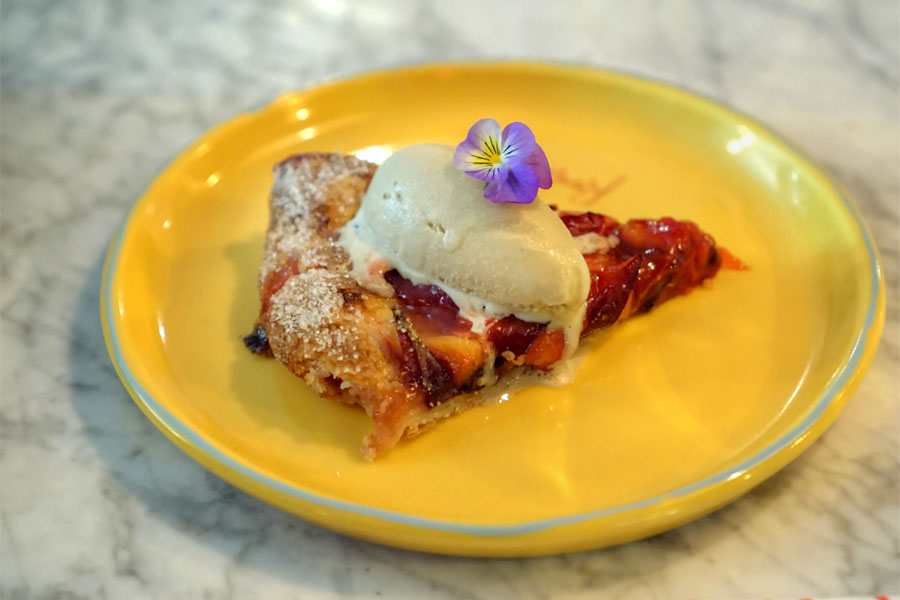 pie de ciruela // crostata [$12.00]
| sour flavorosa plum crostata, purple corn spread, fermented umeboshi plums, chancaca ice cream
Our first dessert worked itself out for sure. I got some lovely, pure flavors of plum, which matched easily with the crustiness of the crostata as well as the sugariness of the ice cream. Yum.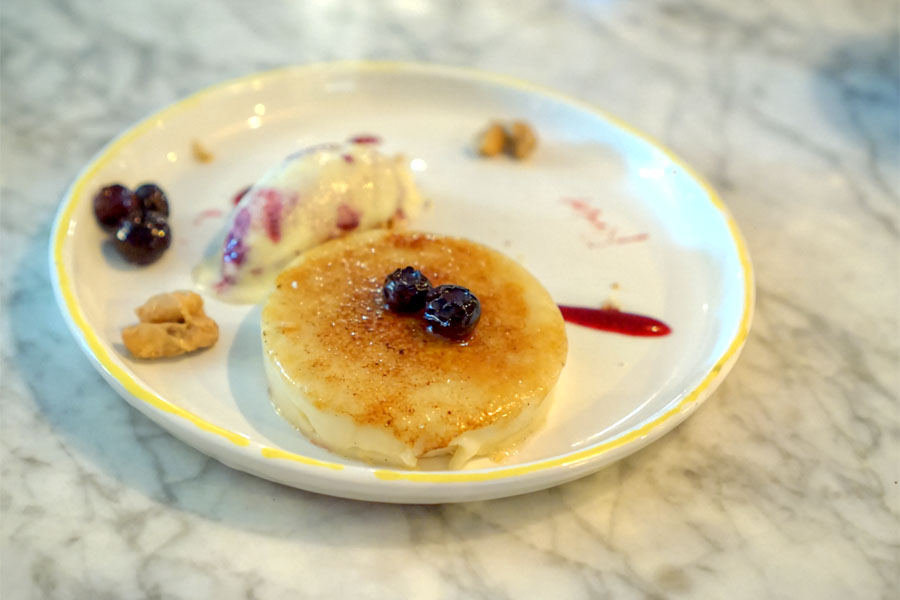 budin de semola // pudding [$12.00]
| semolina pudding, choclo corn ice cream, mixed berry coulis, poached blueberries, chocolate candied cancha corn
A stout cylinder of semolina pudding effectively showcased the sweetness of the two types of corn. Berries, meanwhile, worked as a tart contrast.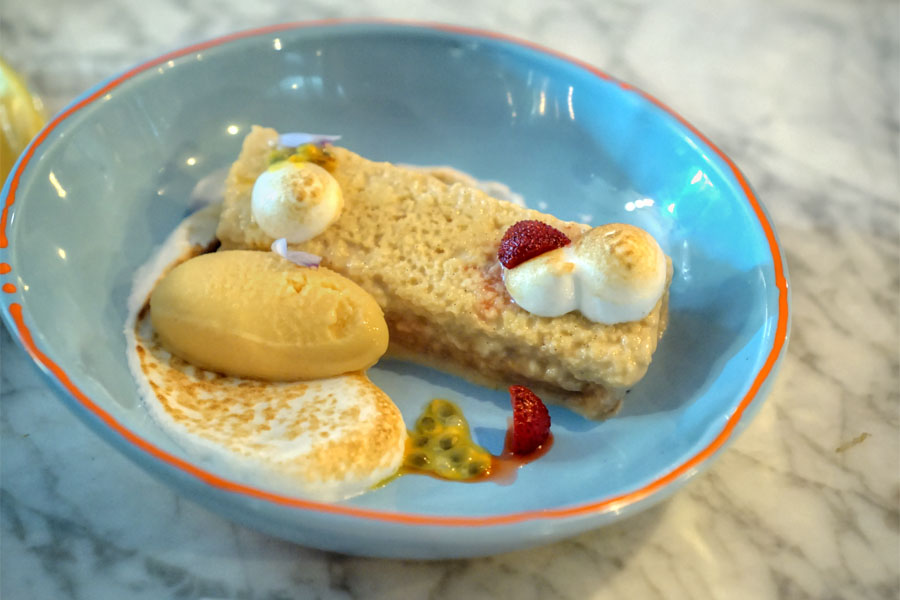 chancay con leche // peruvian cake [$12.00]
| goat's milk manjar blanco, coconut milk, maracuya guava frozen yogurt, torched meringue, harry's berries strawberries
A
tres leches
-like cake made for my favorite of our desserts. I just got a great interaction here between the cake's sweet, milky qualities and the tartness of that passion fruit and guava.
The food at Rosaliné is not quite what we've seen from the Chef previously at his other restaurants. There's an air of familiarity, sure, but I'd say that the cooking shows off more diversity--he's taking more liberties with his dishes. That's not a bad thing, mind you, as I welcomed the unexpected touches, which made for a strong meal overall. After three years largely out of the spotlight, Zarate's made his triumphant return, and I'm glad to have him back.