Plate by Plate 2017 (Los Angeles, CA)
Plate by Plate 2017 at the California Science Center
700 Exposition Park Dr, Los Angeles, CA 90037
www.platebyplate.org/la/
Sat 08/05/2017, 06:00p-10:00p

At the start of August,
Project by Project
hosted its 15th annual
Plate by Plate
charity tasting benefit at the
California Science Center
's Wallis Annenberg Building, which, coincidentally, was where the first Plate by Plate that I attended
back in 2010
was held. If you're not familiar with the organization, Project by Project is a 501(c)(3) not-for-profit centered on issues related to the Asian-American community, one that's celebrating its 20th anniversary this year. As is always the case, the tasting showcased the talents of some of LA's top restaurants, as well as beverages from a variety of purveyors, so let's get into it: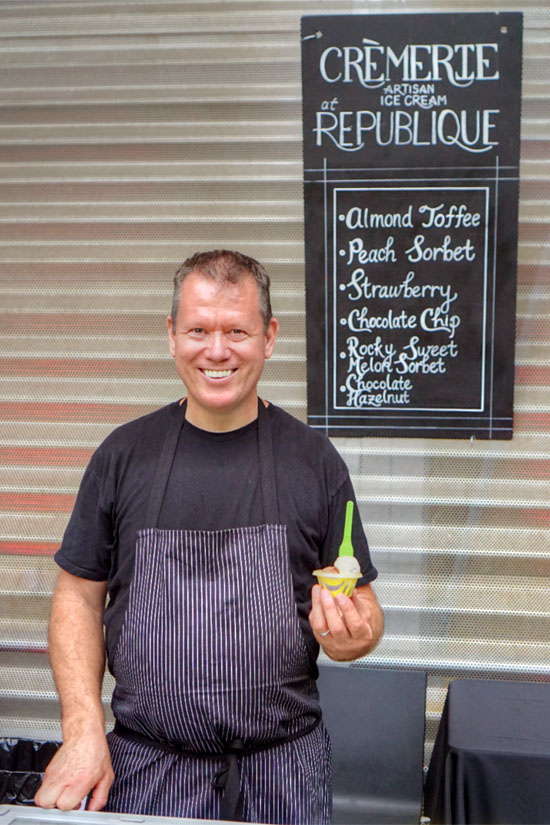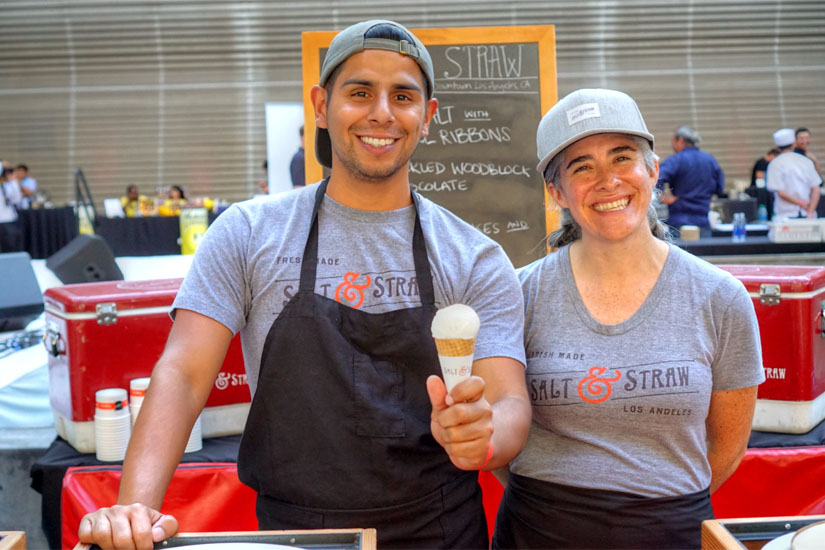 L:
Walter Manzke took a break from his usual style of food and instead highlighted his new ice cream concept,
Crèmerie
at
Republique
, which launched just recently on July 14th. He did much of the scooping himself, and the flavors available were
Almond Toffee
,
Peach Sorbet
,
Strawberry
,
Chocolate Chip
,
Rocky Sweet Melon Sorbet
, and
Chocolate Hazelnut
.
R:
And speaking of ice cream, Portland's
Salt & Straw
was also on hand, with LA Event Manager Anthony Harguindeguy leading the charge. Their slightly unconventional flavors were
Sea Salt with Caramel Ribbons
,
Freckled Woodblock Chocolate
,
Birthday Cakes and Blackberries
, and
Roasted Strawberry Coconut
.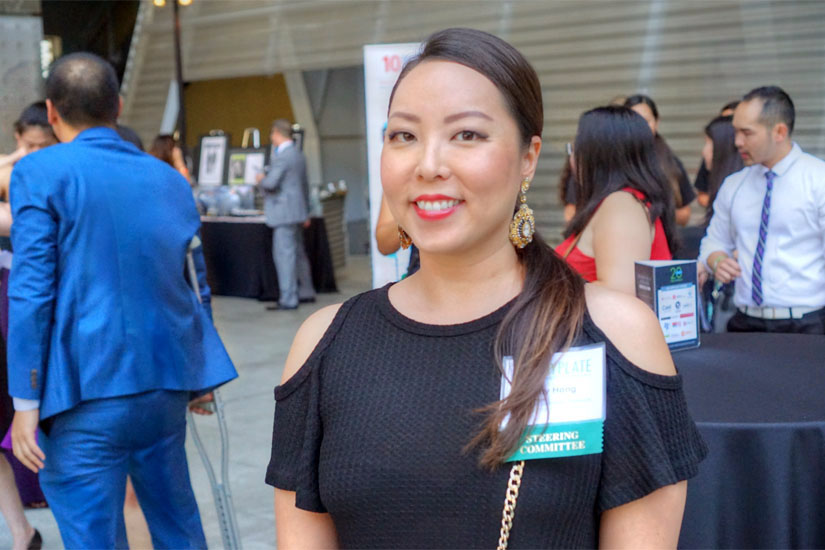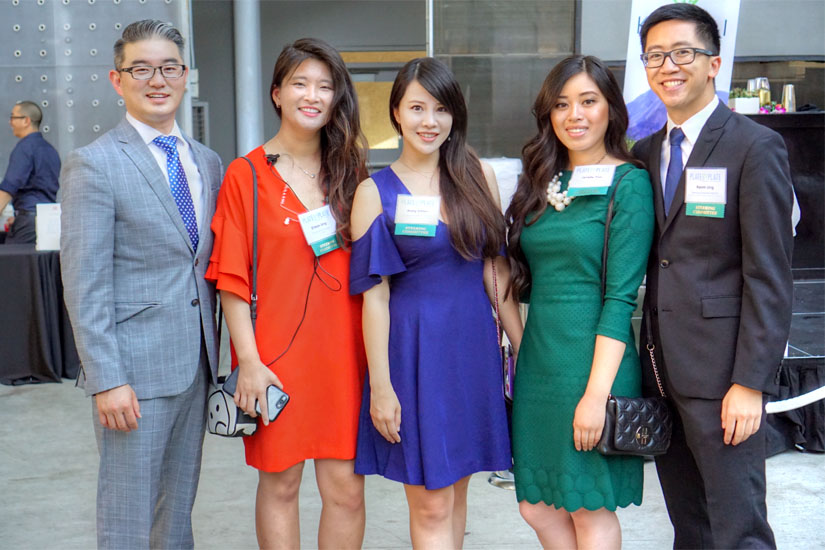 L:
PbP Marketing Team Member Martin Kwok (on crutches), as well as PbP Manager of Past Partner Relations Cathy Hong.
R:
Most of PbP's Fundraising team: Manager of Corporate Relations Peter Yun, Director of Fundraising Eileen Ung, Manager of Auction Donations Anny Chien, Fundraising Team Members Jenelle Yee and Kevin "Little" Ung.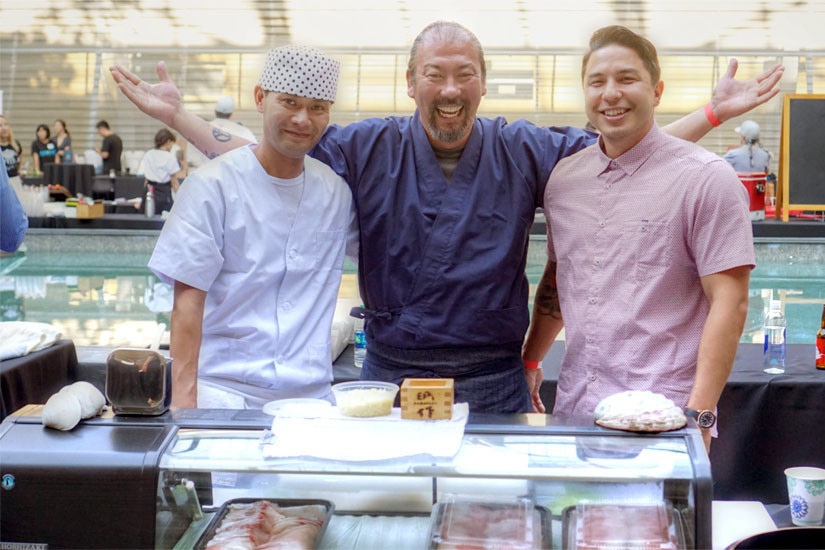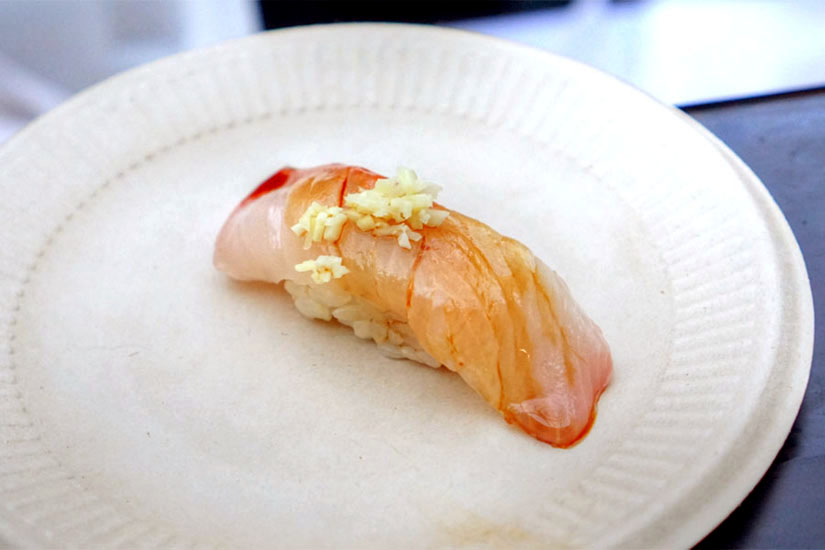 Executive Sushi Chef Yoya Takahashi and GM Jesse Duron represented their new restaurant
Umi by Hamasaku
, which is scheduled to open in El Segundo's The Point shopping center this fall. Their various types of
Nigiri
and
Sashimi
were a hit, and I was digging their mini sushi case as well.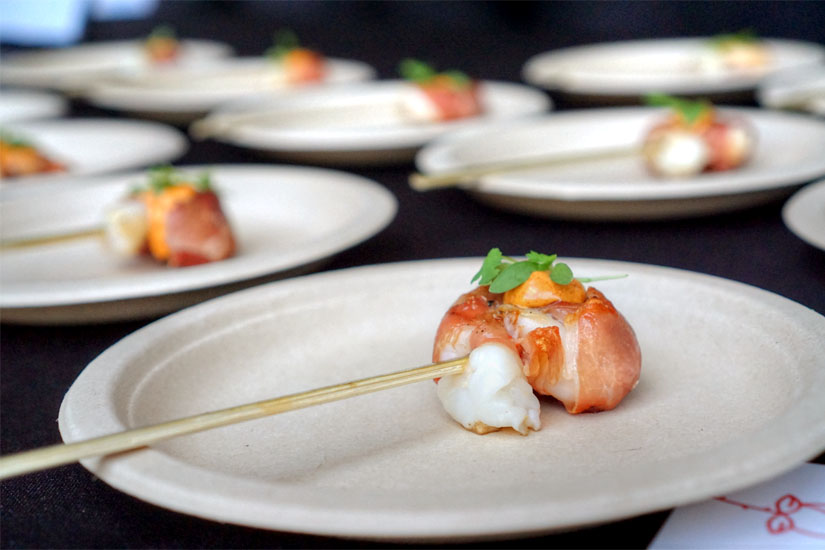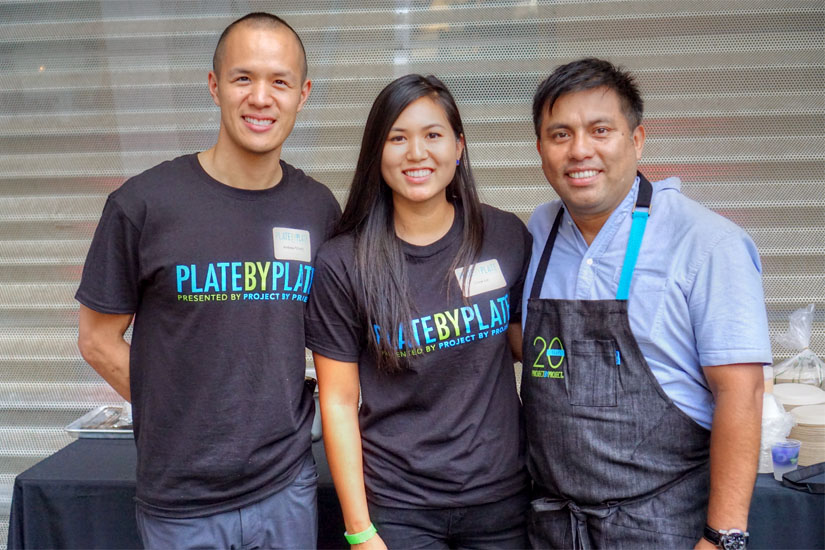 Longtime Plate by Plate supporter Ricardo Zarate was back with
Rosaliné
, his much-anticipated return to the LA dining scene that dropped in June. His dish? Some appealing
Savory Blue Prawns with Serrano Ham and Smoked Panca Aioli
. Assisting were PbP volunteers Andrew Chiang and Chloe Lin. Also, do note the schmancy custom PbP 20th anniversary apron that "Martin" is modeling, provided to each Chef by local design firm
BlueCut
.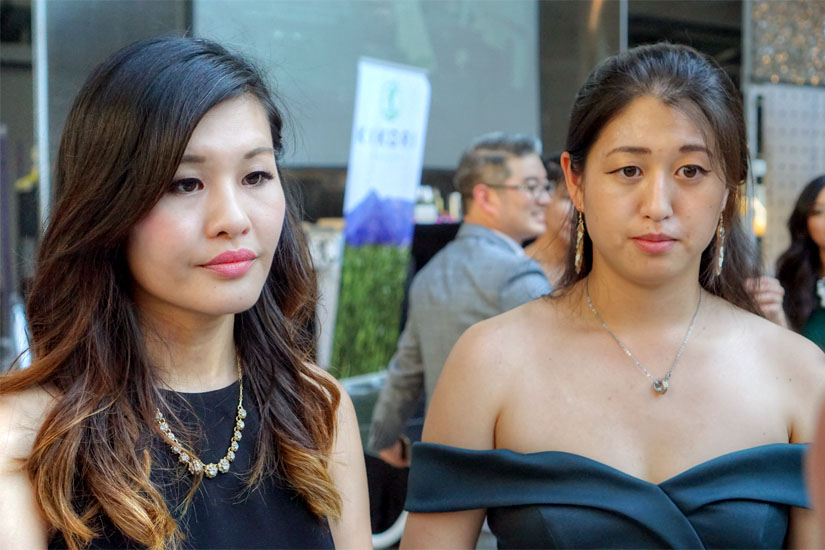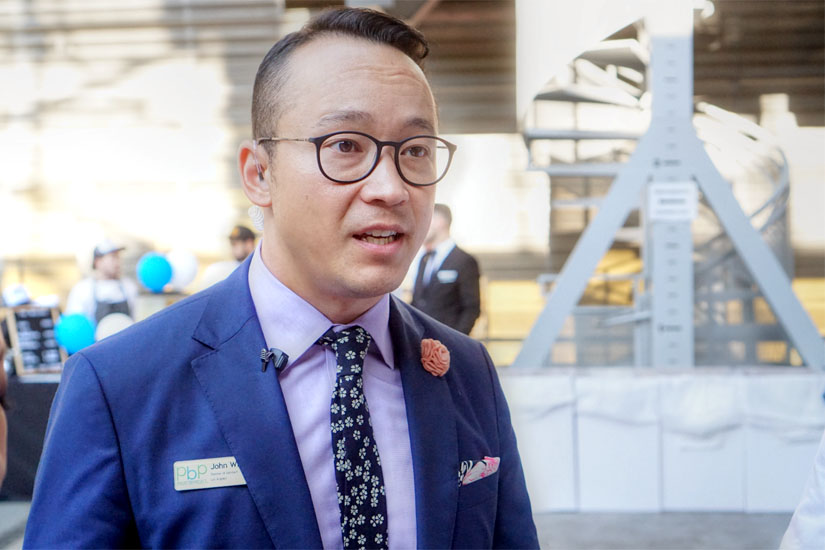 L:
PbP Outreach Team Member Winnie Fong and PbP Manager of Past Partner Relations Michelle Li, both looking sullen.
R:
PbP Director of Outreach John Wirfs rocking his fancy engraved name metal tag (why is he the only member who has one?), pocket square, and lapel flower thingy.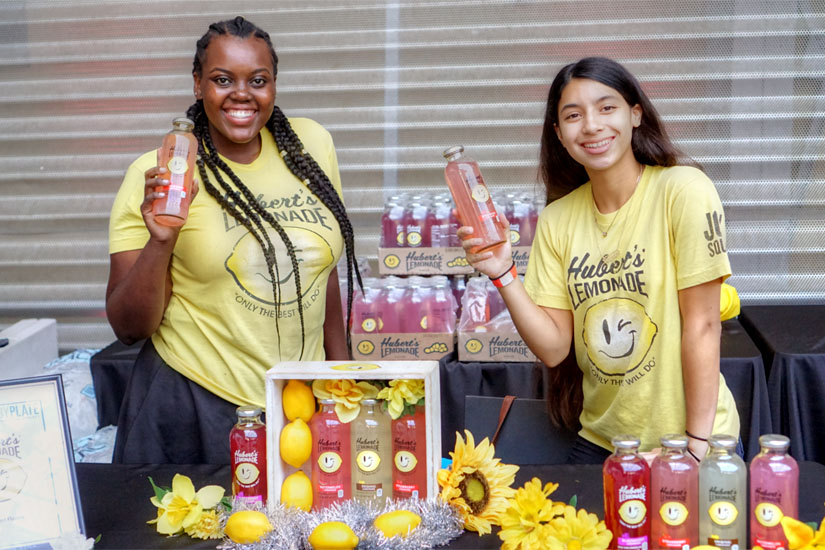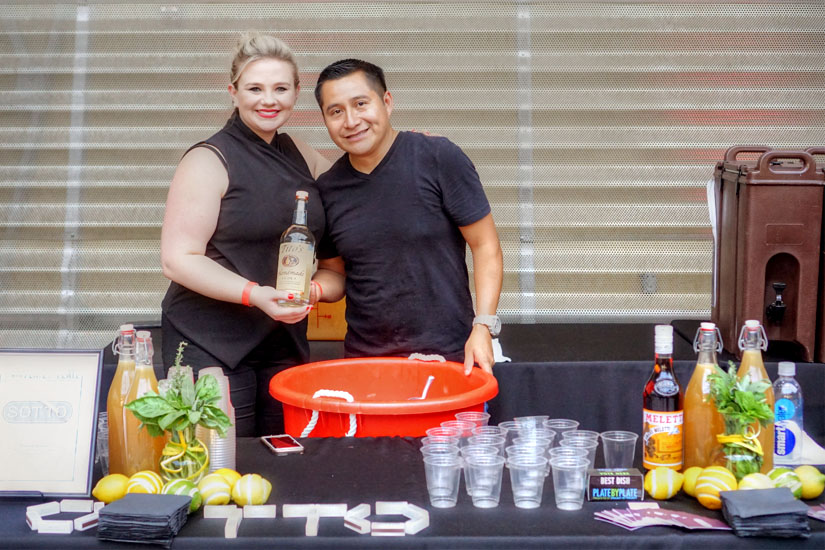 L:
Hubert's Lemonade
was
last year
's "Best Beverage" winner, and the team was back for a second helping.
R:
Coincidentally, right next door was
Sotto
, which ended up winning the top spot this year. Bar Director Brynn Smith and Noe Garcia definitely delivered with their cocktail, the
Miele di Nettare
(Tito's Vodka, Lemon, Honey, Meletti Amaro).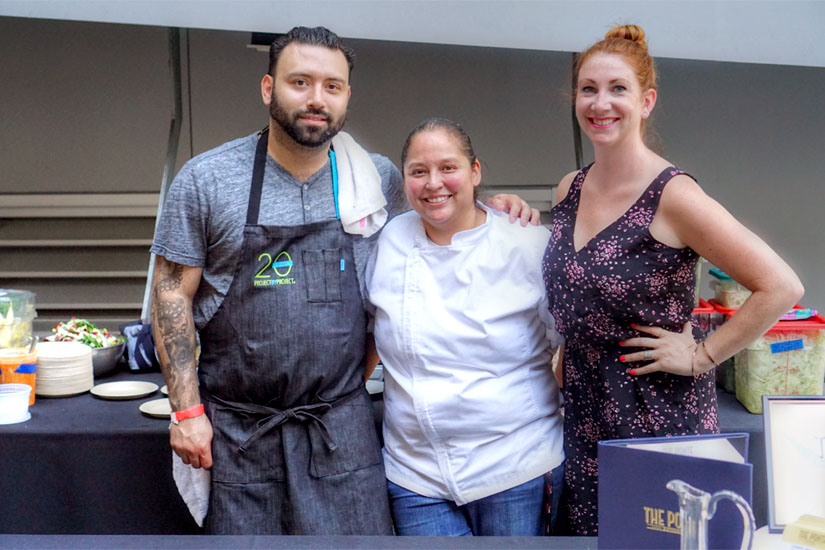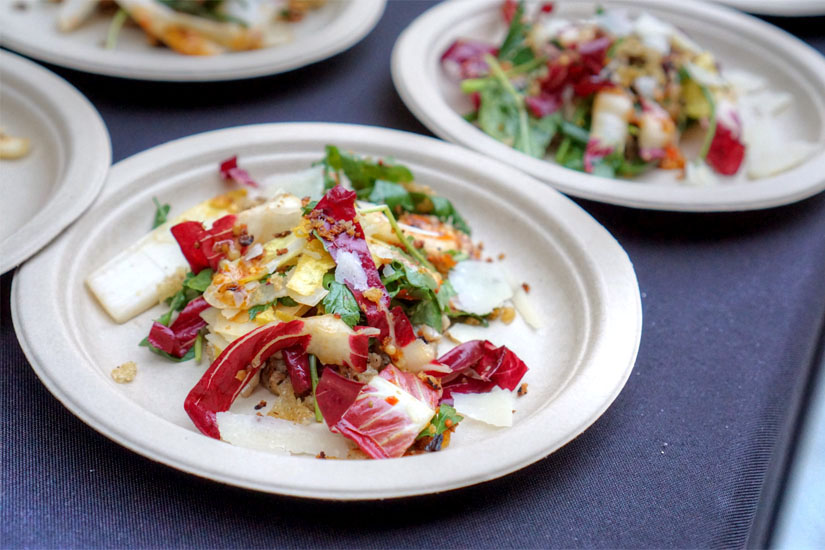 Stephane Bombet's been a perennial supporter of PbP, and though he was absent this evening, he did send his new eatery,
The Ponte
. Executive Chef Freddy Vargas and GM Kelly Guilday served up a lovely salad of
Porchetta with Bitter Greens and Calabrian Chili Vinaigrette
.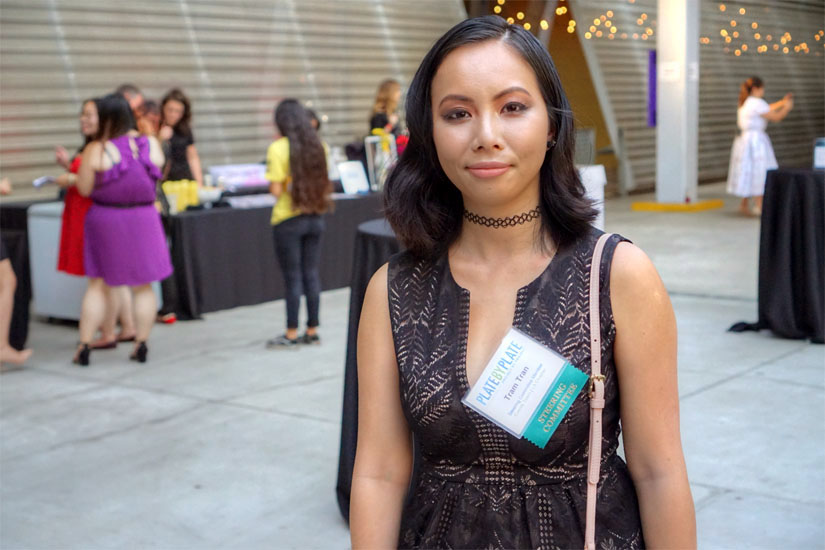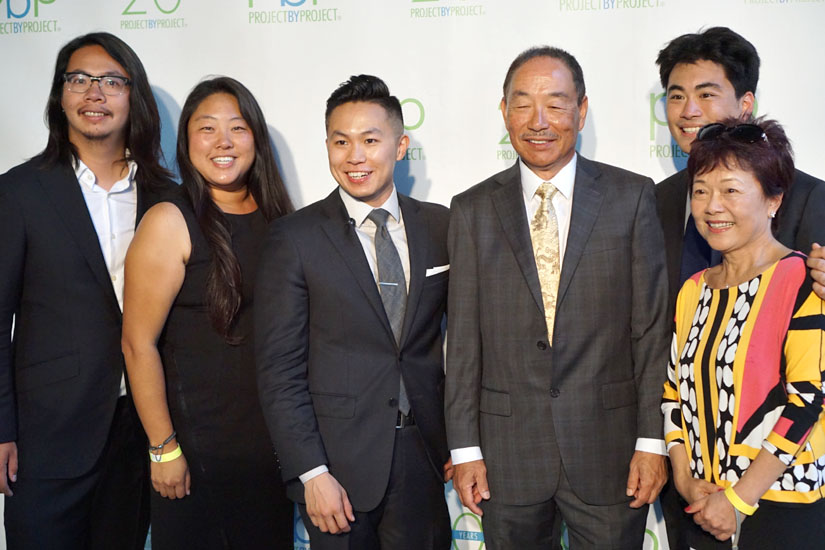 L:
PbP Events Team Member Tram Tran, with poorly pinned name tag.
R:
A family affair: PbP Director of Volunteer Management Patrick Lee with the parentals, as well as PbP Manager of Communications & Multimedia Wilson Kin (his cousin) and other cousins Lawrence Tang and Nina Kin.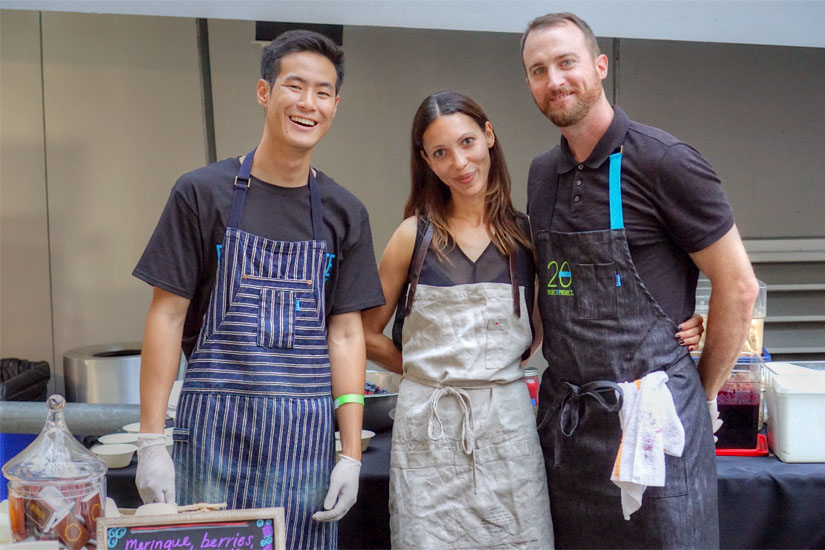 Newcomer
Manuela
did well for their first time. Chef/Partner Wes Whitsell and GM Amanda Craig chose to go with a dessert, specifically an
Eton Mess with Meringue, Berries, Chantilly, and Lemon Zest
.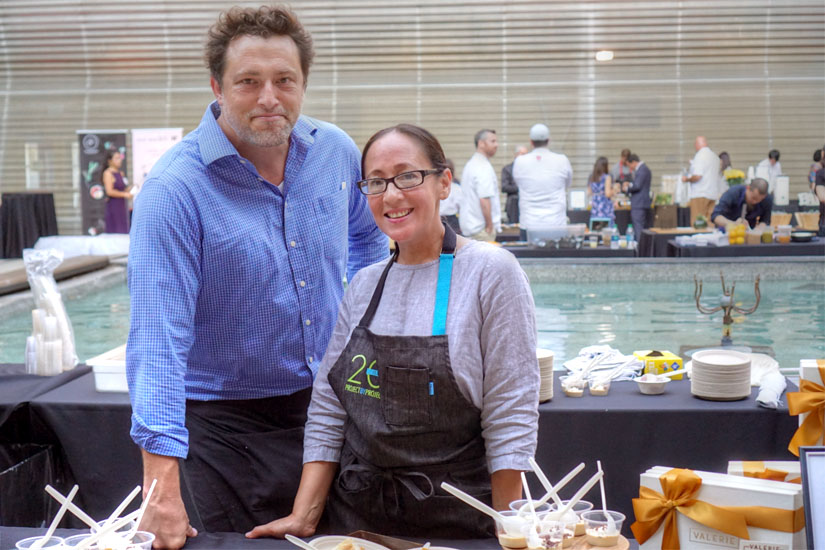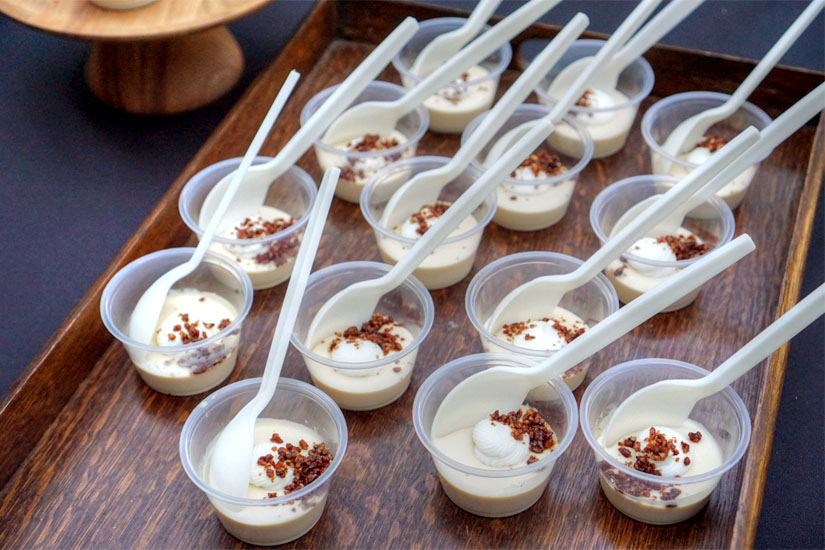 The
Valerie Confections
station was manned by the owners themselves: the wife-and-husband team of Valerie Gordon and Stan Weightman Jr. On offer were a
Hojicha Panna Cotta
and
Coffee Crunch Cake
. Mouseover for secondary photos.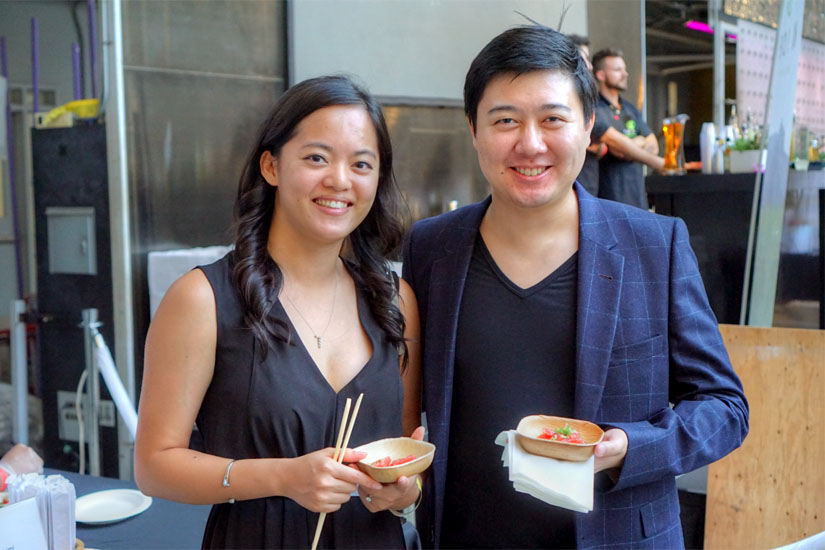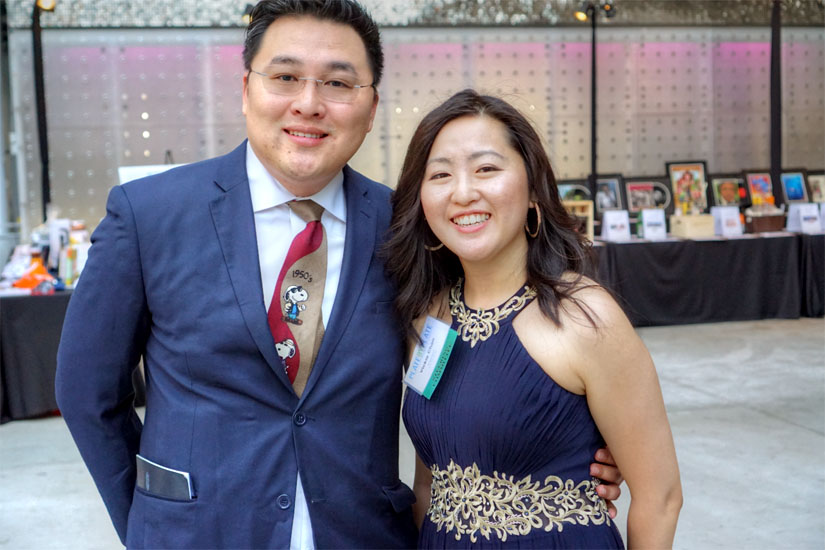 L:
The unforgettable Michael Keng, a former PbP-er, with a woman that he didn't come to the event with.
R:
PbP President Vickie Chan and guy with a somewhat inappropriate tie.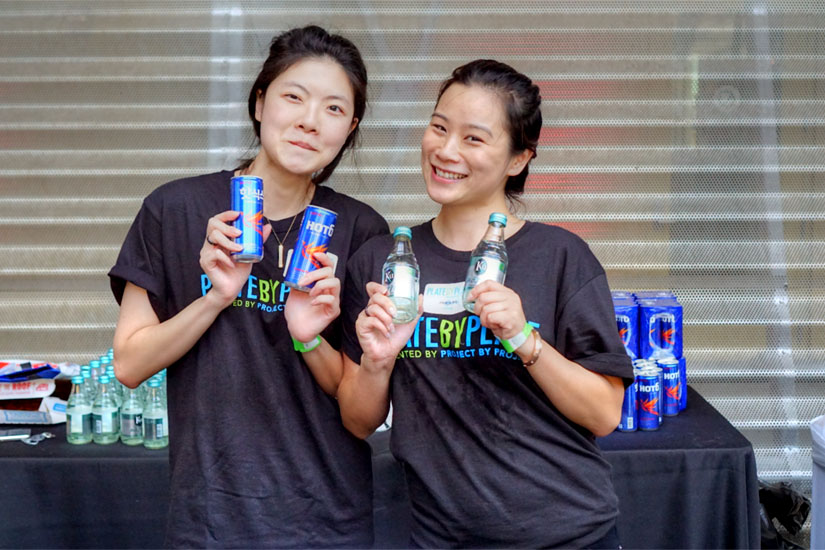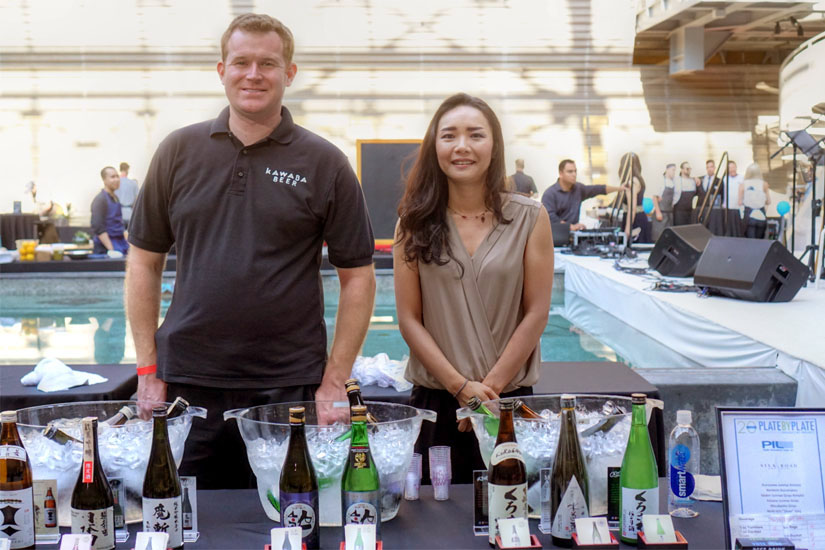 L:
Friends and PbP volunteers Blake Huang and Jackie Ho were in charge of the
Lotte Chilsung
station, and were slanging cans of
HOT6
(that would make a good name for a K-pop boy band) energy drink and the soju-based
Ku Mojito
.
R:
Repped by Sales Account Executive Michael Russell (who was at Plate by Plate
last year
as well),
Pacific International Liquor
/
Silkroad Wine and Spirits
once again had an impressive array of sakes available for tasting.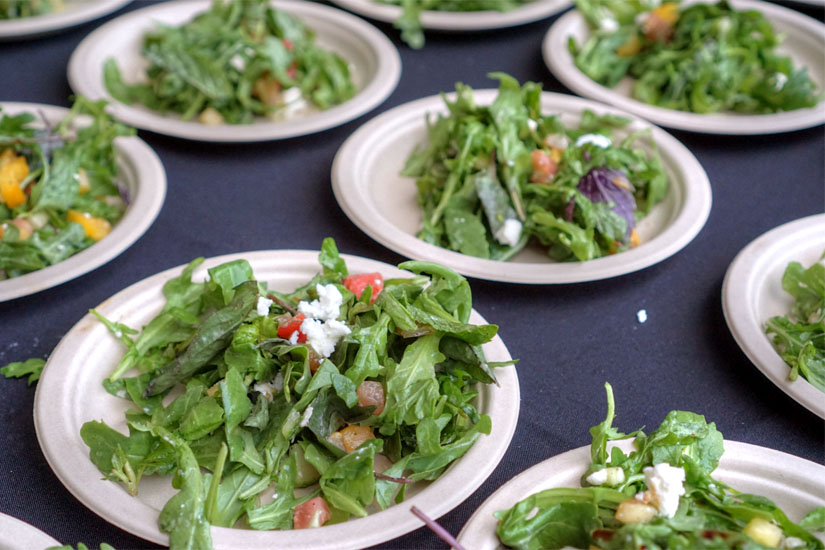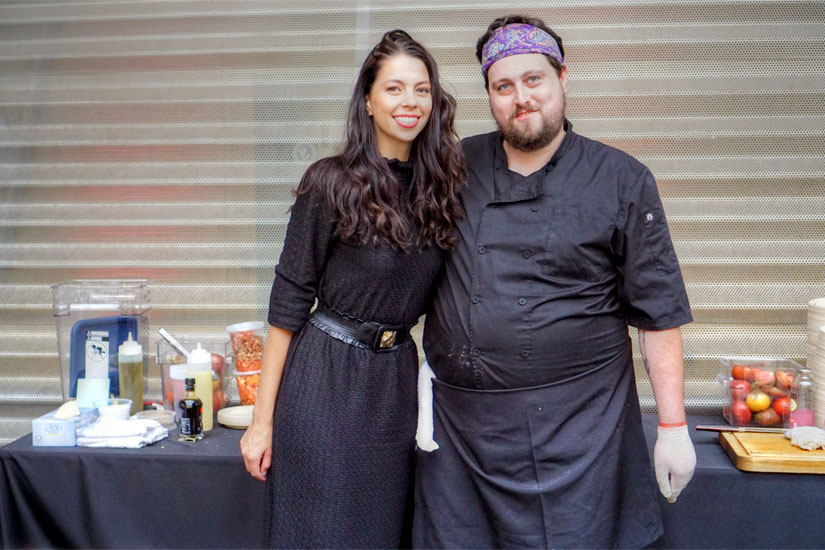 Bar Angeles
' new Head Chef Patrick Zagorski had a light
Summer Salad with Arugula, Watermelon, Goat Feta, Heirloom Tomatoes, Cucumber, and Four Leaf Balsamic
going on.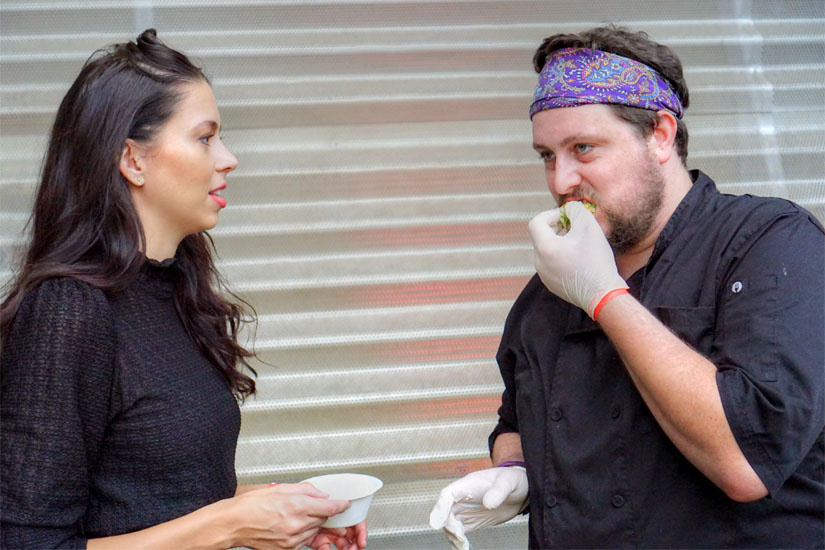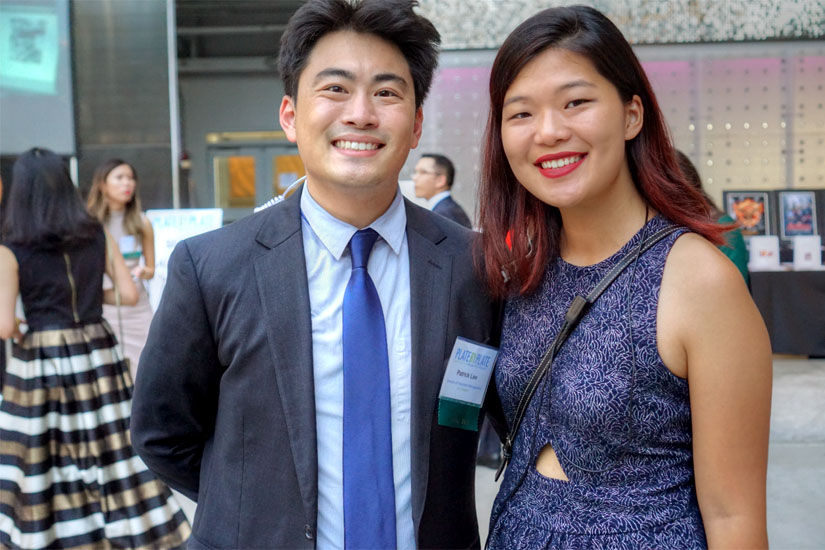 L:
Zagorski sampling one of Nguyen Tran's balls. I will say that I appreciate the headband.
R:
PbP Director of Volunteer Management Patrick Lee with PbP Manager of Team Development Cindy Lee (no relation).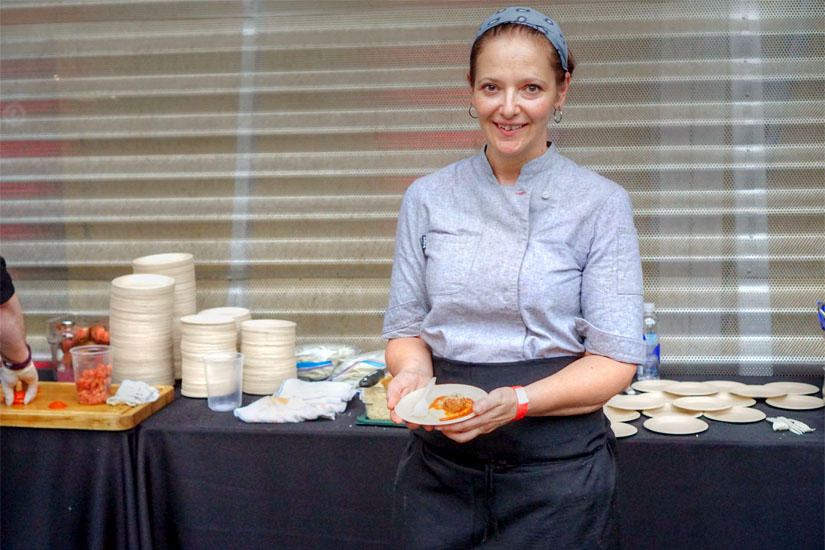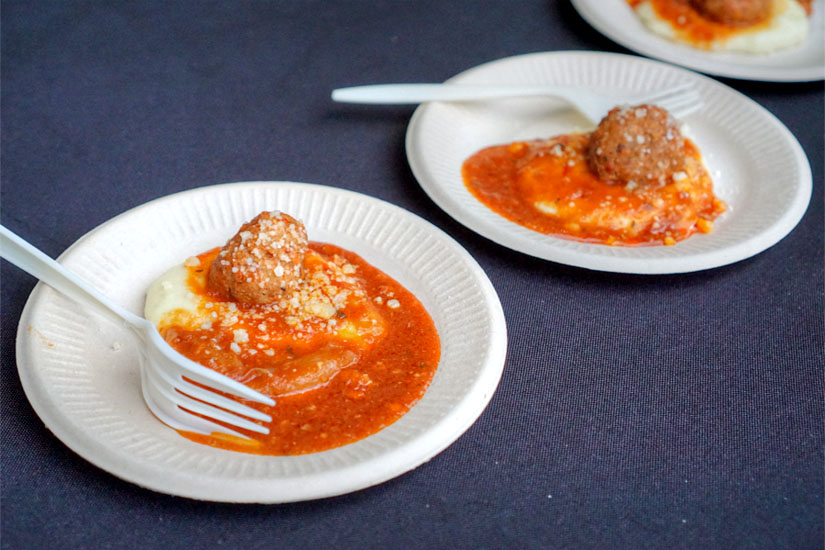 Sister restaurant
Cafe Birdie
of Highland Park had some homey
Braised Meatballs with Potato Purée, Cipollini Onions, and Parmesan
, courtesy of Executive Chef Renata Rokicki (also with the headband).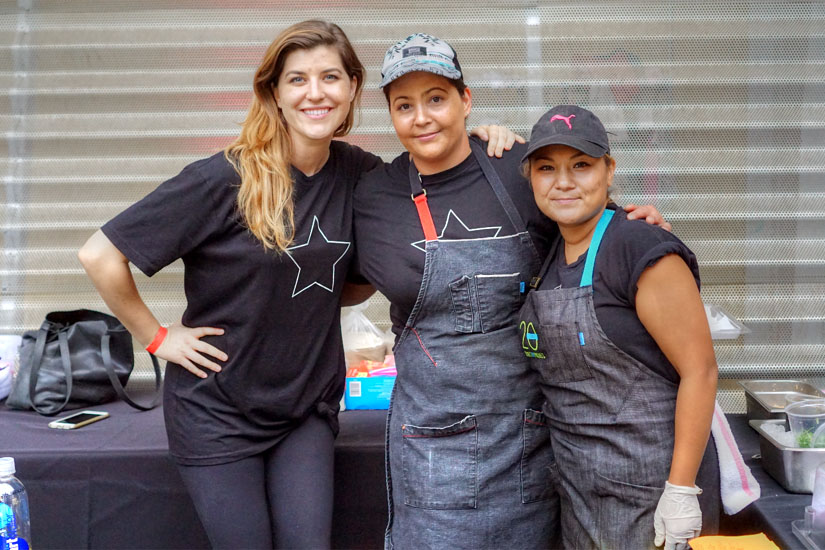 New Chef de Cuisine Valentina Batture of
Petty Cash
was dishing out a
Chicken Machaca Tostadita with Bell Pepper, Tomato, Roasted Peanut Sauce, Guacamole, and Pickled Onions
. Note the dual
BlueCut
aprons.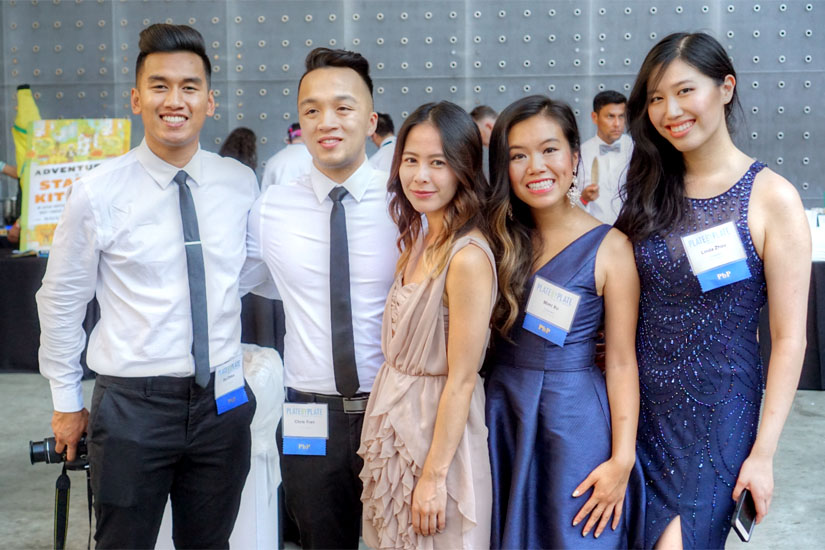 L:
Some peeps from other Project by Project chapters: Marketing Team Member Da Chhin and Fundraising Team Member Chris Tran from San Francisco (matchy-matchy!), PbP SF Events Team Member Anh La, PbP SF President Mimi Xu, PbP NY President Linda Zhou.
R:
PbP Director of Marketing Lisa Xu and PbP Director of Fundraising Eileen Ung.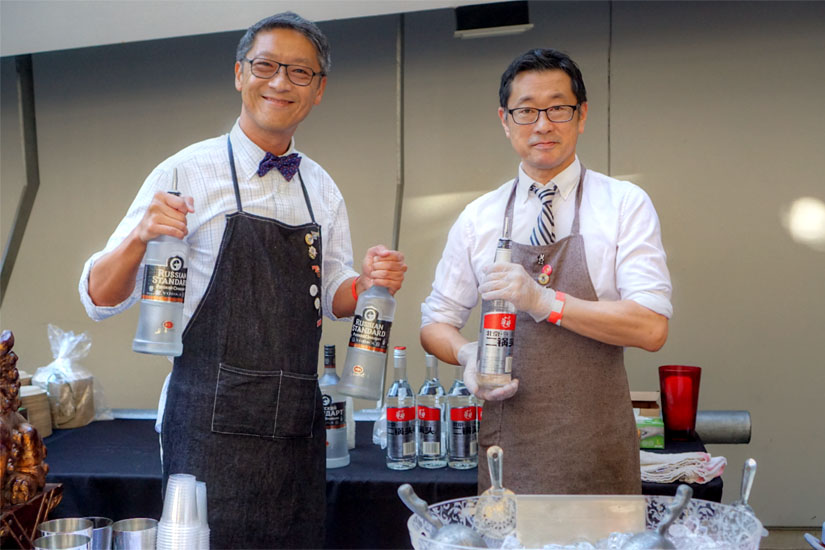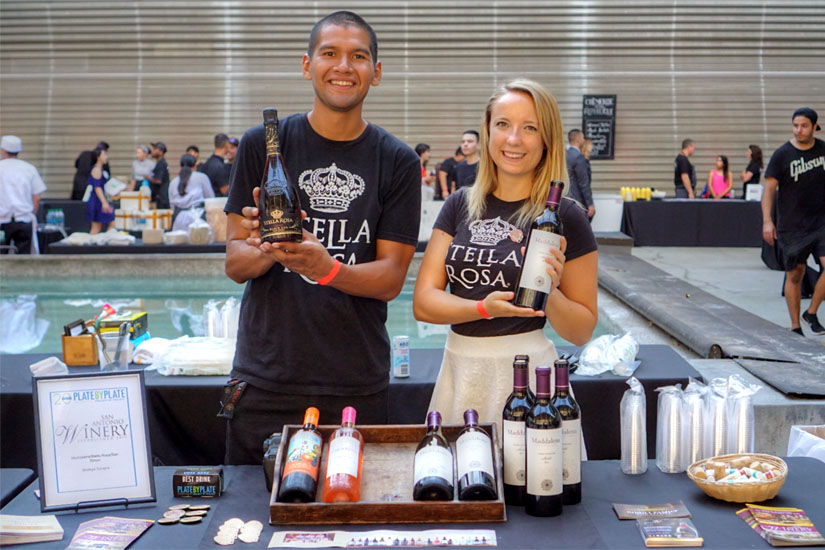 L:
The duo of Andrew Chiu and Andrew Wong--Andrew²--from
Peking Tavern
had two cocktails on offer: a
Chrysanthemum Martini
(with Russian Standard vodka) and a
Baijiu Sour
(with Beijing
er guo tou jiu
).
R:
San Antonio Winery
had a variety of quaffable
Maddalena
,
Stella Rosa
, and
Bodega Sangria
wines available.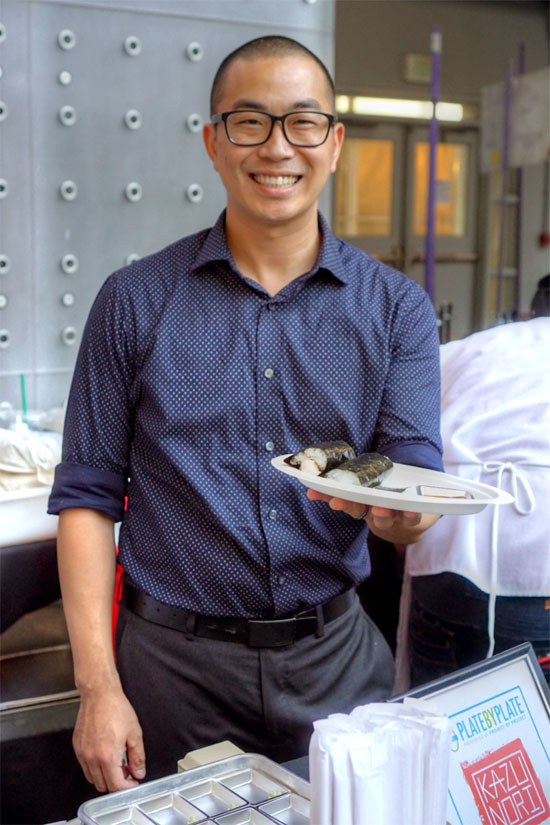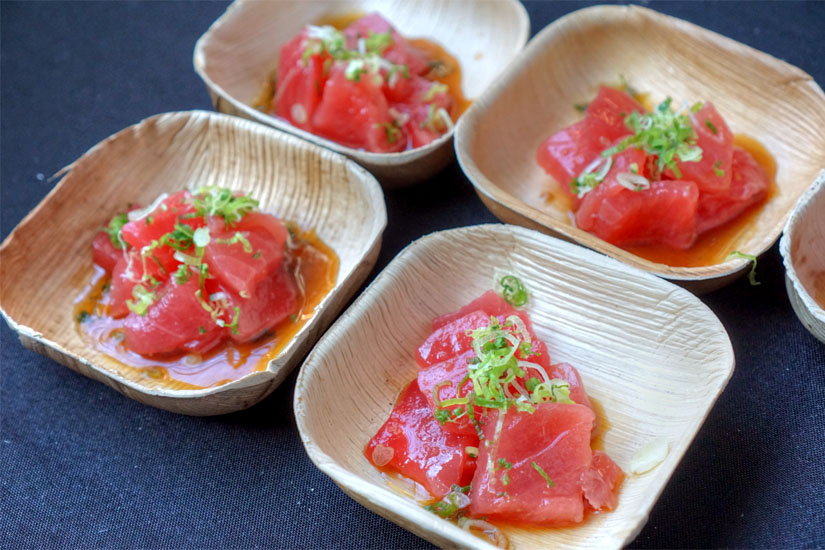 Regional Manager Michael Lee was fronting the
KazuNori
station, which once again boasted the longest lines thanks to their made-to-order
Handrolls (Cucumber, Yellowtail, Toro, Crab, Salmon, Bay Scallops)
and
Tuna Sashimi
.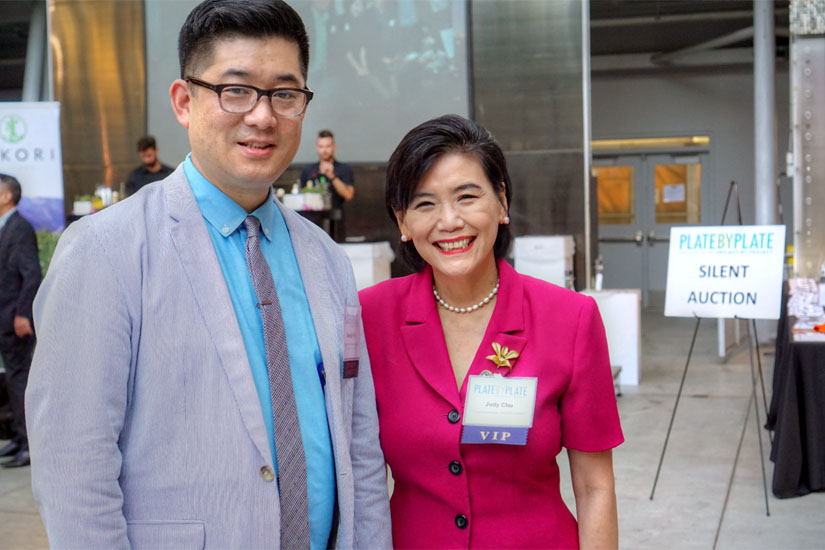 L:
The ever-well-connected PbP Manager of Past Partner Relations George Yin, with US House of Representatives member Judy Chu (from our 27th congressional district--i.e. much of the SGV).
R:
The event's MCs Cathy Nguyen (replacing Dan Matthews, who pulled out at the last minute) and Mike Bow, with PbP Marketing Team Member Samuel Oh.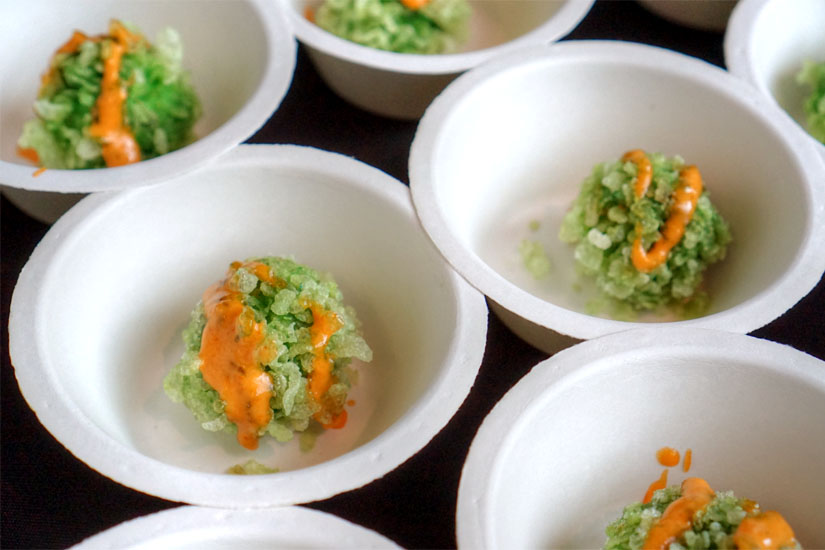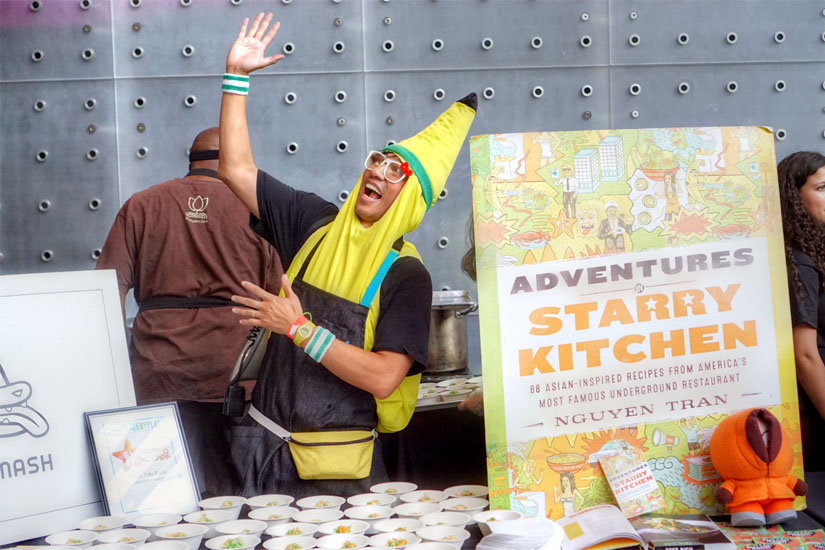 Starry Kitchen
/
Button Mash
's Nguyen Tran once again had his
Crispy Tofu Balls with Spicy Sriracha Aioli
in yo' mouf. Note that his cookbook,
Adventures in Starry Kitchen
, was released recently at the beginning of June.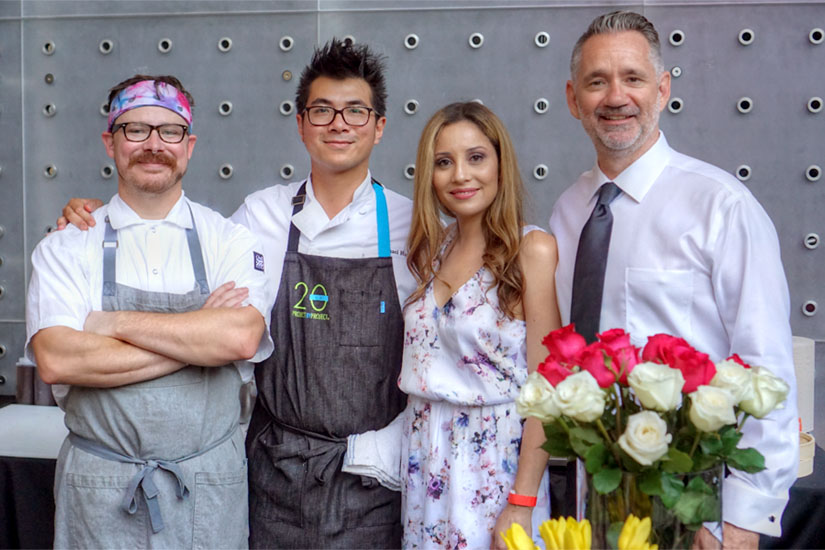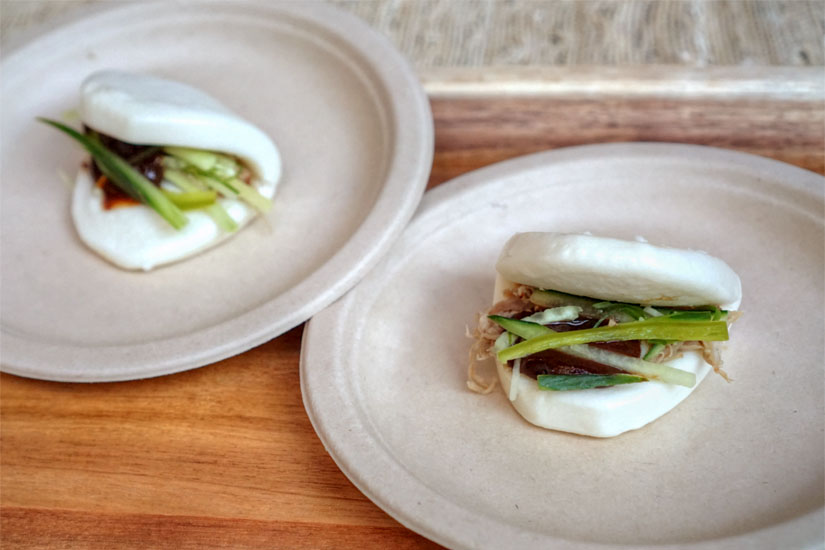 Chef Michael Hung was present, repping his upcoming eatery
XO on Beverly
(which takes over the old Stir Market spot) with
Orange Braised Duck Wraps with Savoy Cabbage and Plum Sauce
.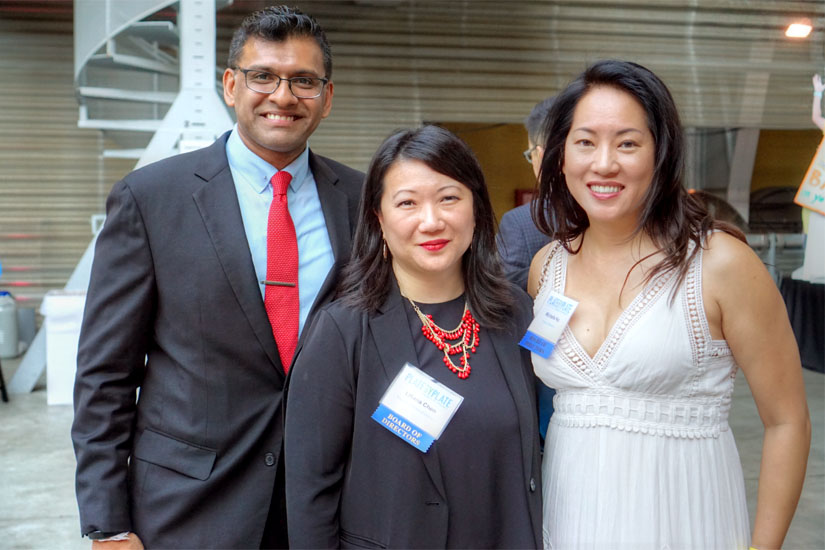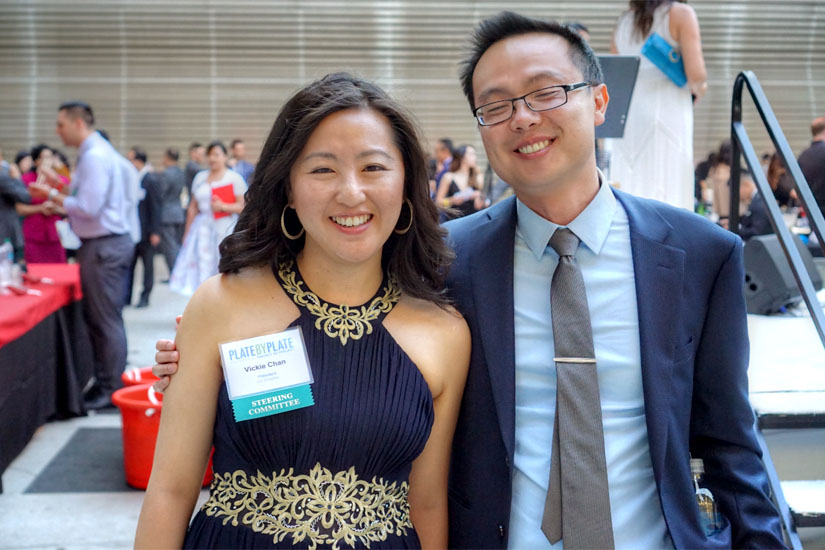 L:
The O.G. PbP crew: National President Nirendran Kathirithamby, Co-Founder & Board Director Liliana Chen, Board Chair Michelle Ko.
R:
Current PbP President Vickie Chan once again, with boytoy Jason Su.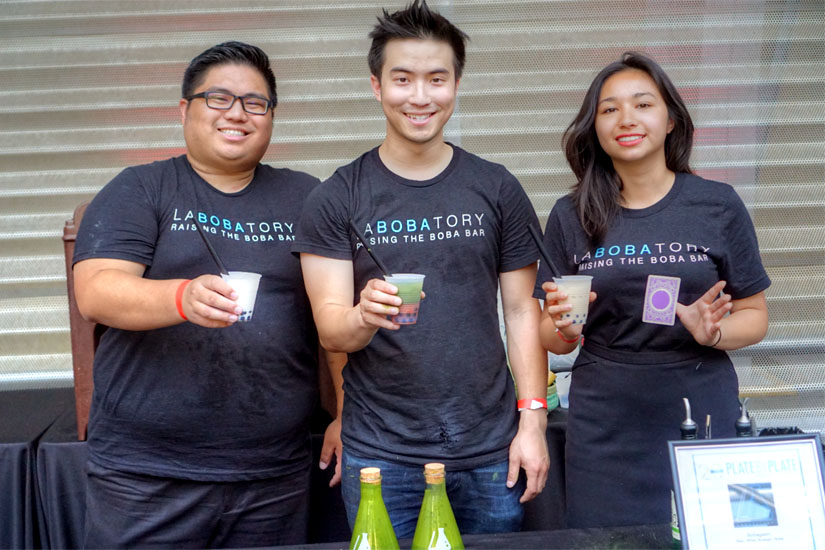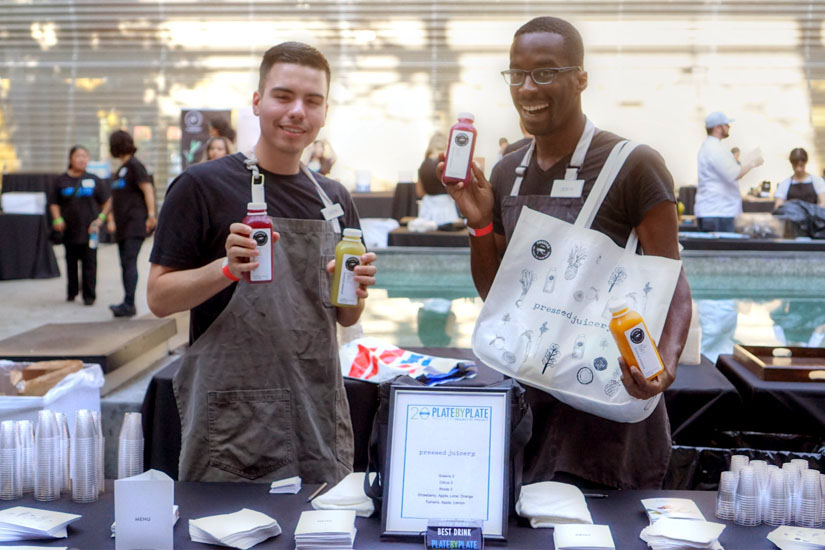 L:
Labobatory
founder Elton Keung had someone doing card tricks(?) at his station, but also served up some tasty alcoholic boba cocktails in the form of the
Bobagasm
(Soju, White Russian, Boba),
AMF (Asian Matcha Fever)
(Soju, Strawberry, Matcha), and
Lebanese Rose Milk
.
R:
Pressed Juicery
had a selection of cold-pressed juices available, served by Jerin Dennis Haynes and his good buddy Austin.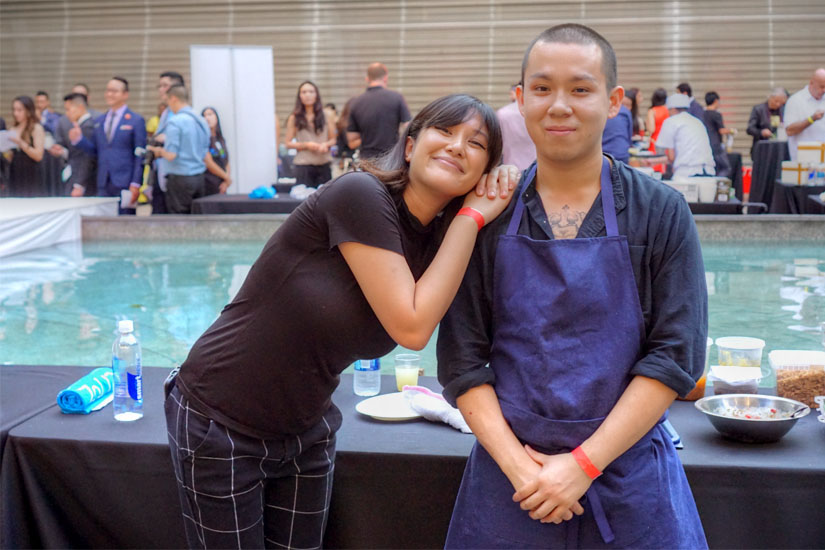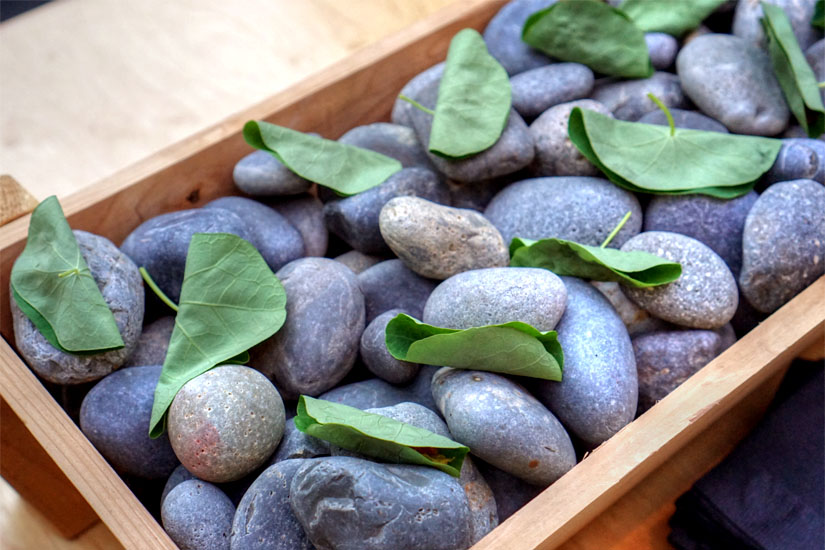 Chef/Owner Jonathan Yao and GM Nikki Reginaldo from the very of-the-moment
Kato
take the cake for most unusual plating with their nasturtium leaf-wrapped
Beef Tartare
with what I believe was Meyer lemon.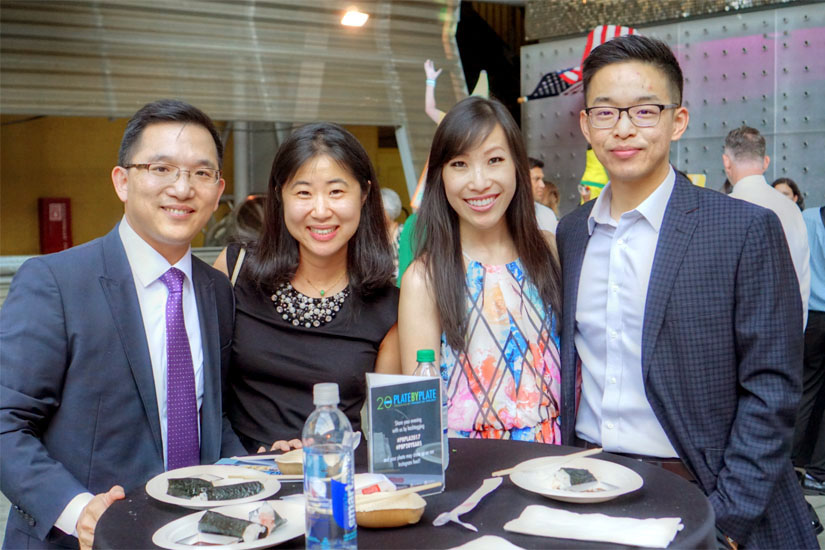 L:
PbP National Treasurer Alek Tan (on the right) with "friend," along with politician Jay Chen (he ran for Congress back in 2012, losing to Ed Royce) and wife.
R:
Sophie Westacott from the California Science Center, after inhaling one of Kato's tartares.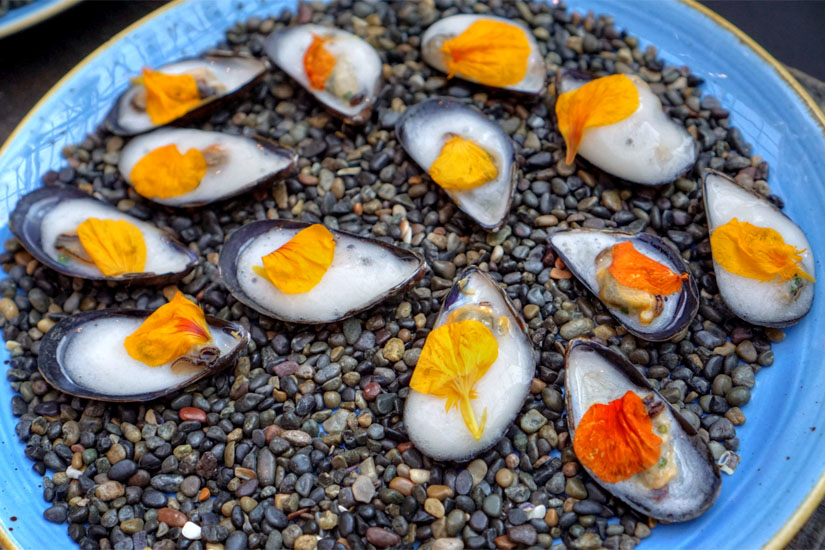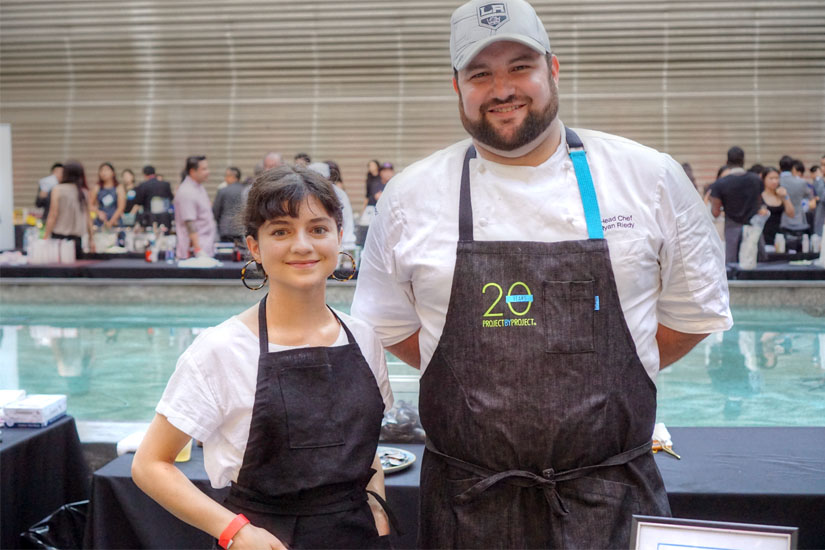 Kali
's station was being run by Ryan Riedy, who's actually Head Chef at Belcampo Group (Kevin Meehan attended, but I assume he was absent making the rounds). And the dish?
Pickled Mussels in Black Garlic Vinegar
, which I also have to commend presentation-wise.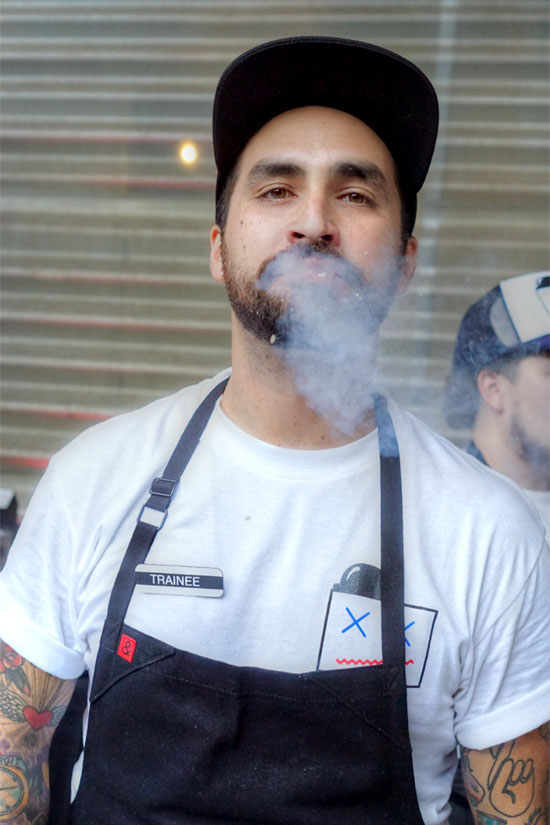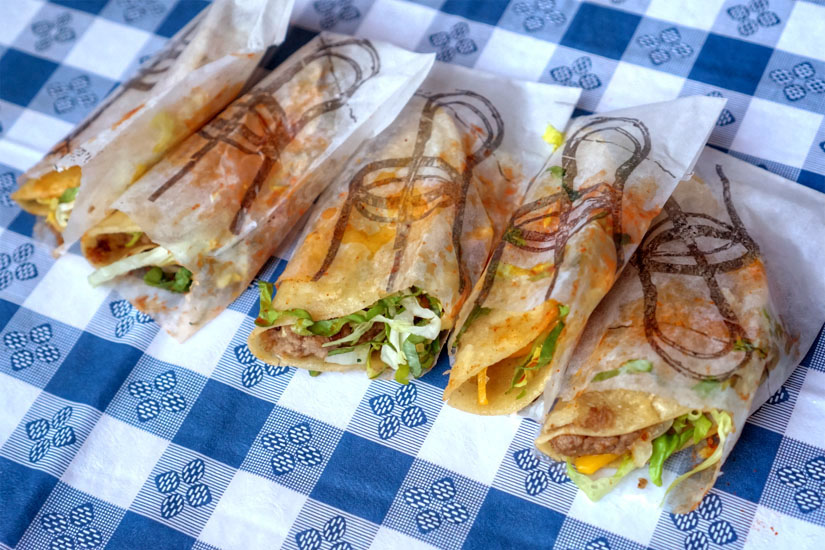 The Wallace
's Executive Chef Joel Miller had some fun
Tacos de Caja Payaso
. He was joined by Carlos Enriquez, who had some even funner
Nitro Meringues
. Mouseover for secondary photos.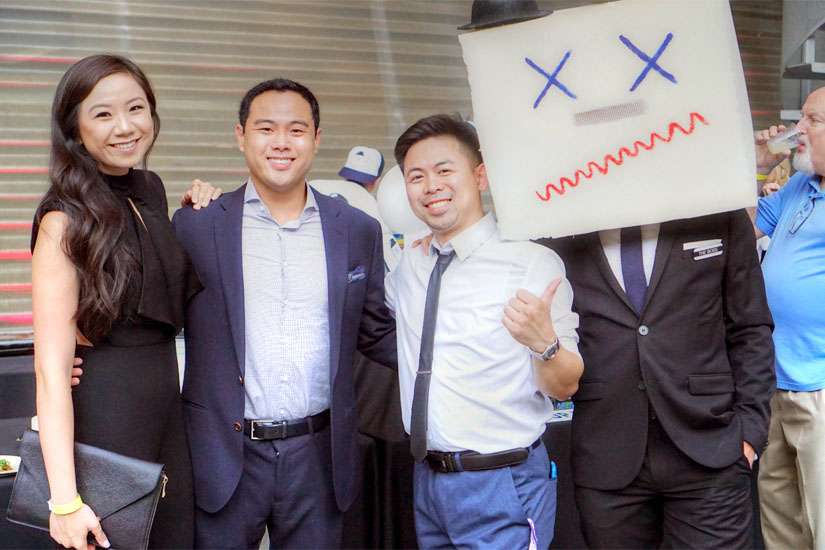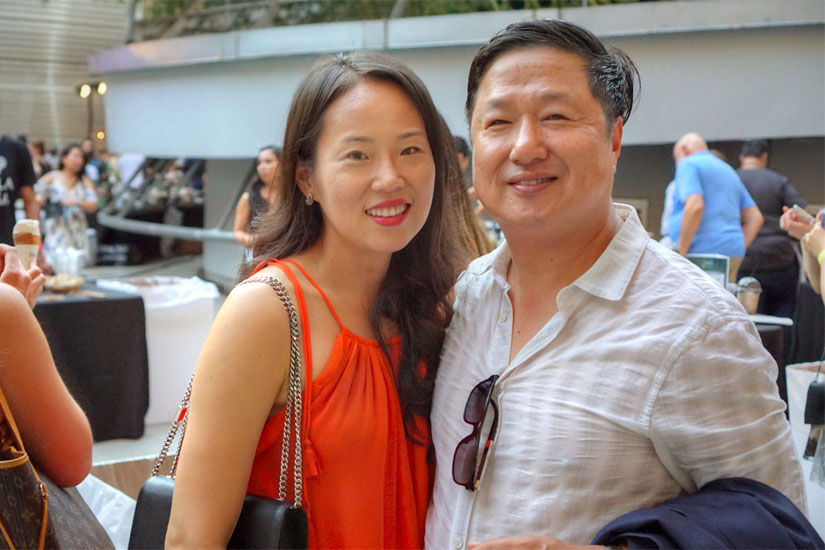 L:
Former PbP members Kelly Li and Clayton Tran with the box-head guy from The Wallace--not exactly sure what he was supposed to be.
R:
Trial attorney Jay Chung, a partner at Lee Anav Chung White & Kim LLP as well as
CPAF
board member, with the new girlfriend.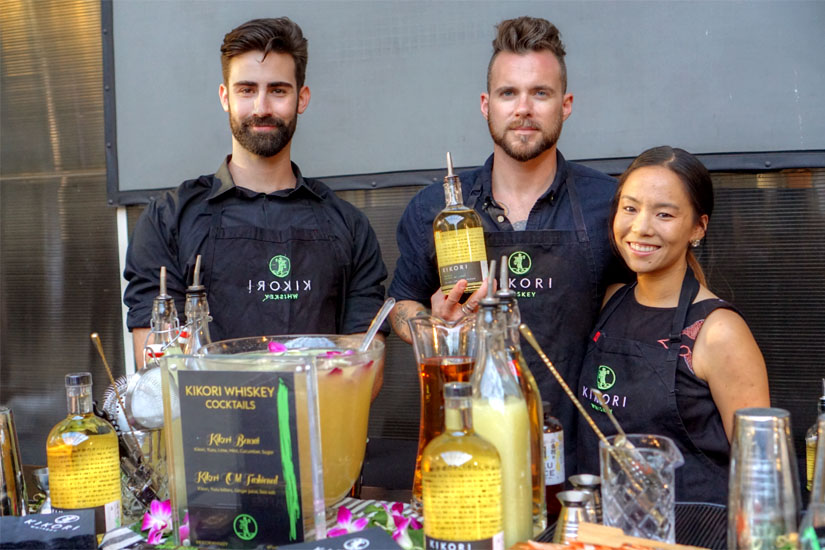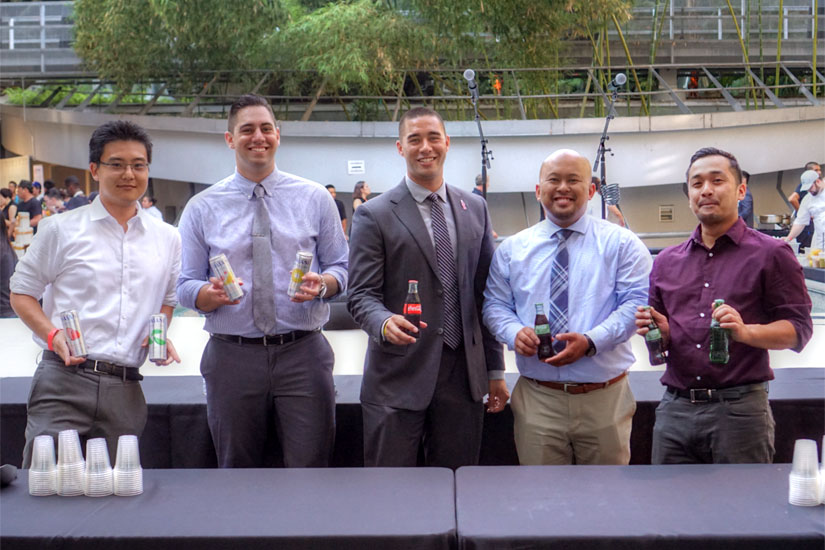 L:
Kikori
was a definite crowd favorite with its rice-based whiskey. They had two cocktails--the
Kikori Bonsai
(Kikori, Yuzu, Lime, Mint, Cucumber, Sugar) and the
Kikori Old Fashioned
(Kikori, Yuzu Bitters, Ginger Juice, Sea Salt)--and you could also sample it straight. In the photo we see marketing person Danielle Lew, as well as a bartender that apparently has his apron on backward.
R:
Global beverage giant
Coca-Cola
had a variety of their drinks available, but seemingly no decoration at all at their station.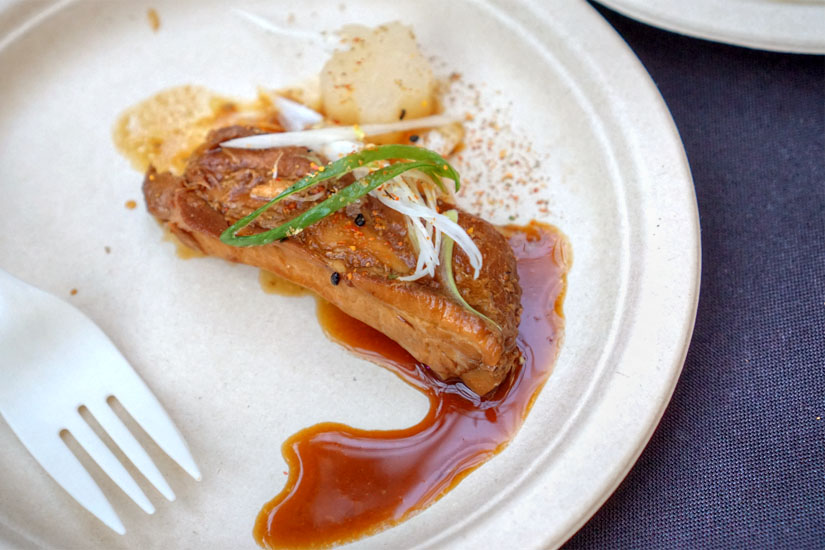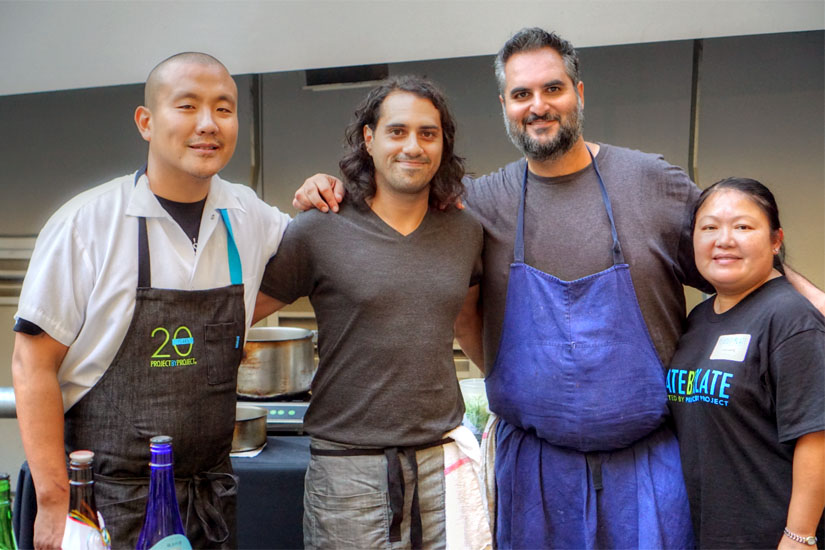 Echo Park's modern izakaya
Tsubaki
was serving some hearty
Hatcho Miso-Braised Pork Ribs
. Assisting Chef/Owner Charles Namba was PbP volunteer Julie Leong.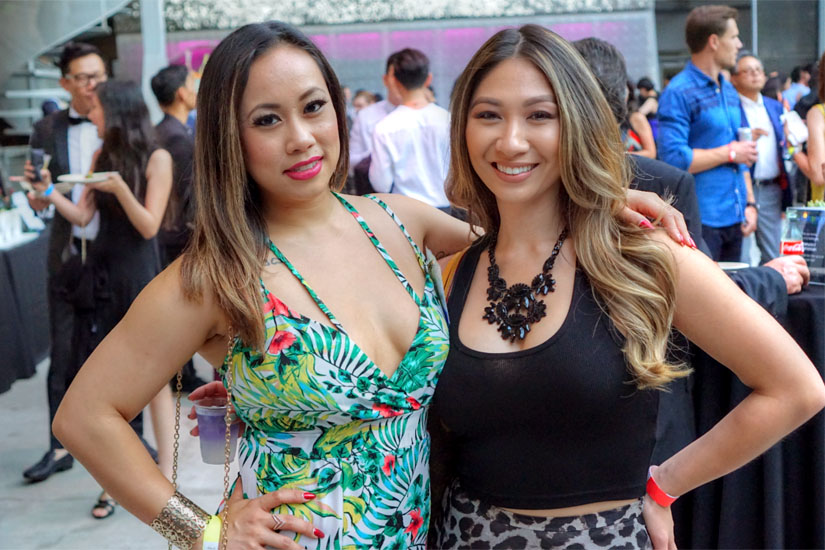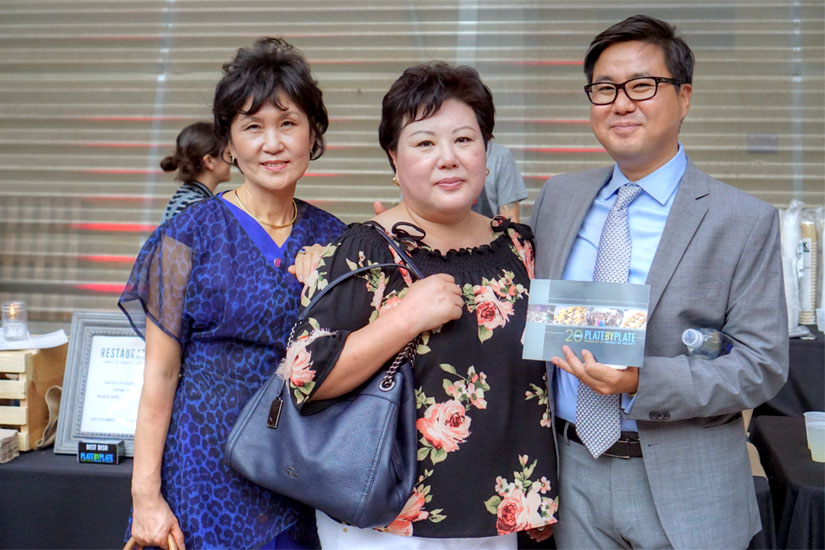 L:
My award for most surprising person to see: Former PbP President Marian Bacol-Uba (back in town from Miami), with friend April.
R:
"Uncle" James Park (winner of the baller dinner for six at
Otium
that was in the silent auction), with
noona
Sunny Park and her BFF Michelle Lim.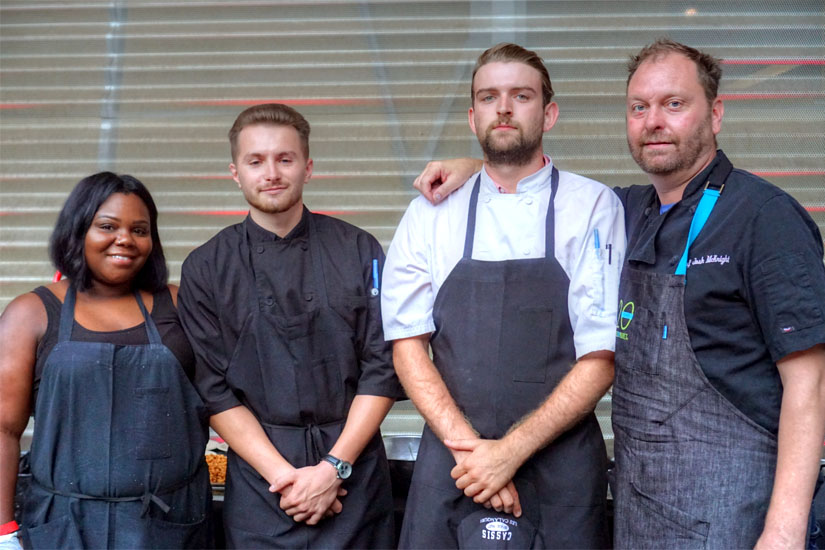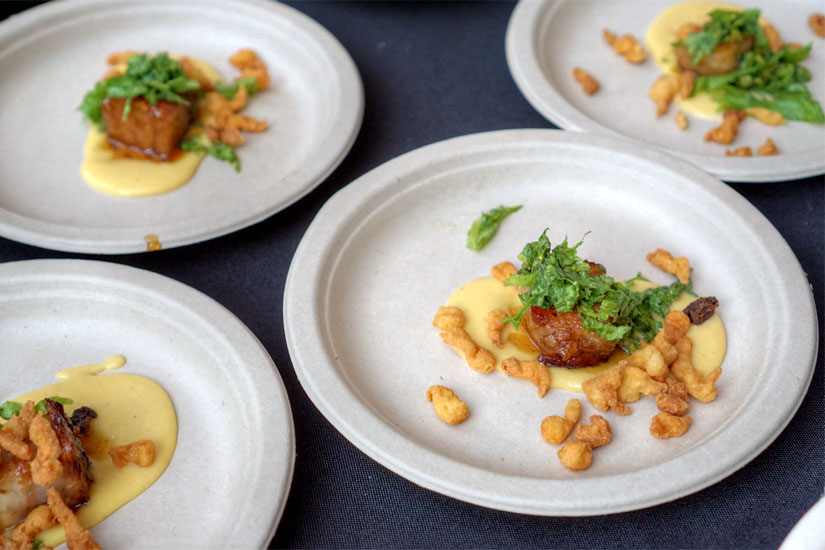 Speaking of pork, Chef Josh McKnight had an
Amaretto Glazed Pork Belly with Spaetzle and Caramelized Peaches
for
The Roof on Wilshire
.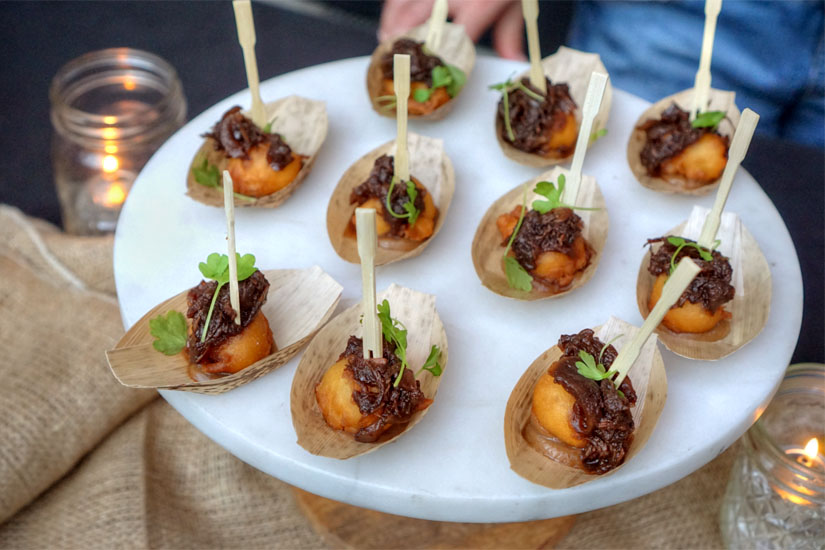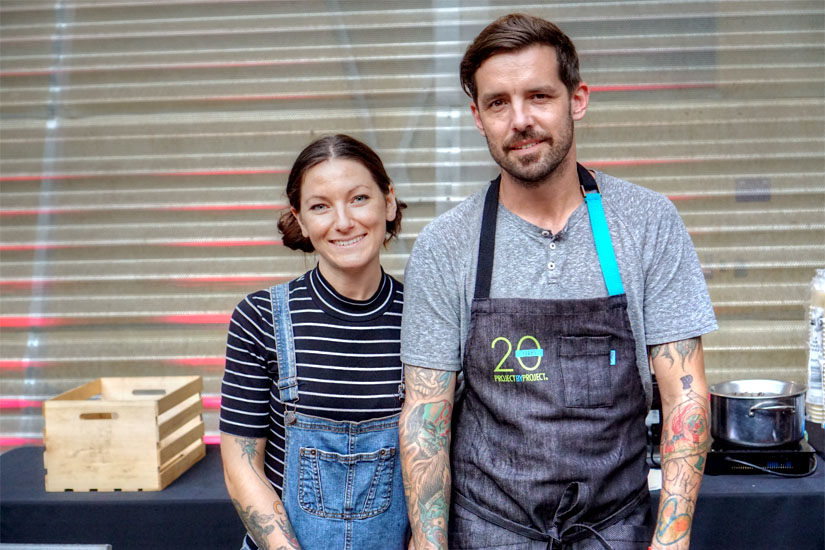 The sole representative from Long Beach,
Restauration
's Chef/Owner Phil Pretty was joined by Pastry Assistant Danielle, and their dish was a
Salted Donut Drop with Black Garlic, Salsify Purée, and Oxtail Jam
.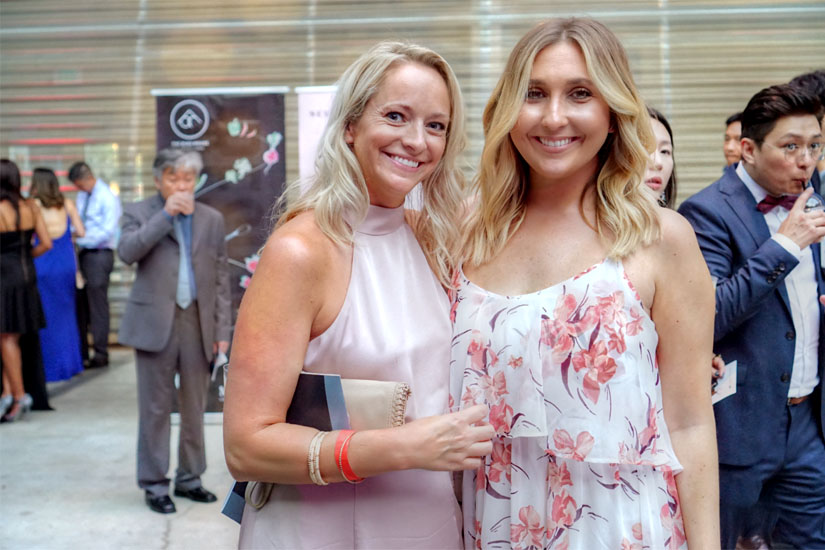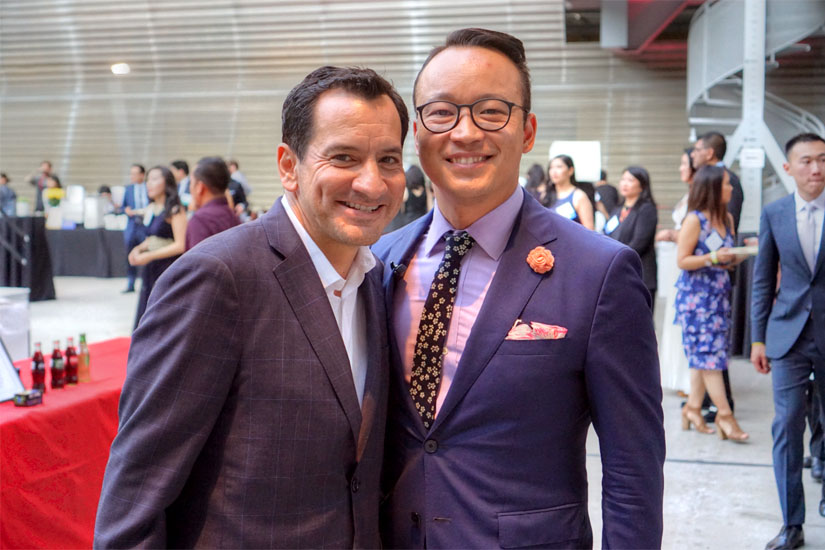 L:
Brenna O'Leary and Kaitlin Egan repping Bread & Butter PR.
R:
PbP Director of Outreach John Wirfs, with a man who sort of resembles a young Nixon.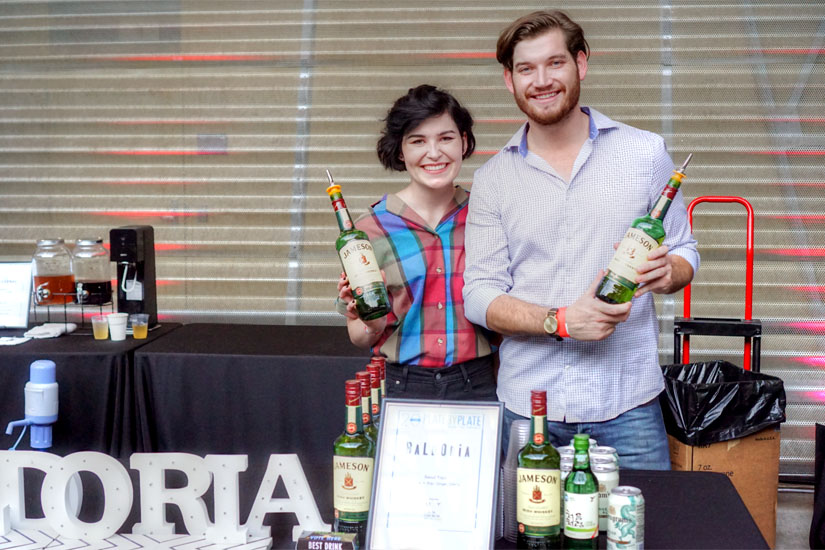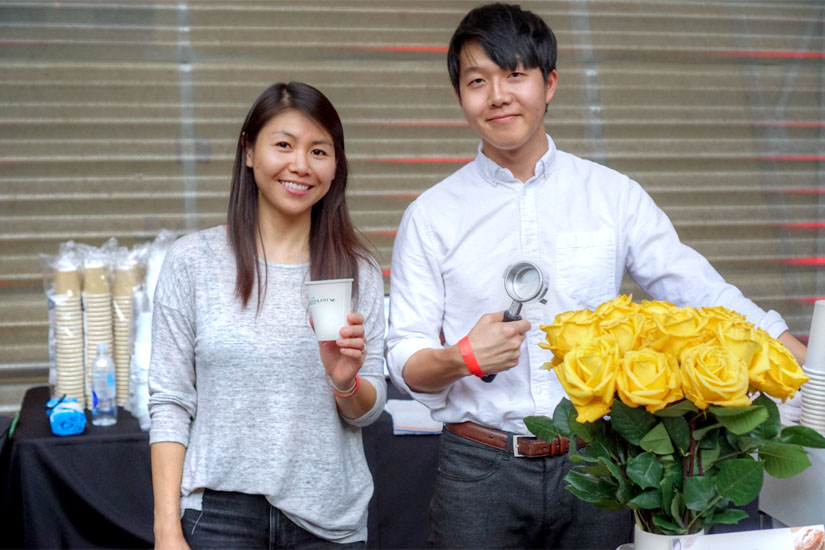 L:
Baldoria Bar + Kitchen
's Matt Bostick didn't do bottled cocktails this year. Instead, he had the fittingly Asian-y but tasty
Seoul Train
(Jameson, Soju, Ginger, Cherry).
R:
Shi Jun Ng's
The Assembly
in West Hollywood had a variety of beverages happening:
Espresso
,
Cortado/Cappuccino
, and
Cold Brew
, as well as their
Cinnamon Vanilla
,
Sparkling Yuzu Lemonade
, and
White Coconut Tea
signature drinks.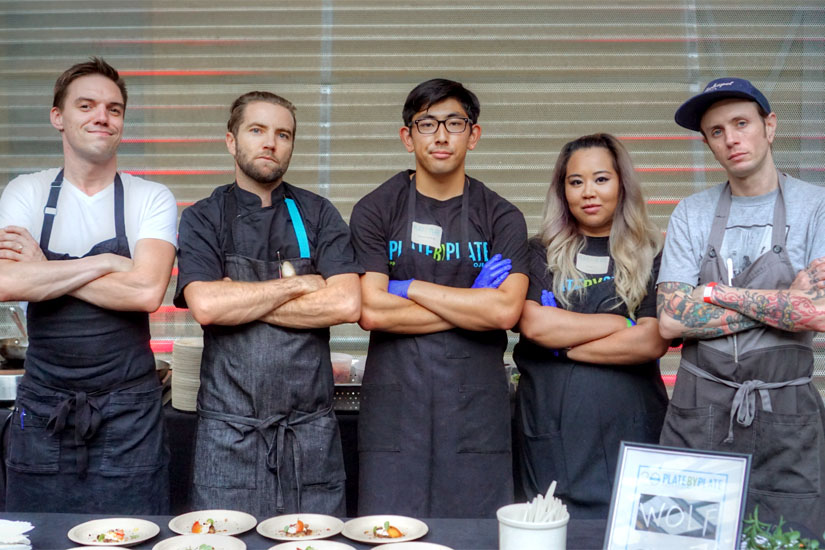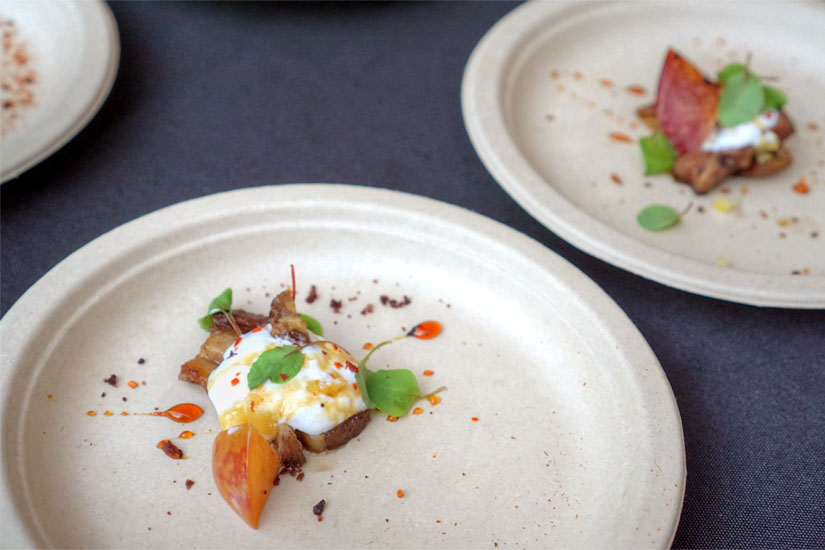 Marcel Vigneron's
Wolf
ended up winning top dish honors tonight thanks to their
Lamb Bacon with Dates
. Helping out were Event Coordinator Chris Vetter as well as PbP volunteers Mason Uemura and Alison Le. Note that this was not Vigneron's first time at Plate by Plate. On season 2 of
Top Chef
, he actually competed in an elimination challenge at 2006's event at this very venue. His team lost, so I guess this is a redemption of sorts.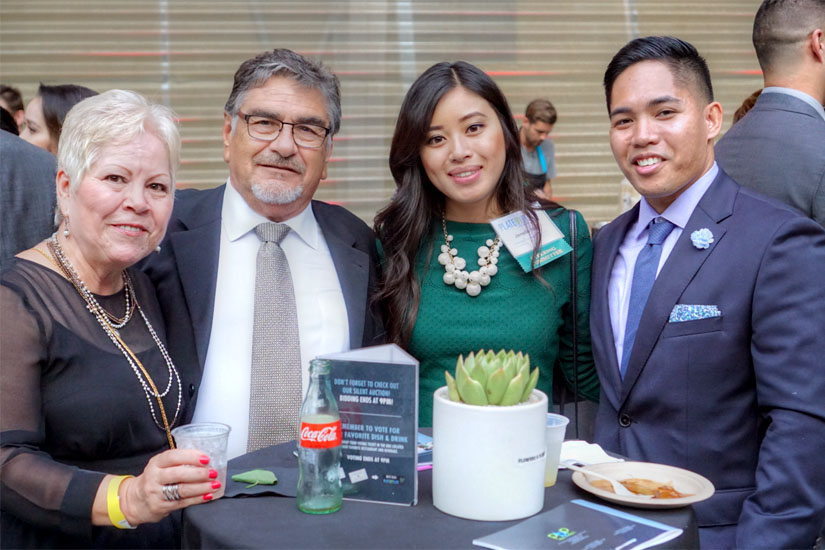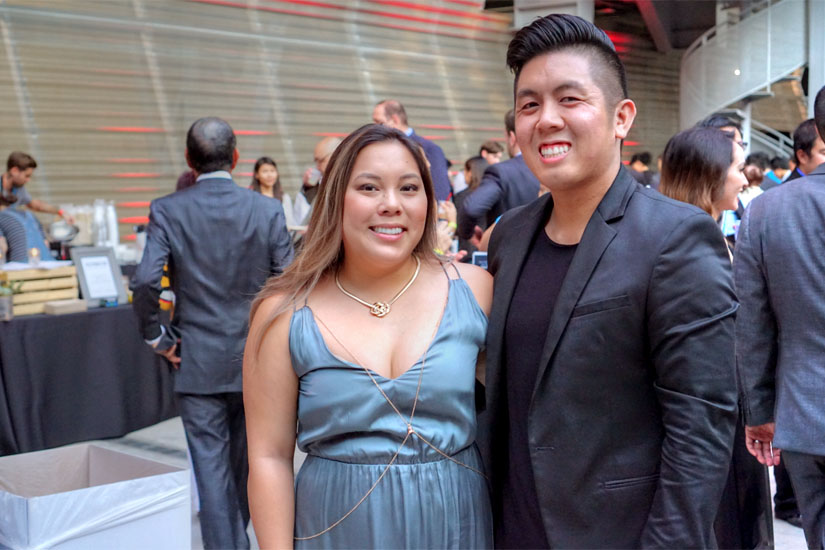 L:
PbP Fundraising Team Member Jenelle Yee with boyfriend Ver Starr, along with Delia and James Rodriguez, the godparents of PbP Operations Team Member Ruben Rodriguez.
R:
PbP National Marketing Director Andrew Le with ex-PbP-er Marilyn Tran (who used to work for one of Project by Project's former partners,
CPAF
).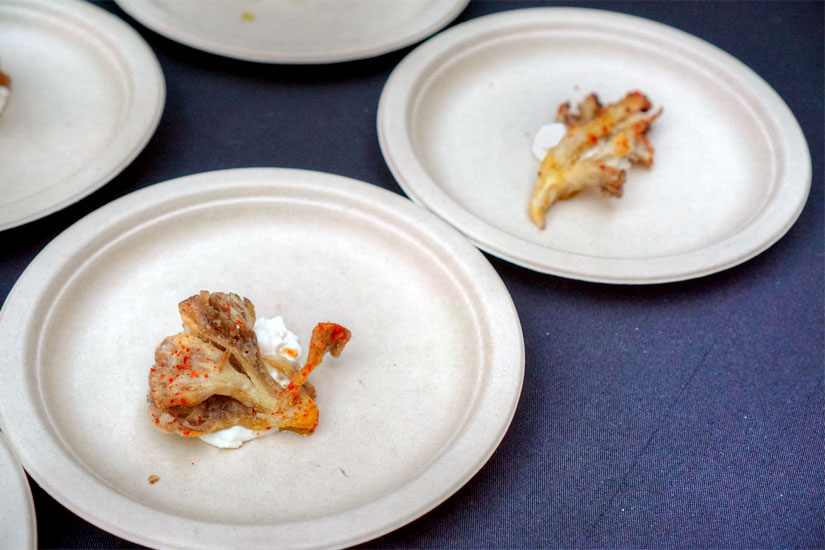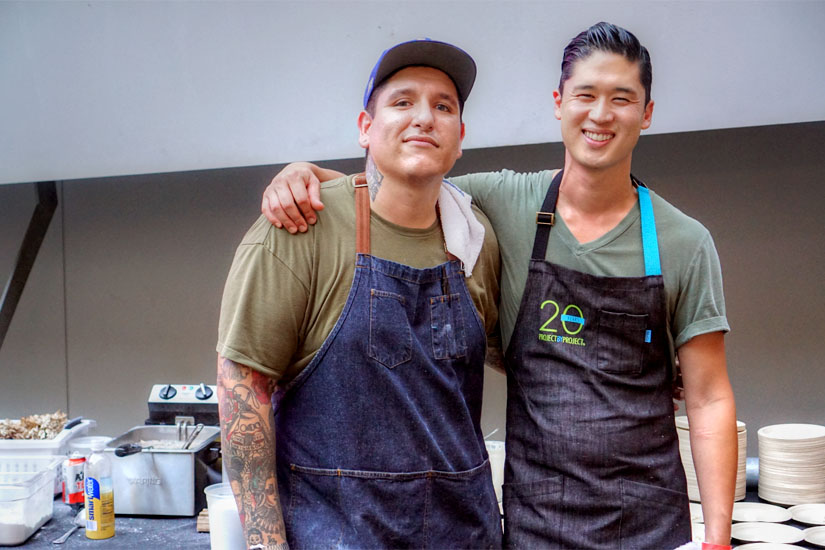 WeHo's
Mardi
had a
Crisp Maitake Mushroom with Ricotta and Malt Vinegar
, created by Executive Chef Kris Tominaga.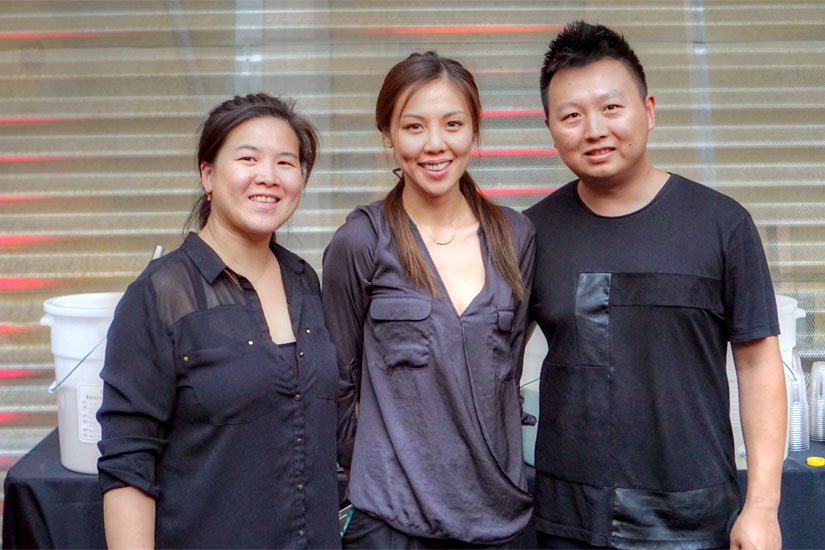 Jason Tsai and Emily Lien's
Macchiato
in Monterey Park (and the upcoming Next Republic in Alhambra) had some visually appealing beverages at his station: cocktails, sangria, and his signature
Potted Plant Milk Tea
. Also pictured: their designer Avis Tao. Mouseover for a secondary photo.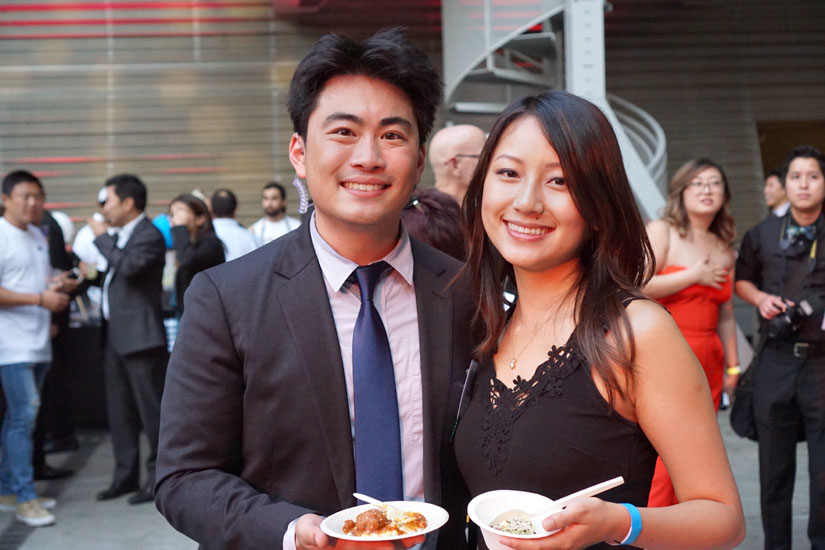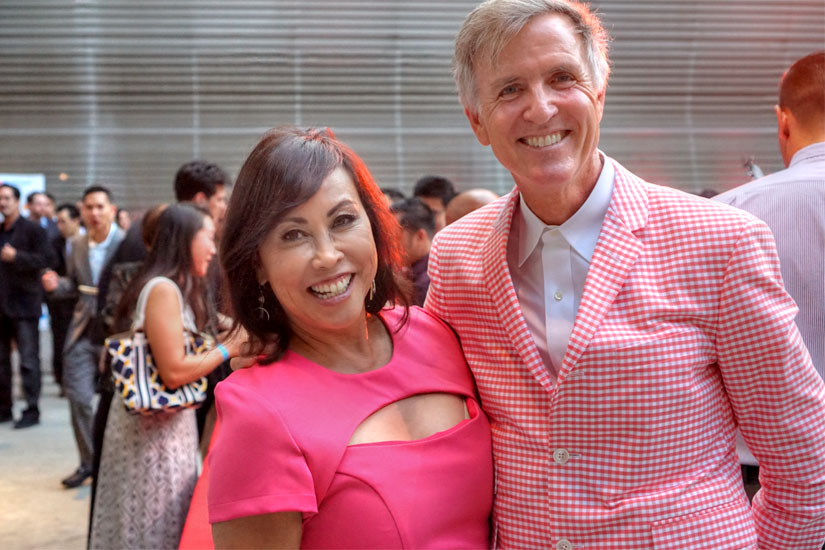 L:
PbP Director of Volunteer Management Patrick Lee and future wifey Michelle Chen.
R:
Fox 11's incomparable Susan Hirasuna (who's actually MC'd the event a couple times), along with Steve Jones, owner of real estate development firm
BetterShelter
(I'm sort of digging his jacket).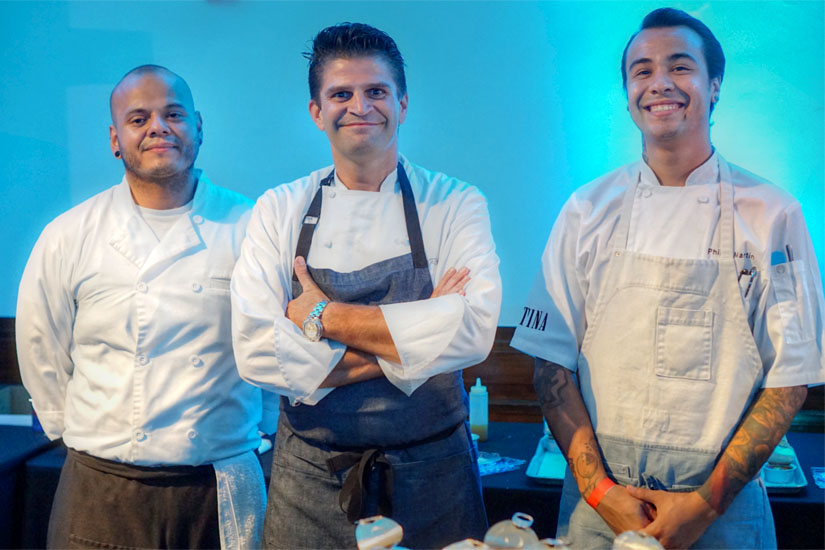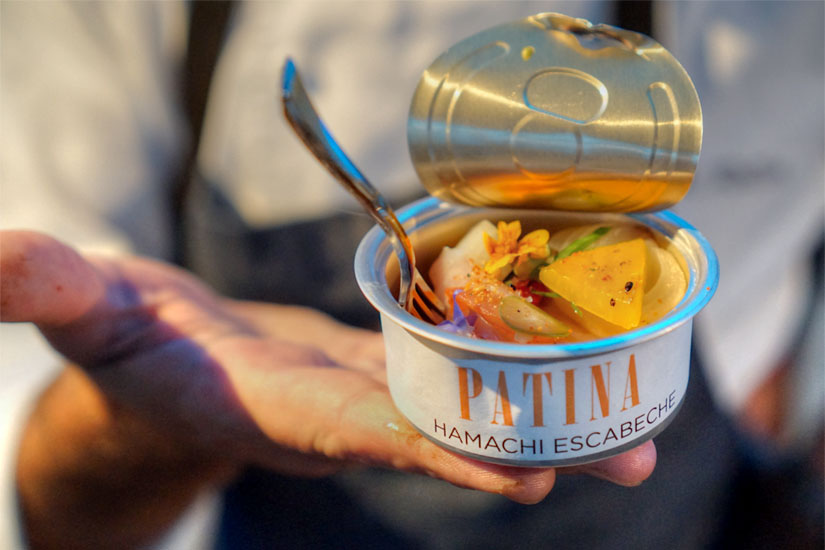 Let's move inside into the Muses Room now.
Patina
has a new Executive Chef in the form of Andreas Roller. He and his team deserve some presentation points for their
"Canned" Yellowtail Escabeche
, which was also a guest favorite.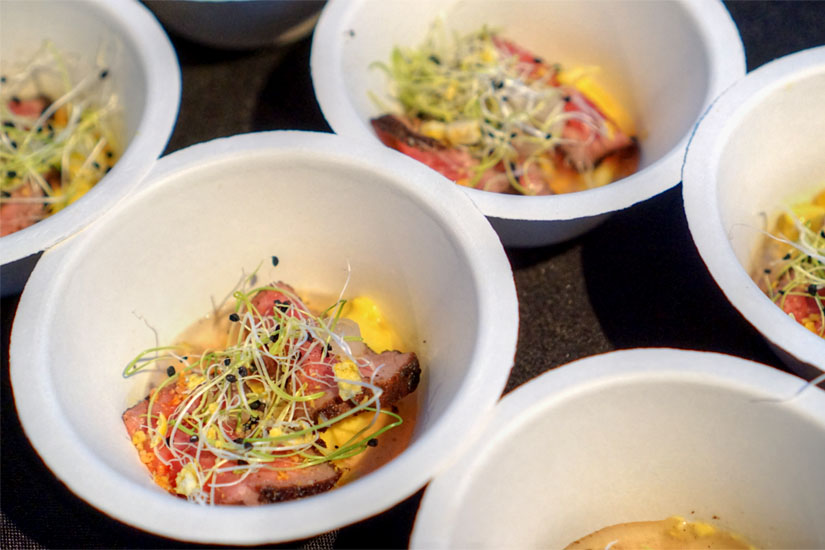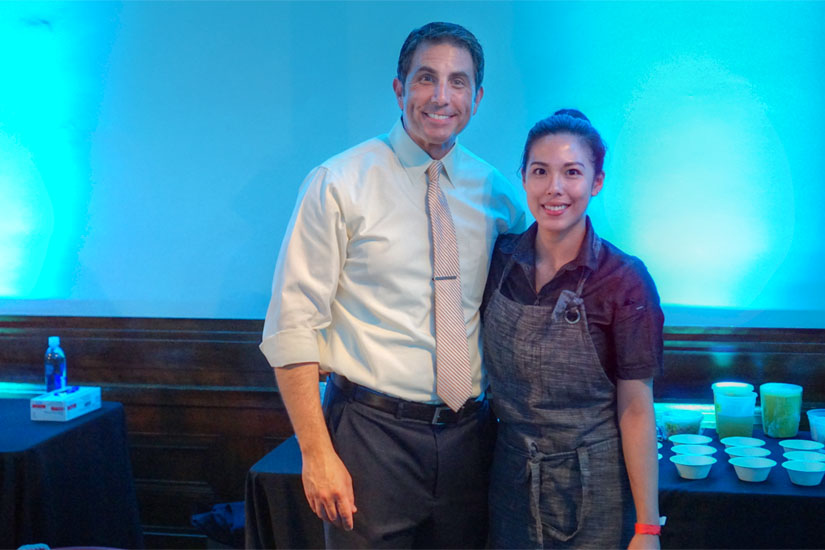 Alexander's Steakhouse
was serving a lovely
Dry Aged New York Tataki with Dashi, Pickled Ramps, Marrow, and Beef Fat Creamed Corn
. Executive Chef Matt Bata was present at the event, but must've been out hobnobbing when this photo was taken. Note, though, that he ended up leaving the restaurant just a couple days after Plate by Plate!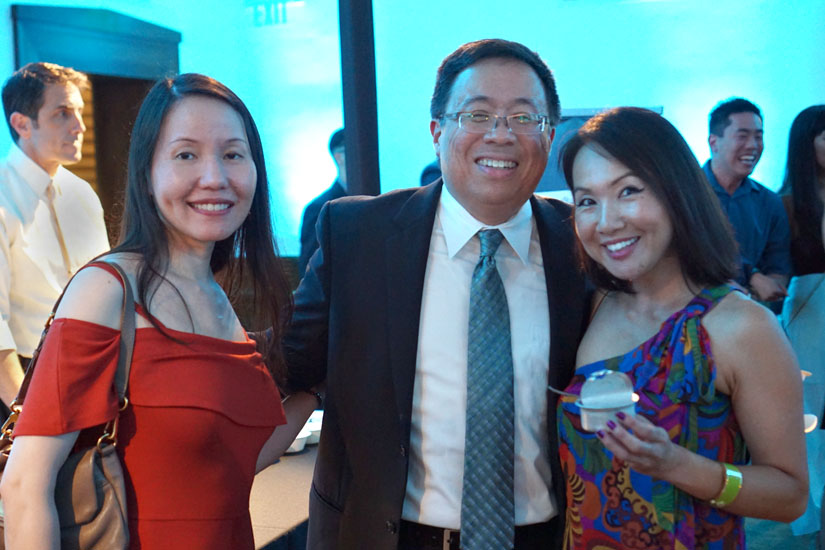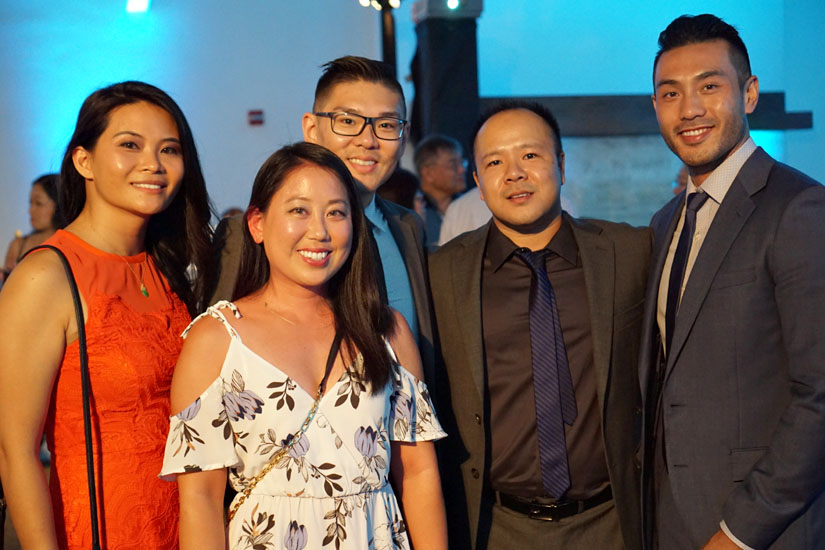 L:
The legendary Sherwin Goo, accompanied, as always, by at least one of his ladies. Tonight we had Julie To and Flora Yin.
R:
Leet VIP level guests: Casey Chiu, Cindy Chan, Tony Chen, Simon Cheung, Robert Ly.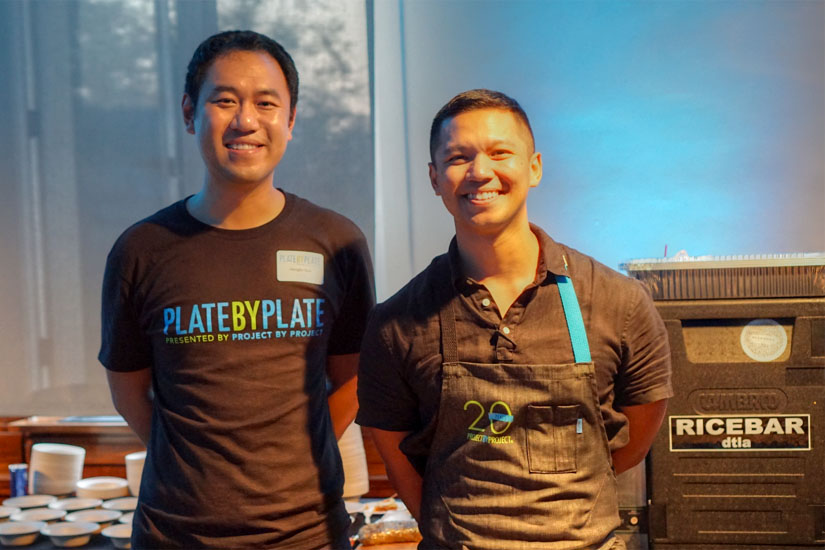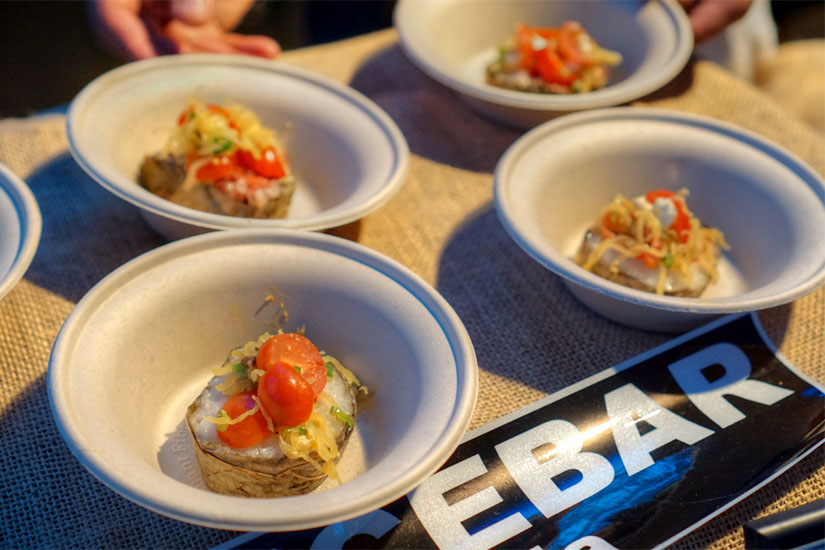 RiceBar
's Charles Olalia was helped out by PbP volunteer Hongbo Sun, while his dish was an intriguing
"Lo Ma Gai" Lotus Leaf Wrapped Sticky Rice with Pork Sausage, Salted Egg, and Tomato Sal
.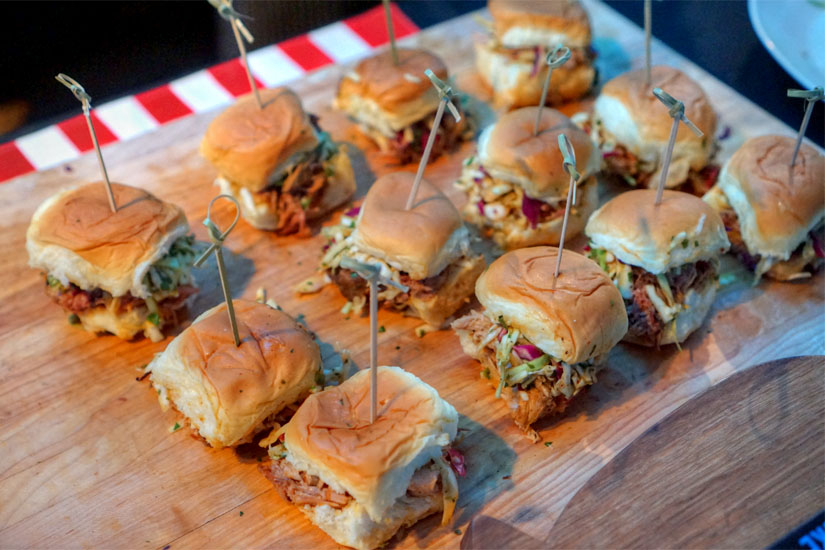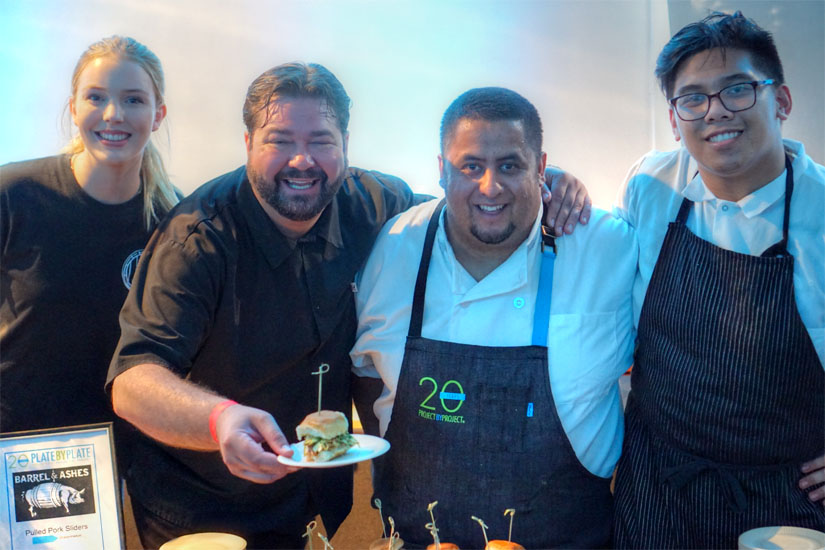 Rory Herrmann, Director of Culinary for Sprout LA, led the
Barrel & Ashes
team, and they had some
Pulled Pork Sliders
and
Watermelon
going on. Mouseover for a secondary photo.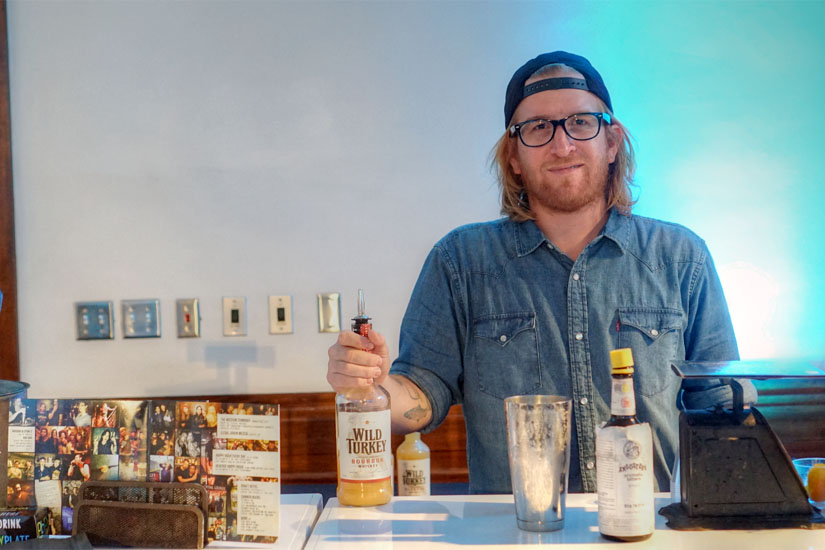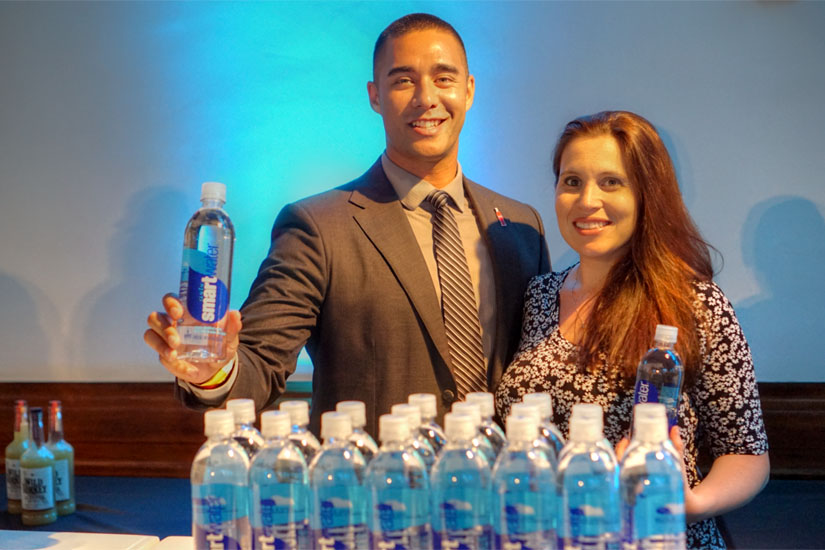 L:
Getting into the VIP area now, Houston Hospitality's
Harvard & Stone
whipped up the tasty
Baby's First Bourbon
(Bourbon, Orgeat, Lemon, Angostura Bitters). Mouseover for a secondary photo.
R:
With all the booze at the event, you'd be smart to stay hydrated, and
Smartwater
certainly fit the bill.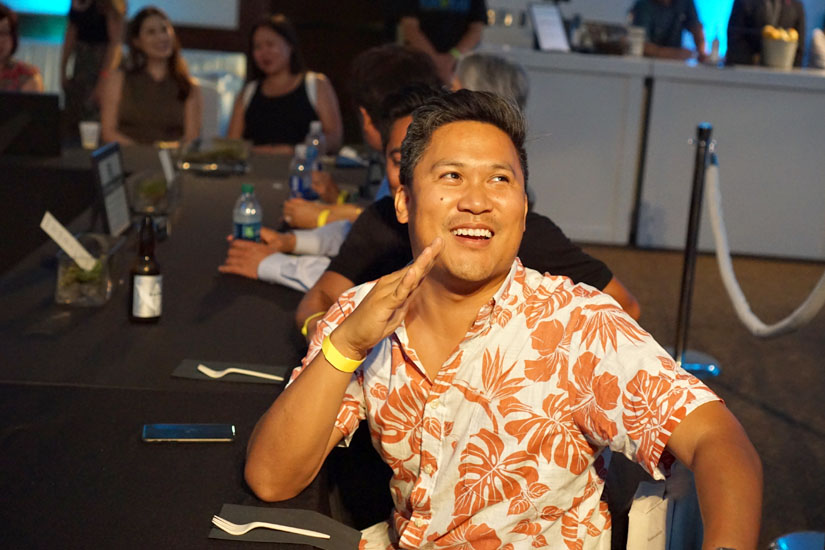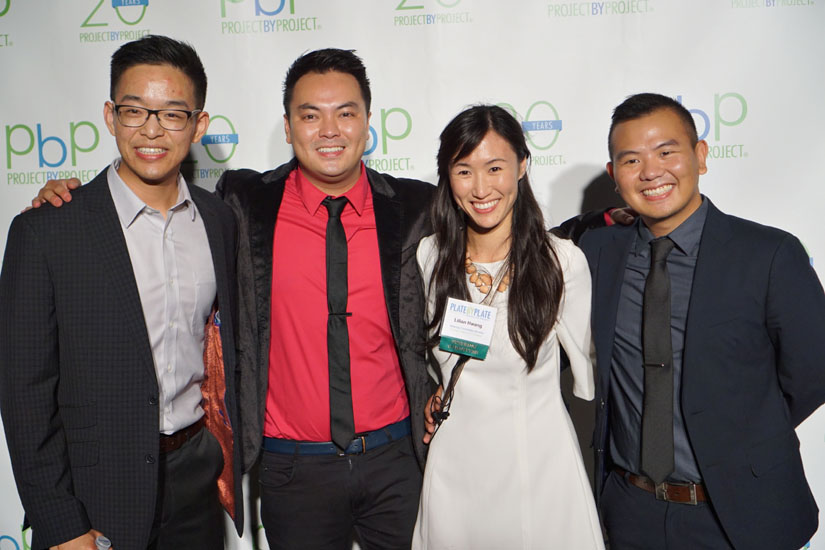 L:
Taking a seat at the VIP tasting station was actor Dante Basco, who's no doubt best known for his work as "Sammy" on ABC's
Hangin' with Mr. Cooper
.
R:
PbP National Treasurer Alek Tan and PbP Events Team Member Lilian Hwang, along with Jason Chen and Alvin Chou.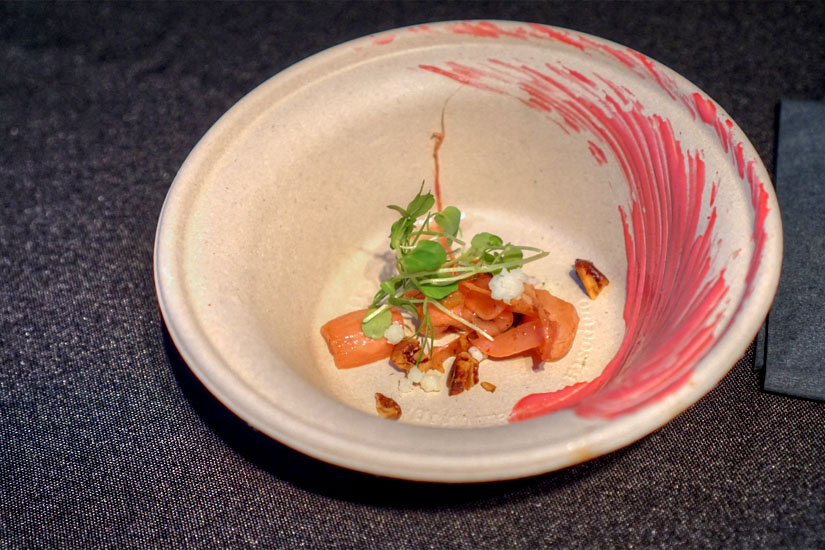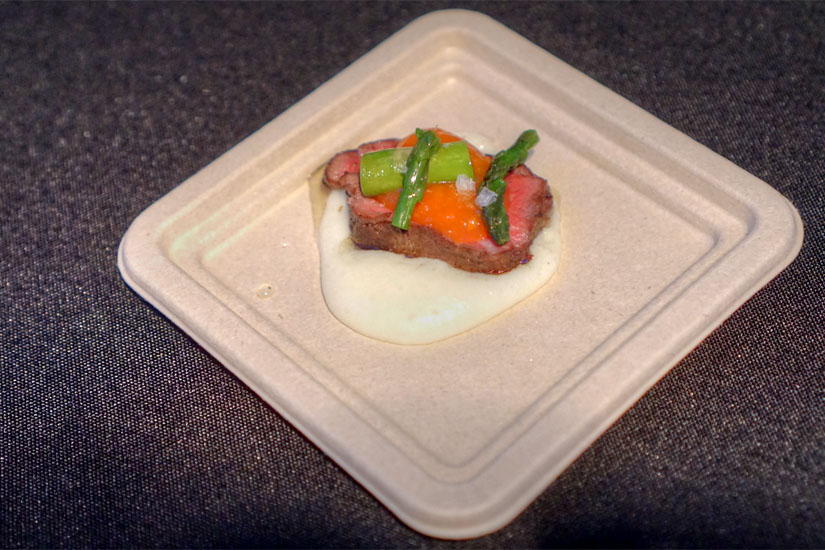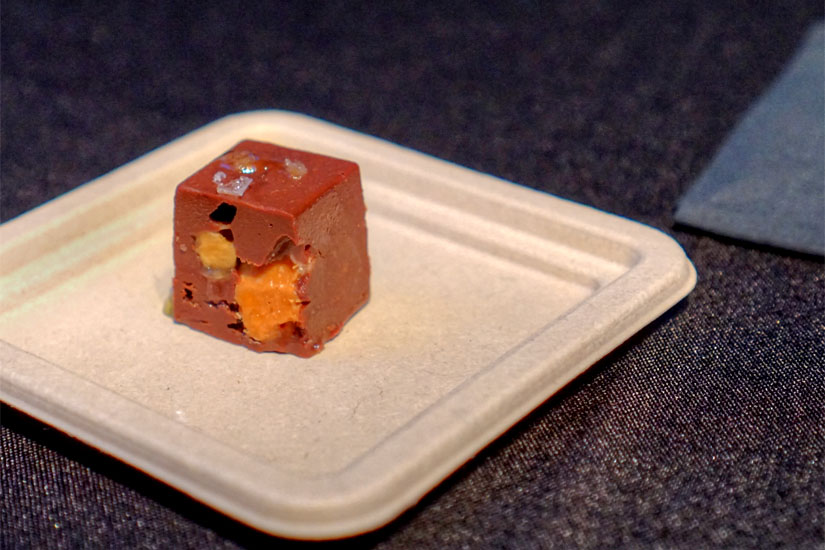 Phillip Frankland Lee's
Scratch|Bar & Kitchen
served a four-course mini-tasting menu in a seated station setup, which is always appreciated by VIP guests. The menu:
Green Mussel & Sea Urchin Sake Shooter
;
Radishes, Beet Mustard, Parmesan
;
Hanger Steak, Potato, Blistered Tomatoes
;
Chocolate Bar
. Director of Operations Gabriel Wischmeier, meanwhile, did a great job as
maître d'
, taking everyone's reservations and managing seating. Note, also, that Neal Fraser's
Redbird
was also serving in the VIP, though unfortunately I wasn't able to get a photo of the team.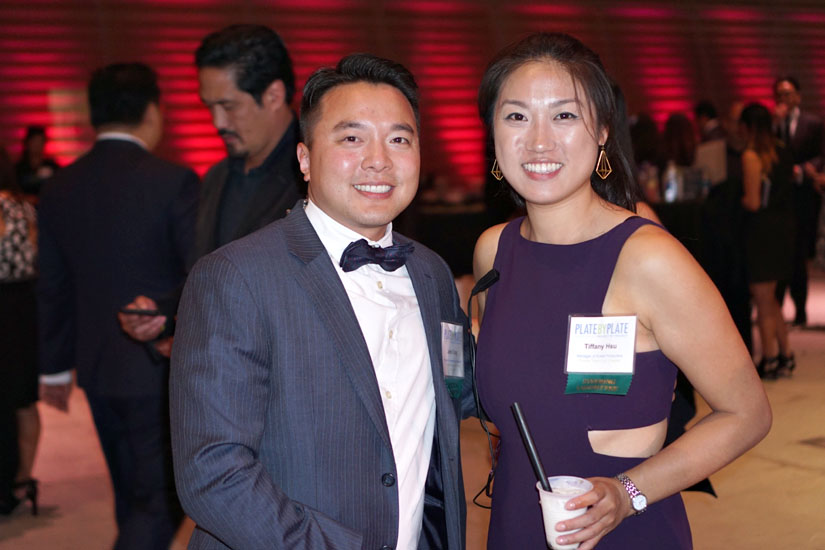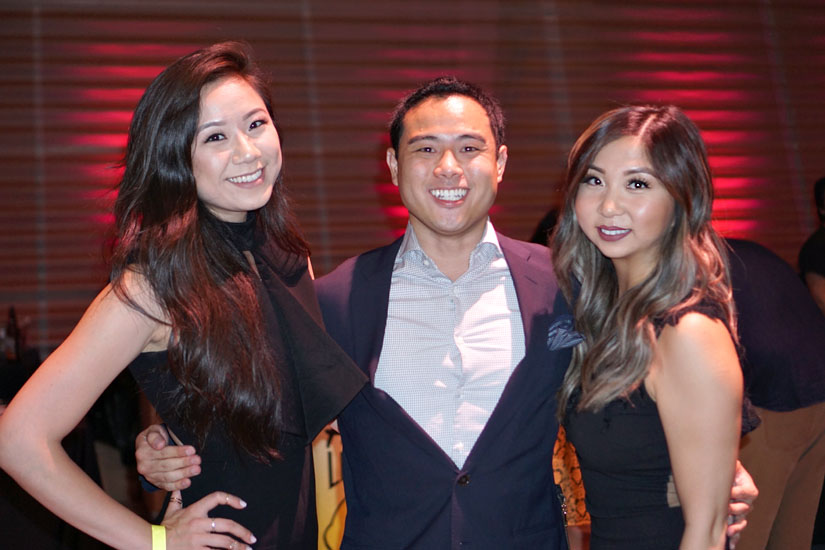 L:
PbP Manager of Leadership Development John Tung and PbP Manager of Event Production (and future Director of Events?) Tiffany Hsu.
R:
More former PbP members: the inseparable Kelly Li and Lily Tran, along with Clayton Tran.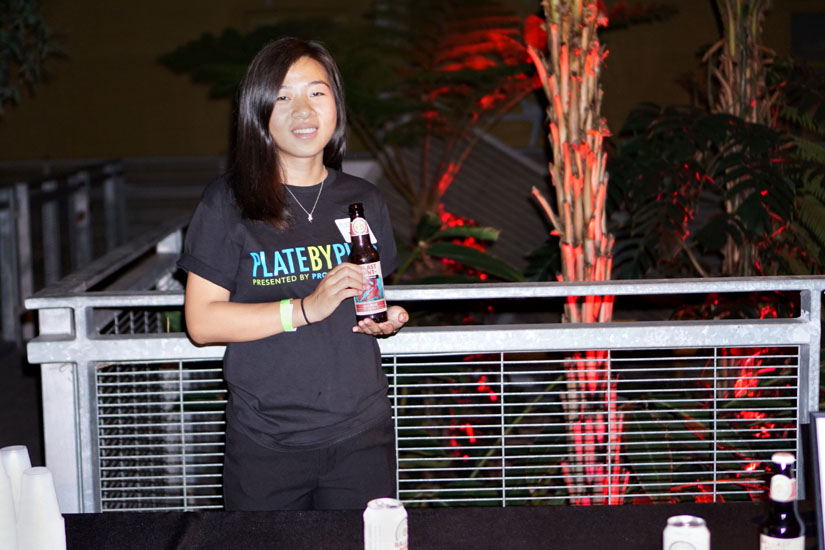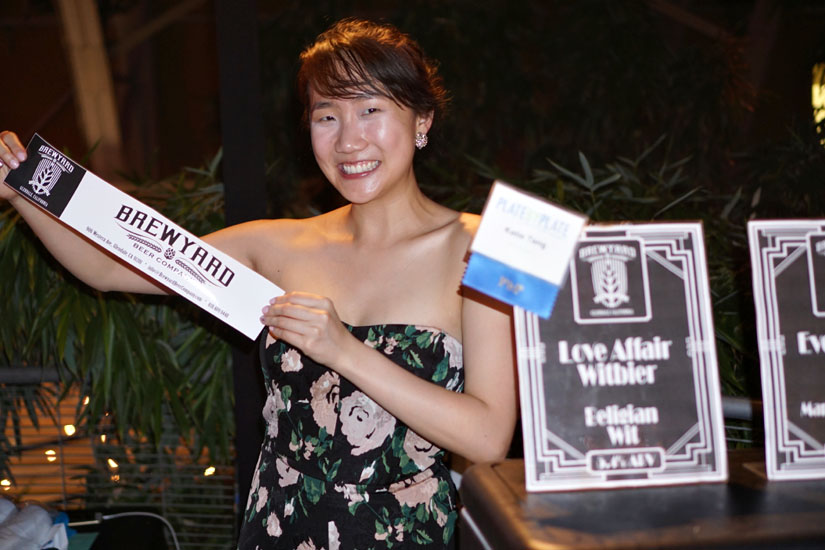 L:
We now head up to the garden area, which had six more beverages.
Ballast Point
had their famed
Sculpin IPA
(my go-to choice back in the day) available for tasting, as well as their
Sea Rose Tart Cherry Wheat Ale
. Pouring was PbP volunteer Mengqiao "Rhine" Wang.
R:
Katie Tang from PbP NY was serving two beers from Glendale's
Brewyard Beer Company
:
Love Affair Witbier
and
Everything Nice
, a maple cinnamon Belgian dubbel.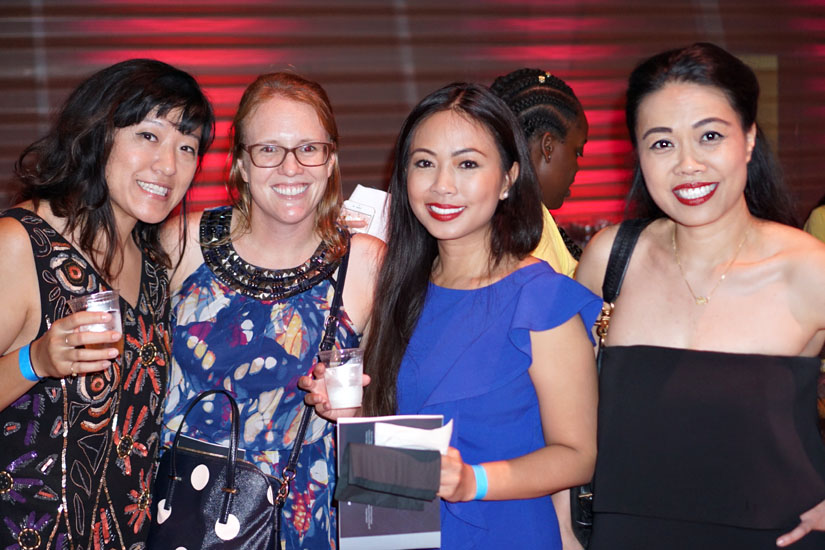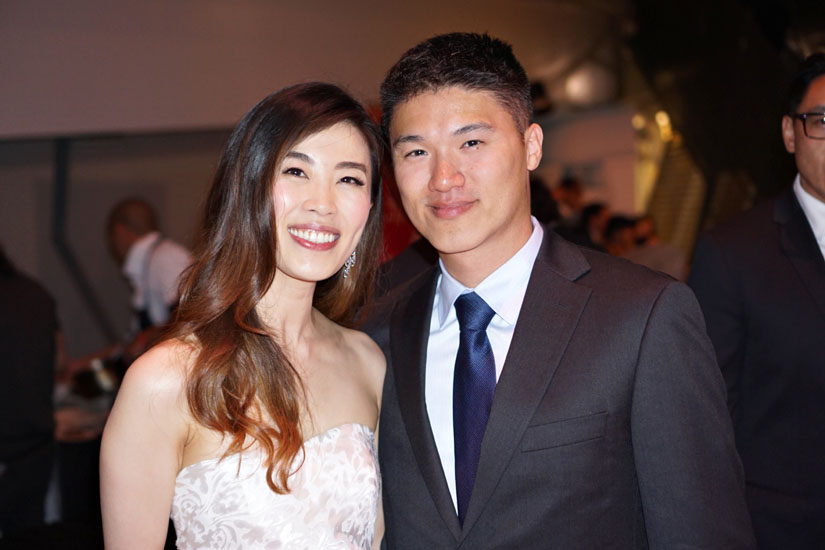 L:
The Tuyet crew: Helena McMurchie, Michelle Lorme, Cherisse Cleofe, Cherisse Cleofe (yes, they have the same name, and yes, it's confusing).
R:
Old school PbP-er Annie Lin, with hubby Ken Liu.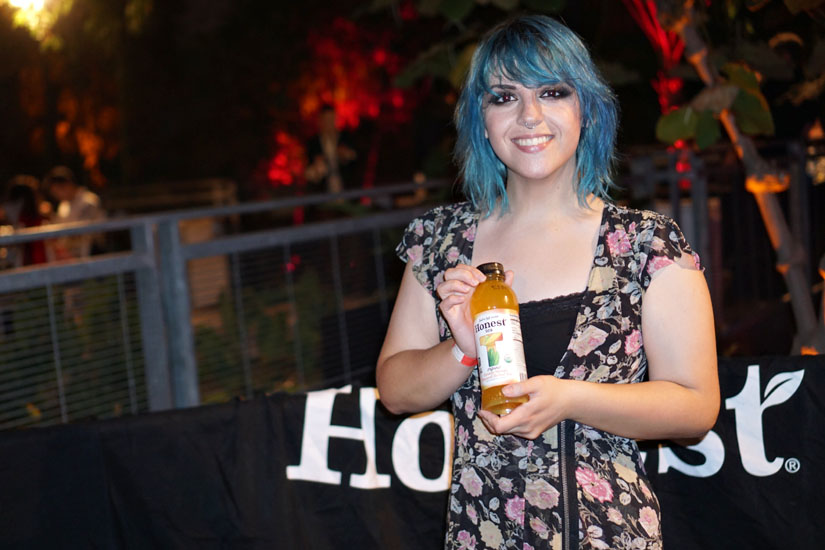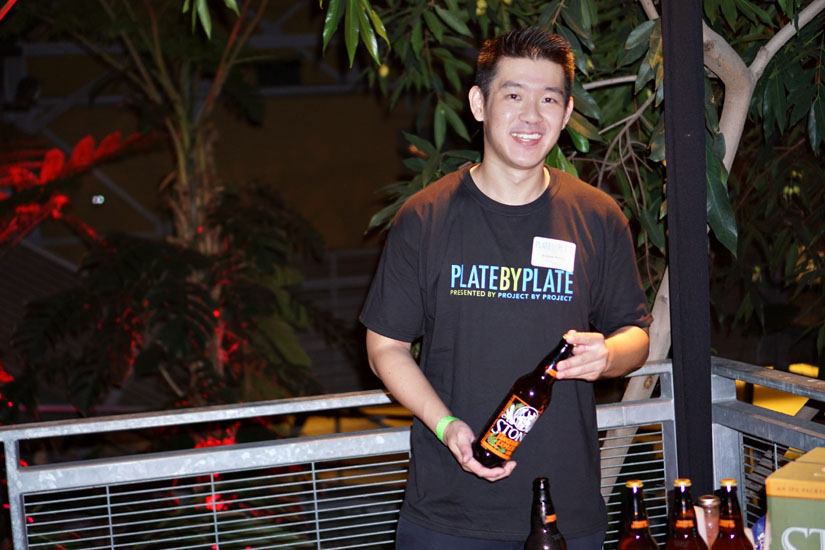 L:
Honest Tea
had some much-appreciated non-alcoholic offerings and the best hair color of the entire event.
R:
Escondido-based
Stone Brewing
(actually PbP volunteer Andrew Kwong) was pouring their
Tangerine Express IPA
.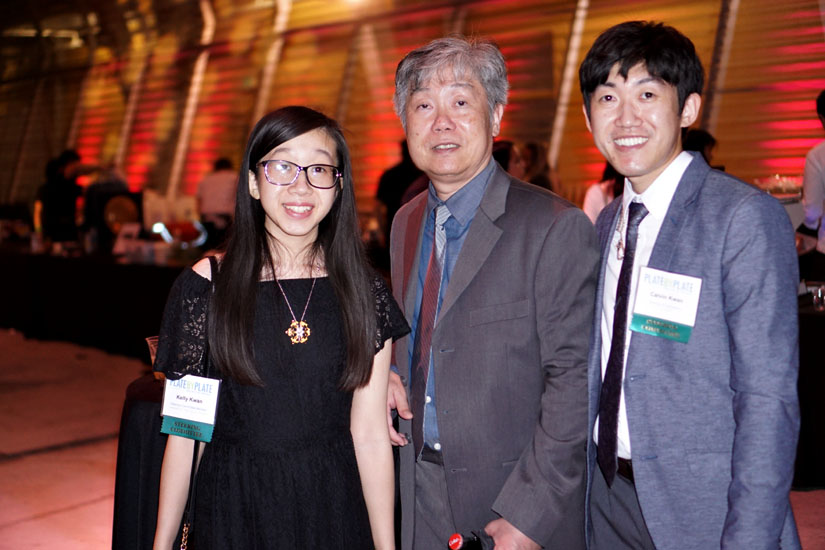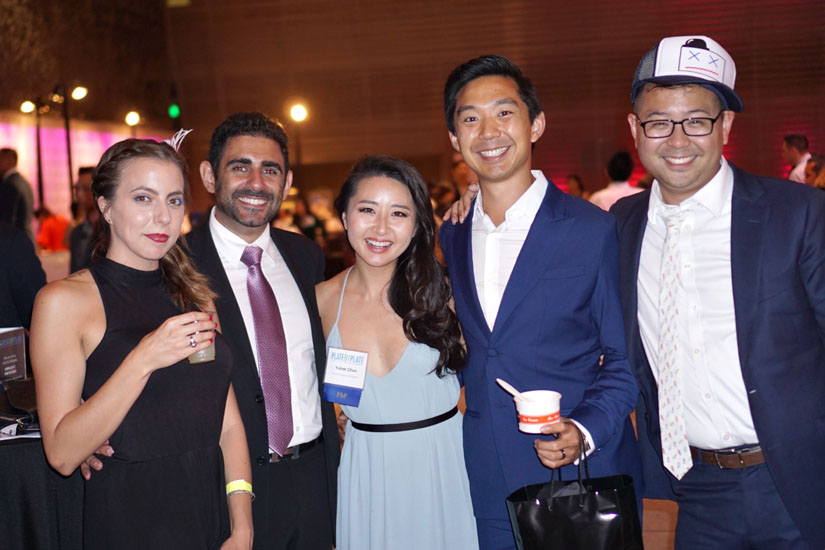 L:
A family affair, part deux: PbP Director of Operations Calvin Kwan and PbP Operations Team Member Kelly Kwan with their father. I'd invite my dad, but he'd be unsettled by the food (nasturtium-wrapped beef tartar--no thanks).
R:
PbP's previous President Yulree Chun, along with new hubby Patrick Noel Tio and Trevor Chang (did he swipe that cap from The Wallace?), both also ex-PbP-ers, as well as Heather Szerszen and Kian Farhadi.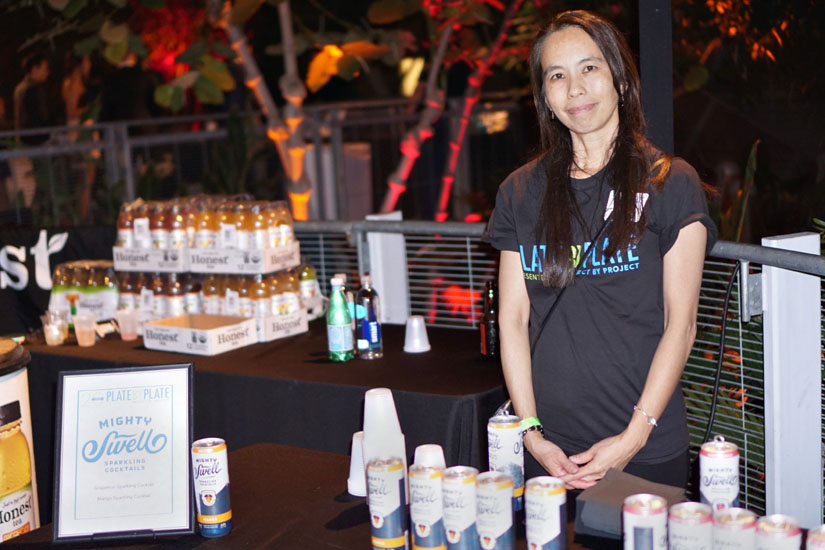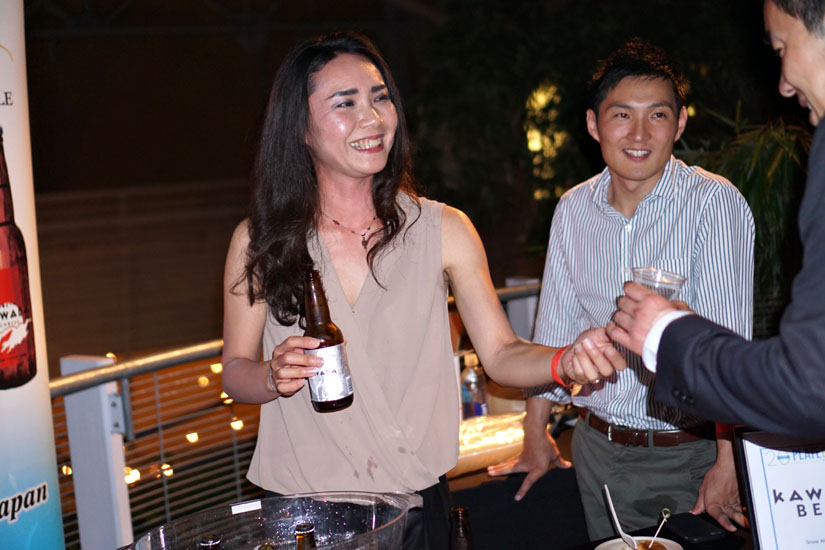 L:
Mighty Swell
and PbP volunteer Diane Leigh provided some refreshing (and boozier than I expected)
Grapefruit and Mango Sparkling Cocktails
.
R:
Kigen's
Kawaba
beer came in two varieties (the only two varieties available Stateside I think):
Snow Weizen
, a witbier, and
Sunrise
, a red ale.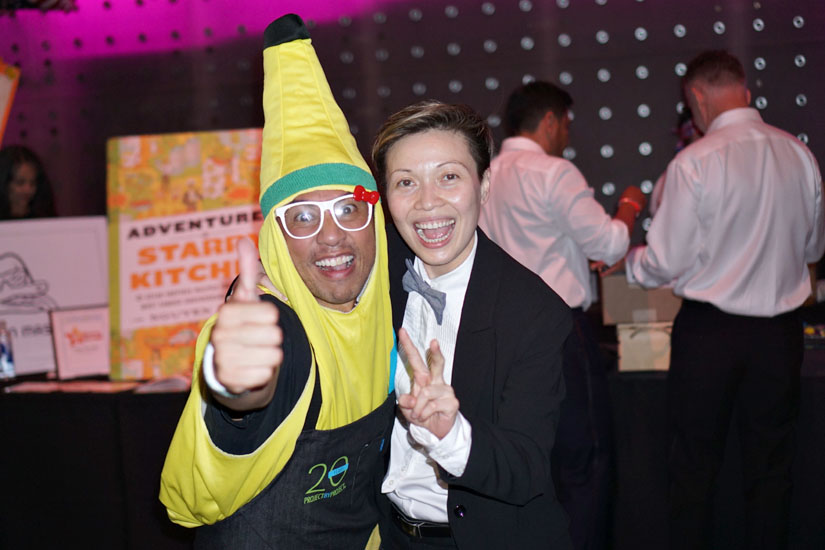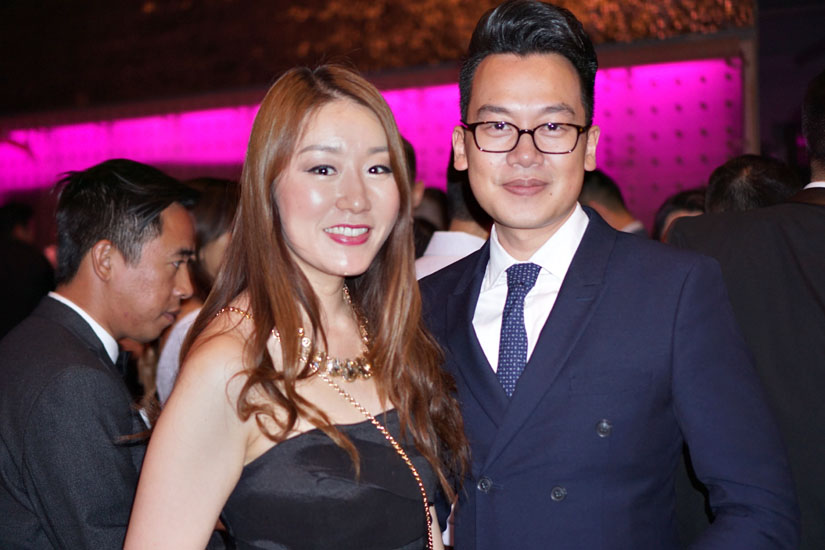 L:
Decked out in his signature banana suit, Starry Kitchen's Nguyen Tran made for a popular photo op. Pictured with him is someone named Aussie...who's actually Aussie (and Chinese). I like those Hello Kitty frames.
R:
Jen Yim, with the inimitable Grady Ha.
Finally, guests were provided with voting tickets, one for best dish and one for best drink, and were able to vote via ballot boxes at each station. Here are the final results:
1st Place
Wolf
Sotto
2nd Place
Kato
Kikori Whiskey *
3rd Place
Patina
Labobatory
* Due to an oversight, Kikori's box wasn't tallied at first, and thus Labobatory was announced as 2nd, and Macchiato 3rd. However, when Kikori's votes were counted, they moved up to #2.