Modern Times The Dankness Dojo (Los Angeles, CA)
Modern Times DTLA Dankness Dojo
832 S Olive St, Los Angeles, CA 90014
213.878.7008
www.moderntimesbeer.com/tasting-room/los-angeles
Sat 02/10/2018, 02:05p-04:20p

Downtown's beer game got another boost with the debut of The Dankness Dojo, the newest project from Jacob McKean's Modern Times Beer. The South Park restaurant-slash-café-slash-pilot brewhouse opened on January 22nd, and I made it a point to stop by on a recent Saturday afternoon.

The Dojo is located on the ground floor of the long-vacant Southpark Hotel, just up the street from
Mikkeller Bar
. The front of the well-decorated space holds the cafe...

...While the bar is in the back.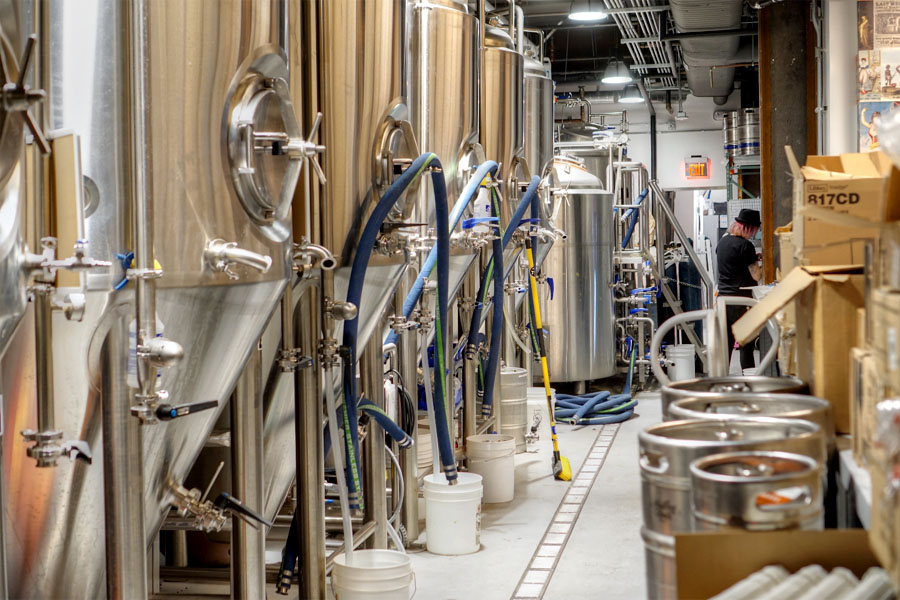 The pilot brewing system, used for R&D type brews.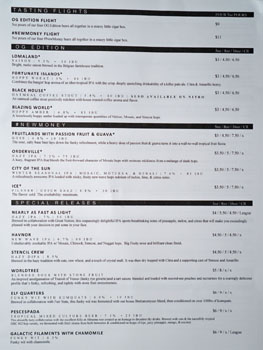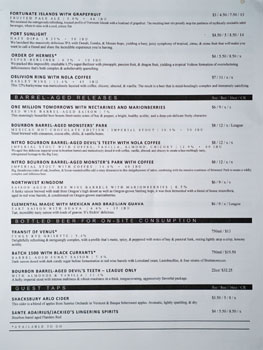 Beer-wise, you get about 30 selections on draft (mostly Modern Times, but also a couple guest taps) as well as a few bottled options. Click for larger versions.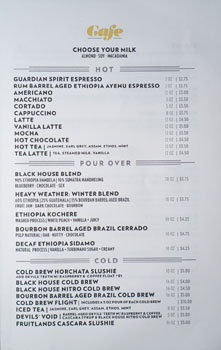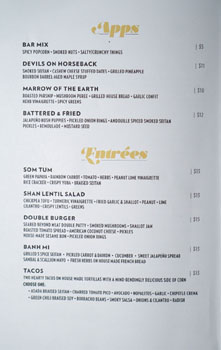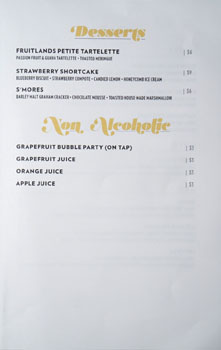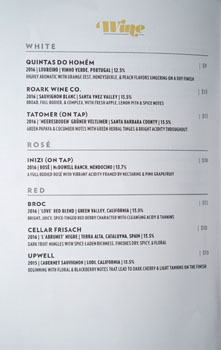 Above we see the café offerings, the menu of vegan food (McKean is vegan), and the wine list. Click for larger versions.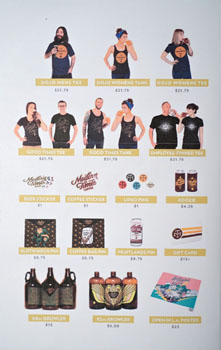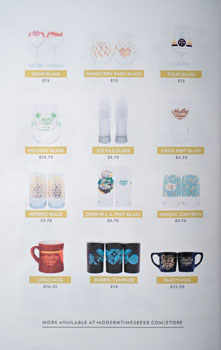 There's also a wide-ranging array of merch on offer. Click for larger versions.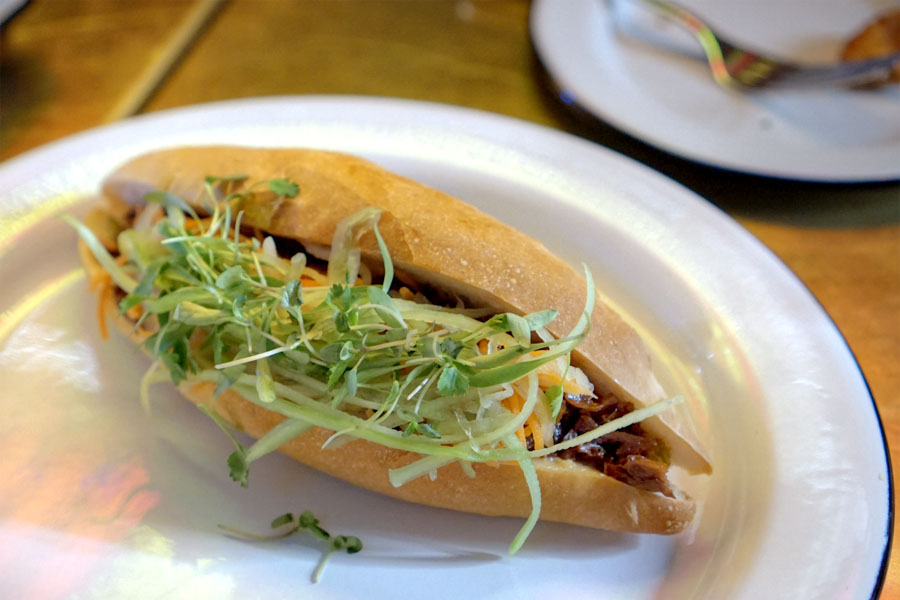 Banh Mi [$13.00]
| Grilled 5 Spice Seitan, Pickled Carrot & Daikon, Cucumber, Sweet Jalapeño Spread, Sambal & Scallion Mayo, Fresh Herbs on House Made French Bread
Modern Times' take on
bánh mì
didn't quite work out. The main issue was that the seitan was just far too salty, distractingly so in fact. The pickled veggies didn't do enough to balance things out, and I didn't get much from the advertised jalapeño or mayo, either.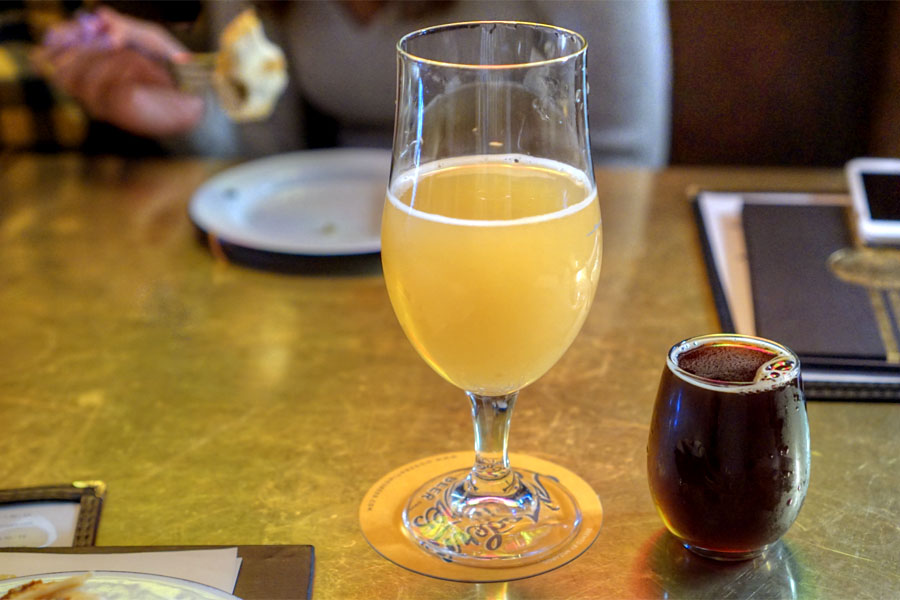 Now for some beer. First up was a tart saison, the
Elemental Magic with Mexican and Brazilian Guava [$9.00]
. It's nose was great, giving up super juicy citrus and tropical aromas, while the taste was decidedly guava-forward, with just enough sourness--I could drink this all day. We also had the
Oblivion Ring with NOLA Coffee [$7.00]
, a barley wine with coffee, chicory, almond, and vanilla. This one had a surprisingly weak bouquet, with some dark fruit but really not much of the adjuncts. The taste was more satisfying however, with a base of malt and coffee astringency underpinning light hops and the sweetness of almond and vanilla.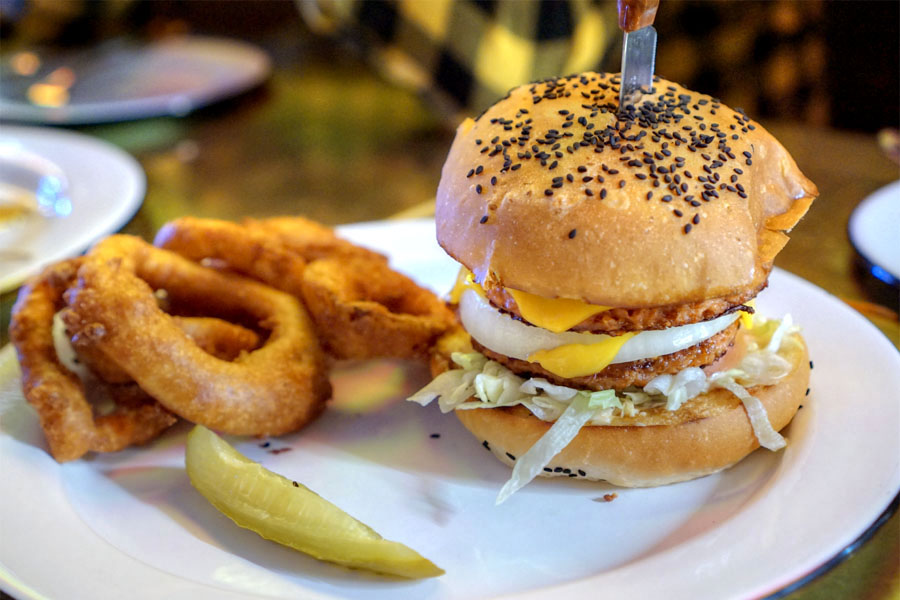 Double Burger [$15.00]
| Seared Beyond Meat Double Patty, Smoked Mushrooms, Shallot Jam, Roasted Tomato Spread, American Coconut Cheese, Pickles, House-Made Sesame Bun, Pickled Onion Rings
The burger ended up as my favorite dish of the day. The well-seared patties were much "meatier" than I thought they'd be, and really did serve as a good substitute for beef, meshing with the coconut cheese in gratifying fashion while pickles, onions, and lettuce completed the experience. I was a fan of those onions rings, too, which were rather "fluffy" I'll say.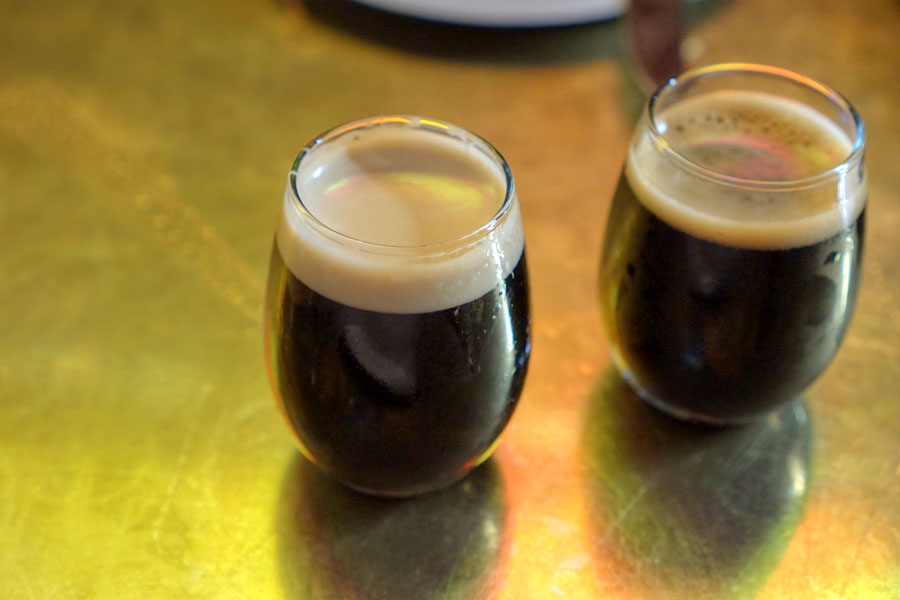 Next was a duo of nitrogenated beers. The
Nitro Bourbon Barrel-Aged Devil's Teeth with NOLA Coffee [$8.00]
was a bourbon barrel-aged imperial stout with coffee, vanilla, almond, and chicory. It showed off an appealing nose filled with soft, sweet spice, while the taste was smoky and sweet, with a silky mouthfeel and almond undertones. It was joined by the
Nitro Bourbon Barrel-Aged Monster's Park with Coffee [$8.00]
, another BBA stout. Aromas of sweet malt and lots of roast, while the taste brought oak, dark fruit, malt, and plenty more coffee character.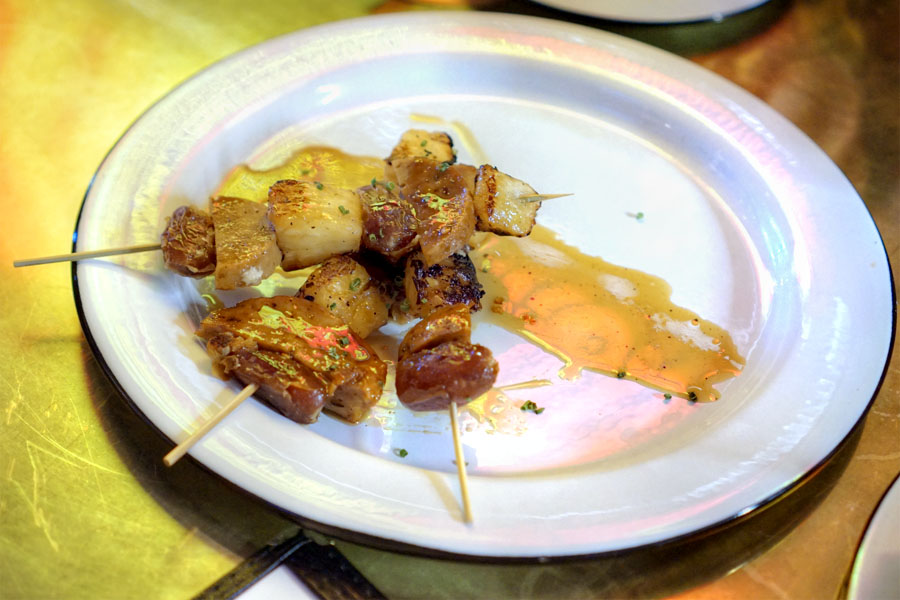 Devils on Horseback [$11.00]
| Smoked Seitan, Cashew Cheese Stuffed Dates, Grilled Pineapple, Bourbon Barrel-Aged Maple Syrup
Devils on horseback are a classic sweet-savory appetizer traditionally comprising dates wrapped in bacon. The version here missed the mark, as the various elements just didn't come together cohesively--very disjointed.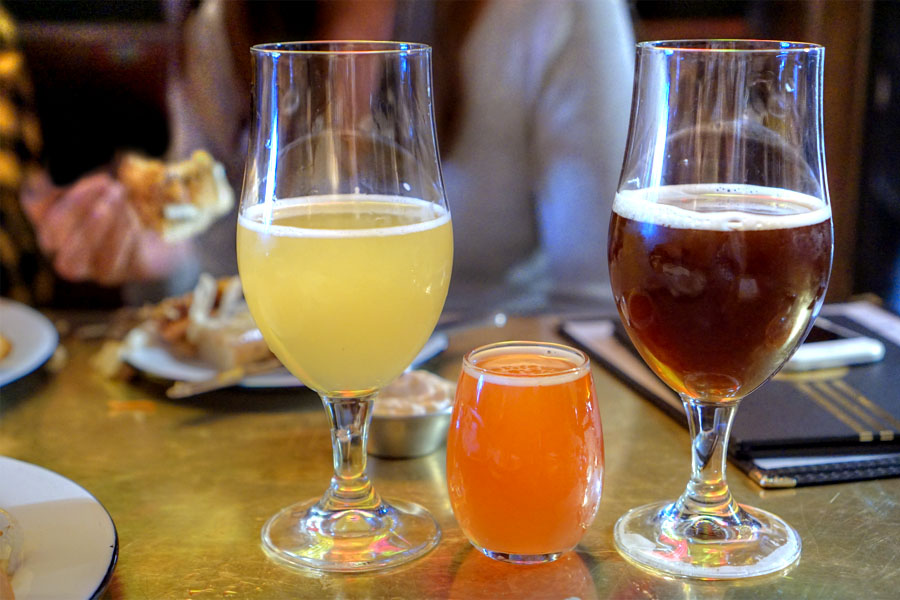 Time for our next round of beer. On the left was a funky witbier, the
Galactic Filaments with Chamomile [$9.00]
. It had a floral, lemon-y nose that was rather refreshing, while taste-wise, I got lots of the claimed chamomile, along with a sharp, astringent quality and a urinal cake-esque element. In the middle was the
One Million Tomorrows with Nectarines and Marionberries [$6.00]
, a red wine barrel-aged saison. This one smelled of light, candied fruit with a smidge of tartness--lovely. The palate displayed a definitely earthiness, along with subdued sourness, a touch of spice, oak, and lots of berry goodness bringing up the rear. Last up was the
Sante Adairius/Jackie O's Lingering Spirits [$5.50]
, a bourbon barrel-aged Flanders red ale. Its aromas were classic for the style, giving up a distinctly vinous-yet-tangy vibe. The taste, meanwhile, showed off lots of acidity, dark stewed fruit, spice, grain, and oak.
Som Tum [$13.00]
| Green Papaya, Rainbow Carrot, Tomato, Herbs, Peanut Lime Vinaigrette, Rice Cracker, Crispy Yuba, Braised Seitan
The reworked
som tam
was another highlight thanks to its balance of funk and spice, and I was pleasantly surprised at how deep and developed the flavors were. Great textures, too.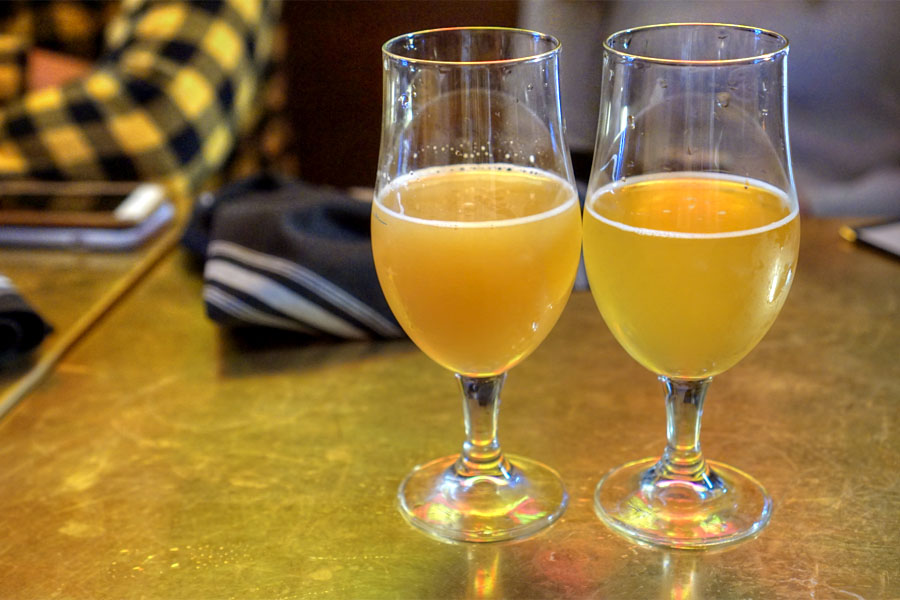 The
Stencil Crew [$5.00]
was a hazy double IPA dry-hopped primarily with Citra, along with Simcoe and Amarillo. The beer had a really bright nose, one highlighting notes of pine and stone fruit. The taste followed, with more robust, subtly dank hops backed by citrus and a palpable malty sweetness. Our final beer was the
Worldtree [$8.00]
, a blend of a funky rye grisette and tart saison with second-use peaches and nectarines added. Aromas here were definitely on the sour, refreshing, juicy side, and I found the taste tart and funky and yeasty, with the stone fruit coming in toward the finish.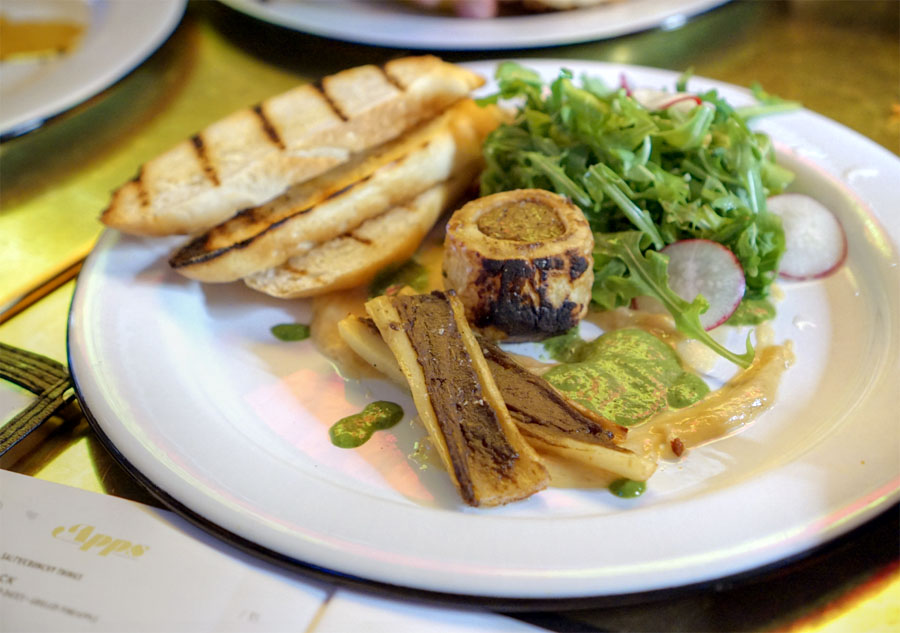 Marrow of the Earth [$10.00]
| Roasted Parsnip, Mushroom Puree, Grilled House Bread, Garlic Confit, Herb Vinaigrette, Spicy Greens
Our final savory dish also disappointed. It was obviously an ode to bone marrow, but really didn't taste like it. Instead, flavors were muddled and dull, though the vinaigrette did help lift things. The greens weren't particularly spicy either, and came out underdressed.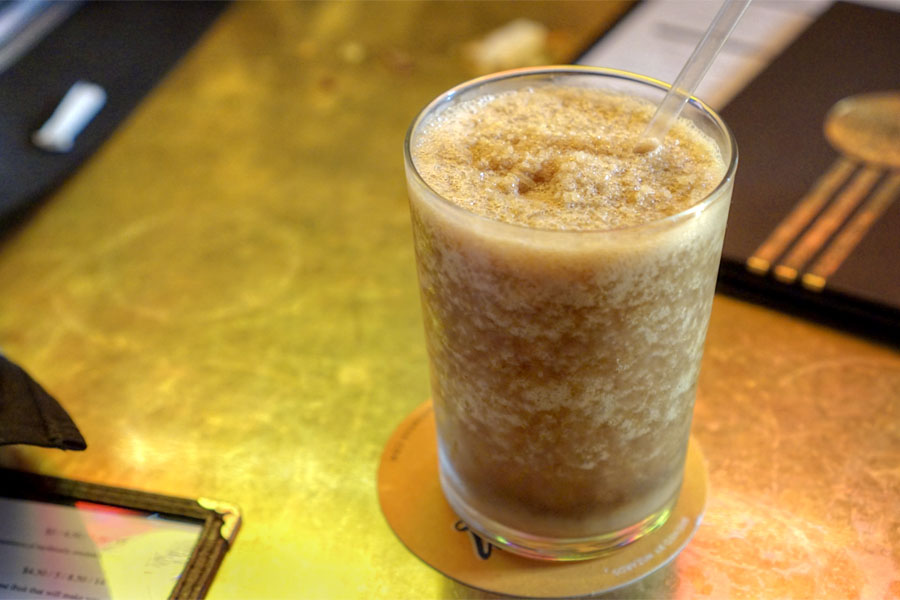 To pair with dessert, we ordered a
Cold Brew Horchata Slushie + Devils' Teeth w/ Raspberry & Coffee Float [$5.00+$1.00]
. I got some nice coffee notes here, along with some nutty and spicy elements, while the raspberry really came through on the back end. Tasty.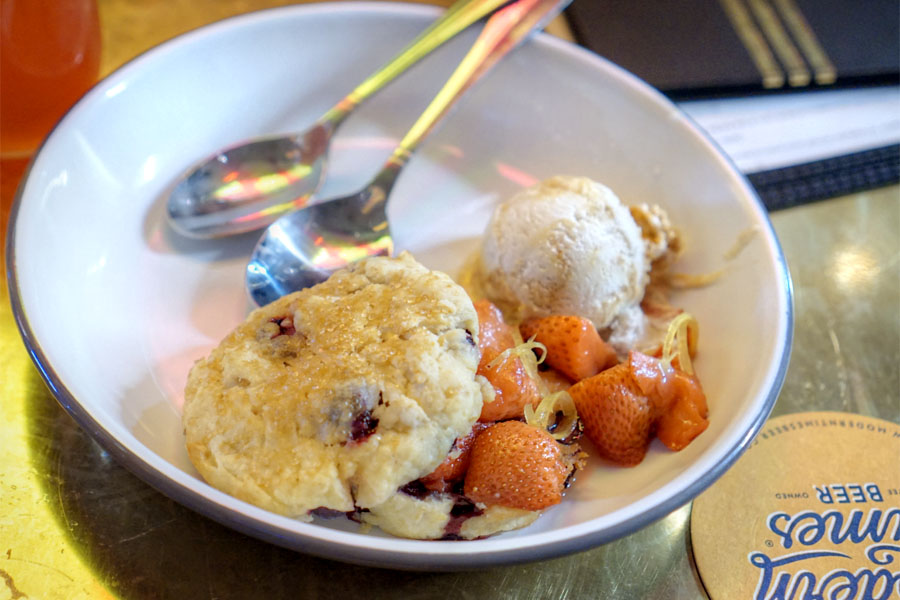 Strawberry Shortcake [$9.00]
| Blueberry Biscuit, Strawberry Compote, Candied Lemon, Honeycomb Ice Cream
I thought that this was a successful rendition of the classic dessert, one that wasn't obviously vegan. I got a good back-and-forth between the fruit and the biscuit, and the ice cream on the side made perfect sense, too.
Beer-wise, I was pretty pleased with this newest Modern Times location. There's diverse, interesting stuff on tap, and I can envision the Dojo being a go-to place of mine in the area (along with Mikkeller Bar). The food, however, was more hit-or-miss. I think the kitchen may be trying to get too "fancy" with the cooking, so I'm hoping they'll streamline/revamp the menu in the coming months. You can do great things with vegan food (e.g.
Erven
,
Gadarene Swine
), so I'll look forward to seeing more of that here.