The NoMad Mezzanine (Los Angeles, CA)
The Mezzanine at NoMad Hotel Los Angeles
649 S Olive St, Los Angeles, CA 90014
213.358.0000
thenomadhotel.com/los-angeles/dining/mezzanine/
Thu 02/08/2018, 9:15p-12:25a

One of the latest New York transplants to hit LA is the new NoMad Hotel, which dropped on January 21st. The project is the creation of Sydell Group, a hotel management company from Ron Burkle and Andrew Zobler that's also behind the likes of The Line and
The Freehand
. They opened up the first NoMad, fittingly, in NYC's NoMad district in 2012, and the hotel quickly became known for its culinary program, run by Daniel Humm and Will Guidara, the duo responsible for Eleven Madison Park. The even-more-lauded NoMad Bar debuted next door in 2014. Given the success of the New York property, the Sydell team set their sights on Los Angeles, acquiring the 1922-era, 12-story Giannini Place building in 2015 for $39 million. Later that year, it was announced that the former headquarters of Amadeo Giannini's Bank of Italy was to be transformed into NoMad Los Angeles.
Humm and Guidara are once again running the culinary program for the entire hotel, and there are a number of eating and drinking options available. All-day dining is handled by The Lobby, while just off to the side of that space is Giannini Bar, which serves as the main drinking spot for the site. There's also The Coffee Bar, which functions as a cafe during the day and an
aperitivo
bar at night, while The Rooftop bar and cafe should be opening in the coming weeks. We were here, though, for The Mezzanine, the hotel's most formal offering, open for dinner only. The Mezzanine also has its own bar, a rather small-ish affair. Of course, Humm's not actually going to be in the kitchen most of the time, so running the day-to-day is Executive Chef Chris Flint.
About the Chef
: Flint was born and raised in Bradenton, FL, and started out in the culinary biz as a teen. He eventually made his way to New York, and after cooking for a bit, enrolled at The French Culinary Institute (now known as the International Culinary Center). After graduating in 2002, he landed a line cook position at Kittichai, an upscale Thai eatery at the Sixty Thompson hotel, and worked his way up to sous. Flint left in 2005 to serve as a station chef at David Bouley's eponymous Bouley, and later rose to the rank of sous once again, cooking under CdC César Ramirez (of Brooklyn Fare fame). In 2007, he followed Ramirez to Bar Blanc, and the following year, secured a
chef de partie
position at Eleven Madison Park. He became sous at EMP in 2009, and in 2011, went on to open The NoMad Restaurant as exec sous. 2013 saw Flint return to Eleven Madison as Chef de Cuisine, a job he kept until leaving in 2017 to head up the kitchen here.
The FOH, meanwhile, is run by GM Jeffrey Tascarella, an alum of NoMad New York and integral part of Humm and Guidara's Make It Nice restaurant group. Wine Director duties are handled by Ryan Bailey, a Sonoma native, CIA Greystone grad, and former NoMad Head Sommelier. On the cocktail side of things, Leo Robitschek serves as Bar Director. Hailing from Venezuela, Robitschek started out at Eleven Madison in 2005 and was promoted to Head Bartender in 2009. He's also the guy behind NoMad NY's original Elephant Bar and current NoMad Bar. Second in command is Bar Manager Dave Purcell, who comes to NoMad from Melrose Umbrella Co, Dirty Laundry, and
Playa
. Assisting Purcell is Adam George Fournier, last seen at
Faith & Flower
.



The Mezzanine is a U-shaped space that overlooks The Lobby, with two dining areas connected by the Mezzanine Bar. Seating capacity is around 100.

We'd arrived early for our reservation, and thus headed on over to Mezzanine Bar to wait it out.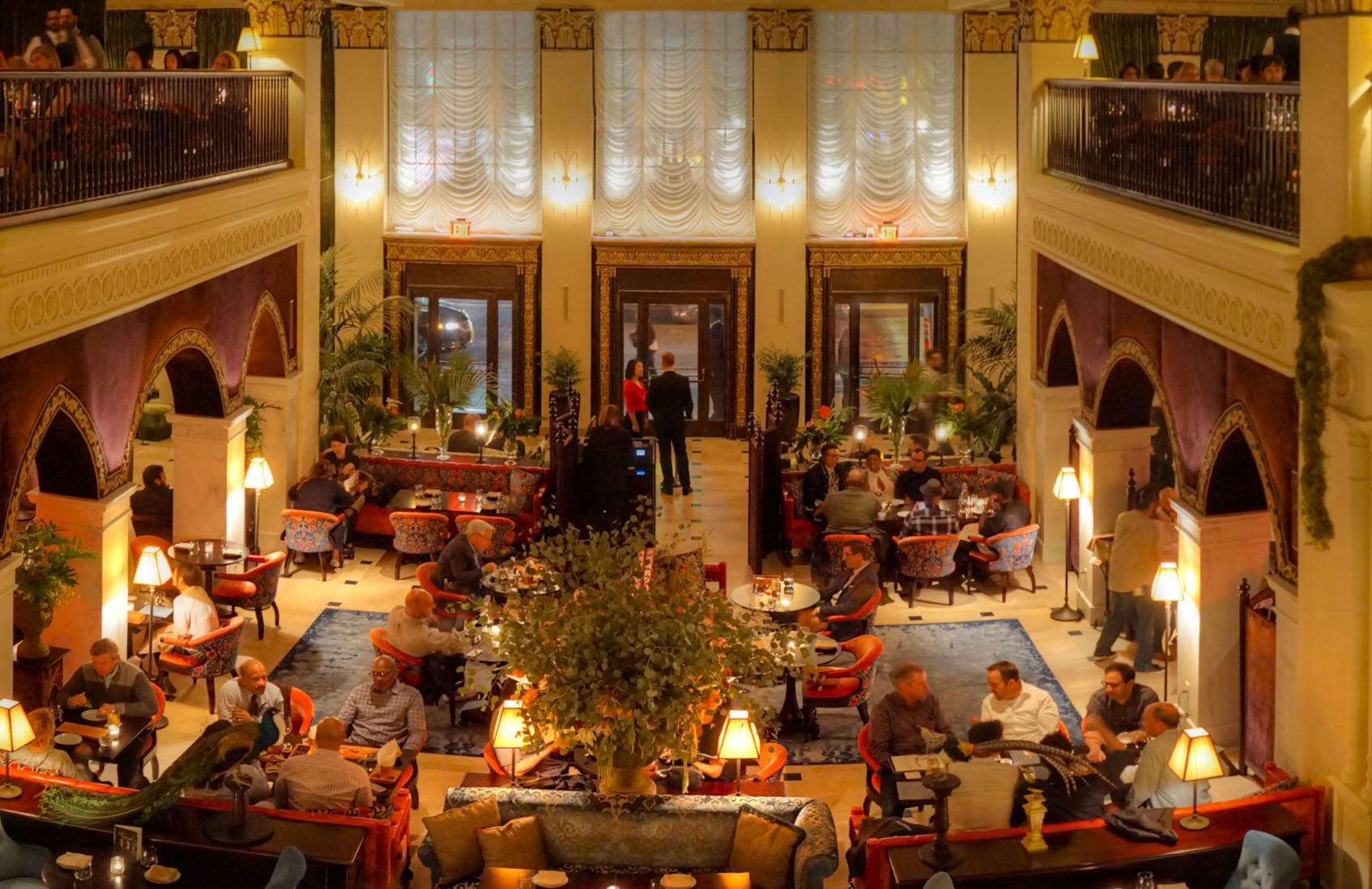 Here's the view from Mezzanine Bar to The Lobby below.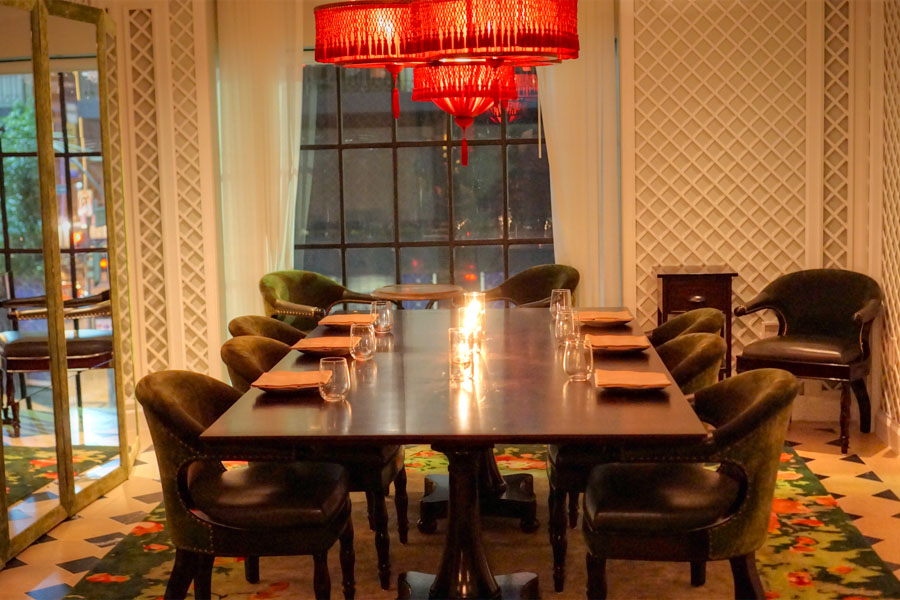 One of the private dining rooms.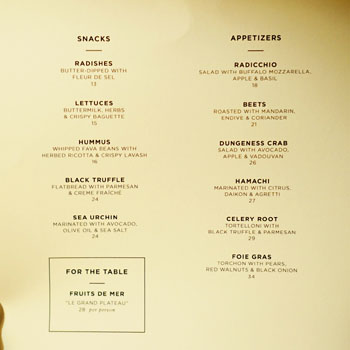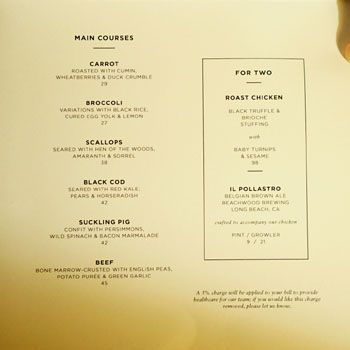 Divided simply into sections for snacks, apps, and mains, the menu possesses a modern American-slash-Californian feel to it that's pretty much exactly what I expected. Click for larger versions.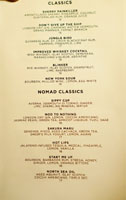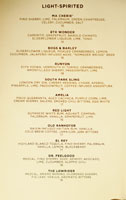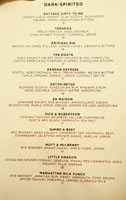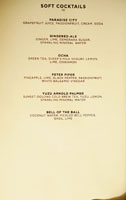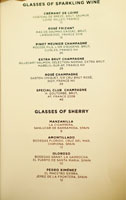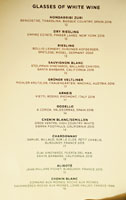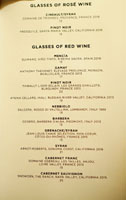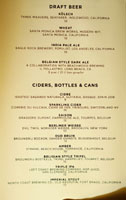 Drink-wise, you get a compact array of beers and a considerable wine list (not pictured), but we were most interested in the cocktail selection, which I have to say was one of the most diverse, fascinating lists I've encountered in a while. Click for larger versions.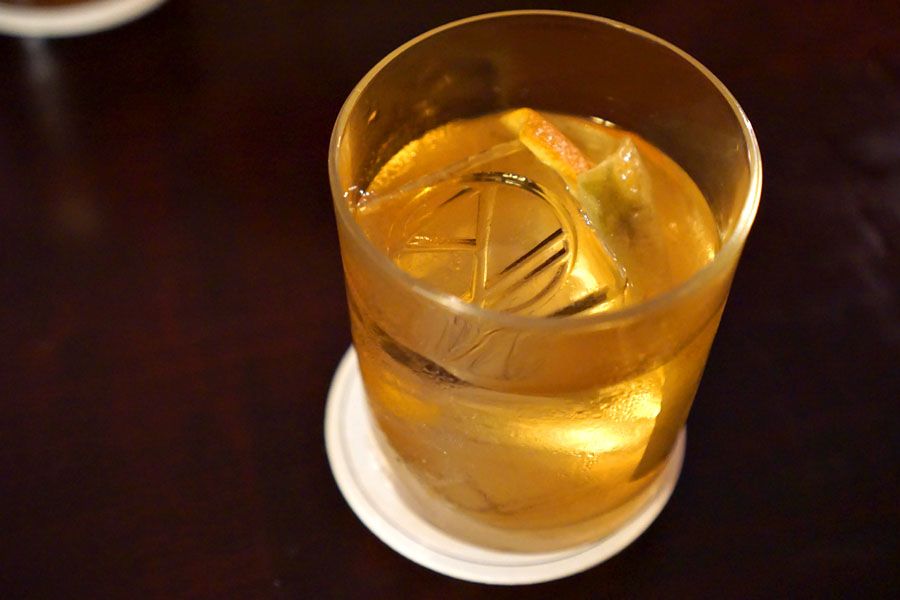 Improved Whiskey Cocktail [$18.00]
| Irish Whiskey, Islay Scotch, Demerara, Maraschino Liqueur, Absinthe
We got started with this
improved
Improved Whiskey Cocktail (itself billed as an improvement to the Old Fashioned). It had an assertive nose dominated by the smokiness of the scotch, with supporting notes of wood, citrus, herb, and spice. On the palate I found the drink thick, chewy almost, with rich flavors of toffee and caramel layered over a persistent boozy spice and accented by wisps of citrus and absinthe in the background.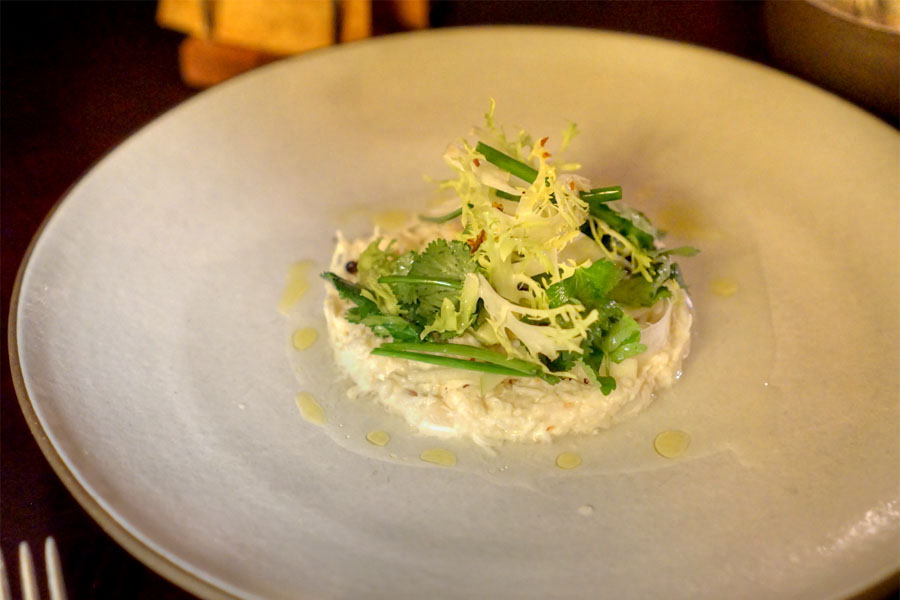 Dungeness Crab [$26.00]
| Salad with Avocado, Apple & Vadouvan
In our first course, a crab salad did an admirable job showcasing the sweetness of Dungeness. The herb salad up top worked as a refreshing counterpoint, as did the pricks of salt. The most interesting part, though, was that subtle hint of vadouvan on the finish.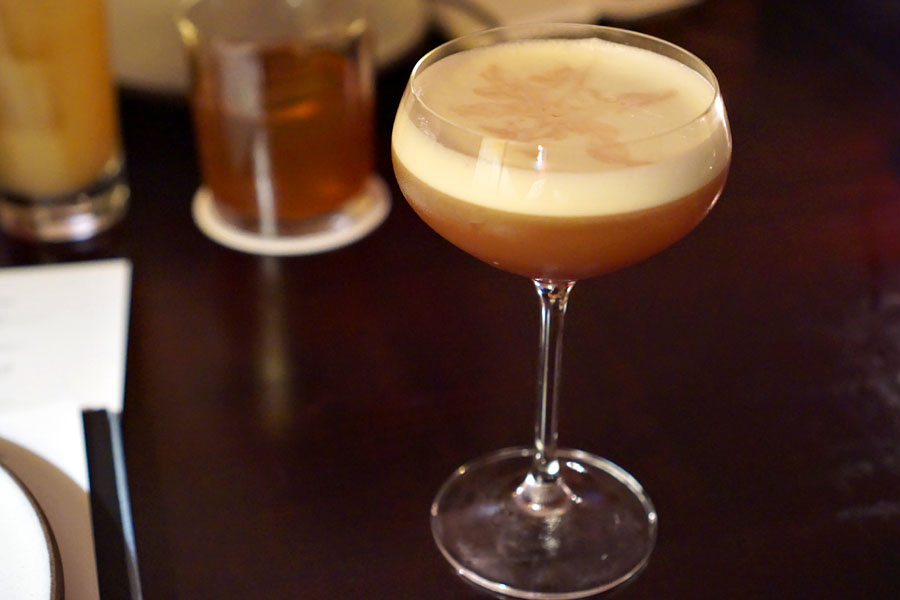 New York Sour [$16.00]
| Bourbon, Mulled Wine, Lemon, Egg White
Next up was a variation of the classic New York Sour cocktail, using mulled wine in place of the usual claret. This one smelled almost like a pumpkin pie, with lots of sweet spices making themselves known. Taste-wise, I got more of that autumnal spice initially, which was later joined by the essence of bourbon and, interestingly, a tartness that recalled Chinese
suanmei
.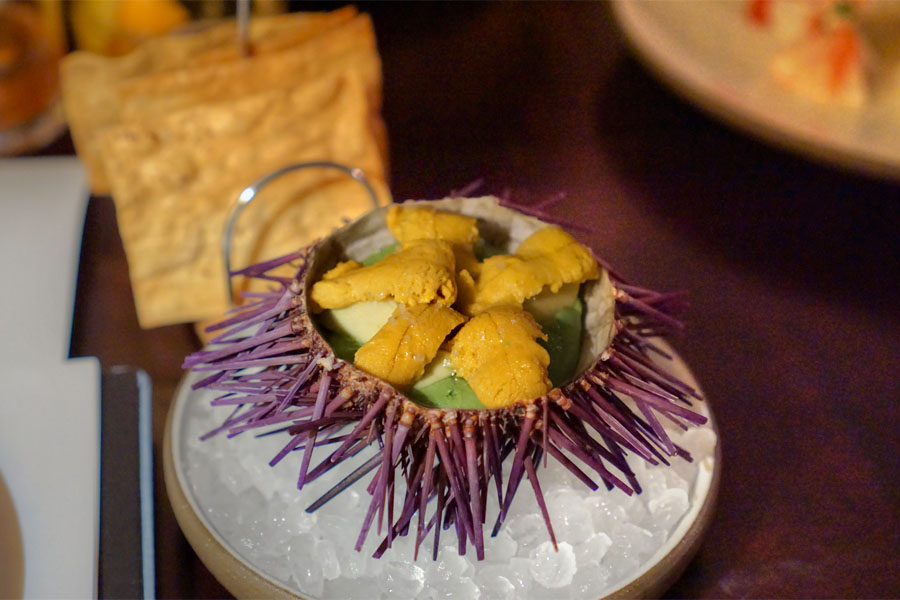 Sea Urchin [$24.00]
| Marinated with Avocado, Olive Oil & Sea Salt
Uni had its sweetness meshing well with the lushness of avocado while vesicles of finger lime offered up a tart contrast. There was also a savory element present that recalled
dashi
. The crux here, though, were the included crackers, which imparted both crunch and a lingering earthiness. One of my dining companions even likened this dish to "saline avocado toast."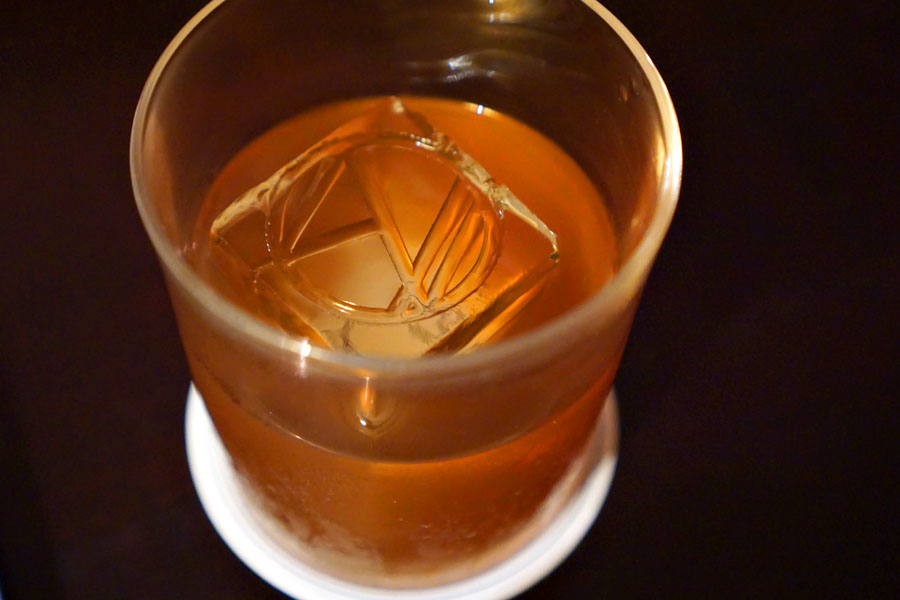 Shiitake Dirty to Me [$16.00]
| Amontillado Sherry, Islay Scotch, Mushroom, Squash, Honey, Angostura Bitters
I was drawn to this cocktail not only for its ingredients, but for its pun-y name. It smelled intense, with sugary, honeyed, maple-like notes paired with a mushroom-fueled funk. In terms of taste: quite sweet, but never cloying thanks to the sherry-scotch combo and woodsiness provided by the shiitakes. Super long-lasting finish dominated by honey. Note also the ultra-clear ice cube, imprinted with the NoMad logo.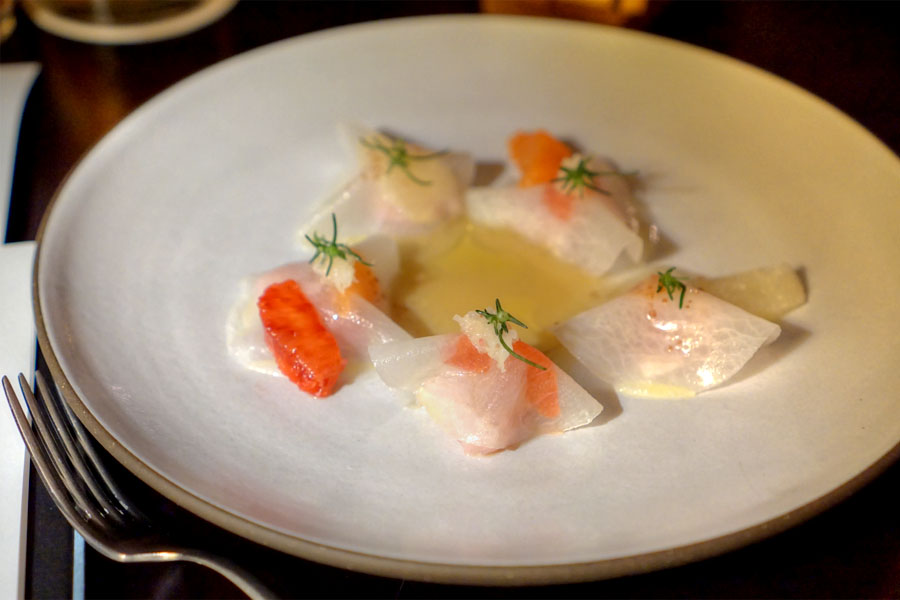 Hamachi [$27.00]
| Marinated with Citrus, Daikon & Agretti
Yellowtail arrived properly fatty, its lusciousness offset by the acidity of citrus and crunch of daikon while the agretti provided a lingering astringency.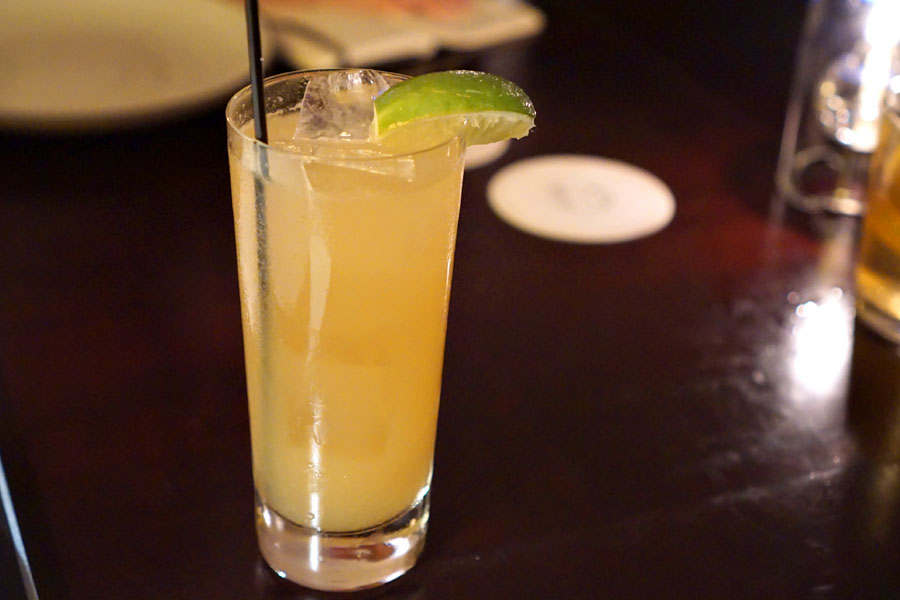 Gingered-Ale [$10.00]
| Ginger, Lime, Demerara Sugar, Sparkling Mineral Water
Here was our sole non-alcoholic cocktail of the night. I found it a fun, fizzy, refreshing take on ginger ale that had a great bite on the back end.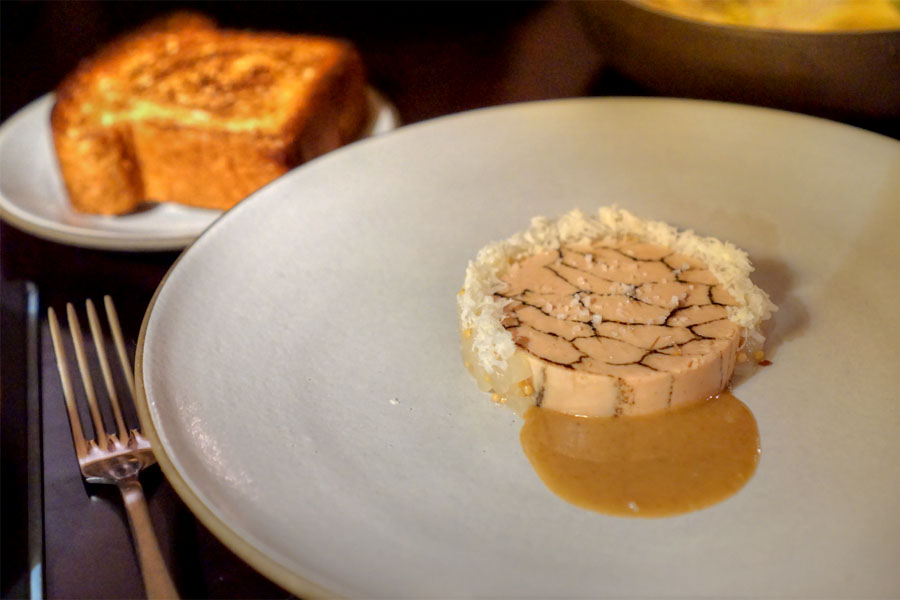 Foie Gras [$34.00]
| Torchon with Pears, Red Walnuts & Black Onion
Unsurprisingly, the torchon was on point, a smooth, supple preparation with a refined, yet unmistakably livery taste. There was a slight, but ever-present sweetness from the pear that worked, though the key for me was the use of black onion, which imparted a bitterness that counteracted the foie. Brioche, meanwhile, served as a natural accompaniment, though it was a touch drier than I'd prefer.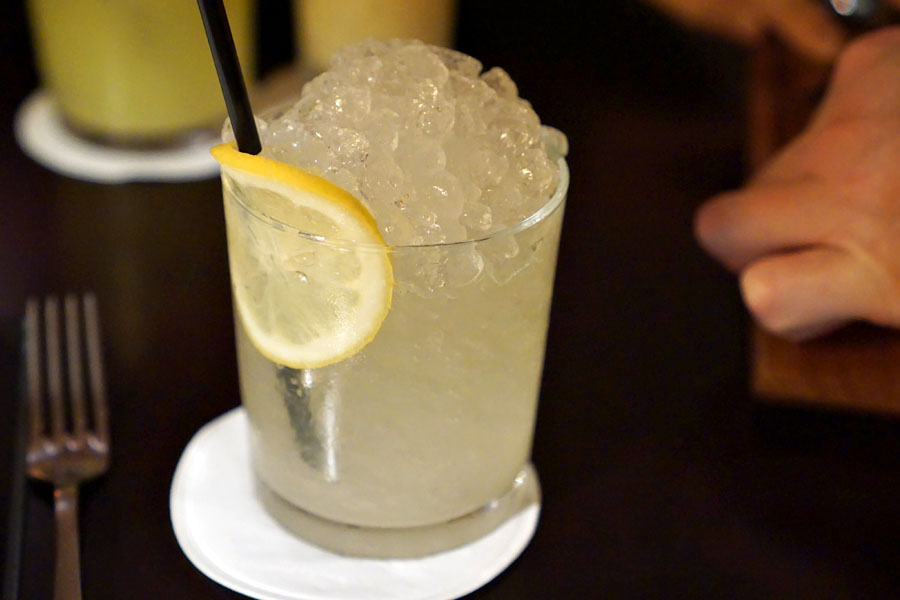 Nod to Nothing [$16.00]
| London Dry Gin, Lemon, Cocchi Americano, Jasmine Pearl Green Tea, Apricot Liqueur, Yuzu, Sage
We decided to go with lighter spirits for our second round of three cocktails. This was definitely on the easier-drinking side, displaying herbaceous, citric, and bitter elements that led to strong notes of sugary apricot and a finish emphasizing the botanical nature of the gin.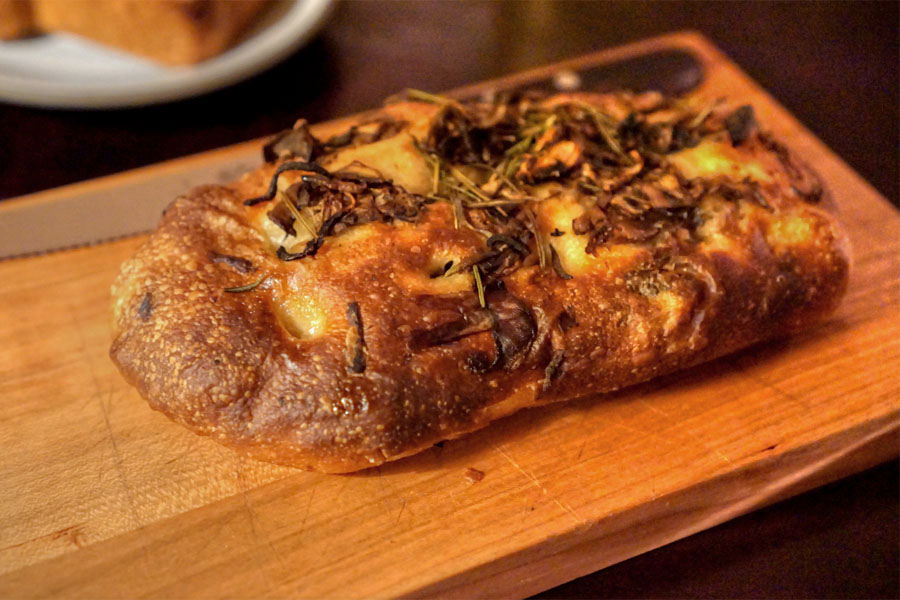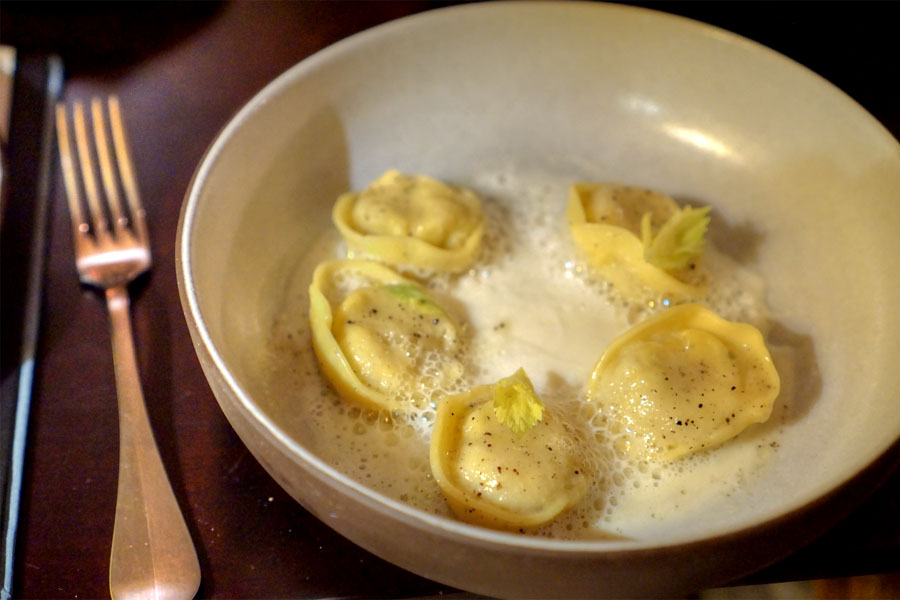 Celery Root [$29.00]
| Tortelloni with Black Truffle & Parmesan
The tortelloni managed to be a favorite of ours with its wonderful consistency and spot on interplay between truffle, cheese, and moderating celery root. The course was accompanied by a smoky, woodsy roasted mushroom flatbread, which was delicious in its own right and also worked as a vessel with which to mop up the remaining liquid in the bowl.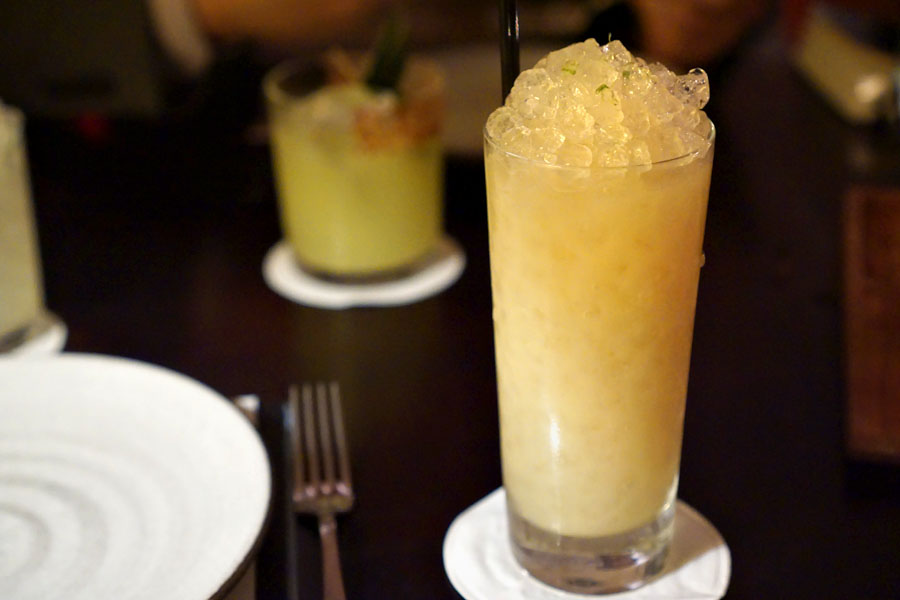 El Rey [$17.00]
| Highland Blanco Tequila, Fino Sherry, Falernum, Vanilla, Lemon, Blackberry
This was a standout among the lighter cocktails we tasted. I got a tropical, fruity, almost coconut-esque sweetness here, one that was joined by some delightfully nutty notes and the dry, oxidative bent of the Fino. There was even a slight herbaceousness (from the tequila?) that worked, too. Very well integrated--one of my dining companions even commented that he could drink this all day.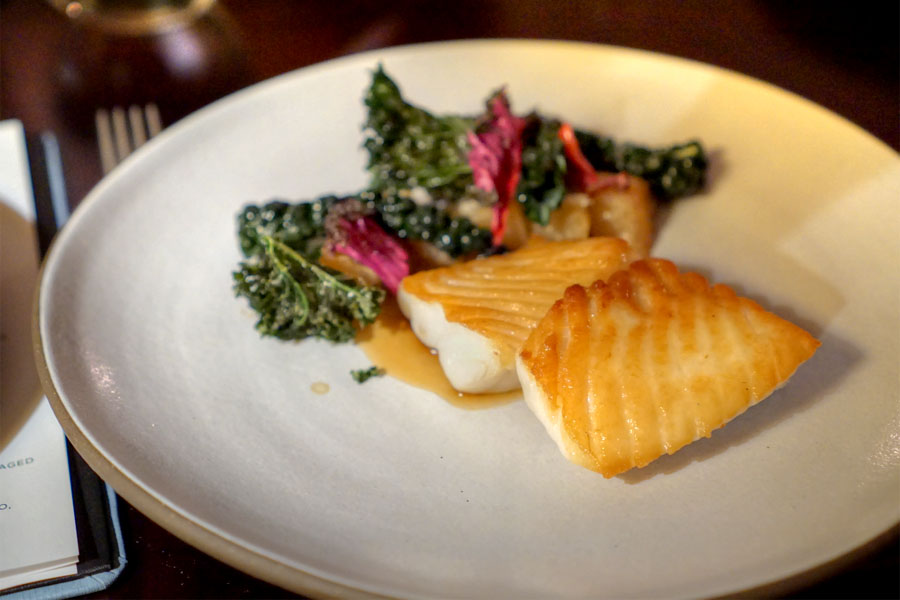 Black Cod [$42.00]
| Seared with Red Kale, Pears & Horseradish
At this point we moved on to the main courses. Black cod arrived perfectly flaky, its soft, well-seared flesh giving up a delicate, ocean-y sort of savoriness. The fish was a joy to eat, and paired seamlessly with the accompanying kale. I didn't get too much from the horseradish, however.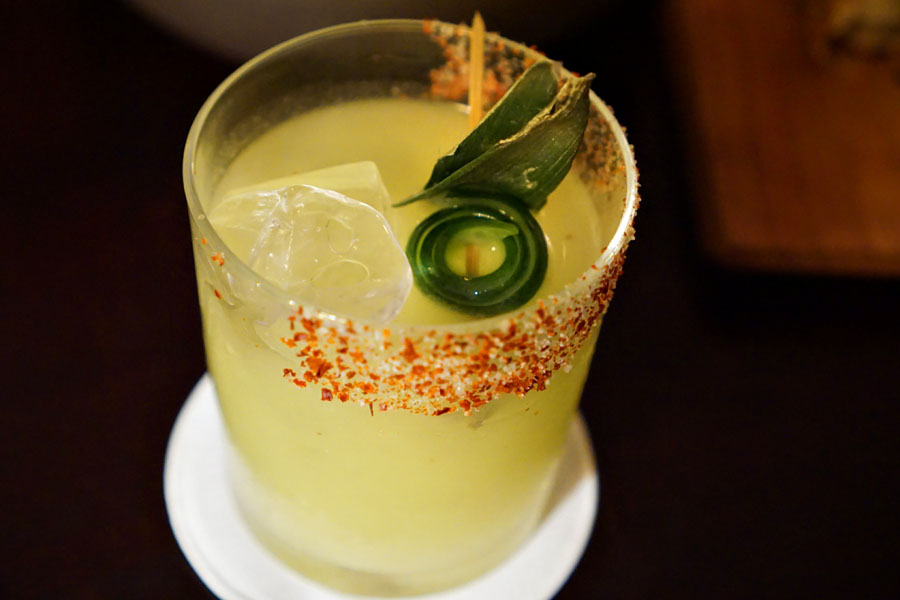 Dr. Feelgood [$18.00]
| Mezcal, Fino Sherry, Suze, Genepy, Avocado, Lime, Cucumber, Aleppo Chili
Our lone mezcal cocktail was relatively subdued. In terms of aroma, I got a blend of vegetal and avocado-like notes, layered over a distinct savory and spicy element. Taste-wise, again that vegetal/herbal character was at the fore (perhaps from the génépi), tempered by avocado and the bittersweetness of Suze while the mezcal was in the background. The rim, of course, imparted a sharp, spicy finish to the drink.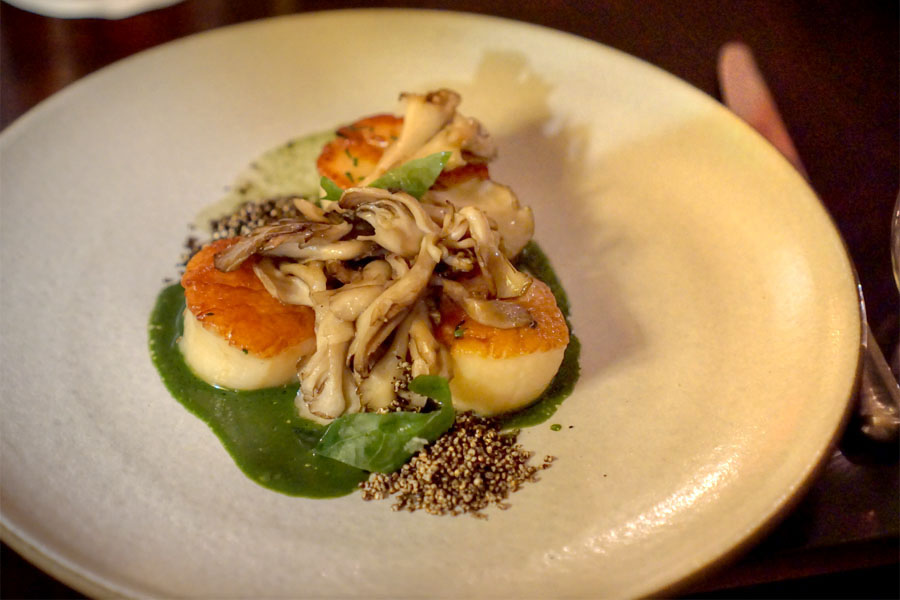 Scallops [$38.00]
| Seared with Hen of the Woods, Amaranth & Sorrel
Scallops were superb, coming out well-caramelized and with a wonderfully soft-yet-substantial bite. Their brine just made sense with the contrasting flavors of nutty amaranth and tangy sorrel, all while maitakes offered up an unmistakable earthiness.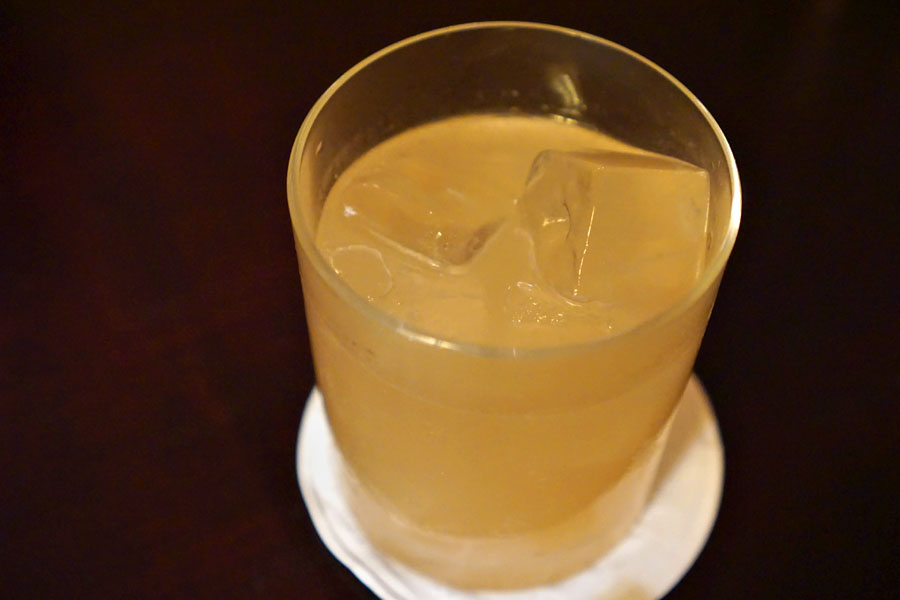 Pandan Express [$17.00]
| Scotch, Aged Cachaça, Pale Cream Sherry, Brown Butter, Tuaca, Pandan, Orgeat, Lemon, Coconut Water
Our third cocktail round brought us back to the heavier side of things. This first drink had a nose filled with sweet spice and an almost pear-like fruitiness. The palate was on the thin side, with more of that sweetness mixed with light astringency and a palpable nutty character.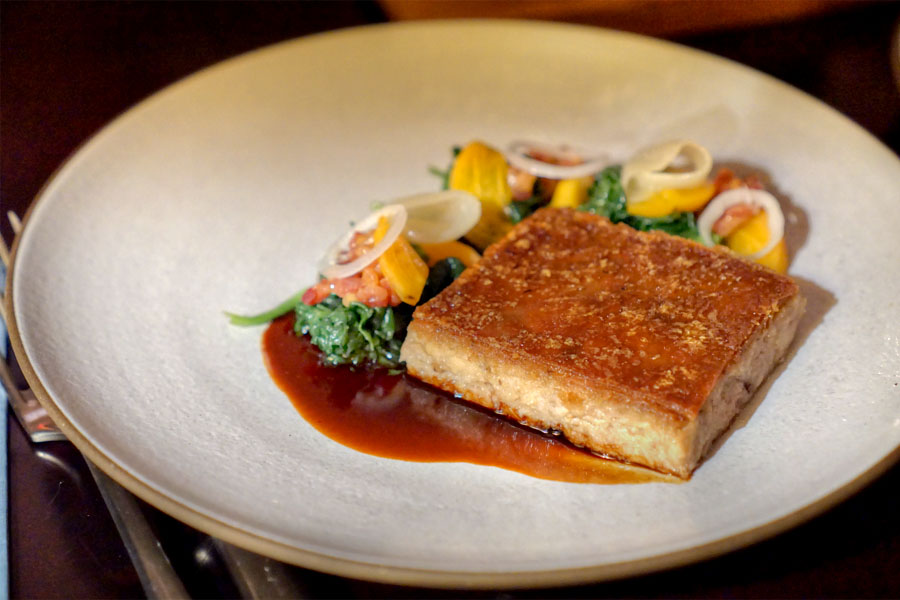 Suckling Pig [$42.00]
| Confit with Persimmons, Wild Spinach & Bacon Marmalade
A well-defined block of suckling pig confit was perhaps a touch drier than I'd prefer, but definitely delivered in the taste department with its unabashedly rich, porky flavors set against a layer of crispy skin. I wasn't crazy about the persimmons, but the spinach really worked for me.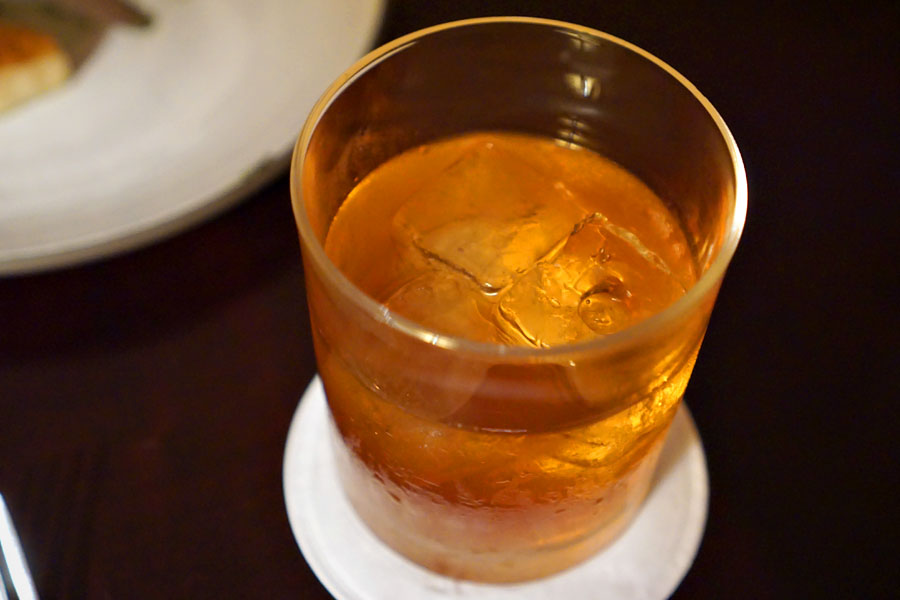 Detox-Retox [$18.00]
| Blended Scotch, Venezuelan Rum, Pineapple Rum, Aged Cachaça, Coconut Water, Angostura
This cocktail featured a blend of four spirits. It smelled great, with dark fruit and brown sugar taking center stage. Taste-wise, there was a cherried, candied sweetness that grabbed our attention, mainly because more than one of us found it reminiscent of Otter Pops (a childhood treat of ours) for some reason.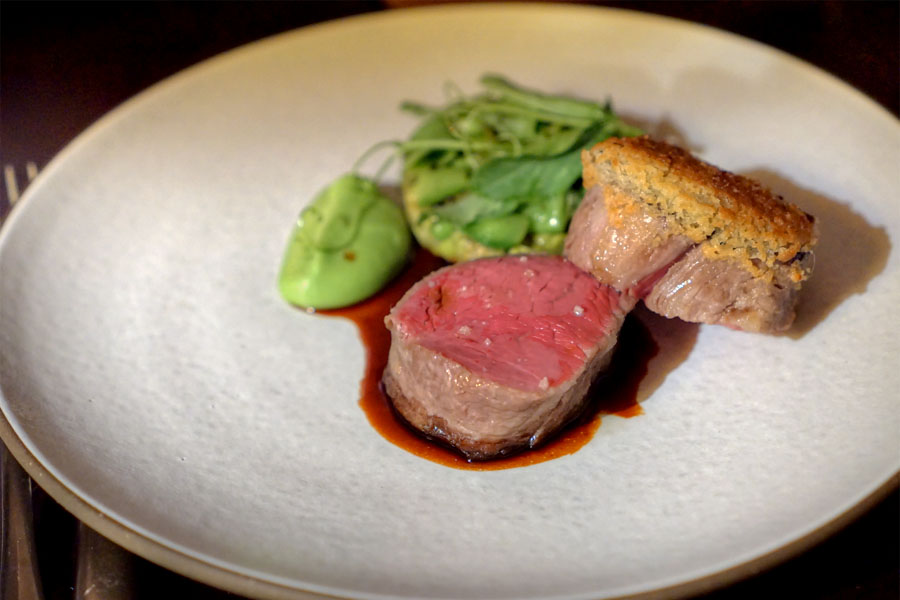 Beef [$45.00]
| Bone Marrow-Crusted with English Peas, Potato Purée & Green Garlic
Filet was used in our beef course, so flavors weren't as robust as I typically prefer; I also would've liked more sear going on. Nevertheless, I did appreciate the tenderness of the cut, as well as the additional texture and richness imparted by the bone marrow. Nice contrasting brightness from the peas and green garlic, too.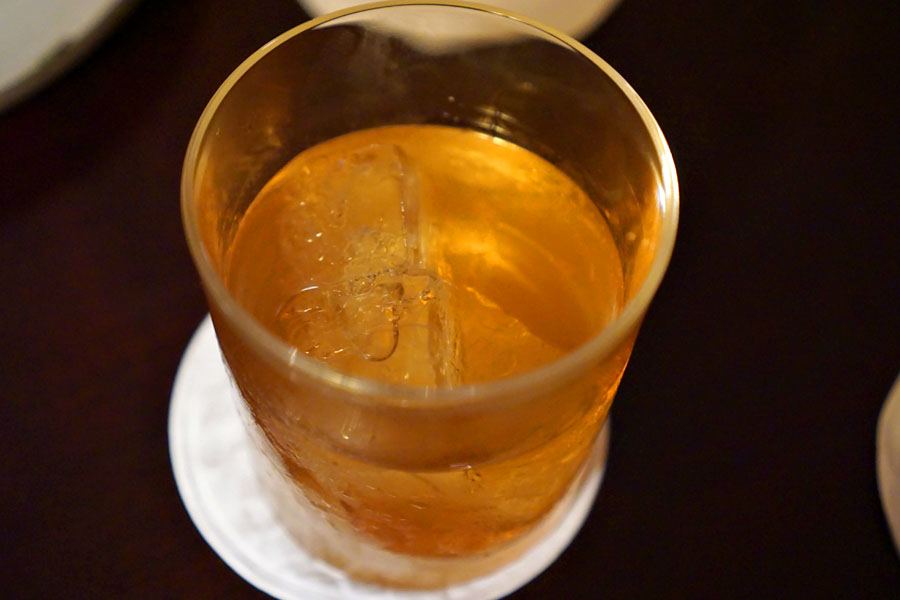 En Maison [$18.00]
| Japanese Whisky, Rye Whiskey, Amontillado Sherry, Benedictine, Maple Syrup, Verjus, Coffee-Infused Angostura
Here was my favorite cocktail of the third round. It had a nose rife with dark fruit, maple, and coffee, while the palate highlighted the mixing of sherry and scotch, along with more dark fruit, coffee, and an oxidative character on a long-lasting finish.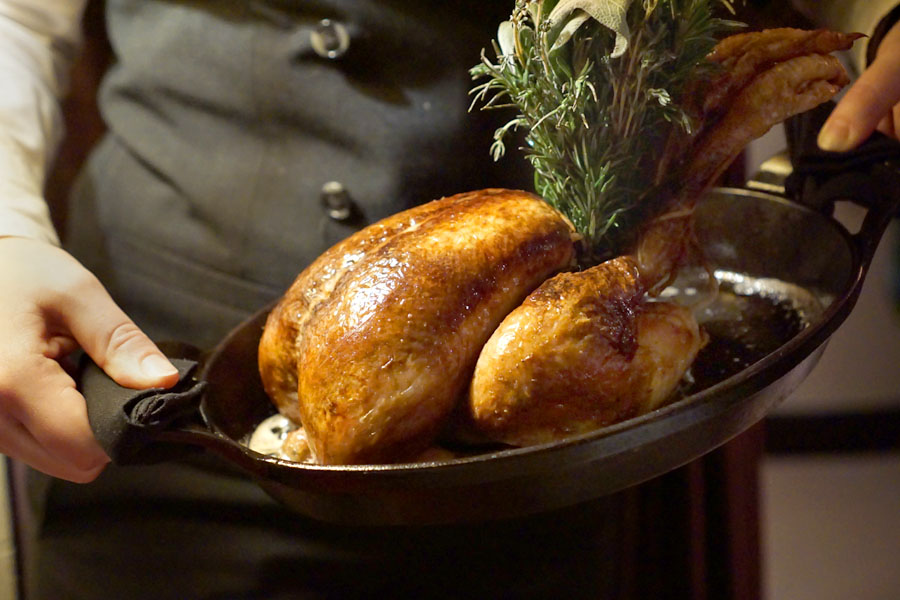 We ended our savories with NoMad's signature roasted chicken. The bird ended up being presented tableside (it smelled amazingly buttery, by the way) before being taken back into the kitchen for plating.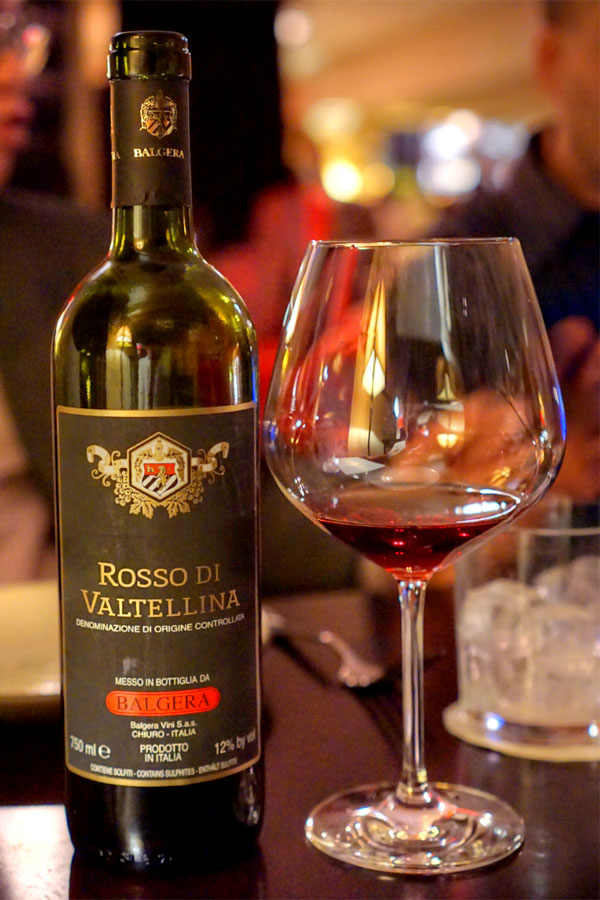 To go with the chicken, we opted for a bottle of wine, the
Balgera, Rosso Di Valtellina 1999 [$85]
, a Nebbiolo with a good bit of age on it. In terms of bouquet, I found it quite tannic, zippy, with a distinct strawberry quality. Taste-wise, I got lots more berry, along with a strong spice and pepperiness, a bit of heat, and more tannins and acidity on the dry finish. Actually a surprisingly good pairing.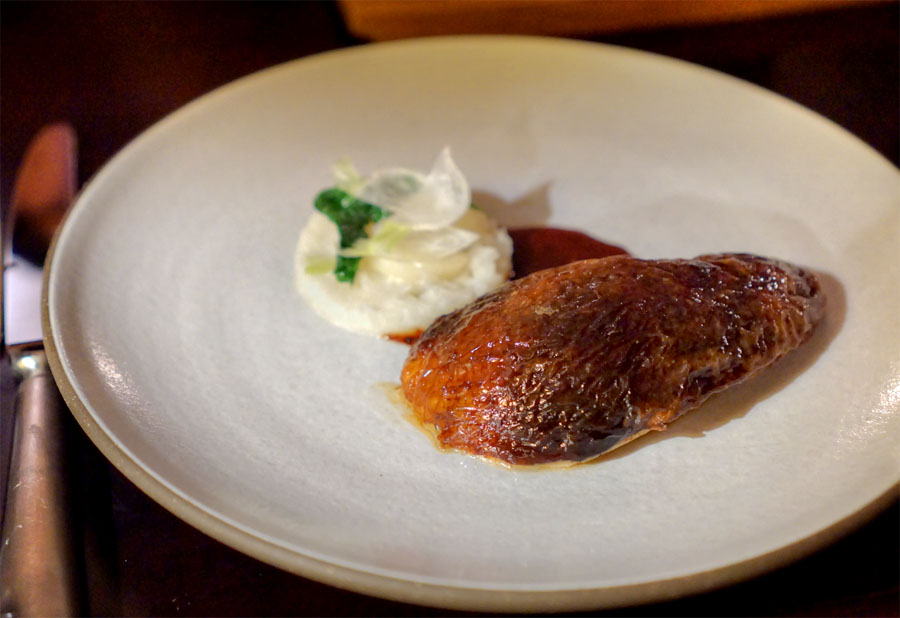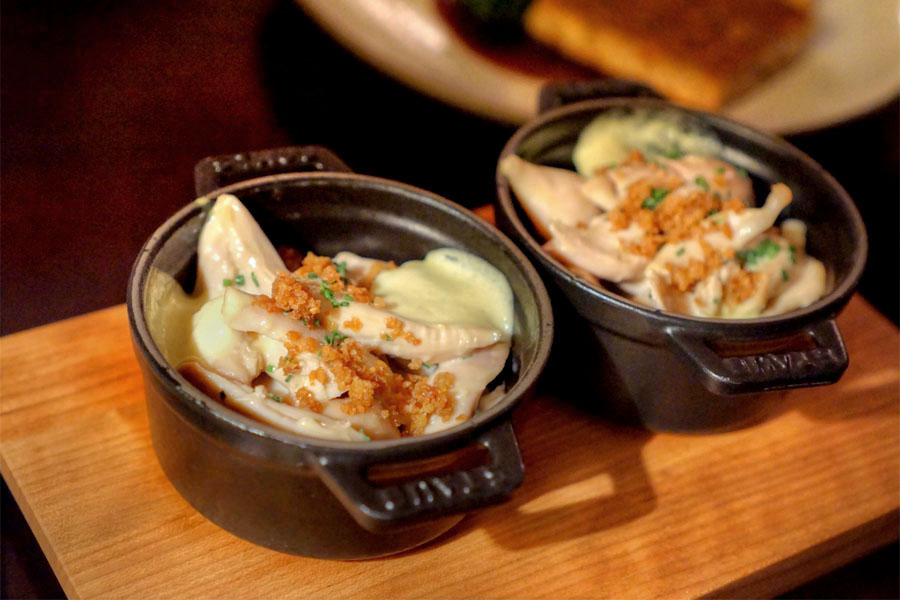 Roast Chicken for Two [$98.00]
| Black Truffle & Brioche Stuffing with Baby Turnips & Sesame
We began with the white meat, which had a stuffing of brioche, foie gras, and truffle underneath the crispy skin. It was one of the stronger chicken breasts I've had in recent times, eating tender and moist, with just enough truffle in there. In addition, I enjoyed the counterbalance provided by the accompanying turnip mash with sesame. As for the dark meat, it was pulled and tossed in a brown butter sabayon, and served topped with crisped and crumbled skin. Not surprisingly, this was a much richer, more aggressive presentation, the chicken coming out velvety and imbued with an almost pot pie-like coziness.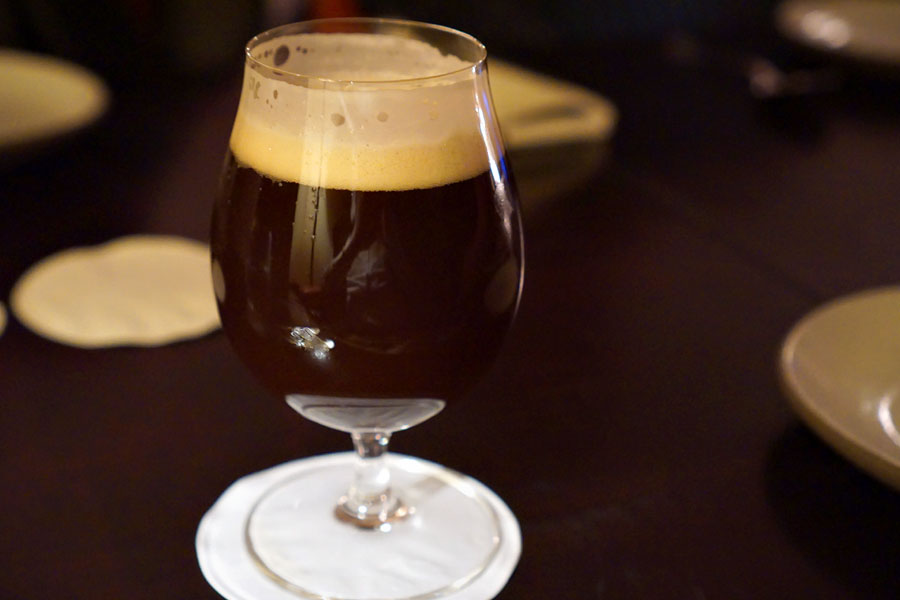 Curiously, NoMad partnered with Long Beach's
Beachwood
Brewing to create
Il Pollastro [$9]
, a Belgian brown ale specifically designed to pair with the chicken. I got a dry nose showcasing some malty, nutty influences and light toffee. The taste leaned toward the roasty, dry side, with again a pronounced nuttiness and restrained bitterness.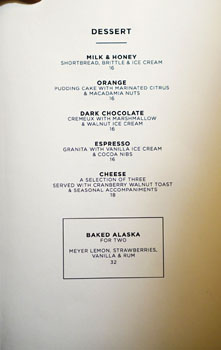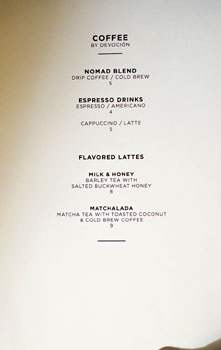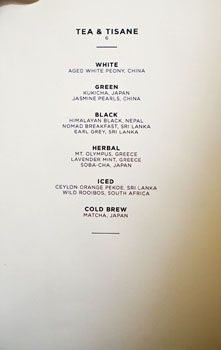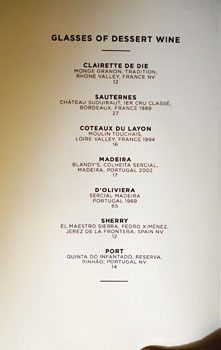 Desserts were a must of course, and here they're crafted by Executive Pastry Chef Mark Welker, who handles the sweet stuff at both EMP and NoMad. Click for larger versions.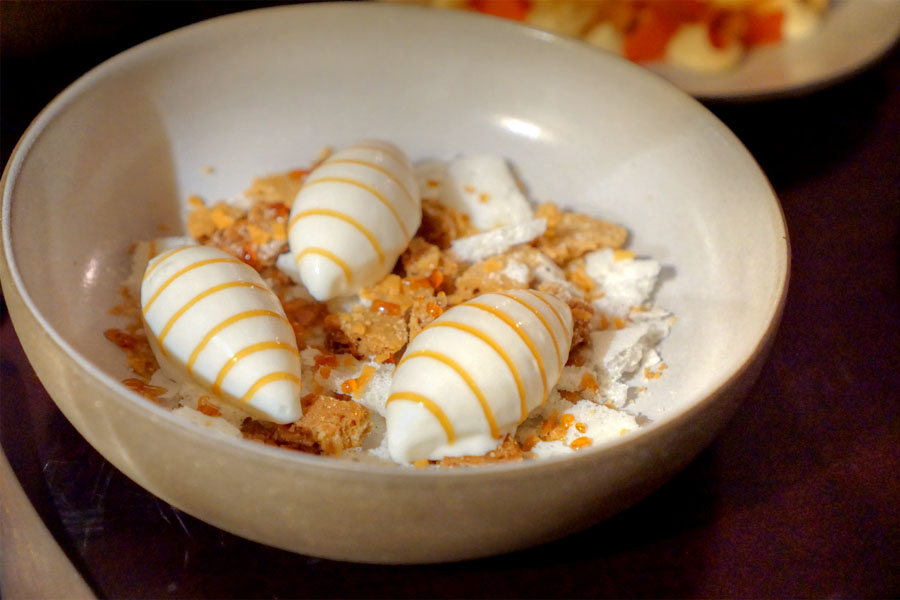 Milk & Honey [$16.00]
| Shortbread, Brittle & Ice Cream
Naturally we had to try NoMad's signature dessert. The time-tested combo of milk and honey made absolute sense here, and I especially loved the crunchy, caramel-y honey brittle and airy shards of dehydrated milk foam, as well as the dish's salty pops. Excellent textural variation to boot.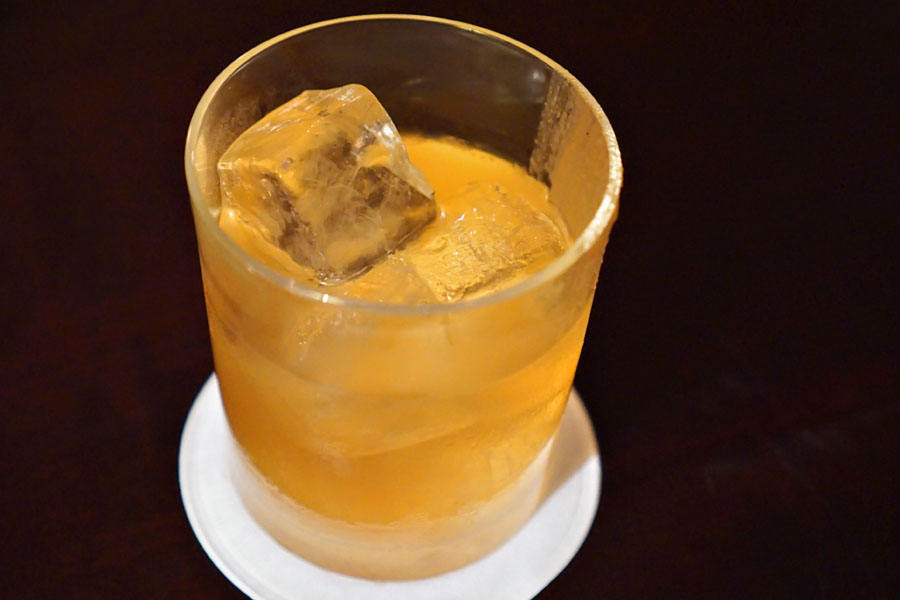 Little Dragon [$18.00]
| Cocoa Nib-Infused Cognac, Genever, Pineau Des Charentes, Aged Aquavit, Plum Vinegar
The penultimate cocktail featured aromas that were on the sour and savory side--very intriguing. Flavors were raisin-y at first blush, while more savory, puckering notes came in on the mid-palate before a booziness appeared on the back end.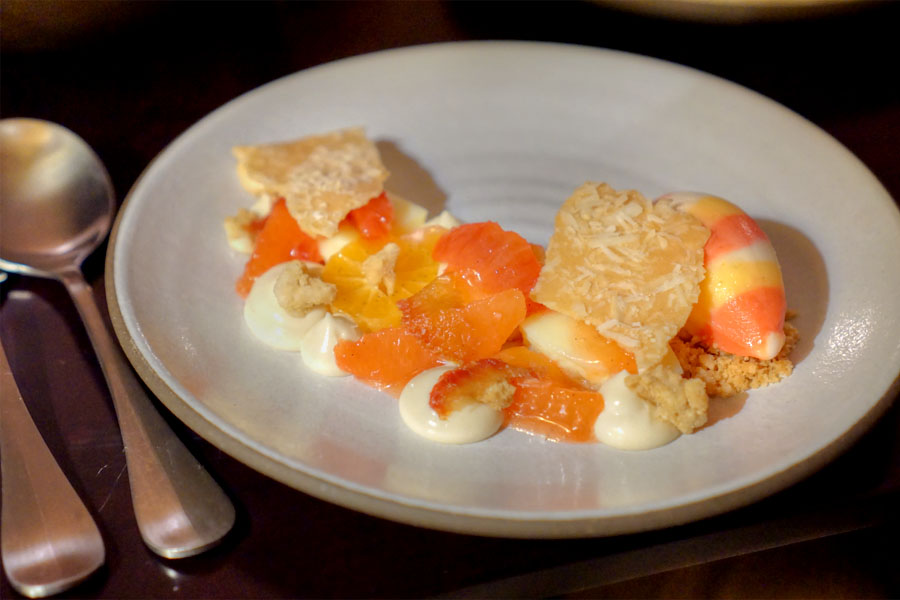 Orange [$16.00]
| Pudding Cake with Marinated Citrus & Macadamia Nuts
This next dessert tasted as creamy and citrusy and bright as it looked, and was slightly reminiscent of Thrifty Ice Cream's Rainbow sherbet.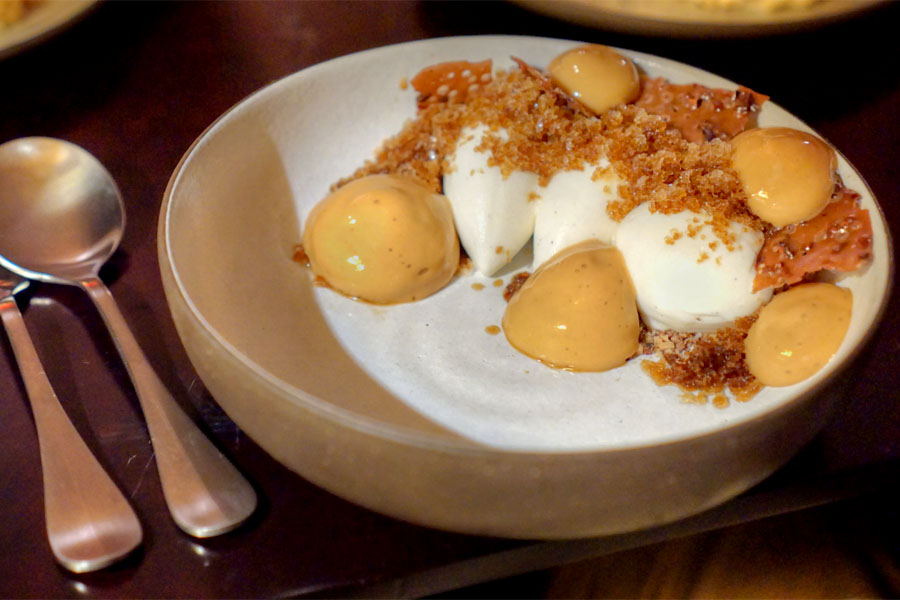 Espresso [$16.00]
| Granita with Vanilla Ice Cream & Cocoa Nibs
A good combination of sweet chocolate and bitter, roasty coffee, rendered in disparate textures.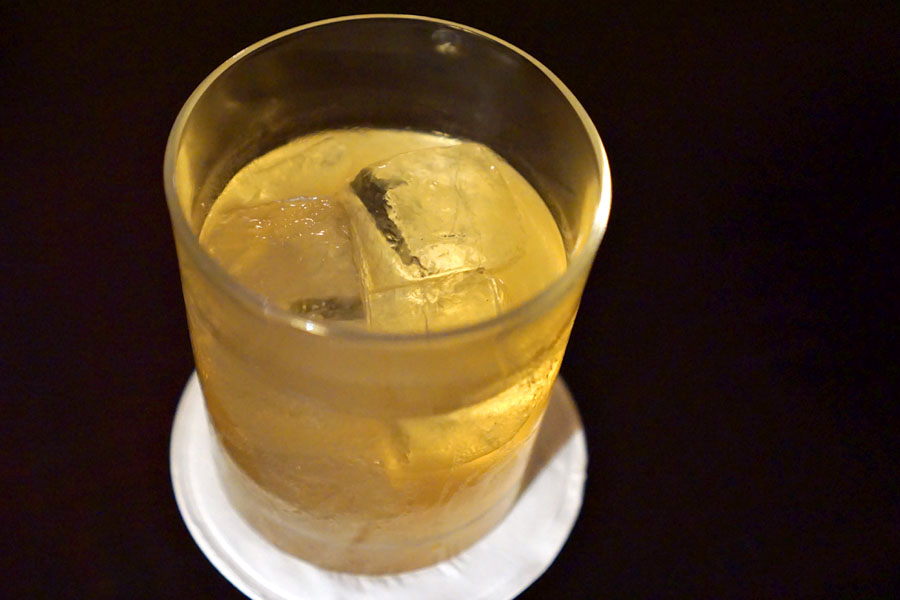 Manhattan Milk Punch [$17.00]
| Rye Whiskey, Jamaican Rum, Sweet Vermouth, Foro Amaro, Spiced Squash, Pineapple, Lemon, Clarified Milk
Our final cocktail was, appropriately, on the more dessert-y side. It smelled appealing to be sure, with lots of smooth, sweet spice--appropriate for the season. The taste followed, displaying an apple-like sensation along with more winter-y spices and bit of burn.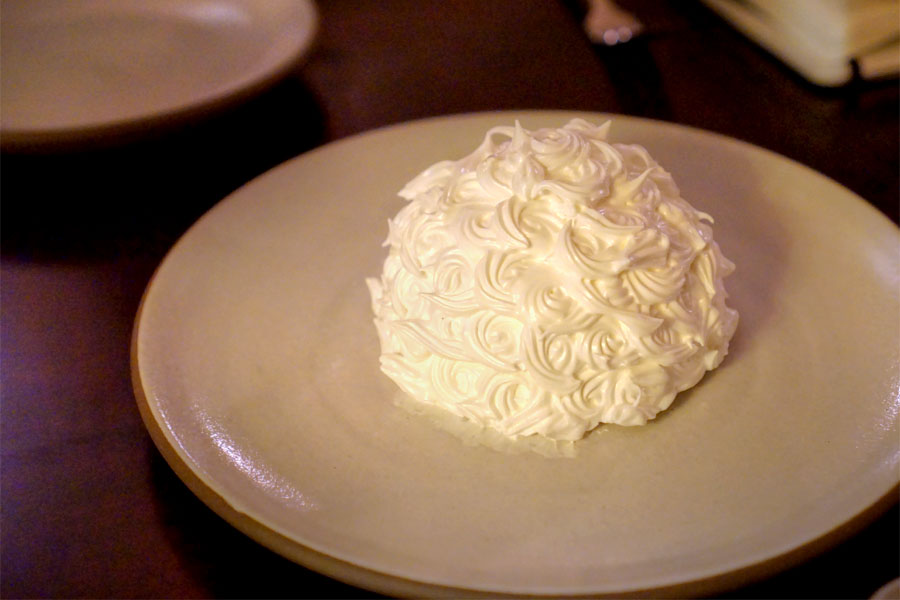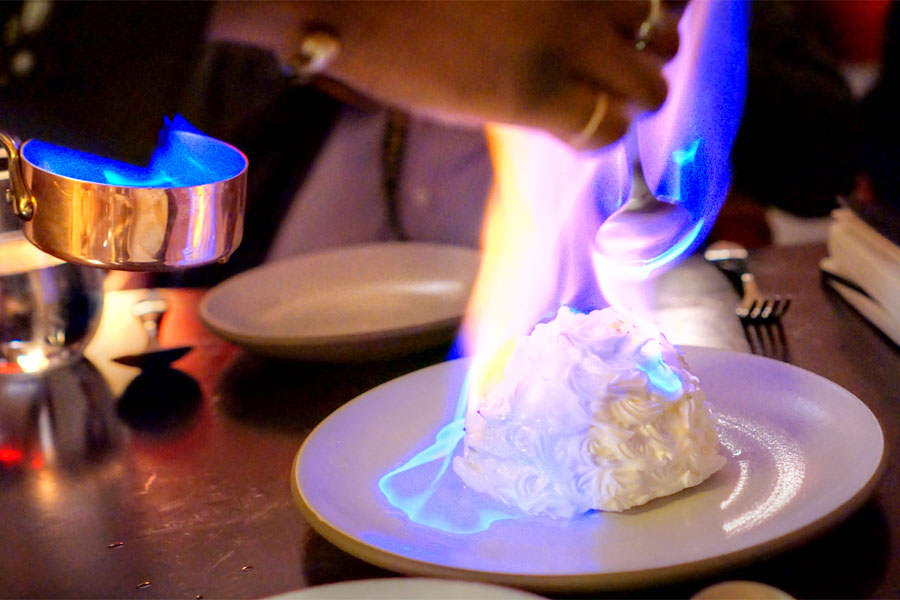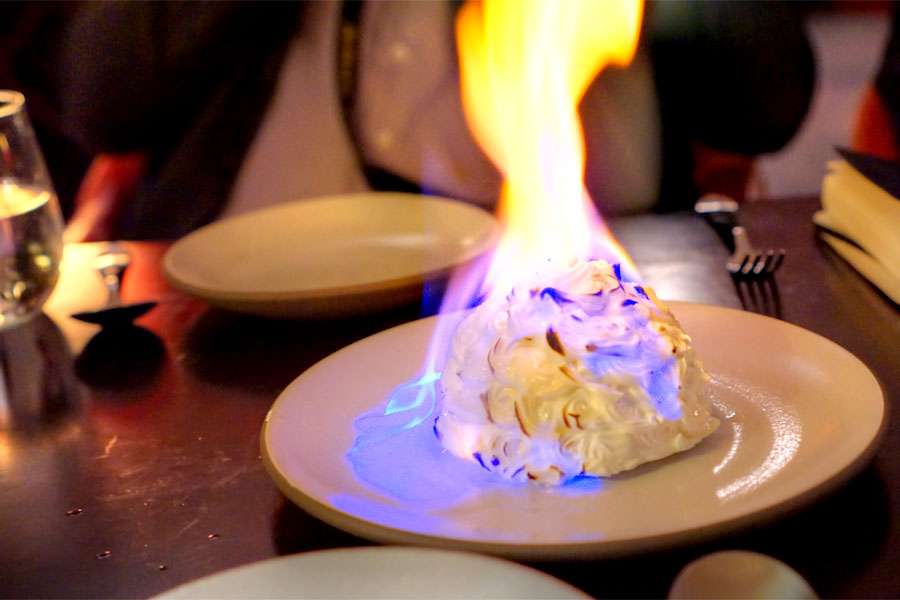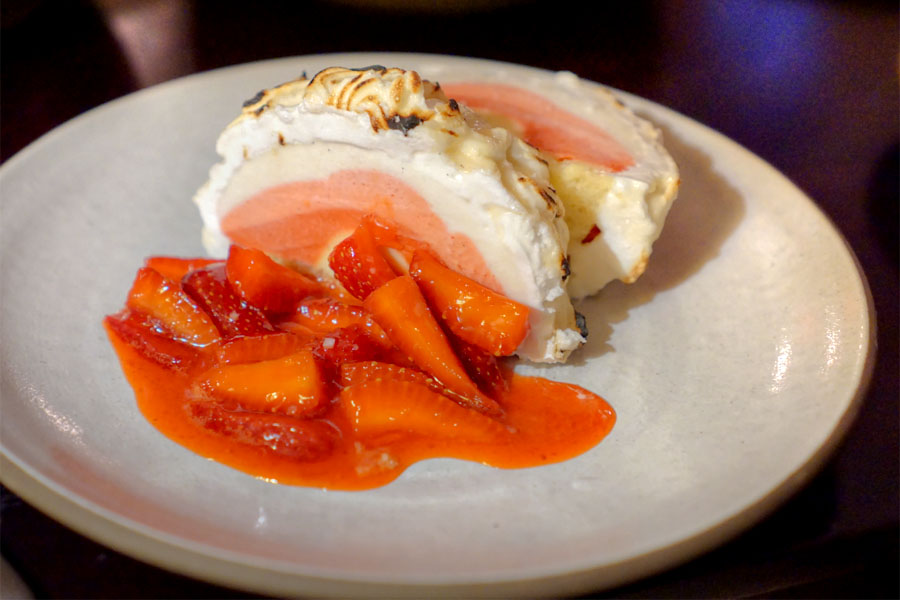 Baked Alaska for Two [$32.00]
| Meyer Lemon, Strawberries, Vanilla & Rum
The baked Alaska was flambéed tableside, which was nice to see. It was also probably the best version of the dessert I've had, the lusciousness of the berries working especially well with the torched meringue, ice cream, and slight booziness present.
The NoMad's been in the works for years now, and it looks like the wait was worth it. The food was, for the most part, quite good, and I'm only expecting it to get better as time goes on. Perhaps even more exciting, though, was the cocktail program, which is probably already among the City's best--I see this being a go-to imbibing spot of mine. At the same time, service was among the more polished examples I've encountered as of late, and definitely had a "New York" sort of vibe and formality to it that I appreciated. A great addition to the Downtown dining (and drinking) scene to be sure.