The Exchange (Los Angeles, CA)
The Exchange Restaurant at Freehand Hotel
416 W 8th St, Los Angeles, CA 90014
213.395.9531
www.freehandhotels.com/los-angeles/the-exchange/
Wed 09/28/2017, 08:05p-10:55p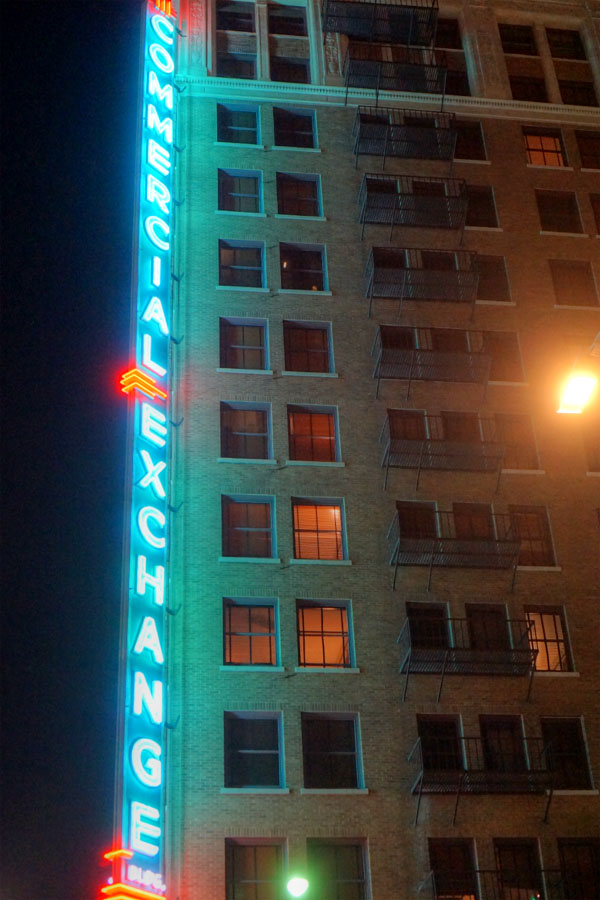 Downtown's new Freehand Hotel opened on June 22nd, the third outpost in the mini-chain after locations in Miami and Chicago. Housed in the historic Commercial Exchange Building, the Freehand was brought to us by the Sydell Group, the firm also in charge of the NoMad and The Line brands. Along with the hotel's opening came the debut of The Exchange, the property's signature restaurant. It's the work of hospitality consulting firm
Bar Lab
, along with Chef/Partner Alex Chang, who's presenting his take on vegetable-centric Cal-Israeli cuisine.
About the Chef
: Chang was born in Hong Kong to a Chinese father and Mexican mother, but was raised in the Santa Barbara area. His father moved to Tokyo when he was 12, leaving him with his mom and older sister. When his sister went to college his senior year of high school, he was often home alone, and thus started experimenting in the kitchen via a Rachael Ray cookbook. Chang eventually enrolled at USC (majoring in kinesthesiology), moved to LA proper, and really began exploring the City from a culinary perspective. Around late 2009, he and roommate Robert Kronfli (a music major whose brother Daniel ran Bacaro LA) began cooking dinners for friends out of their apartment. At first, these meals featured simple, homey type dishes. As things progressed though, the cooking became more complicated, and they started charging a nominal fee ($15) for the dinner series, which became known as
Paladar
(named after similar such supper clubs in Cuba). By the end of it, Paladar was serving 60 people a night, and was even chronicled in a documentary by USC film student Gil Freston (shown at both the Tribeca Film Festival and Downtown Film Festival Los Angeles in 2013).
Chang graduated in 2011 and found a gig at
Lazy Ox Canteen
, which at the time was still under the watch of
Josef Centeno
. After about a year, he moved to Tokyo to live with his father, during which time he
staged
at Yoshihiro Narisawa's eponymous restaurant. He then returned Stateside and cooked for two years at
Animal
, under mentor
Jonathan Whitener
. Around this time there were still Paladar dinners, but they were few and far between. This was followed by
stages
at Enrique Olvera's Pujol and Jorge Vallejo's Quintonil, as well as at Belgium's In De Wulf. Chang's next move was to Miami, where, at the request of restaurateur Alvaro Perez Miranda (who'd seen the Paladar film), he opened Vagabond at the start of 2015. It was also in Miami where he met Gabe Orta and Elad Zvi from Bar Lab, and the two wound up convincing him to leave Vagabond in July 2016 to start work on The Exchange. Note that Portland's Jenn Louis was originally slated to run the eatery at the Freehand, but those plans obviously fell through.


The bi-level restaurant (and indeed, the entire hotel) was designed by NYC-based firm
Roman & Williams
. It has a sort of loose, casual Craftsman-y feel, with lots of honey-hued wood and deep blue-greens. Of particular note are the muslin-swathed light fixtures, which were inspired by kites.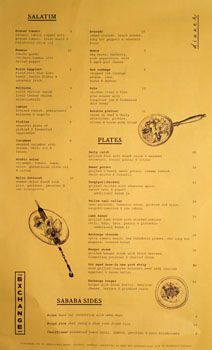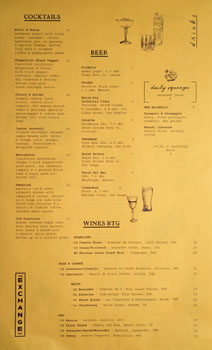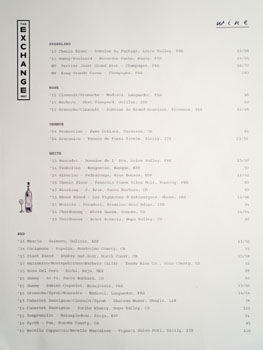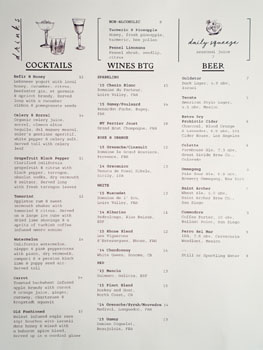 Chang's Mideast menu is split up into sections for
salatim
(cold appetizers), larger plates, and
sababa
("awesome") sides. And since this is a hotel restaurant, there are also separate lunch and brunch options. Drink-wise, we have a short-but-appealing list of cocktails, eight beers, and a compact wine list with some interesting selections. Click for larger versions.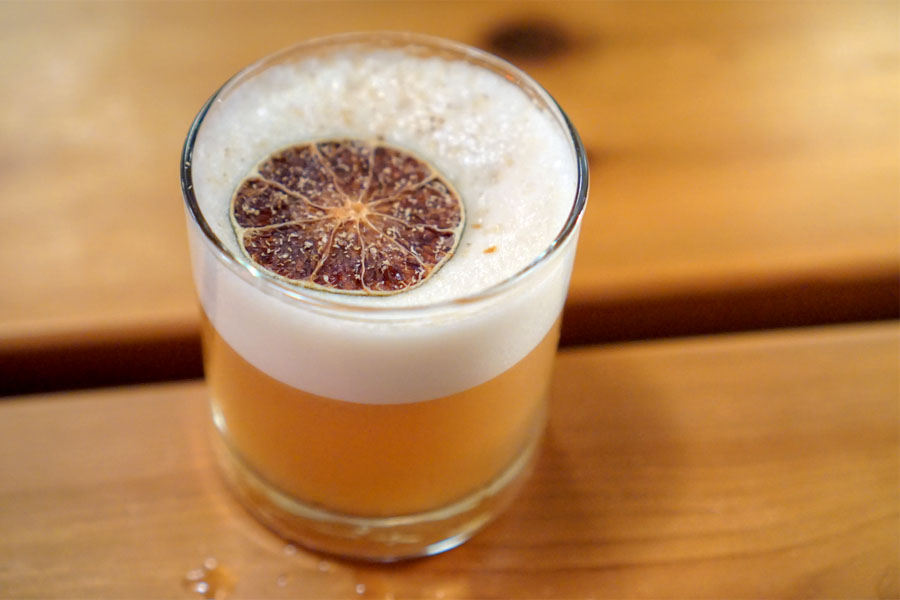 Tamarind [$12.00]
| Appleton rum & sweet vermouth shaken with tamarind & citrus. Served on a large ice cube with dried lime shavings & a spritz of turkish coffee infused amaro nonino
We were able to try a few of the cocktails tonight, and the first ended up as one of my favorites. The drink had really appealing aromas of pungent citrus and sweet spice, while its palate was smooth, soft, with more fruity, citric character leading to tangy notes of tamarind on the back end.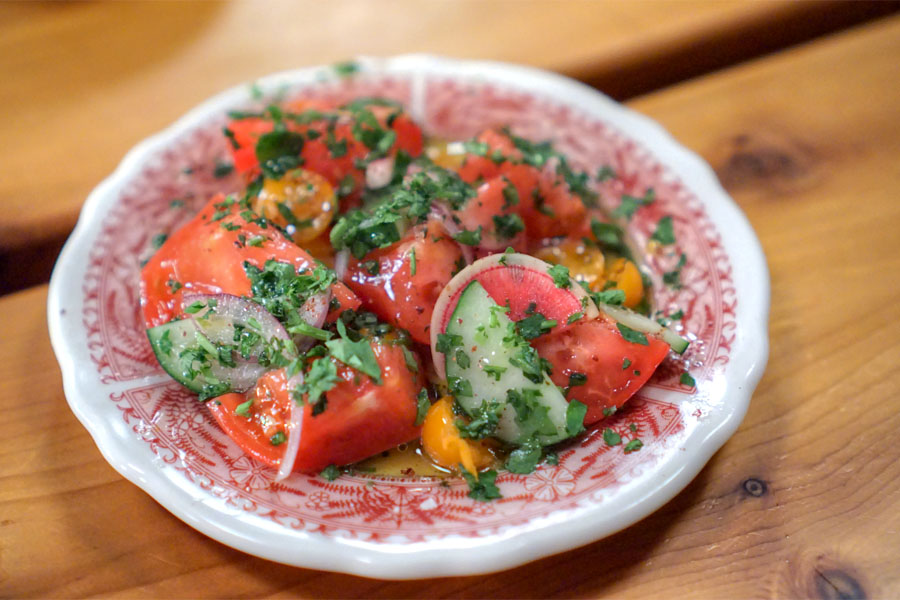 Arabic salad [$9.00]
| cucumber, tomato, sumac, onion, palestinian olive oil & citrus
Our first of five
salatim
was the Chef's take on the
salatat bandura
. It was classic at its core, a juicy, bright, satisfyingly-textured dish brought together by the olive oil.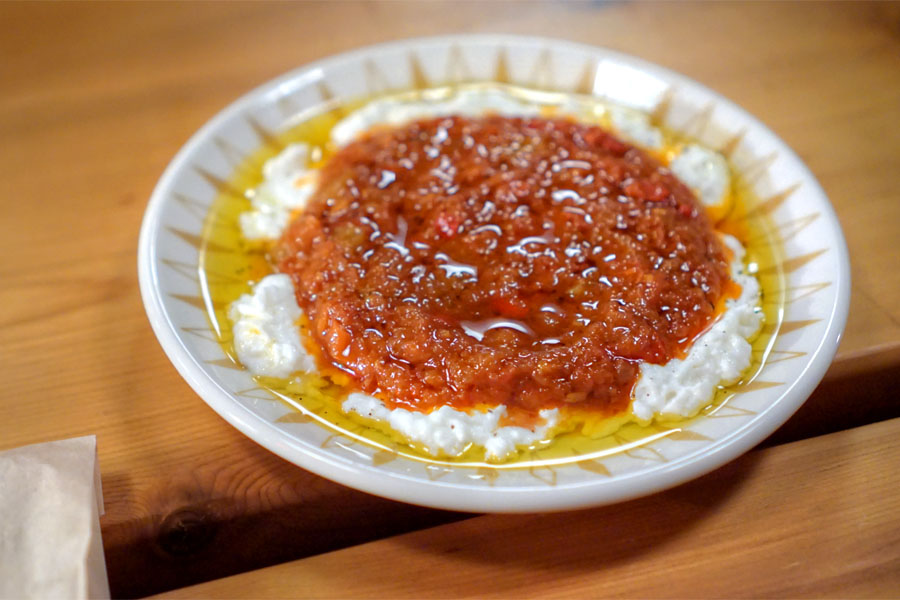 Matbucha [$9.00]
| north african salad, local fresno chiles, stracciatella
The
matbukha
did a great job meshing a heavy helping of smoky-sweet-sour pepper with the cool, lush nature of the cheese. The best part? A growing, creeping heat that was a pleasant surprise.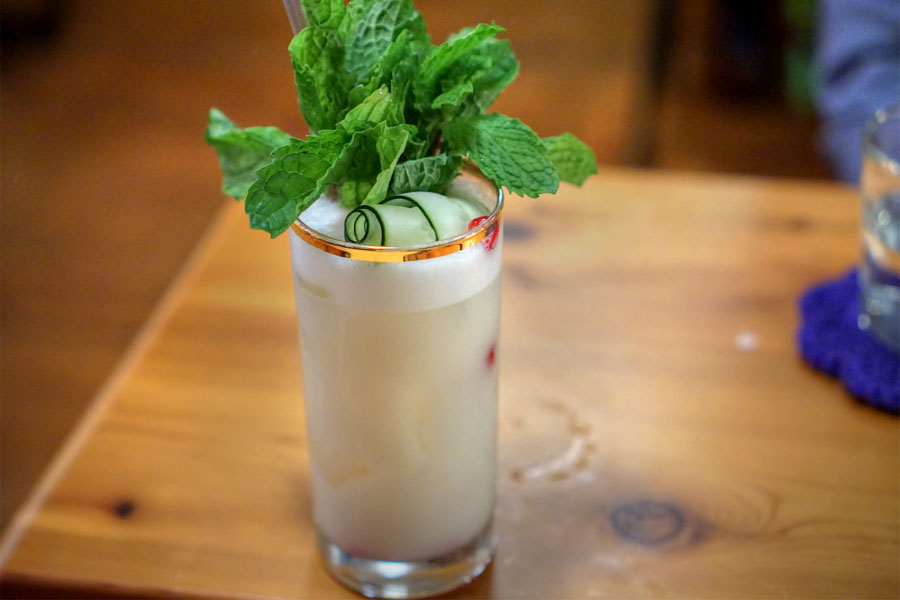 Kefir & Honey [$12.00]
| Lebanese yogurt with local honey, cucumber, citrus, beefeater gin, st germain & apricot brandy. Served long with a cucumber ribbon & pomegranate seeds
This easy-drinking cocktail was a table favorite with its tangy, lactic character and underlying notes of fruit and honey.
I thoroughly enjoyed the housemade flatbread, which I found particularly "fluffy."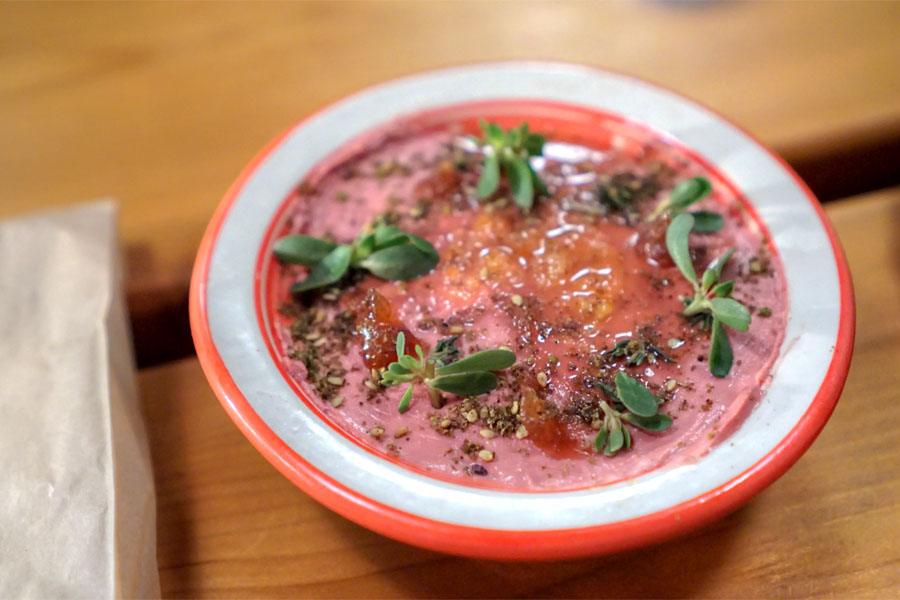 Pate [$12.00]
| chicken liver & foie gras mousse with tangerine jam & fermented date honey
Chang's pâté was on point, coming out smooth and spreadable, with a healthy dose of earthy, liver-y goodness evened out by a sour-sweetness from the jam 'n' honey. Especially good when taken with the pita above.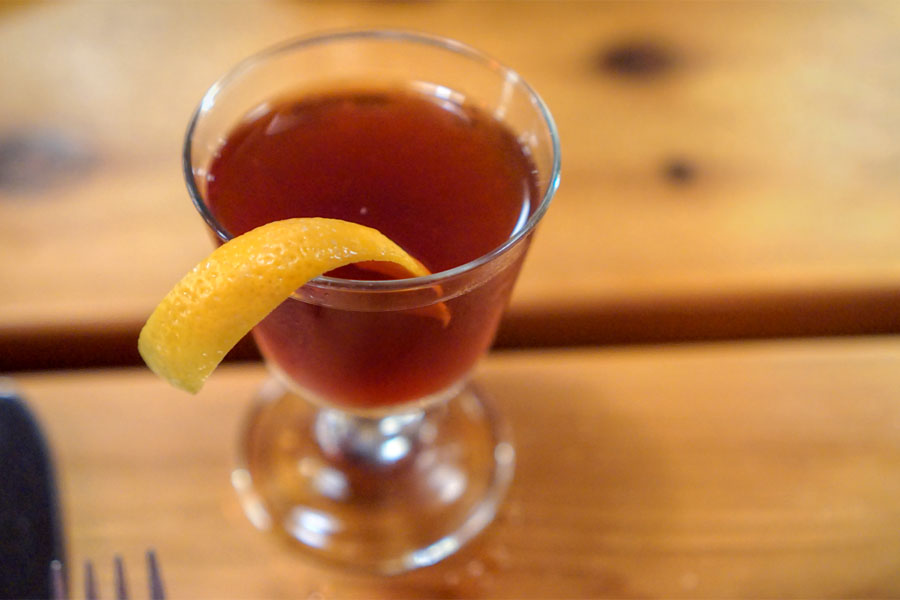 Old Fashioned [$15.00]
| Walnut infused eagle rare 10yr bourbon with israeli date honey & mixed with a baharat spice blend. Served up in a cordial glass
This was surely the booziest of our cocktails. Nose of dark fruit, citrus, and spice, with a bitter edge. Taste-wise, think bittersweet, somewhat astringent, with a bit of alcoholic heat and the walnut really making itself known toward the finish.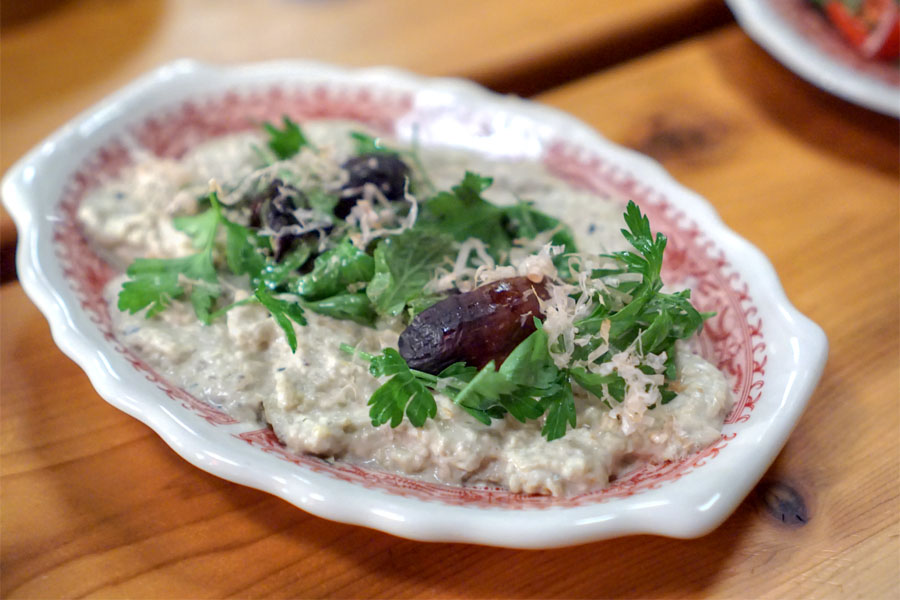 Burnt eggplant [$9.00]
| mixed with blue lake beans, bonito flakes & seasonal fruit
A reworked
baba ghanoush
was a standout, and easily one of the best versions I've had of the dish. The eggplant was smooth and smoky, well-integrated with its base of tahini and superbly balanced out by all the greenery up top. Great counterpoint from the beans, too.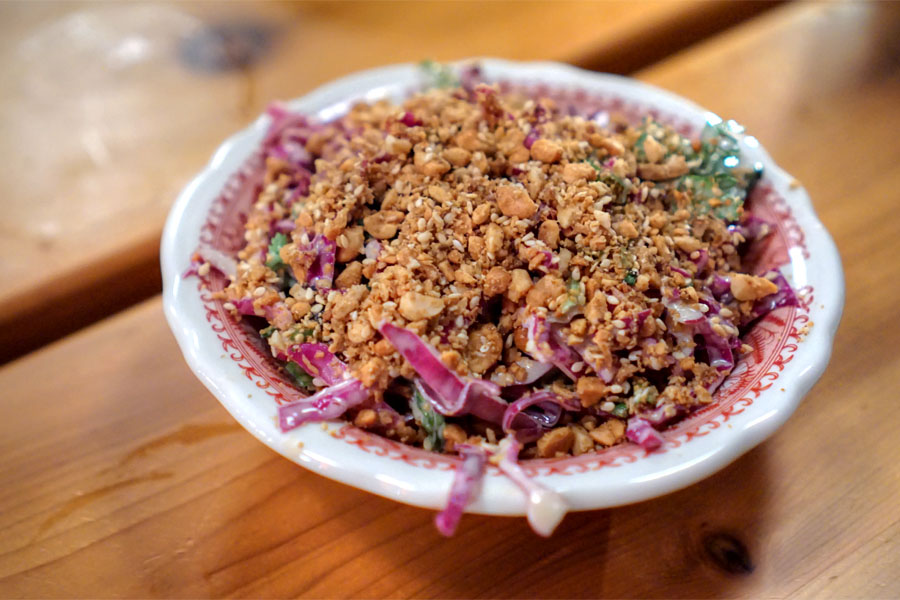 Red cabbage [$8.00]
| chopped red cabbage, peanut, lime, herbs & dukkah
Our final starter was my favorite of the fivesome. I loved the light, bright crunch of the cabbage here. It just worked with the peanuts, herbs, and pricks of lime while the creamy, nutty
duqqa
bound all the elements together. A spot on commingling of disparate tastes and textures.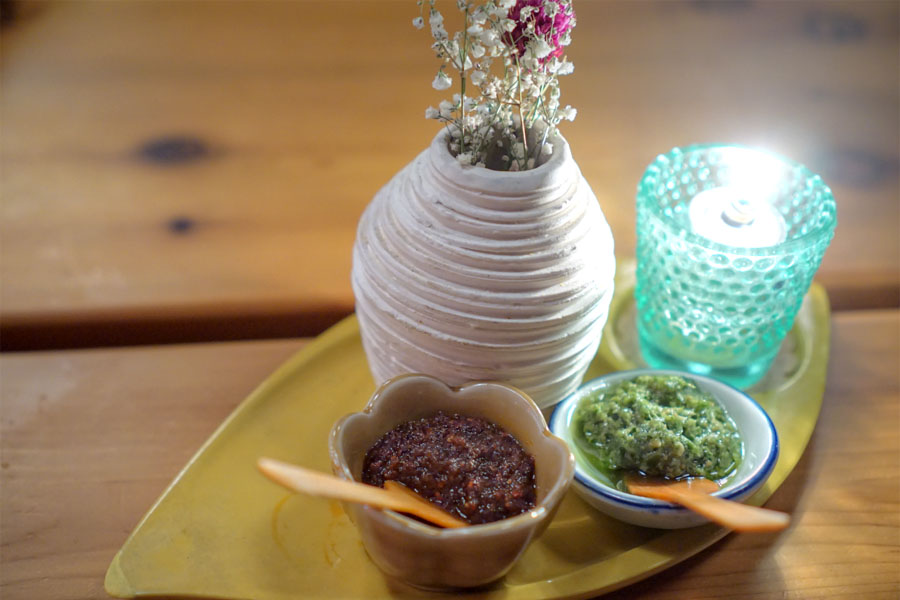 On the table were two homemade condiments: a smoky, salty, spicy harissa featuring Aleppo pepper and cumin; and a stupendous serrano-based
zhug
, which had some super focused, complex, vegetal, piquant flavors that kept me going back for more.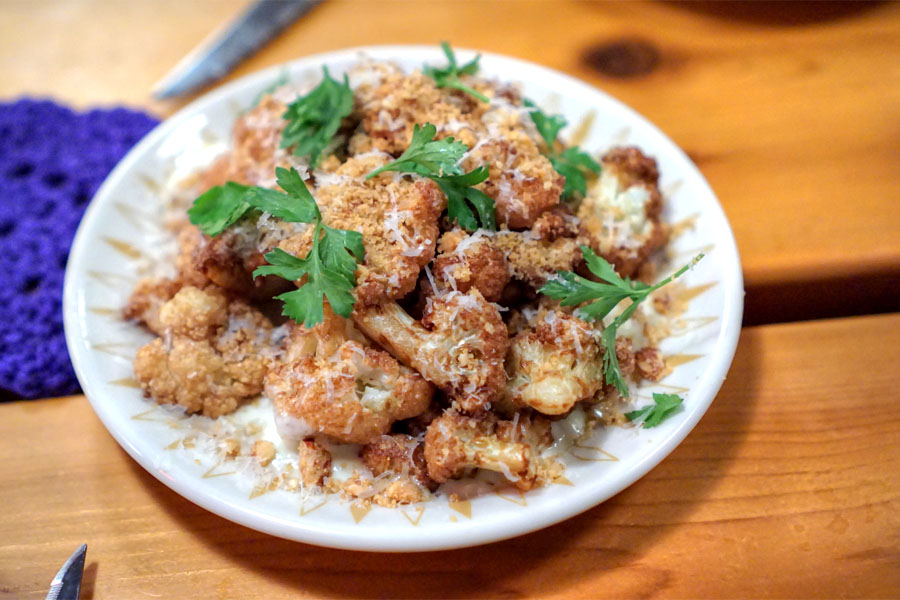 Cauliflower [$8.00]
| preserve lemon aioli, almond, pecorino & pita breadcrumbs
Given my penchant for cauliflower, I had to get this dish, and it turned out to be another highlight. I loved the crispness of the veggie as well as its char, while the back-and-forth between the salty cheese and tangy aioli was a perfect complement. One of the best preparations I've had in a while.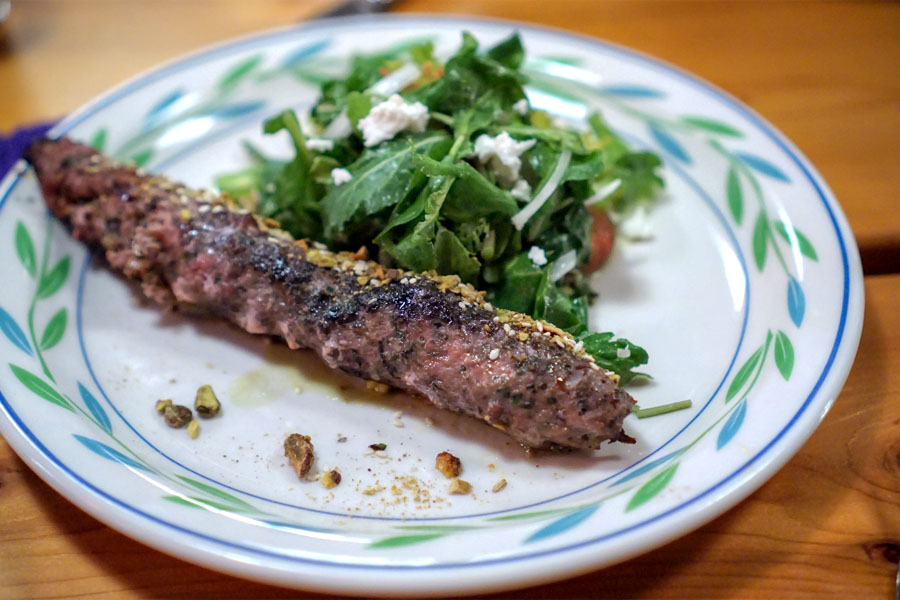 Lamb kebab [$24.00]
| grilled lamb kebab with stuffed poblano chili, kale, feta, potato & pistachio
Grilled lamb arrived well-seasoned and brimming with cozy, almost meatloaf-y flavors. It was tasty to be sure, but was actually outshone by the salad, which had a sharp, piercing heat that was balanced out by the feta and potato. A wonderful
chile relleno
added even more interest.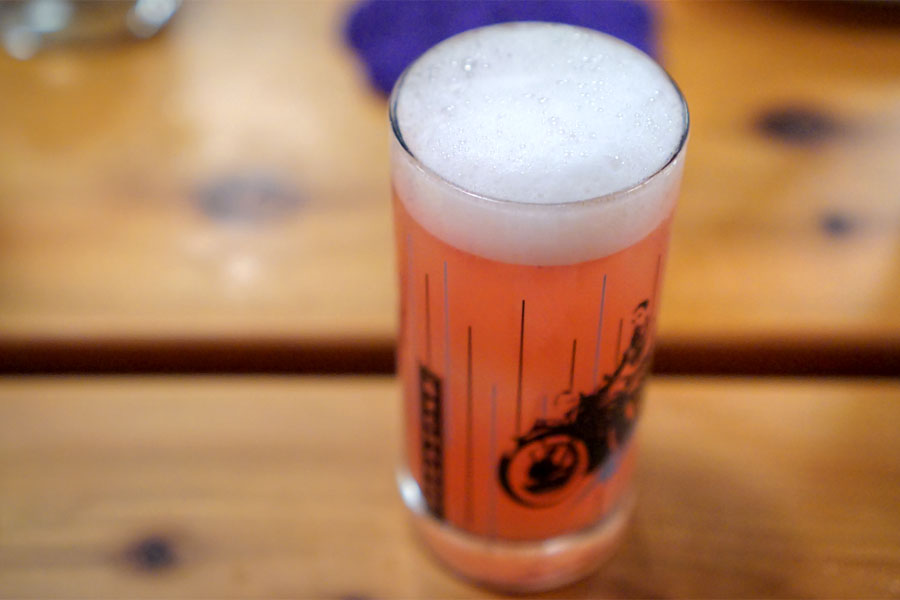 Watermelon [$14.00]
| California watermelon, aleppo & pink peppercorns with pisco, dry vermouth, campari & a persian black lime & poppy seed air. Served tall
Our next cocktail showed off sweet, refreshing, true-to-life notes of watermelon perked up by a bit of herb and tartness. The most interesting element, though, was that warm, spicy, multifaceted foam on top.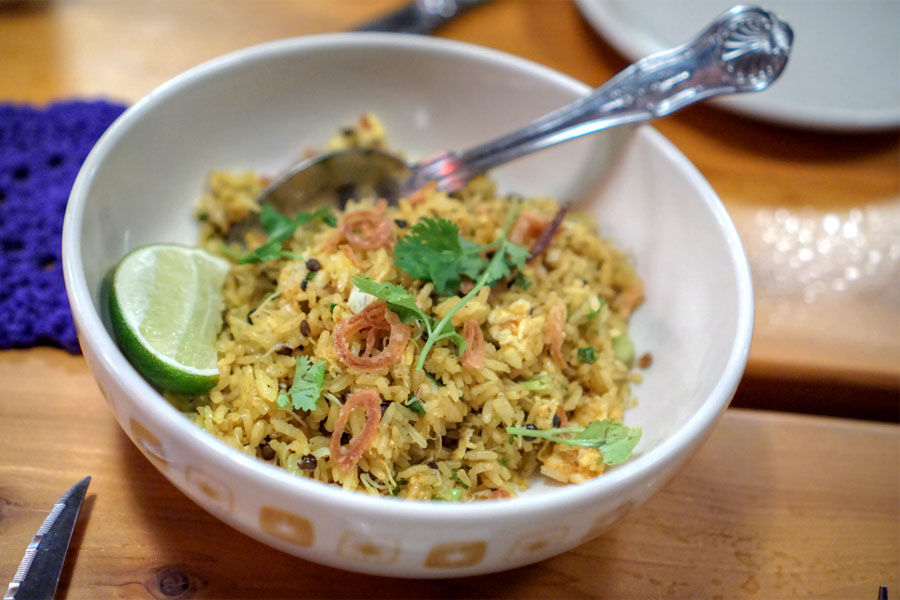 Fried rice [$14.00]
| chef chang's blue crab fried rice
The fried rice was another favorite, showcasing old school flavors but with an extra dosing of brine and umami from the crab. I wanted a bigger bowl of the stuff!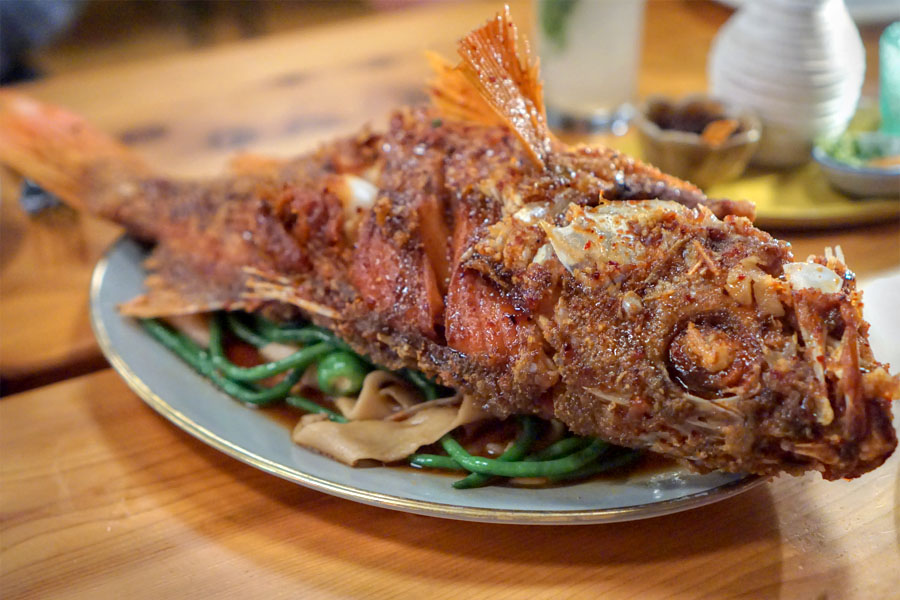 Vermilion snapper [$90.00]
| harissa sweet & sour, hand pulled noodles, sichuan pepper, garlic, long beans
Tonight's
pièce de résistance
was an off-menu special. The fish was red snapper-like, with soft, sweet, meaty-yet-flaky flesh that worked beautifully with its crispy skin. I got a blast of sweet 'n' sour that took the dish in a sort of nostalgic Chinese-y direction, a nod to the Chef's heritage perhaps. Long beans served as a contrast to the fish, as did the peppers, though the hand-pulled noodles were on the overly chewy side.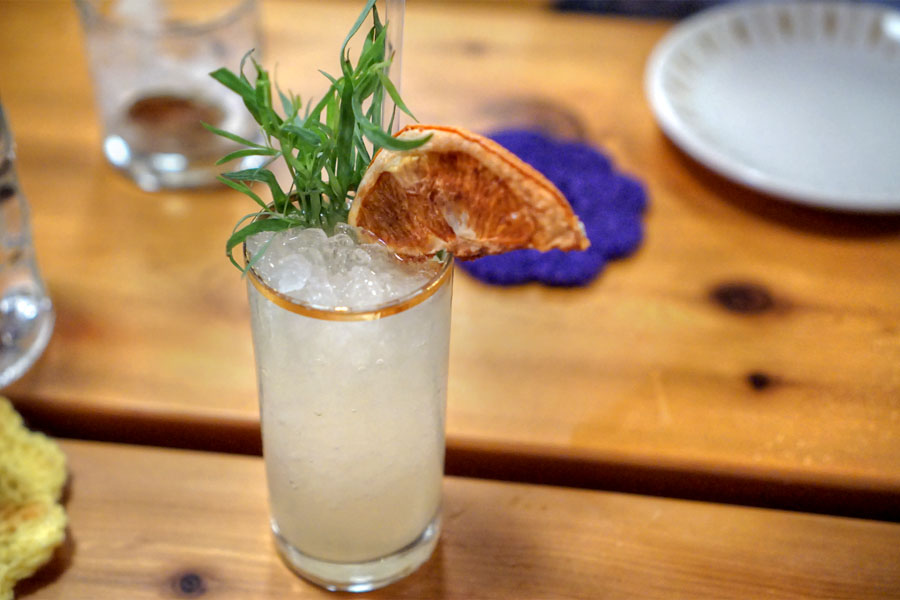 Grapefruit Black Pepper [$11.00]
| Clarified california grapefruit & citrus with black pepper, tarragon, absolut vodka, dry vermouth & seltzer. Served long with fresh tarragon leaves
The night's final cocktail brought a plethora of spicy, peppery, herby nuances at first blush, which then transitioned to the advertised bittersweet grapefruit. This one also went down easy.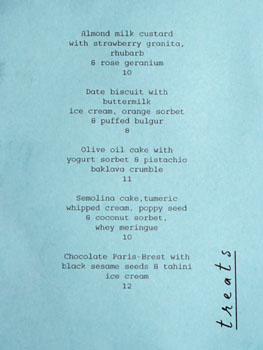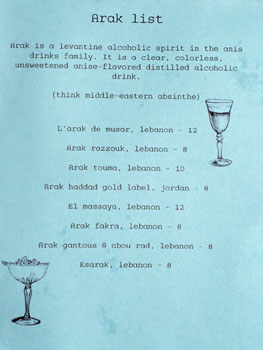 For dessert you'll find four theme-appropriate selections. There's also an
arak
list, which I don't think I'd ever encountered before. Click for larger versions.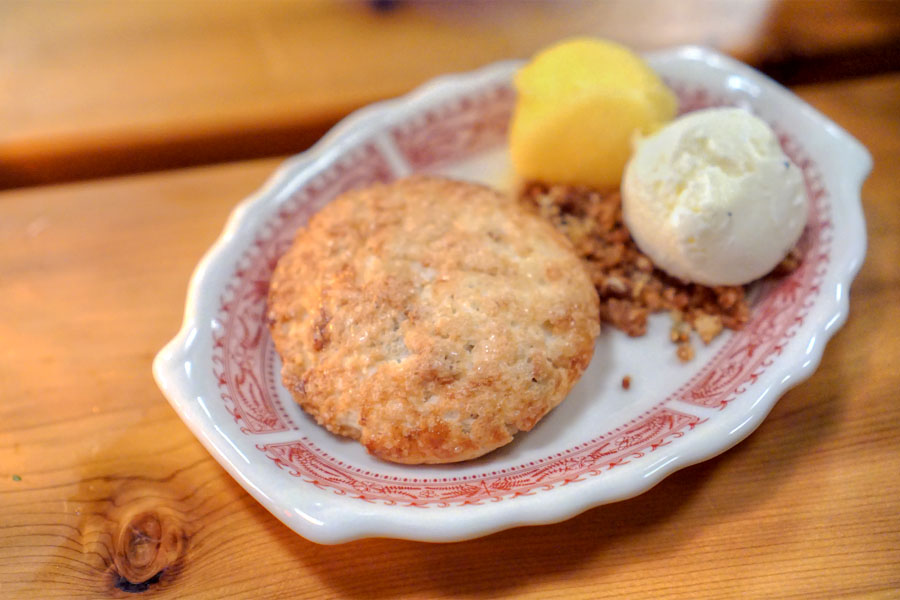 Date biscuit with buttermilk ice cream, orange sorbet & puffed bulgur [$8.00]
The kitchen ended up sending out our first two desserts on the house. A date biscuit showed off a delightfully crumbly texture, its subdued sweetness well-matched to the super tart sorbet and nutty crunch of bulgur.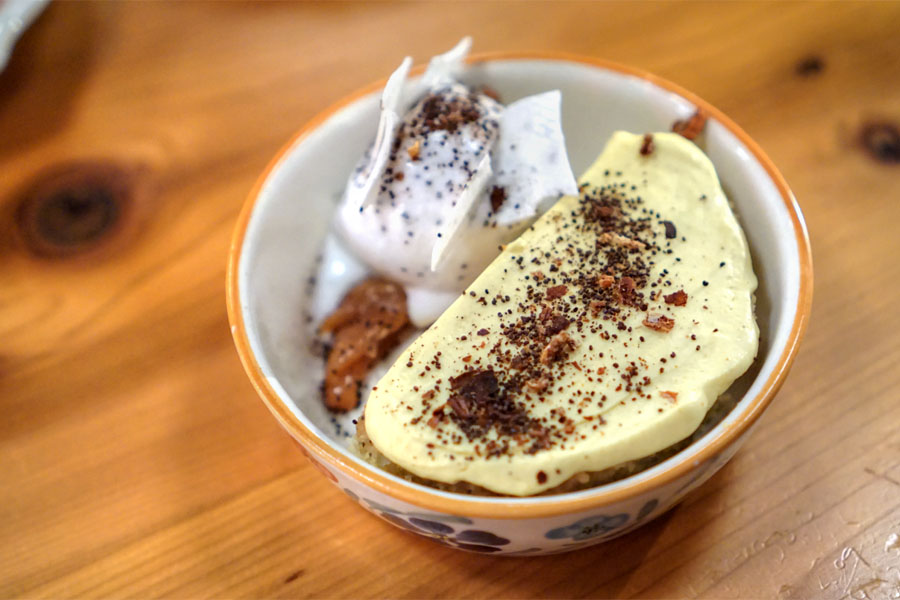 Semolina cake, turmeric whipped cream, poppy seed & coconut sorbet, whey meringue [$10.00]
The semolina cake I found dense, moist, conveying an almost coconut-like sweetness that suited its turmeric-enriched topping. Even better, though, was the sorbet-meringue combo on the side, which definitely had a punchiness to it.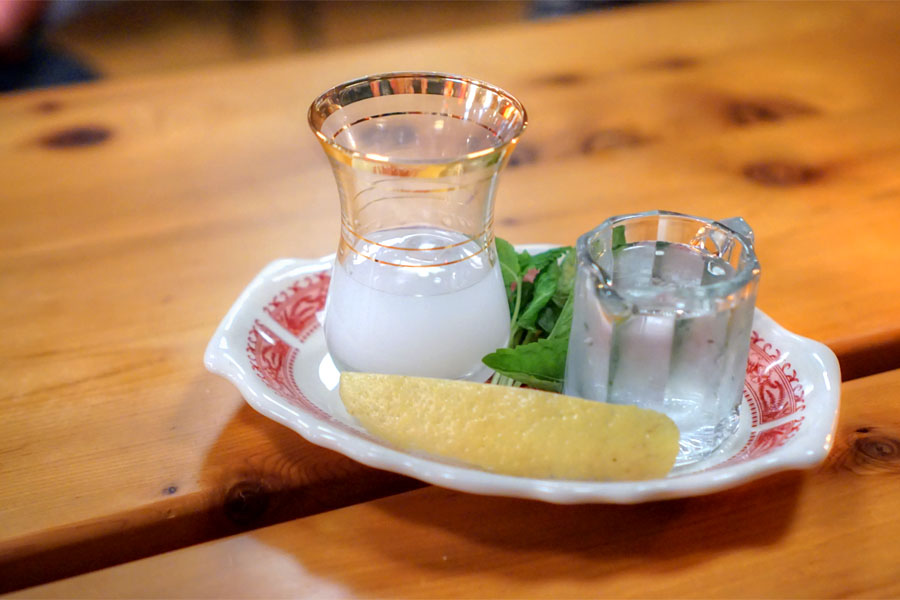 The
L'arak de musar, lebanon [$12]
served as our after-dinner libation. It had a sambuca-like aroma filled with anise, unsurprisingly. The taste brought tart aniseed flavors at first, which led to a growing sweetness and slight minty quality.
Almond milk custard with strawberry granita, rhubarb & rose geranium [$10.00]
The sole vegan dessert was superb, bringing forth a bevy of super sweet, floral, fruity flavors that were moderated by the creamy custard. Great crispy bits up top, too.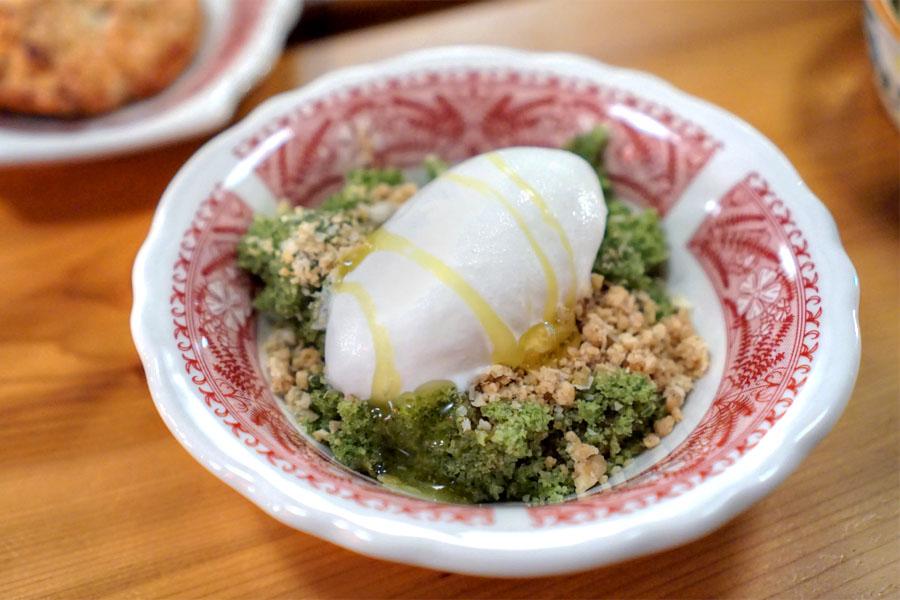 Olive oil cake with yogurt sorbet & pistachio baklava crumble [$11.00]
Last up was this savory-sweet, slightly herbaceous olive oil cake, which paired effortlessly with the nutty crumbs, airy sorbet, and subtle minty notes in the dessert. A lovely conclusion.
Our meal at The Exchange was a strong one, and I have to say that this was some of the tastiest Levantine fare I've had in recent times. The food balances tradition and modernity, with flavors that invoke Los Angeles almost as much as they do Tel Aviv. I really like what Chang is doing here, sort of blending the usual Middle Eastern tropes with his own multicultural upbringing and making for a fun and delicious eating experience in the process.

After dinner, we headed up to the roof to check out Broken Shaker, though we didn't stay for any drinks (there were no seats available). Nice view though.