Plate by Plate 2018 (Los Angeles, CA)
Plate by Plate 2018 at City Market Social House
1145 San Pedro St, Los Angeles, CA 90015
www.platebyplate.org/la/
Sat 08/04/2018, 06:00p-10:00p

Project by Project
recently hosted its 16th annual
Plate by Plate
charity tasting benefit at the brand spanking new
City Market Social House
. If you're not familiar with the organization, Project by Project is a 501(c)(3) non-profit centered on issues related to the Asian-American community. This year's theme was immigration (very timely given recent events), and proceeds from the event went toward
OCA-GLA
's Mentored Path to Citizenship Grant program, which assists people on their path to US citizenship. As always, Plate by Plate showcased the talents of some of LA's top restaurants as well as beverages from a number of purveyors, so without further ado...
Hint: Mouseover for bonus photos.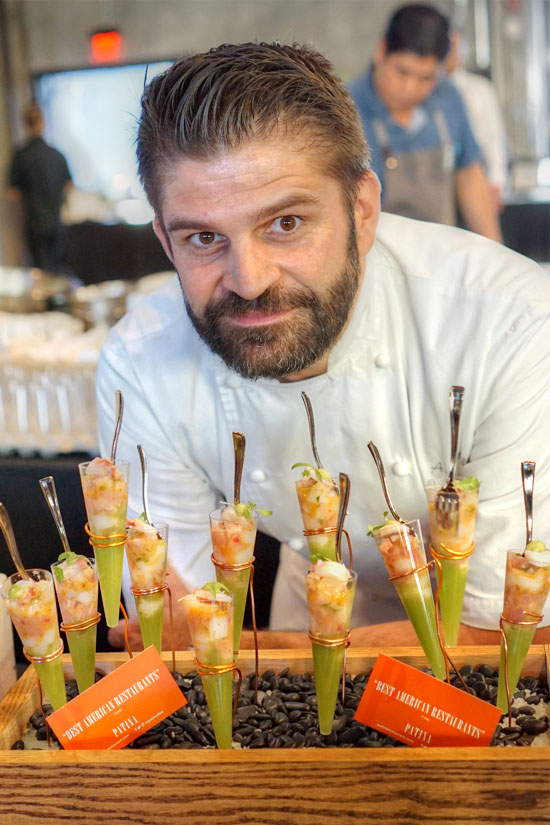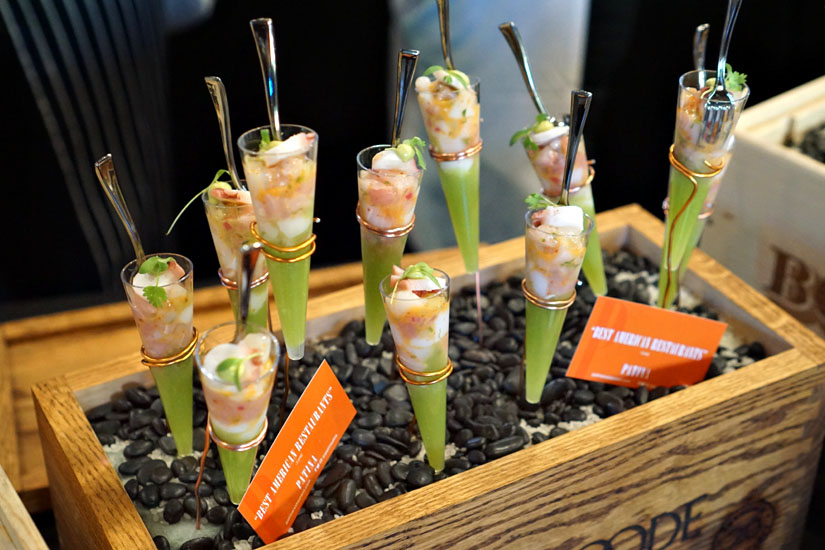 Executive Chef Andreas Roller of
Patina
threw me off a bit with that new, manly beard of his, but definitely scored some presentation points with his
Aguachile of Hokkaido Scallop, Yellowtail, and Octopus
.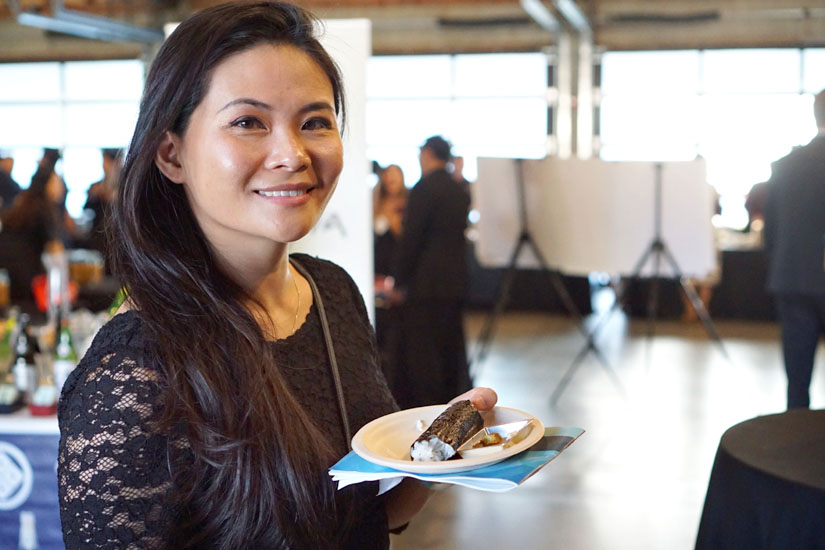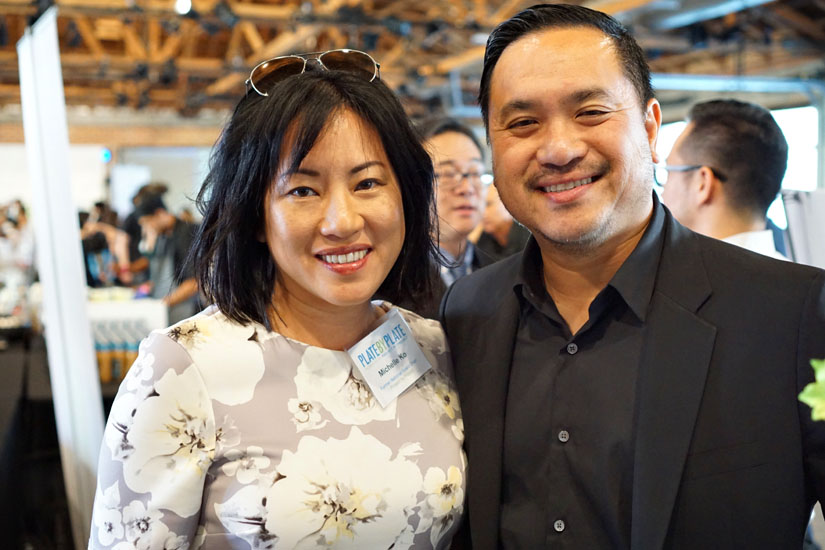 L:
Casey Chiu was one of the first to get her hands on a KazuNori hand roll. Pro tip: KazuNori usually sports the longest line at Plate by Plate, so try to hit up their station early.
R:
Old school PbP alumna-slash-Board Member Michelle Ko with hubby Quan Phung.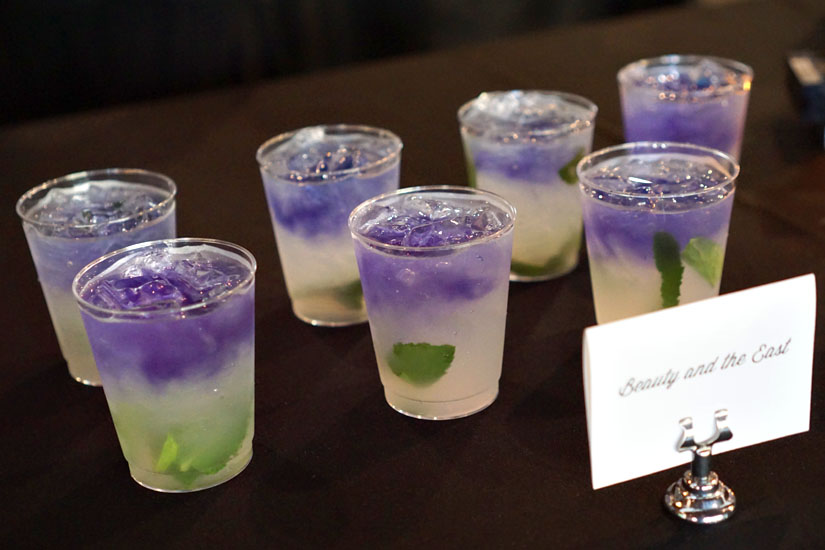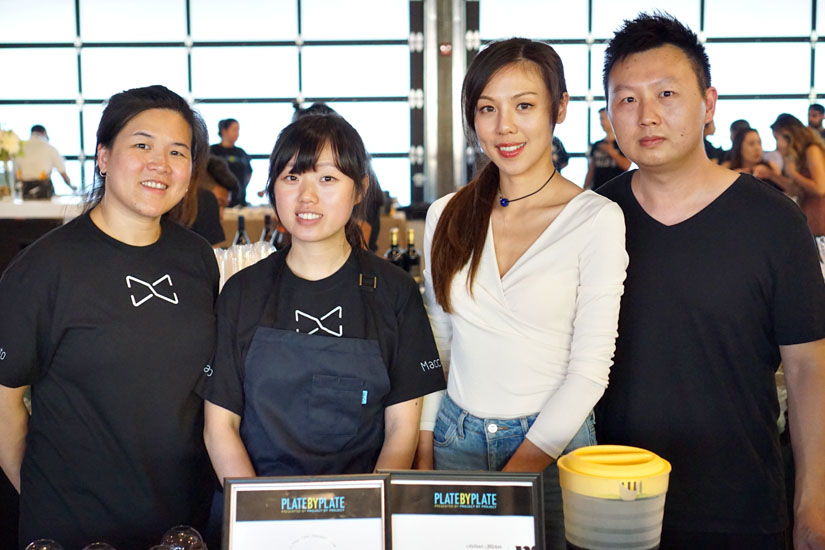 Jason Tsai and Emily Lien's
Macchiato
won Best Drink honors with their trio of beverages: the intriguingly-hued and boozy
Beauty and the East (Vodka, Butterfly Pea Flower Tea, Lychee, Mint)
, a fanciful
Potted Plant Milk Tea
, and a prototypical
Cold Brew
.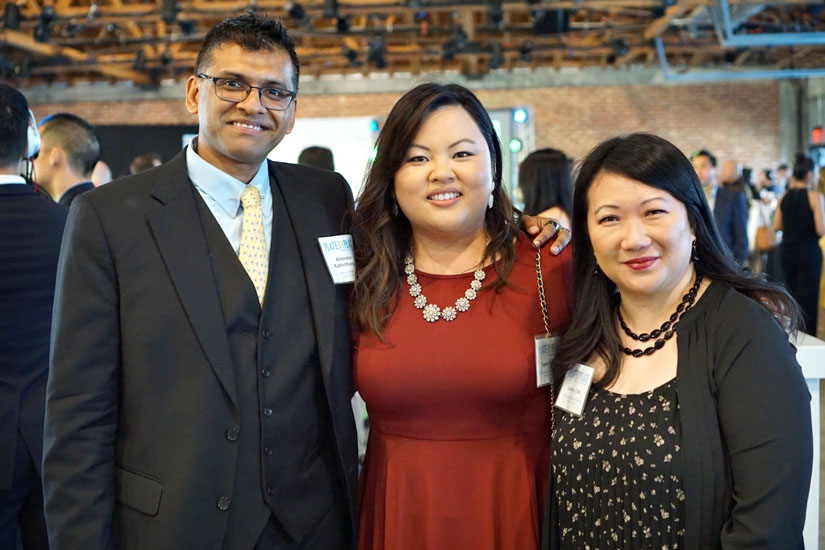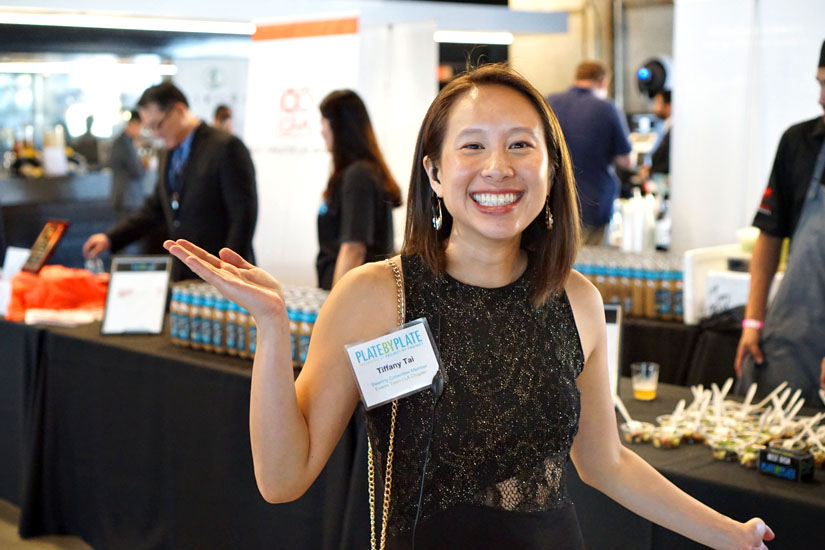 L:
The power threesome: PbP National President Nirendran Kathirithamby, PbP LA Legal Counsel Tuyet Nguyen, and PbP Co-Founder Liliana Chen (a.k.a. the O.G).
R:
PbP Events Teams Member Tiffany Tai channeling her inner ¯\_(ツ)_/¯.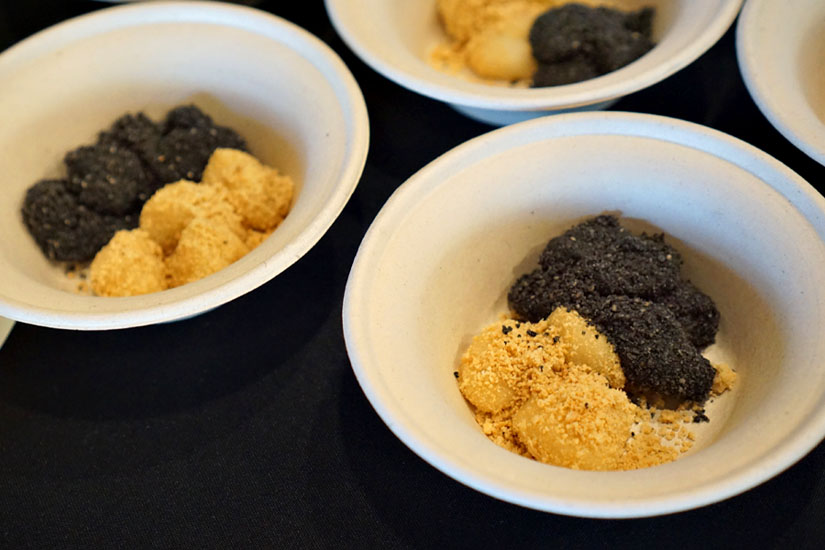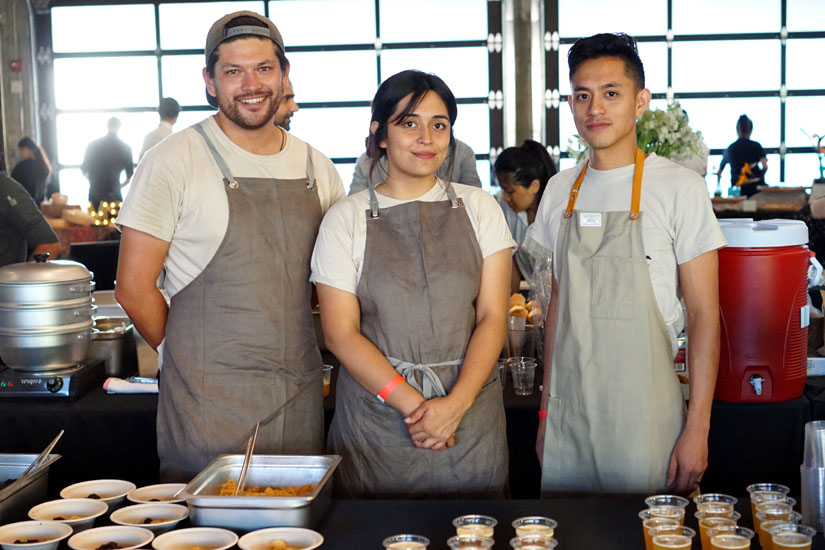 Vivian Ku's new
Joy
in Highland Park is an offshoot of her wildly successful Pine & Crane in Silver Lake. Tonight the restaurant was doling out
Hakka Mochi Served Warm with Peanut and Sesame Powders
, as well as
Pineapple Slushies
.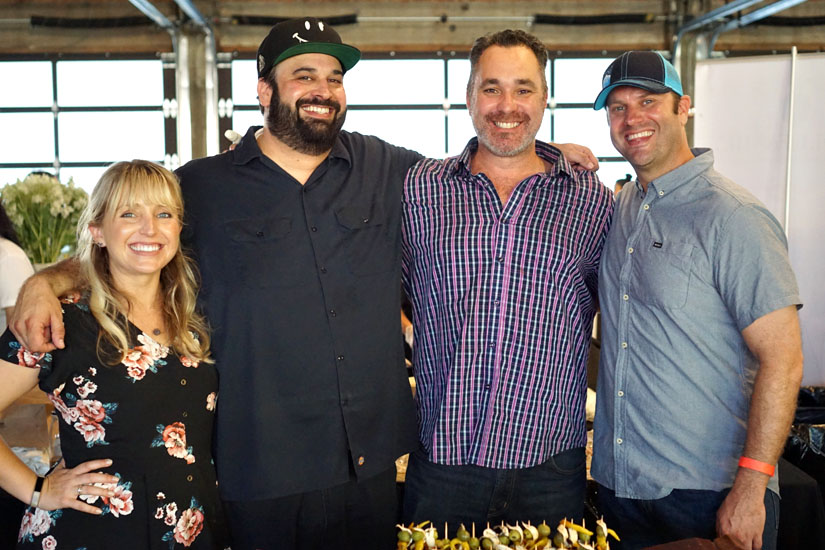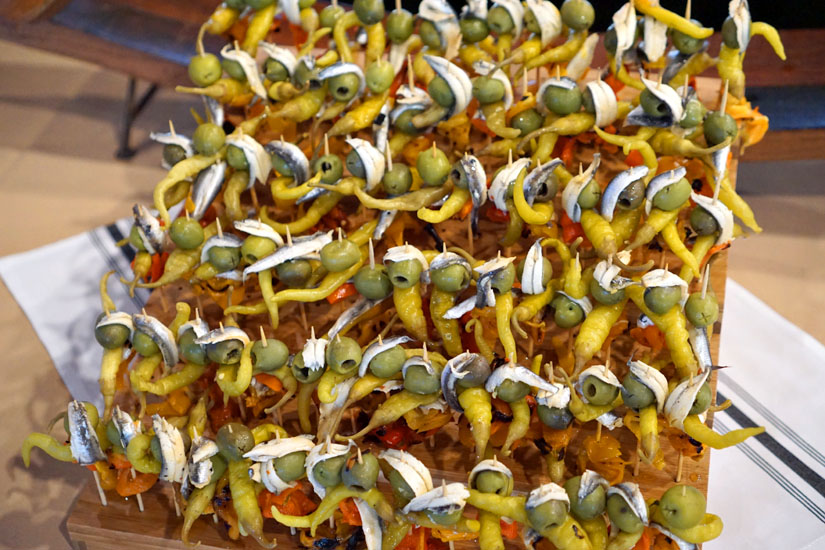 The South Bay was in the house thanks to
Gabi James
. Chef Chris Feldmeier (ex-Moruno) was joined by owners Sara Gabriele and Adam Aro, and the team served up
Gildas
of various persuasions: regular, chorizo, and manchego.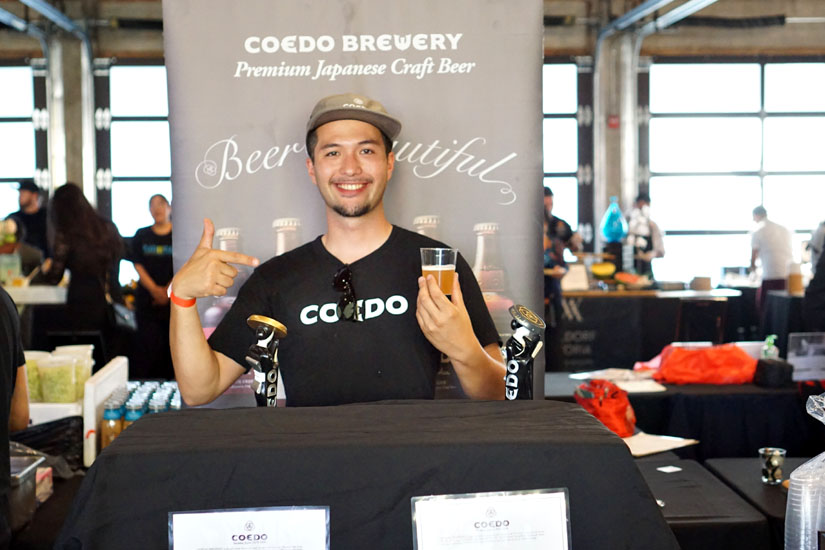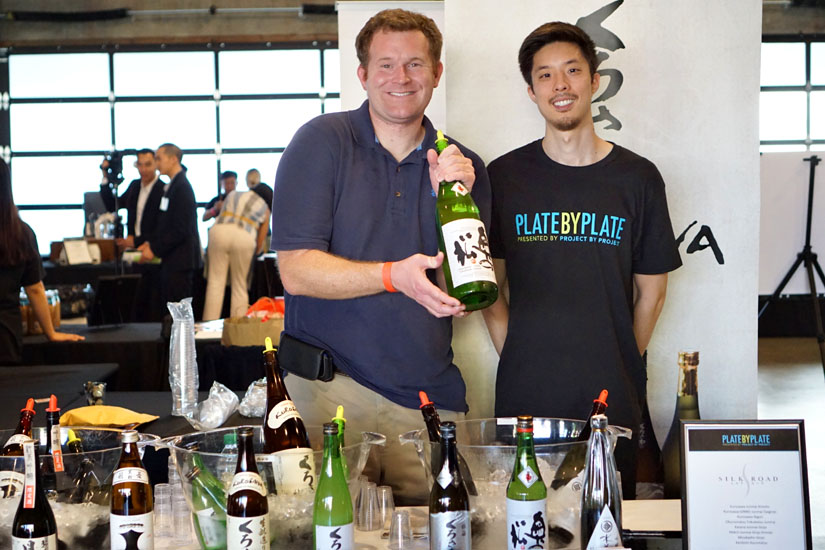 L:
Takashi Endo (SoCal Market Manager at
Craft Imports
) was on hand pouring
Coedo
's
Marihana Session IPA
and
Shikkoku
black lager.
R:
The
Pacific International Liquor
/
Silkroad
station was manned by the always-tall Michael Russell, who had a pretty impressive array of sakes available. I like how they gave him a volunteer of comparable height this year.

A sneak peek at the VIP area.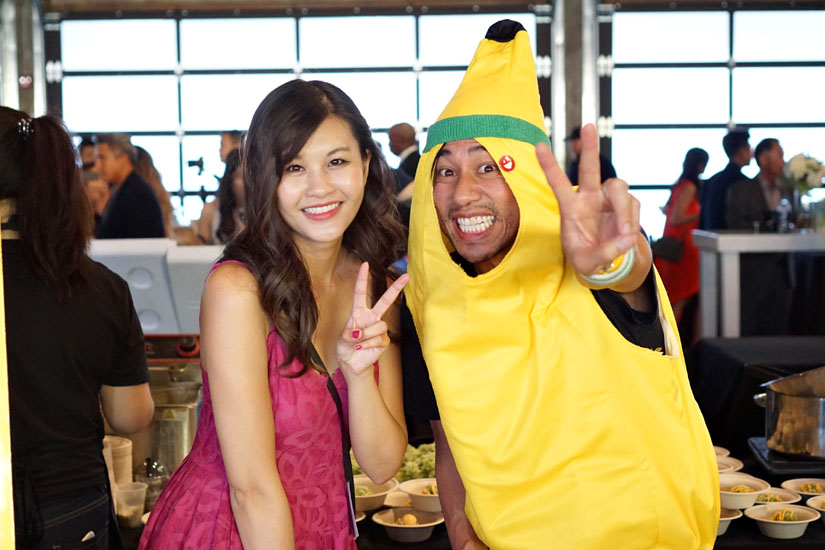 Starry Kitchen
's Nguyen Tran cooked up his signature
Crispy Tofu Balls with Spicy Sriracha Aioli
and donned his signature banana suit. And apparently, PbP Manager of Public Outreach Winnie Fong couldn't resist the B.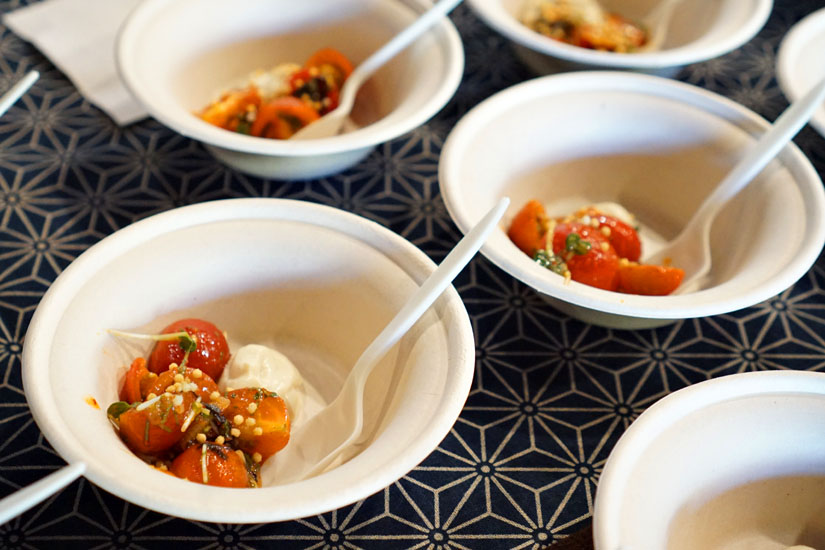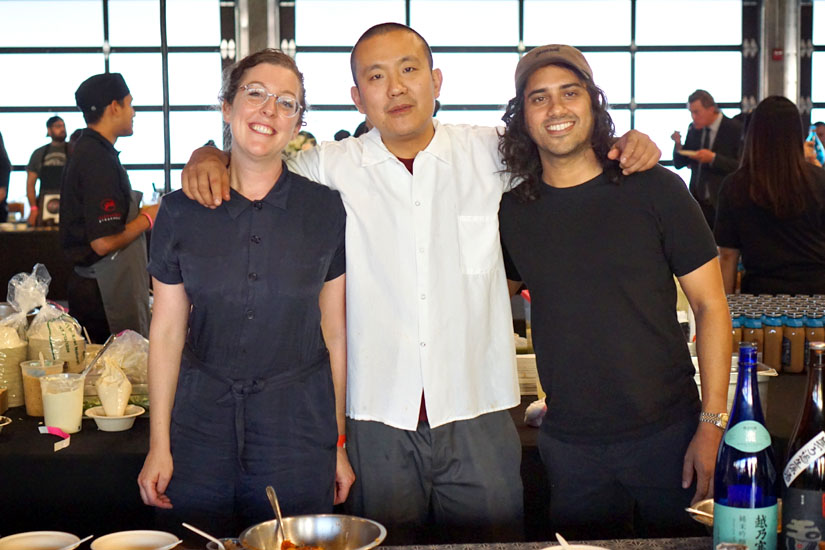 The
Fruit Tomato Kimchi, Saikyo Miso Tofu Cream
was the handiwork of Courtney Kaplan and Charles Namba from Echo Park darling
Tsubaki
.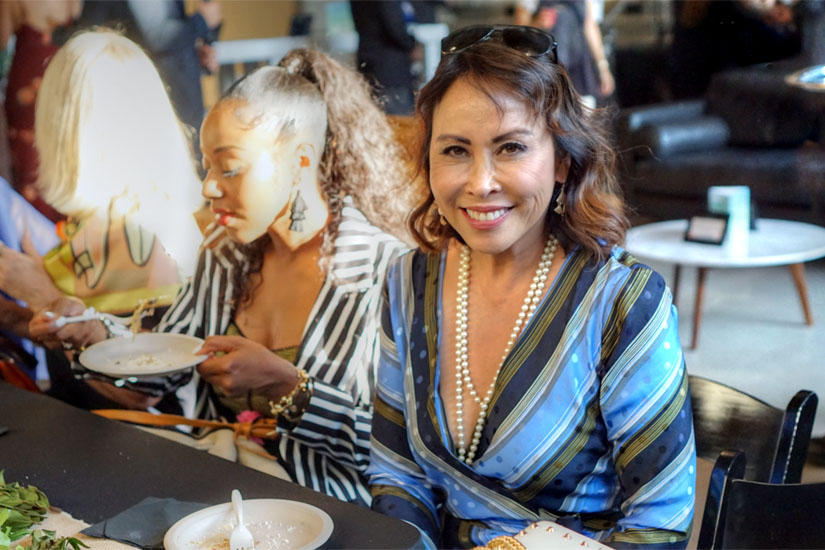 Perennial Plate by Plate fixture Susan Hirasuna was all shy at first, but eventually capitulated.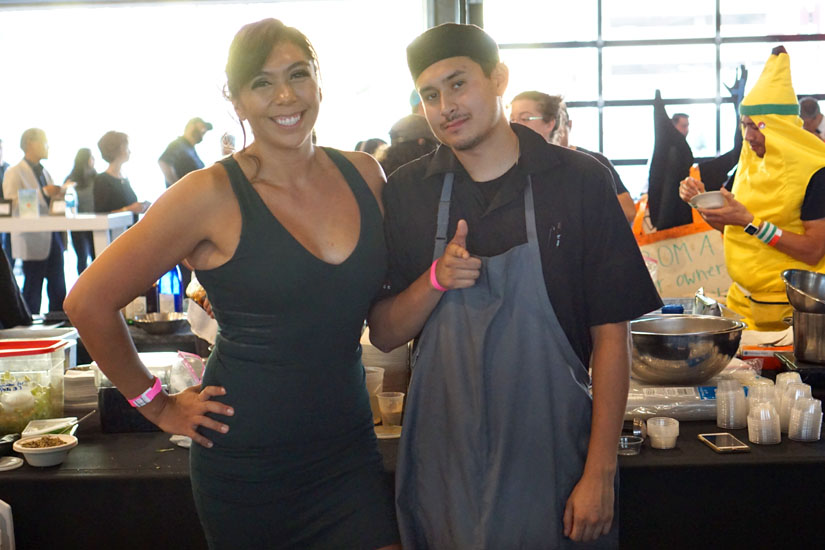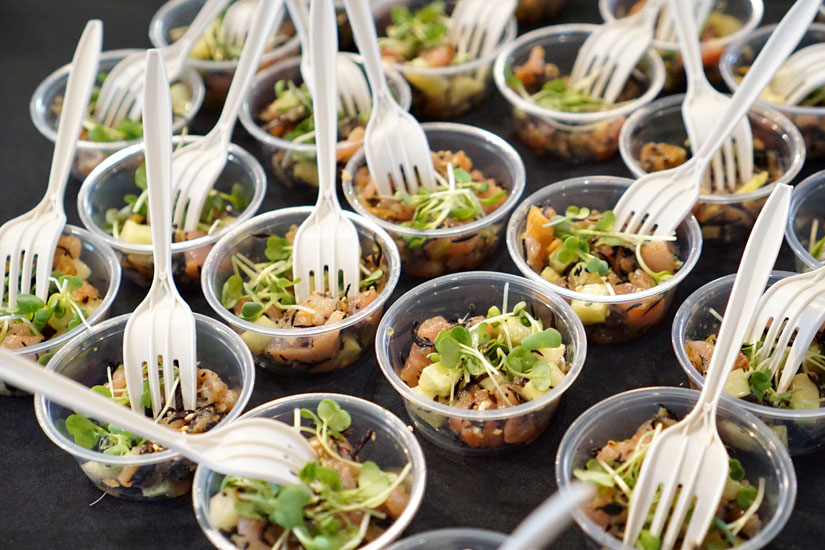 Alexander's Steakhouse
had a very non-steaky
Summer Albacore Poke, Yuzu Soy Dressing, Cucumber, Myoga, Hijiki, Nori Goma, Wasabi
going on, which was apropos for the hot weather we were having (don't mind the banana in the background). Anyone else bothered by the one missing fork?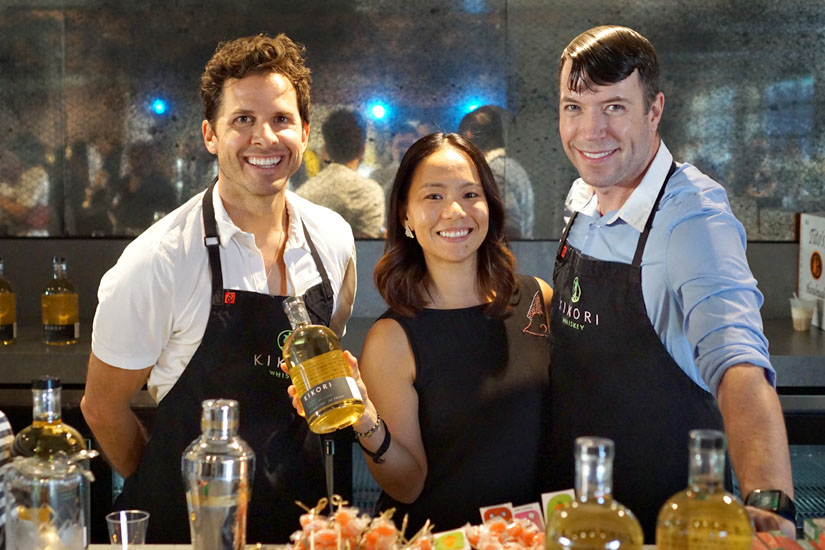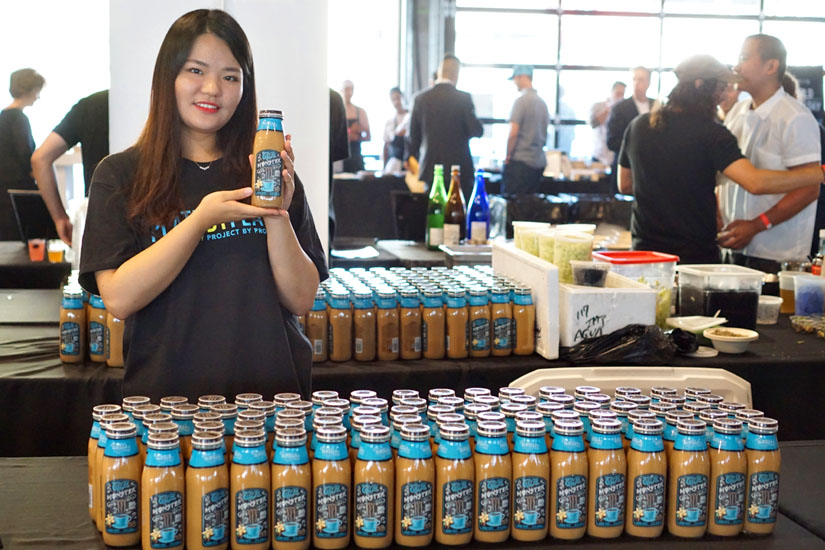 L:
Danielle Lew from
Kikori Whiskey
and her two tasty bartenders offered up two tasty cocktails this evening:
The Balancing Act (Kikori, Yuzuri liqueur, Yakult, yuzu juice, simple syrup, egg white, garnished with a Japanese rice candy)
and the
Old Fashioned (Kikori, simple syrup, Angostura, cucumber & lime bitters, garnished with a Japanese cucumber & a shiso leaf)
.
R:
No one I talked to at the event even knew that Monster Energy made a coffee drink called
Caffé Monster
, so I guess it's good for them to get their name out there.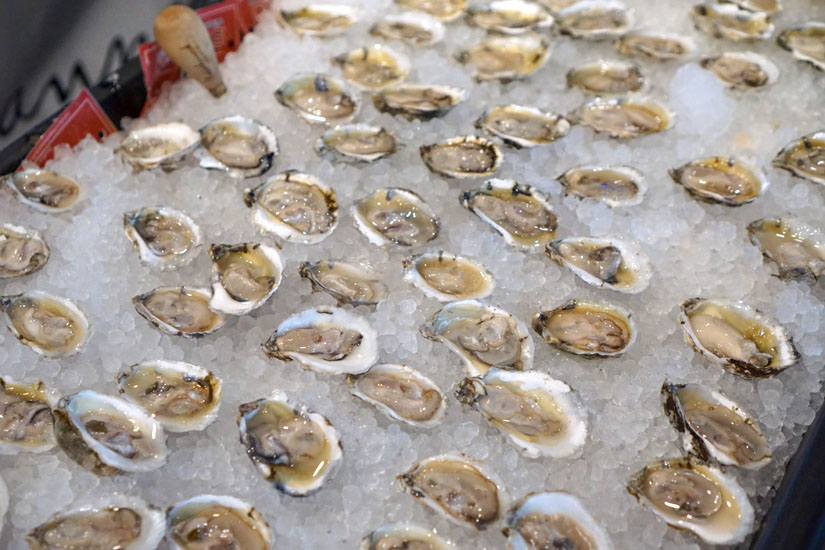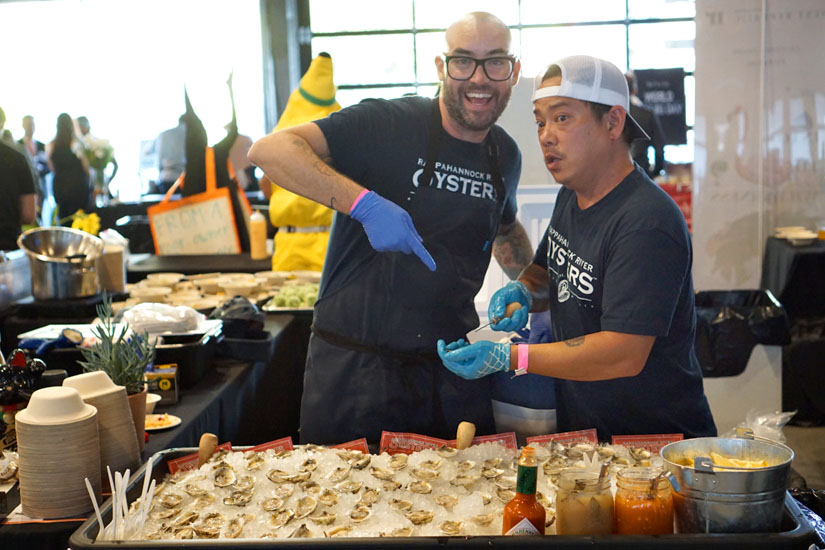 Nick Erven without hair doesn't look like Nick Erven. That being said, he and GM Anthony Ko did a fine job repping the new
Rappahannock Oyster Bar
at ROW DTLA with their freshly-shucked
Rappahannock River Oysters with Kimchi Mignonette and Awesome Sauce
(a Vietnamese-style ceviche sauce). This was actually the first time I've seen an oyster bar type of setup at Plate by Plate, and hopefully not the last.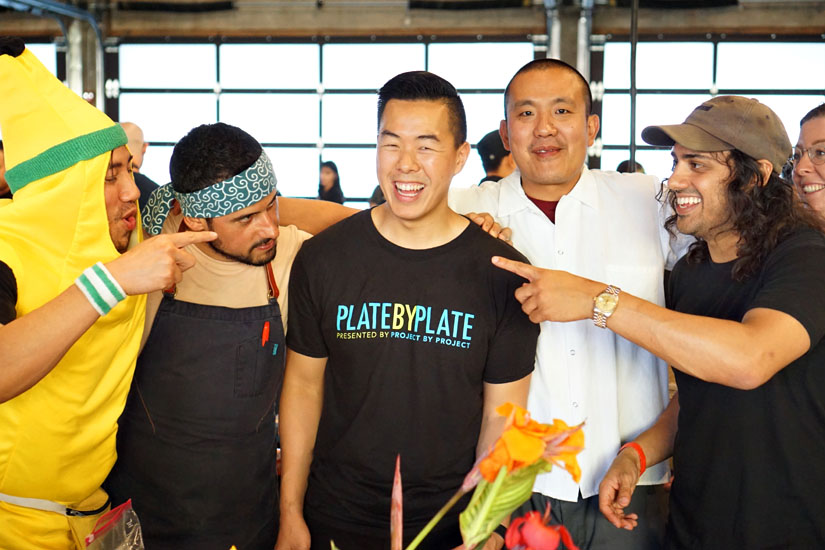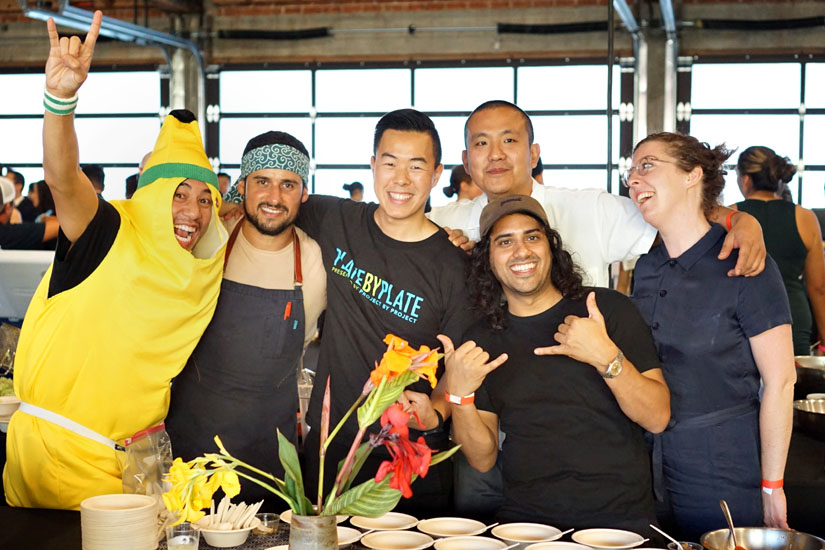 PbP volunteer William Truong got assigned to the funnest station, evidently.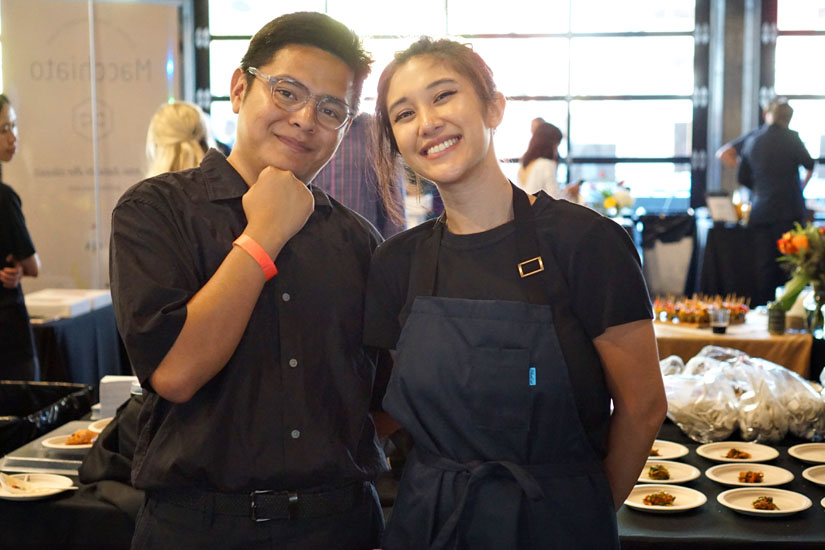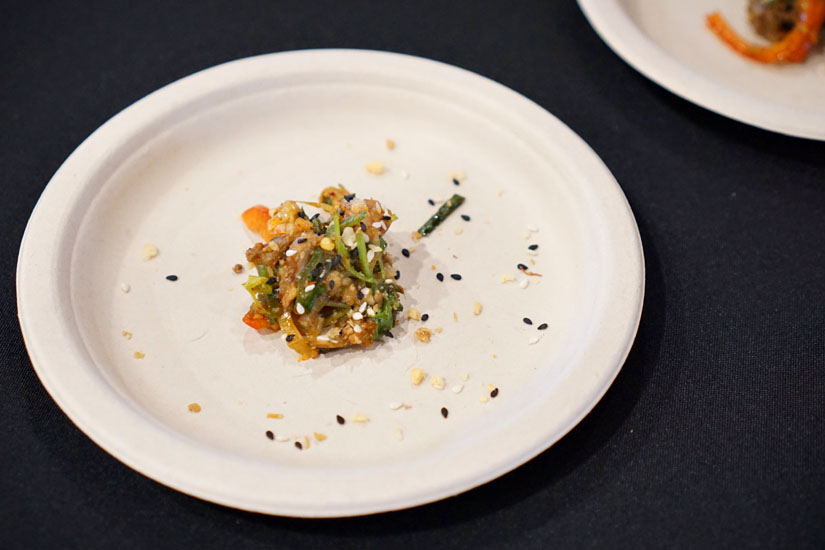 Helmed by Nikki Reginaldo, the
Kato
station had a delightfully unconventional
Smoked Duck and Leek Salad
on offer, which is just what I'd expect from Jon Yao's team. And if that wasn't enough, I'm sort of digging that fist-to-the-chin pose.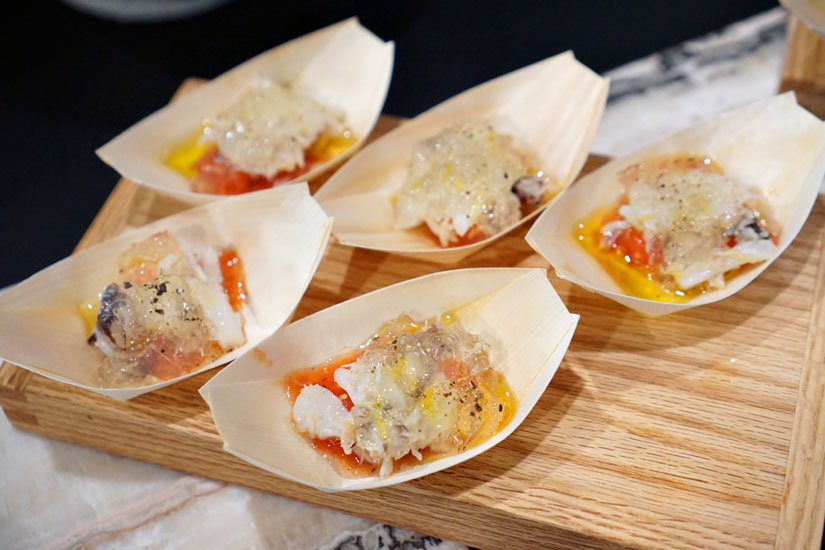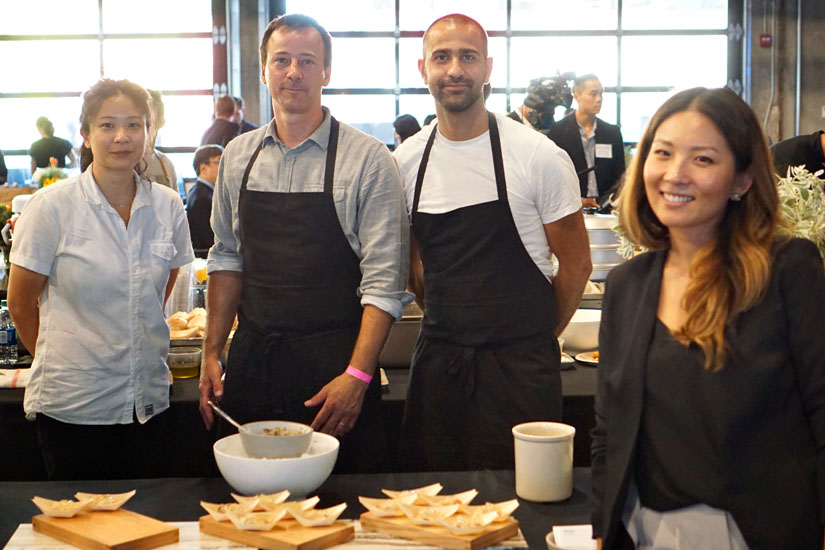 Eric Bost
's restaurant has been in the works for some time now, and
still
doesn't have a name. What he did have, though, was his
Dungeness Crab, Tomato Seeds & Gelée, Seaweed Granité
, one of the more progressive plates of the night and the runner-up in Plate by Plate's Best Dish contest (they lost by
one
vote!).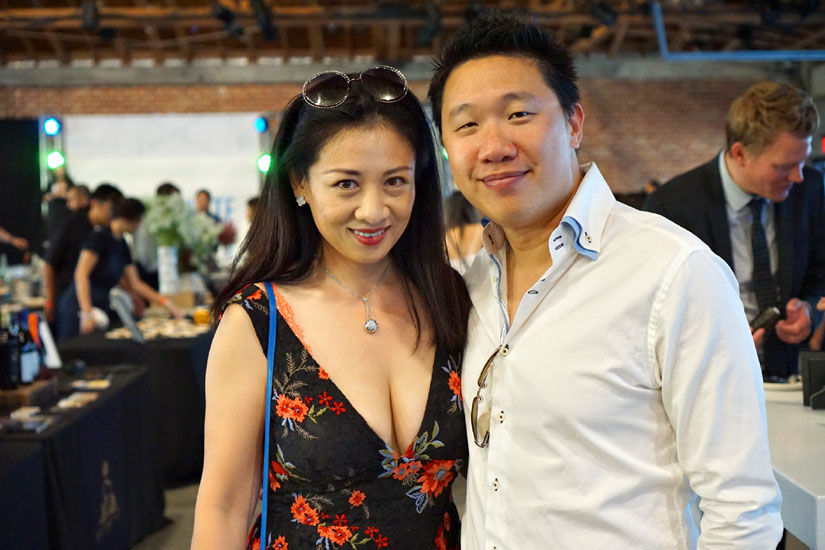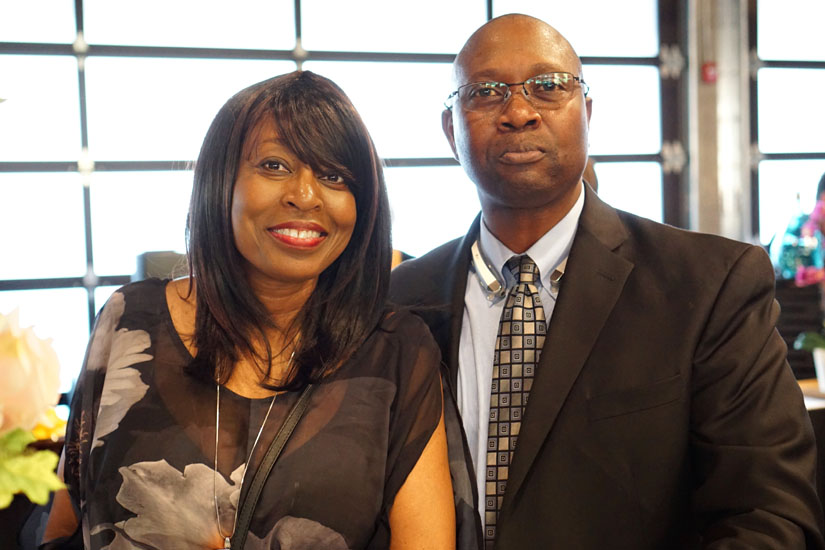 L:
Here are Amy Ling and Paul Lee, whom we first encountered all the way back at
2012's Plate by Plate
at the Vibiana.
R:
Some more repeat customers:
Konica Minolta Business Solutions
' Charles Turner and wife Linda, who first came to Plate by Plate
back in 2016
.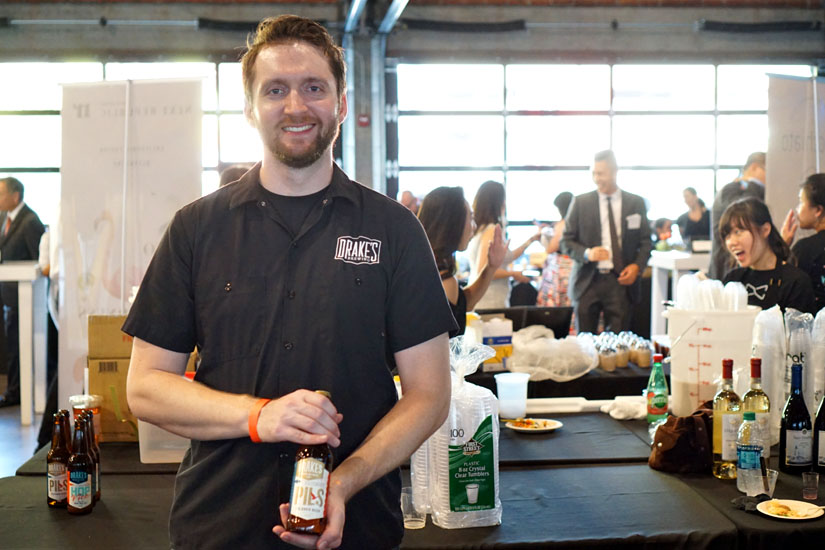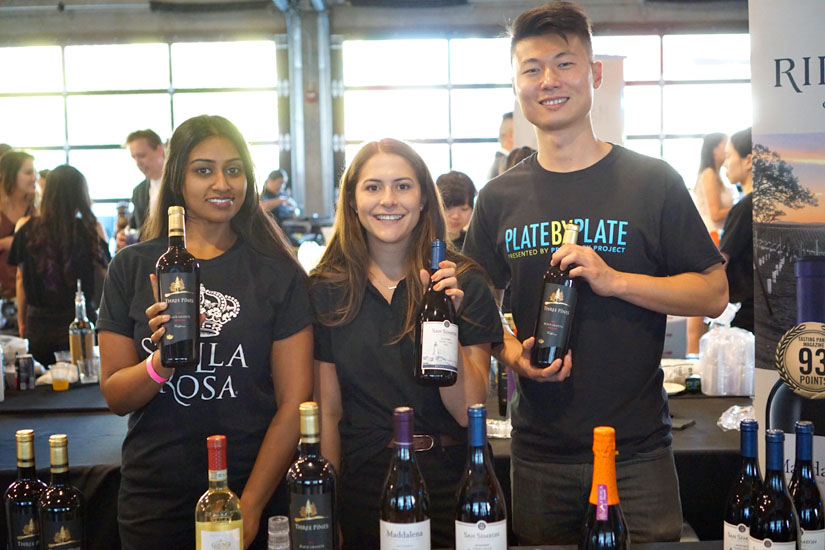 L:
Drake's Brewing Company
made their first appearance at Plate by Plate, and I actually think it was my first time having their beer as well.
R:
Riboli Family Wine Estates
either had a tall volunteer or some short reps.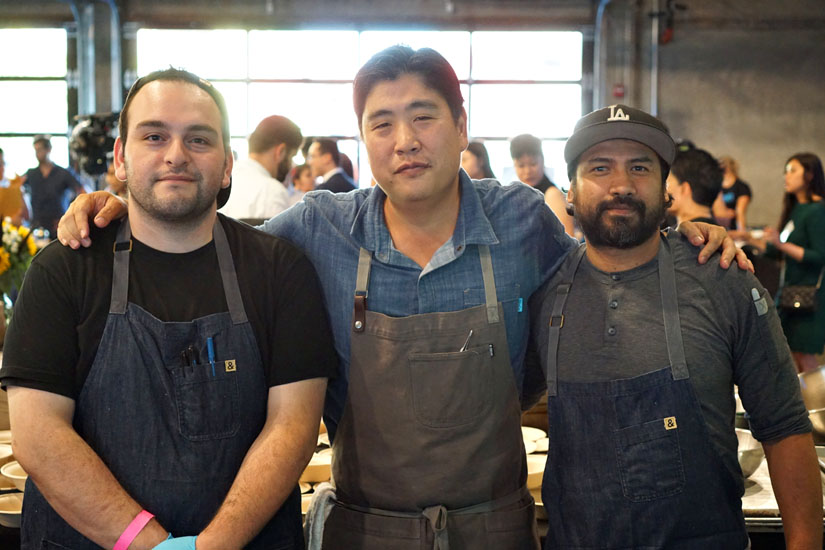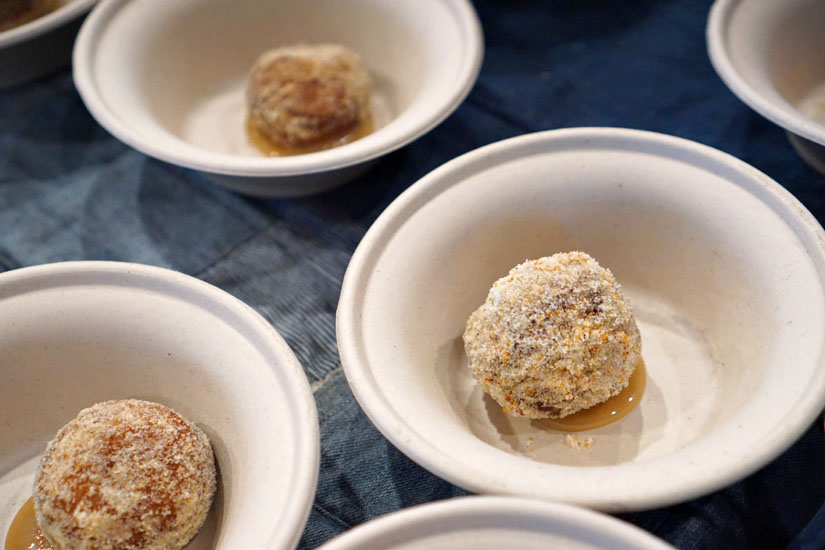 Executive Chef Brandon Kida is doing an admirable job steering the ship at
Hinoki & the Bird
these days, and this was his first time participating at Plate by Plate. He decided to serve dessert in the form of
Miso Donuts with Honey Caramel
.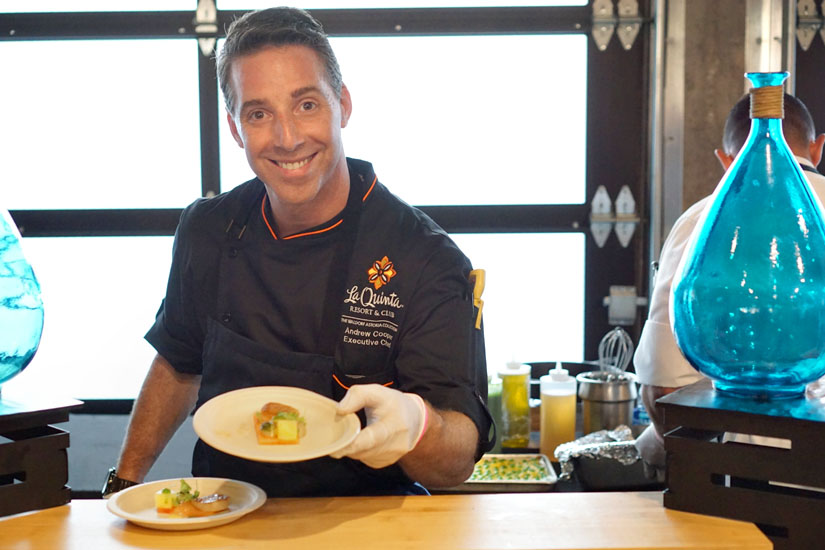 The
California Watermelon and Scallop
from
Morgan's in the Desert
at
La Quinta Resort & Club
(part of the Waldorf Astoria family) may not have won Best Dish, but Executive Chef Andrew Cooper wins Best Smile in my book. He'd also win my "Longest Distance Travelled to Attend Plate by Plate for the First Time" award, if I had one.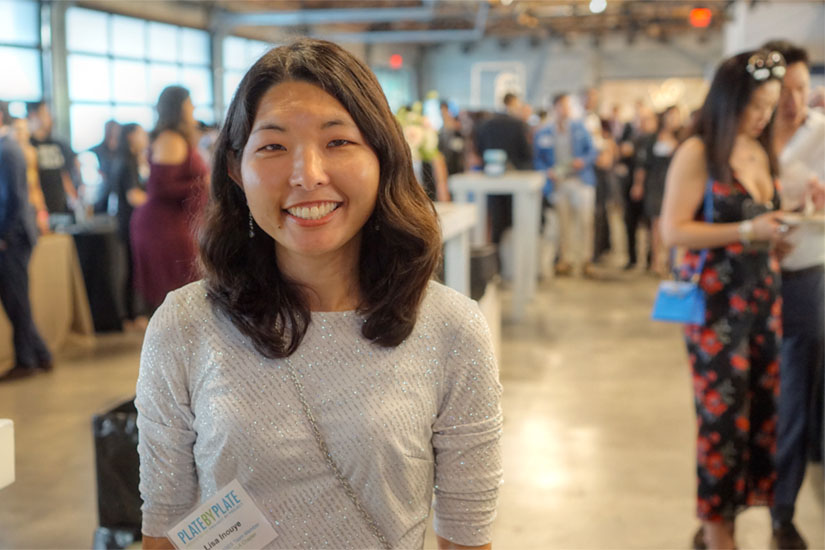 L:
PbP veteran Patrick Lee has moved on to greener pastures and is now the National Director of Volunteer Management. Also pictured (with new hairstyle): Michelle Chen.
R:
On the flip side, we have here newbie Lisa Inouye, PbP Events Team Member & CASES Team Member.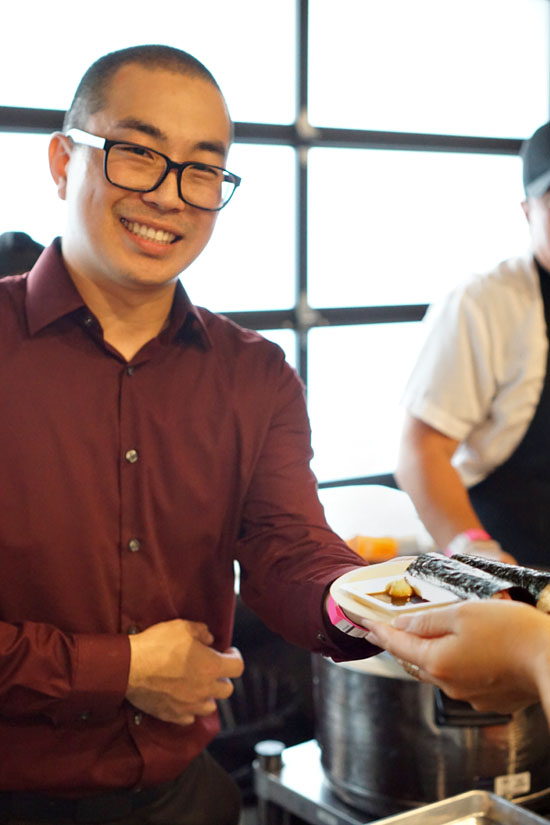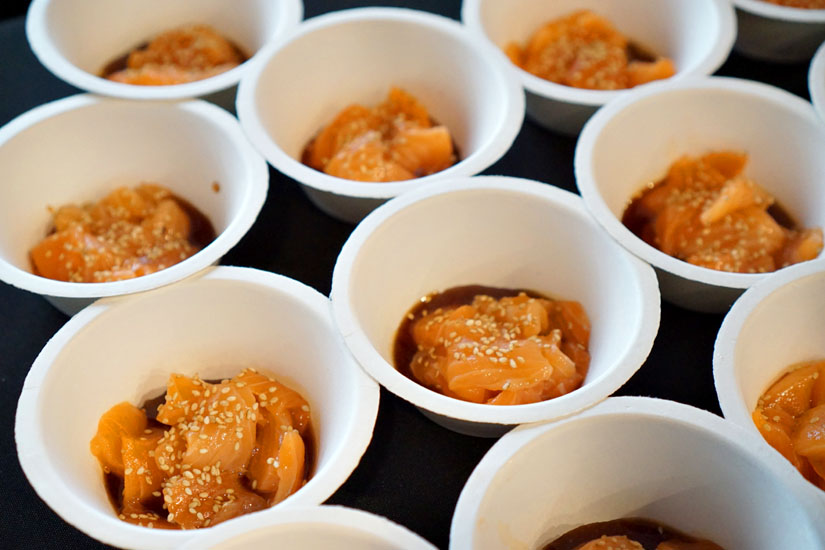 Manned by Regional Manager Michael Lee,
KazuNori
once again sported the lengthiest queue at Plate by Plate. On the menu:
Toro/Yellowtail/Crab/Salmon/Scallop/Cucumber Hand Rolls
, all made to order (hence the wait), as well as
Salmon Sashimi
.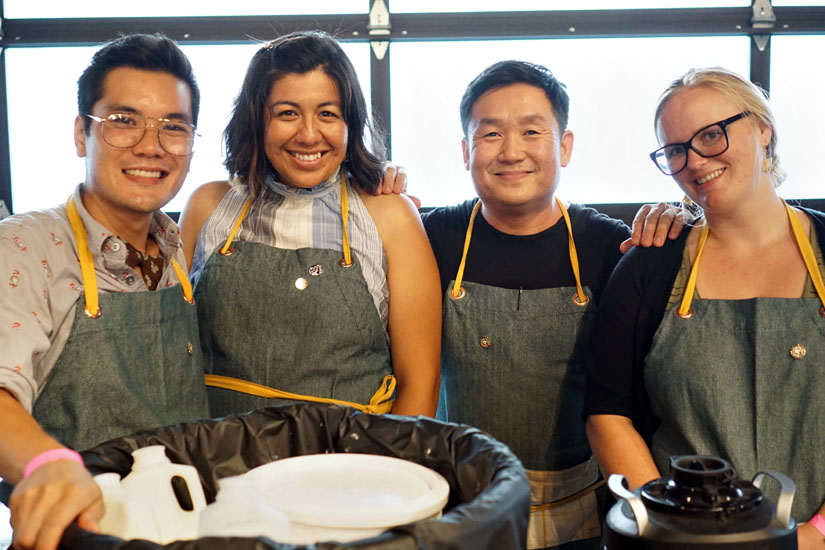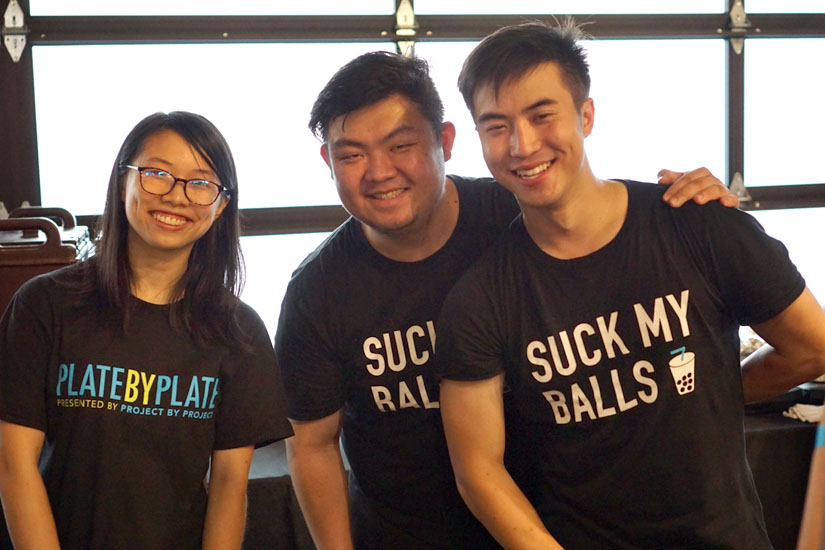 L:
Yeekai Lim's
Cognoscenti Coffee
won runner-up in the Best Drink category with their
Affogato (Brazil Yellow Diamond Espresso poured over Straus Creamery Ice Cream)
.
R:
Labobatory
founder Elton Keung was serving up some
Taro Mezcal
alcoholic boba. Their shirts also proved that Starry Kitchen doesn't have a lock on
ball-themed slogans
.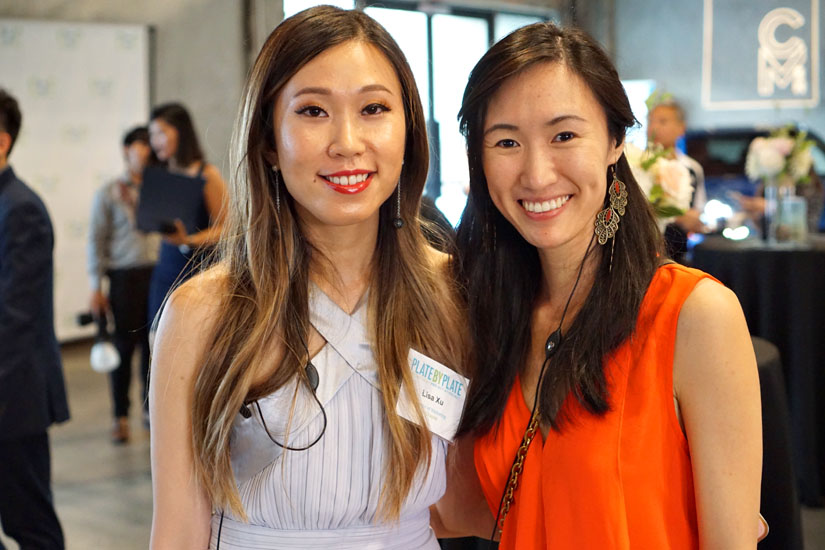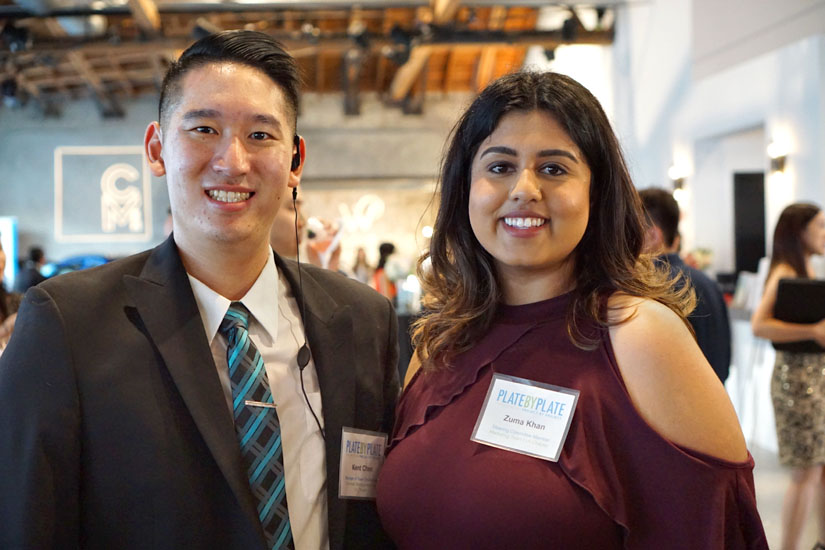 L:
PbP Director of Marketing Lisa Xu with PbP Manager of Event Production Lilian Hwang.
R:
More steering committee members: PbP Manager of Team Development Kent Chen (in a suit that looks slightly too large) with PbP Marketing Team Member Zuma Khan.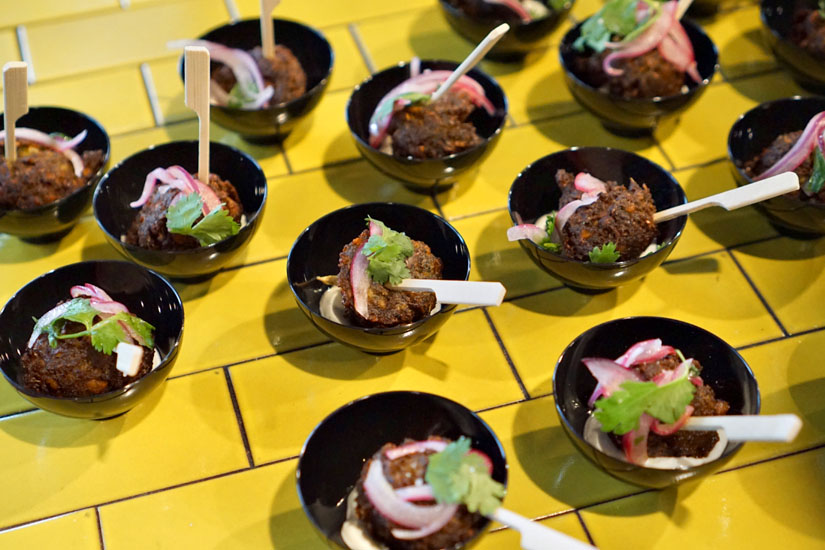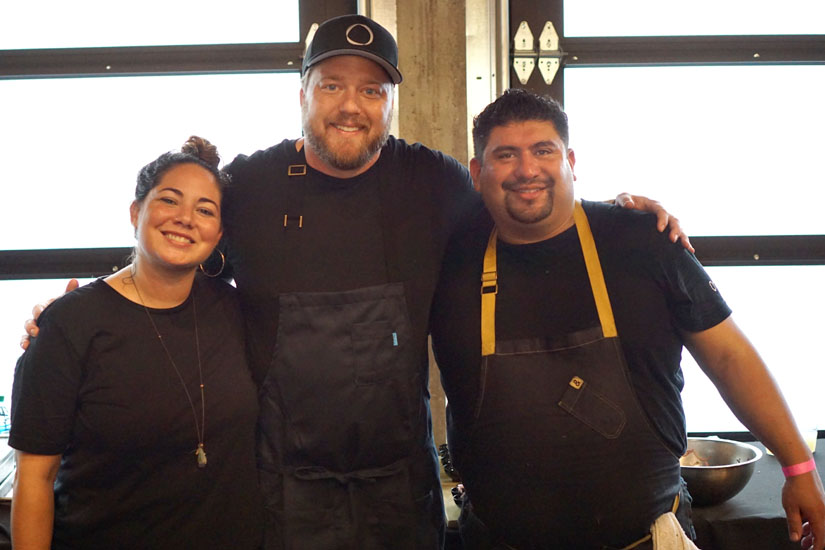 Otium
was actually supposed to attend last year, but ended up having to pull out unfortunately. It was great to see them at Plate by Plate for the first time, and Chef Timothy Hollingsworth presented a dish of
Falafel, Pickled Peppers, Sumac Onions, Labne
(and if you've been to the restaurant, you'll know that he makes a mean falafel).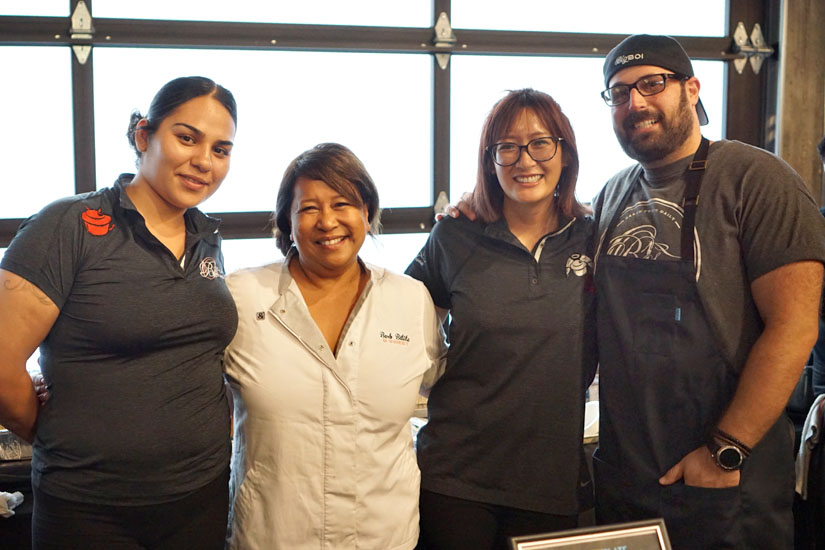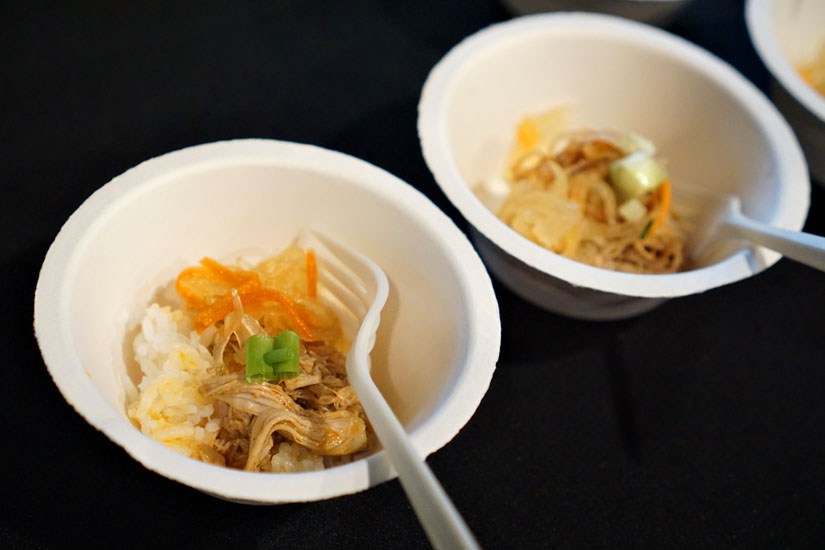 Chef Barbara Batiste and Assistant Malyssa Bernas from
B Sweet Dessert Bar
/
Big Boi
had a savory/sweet thing happening with their duo of
Chicken Adobo and Steamed Rice with Atchara
and
Pan de Sal Bread Pudding with Ube Drizzle
.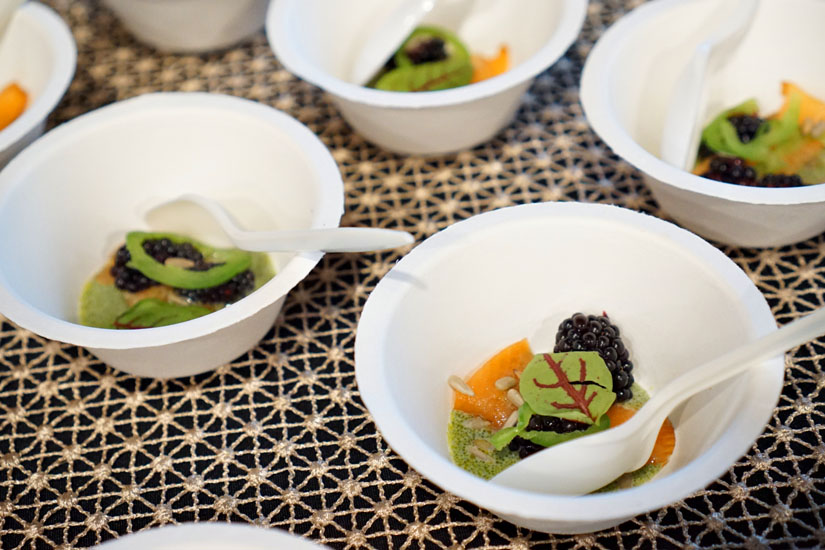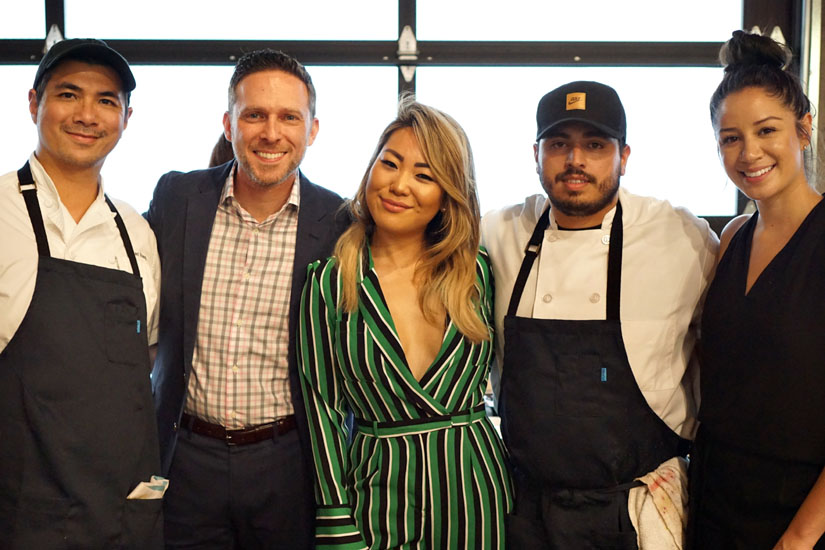 Some big news to come out of Plate by Plate: Michael Hung is back in as Chef at
Faith & Flower
(which I'm glad to see). He was joined by GM Jeff Kirshenbaum (from Alimento and Manhattan House), Catering and Events Director Grace Yoo, and Events Manager Natalie Diaz, and they served up bright plates of
Smoked New Zealand King Salmon and Sorrel Broth
.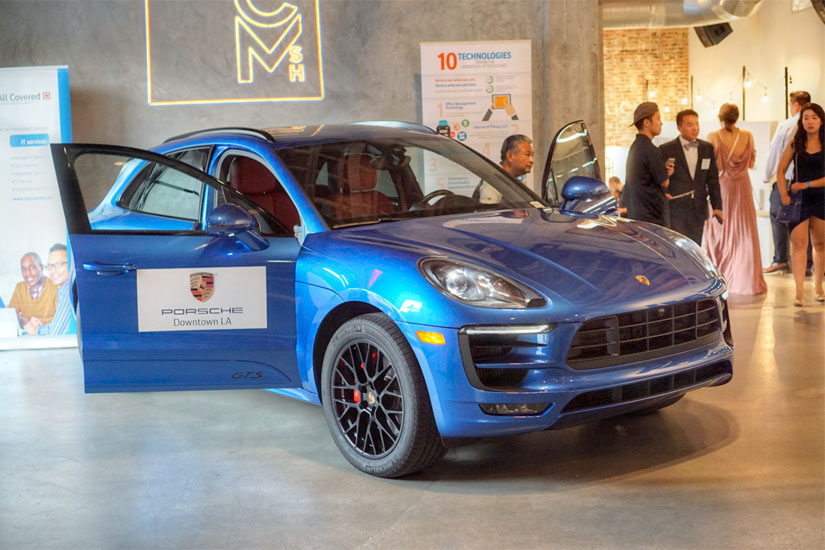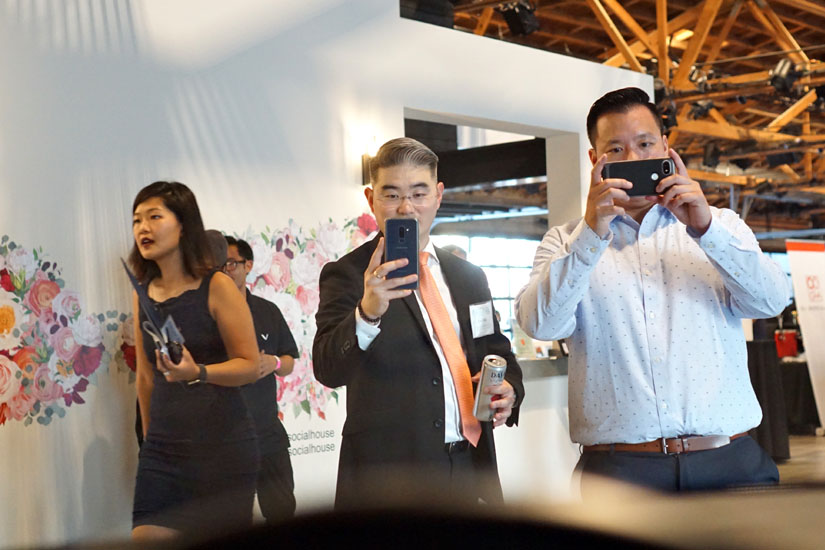 L:
Porsche Downtown LA
was a major sponsor of the event and brought in this schmancy Sapphire Blue Metallic Macan GTS.
R:
I went inside to check out the vehicle, and for some reason people immediately began taking photos of me.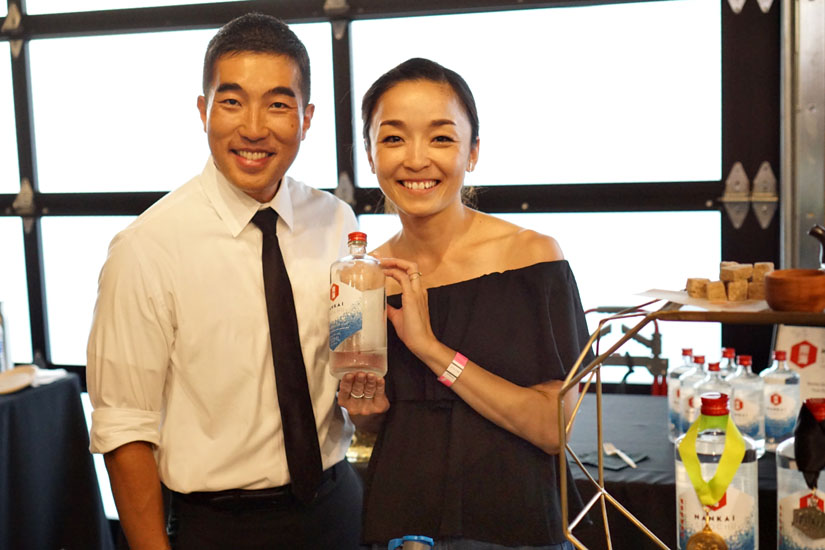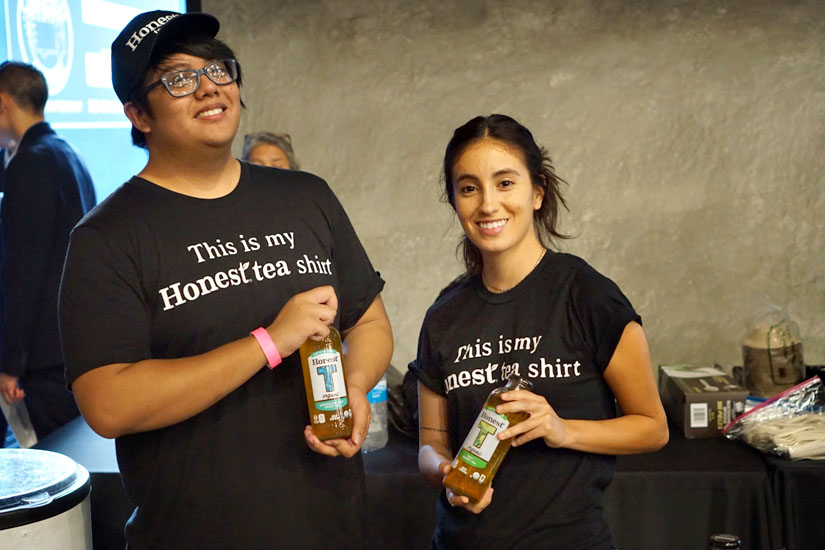 L:
Shochu
is one of the more overlooked distilled spirits, so it was nice to see it promoted by
Nankai Shochu
's Robert Morita for the first time at Plate by Plate.
R:
Honest Tea
gets props for having the most straightforward shirts of the evening.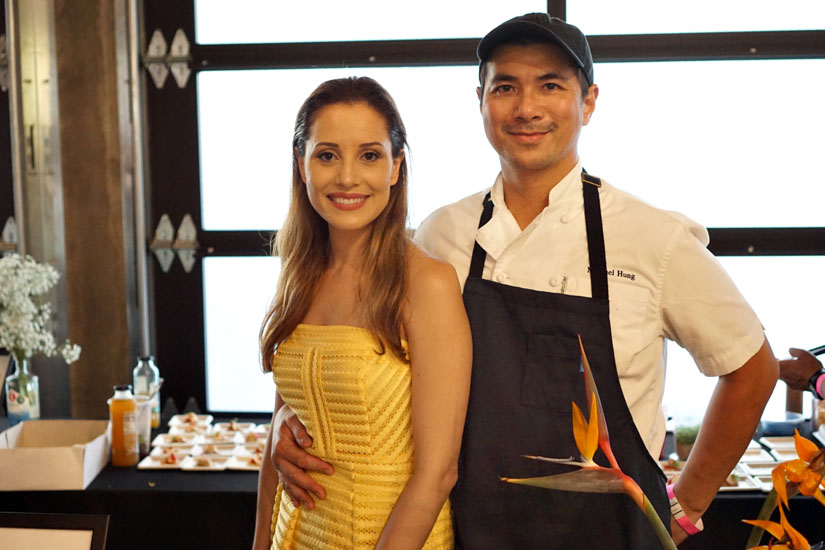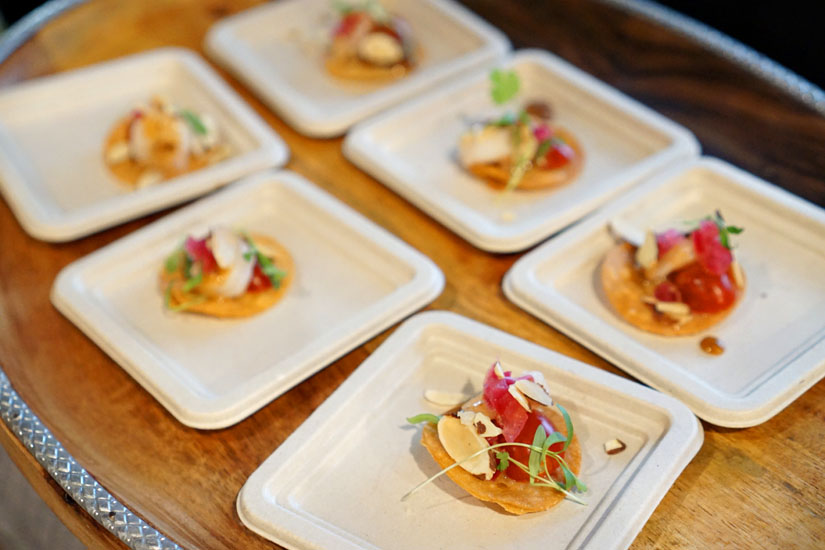 Michael Hung was pulling double duty. In addition to working the F&F station, he was also repping
Chilola's
, a Filipino concept he's been working on with partner Abby Gavino (am I the only one getting a prom pose vibe from the pic?). This evening they had
Shrimp Tostaditas with Almond Satay
paired with
Cassava Cake with Dulce de Leche and Toasted Coconut
.

The main event space at City Market Social House.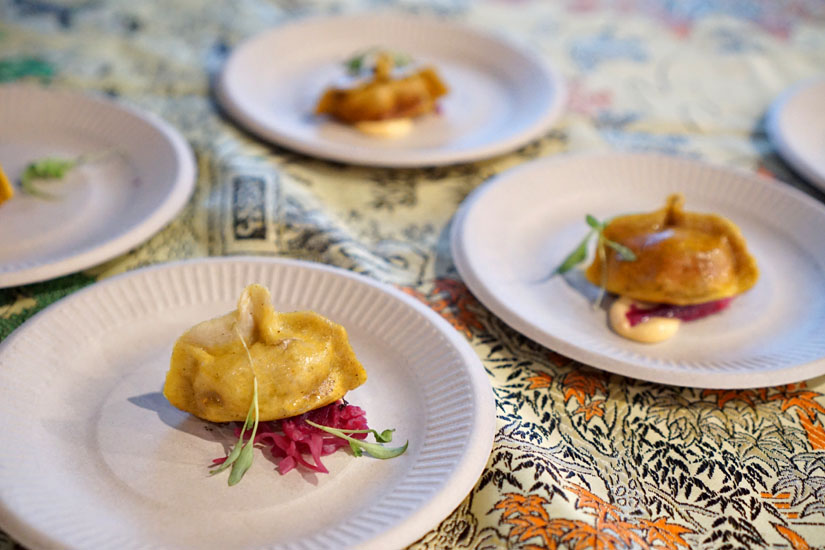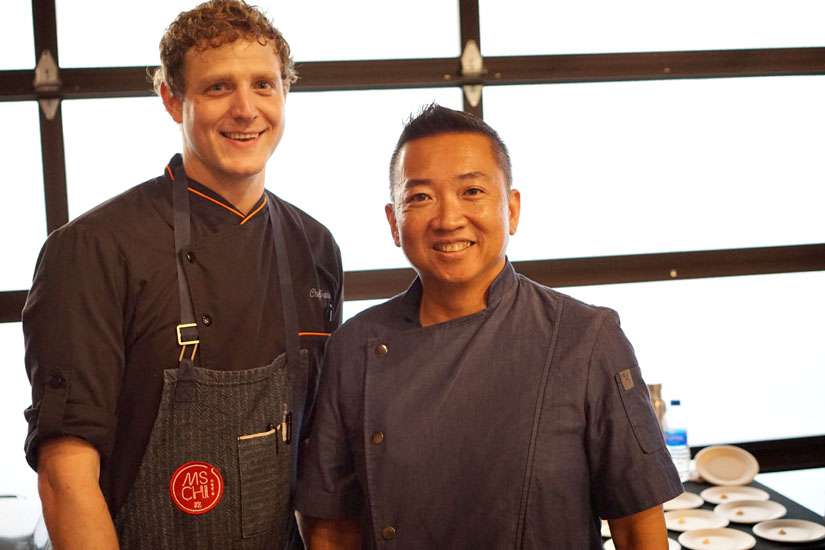 Another surprising bit of news for me was that Chef Shirley Chung (of
Top Chef
fame) was teaming up with none other than Stephane Bombet for the upcoming
Ms Chi Cafe
, to be located in the former home of Hanjip in Culver City. Her husband Jimmy Lee was actually behind the station, doling out
Chicken Pot Stickers served with a Spicy Aioli
. They also teased
Madam
Chi, a more formal restaurant to be located in the Arts District.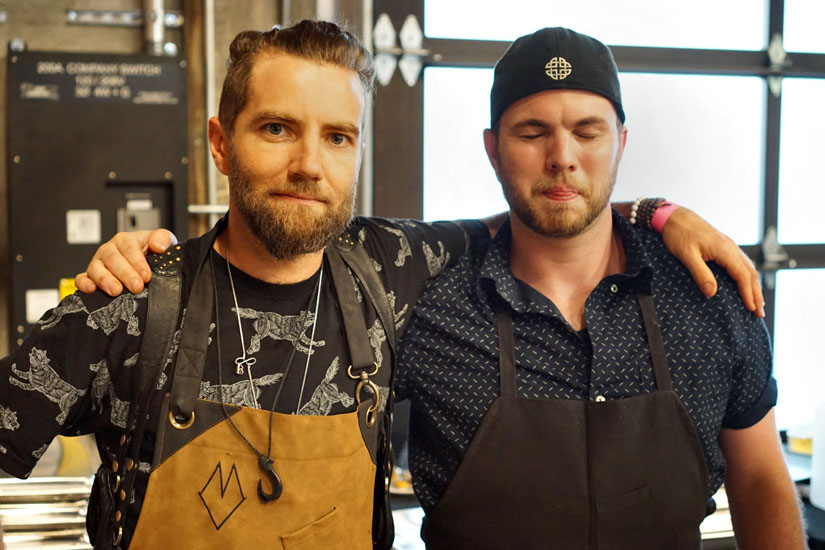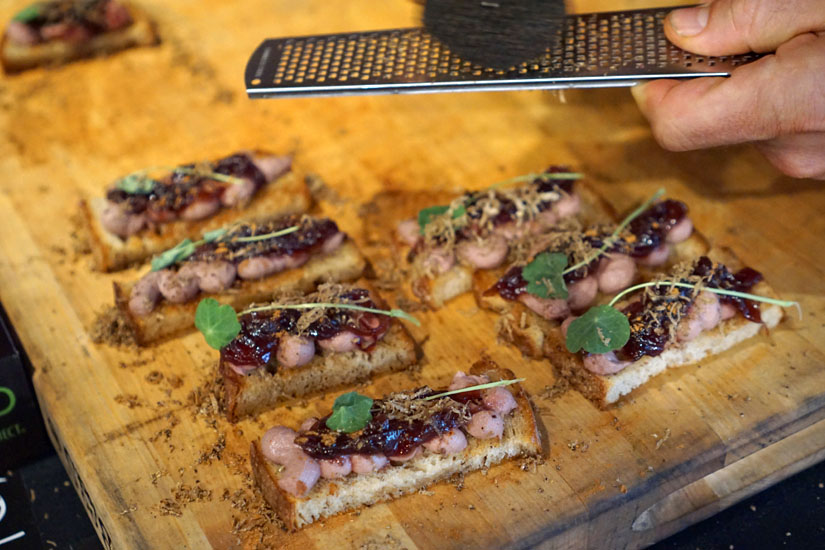 Last year's Best Dish winner, Marcel Vigneron's
Wolf
, pulled out all the stops with their
Wolf Bite (Chicken Liver Cicchetti, Black Truffle, Red Onion Marmalade, Five Spice, Nasturtium)
; I don't think I've ever seen this much truffle at the event. I'm not sure what's going on with the other guy in the photo--looks like he just got a mouthful of nasturtium or something.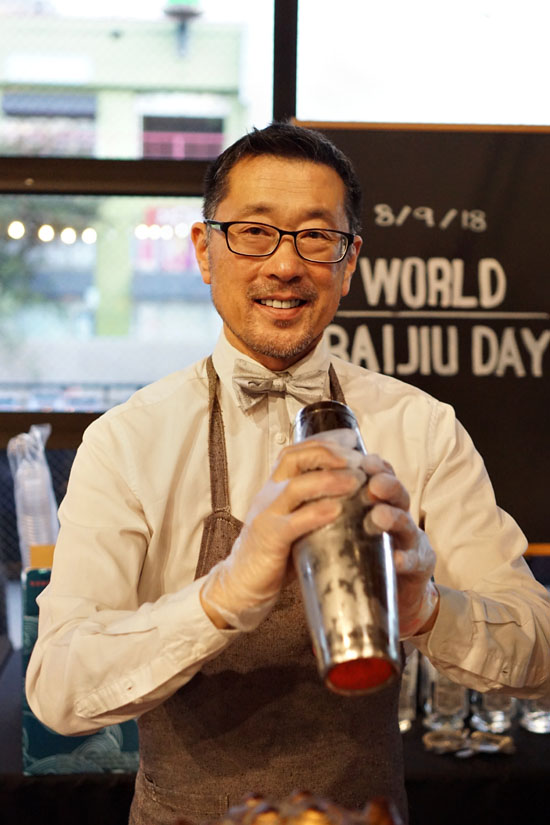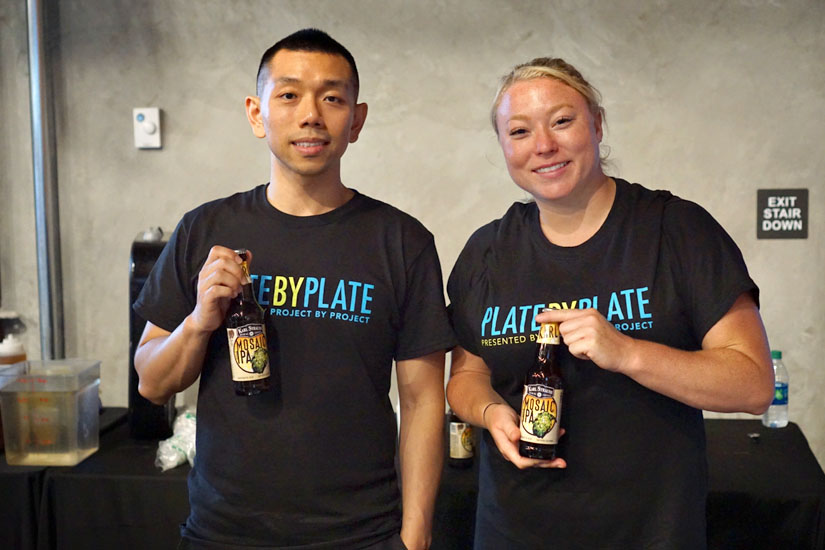 L:
Andrew Chiu and Andrew Wong's
Peking Tavern
has sort of become the unofficial ambassador for
baijiu
cocktails in LA.
R:
Karl Strauss Brewing Company
made an appearance for the first time at Plate by Plate, their station helmed by Johnny Au Yeung and Kristy Jetsupphasala.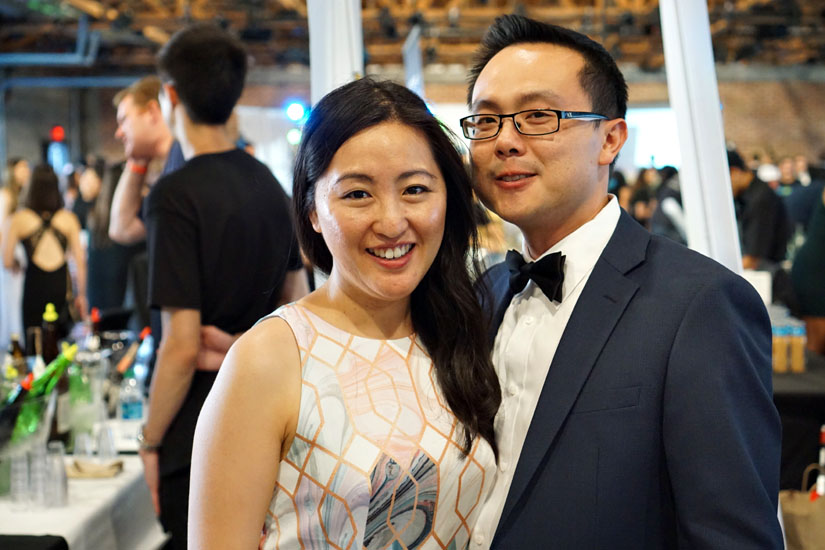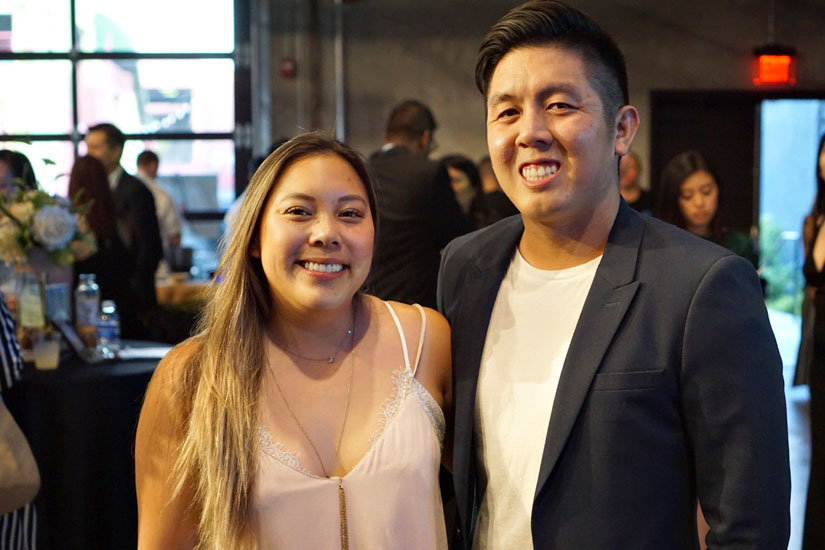 L:
Former PbP LA President Vickie Chan with her soon-to-be husband Jason Su (the only person I saw in here wearing a tux).
R:
Marilyn Tran and Andrew Le: another couple and another couple of PbP alums.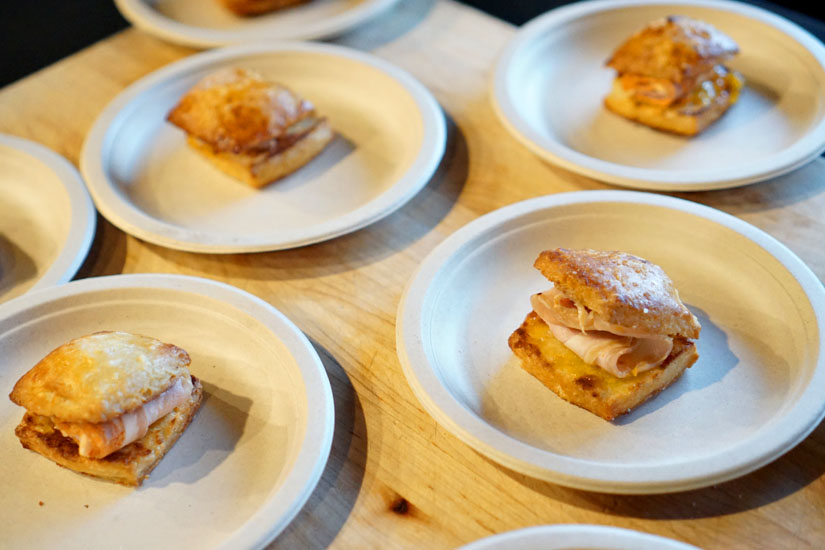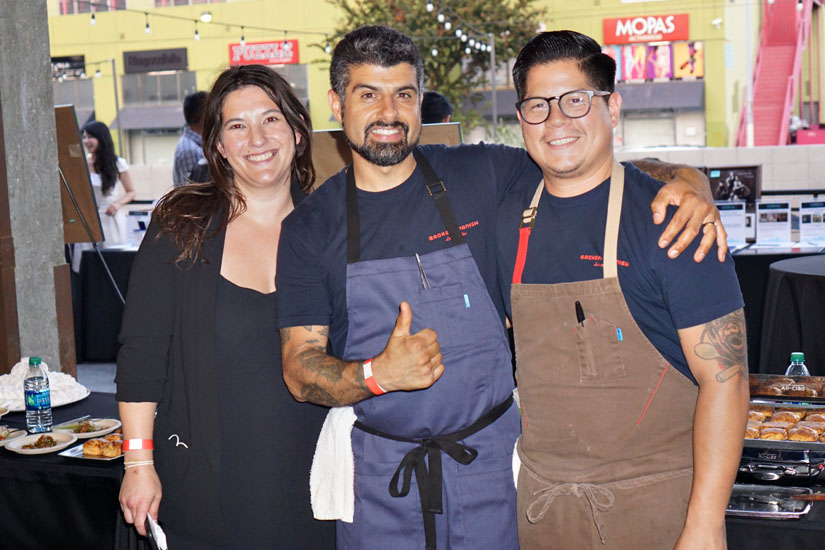 Melissa Wenke and Pastry Chef Ivan Marquez were behind the
Broken Spanish
station and managed to win Best Dish honors with their
Chicharron Biscuit Sandwich
. I have to give the team props for really working it, as apparently they were walking the floor and handing out their dish to guests, trolling for votes. Note also the aprons, donated by local firm
BlueCut
.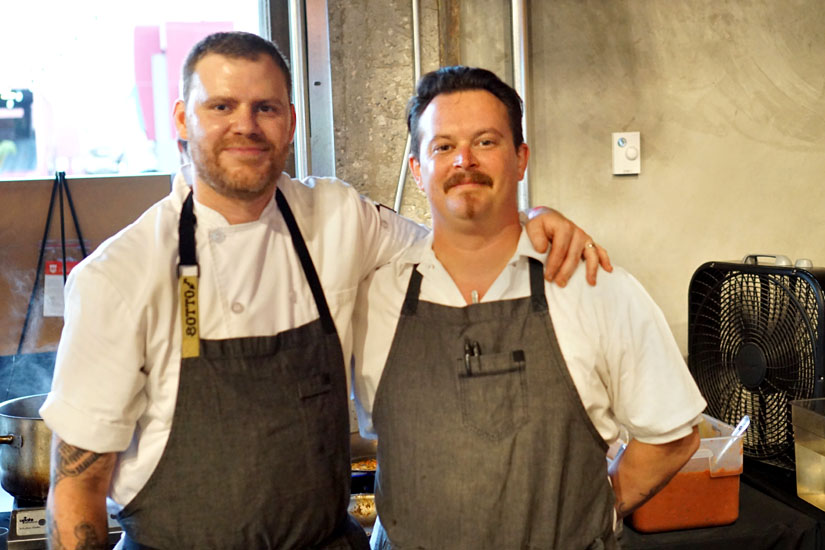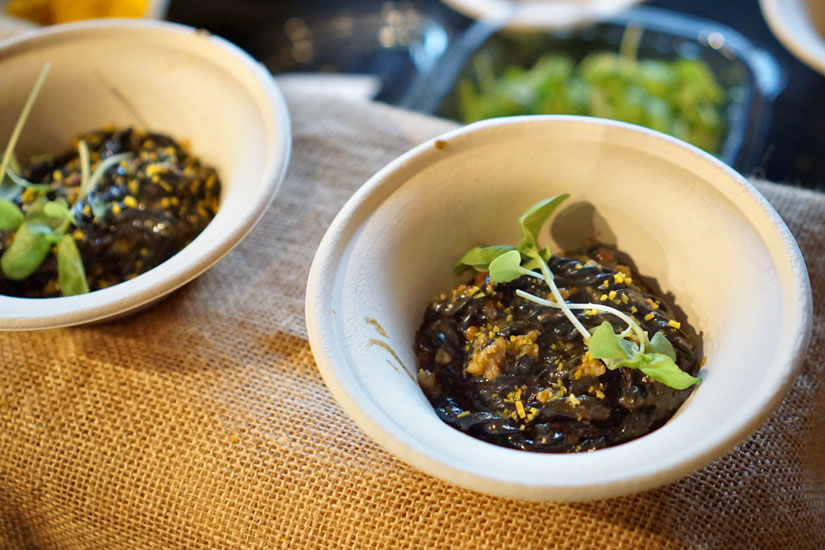 Sotto
remains one of my fav Italian joints in town, and Chef de Cuisine Craig Towe was serving up cozy bowls of
Squid Ink Fusilli, Shrimp and Seppia Ragu, Chili, Basil
.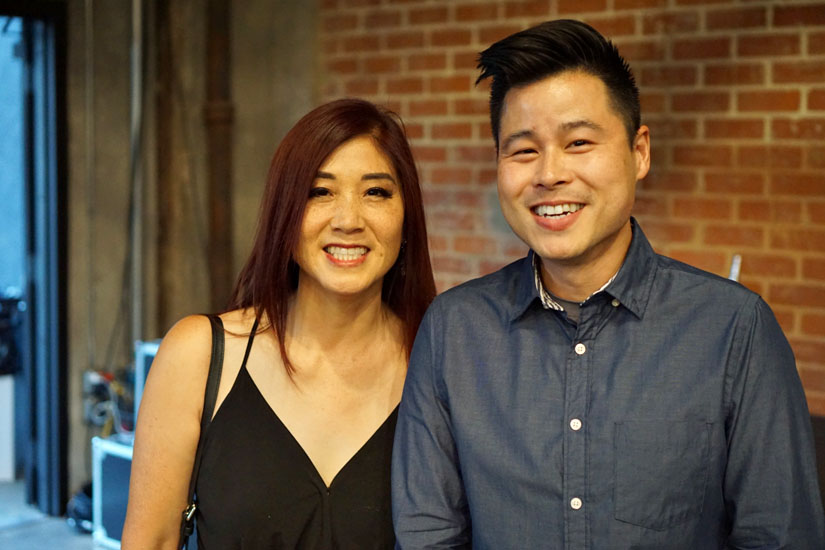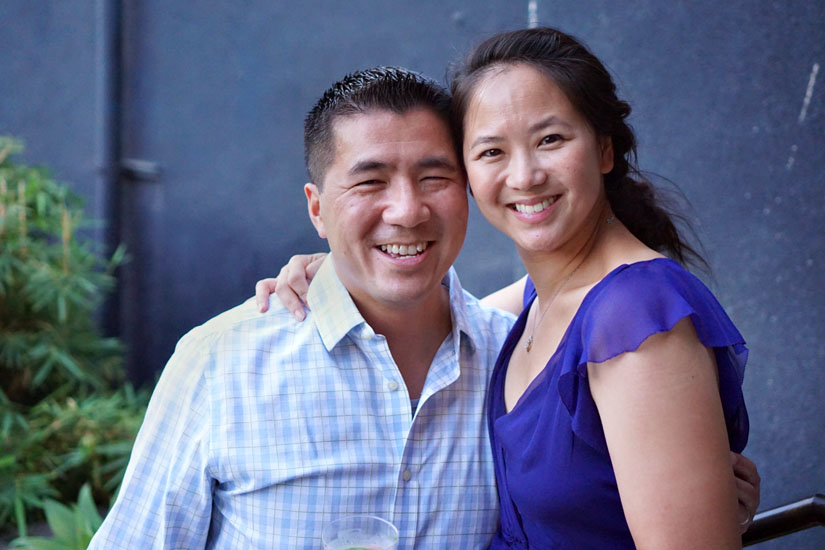 L:
I swear I see Amy Lew at pretty much every Asian-y event out there. She's pictured above with Paul Dateh.
R:
Here's Jennifer Quan, one of the winners of my
ticket giveaway
, with her hubby--see, people really do win these things.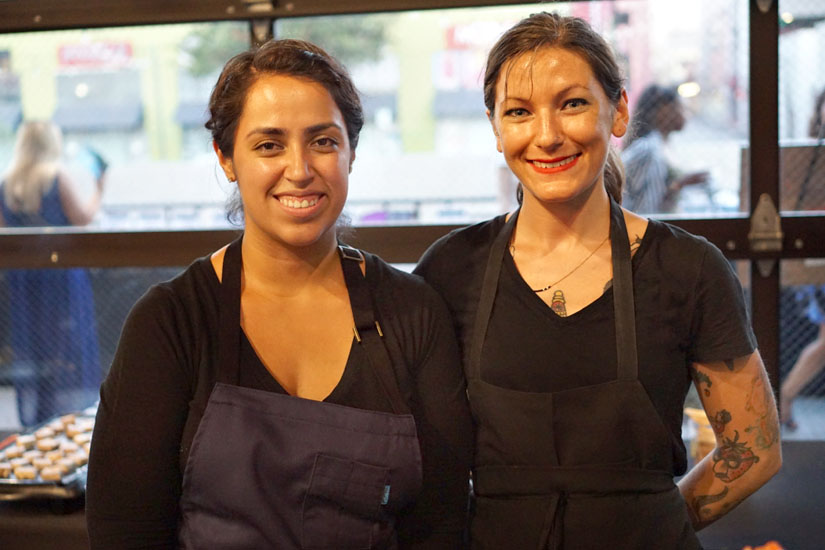 Restauration
was the sole representative from the LBC, and just might be the best resto in that City. Chef Phil Pretty couldn't make it, but his girlfriend Danielle could, and prepared a
Seared Pork Belly with Watermelon Relish
.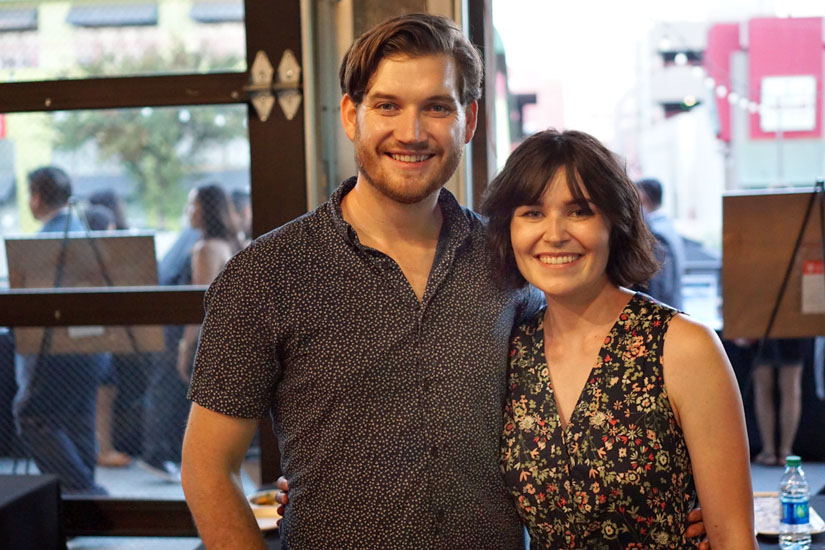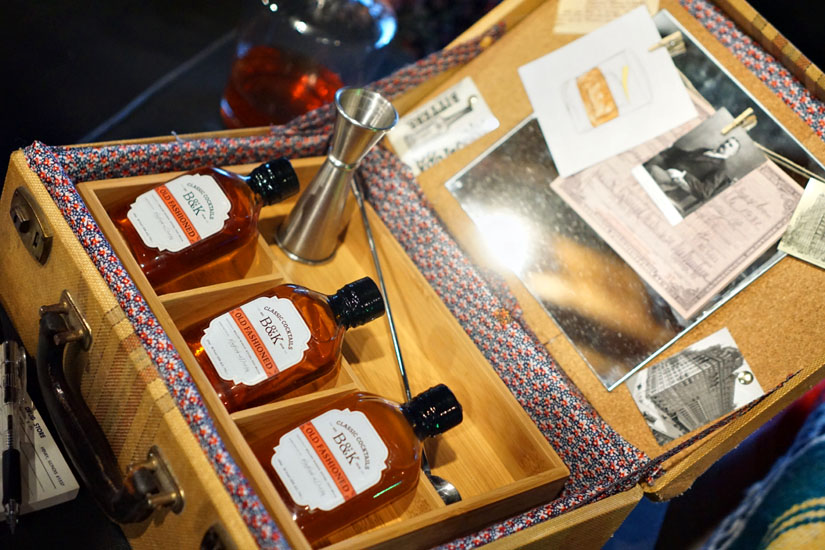 Matt Bostick and Tina Greene had one of the more ambitious beverage setups, promoting Bostick's new pre-batched cocktail company
B&K Classic Cocktails
. Their
B&K Old Fashioned
was pretty damn legit.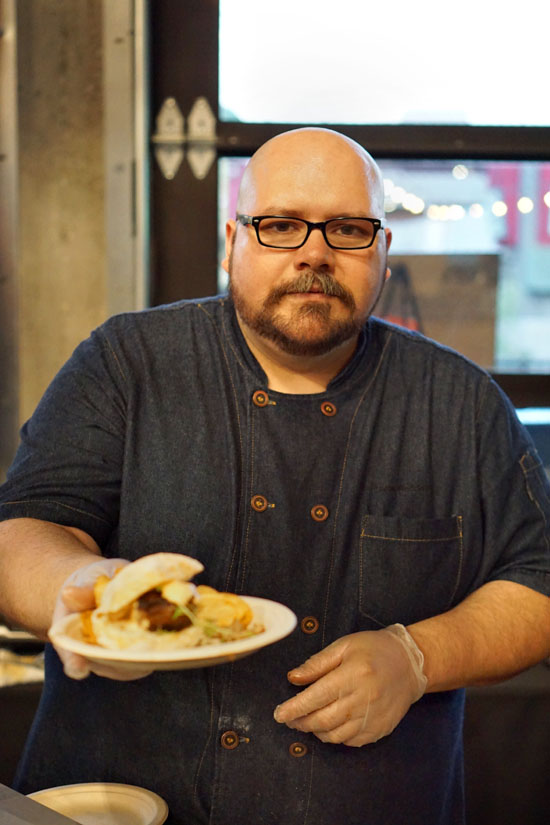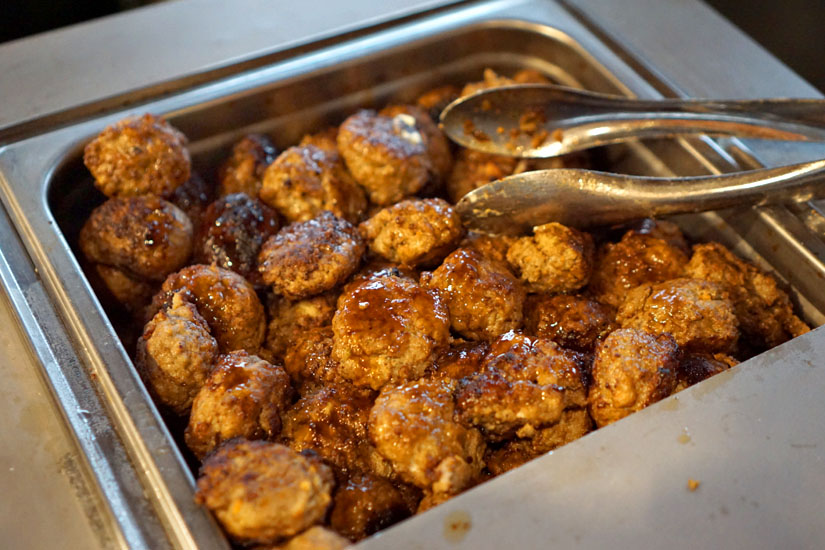 Metropole
at
Hotel Indigo
had one of the heartier dishes of the night with its
Crispy Duck Meatball Slider with Duck Fat House Chips
.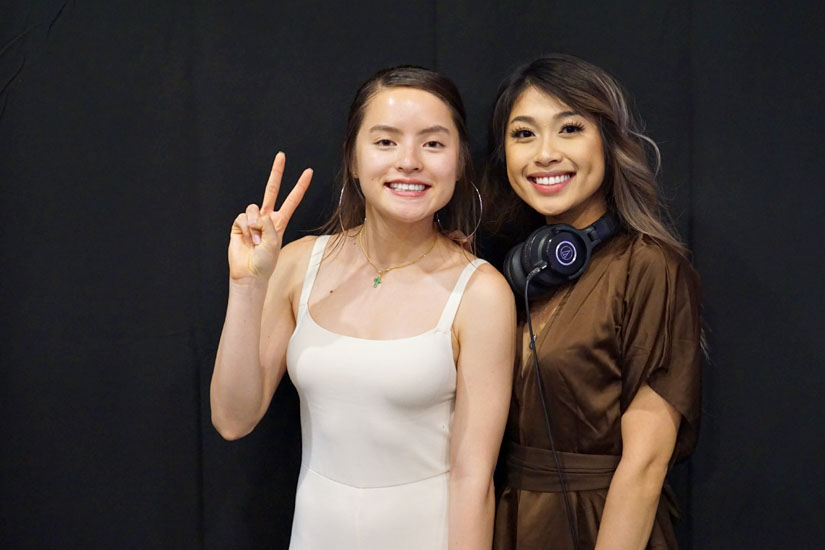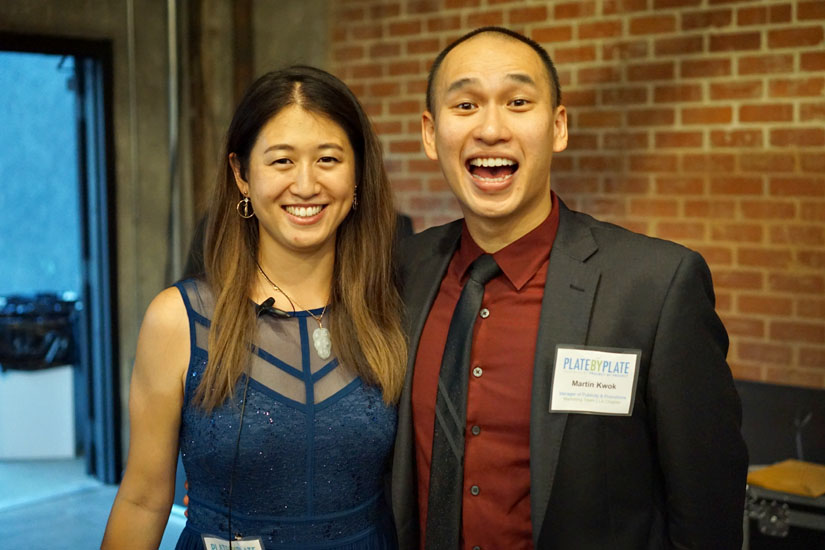 L:
The girl on the right was the DJ. No idea who the other is.
R:
PbP Director of Outreach Michelle Li with mouth-agape PbP Manager of Publicity & Promotions Martin Kwok.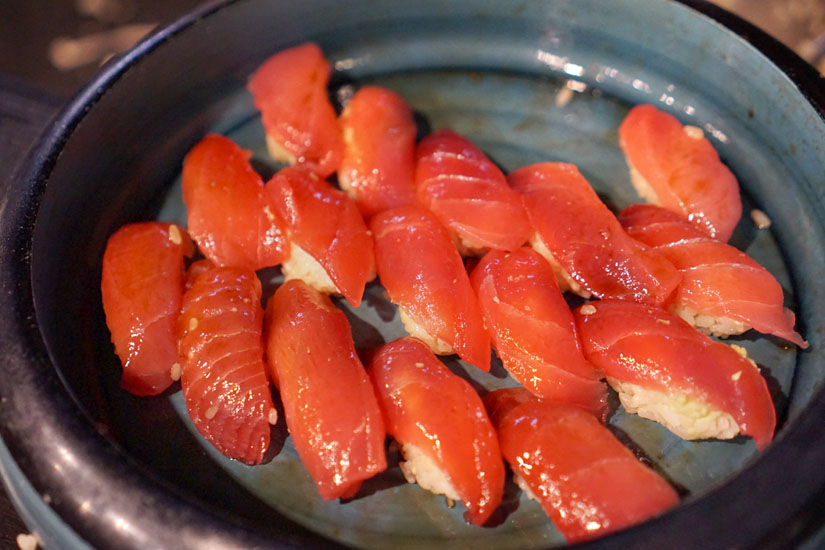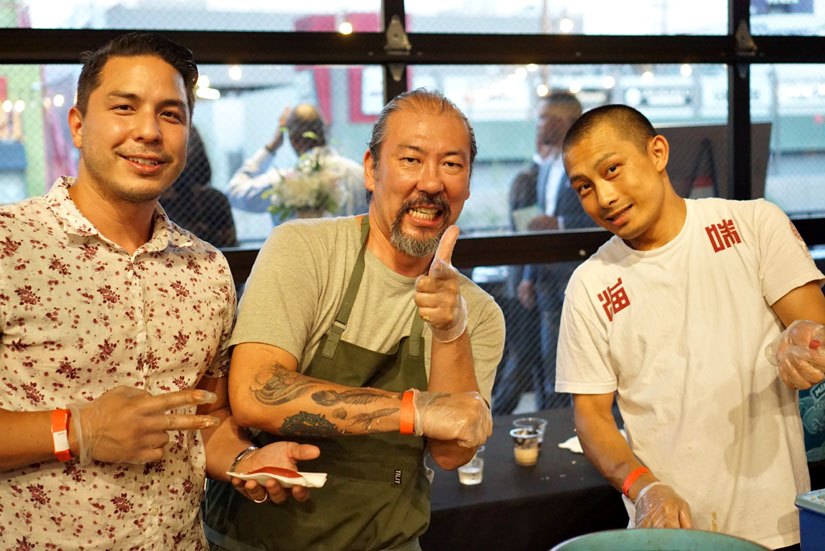 Umi by Hamasaku
's Jesse Duron and Yoya Takahashi have been longtime Plate by Plate supporters. Tonight they had a whole lotta
Nigiri Sushi
, but it ran out quick.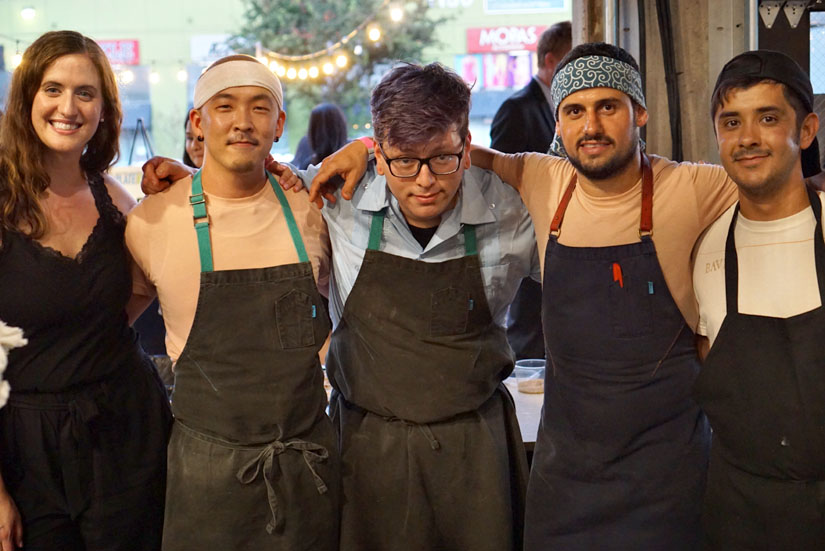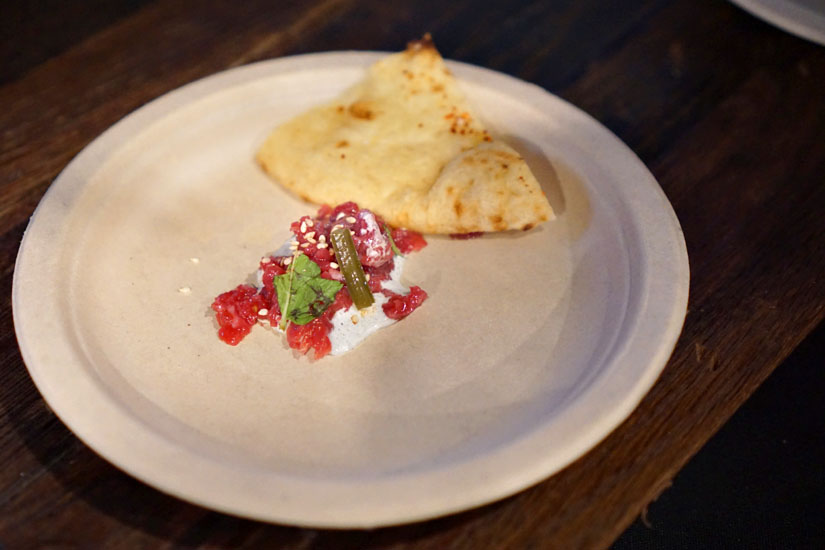 Another busy station was
Bavel
's (unsurprisingly). Their
Lamb Tartare with Fried Laffa
proved to be
extremely
popular with guests, and according to Chef Ori Menashe, people were coming back for seconds and even thirds.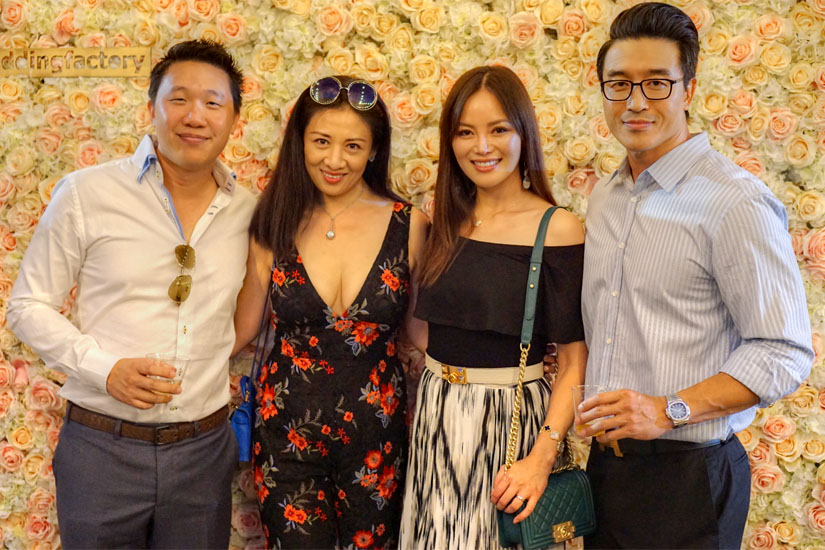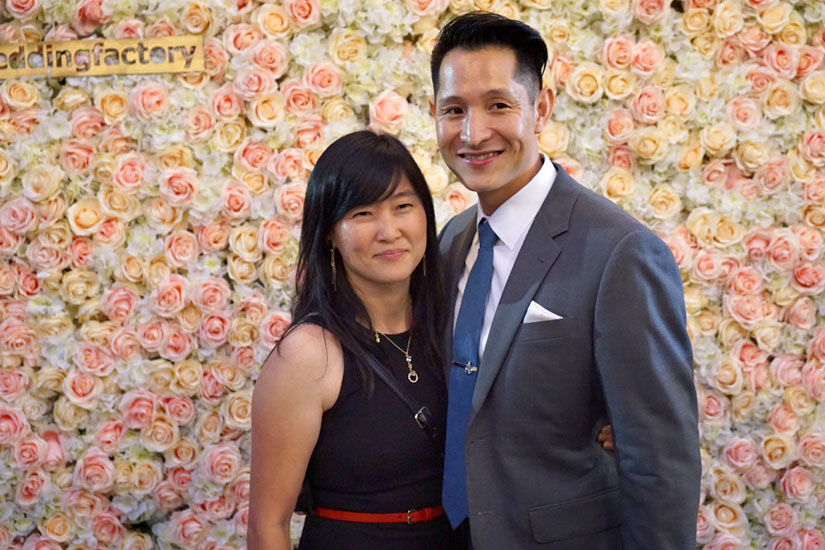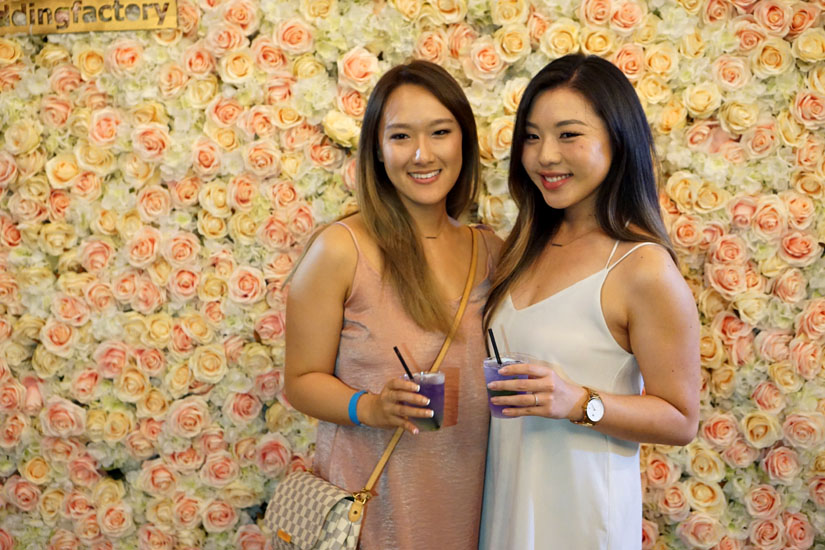 I was skeptical at first, but the flower wall was turned out to be more popular than I'd anticipated.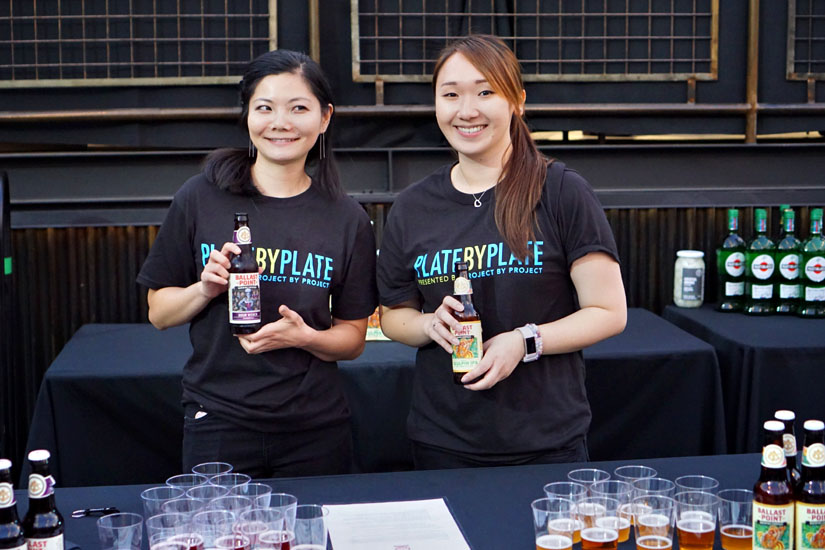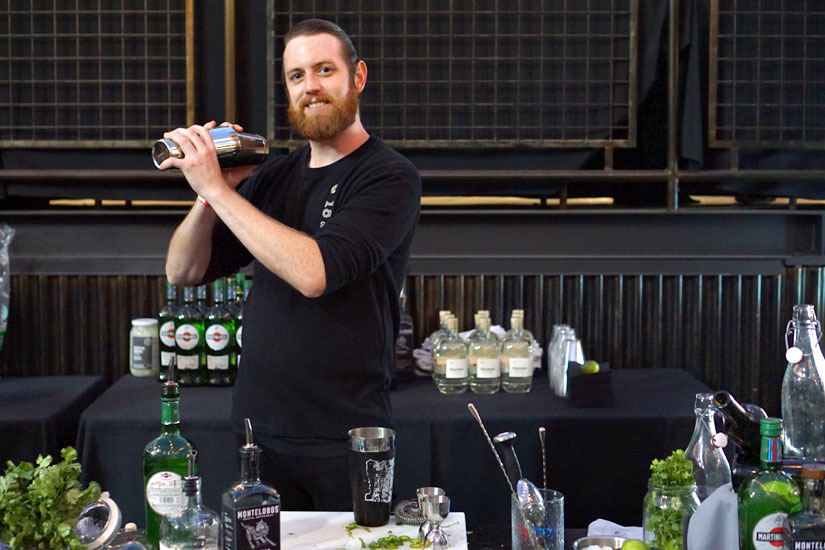 L:
Shushu Cai and Joyce Chuk paired
Ballast Point
's
Sour Wench
and
Aloha Sculpin
beers with an accompaniment of side eye.
R:
Head Bartender Matthew Young from
18 Social
at
Hotel Indigo
had the enticingly titled
Would You Like Cilantro and Onions?
cocktail with Montelebos Mezcal, Chareau Aloe Liqueur, Jalapeno Infused Dry Vermouth and Cilantro & Pearl Onions.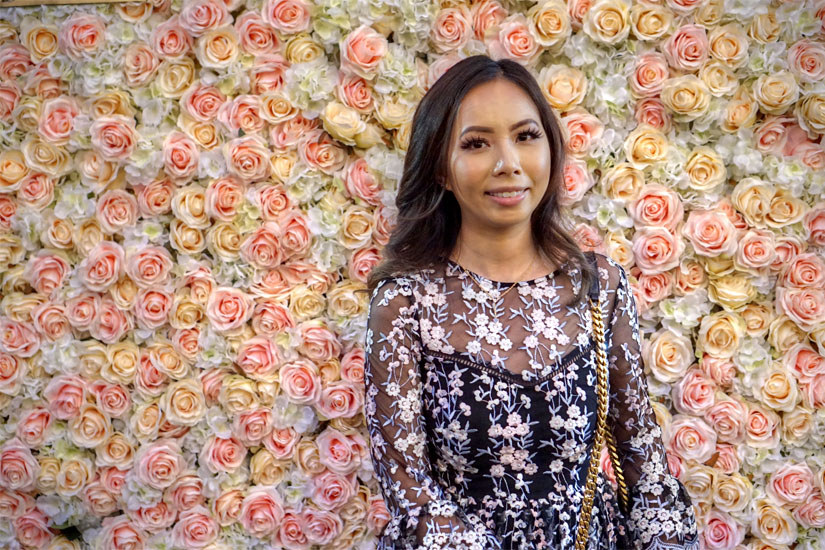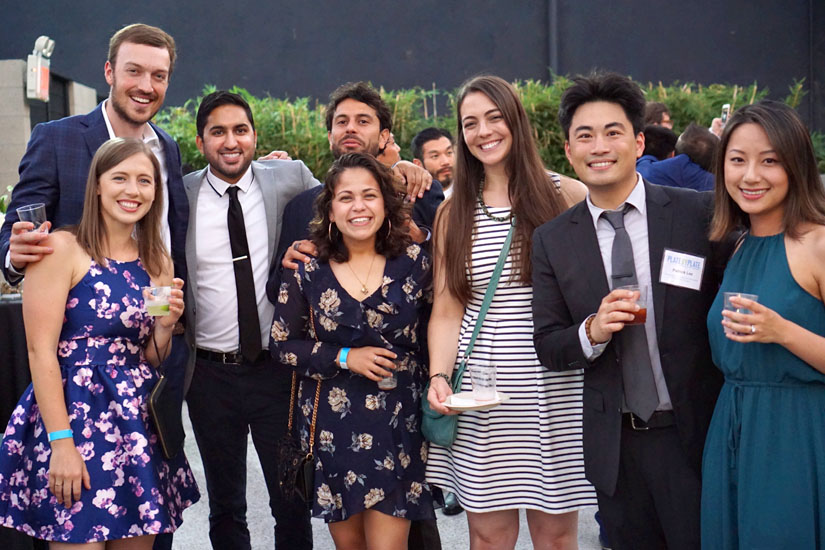 L:
Manager of CASES Summer Project Team & PbP Events Team Member Tram Tran sort of blends in with the wall.
R:
PbP National Director of Volunteer Management Patrick Lee did a fine job pressuring his coworkers at
Science 37
to attend.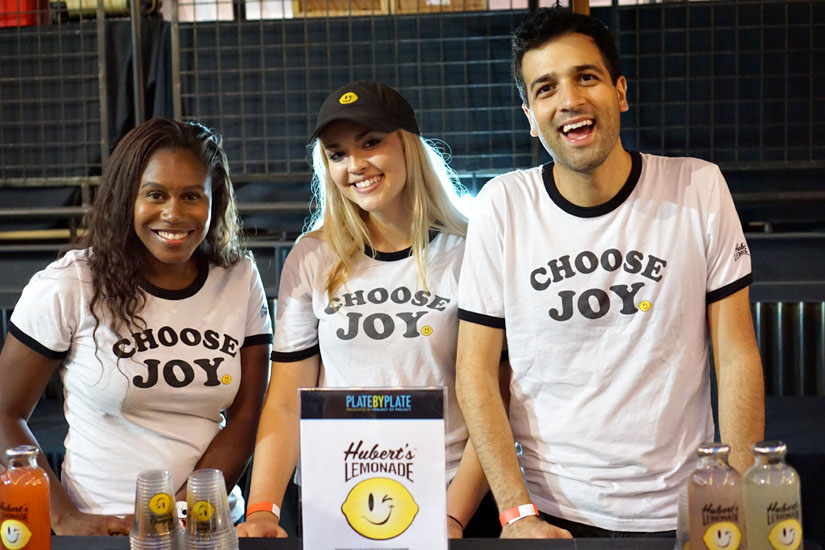 L:
The
Hubert's Lemonade
team seemed almost
too
happy.
R:
Zen Vuong couldn't quite hack it as a PbP Steering Committee member, but was back as a volunteer at the
Lagunitas
station.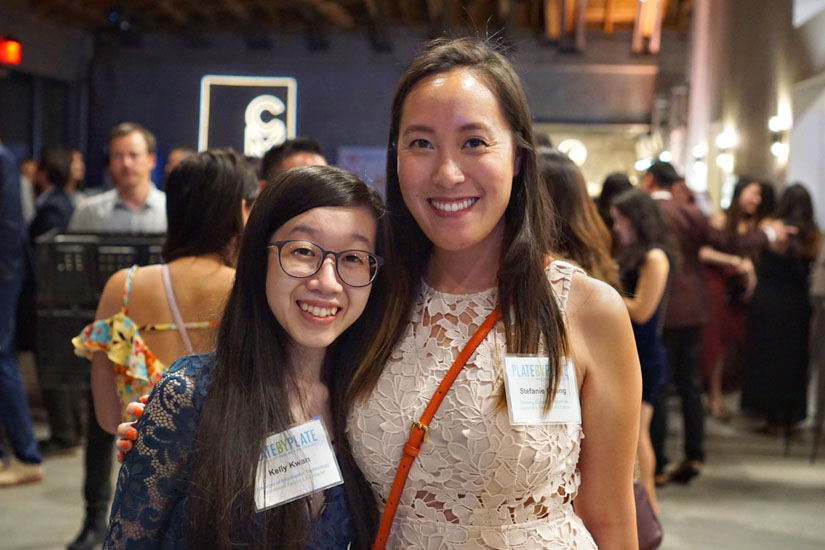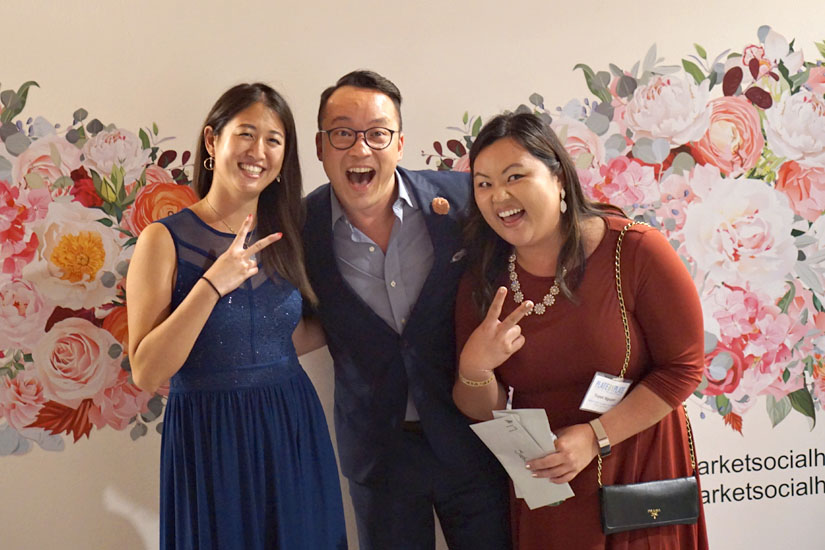 L:
PbP Manager of Information Technology Kelly Kwan and PbP Operations Team Member Stefanie Cheng both chose floral-themed dresses.
R:
PbP Director of Outreach Michelle Li, PbP alumnus John Wirfs, and PbP LA Legal Counsel Tuyet Nguyen pose in front of the flower-angel wings-Instagram decal thingy.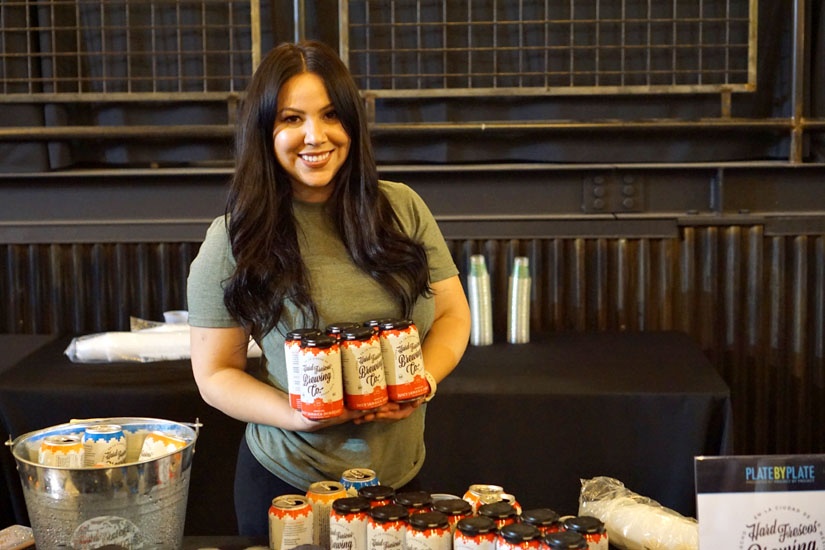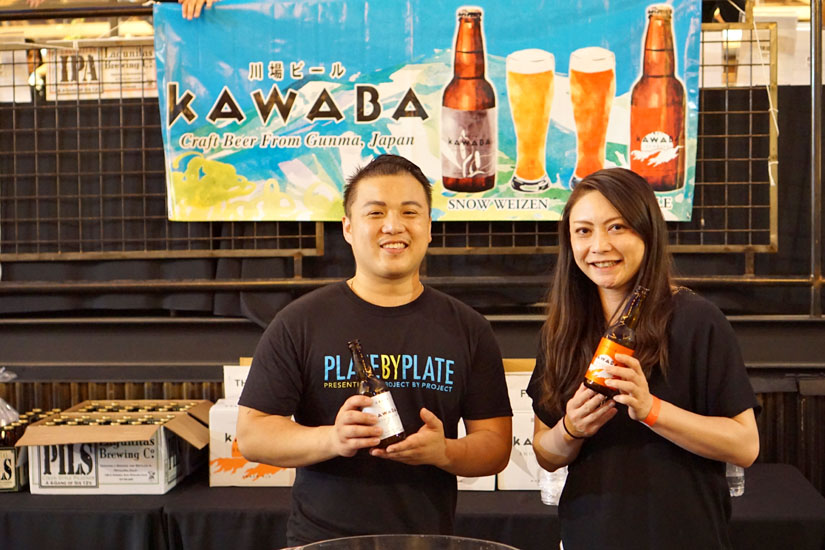 L:
This was my first time encountering
Hard Frescos
, which combines two of my favorite things to drink:
aguas frescas
and alcohol.
R:
Kawaba Beer
brought their
Snow Weizen
and
Sunrise Ale
, which I believe are the only two beers they market currently.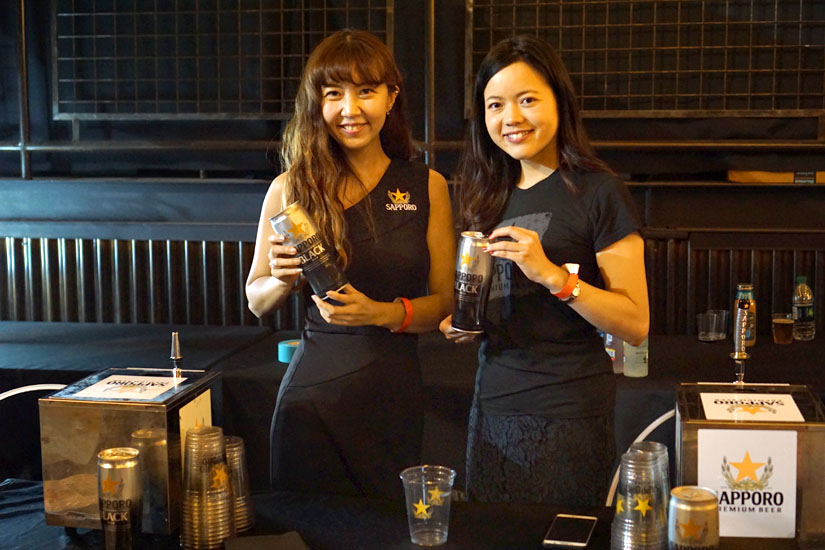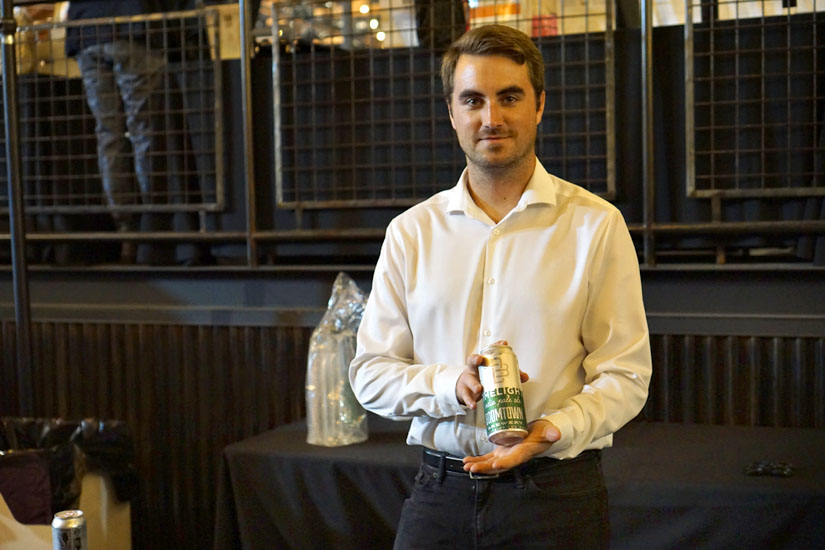 L:
I don't think
Sapporo
's been at Plate by Plate since 2010, which sort of surprised me.
R:
Boomtown Brewery
was a newcomer that I was glad to see attend. They were pouring their
Mic Czech Pils
,
Ingenue Belgian White
, and
Limelight IPA
.

Time to step inside VIP...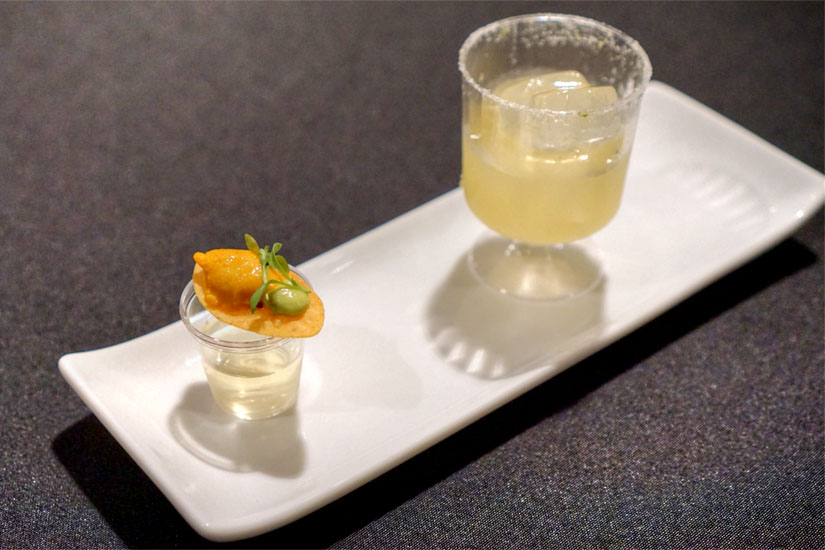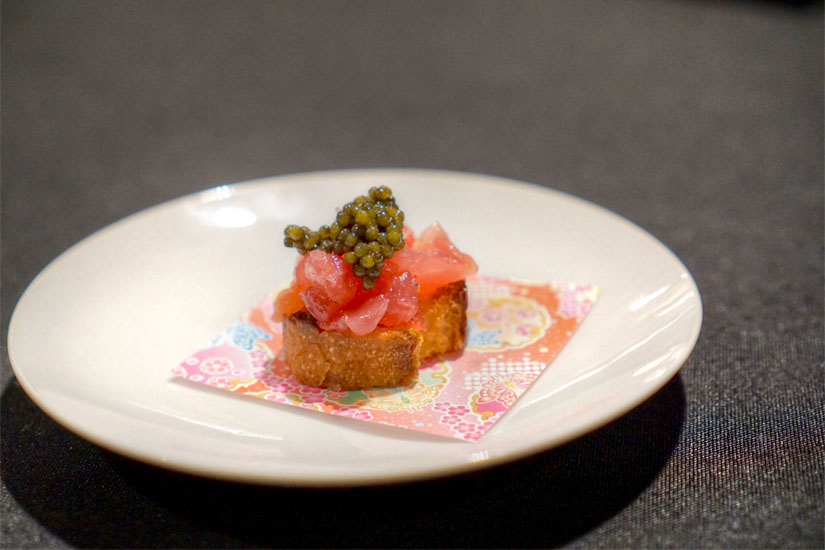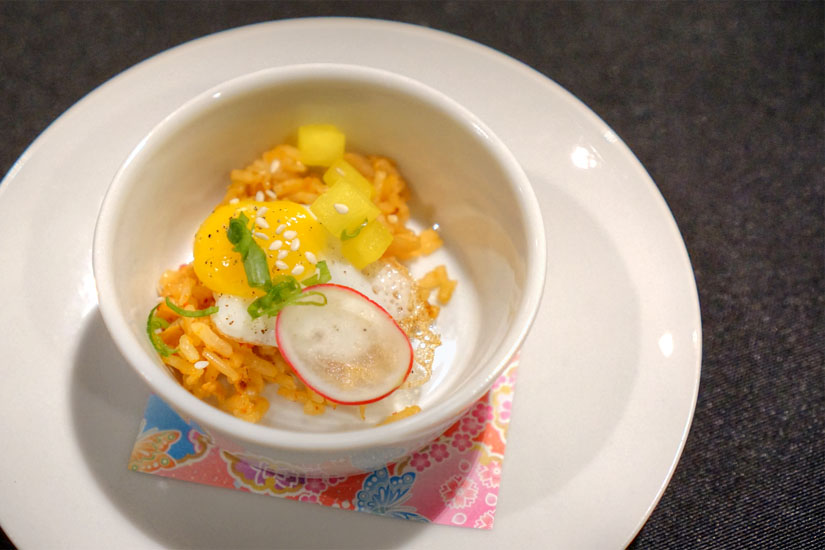 VIP guests were treated to sit-down mini-tasting menus. At the first VIP station, Walter and Margarita Manzke served a five-course mash-up of the couple's three restaurants:
Republique
,
Petty Cash
,
Sari Sari Store
. Their colorful menu included
Chips and Salsa (Peach Sangrita, Mezcal)
,
Imperial Kaluga Caviar (Smoked Tomato, Tuna)
,
Corn Agnolotti (Australian Black Winter Truffles)
,
Kimchi Fried Rice
, and
Halo Halo
for dessert.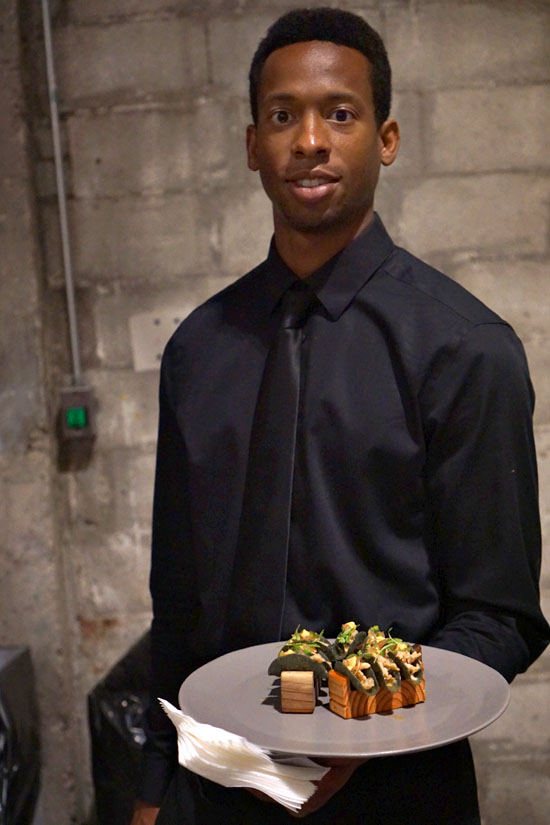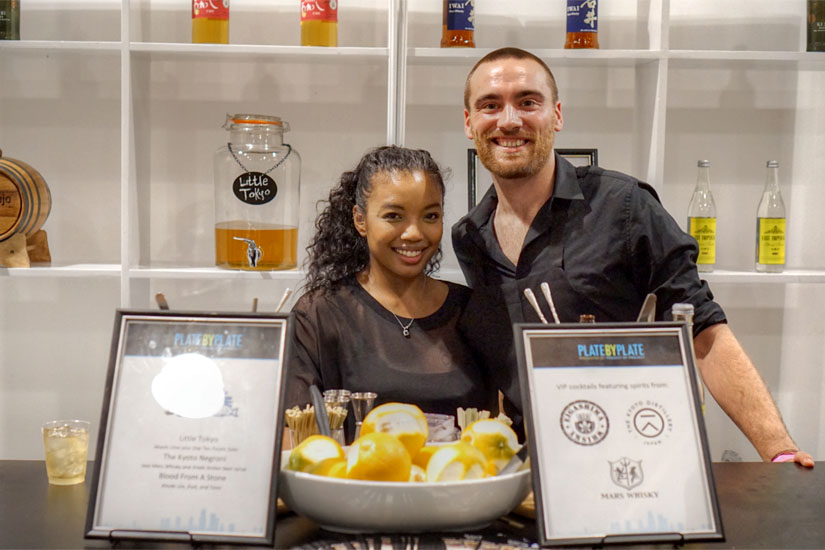 L:
Meanwhile,
Wolfgang Puck Catering
was serving passed
hors d'oeuvre
throughout the evening.
R:
VIP bar duties were handled by Don Tahara's new
Sake Dojo
in Little Tokyo. Bar Manager Phil Collins had a trio of cocktails on offer: the
Little Tokyo (Akashi Ume, One Ten Purple Sake)
, the
Kyoto Negroni (Iwai Mars Whisky, Asahi Amber Beer Syrup)
, and
Blood From a Stone (Kinobi Gin, Fruit, Tonic)
.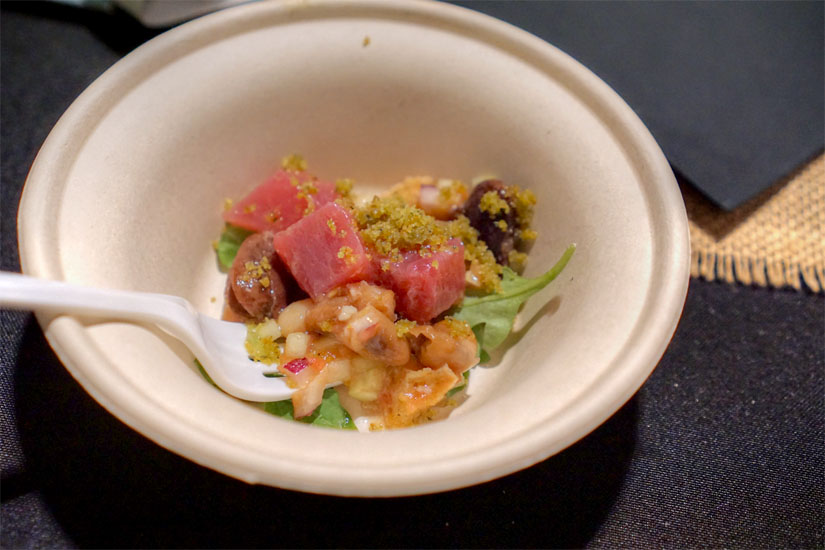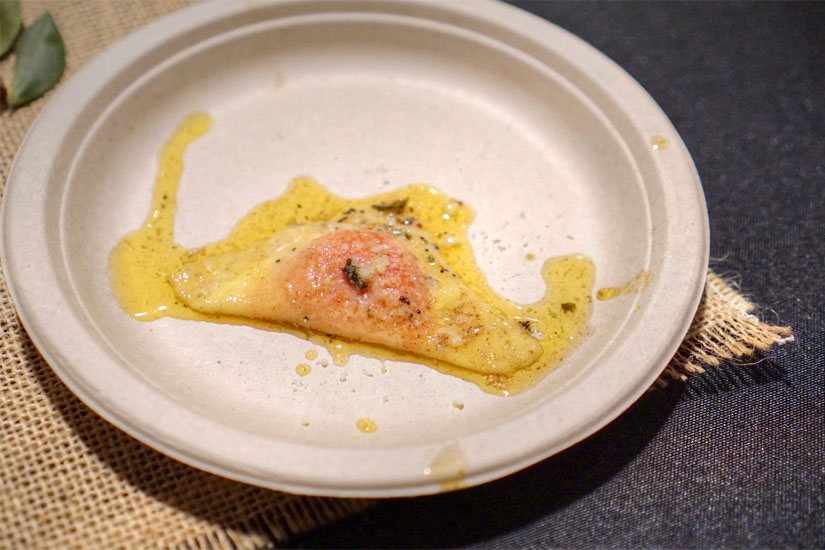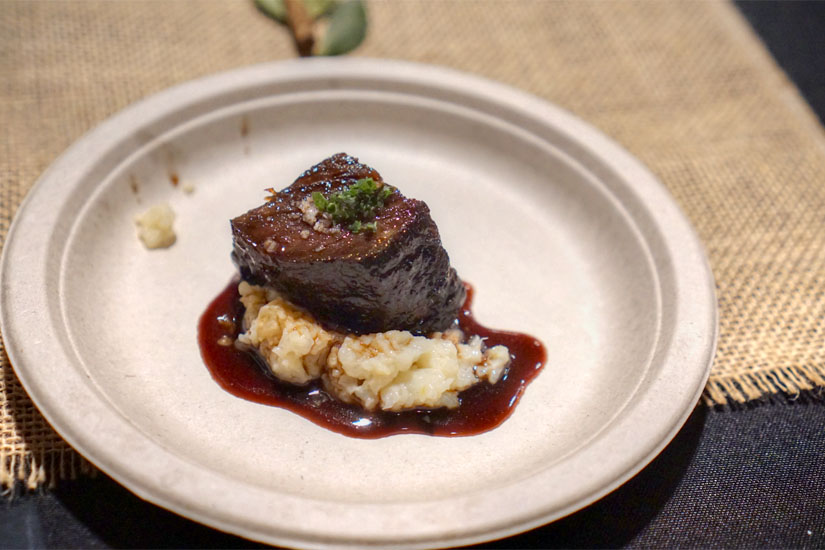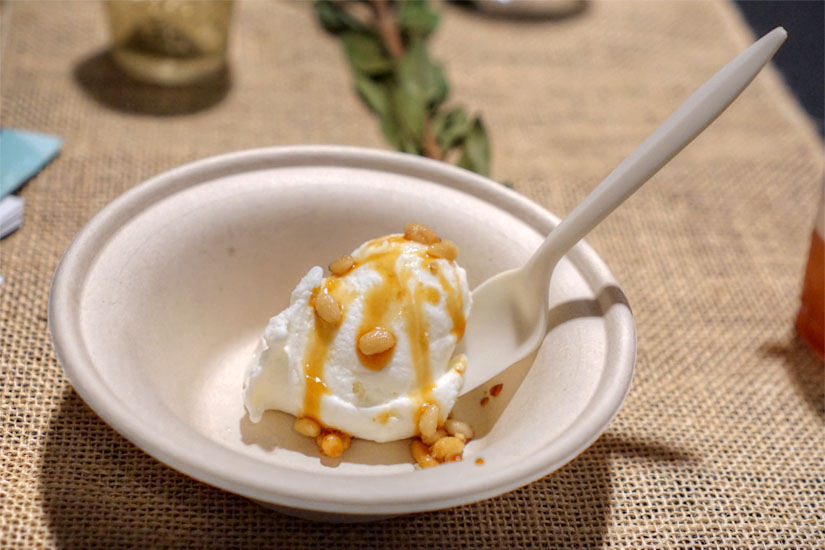 Not to be outdone,
Rossoblu
's Steve Samson helmed his own VIP station and served an ambitious four-course tasting menu comprising:
Marinated Tuna Panzanella (Heirloom Beans, Crushed Tomato, Herbed Bread Crumbs)
,
Beet and Mascarpone Triangoli (Brown Butter, Sage, Poppy Seeds)
,
Roasted Beef Short Rib (Red Wine Jus, Gremolata, Cauliflower Purée)
, and
Fior Di Latte Gelato (Candied Pine Nuts, Pine Syrup)
. Very nice.