Cevichería Nais (Santa Ana, CA)
Cevicheria Nais
224 E 3rd St, Santa Ana, CA 92701
657.231.6005
Fri 02/08/2019, 08:20p-11:40p

I first found out about Cevichería Nais a few months ago, while I was walking around Downtown Santa Ana after dining at a nearby restaurant. After checking out their menu online, I decided to pay the place a visit. Nais opened in May 2018, and was originally the brainchild of Daniel Godinez, an OC Chef who first made a name for himself over at modern Mexican eatery Anepalco in Orange. He later went on to open El Mercado Modern Cuisine in Santa Ana (Sep 2016) and Maestro in Pasadena (Jan 2017), though he has since left both establishments and is currently involved in a lawsuit with his partners at El Mercado. Now that didn't deter me from trying out Nais, but while at dinner, I discovered that Godinez has since been bought out by one of his partners, and is no longer part of this business either. He still does own both locations of Anepalco though.

Cevicheria Nais occupies a space in the Festival Hall building that was previously home to the likes of Diego's Rock-n-Roll Bar & Eats, Diego's, and Cafe Azteca. There's a lot of blue inside, which makes sense given the place's seafood focus. On a related note, the underground bar/lounge next door is also owned by the folks behind Nais.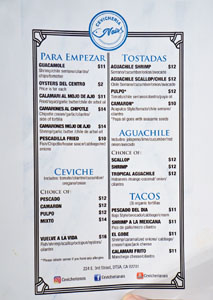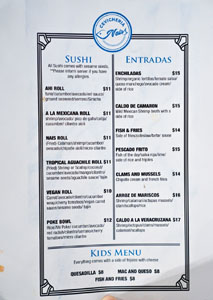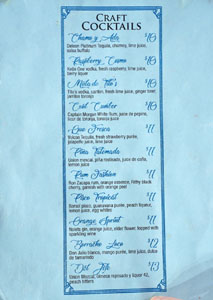 As for the menu, you'll find a good selection of
mariscos
standbys, along with Nais' take on sushi, which was more unexpected. Drink-wise, we opted for cocktails, though beer is also offered of course. Click for larger versions.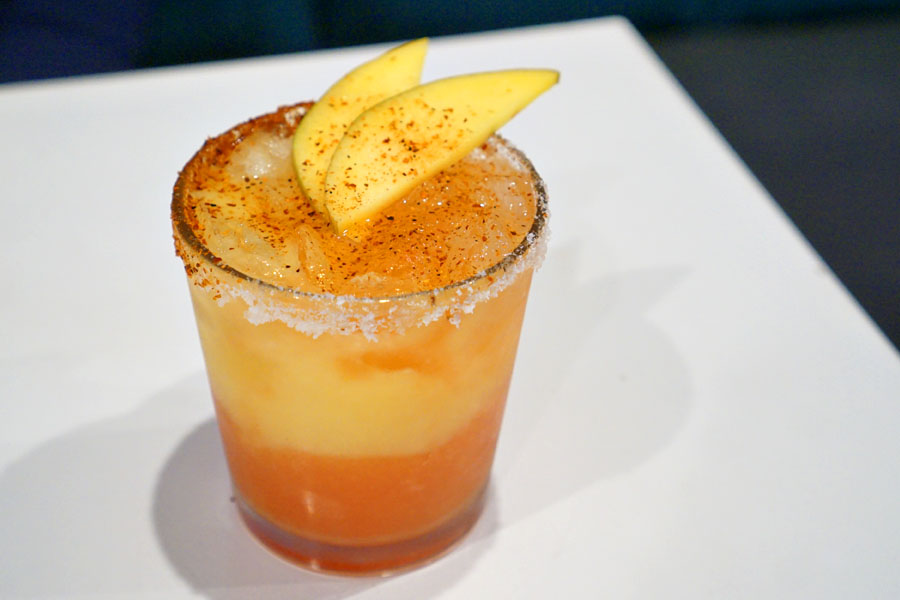 Strawberry-Mango Margarita [$12.00]
Our first cocktail was an off-the-menu drink comprising three ounces of tequila along with mango and strawberry. I found it as fruity as it looked, with the booze well hidden--this one could be dangerous.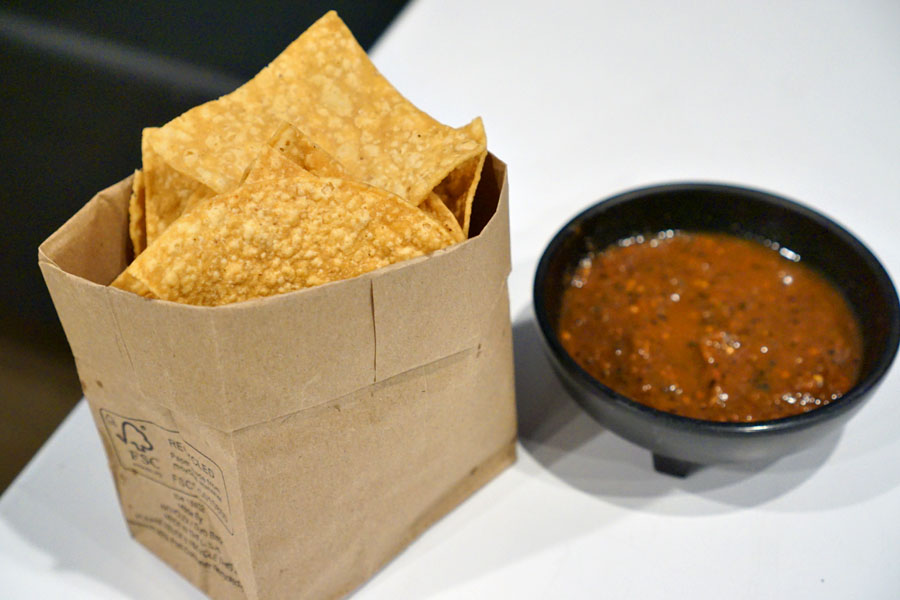 Tortilla chips arrived with a decidedly smoky salsa.
Pulpo Tostada [$12.00]
| tomato/chile serrano/cilantro/puya oil
Our first dish was a standout. The octopus ate tender, yet substantial, and I got a great back-and-forth between the chilies and the creaminess of avocado. Very well put together overall.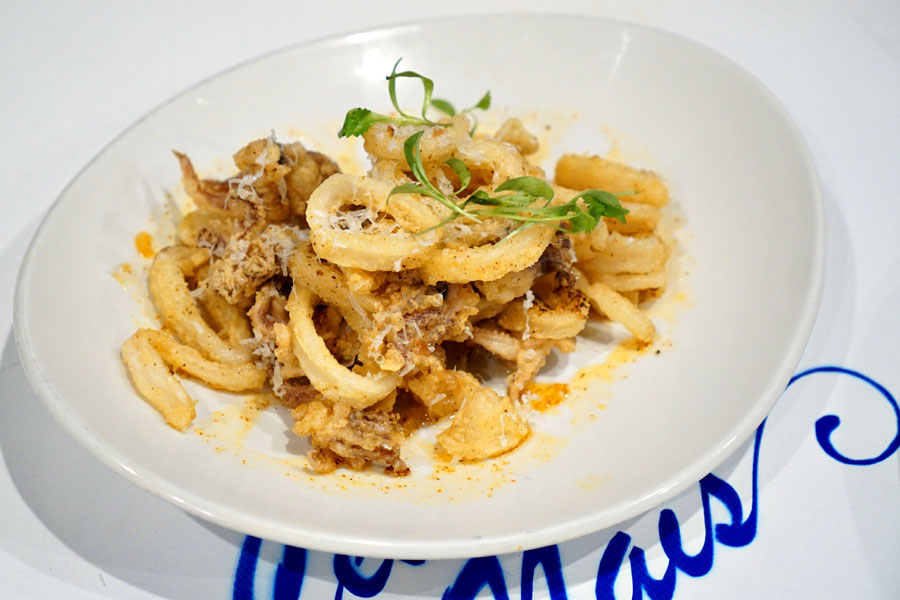 Calamari al Mojo de Ajo [$11.00]
| Fried/squid/garlic butter/chile de arbol oil
Fried squid showed off a pleasantly light batter along with some sour, salty, cheesy flavors and a hint of heat for good measure.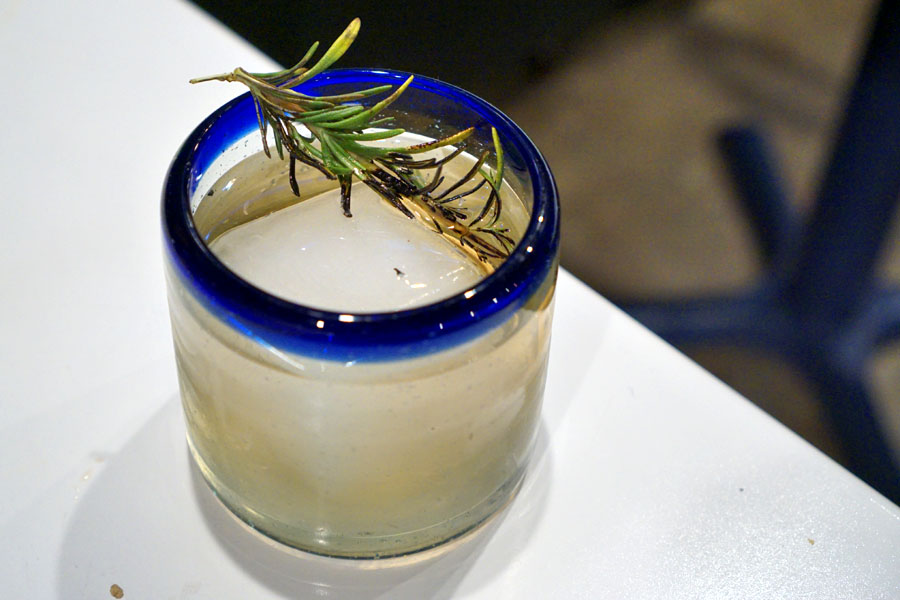 Del Jefe [$13.00]
| Union Mezcal, olmeca reposado y liquor 42, peach bitters
Our next cocktail displayed a nose of smoke and herb, along with an undercurrent of fruit. Taste-wise, I found it warm and sweet at its base, while some bitter, boozy, medicinal notes came in later, the whole thing finishing sweet again.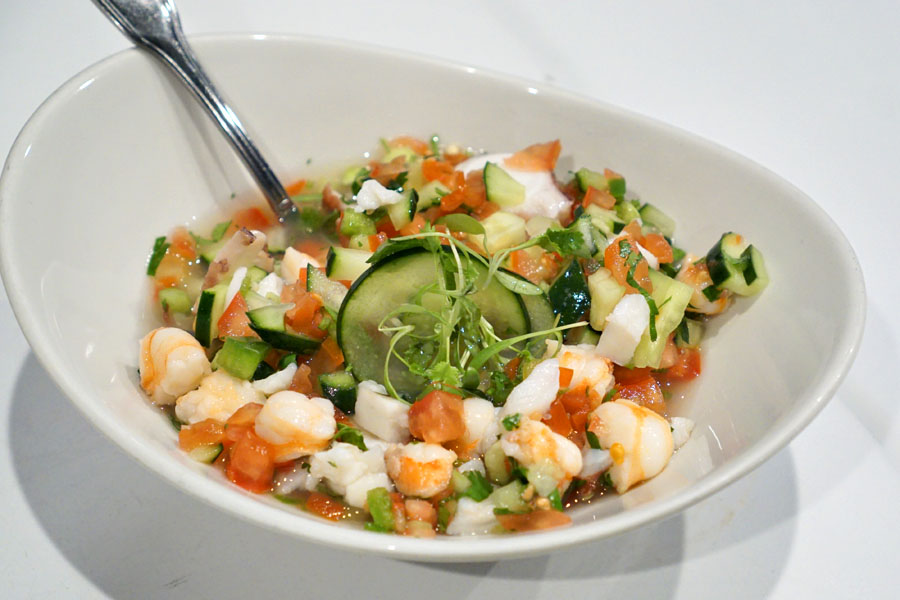 Ceviche Mixto [$14.00]
| Includes: tomato/cilantro/cucumber/oregano/onion
The ceviche ate fresh 'n' clean, with a strong cilantro component. However, I wanted more heat, more acidity in the dish to really make it pop.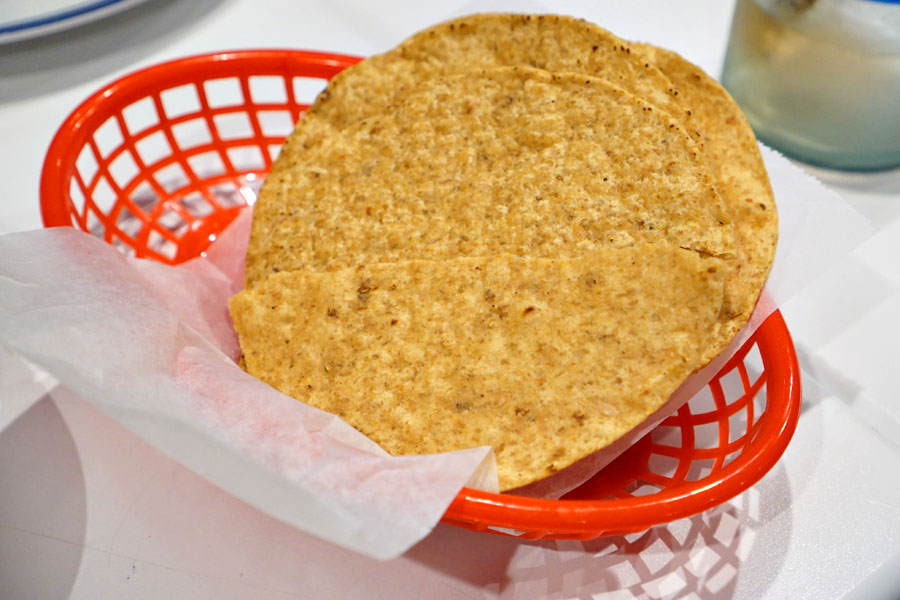 Tostadas served as a much appreciated accompaniment for both the ceviche and the aguachile below.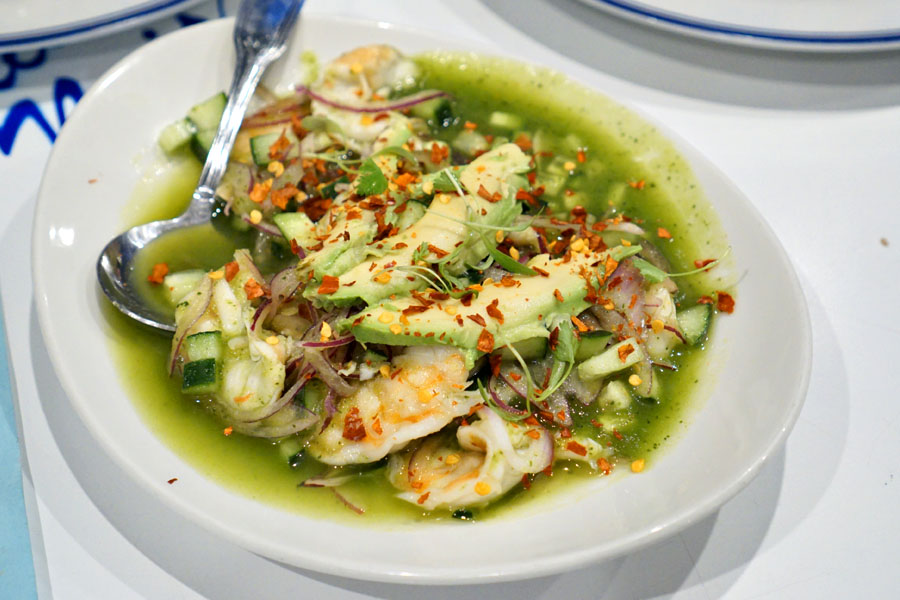 Shrimp Aguachile [$12.00]
| Includes: jalapeno/lime/cucumber/red onion/avocado
The aguachile featured plump shrimp, along with plenty of bright, acidic flavors, though less heat than I was expecting (which I didn't necessarily mind).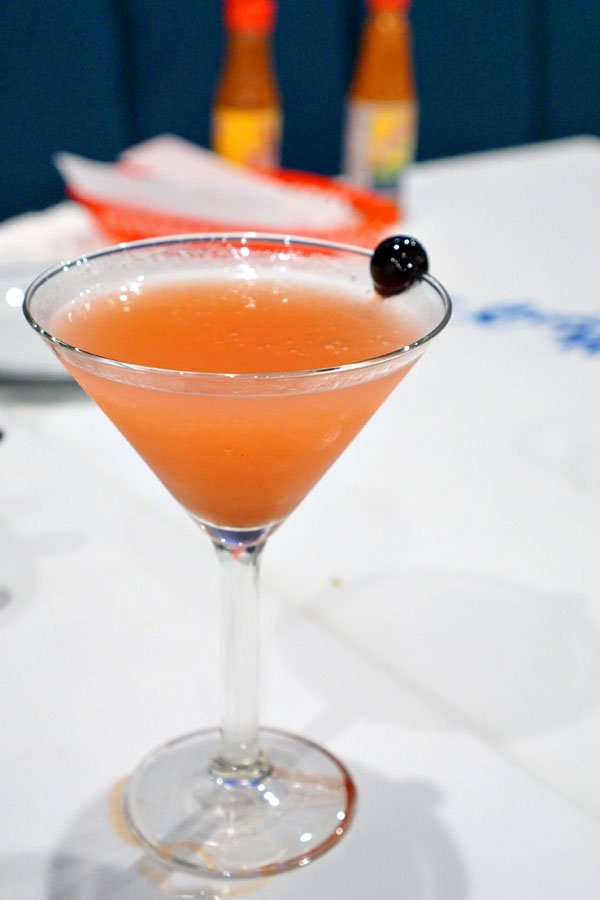 Raspberry Cosmo [$10.00]
| Ketel One vodka, fresh raspberry, lime juice, berry liqueur
Nais' take on the cosmopolitan featured boatloads of sweet berry, but the cocktail also had plenty of potency from the vodka to make for some semblance of balance.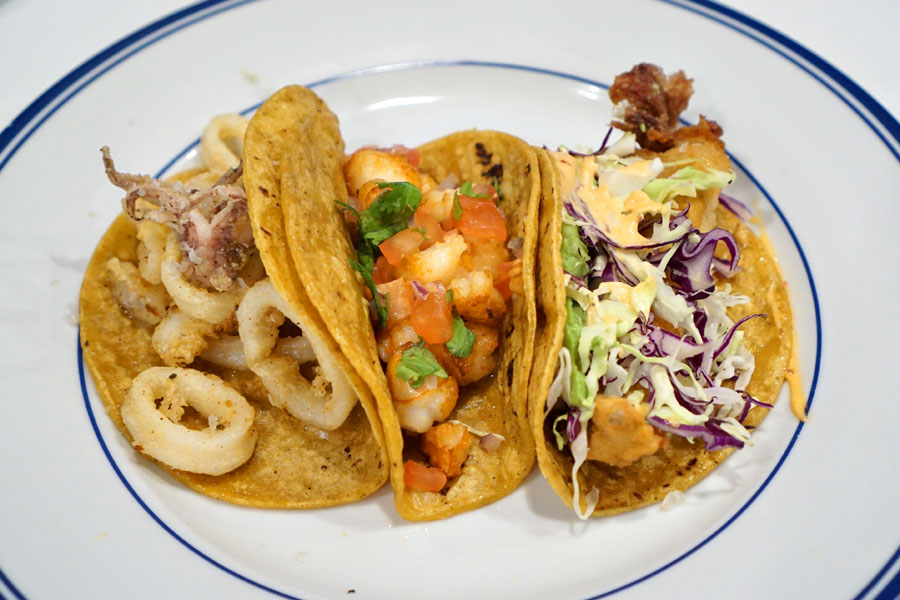 Now normally, you get three tacos of the same type for $11, though the kitchen was kind enough to provide a three taco sampler for the same price this evening.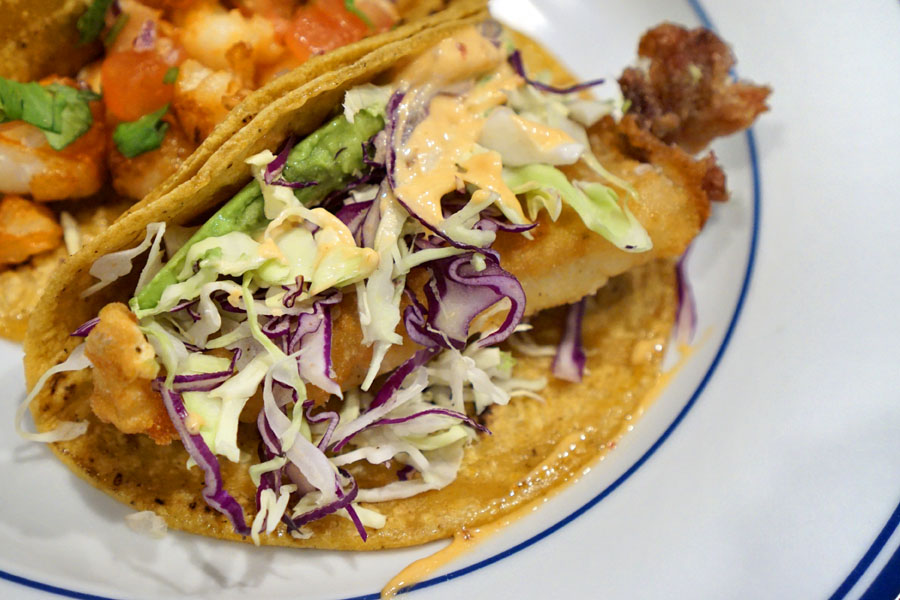 Pescado del Dia
| Baja Style/avocado/cabbage/cream
The classic fish taco worked it out for the most part. The
pescado
was spot on texturally, and the combination of crema and cabbage certainly delivered. I would've preferred some slightly more aggressive seasoning on the actual fish, though.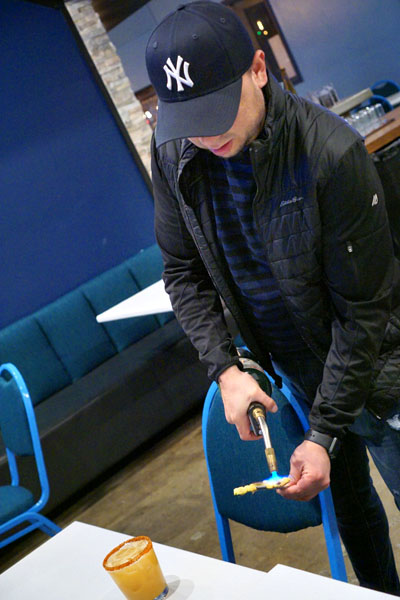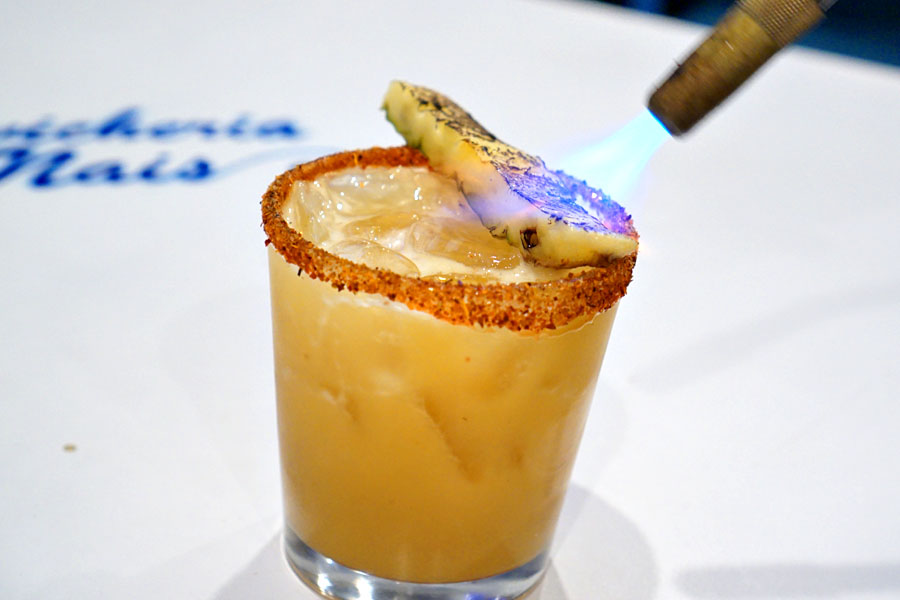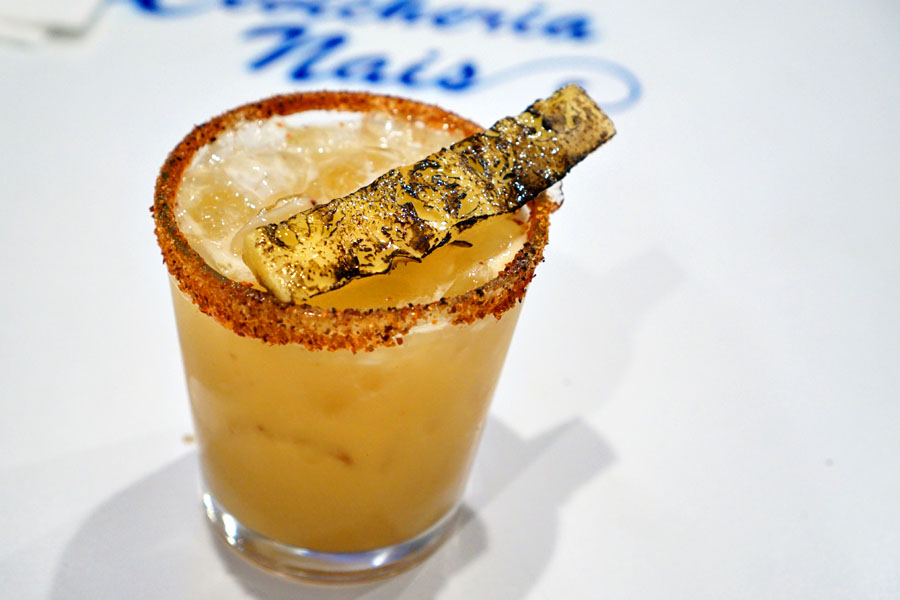 Piña Tatemada [$11.00]
| Union mescal, piña rostisada, juice de caña, lemon juice
This next cocktail came with some theatrics, as we see in the photos above. Fire and flame aside, the drink delivered, displaying smoky and spicy nuances alongside plenty of tropical pineapple flavors.
Shrimp a la Mexicana
| Pico de gallo/micro cilantro
Fortunately, the actual shrimp here weren't overcooked as I'd feared, but instead conveyed an apparent brine that made sense with the brightness of the paired salsa.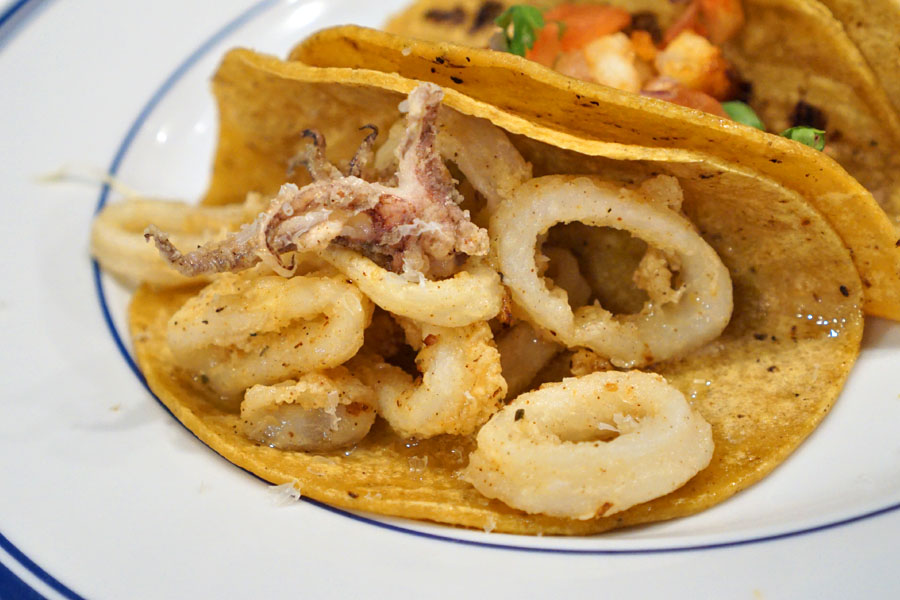 Calamari Frito
| Manchego cheese/cilantro
The squid tasted very similar to that of the
Calamari al Mojo de Ajo
above. I found it a somewhat unusual taco filling, but it was still pretty tasty nevertheless, with a definite richness from the Manchego.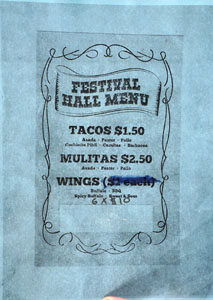 The kitchen had closed by this point, so we tried a few items from Nais' late night menu, which is apparently available on Fridays and Saturdays only. Click for a larger version.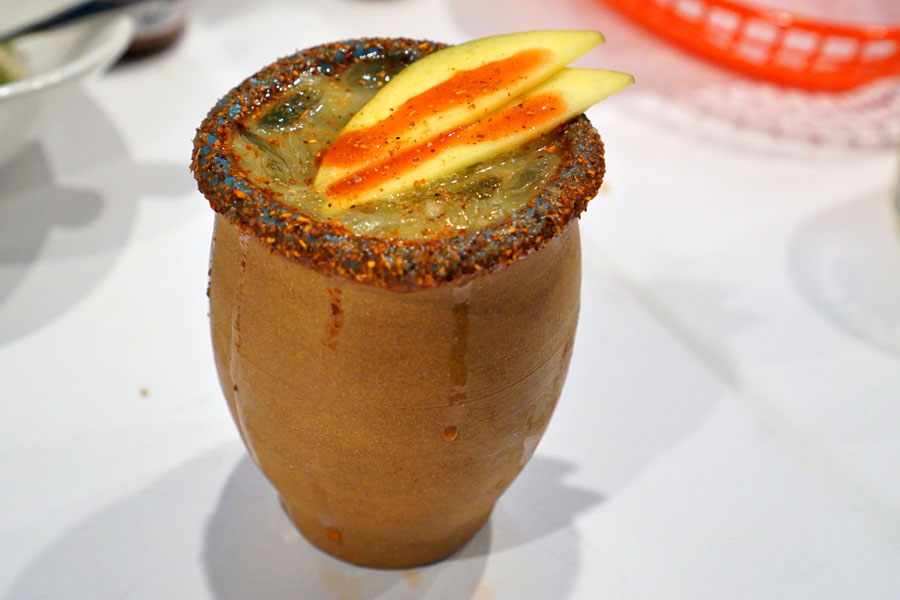 Borracho Loco [$12.00]
| Don Julio blanco, mango purée, lime juice, dulce de tamarindo
The tequila was again well hidden in this next cocktail. Instead I got lots of fruity mango all over the place, along with a hit of sweet-tartness from the tamarind.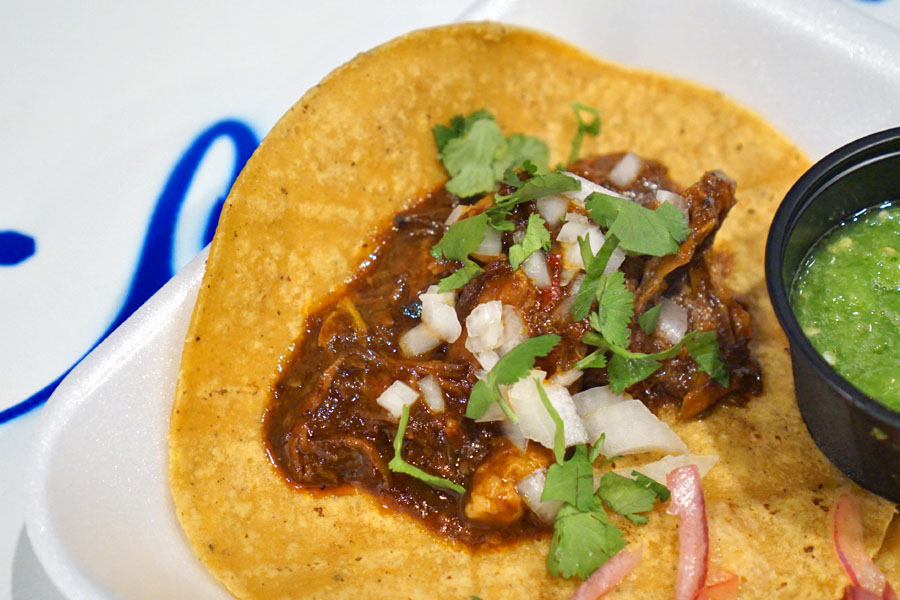 Barbacoa Taco [$1.50]
The
barbacoa
was super tender, and had a sweet-savory flavor profile that was almost
mole
-like. Quite nice with the zestiness of the onions and cilantro.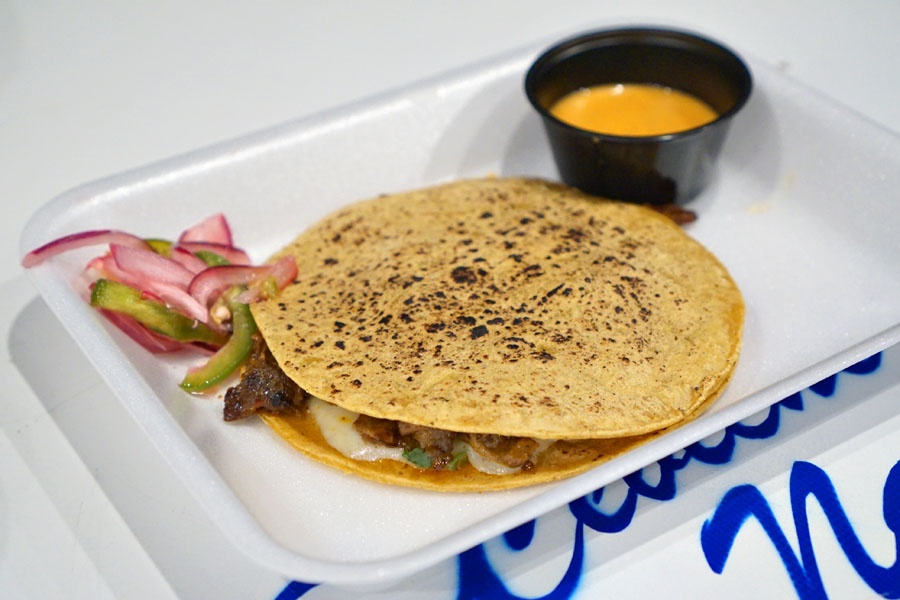 Pastor Mulita [$2.50]
I was a fan of the
mulita
as well. The combo of spicy
al pastor
and cheese really hit the spot, and again, the onion worked great as an accent piece.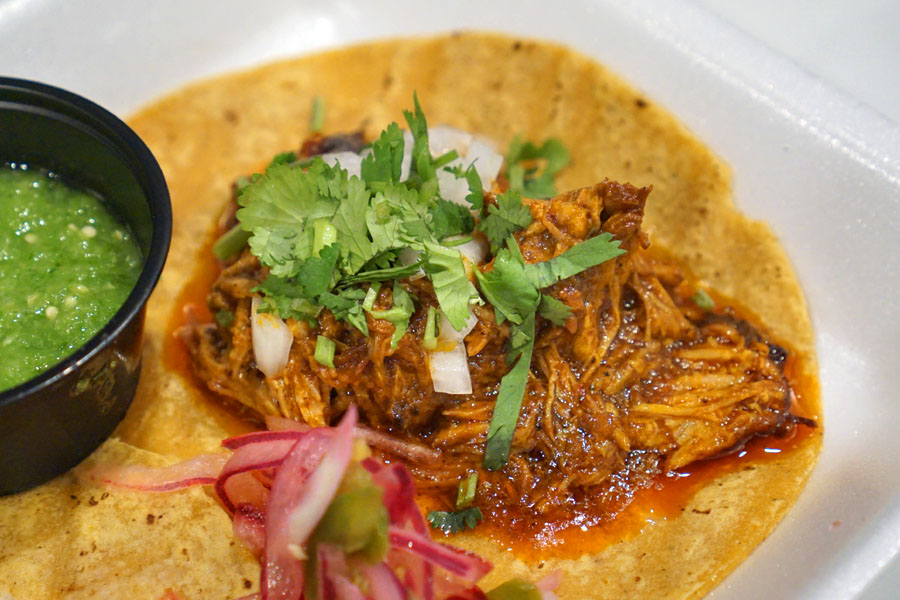 Cochinita Pibil Taco [$1.50]
The pork was even more tender than the
barbacoa
above, while its taste veered more in a tart, acidic direction.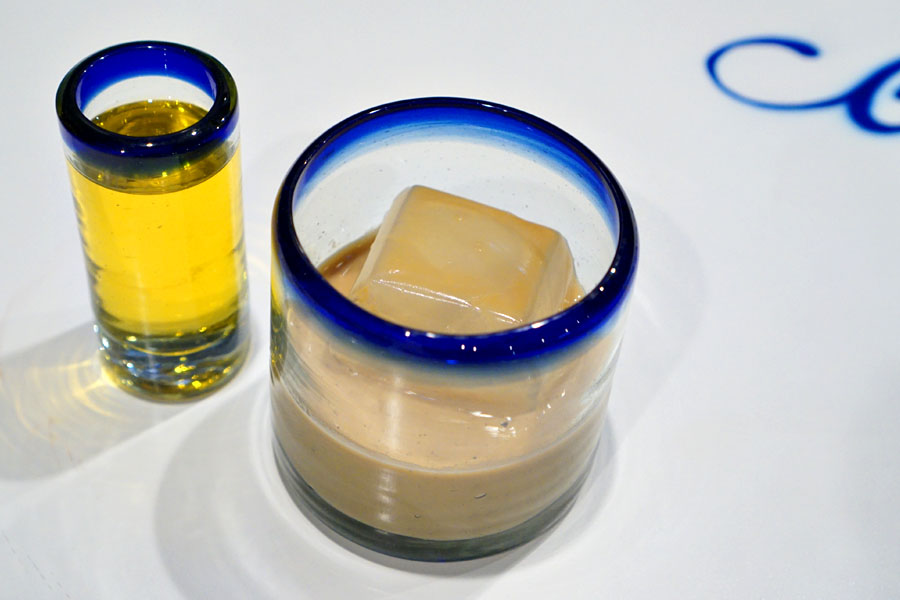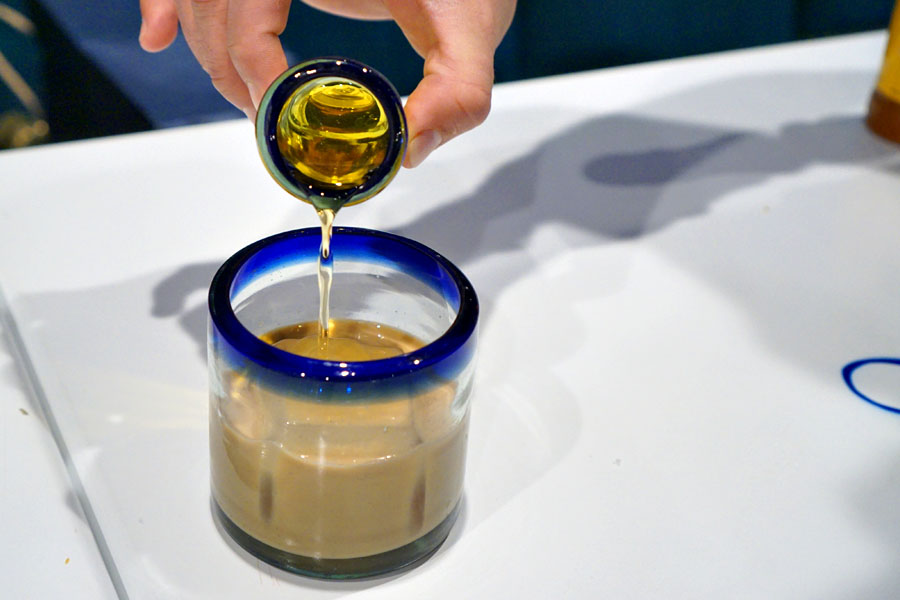 Dessert Cocktail [$12.00]
We concluded with an off-menu dessert cocktail. Unfortunately, I don't recall what was in here, but I do know that it incorporated Licor 43. Flavors were almost horchata-like I'll say, and I loved the warm spiciness imparted by the liqueur.
Though there were quibbles with some of the dishes, I did enjoy my meal here for the most part, and I'm glad to have Nais as another dining option in DTSA, which is quickly becoming one of my favorite eating neighborhoods in Orange County. Curiously though, I was chatting with one of the partners over the course of dinner, and he mentioned that he was planning on streamlining the menu and adding meat, resulting in a new restaurant he called "La Santa." However, from what I've seen so far, La Santa opened at the start of March, and appears to be a "cantina" type concept located
upstairs
. Thus, it seems like Cevichería Nais will be sticking around, at least for now.